Digital Content Producer Mari tied the knot with Fundraise Ben on 3rd September 2022 at Higher Eggbeer near Exeter in Devon.
The couple were deeply inspired by Charleston in Sussex, the historic country home of the Bloomsbury Group where Ben worked for a while after university. Mari designed their invitations inspired by Duncan Grant's fluid brush strokes and pastel tones, and Charleston's painted wallpapers and gardens were always front of her mind when she and Ben were choosing colours and flowers for the day.
The bride wore a gorgeous Jessica Bennett bridal gown and these charming images were captured by Chloe, of The Curries. Enjoy!
We found our venue through Love My Dress – the most important part of all! In the initial stages of planning, it was such a huge source for us, as we could really imagine what our day could look like through seeing the other beautiful weddings.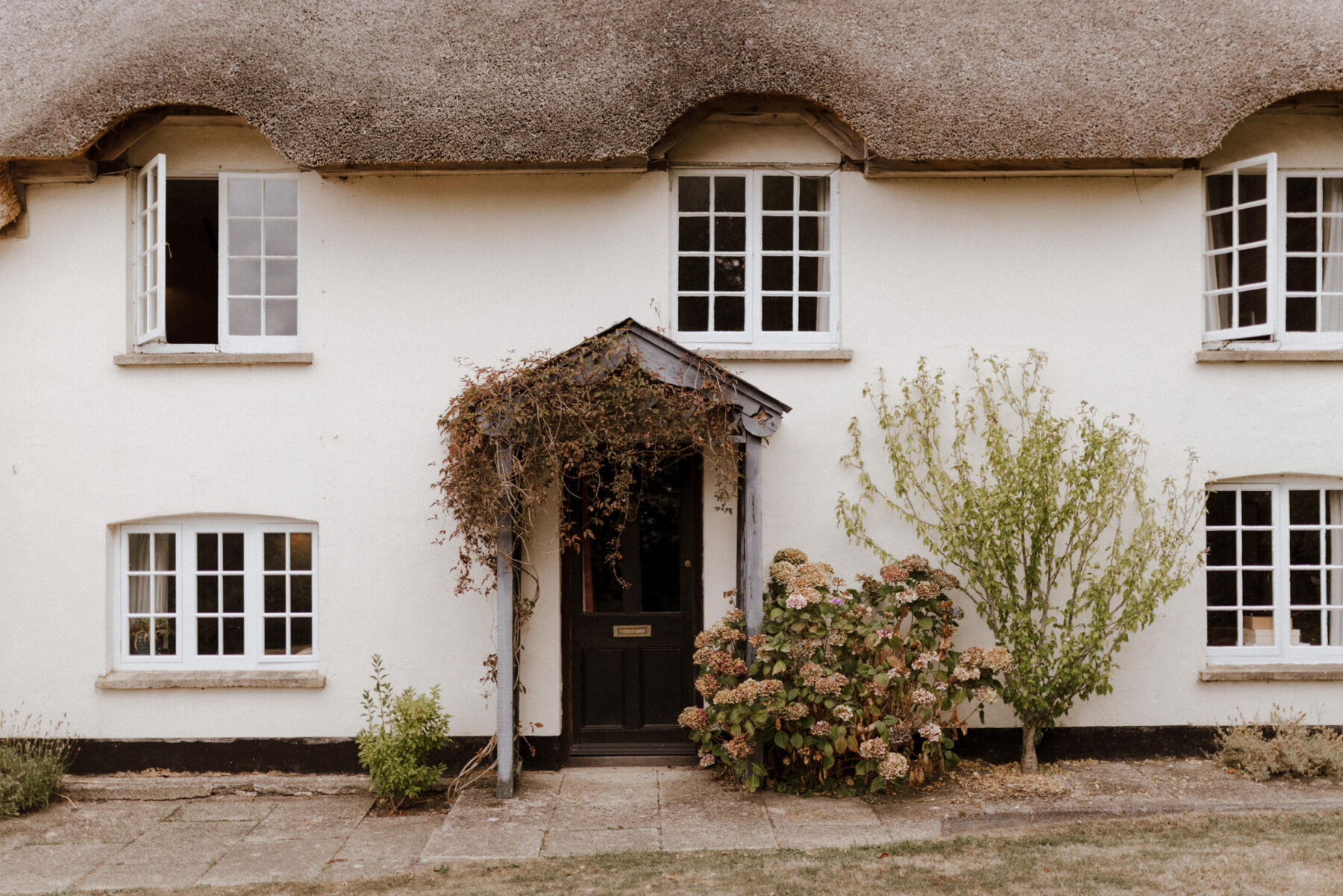 We chose to get married at Higher Eggbeer, a beautiful farm near Exeter with stone barns and views of Dartmoor. Initially, I had wanted to get married in London where I grew up and where we now live together.
However, we struggled to find anything that fulfilled enough of our non-negotiables list. We were looking at venues during the pandemic, and sadly finding many places closed or unavailable for in-person tours.
It was a bit stressful, as I'd always wanted to get married in my home city, but our priorities for the day changed a lot over time and there were other things more important, especially as we have friends and family all over the country. I was on Love My Dress one day and happened upon a beautiful wedding at Higher Eggbeer in Devon. We loved it immediately when we visited, and booked it within a week.
The Groom
Ben wore a custom shirt by Collarbone London, embroidered with his new initials as we double-barrellled our surnames. We found his 60s-style frockcoat jacket from Crown & Jester on Etsy and his trousers were Acne Studios. The shirt he changed into for the evening was from Madcap.
He also wore a necklace which I made and found earrings to match. His sister Katy styled his hair on the day.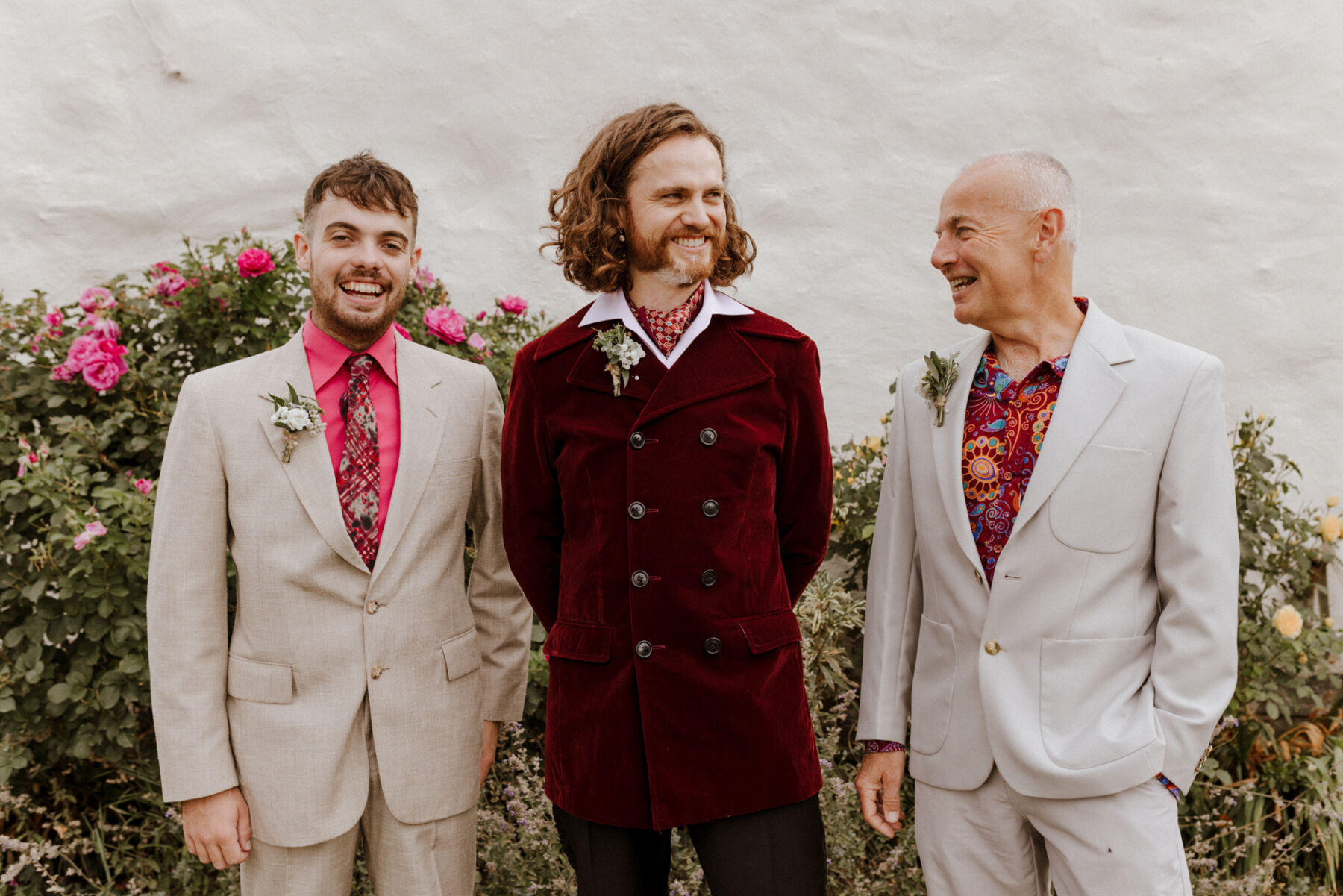 Bridal Beauty, Shoes & Accessories
I did my own makeup on the day. The control freak in me couldn't let someone else do my face and I'm pretty good at it at this point. I still spent months researching the best products and trying them out in sweaty and windy conditions. I then did two test runs, filming myself as I went, talking to the future me about what to do and what not to do. A bit extreme, but I didn't want nerves to get the better of me on the day. The best part is that I still have and use all the products I bought.
My shoes were Loeffler Randall Dahlia in white. I considered getting the higher heeled version, but I'm not a heel person at all and wanted shoes in which I could walk down the aisle, dance and enjoy myself all day. These were so perfect, they had a soft fabric composition, so my feet did not rub at all.
On my fingers, I wore rings which belonged to both my grandmother and great grandmother. My mum presented them to me on the morning of the wedding. It was a really touching moment, as I was really close to my grandmother and I know she would have absolutely loved the whole day and, in particular, the choosing of the dress.
As my headpiece was so bold, I chose a smaller pearl earring for the ceremony from Treatfully on Etsy.
I wore a light English tulle Cathedral length veil in pure white from Siân Collins at Blossom & Bluebird.
I wore the Chanel Pearl Crown by Aura Bridalwear via the Fall Bride.
I wanted something floral scent wise, and light and chose Do Son from Diptique. Ben wore Hwyl by Aesop – it has lots of frankincense, so smells very churchy and special.
The Dress
I wore a Jessica Bennett dress in a cool, bright white. It was in matte silk and had pockets. I struggled with some of the dresses I first tried on, as they were all ivory or champagne, which washes me out. As soon as I put on the pure white dress, my mum and sister gasped.
I went to The Fall Bride in East London. From the first meeting through every single fitting, they were incredible. I can be easily influenced by images, so I often come up with wild ideas just from seeing something I like. There were a few times I almost changed my mind and wanted to add extra elements to the dress (which I luckily didn't), but they always listened and indulged my ideas.
Choosing the dress was a really important process for me and my mam. She came to almost every fitting with me and it was really special thing to experience it together.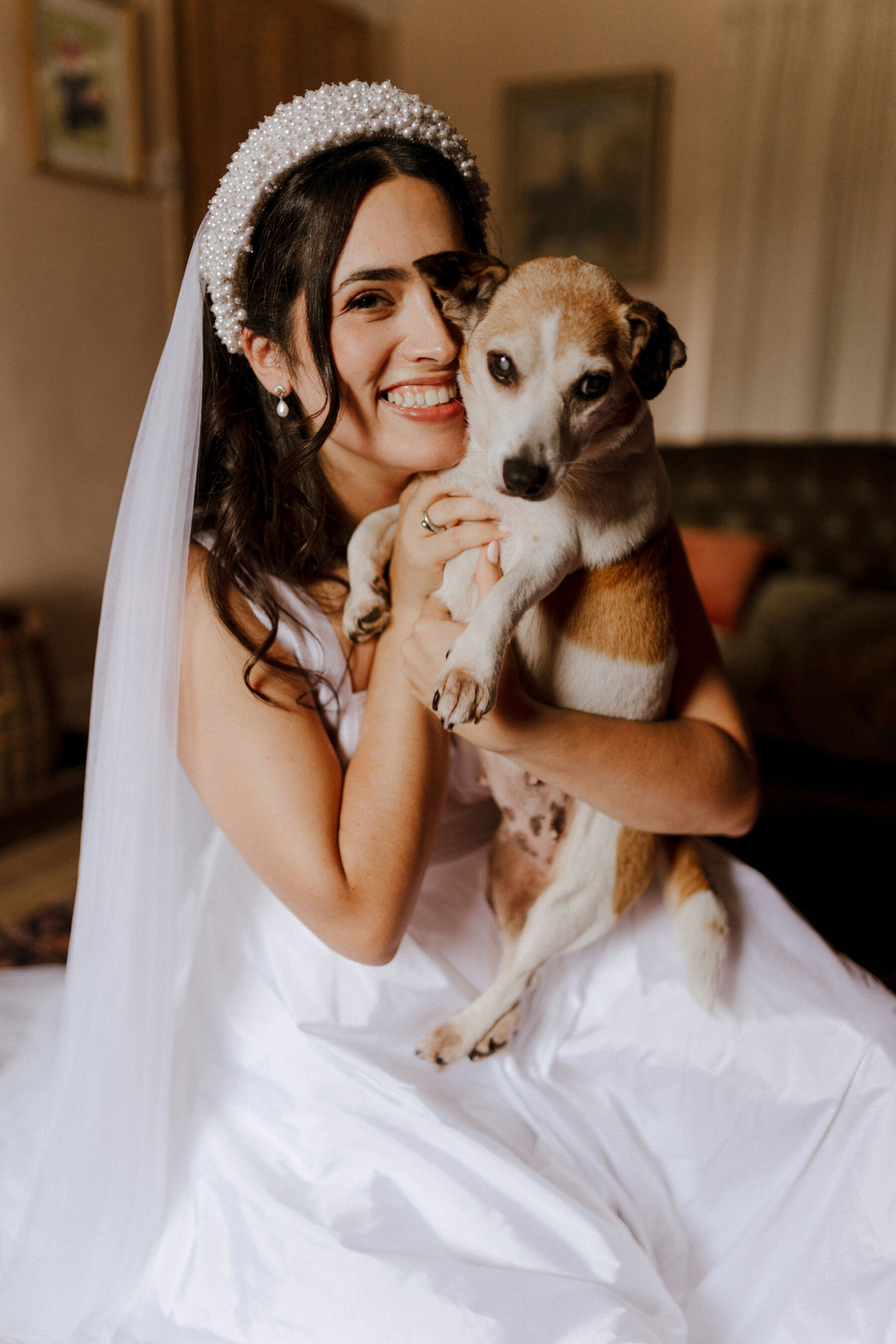 She had a similar experience with her mother back in 1990. Her gown was bespoke, made by a dressmaker that trained under my grandmothers' aunties, who were all seamstresses. Her shoes were even custom dyed to match her pale pink dress and the colour of the bridesmaids' dresses were chosen one spring day when my grandmother picked some cherry blossom and suggested it as a colour.
Both my mam and I wanted a similar bonding experience and although my gown was not bespoke, there is so much that goes into a dress fitting that by the end it certainly felt it.
Bridesmaids
I decided to let my bridesmaids pick their own dresses or suit, with a few stipulations. I made them a PowerPoint presentation with some ground rules, leaving myself vulnerable to the odd prank afterwards (thanks, Char!).
They each wore a shade of pink that they'd chosen, each looked comfortable and of course completely beautiful.
Our florist was the lovely Alice at From the Wild, Exeter. I was really clueless about flowers and was open to any suggestions. Alice was very patient with me through my indecision and last minute changes. The bouquets were crafted from cosmos, wax flowers, roses and delphinium.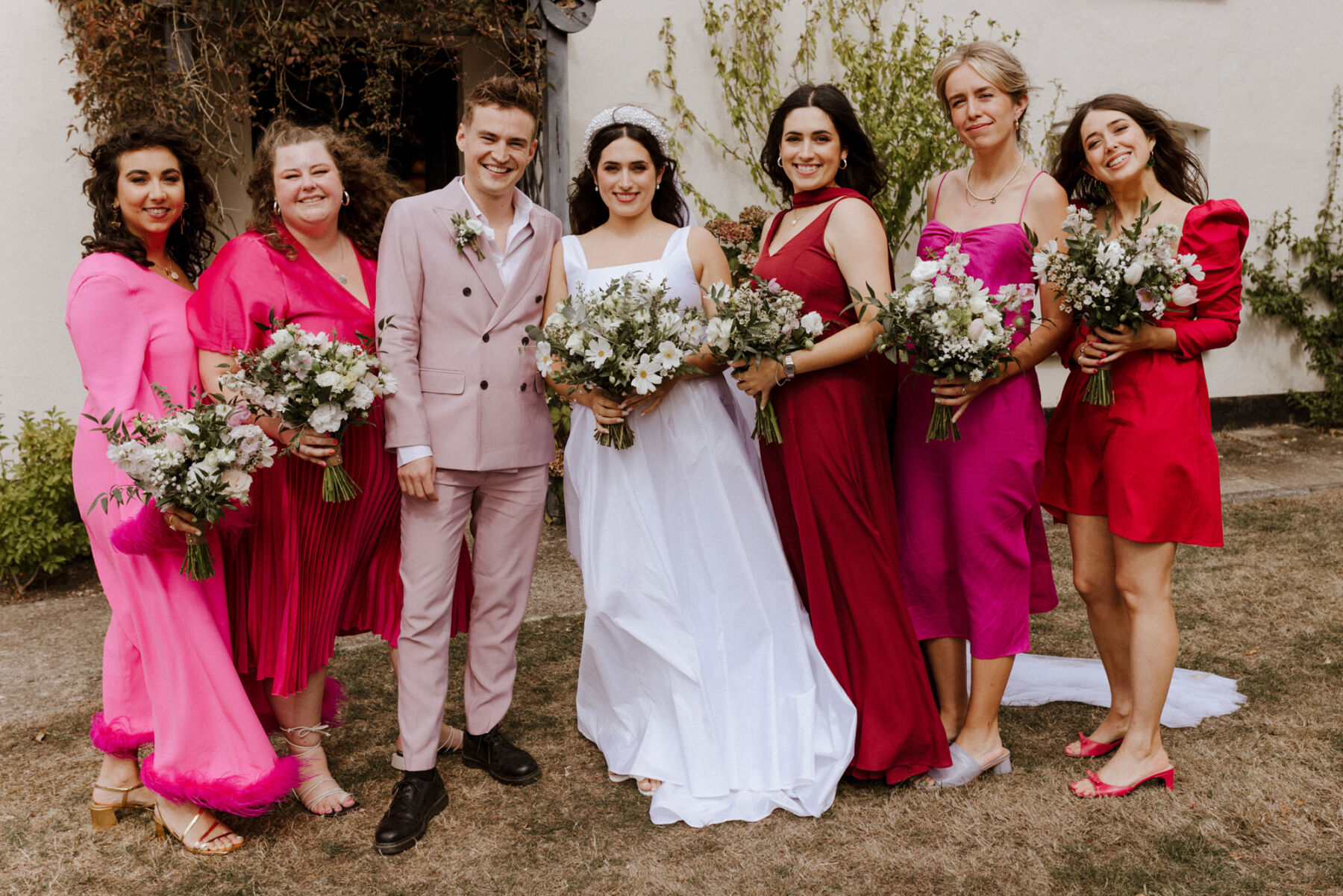 Ceremony
The ceremony itself was quite traditional, which we liked. My dad accompanied me down the aisle which was important for him. We rehearsed it beforehand and he was quite particular about the pace at which we walked.    
We asked guests to keep their phones away during the ceremony, and not to take photos. We wanted people to really savour the moment and the atmosphere of the day.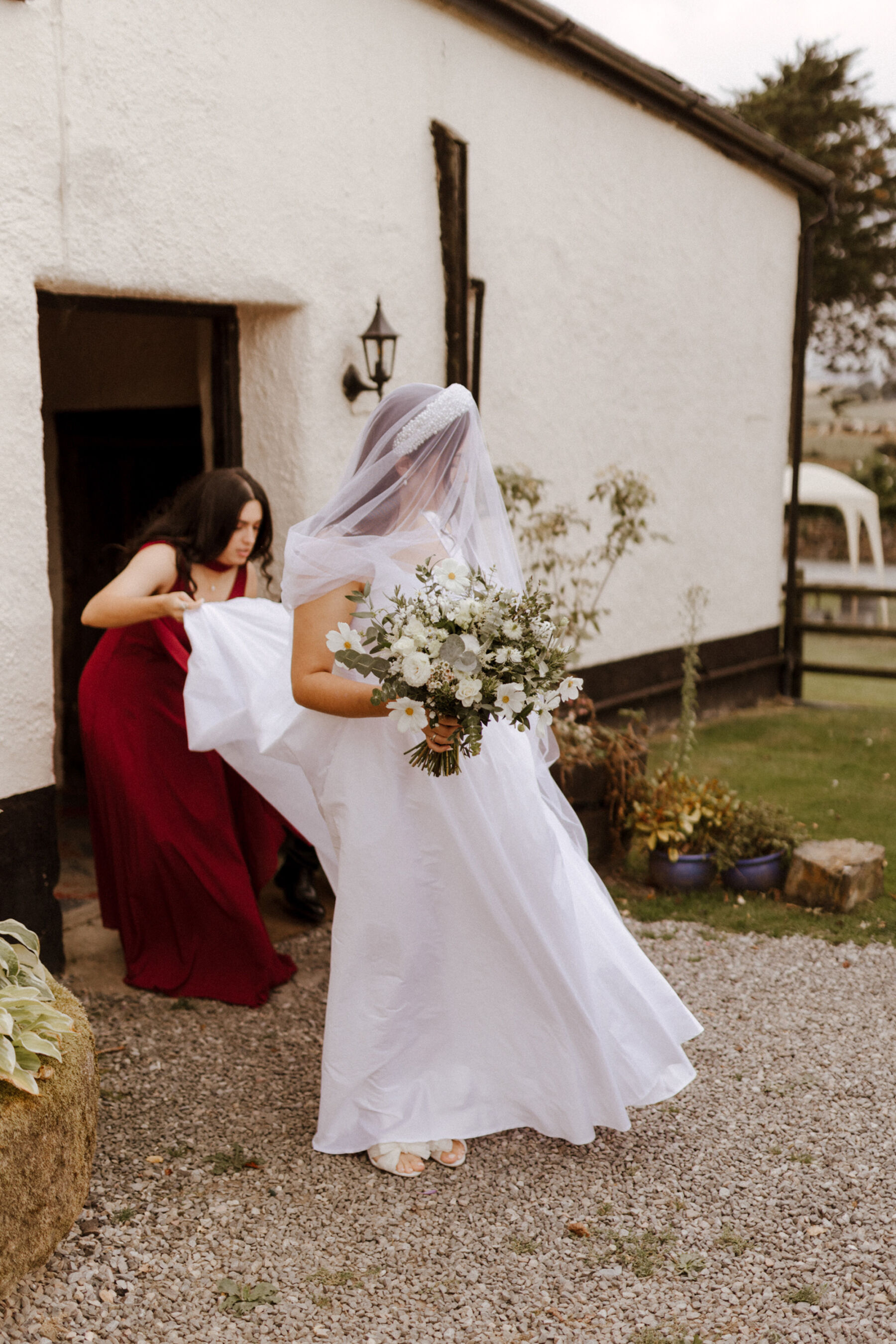 Harpist Fionnuala Kirby from Encore Musicians, played Canon in D by Pachelbel for the opening and Arrival of the Queen of Sheba by Handel (we love us some Handel) for the exit. We wanted a live instrument, as we felt it would emphasise the atmosphere and beauty of the old barn like nothing else.
Although I was born and raised in London, Welsh is my first language and Ben has been learning it for years. It was extremely important to us to have a bilingual ceremony; the wedding would have felt strange if we didn't include both of our languages. This meant the invitations, correspondence and speeches were also bilingual.
Our readings were also bilingual. Katy, Ben's sister, read Invisible Kisses by Lemn Sissay, just a beautiful poem about unconditional love, family and acceptance. Elin, my sister, read Priodas (Marriage) by Dic Jones;
Dwy galon, un dyhead,
Dwy dafod ond un iaith,
Dwy raff yn cydio'n ddolen,
Dau enaid ond un taith.
Mi fydd cwmniiaeth yn parhau,
Nid oes unigrwydd lle bo dau.
Two hearts, one desire,
Two tongues but one language,
Two ropes linked,
Two souls but one journey.
Companionship will last,
There is no loneliness where there are two.
And each of our Mums took turns to read Y Serch Lladrad (The Stolen Love) by Dafydd ap Gwilym, first in Cymraeg and then in English.
We wrote our vows together, with Ben reading his in Welsh and I reading the same in English, signifying our union.
Our wedding bands were from Etu Moana Jewellery and are hammered silver which matched Ben's engagement ring.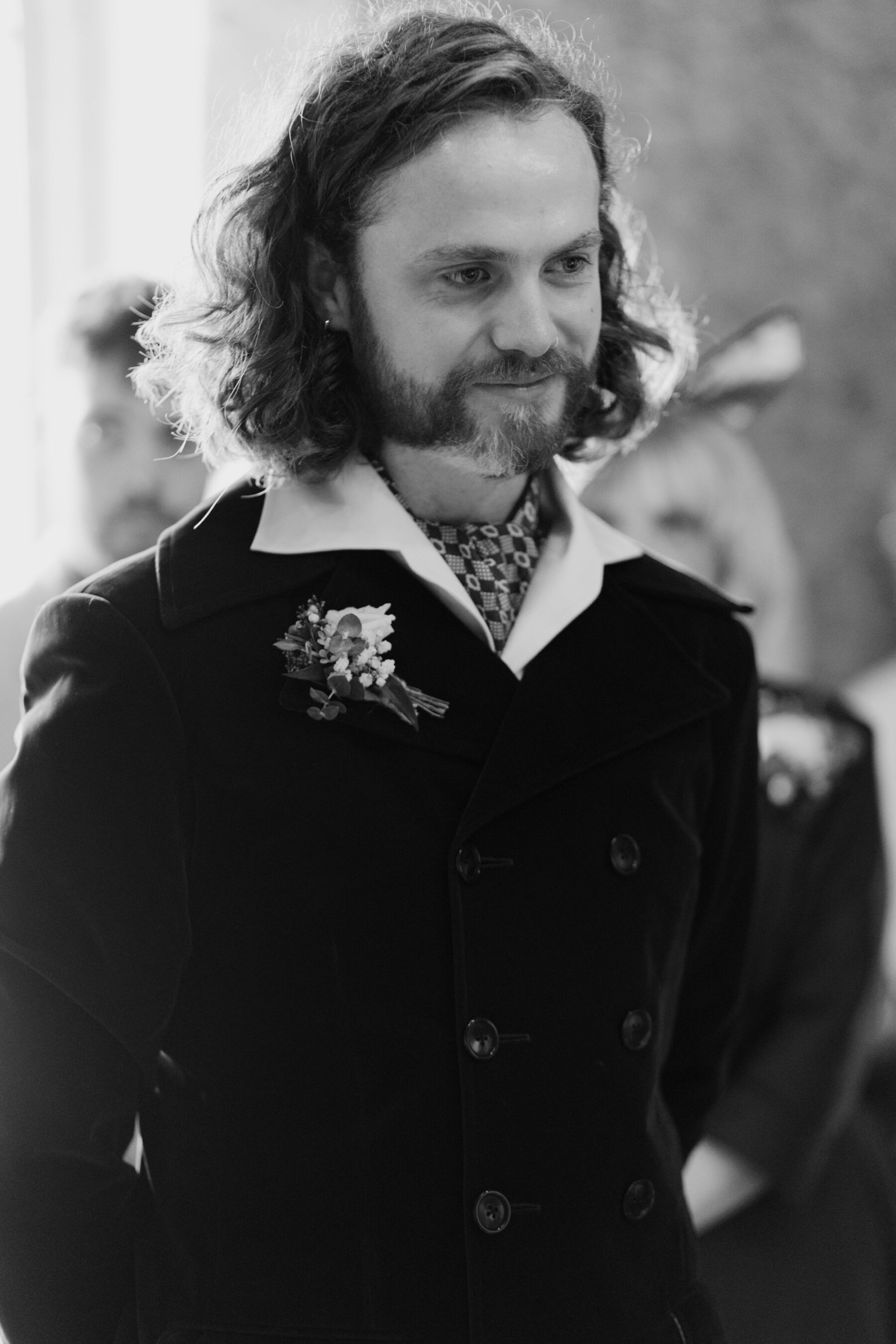 Photography & Videography
We went with The Curries, shot by Chloe, as we loved their candid, beautiful style. Second only to the venue, the photography was the most important aspect to get right. The photos last a lifetime and I wanted to be in good hands. The barn for our reception had only candlelight inside, so we needed someone who was experienced with this and could capture the beauty of the lighting to its full effect.
From the moment we contacted them, the whole process was so easy and smooth. Jess, their studio manager, was on hand with all our enquiries and worries, so we felt safe the whole way.
I think it takes someone special to not just capture what happened on the day, but also how it felt to be there. Having Chloe with us was the best money we spent, without a shadow of a doubt. We could have got married in a bin and she would have made the photos beautiful.
On the day, Chloe was absolutely brilliant. She really got to know our friends and family. She was such a pro but by the end of the day she felt like one of the guests. Her photos are just sensational – we remain completely obsessed with them.
Our friend Obi brought his Super 8 camera and was tasked with capturing just a few special moments on film. The reels are quite short so he had to be selective, but we thought that would be more special than filming the whole thing in high quality.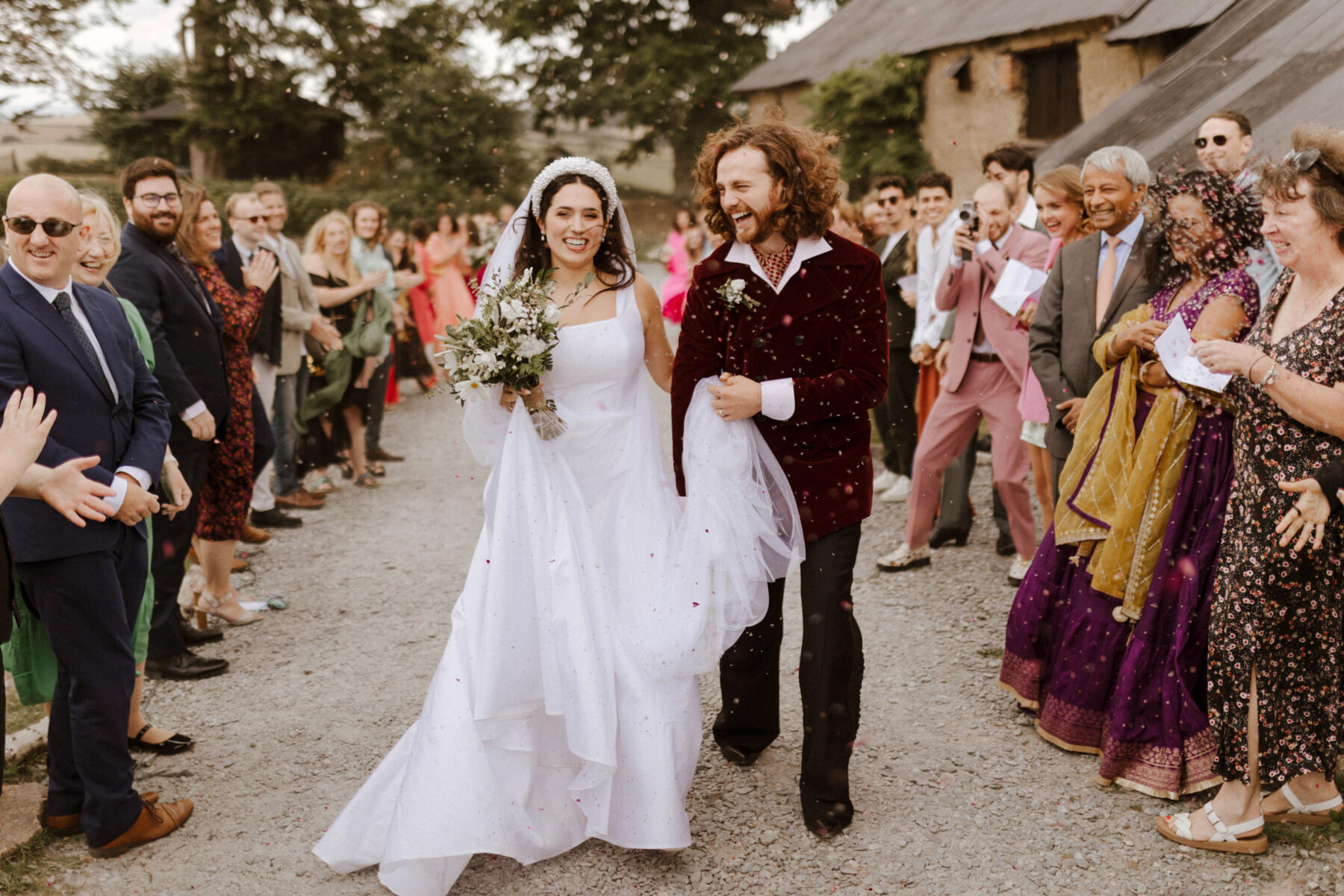 How They Met
We met at the University of Sussex where we both studied Art History and lived in the dearly departed East Slope. After a few dancefloor encounters we got together early in second year and have been ever since.
Ben proposed at home in 2020. We were meant to have been in Florence, where he'd planned a sunset picnic in Fiesole (where George kisses Lucy in A Room With a View). It could have been quite romantic but Italy closed their borders and I got pinged by the NHS app. In the end there was something really special about being together in our flat instead.
He commissioned a bespoke ring from Eily O'Connell who makes beautiful jewellery with casts of objects found in nature: mine features a crab claw and a dark blue tourmaline. After he proposed I bought Ben an engagement ring: a small band in hammered silver with an amber stone.
Reception
One of the main reasons we chose Higher Eggbeer was that it was so beautiful it needed very little decorating. The architecture and stature of the venue spoke for itself. The Saxon barn came furnished with torches, candelabras and fairy light. We brought extra candles for added atmosphere. My maid of honour, Elin, made the placecards and signage for the tables which we named after different flowers local to Dartmoor.
We chose a vegetarian feast from Mumbai Mix. Dimple and her team were incredible and we worked with them for a long time on the menu. We decided we wanted a blend of sit down and buffet, with guests sharing four curries and various starters and sides on the long wooden tables.
Ben wanted vegetarian food but also a crowd pleaser. We'd had Mumbai Mix's food before at a local street food event so we knew it would be a big hit. The guests got a Thali plate each, with samosas and kachori to start, followed by paneer kofta curry, the most amazing aubergine curry and a black lentil daal, chapatis, jeera rice and popadoms. It was such great food for a feast, and many guests said it was the best food they'd ever eaten at a wedding. Shout out to the team who also traveled all the way from London to be with us on the day.
For the evening, Tam's Kitchen Torbay put on a vegan junk food feast with burgers and fries. Tam and her team were absolutely brilliant and we couldn't recommend her enough. The burgers came at the perfect time, giving everyone a boost for more dancing.
For desserts, we asked ahead of time if any of our guests would bake things for a dessert table, and so many of them did. The whole weekend was furnished with brownies, cheesecakes, pecan pie – it wasn't a competition, but if it was then (as usual) Ben's Nanny's chocolate cake came out on top.
Beth at Little Pineapple Bakery made our gorgeous, three-tiered cake – we wanted it as camp and frilly as possible, and she really came through on that brief. Maraschino cherries are my biggest weakness.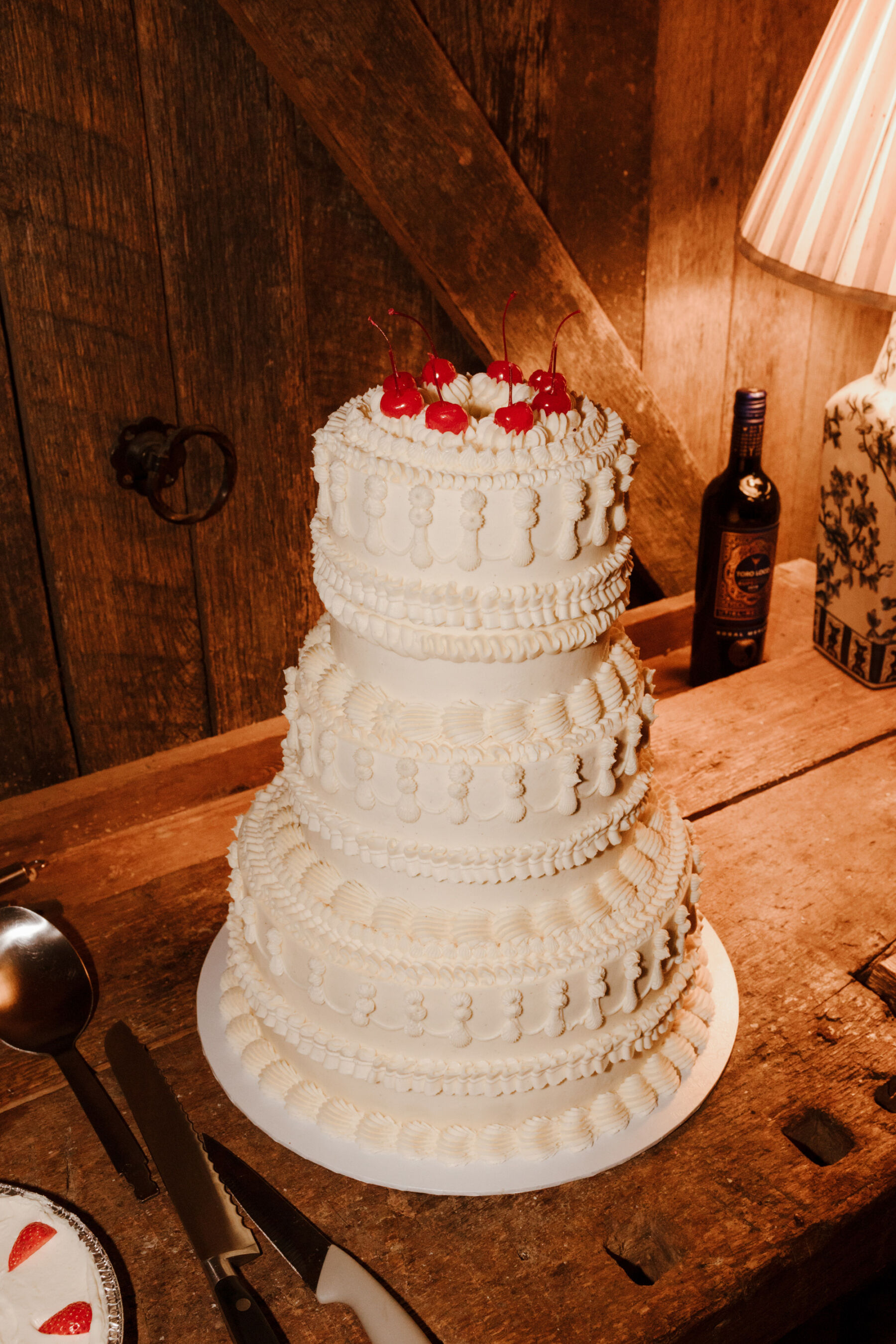 Evening & Dancing
For the evening, we had a local four piece band called Dawntreader, who led us all for a ceilidh. We wanted everyone up on their feet, even the dads who usually sit on the sidelines with their pints. It was a real highlight of the evening and got everyone involved. After the ceilidh, Gaz from Disco in Kernow played the classics til the early hours. Special shout out to the best man, Nath, for his afterparty DJ set too, of course.
I was initially really against a first dance. I was a bit shy about so many people watching but Ben pushed for it and I eventually reconsidered. We wanted something fun, so chose Kylie's Love at First Sight: it's a great floorfiller and reminds us of our time in Brighton. It never fails to put a smile on my face, partly because it secretly was love at first sight (for me anyway!).
For the evening, I switched to something bolder; a pair of earrings belonging to my Mam and which I used to adore when I was a child. They're crystal drop earrings, quite costumey but so fun.
Words of Wedded Wisdom
The wedding was planned to every inch of its life. Hour by hour, there was an itemised list of who was doing what and where. I think I would have worried less about making sure that everyone knew what they were doing. We had a lot of briefing meetings, made a lot of powerpoints and spreadsheets. I am a complete control freak, but I needn't have worried at all. Everyone went above and beyond to make sure that everything happened as we had planned.
When making a budget, we quickly realised that things cost twice as much as we thought they would. Instead of guessing and writing down random numbers on a spreadsheet, we picked the three most important aspects of the day. For us it was the venue, photographer and food. If nothing else happened, at least we had our three main aspects exactly as we wanted.
For the day itself, we wanted to enjoy ourselves and not worry, but in order to do that, we needed to plan with our closest family and friends months in advance. There was a timeline with everyone's jobs at each hour. This includes greeting the suppliers on the day and making sure the bride and groom party were fed as we were getting ready! It sounds excessive, but it meant the day ran without any bumps and we could relax, knowing everything was taken care of.
You have to make sure you spend some time together on the day. Photoshoots are a great way to do that, so make sure you plan a few slots in with your photographer. Someone also told us on the night before you should go off by yourselves for a bit, find somewhere quiet, and say your vows to each other. It's a nice way to ease the nerves and remind yourselves what you're actually there for.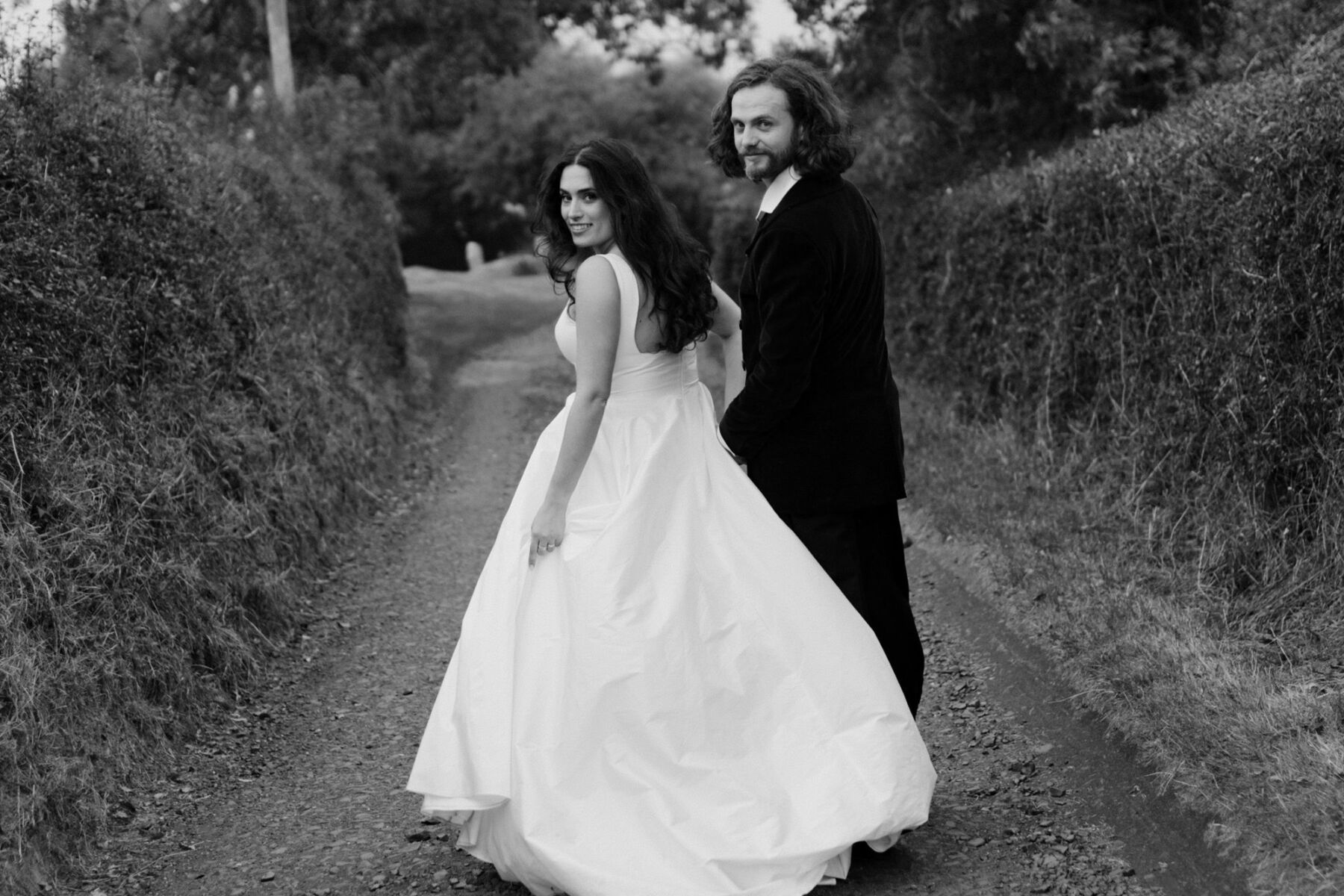 Looking for Suppliers?
Bookmark the Love My Dress Directory