What an absolute delight it is to be able to share this wedding with you today – the photography for which, is the result of a competition we hosted right here on Love My Dress!
Events Manager Lucy married her love, property developer Mo, on 29th June 2019 at Higher Eggbeer in Devon. I absolutely adore how Emily has captured the fun and colourful vibe of this charming outdoor wedding. The detail of course is beautiful and charming, but in line with the thoughts I share here and here, it's the human connections captured in these images that I adore the most.
Chestnut Productions

+ Follow
"Our friends all got married before us, so we definitely stole elements of all their weddings which we really liked – and I really do like the colour pink! My engagement ring is pink, which I guess was a source of inspiration – so I sort of used the colour as the starting point for everything else."
"Every element of the wedding had some form of pink in it. From my dress, to the flowers, to the thread in Mo's suit."
"I had this pink vibe in my head that I wanted to create, that was retro and cool, a little bit 60's/70's and fun, but not tacky or girly or 'Barbie' – and I think I did it."
Emily Black Photography

+ Follow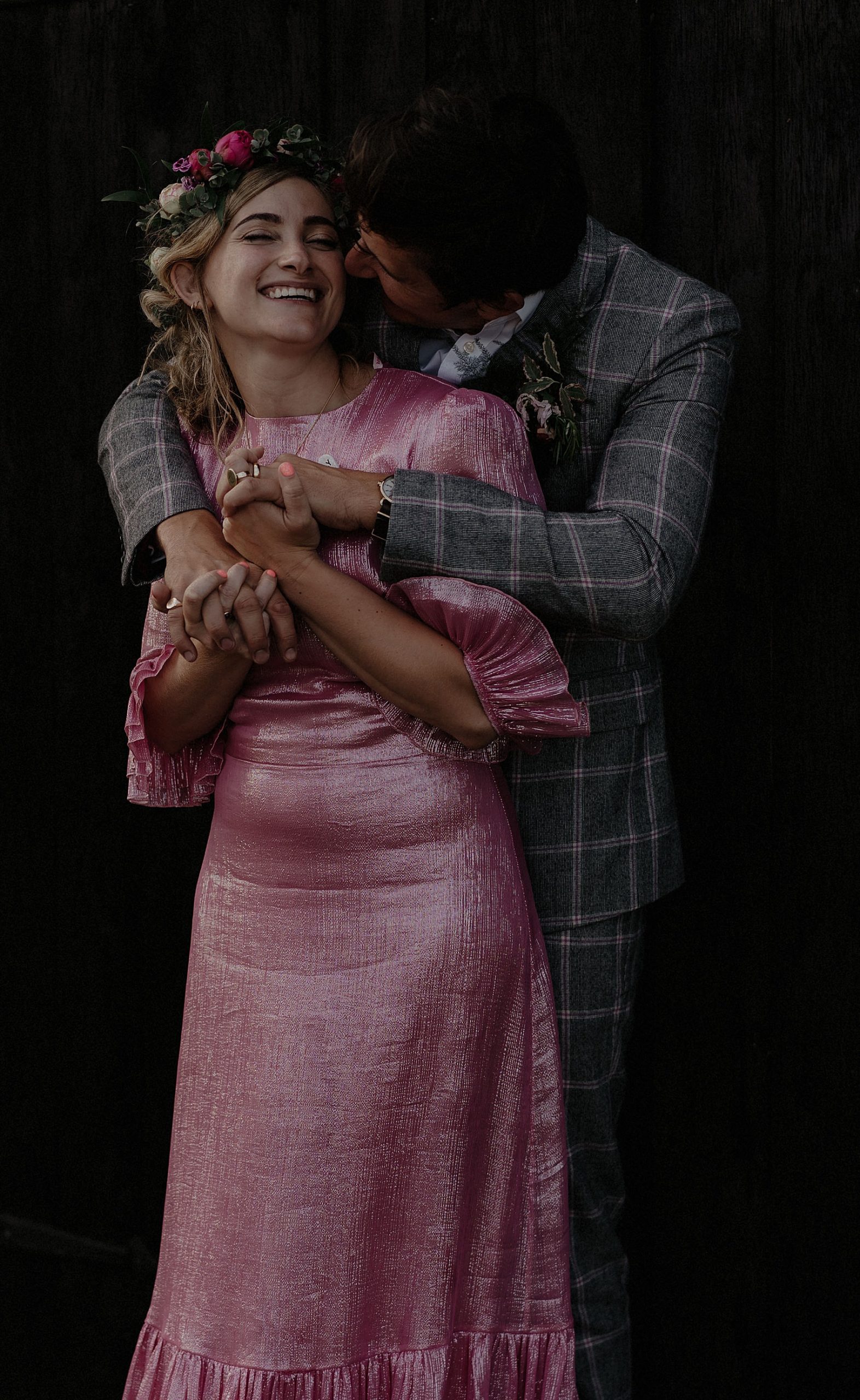 "Love My Dress were running a competition together with photographer Emily Black, where you could win your wedding photography. I entered, and unexpectedly came second, which meant I got my wedding photography for half price, I was chuffed! I hadn't really thought about the photography yet, and was actually relieved that it was one less decision I had to make. It felt like fate that Emily became our photographer, she was absolutely incredible and captured our day so well."
"We have had so many compliments on our photos, and will look back at them forever with fond memories. I would 100% recommend Emily to anyone and everyone."
Lucy's incredible pink dress was by The Vampires Wife – the fashion label established by Suzie Cave, wife to singer-song-writer, Nick Cave.
"The Vampires Wife is not a bridal shop at all, but their sales lady Dionne, was extremely helpful when it came to sizing and giving me the intel of when the exact dress I wanted went live online, their dresses sell out very quickly and I would have been heartbroken if I hadn't got it, so I am forever grateful to Dionne for that."
"Most brides want the white dress and the full trying on experience, I am the opposite, and actually enjoyed browsing online before settling on my dress. I had my budget in mind (about the same cost as a mid-high cost wedding dress) and was loving the idea that I would be able to buy a very amazing designer dress that I could wear again and again throughout my life."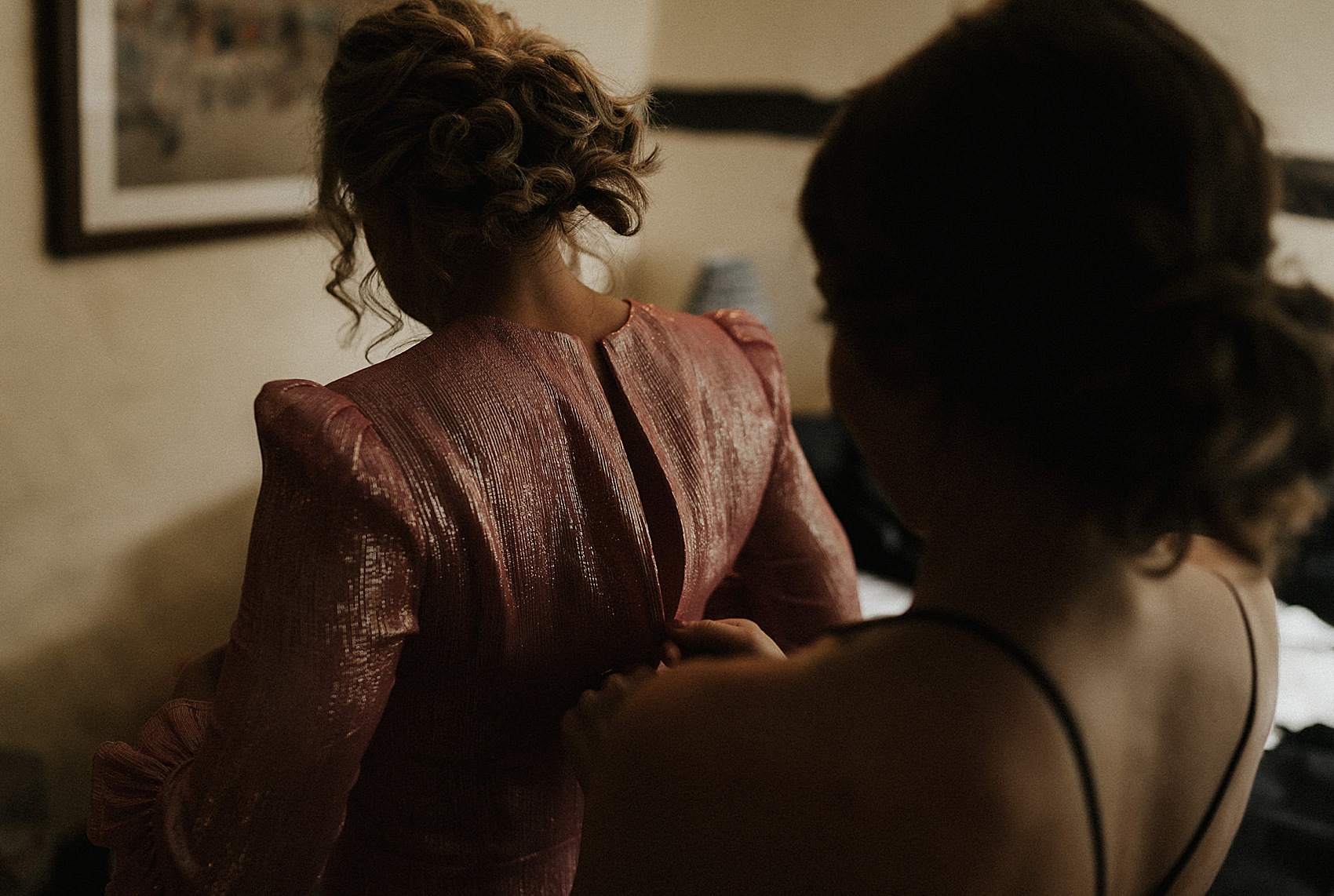 "Wedding dress shopping wasn't top of my priorities, I wear black pretty much every day, and would never ever wear a white dress, not even on a summer holiday etc, so I knew I wasn't particularly interested in wearing one. I went to a few sample sales and tried on different styles but nothing suited me."
"When I saw the pink Vampires Wife dress online I knew it was the one, it was glitzy and beautiful, it had ruffles on the sleeves, a beautiful hem, it made my boobs look great(!) It was everything I have ever wanted in a dress. It arrived a couple of days later, fit perfectly except for the length, which was a very easy tailoring job, and I felt incredibly special in it."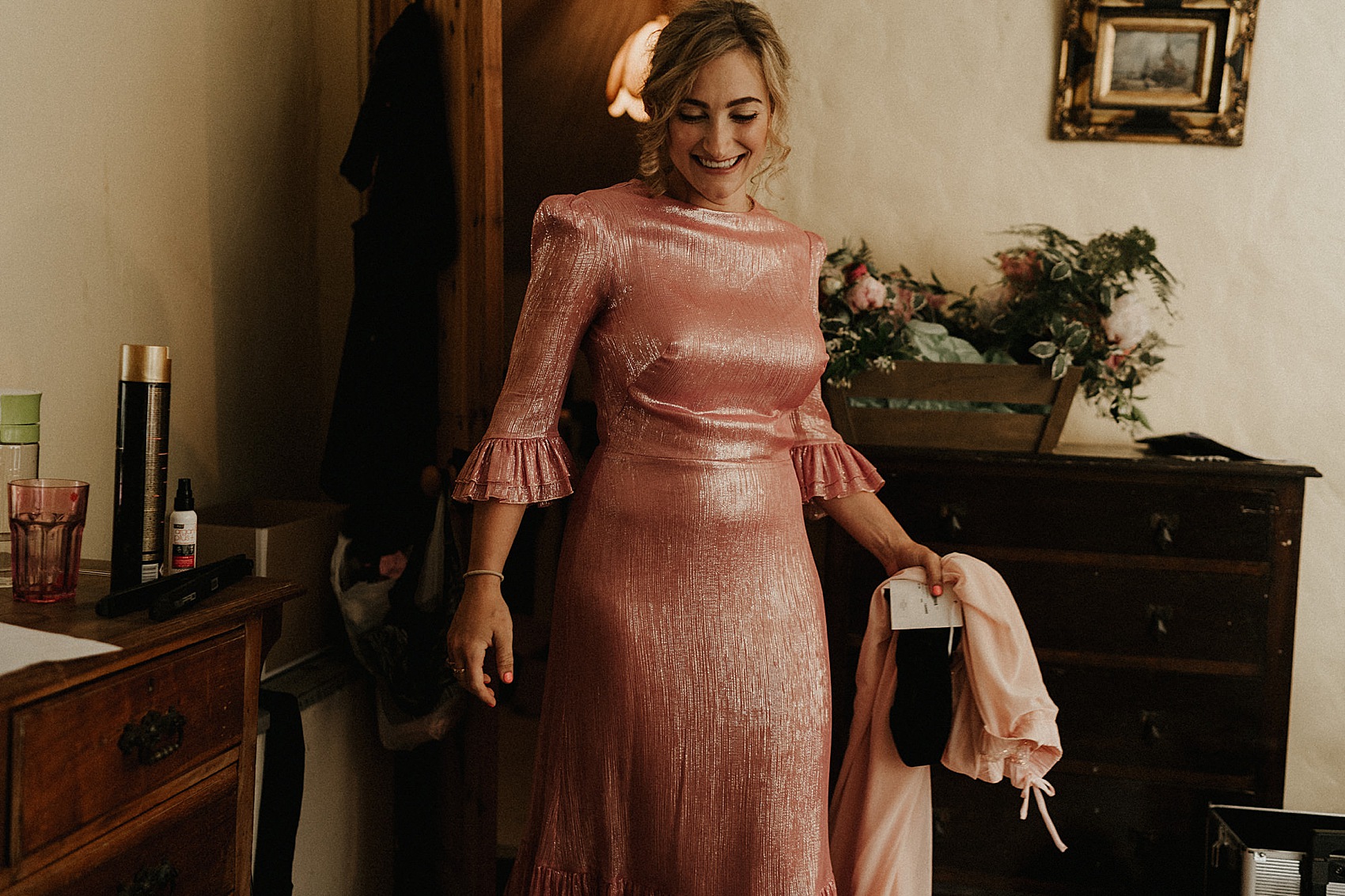 "I wore a flower crown though made by my amazing florist Tina of Twigs and Blooms. A few days before the wedding, I had a real panic that I would regret them and was about to pull the idea entirely. I emailed Tina to tell her all this – it was probably the last thing she needed or wanted to hear!"
"I gave her a tough brief, I didn't want dainty, I didn't want flamenco, I needed something perfectly in between that didn't make me or the bridesmaids look stupid and that I wouldn't regret making us wear years later."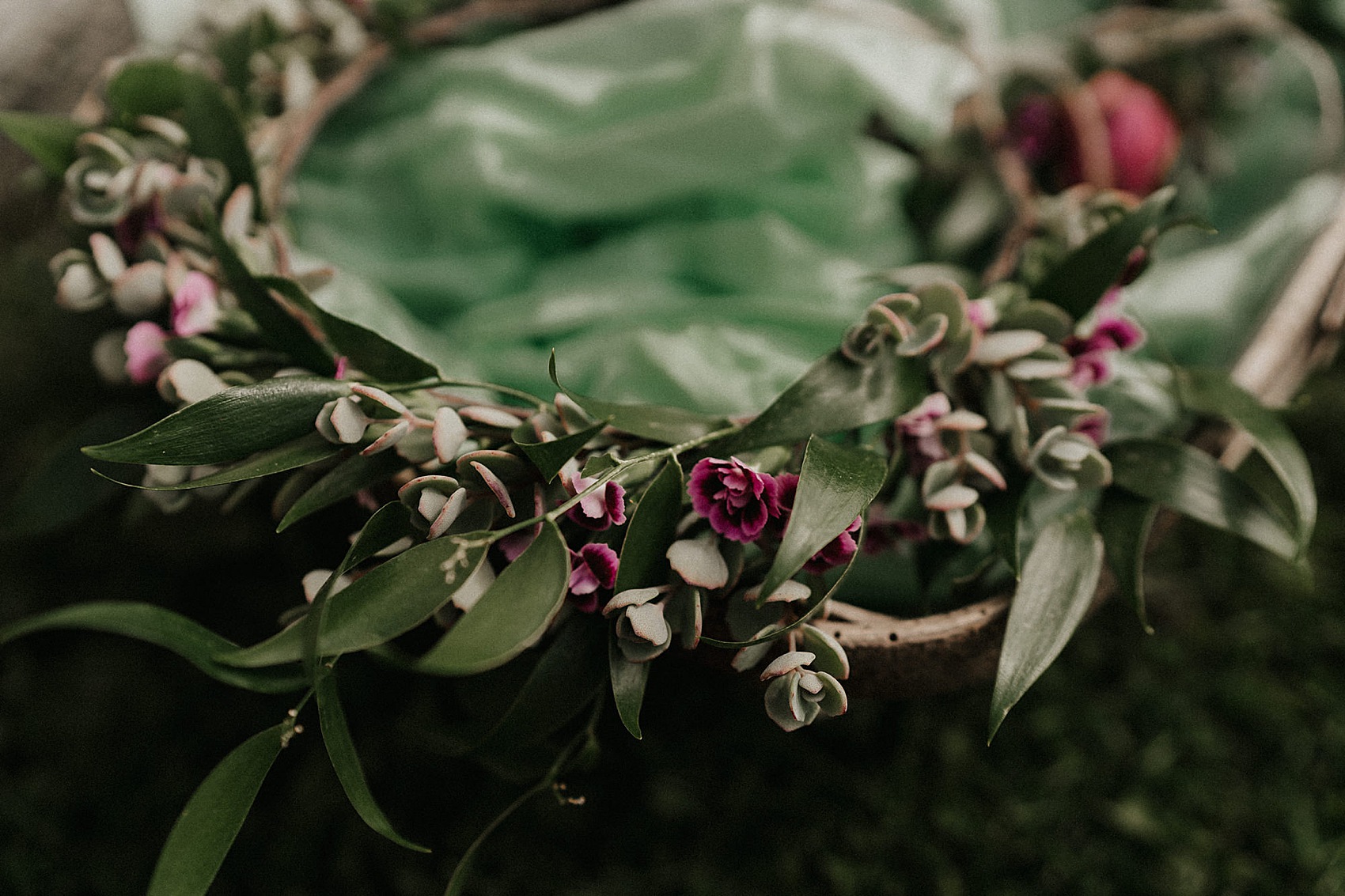 "She completely nailed it. I shouldn't have ever been worried! My bridesmaids and I were obsessed with the crowns. No regrets! Finding Tina was one of the best things about the wedding."
"My perfume was L'Ombre dans l'Eau, by Diptyque. I wear this daily. It smells of blackberry bushes, the countryside. It worked very well with our wedding vibe."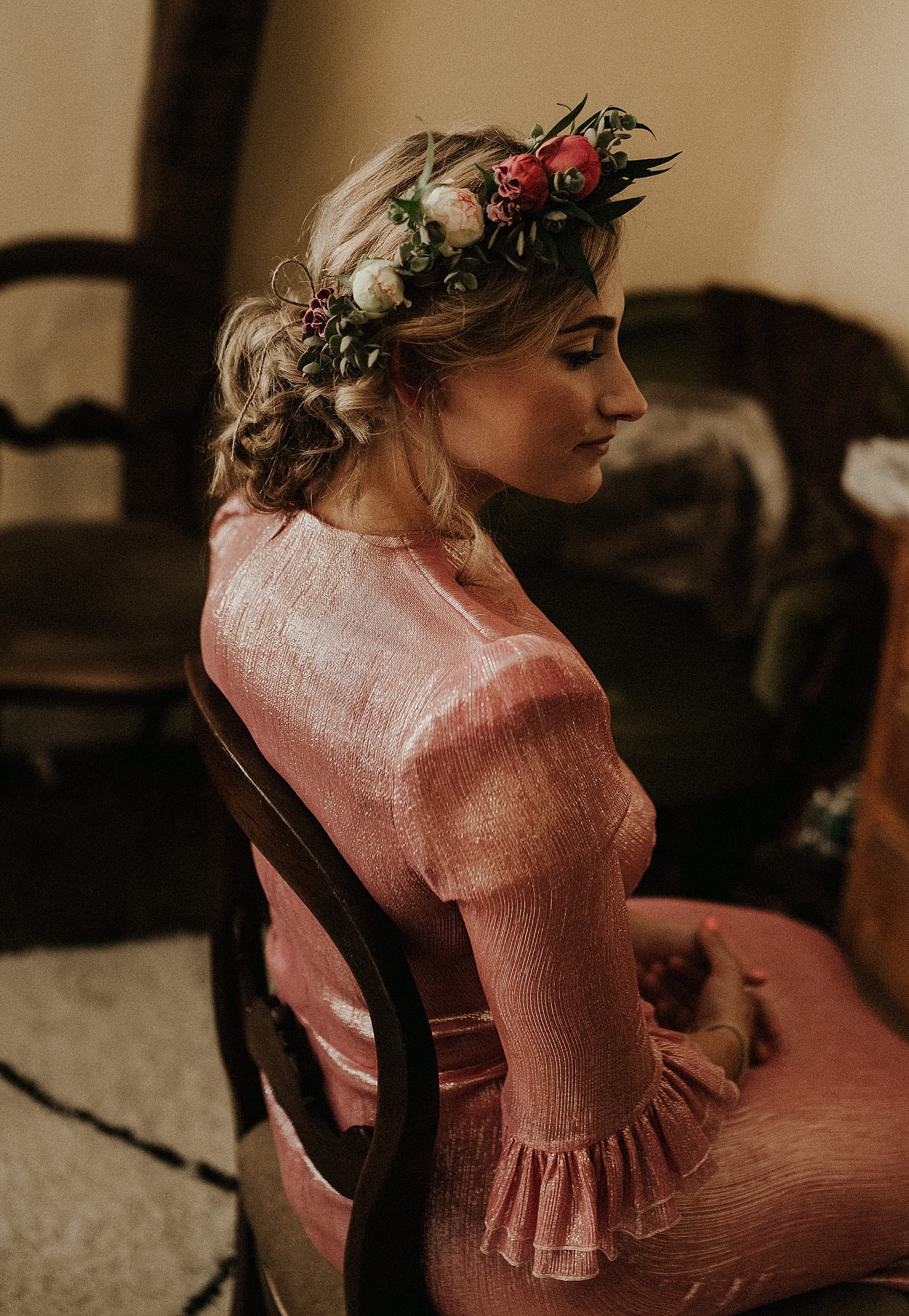 "I got the necklaces that myself and my bridesmaids wore, and the cufflinks the best men and groom wore, made by a jeweller local to Devon called Polly Collins. Polly makes beautiful jewellery inspired by the sun and the moon. I have loved her work for a long time."
"I'm so uncomfortable in heels, so I just went cheap from ASOS for the ceremony and the day, and got some black and pink sparkly vans for the evening for myself and my bridesmaids,"
"We chose Higher Eggbeer as even though we are Londoners, we wanted to have a country wedding in Devon, where we met. H.E had everything we wanted and needed. The top line list was as follows;
Outdoor space but with the ability to bring it all indoors if there was rain
No curfew – well sort of, really loud music goes off at 01:00, and ever so slightly less loud music goes on in another barn where you can have the afterparty , this gives a chance for people that want to go to bed, to scuttle away, and the hardcore lot somewhere to carry on
On-site accommodation -large house for close friends, family and caravans and bell tents for hire / space to pitch own tents – for everyone else to stay on site
Dogs allowed
Flexibility to use all your own suppliers and completely make it your own day
Beautiful scenery and barn
Long weekend hire (Friday to Monday)."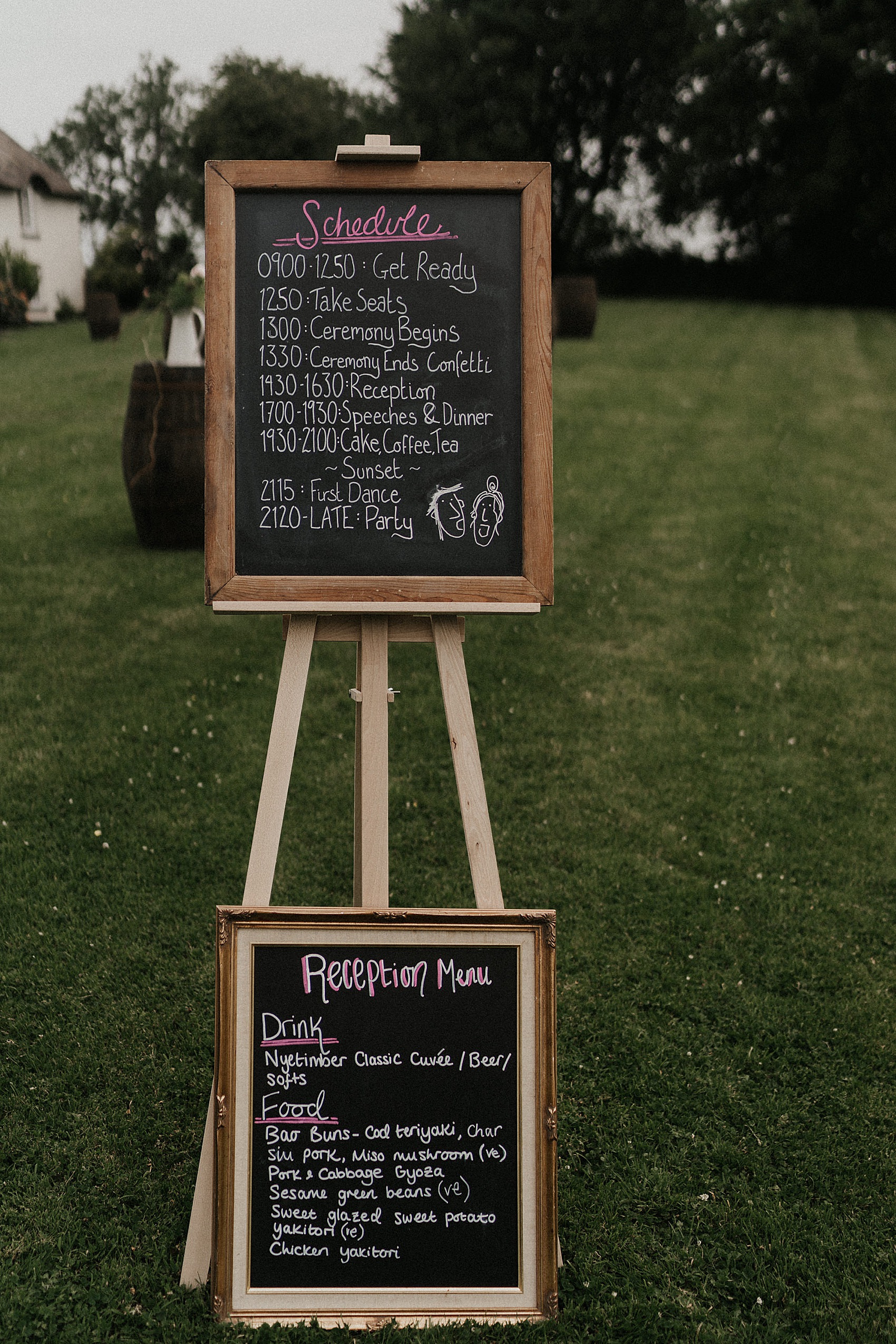 "This worked perfectly as we set up Friday in the day and had everyone come a night early so they were settled at the venue. We had a big BBQ with everyone Friday eve and it was a great way to get everyone in the mood for the weekend, Saturday = wedding obviously, and then everyone stayed over Sat –Sun and we had a big hungover brunch feast before everyone went home. Then the cleanup commenced before we had to get out of the venue on Monday."
"Higher Eggbeer is such a stunning venue, it has plenty of rustic charm, you really don't have to do much to it in terms of décor. Ali who runs the venue was great and so helpful from start to finish."
"Also, I am an event manager myself, so did everything on my own. I used suppliers who I liked and trusted and knew would make all the spaces look just how I wanted them."
Mo had a bespoke suit, made by the amazing guys at Beggars Run.
"Mo really enjoyed going in to see master tailor Sam to get the suit fitting perfectly, the whole experience with them was incredibly positive."
"The boys all wore wore white vans, including Mo. Smart wedding shoes were not right for this wedding day. Cufflinks were by Polly Collins and I got pink floral liberty print ties for the boys made by seller Liberty59 on Etsy.'"
?Mo also wore Tobak by Maya Njie – a delicious unisex fragrance."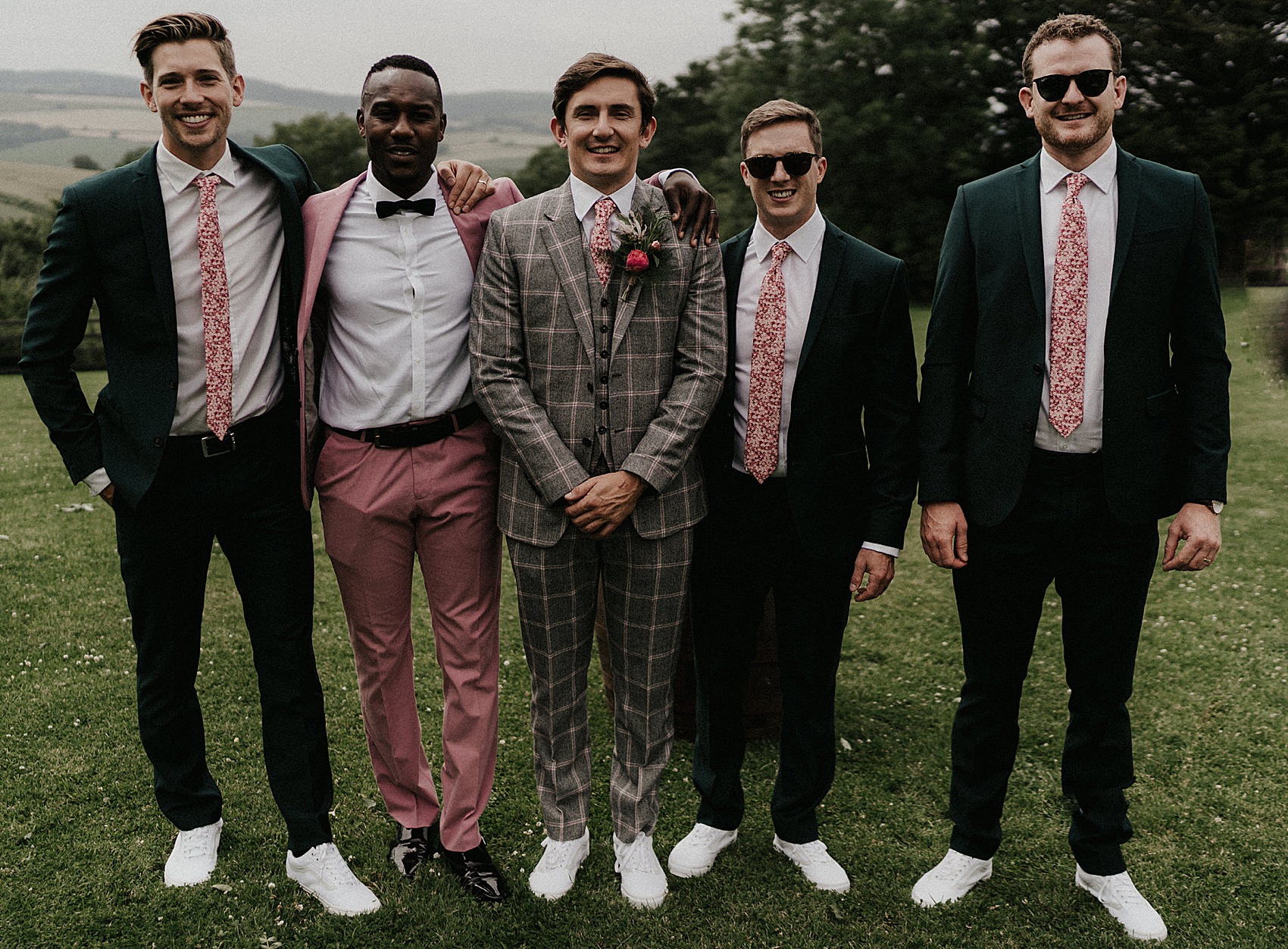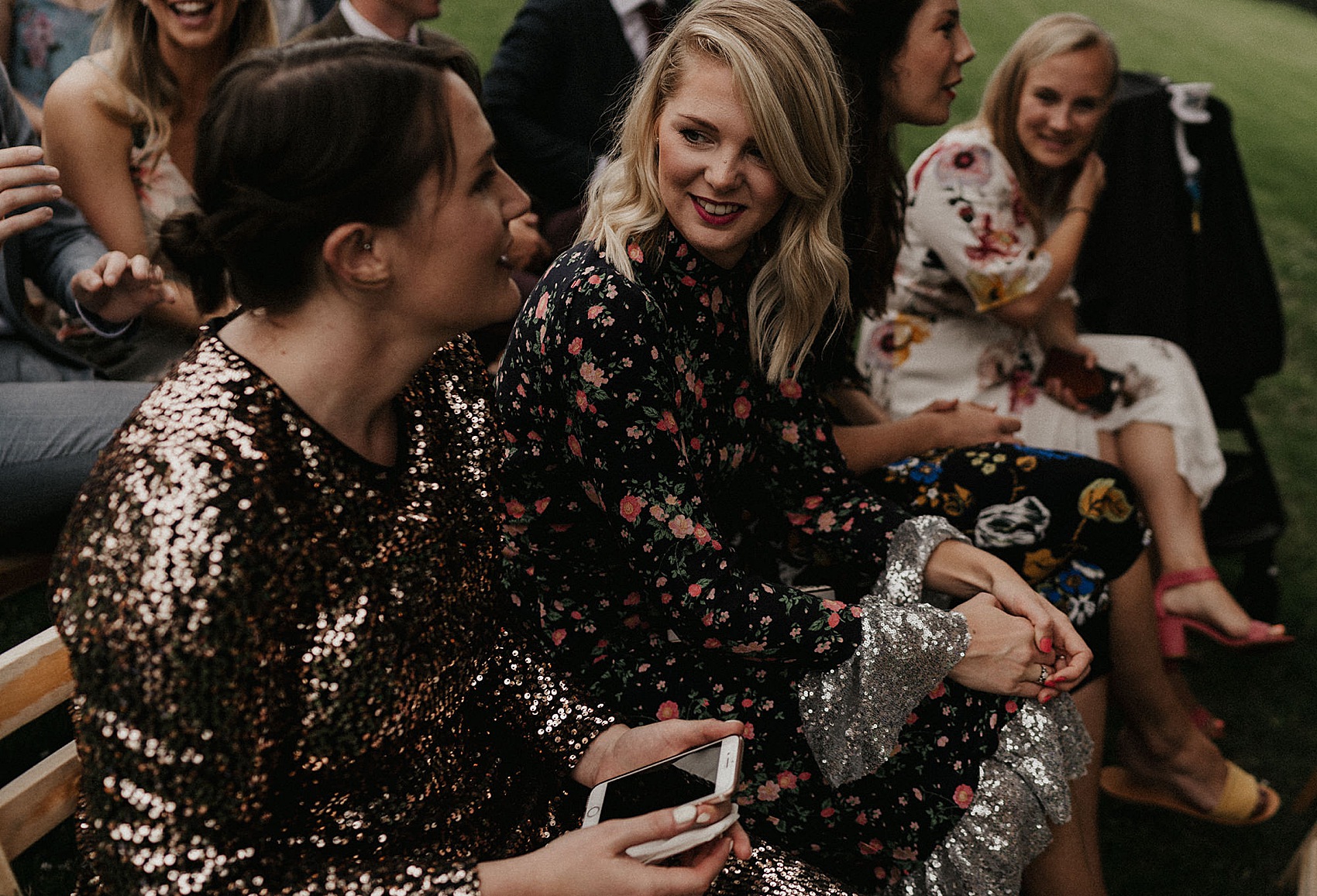 The bridesmaids wore the most sensational dresses by designer Ulla Johnson, which Lucy sourced via via Net a Porter.
"As I was in pink, I wanted the girls in a colour that didn't clash. Black is my second fave colour after pink and it goes really well with the bright pink I was wearing. We found these gorgeous dresses on Ulla Johnson dresses on Net a Porter that were so fun, and sexy, they had ruffles that matched mine and most importantly, the girls felt good in them and will be able to wear them again and again forever."
"I wanted them to wear their own shoes so they felt comfortable. They wore the necklaces as above."
"My dad and my dog Izzy walked me down the aisle to the sound of 'Sea of Love', by Cat Power."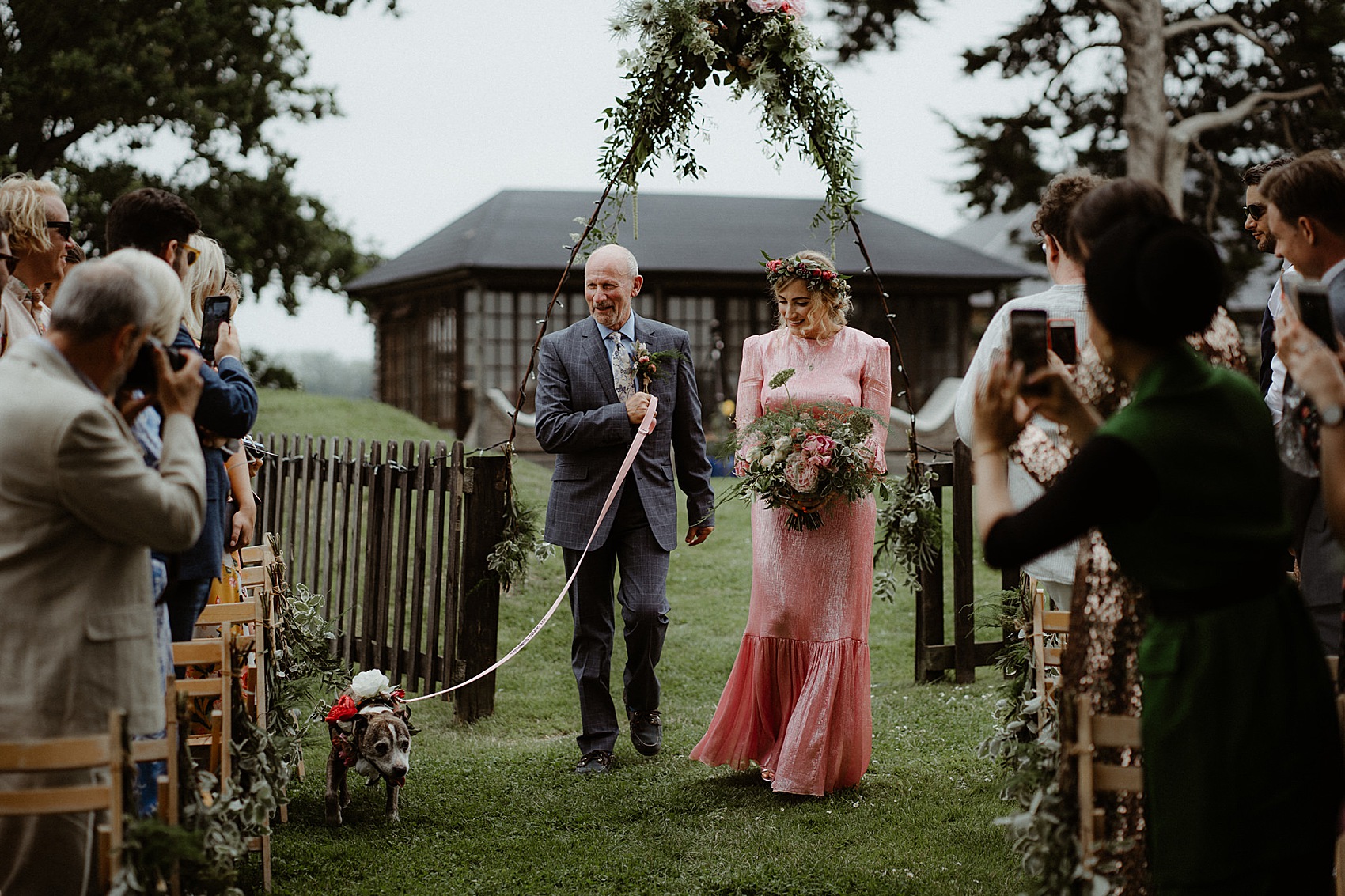 "We got legally married in London a few weeks before our Devon wedding as we wanted one of our best friends Nick to be our celebrant. We gave him about a year to prepare for this and he really did deliver! His ceremony was so moving and personal, funny, touching. It really had it all, and there wasn't a dry eye. We will be forever grateful to him."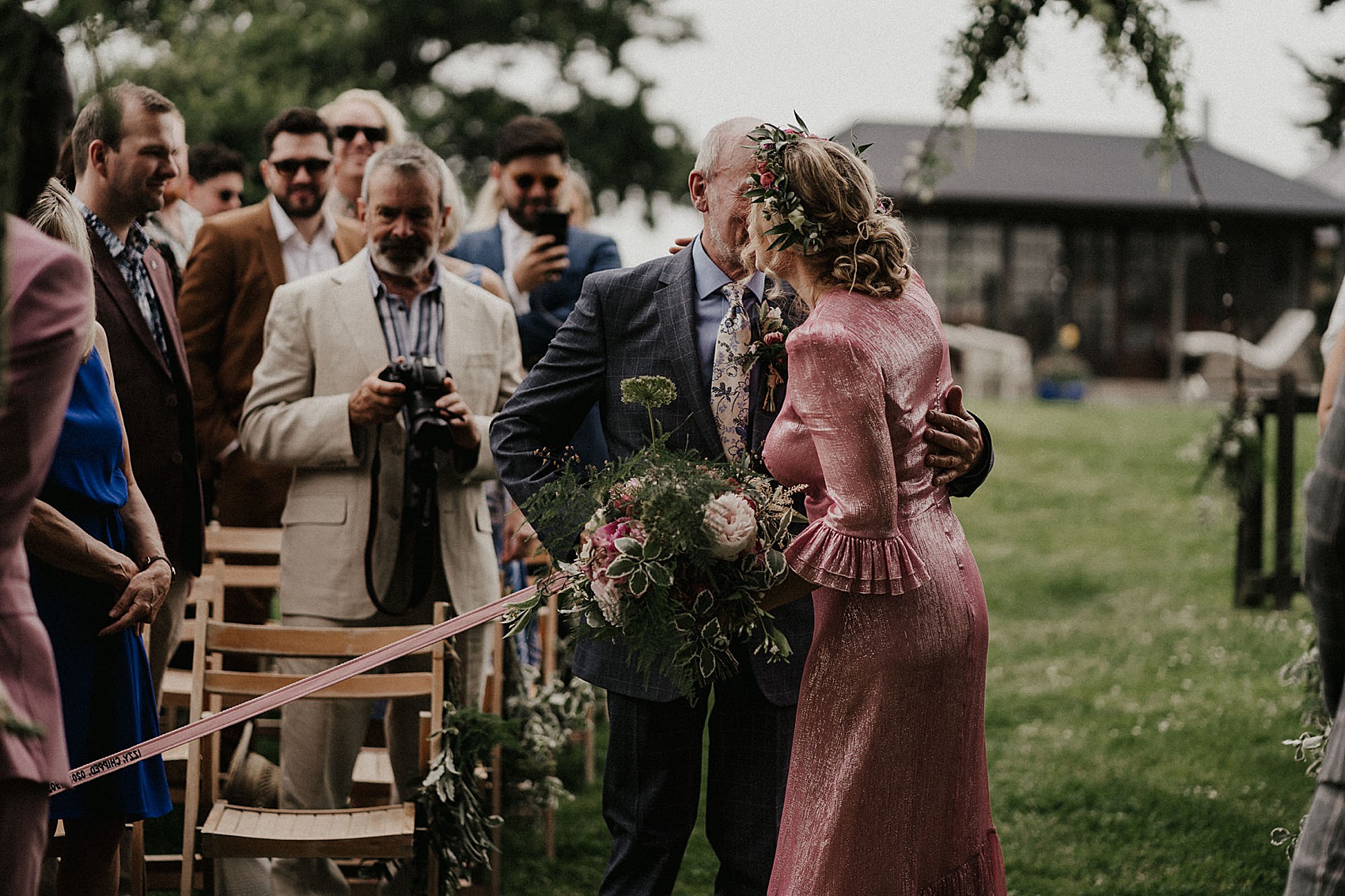 "We didn't have vows, we let Nick take complete control with it, but we did tell him Vows weren't really for us especially as we'd already done the legal thing."
"We had a beautiful floral backdrop for our ceremony, this was created on our wedding arch, and incorporated two large antique milk churns (our florist's own). These were great, as they then moved to the barn entrance and were used again."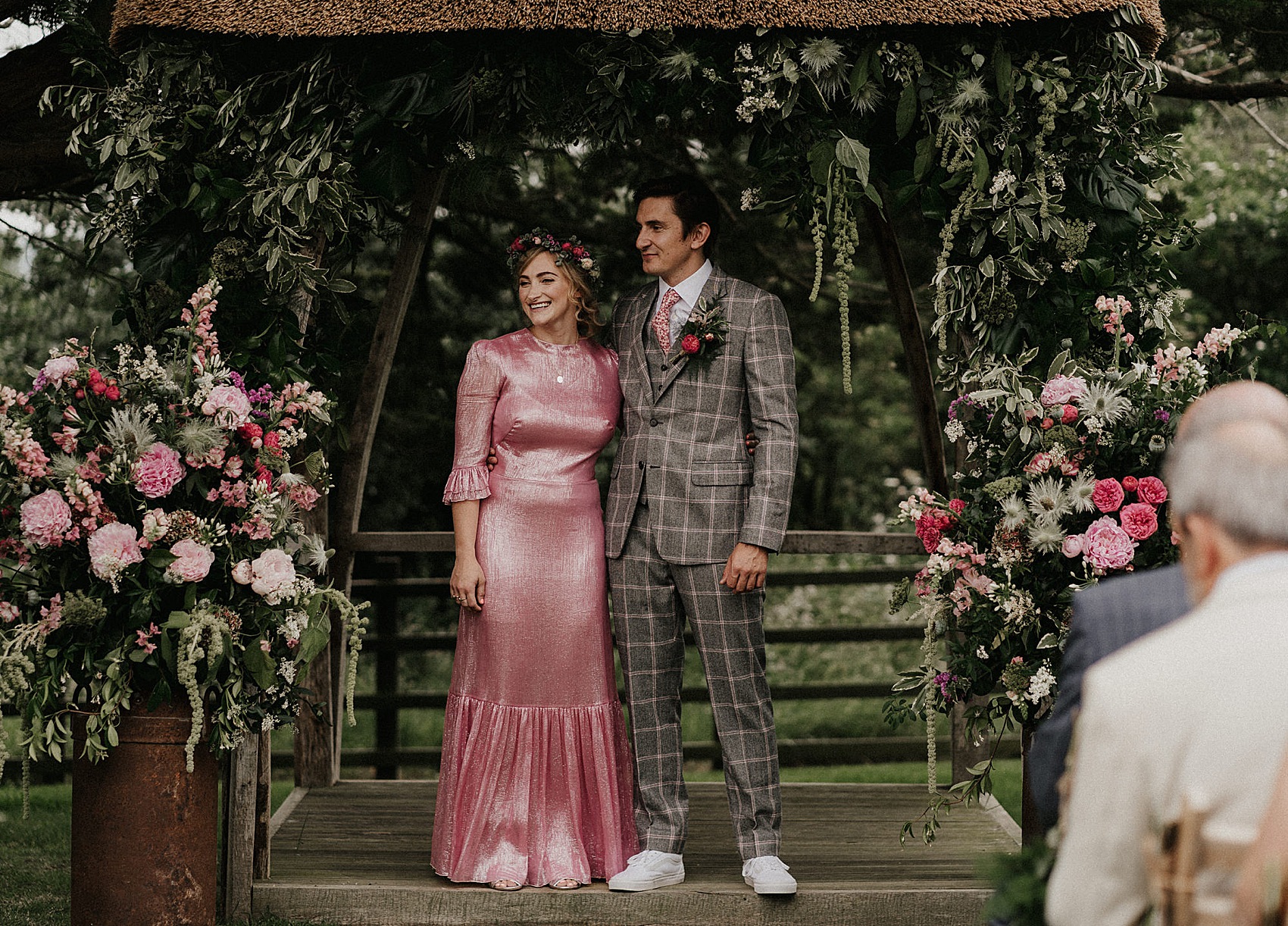 "Our friends Farhana and Hannah did readings. We trusted them to come up with something great. Farhana wrote her own poem about us and our relationship and Hannah wrote a reading inspired by dogs and what they can teach you about love and living a happy life."
"It had lines in it like 'run, romp and play daily, take naps, avoid biting when a simple growl will do, when you're happy dance around and wag your entire body'. It was lovely, because we were both looking at Izzy (the dog) who by this point was over the whole wedding thing and was sleeping peacefully on the front row without a care in the world."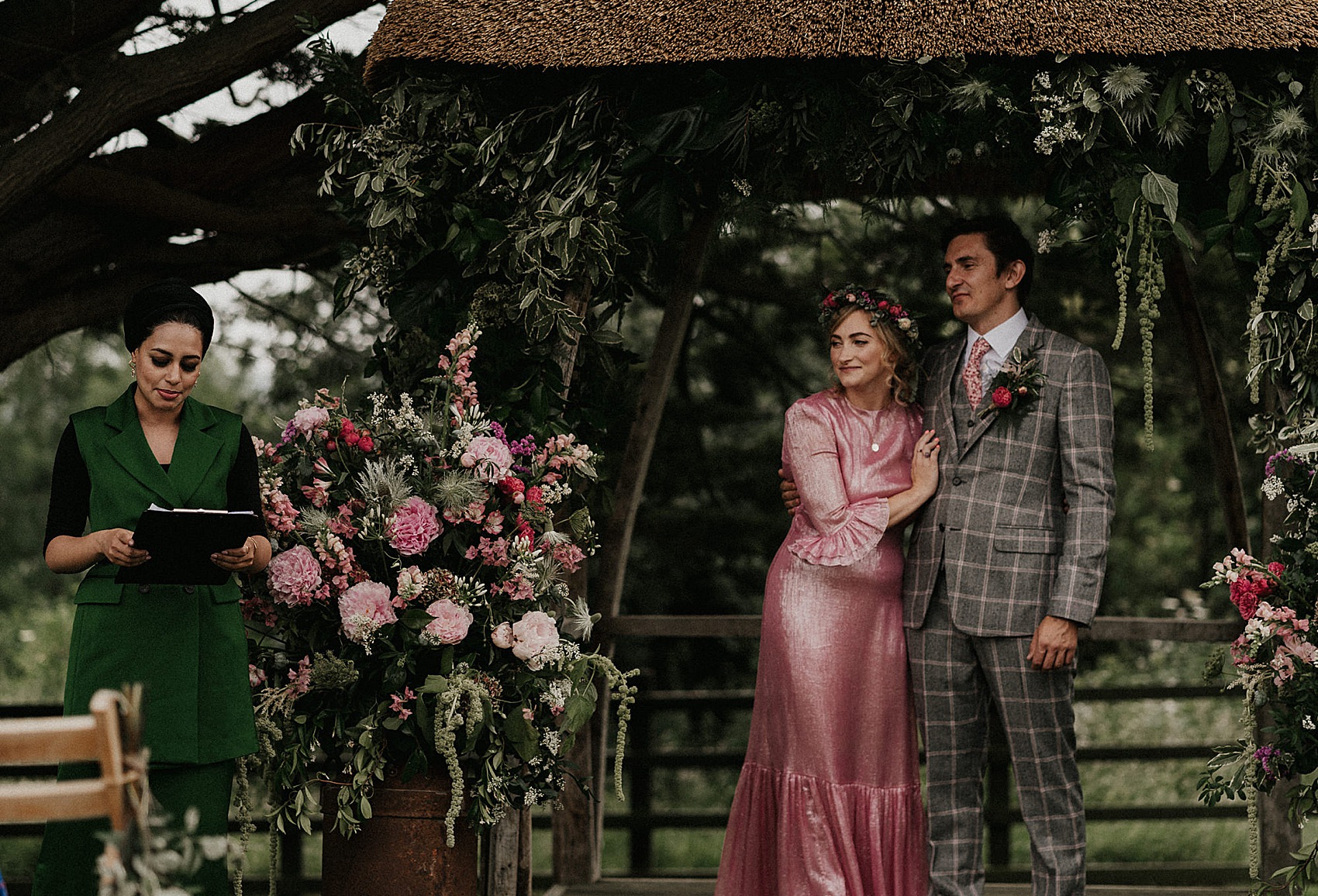 "We met at Plymouth university, we worked together at the Student Union before getting together on my very last day before leaving Plymouth, Mo still had a year to go before he graduated so there was a lot of back and forth between London and Plymouth making it work."
"We got engaged on Seasalter Beach in Kent on a dog walk with Izzy the dog, engaged for two years before we got wed."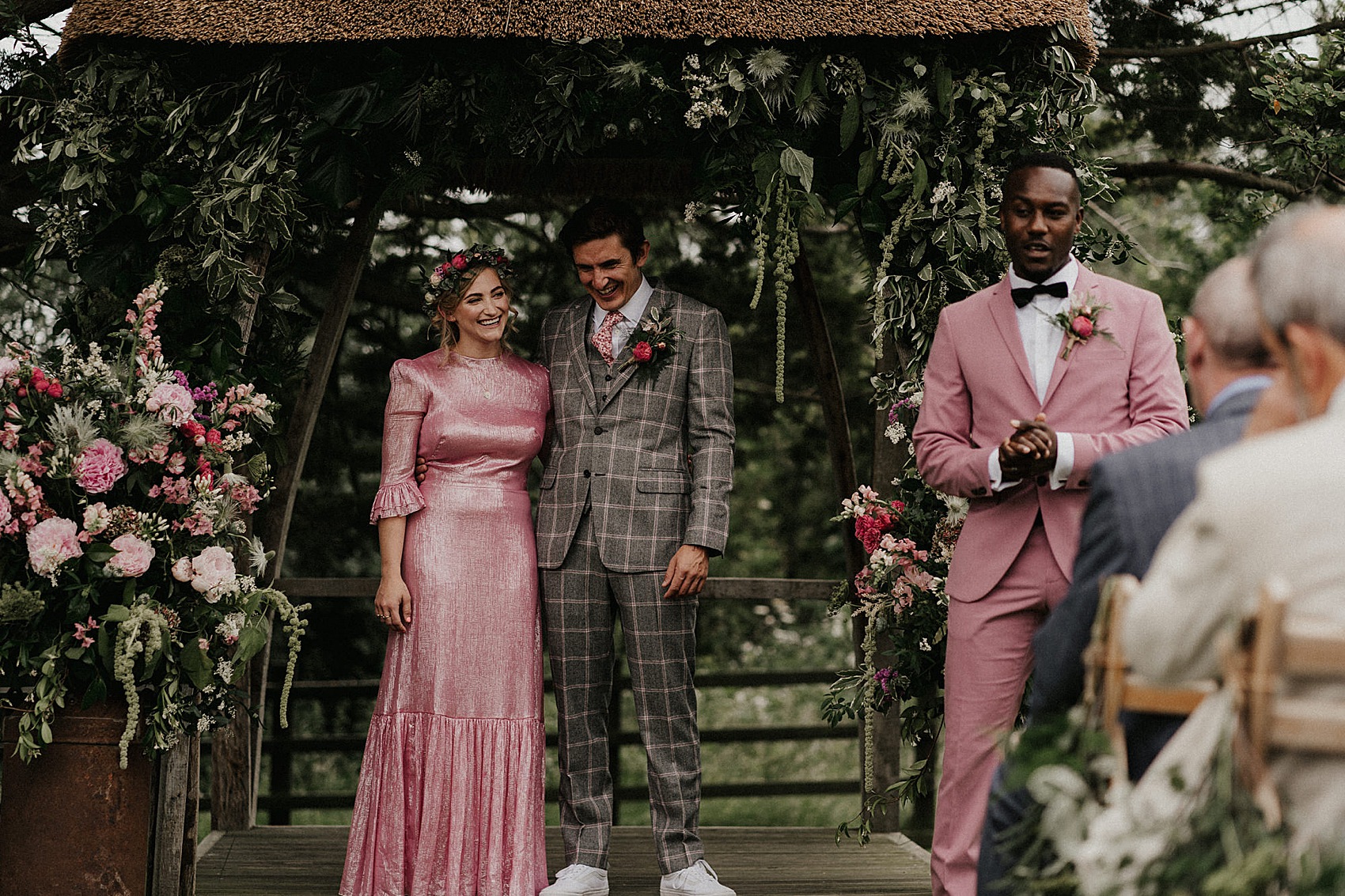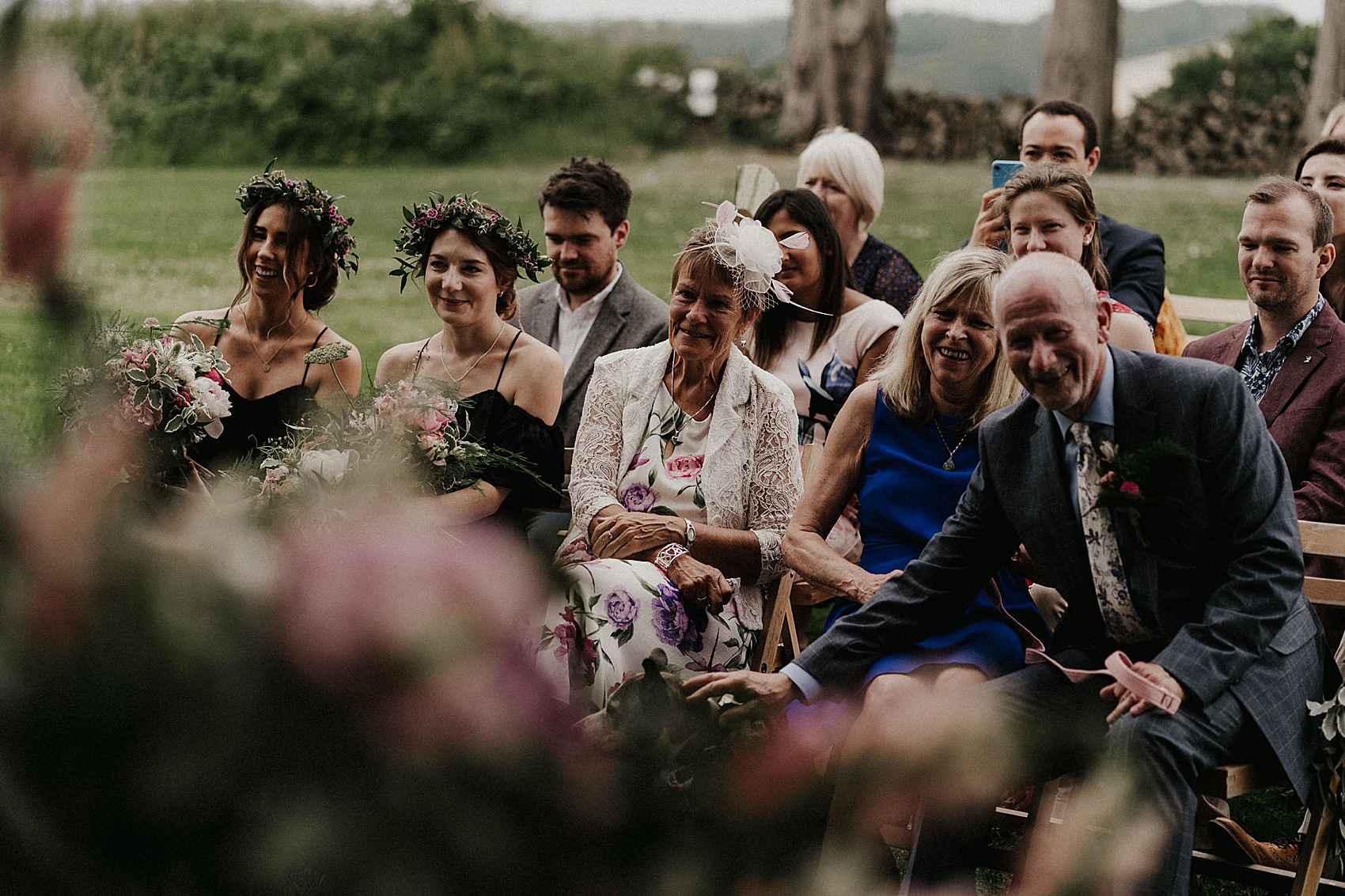 "Our florist was Tina of Twigs and Blooms. found Tina through a local floristry college in Devon. I had pretty strong ideas on what I wanted our flowers to look like. I wanted flowers wherever I could have them, I wanted a chic unfussy look, not frilly or posey like and I only wanted Pink, White and Greens in the palette."
"However, whilst I had all these ideas, I'm terrible with flowers, and have zero knowledge on what works well together. Tina came in, with her extensive knowledge and took the ideas to the next level."
"Tina messaged me a few days before the wedding with a little peek of what the flowers looked like and said 'they are just so beautiful that I feel a bit weepy!' She was right, they were the most beautiful flowers I'd ever seen!"
"Our bouquets and button holes were of course perfect. The barn became the most fantastic floral feast for the eyes, with flowers hanging from the candelabras, the beams / basically anywhere Tina could put them."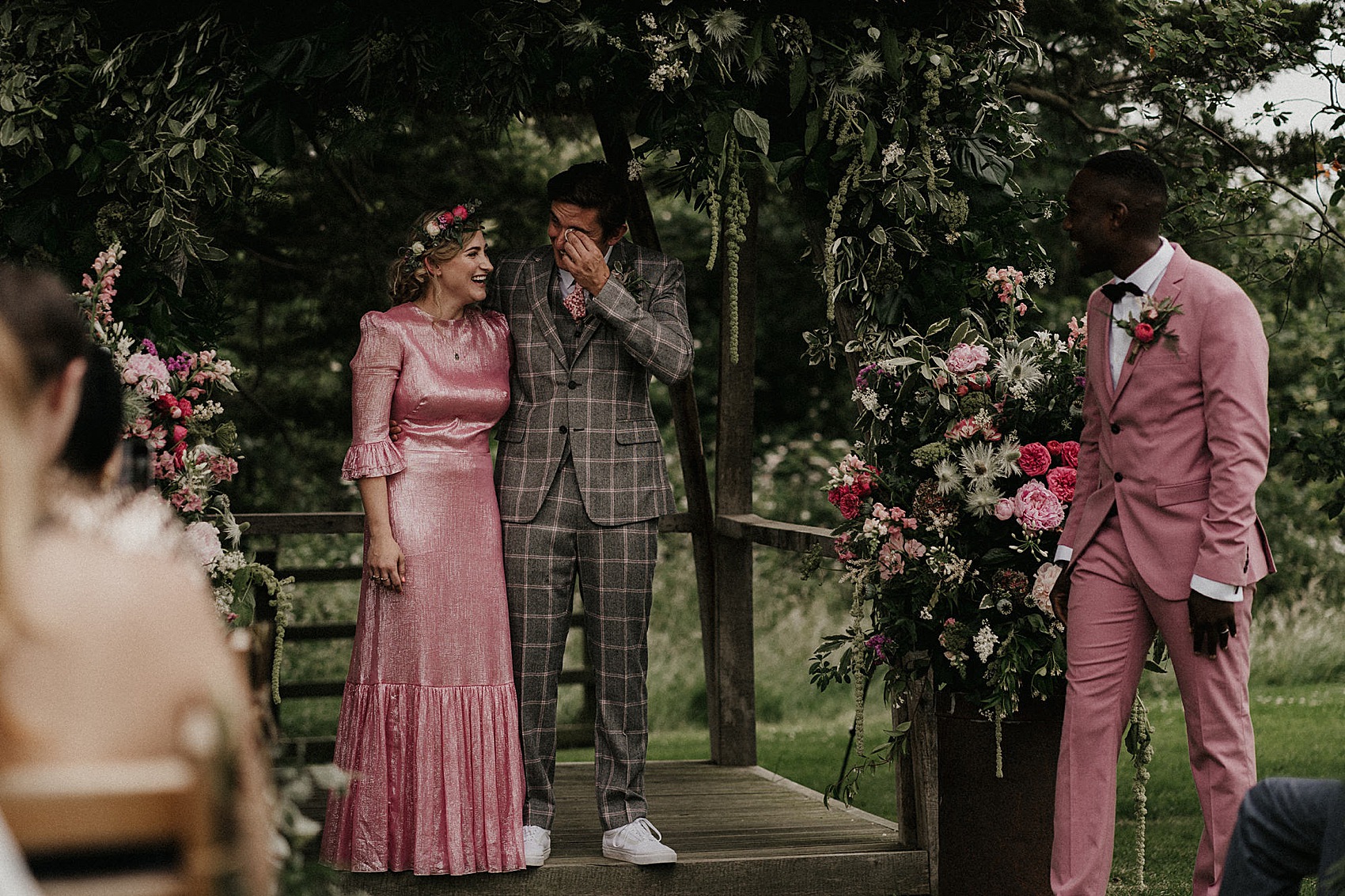 "We made our own wedding bands with the lovely Kirstie from The Workbench London. Turns out Kirstie and I actually knew each other through our mums who had worked together once upon a time! Weird! Mo and I carved our wedding bands together over pizza and prosecco under the watchful eye of Kirstie, using The Workbenches easy to use wax kits."
"You can order their kits to do at home, or you can take part in their workshops and do this – it's a great idea for a work party, or hen, or just something to do at home when you're feeling creative."
"Once done, the wax is sent to set to the girls at The Workbench and set in the metal of your choice. Our rings have very slight imperfections e.g. Mo's is not perfectly straight all the way round, because we carved them ourselves, we love them even more for it. We went for chunky 18ct gold bands."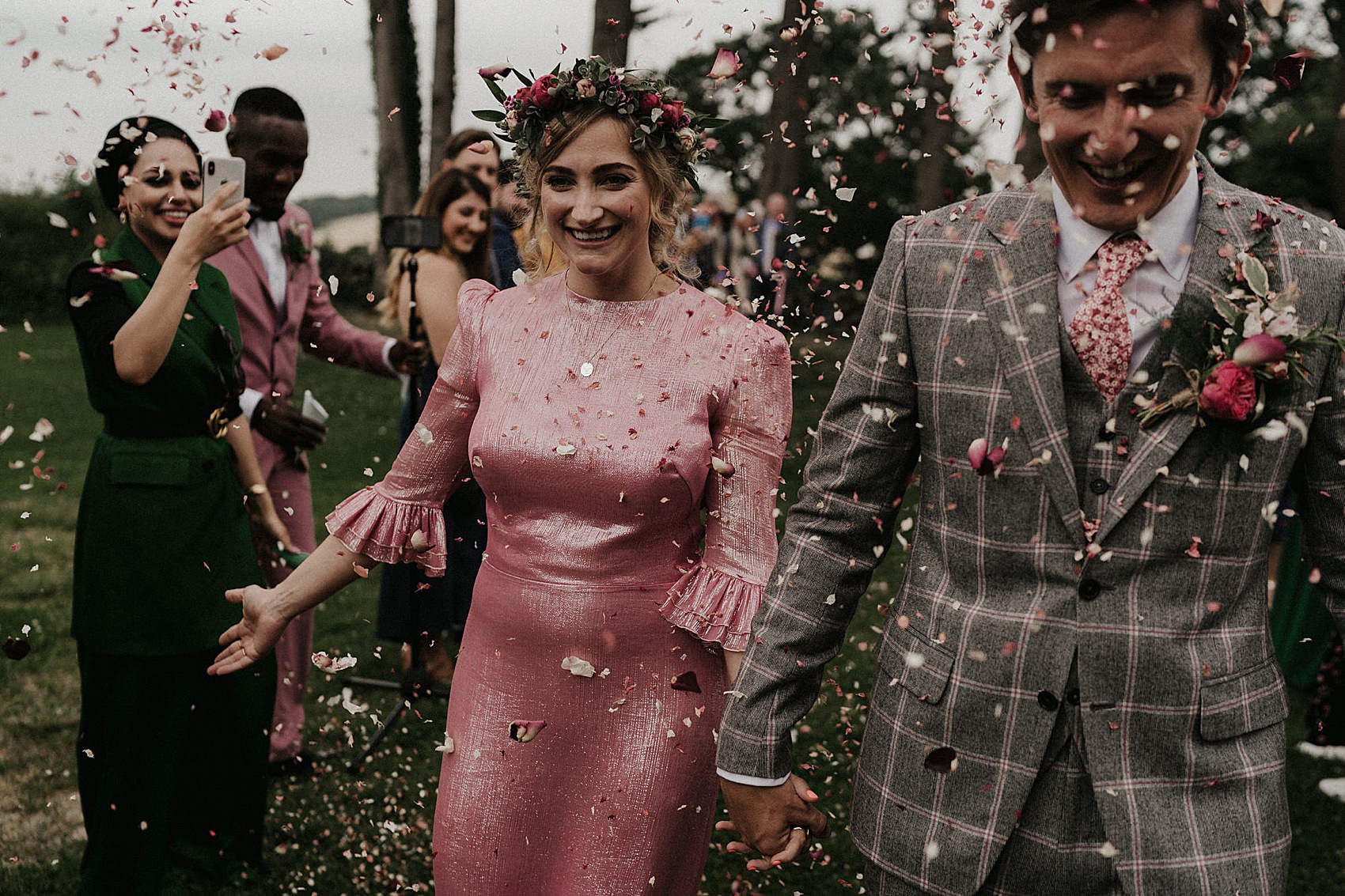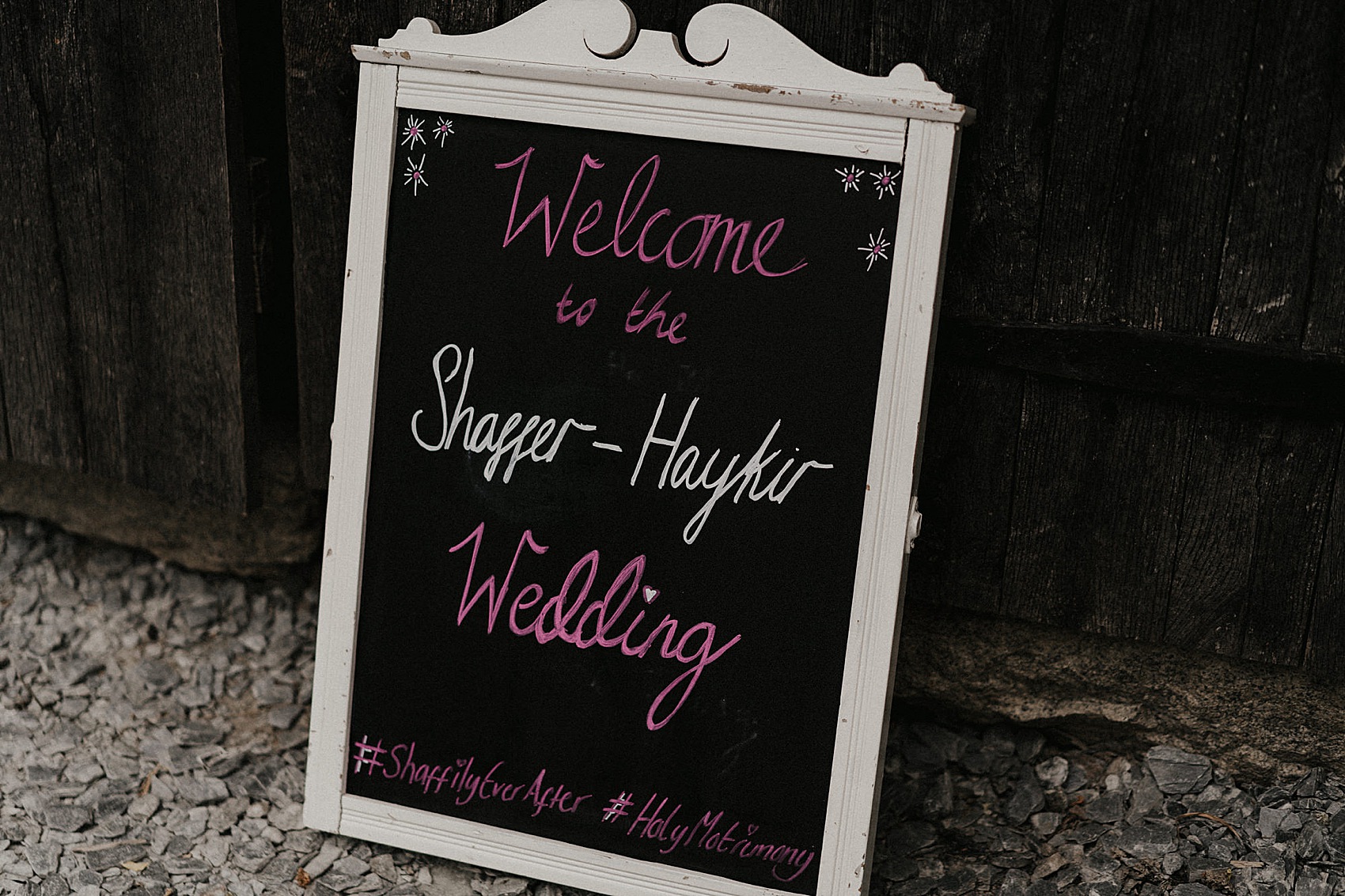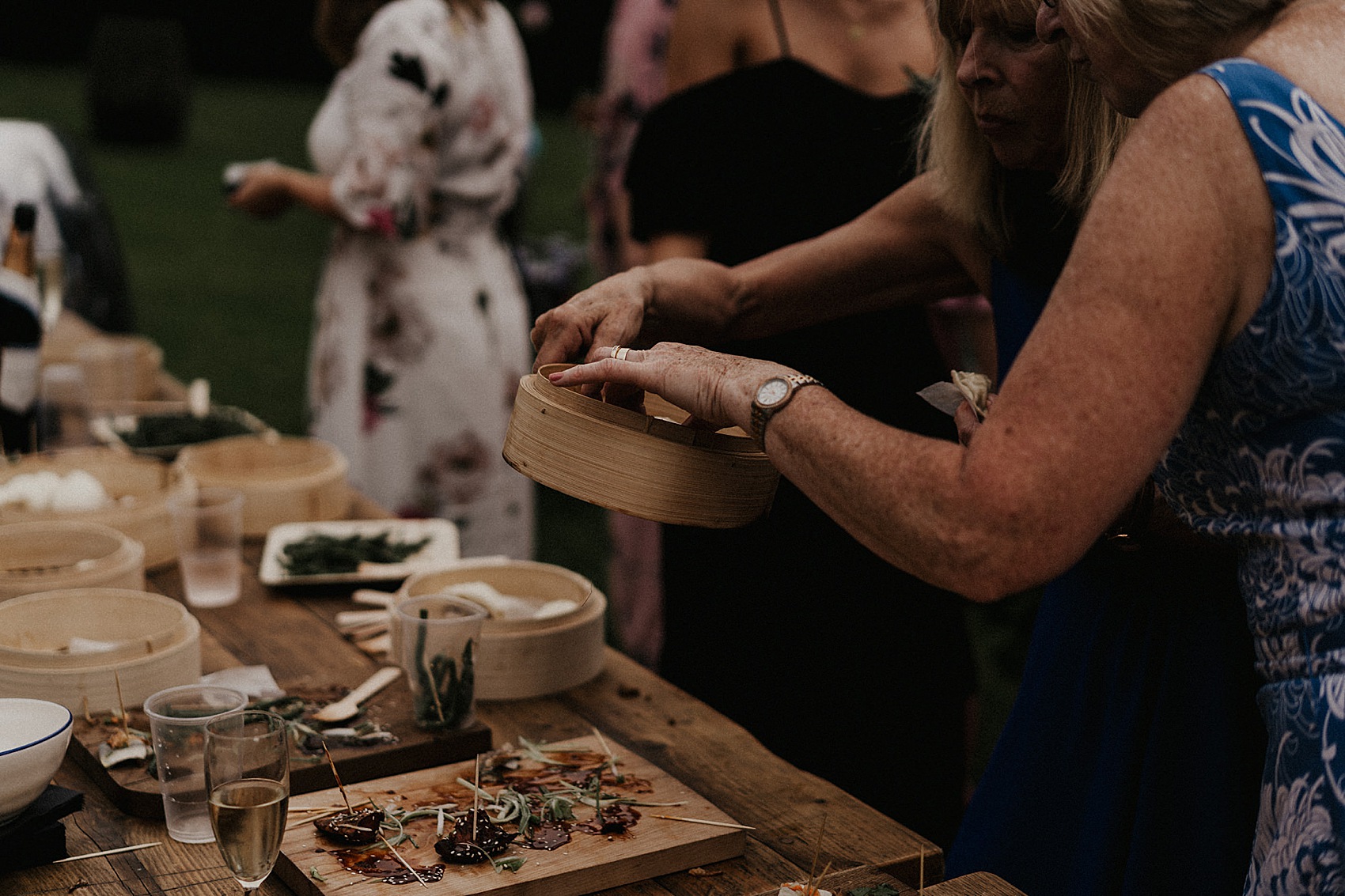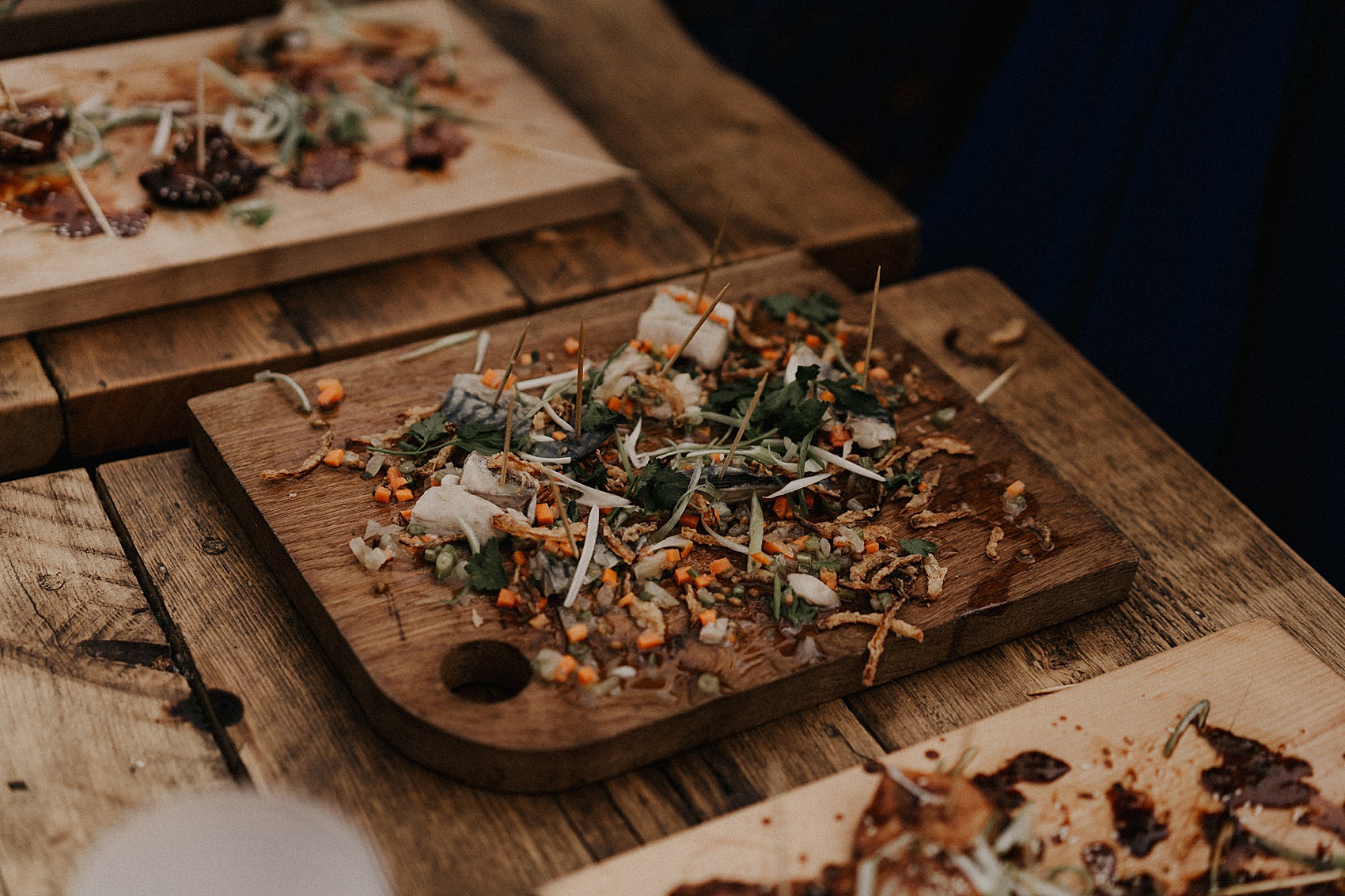 "Food is probably the most important thing in my life, so it was the number one thing I had to get right at the wedding. Rusty Pig is a fantastic Restaurant in Ottery St. Mary – Exeter, about 45 mins away from the venue."
"Like me they are obsessed with feasting on good British produce, we went to meet them for a coffee and a catch up and had dinner at their restaurant later that night. We were blown away and knew right then that they were going to be our wedding caterers. After the wedding ceremony, our wedding was literally non stop eating."
"We opted for a completely bespoke Asian canapé menu for the drinks reception including Sesame green beans, chicken/sweet potato teriyaki sticks, Bao Buns and Gyoza dumplings."
"We set up a huge table in the garden at Higher Eggbeer and our guests went up to it whenever they were hungry and took their Asian food from the steamers that the RP staff were looking after."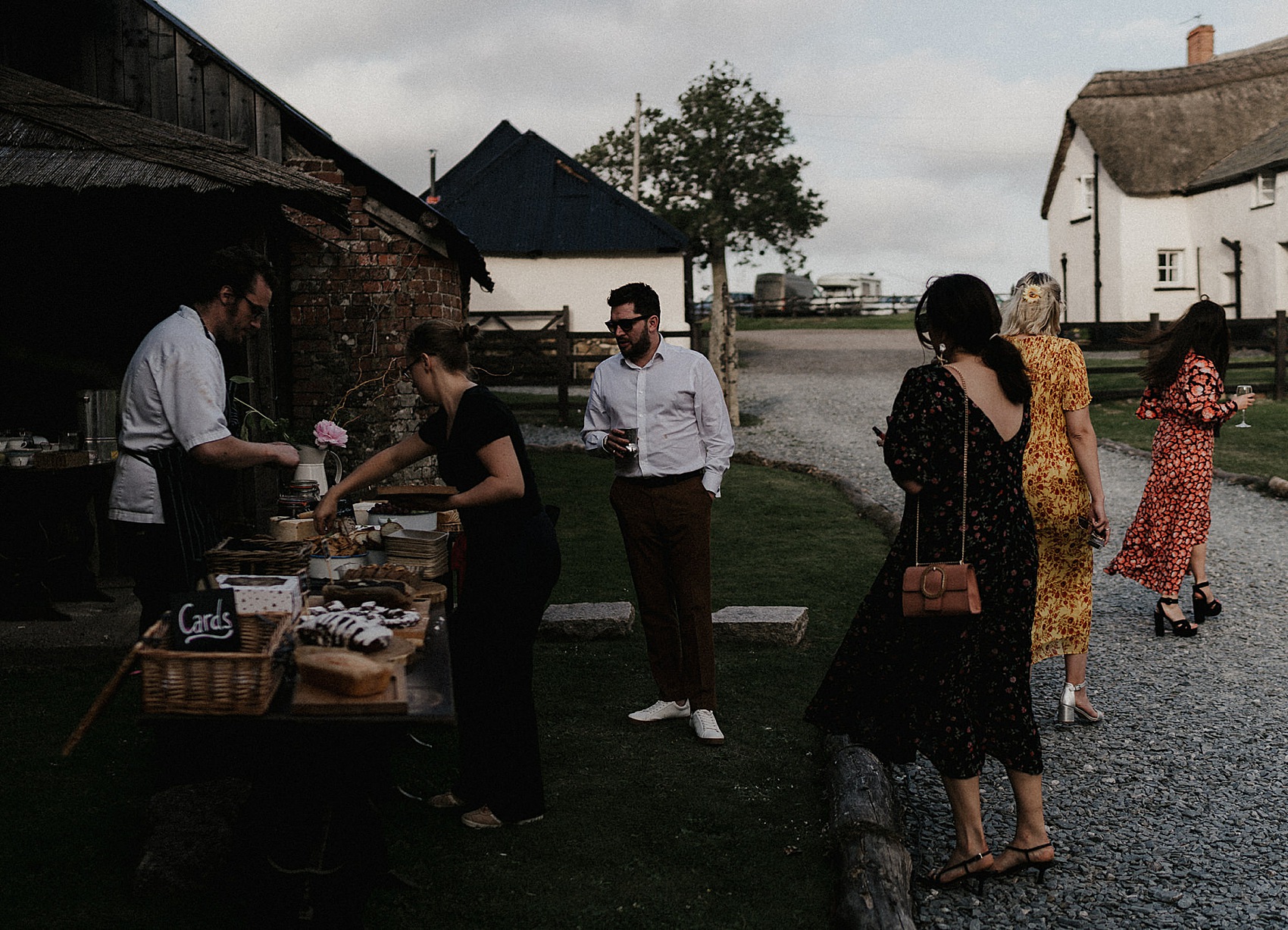 "The tables had a moss runner, and several antique bottles filled with greenery adorned on said runner – beautiful soft asparagus ferns and simple white flowers, the tables looked like they were alive (in a good way)."
"For the big wedding meal, we chose off of Rusty Pig's menu. It was feasting, banquet style, set up in the middle of the tables. For the starter we wanted charcuterie and bread with oils and butters (whipped marmite butter anyone?!) But Mo and I have an allotment, so we wanted to bring that part of our lives to the table too, Rusty Pig dressed around all the gorgeous flowers with with allotment veg that they had sourced locally for us."
"It looked like it shouldn't be touched and that it was all part of the table decorations, but we planted a few 'moles' in the room who started eating the tomatoes, radishes, carrots etc from the tables with their bread and meat and soon the rest of our guests followed suit."
"By the end the tables (except for the flowers) were destroyed, exactly how we wanted them! The main menu included Hake, Slow cooked beef, tomato panzanella, salads, butter beans, pickled eggs and samphire. It was a proper feast. Everything was cooked over fire from their very cool Rusty Pig meat truck that was parked just outside the barn."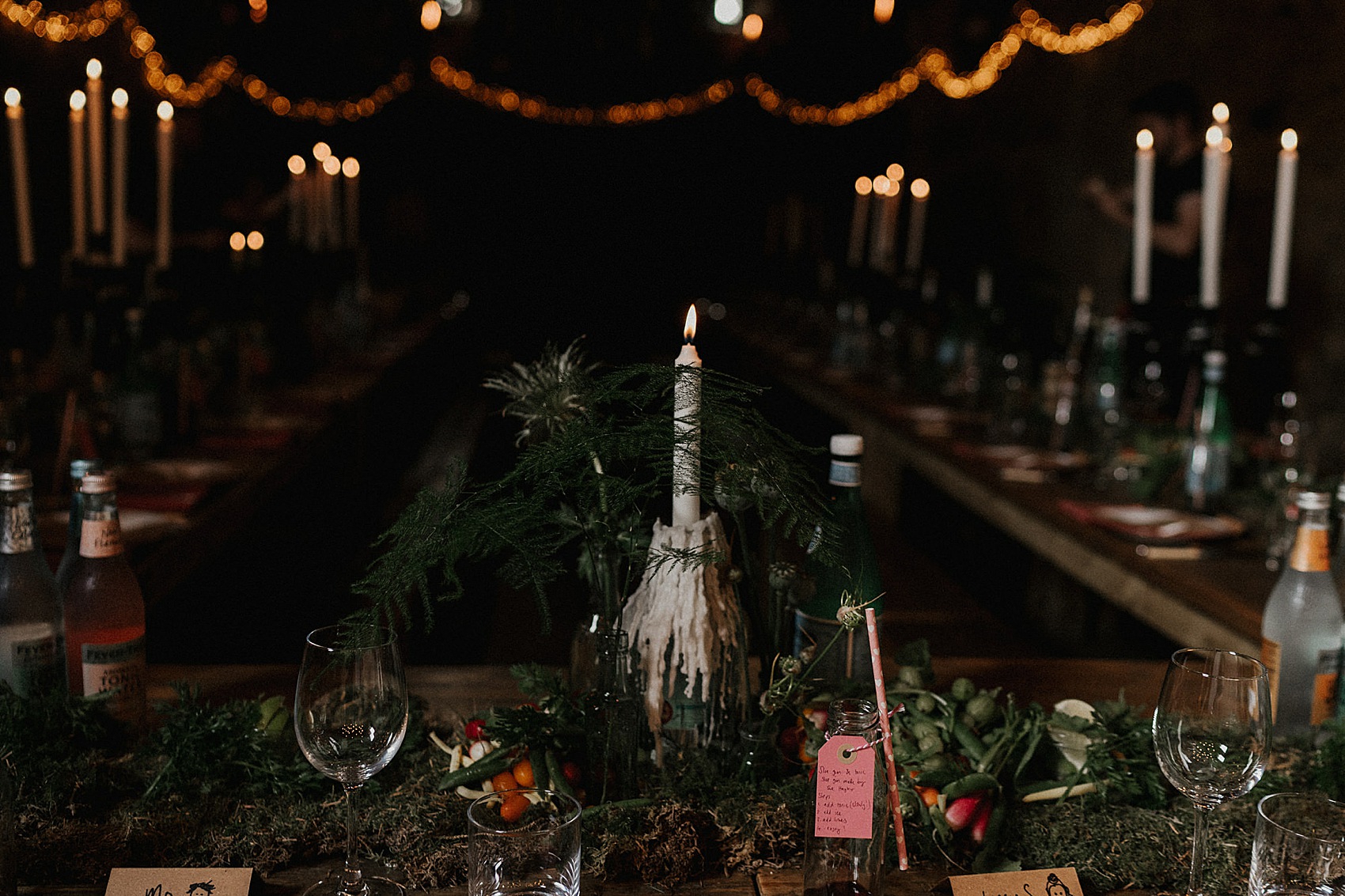 "For decor, we got these large barrels and a huge silver champagne holder which is actually part of an old plane engine, via South West Letter Lights. Everything else was from Tina at Twigs and Blooms, friends, or already available at the venue."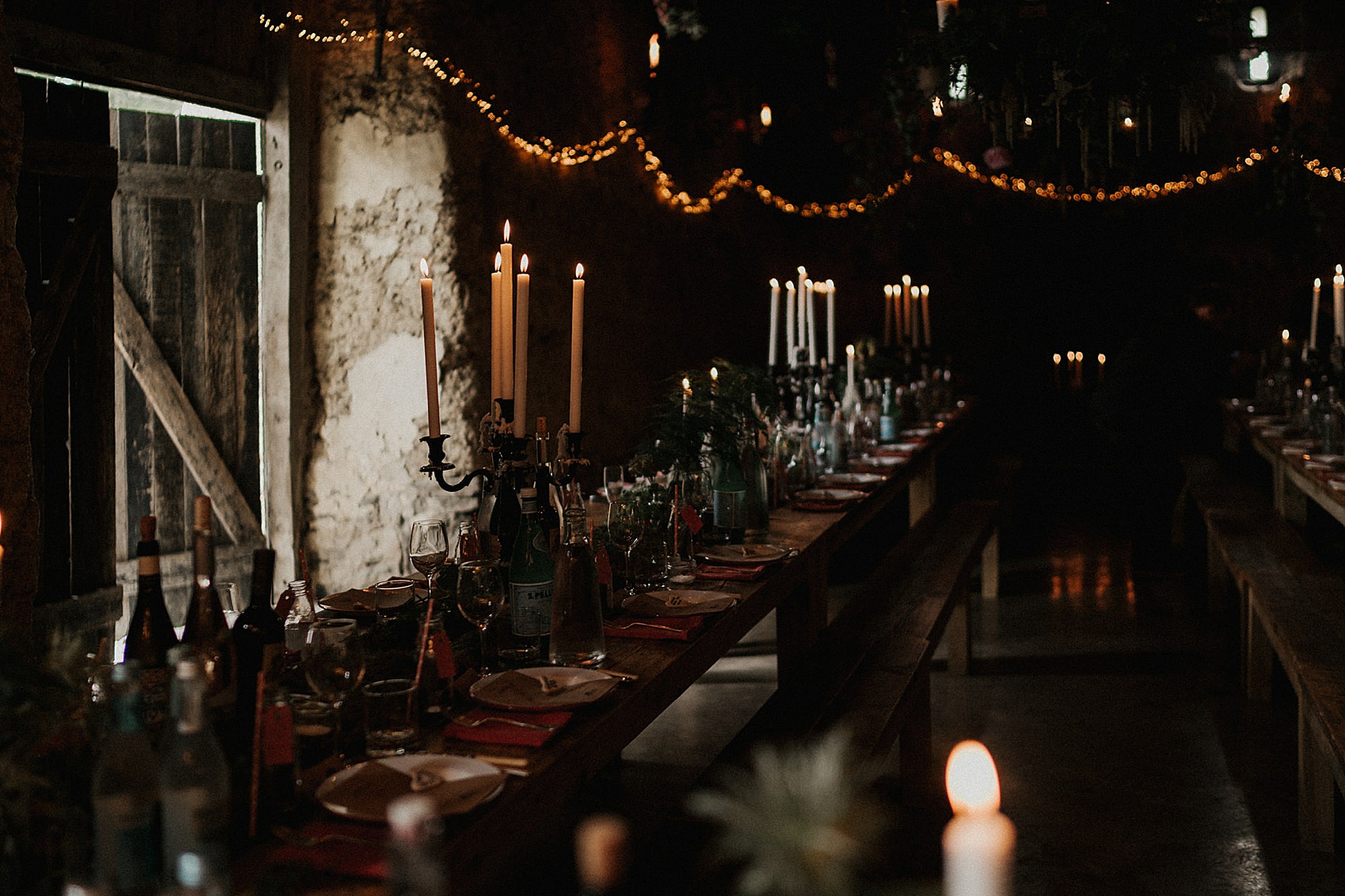 "We got our menu's printed via Etsy, and one of my bridesmaids and I did handwritten name cards with tiny drawings of everyone's faces."
"For favours, we got amazing ceramicist Lucy Kirk, I've loved for years, to make me bespoke pin badges with puns of our names on. They were incredible, and I hope all of our guests have kept them as they are true pieces of art and a fabulous reminder of a wonderful day.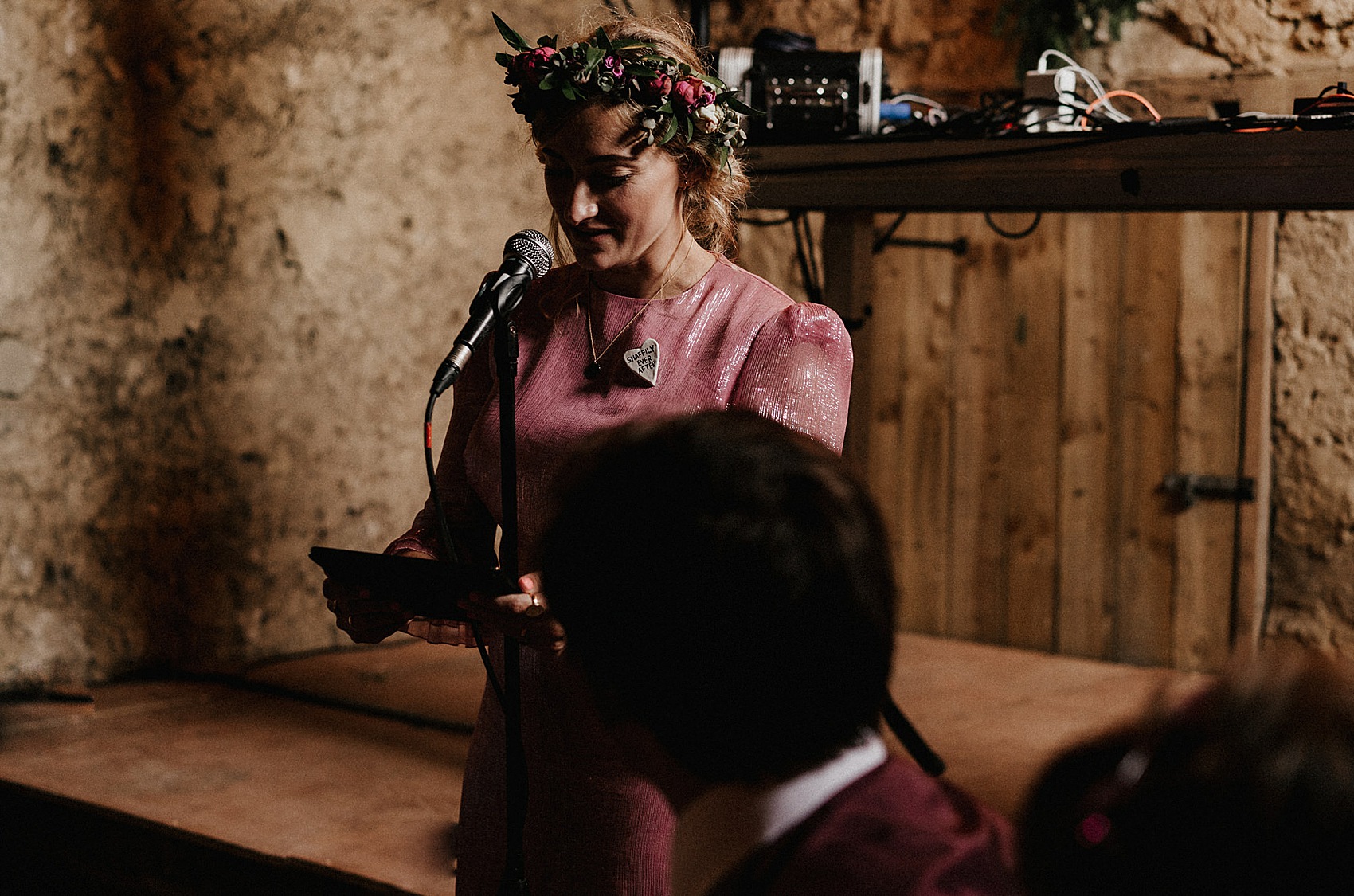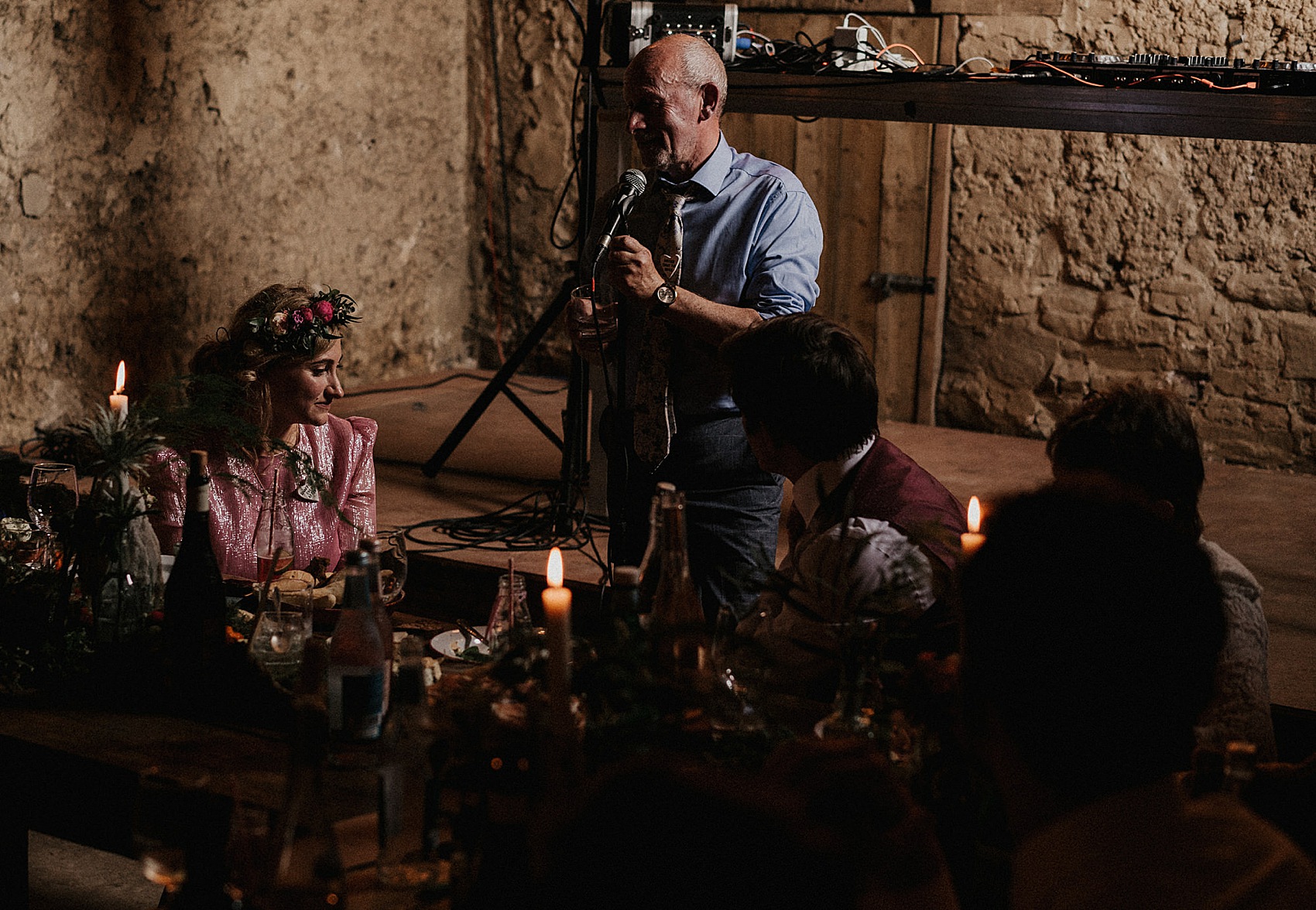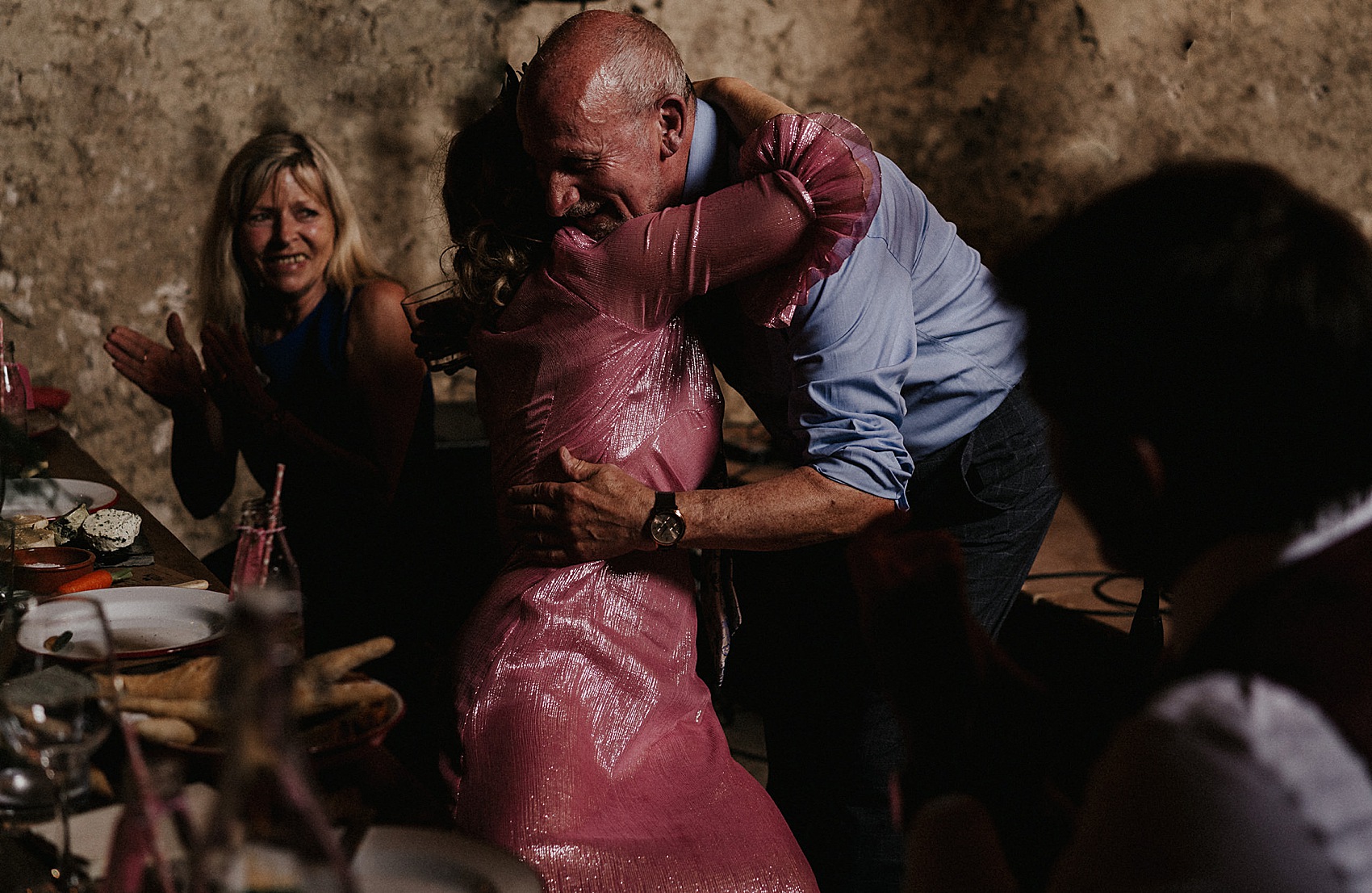 "Nyetimber provided a champagne reception. We also had sloe gin (made by Mo's mum sue) and tonic as the toasting drinks for the speeches, and white, red and rose wine on the tables for the big meal. The bar was run by H.E for the party, and we drunk the place dry!"
"We also had late night Greek Gyros (pitta, meat, chips and veg aka the best kebab you've ever had in your life) that guests collected from the truck served with tzatziki and some super spicy sauce that ended a few peoples nights there and then."
"The brilliant chefs also stayed the night, and cooked everyone a huge Rusty Pig breakfast the next day – absolute troopers."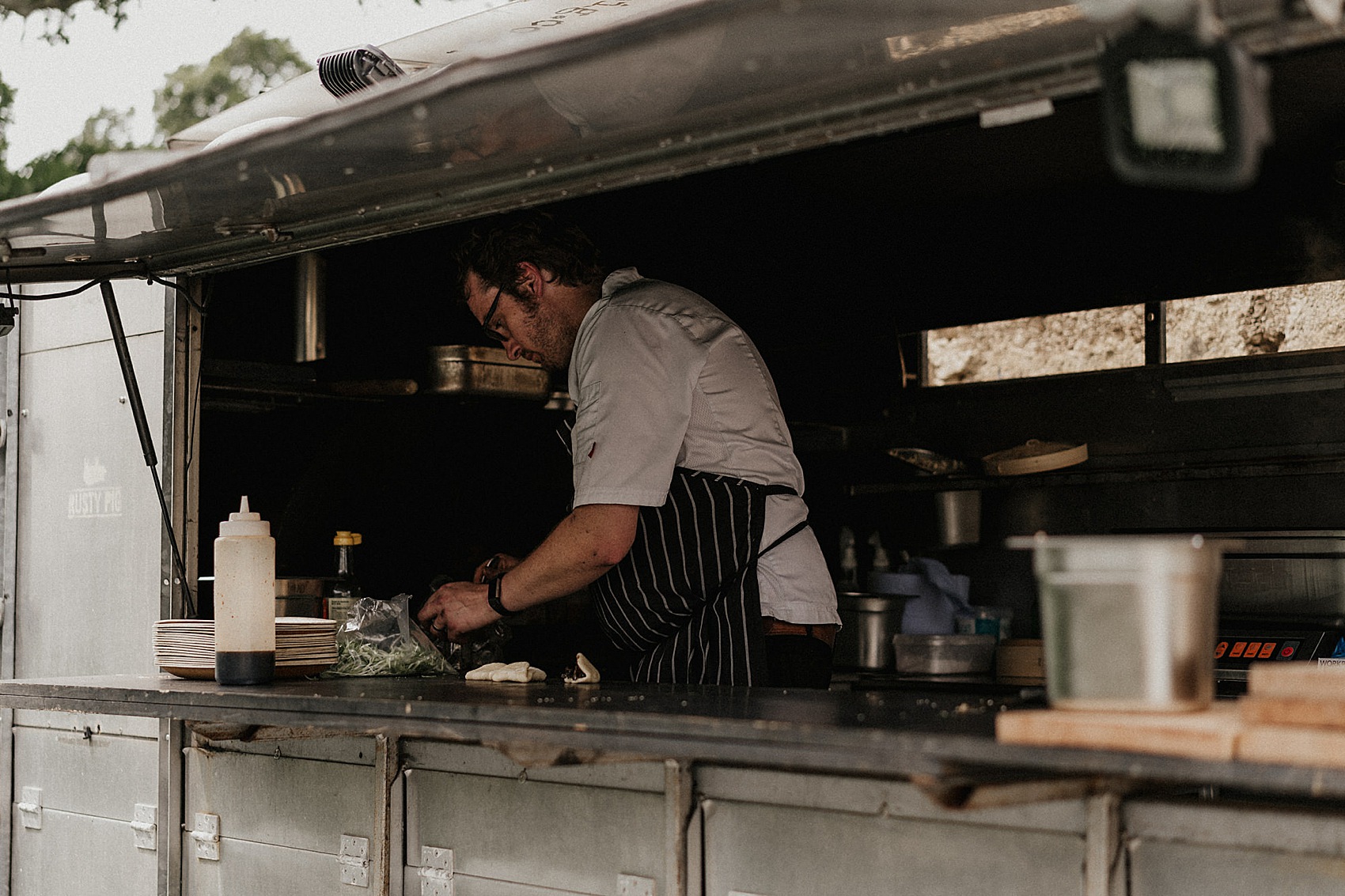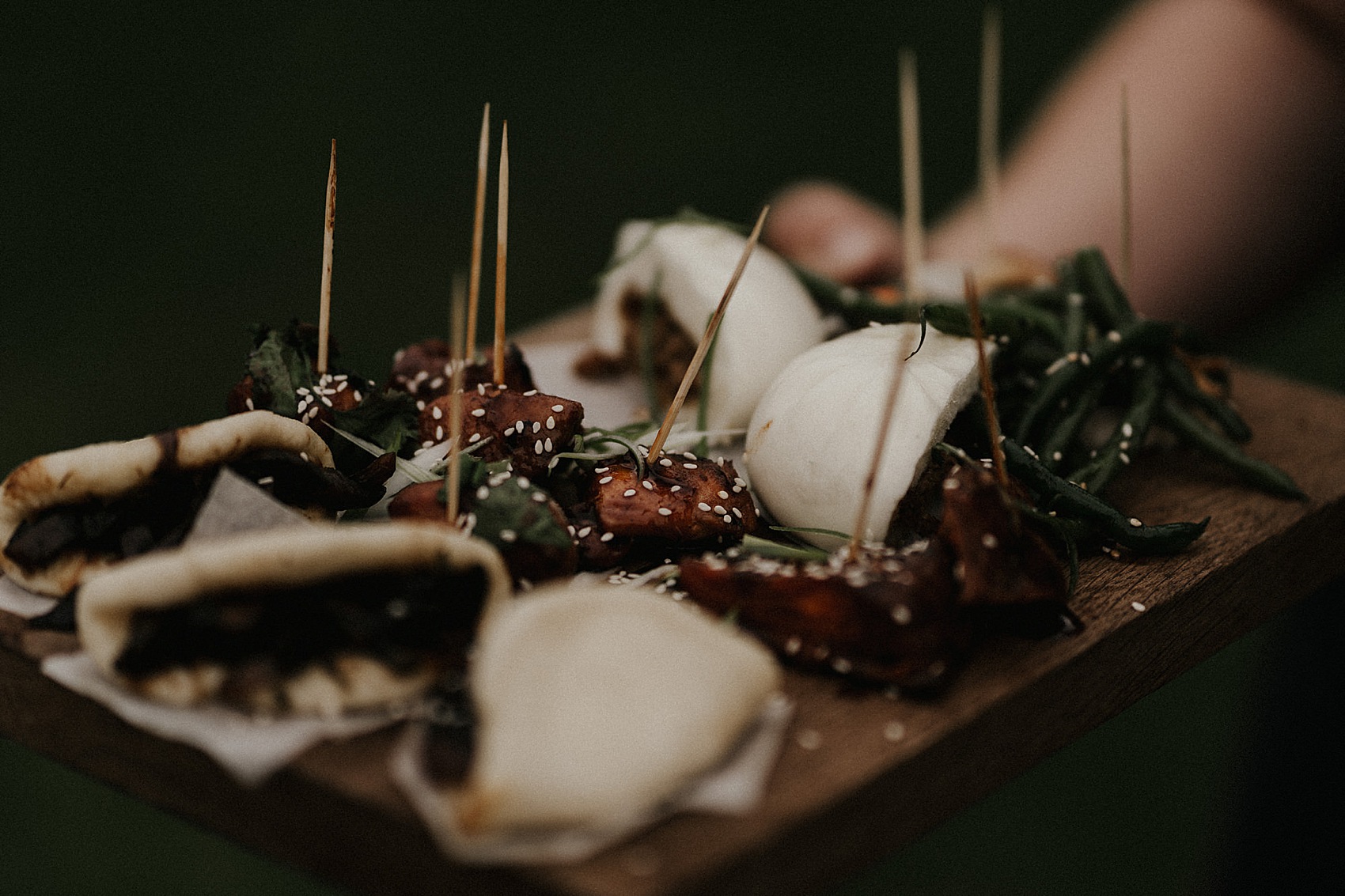 "We had a cake table full of different cakes. My mum made about twelve cakes and loads of brownies, my best friends mum made delicious Chocolate Guinness cakes, and my friend Ffion from wales made about 100 of her incredible welsh cakes."
"We chose not to have a wedding cake as we wanted to have a variety of cakes people could choose from. This was an idea we stole from several of our friends who did the same at their weddings."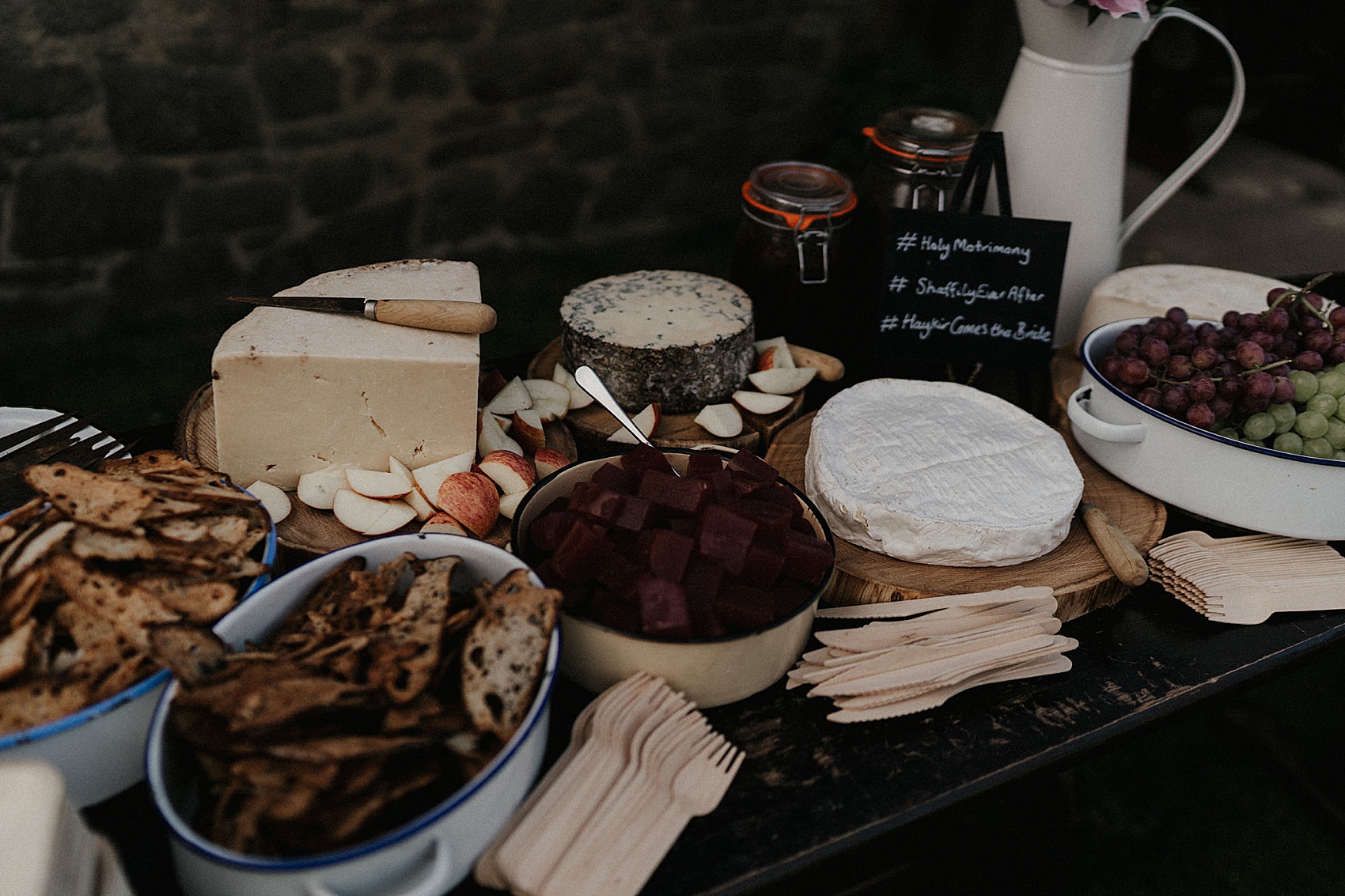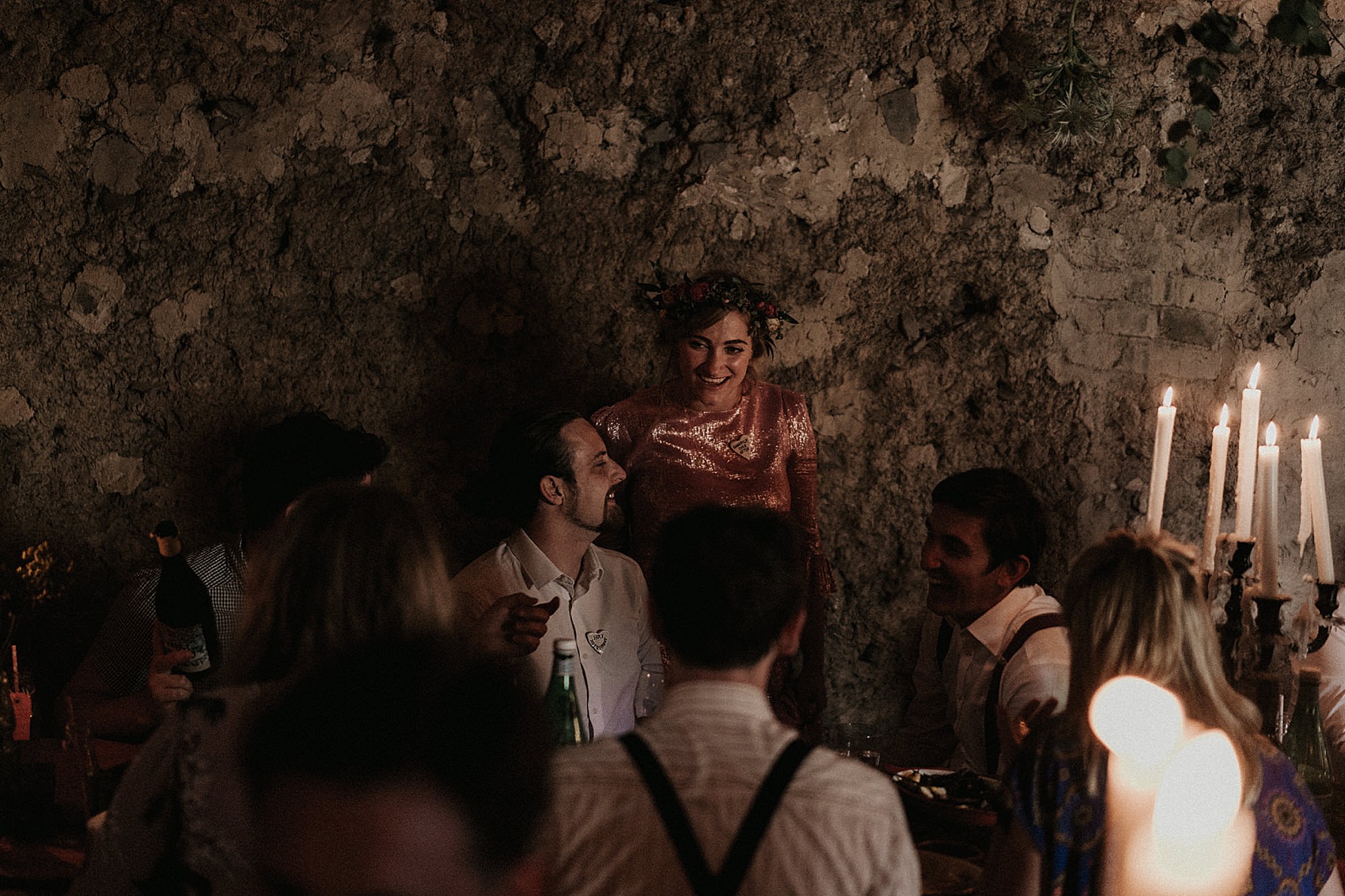 "I got one of my good friends Joe Lennard, who is a part time DJ, to DJ for us. I'm not massively into live wedding bands, I just wanted the party to immediately start with our favourite tunes and I knew Joe was the guy to do that. He started with an hour of 90's early noughties Garage, and then it was just tune after tune from then on. Our wedding wasn't very big, about 65 people, but I'd say most of them were on that dancefloor all night."
"Our first dance was 'Ain't Nobody', by Chaka Khan. It's a fun song, it reminds us of a holiday we went on, we didn't do a first dance routine, or a formal dance, I was pretty drunk at that point and was slut dropping and winding and grinding , Mo just had to go along with it. "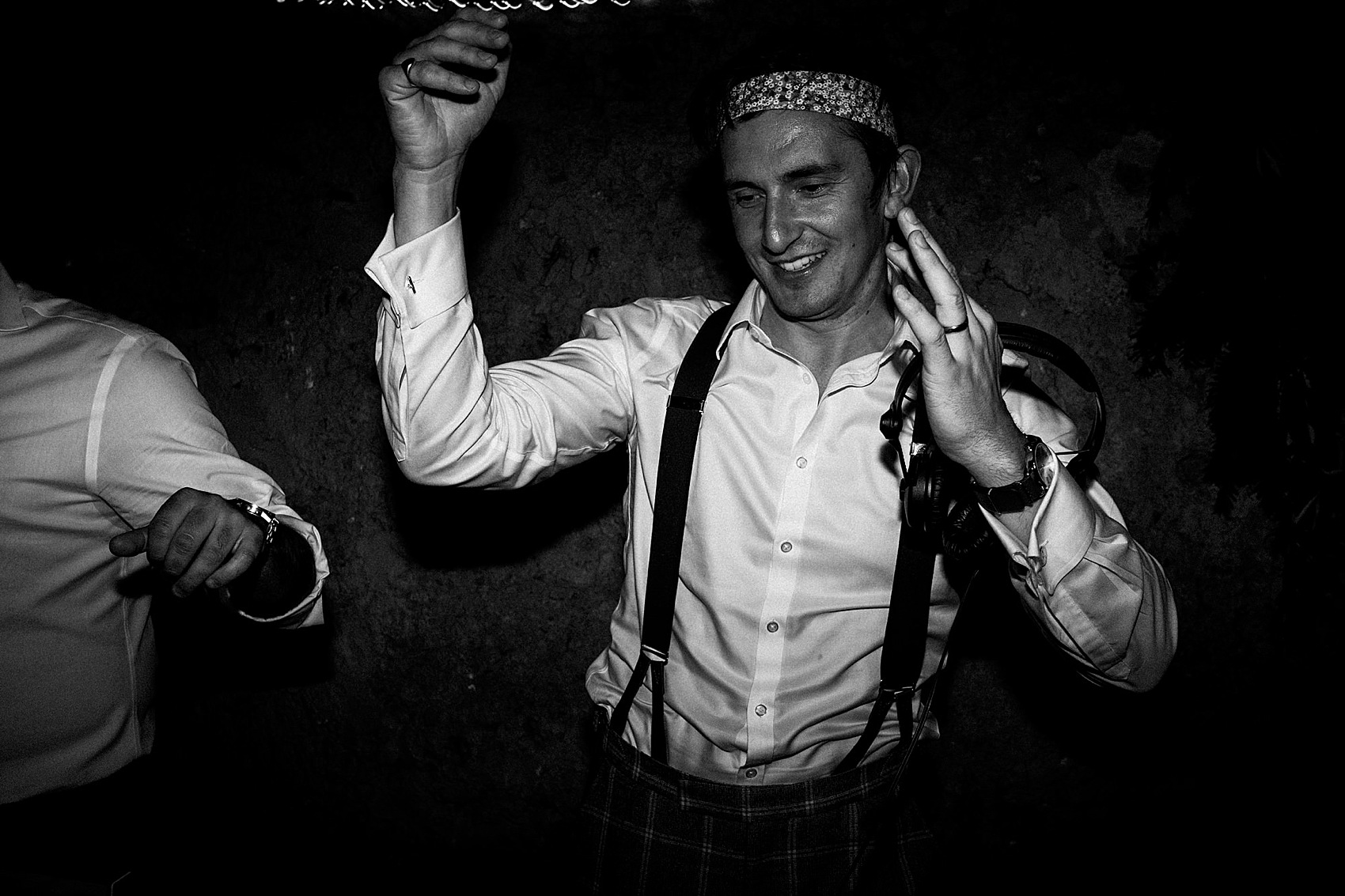 Words of Wedded Wisdom
"Nail your budget before you book your venue or anything else. If you do it the other way round, there are costs you will already be committed to and it will spiral from there! Like it did with ours. No regrets from us, but it's definitely something to consider.
Our budget was £20,000 and yes, it was exceeded!"
I have way more sympathy for couples and the stress leading up to a wedding now that we're married."
"Until you do it, you just can't see how much small detail is needed, and how much of a lag it is on your brain, especially in those last few weeks and especially if you're working right up to the day. Support your friends who are getting married as much as possible!
Also, I wouldn't have worried about the weather in the lead up to it. I drove myself mad looking at all the different weather reports that exist. It was all completely pointless, even if it did rain, it still would have been an amazing day.
If I had to choose my favourite part of the day, it was probably Nicks ceremony, and then the food. I still dream about the food!"
Lucy – I am so absolutely thrilled we've got to share your wedding – thank you for sharing so much detail about your vision – it's completely inspiring for so many others.
Lovely brides and couples – you can see more pink weddings here. Are you planning on wearing a non-traditional wedding dress?
Love Annabel