If I had just one word at my disposal to describe today's elopement wedding, then 'magical' is the one I'd choose. Every element is completely enchanting, from the location (the Isle of Mull) to the setting for the ceremony itself (an ancient stone circle) and the beautiful, thoughtful Celtic, film and literary inspired details chosen by our couple.
Everything has been captured with customary elegance and sensitivity by Little Book members, The Caryls Photography, who specialise in intimate weddings and elopements.
The Caryls Photography

+ Follow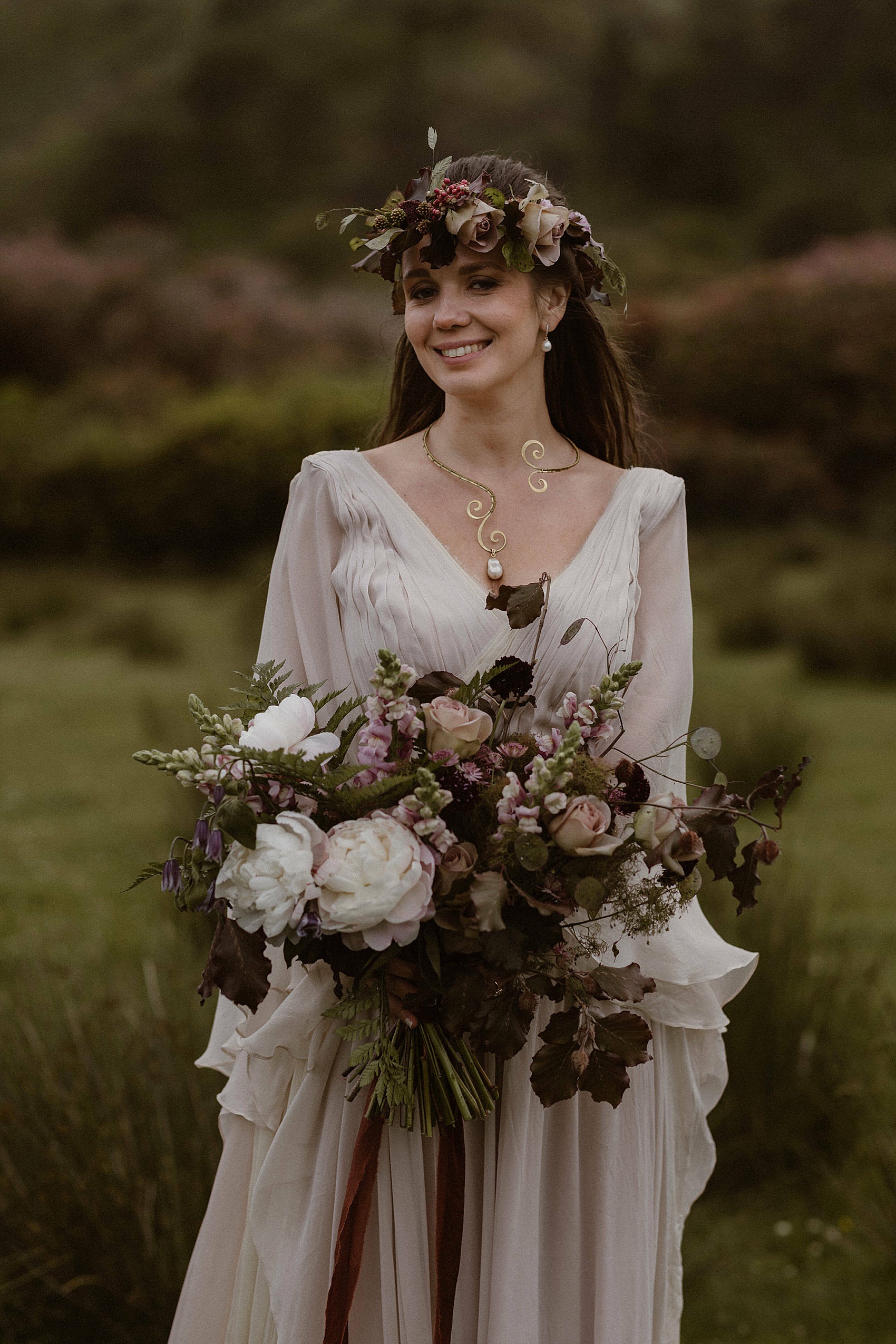 On the eve of the summer solstice; 20th June 2019, Cristine married Alex. Cristine is a communications specialist for a nature conservation organisation, and Alex is a foreign trade manager.The couple are both from and live in Russia, but decided on an elopement wedding to the Isle of Mull, where they were married in a handfasting ceremony inside Lochbuie Standing Stone Circle.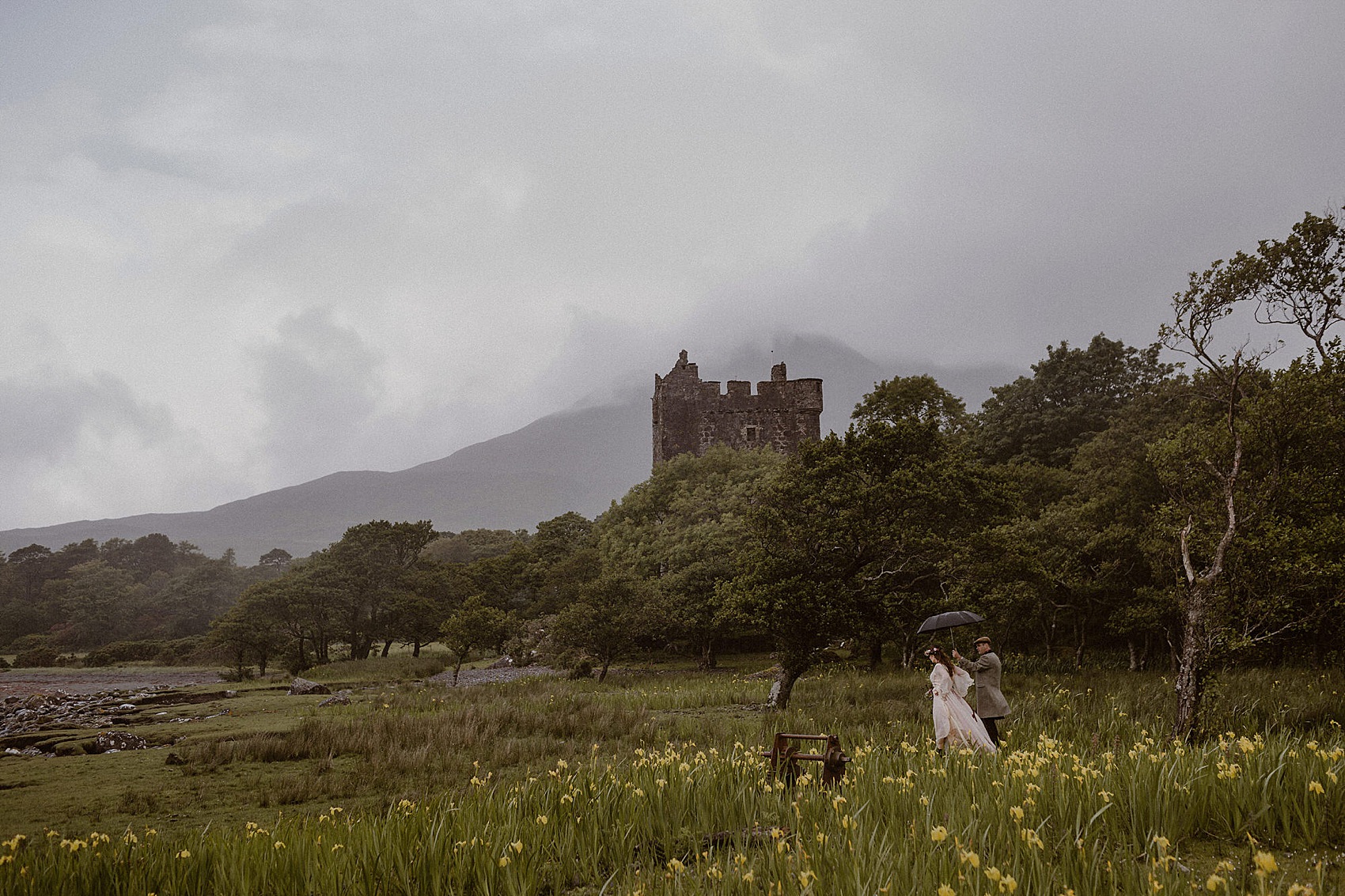 inspired handfasting ceremony on Summer Solstice Eve. It was quite hard to locate a quiet, non-touristy standing stone circle in a beautiful setting, but we found one on the Isle of Mull."
"It was encircled by mountains and rhododendron bushes in their last bloom. It felt really special. We love nature: forests and the ocean. I love the sea, while Alex is a man of the woods, so we planned our wedding day to combine both of them."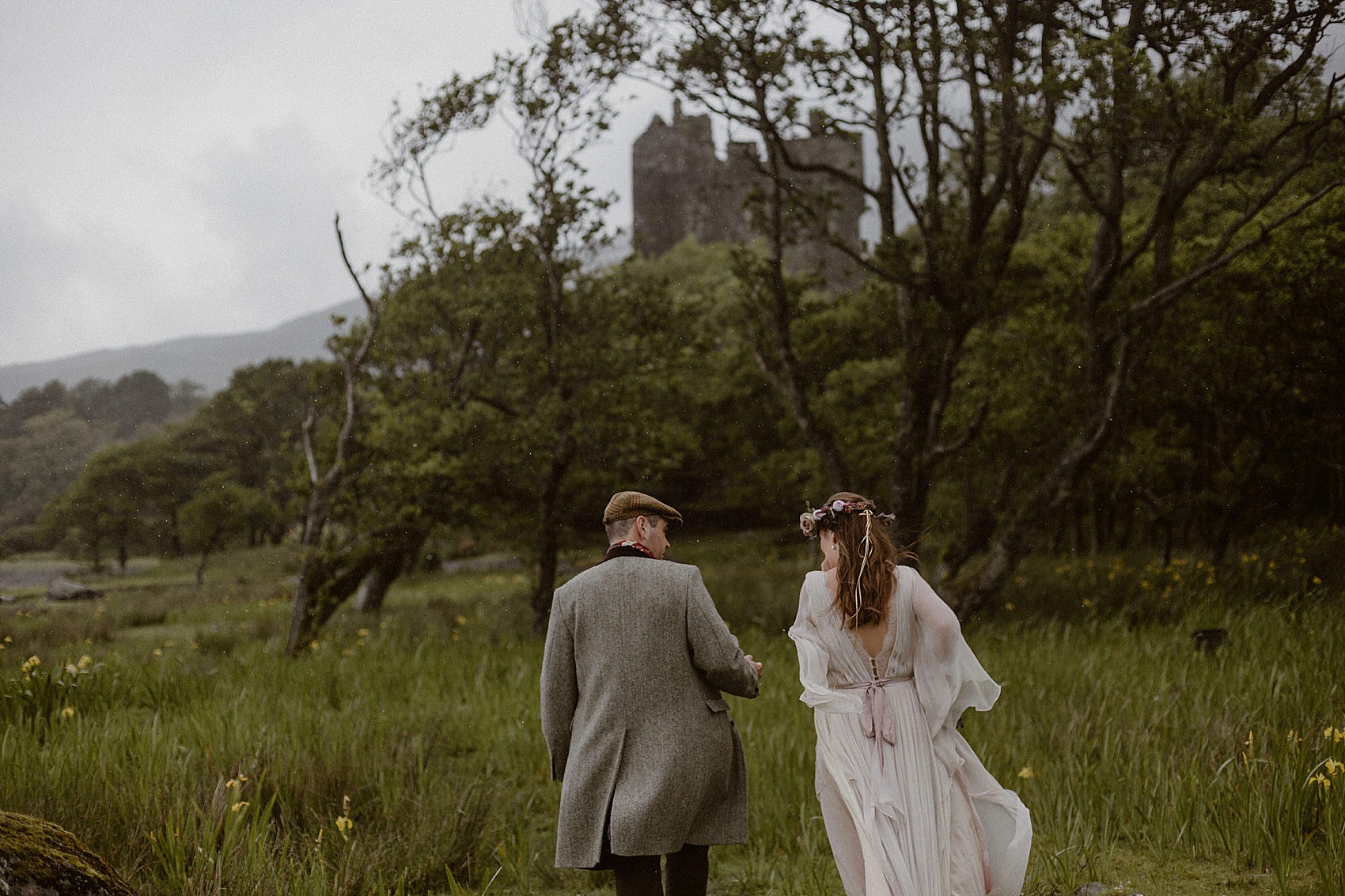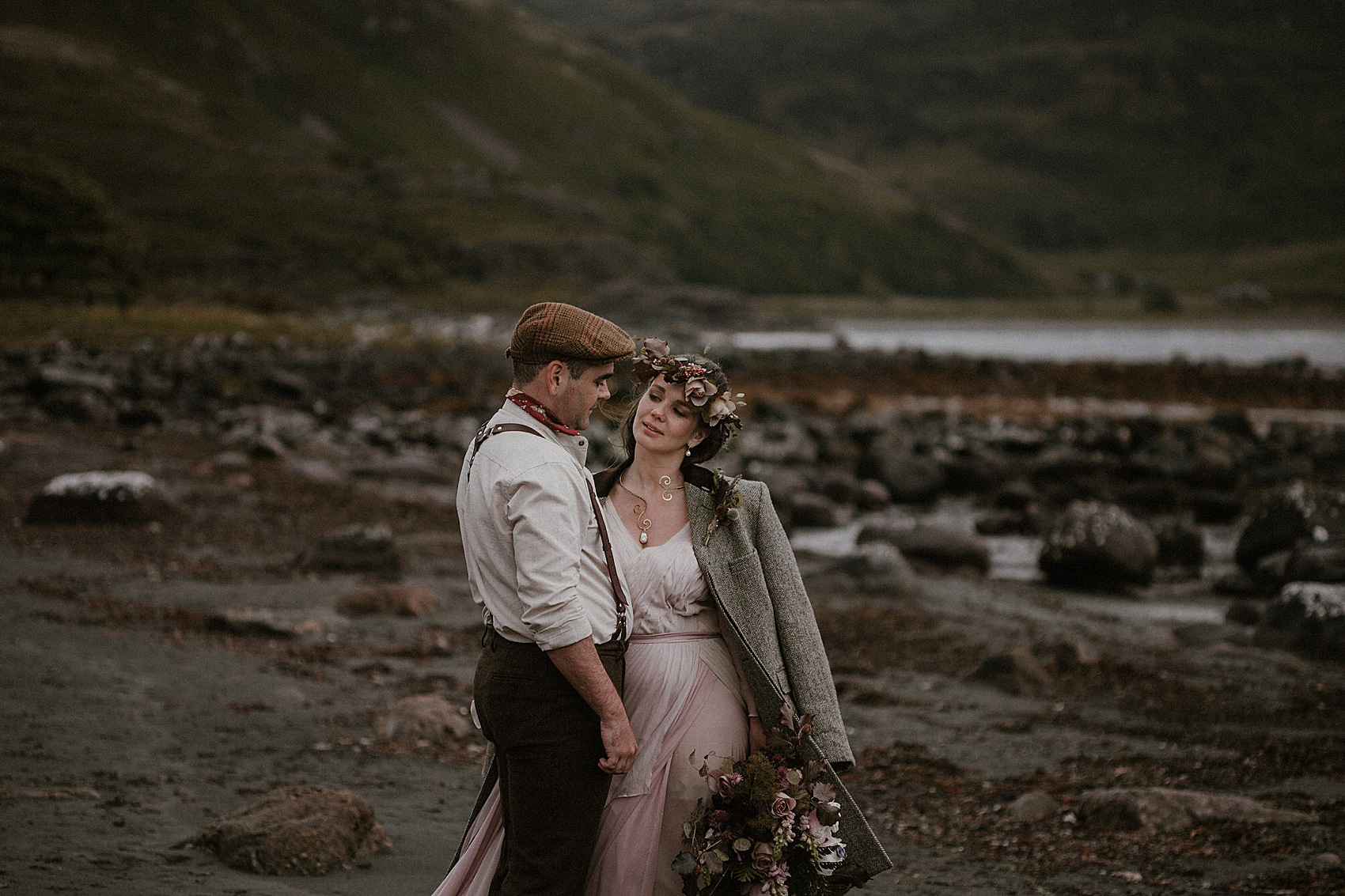 "A traditional handfasting ceremony is legal in Scotland, and moreover this is also recognised as an official marriage in our native Russia. We tried to combine lots of our favorite things as well as things that were important and special to us in our day. We love all things Celtic, so we chose a Celtic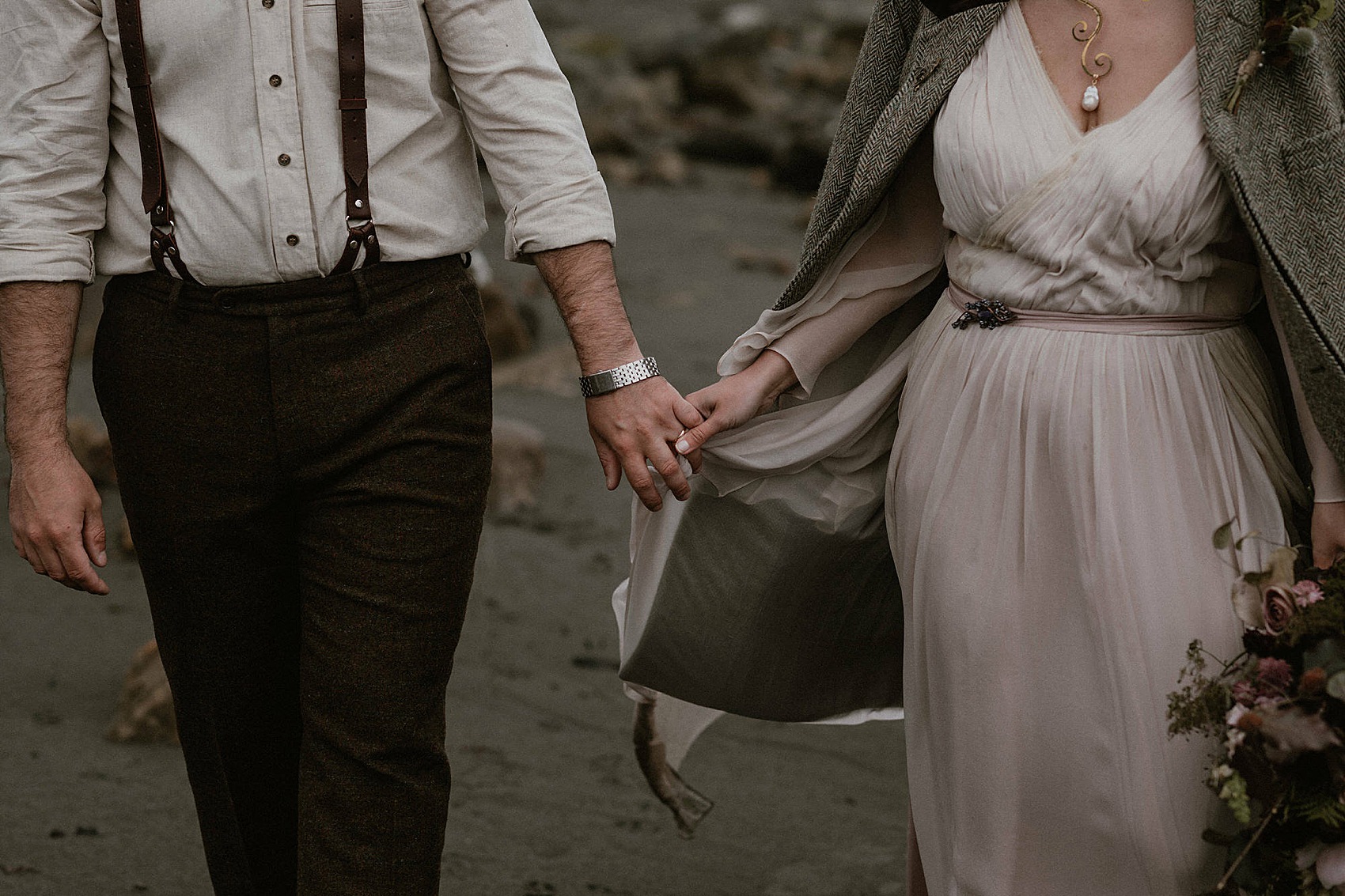 Cristine and Alex were brilliantly supported in the planning of their day by Katy and Jim from The Caryls Photography, who were also witnesses during the ceremony, too.
"A wedding abroad is always a challenge, and finding the right photographer was a crucial part of our preparations. We considered a lot of photographers, but finally settled on The Caryls, and we never regretted our choice."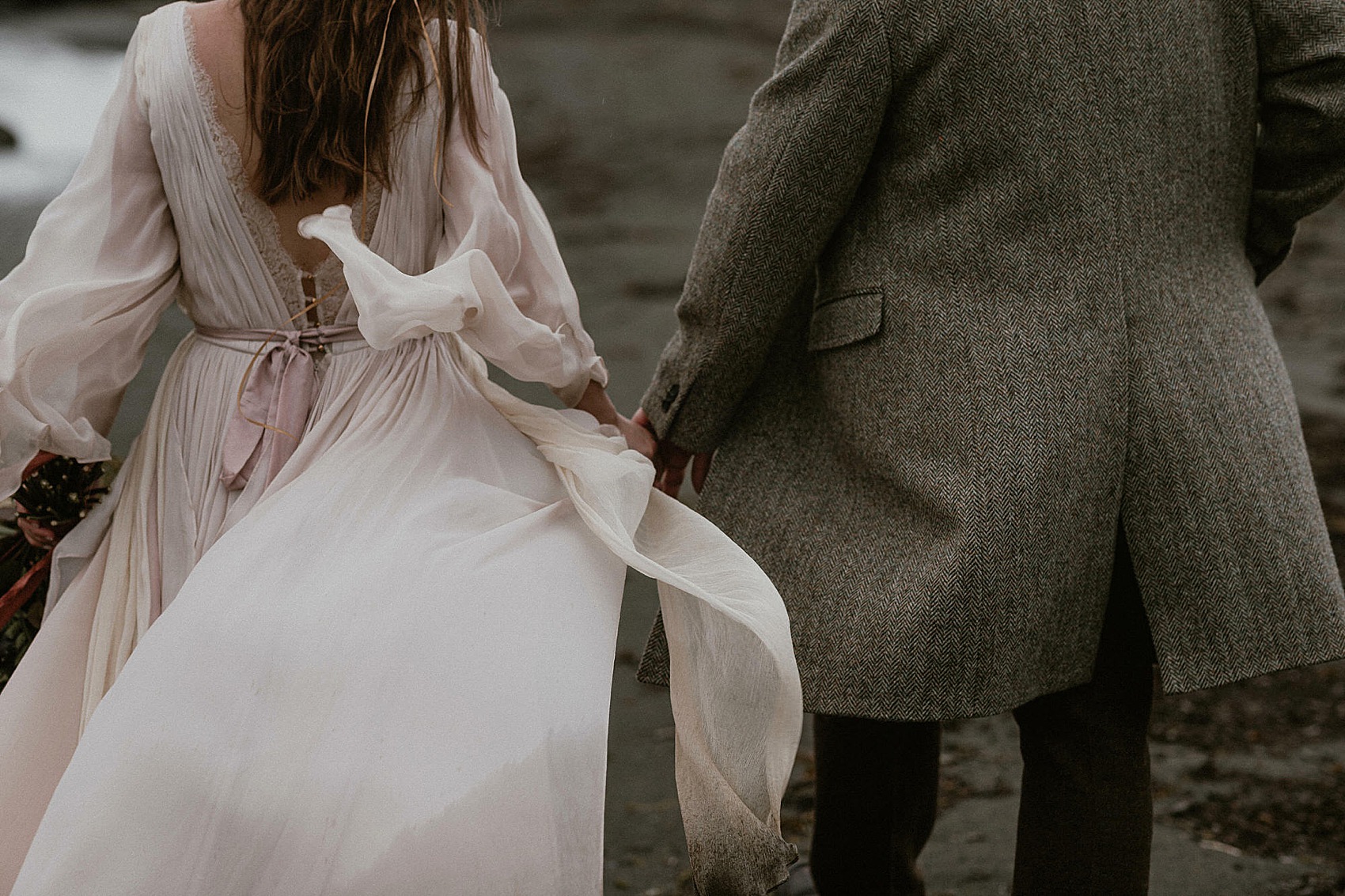 "From the earliest stages of our preparations, they provided us with support and assistance with the ceremony site selection and legal formalities. We were constantly in touch with them during the run-up to our day, and they were always on hand to reply any questions."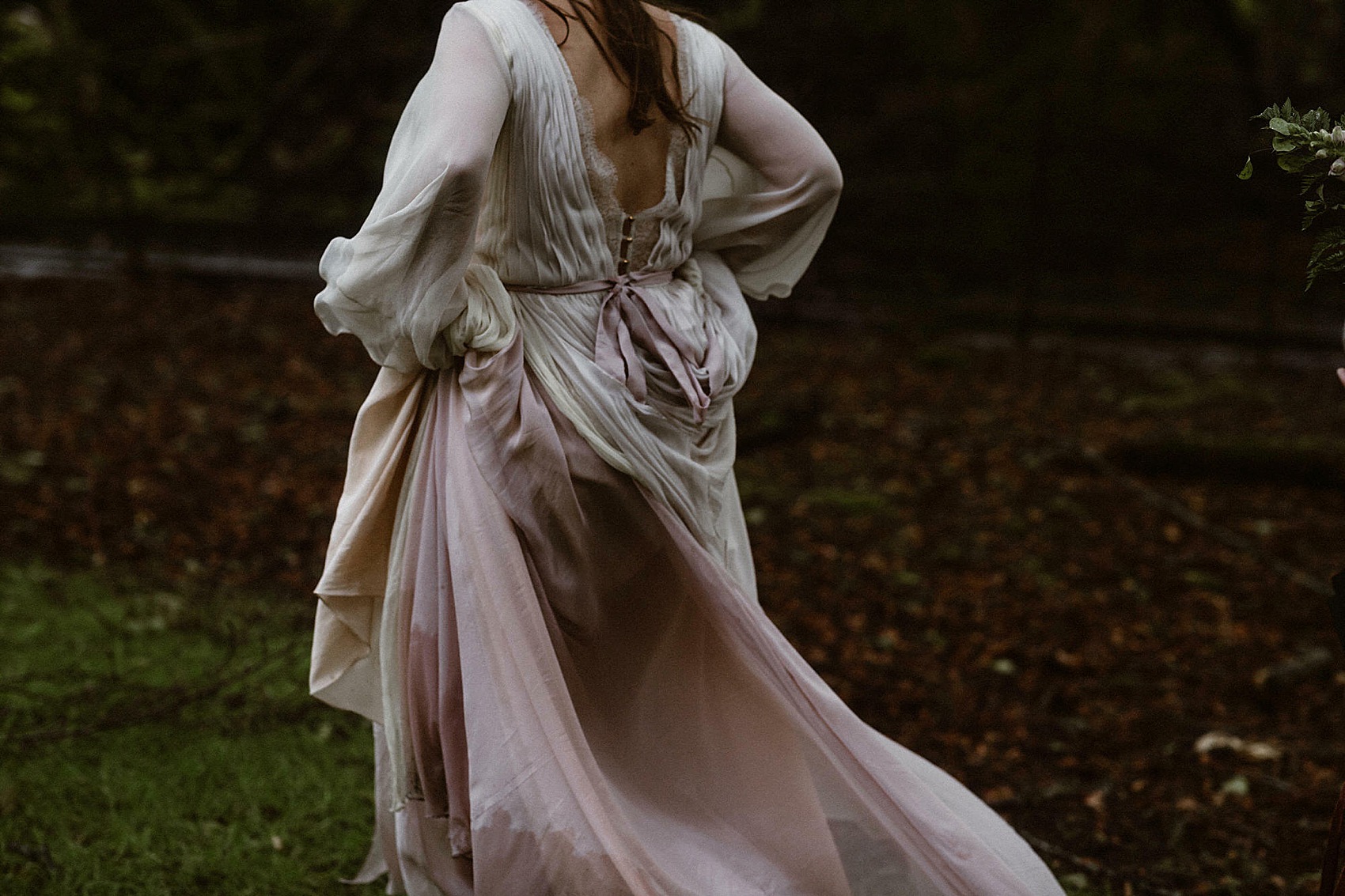 "Jim and Katy assisted us a lot with the organisation of the whole day, gave us precious advice, and were very attentive to all the little details. We felt their support during the wedding preparations, on the wedding day, and even after it."
"In the very beginning, we felt it was an incredibly, crazy adventure, and until the very last moment everything seemed unreal. But in the end this day has become one of the best in our lives."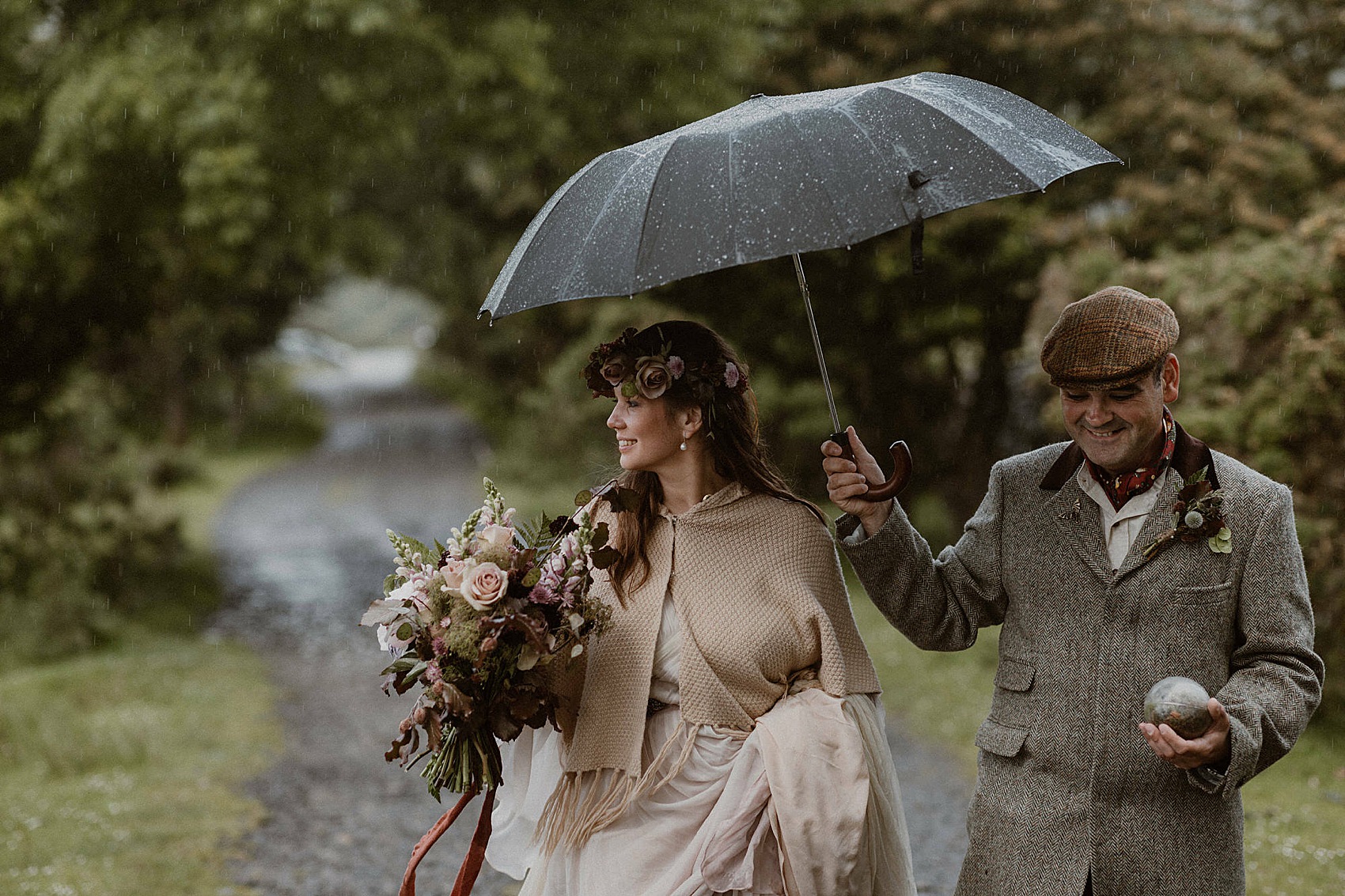 "The Caryls were not only our photographers, but also our witnesses. As to their professional skills, they are beyond praise. We'd selected most of the places to shoot ourselves, but their selection of perspective, light and photo processing made each shot unique, capturing Mull, our wedding, and the two of us in a very natural and deep way."
"Every time we look at our wedding photos, we return to our elopement wedding day. They really captured the atmosphere. They are true artists of photography!"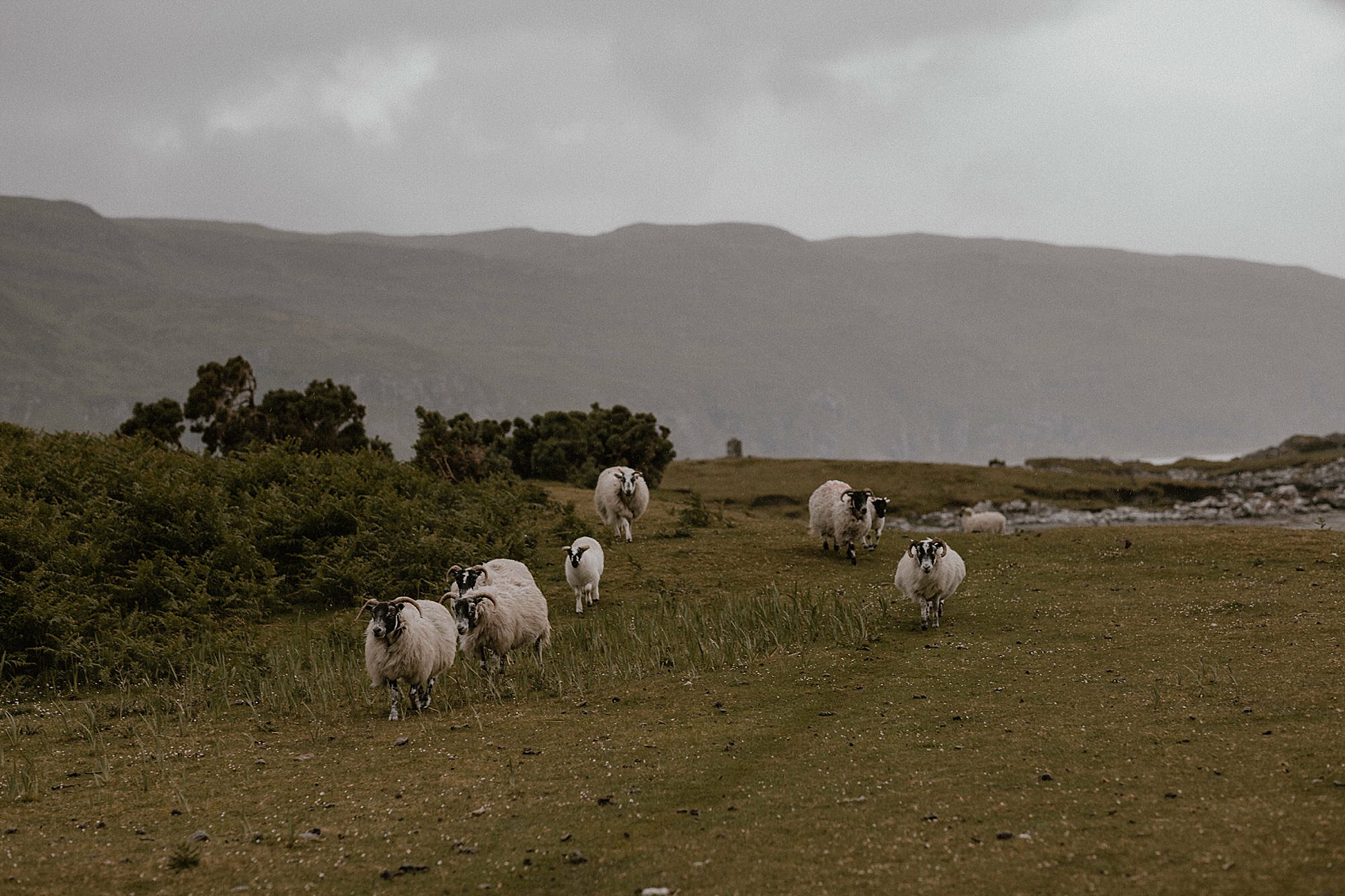 Hand in hand, Cristine and Alex walked across the beach, through woods and fields in the shadow of Lochbuie House to arrive at the stone circle for their ceremony, with celebrant Ceci Alderton of Ecospirit.
"Alex and I both live in Russia, and we met on 28th June 2004. Alex proposed marriage to me on my 33rd birthday, which we celebrated with a trip around French Bretagne."
"The place that Alex chose to propose was the French Isle of Ushant, lost in the Atlantic Ocean, at the foot of lighthouse Phare du Stiff. It was such a magical setting – it felt like we were on the edge of the world."
"Our marriage in June 2020 was almost on our 15th Anniversary – just few days before, as we wanted it to be on the eve of the summer solstice."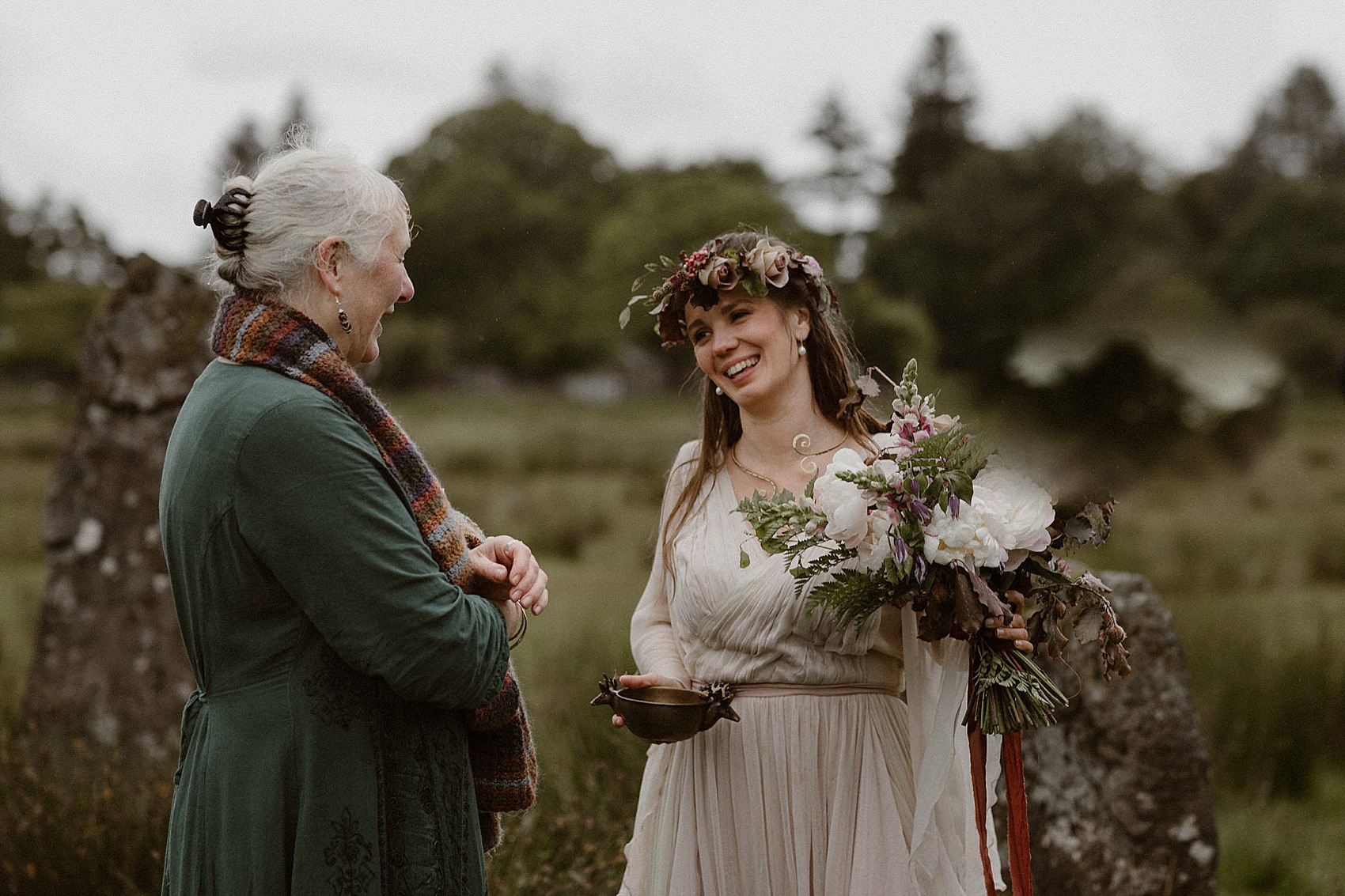 The couple chose a handfasting ceremony with specially written vows, and used a band with an Ogham inscription embroidered onto it, as well as drinking from a Quaich cup with an elderflower drink prepared by celebrant Ceci.
"Ceci was very attentive and open-hearted. She even knitted two woollen hats as a gift for us – very useful for the Scottish summer weather! We wore them for beach walks during our honeymoon week on Outer Hebrides."
"We wrote our vows ourselves. We also customised our handfasting ceremony, which was almost fully written by Alex. It reflected some of the symbols that are important to us like ash and hawthorn trees, as well as natural elements, like the forest and ocean."
Cristine and Alex also solidified their commitment with the exchanging of rings. Cristine's was a custom-made aquamarine ring (no maker details provided, sadly) and Alex opted to wear a ring that Cristine had gifted to him at the beginning of their relationship.
"We're both are both fans of Lord of the Rings, and Alex's ring also has an engraving inside in Latin – Amor Omnia Vincit [Love conquers all]. We made the sphere filled with moss and flowers that carried our wedding rings ourselves."
Cristine's boots were from Zara, and she wore a brooch with real heather and fern, and a hair pin made by Siberian jewellery makers, Mithrim Elven Jewelry.
Cristine also wore a sinuous gold and pearl statement necklace inspired by ocean waves and Celtic pattern, made for her by a local maker [sadly no further details provided about this].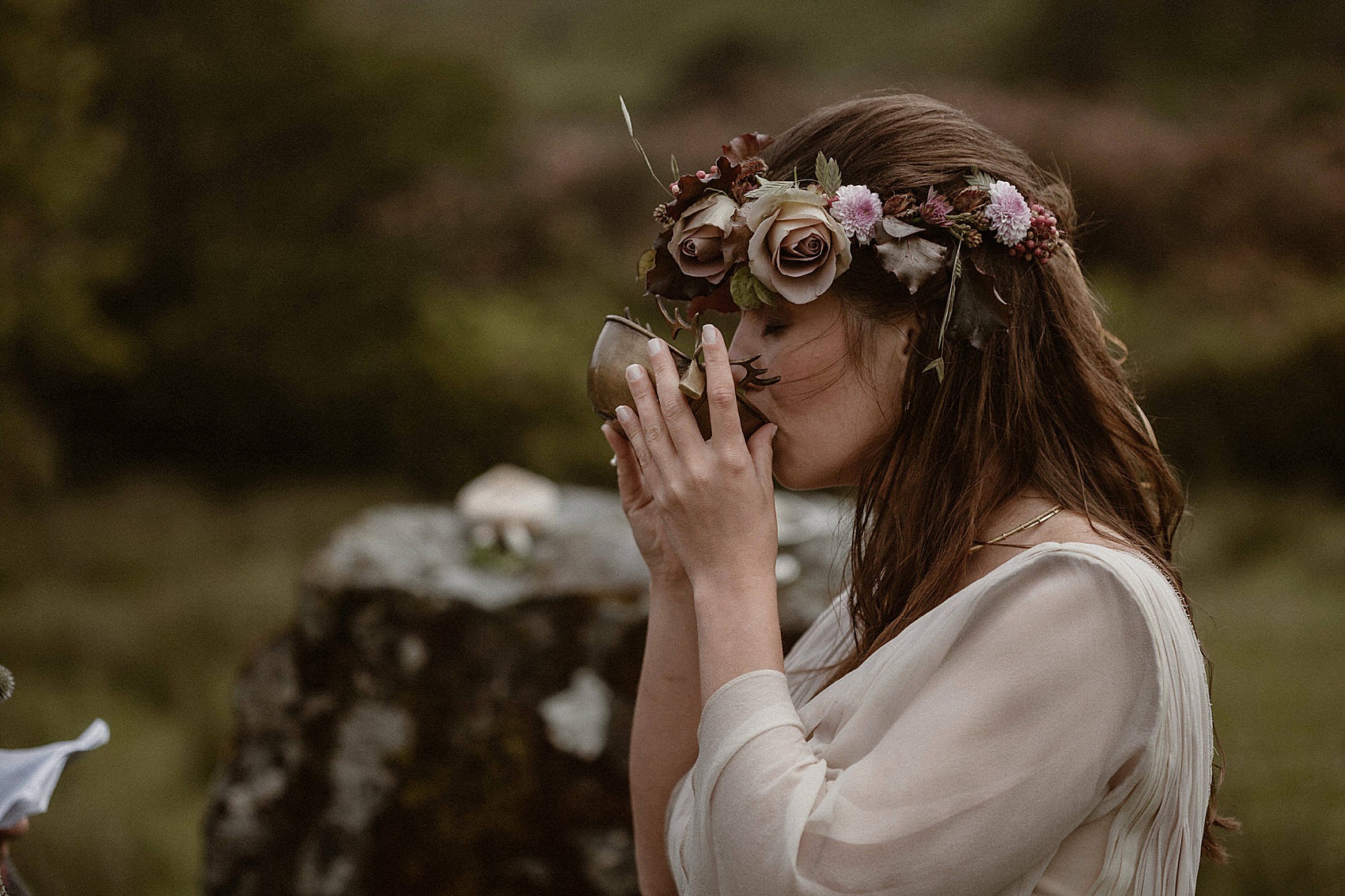 "My perfume was Jo Malone's limited edition Nettle & Wild Achillea. Natural, sharp, herbal, fresh, even wild. It smells like fresh grass and perfectly matches the summer solstice season."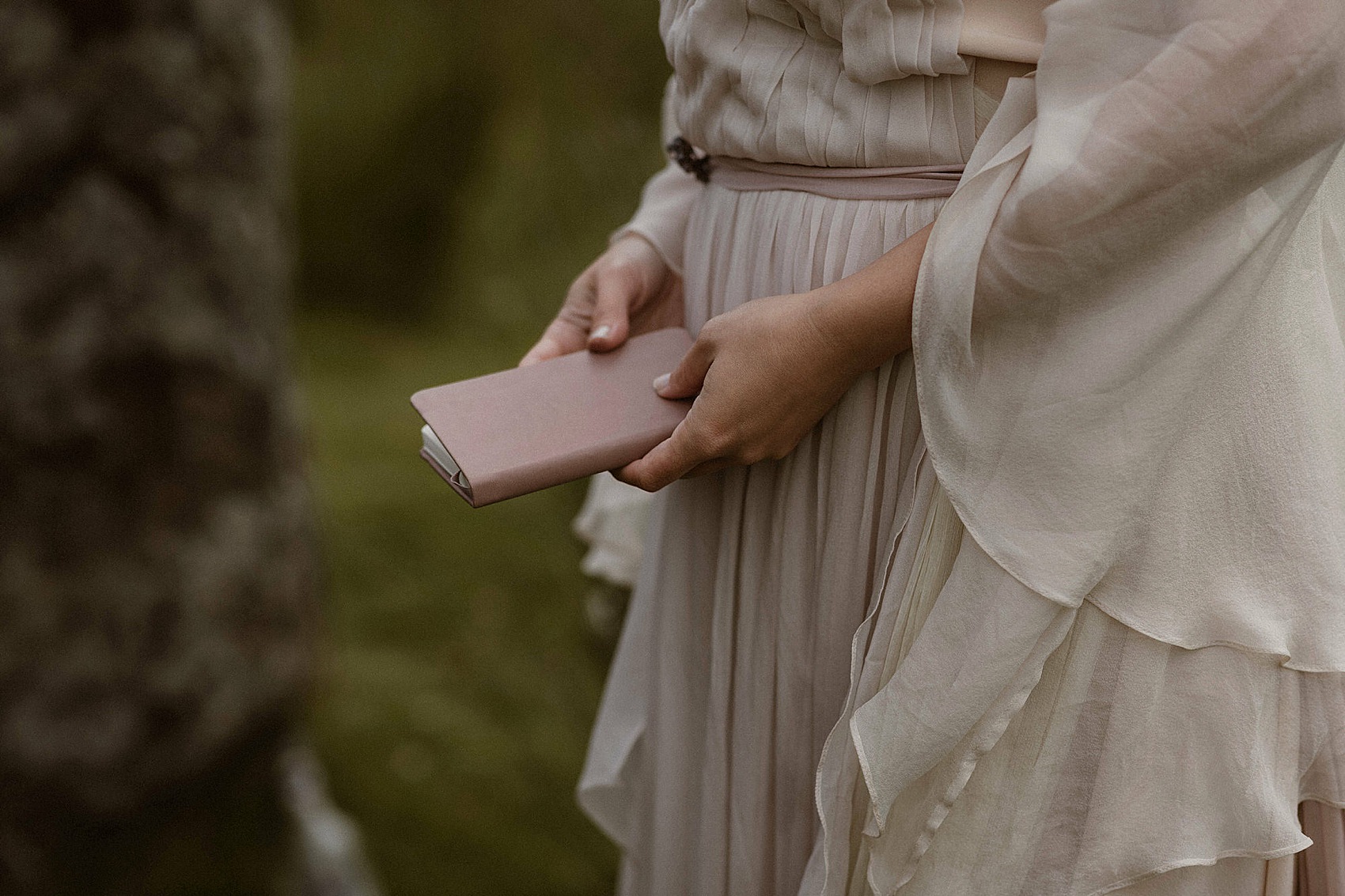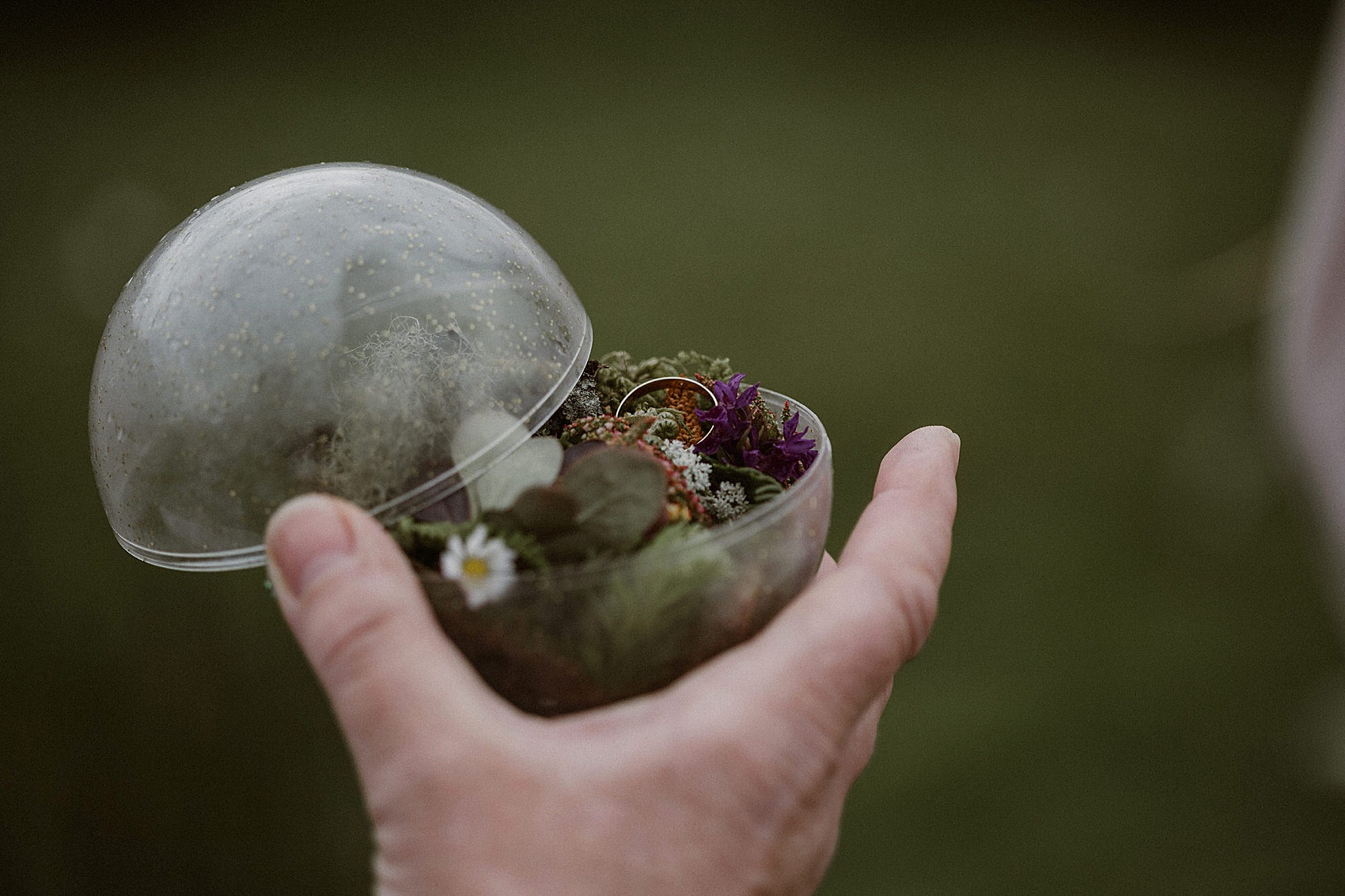 Alex wore a splendid pair of tweed trousers with braces from Walker Slater, as well as a smart tweed coat (also from Walker Slater), paired with a simple white shirt from Lee Valley Ireland. He also picked up a vintage tweed cap at a French flea market just a couple of days before the couple became engaged, which he decided to then wear on their wedding day.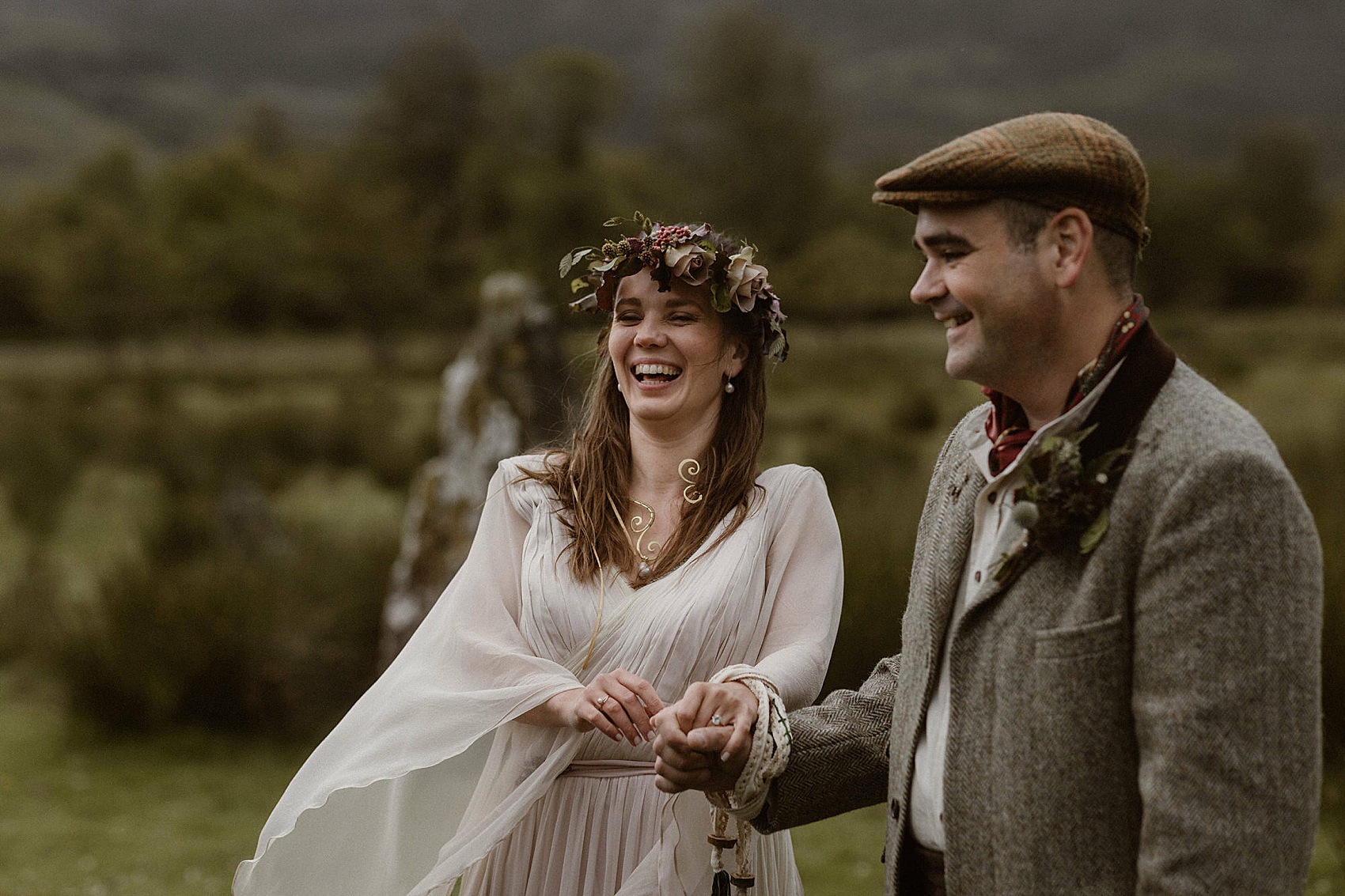 There's such beautiful, ethereal movement to Cristine's elegantly draped blush pink silk dress – a custom-made creation, handcrafted in Ukraine by Mywony. I love the wrap style bodice and fluttering long sleeves, as well as the delicate lace detailing on the back, and the pink ribbon sash.
"Mywony have a super client-oriented service. As I ordered my silk dress online, and so I was a little nervous. But they were super helpful and attentive. I'm in so love with my dress – it's exactly what I had dreamed of!"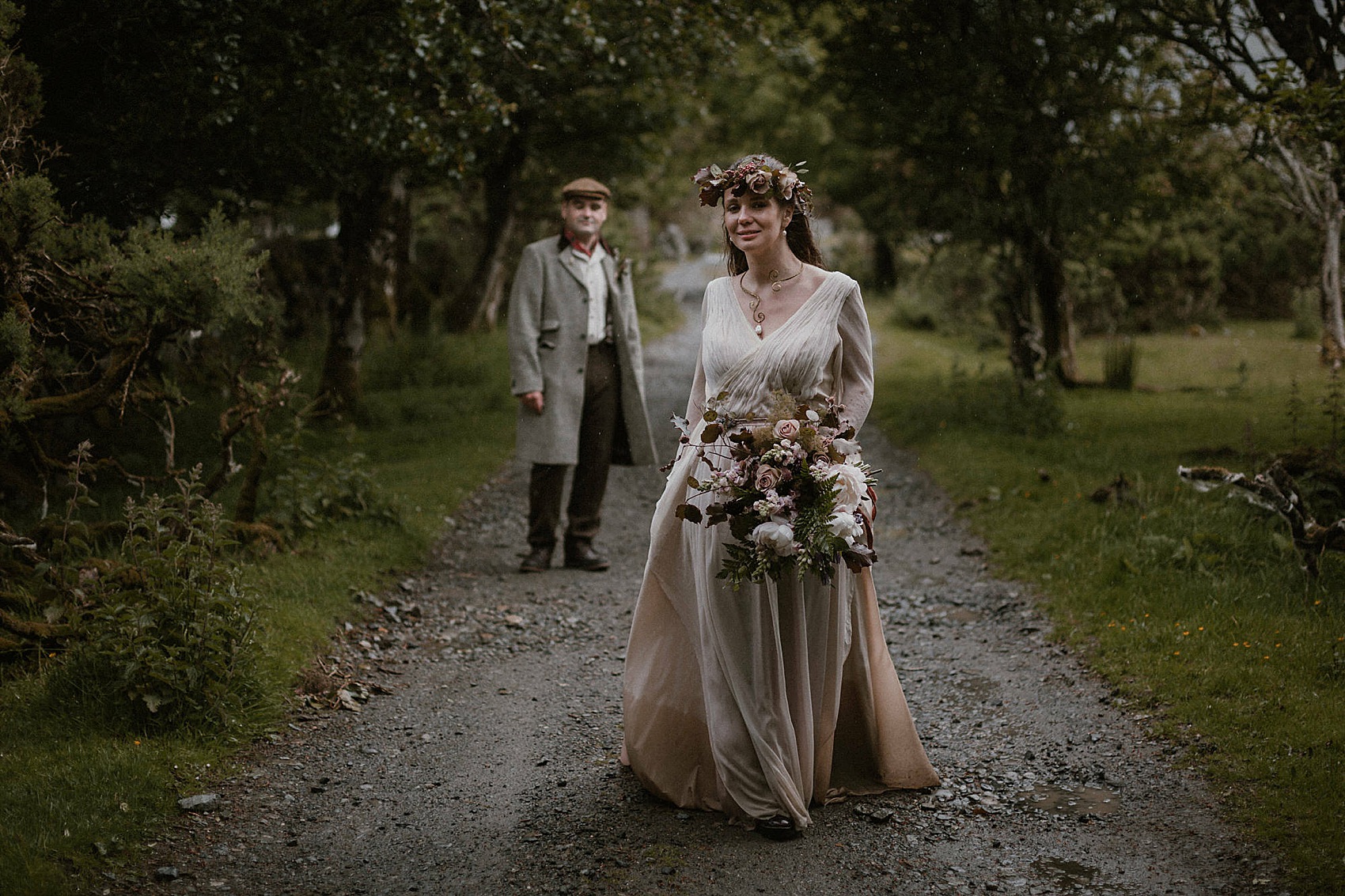 "I'd looked through thousands of wedding dresses but none really stood out to me. I wanted something special with a fairytale touch. I didn't have particular vision in my head, it was more a feeling of the way I wanted dress to be."
"One day, I came across one of Mywony's dresses, I knew it was the one for me! I asked them to make the dress the colour of the sunset sky above the ocean, and they did it perfectly. It's a soft silk dress that has so much movement and dances in the wind."
"I them asked to customise the sleeves, too, and they did it perfectly."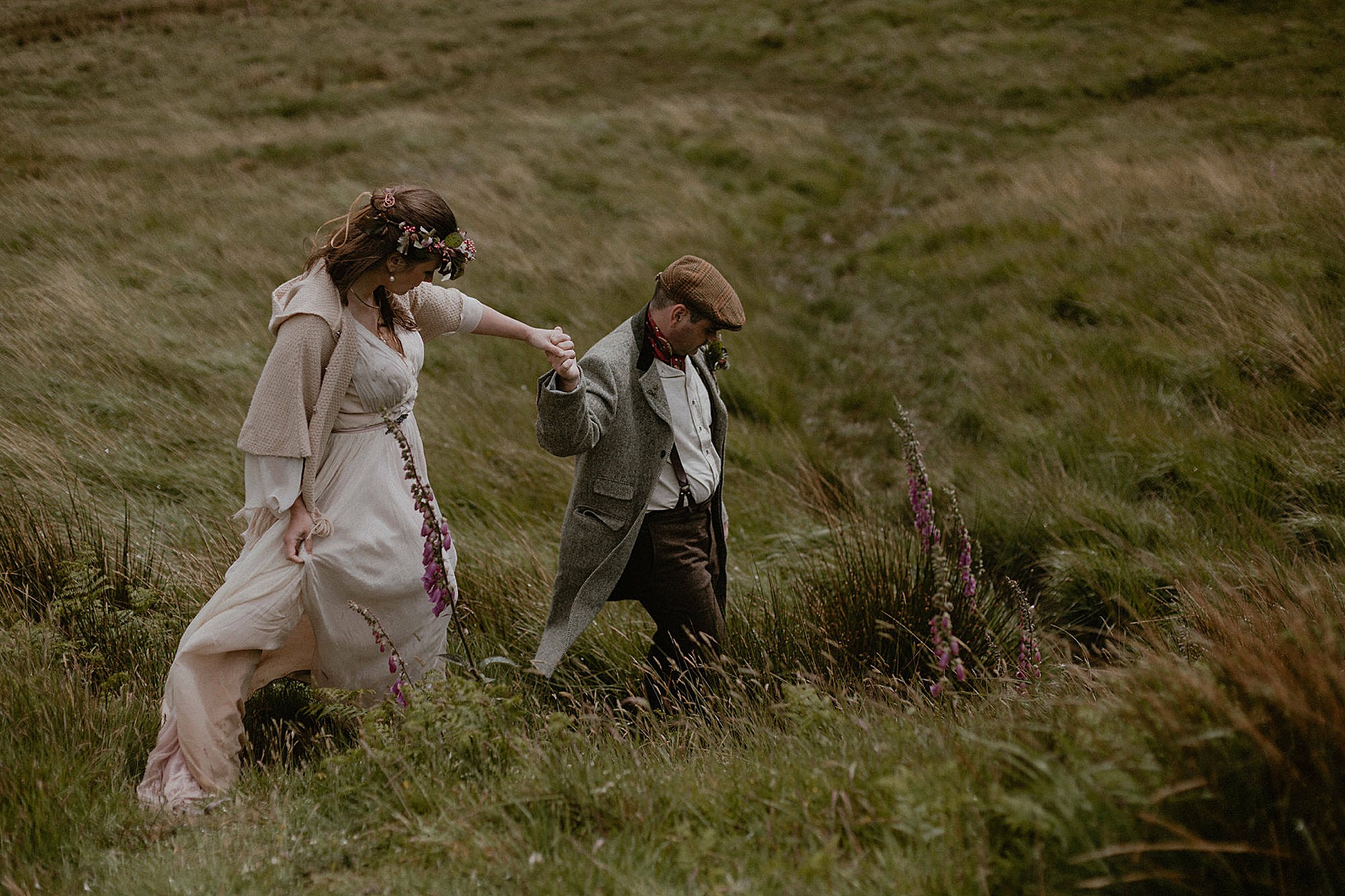 Florist Barbara Smith of Wild Flower Workshop created a spectacular fresh flower crown for Cristine, as well as a wild and whimsical Midsummer Night's Dream inspired bouquet filled with huge peonies, roses, and other seasonal and foraged beauties.
"We wanted a forest theme for our flowers and flower crown. We asked Barbara to use ferns as a summer solstice symbol, and create our flowers in the style of an abandoned, secret garden. She brilliantly captured this atmosphere!"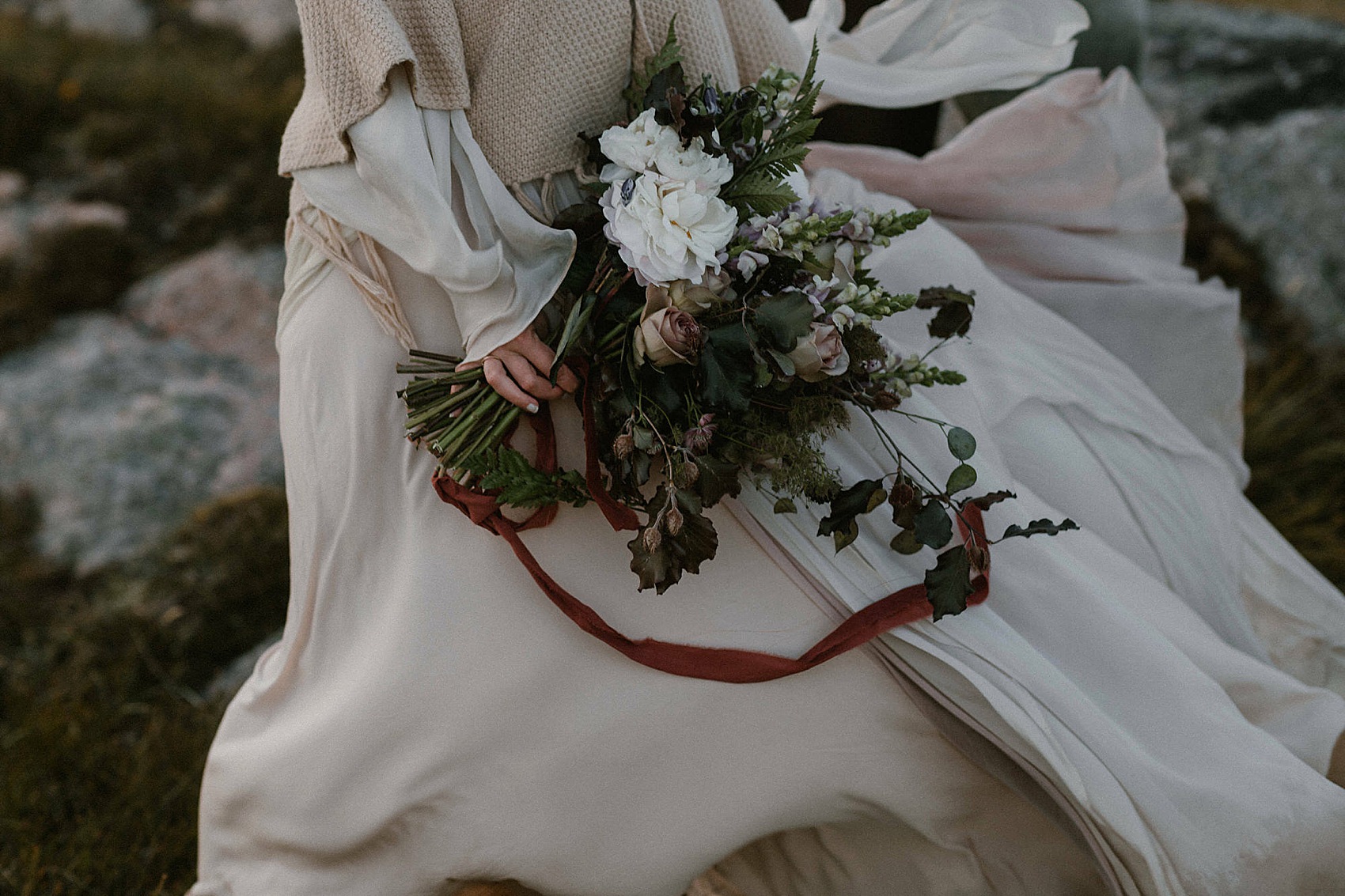 The newly married pair walked off into the misty mountains and along winding country lanes surrounded by wild heather, foxgloves and ferns, to a windswept secret beach where their boat, Birthe Marie waited for them to board.
"Our favourite film is Stardust, which was filmed in Scotland (on Skye), and it inspired us to spend part of the day on the retro sailing boat Birthe Marie, where we had our first dance on deck to David Bowie's As the World Falls Down (this song is from Cristine's other favourite film Labyrinth with David Bowie)."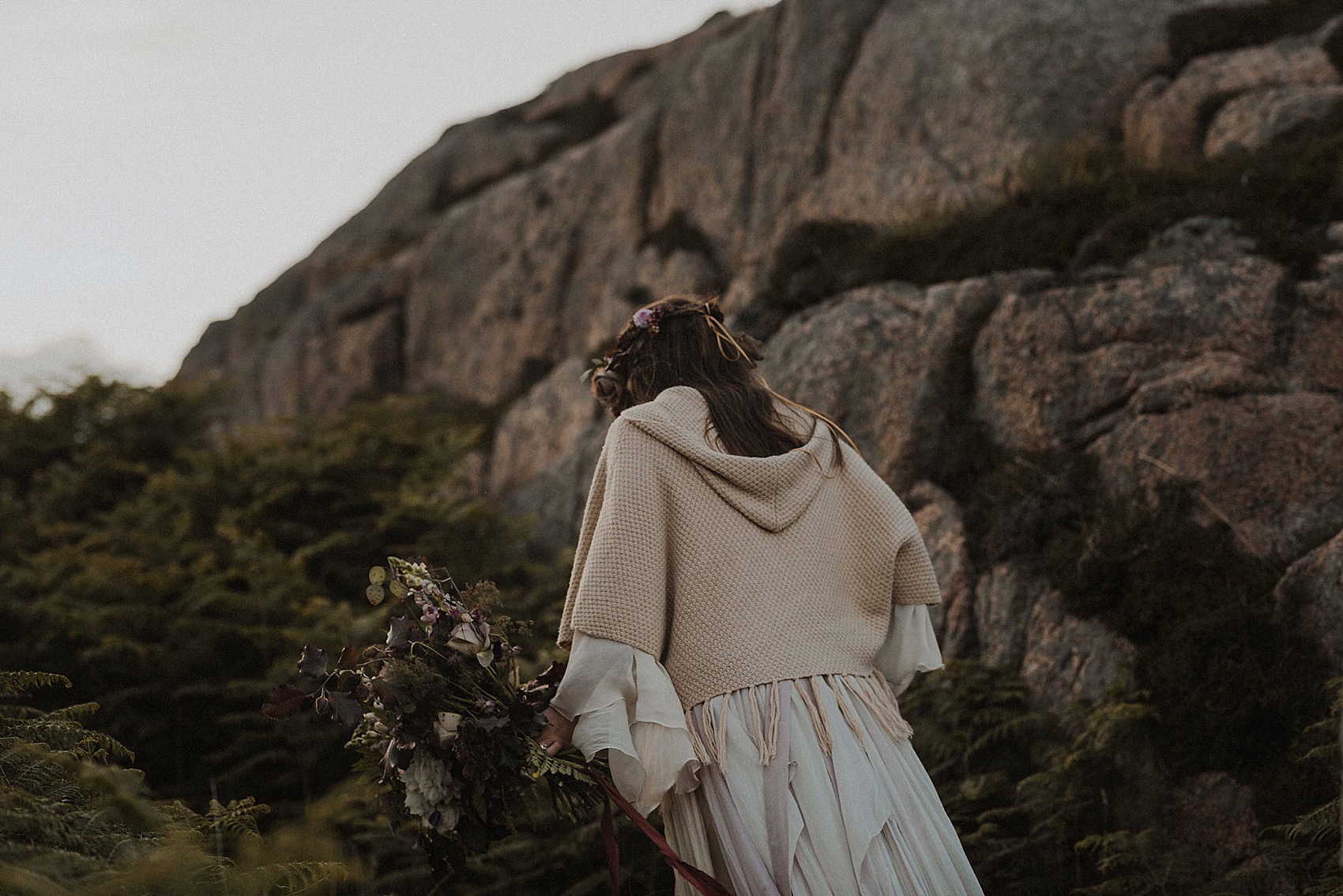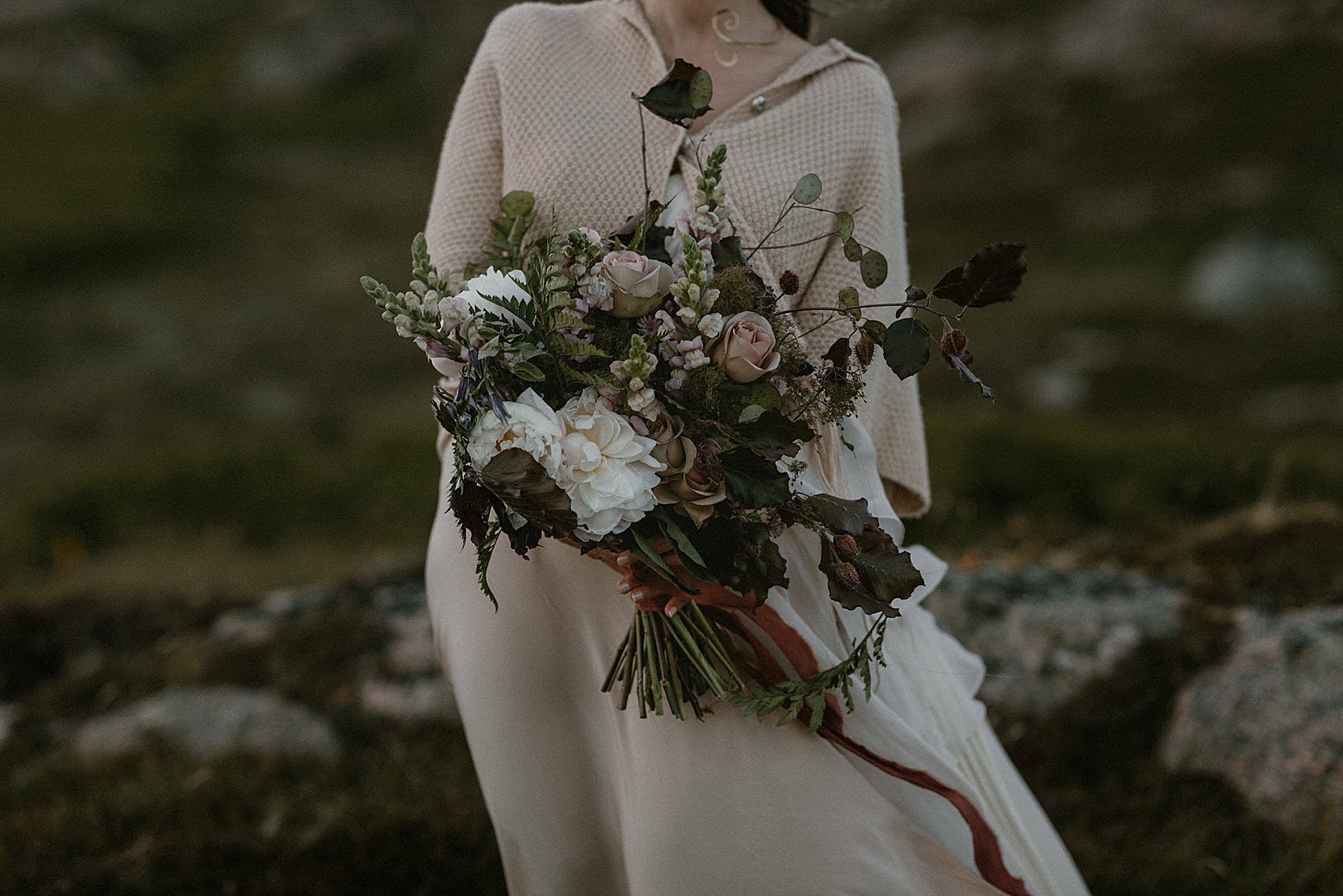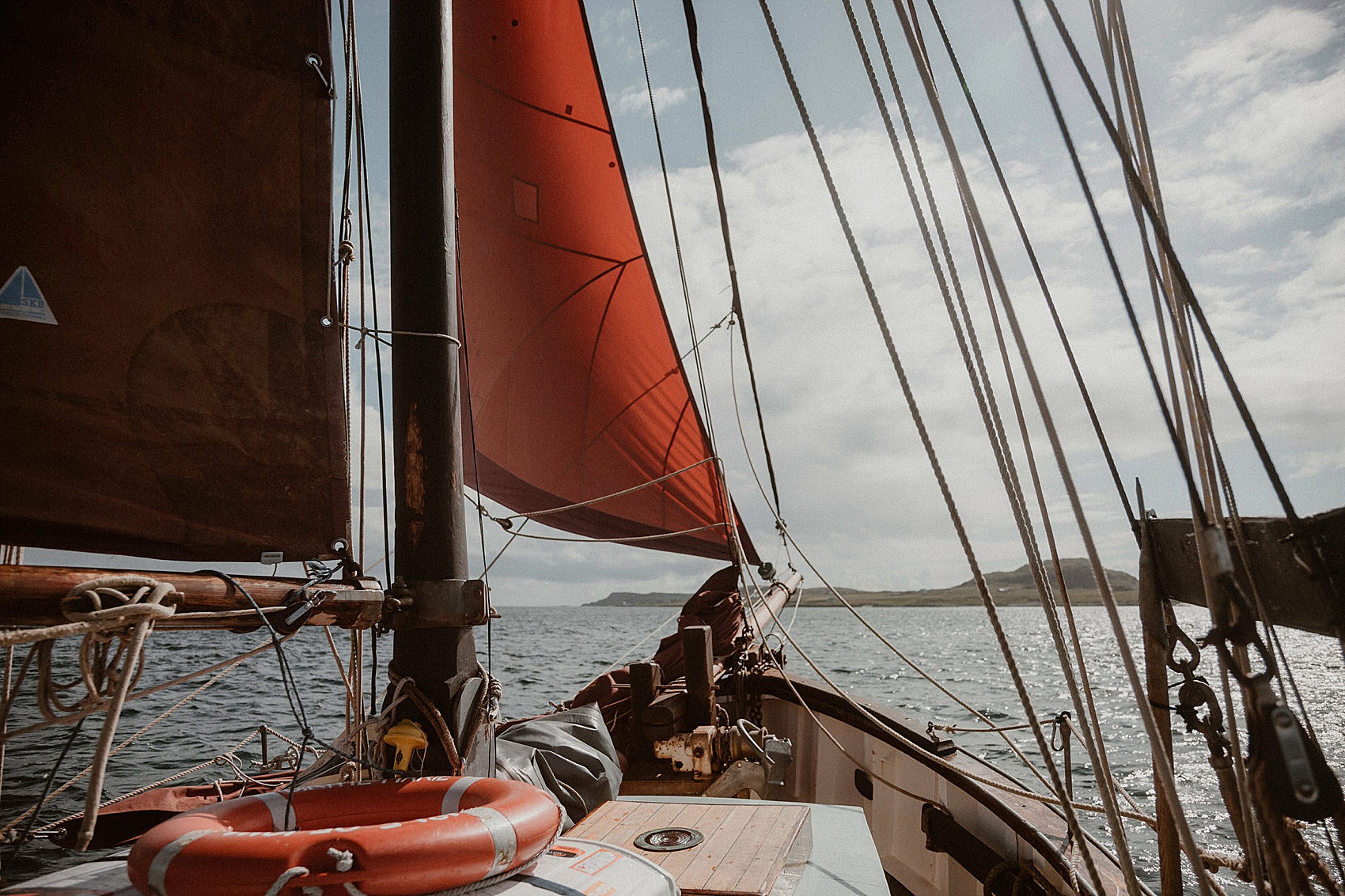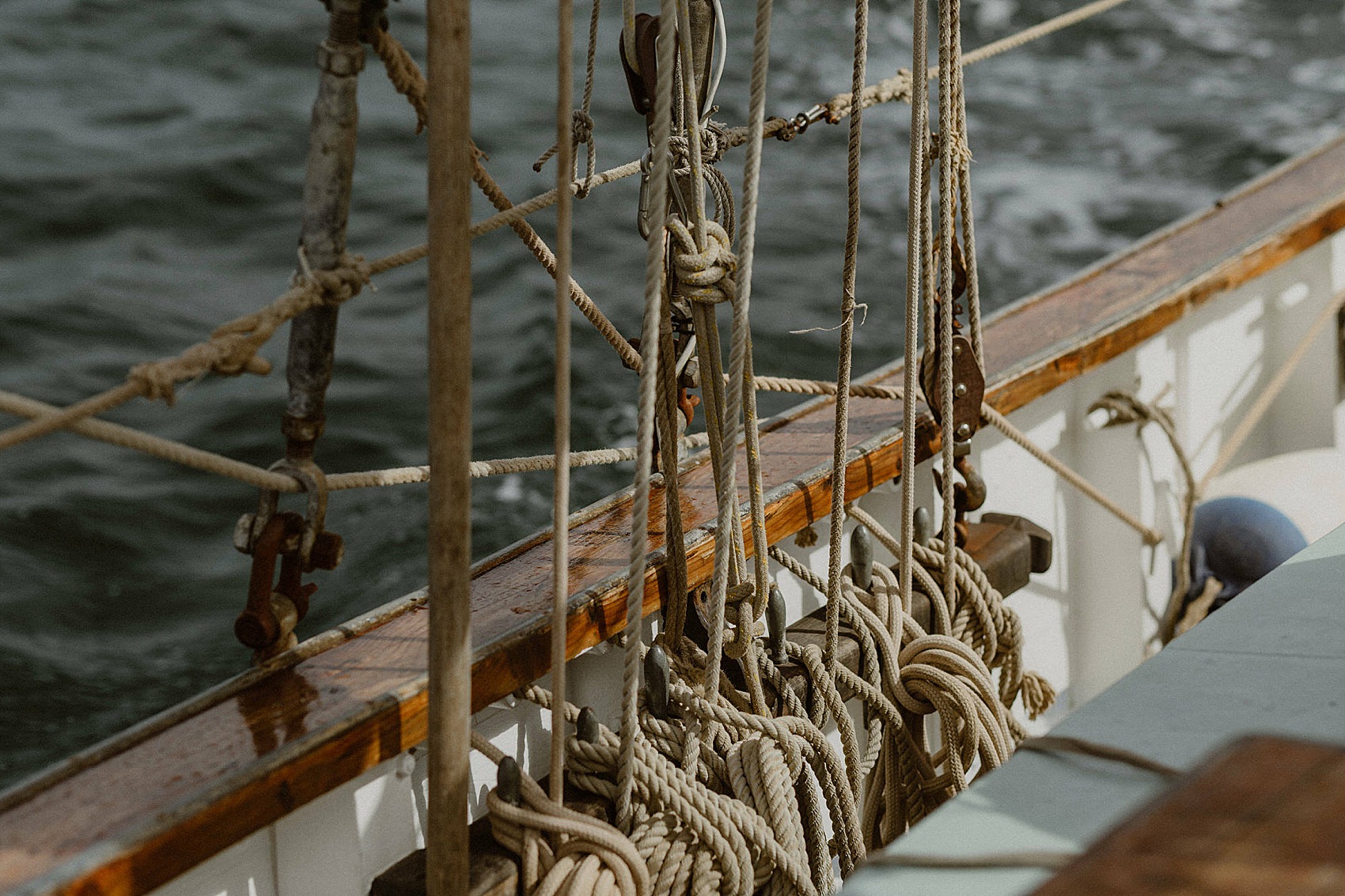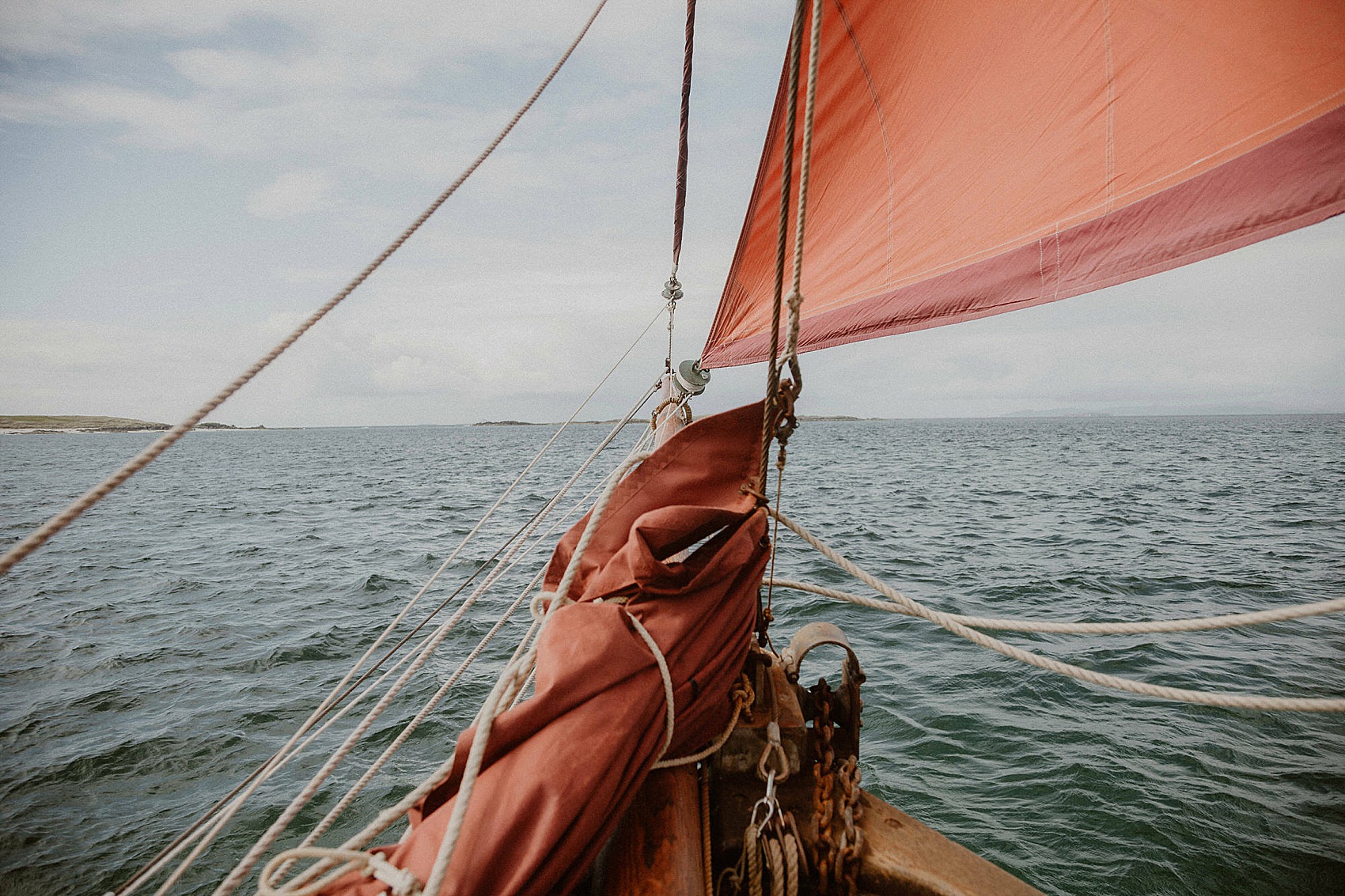 Freshly baked scones made by boat captain Mark's son were served with jam and clotted cream as Cristine and Alex spent the afternoon sailing around Mull and Iona.
"Mark, the captain, was super friendly and helpful. We had the most relaxed and enjoyable afternoon's sailing around the coast, stopping off at secret beaches. We are dreaming of returning to the Isle of Mull and for another sailing trip!"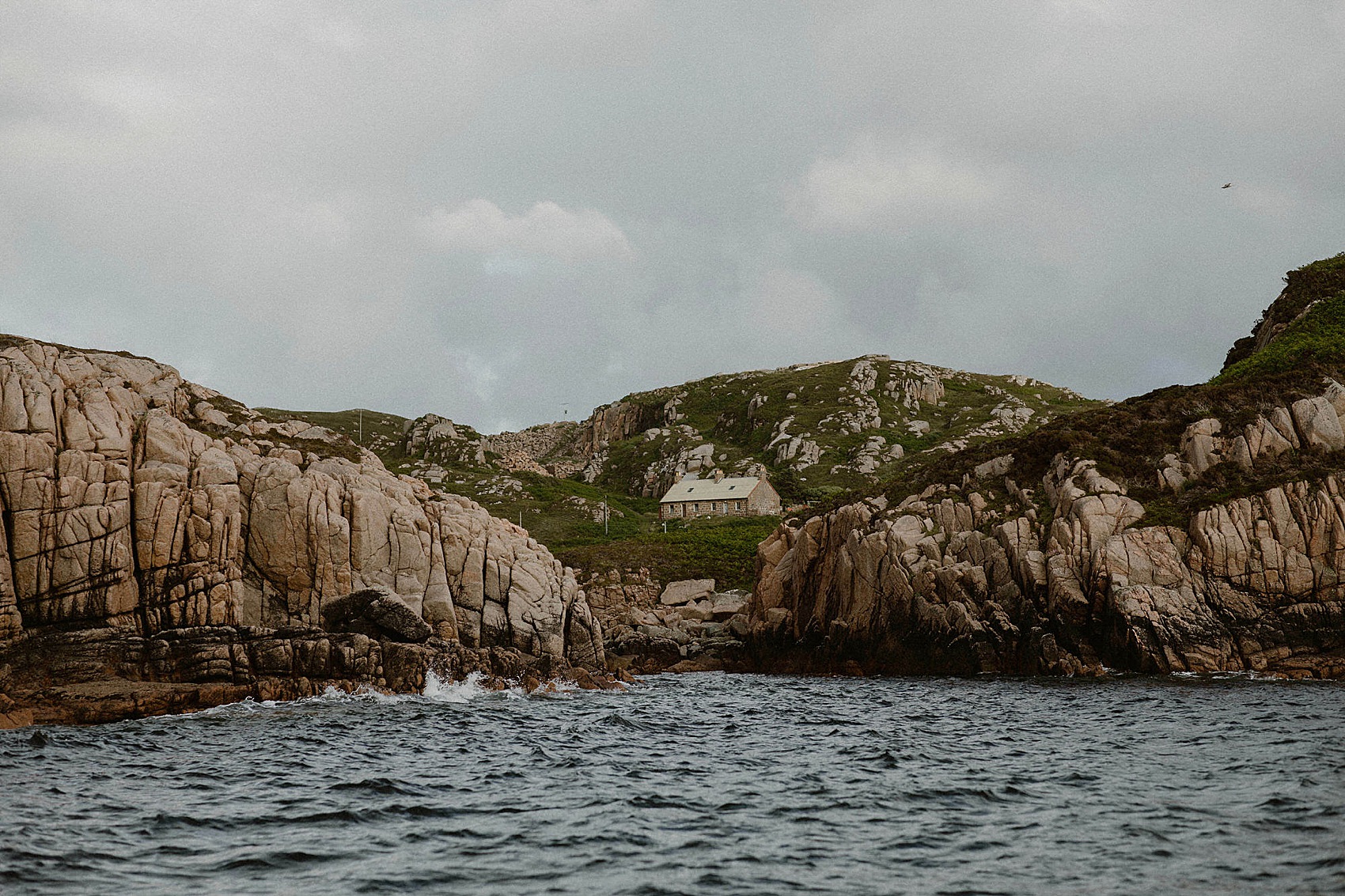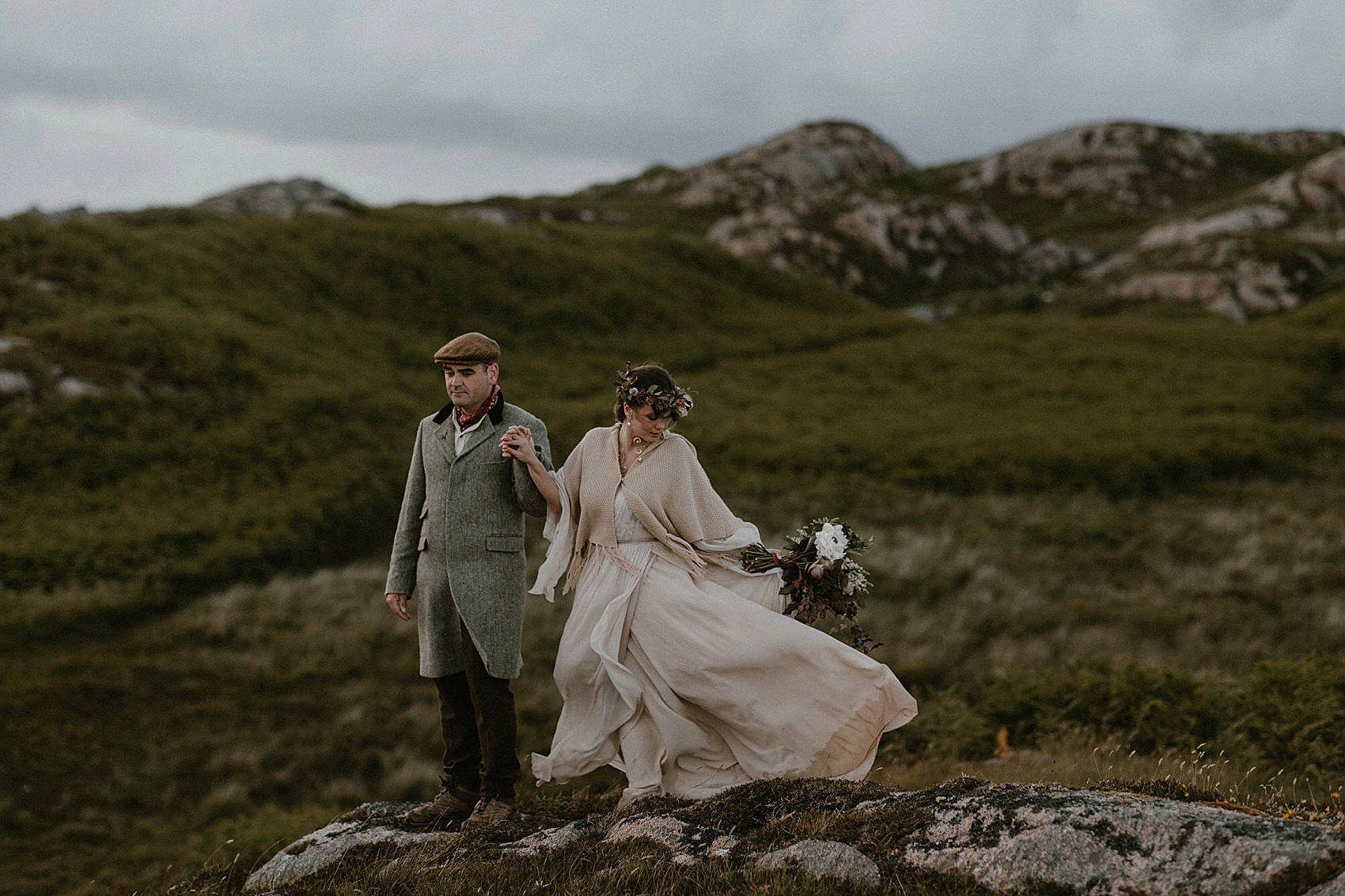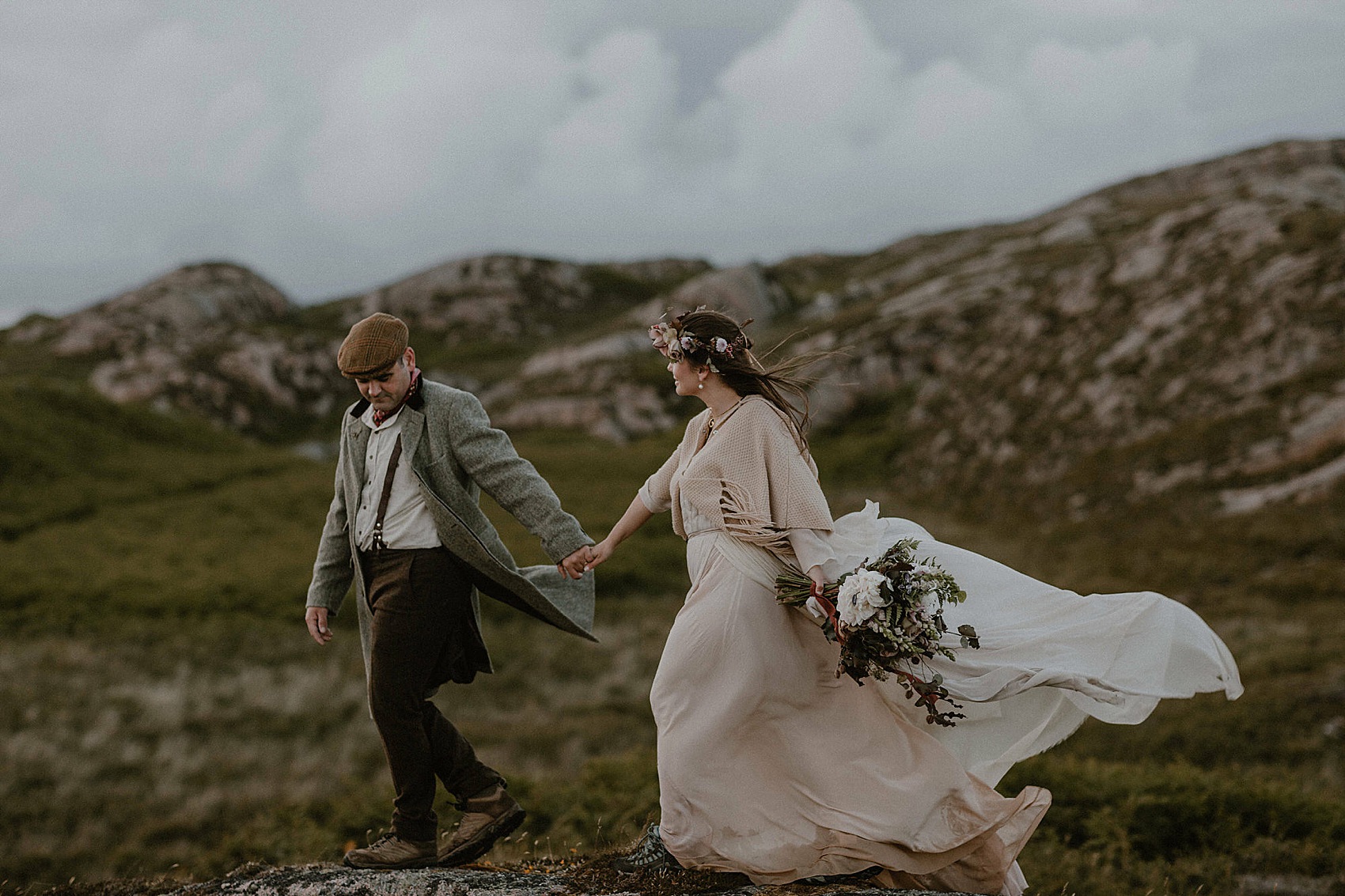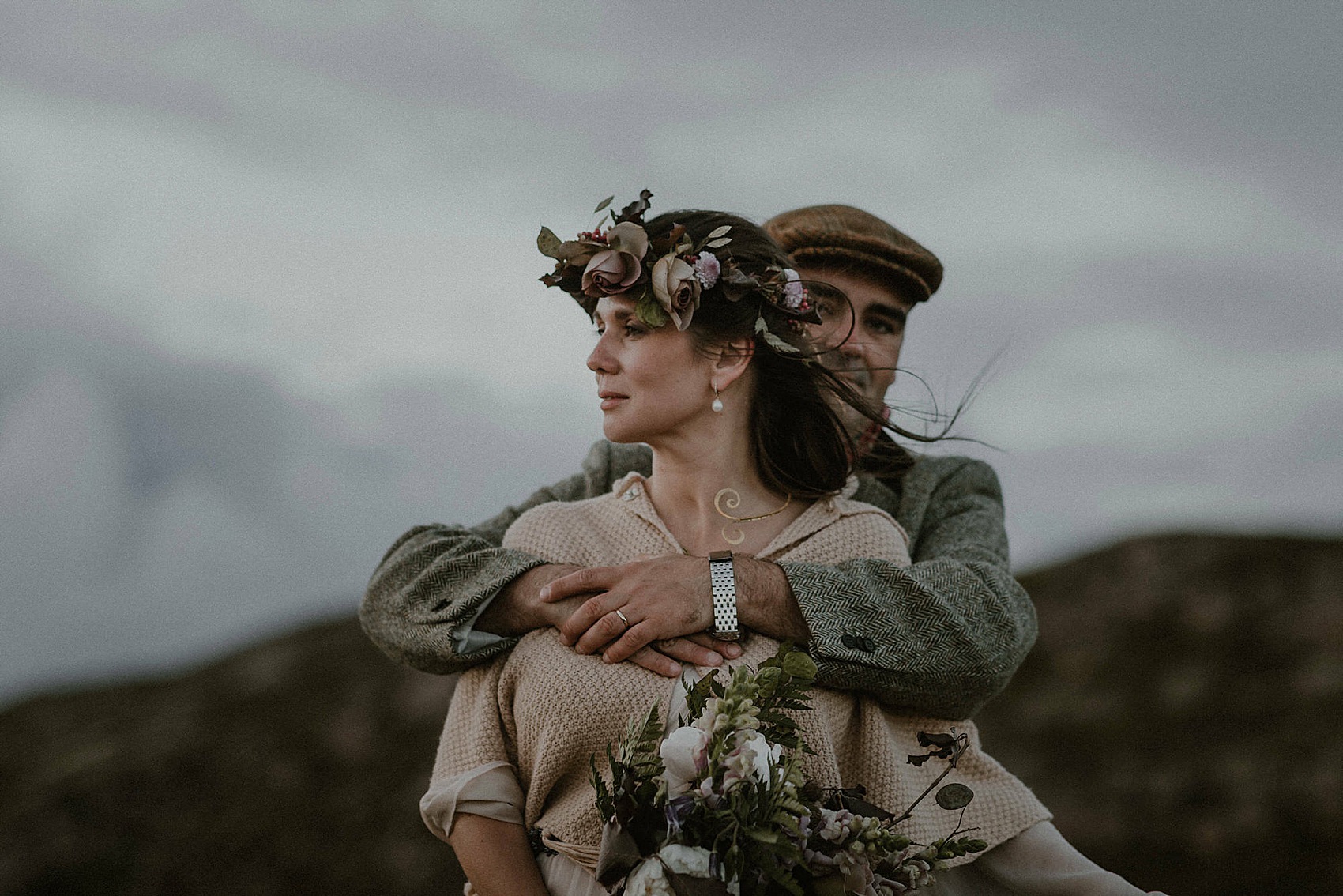 Favourite Moments
"Cristine: The whole day was perfect and relaxed. I loved each moment of it. We did what we love most in a way that we loved.   Alex: The ceremony itself. I've been waiting for 15 years to marry this woman! So, it's been the longest awaited moment of my life."
"And I loved the time we spent on board the Birthe Marie. When we put out to sea and the skies cleared and the sun came out, the atmosphere on board was so homely and Cristine was so happy. It was then that I first thought, 'Wow! We are married! Finally!'"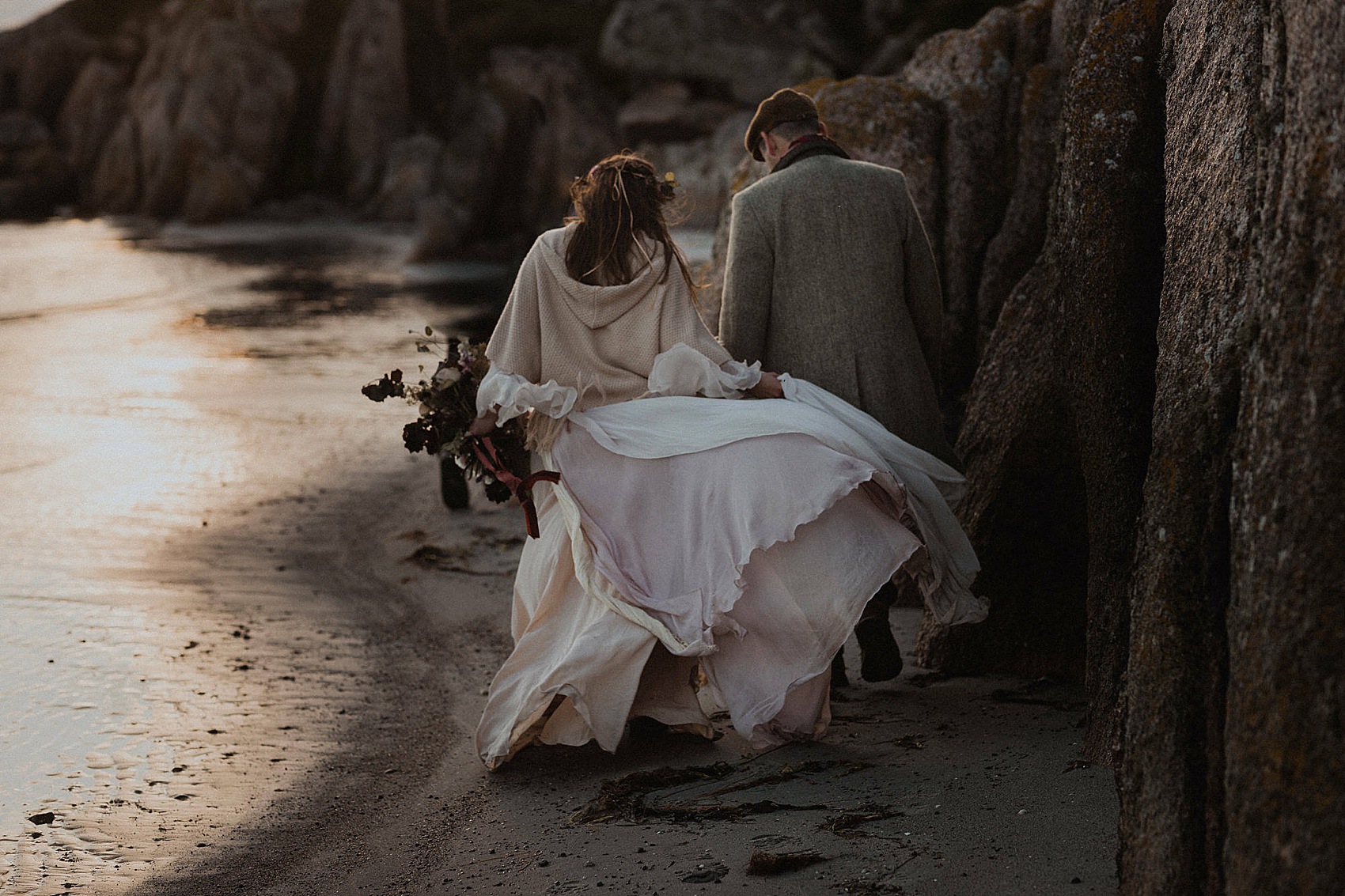 Words of Wedded Wisdom
"Please remember who you are. You and your wishes are the most important things on this day. Do what you love, in a way that you love. Be yourself."
"Don't let your day be ruled by others: this is your day, not theirs. The most important thing is your photographer. Really, it's a guarantee of perfect photos and memories for years."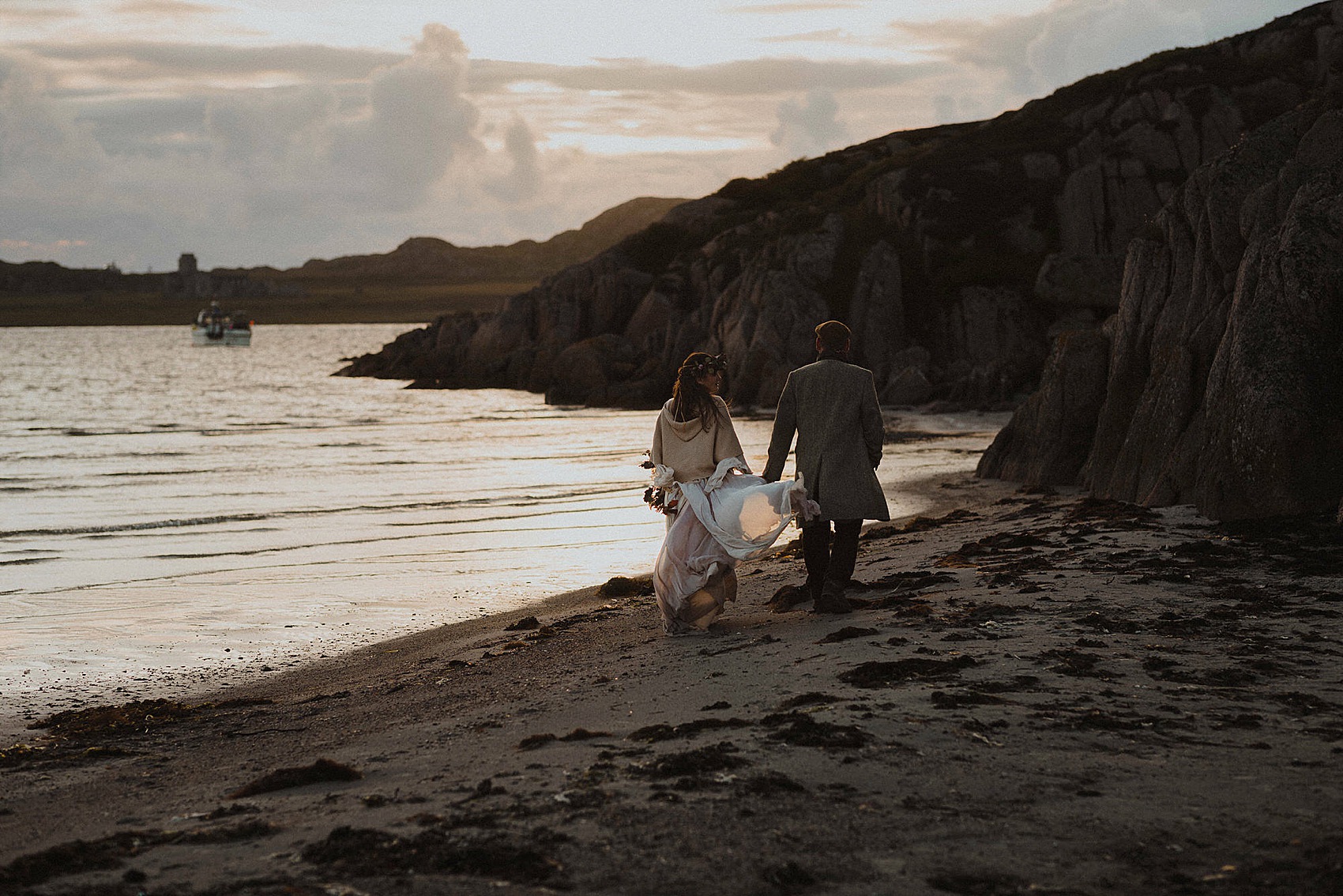 Well, wasn't that just – as I said – totally magical in every way? Cristine and Alex, thank you so much for giving us this glimpse into your day, all so beautifully captured by Katy and Jim from The Caryls – thank you.
With love,
Laura