Oh for the love of wonderful, elegant weddings. How very much we are all missing weddings in real life right now? My heart goes out to every one of you waiting on Monday for news of your wedding, or support for your wedding business. We are ALL in this together my friends. Let's think positive as can be in these countdown to Monday.
Psychologist Siân married Lawyer Joe on 10th October 2020 with a ceremony at St Bartholomew's Church in Much Marcle, Ledbury, Herefordshire, followed by an intimate reception at Homme House.
"We were engaged for 19 months as I always wanted an Autumn wedding. I love the colours and the crisp sunny mornings, but we were both too busy with work commitments to plan the wedding for 2019. Little did we know what trying to plan a wedding in 2020 was going to bring."
"I really wanted to embrace the Autumnal colours without having a wedding that resembled a pumpkin patch. I spent a huge amount of time creating Pinterest and mood colour boards and at one became incredibly annoyed at the various interpretations of the colour Sage (this was pre pandemic and needless to say my priorities quickly changed!)"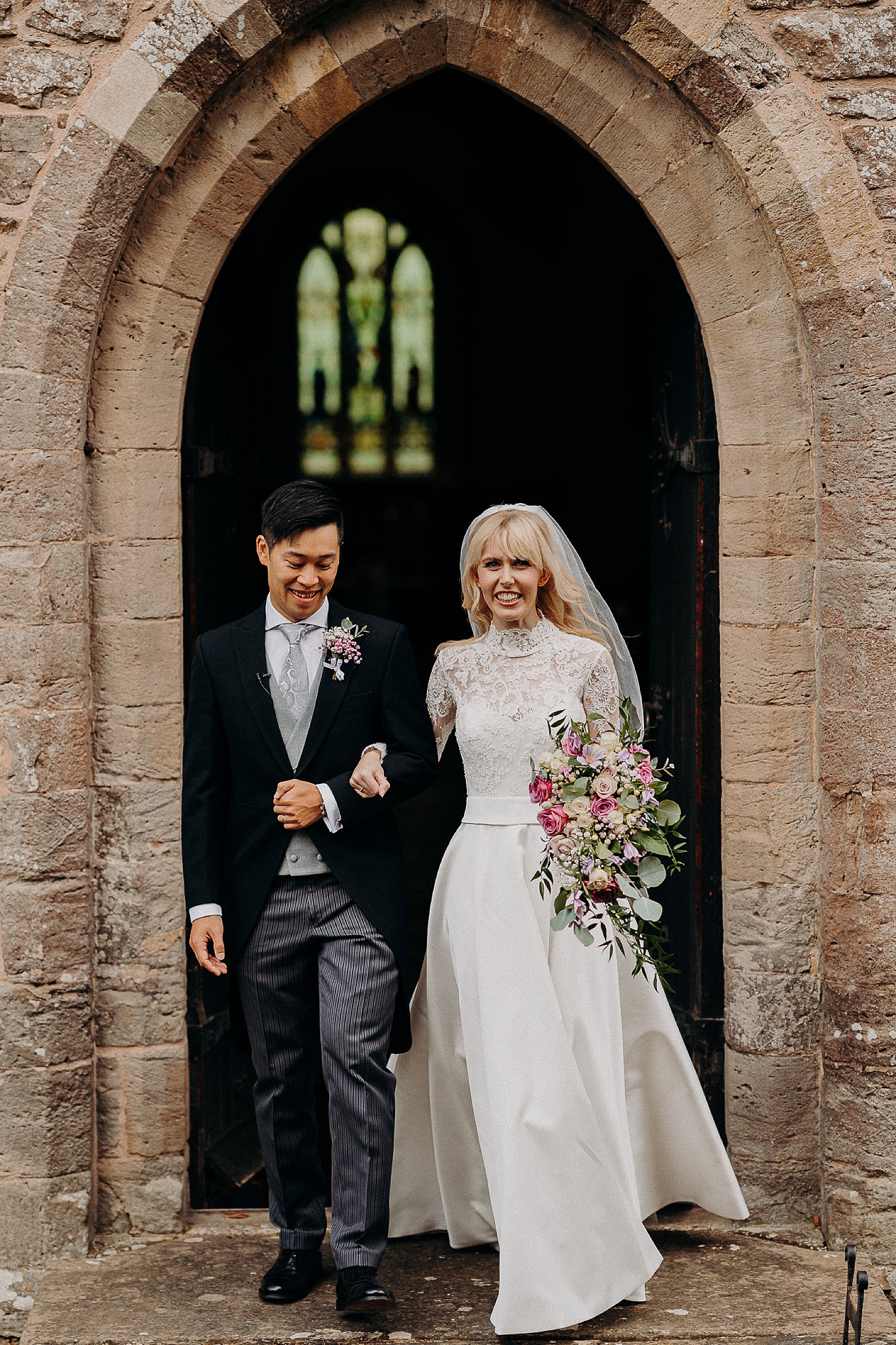 "Even if someone said don't you wish you had your wedding the year before so you could have had a bigger event, I would say no. What Joe and I had that day was so special and intimate, everyone including the suppliers was so invested in the day and so happy to be part of it that I think our wedding gave everyone else a lot of joy and hope in a tricky year. We relaxed, had fun and celebrated our love against all odds."
"We always wanted a wedding which had a more traditional feel comprised of a church ceremony and a reception in a warm and intimate space."
"Although we viewed many beautiful venues, we fell in love with the warmth and beauty of Homme House. As Homme House is the home of Charlie, Sarah and their family they have a limited number of weddings a year, which creates a very personal and intimate process."
"We felt that Charlie and Sarah were as invested in our day as we were and we would not simply become 'another wedding,' which was our fear for larger venues."
"St Bartholomew's and Homme House are also set in acers of beautiful countryside which was also important to us. Living and working in London can be intense and we wanted our wedding to be in a relaxing and beautiful area."
The couple hired The Bespoke Flower Company to provide the blooms for the day.
"Flowers were one of the most important features for me. For the posies I opted for flowers which were light and elegant, nothing too heavy. The bridesmaids had gypsophila poises in shades of mauve, white and softer purples, while mine incorporated more foliage and a tear-drop shape. In the venue I encouraged Emma to go with a darker palate of purple and foliage to create a warmer autumnal feel which would complement candlelight and the interior of Homme House."
"Seeing the staircase floral runner and that on the tables brought me to tears. I can still remember the smell of the flowers throughout the Venue. In the church we had fun with the covid restrictions and cornered off every other pew with a foliage barrier, which replaced the somewhat less romantic red and white hazard tape."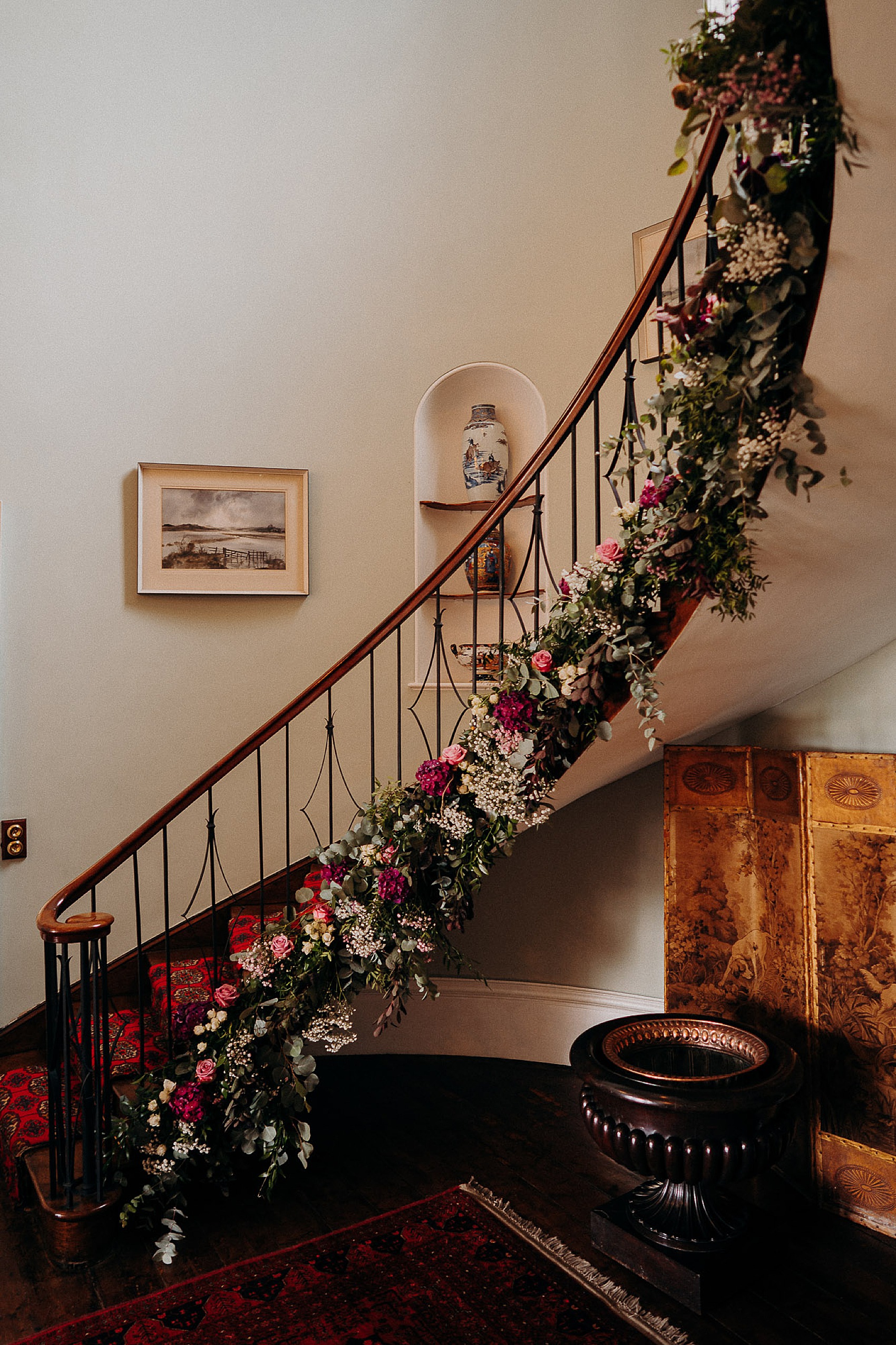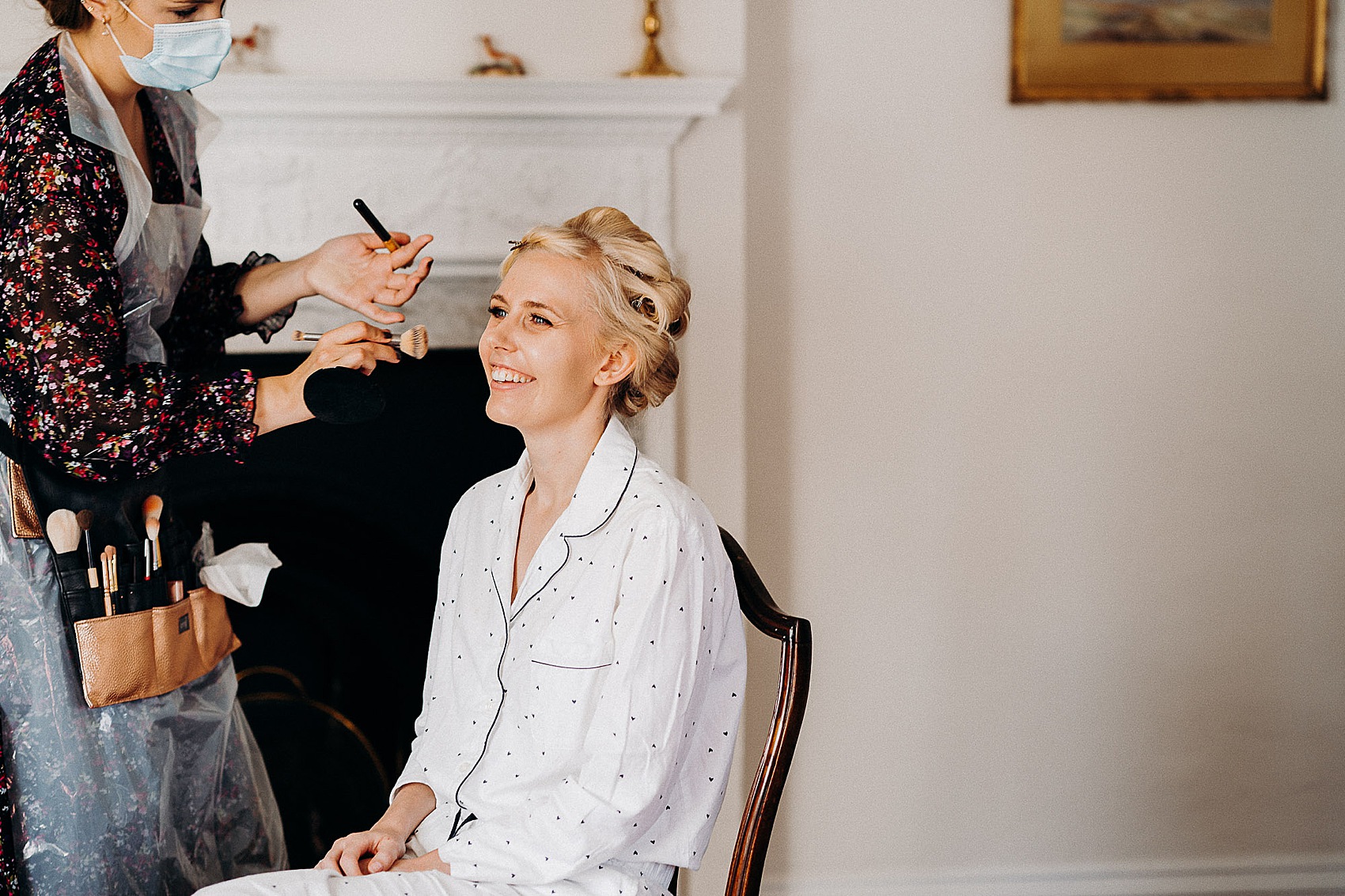 Sian wore an utterly stunning couture design by the Mirror Mirror Bridal Couture team.
"I first became aware of Mirror Mirror through Love My Dress. The dress had a high neck long sleeve bodice made of a French lace and hand sown embellishments around the neck and cuffs."
"The skirt was a simple satin, one petticoat and had a small train to balance out the dress."
"I worked closely with Maria, Andrea and Sandra over approximately 12 months to create my dress and I could not recommend them highly enough."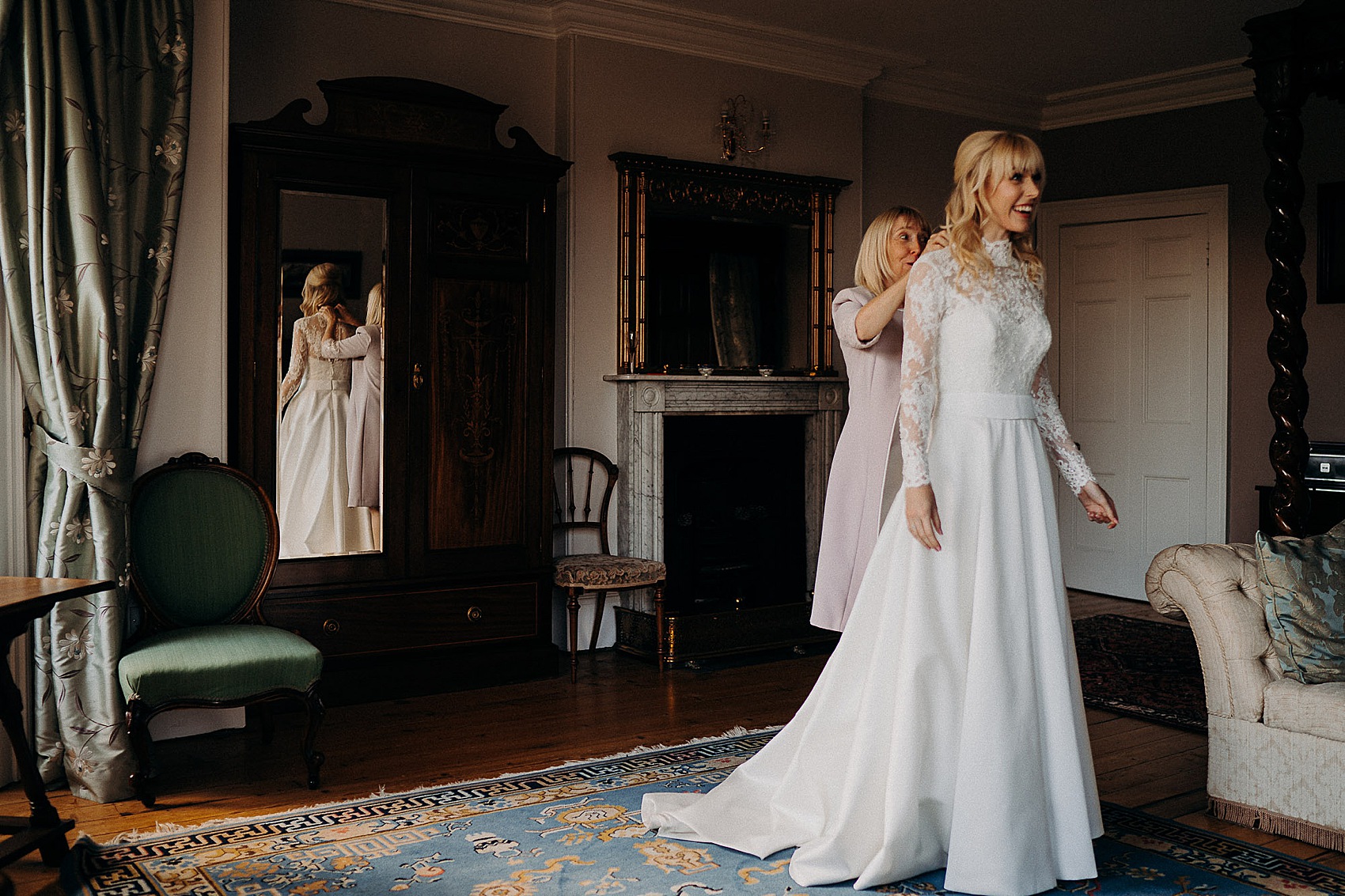 "The Mirror Mirror team saw me through so many events; from fainting during a fitting, to crying when Boris reduced the numbers two weeks before the wedding, to being my voices of opinion and guidance in the absence of having my mother and bridesmaids at the fittings with me because of the restrictions."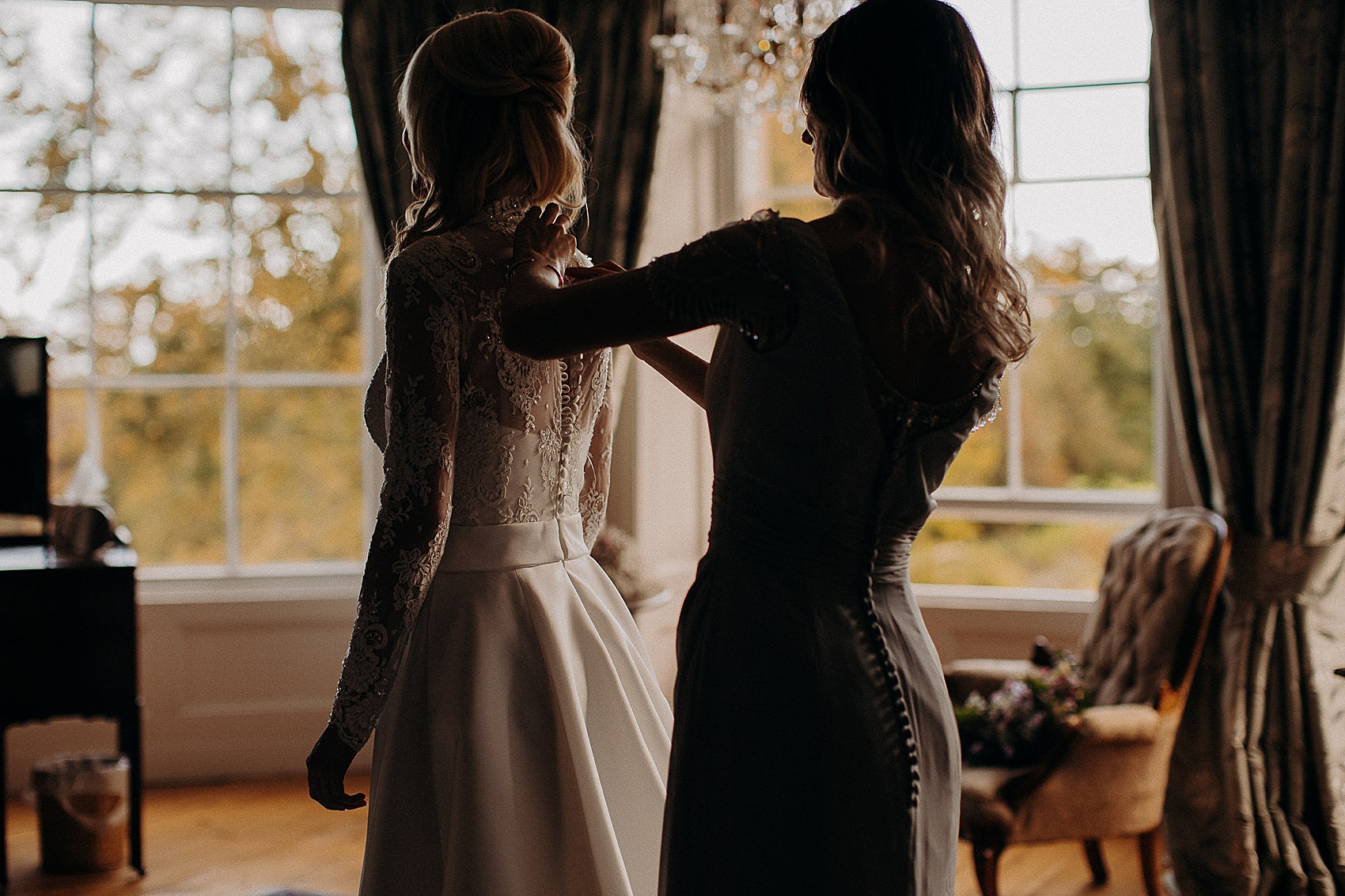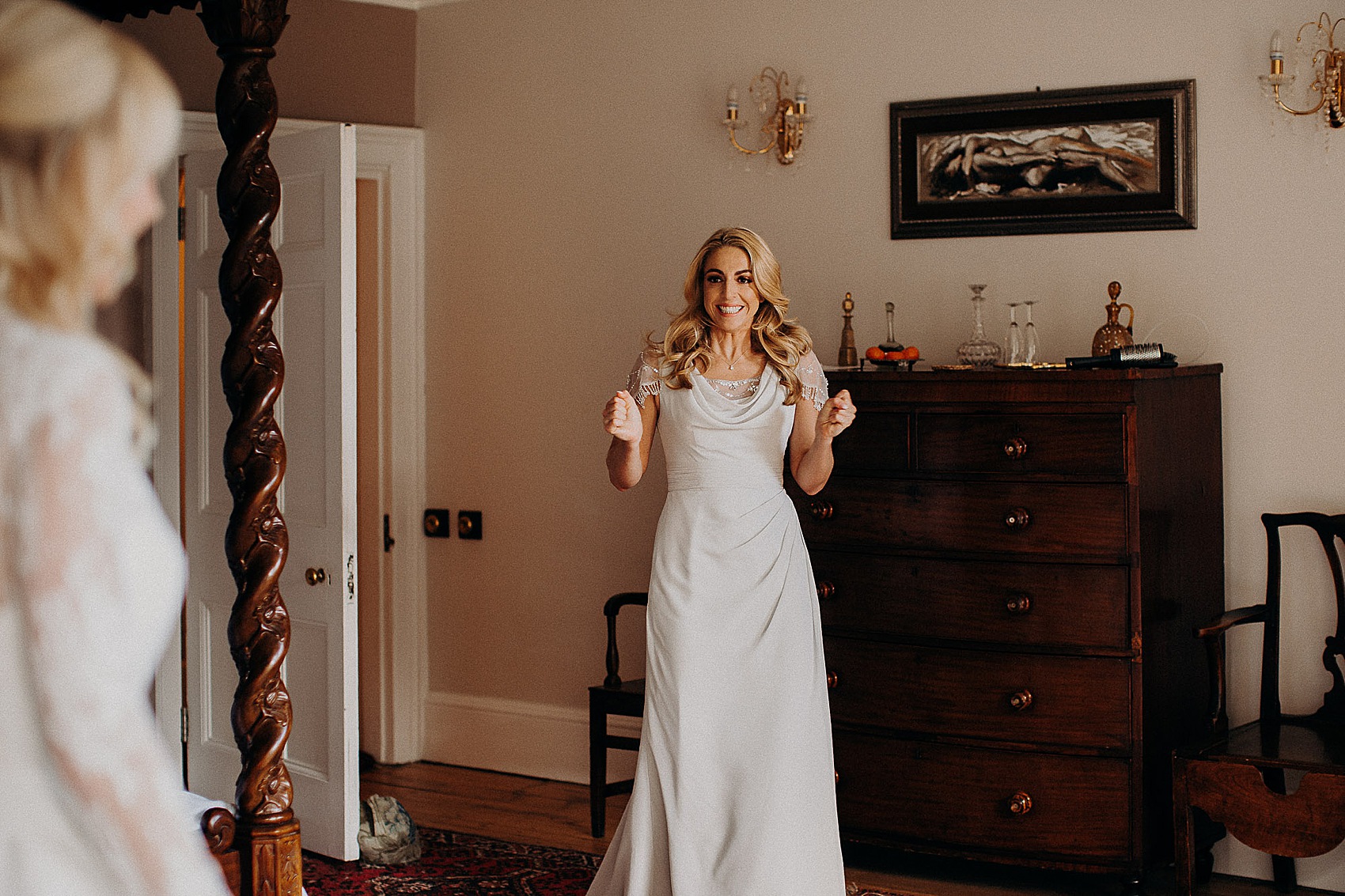 "Andrea helped me articulate my dream dress in her initial design and Sandra repeatedly told me not to compromise on anything as perfection would be achieved."
"The final dress was breathtaking, and I enjoyed every second of wearing it. Whether you opt for couture or something already in store anyone at the boutique will be in the best of hands!"
"I loved the richness and detailed patterned of the lace which was highlighted by hand sown embellishments around the neck and cuffs. The embellishments would softly catch the light, meaning it was able to transition from the day to the evening seamlessly."
"I also loved the way the dress fit my body perfectly, I felt completely comfortable all day. Nothing pinched, rubbed or felt ill-fitting even after a three-course meal and a lot of cake and bubbles."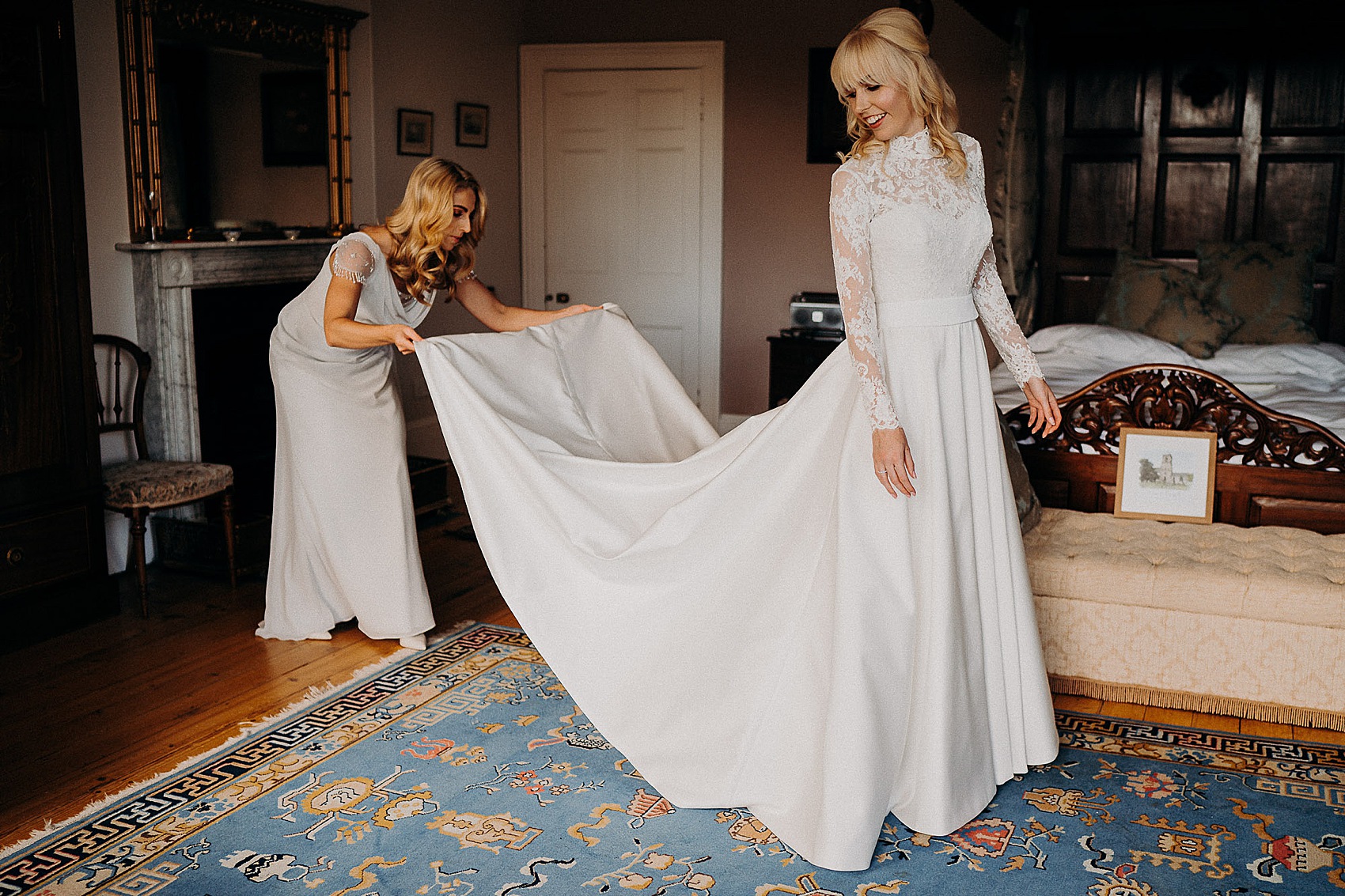 "I wore a single tier cut edge Italian tulle wedding veil, fingertip length from Britten Weddings. Initially I was unsure about whether I wanted a veil but when I tried one on it felt like the finishing touch."
"My aim was to have something simple and elegant that would not detract from the dress."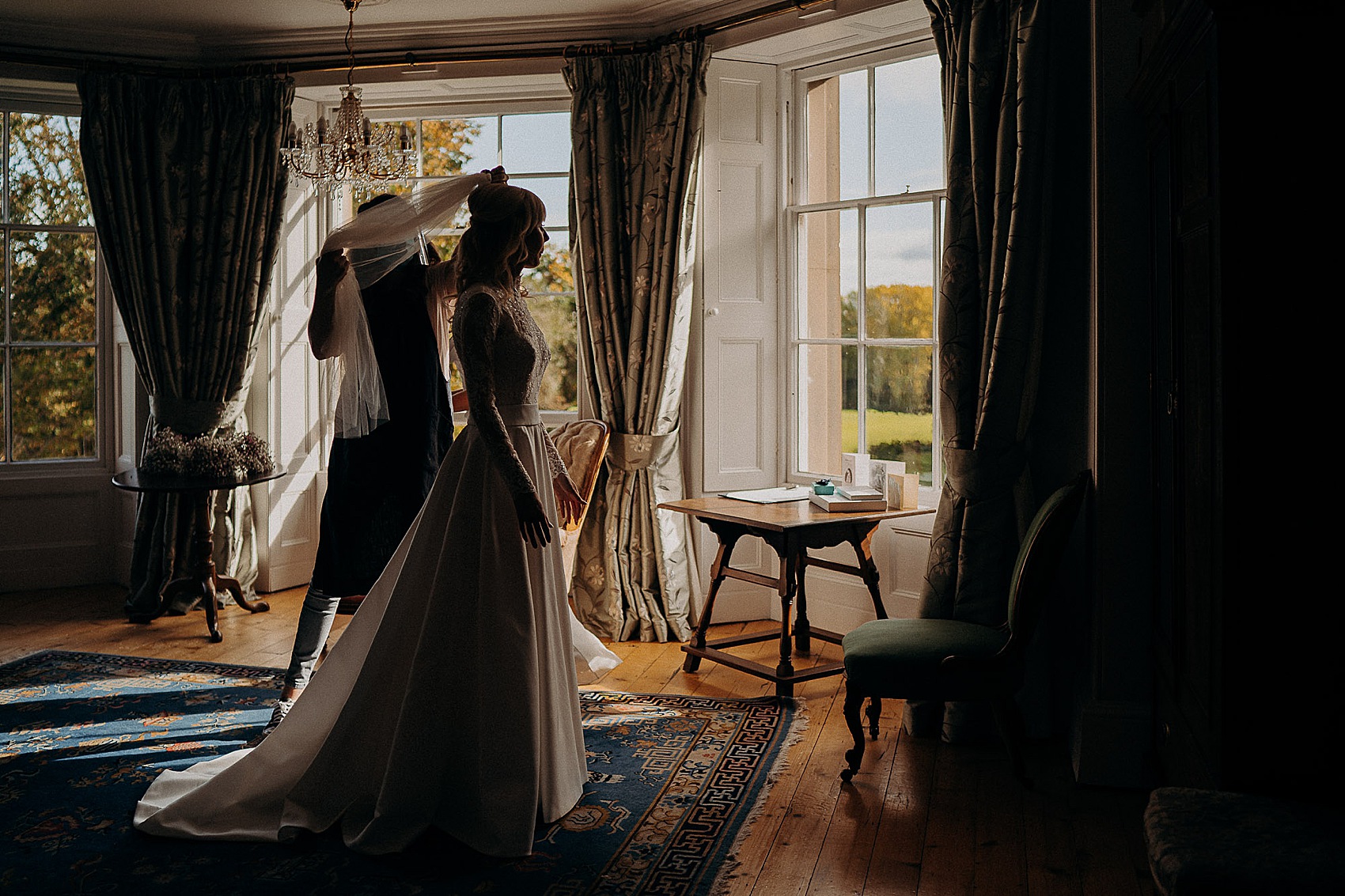 I adore these touching images of Sian's father seeing her for the first time in her dress – pass the tissues someone please. How much are we all missing moments like this?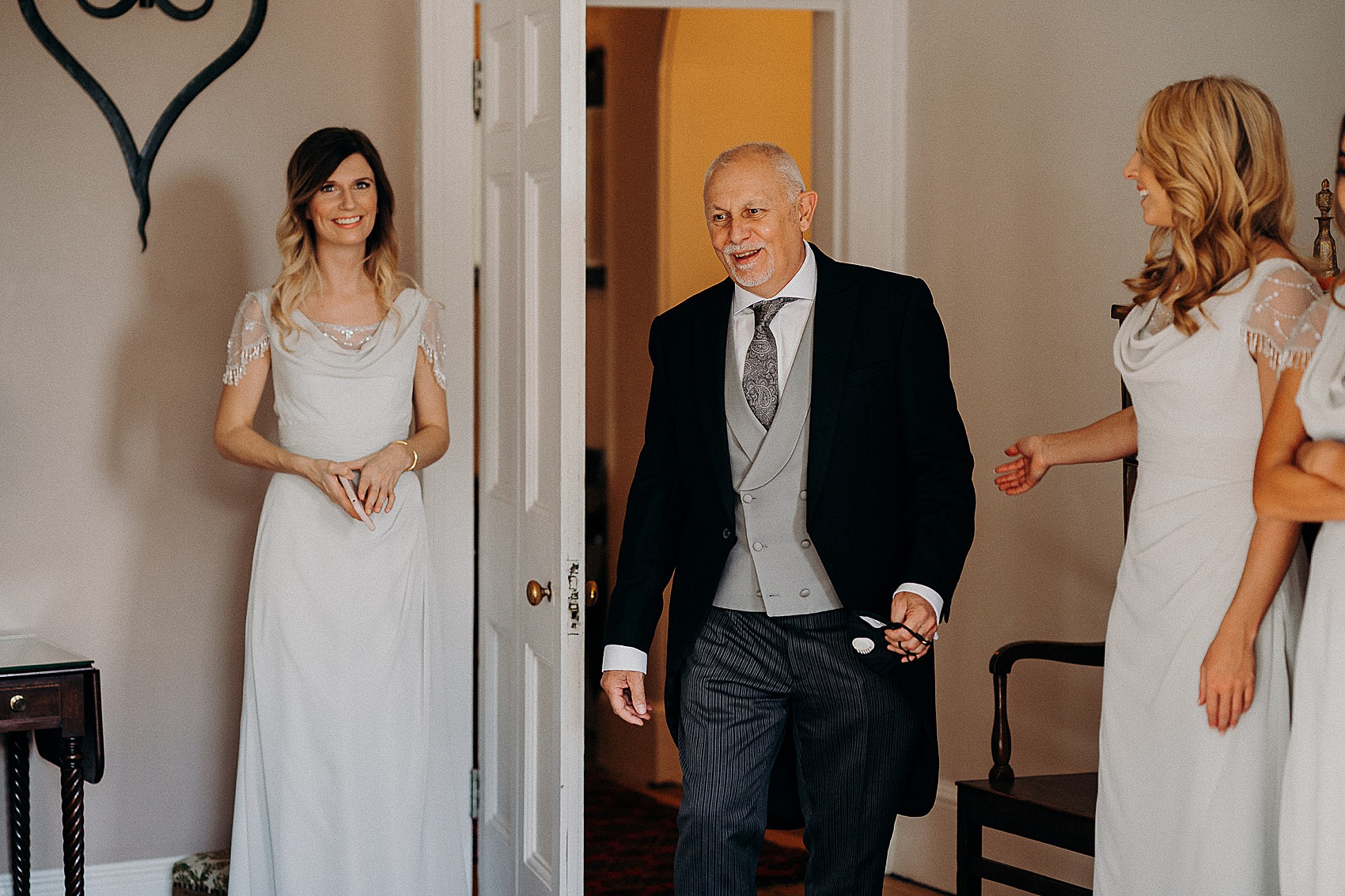 "My favourite moment was slightly earlier in the day. All the guests, my mother and bridesmaids had gone ahead to the church and it was just my father and I at Homme House. I walked down the staircase, the front door was open with the sun shining and the sound of the church wedding bells came pouring through."
"At that moment I realised the bells were for Joe and I and that I was on my way to get married. My father was by my side, gave my hand a squeeze and off we went. There were no other sounds other than the bells and it was a beautiful moment of reflection, excitement and nerves!"
"I toyed with having bold colours but end the end went for a very soft dove grey dress with embellished sleeves. Having seen the photos I'm really pleased I stuck to a more neutral palate and allowed the flowers and surrounding venue/grounds to bring the colour."
"The dresses were from True Bridesmaids design M645 stocked at Any Occasion Boutique Tunbridge Wells."
"Joe and I asked our cousins children to be our Page boys (aged 2.5 and 3years old) but sadly they were both stuck in America and couldn't be with us on the day. That said we loved seeing them dressed up in their outfits over Zoom. The boys wore Ivory and Grey Buster Suits from Ancar ordered through Children Salon."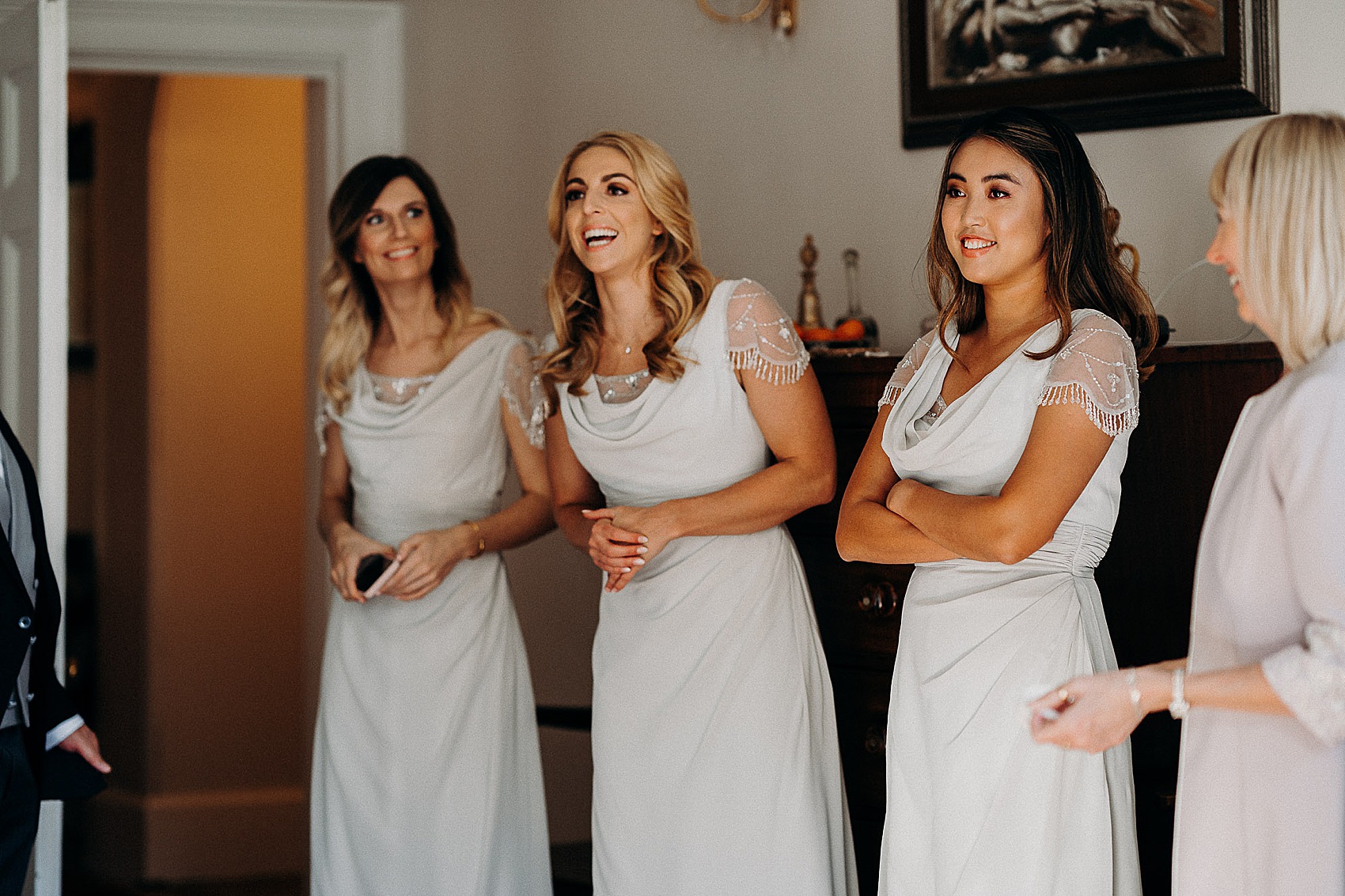 "I wore Coco Channel Mademoiselle; it is one of my favourites and the perfume I was wearing on our first date."
"I was struggling with the 'something blue.' On the morning of the wedding, I opened a beautifully handcrafted sapphire and diamond ring from Joe. I cried opening the gift and then didn't stop throughout the day. I wore it to the ceremony and if I have a daughter, I hope to pass it onto her on her wedding day."
"The 10th October 2020 was always the date we planned to get married, but this along with the venue were the only items that remained the same, everything else changed more than once in light of the pandemic."
"We went from planning a wedding for 100 people made up of friends and family from across the world, to a wedding of 30 and then two weeks before our date we had to limit guests again to 15."
"It was not until 48 hours before the wedding that I started to relax and believe it was going to go ahead."
"Joe and I worked closely with Homme House and other suppliers to ensure everyone was working in line with the guidelines and felt safe doing so."
"All suppliers and wedding guests provided personal contact details for track and trace, whilst also signing declarations that they were symptom free. Additionally, suppliers had to submit a covid 'risk assessment' explaining to the venue how they were working within the guidelines."
"Seating arrangements were also influenced, it was no longer about preferences as all guests had to be seated in their 'bubbles.' In some ways this made things straightforward!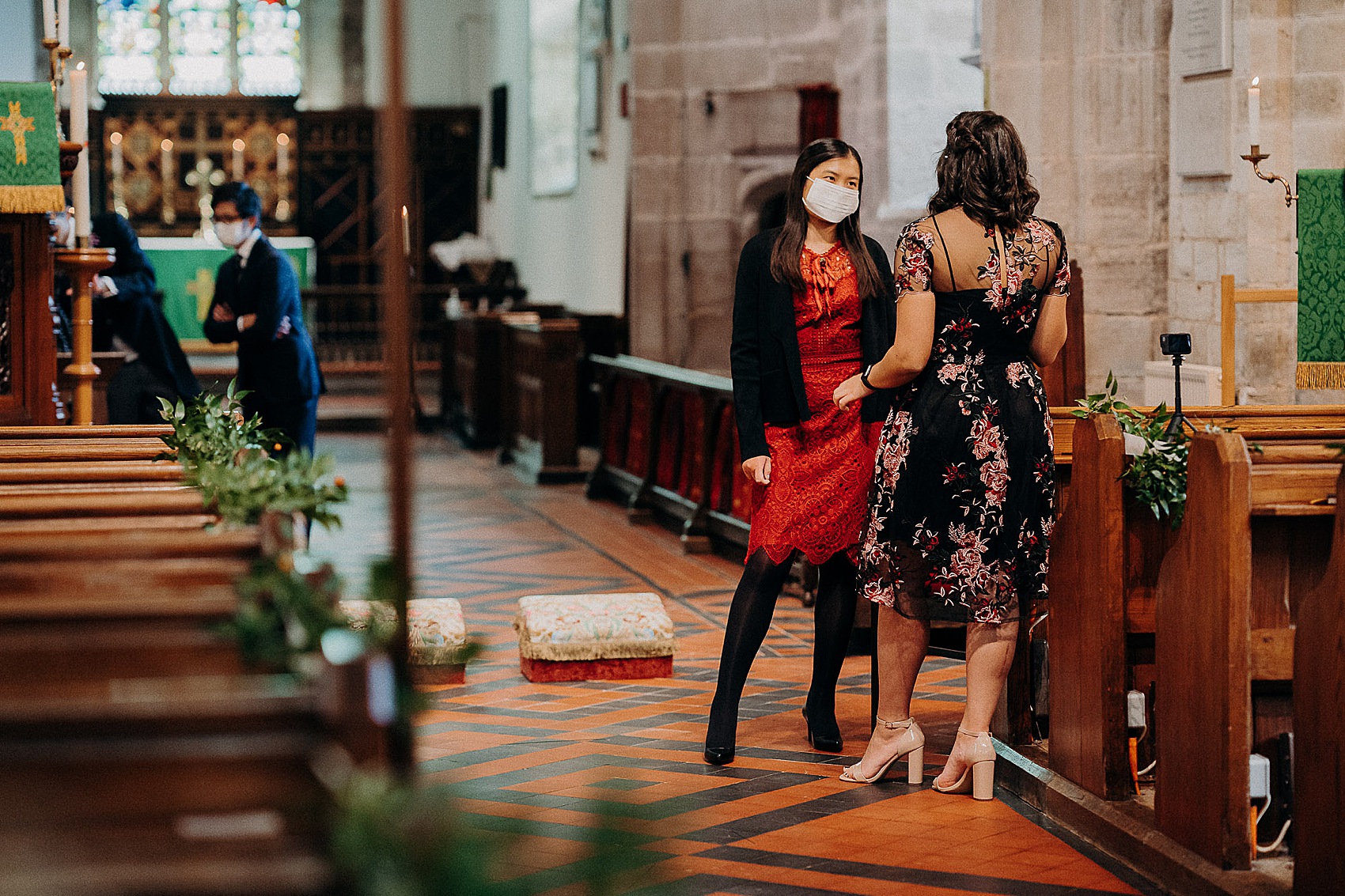 "On the day there was hand sanitiser everywhere and Joe and I brought white disposable masks for anyone who may have forgotten theirs."
"We sent out an email to our guests beforehand explaining what to expect at a covid-friendly wedding, which I think was helpful. It helped manage expectations and allowed people to ask questions. Although it was a lot of work leading up to the day, on the day itself we barely noticed any of these additional measures."
"Our suppliers were also fantastic, everyone responded with patience, care and professionalism as Joe and I constantly made changes to numbers and requirements, or simply tried to make sense of the latest guidelines."
"A huge thank you to all the suppliers, our experience was made significantly easier because of their kindness and willingness to go above and beyond."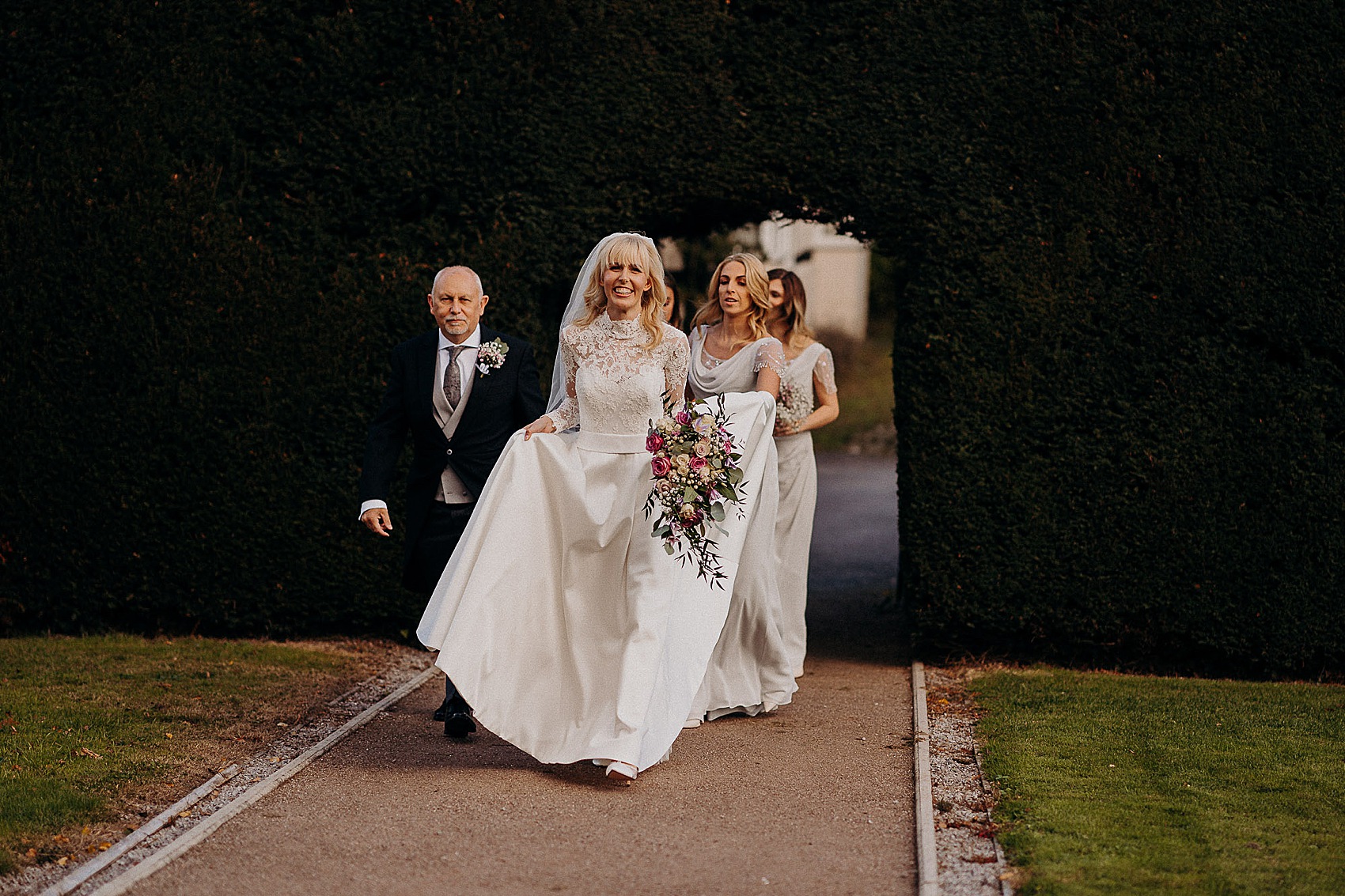 "COVID may influence boundaries and restrictions but it does not get to dominate the tone and feel of your day. You may have no choice but to compromise on the size of your wedding, but not the quality or amount of love and joy that can be shared."
"We cried a lot when loved ones were not able to join us in person. All of Joe's family and closest friends were stuck in Australia and Hong Kong and we both have loved ones in America who were not able to fly over. After the initial tears and disappointment, we got to work in thinking about how we could incorporate everyone as much as possible. We had Joe's childhood toy (Garfield) representing all loved ones for us in the church and set up a Zoom call."
"In the end we had more people witnessing our wedding than we ever would have had in person. We spanned 7 countries and 12 time zones but loved seeing everyone in their suits or pyjamas to join in."
"Our advice would be to record the ceremony, speeches and get a good videographer."
"Small weddings can be just as meaningful and beautiful. It may not have been what we originally had planned but on reflection we wouldn't have changed it for the world."
"The day was about making a commitment to each other, which we did through a broadcasted ceremony and a beautifully intimate reception. It is important not to lose sight of what the day is actually about; two people in love making a lifelong commitment to each other."
"My father walked me down the aisle. It was an emotional and proud moment for him. We were accompanied by Cavalleria rusticana: Intermezzo."
"We kept our ceremony traditional with the contemporary Church of England vows, with the omission of 'obey.'"
"We had two readings Colossians 3:12-17 and a handwritten piece. Joe's close friend Josh picked Colossians which was then read by Vincent, as Josh was in Australia. For the second reading, my mother wrote a beautiful piece, which was read by her brother, my uncle."
"We asked that people pick the readings for us, as this felt more personnel. It meant that Josh and my mother spent time thinking about what message they would like to share with us on our special day."
"Our wedding bands were made by Victor Van Der Westhuizen of Ivy Jewellers, who are based in Hatton Garden. Joe and Victor had previously worked together to design my engagement ring."
"We love Victor's work and wanted to make sure the wedding bands and my engagement ring paired well together."
"A church wedding was always important to us, both Joe and I had grown up with church ceremonies being part of lives from Christenings, Weddings, Funerals, Christmas Eve, Harvest Festival and weekly school chapel."
"We were aiming for a wedding that was traditional and elegant but had enough personal touches to showcase our personalities."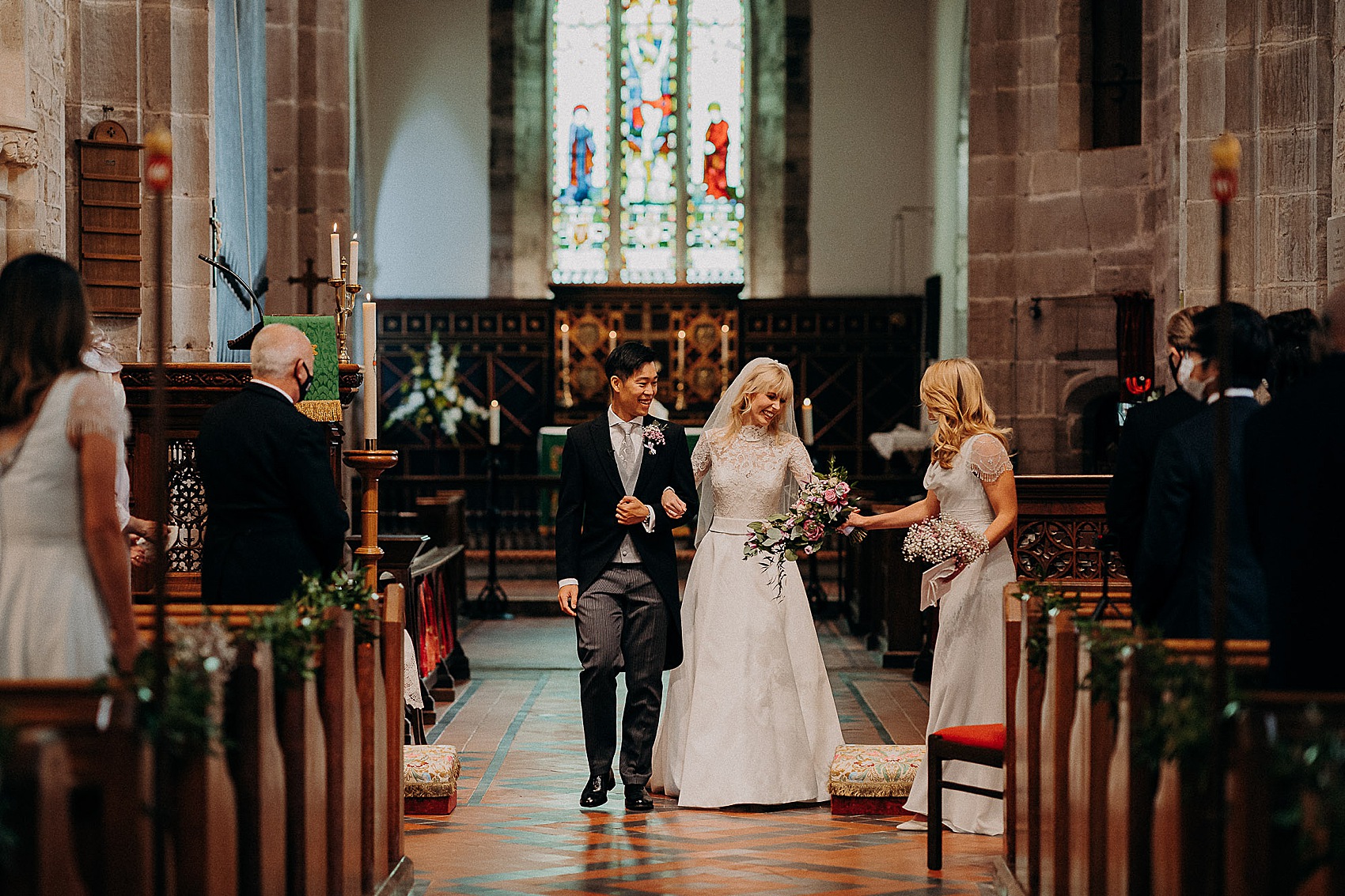 "Joe wore a morning suit and custom-made waistcoat to reflect his love of cycling from Neal & Palmer. Paresh helped us immensely in putting together the groom and groomsmen suits and accessories."
"Continuing his love of cycling Joe wore bicycle Paul Smith cufflinks and matching socks. Joe and his bikes come as a package deal, so to marry Joe whilst wearing all his cycling inspired accessories was fitting."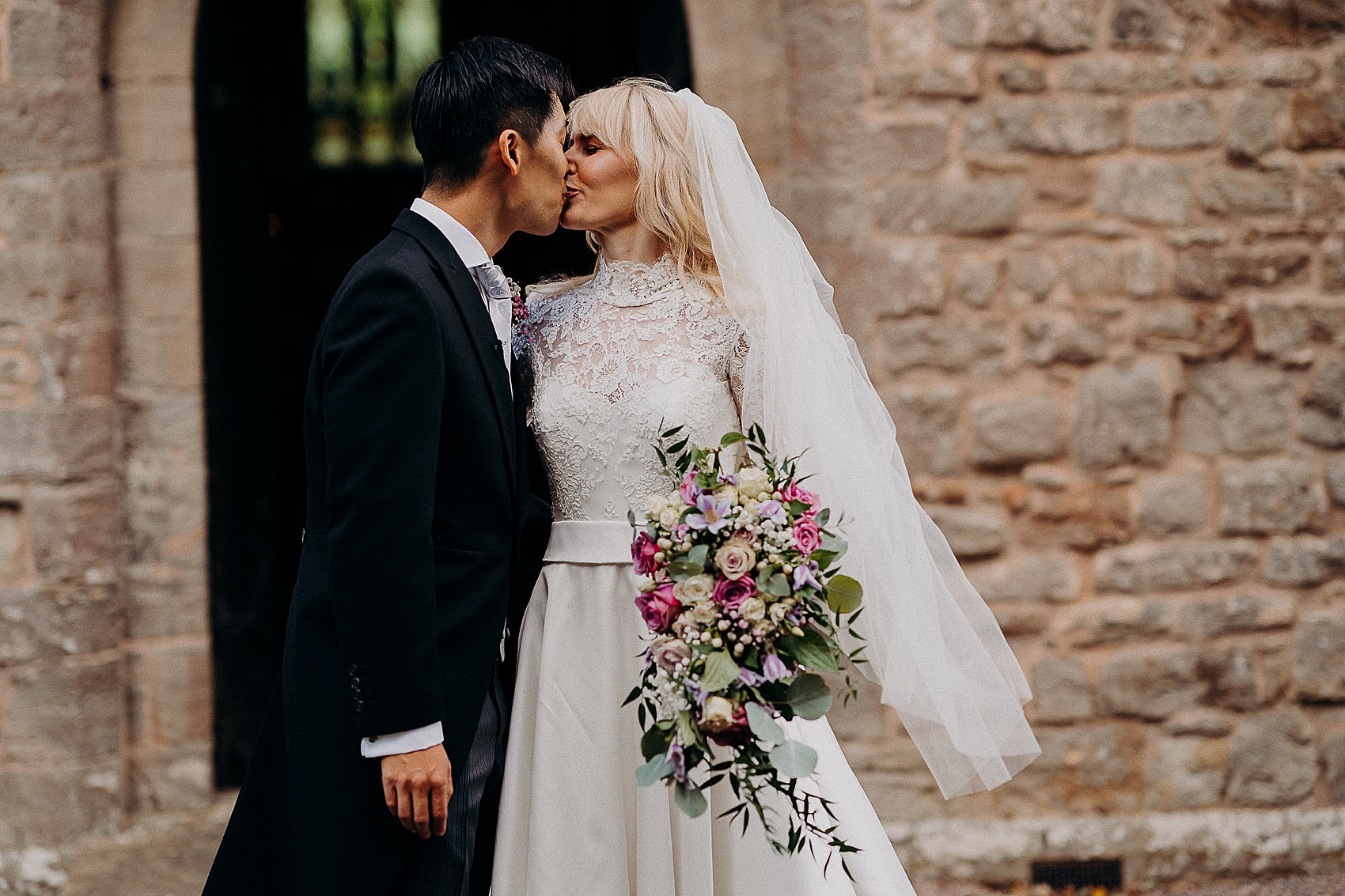 "We met completely by accident on a night out in Covent Garden over the May bank holiday weekend in 2015. My friend was outside the bar, got speaking to Joe and said 'come and meet my friend, I think she will like you'."
"Joe had been in England for approximately 6 months as he is originally from Australia and told me that he just wanted to be friends (classic- this narrative latest two dates!)."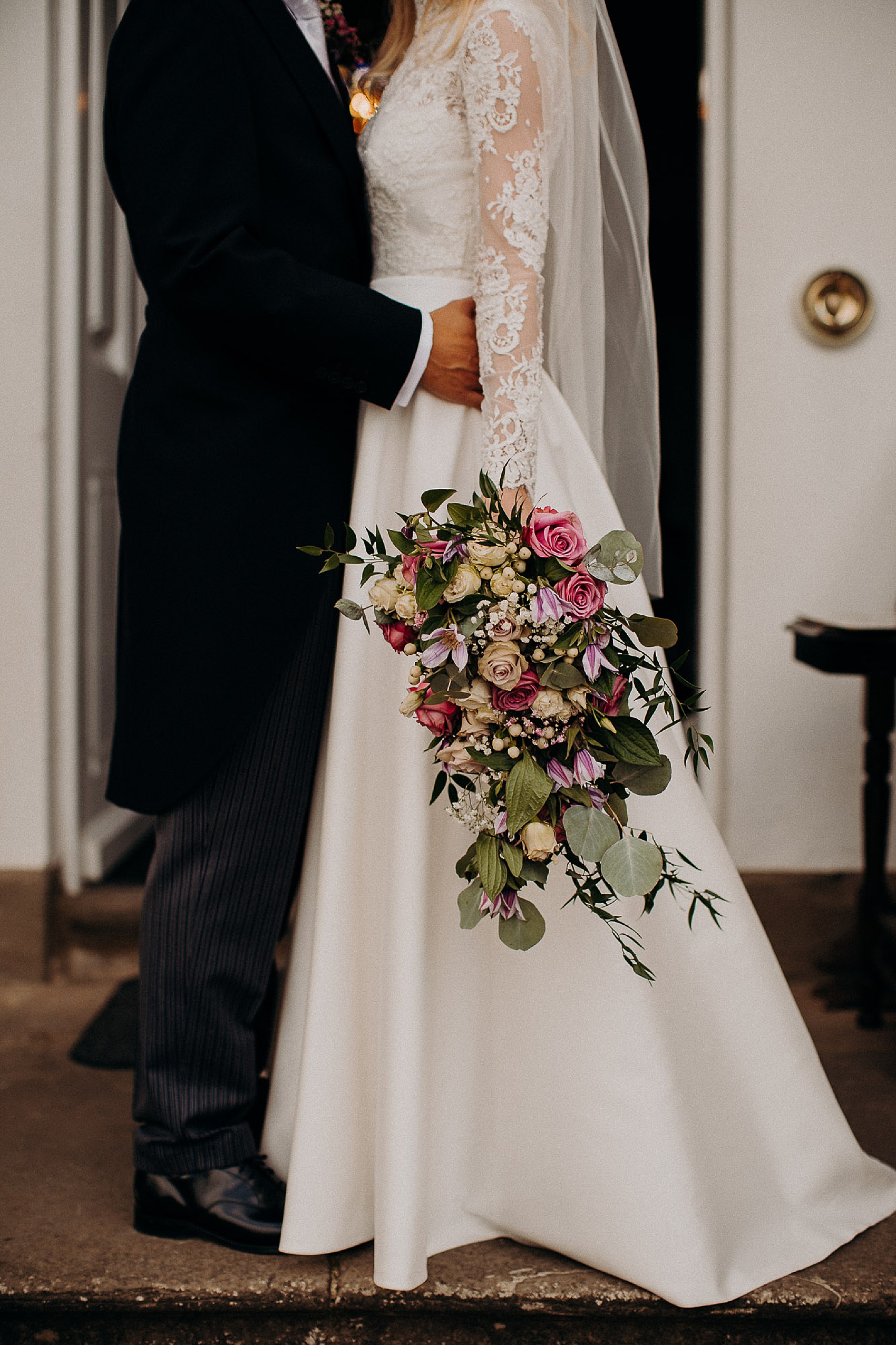 "We spent the evening laughing together and I remember the next day telling everyone how I had met someone that I really got along with."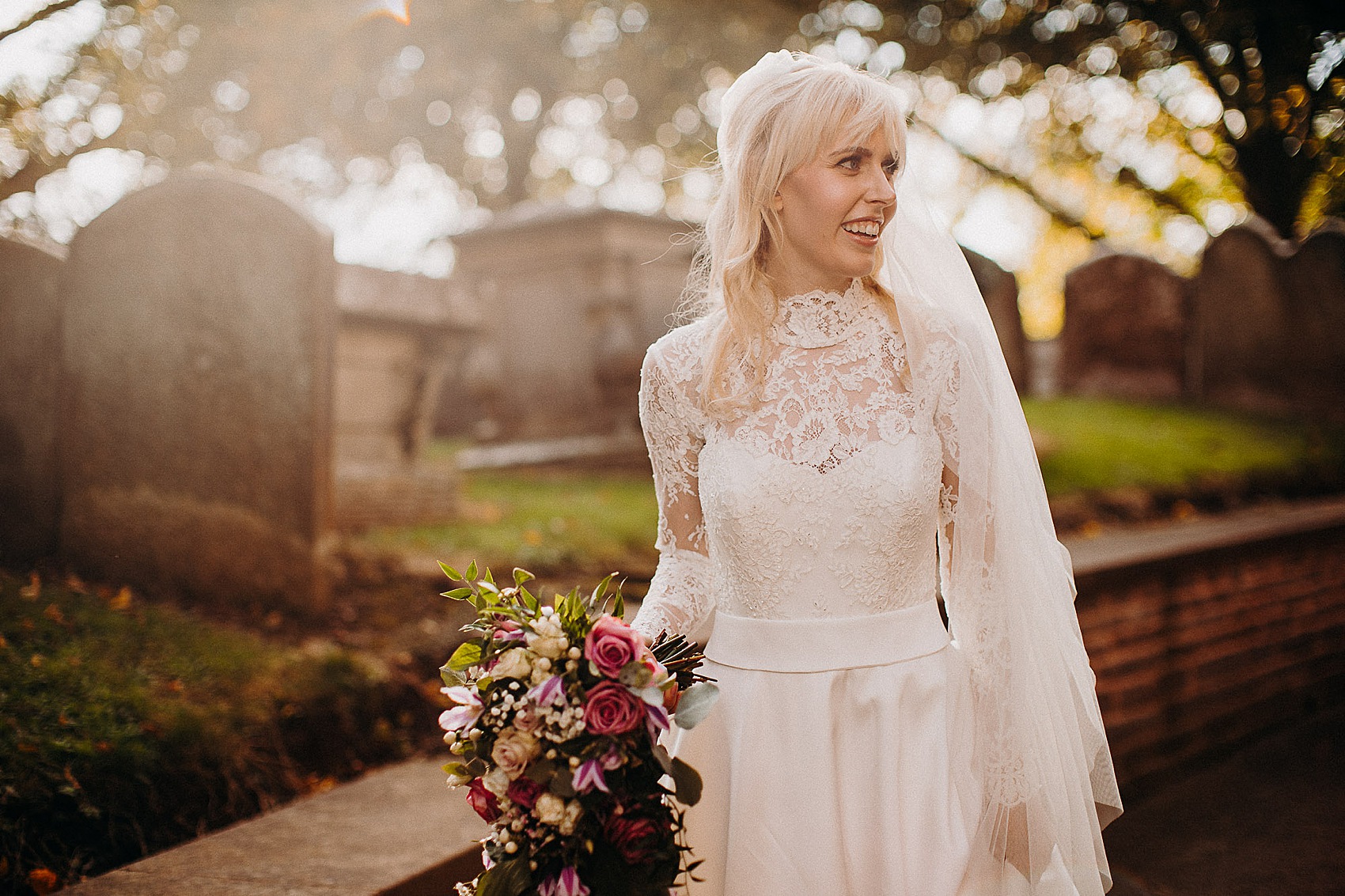 "I am not saying it was love at first sight, but I think there was a level of natural connection with Joe that I had not experienced with anyone else. Without my friend we would not be married today! (she was one of the bridesmaids)."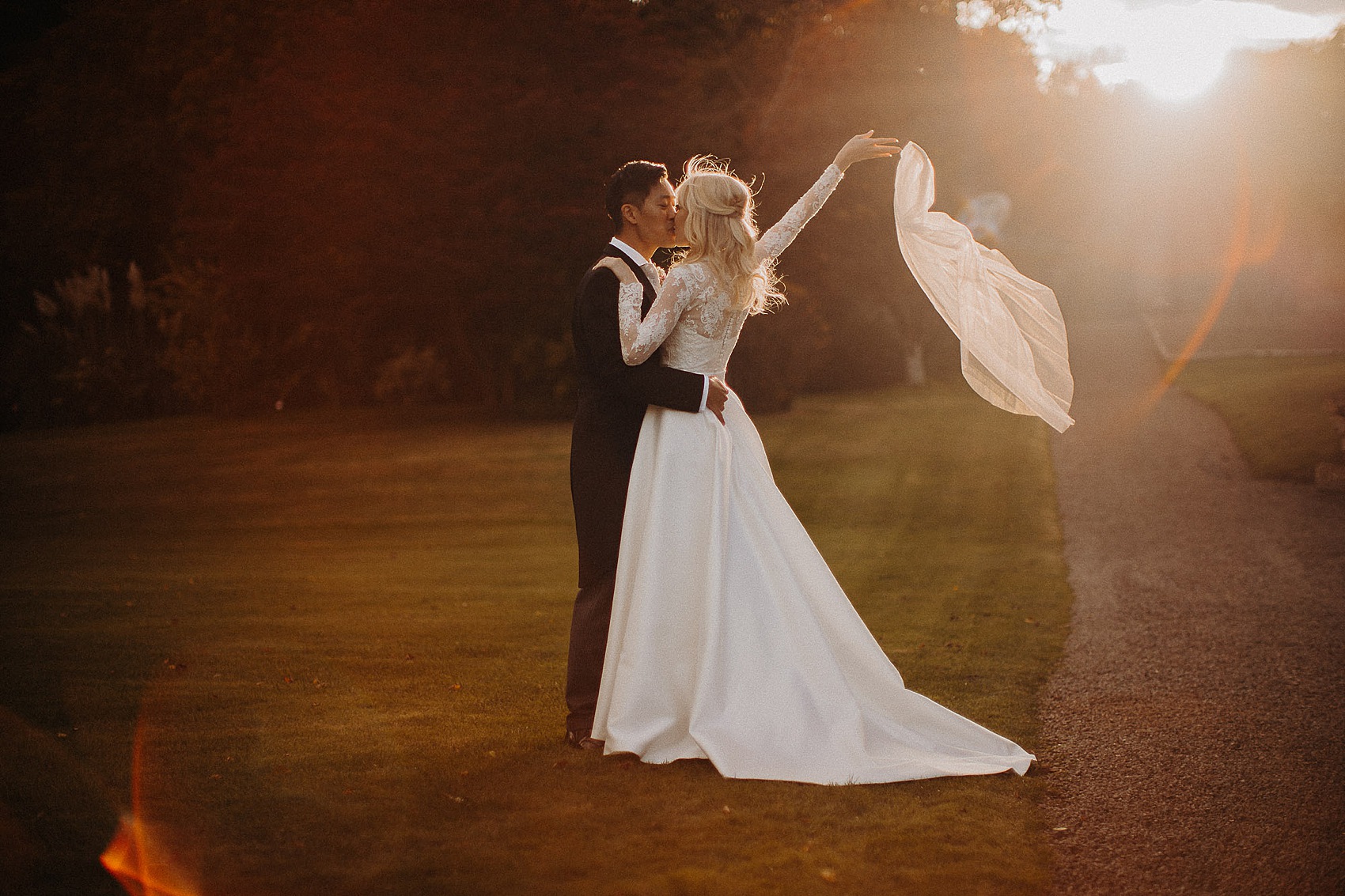 "Our engagement was perfect. I am not one for big gestures or declarations, but Joe put in so much thought. We were having a weekend away at Coworth Park and Joe had called ahead to warn the staff that he would be proposing."
"Throughout the weekend the staff were wonderfully attentive and curious, which I thought nothing of, but it turns out they were waiting for news of the engagement so they could deliver a beautiful bunch of daffodils which Joe had arranged.
"My father's side is Welsh (hence my Welsh name) and daffodils are the national flower of Wales. Joe proposed on St David's day (the patron Saint of Wales) 1st March 2019, and the fact that he thought to incorporate my Welsh heritage was so moving."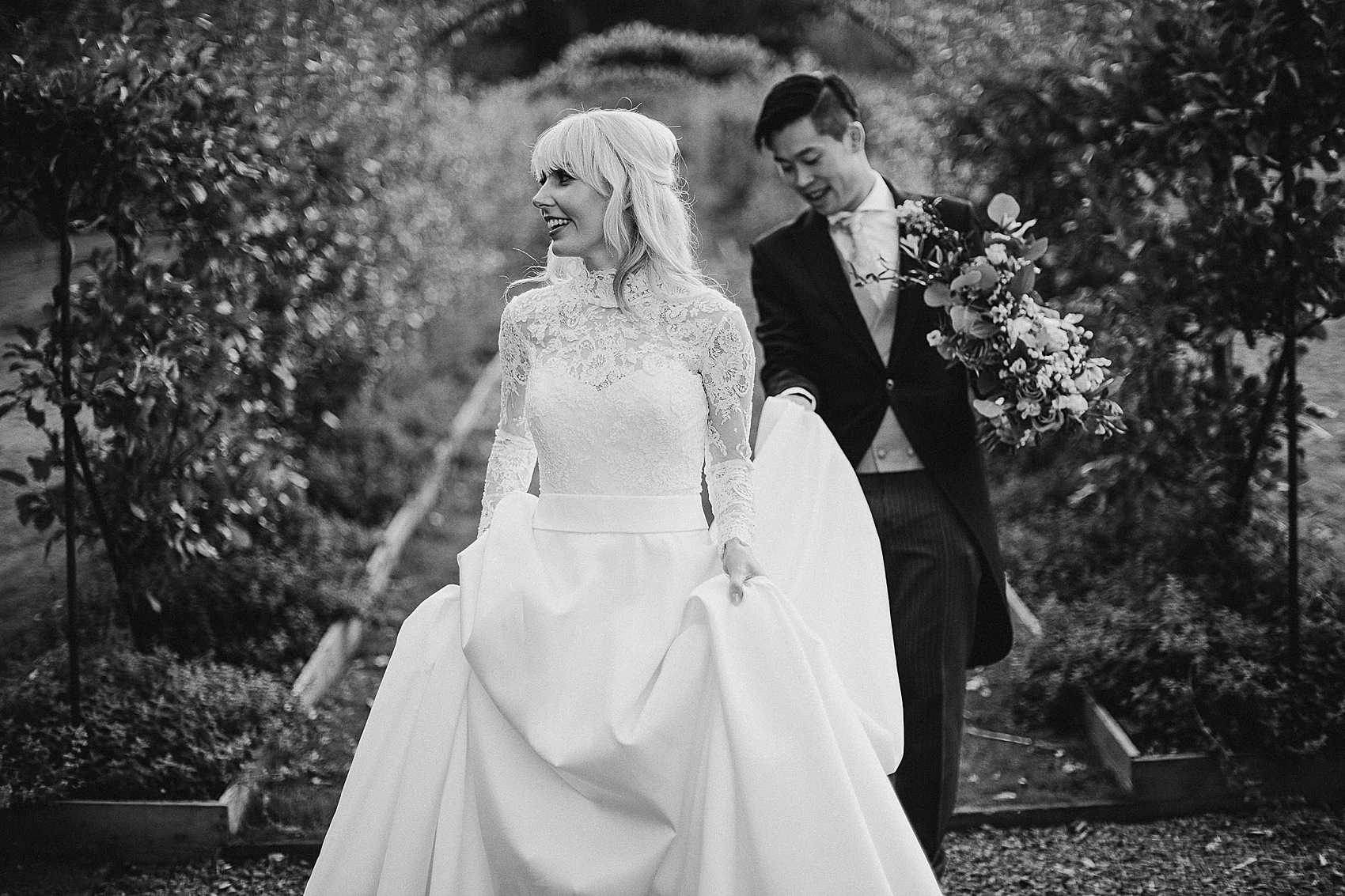 "That said, it wasn't all plain sailing and I did nearly ruin his whole plan by taking too long to get ready for dinner. Joe ended up furiously trying to contact the reception downstairs to delay the delivery of the daffodils because he had not yet proposed."
I was taken completely by surprised and just cried, even now he says I don't think you actually said yes, although I'm sure I nodded!"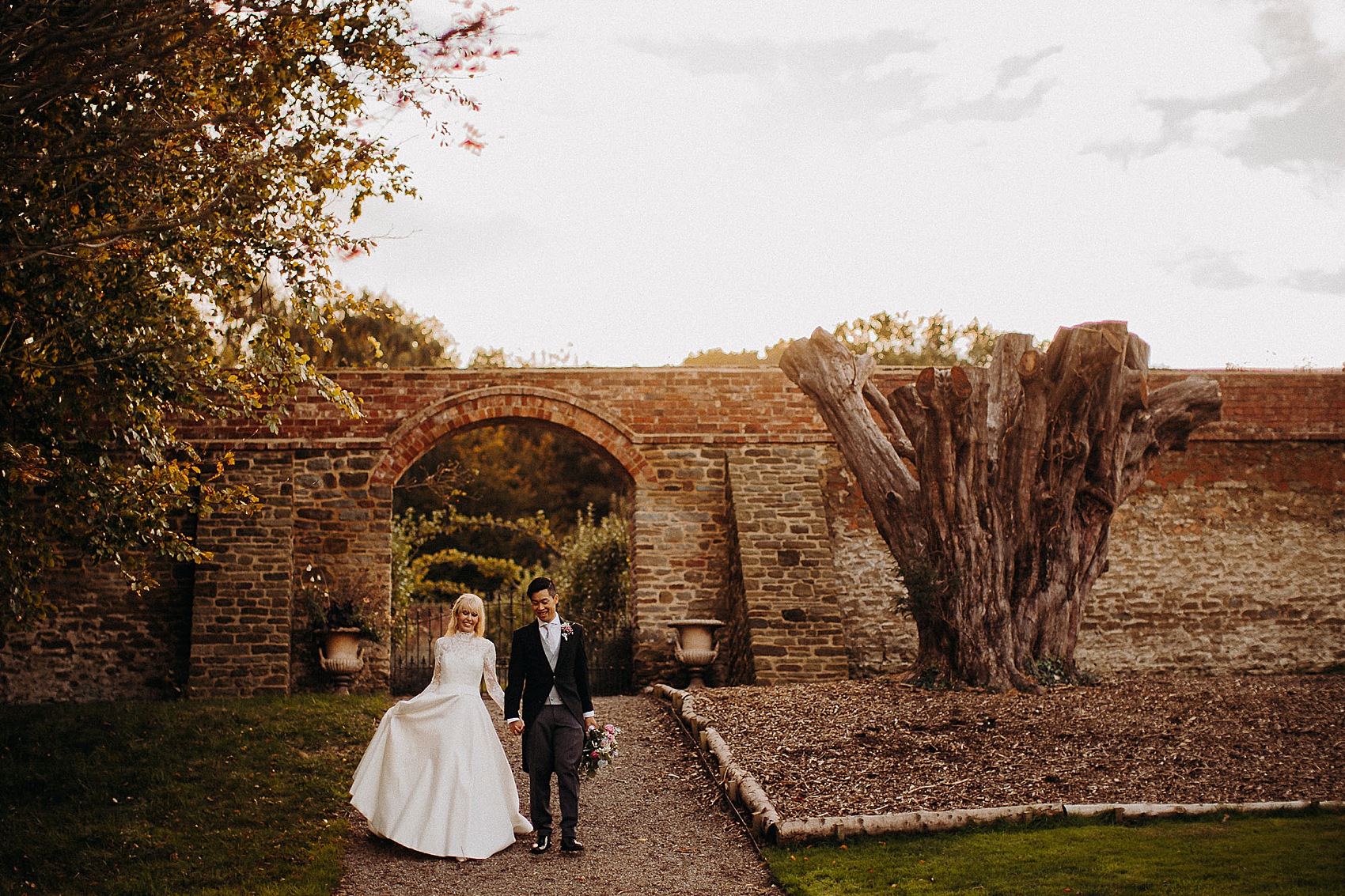 "Voyteck was the photographer at our friend's wedding in 2017, and we instantly loved the natural and fun moments he captured. Joe and I do not take ourselves too seriously and the thought of posing endlessly for staged photos was something we wanted to avoid."
"Voyteck immediately understood this and continuously promised that he would capture the best moments without us knowing he was there."
"Voyteck did exactly that, on the day he was subtle and discrete but captured the essence and spirit of the day perfectly. We would recommend Voyteck and Jarak (below) without a moments hesitation."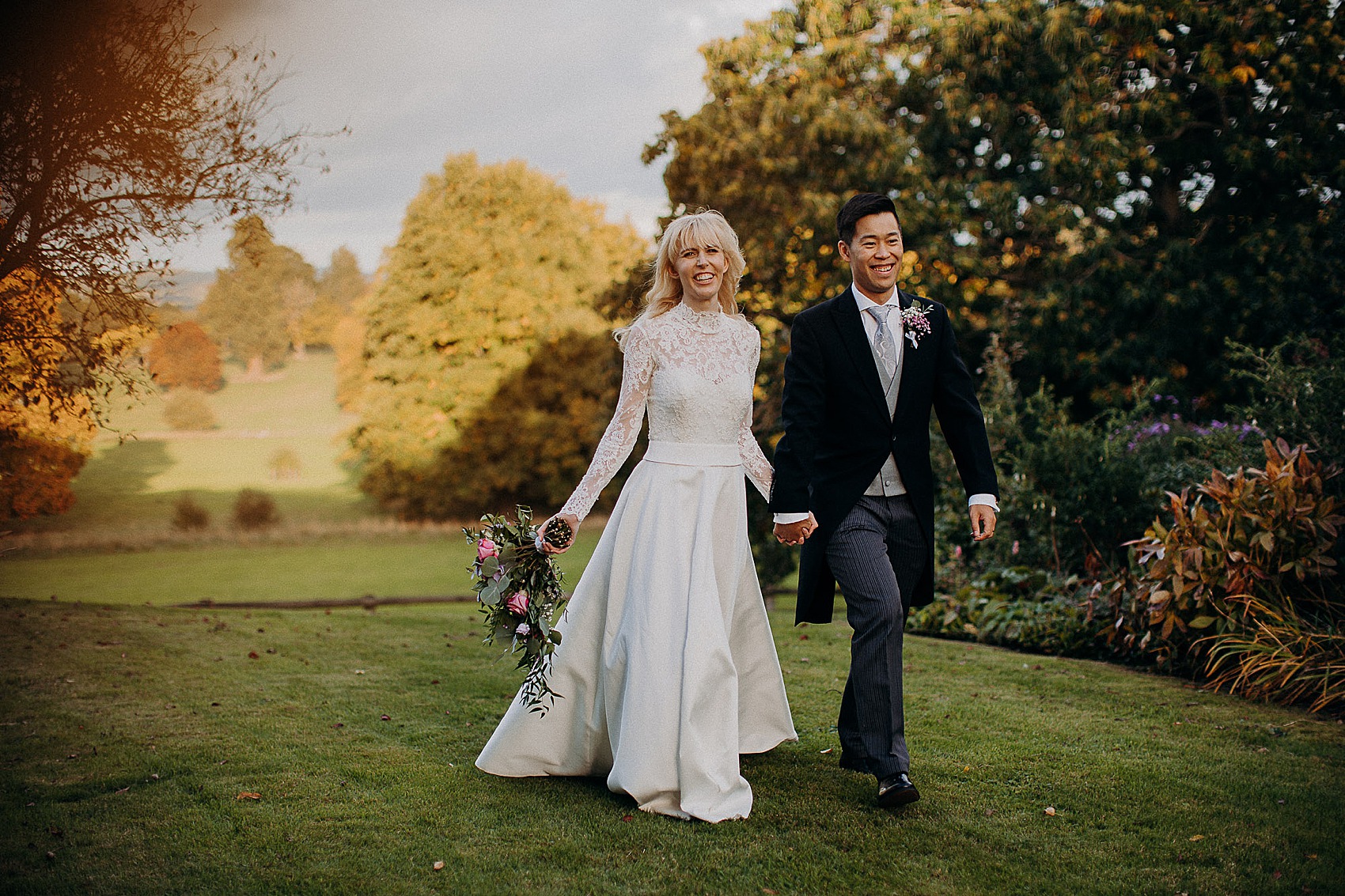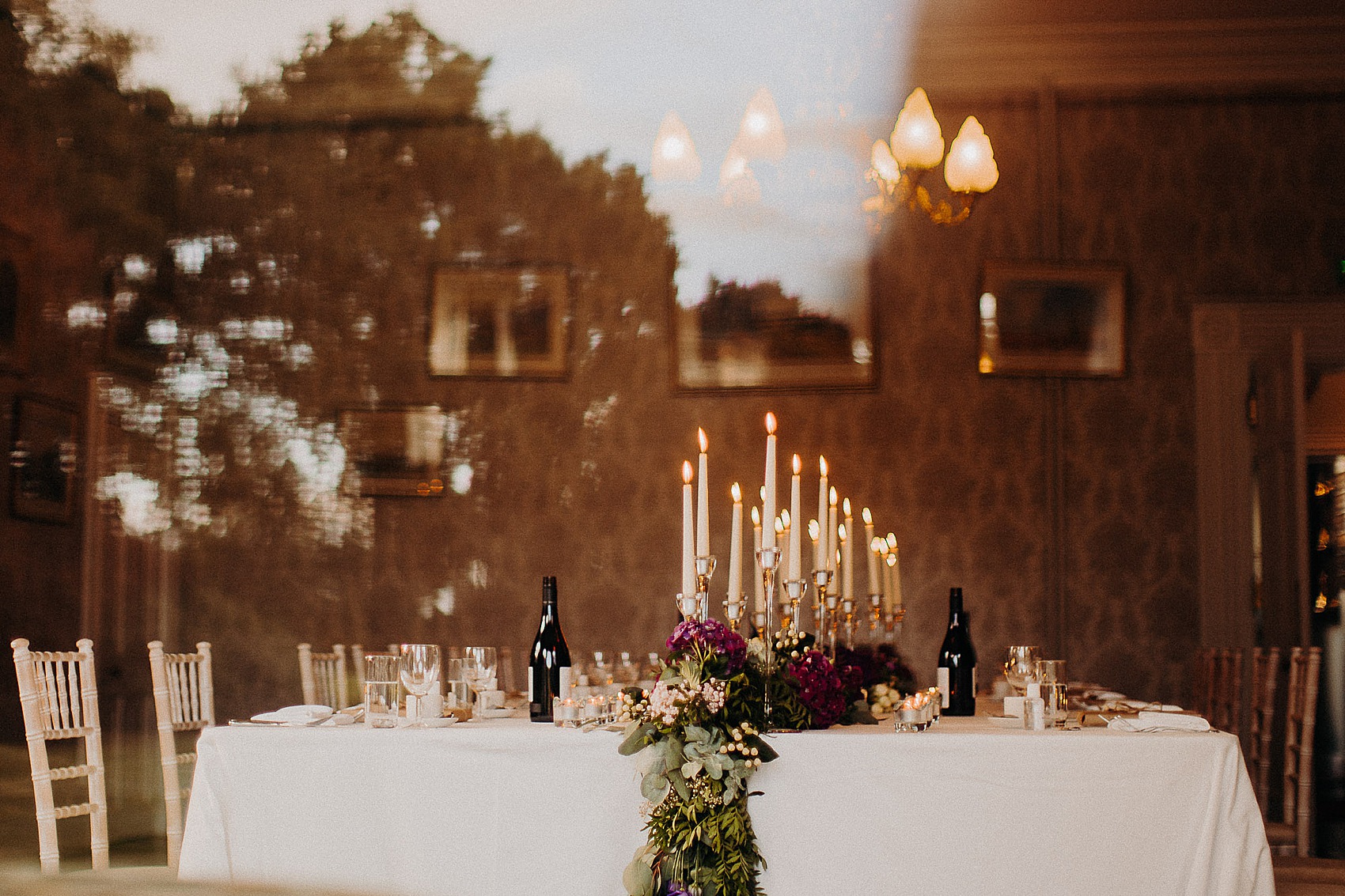 "We decided to have fun with the pandemic and provided guests with personalised hand sanitiser, complete with a label stating 'spread love not germs, Sian & Joe 10.10.2020'. The labels were sourced from Clementine Weddings on Etsy, 100ml bottles from Amazon and hand sanitiser from Boots."
"Decor involved lots of candles, fairy lights and furnishings to create a warm cosy feel. Books were sourced from Amazon."
"On a more serious note we gave each guest bubble a copy of The Boy, The Mole, The Fox & The Horse, by Charlie Mackesy, with a personalised handwritten message written in each."
"The book is beautifully illustrated and takes the reader on the journey of four unlikely friends and their life sessions. The book offers inspiration and hope in uncertain times, which felt very appropriate given the challenges everyone has had to face this year."
"Coincidentally our wedding aligned with World Mental Health day, which made the book feel even more fitting."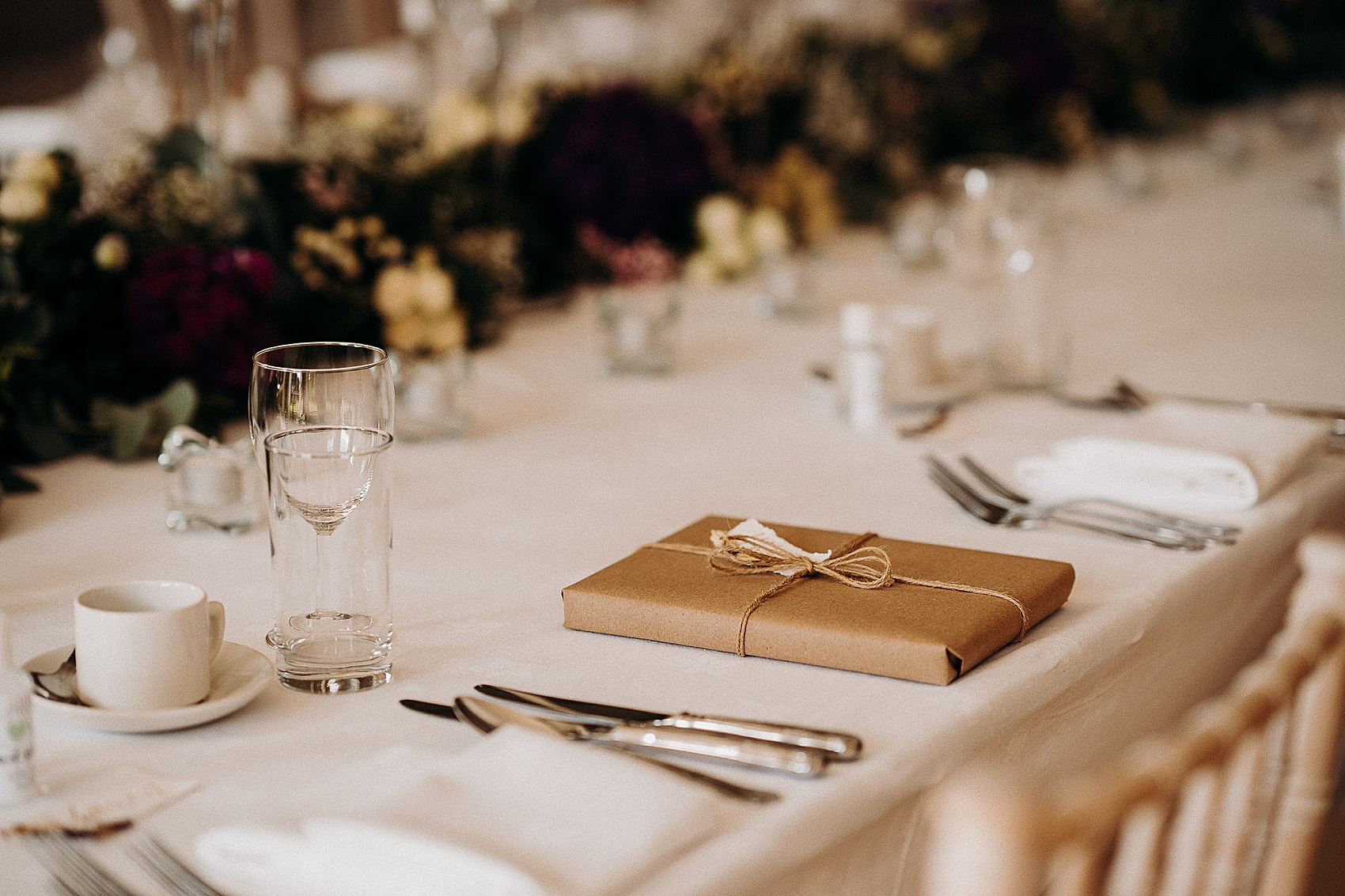 "Sharon of McGowan Wedding Cakes baked 60 individual lamingtons and a small carrot cake. The lamingtons were homage to Joe's Australian upbringing and are individual cubes of jam sponge dipped in chocolate and covered with coconut (delicious!)."
"We made the executive decision not to reduce the amount of cake in line with the decreasing guest numbers. We had enough cake for 60 people despite only having 15 on the day. We did the same with the champagne too and would highly recommend this approach!."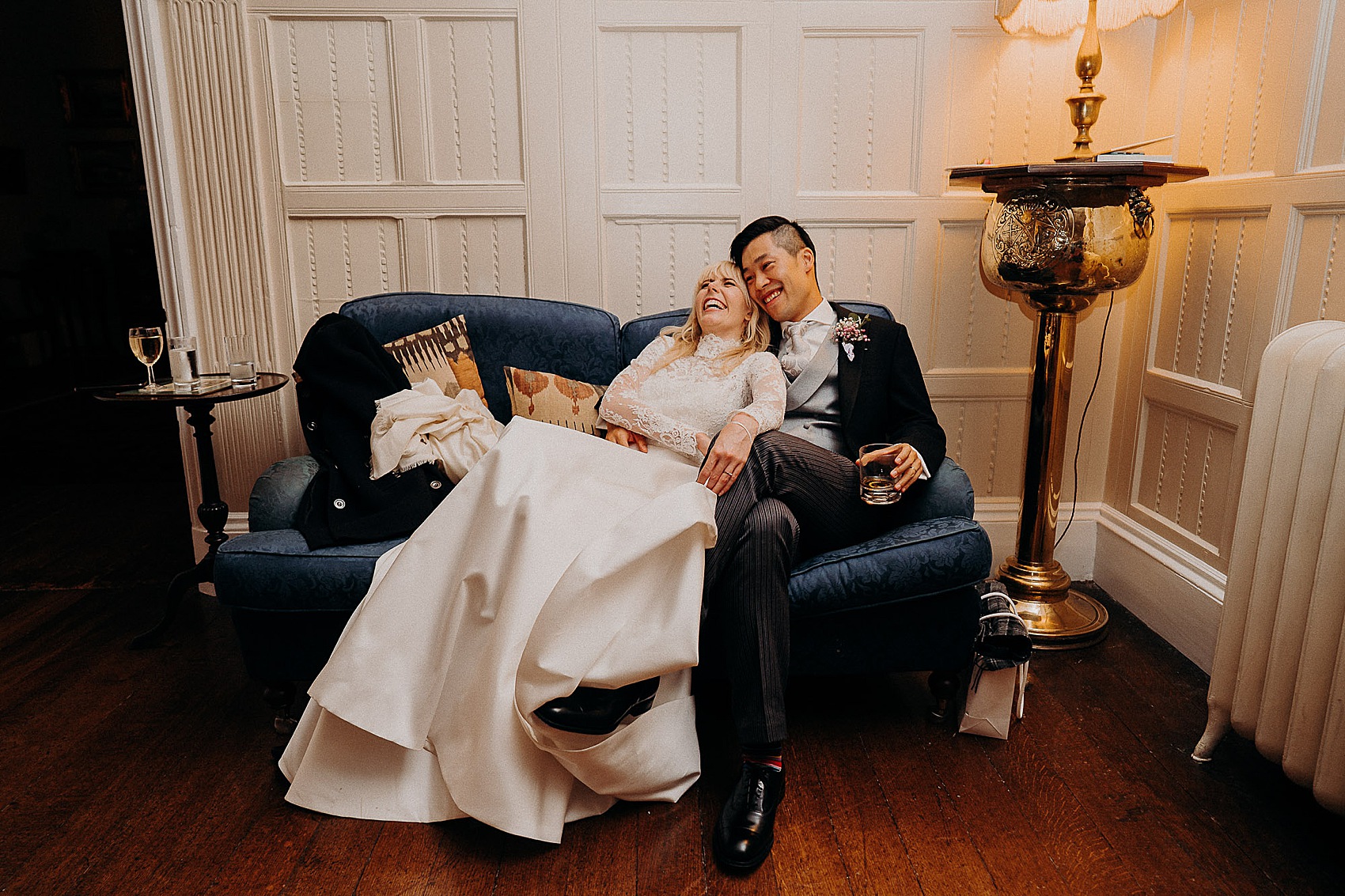 "Our first dance track was Lucas Graham "Say Yes" which then merged into Bobby Vee's "Take good care of my baby. Lucas Graham's songs have marked a number of significant milestones for Joe and I. "7 years" was the soundtrack to Joe's 30th birthday video, while "Love Someone" was playing in the background when Joe proposed.'Say yes' is a beautiful song acknowledging that we all have imperfections but despite this we can grow old together, love each other and not be alone."
"My dad always joked about playing this song at my wedding when I was little. I kept it a surprise and when the music changed went and danced with him. The photos from this moment are beautiful, my dad and I sharing a precious moment to a soundtrack which symbolizes his message to Joe."
Joe said that his favorite but most nerve-wracking moment was when the music changed and he knew that I was about to walk in. There is a brilliant photo capturing this moment. This moment was special for Joe as he said that he will never be able replicate the butterflies of standing at the alter and waiting.
Words of Wedded Wisdom
"Go with suppliers and venues that you feel you have a connection with. Building those relationships is so important and can make a huge difference in the organising of the day and in turn your stress levels. If something does not feel right, walk away."
"The same goes for your dress and all other aesthetics. Pay attention to how you feel, not always what other people are saying or telling you. Joe and I tried to honor this approach throughout and had the most wonderful experience because of it."
"We had a lot of thank you cards to write. A wedding is also team effort and it will all come together. Don't fight about the small things and if you do take a step back from it all and have a break from the 'wed-min'."
"In the end we allocated a certain number of hours a day/week to wed-min otherwise it had the potential to take over. On the day, no one will care if you feel the stationary was printed on the wrong paper or the florist couldn't locate exact flower you wanted, and in turn, neither will you. The day will go fast so try to remember one sight, smell, sound, texture and taste."