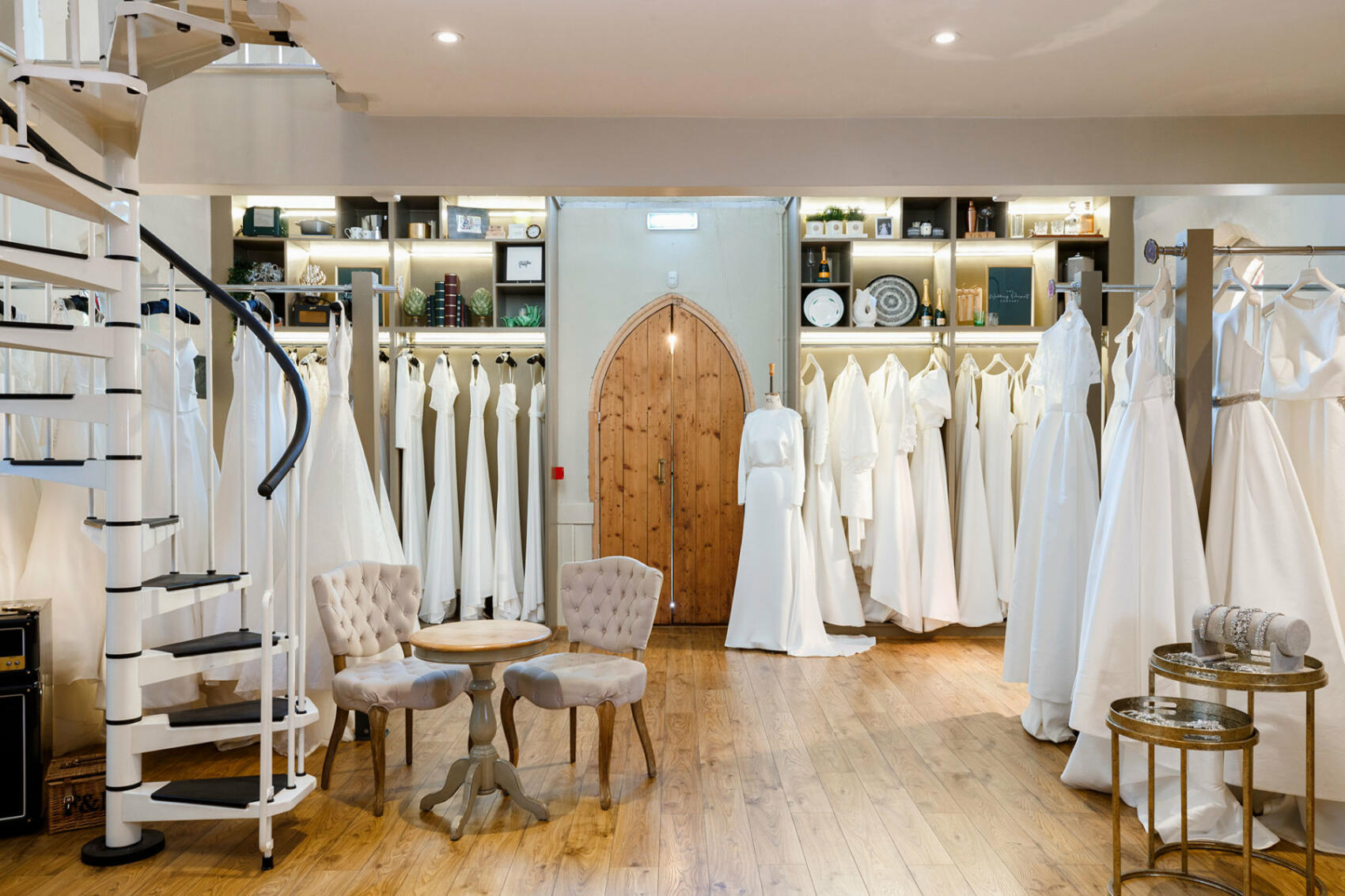 About Miss Bush
Miss Bush is a leading British bridal boutique based in Ripley, Surrey, who provide a unique and luxurious wedding dress shopping experience, just 20 minutes from central London.
Miss Bush is a leading UK stockists of Jesus Peiro, Suzanne Neville, Anna Kara, Sophie et Voila, Yolan Cris and Maticevski.
The Miss Bush team have been dressing stylish, fashion-conscious brides for nearly 35 years. With high-end, knowledgeable styling advice, exclusive one to one appointments, an exemplary fitting and alteration service and a thoughtfully curated selection of stunning contemporary gowns the bridal shopping process is a truly unique, memorable and luxurious experience. The Miss Bush dress selection reflects a taste for understatement, sharp lines, clean cut and incredible fabrics.
Bespoke commissions from the Miss Bush in-house label, Nortier, will be available from 2023.
Boutique
Miss Bush, High Street, The Green, Ripley, Woking, Surrey, UK
By appointment only, please contact us for details
Videos
Reviews
I liked a lot of Jesús Peiró's designs so booked an appointment with its main UK stockist, Miss Bush, knowing I had to make a decision that week. The store's managing director Emma helped end my indecisiveness – she had loads of patience and expert advice, helping me choose a dress that had everything I wanted.
Lucy
The Miss Bush team is everything you hope to find when on your wedding dress journey. Led by Emma (who is absolutely a godsend to the industry) and her truly experienced team, I couldn't have been in better hands and I owe so much to Jo, Corinne, Emma and the wonderful women who are Miss Bush.
Antonia
I was introduced to Miss Bush by my cousin and maid of honour. It was the third or fourth boutique I visited at a point when the fear of never finding the perfect 'dress' was starting to creep in. The thing that set Miss Bush apart and made them stand out was not only the absolutely stunning collection of dresses, outfits and designers they carried but also how authentic they were. Emma and Corrine were honest, transparent and gave advice and recommendations that reflected that. As women, I trusted them and that made a huge difference.
Kemmi
Miss Bush was the first dress shop I went to and from the moment I stepped into the chapel, I knew this was where I was going to get my dress.Corrine had picked five dresses for me to try on and the second one I tried was the one! I absolutely loved it and felt completely myself in it. I loved the pockets and the fact that it had a split. Miss Bush were so accommodating throughout, from the first appointment and setting up a Zoom call for all my bridesmaids to see me trying on a wedding dress for the first time to storing my dress for those extra months and making sure it was absolutely perfect. They encouraged me to be bold and filled me with confidence to be completely myself.
Lottie
I wore the which was made especially for , which was the first and only dress shop I visited. I absolutely loved their collection of dresses and Emma was so in tune with my taste. I cancelled all my other dress appointments as soon as I stepped out of the chapel; Miss Bush was the only shop for me! Throughout Covid, the Miss Bush team were so helpful and accommodating and I found the fittings were a particular source of comfort over lockdown as they served as a reminder that the wedding would one day still happen.
Isobel
I couldn't recommend Miss Bush more. It was a such a special experience and it's amazing to have the chapel to yourself and take time to look through all of the dresses and chat to Emma. She was so knowledgeable and, despite meeting brides all day every day, she made me feel really special and instantly at ease. She always gives honest, no-nonsense feedback and so when she agreed the Jesus Peiro 933 was the one it really made me feel confident in my choice.
Hannah
The approach at Miss Bush is like nowhere else – they really are experts at what they do. The team were great at picking out dresses that would suit me and giving an honest opinion about what would and wouldn't work – I am extremely indecisive and needed a bit of direction. Emma came up with the idea of customising the style of my dress to incorporate a lower back, it was amazing being able to make changes to the design and made the whole experience so personal. I would recommend Miss Bush to all brides, I looked forward to every appointment at the chapel.
Jess
Frequently Asked Questions
Do you charge an appointment fee?
We do. To secure one of our exclusive appointments, we ask for a £35 fee for first appointments and £15 for revisits.These fees are redeemable against purchase, so if you find your dress with us this will be returned to you in the form of a credit note. Click here for full terms.
Can I bring people with me to my appointment?
The chapel is a calming, intimate space, and we prefer to keep our appointments smaller in order to make the most of our time together.
Smaller appointments make it easier for your stylist to guide you through the options, and give you the chance to talk through any worries or ideas you might have in a quiet, comfortable atmosphere. As such, we request that you bring two guests with you to your appointment.
If you would like to bring more guests, please ask upon booking and we'll do our best to accommodate you.
How long do appointments last for?
Appointments take place for 50 minutes in the main Chapel with a further 40 minutes in our Atelier. Please arrive for your appointment promptly.
What sizes do you cater for?
We dress women of every conceivable size and shape. Every woman is welcome at Miss Bush.
The Miss Bush approach is one of complete flexibility. It's quite rare for a bride to visit us and walk away with a dress exactly as it is. As the majority of our dresses are made to order to your exact measurements, we see all of our samples as 'swatches' - examples of what could be. You may fall in love with a dress exactly as it is, or maybe you want to take the sleeves and bodice from one, add it to the skirt from another, and then finish it with a bow from another - it's all doable.
We also don't focus on high street dress sizes. What we care about most is achieving the perfect fit, using your unique measurements. All bodies are different and we know that no one size fits all. With made to measure, couture and alterations available on all of our dresses, we can make sure you feel completely comfortable on your wedding day.
We're also famous for our 'big boobs' expertise - copy and paste the link below into your browser to access an article from one of our brides, as seen on Cosmopolitan: https://www.cosmopolitan.com/uk/fashion/style/a21265626/wedding-dress-shopping-big-boobs/
May I take photographs during my appointment?
We politely request that you do not take photographs during your appointment. This is not to stop you having pictures, but to protect the quality of the images. Your stylist will be more than happy to take pictures of you in your favourite dress from the best angles and in the best locations in the chapel, and will forward them to you after!
Are the dresses you sell produced responsibly, ethically and sustainably?
Miss Bush responsibly sources dresses from British, European and selected international labels and adheres to the principles of Fashion Revolution (visit https://www.fashionrevolution.org/manifesto/).
Articles featuring Miss Bush