Kara and Josh's charming wedding took place on 19th August at The Crown pub in Woodstock.
The couple were keen to weave beautiful light summery hues throughout their wedding day, and chose to do so via the bridesmaids dresses, the groomsmens ties, the confetti and flowers. Kara wore a beautiful gown and sequin cape – both from British designer, Charlie Brear.
These gorgeous, relaxed family wedding was captured by Heather Sham. Enjoy.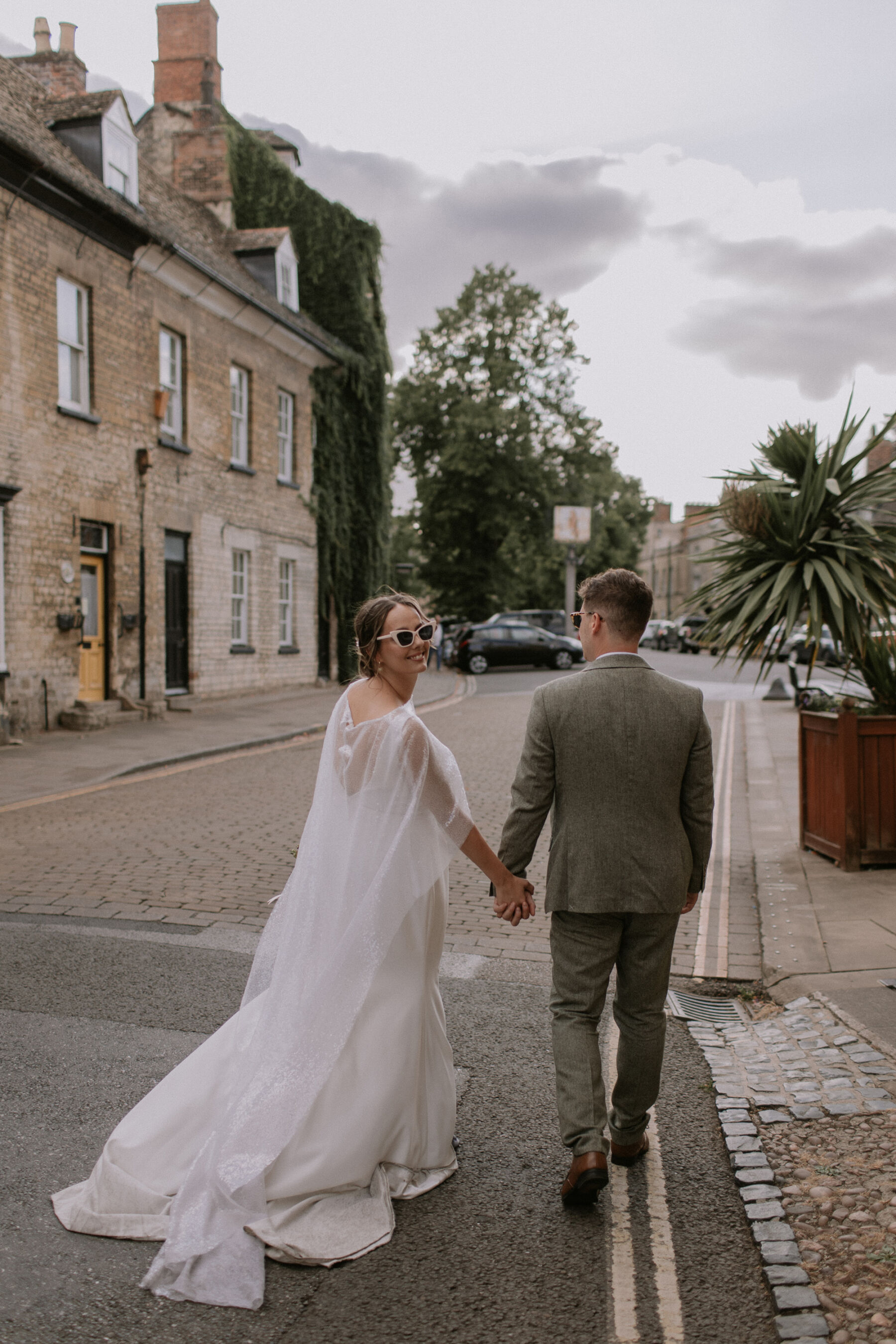 Shoes, Veil & Accessories
My shoes were a bit of a splurge – the pastel blue 'Dahlia' pleats from Loeffler Randall – but they were super comfy and I danced all night in them.
I had flower combs from Wolf and Moon weaved into my braided hairstyle, with pops of blue to match my shoes. I already had a lot going on with the head to toe sequins, so I kept the jewellery simple. Small heart earrings from Wolf and Moon in the day, that I swapped out for some big gold hoops I've had for years in the evening.
I wanted a bag on the day and fell in love with the Lulu Guiness shell bag. But I decided to rent it via By Rotation, so it didn't break the bank.
I booked with Jennifer Hawkins and she put together my glowy make-up look and braided up-do. I wanted all of my bridesmaids and flower girls to have a braid so we all linked together, but gave them all the choice of what to choose – so we had some up and some down, and it went alongside their mismatching dresses.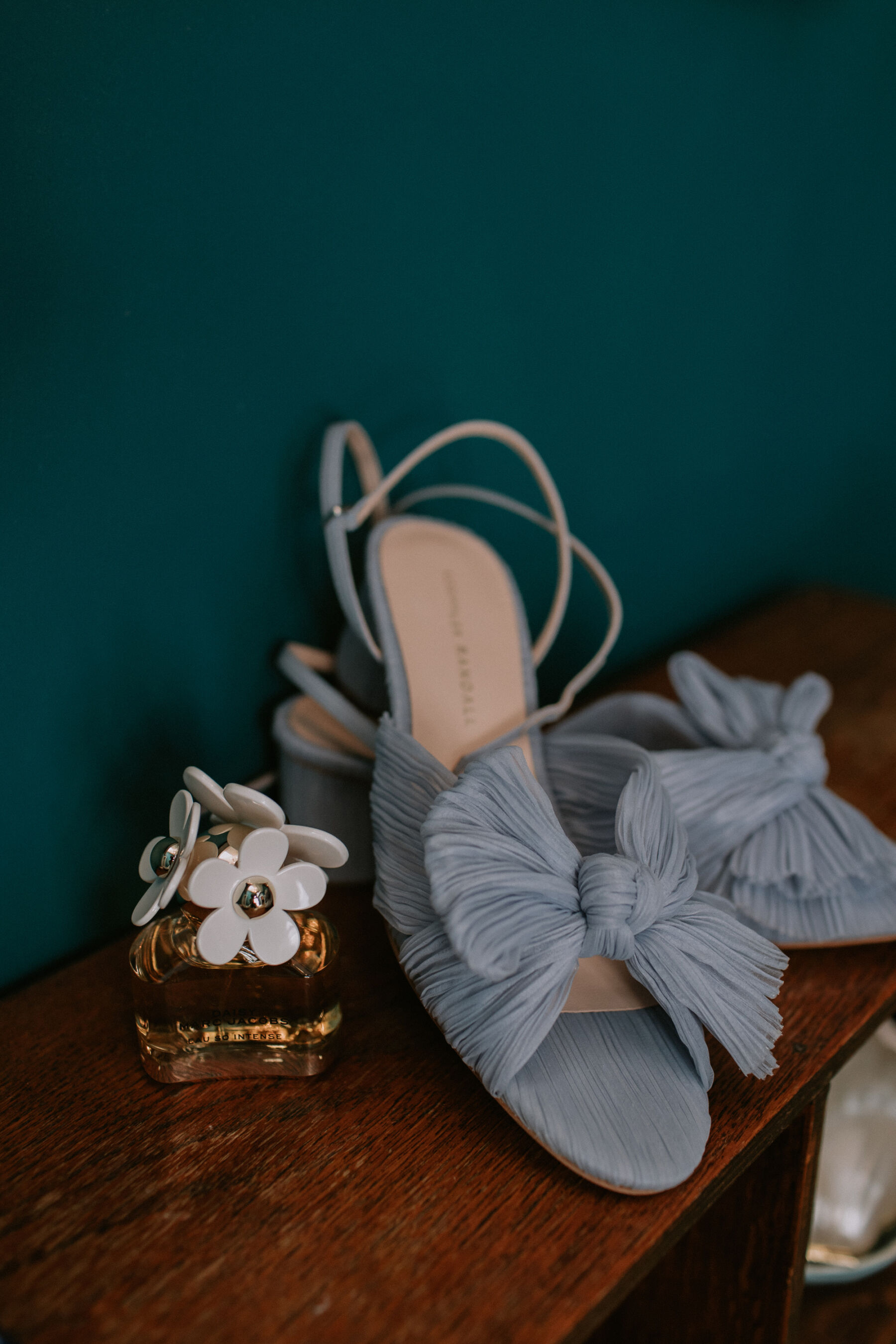 A Charlie Brear Dress
My dress and sequin cape were both Charlie Brear, from Bustle & Bow in Berkhamsted. I knew Bustle & Bow was going to be the bridal boutique for me; they had a disco ball and a neon sign – two things I wanted at my wedding – so it was the perfect aesthetic).
Leigh, the owner, was an absolute dream and soon made me realise that fitted gowns suited my curves rather than the A-Line shape I thought I would be drawn to.The Charlie Brear 'Barton' gown I chose looked chic and just felt really good to wear.
The Charlie Brear 'Barton' gown I chose looked chic and just felt really good to wear.
I tried on the Charlie Brear 'Thora' sequin cape for a laugh, just to see what it felt like – but lo and behold, it felt amazing. And I just had to have it.
I think my look perfectly captured my style and made me feel like a movie star all day. (Plus, my little girl thought I looked like Elsa from Frozen which made it even better). It was also really comfortable and didn't feel too tight, so I knew I could eat and dance (the most important things).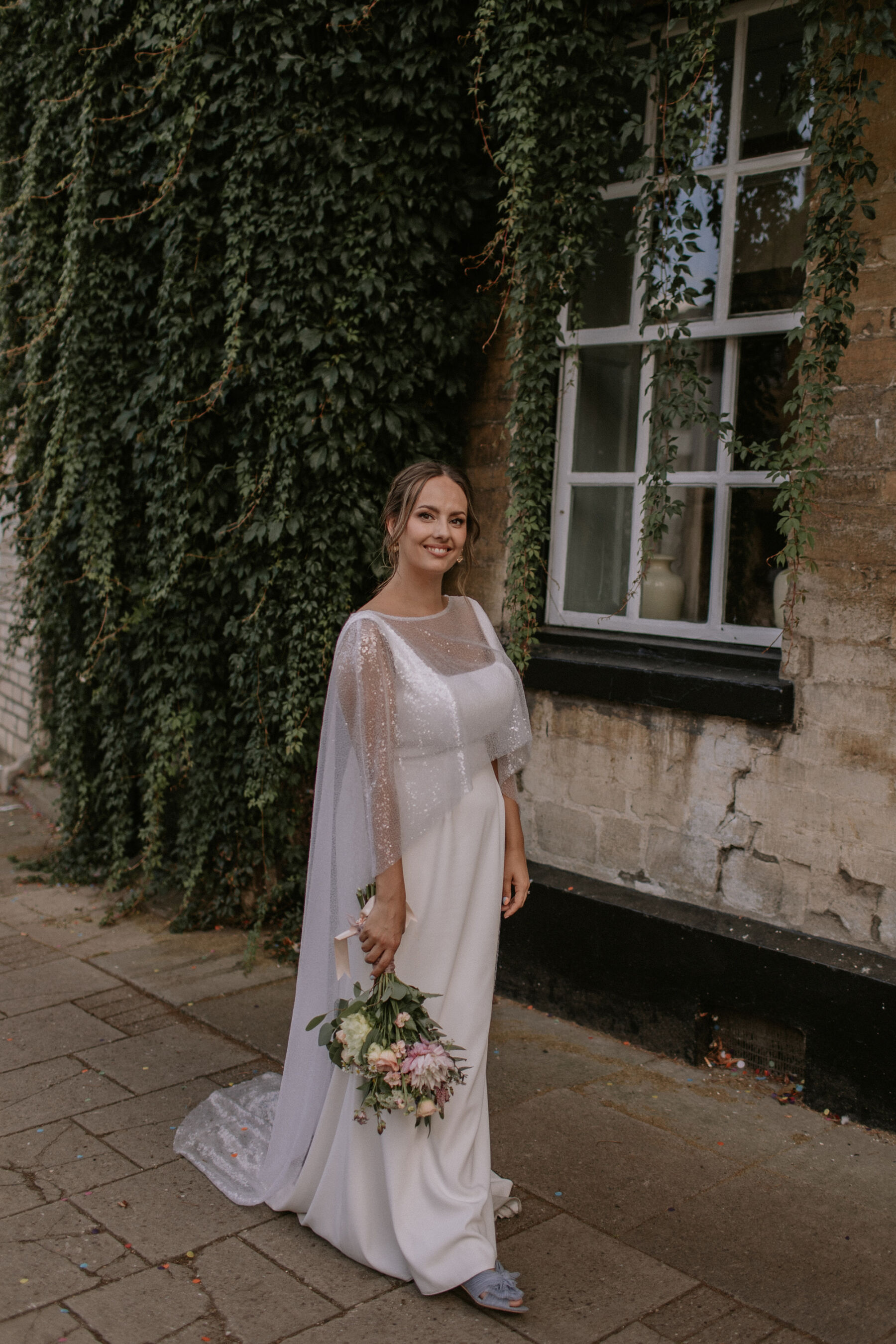 Flowers
I knew I didn't need much in The Crown, as it's so gorgeous as it is. So I went with a local florist who have done lots of weddings there, Wild Grace Flowers, and went for minimal flower arrangements. Pastel bouquets and buttonholes for the wedding party – with dahlias and eucalyptus – and then some mini bunches of flowers for the tables. They offered use of their antique bud vases too, which I thought was cute.
We also had eucalyptus hanging from the ceiling at the wedding meal as I saw a previous wedding at The Crown do it and thought it looked fab.
Bridesmaids & Flowergirls
My bridesmaids' dresses were from Rewritten Bridesmaids. All of their dresses sit really well together – so my friends could pick whatever style they felt best in and I knew they would all look good together. We went to the Rewritten pop-up shop in London so we could try them together and made a proper day of it.
My Maid of Honour wore the 'Soho' jumpsuit in coral, bridesmaid Sam chose the 'Ibiza' dress in marine, and bridesmaid Lauren opted for the 'Brooklyn' in Heather. I love how they looked all together at the wedding – super colourful and chic!
We had two Flower Girls at the wedding – our daughter Indiana, and our friends' daughter River. They both wore white dresses from Coast and gold glittery shoes from Monsoon. I also got them cute matching 'Flower Girl' bracelets and ribbon wands with their names on (both Etsy) and they loved playing with them.
Visit
The Groom
We met through friends, first talking at a Zombie Pub Crawl in our local village. Josh proposed in Cinque Terre, Italy (our favourite place) in 2018, and two weeks later we found out I was pregnant. So the wedding was put on hold for a few years, and we got married 4 years later (with our gorgeous little girl in attendance).
Josh had a best man and two groomsmen, and they all wore the same sage green suit from Moss Bros. Although I think he did regret going for a tweed on a hot Friday in August.
I sourced the skinny tie from ASOS and it formed the basis of the bridesmaid dress colours. Then the shoes were Matalan.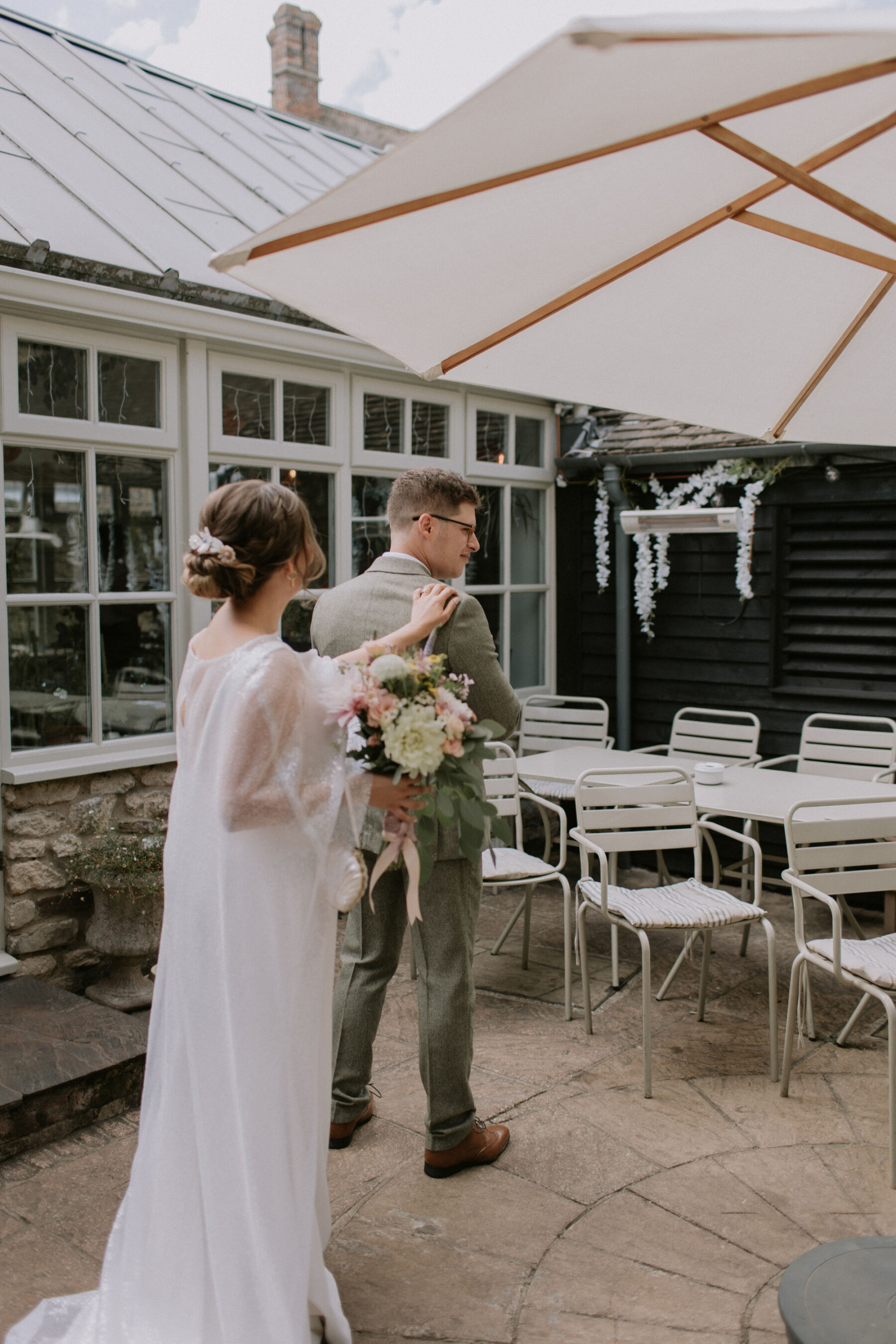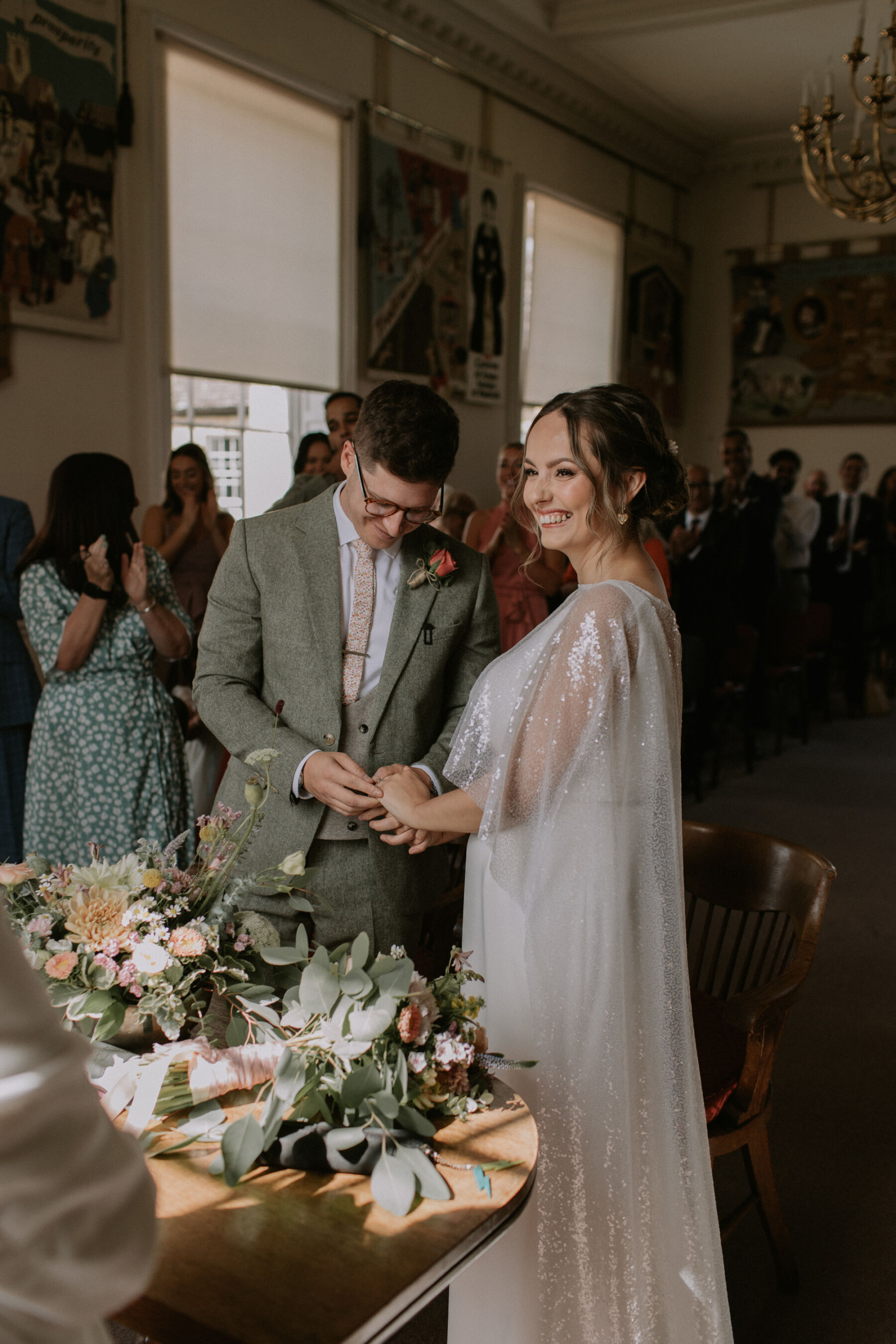 Ceremony
My mum walked my down the aisle to 'Only You', by Yazoo. Josh and I both love the song, it has lovely lyrics, and it reminds us of The Office Christmas Special.
My wedding ring was from Carrie Elizabeth, with diamond stars along the band. Josh has a plain band from Warren James.
We only had one reading at the ceremony. Josh's dad, Mike, read The Vow by Wendy Cope. I chose it as it felt like a really realistic, yet still beautiful, poem about marriage.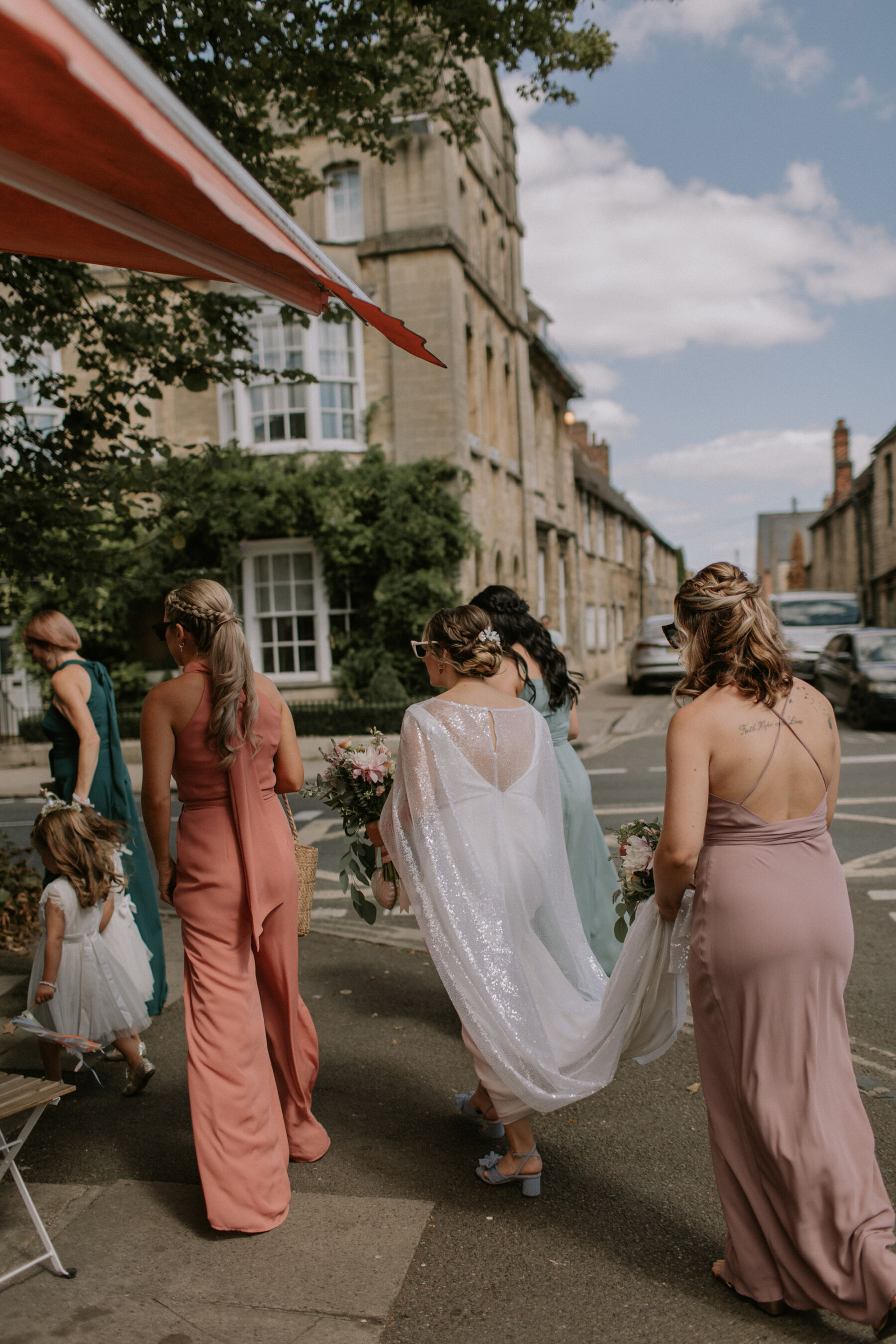 Photography & Videography
We chose Heather Sham as our wedding photographer as she takes gorgeous, romantic photos, and lovely candids, and we thought she had the right vibe for our day. We also loved her cool, artsy photographs capturing moments of the wedding that we wouldn't necessarily have been able to step back and see.
We did an Engagement Shoot with Heather before the wedding and liked how laid back and easy-going she is – no pressure, no posing – just effortlessly beautiful photographs. And it was the same on the wedding day – we barely realised she was there for most of the day and just can't get over how amazing the photos are.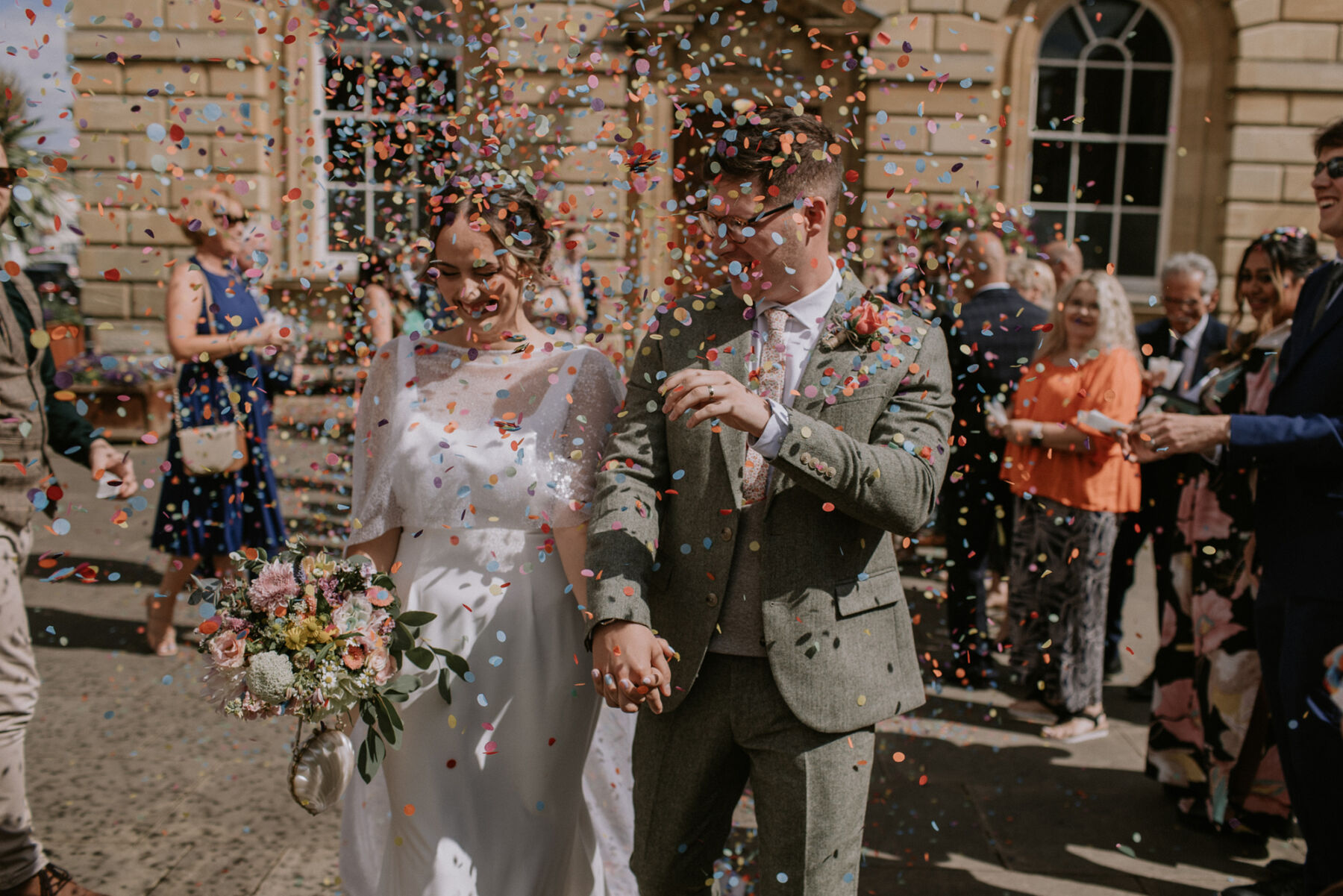 I loved when we went for golden hour portraits with our photographer, Heather, and our videographer, Ian. It was the one part of the day where we actually got to be together without lots of people, and we were both giddy with joy (and prosecco). The locals spoke to us, we danced in alleyways and just had a lovely time.
We initially weren't going to have a videographer, but at the last minute ended up booking the wonderful Ian from Rosewood Wedding Films, and I would totally recommend his work. The video isn't overly romantic or cringe (what we really didn't want) and instead perfectly captures the fun and lovely moments of the day. Plus, I didn't even notice he was there all day, he's a pro.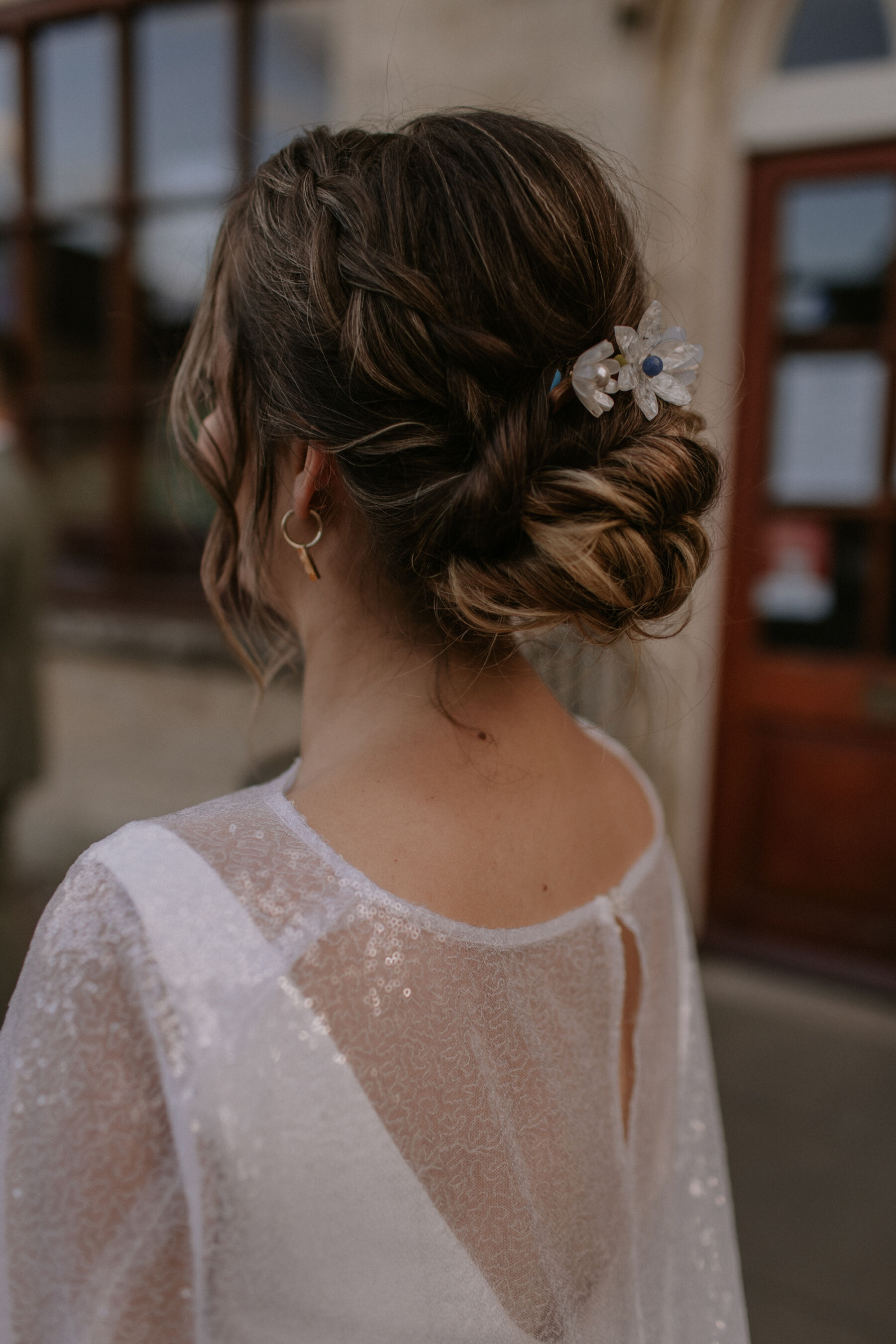 Reception
We were really clear that we wanted a relaxed and intimate wedding with around fifty guests. We looked at a few barn venues and they didn't really feel like us, so we looked towards more informal venues. We discovered The Crown Pub in Woodstock and immediately loved it.
Our reception room was a beautiful light-filled room with fairy lights and plants. There is an intimate bar and dance floor area, serving amazing cocktails, beautiful bedrooms upstairs for our wedding party, with roll-top baths and lots of character. The food was amazing, with lots of choice for our guests.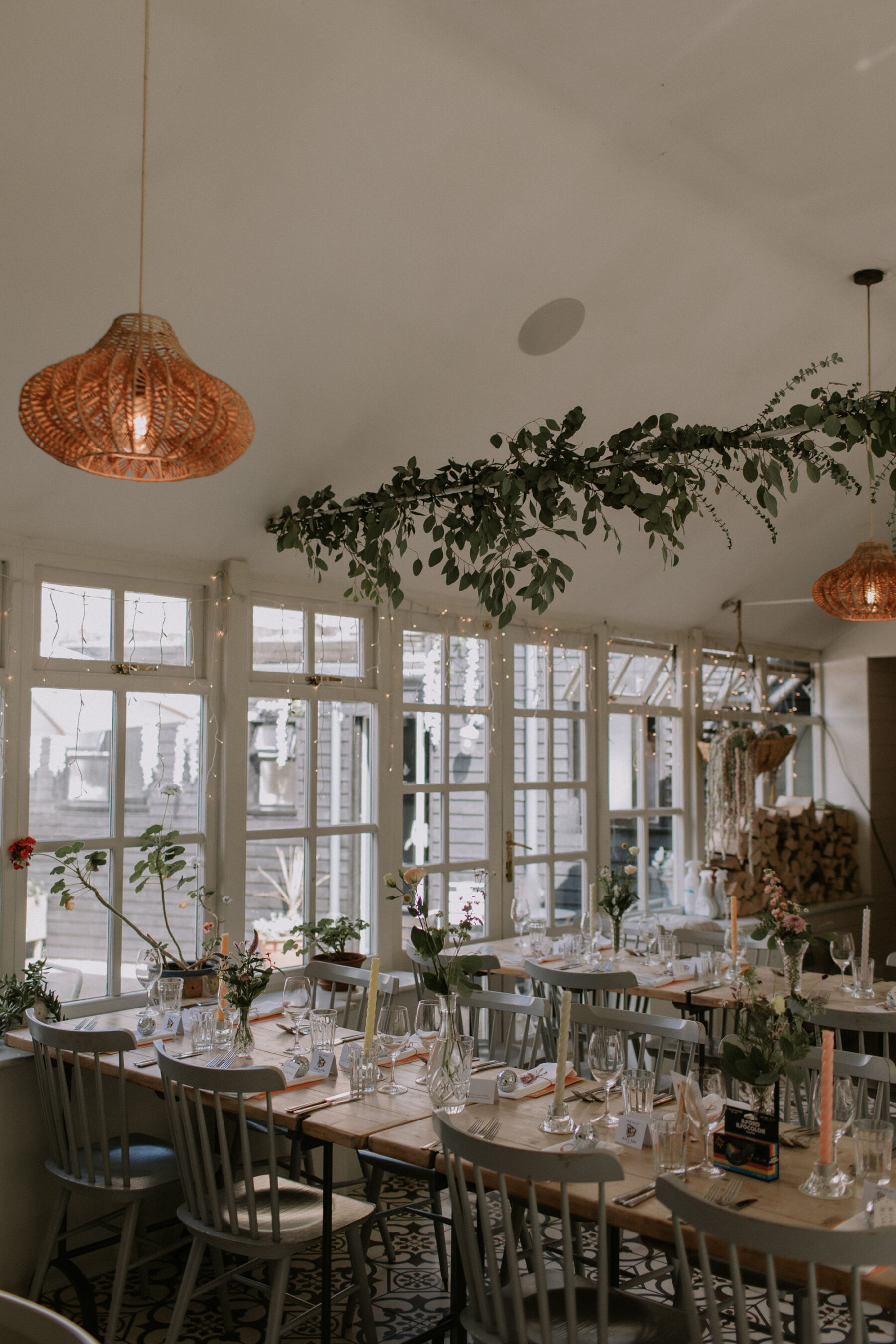 On the dining tables, I used pastel twisty candles from Habitat, with cheap IKEA holders, and made my own DIY little disco ball place names. I think they were a nice touch and brought the whole pastel disco theme together.
One of favourite things though was the Instax seating plan I made, on a metal grid with lots of fairy lights. Definitely a hit with our guests.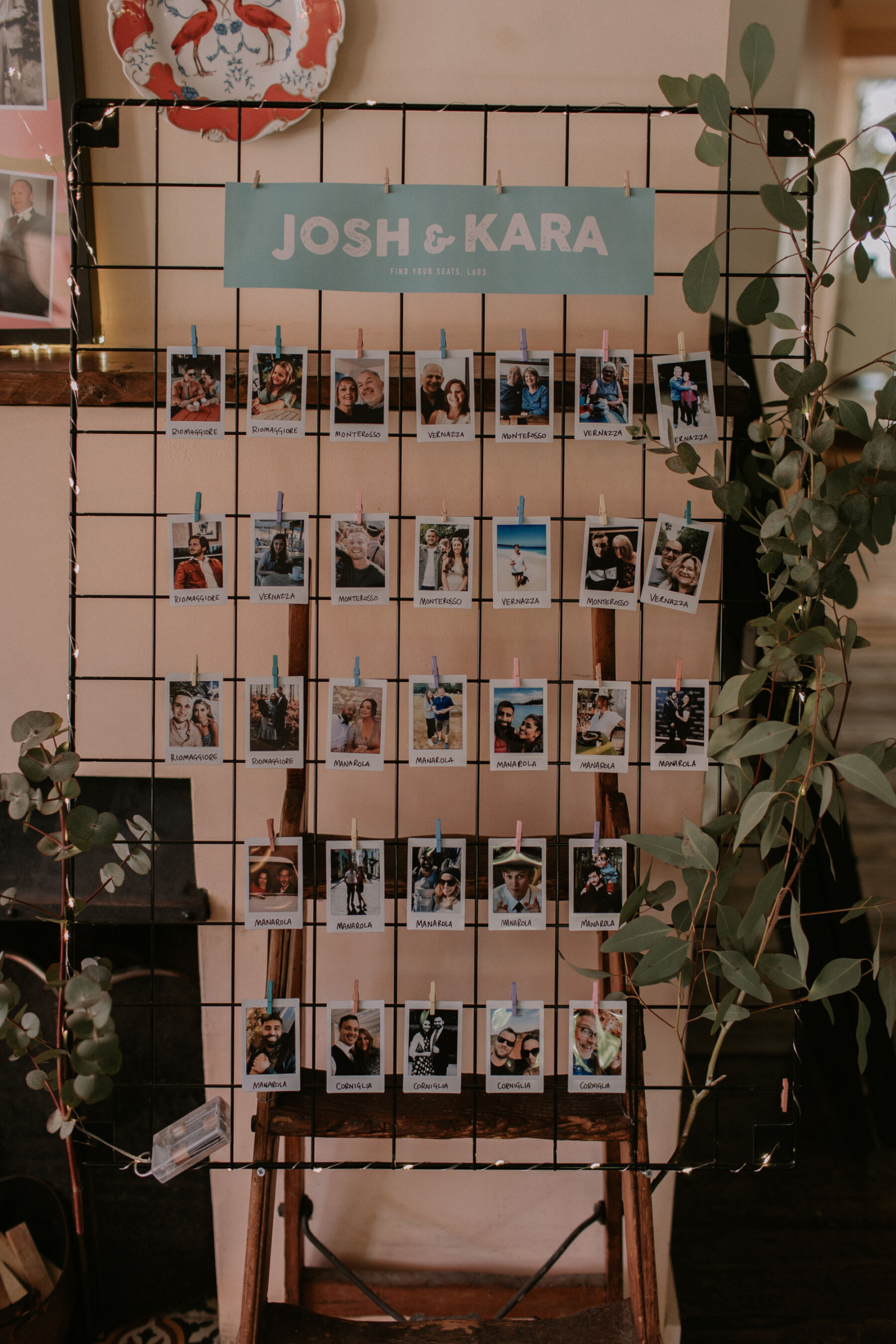 Food was included in our package with The Crown and was part of the reason we chose to have our wedding there. The food is hearty and delicious with huge portions, and our guests were able to have a lot of choice. All guests could choose from four starters, four mains and four desserts, so could have something they really wanted.
I discovered Sam T Made It on Instagram and knew I had to have little custom enamel pins as our wedding favours. Josh and I have bought each other pins for our whole relationship so it totally made sense for us. Everyone loved them and most of our guests put them on immediately.
Something I knew I wanted at our wedding, right from the beginning, was a wedding newspaper. A fun way to do an order of the day and a thank you note, alongside a crossword about us and an exclusive interview with our daughter. I had way too much fun putting it together, and it was so cool to see our guests reading them. We designed them ourselves and got them printed via The Newspaper Club.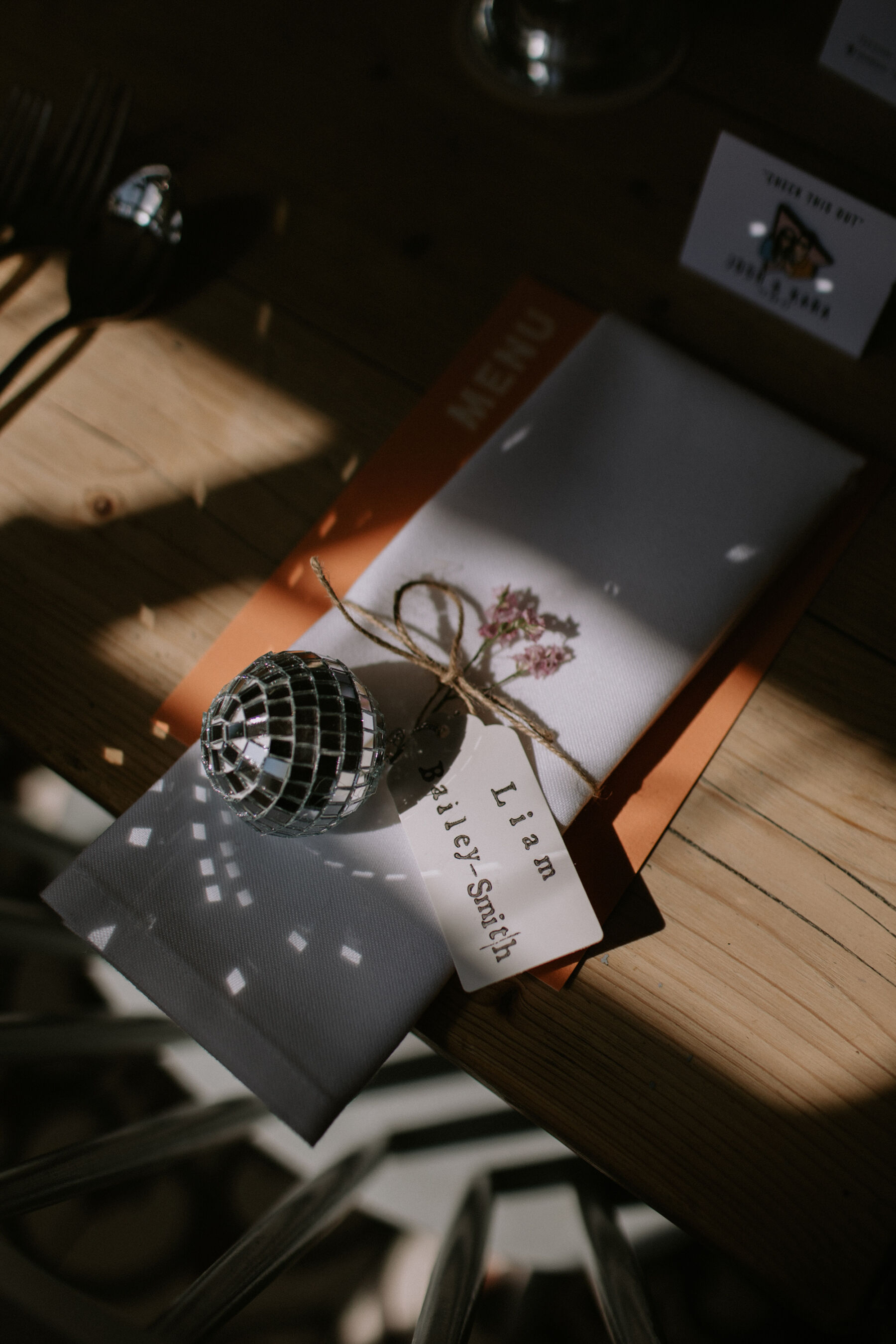 Evening & Entertainment
The Crown needed very little decoration but we had a few signs up, a big disco ball for the dancefloor, and a neon sign I found on Etsy that said 'Follow The Call Of The Disco Ball'. The latter now has pride of place in my kitchen so it felt like a good investment.
We booked The Frontrunners via Alive Network (recommended by a pal who had got married). We loved their set list – all 90s and 00s Rock/Indie music – and their videos looked good. But actually, they were even better in real life. All of our guests said it was the highlight of the day. They even let my new husband stand up and sing a song with them. Absolute lads, and I can't recommend them enough.
I also wanted a photo booth at our wedding and went with The Photo Cabin and their very cool Berlin-esque Photoautomat. It was fab, with seemless delivery, unlimited prints, and a guest book for our guests to write in and stick their pics.
Our first dance was "Now that I've found you" by Liam Gallagher and it was played live by our band. We chose it as it's a bit more fun and livelier than traditional first dances, and we could have fun with it. 
Words of Wedded Wisdom
Someone gave me this tip on Instagram and I kept thinking about it throughout the wedding planning process. Right at the beginning, sit down together and talk about how you want the day to feel, and pick your top three priorities. Whenever you are making decisions for your wedding, consider whether they are part of those top three things. That way you can assess whether you actually need it, whether you should go budget or splurge, and whether it will be worth it.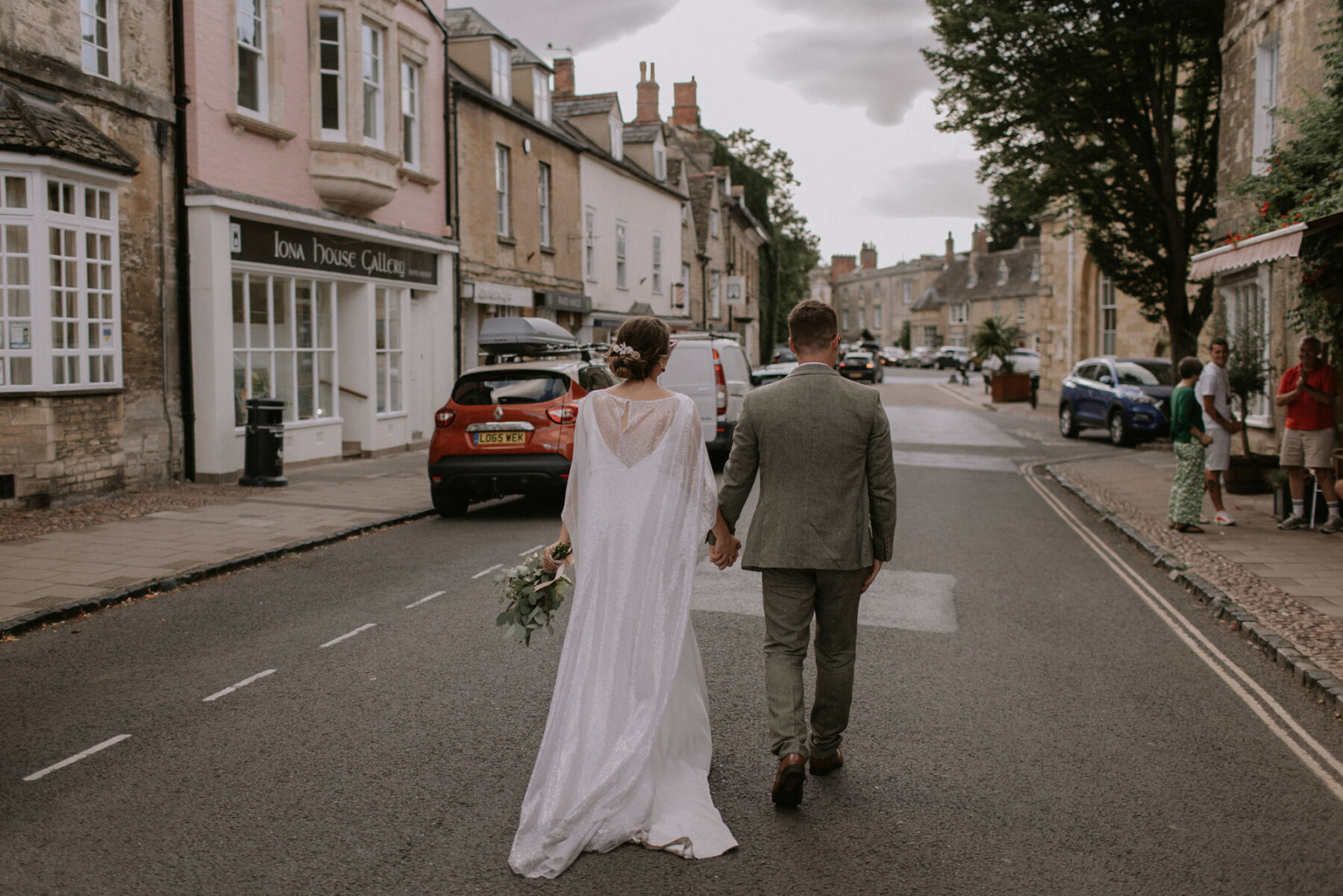 Explore our Directory