Lizi and James May 2022 wedding was held at Hatch House, followed by a reception at Pythouse Kitchen Garden, both in Wiltshire.
The bride wore the most gorgeous Alexandra Grecco gown with ruffled sleeves, a discovery at the Lovely Bride London boutique. She paired this with a delicately embroidered veil from The Wedding Veil Shop. These gorgeous images were captured by Carla of The Unbridled, whose work I truly adore, but let's start with this breathtakingly beautiful film by Soby Films, which captures the groom's speech. I would make sure a box of tissues is close by darlings. Enjoy!
James' speech was absolutely perfect – a wonderful wordsmith, I was in no doubt but I had no idea he could write like that, and everyone was in bits – either laughing or crying or both! Our friends and family still talk about it to this day. I was blown away. Lizi
Beauty & Accessories
My hair stylist was Maddy Wood from Painting & Pins and my makeup artist was Lisa Caldognetto. Both are based in Frome, Somerset. They were unbelievable – wow those women are talented.
I'm not confident with hair and make up but I wanted to look quite glam, as opposed to too natural and my hair doesn't have much volume so I knew I wanted it loosely up so it wouldn't go flat.
They made me feel instantly comfortable and I genuinely see them as friends as a result and would recommend them to everyone. Lisa does a lot of work with Caroline Hirons and it showed, she spent a lot of time prepping my skin.
I hired a Shrimps pearl bag from By Rotation – a lot of people said I didn't need a bag but I'm glad I did. I only went to it during the evening but I had some spare body tape, my lipstick and my phone, just in case
Hiring was also a great way to get an expensive item for a fraction of the price and of course more sustainable too – it was my something borrowed.
I wore Gucci GG Marmont block-heel leather sandals in white. I knew I wanted these to have an impact and wear them again. I couldn't handle the idea of pretty delicate bridal shoes – it wouldn't have been very me. I couldn't find them in the lower height but would recommend a mid-heel to anyone else.
I had a back up pair I didn't wear in the end, from Charles & Keith – an amazing online store if anyone is in the market for something lower.
A block heel was essential as the whole wedding was basically outside.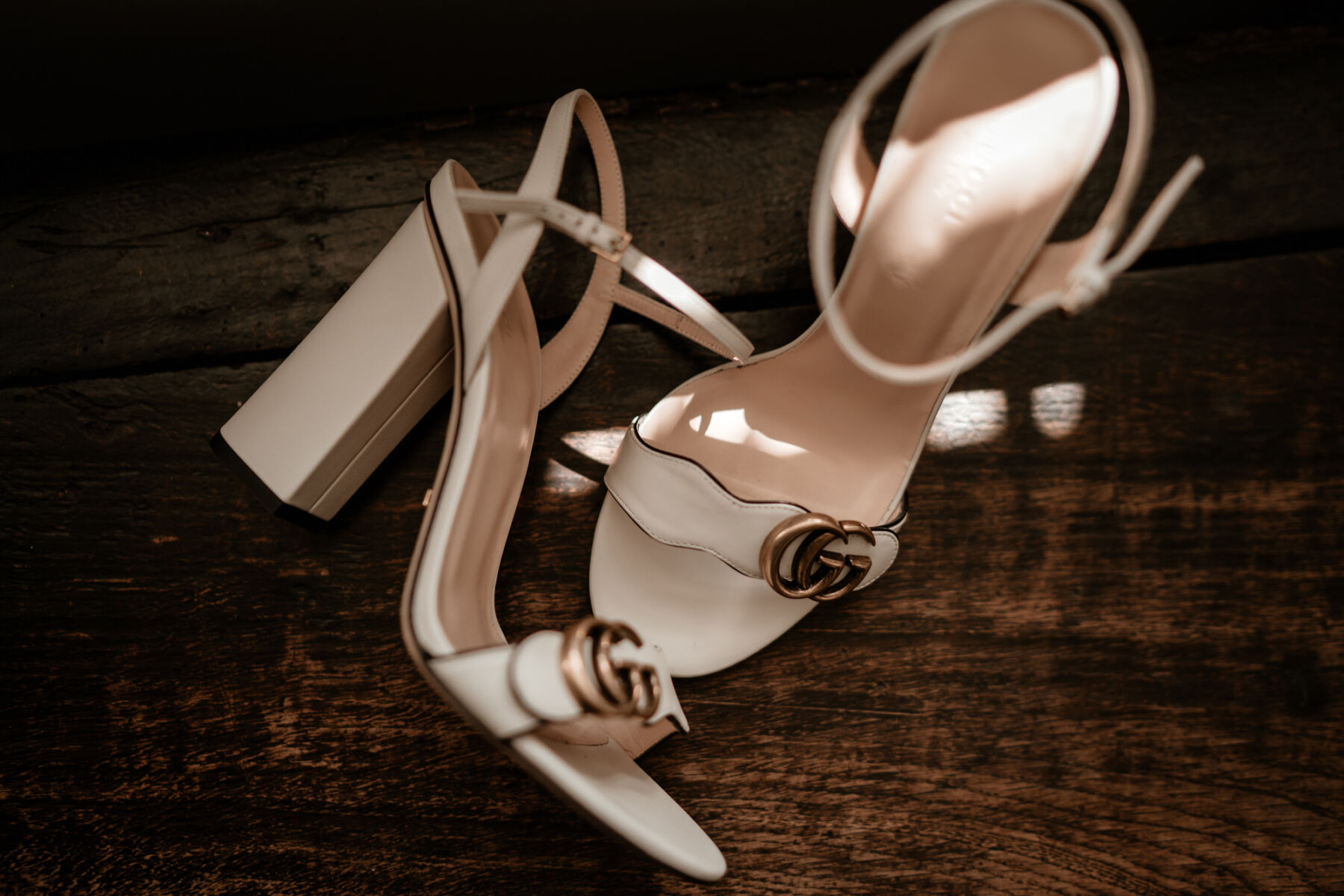 I chose to focus on a weighty set of gold earrings as my main piece – bought from Lynyer, they were botanical inspired with a pearl drop. I've worn them multiple times since, cementing that I wanted to wear items I'd wear time and time again.
My perfume was Gucci Guilty, the scent I've worn for years and so I wouldn't have wanted anything else. I loved that it 'matched' my shoes also.
I wore a church length, 'barely there' style veil from The Wedding Veil Shop. I had it embroidered by them with a line from a poem James wrote for me in the first days of our relationship, when we were apart for a while. He didn't know until he saw it at the aisle which was very special and worked with our outdoor theme – it said"with every rustle of the trees".
A Ceremony at Hatch House
We always knew we wanted to get married in the UK but we were tempted by Scotland at one point – we both grew up in the South of England/West Country and so it was important to us that it reflected this and had benefits from a practical perspective too which shouldn't be underestimated if you're doing it all yourself.
We instantly fell in love with the sunken garden and stunning views at Hatch House. It felt beautifully private and sheltered but with strong ties to our English garden upbringing. It also hosts annual ballet performances and I used to do ballet, so even better.
Each of my bridesmaids chose their own dress that suited them and their style – as a group, they went for a loose brief of block colours but we had all sorts in the end, including a black feather jumpsuit. My best friends are all gorgeously independent, strong women and I wanted them to feel their absolute best that day, wearing something that reflected each of them, not us.
My maid of honour bought her burnt orange dress from Ghost, which she picked up when she finally flew over from Australia. My flowergirls wore dresses from Trotters Dresses in Chelsea, with pastel coloured trainers so our nieces could run around. The pageboys wore Oxford-style white shirts, chunky navy knitted cardigans and navy chino shorts from Next and John Lewis. The shirts were untucked about an hour in, as you'd expect from a three and five year old!
We're both atheists and so couldn't imagine getting married in a church, and love spending time outside – so the ability to get married in garden, legally (just – the government just changed it by the time the day happened) was even better.  
After our siblings and their children, my bridesmaids, maid of honour and mother went down. My father then walked down the aisle with me. Our siblings (James' sister and my brother) were our witnesses too which was important for us to have them playing this role. We walked down the aisle to Joni Mitchell's Case of You, covered by James Blake.
First up has to be when I walked down at the ceremony and couldn't focus on anyone else but James at the end of the aisle. I've never felt so ready and excited for anything in my whole life and I was quite taken aback by how emotional I was. I couldn't take my eyes off him. Lizi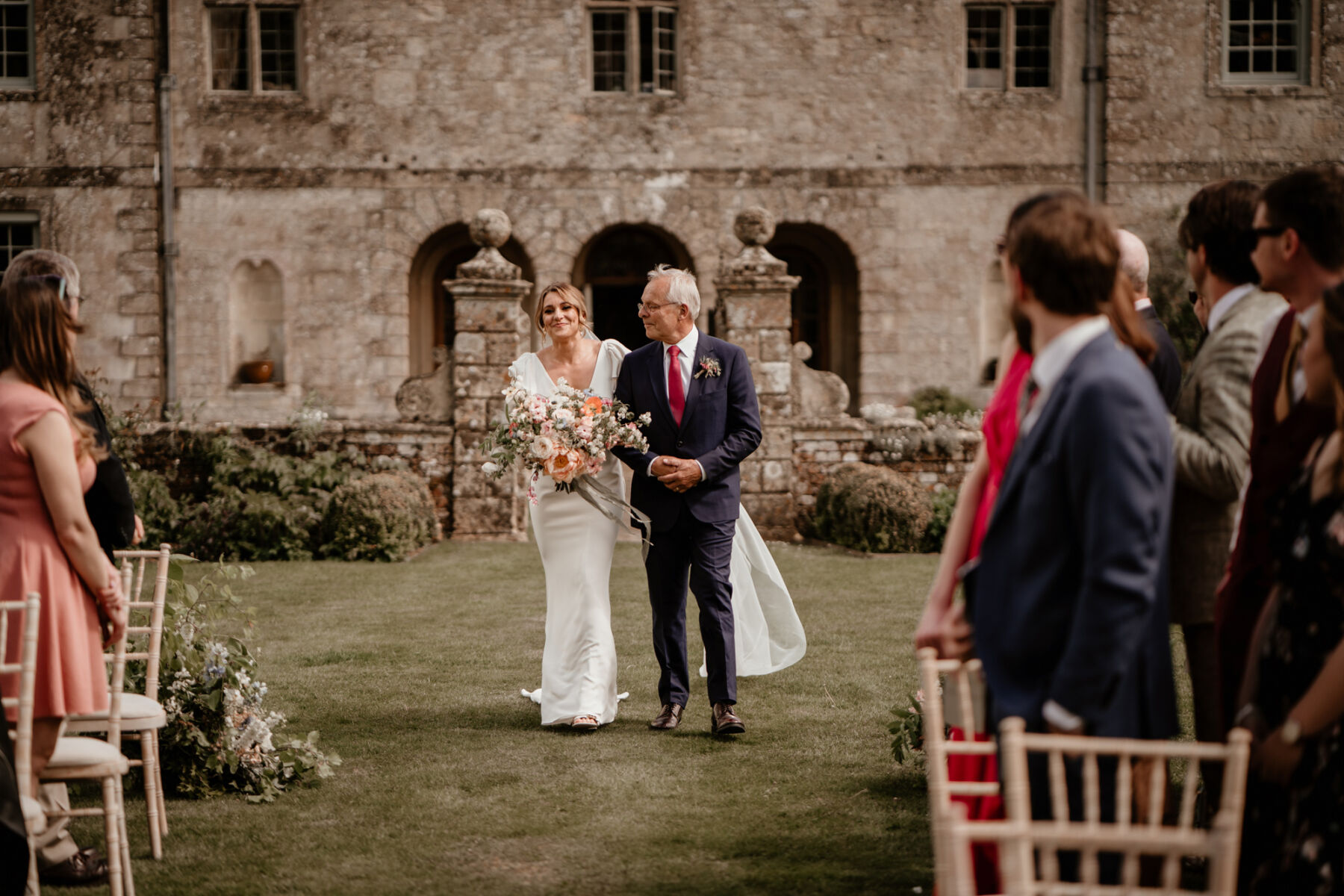 We had a registrar from Wiltshire County Council officiate our ceremony. We wrote our own vows, which we actually called promises. We wrote them independently and revealed them at the alter – after referencing a quote which we felt reflected how we felt about the day and each other, James' was a gorgeous poetic piece of genius whereas mine were slightly more jovial in places, but certainly heartfelt – both equally passionate.
We're famously quite different as individuals and so it felt appropriate for them to be so personal and varied in their style.
Flowers
Our florists were Pamplemousse – run by two women at their floristry studio in Shaftsbury, Dorset. We loved the idea of supporting young, female, local entrepreneurs. They also handily knew the space and were unbelievably creative and accommodating as I got quite into the flowers by the end.
We opted for fewer bigger better when it came to flowers, which we repurposed throughout the day for maximum impact. Alongside urns at the start and end of the aisle filled with huge displays, our main piece was a stunning flower cloud which hung above our central table for the dinner – flowers were all Spring like, with a very lucky pops of colour from peonies, poppies and ranunculus.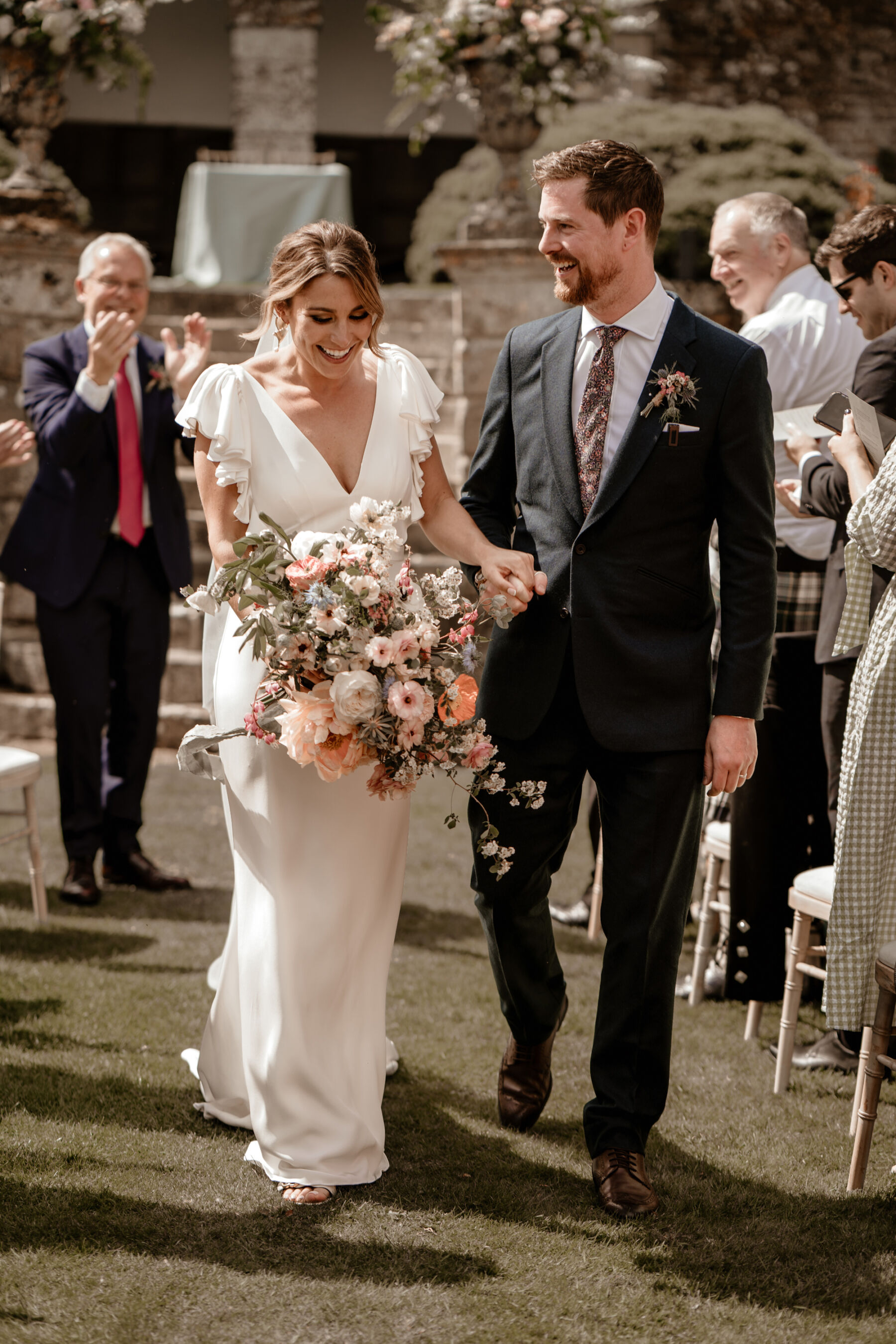 Photography & Videography
Our photographer was Carla from The Unbridled. We were instantly drawn to her romantic, intimate style.
Carla was a reassuring presence throughout, with a very real attitude which we loved – we weren't into anything too posed and felt that she captured the details beautifully.
Our Videographer was Liam from Soby Films. Liam's talent blew us away and we watch our video edits back alllllll the time.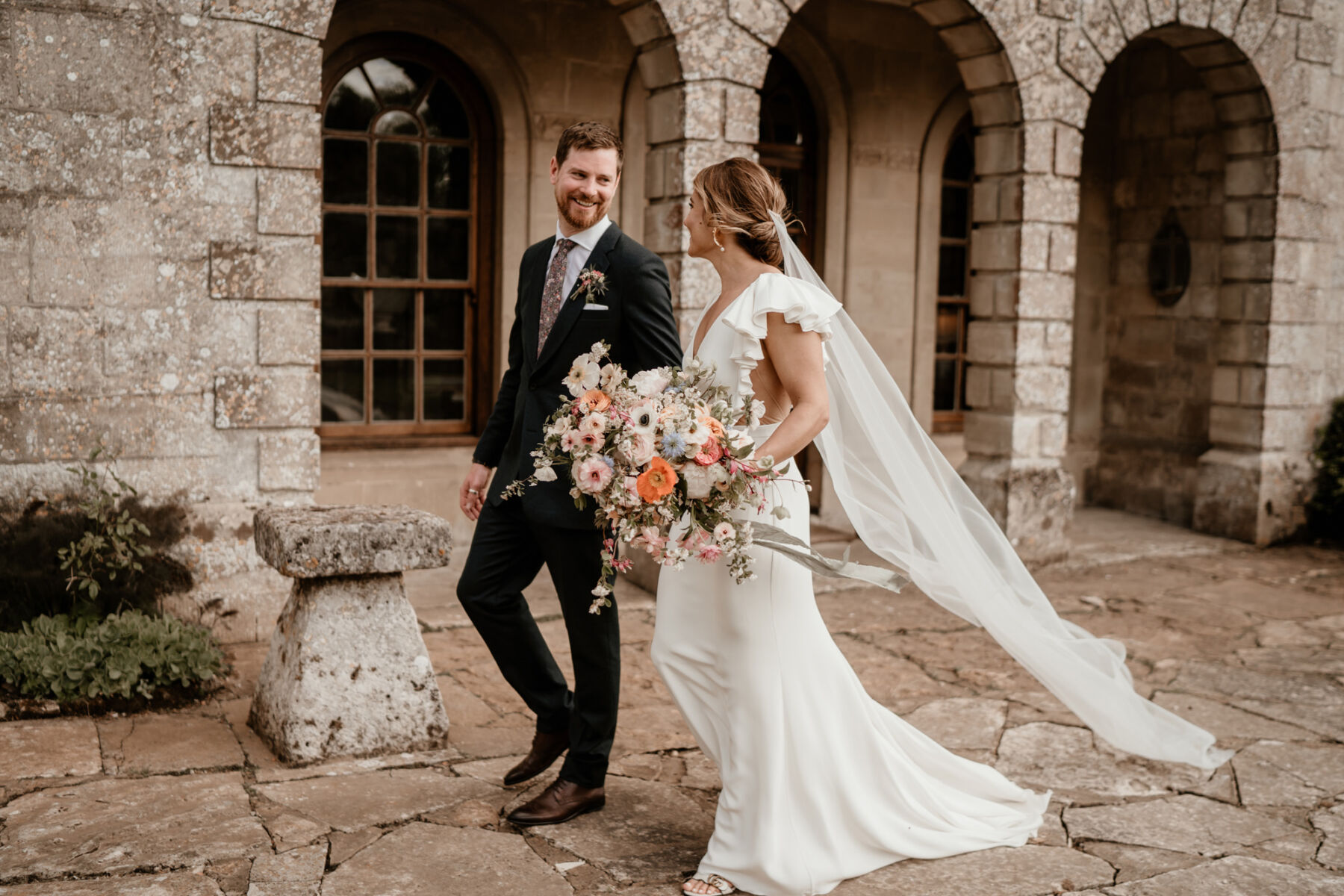 How They Met
I was actually James' client when he worked for PR Agency and I ran the PR team at Sainsbury's. After a few years of the odd email exchange, we properly hit it off at a client party in late November 2019.
Lockdown accelerated our relationship, meaning we spent every hour together (and pretty much no one else!) from March 2020 where we bubbled and locked down within our respective flats before moving in quite quickly together later that year.
It felt only right to James to then propose on a Sunday morning, in our flat, only 15 months later in March 2021. We always say Lockdown was a death or glory move for lots of couples, and for us, it's certainly been the latter.
James' suit was tailor made for him by Susannah Hall and was bespoke for him from the very first stitch. It was a beautiful cloth, in an equally beautiful blend of green and blue – it really brought out his eyes. James paired his bespoke suit with a pink floral Liberty print tie.
Reception
We're huge foodies and drinkies, both working in the industry – gorgeous food and drink plays a big big part in our lives and so the minute we found Pythouse Kitchen Garden and its stunning restaurant, it was a no brainer. We stumbled upon this gem after popping to grab a coffee.
We soon realised it was a very well regarded restaurant, with amazing produce and we felt it reflected us as a couple perfectly.
The food and drink for us both was super important and played a massive role in our day and so we'd love to highlight this. This was my favourite part of the planning but the most time consuming – we chose our menu to be family style, sharing, and we wanted to put a lot of focus on the dining as the food was the star of the show.
We had three long wooden tables and James and I were surrounded by our best friends, as opposed to a classic top family table. My mother hand sewed huge long table runners from sage linen and we hired gold candle sticks from a local company, which we then added long mixed green candles – they looked elegant but were a bit of a pain at the start when they wouldn't stand straight.
We hired earthenware crockery and gold cutlery for a more contemporary look (as opposed to standard white china and silver). My father also created beautiful wooden signage directing people to the ceremony with a simple 'L&J' (the wedding part felt obvious to us) and guided them on the short walk from the ceremony to the reception. They were a work of art.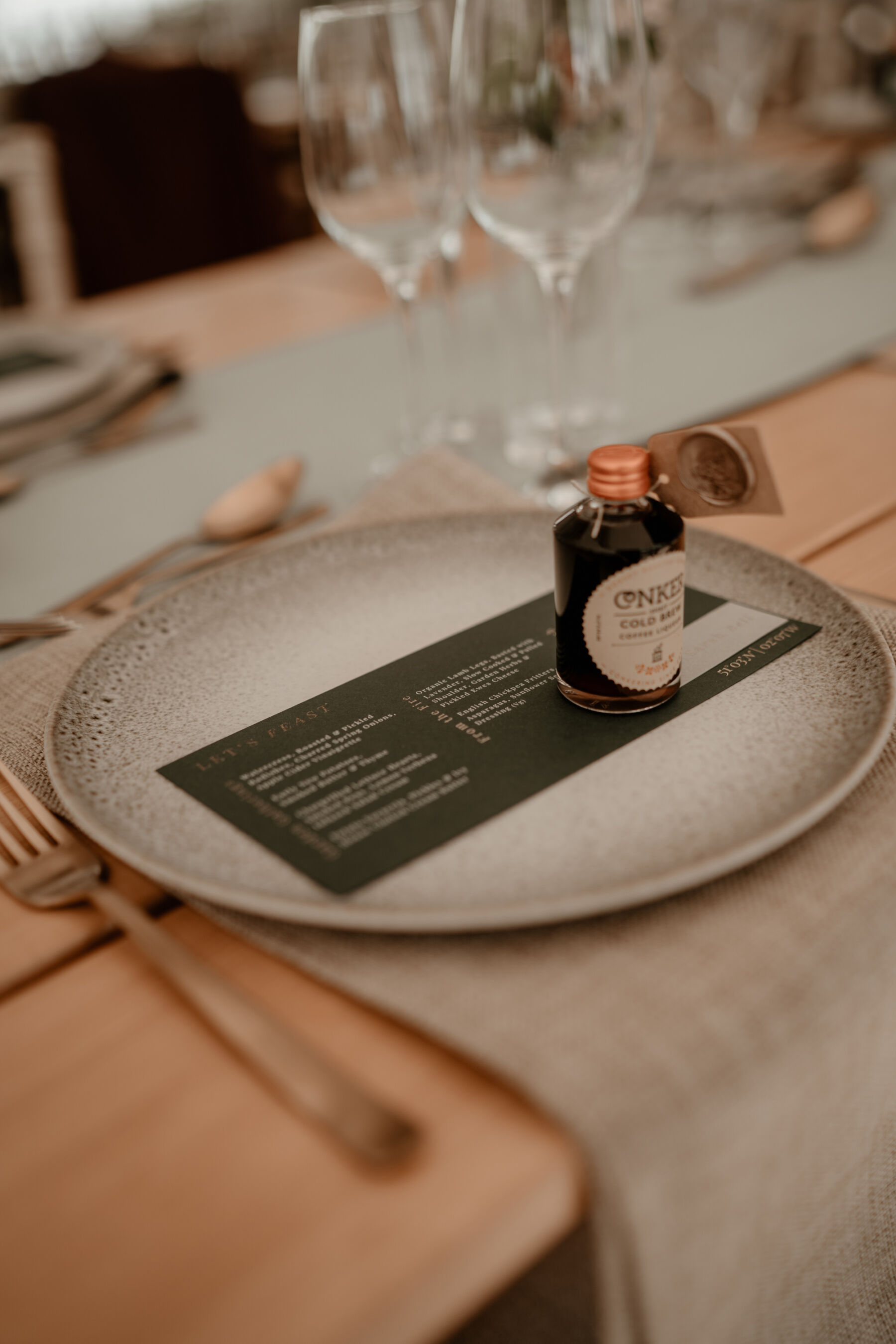 Drinks wise, alongside the beautifully French red, white and rose wine, we served English Sparkling Wine (our favourite was Rathfinny, which we visited in Sussex) throughout the day and night, as well as help yourself kegs of Wadsworth ale.
We offered Conker G&Ts and Sprigster with tonic, the non alcoholic botanical drink made by the wedding venue. Serving drinks special and local to us was vital – no prosecco here. James also secured a couple of rare Scottish whiskies from close friends in the industry which went down incredibly well.. it was important that every drop meant something to us.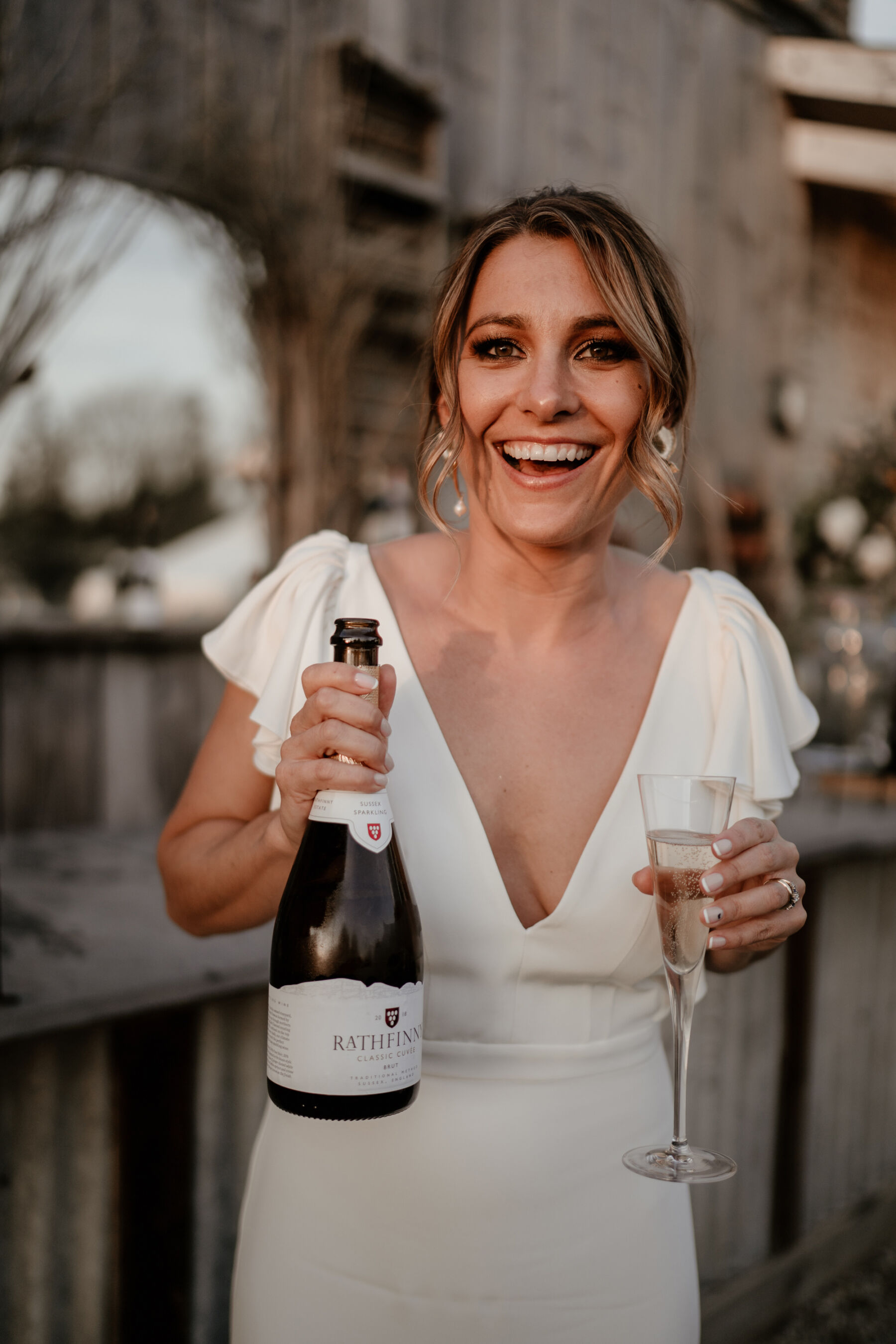 The locally sourced menu comprised unique canapes including a chalk stream trout pastrami, and locally bred pork belly, with the main event a mix of garden gatherings from the venue's allotment, including a dreamy potato focaccia, followed by mounds of feta topped lavender-basted lamb, slow cooked over an open fire, served with a side of lemon verbena peas and baby gem lettuce.
The dessert was a Basque cheesecake with a nettle and rhubarb syrup. It was genuinely amazing.
We provided favours for our guests – we put a mini bottle of Conker Coffee liqueur on each spot which we personalised with a small tag and wax seal of our initials – Conker is James' favourite gin (and so it featured on our drinks menu also) and so it felt great to have a little 'espresso martini' style pick me up after the meal.
They went down a treat.Perhaps too well!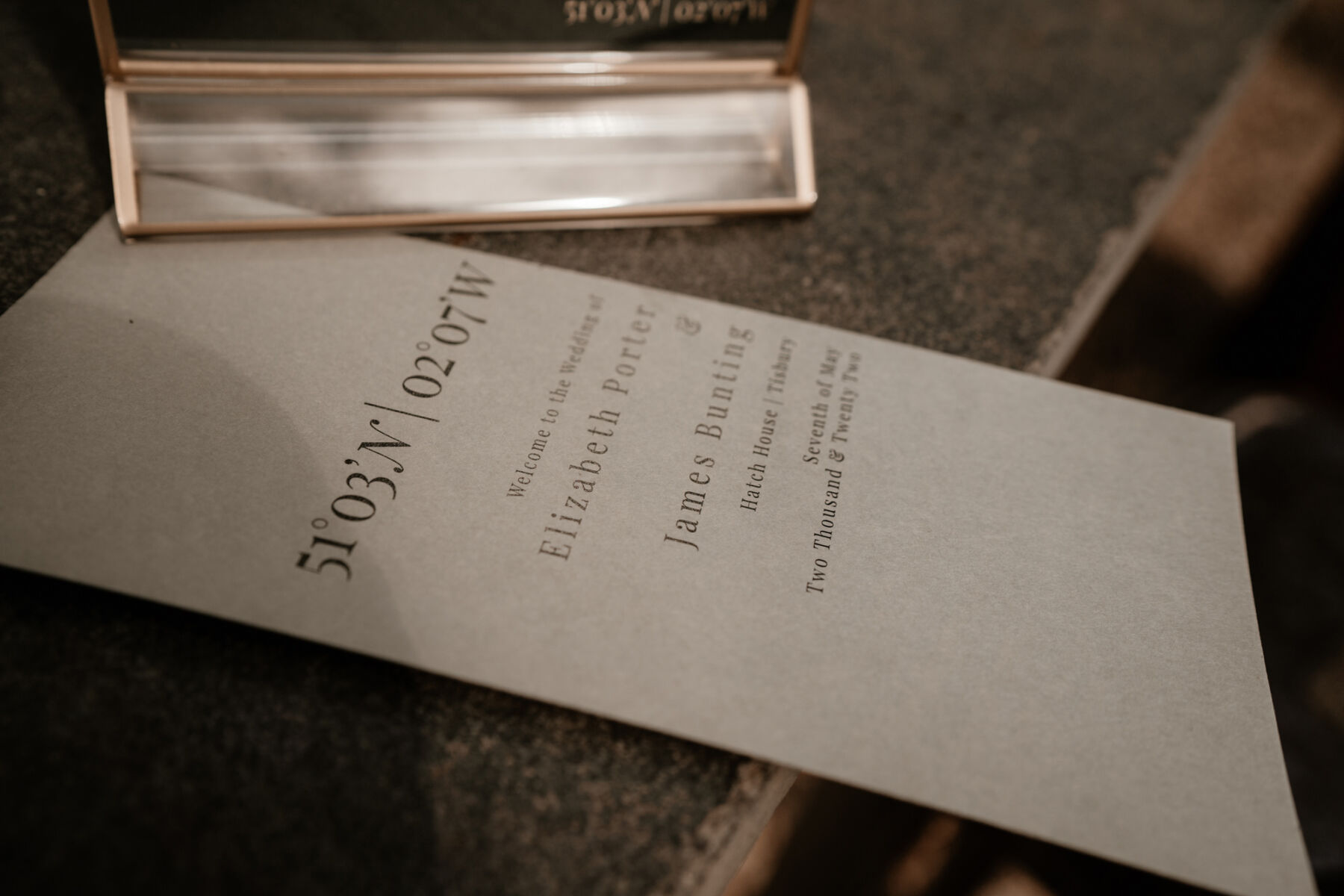 Zoe at The Gold Letter. Alongside her we designed a set of stationery with the coordinates of the venue as the main thread which ran through it all – forest green with gold foil blocked accents, we created a striking save the date, keeping the details for the website.
We then spent the 'invite' money on beautiful landscape menus to show off the detail of the drinks and food, a sleek table plan, as well as place cards and an order of service – unusually we designed a portrait orientated, long, thin two sided card (as opposed to landscape booklet) in a sage green. You don't need as much detail as you think and it was more economical.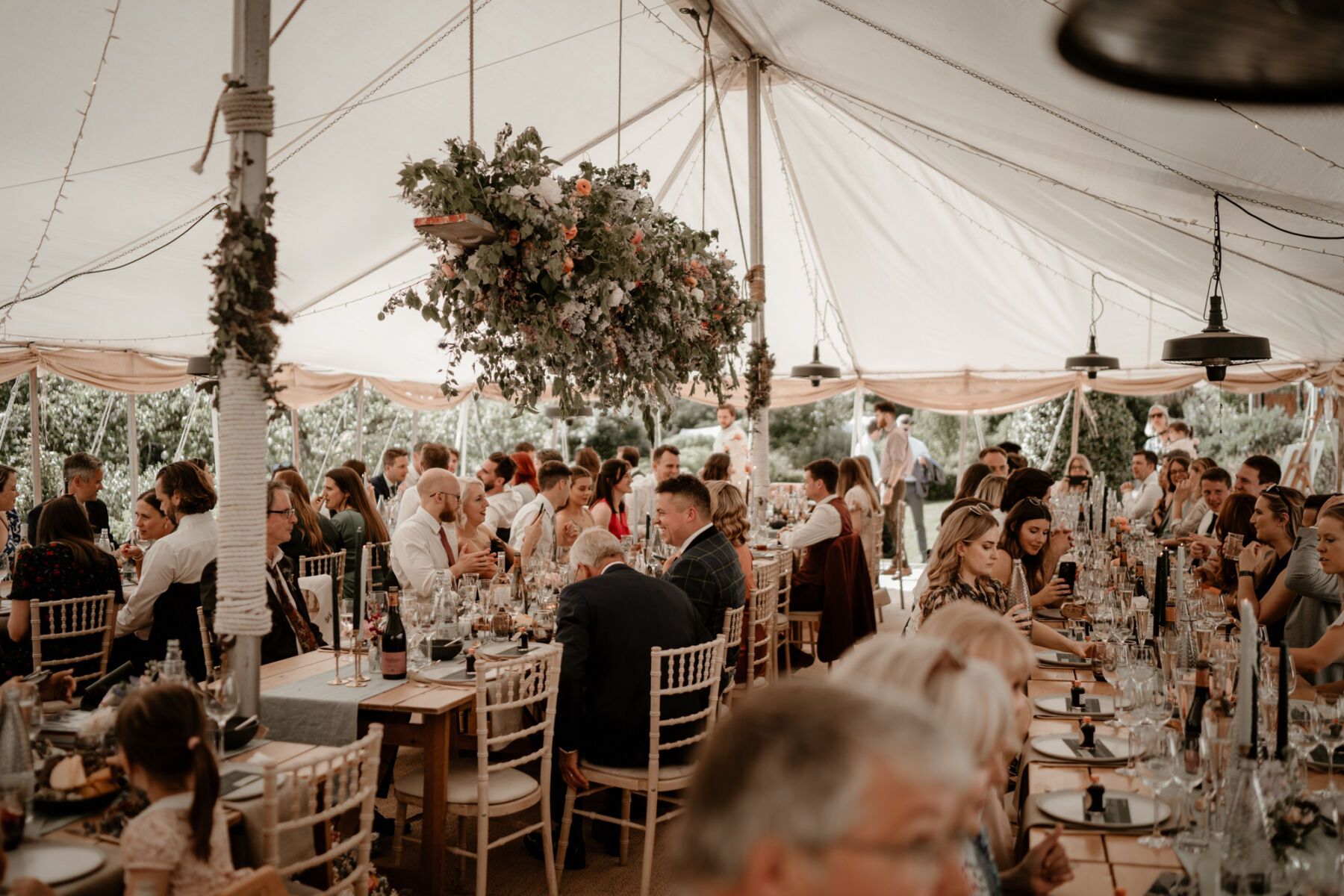 Isobel MacMillian-Scott of Isobel Bakes created our cake – a 3 tied number, each layer was a different lemon flavour (our favourite) with pistachios, raspberry and white chocolate – she hand delivered the samples to our flat earlier in the year and it was so difficult to choose. Isobel is famous for her beautiful decoration so we opted for fruits, gold décor and flowers from our florist to complement our flowers and my bouquet, heavily inspired by Isobel's own wedding.
It was really outstanding. After booking, we realised she was friends with one of our bridesmaids and has a bit of a celeb following.
Evening & Entertainment
We hired the band Pulse through Tailored Entertainment. They were an indy band who got really stuck in, including playing in the crowd on the dance floor with some awesome covers, including 'What's Up' by the 4 Non blondes and Gangster's Paradise. We also had them to do the acoustic set in the garden during the afternoon focusing on our favourite era of the 70s – 100% would recommend.
We danced, slowly without any plan or practice, to a beautiful version of Bruce Springstein's I'm on Fire, covered by Mark Wilkinson. It probably wasn't that recognisable to our guests, making it even more special to us two as it's one of our favourite songs of all time so it felt strangely private, considering everyone was surrounding us.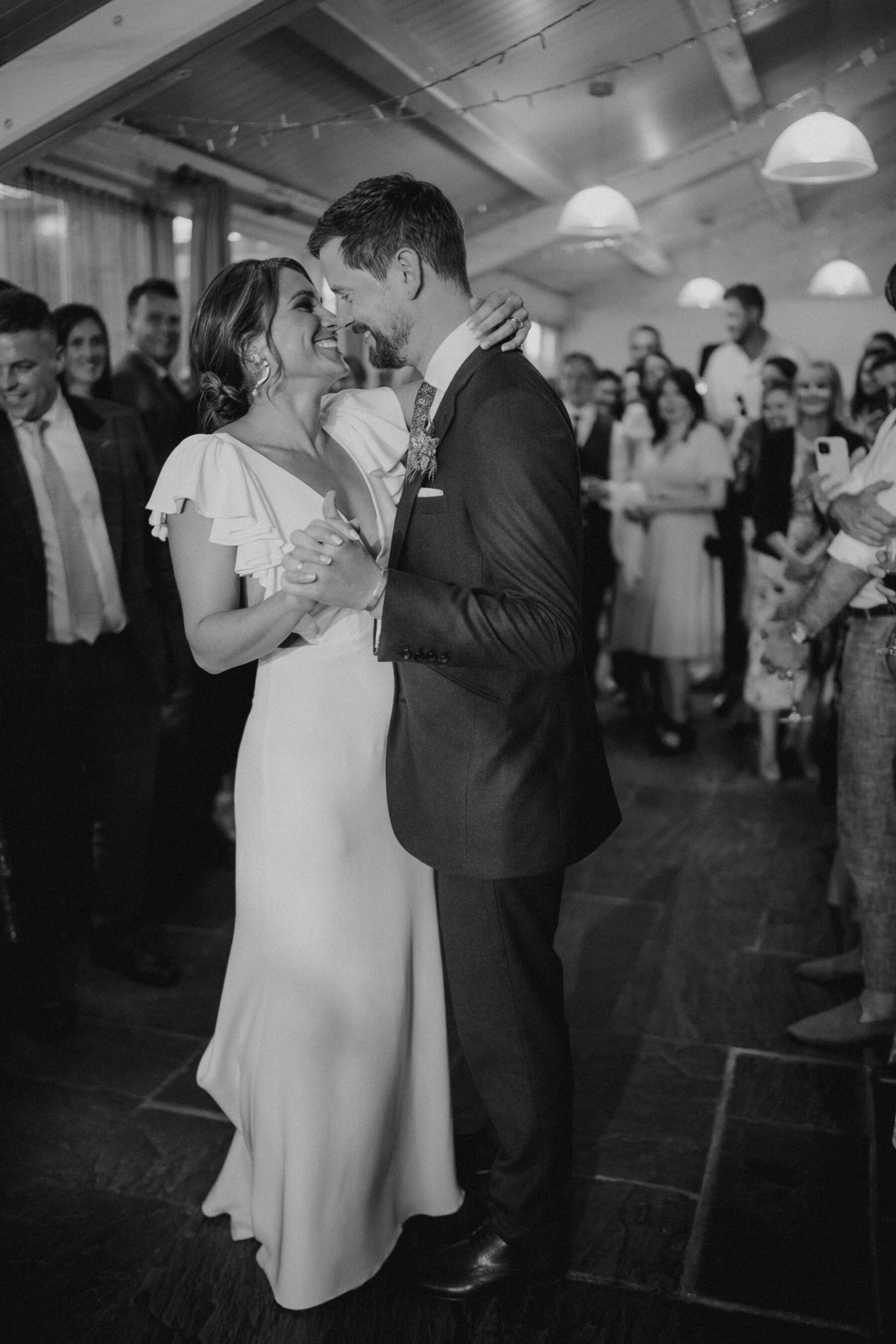 Words of Wedded Wisdom
What I loved about Love My Dress, was the reality of it all – as professional events organisers, we felt quietly confident in our ability to put on a good party (!) but when it came to the details of a wedding, we needed direction and so this was hugely helpful, to be inspired by others so we didn't forget anything. Naturally we still did, but nothing will ever be 'perfect' and crucially no one else knows what's gone wrong.
We had a rule which stopped any wedding decision bickering in its tracks; if one of us felt particularly passionately about something, they 'won'. I was more worried about the napkins and James was into the drinks, naturally, and it helped with making swift decisions allowing us to concentrate on what mattered.
We did most of our wedmin in the pub on Sunday afternoons – a few pints helped with mastering the table plan.
We also took time to head into the garden during the reception, without any photographer or videographer, and look back at our guests enjoying themselves. It was beautiful to see our friends and family coming together for mostly the first time – it had been a very strange few years with Covid and to have everyone talking and chatting and blending together was beautiful – it doesn't have to be for long but take this time.
I did a speech (first) – neither James or I liked the ideal of women being silent at a wedding (as is often the way) and doing a speech is something I would 100% recommend a bride to consider – it doesn't have to be long, it doesn't have to be funny but it does have to mean something to you and those you love, so go for it.
Oh and don't have your phone anywhere near you or worry about the running order – time doesn't matter and you'll need to let go of being in control.
We joke but kick ourselves we didn't offer a dessert wine (we famously had it on our first date). But perhaps our guests would have been on the floor by then. I should have steamed my dress and veil the night before.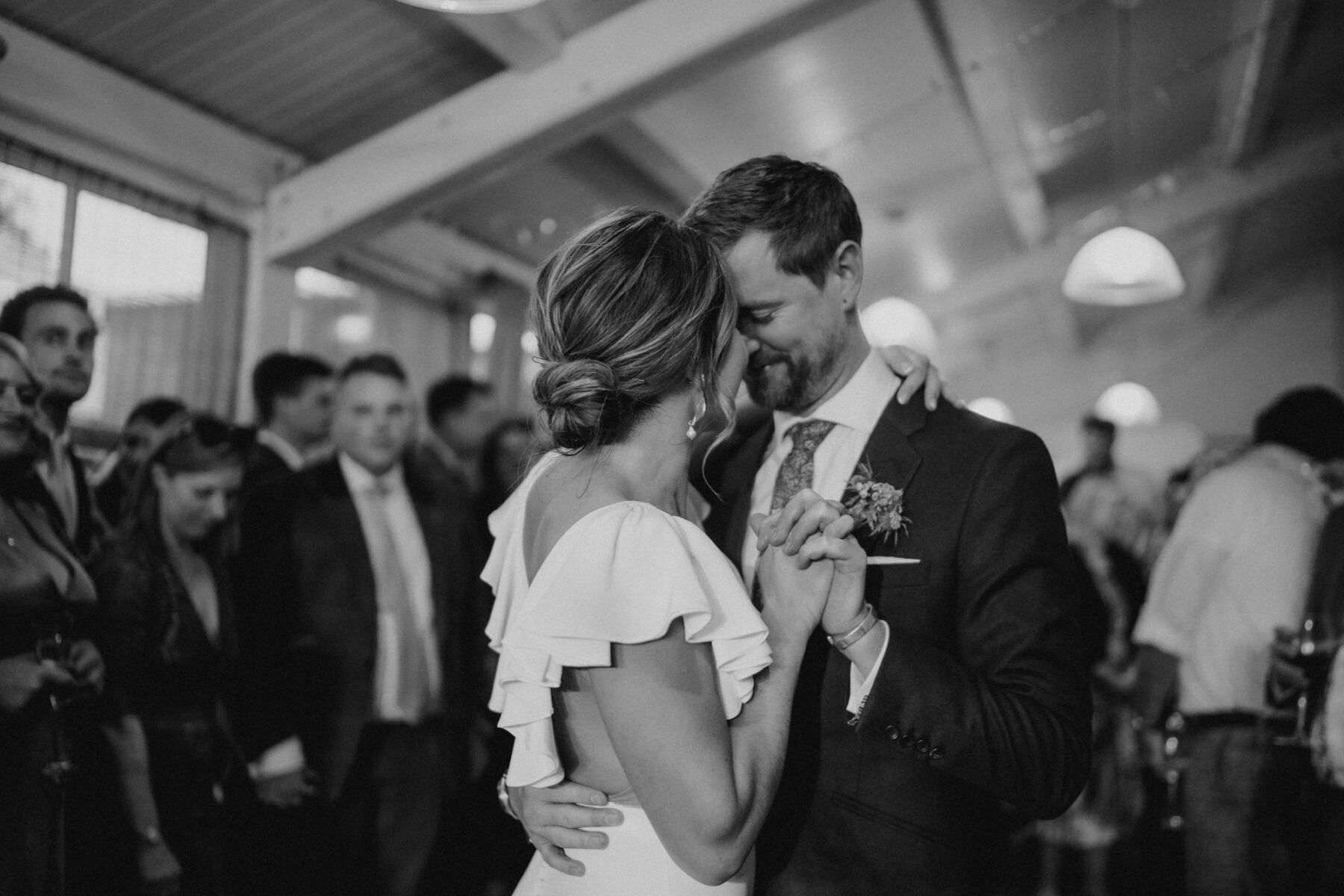 Explore our Wedding Directory