A dress three sizes too big became Hollie Lucocq-Langdown's dream Vogue moment when she married Alexander on 10th June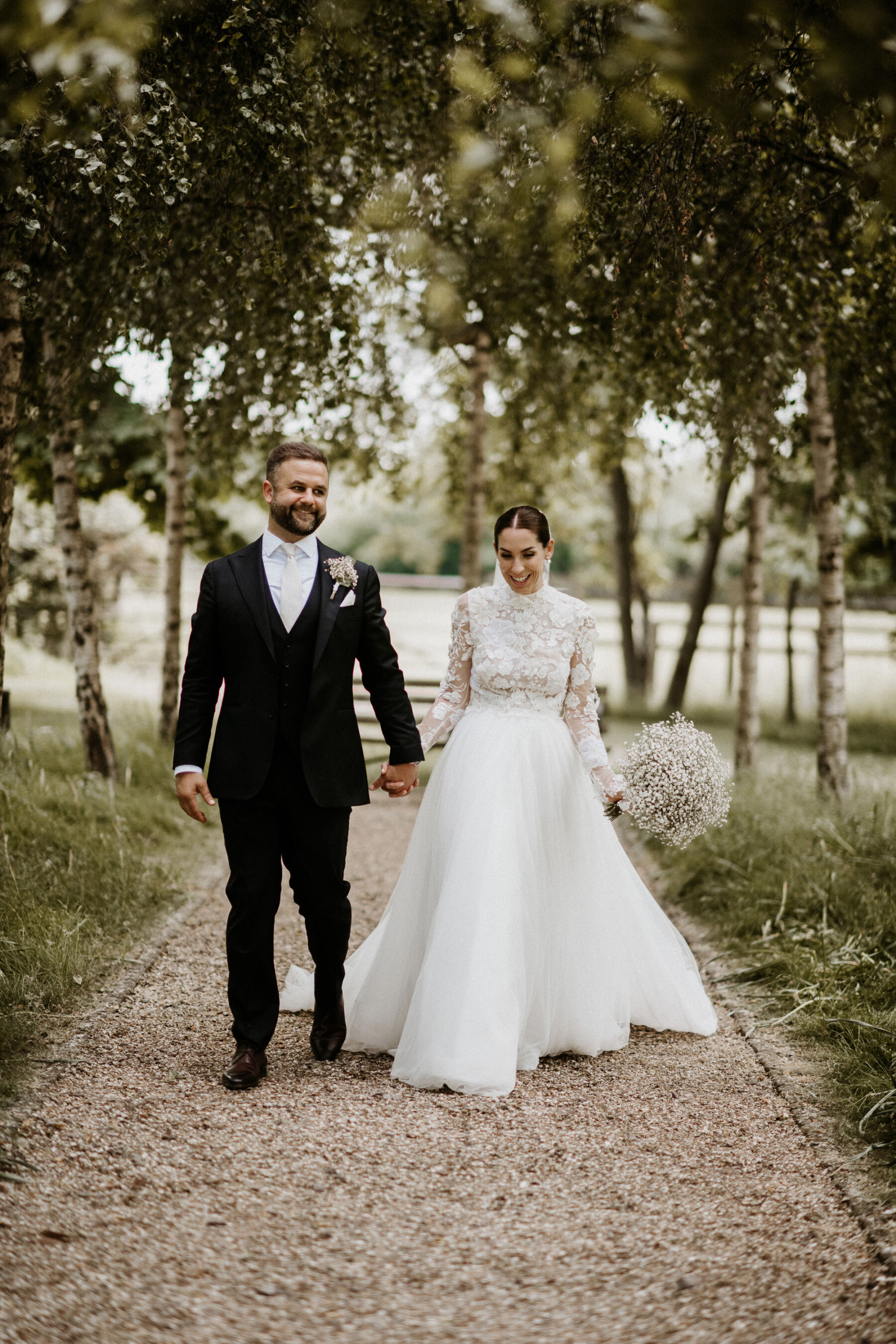 "I approached buying my wedding dress having done no research at all…"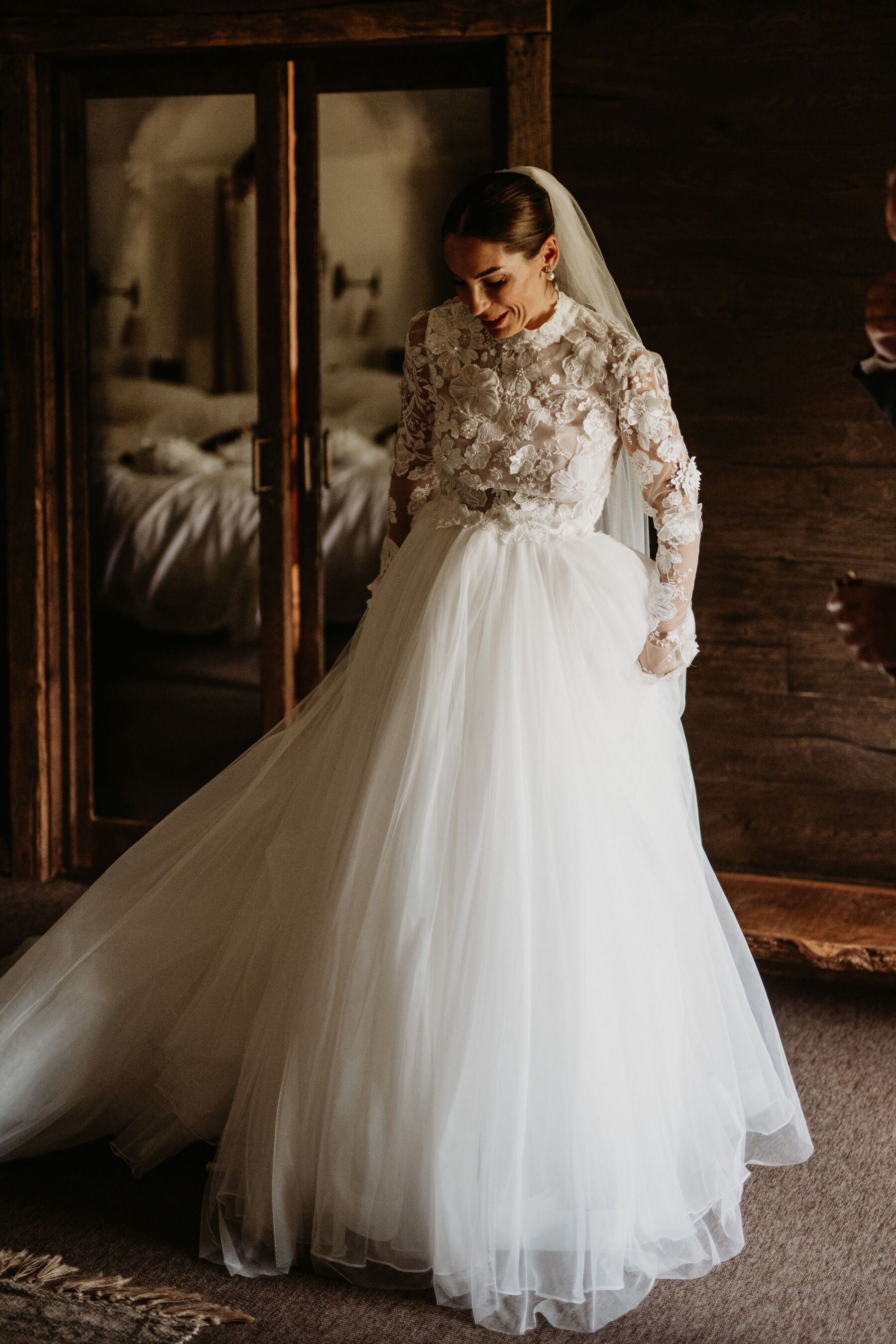 I went to one shop only, The Wedding Club in Knightsbridge, and that's where I found my dress. When I called to make the first appointment, they asked me which bridal designers I liked and I couldn't really name any.
There was a sample sale on in the store for one day only and the price drop was too good to miss. My older sister, Nicole, who I really wanted at the appointment, was in Italy so she joined my mum and younger sister on facetime. She's the most opinionated one out of all of us so she had to be there. We all knew if she wasn't, we wouldn't get the right dress.
I tried at least 20 dresses and I fell in love with so many of them. I'd come out of the fitting room and say I love it, this is the one, and then the next one would be beautiful too.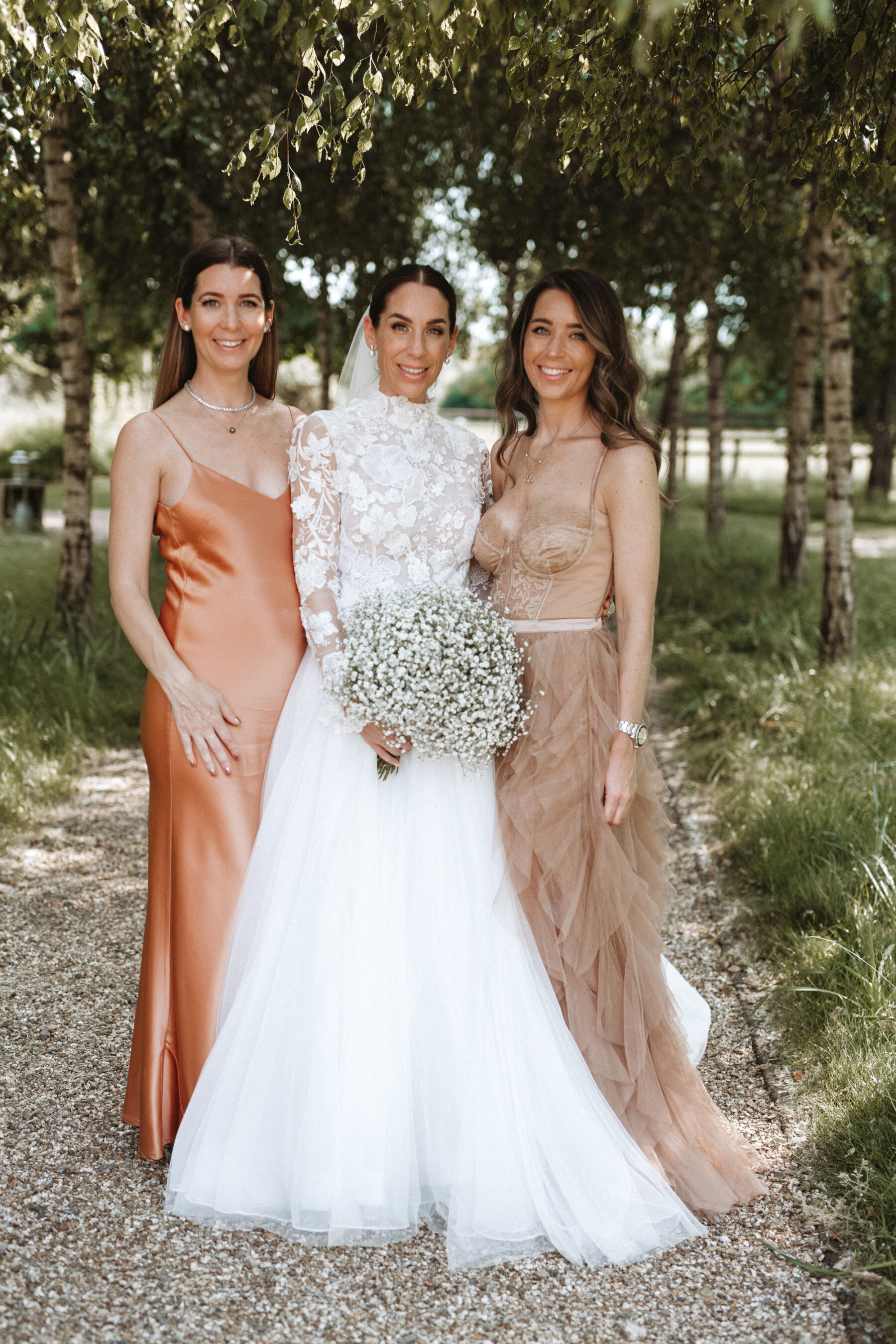 I tried a few Berta dresses, but I was thinking too much of my younger self. It just wasn't me anymore. I needed something more sophisticated, and chic. My mum loved all the dresses too, she just wanted to please me. But the Berta dresses were a straight no from my older sister. She said you can't wear that, it's inappropriate. The dress I did buy was her favourite, so I think it all worked in my favour.
The look I chose wasn't what I wanted but as soon as I had it on, it was everything I wanted. I felt like the princess I wanted to be on my wedding day. It was the stylist, Natalie, who suggested I try on the Fiori mini dress by J. Andreatta from the La Dolce Vita Part 2 collection.
It has a high neck, long sleeves that continue over the wrists, its covered in floral appliques with bead and sequin embellishment too. It's one of their bestsellers. The vision was always to have two looks for the day and evening, so we added a longer tulle overskirt from Atelier Pronovias. I don't know what happened, but I knew, this was my dress.
I loved that Natalie was happy to give me her opinion, it made everything easier. There was never a time when I felt it was purely about making a sale. She gave negative and positive feedback on everything. Mum said she would buy a dress from her any day.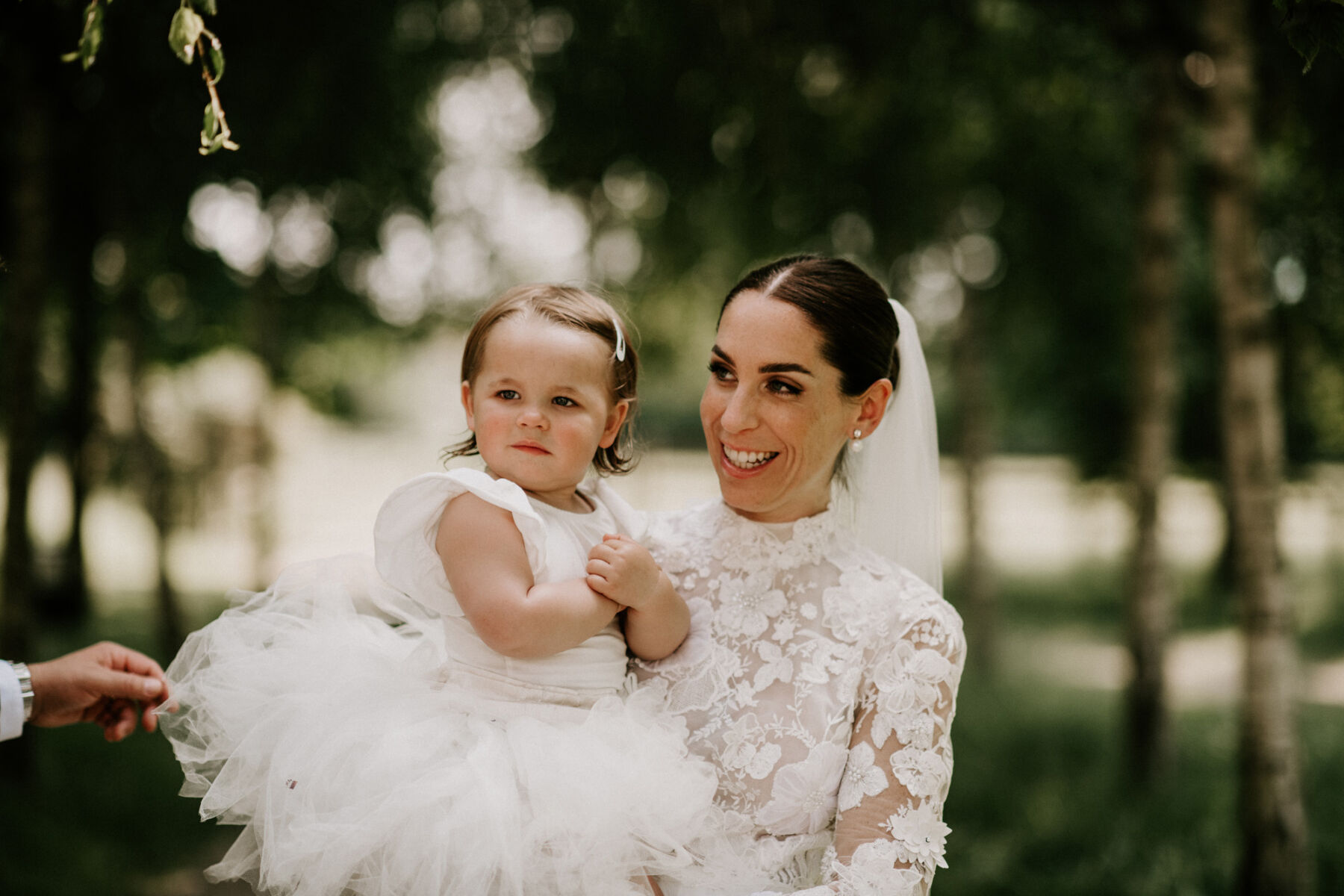 "The venue blew us away from the second we arrived . . ."
We stayed in the farmhouse the night before and when I woke on my wedding morning in the bridal suite, I was so nervous. It wasn't the thought of marrying Alex, we've been together a long time and we have an 18-month-old daughter, it was about everyone staring at me as I walked down the aisle. My daughter Esmée was in bed with me, we were awake by 5.45am but that helped relax me a little.
Her dress was hanging next to mine – my nan made it with a full tulle skirt like mine – and I realised, this is OK, she's here with me and this is going to be amazing, we're going to remember this forever. It turned out to be a wonderfully relaxed morning with all the family there in the house because our ceremony wasn't until 3pm. The farmhouse gardens with all the flowers are just stunning and we had a lot of pictures taken on the lawn in front of the Willow tree.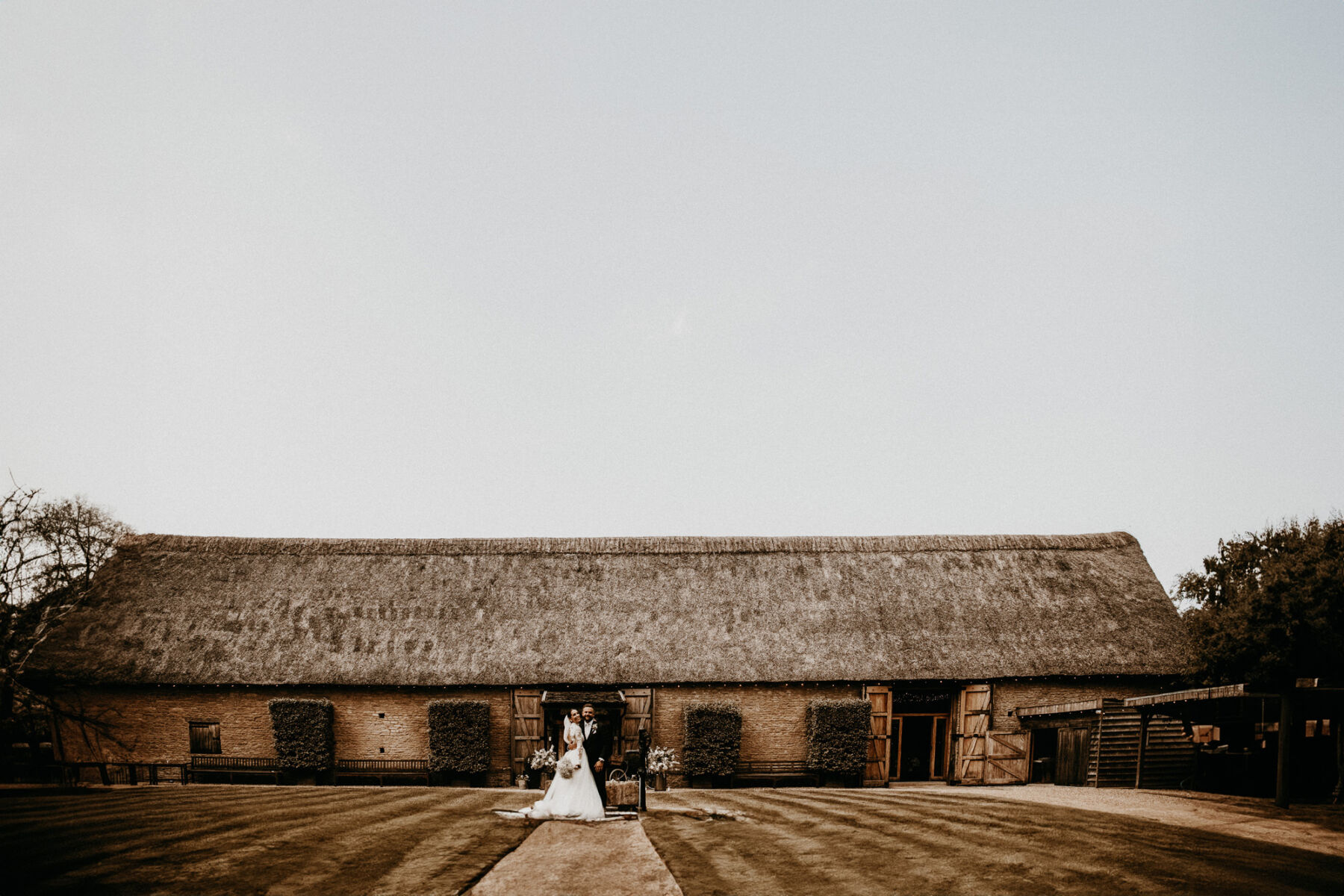 The farmhouse is incredible but what really sold Tythe to me was the wisteria arch. Once I saw it and the surrounding gardens, I knew that was where I had to be married. There was no point looking at another venue because nothing would be as beautiful. It just had to be sunny so we could marry outside, that was my biggest stress in the year leading up to our day. We were so lucky, it was 32 degrees, one of the hottest days of the summer.
I felt the dress was made for Tythe. I felt very English wearing it and there we were in the beautiful English countryside. We had the amazing crystal chandeliers in the barn and baby's breath flowers all the way down our dining tables with lots of candlelight. It felt so glamorous and modern. That venue can do anything and lots of our guests actually said that to us. You can adapt Tythe into anything you want it to be, it's so versatile.'
The Designer
J. Andreatta
Jessica Andreatta is an Australian designer known for her red carpet and bridal couture. Her feminine designs, handcrafted embellishments and quality fabrics have increased her popularity among British brides who love her soft washes of colour and modern designs. Her small design team handle the entire process of production from the atelier in Sydney's Surry Hills.
Spanish Pronovias now dress brides across 105 countries. Its Atelier collection contains some of the label's most detailed and intricate dresses and veils.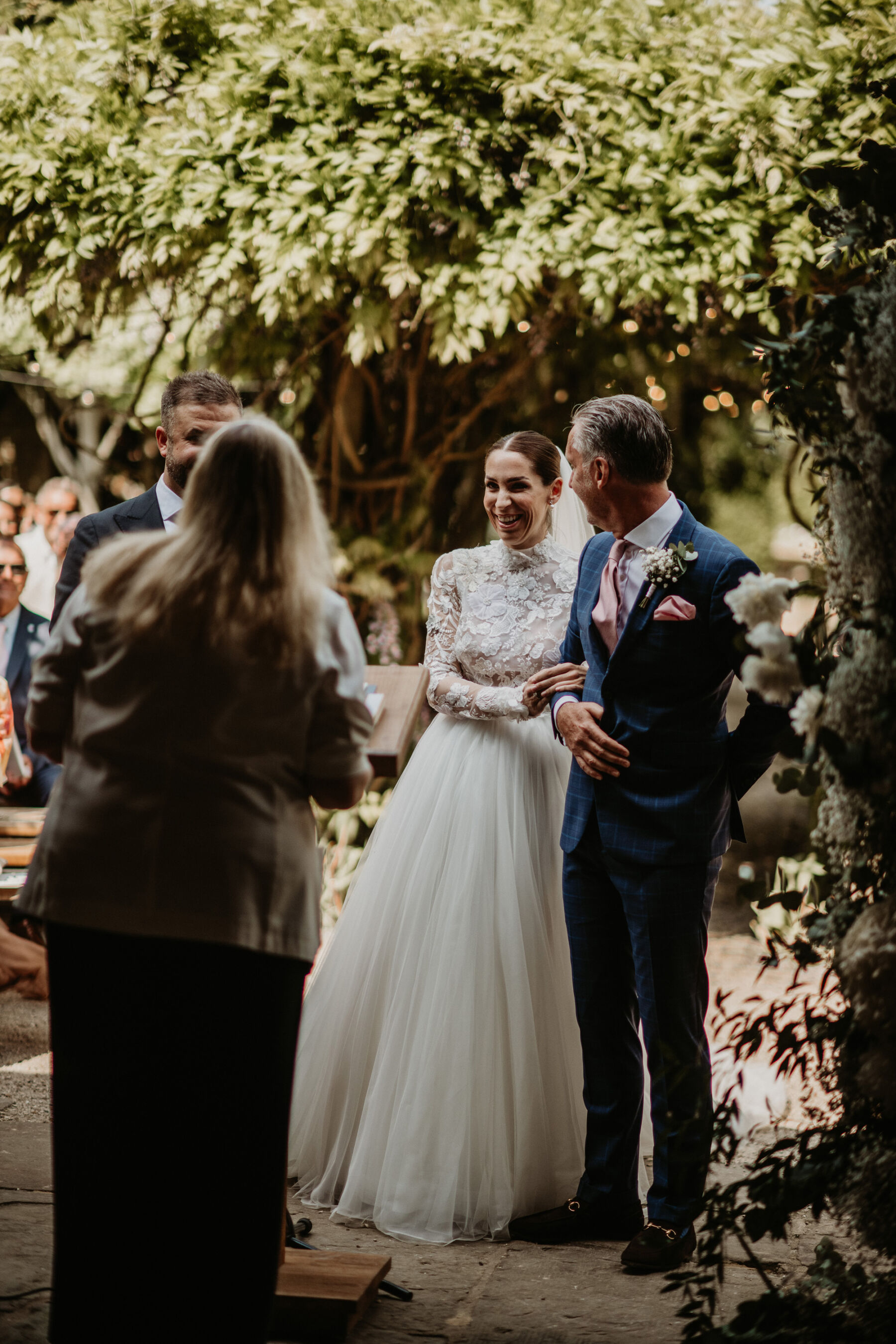 "Dad said he didn't want to touch me because I looked so beautiful. He was so emotional and cried a lot. I didn't predict that because he's such a man's man."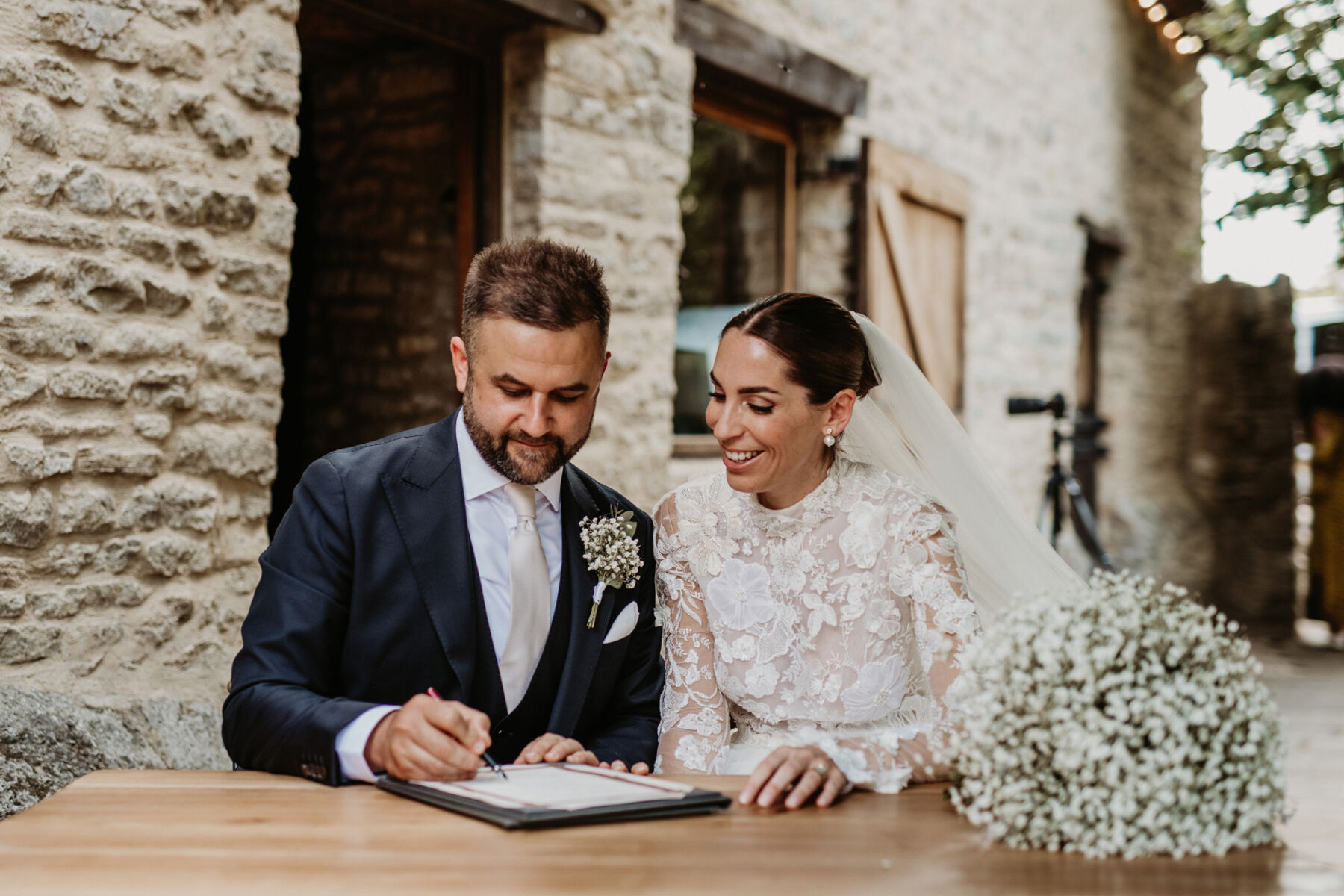 Just before we left the farmhouse together, I remember him saying I just want you to know that I love you so much and I will be here no matter what.
All of my friends were shocked at my dress choice. On my hen do they all had to draw what they thought I'd wear, and everyone said slinky and really tight. In the run-up to the wedding when I asked Alexander what he thought my dress was going to be like, he kept saying, definitely not big and I knew it was massive!
When he saw me on the day, he said you look like you should be in Vogue so he does pay attention to what's on the bedside table! In that moment I remember thinking, this is everything I want, everything I've ever dreamed of. I couldn't have imagined anything better.'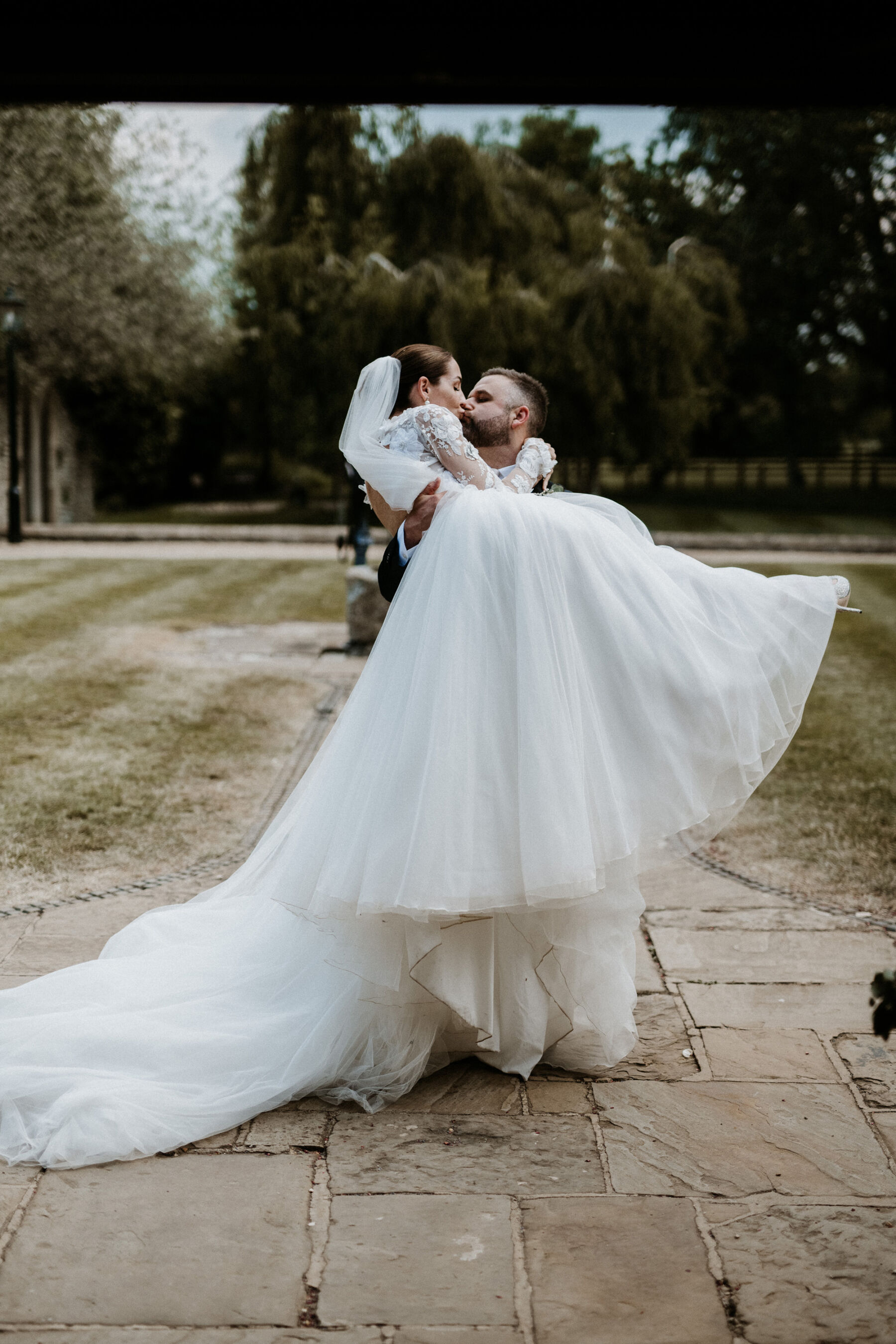 Favourite Image
'Our wedding was not just about us, it was about the three of us becoming the family we had always wanted. Esmée has made us stronger than we could ever be, she has taught us both so much in such a short amount of time, she has made us see each other in ways we did not see before and to have her as our flower girl on our wedding day was honestly the most magical feeling. This photo will forever remind us of the day we became tighter than ever as a three.'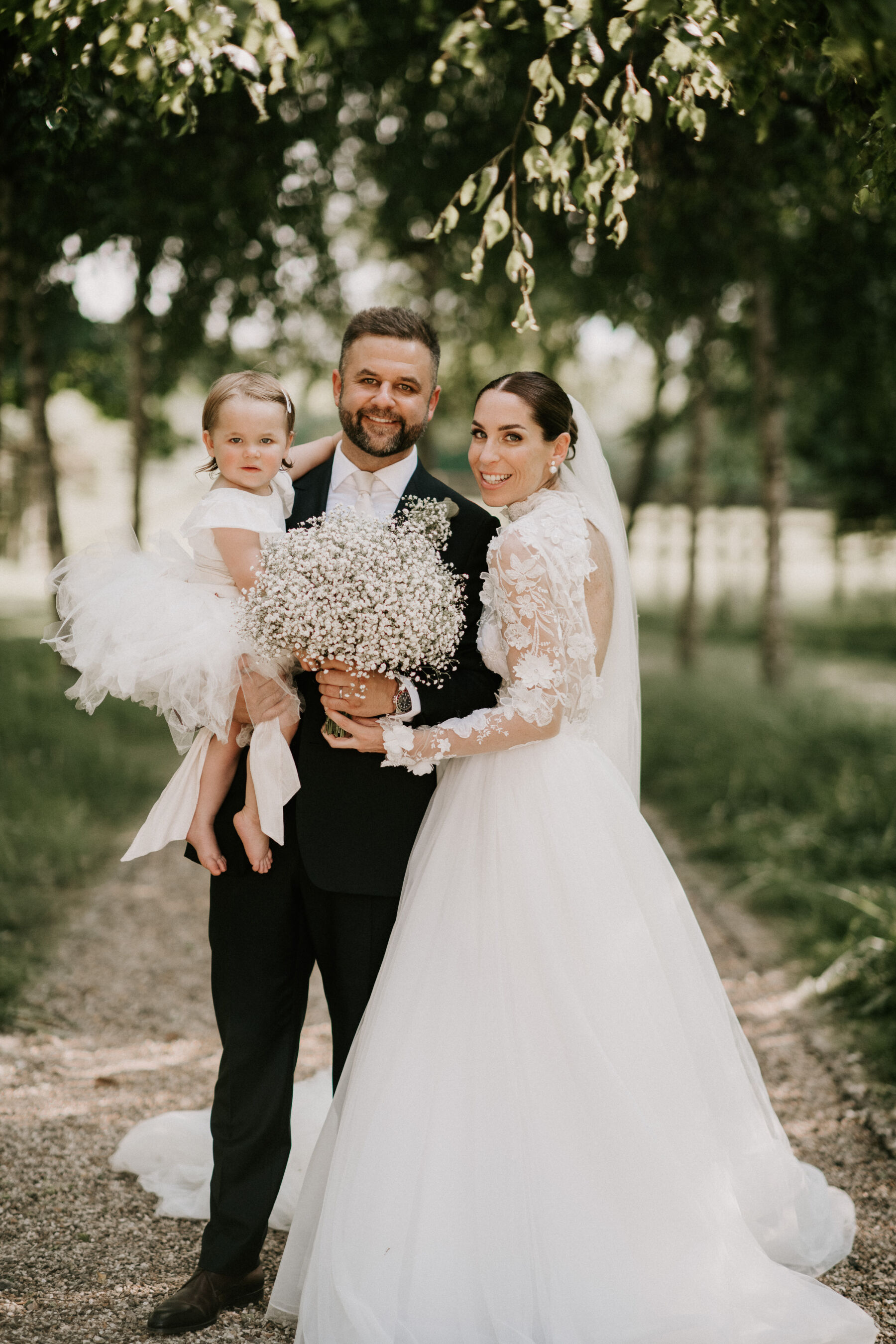 "'I'll wear the short dress again, perhaps to dinner one night on our honeymoon…"
It's hanging in my wardrobe, waiting. Because I bought it in a sample sale, it was a size 12, and I'm a size six. My seamstress used all the appliques and bead work that she had to take off when it was altered and placed them on the band of the skirt, so it looked like the two were attached.
The overskirt I also had taken up a little because I was tripping on it and we put lining inside because it was see-through and I didn't want anyone to know it was going to be whipped off in the evening. That happened sooner than I intended, before the first dance. It was gone by about 8pm when we were having photographs taken in front of the farmhouse as the sun was going down.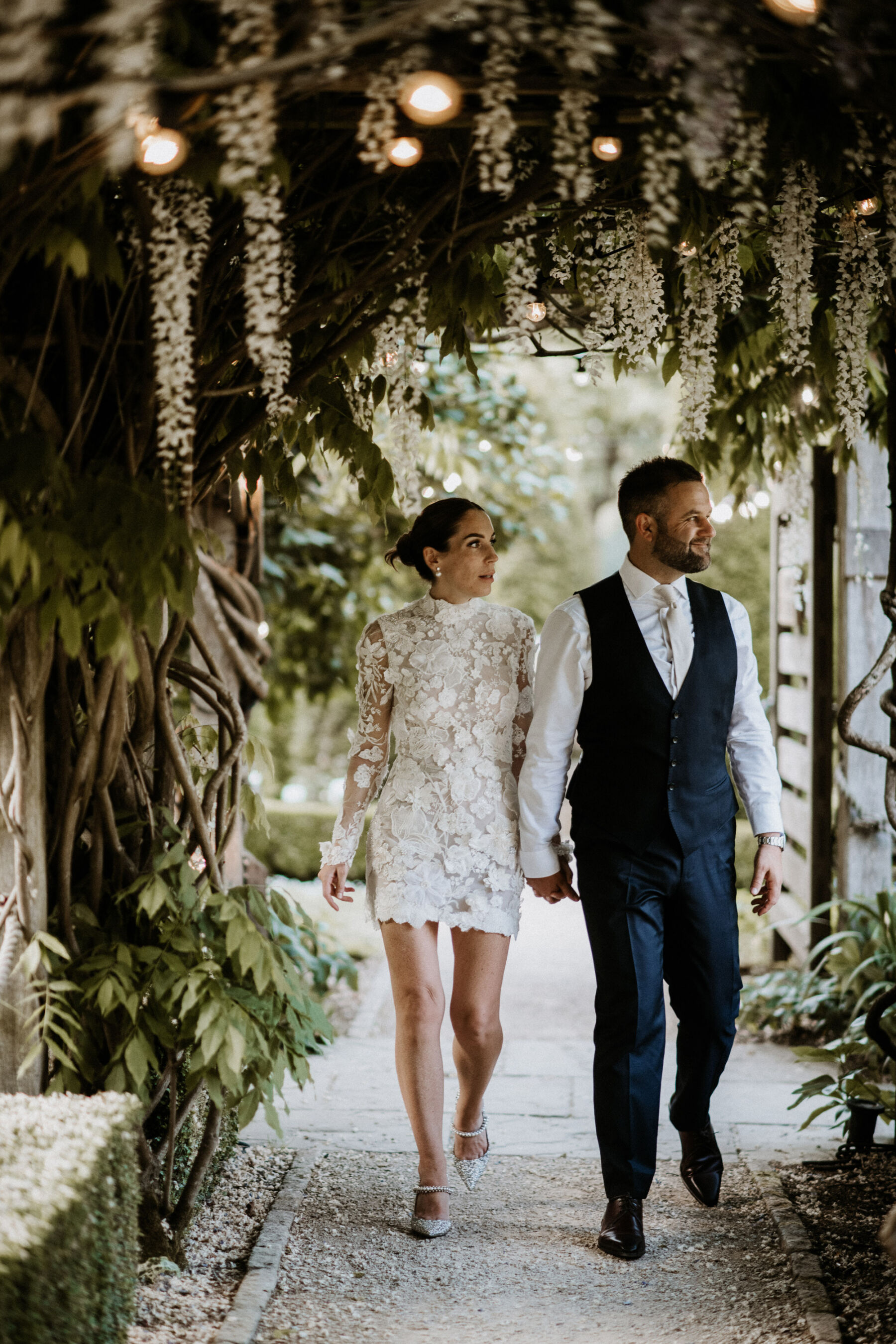 My brother-in-law bought me my Jimmy Choo shoes as a wedding gift. I went for the Baily 100 style with pearl and crystal embellishment. I kept all the other accessories simple because the dress is quite a statement. Because of the high neck, I wore my hair up and then made a last minute decision to wear a sheer Pronovias veil so you could still see the detail on the back of the dress.
I had diamond earrings that were a gift from my dad and pearl ones from my mum. I looped the diamond ones through the pearl ones and wore them together, so I had a bit of mum and dad with me.'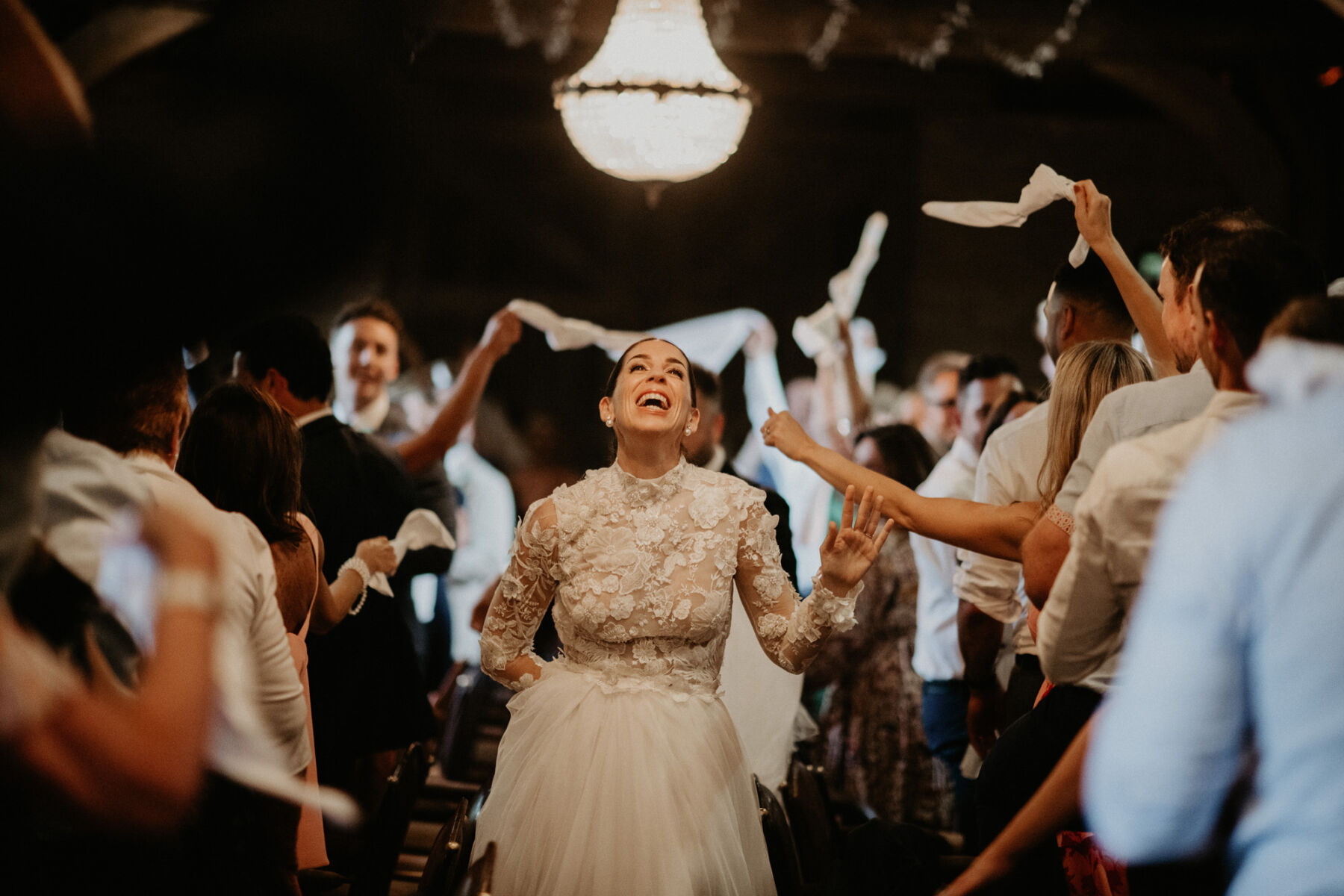 More About Tythe…
Tythe is a collection of beautifully restored Cotswold stone barns and a 17th Century farmhouse set at the heart of Tythe's Manor Farm – the working farm of the Deeley family for over 500 years, all peacefully tucked away from the bustle of the neighbouring market town.
As one of the most established barn venues in the country, Tythe sets a high standard and offers guests expert planning. Its selection of restored barns, farmhouse accommodation and pretty manicured gardens are hired exclusively, for the perfect adult playground. The newly renovated farmhouse is your luxury rural retreat with space for everyone.
Enjoy seven double ensuite bedrooms including a master wedding suite, plus a dedicated pampering space with your own Champagne station. On the ground floor you'll find charming rooms, including a dedicated space for the groom and outside a tennis court, the wood-fuelled hot tub and a Shepherd's Hut for two.
Welcome to the
Love My Dress Shop
Browse the latest handpicked items in the Love My Dress Shop.
Shop by Category
or
Shop by Brand
Love My Dress Wedding Directory Members
The below suppliers and venues featured in this article are part of the Love My Dress Wedding Directory.
Additional Credits
The below suppliers and venues are featured in this article, but are not part of the Love My Dress Wedding Directory.