After a four-year engagement, Dee-Anna Chorney shopped her minimalist look in record time for her wedding to Simon on 25th July at Tythe .
A lot of wedding dresses are aimed at women in their twenties, I'm 46 and I didn't want to look like that.
Most had really big skirts, they were backless, or with cut-outs, or no sleeves. I didn't start looking for a dress until four months before the wedding. We had been engaged for nearly four and a half years, so we were already living the marriage, we just hadn't had the wedding yet.
We had a baby boy, then my dad died when our son was six months old, so I wasn't going to rush into a big celebration.
Then came the pandemic, and the perimenopause so I started personal training and within a couple of months I felt a lot better about dress shopping.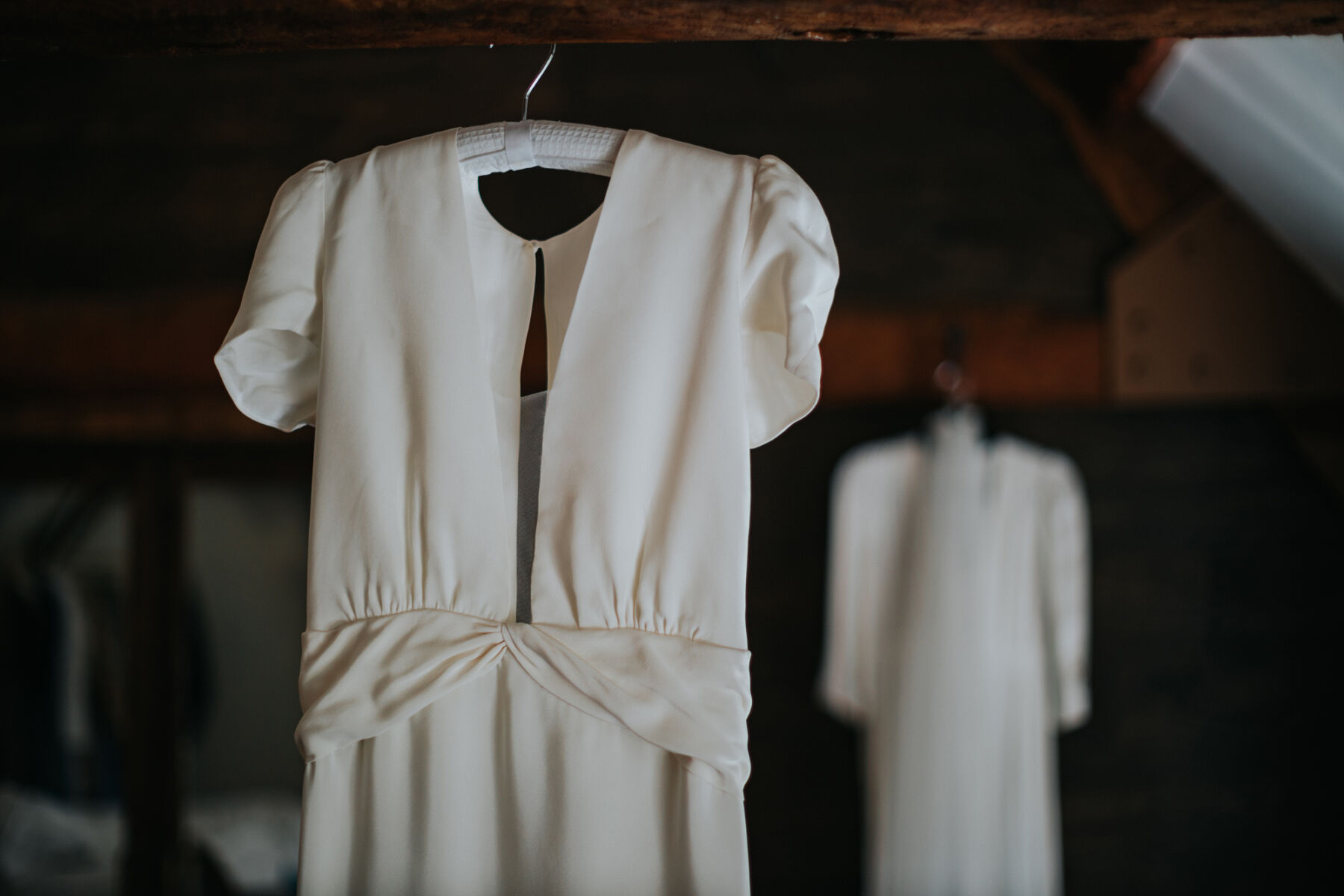 I went to a few bridal boutiques and also looked on the High Street. I worked out very quickly that I wanted something minimalist; no lace, no sequins, I needed something in Mikado or silk satin.
When I tried on bigger dresses, I just couldn't see how I would move around in them. I was still going to have a four-year-old with me on the wedding day.'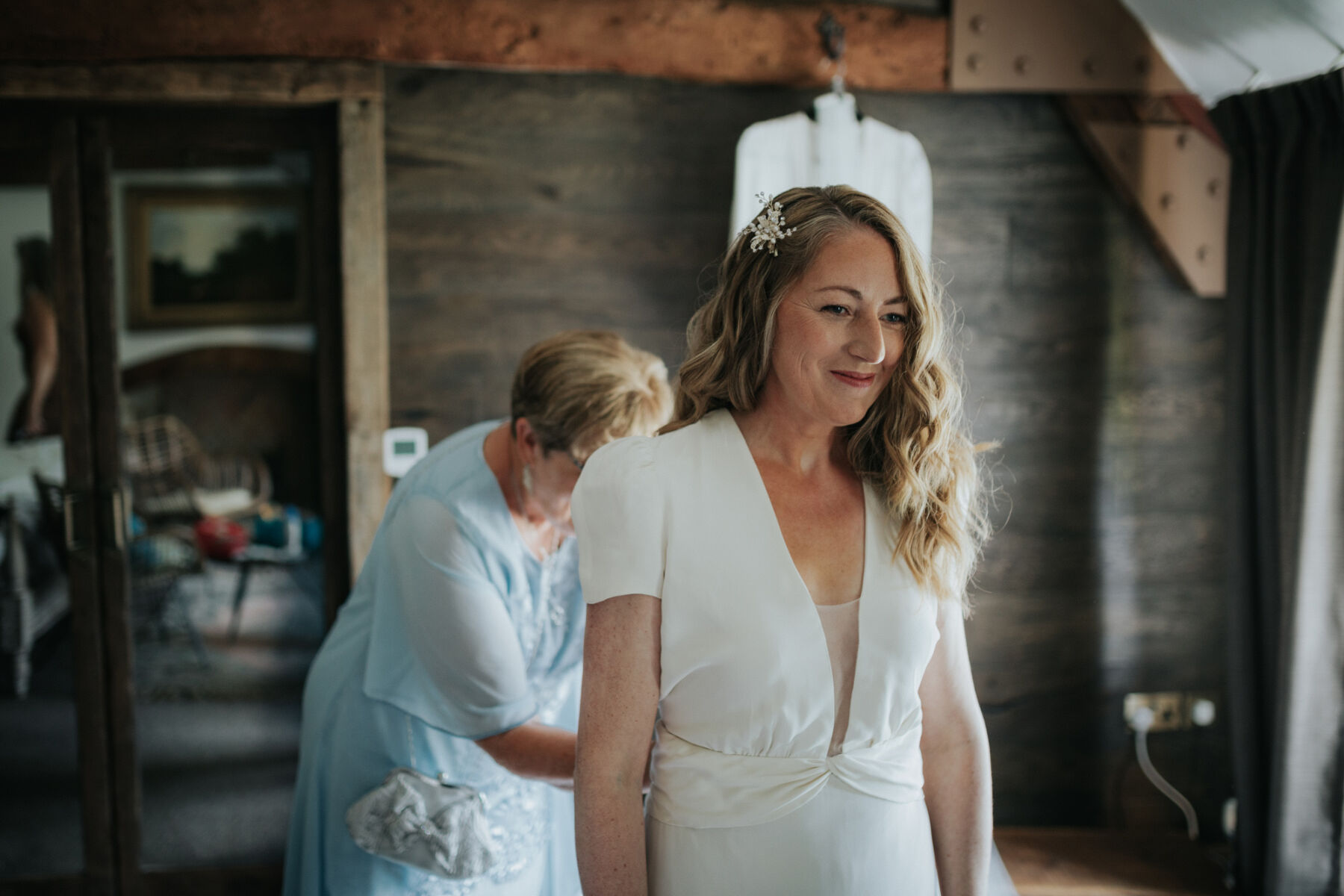 When I was doing my vows, my son wrapped himself in my veil, I could feel my head pulled backwards. My veil and dress are from The Mews Bridal in Notting Hill. I was standing by the checkout paying for the dress in my jeans when I realised, I needed a veil.
They put one on me briefly but I'm not even sure I looked in a mirror. My Caroline Takvorian dress was in the sample sale. I picked dresses in advance that I thought might fit and then when I got there a few of them had been sold already.
I tried on five and this one was the clear winner. It's made from a light silk fabric with cap sleeves and a small train. It has one button at the back of the neck and then it opens, but only into a slit so I never felt like my back was fully on show. Initially I was unsure about the very low neckline. It could have looked too seductive but because of my body shape it was fine.'
The Designer
Originally a ready-to-wear designer, Caroline Takvorian now has bridal boutiques in Paris and her native Lyon and is stocked by The Mews Bridal in Noting Hill and Bristol.
Caroline Takvorian designed her first wedding dress in 2014 following her own engagement and today is known for being inspired by Parisian Haute Couture and for creating dresses that are modern, fluid and ultra-feminine and, in some cases, that can be worn again.
The dress had obviously been tried on a lot – there were marks, pulls in the fabric and some loose stitching around the waistline. It was from a couple of seasons before so I couldn't buy a new version of it. The tailor fixed everything. The dress was big on me when I first tried it on, but it was washed before the wedding, and shrank down to fit perfectly which was lucky because it could have gone too far.
Originally, the plan was to put a panel of different fabric into the very low neckline, but the head tailor insisted that changing it would ruin the dress. We kept the very sheer panel and I used boob tape to make sure everything stayed in place. Underwear was a bit of a challenge. I bought an all-in-one that was wired, and the tailor adapted it for me, but it just forced my boobs out sideways.
The Saturday before our wedding on the Tuesday I tried it all on and knew it wasn't going to work so after some online shopping, I now have all kinds of stick on bras and Spanx bottoms. My Ivory & Co hair accessory was from John Lewis, I picked it up from Waitrose on the Sunday, and we drove to Tythe on the Monday.
My favourite image of the dress is…
One where I am surrounded by our friends and family who had flown in from Canada, the US, Australia, Argentina and Italy. It was really special to look around everywhere and see people who you love and some that you don't get to see very often. It just makes me want to do it again, but we can't, it's a once in a lifetime thing.
I don't know if I'll keep the dress. I may take it to Brides Do Good where it can be resold for charity.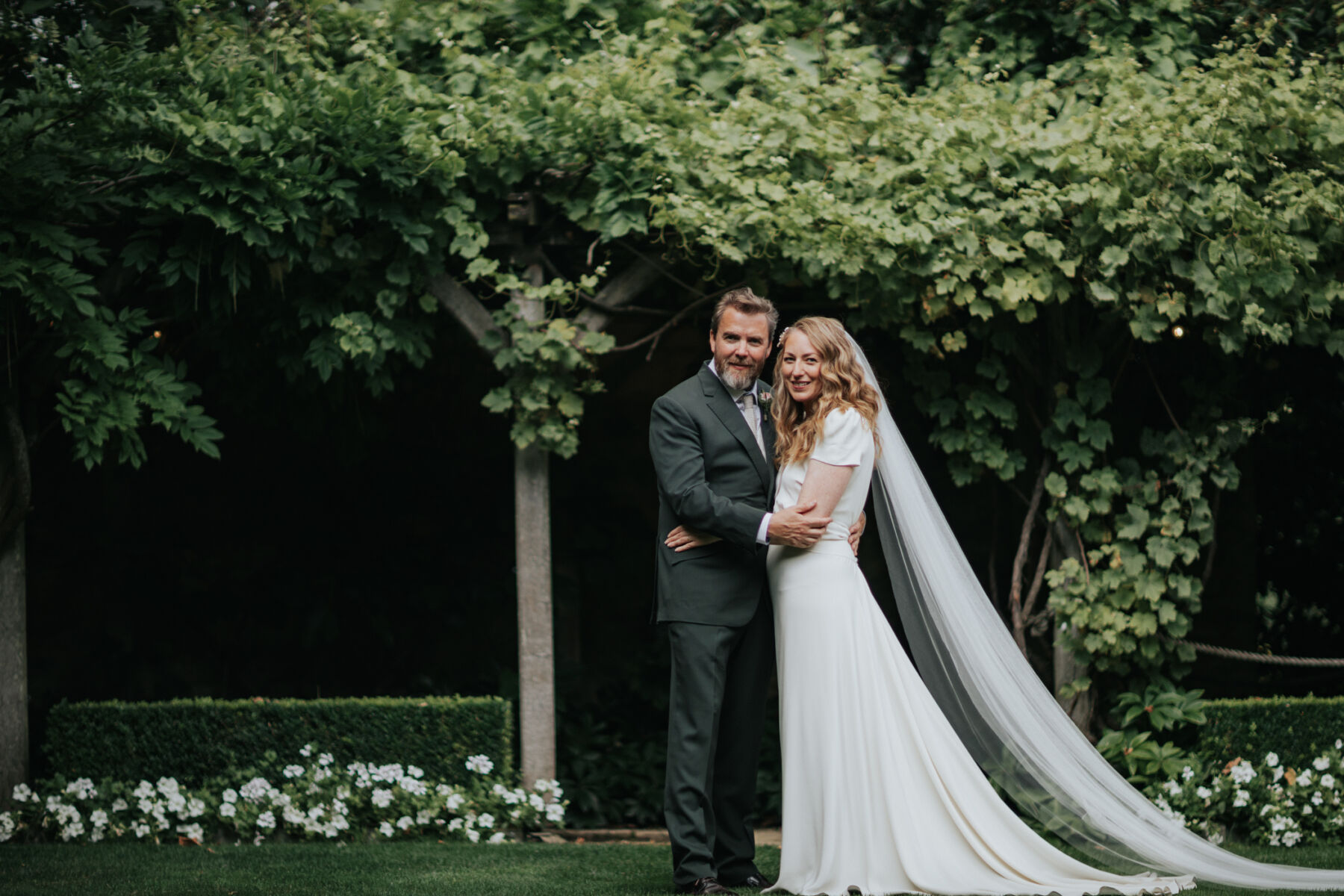 We didn't need to look at a single other wedding venue…
We were staying in the farmhouse that my husband grew up in, on the family farm. It's such a beautiful place, I know they host weddings so well and it's so meaningful to the family.
The setting is familiar but getting married wasn't.
But once we got to the farmhouse the day before and unpacked, I was feeling calm and got off to sleep easily that night. We had a picnic lunch the day after the wedding, some people played tennis and the kids ran around.
We moved the wedding flowers over to the farmhouse so we could enjoy them for a bit longer. One of my favourite memories of the day was my husband's speech in the main barn, he did a really amazing job. It was sweet and loving and funny, the best bit.
Simon may have seen a glimpse of the dress on my phone, and he loved it. I had so many compliments on the day. One woman in particular kept saying how perfect it was, how it was the best wedding dress. It felt just right to me, a minimalist dress but with its special touches too.
More About Tythe…
Tythe is a collection of beautifully restored Cotswold stone barns and a 17th Century farmhouse set at the heart of Tythe's Manor Farm – the working farm of the Deeley family for over 500 years, all peacefully tucked away from the bustle of the neighbouring market town.
As one of the most established barn venues in the country, Tythe sets a high standard and offers guests expert planning. Its selection of restored barns, farmhouse accommodation and pretty manicured gardens are hired exclusively, for the perfect adult playground. The newly renovated farmhouse is your luxury rural retreat with space for everyone.
Enjoy seven double ensuite bedrooms including a master wedding suite, plus a dedicated pampering space with your own Champagne station. On the ground floor you'll find charming rooms, including a dedicated space for the groom and outside a tennis court, the wood-fuelled hot tub and a Shepherd's Hut for two.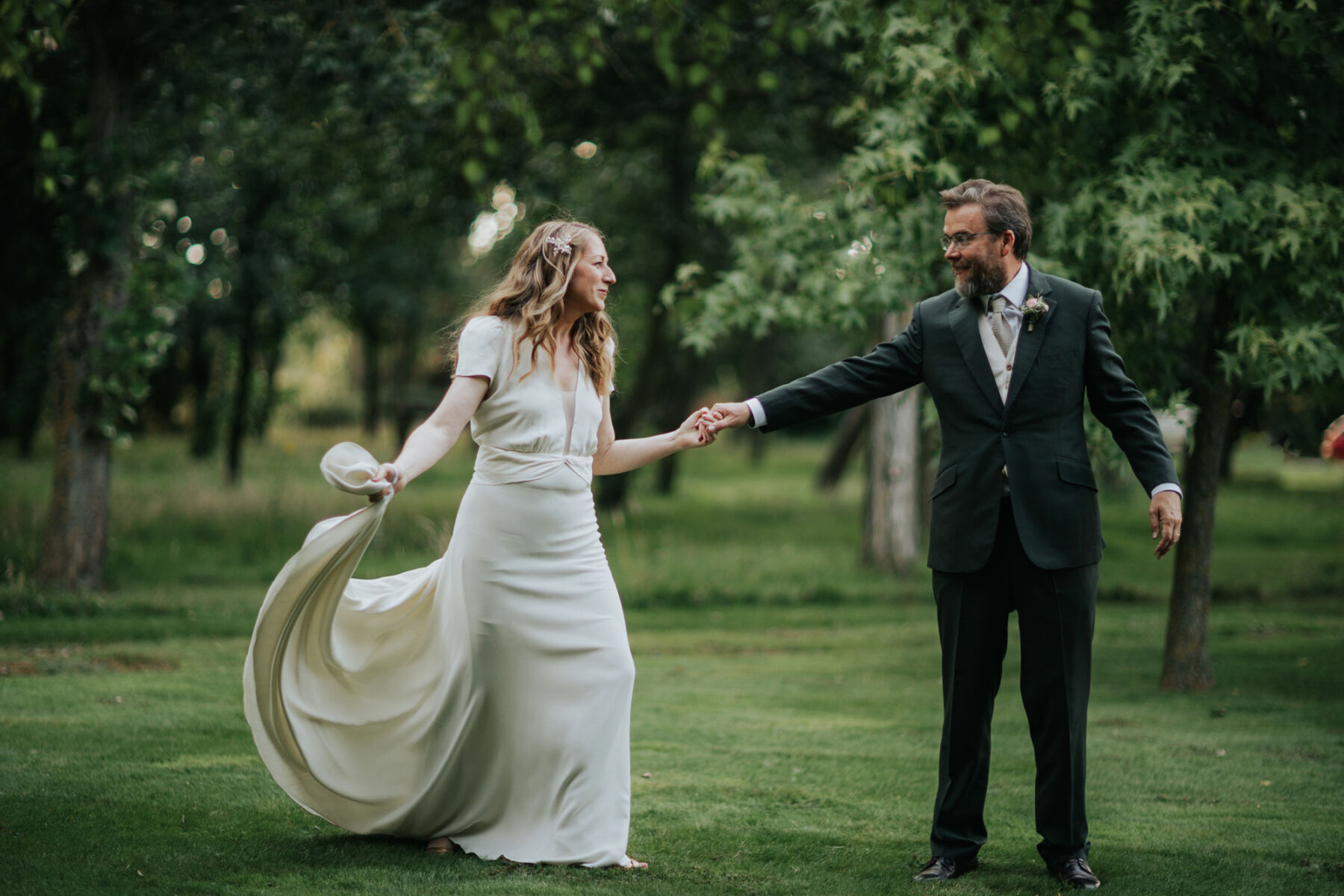 thetythebarn.co.uk