It is an absolute delight to be sharing this collection with you today. South Yorkshire bridal hair accessory designer, Debbie Carlisle, is a long time creative partner of Love My Dress and I have adored watching her business grow over the past decade.
From her Sheffield based studio, Debbie handcrafts all her bridal headpieces using fine, sustainably sourced materials of the highest quality. Her beautiful pieces are inspired by nature and natural forms. They make the perfect addition to any modern bridal look and will compliment all gowns and bridal looks.
You will find Debbie listed in the Love My Dress directory and you can enjoy all her previous features here on Love My Dress.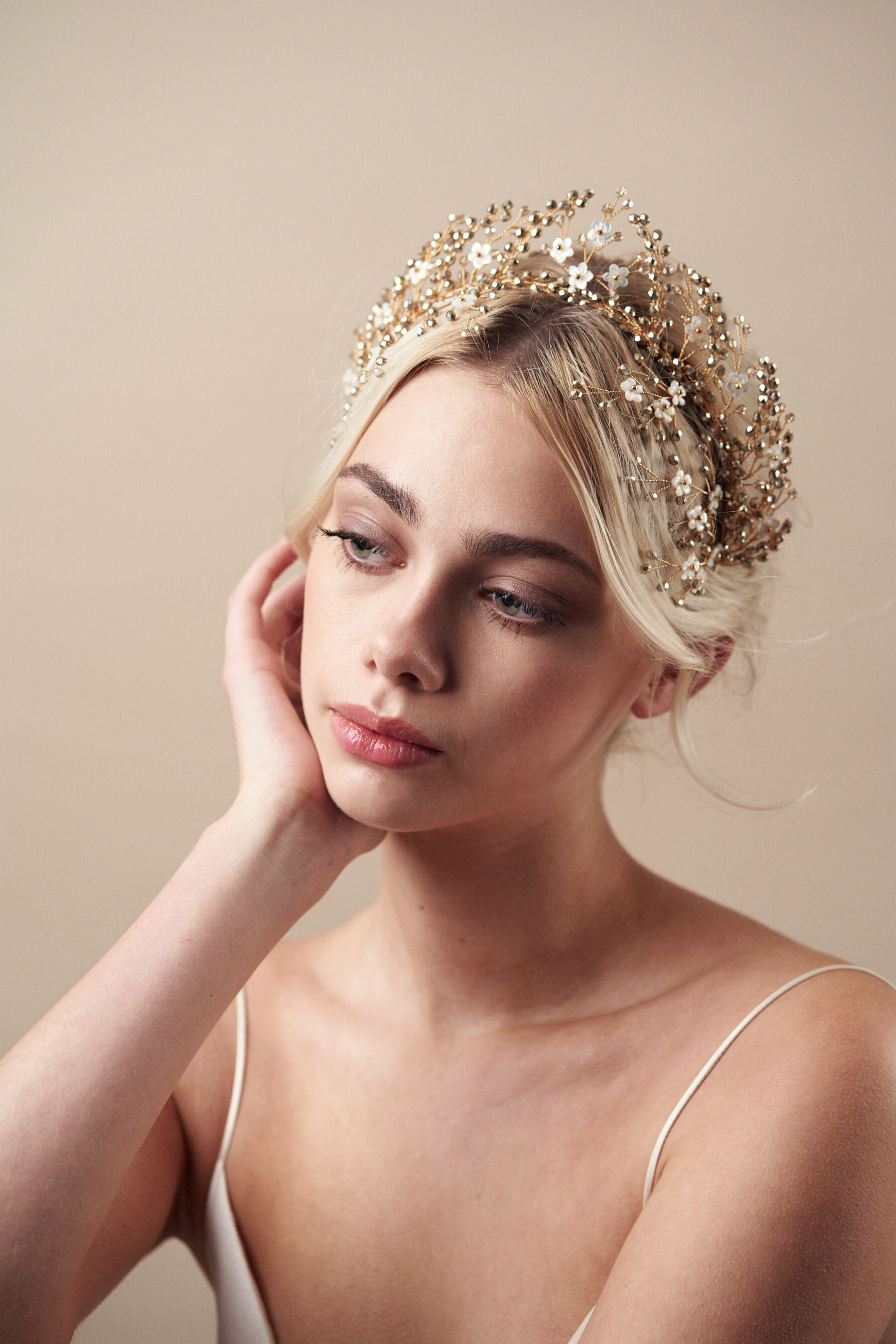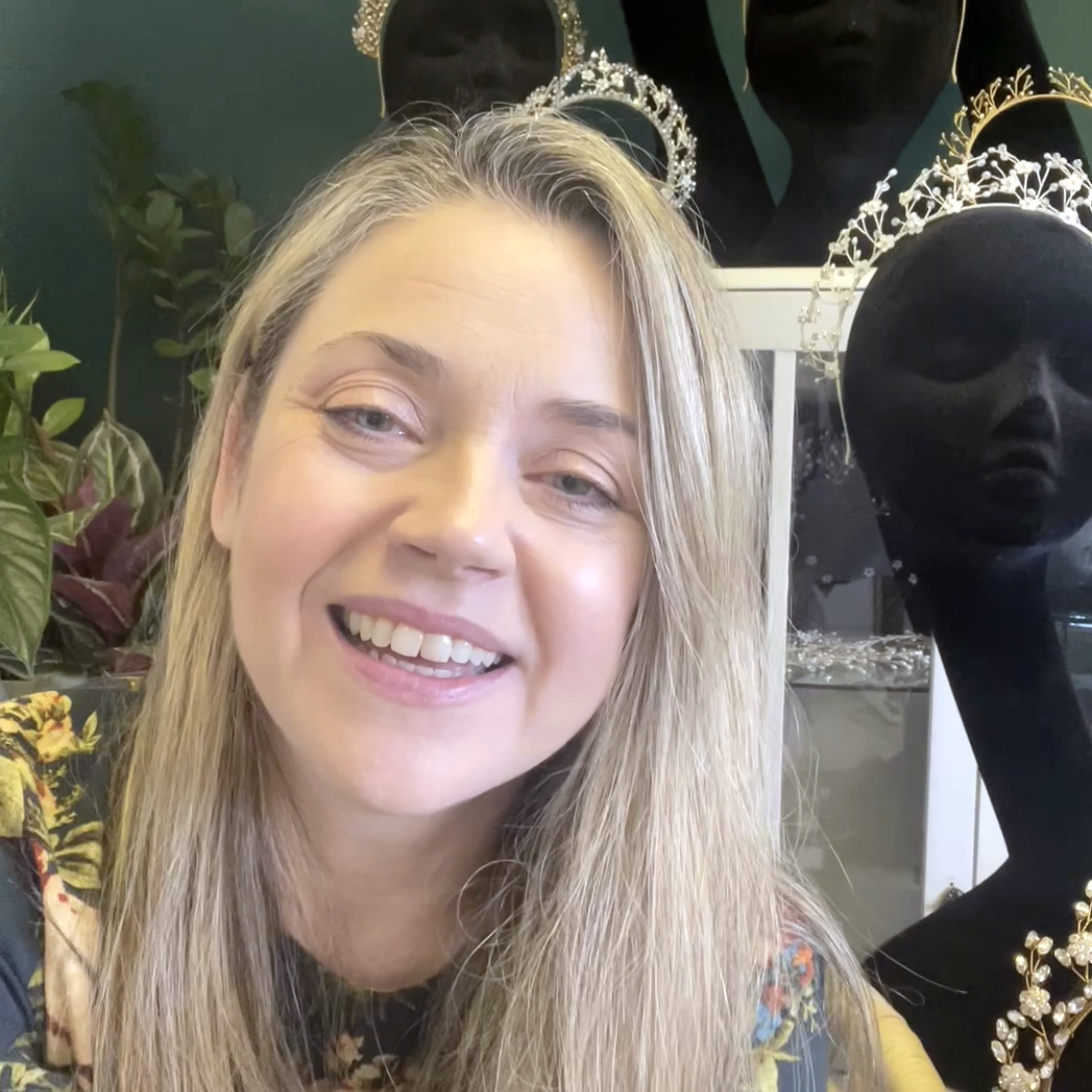 Debbie Carlisle, please introduce yourself to our readers
I'm Debbie Carlisle and I design and make wedding hair accessories for modern brides using luxury materials which are crafted entirely by hand here in the UK.
Can you tell us about the inspiration behind your beautiful new collection of handmade bridal hair accessories?
I was inspired by the idea of creating a collection of individual headpieces fit for a Goddess – to create magical, mesmerising wedding hair accessories that encourage the wearer to express their individuality. I wanted my pieces to be as strong and bold as they are feminine and beautiful, as memorable and lasting in time as they are fleeting and ethereal in style.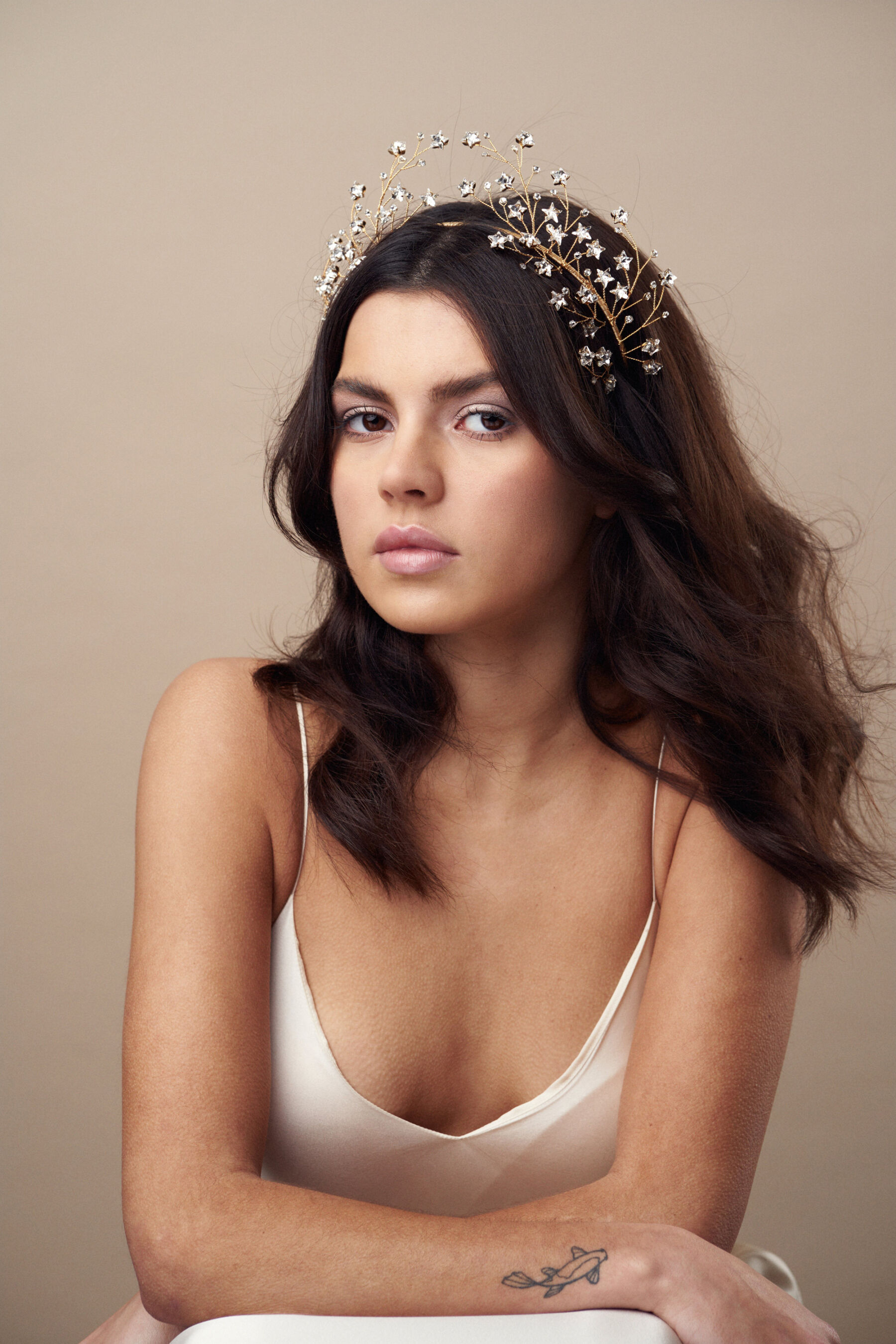 I'm really excited about what I've been able to do with the new collection in terms of versatility and expression of self – much of the new collection is made up of handcrafted jewelled crowns with strong yet flexible hand-wired strands which can be adjusted to change how the crown looks. The crowns can easily be made to sit higher or lower and given more or less volume too.
I've also created hairpins to be teamed with all the crowns and headbands in the collection to add a suggestion of movement and drama – from tiny crystal hairpins to larger floral designs that can be used to extend the accessories over the head as if the piece is growing and trailing like wild botanicals. These hairpins can also be teamed with hair vines and combs from my previous collections.
I've also created gorgeous ivory satin padded headbands with different birdcage veil options, including one design with an adjustable veil attached that can be worn in different positions and is an incredibly easy way to wear this style of veil if you're not used to wearing one!
You can also stack the crown and headband designs to create a whole new look with extra drama which I love!
The new designs range from minimal headbands and chic birdcage veils to more dramatic hand wired designs – with something for every style of bride and outfit from ethereal or boho styles to timelessly elegant pieces and modern and retro styles.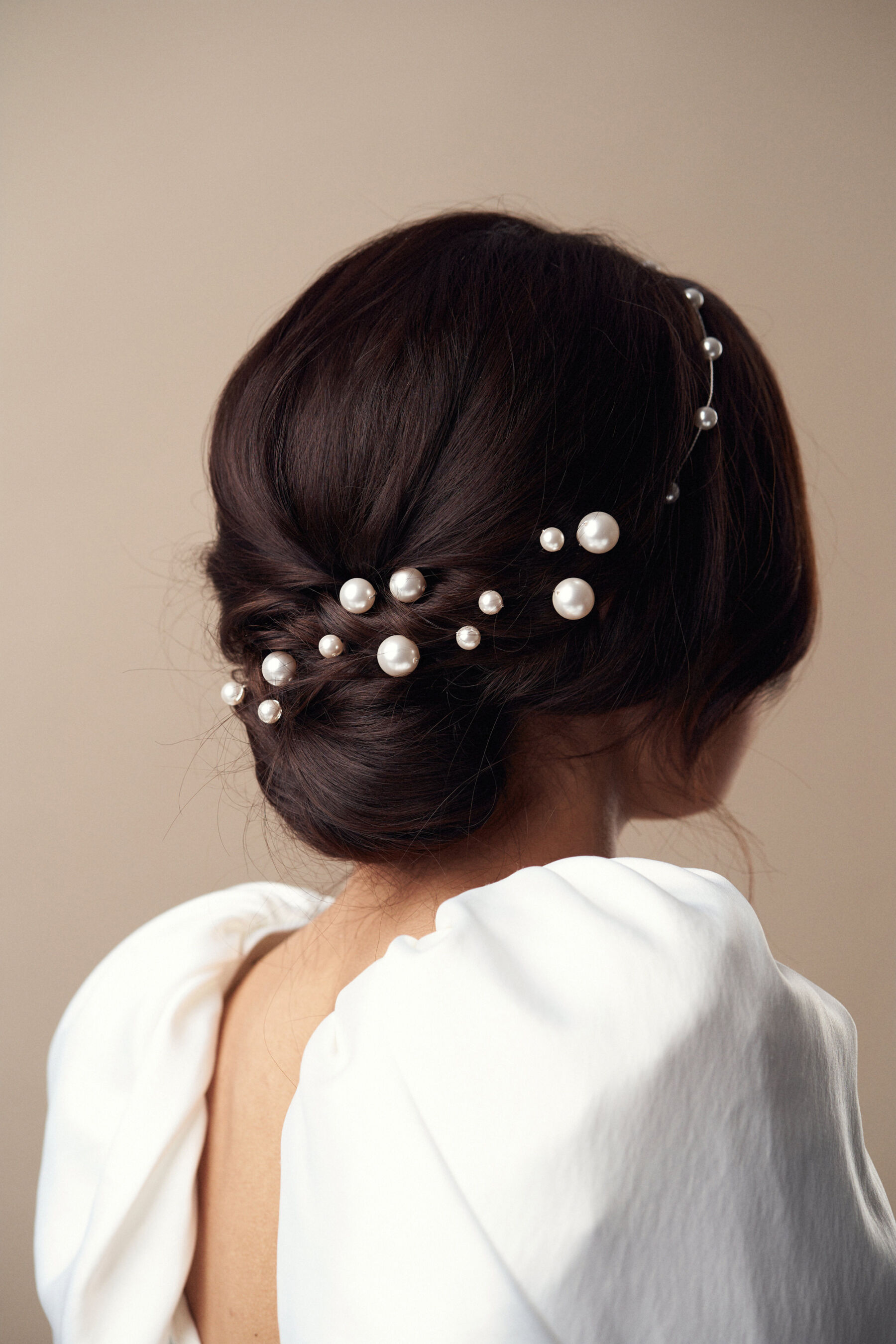 What materials are you using principally?
I work with the best quality pearls and choose high lustre crystals from the top European suppliers. I also work to source more unusual colours which include crystals with antique gold, deep silver, pale green, and gorgeous creamy champagne finishes as well as the more usual clear crystals with gold, silver or rose gold plated settings.
In some crowns I've only used clear crystals which adds to the ethereal, dreamy quality of the design and gives it an almost shape-shifting quality, so as you move through different settings and different lighting the headpiece takes on a different look and intensity which I love.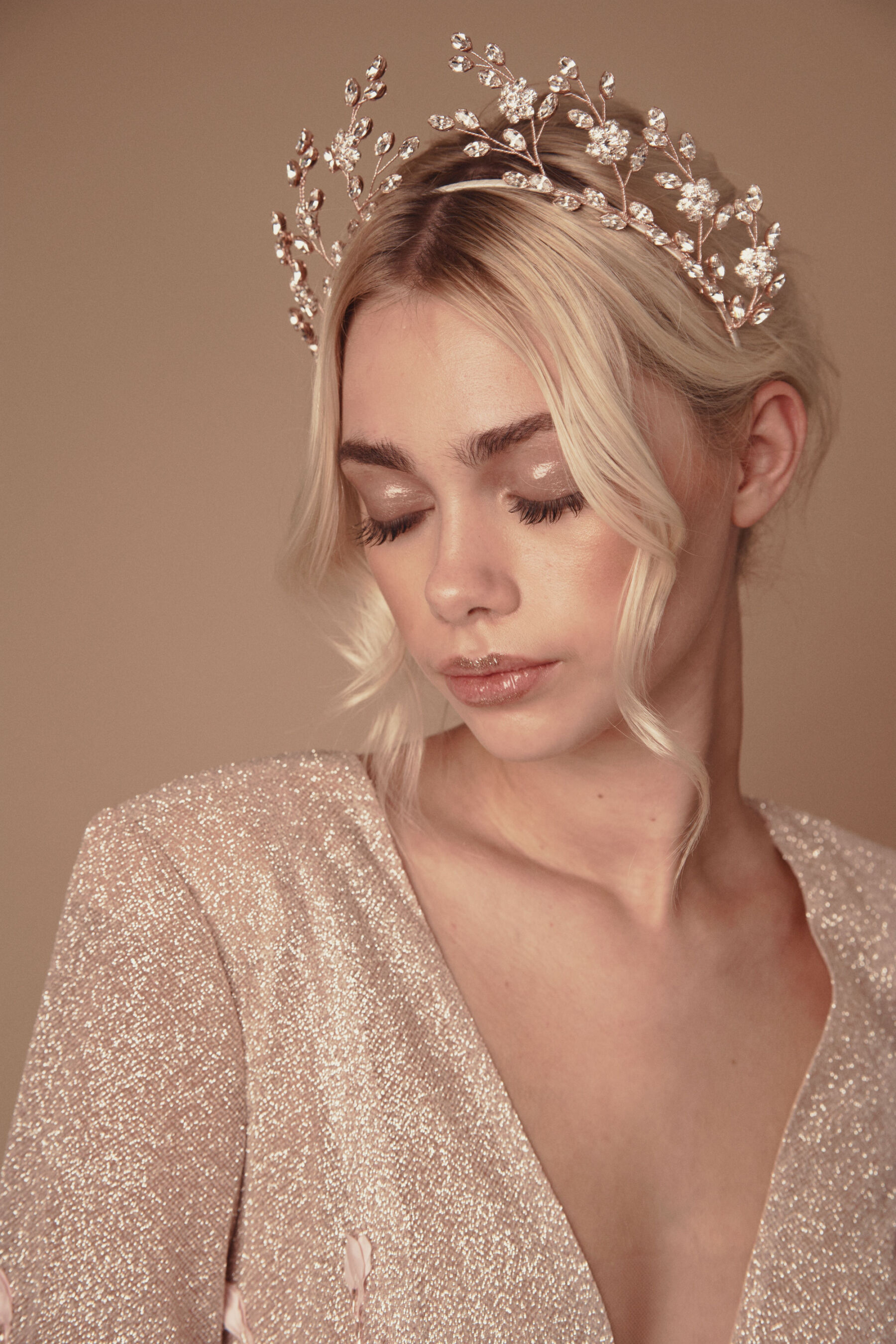 What efforts are you making to become a more conscious business – are the materials you use sourced ethically?
I source sustainable materials wherever possible, and I'm really happy to see how my suppliers are changing to be more sustainable and ethical all the time. I choose my materials and packaging for their quality as well as their approach to ethical and sustainable production.
I also offer carbon neutral shipping options and we plant a tree for every accessory we sell, using a highly regarded partner which carefully chooses which eco projects they support to ensure we do the best good.
I also work hard to create designs that will last and be worn again. This collection is the result of a long and carefully considered design process to create a thoughtful and truly special collection unlike anything else. A collection that is lovingly made using lasting techniques to be worn long beyond the wedding day – as an heirloom of the future and a gorgeous accessory to be worn for special events or date nights for years to come.
As well as your beautiful collection, do you also create bespoke designs?
I offer bespoke designs and colour options for brides who love my style but don't see the exact piece they would like – and this can be done online or in person during a private consultation in my design studio and showroom in Sheffield. Consultations are free and not limited to bespoke clients.
Anyone is welcome to explore my collections in person, see where I create my designs, try on accessories and receive personal styling advice from me.
What advice do you have for brides considering their hair accessories for the first time?
Think about things like your dress, your venue and your other accessories as well as your hairstyle as they will all need to work together with any headpiece you choose.
It's also worth thinking about what's important to you – whether you want a cheap accessory for the day or you want something of artisanal quality which is handmade with love and care that can be treasured, worn again and again and passed down to future generations.
If you do your research and follow a few favourite designers online you'll get a feel for how they work and how they create their pieces. I love to share videos of me at work so my clients can see how I make my pieces and feel involved in the process.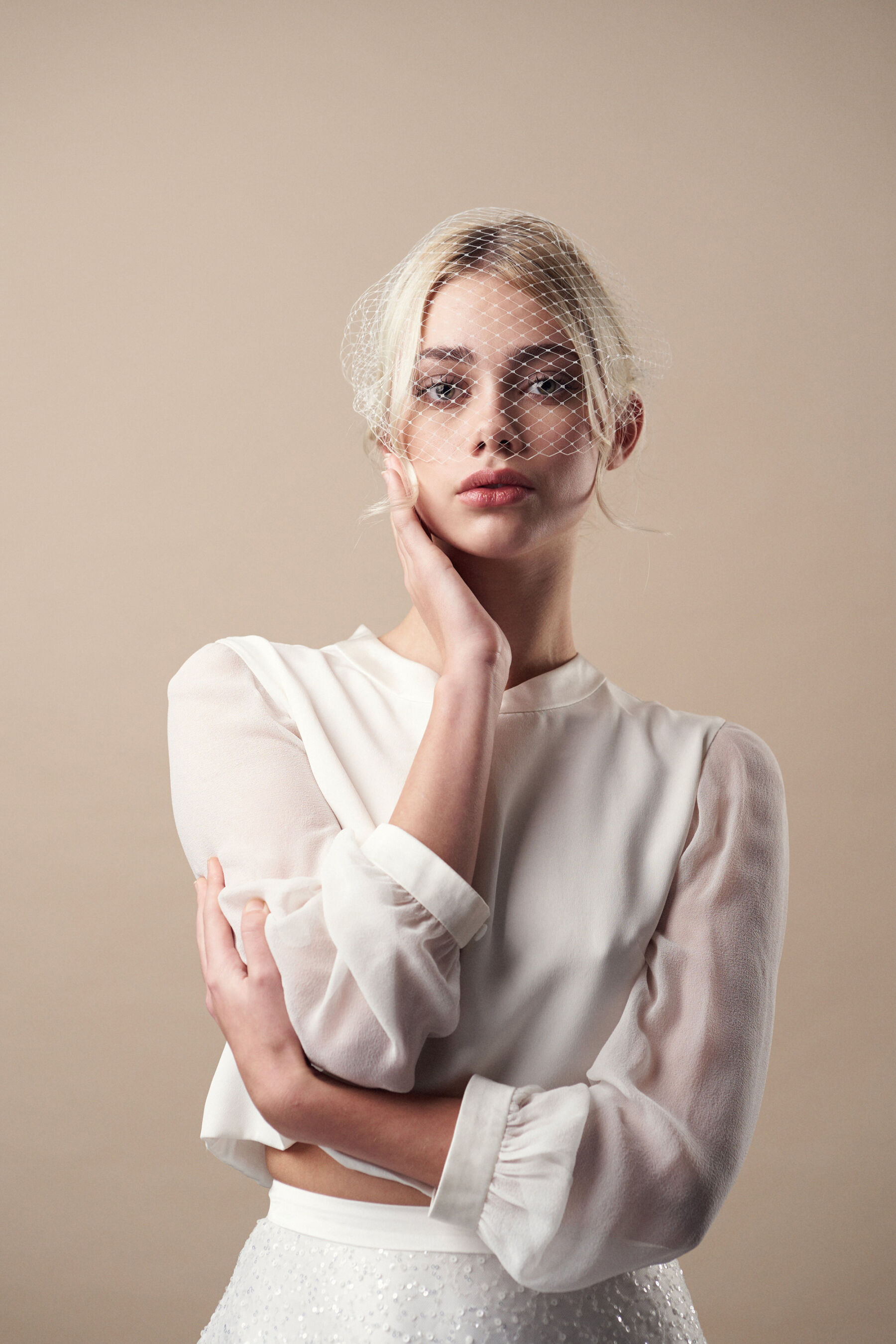 What would you say to brides who may be hesitant about accessories?
If you're not used to wearing a hair accessory and are unsure about what to go for then I would say to book an appointment with a designer or stockist to talk through options and try on a few different designs.
An experienced bridal hair accessory designer or bridal boutique stylist will be able to help you find something you feel comfortable in and that finishes off your look perfectly. A headpiece can really help you to feel more bridal and to complete your look – and it can be anything from a couple of simple pins or a comb to a statement crown or headband.
It's a great option if you don't plan to wear a veil or expect to take it off part way through the day. Adding a hair accessory for your evening reception is also a simple way to change up your look from day to night.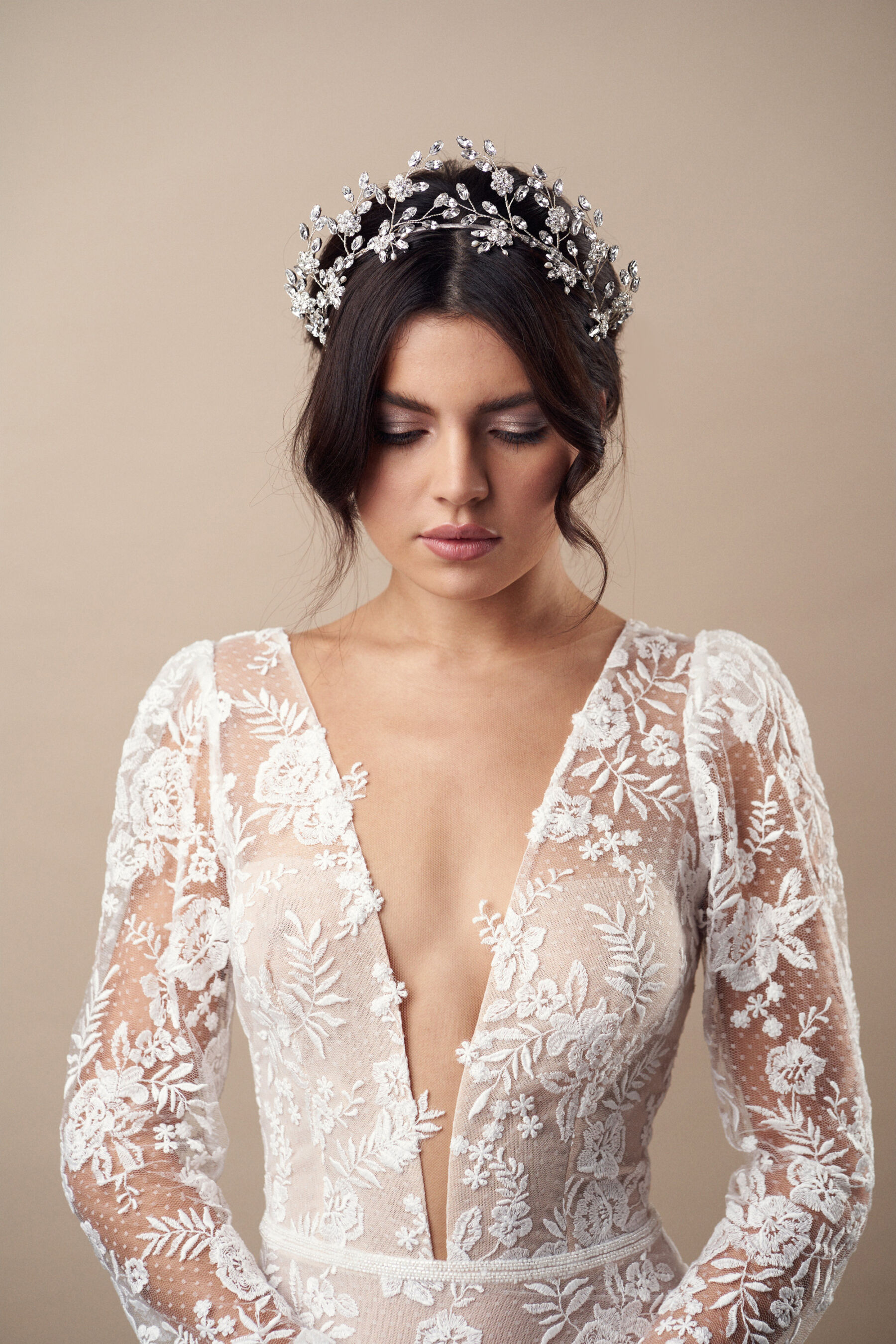 Can you advise on how to style bridal hair accessories with curly hair?
I hear from a lot of brides with short or curly hair who think a wedding hair accessory isn't an option for them – but it's just a question of finding the right piece for their look, and there are more options than you might think.
There are also lots of tips and tricks for securing combs and hairpins in short hair so you don't have to only look at headbands or crowns.
With curly hair it's especially useful to think about how you want to wear your curls first and then choose your accessory to fit with your style. A consultation can be a great way to try different options with some expert advice and there may be bespoke tweaks I can make to a design to enable it to work with different hairstyles. I do this a lot for brides with short hair or curls.
Can you tell us how much Debbie Carlisle designs cost?
Prices range from £25 for a single hairpin to £495 for my larger and more intricate designs. My crowns range from £225 to £345 with the option to add hairpins or bespoke elements for an additional cost.
I make my pieces to order and have a standard lead time of 2-3 weeks before dispatch – or one week if you upgrade to a rush order for an additional fee. I offer free standard shipping on every accessory worldwide and overseas customers can also upgrade to a rush courier with carbon neutral shipping.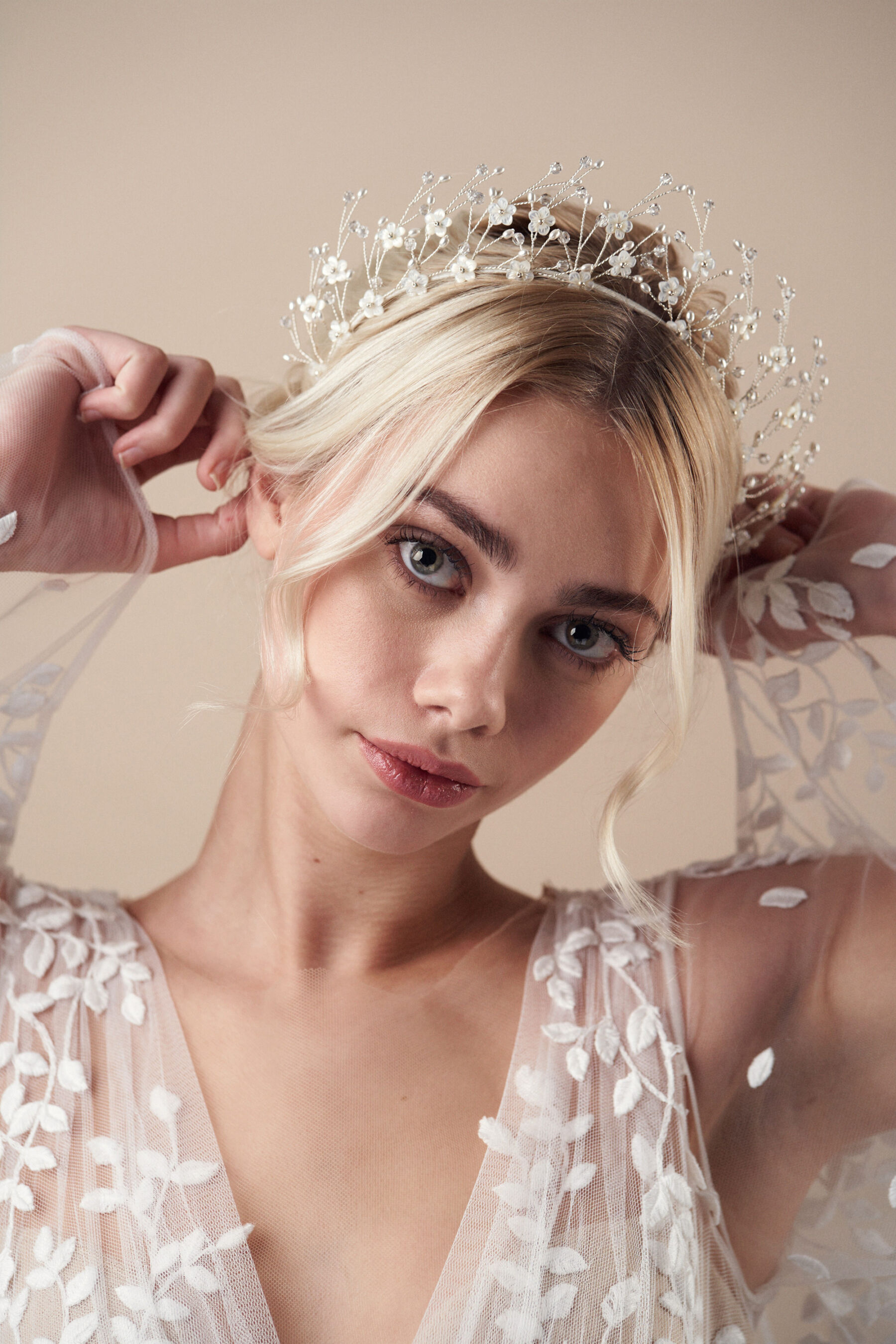 What are your plans for this year?
We're actually preparing to move to a new studio space in a fantastic former steelworks in Sheffield which I'm so excited about. I love the idea that I will be continuing the metalwork tradition of this building in my own way and the fact that it's closer to my home which means I can ditch the car and walk to work.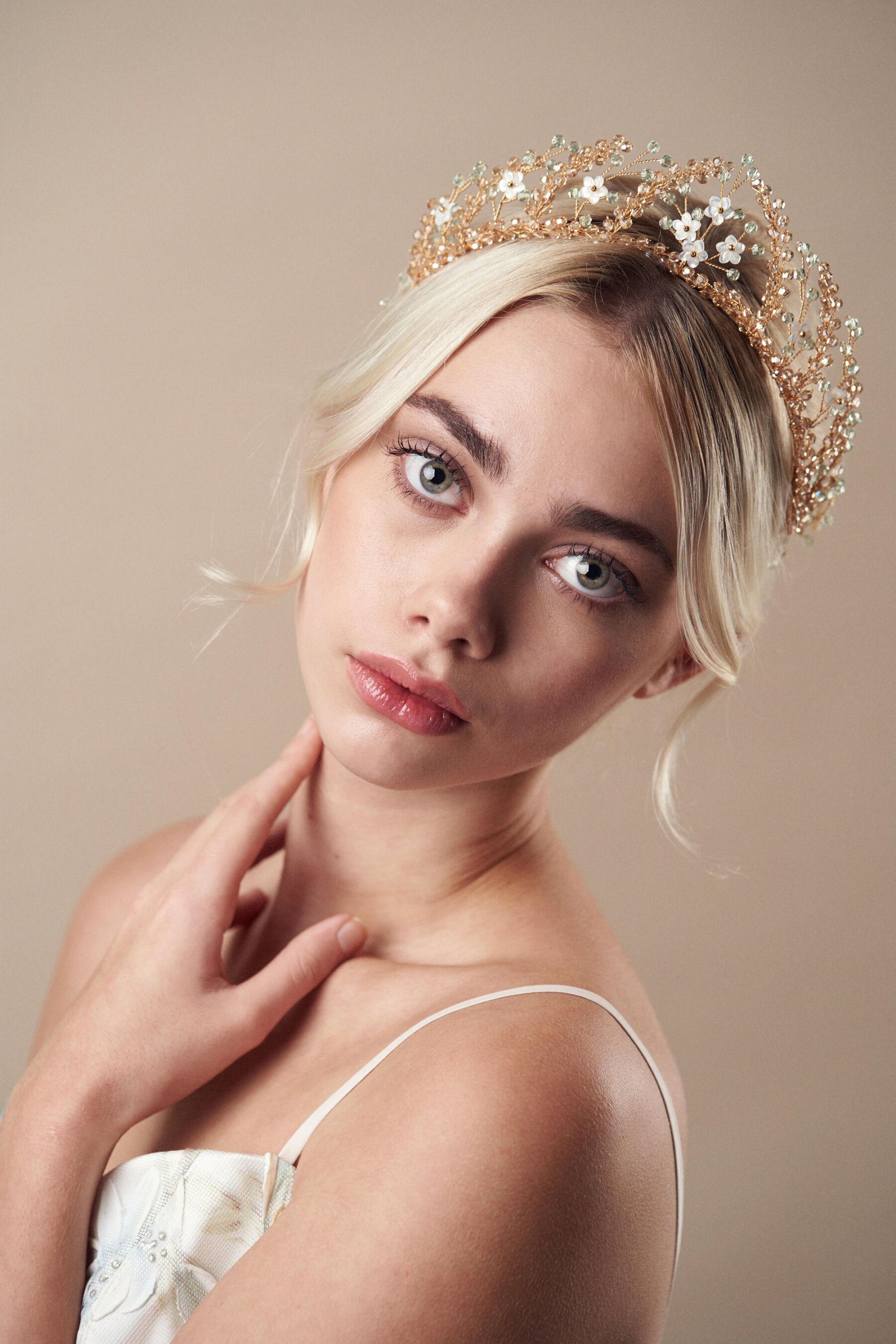 There's a gorgeous little cafe with a courtyard in the same building with live music and other amazing events always going on, and a friendly community feel which I think my brides will love.
There are also some great restaurants nearby which I will be recommending to my visitors!I'm expecting to be ready to welcome brides for consultations in March, just as wedding season really kicks off.
Get in touch with Debbie Carlisle
Debbie would love to hear from you if any have any queries about her pieces or would like to commission a bespoke design to wear on your wedding day.
Debbie Carlisle Ltd
Exchange Place Studios
Exchange Street
Sheffield
S2 5TR
debbiecarlisle.com