Tousled tresses and natural corkscrew curls are big news right now in the bridal world. A more natural, relaxed, untamed look is emerging
Bridal hair accessories designer, and our Little Book wedding directory member, Debbie Carlisle, has joined forces with wedding hairstylist Jenn Edwards to give Love My Dress readers expert advice and styling ideas for wonderful waves on your wedding day.
First up are Debbie's top tips for styling wedding hair accessories with curly hair – followed by a not-to-be-missed guide from Jenn to prepping and styling natural curls for your big day.
Images by Maytree Photography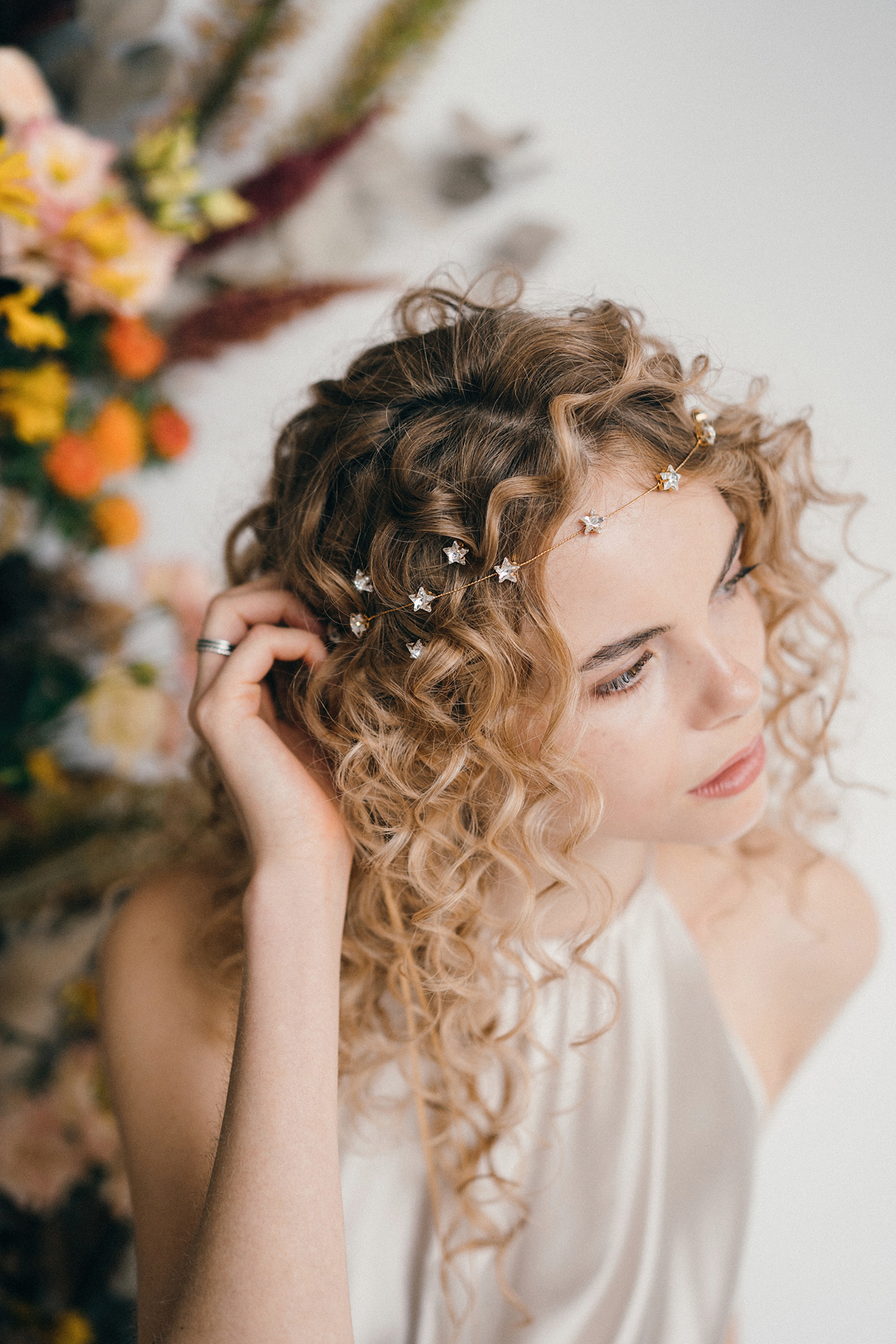 Star – Swarovski crystal wedding headband in gold or silver
If you're a curly haired bride – or you want to be – it can be especially difficult to decide on the perfect style and headpiece for your wedding day.
You might think that the only hair accessory option for curly hair is a statement headpiece to ensure it doesn't get 'lost' among your ringlets or waves – or maybe you think your curls mean wearing a wedding headpiece isn't an option at all.
This couldn't be further from the truth – and no matter what kind of bridal headpiece you're drawn to there are lots of different ways to style wedding hair accessories with curly hair.
With this in mind I wanted to create a series of different curly haired looks to help inspire brides and so I teamed up with one of my favourite wedding hairstylists – Jenn Edwards – to create some beautiful styles on our model, Beth, using accessories ranging from the tiniest hair pins and most delicate hair vines to simple classic combs and big, bold headpieces.
Here's what we came up with!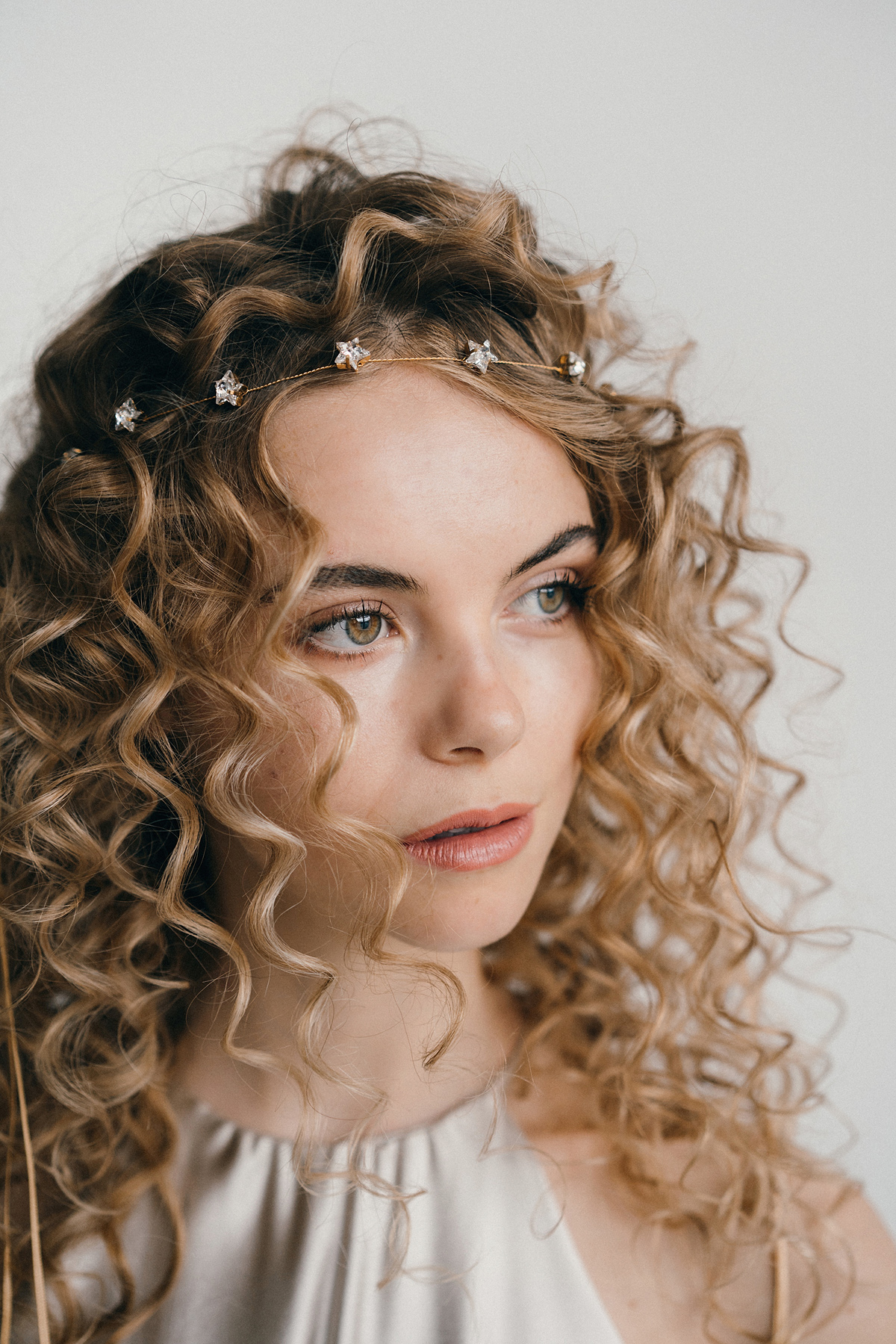 Star – Swarovski crystal wedding headband in gold or silver
Big curls don't mean you can't wear a delicate ethereal headpiece – this super-simple Star hair vine really stands out against Beth's gorgeous ringlets and gives this natural style a modern bridal look. A good way of working with natural loose curly hair is to place a headband or hair vine just on or above the hairline – this stops the piece weighing down the curls too much and creates a beautifully relaxed bridal look.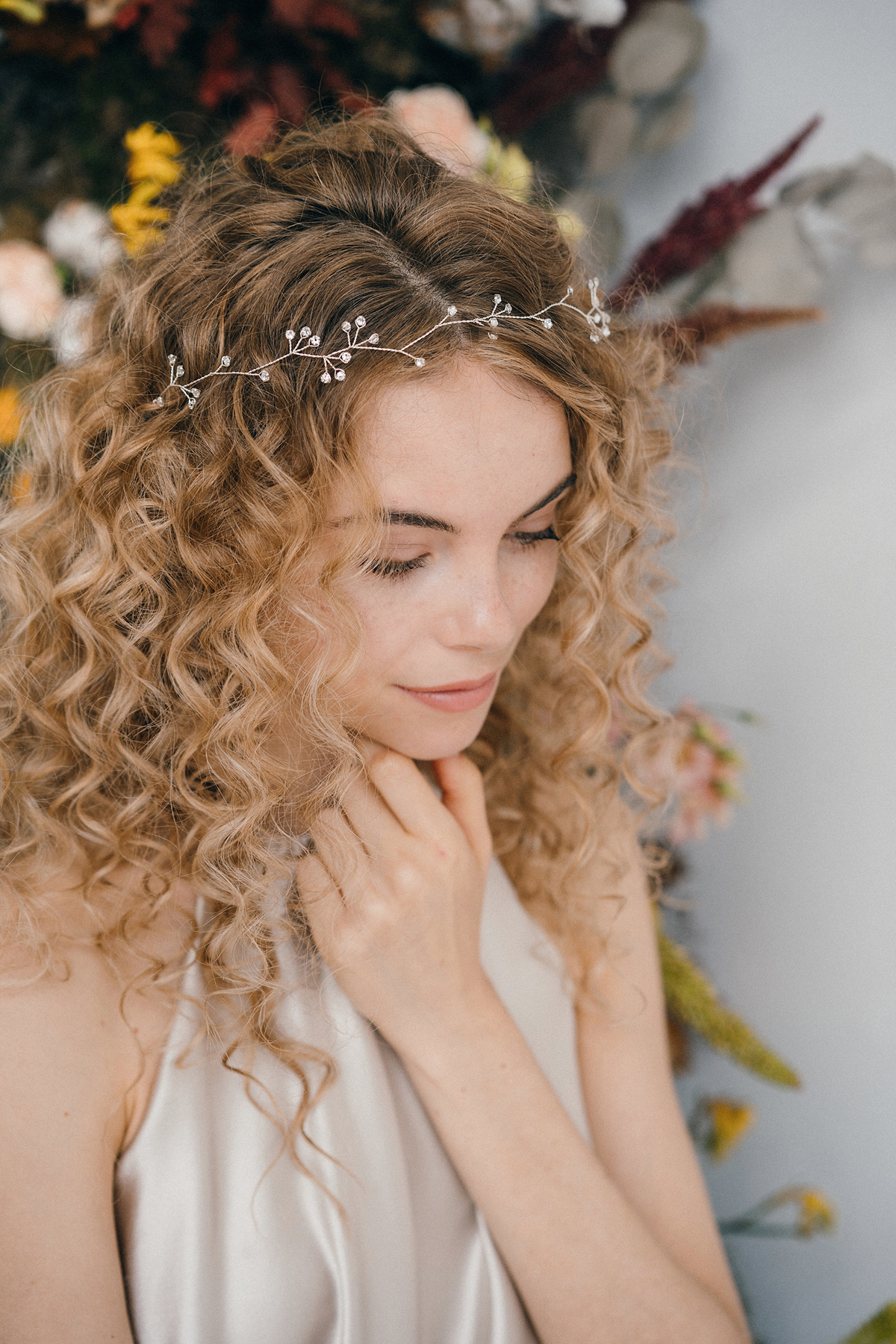 Celine – simple crystal or freshwater peal hairvine headband
Here we placed the Celine Swarovski crystal hair vine just above the hairline – to stunning ethereal effect – and then we simply added the coordinating Celeste hairpins trio set (below) to one side to create a stronger but still delicate look. This is a great way of changing up a simple day time look to a more dramatic evening look without having to make any big changes to your hairstyle. And the great thing about curls is that they're really good at holding hairpins and vines in position!
Having said that I would recommend using Kirby grips or Bobby pins to hold your hair pins in place super-securely so you can dance the night away without worrying about them moving or falling out!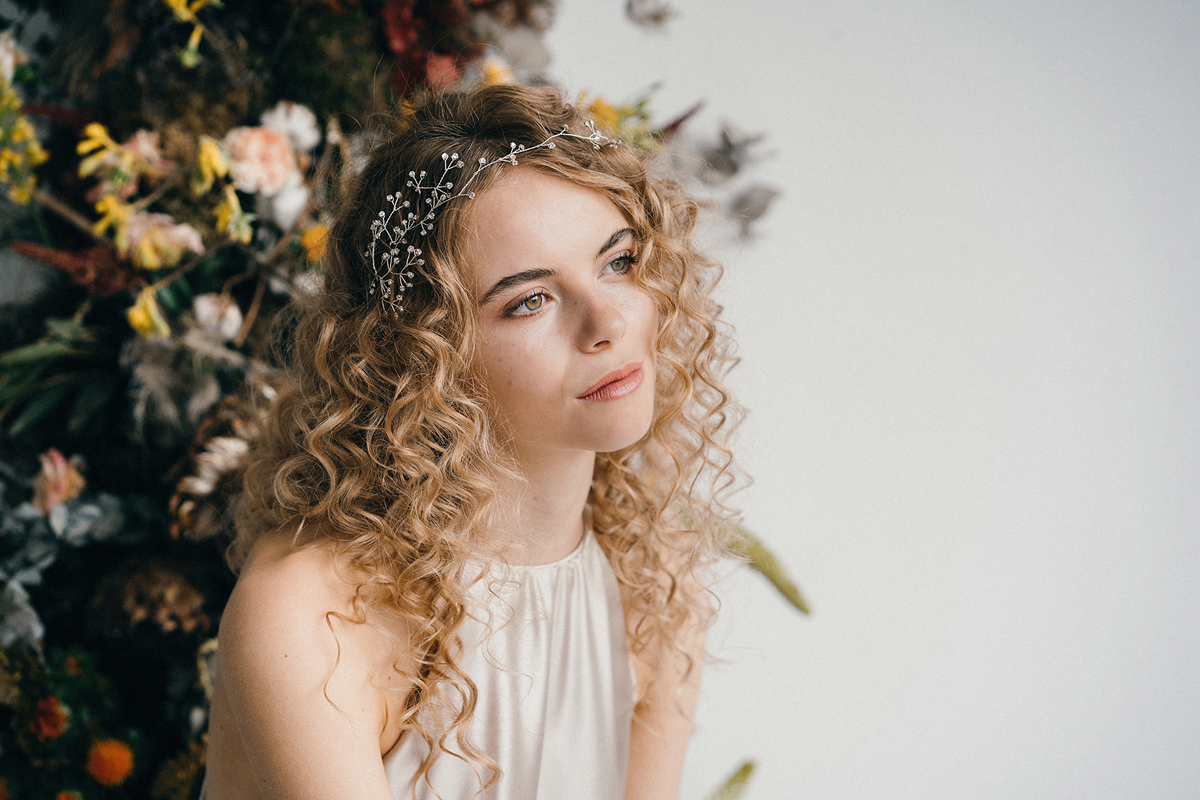 Celeste – Crystal or freshwater pearl cluster wedding hairpin trio set
If you place a hair vine in a similar position on an up-do you'll create a more obviously bridal look as the vine sits in a classic tiara position. The Celeste pearl hair vine (below) works especially well with Beth's piled-high curls because it's so light and flexible it works with the curls instead of flattening them. I love how soft and romantic this up-do is.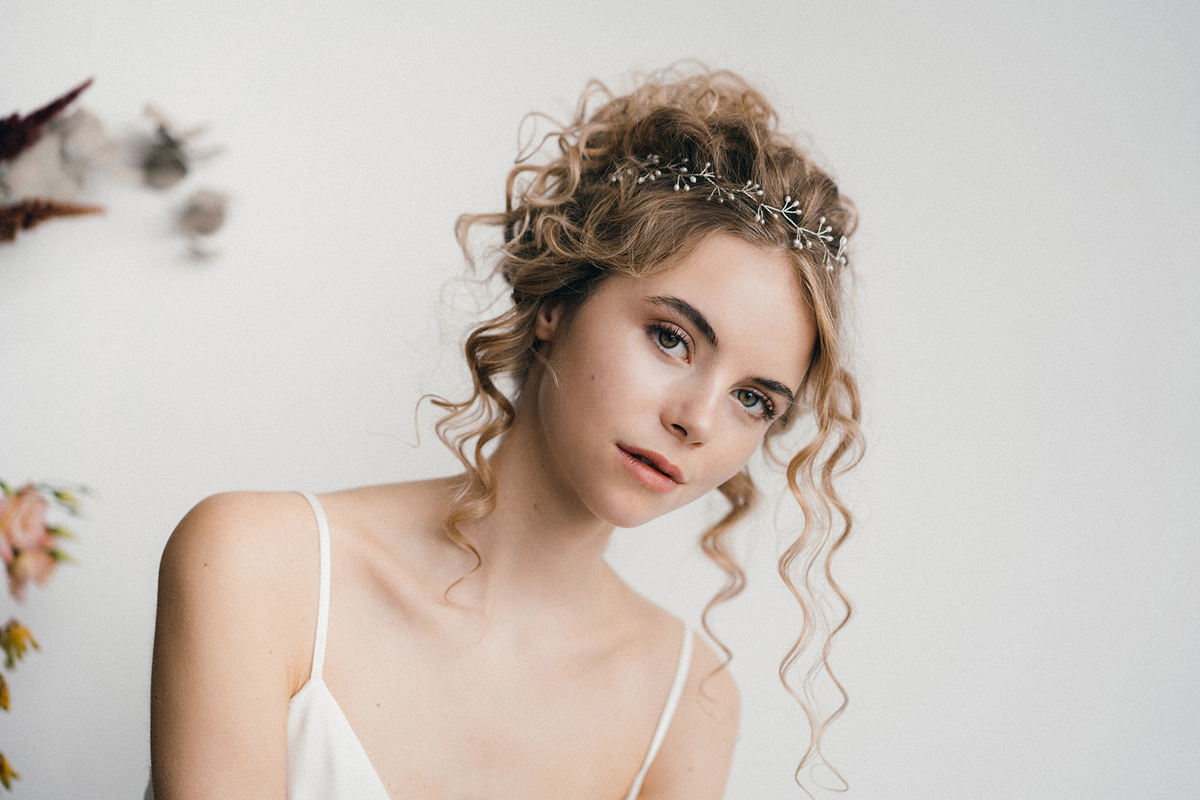 Celeste – Crystal or freshwater pearl cosmic hair vine headband
Placing a headpiece just below the hairline can create a slightly stronger look and will allow your curls the freedom they deserve to shine – I love how this Daisy hair vine looks peeking out from Beth's big loose curls, just perfect for a festival bride! We pinned this headpiece underneath the hair rather than letting the vine sit on top so the curls take centre stage.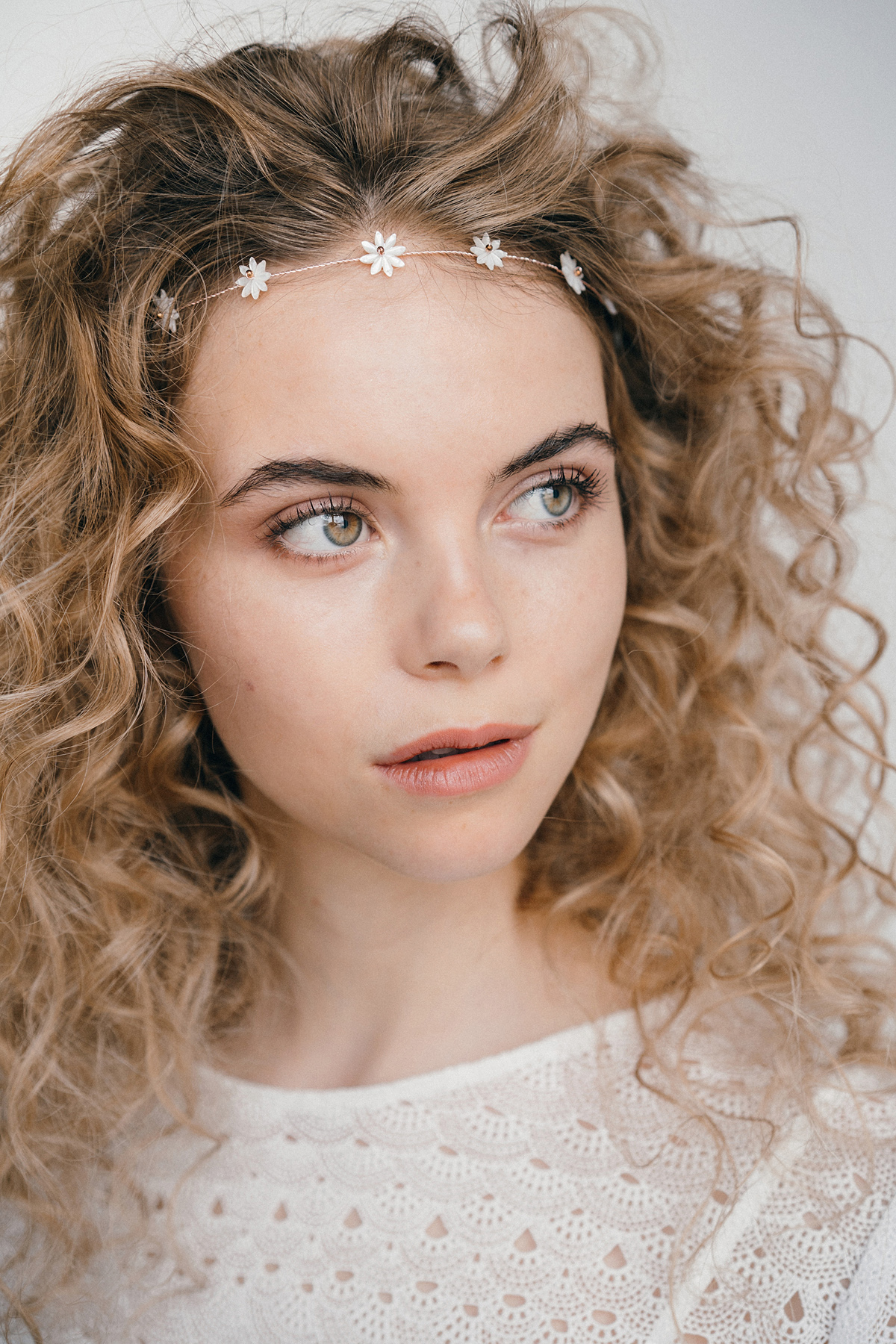 Daisy – simple flower wedding headband in gold, silver or rose
We placed the delicate silver crystal Thea hair vine just onto Beth's forehead and Jenn created a lovely loose up-do with plenty of height above the headpiece and face-framing loose curls which really softens the look of wearing a headpiece on the forehead.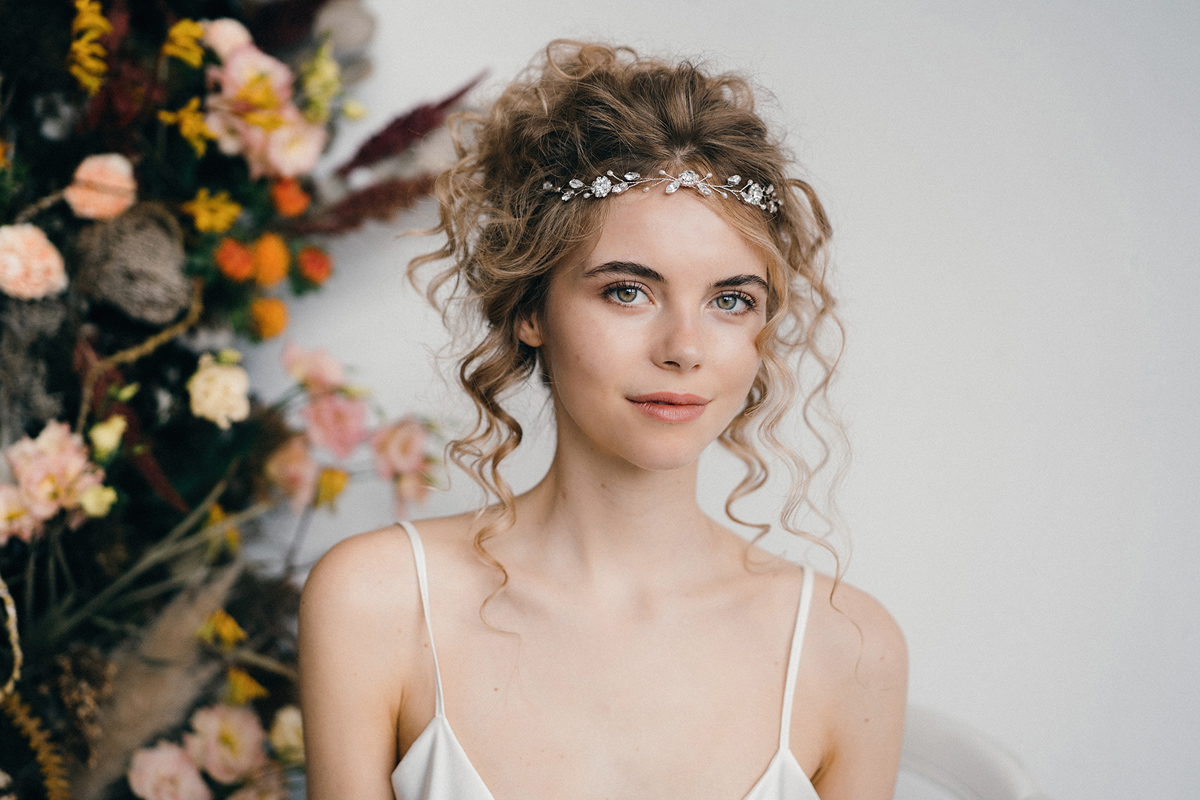 Thea – Crystal + Pearl bridal delicate half up up-do wedding hair vine
A brow band or forehead band works beautifully with curls – I love how the delicate Coralie floral hair vine concentrates the mother of pearl flower detailing at each side of the head with just a simple band of hand-wired gold Swarovski crystals across the forehead which creates a really soft romantic look.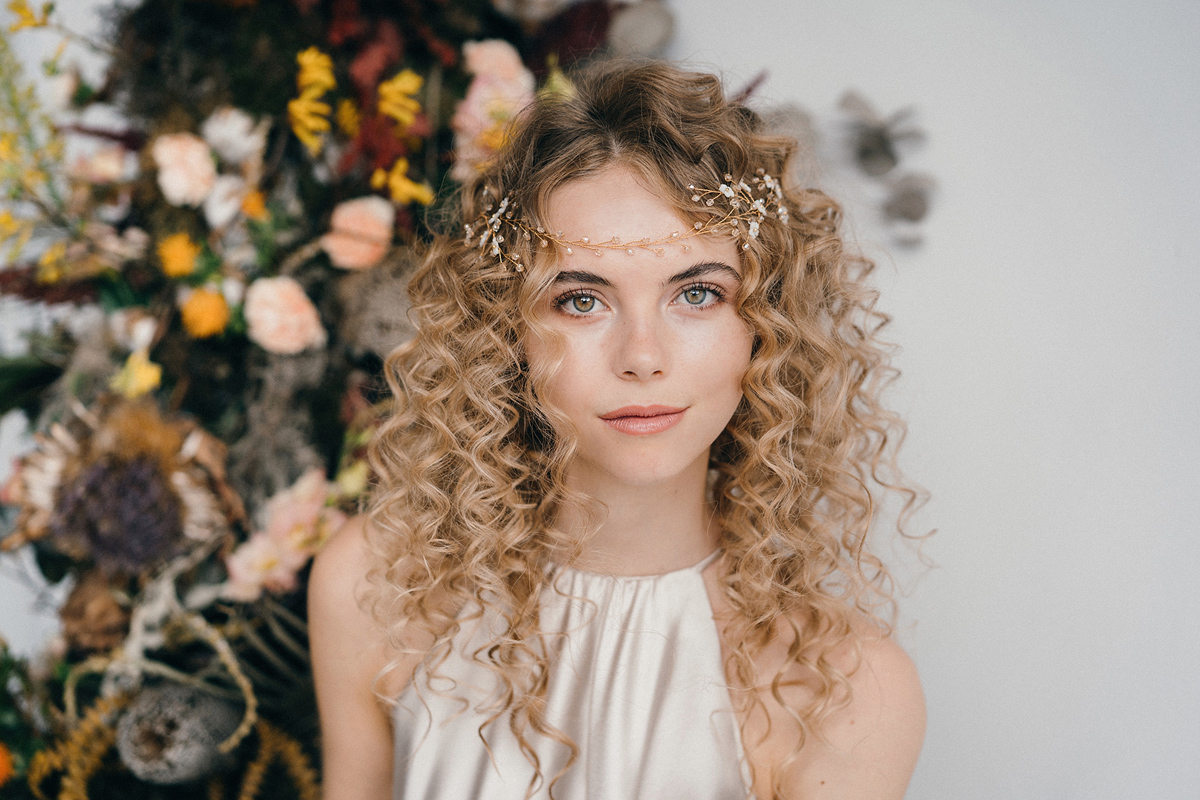 Coralie – Bohemian floral wedding hairvine browband
The Anastasia interwoven pearl flower hair vine is a slightly stronger, but still delicate and romantic, way to wear a forehead band. Because there is volume to the curls, and we've pinned the hair vine into place at the side of the head with Kirby grips, this look doesn't flatten the hair.
A lot of my hair vines come with removable ribbons so you can simply tie them into position – to keep the volume you can lift the top half of the hair at the back and tie the ribbon underneath before layering the hair back on top of the ribbon to keep the loose curls undisturbed.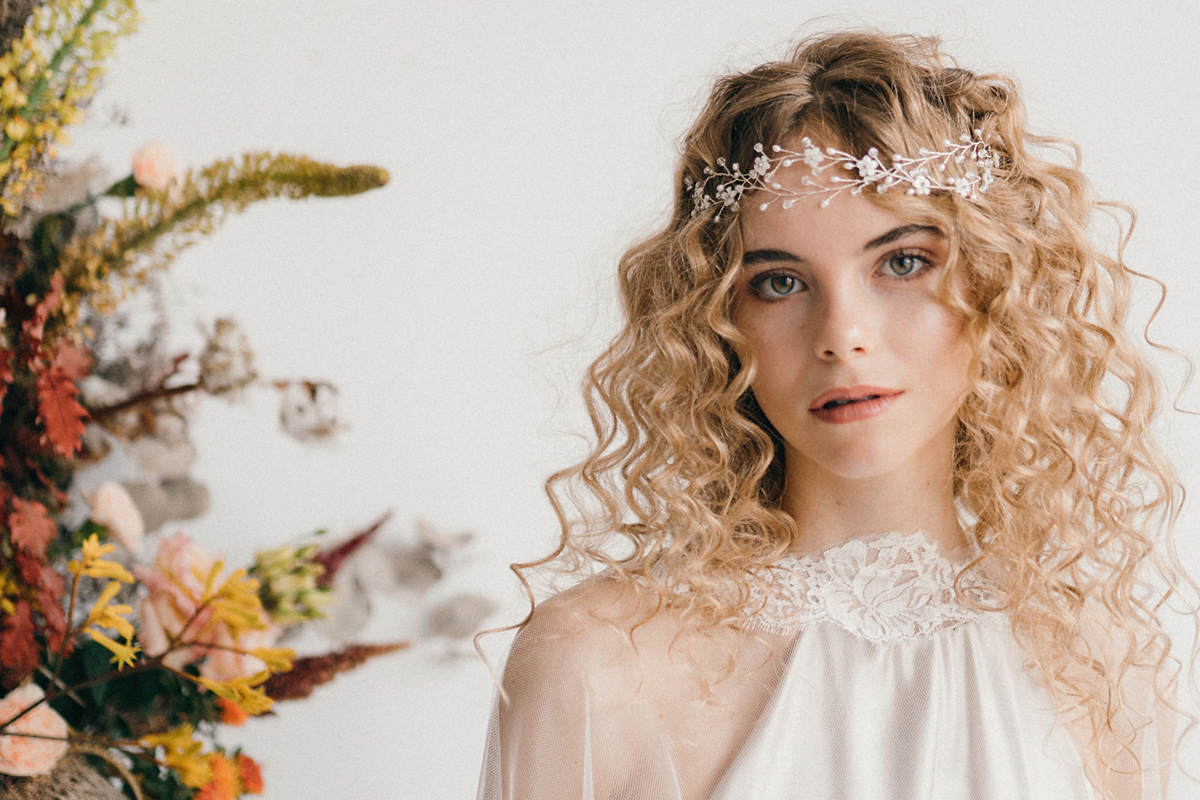 Anastasia – crystal bohemian intertwined wedding hairvine
For a stronger version of this look we pinned the Cressida silver crystal hair vine across the forehead, letting it sit over the hair at the front – creating a more dramatic look with this delicate but statement Swarovski piece (below).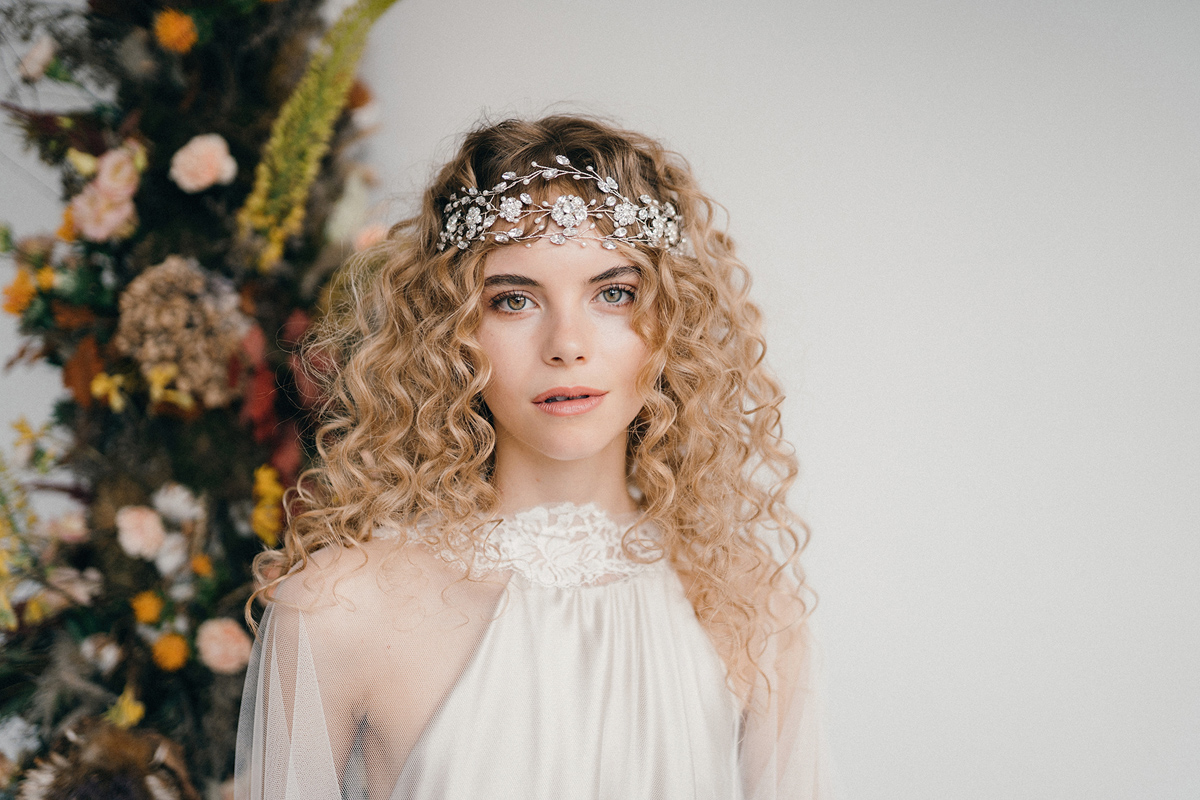 Cressida – Statement Swarovski crystal + freshwater pearl crown hairvine
Don't forget the back of your head – placing an accessory here is a really great way of accessorising long loose curls while keeping a very natural look. Plus it makes for a lovely surprise as your guests watch you head up the aisle! Again, because most curly hair holds on to hair accessories so well, this is a really great option for loose locks.
One of my favourite accessories with curls is the Elise hair vine waterfall veil – delicate strands of freshwater pearls which tumble over Beth's gorgeous waves in a loose waterfall style like a jewelled veil to create a stunning boho look.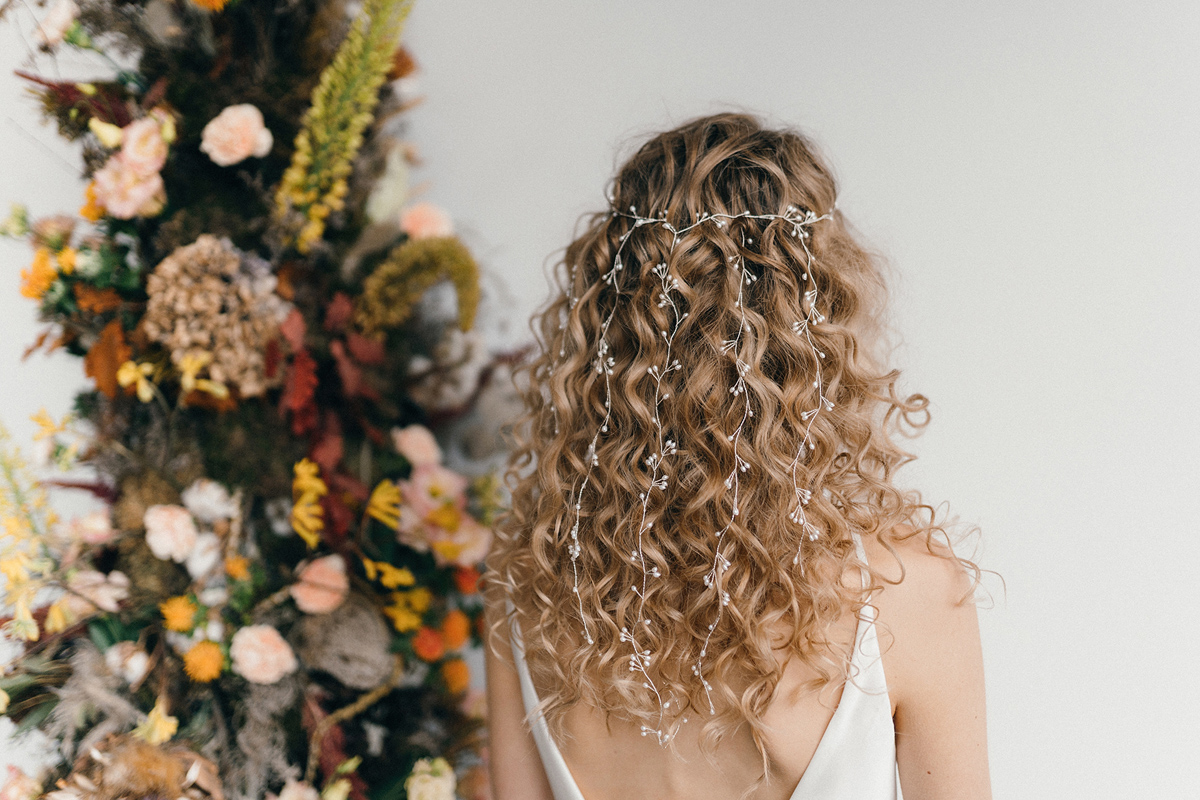 Elise – veil hairvine with dangling strands in silver + freshwater pearl
For a simpler version of this look, we pinned the Swarovski crystal Celine 'Y' hair vine with one single trailing central strand in a similar position to create a really relaxed festival style vibe.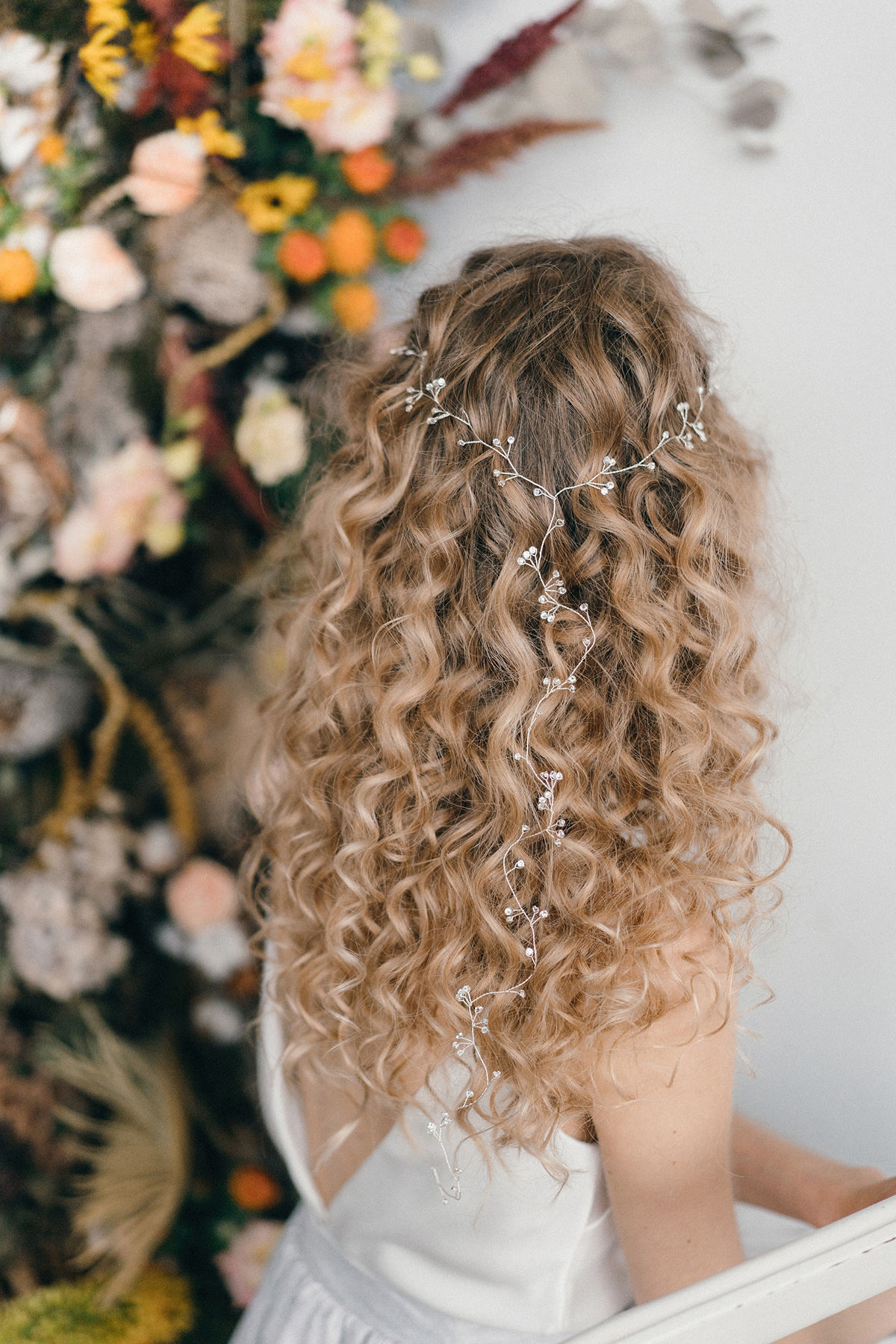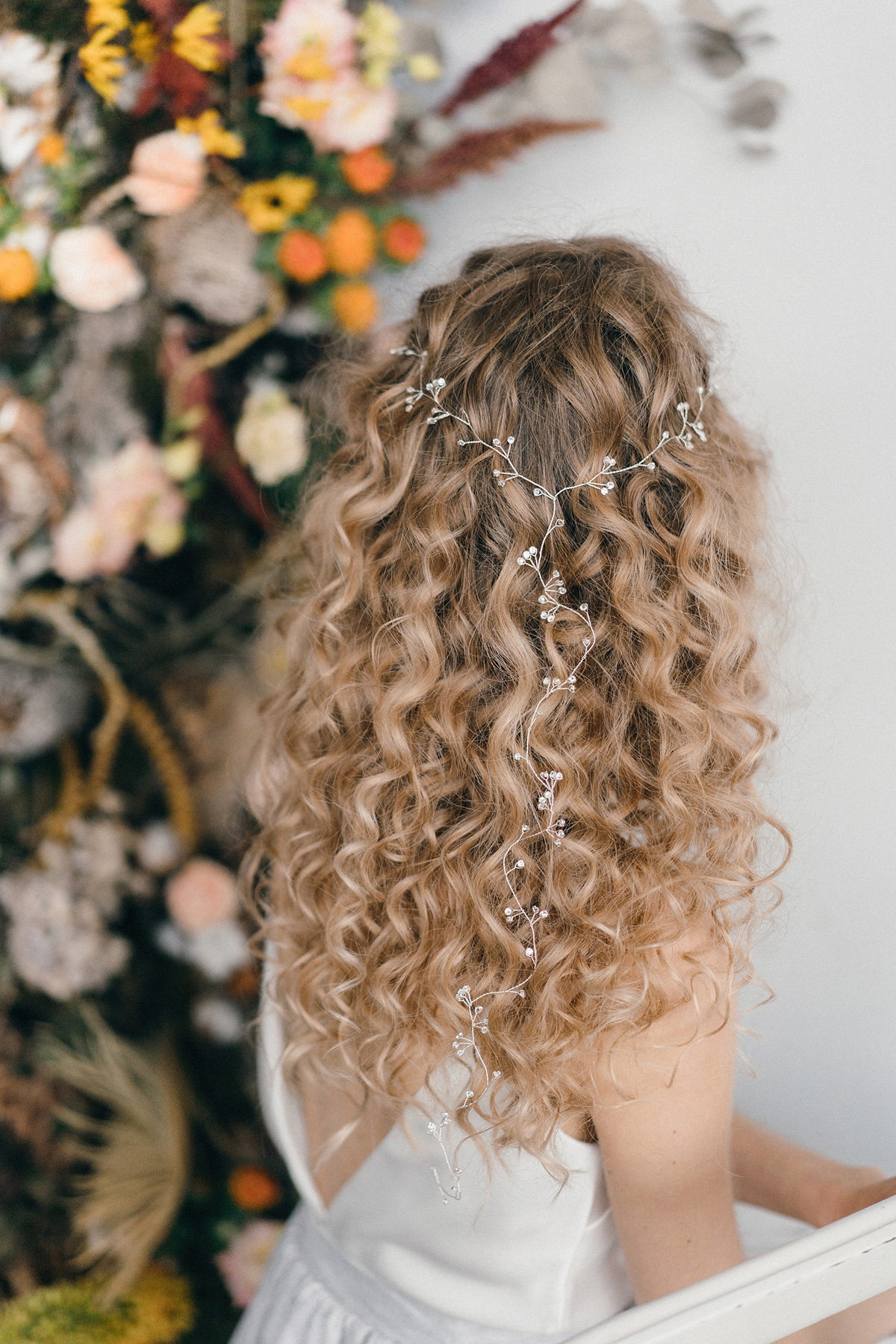 Celine Y hair vine – crystal or freshwater paerl plait hairvine in silver, gold or rose gold
Jenn created a stunning twisted half-up hairstyle which showcases Beth's curls and also creates the perfect backdrop to the Small Sylvie hair comb which nestles into the hair to create a really natural floral look.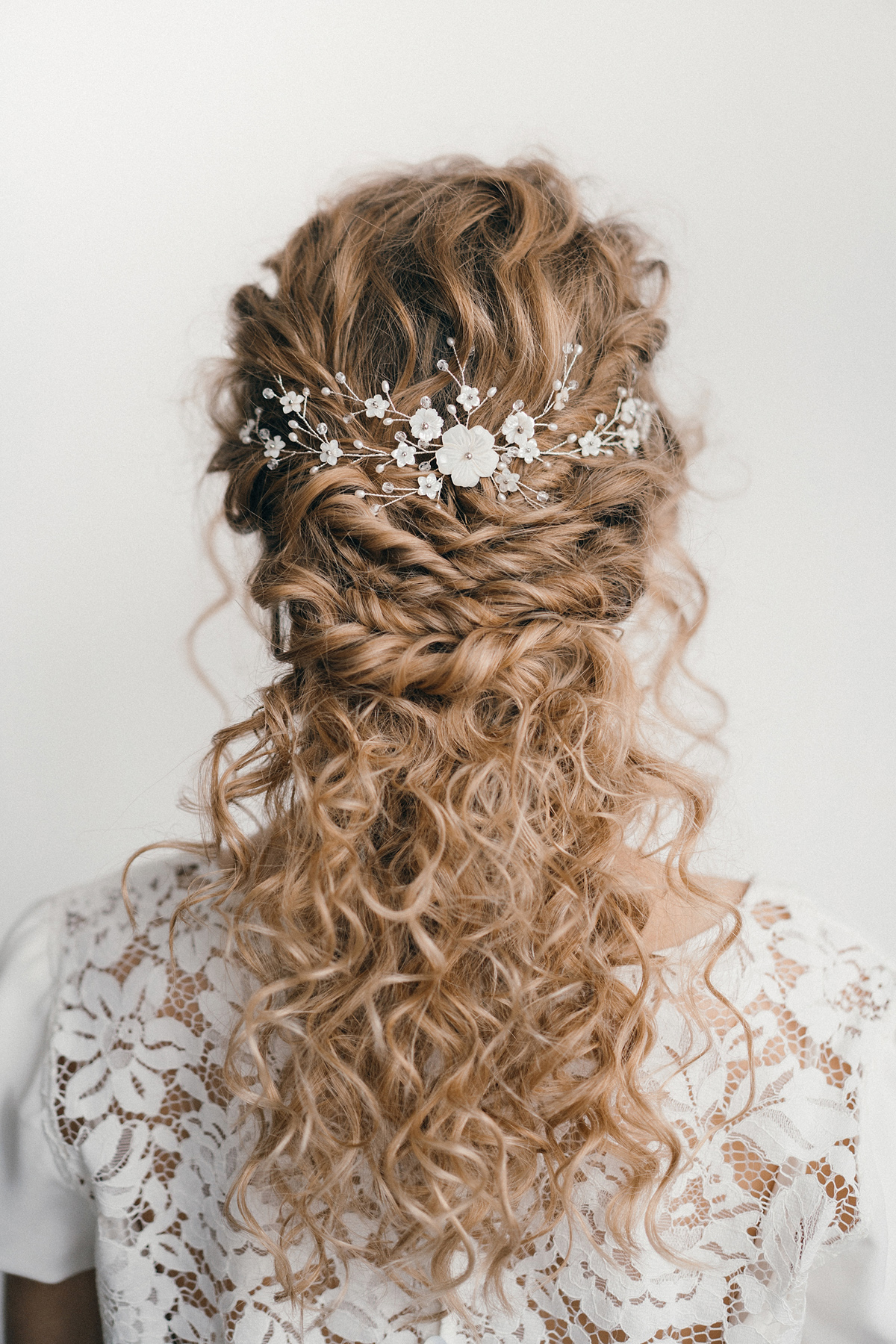 Small Sylvie – Floral Wedding Hairvine Comb in gold, rose or silver crystals
For a touch of simple sparkling elegance we accessorised the same hairstyle with the Lyra hairpins trio set in rose gold which we placed off-centre for a modern-classic look.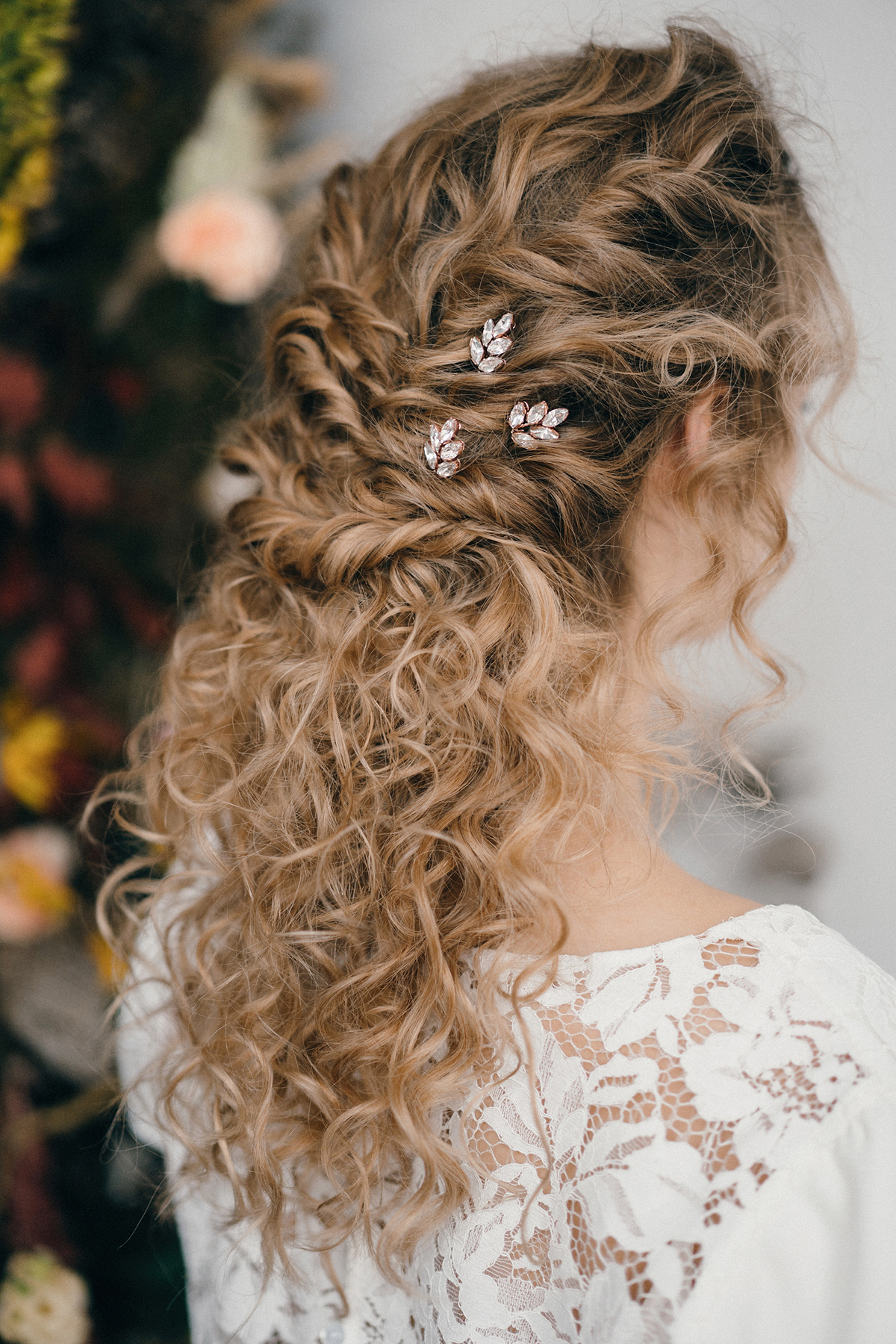 Lyra – Swarovski crystal bridal hairpin trio in opal, rose gold, silver or gold
Some accessories work really well with curly hair precisely because they will flatten the hair – or will work with a flatter area of hair, such as around the parting, or just above the hairline. Here we created a flatter section in these loose curls with the gold Nova hair pin trio set which we allowed to sit slightly onto the forehead to mirror the way Beth's ringlets curl into her face. The two tone gold design worked really well to complement Beth's honey blonde hair tones.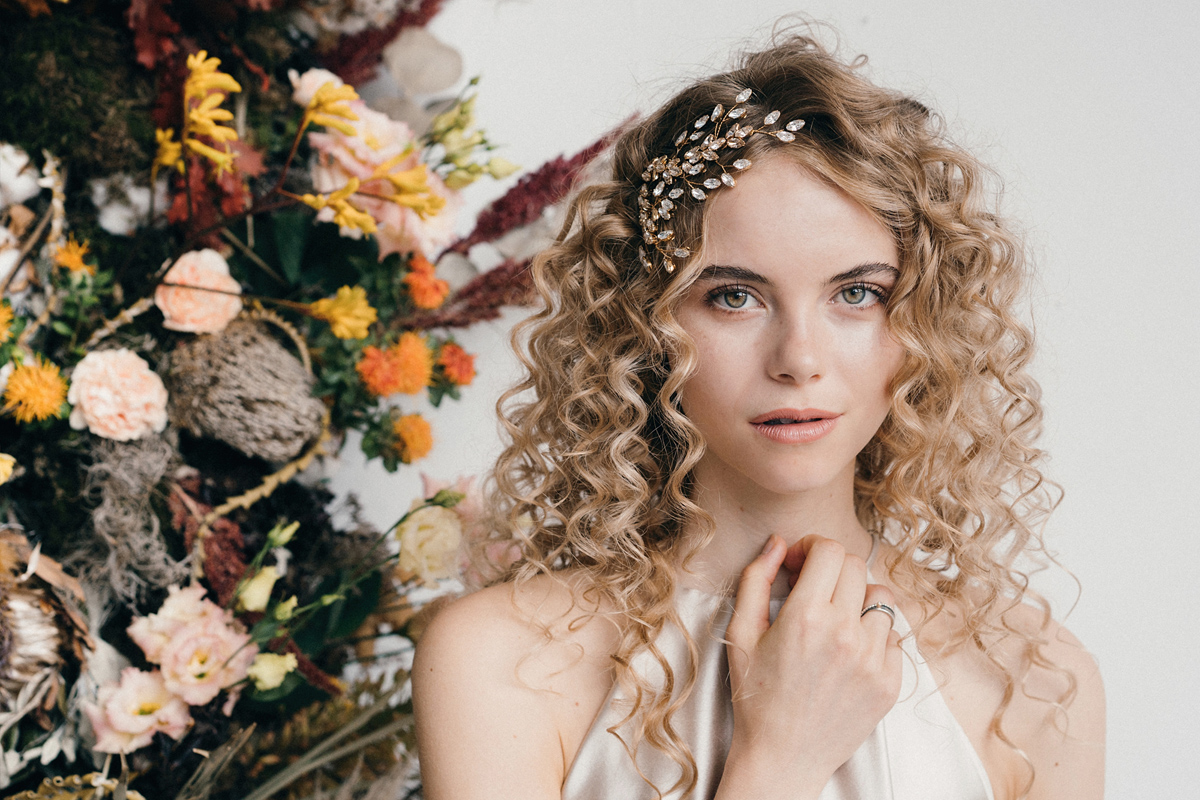 Nova, Large Swarovski crystal wedding hairpins in opal, gold, silver or rose gold
We used two of the Nova hairpins in opal to frame either side of Beth's face, placing them so they appear to emerge from her curls rather than sitting on top of them, creating a wonderful wild and natural look.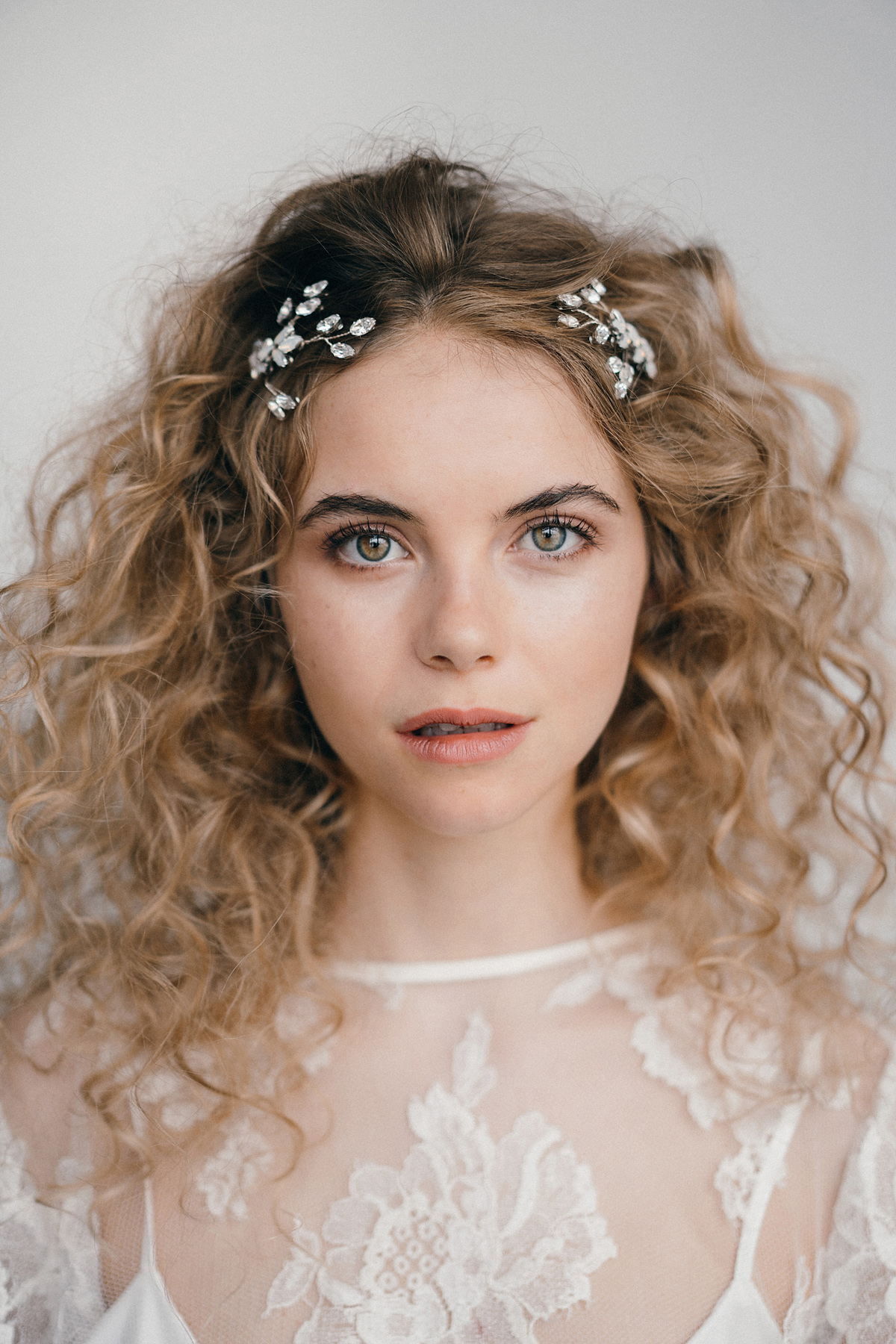 Nova, Large Swarovski crystal wedding hairpins in opal, gold, sliver or rose gold
We added the May freshwater pearl hairpins trio set to the side of Beth's head to create another super-natural look which sits in the curls and highlights the movement of her hair perfectly – I love this look for a rustic outdoor wedding.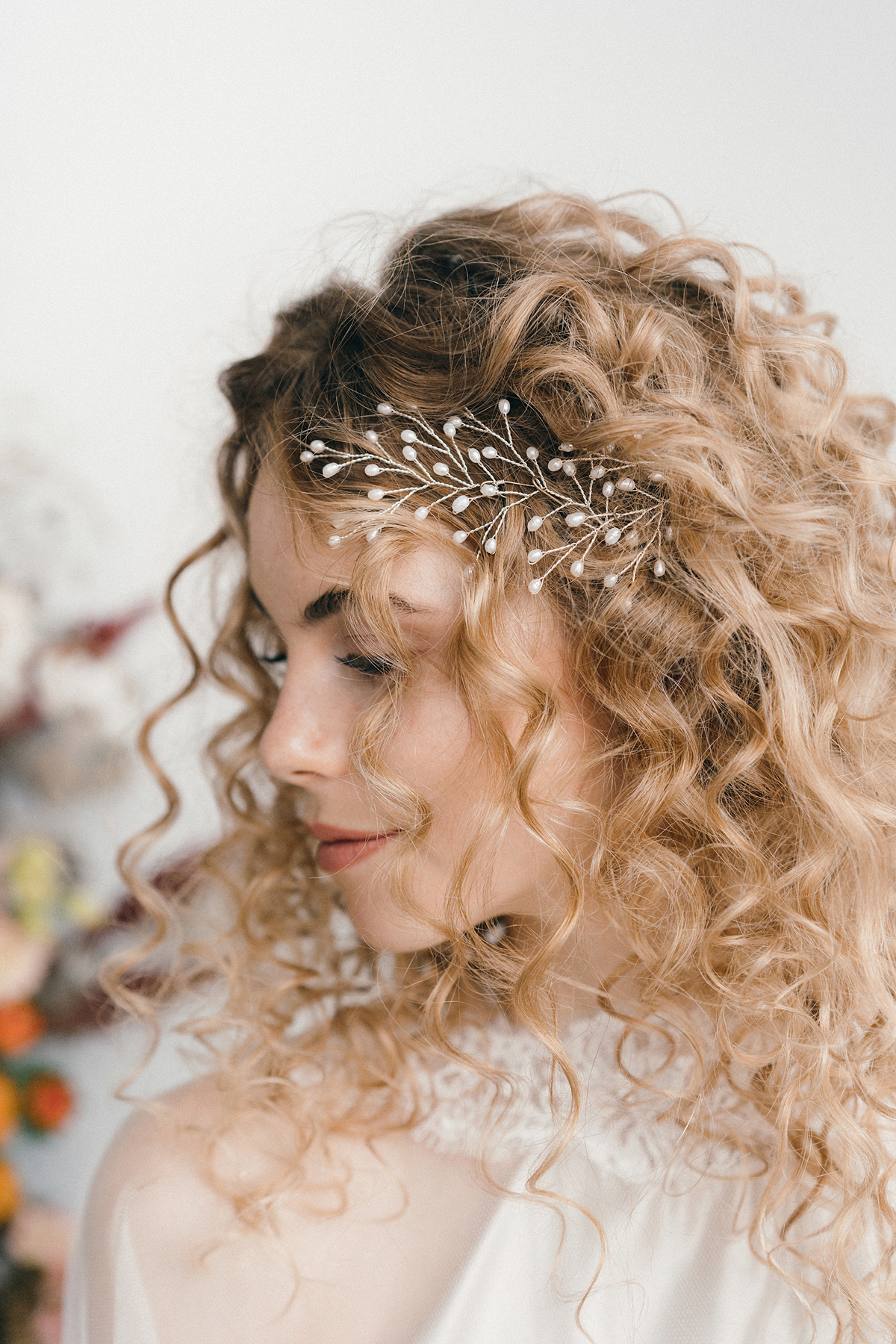 May, Large freshwater pearl babies breath silver wedding hairpins trio
An up-do creates some lovely space to add a hair accessory – we pinned the Stella hair vine onto the crown of the head and let a couple of strands edge onto the forehead so the vine has a similar movement to the loose waves of Beth's hair.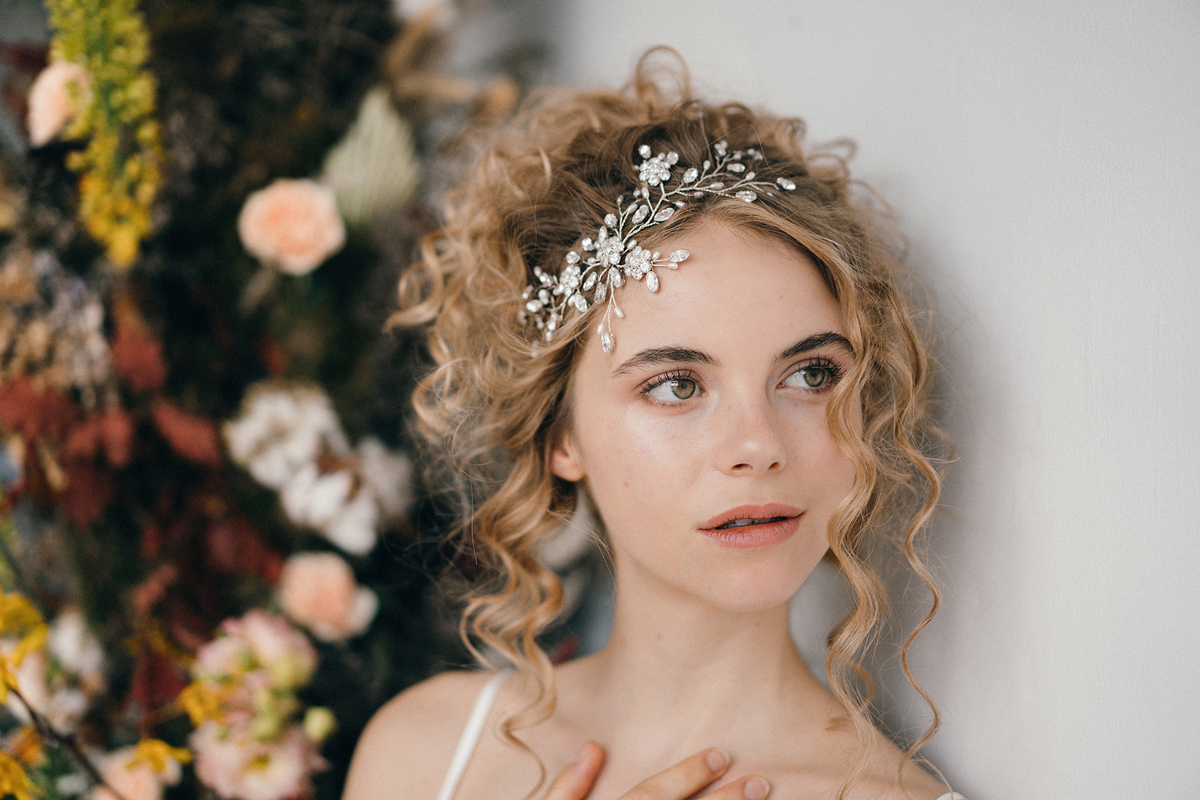 Stella – Floral silver updo or half up hairvine in Swarovski crystal + pearl
We placed the small Ella flower crystal hair vine (below) at the side of the head above the ear where the hair is pulled back into the up-do for a soft touch of sparkle.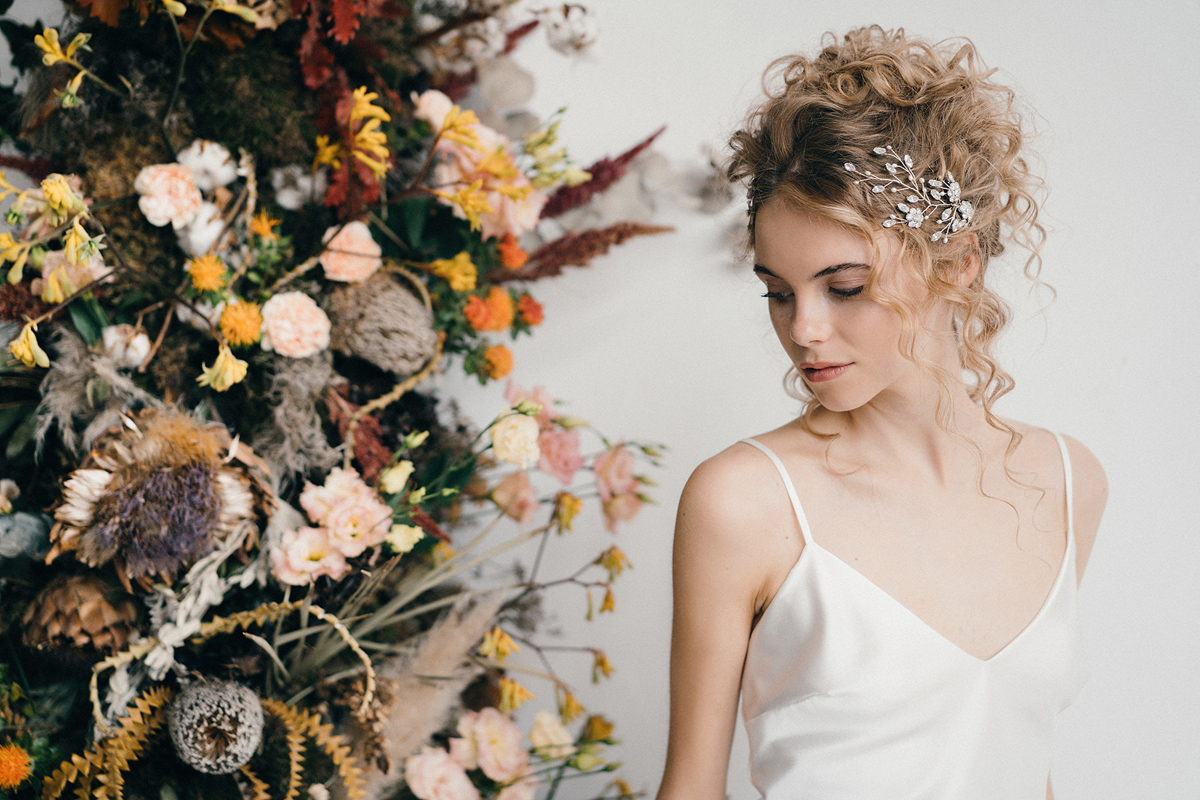 Ella – Wedding updo hairvine in silver Swarovski crystal + freshwater pearl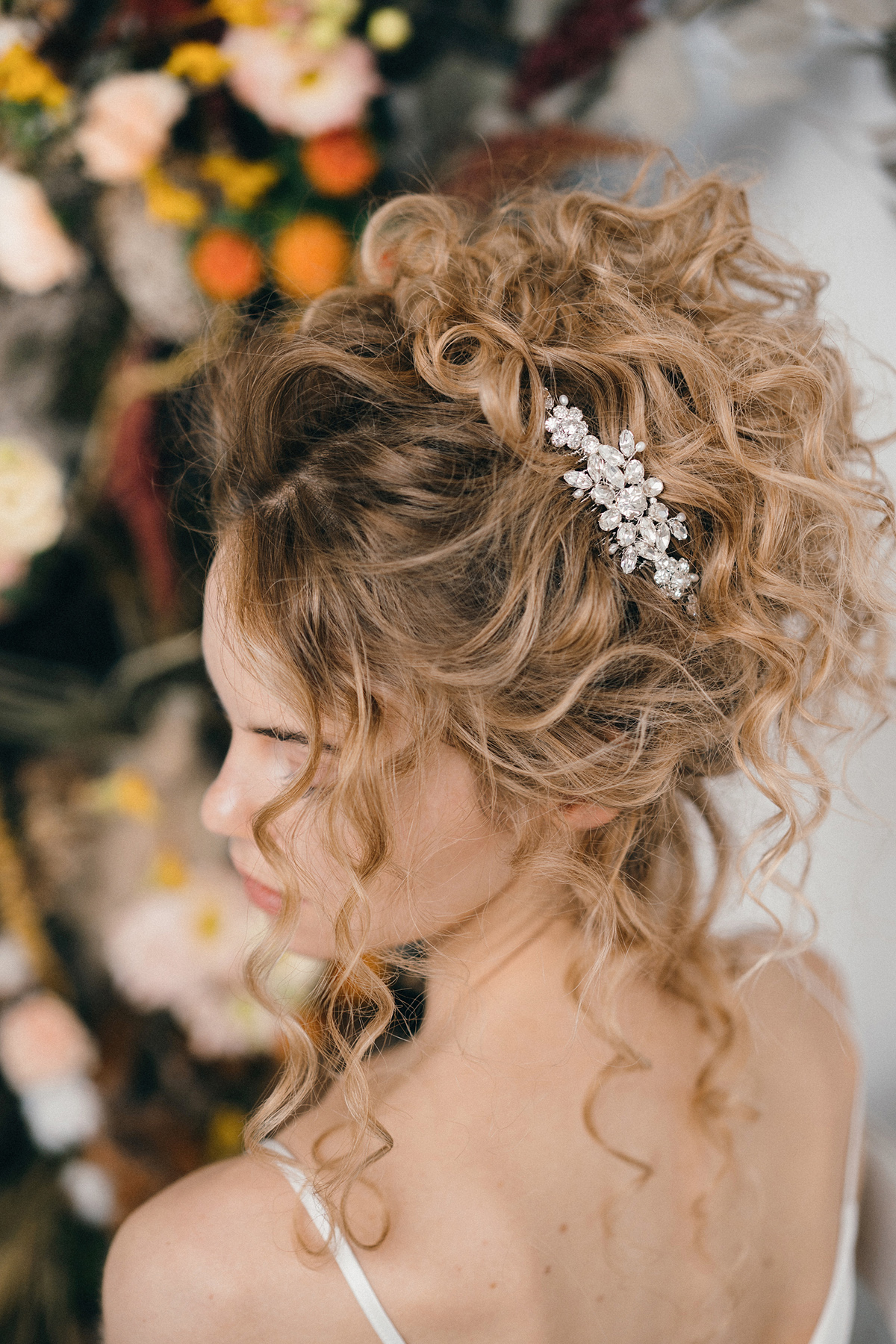 Elsa – Elegant Swarovski crystal + pearl bridal hair comb
And we added the silver Elsa comb into the side of Beth's up-do (above) for a truly classic bridal look and pinned the super-simple opal Luna comb into Beth's loose waves for a more relaxed classic bride look.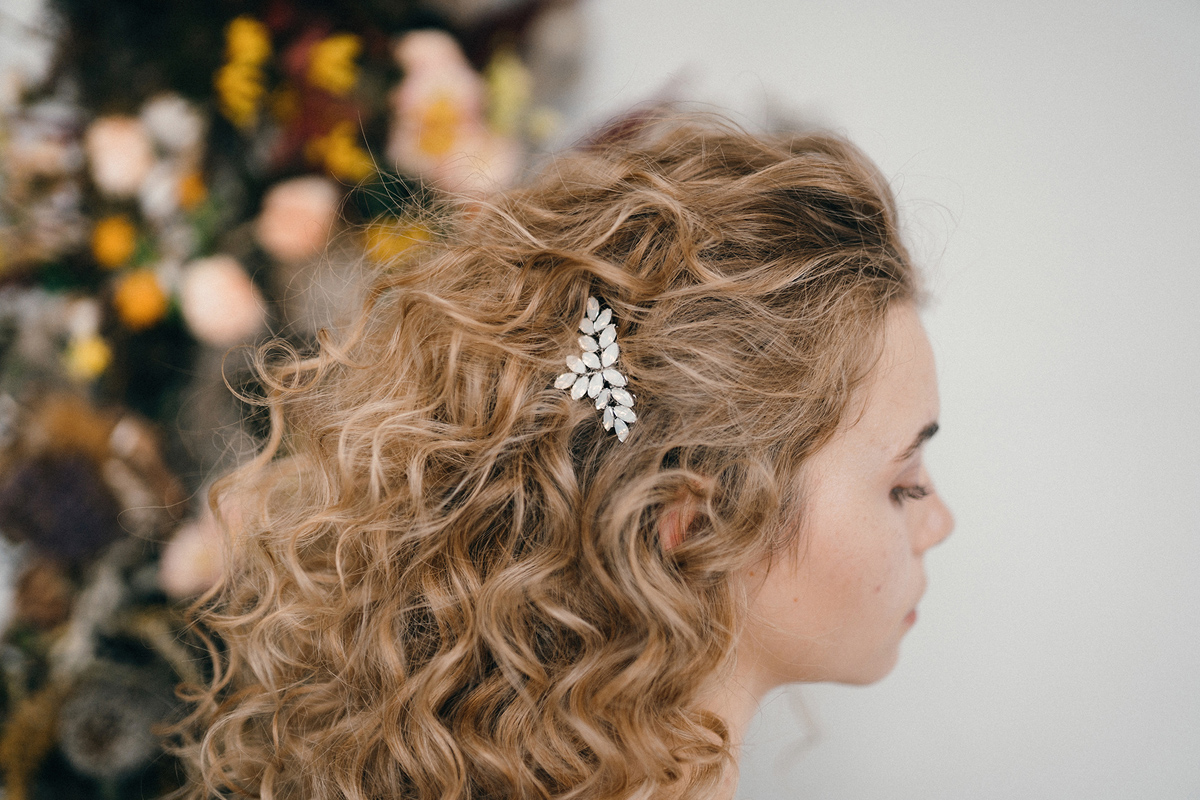 Luna, Vintage style Swarovski crystal wedding hair comb in opal, silver, rose gold or gold
Debbie Carlisle designs and makes all her accessories by hand in her Sheffield studio here in the UK and has lots of experience working with all types of hair. Visit her website debbiecarlisle.com to view all her designs and find stockists. You can also see Debbie's guide 'how to style wedding hair accessories with short hair' on Love My Dress.
Every supplier involved in these photographs is based in Sheffield and works with couples all over the world. Working alongside Debbie and Jenn, Danni Maibaum from Maytree Photography shot the stunning looks they created, while florist Tracey Campbell from Campbell's Flowers provided a spectacular tall dried flower arrangement with pops of colour from some carefully arranged fresh flowers to create a rustic but fresh look. Gorgeous model Beth wore a selection of beautiful gowns and separates designed and created by the wonderful Kate Beaumont. See below for full photo credits with websites.
Top Hair Care Tips for Curly Haired Brides
By bridal hairstylist Jenn Edwards of Jenn Edwards & Co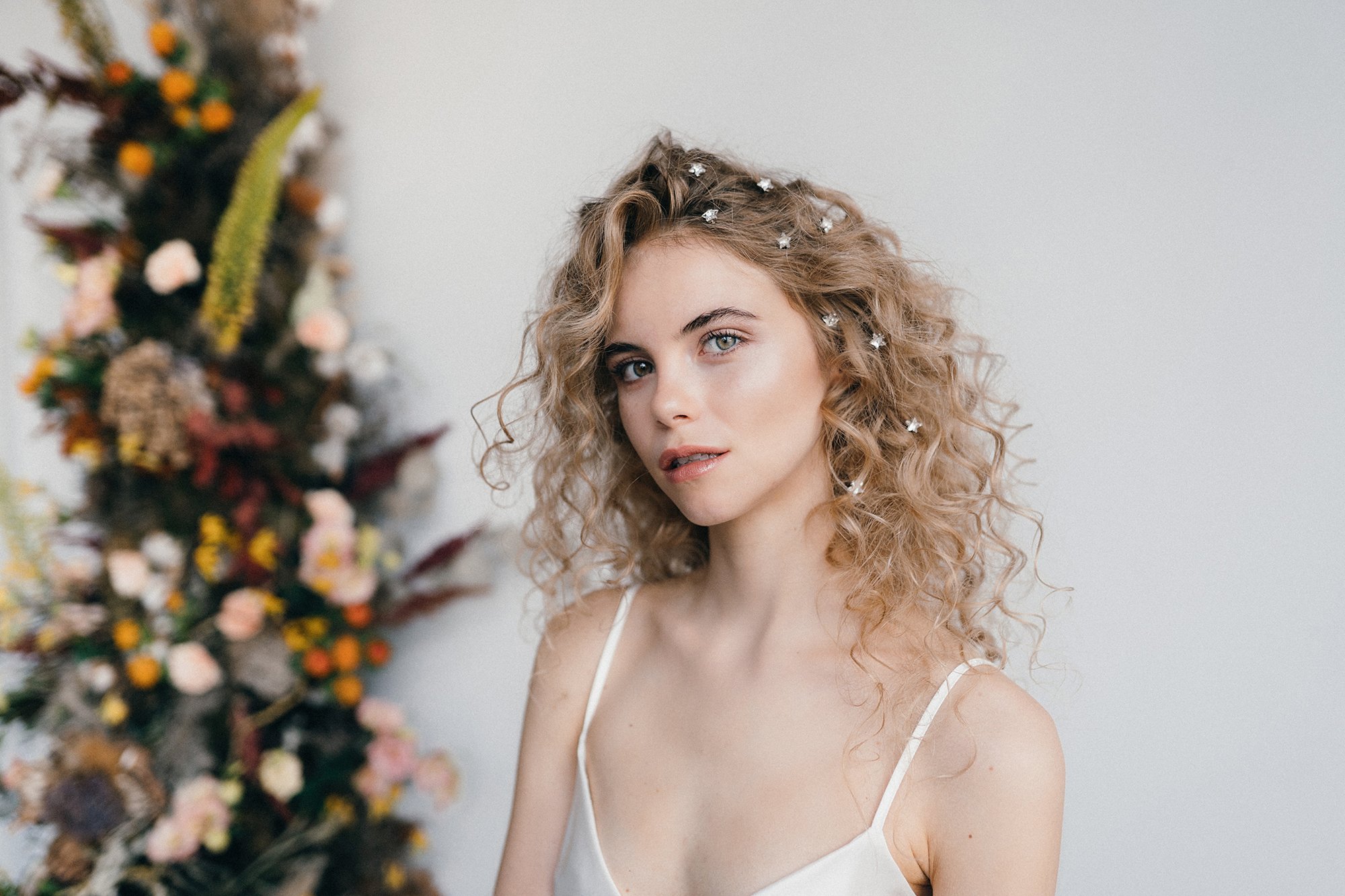 Star Swarovski crystal hairpins in gold or silver
Keep it natural and work with your waves
Most curly haired brides' biggest worry is frizz and if you try to work against your hair by straightening it then you're much more likely to have a problem. A bit of moisture can easily lead to frizz or a kink in your hair if you've had it straightened. It's so much better to work with what you've got – and if you have a good hairstylist they'll know how to prep your curls so they stay looking beautiful no matter the weather!
Start good habits way in advance of your wedding day
2019 is the year of effortless tousled tresses and corkscrew curls the 'au natural' way.  Whilst this isn't a look that is completely effortless, especially if you've spent years straightening your natural curls and don't have a clue where to start, it won't take much to set you on your way to perfect curls. But what's really important is that you start good habits way in advance of your wedding day.
Understand what your hair needs | Moisture V Protein
If your curls are too hard, lacking in volume and looking 'stringy', it's probably time to up your moisture game, and by this I mean condition and replenish your hair's moisture levels using products such as moisturizing conditioning treatments and styling creams:
If your curls become too soft, too frizzy, and you have way too much volume and no definition then it's time to add protein into your 'wash day' routine by including at least two products which have protein.  If your hair is processed you will want to fortify with a protein treatment immediately after.   Look for keratin and protein rich conditioners, treatments, and gels often labelled as 'strengthening':
Adding too much protein can return your curls back to their 'hardened' stringy state so that's when you'll need to add the moisture again.  This all sounds like a lot of faffing but, with a little perseverance, you'll soon find the correct balance and it will be soooo worth it.
Wet to dry | The best method for natural curls
Allowing your hair to dry naturally is always a win over using a hair dryer in terms of your hair's health. Gently press any excess water from your hair using a towel and always avoid rubbing vigorously with the towel which will create frizz.
If you do prefer the softer, more voluminous, bounce that you get with a hair dryer then keep the heat low and use a diffuser.
Avoid breakage
Throw away your hairbrush, it's a 'curly girls' worst enemy!  If your hair tangles you can use a wide toothed comb and very gently tease the knots out on 'wash day' during the conditioning part of your routine.
Invest in a silk pillowcase.  Cotton ones can leave your hair feeling dry, tangled, and can cause weak, delicate hair to break – especially if you fidget a lot during the night. A silk pillowcase can also help your hair retain its moisture and preserve its style because of how silky and slippery it is. It's much better for your skin too!
Product knowledge
Always avoid anti frizz Serums which are simply too heavy and weigh curls down and remember, if you're a bit on the 'frizzy' side then it's probably time to add the protein.
The following products are some of my favourite go-to styling wonders for curly hair.
On your wedding day
If you've followed all of the above in advance of the big day you should, by now, know exactly what's best for your own curls and whether you prefer 'wash day' curls or day 1 curls etc. It's a great idea to hire a hairstylist if you're thinking of styling your hair slightly differently and adding a few twists, or a plait, or loose up-do, but always manage your own curls as a hair stylist won't know your hair like you do.
And finally, pretty accessories or flowers work a treat with curly hair to give the 'natural' you that 'bridal' feel!