Wedding Dress Advice for Newly Engaged Brides, by Rita Colson, London Bridal Designer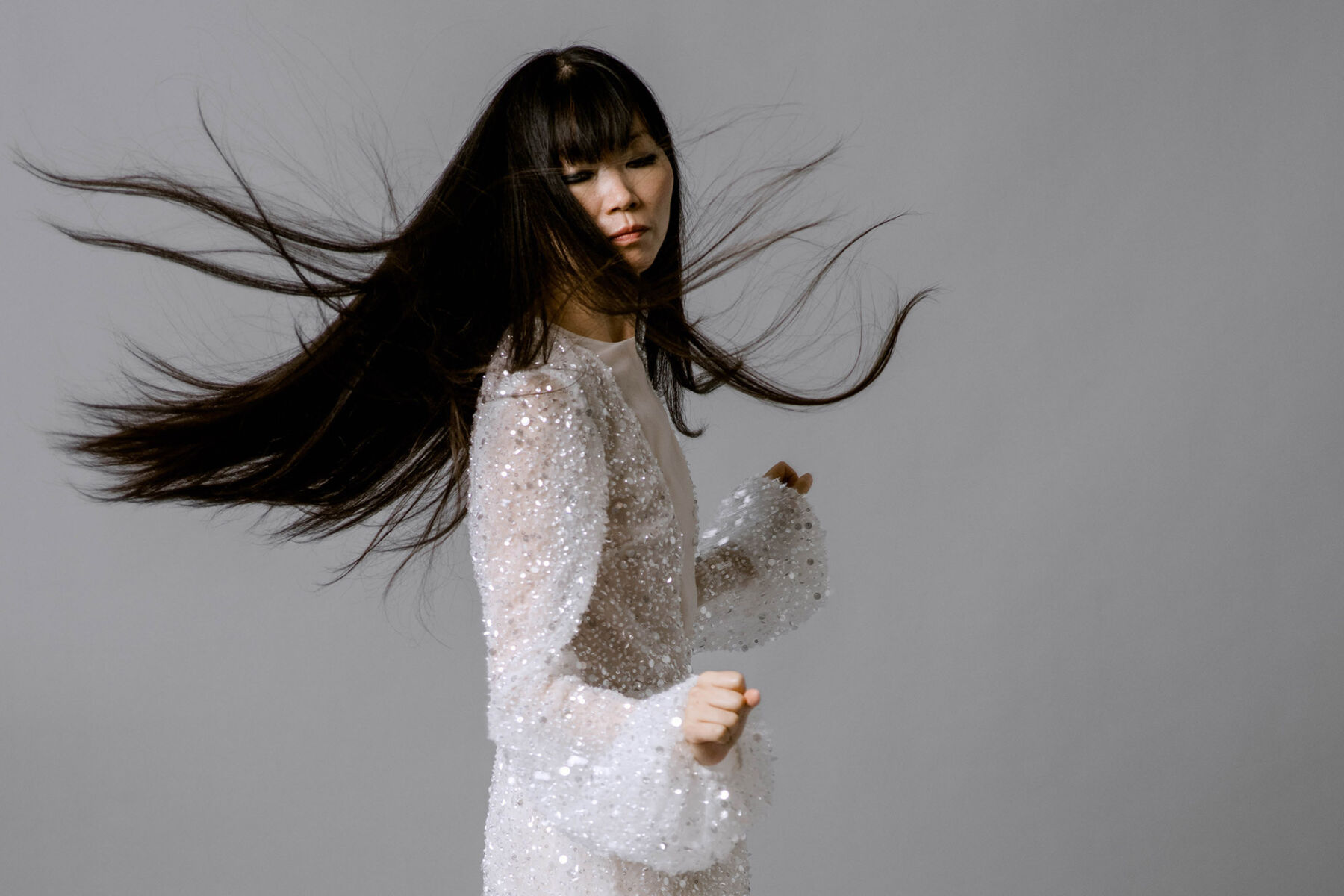 Setting out to find your wedding dress for the first time can be a super fun, but let's be honest, mildly overwhelming time. You might have the first clue where to start looking first, or you might love so many styles and designs that you find yourself unable to make any decisions. Or you might be struggling to find something that makes your heart flutter at all.
The time you spend finding your wedding dress is an opportunity for you to have some real, life affirming fun. When else can you indulge in spoiling yourself with access to such gorgeous fashion and fun shopping trips? We asked London bridal fashion designer, Rita Colson, to share some of her best advice for newly engaged brides – and we hope you find it helpful.
1. How would you recommend brides go about finding and selecting the perfect dress or bridal outfit?
Start with the style of the wedding. It's important as it's central and affects everything, the venue, the colours, the flowers, and most of all the dress.
This will make it easier when you go to boutiques or speak to a bespoke designer about the style of dress you're thinking of.
Scour wedding blogs and grab some magazines – pull out pages of dresses that create an emotional response inside, that make you really feel something. Take them with you to your bridal appointment.
2. What do you consider the key elements of a beautiful wedding dress / bridal outfit?
Actually, a very important element of the wedding dress / bridal outfit, I believe, is the under garment. You should be spending roughly the same amount of time searching for the right underwear, as you do the dress.
A great under garment can change the outlook on how you feel about your body and ultimately how you look in the dress or outfit. You want to step out on your wedding day feeling the very best version of you. Great underwear will absolutely help you achieve this.
Don't be afraid to talk to the bridal boutique assistant or your designer about this. They are used to working with women of all shape, size and confidence level.
View this post on Instagram
3. Can you offer any tips for finding the best fit for body shape?
The wedding dress industry has improved drastically over the past few years, in offering a wide range of styles for different body types. When booking a consultation with a boutique – make sure you find out the range of sizes they have available to try on, so that you make the most of your time in the boutique.
Always try your size and a bigger size if it's available so you can play around with how the different sizes look on your body.
Having a bespoke dress designed just for you means that whatever size you are, you can be sure that your dress will fit very precisely on your wedding day.
Ultimately, never ever worry about your body shape or sizes when setting out to find a wedding dress. Never! A great boutique stylist or independent designer will help you discover a look and style that will flatter you and ensure you feel completely fabulous on your wedding day, no matter what shape or size you are.
Don't be afraid to try on a variety of styles
Try on styles you're familiar with or styles you know works on your body. Also lean on the expertise of the sales assistance and try on styles you wouldn't normally as you may be surprised what the outcome may be.
If going to a boutique is not what you envisioned then try a bespoke service and design your own wedding dress.
Go through the journey of sketch/design, toilè/fittings, to completion. For the perfect fit and originality bespoke is always the better choice. However, if the bespoke service is not in your budget, then other great way is to buy the dress from a boutique, find a great tailor or seamstress to fit the dress to your body. This is guaranteed to give you the bespoke / couture feel without the price.
Go with a trusted friend or family member so they can take pictures and video documenting everything- but be mindful that some bridal boutiques prefer that images are not taken – always ask.
4. What do you believe is the most important thing for brides to keep in mind when shopping for a wedding dress?
Stop Stressing About Your Weight
It's not uncommon for brides to worry about their weight when planning a wedding.  My strong advice is, firstly, please do not worry about your weight! But if you are intent on losing some for your wedding, I advise you go for a dress in the size and measurements that you are now and not the size you are working towards. A good seamstress will be able to make dress adjustments in the run up to your wedding to ensure as good a dress fit as possible on your wedding day.
Remember too that the style you have in mind might just not feel right one you try it on. Don't be disappointed! There will be a beautiful design out there that looks fantastic on you! It might just a little while to find.
Be Mindful of Lead Times
Book a dress appointment as early as you can! 'Lead times', or the length of time required between ordering your dress and it arriving in ready to wear condition, can be quite long – 6-8 months on average. Some designers and boutiques can do rush orders, but this kind of order is an exception, not the norm.  So always, always book as early as you can. You can never be too early.
Stick to Your Budget
Decide how much your budget is and stick to it.
Above all else, don't stress over finding your dress. Try to relax and enjoy the experience.
5. What is the best way to accessorise a wedding dress?
Thikn of your dress as the 'main character' and your accessories the 'supporting actresses'.
A good set of accessories will elevate your dress and your overall sense of confidence – they will also add personal touches to the overall look. However, between the veil, shoes, jewellery and other pieces, accessorising can become overwhelming, so here are some of my suggestions…
Long earrings and Décolletage
If your dress is strapless or a sweetheart neckline that exposes your décolletage, then skip the necklace and opt for an elegant pair of long earrings which will give you a fuss free sleek look. The skin and the décolletage are as much an accessory as a necklace.
Veils
The veil is the ultimate bridal accessory, the final touch. Whether you're considering a glorious floor length cathedral style or a retro birdcage these are the things you'll need to consider.
If your dress is lace or has a lot of embroidery, consider a simple veil with no embroidery details so it's not causing any design clashes. If your dress has a low back with embroidery then a sheer, plain, 'single tier' veil would be ideal.
Consider your body type, if you have a petite frame then longer length veils such as a 'waltz' or cathedral will elongate your frame. If you're a taller bride then mid-length styles, elbow or fingertip length veils would be better. Retro styles such as birdcage and bandeau work for all shapes and sizes. They can add a real element of style and elegance.
Hair combs and Fascinators
Decide your hairstyle before picking your accessory, whether you decide to have your hair up or down, straight or curly.
Some dresses are elevated by updos teamed with long earrings. I love to see a floral crown (fresh or dried flowers – some designers also create using porcelain, vintage reclaimed pieces, gold or silver) with a more bohemian style of dress. Also consider your hair type, small and dainty accessories are perfect for fine hair but may not work as well for thick waves or tightly coiled hair type.  Above all make sure whatever you decide is secure whilst you move around.
Less is more
Before you start buying accessories take note of the standout features, the style of your dress and base your decision around them. You don't necessarily need a veil, tiara, earrings, and necklace all at the same time.
Accessories are key but one too many can be a distraction. In the words of the late, great Coco Chanel, "Once you've dressed, and before you leave the house, look in the mirror and take at least one thing off".
Shoes
The most important accessory on this list I think are shoes. No outfit is complete without them, unless it's a beach wedding!
Now before you reach out for the 5 inch stilettos, please remember you're going to be standing on your feet for long periods of time. However, this doesn't mean you have to compromise on style versus comfort.
Consider shoes with supporting straps on ankles and toes, avoid slip ons. Look for high quality materials or natural fibres. Be prepared to spend a bit more on your heels, if it's good quality you can wear it again and again.
Top tip: best time to go shoe shopping is always at the end of the day, whilst your feet is a little swollen. This will test out the comfort levels of the shoe.
Book an Appointment with Rita Colson
Rita Colson is a Love My Dress recommended supplier. Based in West London, Rita creates contemporary designs for modern brides looking for something less traditional.
Rita is a passionate about design and adores creating beauty for her brides. She is committed to creating ethically and sustainably.
To book an appointment, email contact@ritacolson.com. You will also find Rita Colson on Instagram at @ritacolson.