Hello again lovely ones and we hope so much that today is a good day. Wherever you are and whatever you're doing, we send lots of love and strength.
Over the past few weeks, we've been very sensitive to 'read the mood of the room' and produce content that reflects where we all are. We know that this is a strange and totally weird time and, more than anything, we want you to know that you're supported. In recent days, we've received lots of messages from readers who want to get their plans back on track, who want to look forward and who want to keep on planning, even in a small way, so that their weddings don't feel so far away. We get that – if you can keep moving towards your goal, your goal is getting closer.
So today, we're absolutely thrilled to be joined by wedding hair accessory designer Debbie Carlisle. Debbie is not only a terrifically talented designer, she's also a thoroughly wonderful human being and the love she has for her craft and for her clients is something very special indeed. Debbie is going to share her thoughts on how you can choose your perfect wedding hair accessory during lockdown and, if you're looking for a little boost and a little sparkle, this really is just what you need. Weddings might be on pause for now but when they're back, they're going to be gorgeous. Take it away Debbie…
Advice from Debbie Carlisle
For lots of brides wedding hair accessories can be a last minute purchase, and if you're in lockdown or have simply left things a bit late, you may be worrying about running out of time to find the perfect piece.
Depending on when your wedding date falls, the end of lockdown may only give you a short window to find your headpiece and have a hair trial – and for some brides a hair trial may not even be an option. Fortunately, there are quite a few things you can do now to get the process started and be sure you're wedding headpiece-ready once restrictions are relaxed.
You don't have to decide on your final hairstyle to choose a headpiece – there are lots out there that will work with pretty much every hairstyle you can think of (hair vines and hairpins are your friend here). But if you can narrow things down to a general style – such as a low or high bun, a half-up hair style, loose waves, or a ponytail – this can help to guide you towards certain headpiece styles and make choosing your hair accessory easier.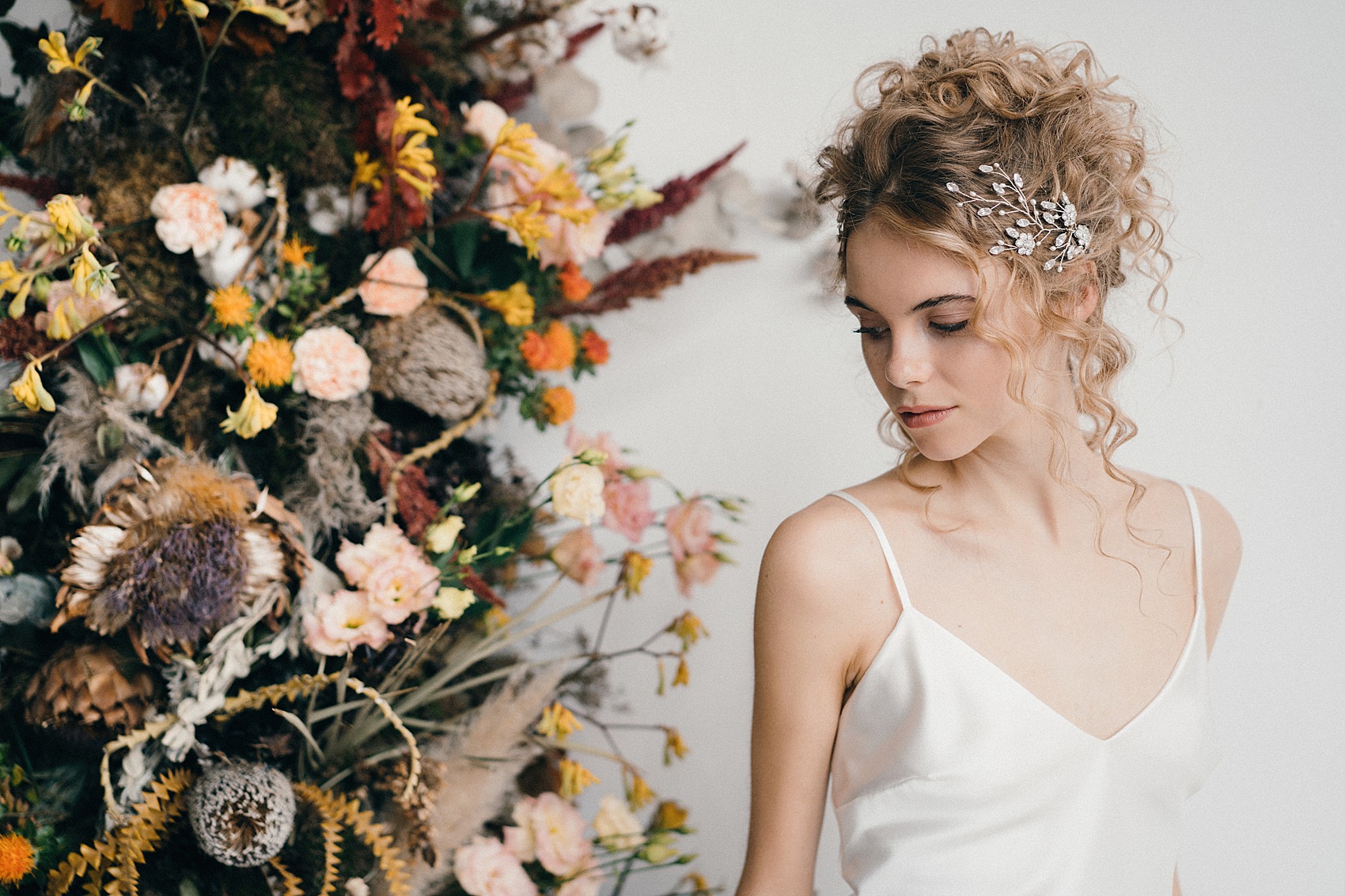 When it comes to deciding on a hairstyle a hair trial can be invaluable – but there are ways around this for those who may not have time to wait for restrictions to be lifted before choosing a hair accessory. You can still talk to your hairstylist who should be able to offer advice on styles based on your hair type, the dress you'll be wearing and anything you want to show off or hide. From displaying a beautiful back or shoulder detail to hiding larger-than-average-ears, hairstylists are used to working around issues like these, and can help you decide on the best hairstyles for you – so take advantage of their expert help and advice.
While I would always recommend a hair trial with your stylist if at all possible, a DIY hair trial with the aid of some online hair tutorials will be a fun lockdown project as well as helping you to get a feel for what will work for you and give you the confidence to choose and order a hair accessory ready to take to your hair trial or wedding.
You could even get your bridesmaids involved via video chat – or turn your online hair trial into a virtual party so your loved ones are involved in this fun part of wedding planning even if they can't be with you.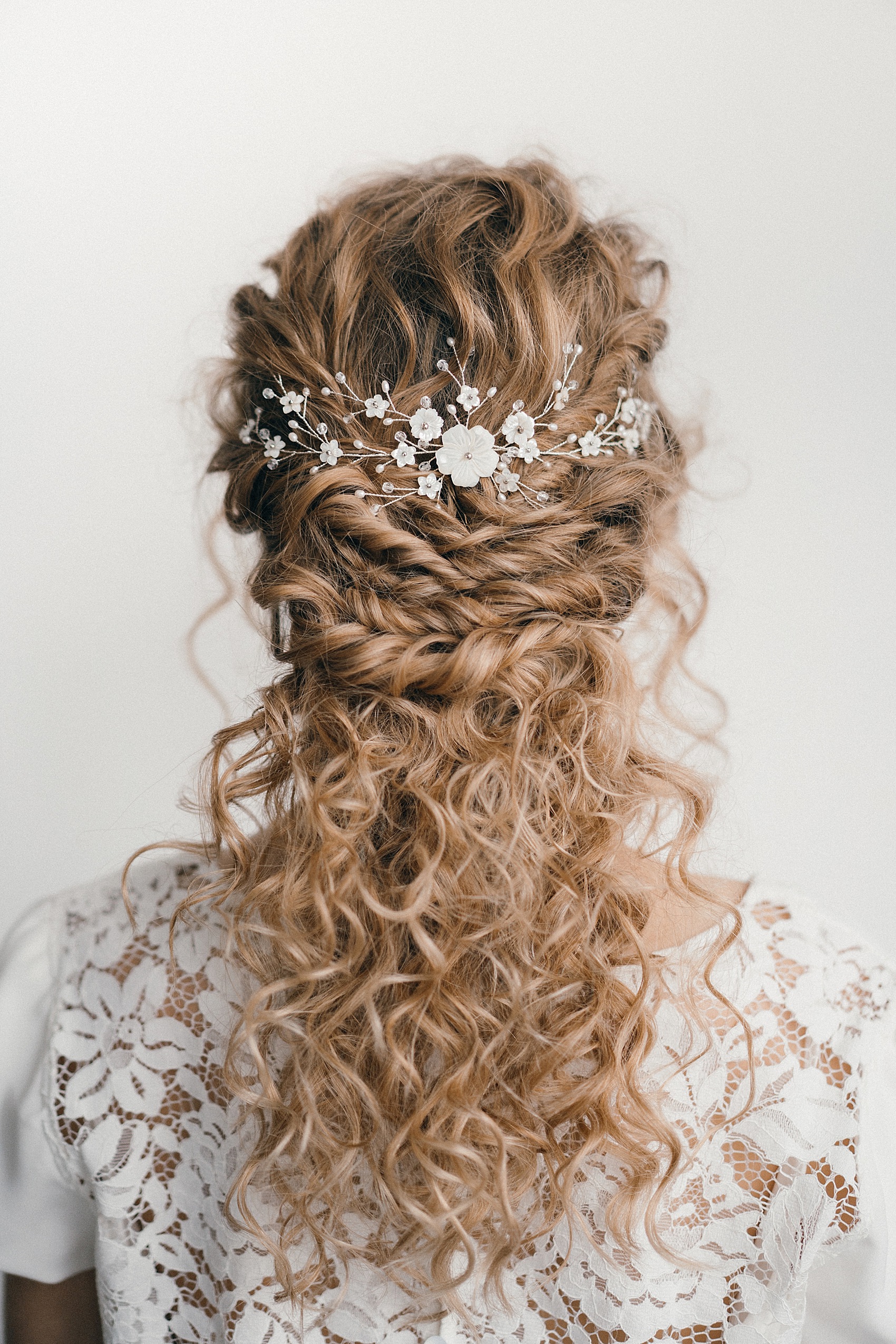 Pinterest and Instagram are of course amazing resources for hair tutorials and there are lots of easy ones that will help you recreate a messy low bun, braid or half-up style as well as tips on curling your hair to get the perfect waves.
If you still can't decide on a hairstyle don't worry – there are lots of hair accessories that will work with many different styles and can be worn in a number of ways so your hairstylist has lots of options on the day of your wedding or hair trial.
Hair vines or hairpins are probably the most versatile choice – a vine of about 28-30cm will work with any hairstyle and can be worn as a headband, tiara or forehead band, or will sit perfectly in the back or side of a half updo or low bun, or can be trailed down a plait.
A hair vine and matching hairpins will give your hairdresser a huge array of styling options if you have the budget to do this and are really struggling to decide on a headpiece – and any pieces you don't use can make coordinating bridesmaid accessories (and double as a thank you gift).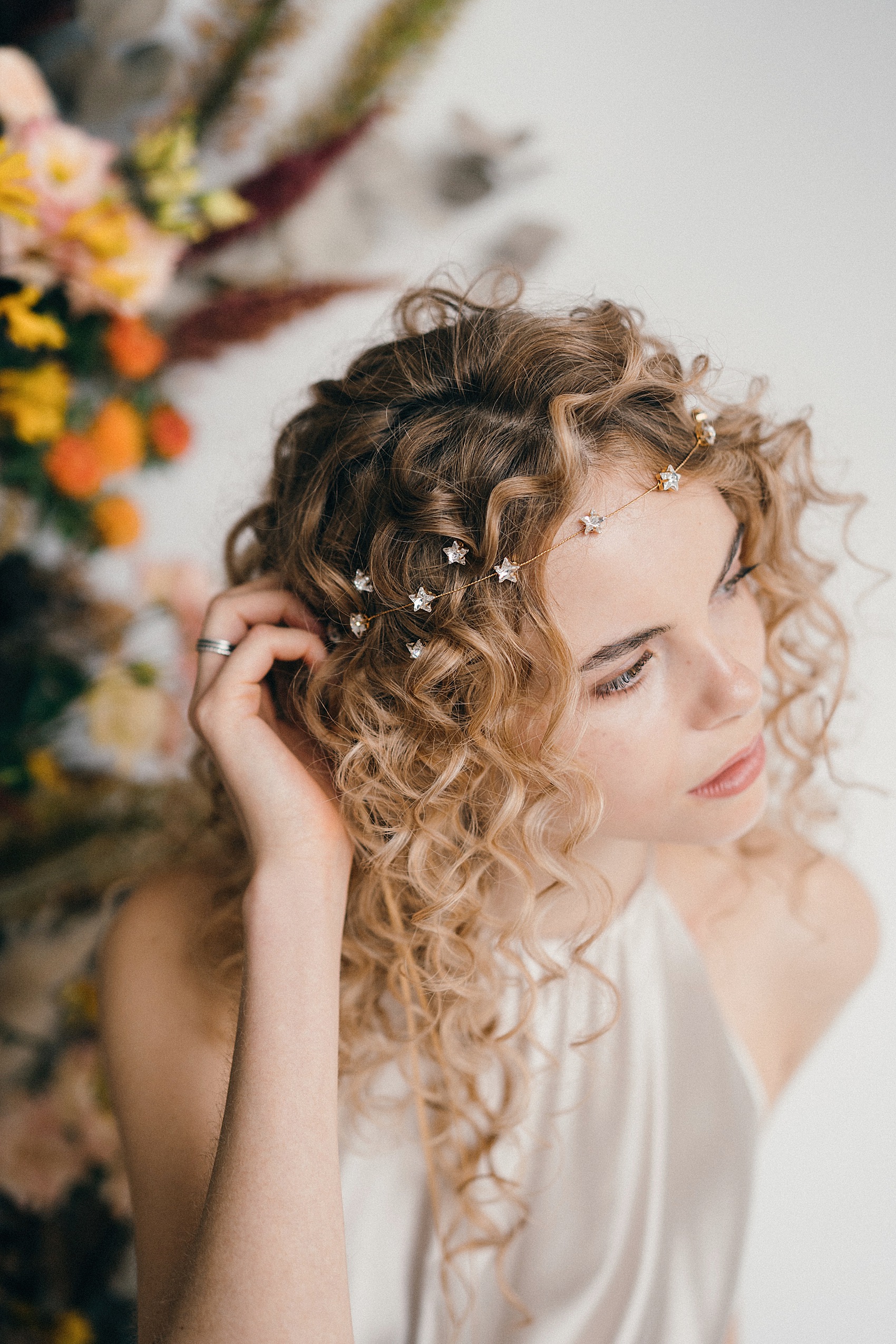 Some brides fall in love with a specific headpiece and will want to work their hairstyle around that – if this is the case, take a look at the different ways the headpiece you like has been styled on the designer's website or social media. You can also look at similar headpieces on Pinterest or Google for alternative styling ideas. As well as shooting my accessories on different hairstyles and in different positions, I make simple videos in my studio which show the same piece styled in different ways – if you can't find what you want on my website take a look at my You Tube Channel or Pinterest boards for videos.
If you know you love a specific headpiece and you can't see it styled with the hairstyle you really want why not contact the headpiece designer or your chosen hairstylist to see what they think? As experts in their field they'll be well-placed to advise you or suggest alternatives. Most designers can tweak their designs so it's always worth asking to see if something can be adapted to suit you.
If you start to feel overwhelmed by all the hair accessory choices out there (and there are a LOT) have a look at your Pinterest boards or Instagram and see which designers you keep coming back to. Visit their website, check they're in budget, they're reputable, that they explain how they are handling orders during lockdown, and that their general ethos fits with yours and then get in touch. Experienced designers should be able to help you narrow down the choices with a few simple questions about you and your wedding. I regularly do this for my brides both in person and via email – just because you can't shop in person it doesn't mean you can't have a bespoke consultation with your favourite designer!
Another great option is to talk the boutique where you found your dress. They pick and stock accessories that will work with their gowns so they will be well placed to advise you on what pieces to wear with your chosen look. If they helped you find the perfect dress, chances are their personalised headpiece advice will be spot on too! Some boutiques are offering virtual appointments during the current restrictions so check to see if they might be able to offer a video accessory shopping appointment where they show you different options alongside your dress.
Just like all aspects of life right now, it's all about adapting to new ways of working – and communicating. I've introduced a diary system for orders – and will be making and dispatching pieces based on when you placed your order and when you need to receive it. This means I can manage the diary effectively to ensure everyone who wants a Debbie Carlisle headpiece will get one in time for their wedding.
If you currently have time on your hands this is a great opportunity to do your research, ask questions, and place orders – before the inevitable rush to make appointments and place orders once lockdown restrictions are relaxed.
Hair accessory types and the styles to wear them with
The key to shopping for a hair accessory on a tight timescale is to choose something versatile which will give you lots of choice about how and where you place a headpiece, and give your hairstylist lots of choice on the day, which is ideal if you don't get chance to have a hair trial before your wedding.
In simple terms, the bigger and more sparkly your headpiece, the more glamorous the look.  A small sparkly comb or hairpins will create a delicate look while something with a lot of bling will create more of a red carpet Hollywood glamour look.
A beautiful alternative to sparkle is pearls or mother of pearl which both add a gorgeous bridal glow without full-on sparkle. I use mother of pearl flowers and freshwater pearls in a lot of my designs which create a soft, natural feel and work really well with lace.
Simple designs using large pearls clustered together in pins, combs and earrings create a more modern streamlined look and work well with structured gowns, trousers or jumpsuits.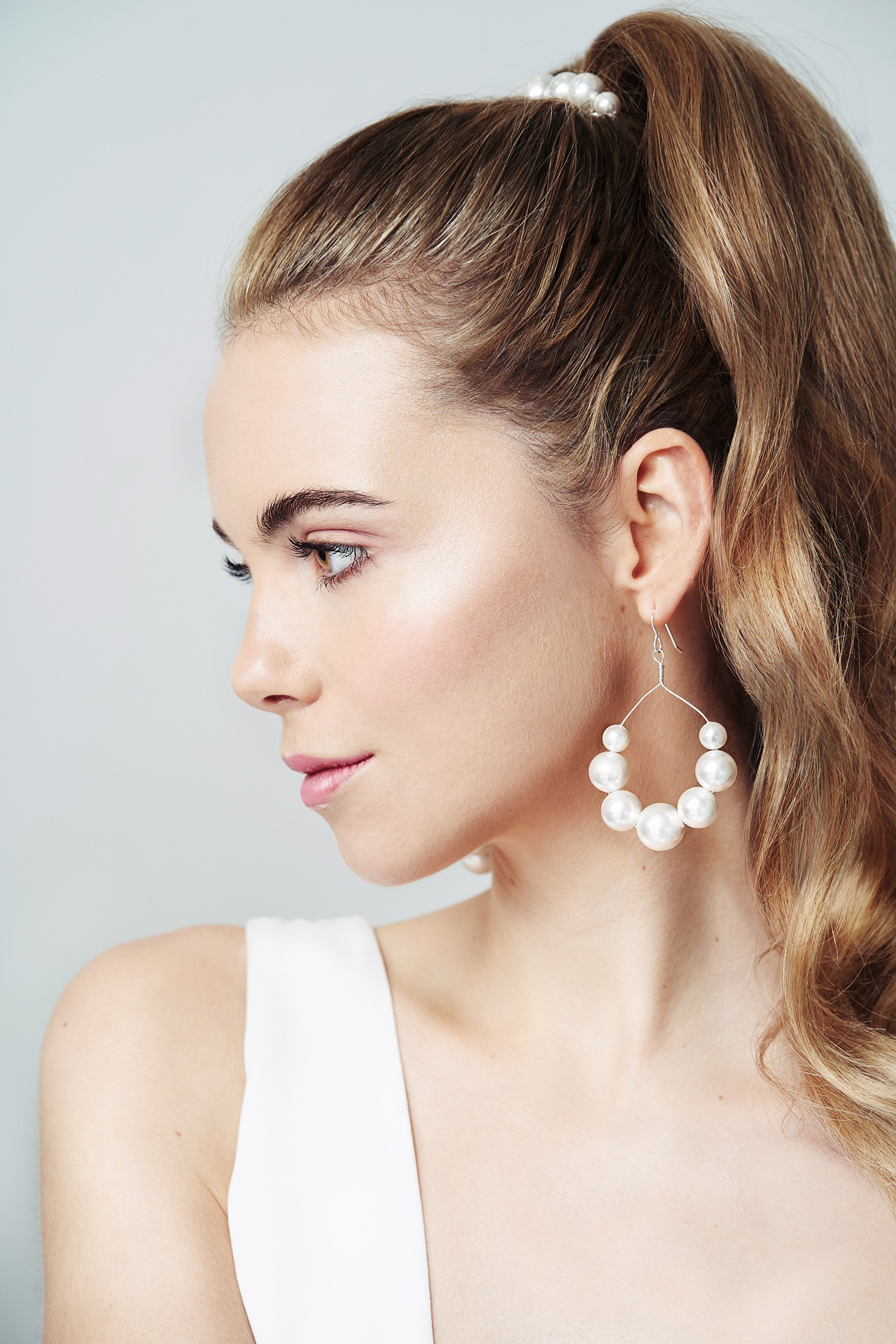 If you're planning any kind of hairstyle that involves pinning the hair up you can't go wrong with a set of hair pins which offer countless ways to create your own look. Large hairpins can be pinned together to create one large headpiece that is unique to you or split up and pinned in different ways around your head or shared amongst you and your bridesmaids to create simpler looks for you all.
Smaller hairpins can be dotted through an updo, half-up or bridal plait – think pearls, stars or flowers depending on your bridal style. I love hairpins at the best of times for their versatility, and if time isn't on your side they are a real godsend as the styling possibilities are endless. Hairpins can be classic and elegant, whimsical and boho, simple or intricate – there's something for every style of dress or wedding.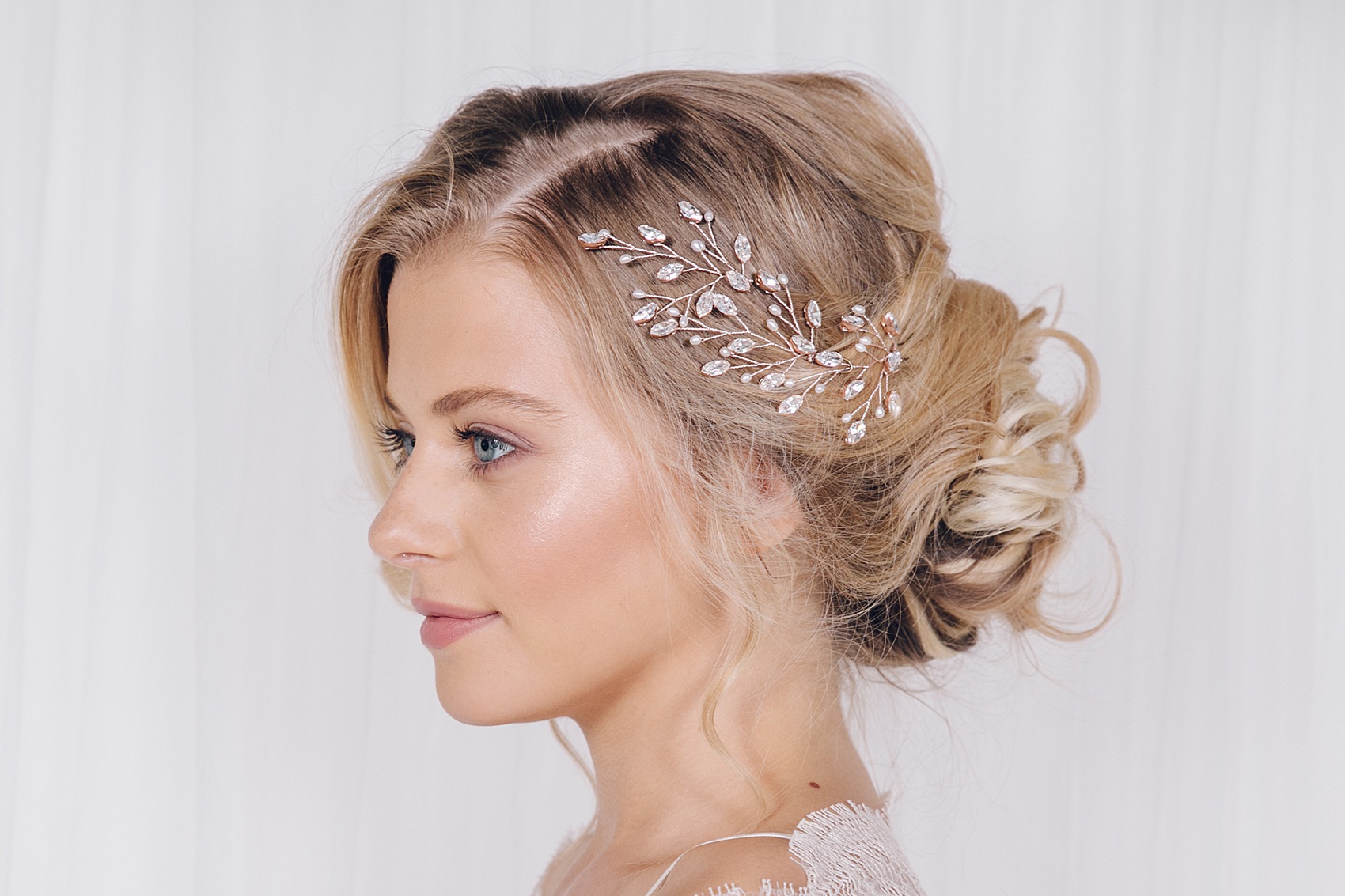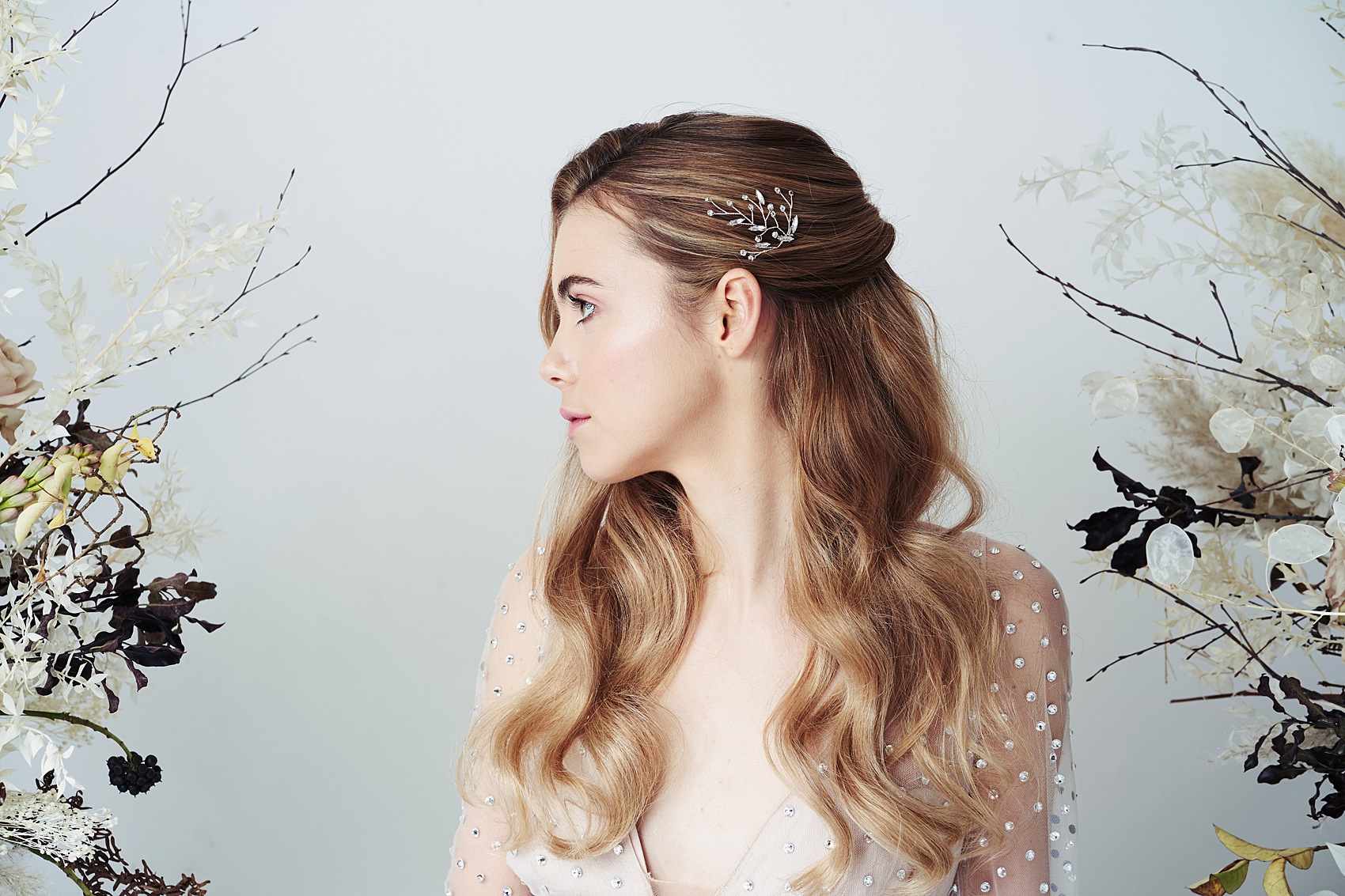 Combs or clips are a classic bridal accessory and works well worn in the back or side of an updo or half-up hairstyle. It is also a lovely way to add interest if you're wearing your hair down – some full glossy Hollywood waves look amazing with a jewelled hair comb holding the hair back behind one ear. A sleek ponytail can work with a comb or hairpins above the ear or above the ponytail – or for a really modern look I love to accessorise a ponytail with statement earrings.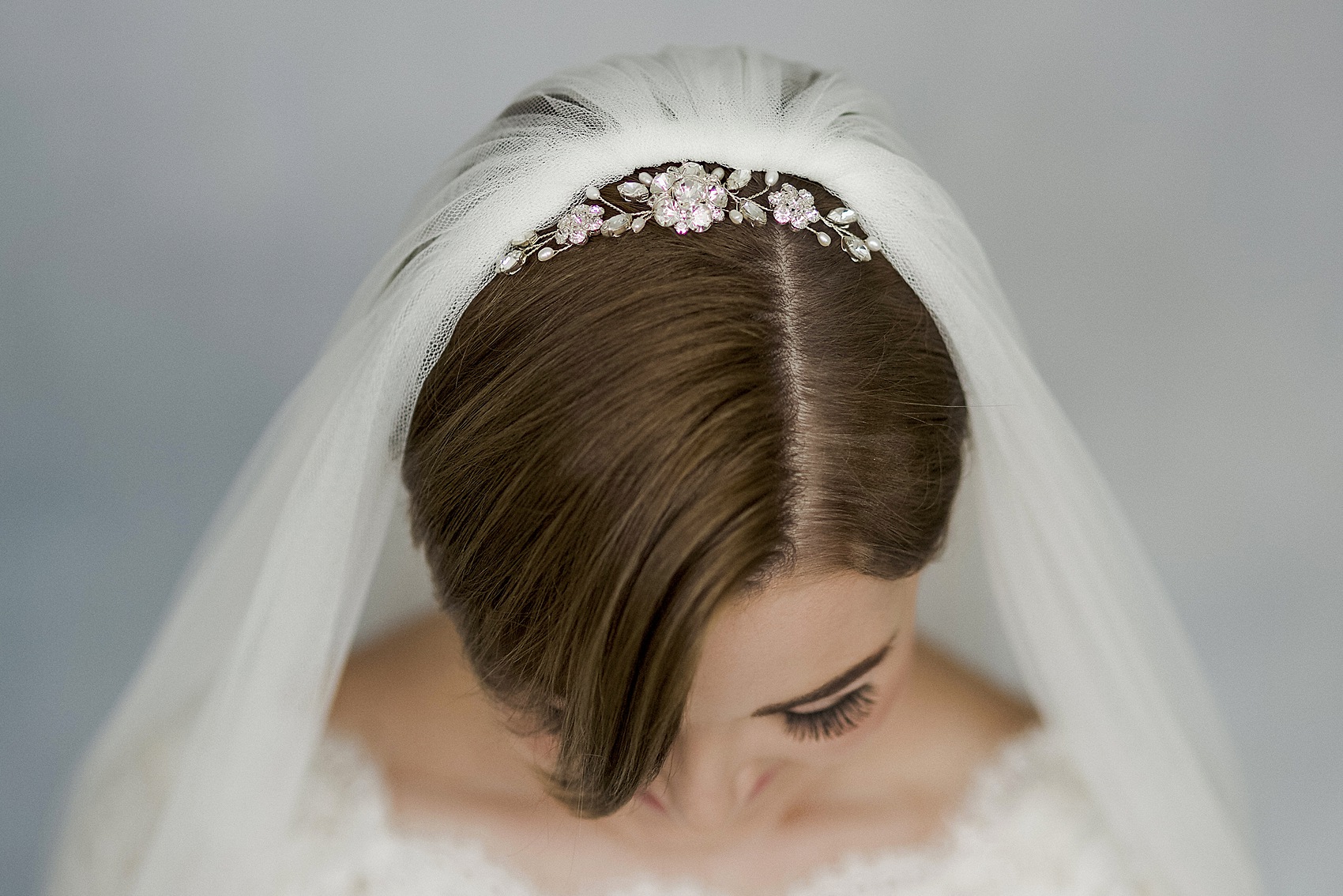 Hair vines are another super-versatile option – they can be pinned into the side or back of the head, trailed down or through a plait or twisted hairstyle or worn across the forehead or in tiara or Alice band position. All my hair vines which can be worn as a headband or forehead band come with removable ribbon ties so you can simply tie them into place at the nape of the neck or back of the head – or take out the ribbons and pin them into the back of your head or weave it into a braid.
Hair vines work with most hairstyles and are my favourite option for wearing with long loose waves and bohemian looks.
Headbands, tiaras and crowns are probably the easiest headpieces to wear – and if you aren't planning to have a hairstylist these are probably the simplest pieces to work with. From ribbon tie headbands to pieces that sit on a fixed headband, these are generally easy to put in place and you can be confident that they won't fall or slip even if they've been put on by a novice!
If you don't plan to have a hairstylist on the day do mention this to the designer you buy from so they can advise you if the piece you have chosen will be easy to work with. They may also be able to offer tips that are tailored to your hair, which is especially useful if you have short, fine or thin hair. They may even  be able to change designs slightly to work with your look or style.
Also, don't under-estimate the power of a statement earring. If you're really not sure about a hair accessory a chandelier or hoop earring can be enough to accessorise your look – you can do this for the whole day or just add them to easily and quickly change up your look.
Debbie Carlisle designs and creates beautiful handmade ethereal wedding hair accessories from her Sheffield, UK, studio for brides and stockists all over the world. Visit her website www.debbiecarlisle.com to view her online shop or find your local stockist.
For more advice about choosing a hair accessory take a look at the following Love My Dress advice posts written by Debbie about how she works with brides to find their perfect headpiece, advice for brides with short hair, curly hair or for general advice on choosing a hair accessory to suit your style and dress.