Like most wedding-related decisions (apart, hopefully, from who you marry) choosing a wedding hair accessory can be a little overwhelming – not least because there's so much choice out there. I always recommend going with your heart above all else – your hair accessory is something you should be excited about wearing rather than something you feel you ought to wear purely because it works with your dress.
When talking to brides I usually find that the problem isn't finding something they love, it's how to narrow down all the options they love to just one single piece – and that's where some expert advice can come in handy!
Asking yourself a few of the following questions can help narrow things down – as well as being a simple checklist to bookmark and come back to if you're worried the piece you choose might not work with your dress or personal style.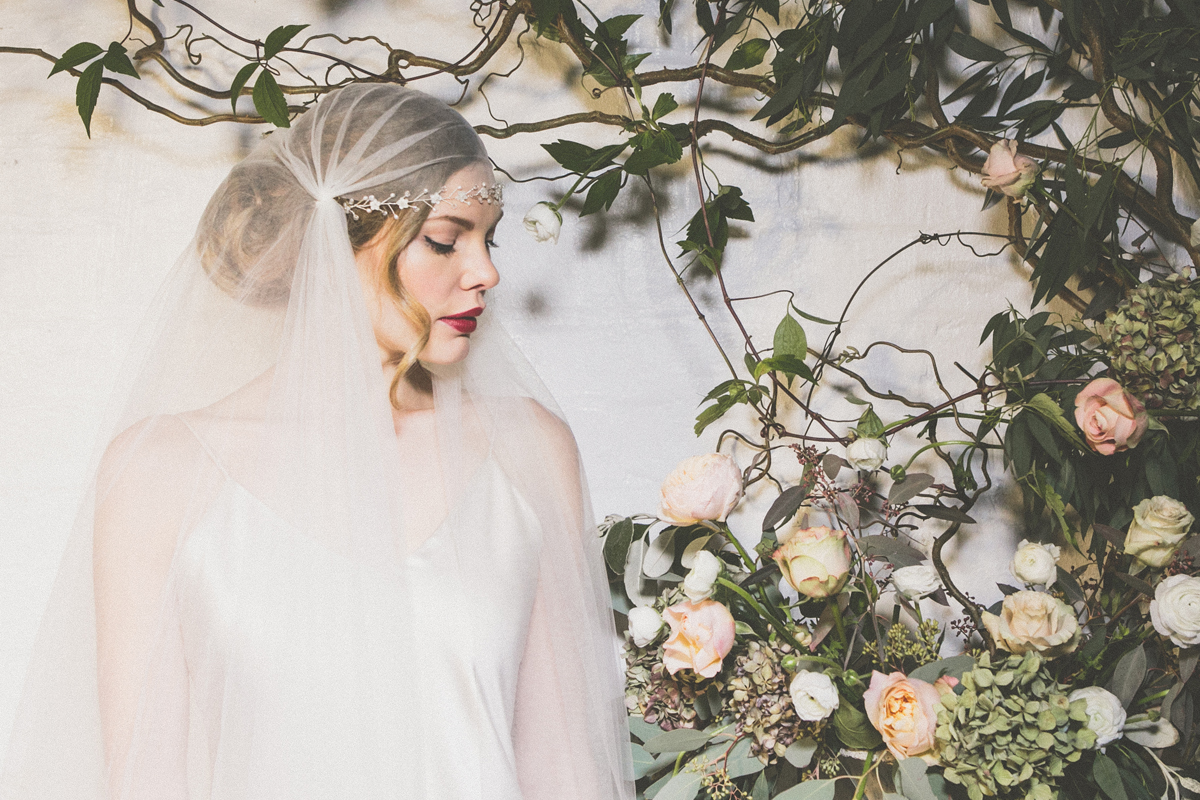 Isabella ribbon tie headband and Juliet cap veil
Brides who like to keep things simple
If you're someone who doesn't like a lot of bling and prefers a simple look then a small delicate comb, hair vine or scattering of hair pins would work perfectly for you. A silver crystal and pearl hair accessory would create a classic look while choosing more unusual finishes such as gold or rose gold crystals or mother of pearl carved flowers will bring your look more up to date and will lower the sparkle level to a subtle shimmer. The less sparkle you have in your headpiece the bigger you can go while still keeping your overall look simple – so a pearl hair vine in blonde hair adds subtle shimmer rather than overwhelming your look.
Single Maisie hair pin, Rosie pearl hair vine
Classic or traditional brides
If you're going for a classic or traditional look then a small crystal and pearl bridal comb or hairpins would add a simple touch of delicate sparkle. If you like the idea of wearing a slightly bigger headpiece, then a simple hair vine worn in the same position as a tiara would update this look while keeping a classic feel.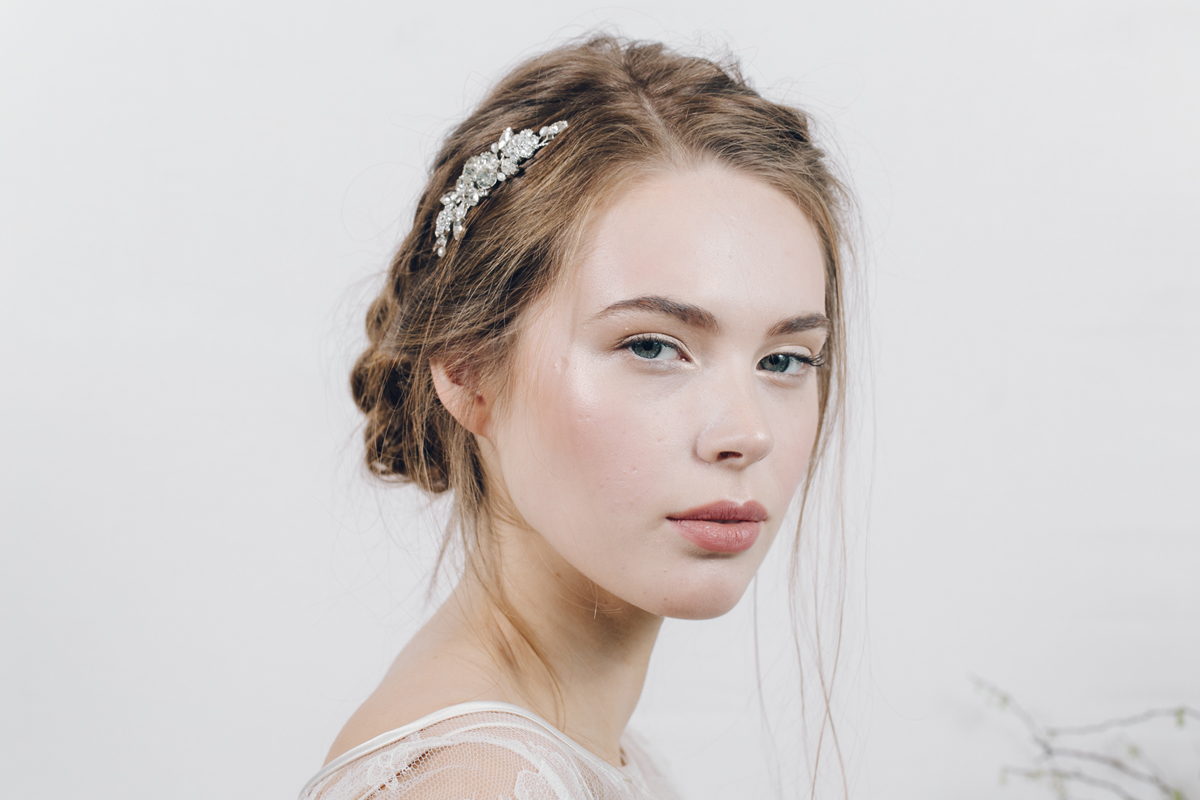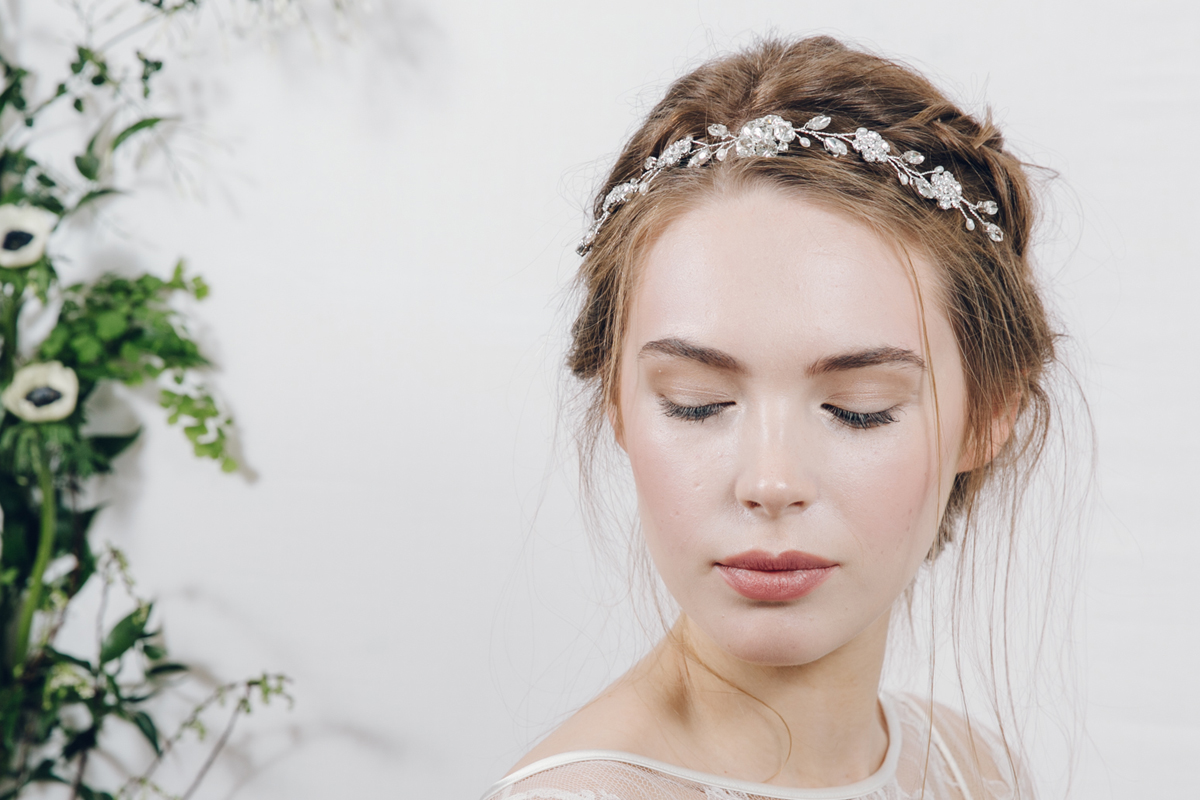 Lucia hair comb (top), Estelle hair vine
Brides with long veils
The most traditional hair accessory option for a long veil would be to add comb just above the veil so it hides where the veil comb sits in your hair and adds a beautiful touch of sparkle which will make your veil unique to you. You'll ideally want a comb that covers the entire length of the area where the veil attaches to the comb so make sure you check measurements or go for a comb and veil combination that you have seen working together.
Lucille Swarovski crystal and pearl veil comb with long veil
Another option is to wear a hair vine or headband where a tiara would normally go and position your veil separately, at the back of your head. This is a great way to update the more old-fashioned tiara look and give the traditional bridal veil an update.
For a more unusual look choose a hair vine that sits at the back of the head underneath the veil. If you choose a long hair vine that curves around the head you will see the sides of the vine peeking out beautifully from the sides of the veil, with the rest of the piece shimmering delicately under the veil to create beautifully ethereal look. You also have the bonus of the big reveal when you remove your veil later in the day to show your sparkling hair vine in all its glory.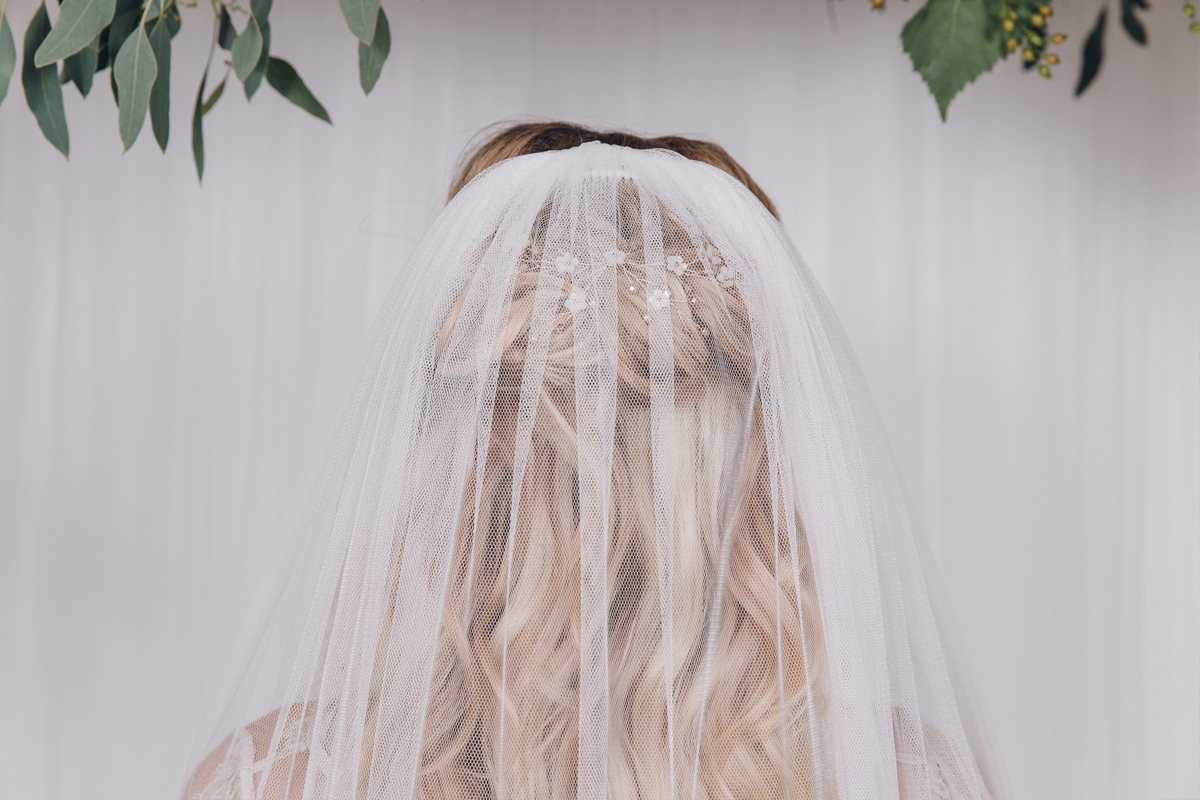 Evie hair vine worn under a long veil
Brides with simple dresses
If you choose a simple dress – maybe something with a beautiful cut and little or no embellishment – then you really have a licence to go big and bold with your headpiece. How big you go depends on your own personal style and what you feel comfortable with but there are no real rules when it comes to simple gowns. This is the perfect opportunity for magpies to really shine with a statement jewelled headband or hair vine.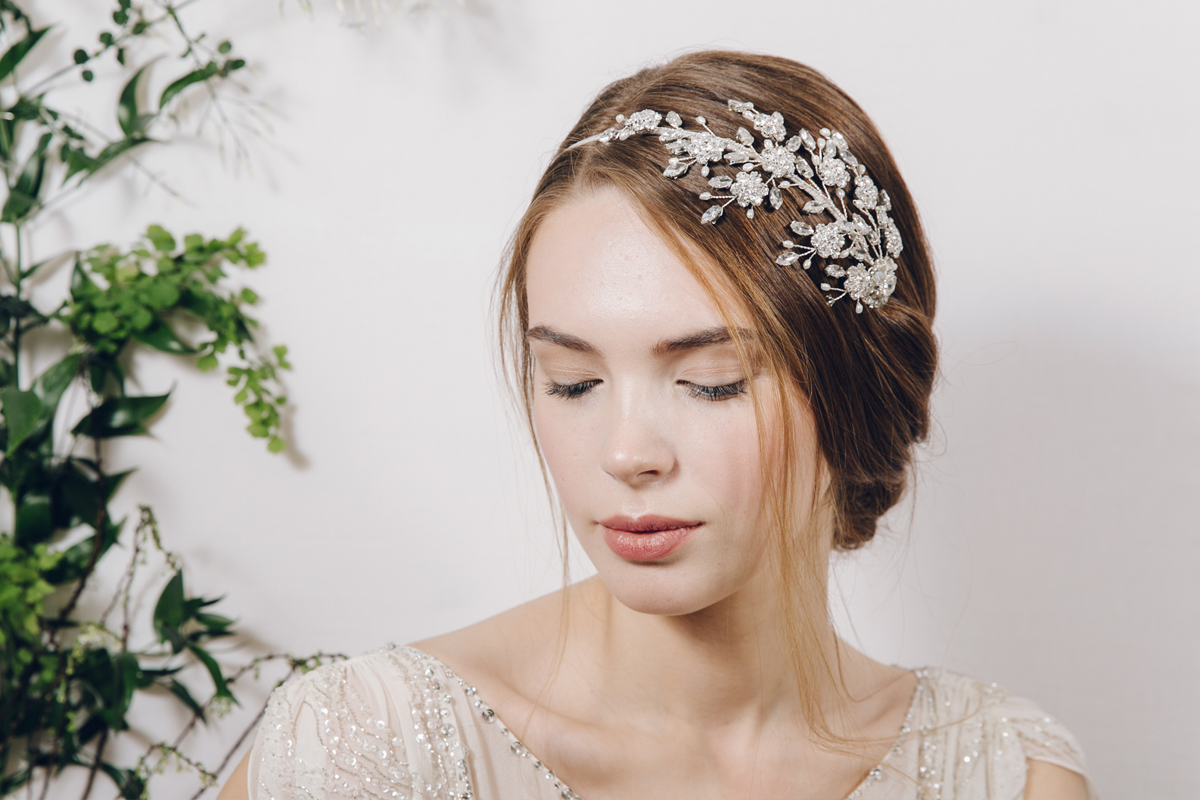 Etta headband and Sybil hair vine
Brides with lace dresses
If your lace dress is quite simple with very little embellishment then you can go as delicate or as bold as you like with your accessory. If your gown has a strong vintage style (and especially if it's not a full-length gown) I think it's nice to add something very sparkly with a vintage style to add a little contrast to your look. I would generally avoid wearing a lace headpiece with a lace gown as this can often be a bit overwhelming. If your lace gown has a more flowing boho style then a floral hair vine is a lovely way to mimic any floral detailing in your lace and bring your look together.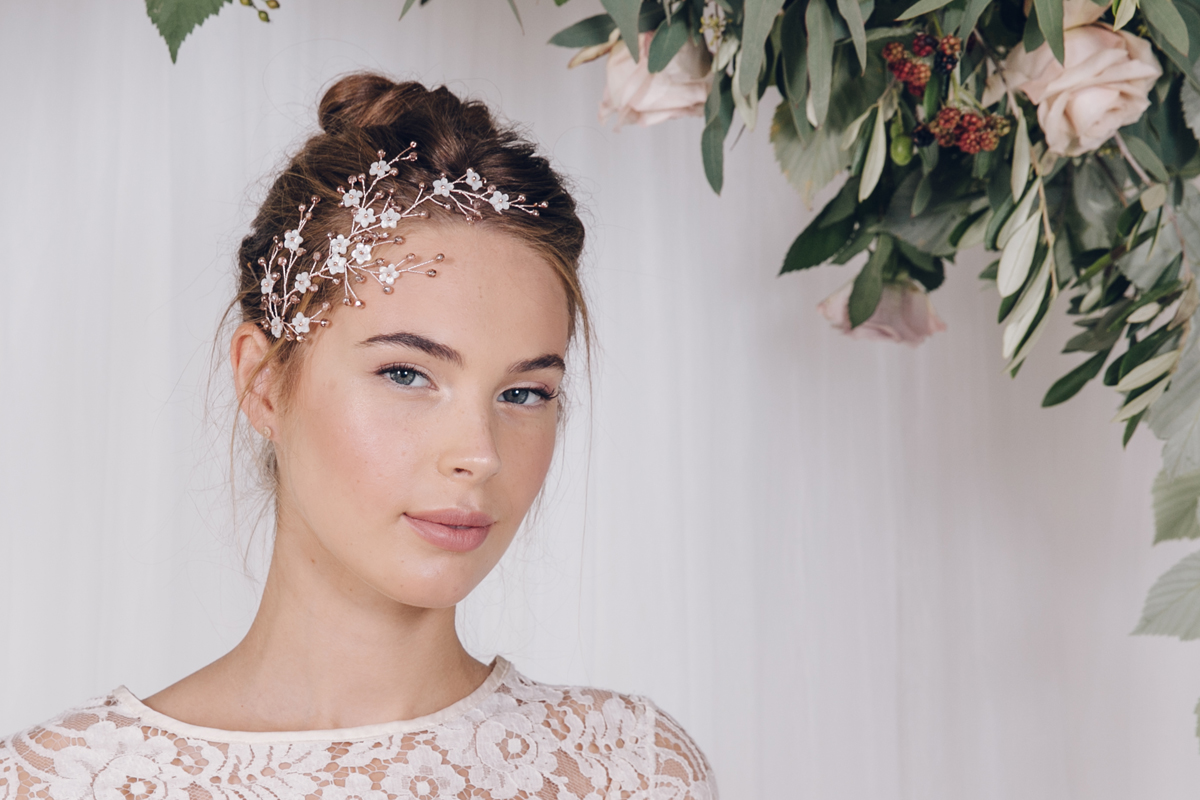 Cherry hair vine in rose gold
Brides with embellished dresses
Perhaps surprisingly, a highly-embellished dress is not necessarily a bar to wearing a statement hair accessory – especially if it has a 1920s feel. If you're going for a Gatsby-inspired look then adding a statement jewelled headpiece to a highly-beaded gown will complete this more decadent style perfectly.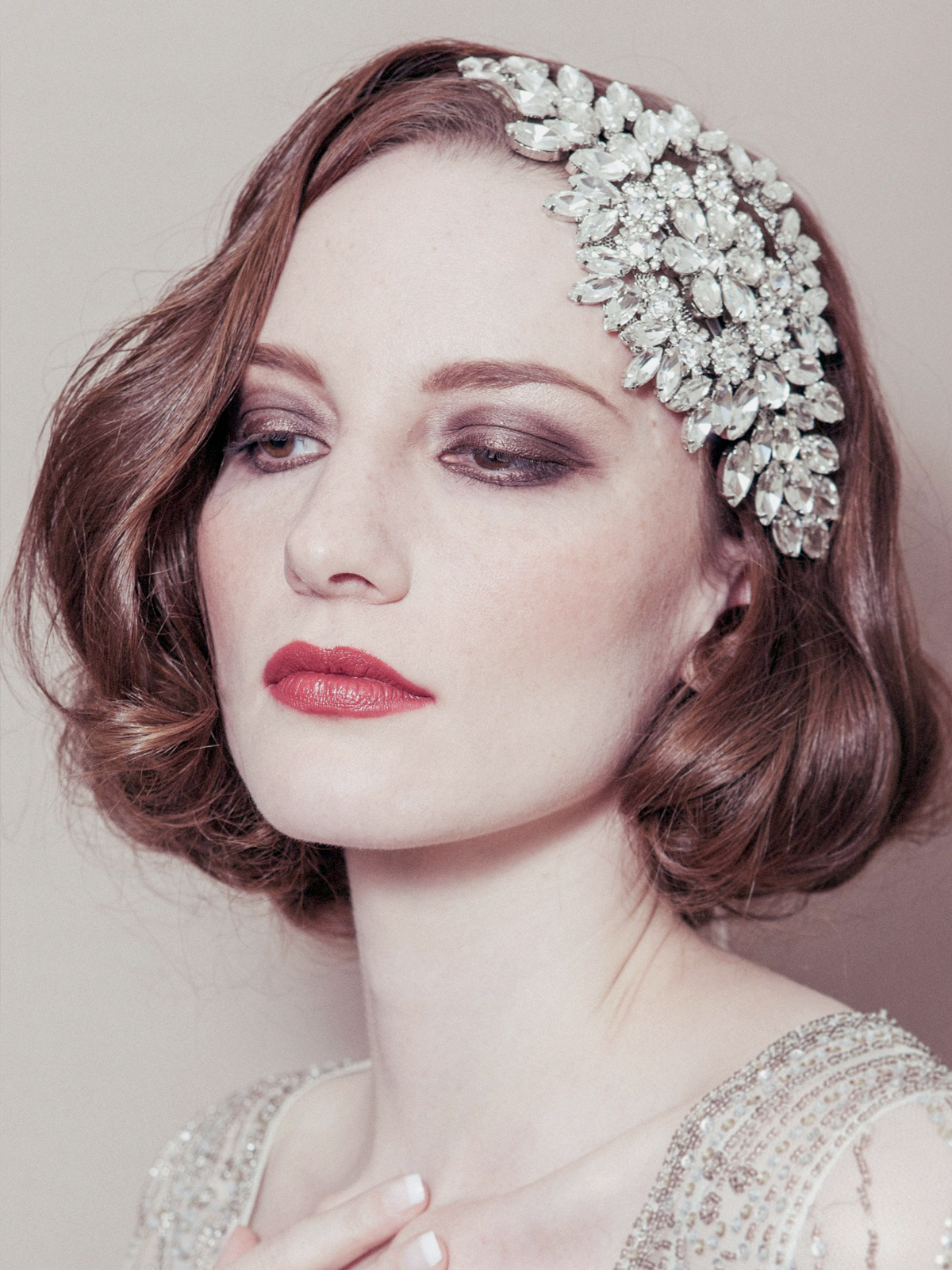 Hattie headband and Sybil hair vine
Modern brides
If you're planning a modern look then the key to accessorising is keeping things as clean and contemporary as the rest of your look. I love a top knot bun for a more contemporary feel – try accessorising it with tiny hair pins dotted about the bun or add a simple headband with clean lines to keep things pared back, modern and fresh.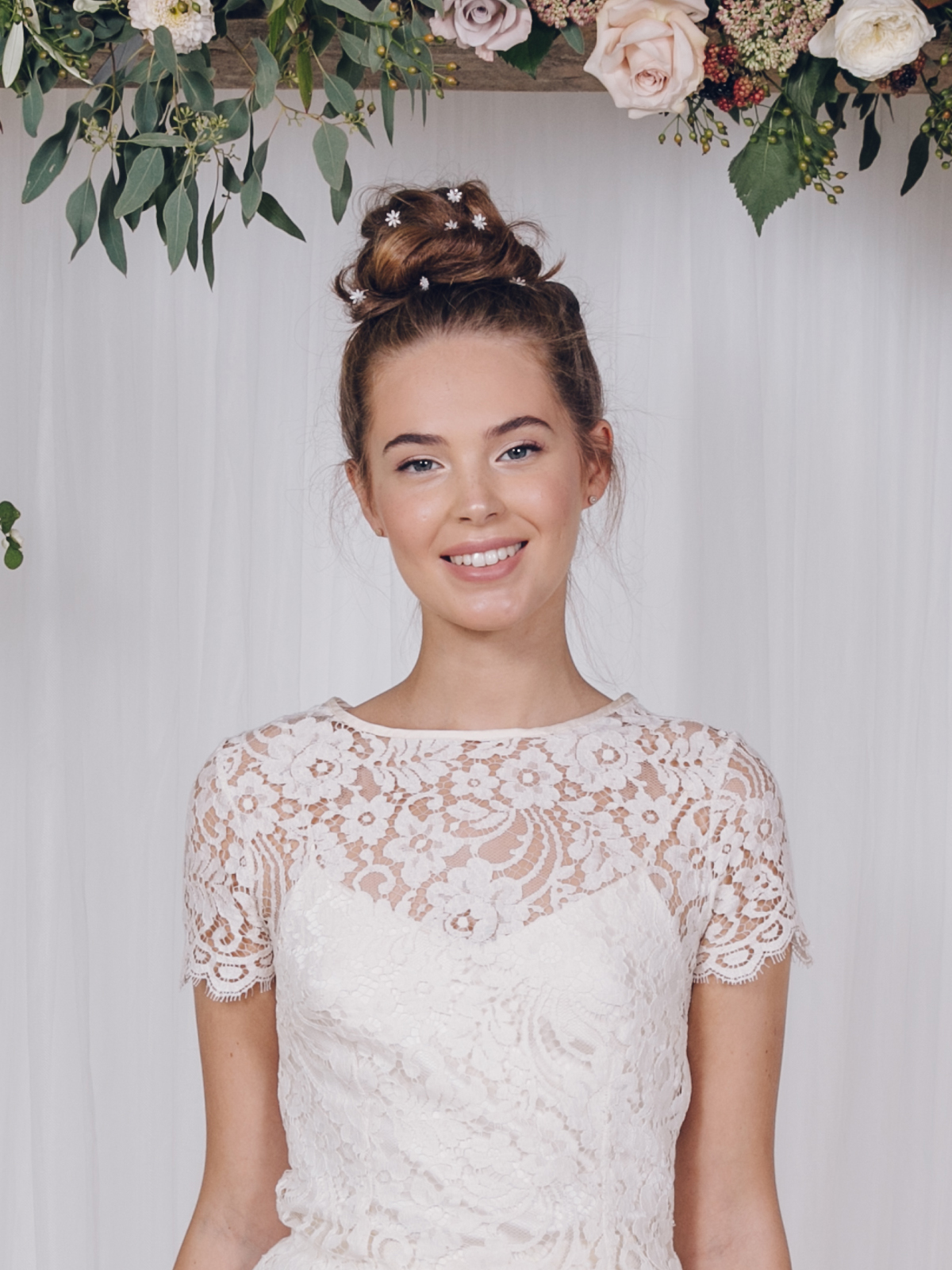 Daisy hair pins and headband
Vintage brides
If you're planning a strong vintage look for your wedding day then I would recommend identifying an era and sticking with it as much as possible. A birdcage veil works beautifully with a tea-length prom-style gown or a slimline 1930s style gown – but won't work so well with a traditional A-line dress. 1920s gowns look amazing with highly-jewelled headbands or forehead bands and jewelled hair vines can also work very well with this look. Simpler 1930s style gowns work beautifully with a birdcage veil and jewelled comb while 1940s and 50s style gowns can look pretty with a comb or side tiara headband. An Alice band or Daisy-inspired piece will work beautifully for 1960s or 70s looks.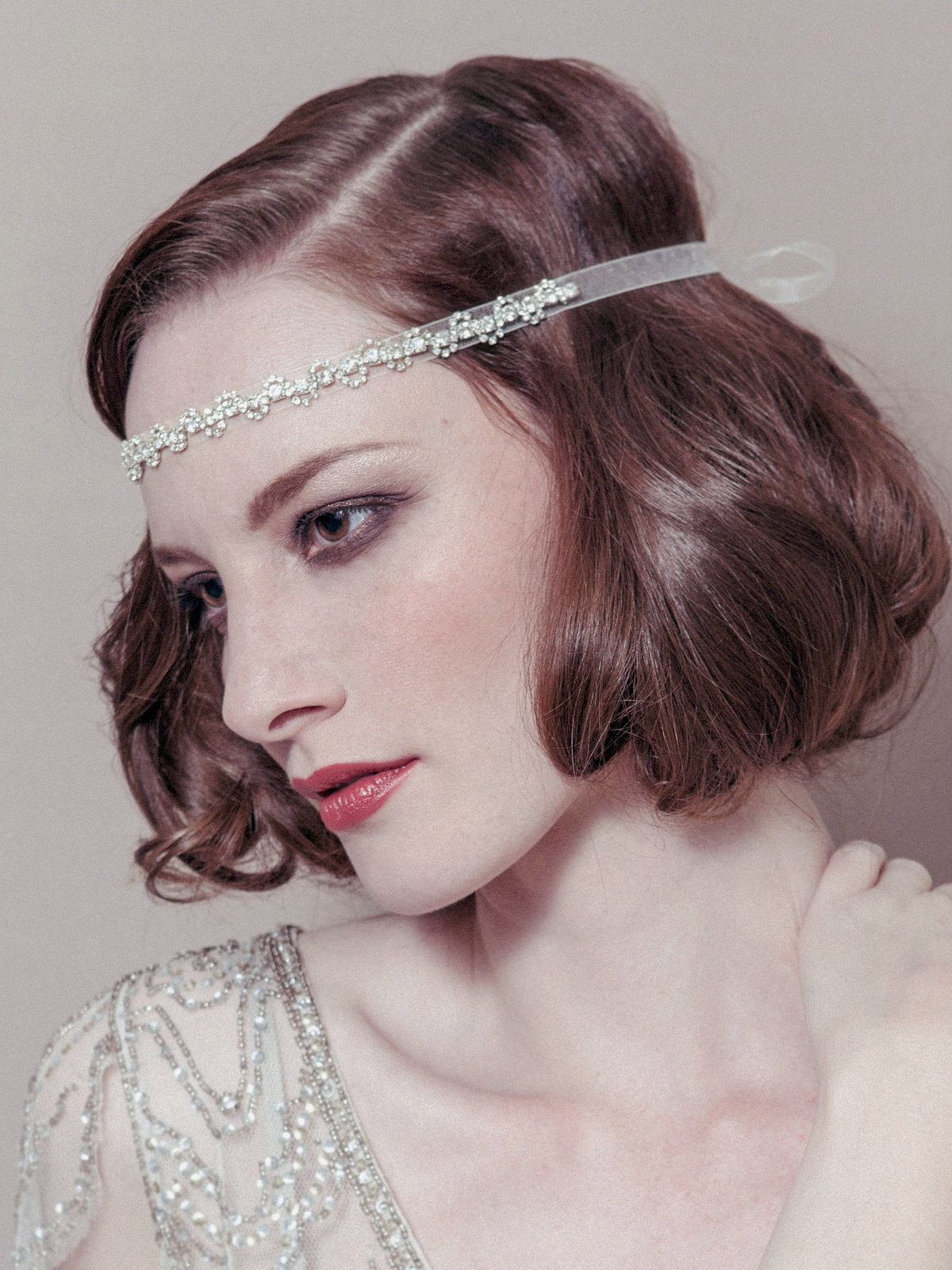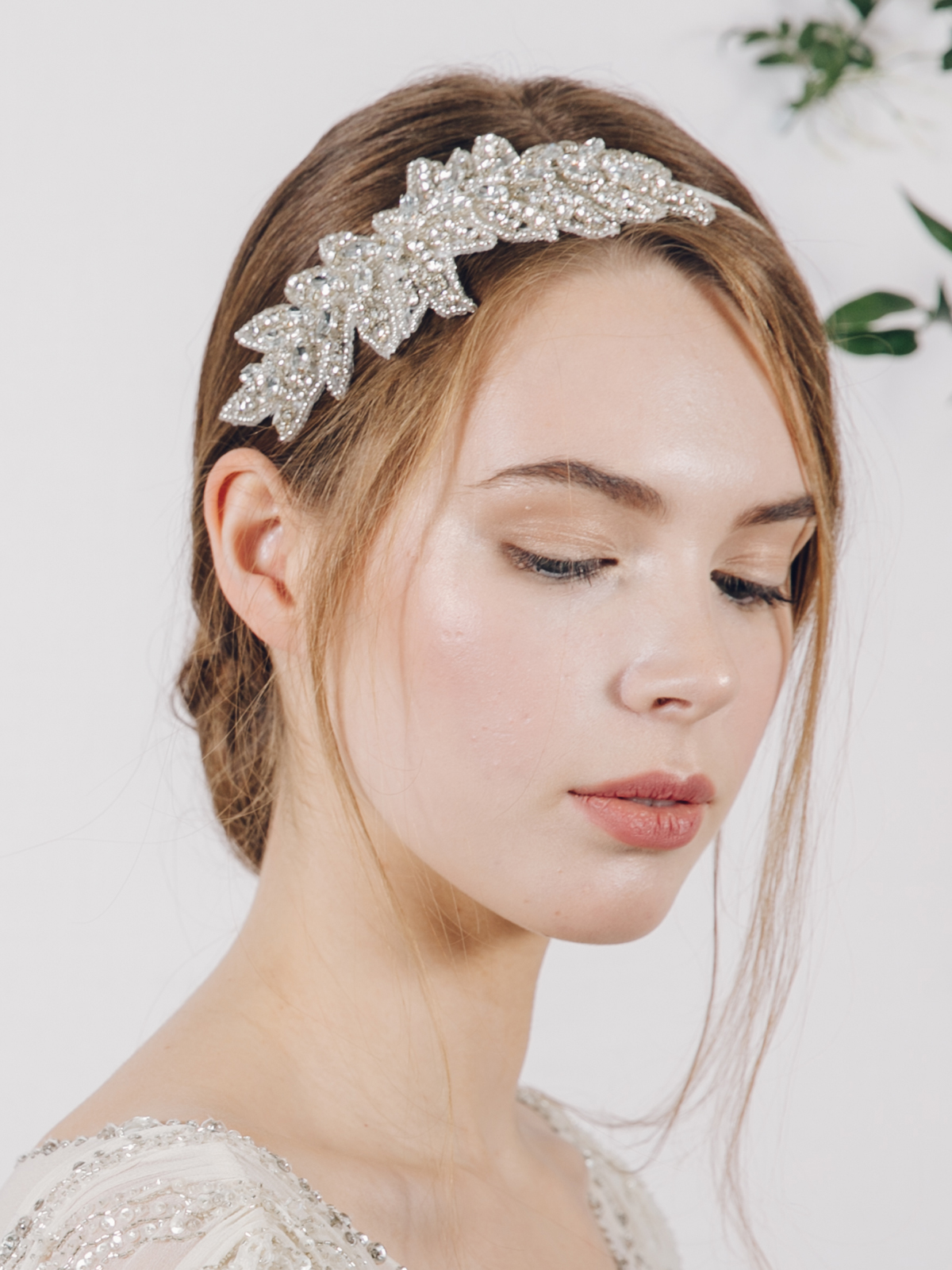 Greta ribbon tie headband and Lauren headband
Hollywood glam brides
If you're planning a high glamour black tie affair then the key to this look is sparkle! Whether you go for a statement pair of sparkling earrings or a beautifully bejewelled comb or headband this look is all about old school jewels and less about bohemian hair vines or floral crowns.
Arabella headband and cuff
Boho brides
If you have chosen a flowing bohemian gown then a hair vine or scattered hair pins are wonderful ways to accessorise this more relaxed ethereal look. Work your vine or pins into or around a beautiful up-do or through loose waves or a bridal plait to make your look as elegant or relaxed as you like.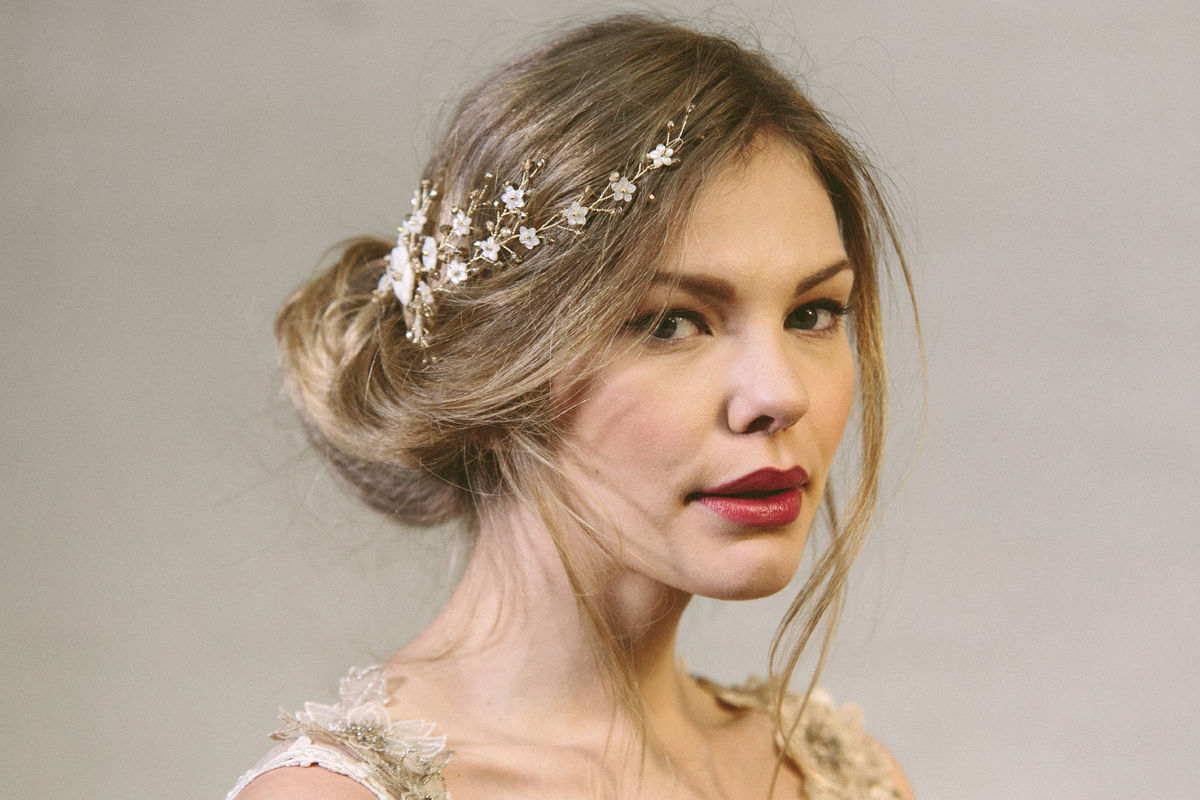 Minna hair pins in plait and Sylvie hair vine
Rustic brides
If you're planning a rustic barn or woodland ceremony then you can go as relaxed as you would like with hair accessories – think twigs, hay or flowers in your hair and then go with a slightly sparkling version to ensure your look says wedding day rather than Glastonbury! Hair vines, crowns and pins work especially well for this look and I love the idea of using gold toned accessories for the ultimate sparkly twig look!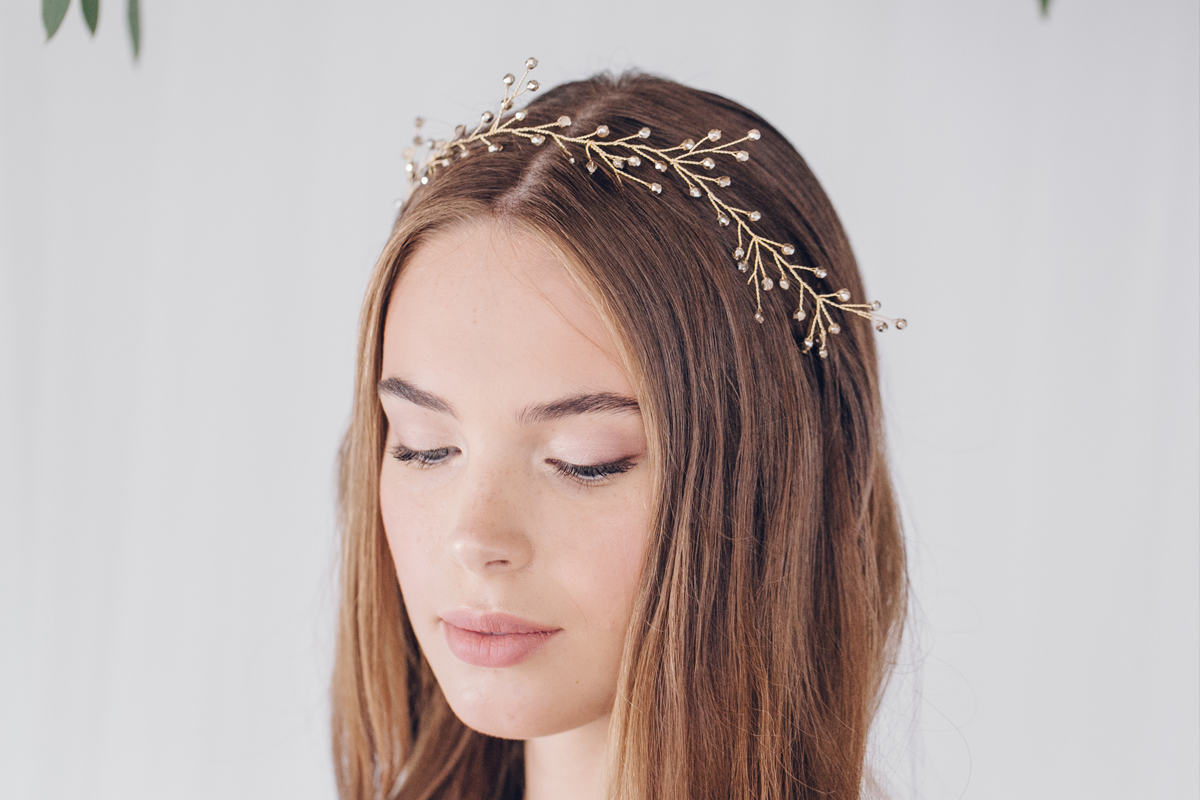 Rosemary botanical hair vine
Ethereal brides
This look is whimsical and utterly romantic with a touch of fairytale magic sprinkled in for good luck – I love turning hair vines and hair pins into raised crowns to create a woodland nymph look.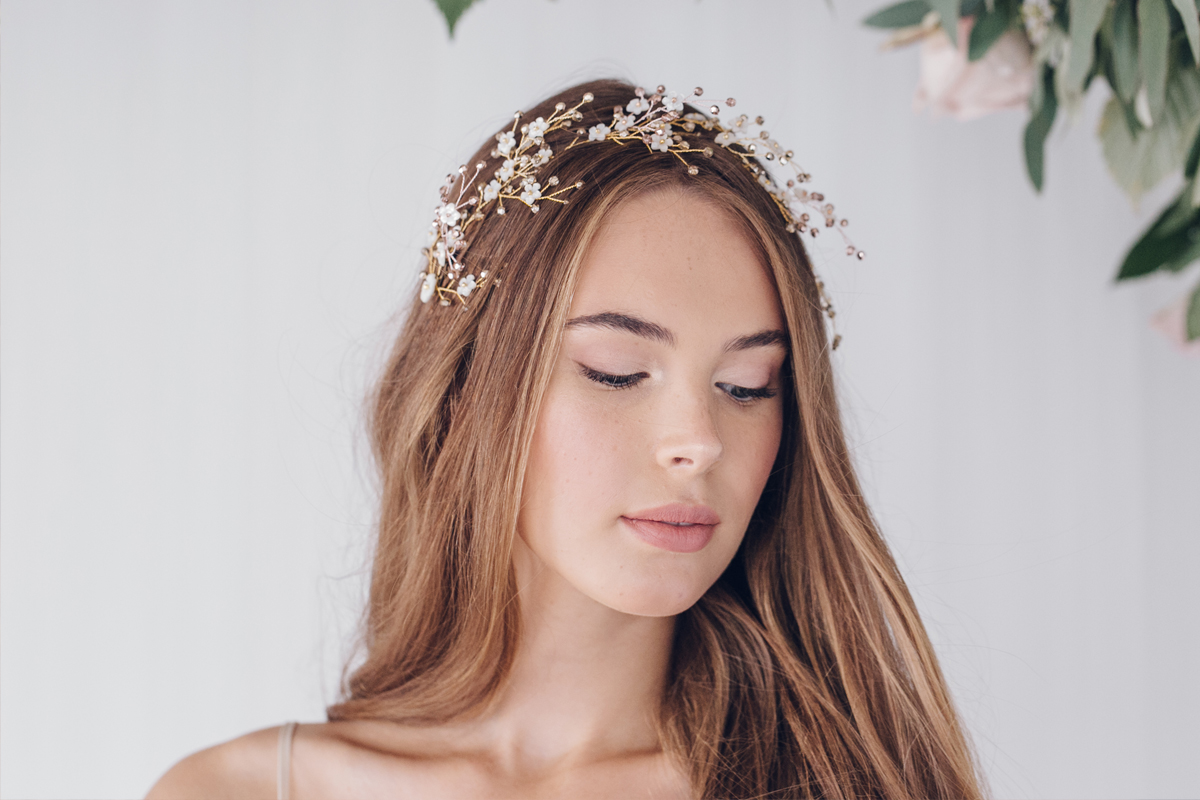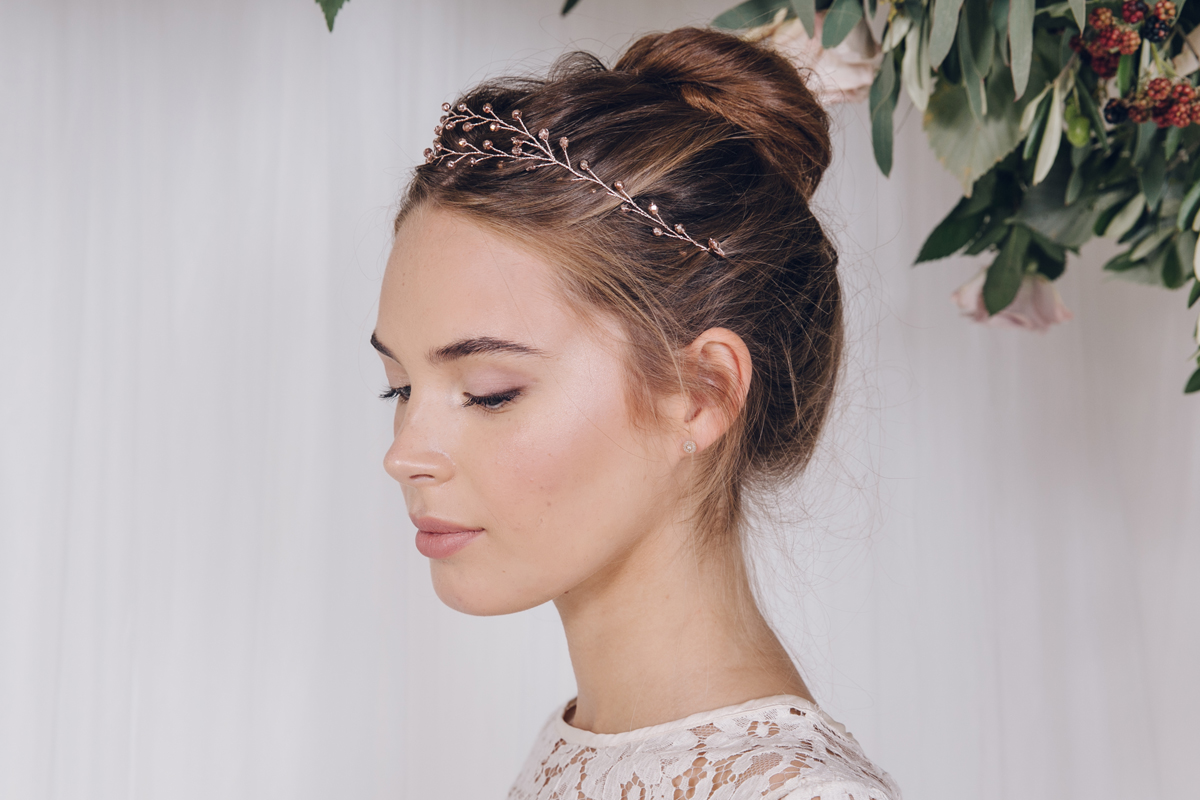 Annette hair vine and Coralie pins worn as a crown, Leander hair vine worn a tiara
Brides who love flower crowns
Flower crowns have been big in weddings for quite a while now – a good way to update this look while keeping the delicate beauty of a floral headpiece is to go for a jewelled floral crown or hair vine. Keep it simple for a more botanical look that speaks of wildflower and leafy vines trailing through your hair.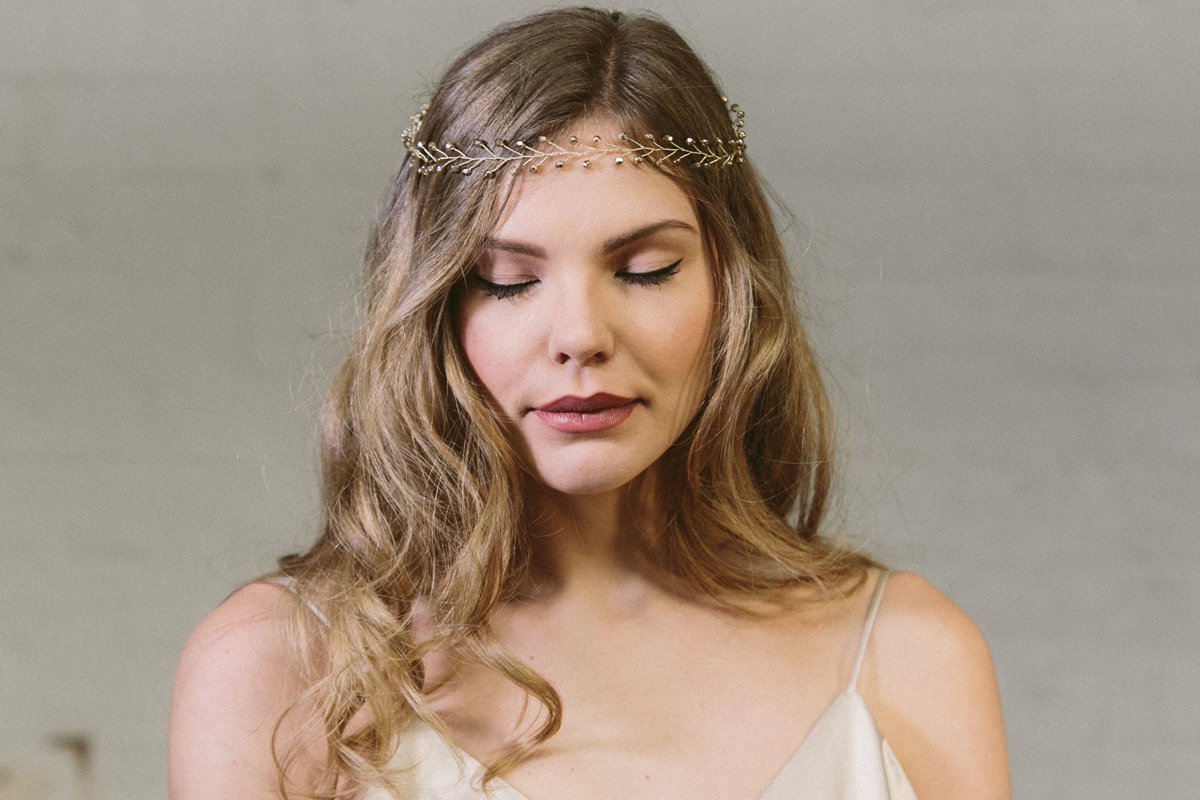 Cornelia flower circlet and Haillie gold halo
If you love to make a statement
If you're known for statement jewellery and love your sparkle then your wedding day is the perfect opportunity to go all out! This is your chance to wear a strong statement hair vine or headband that even you couldn't normally get away with! Of course, if everyone will be expecting you to go all out with a statement look you could always give people a surprise by going for something simple!
Katya statement hair vine in rose gold
If you're wearing a Juliet cap veil
A Juliet cap veil can make a strong vintage statement but also works beautifully with a more relaxed bohemian look. The key to accessorising a Juliet cap veil is where you place your accessories. If you choose a plain veil then you can add as much or as little sparkle to your look as you like. I love to place hair vines or headbands directly where the cap ends – this can be on your forehead or a little further back behind the hairline for a slightly less dramatic look.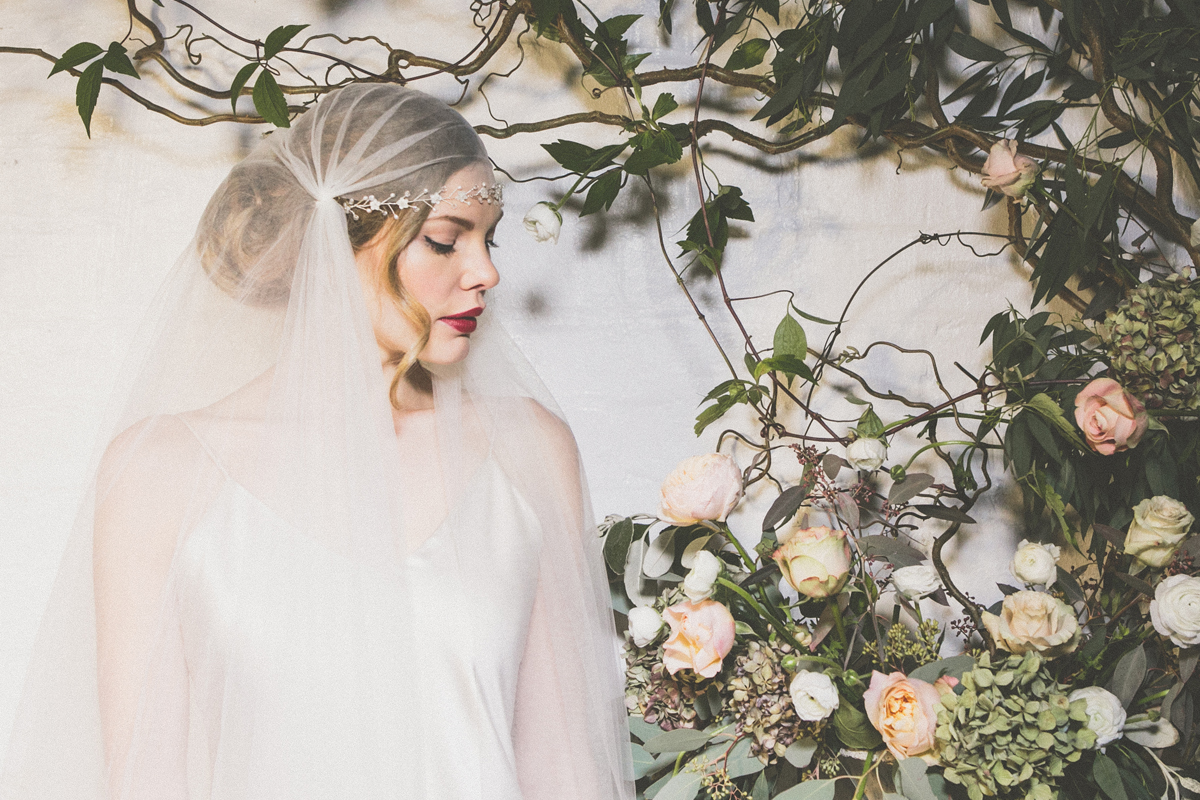 Isabella ribbon tie headband and Juliet cap veil
Of course, the most important consideration when choosing a headpiece is how it makes you feel. It's easy to get bogged down in the detail and forget about just choosing a gorgeous wedding hair accessory you absolutely love and can't wait to wear.
Above all else your headpiece should make you feel special, happy and beautiful – and should be something you feel excited about wearing. The final decision about what headpiece to wear should always come down to one consideration – does it make your heart sing? If the answer is 'yes' then you've found the right one!
* If you're still struggling to choose a wedding hair accessory you could contact your favourite hair accessory designer to ask for advice over email about your look – or ask for a private consultation where you could try on the accessories in person and get some one-to-one advice.
Many hair accessory designers have bridal boutique stockists so it's also worth looking at their website's stockist page to see if there is anywhere near you where you could visit to try on designs in person – or check the designer's events page to see if they will be attending any wedding fairs near you.
For individual advice about your look or to request a consultation with Debbie Carlisle in her studio email [email protected].
Love Debbie x