Oh darlings, I'm on such a bloggers high right now – have you seen the magical wedding we shared this morning? It is sublime in every sense – set amidst the ethereal and breathtaking backdrop of the Scottish  Highlands. This afternoon however, we're whisking you from woodland setting to chic, city environment for the wedding of Faye and James, who tied the knot on 24th September last year. The couple chose The Institute of Contemporary Arts as their venue, having falling in love with the Brandon and Nash rooms and felt wowed by the view from the balcony over St James's Park.
One of my long time favourite ever (EVER!) photographers captured this wedding. The inimitable and utterly delicious Emma Case – whose work I have been proudly sharing for a number of years now. I absolutely adore Emma Case – she's one of those human beings you convince yourself have really been sent from heaven to do good amongst the world. And I love her campaign for uninhibited, honest image taking (and hugging like you mean it).
"Although we didn't have any particular wedding-day style in mind, we did have a loose 'London' theme, inspired by our venue's location and our London skyline invitations. Our photographer was Emma Case. Emma and her husband Pete were brilliant people to have at our wedding. We're not exactly naturals in front of the camera but they were incredibly friendly and absolutely put us at our ease. We were thrilled with how the photos came out."
Photography by Emma Case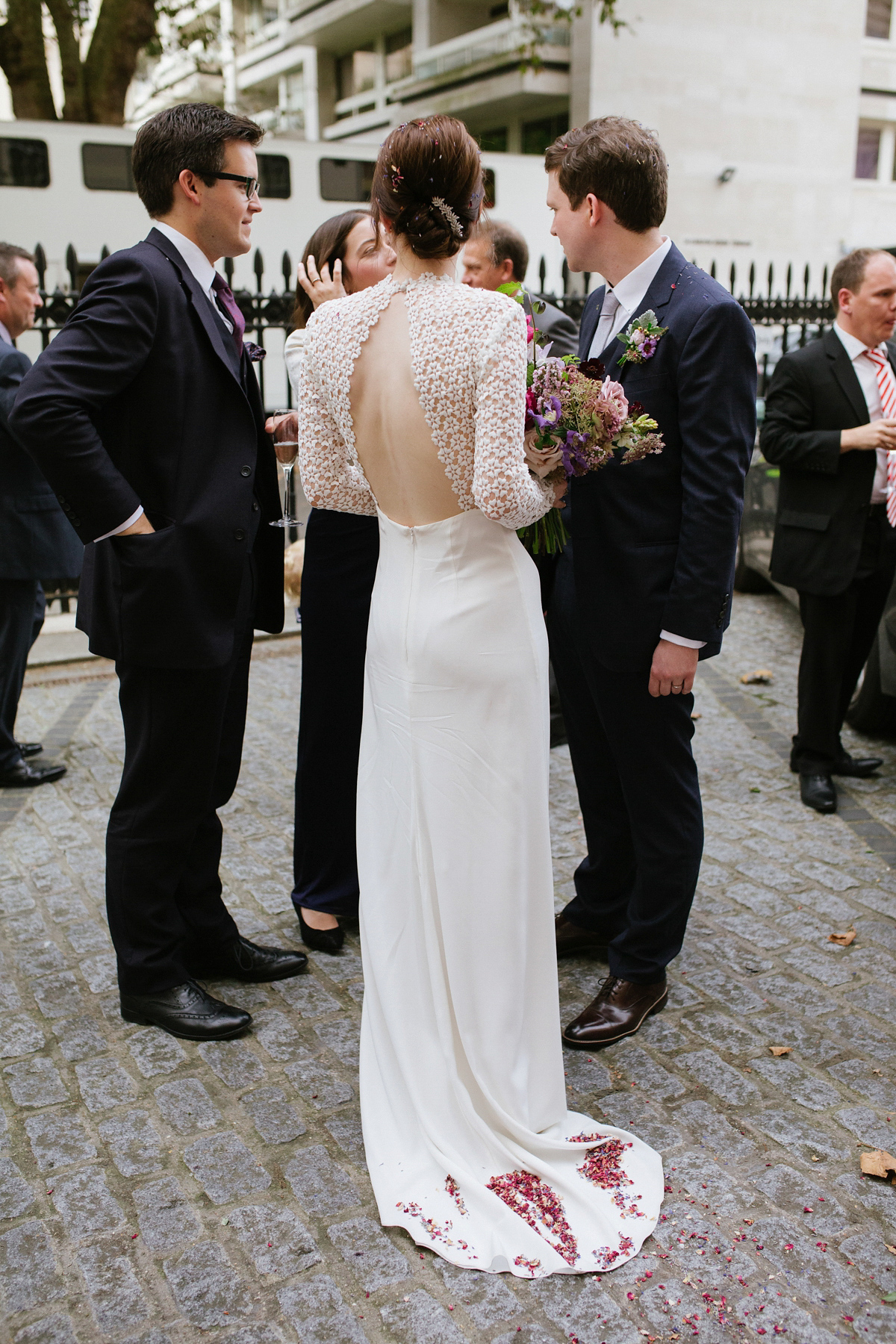 Faye's long-sleeved dress was a Self Portrait design that she purchased from Selfridges.
"I didn't really fancy the idea of traditional bridal shop fittings so decided to do some online research as a starting point. I spotted the dress on Selfridge's website and thought it fitted my style – fairly simple and classic but quite modern at the same time."
"I then had it altered by the brilliant Satish Mal at Elite Alterations so it fit me perfectly."
"We got engaged on a surprise trip to Vienna in late 2015. I thought we were off to see James's parents in Newcastle for the weekend so it was quite a shock when we got to the airport and he revealed where we were really going!"
"We had a wonderful time wandering round Vienna's many Christmas markets and drinking mulled wine."
"I met Emma from Palais Flowers at the venue and, after giving her some loose suggestions on colours, was happy to hand over to her. I had seen Emma's work featured on various wedding blogs and adore her style."
"Seeing the flowers was a brilliant surprise on the day, particularly the stunning fireplace display. I also loved some of the more unusual details, like the use of berries in my bouquet."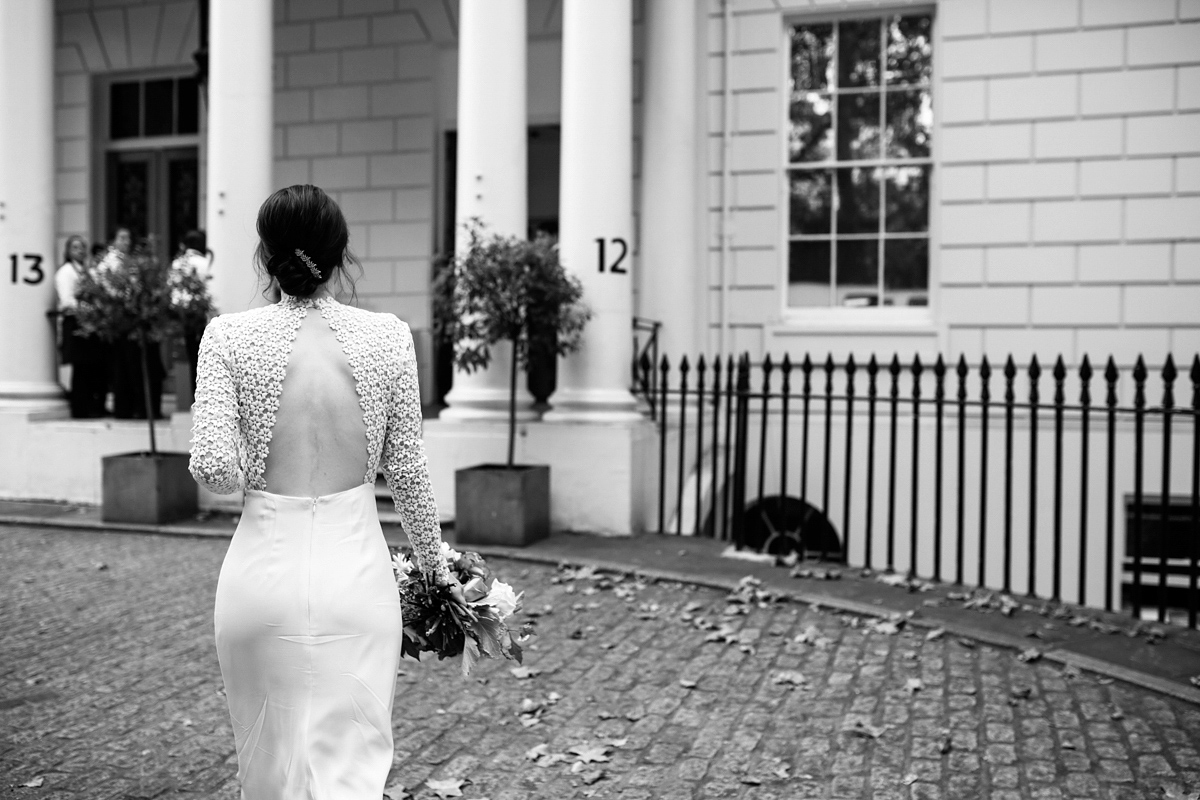 "We had two readings during our ceremony, an Emily Dickinson poem and 'The Book of Love' by the Magnetic Fields."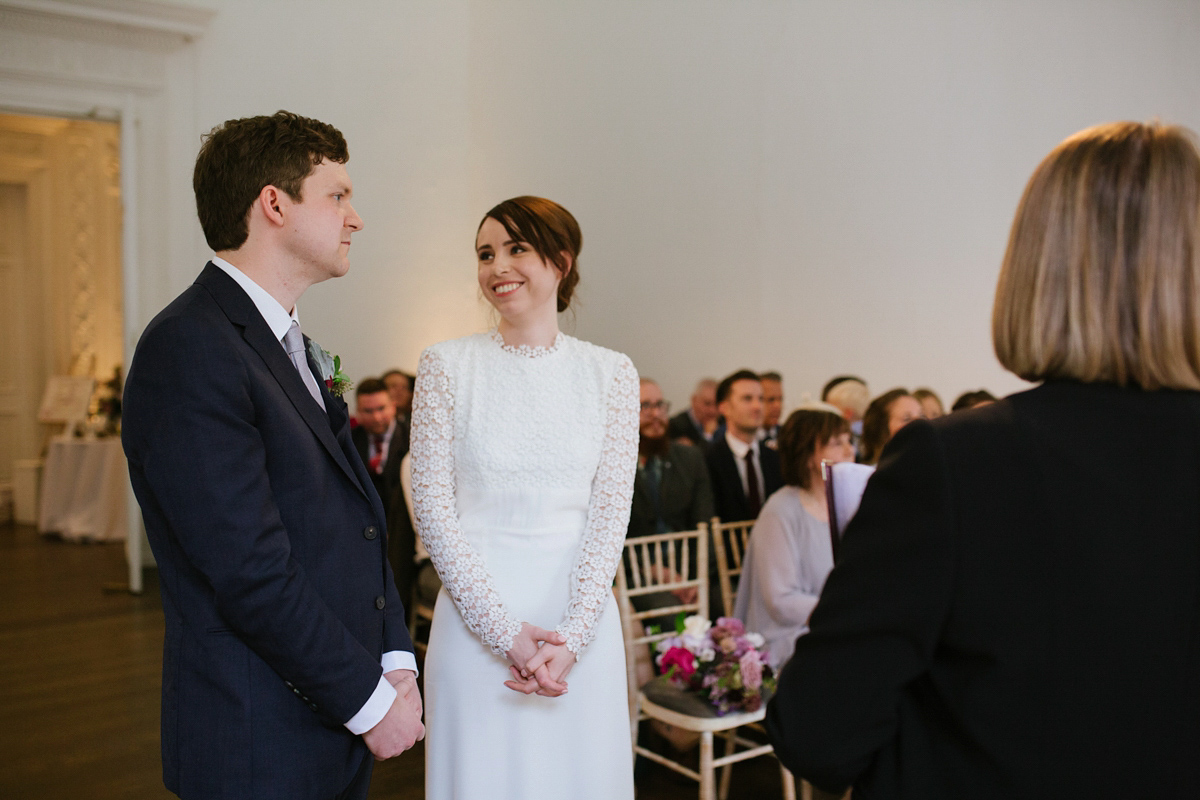 "Our wedding rings are from ethical jewellers Cred to match my engagement ring."
"We had a short break during the meal to have some photos taken on the balcony. I remember it was a lovely moment to have a breather on own and take everything in."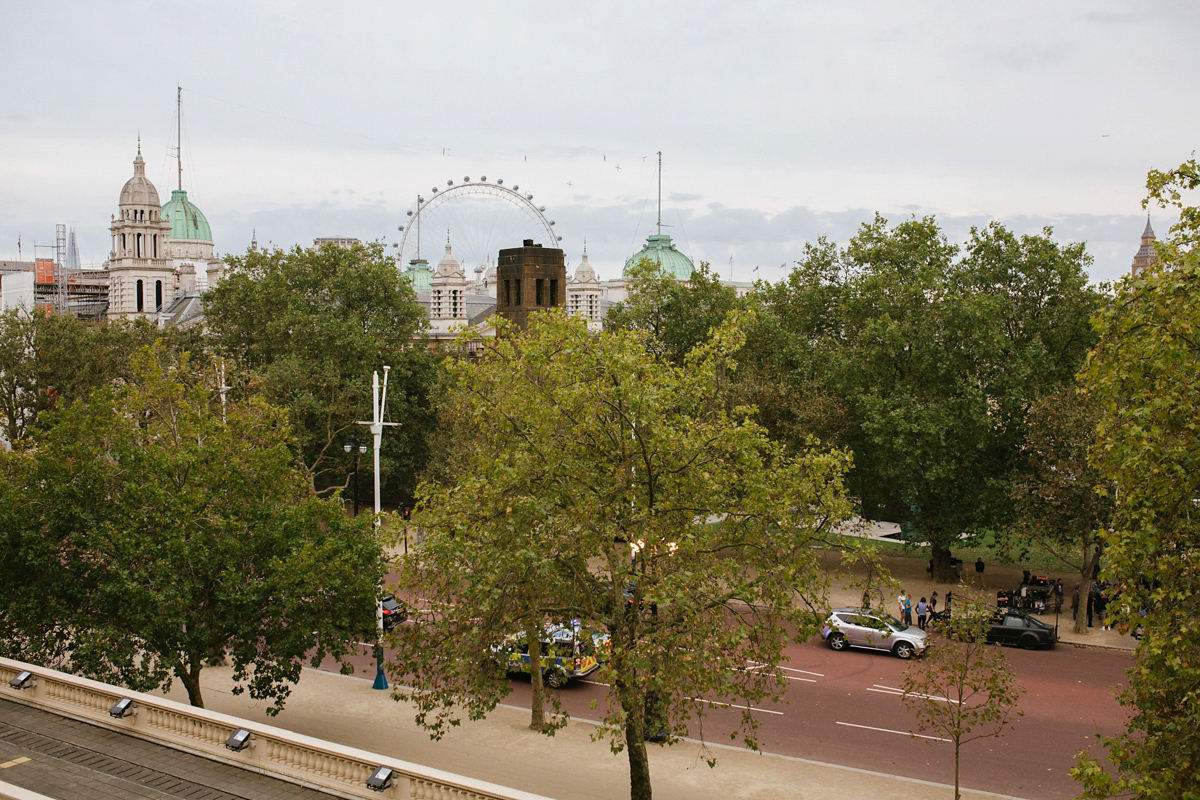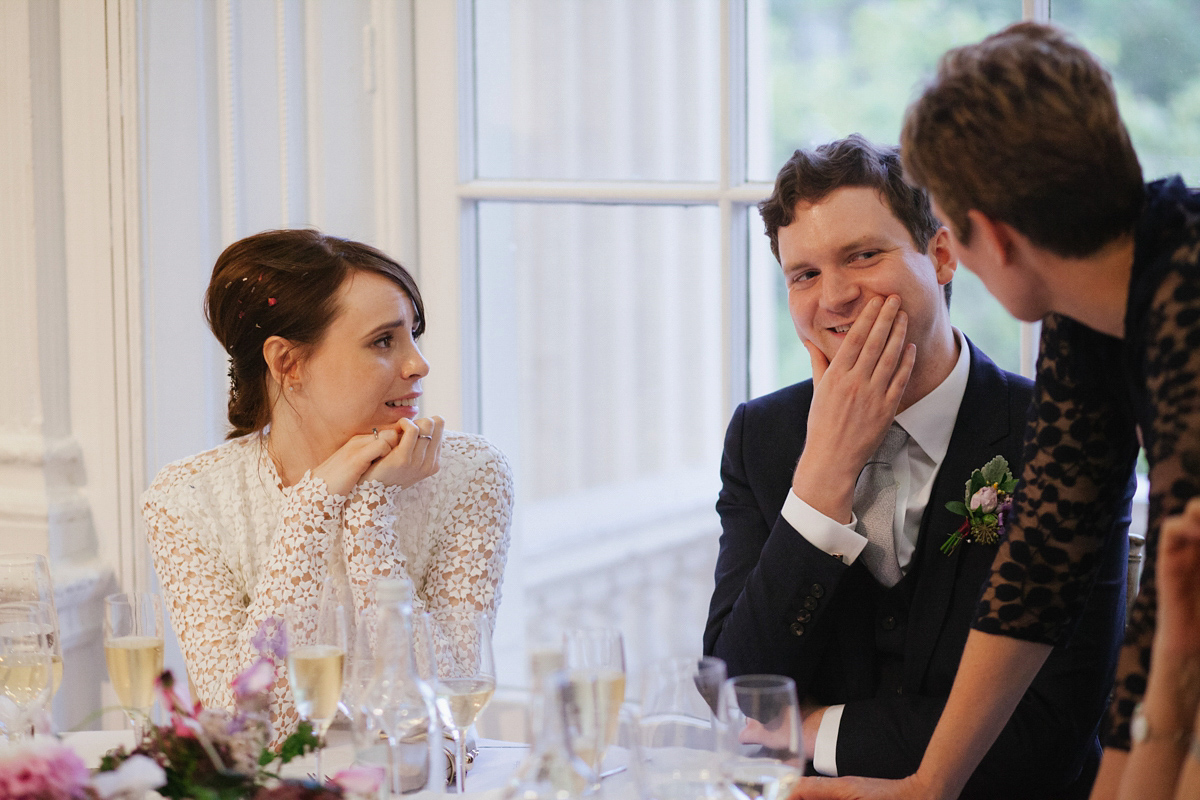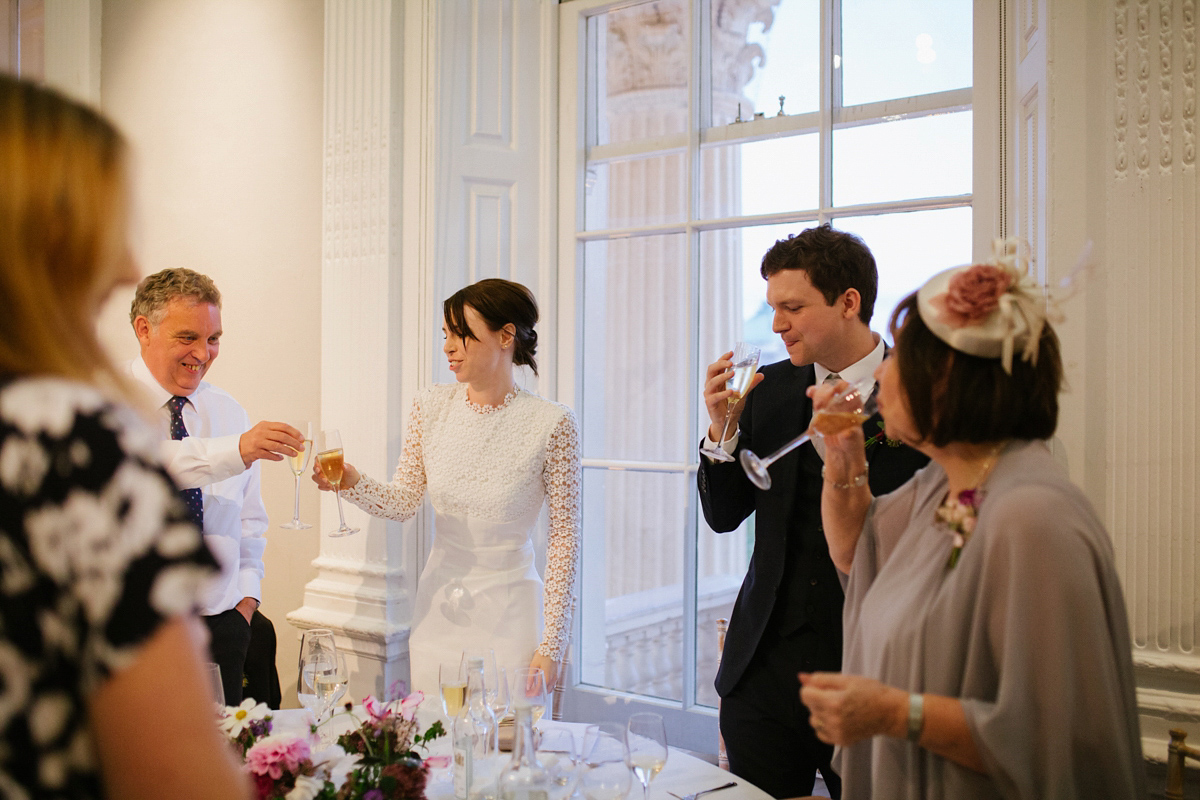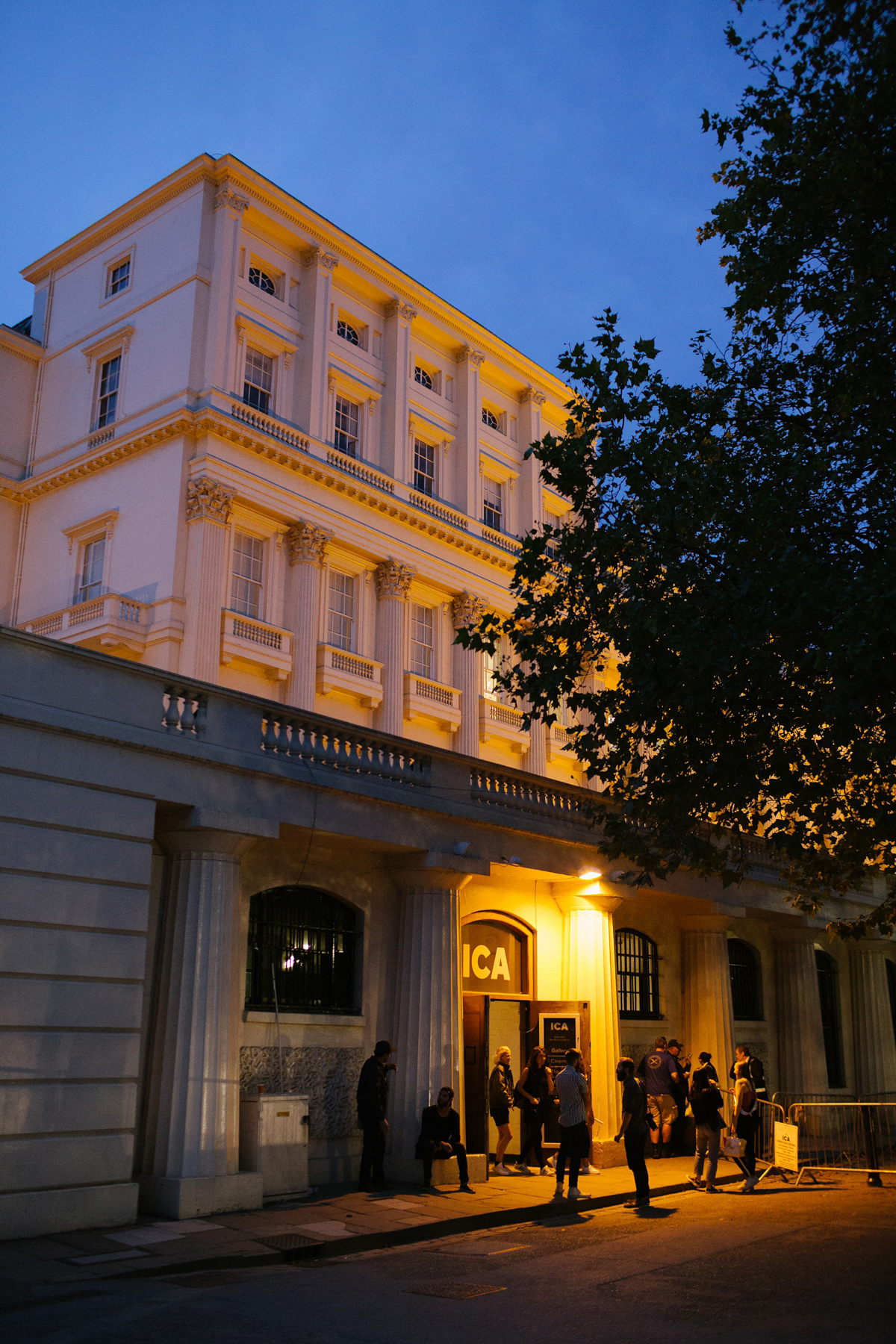 "Our cake was by Bea's of Bloomsbury. One of the most fun elements of wedding planning was our morning cake tasting at Bea's. After sampling a LOT of cake we decided to go with two different types – a chocolate cake and a passionfruit sponge. Both were a hit with our guests!"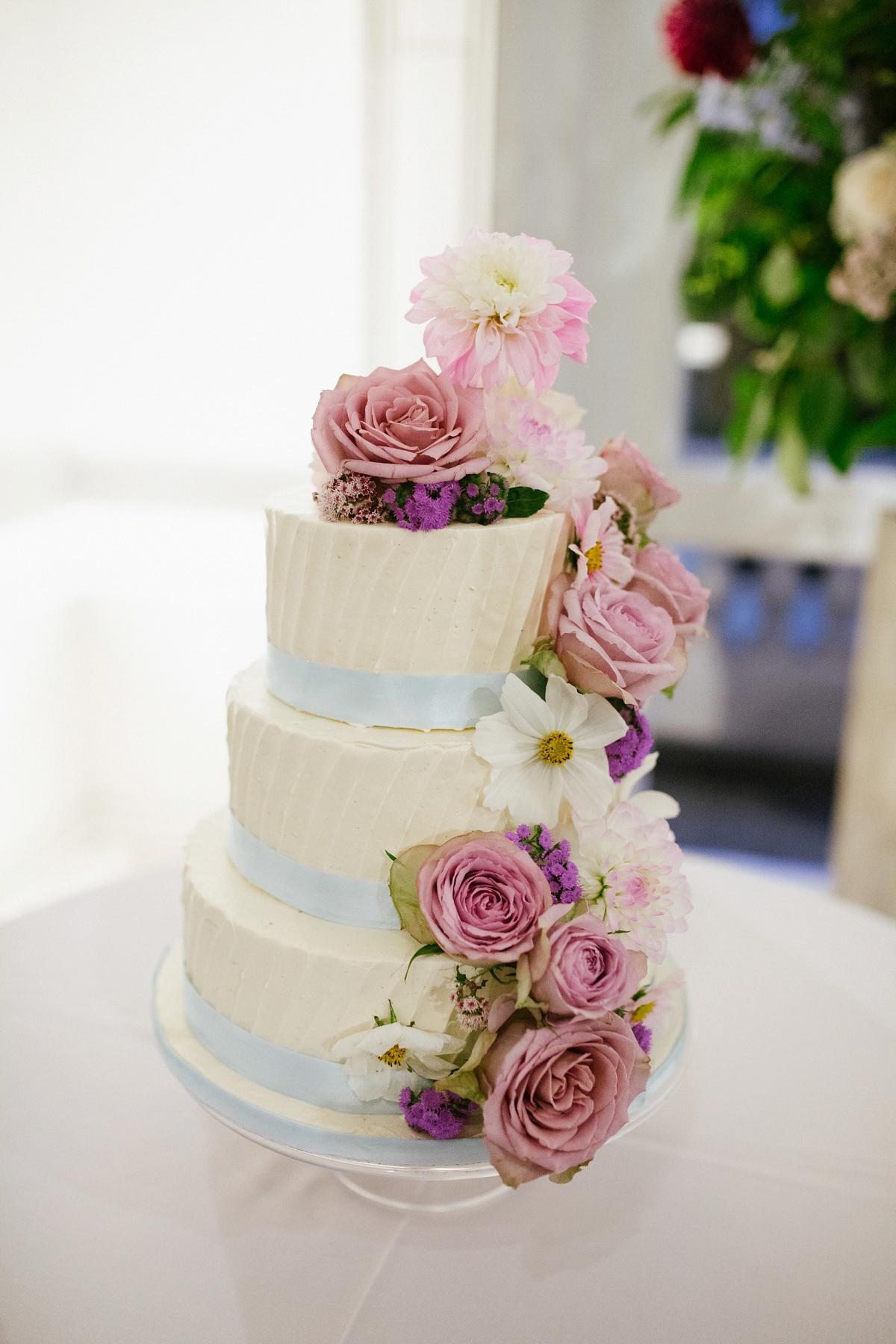 Words of Wedded Wisdom
"My advice would be to not worry too much about the minor details – and realise that the day probably won't go 100% as you planned but just go with the flow and enjoy it. Also, friends and family are generally happy to help out – the last few days before the wedding will probably be pretty hectic so delegate where you can!"
"And in retrospect, we might not have decided to move house and get married within 6 weeks of each other!"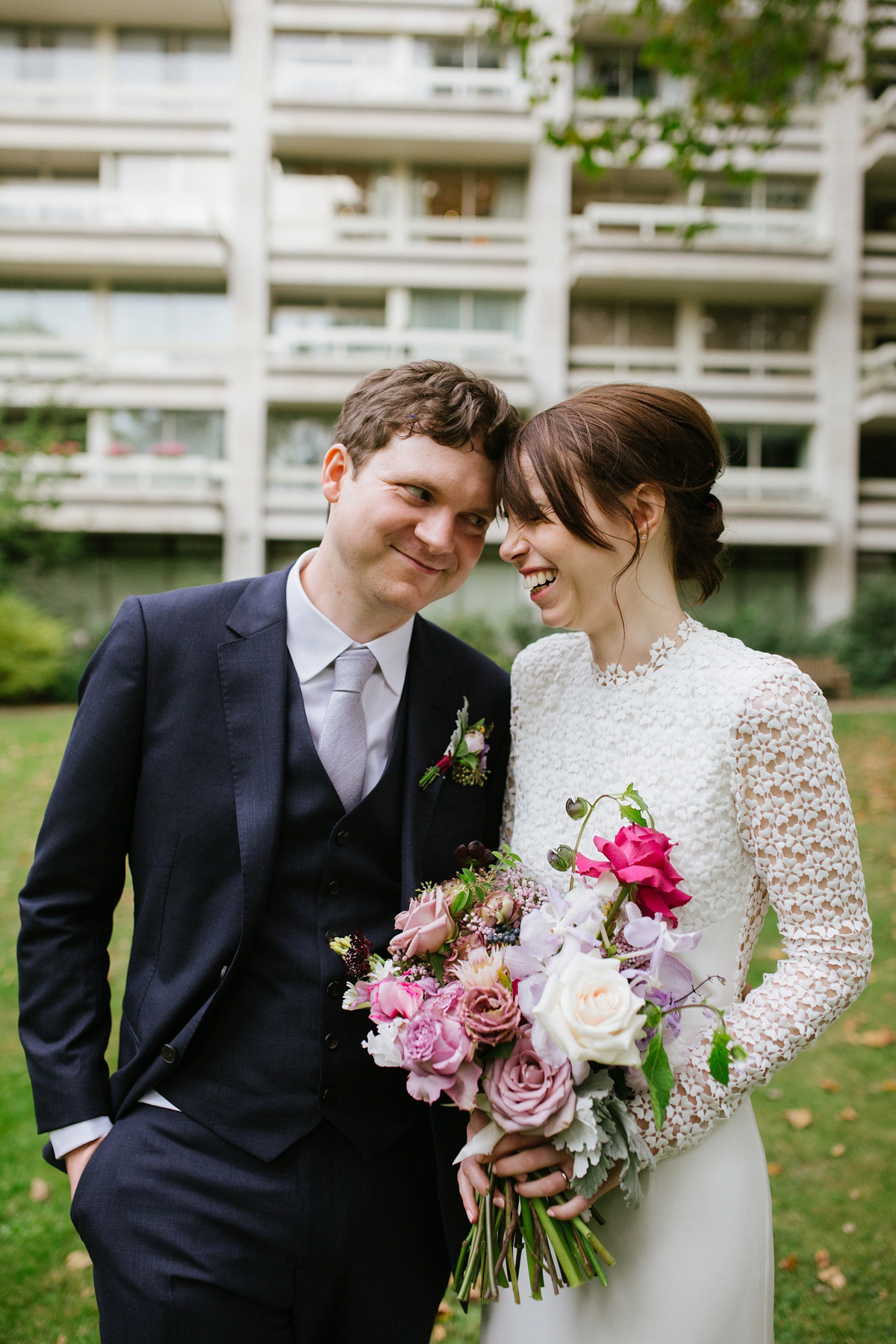 A chic and splendid day and proof for those of you with a smaller dress budget that the high street has some rather gorgeous options available for you to explore!
My love and thanks to Emma Case for sharing these lovely images. We've some knock-out weddings from Emma coming up, but in the meantime, you can explore all of Emma's previously featured weddings here on Love My Dress.
Love Annabel xx