I adore January for so many reasons, but not least because for the last few months of every year, I start to save my very favourite weddings for publication in January – this being one of them. This is one of those weddings that leaves an indelible mark on me; it gets under my skin and weaves its way through my daytime thoughts like a dream. It is recounted with such clarity, fondness and love by the bride, that I'm left feeling as though I could have been there. That sensation is so real, I can almost feel the cool forest breeze on my skin and laughter from the guests.
Jen, an Account Executive at a creative marketing agency and sometime stylist, married her beau Cal, Creative Events Producer at an events company on Saturday 30th July 2016 at  The Dell of Abernethy at Nethy Bridge in the Scottish Highlands. I can relate to Jen on so many levels – her fond memories of visiting Scotland as a child, her love of nature and the outdoors, a penchant for vintage style and her effortlessly bohemian aesthetic – there is something about this wedding that provokes a warm sense of nostalgia for me, and the way that the couple's chosen photographers, The Kitcheners, have captured the celebration, is quite sublime. There is an image maybe half way through this feature of the couple, from the back, standing by the shore of the Loch they tied the knot at – their bodies perfectly reflected in the still waters. It's pure magic. And yes, I have total hair envy – you probably will too by the time you've gotten to the end of this feature!
"We got married on the shores of Loch Garten in the Scottish Highlands and then went back to the forest in the grounds of The Dell of Abernethy at Nethy Bridge, where we were staying for the week with our friends and family to eat, drink and dance. Scotland has always been a a really special place to me, my family have been visiting Scotland, and in particular, Nethy Bridge, for decades."
Photography by The Kitcheners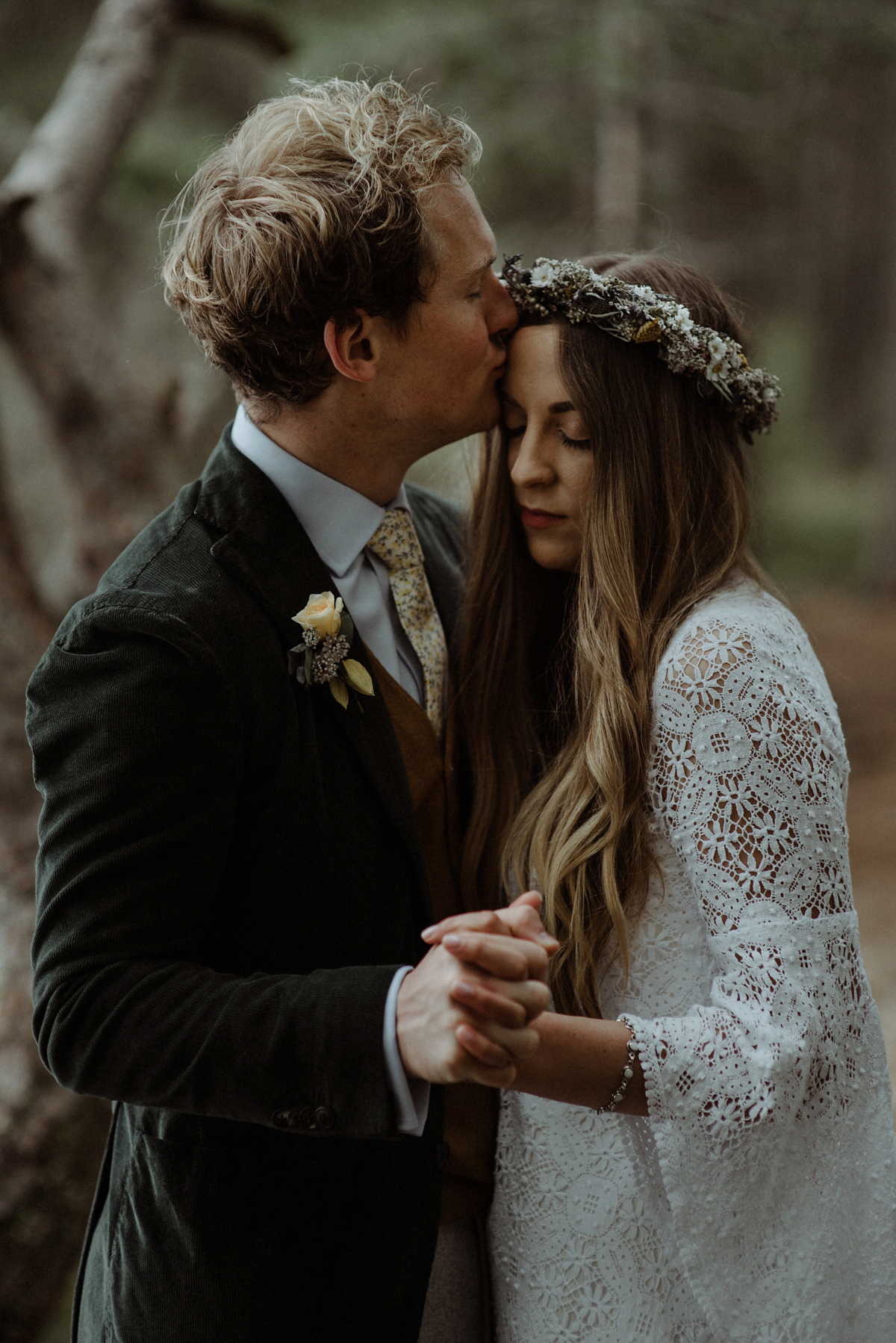 "There were a few factors that really influenced the day and our time away; we very much wanted it to be relaxed, inspired by nature, the forest, our unbelievable surroundings in the Highlands, an intimate celebration of love full of gin and glitter. I'm very much inspired by the 70's and wanted a luxe, vintage, bohemian feel whilst still retaining a sense fun. As we were spending lots of the budget on things like the marquee and food we made an effort to make and borrow almost everything.
A handmade wedding means you have full control, and even though it might not be super slick, it means it reflects the two of you. The Dell is truly magical, we wanted to create a experience for our friends and family that we could all treasure for years to come." 
"My family have stayed in cottages owned by the same family who own The Dell since my dad was a little boy. I first visited Nethy Bridge when my mum was pregnant with me, and have been almost every year since. If you've never visited, it's difficult to explain the way the highlands can make you feel. It's so easy to just switch off, leave everything behind and just 'be'. It makes you gasp at every twist and turn with its sheer unadulterated beauty."
"The Dell of Abernethy has been lovingly renovated by Polly and Ross after they took it on from her Uncle. My family have stayed in cottages owned by Polly's parents and grandparents for generations."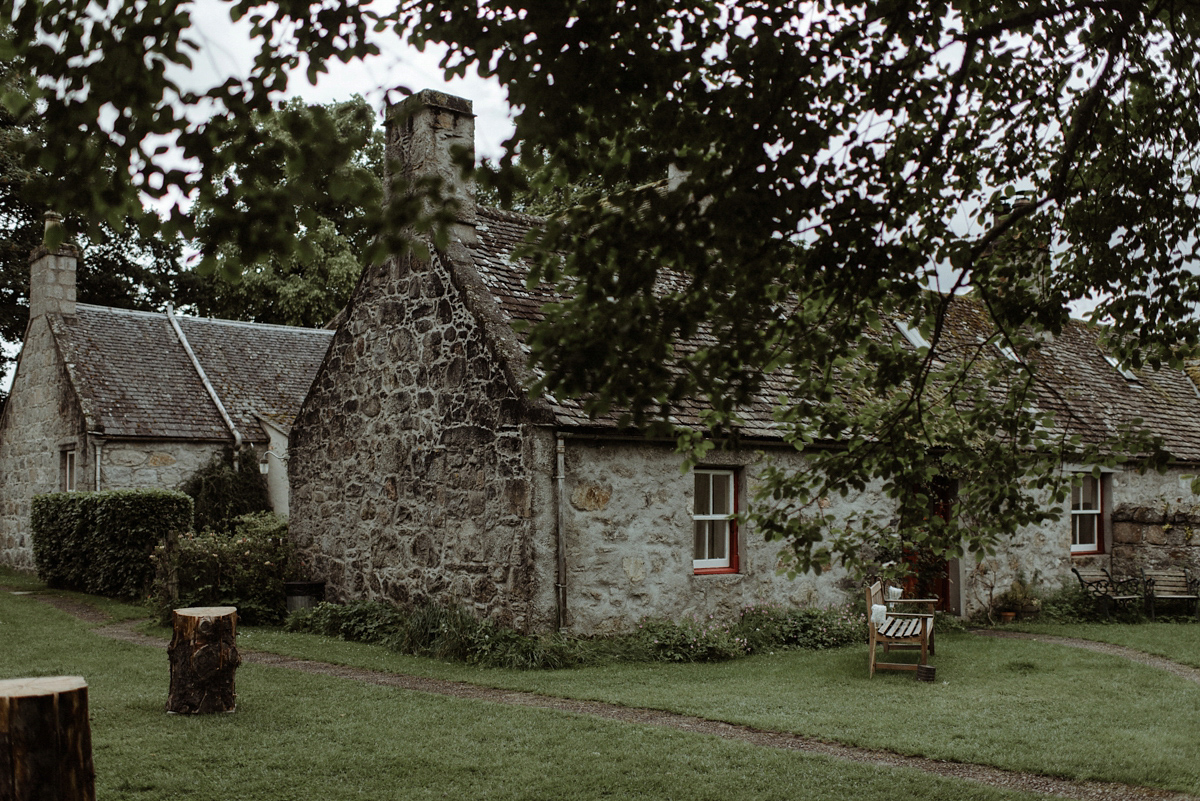 "We knew it was a big ask, to get all our friends and family to travel across the country and in some cases, from other countries, all the way to Scotland. But we knew it would be worth it when they did. It's such a magical place and we invited people to join us for the whole week, a long weekend, a couple of days, whatever they could."
"The whole vibe was really relaxed, we arranged a few walks to show off the stunning Scottish landscape, dinners at the local pizzeria, a BBQ the day after the wedding. We spent the days playing croquet, dressing the tent, walking, exploring and nights round the fire pit, BBQing and drinking wine."
"I did my own hair and make-up, I'm relatively fussy and equally unfussy. I haven't cut my hair in an age and don't dye it anymore so I knew I wanted it relatively simple."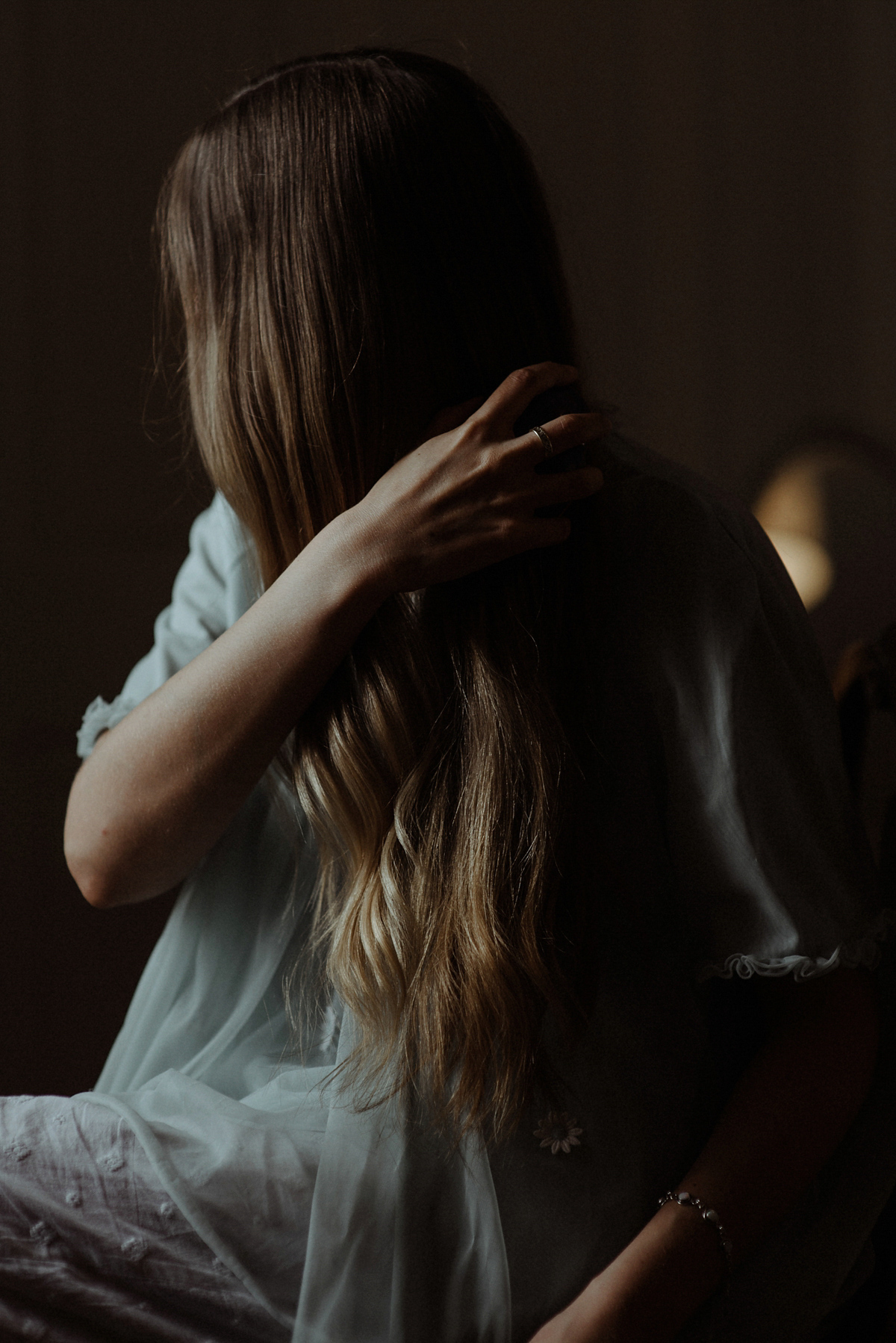 "Even being no whizz I can manage to put a few curls through it which works just fine. When it comes to make up, I really know what I like."
"The thought of having someone else be in charge of my face makes me nervous. I visited the wonderful Frankie in Manchester for a makeup lesson before the wedding."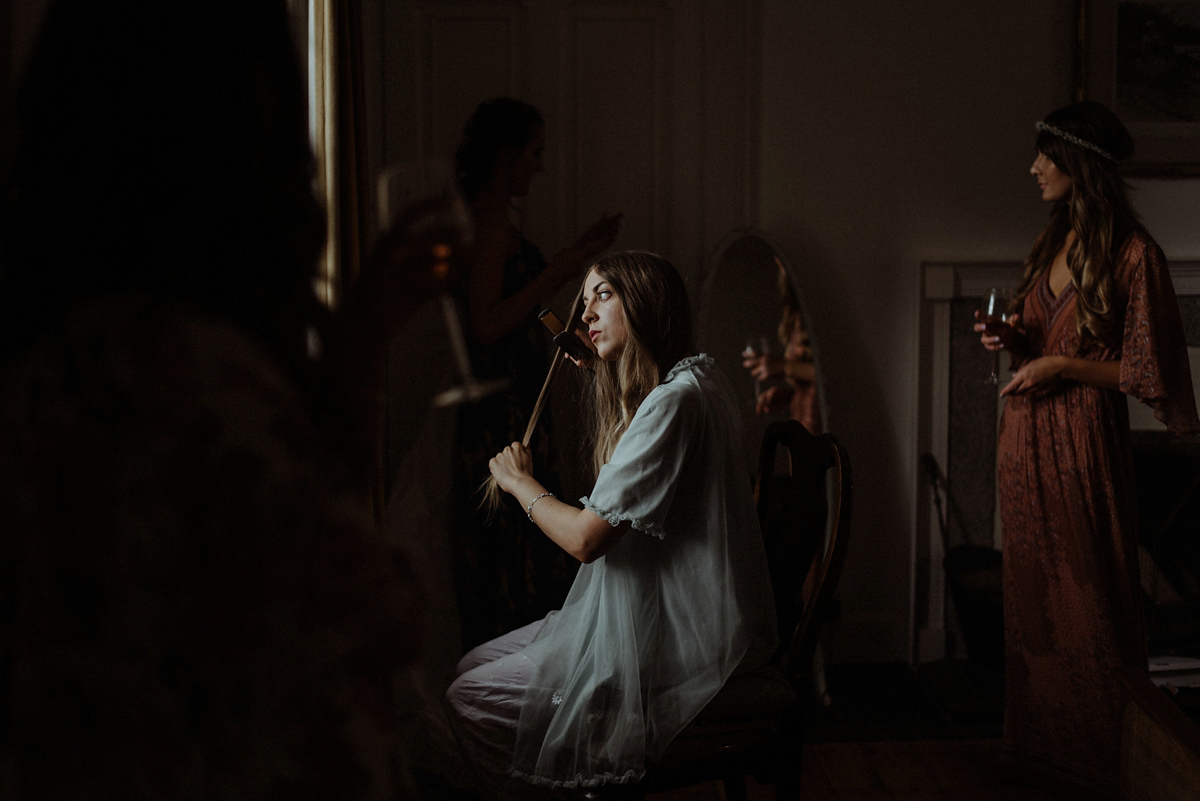 "It was so helpful and she recommended products for me, gave me tips but all the while was really respectful of what I already like and do. The girls all did their own hair and make-up, they're all well equipped to do it and my lovely friend Sarah is a make-up artist so went around decorating everyone's eyes."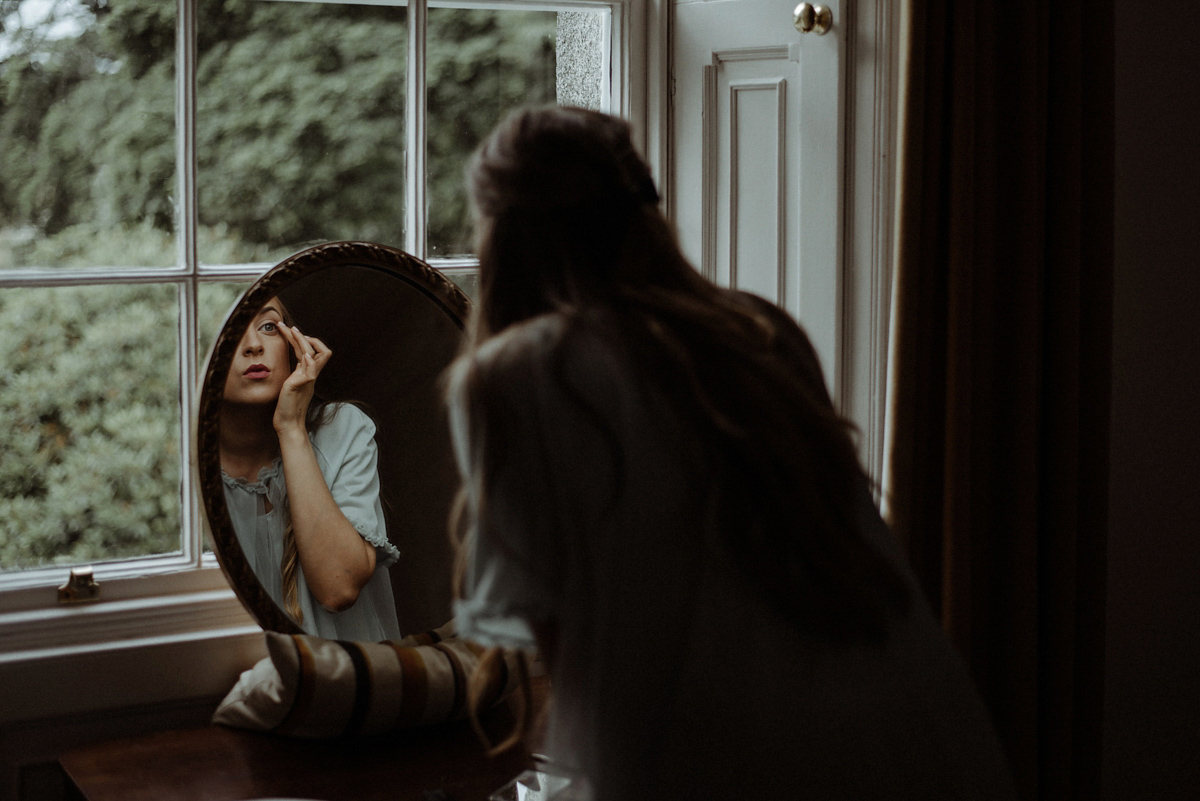 "I'm not a fan or convert to any particular perfume, my sister however always smells gorgeous. With that in mind, I asked if I could borrow her Laura Mercier Almond and Coconut scent for the day. It smells amazing and I really ought to treat myself to some soon to remind me of her and the day."
"I bought my dress, quite by chance, on Steep Hill in Lincoln, Cal's hometown. I really had a vision in my head of what I wanted: vintage, 70's, high-necked, big sleeves and lots of lace. I'd spent hours scouring Love My Dress, Pinterest, Etsy, Ebay and obscure websites. I'd had one truly lovely day out in York at Glory Days Bridal."
"The ladies were lovely, the choice of vintage gowns really vast and getting to go with my family trying on gowns was really special. Unfortunately for me there just wasn't The One."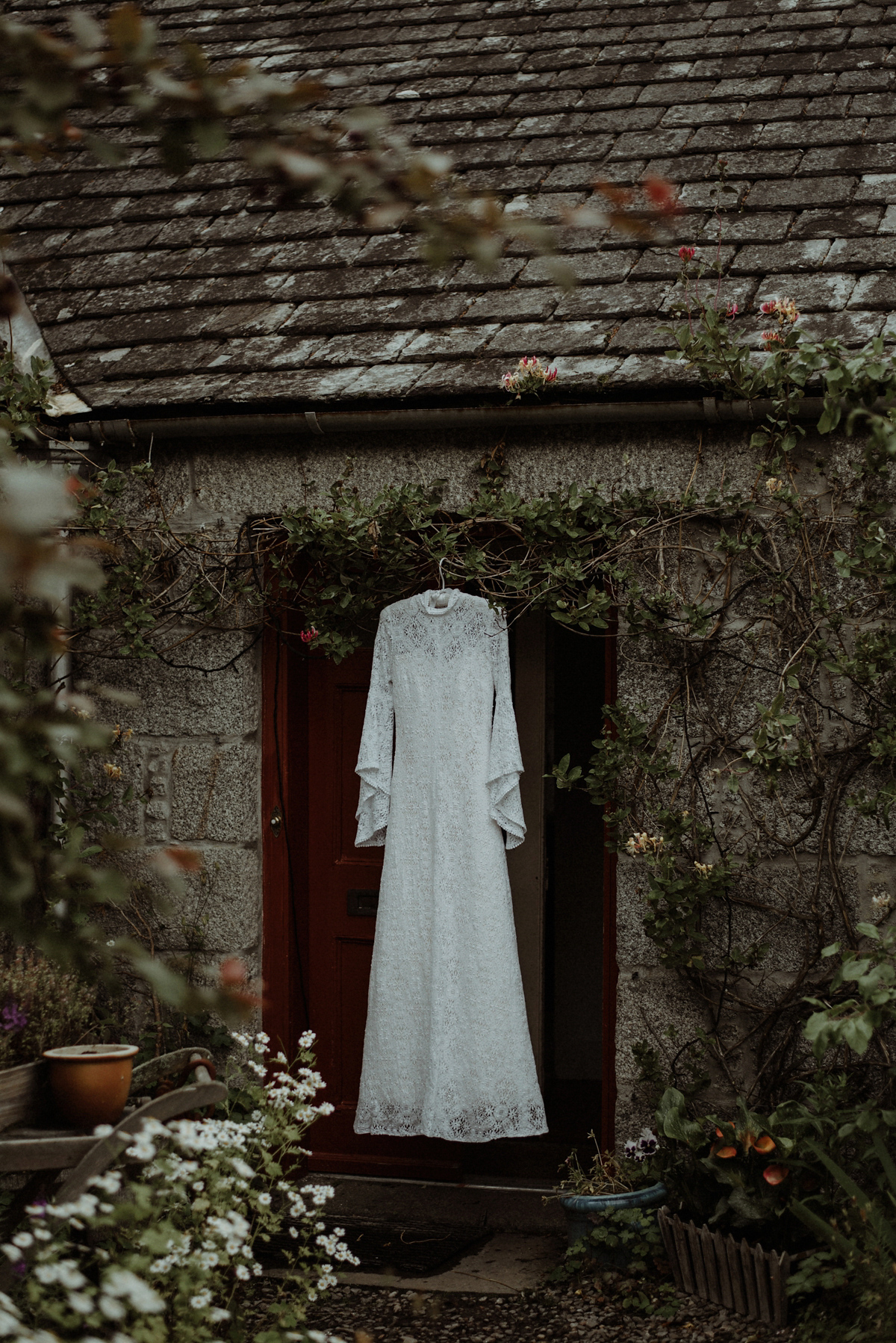 "I was spending the day with Cal's family back at his house, he and his dad had marched ahead up the hill and me, his mum and sister were trailing behind, ducking in and out of the smattering of pretty shops and boutiques that line Steep Hill.
We saw a vintage shop and I spied a dress hung up in the window I thought would be absolutely perfect for the Sunday afternoon BBQ we were planning after the wedding."
"We nipped in and I got ready to try it on, as I did, I noticed two wedding dresses peeking out of their plastic at the back of the shop. One was high necked, made entirely of lace, with big puffy taffeta sleeves. I thought, oh why the heck not, and tried it on. It fit almost like a glove. On the tag it said it was an original 70's wedding dress. It was perfect!
The lovely guys in the shop told us that it belonged to an old lady in Lincoln who was still happily married. I took it to a seamstress in Leeds who took it apart, took the lining out and rebuilt a little silk slip to sit underneath."
"Even though I missed all the dress shopping with my friends and family, we had plenty of trips whilst I was getting alterations so managed to squeeze in afternoon tea, cake and Prosecco stops. I always wondered if I'd regret buying the dress, off the cuff, from the back of a vintage shop, but when you know you really know."
"A few months later, I went to dig out a picture of me in Lincoln as a little girl to show Cal. It transpired that the picture of me in a pushchair with my dad outside a shop on Steep Hill exactly mirrored the photograph taken just after I'd bought my dress. My dad and me were stood in the same spot outside the exact shop I'd bought my dress in. As if, it was meant to be."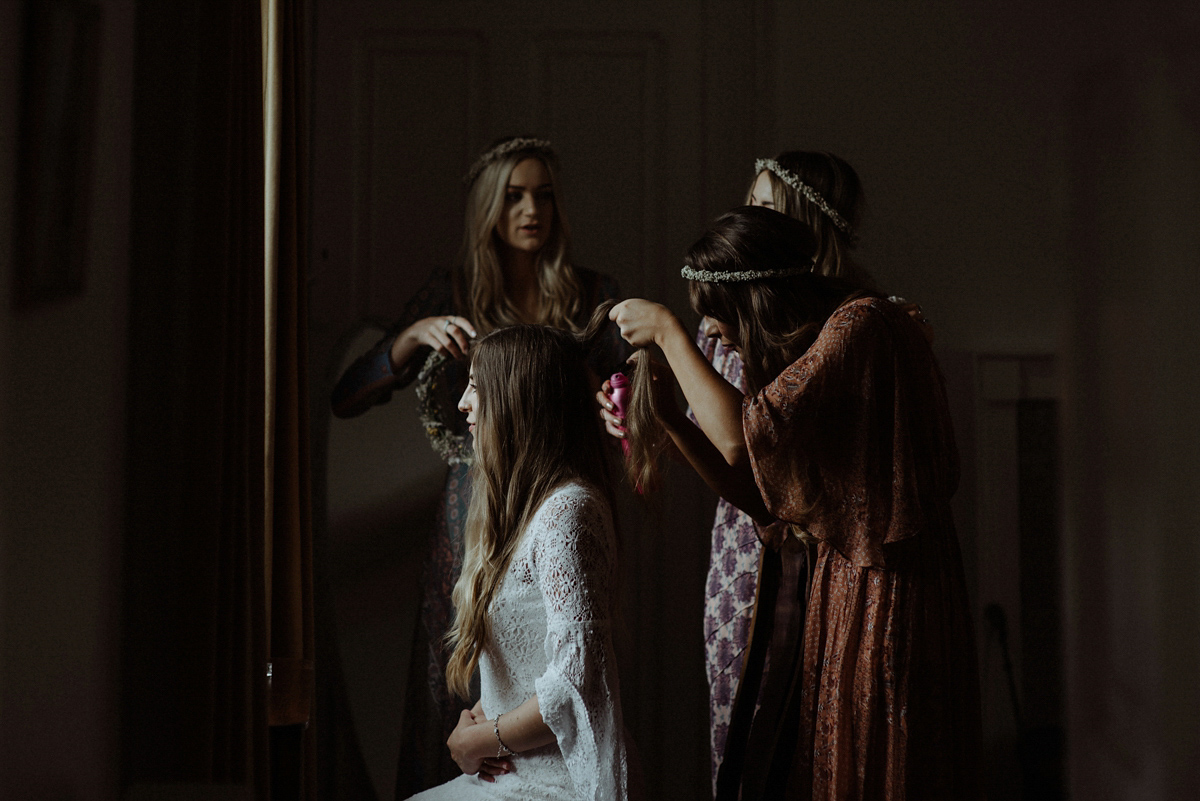 "The lady who did my alterations made me a little veil to match, I loved choosing the delicate lace trim and even though I didn't wear it after the actual ceremony, it felt special. And let's be honest, what other occasion can you get away with a long white veil."
"When it came to shoes I had two main criteria – comfy, boots. I bought some Grenson boots online without trying them on and they were perfect."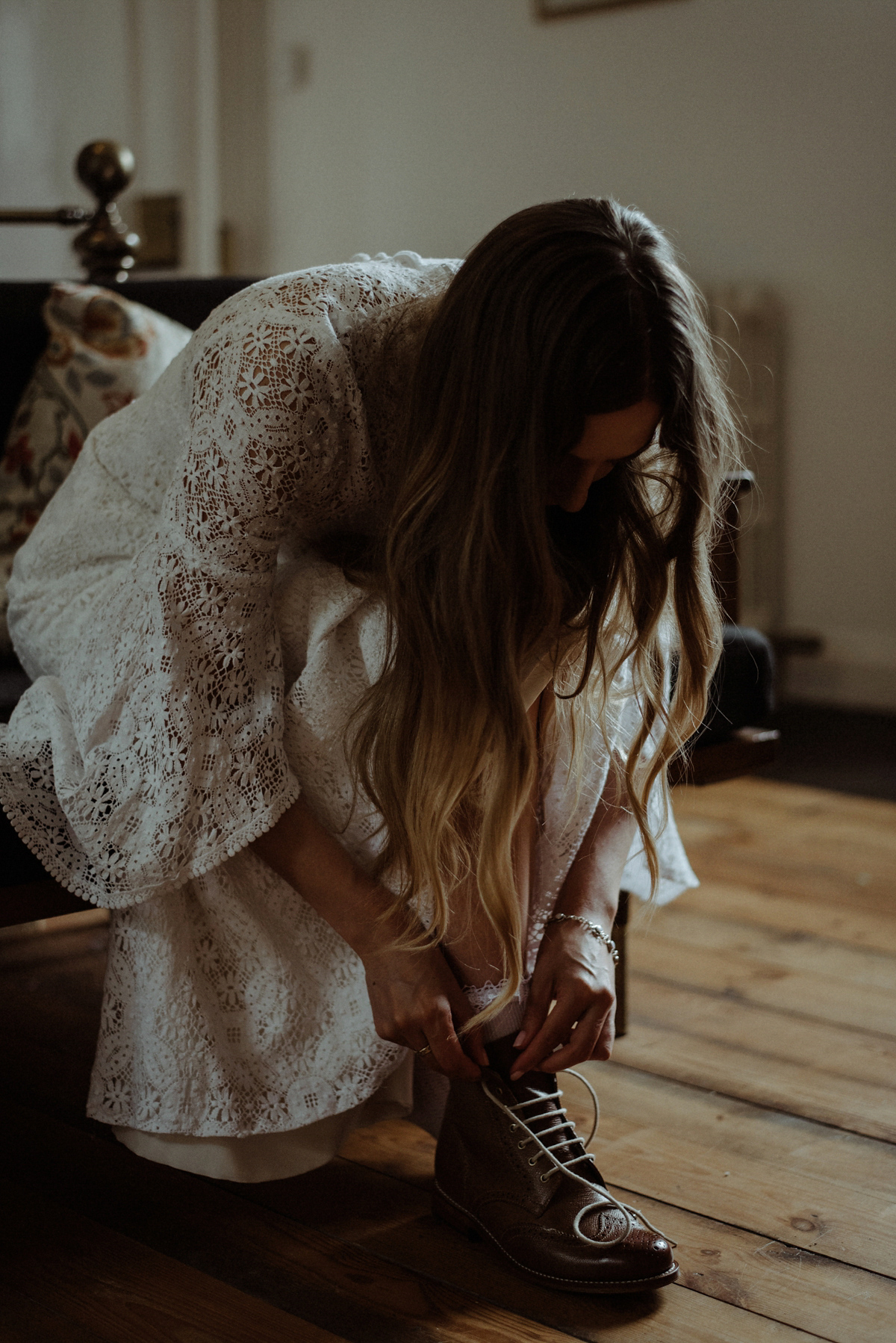 "I never wear heels and wanted to be able to dance all night and navigate the tree stumps down at the Loch. Although a slight investment, I wear them at least every other day now and will keep on doing so until they fall apart."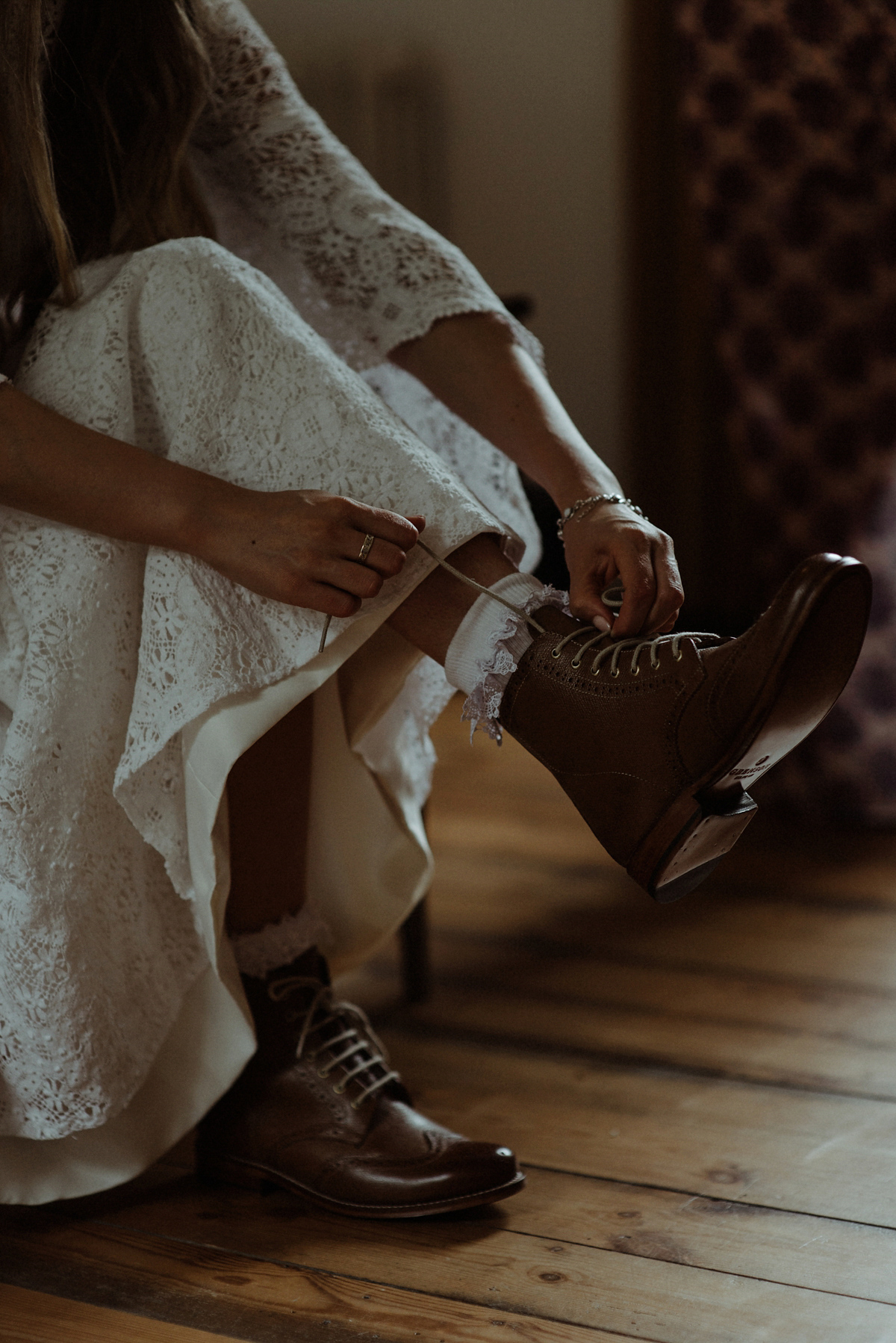 "As my dress was quite fussy I kept jewellery to a minimum and don't usually wear much. I wasn't actually going to wear any until I had a little present delivered to me in the morning from Cal. It was a stunning Navajo Indian moonstone bracelet from Aladdins Cave in Leeds. I wore a simple gold and diamond ring that I wear every day, it was my Nana's engagement ring and I never take it off."
"Aside from that I just had a little lacy pair of white socks underneath my boots that poked out of the top, sorting the leather a little."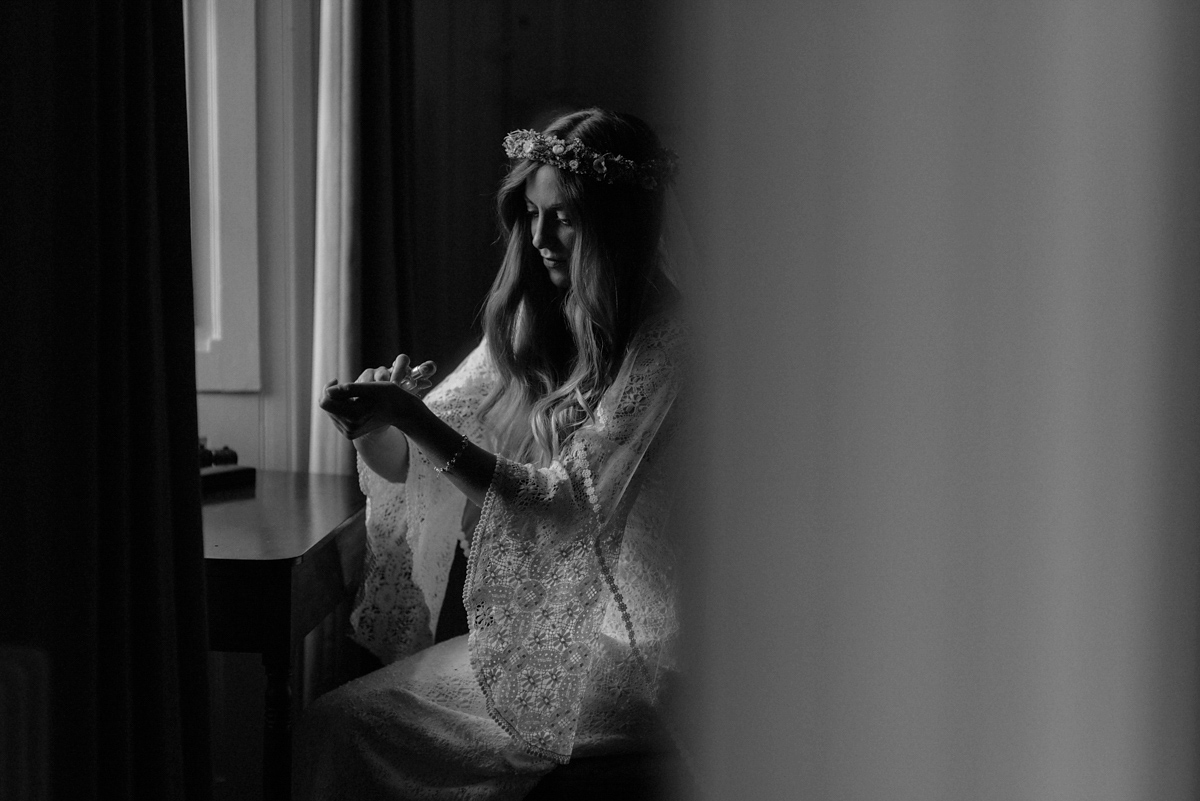 "Cal and I met through a mutual friend in 2010 in London, however it took him until 2012 to really speak to me. I always liked the mysterious boy who lived with my friend but whilst I was living with her during the Olympics we finally got chatting. We told the tale of how we ended up spending a week together, falling in love, during our speeches but it's probably better left in the woods!"
"In the midst of long distance love in London, a flat in Manchester, a stint travelling Asia before finally buying a home together in Leeds, we got engaged."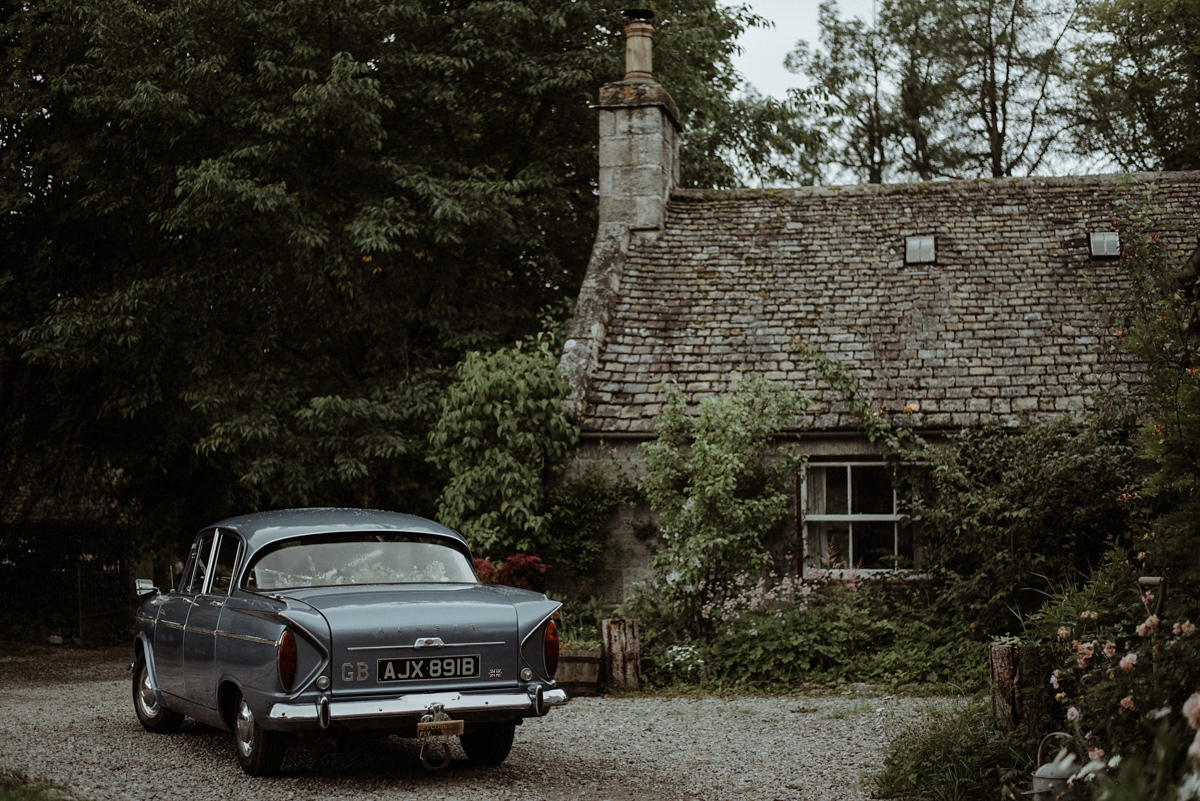 "It was on our second year anniversary at The Woodman's Hut, an eco-cabin in the middle of the highlands which is owned by Polly's parents and in the grounds of The Lazy Duck where I spent many happy holidays as a child. It looks out over a view I've looked at since I was little."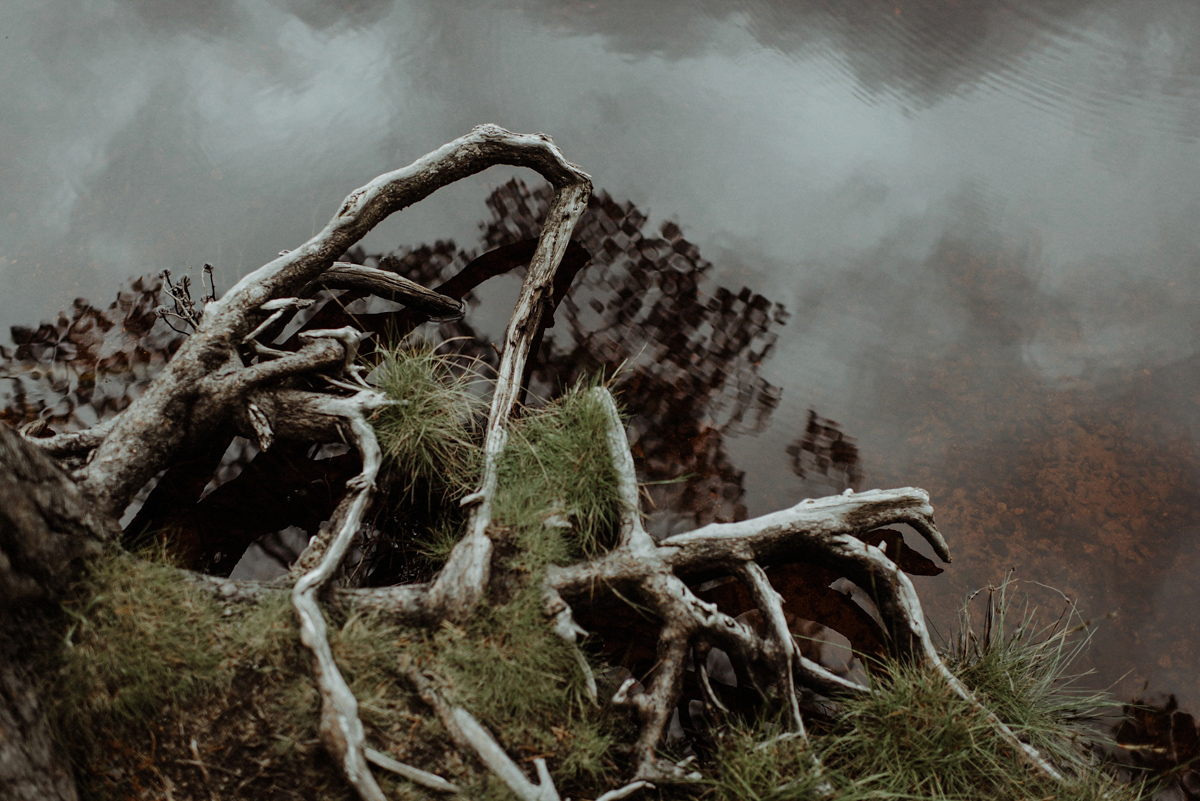 "Cal decorated the whole place with candles, lanterns, ribbons and pictures of our life and popped the question before we ate meat and cheese, drank wine and had a hot tub with some Swedish travellers."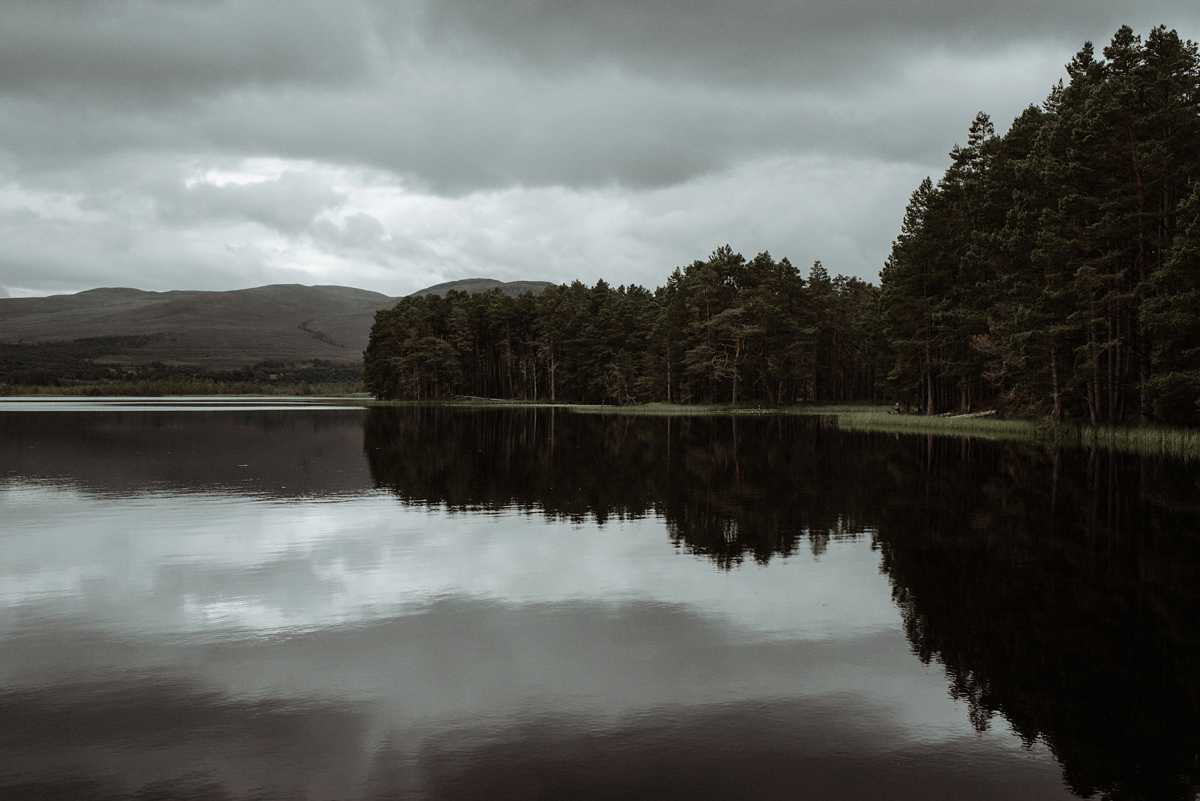 "Cal really knows what he likes when it comes to clothes, he's always sharply dressed. He knew he never wanted a fancy three-piece suit but something a little different. We considered a check, being in Scotland and all, but decided it wasn't quite right. His trousers, shirt and waistcoat were from Suit Supply. We ordered so many options from them, everything is pretty reasonable and returns were easy. We settled on grey trousers, a light blue shirt and a mustard (one of our fave colours) little knitted waistcoat.
His jacket was from Mr Porter, a green, corduroy Boglioli blazer. Amazing! Finished with a pair of Paul Smith, brown suede boots and mustard socks. He loves suede shoes a little too much for someone who lives in England, but luckily the Scottish weather was kind to us and the boots."
"Cal had two best men, the greedy thing. Both friends from school who work so well together. We bought them a tie to match Cal's tie and pocket square from Mrs Bowtie. They had dainty green and yellow flowers on and looked great. The guys wore their own suits and as luck should have it both wore light blue shirts that matched Cal's. We also gifted them a little engraved tie pin, again, Etsy saves the day."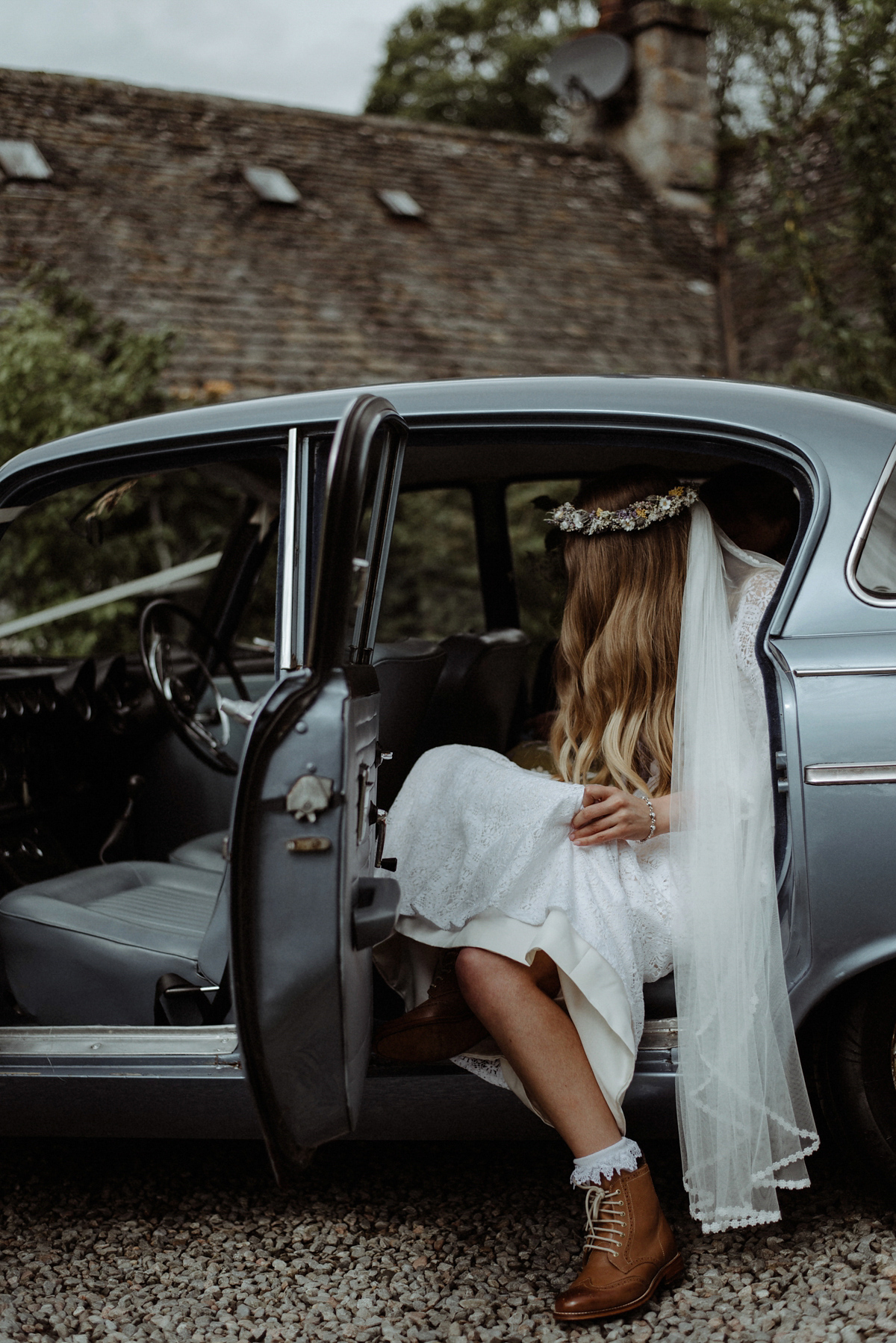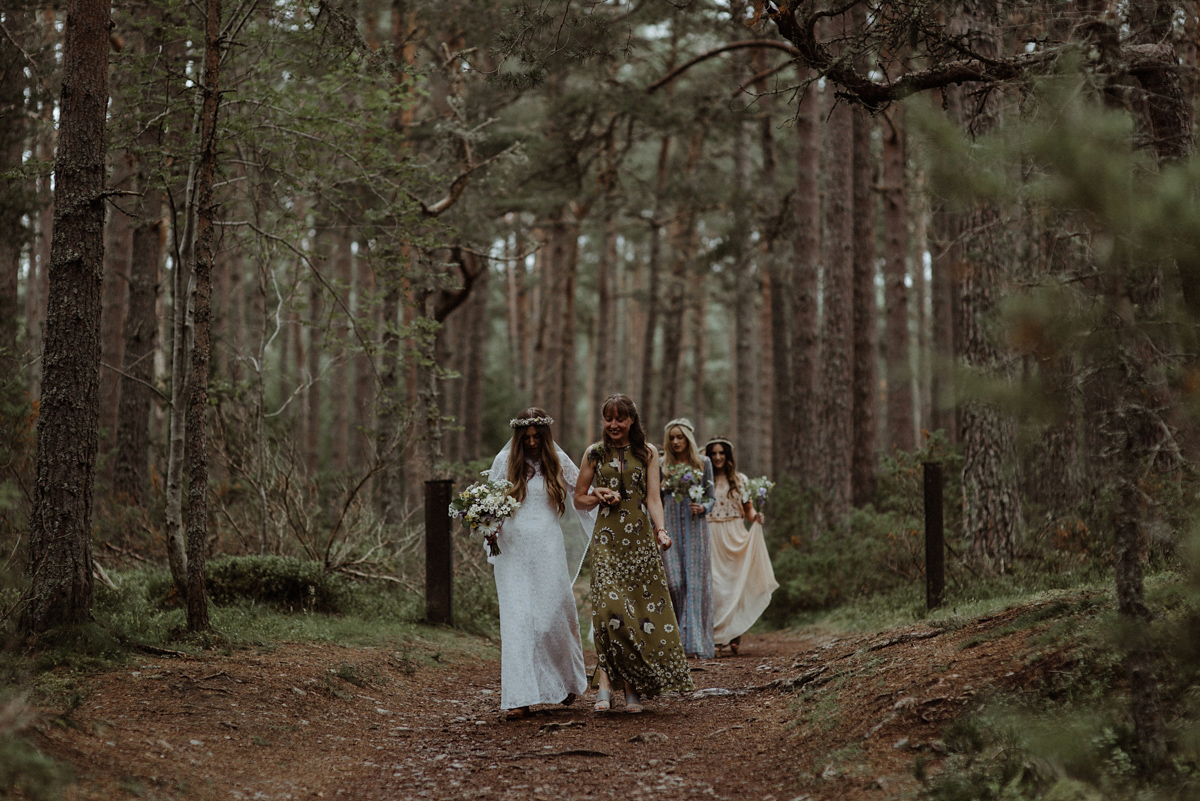 "We had our ceremony on the shores of Loch Garten, the RSPB manage the Loch and were so sweet and helpful in allowing us to hold our marriage on the little beach overlooking the water. I have paddled, swum, jumped on the rocks and walked round it from being little to now with Cal. We both love it down there, it doesn't need any styling as it's natural beauty speaks volumes."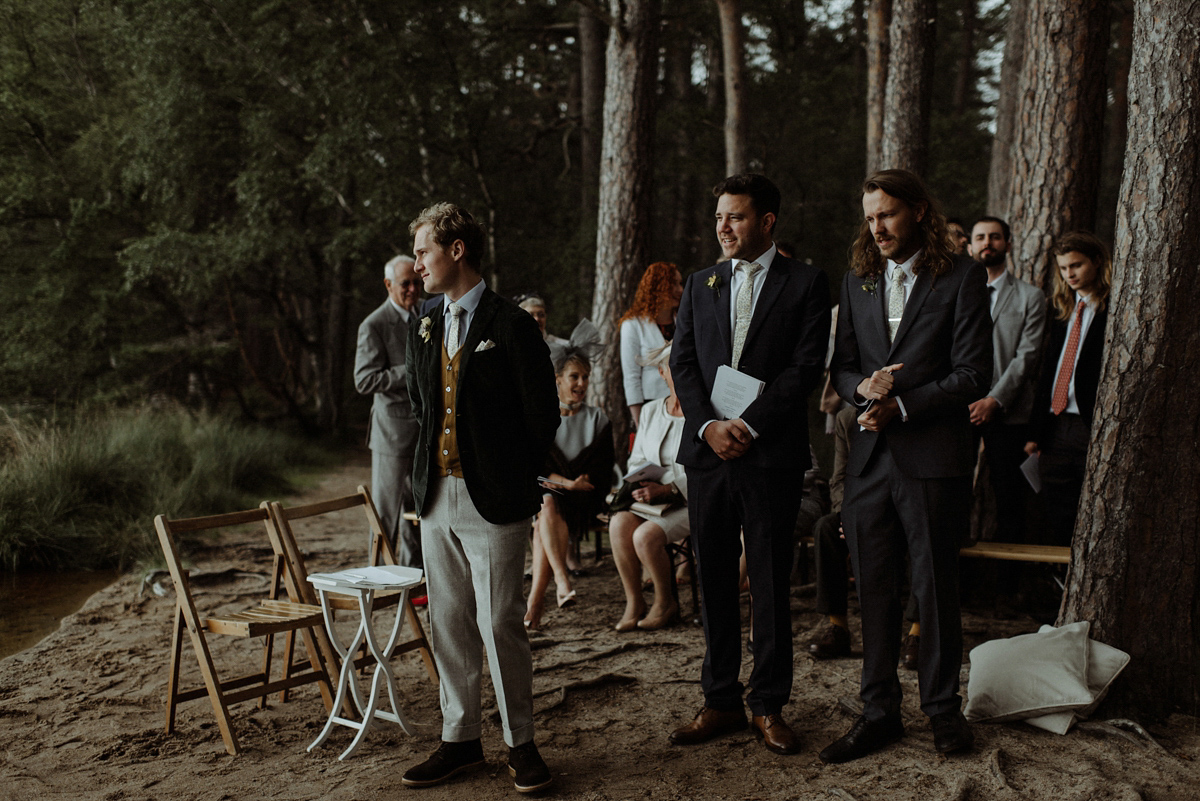 "I practice calligraphy and love painting and with Cal a trained graphic designer it only seemed right that we would do our own stationery. We painstakingly created a fold-out guidebook that featured all our tips and recommendations for our guests stay and on the back had a hand-illustrated map of the area. Then for our invitations we tied 80 pieces of string so that when you opened the invite the knot tied."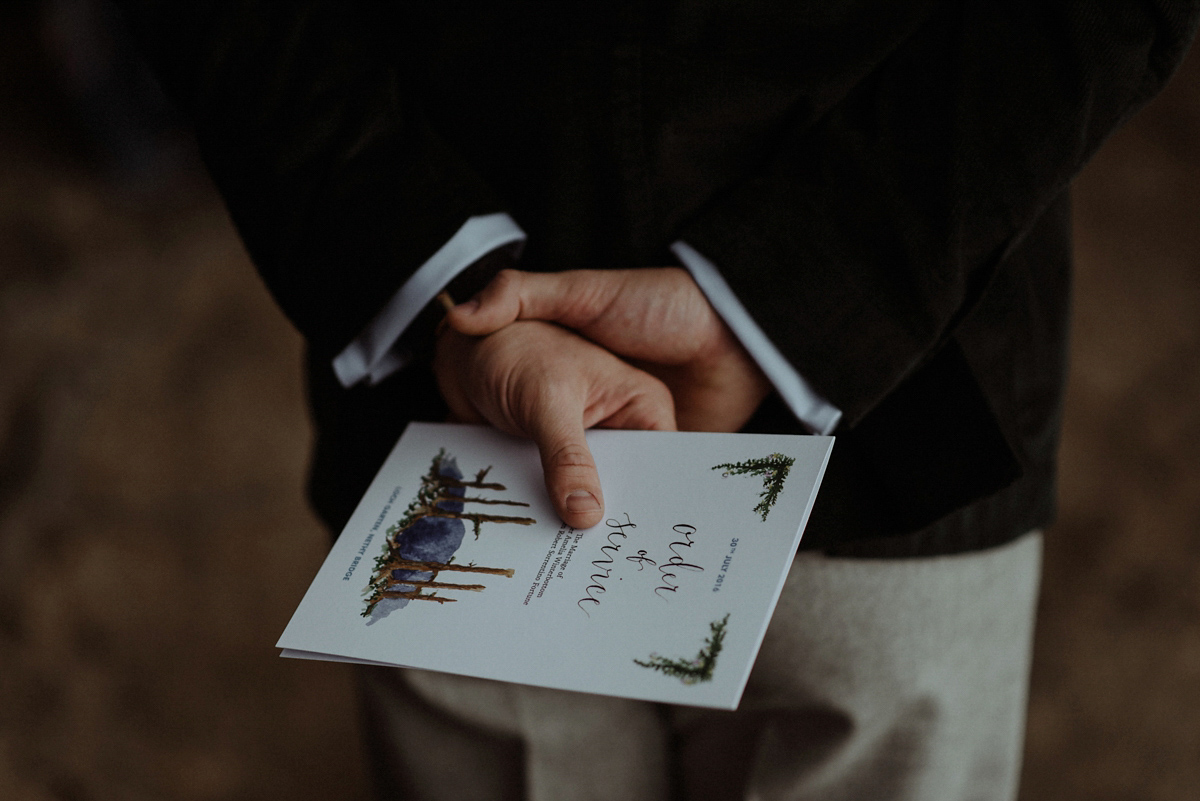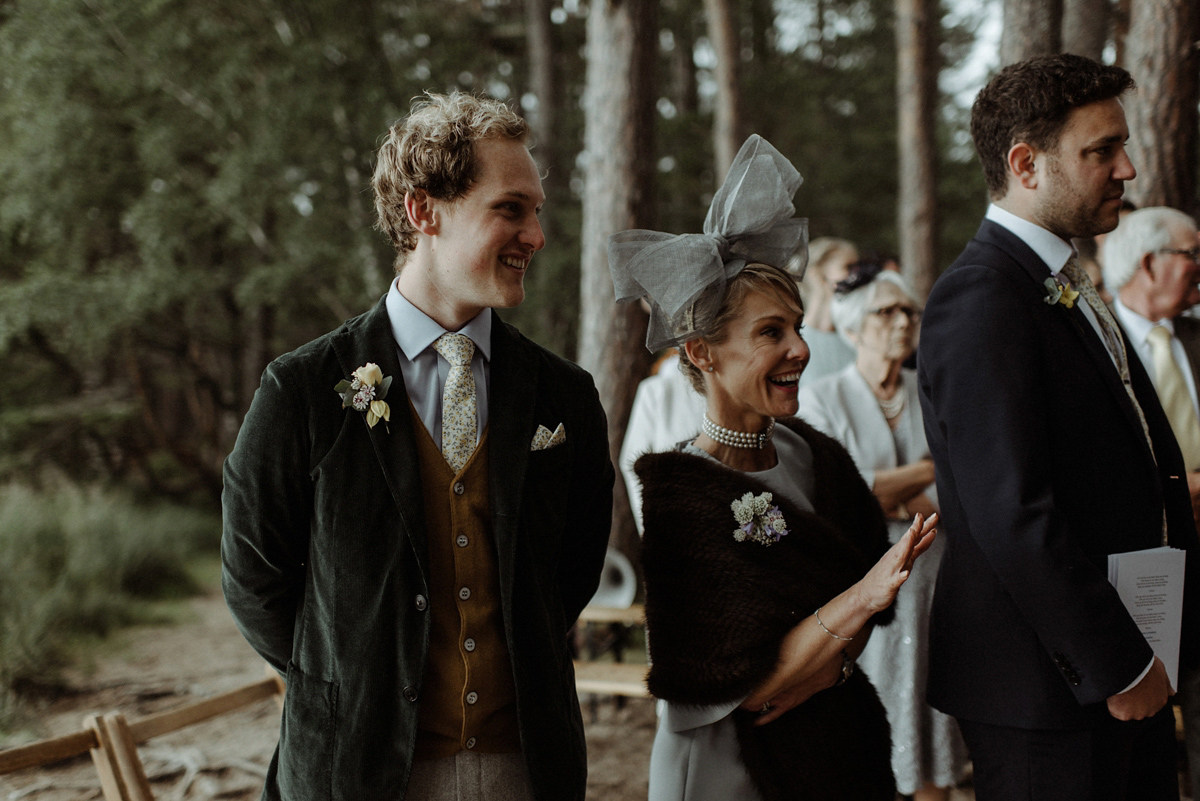 "My wonderful mum Trace accompanied me down the aisle, walking through the trees down to the loch on her arm was really special and one I'll always cherish. We are extremely close and I couldn't have asked for anyone better to be by my side. We walked down to 'Here Comes The Sun', by the Beatles. It was a bit of a brave shout considering we were getting married outside, in Scotland."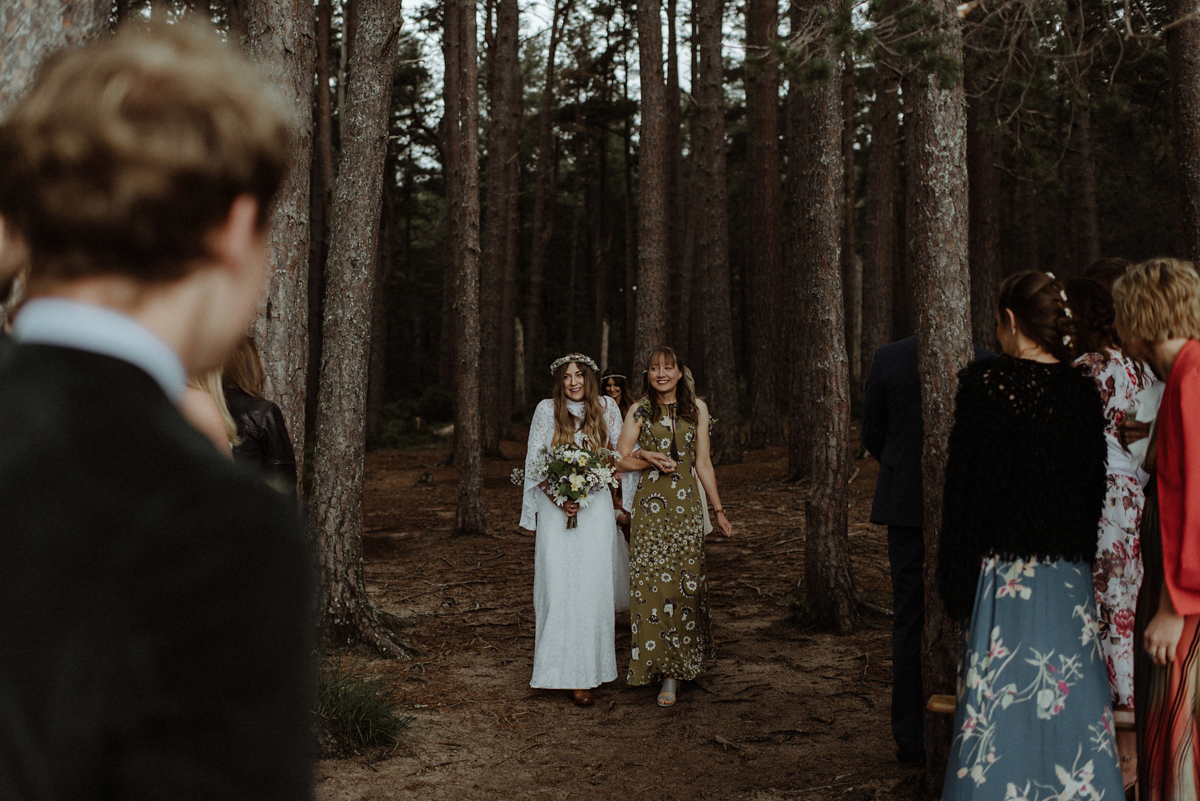 "We were exceptionally lucky to get married at The Dell of Abernethy, and even luckier that owner Polly offered to do our flowers free of charge. I love flowers and felt they were important for the day but equally was quite easy with my brief. Just anything wild, seasonal and undone. I trust Polly and her style and she didn't disappoint. She grew and picked flowers from her mum, her own and her friends gardens.
We chatted briefly about the colours I was having in my flower crown, my favourite colours and flowers and what she produced was beyond anything I could have imagined."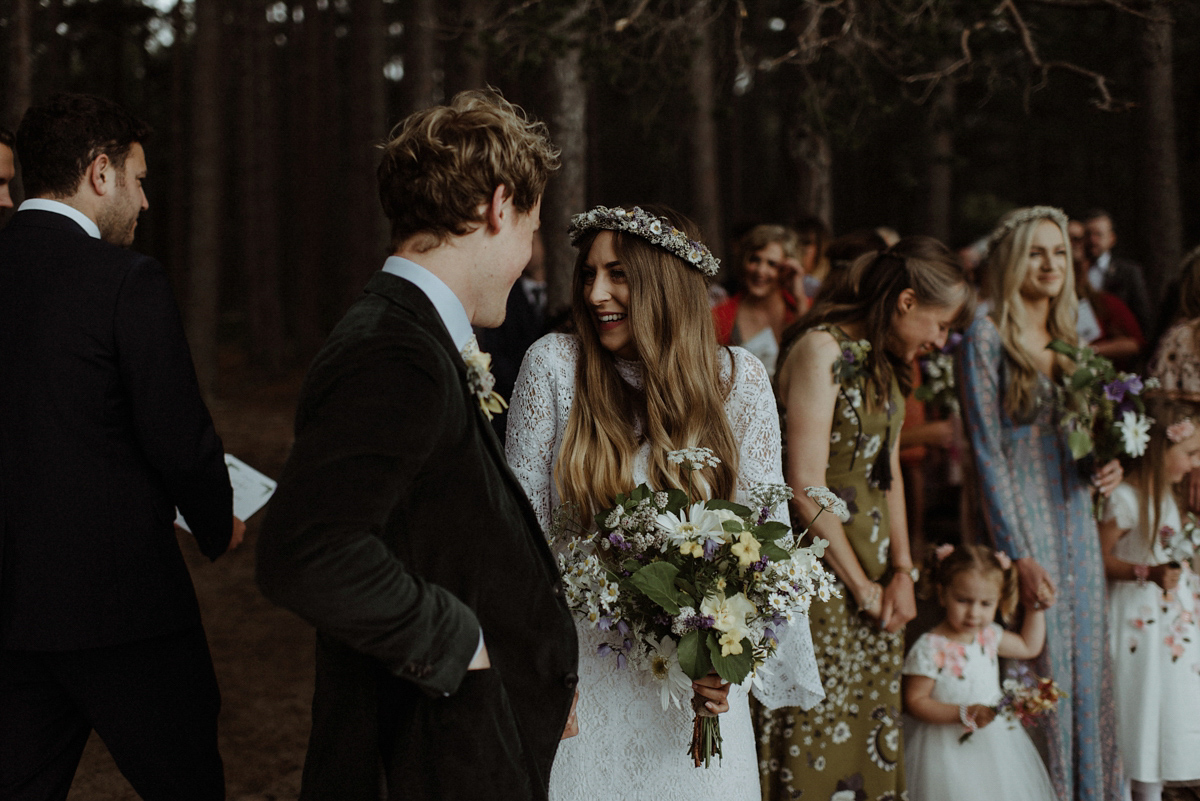 "Her and her lovely mum Valerie who I have known since I was a little girl spent the day before the wedding filling glass bottles with an array of wild, country-garden-esque flowers. She even made mini bouquets for my flower fairies and laid the rest on the parcel shelf of the car we travelled in.
I couldn't recommend her enough, I didn't want to put my bouquet down, it was deconstructed, wild and magical."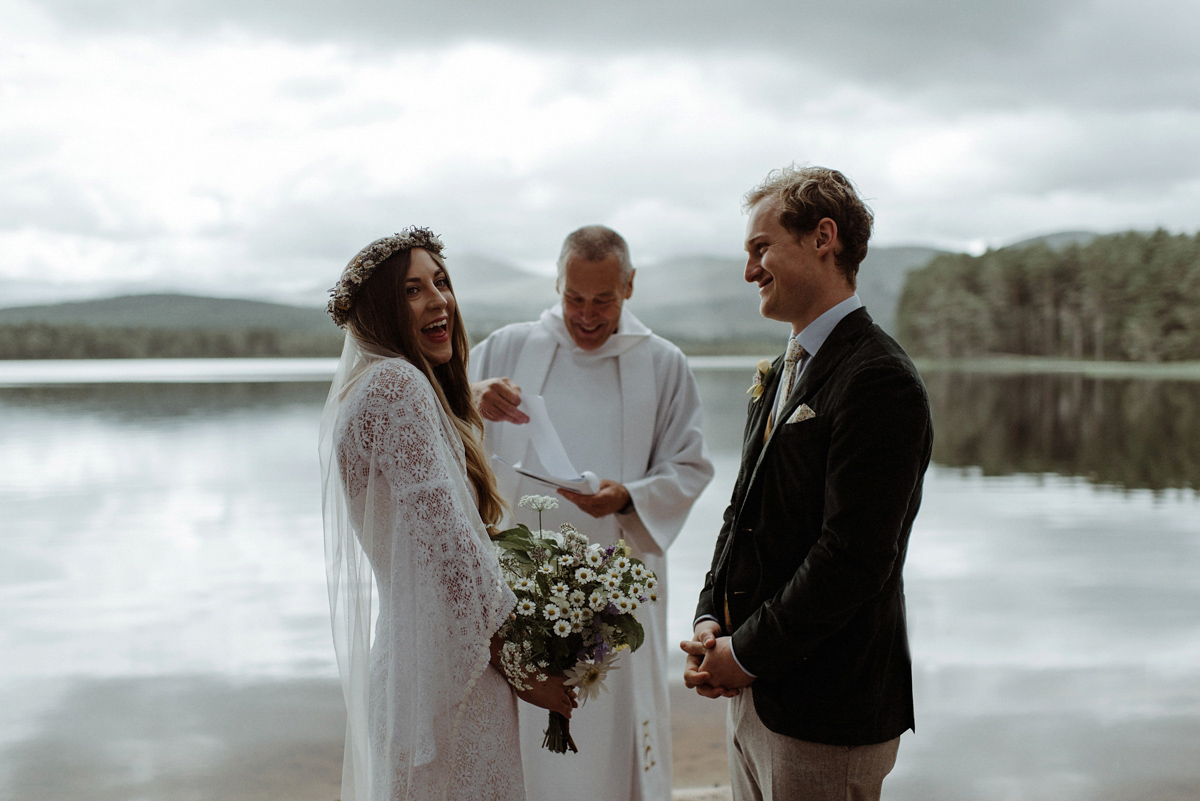 "I did wonder at times if we were tempting fate a little but the rain held off for us. My best friend Alex, who has been a big part of my life since we were babies, is in an amazing band and played the song on acoustic guitar."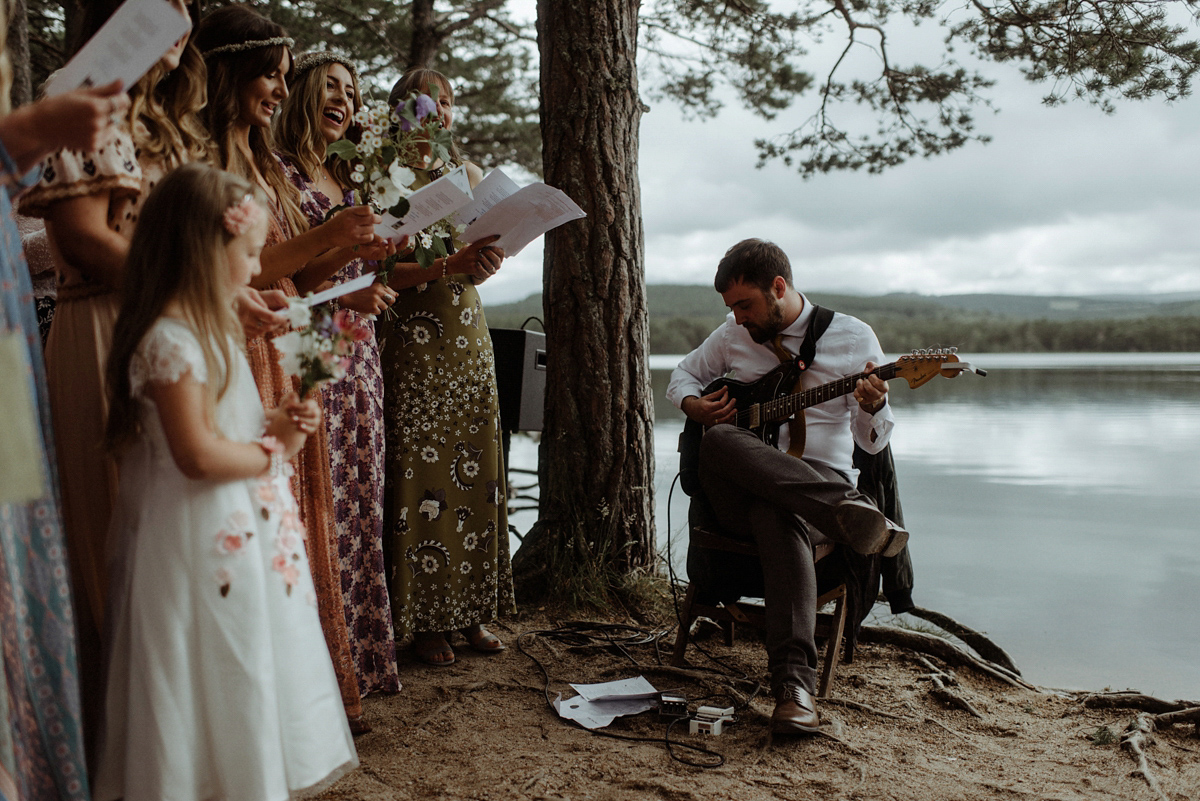 "It made it mean even more, he even played all our hymns perfectly. I can't listen to Here Comes The Sun without shedding a little tear. We walked away following the ceremony to Wouldn't It Be Nice by the Beach Boys played on a gramophone."
"My mums partner Wilf conducted our ceremony overlooking the water. Having someone who we are so close to marry us meant a lot and really relaxed us both."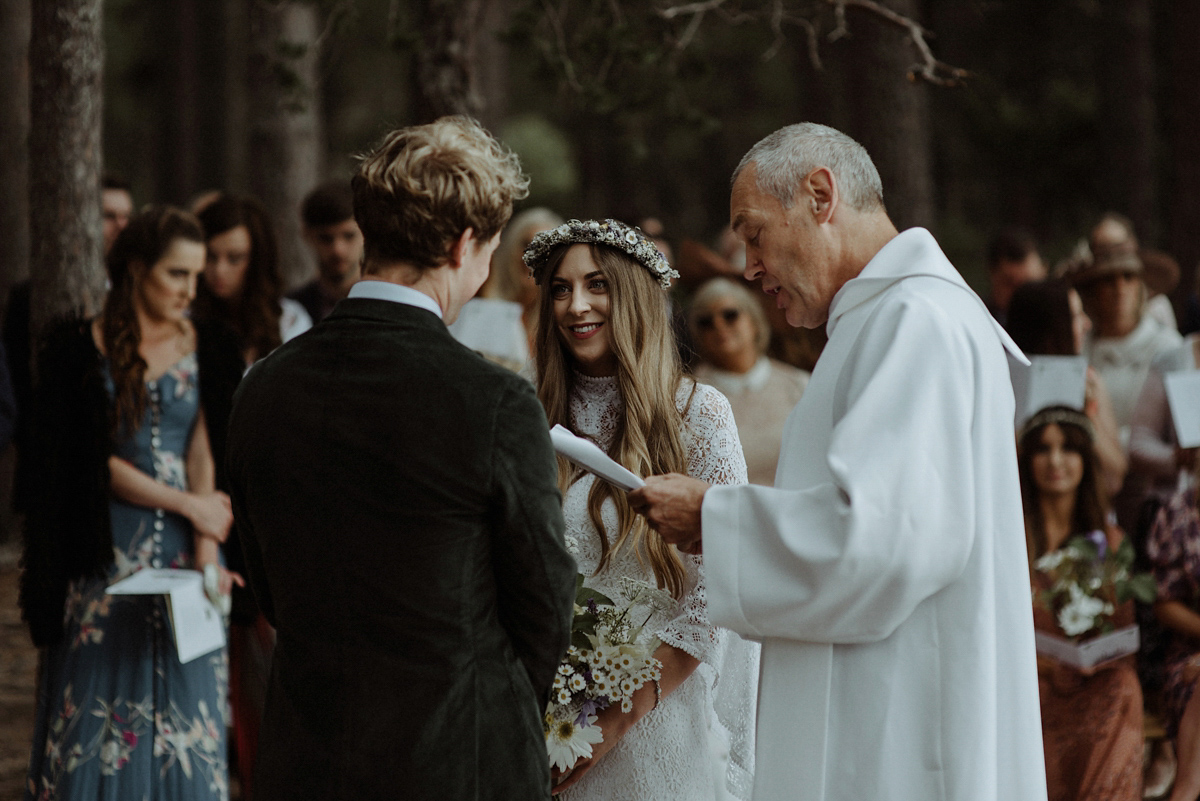 "We chose to say the traditional vows as that felt right for us given the fact my family has connections to the church but I love that some couples write their own."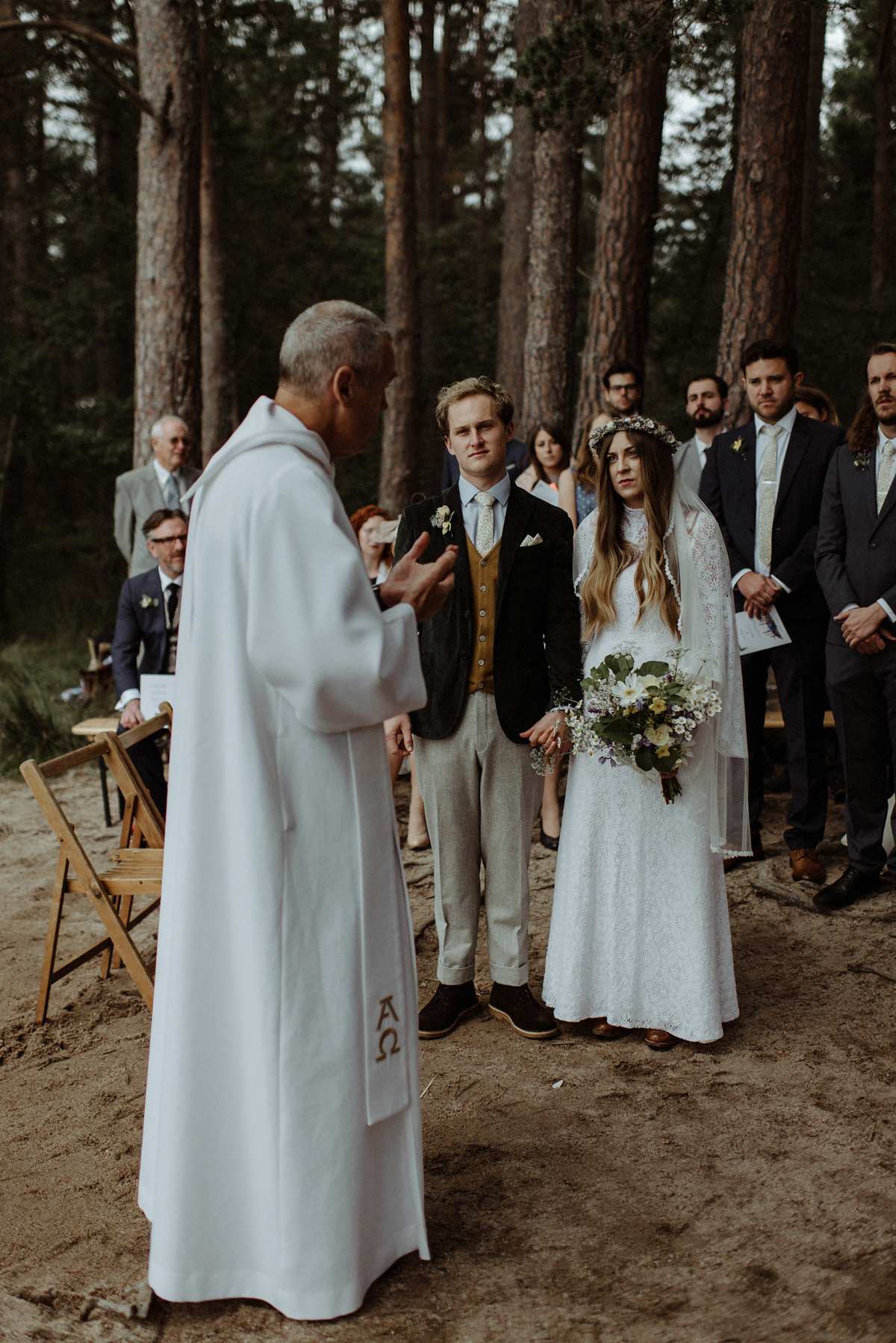 "Two of my best friends delivered our readings, we chose an extract from 'Love' by Roy Croft. We didn't want anything too gushy or cheesy, but something that just said very plainly, how we love each other."
"As well as the Roy Croft extract, we chose a little passage I found in Song of Songs; Wilf wanted us to chose a bible reading but I struggled initially."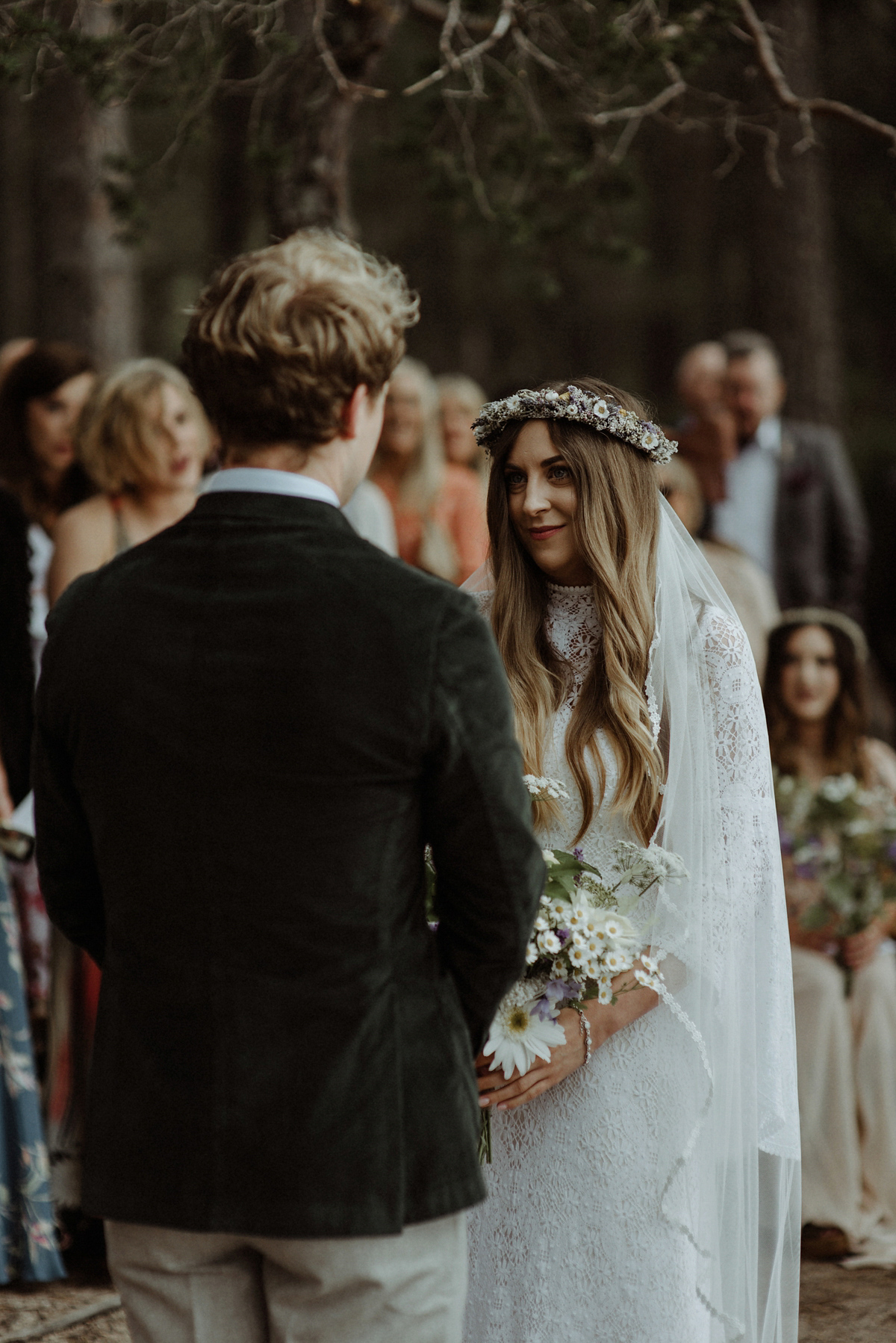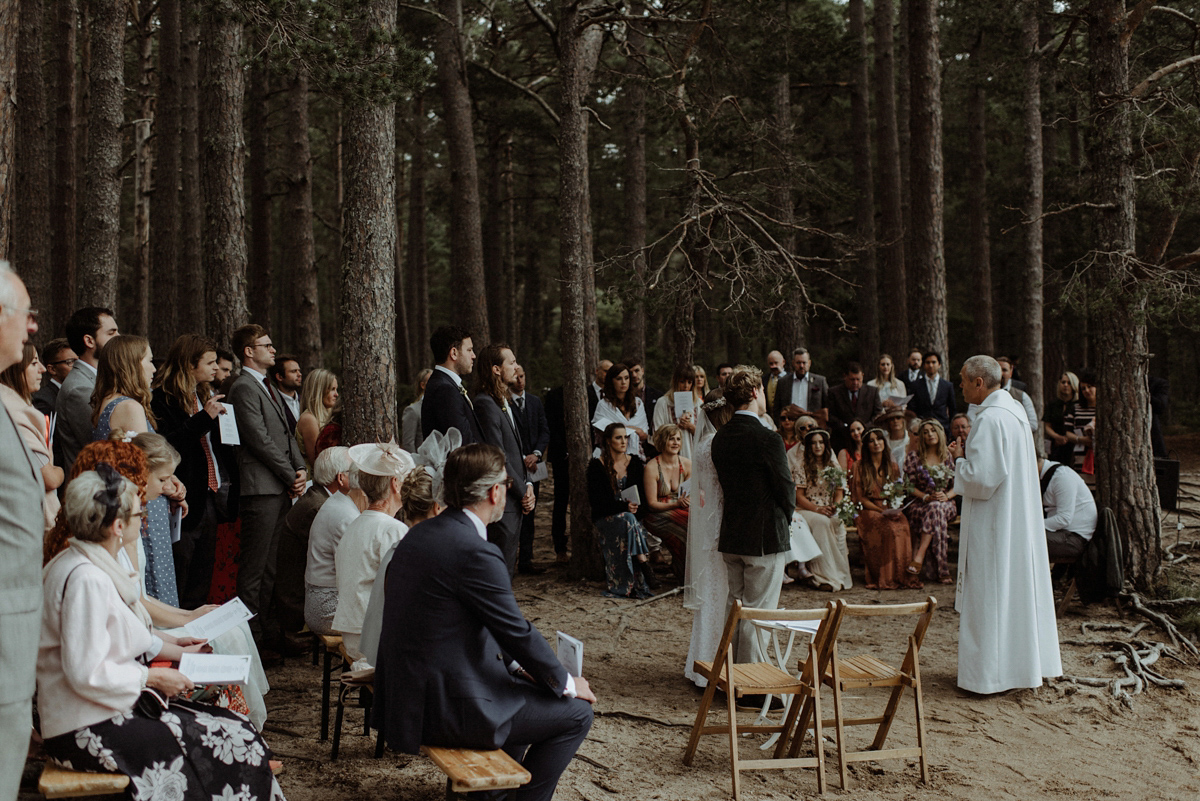 "Feeling that a lot of the passages didn't really reflect, in my view, our interpretation of love. I wasn't entirely comfortable with the way women and relationships were represented in some extracts."
"Until I found this, which I loved, it isn't a common wedding reading but I think it is beautiful."
Song of Songs 3 1-4

1  All night long on my bed
    I looked for the one my heart loves;
    I looked for him but did not find him.
2 I will get up now and go about the city,
    through its streets and squares;
   I will search for the one my heart loves.
    So I looked for him but did not find him.
3 The watchmen found me
    as they made their rounds in the city.
    "Have you seen the one my heart loves?"
4 Scarcely had I passed them
   when I found the one my heart loves.
    I held him and would not let him go.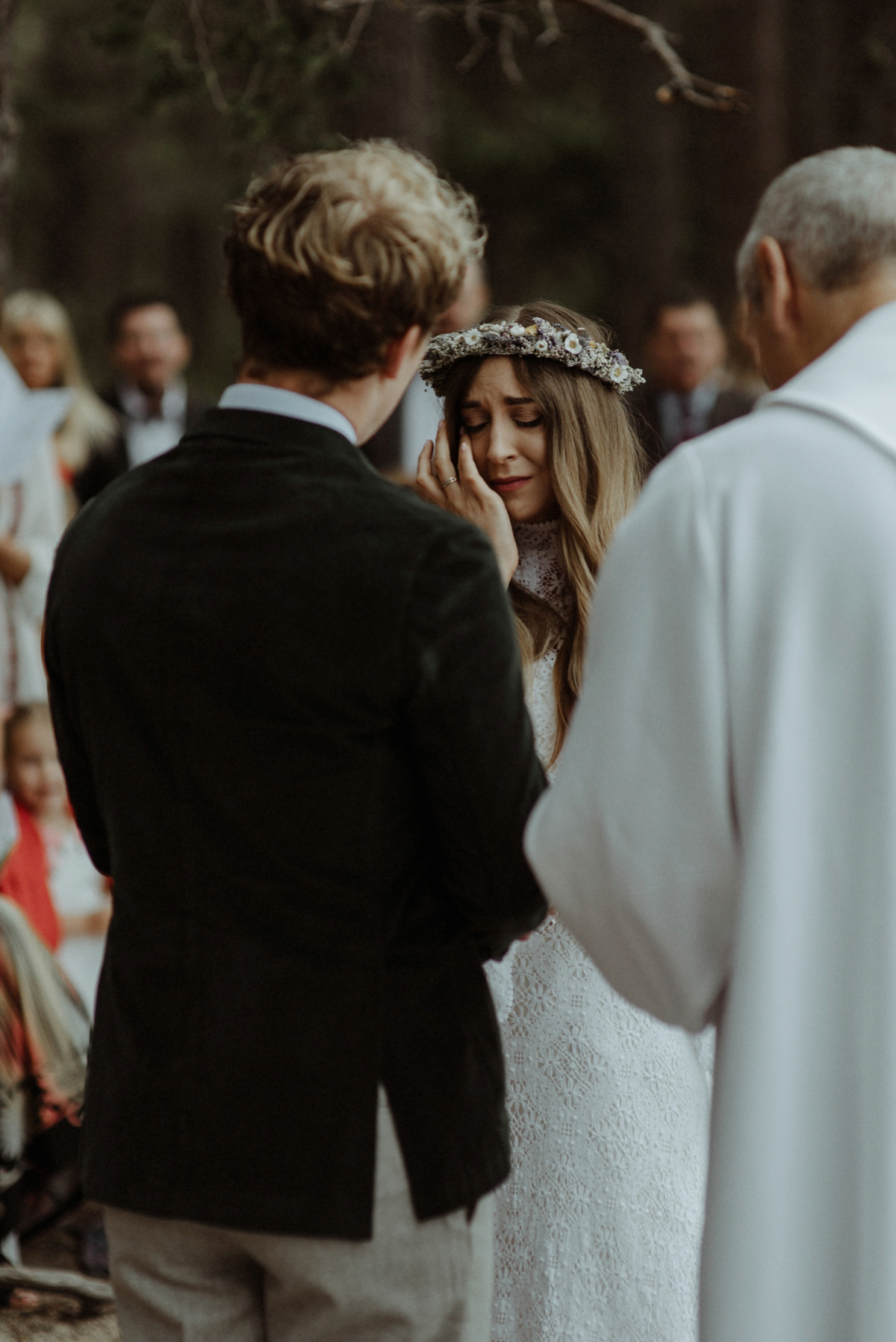 "Cal bought my engagement ring at Fidra in Brighton when he went for an interview, it's an original art deco style. Totally unusual, I really have never seen anything like it."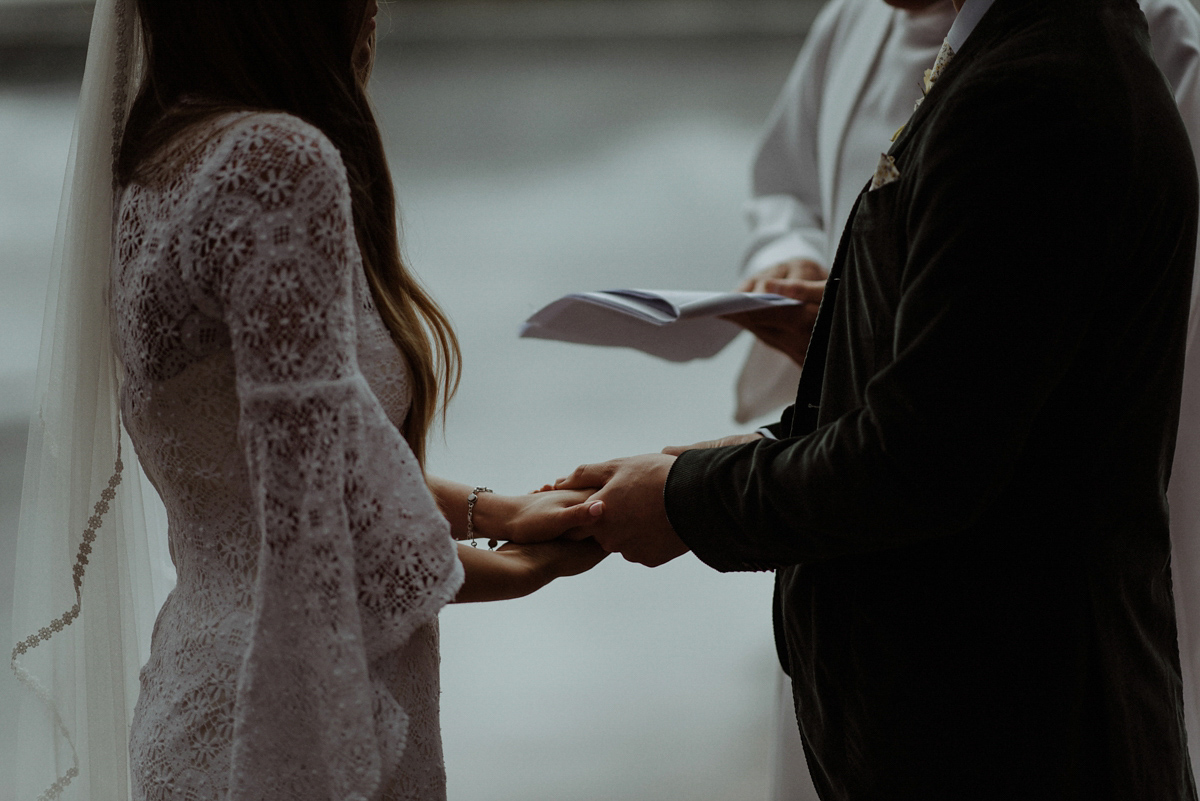 "I had my wedding band made at Foster's Jewellers in York, they were wonderful and created a band that fits around the quirky shape of my engagement ring and has engravings to match the art deco detailing on it. They've even left little spaces for, in the future when we have a little more money, to get diamonds put in."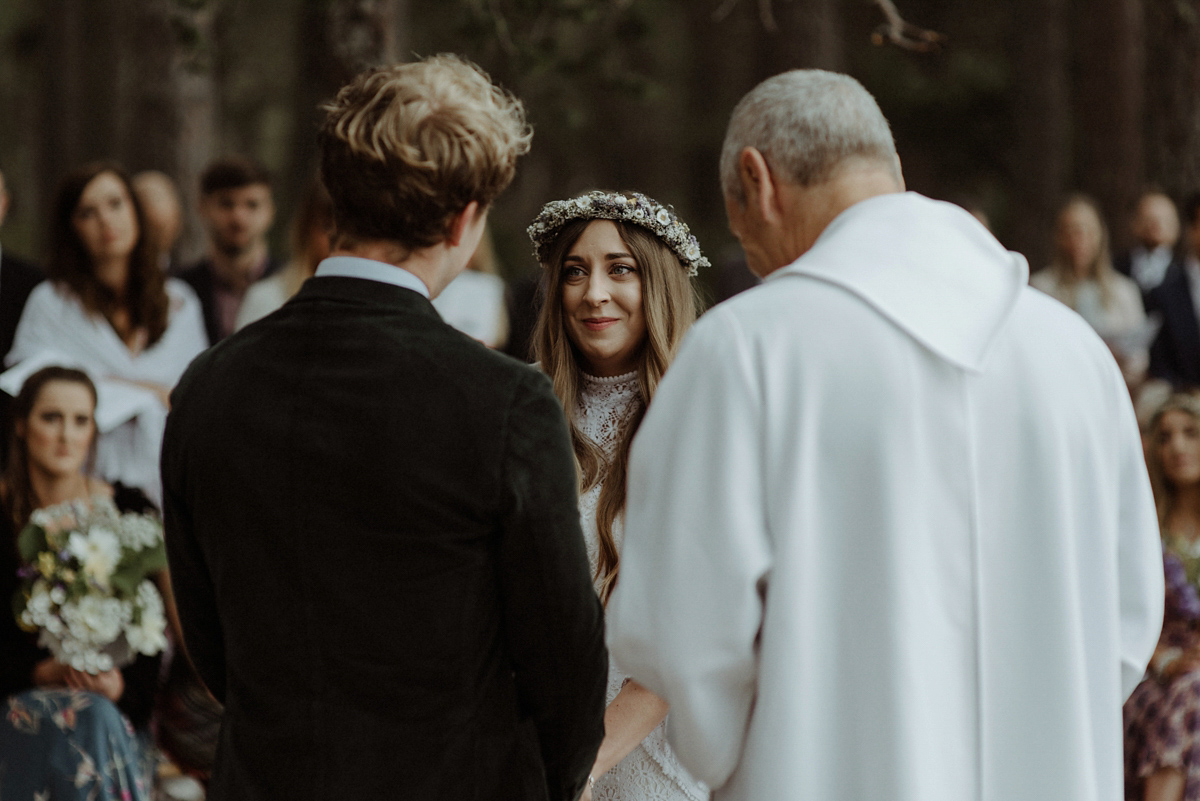 "We got Cal's ring from Bradley's in York, we just wanted a thin, simple gold band and they provided just that."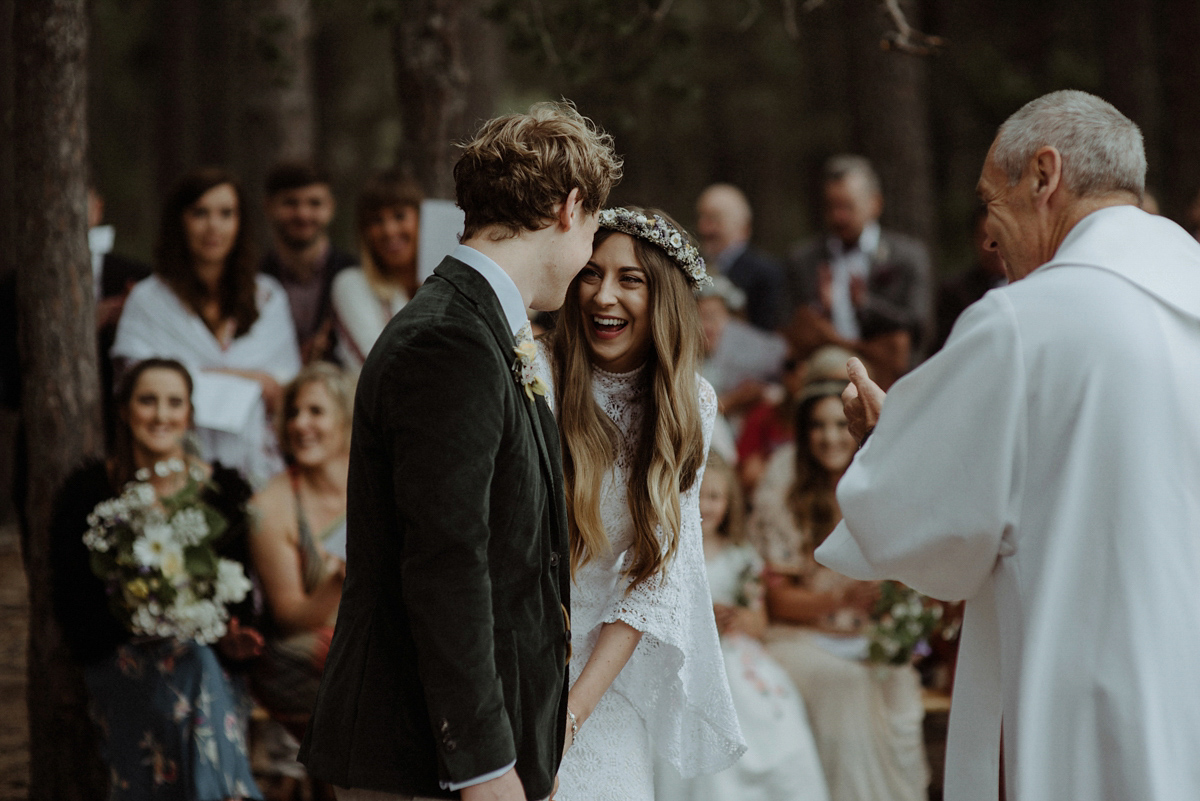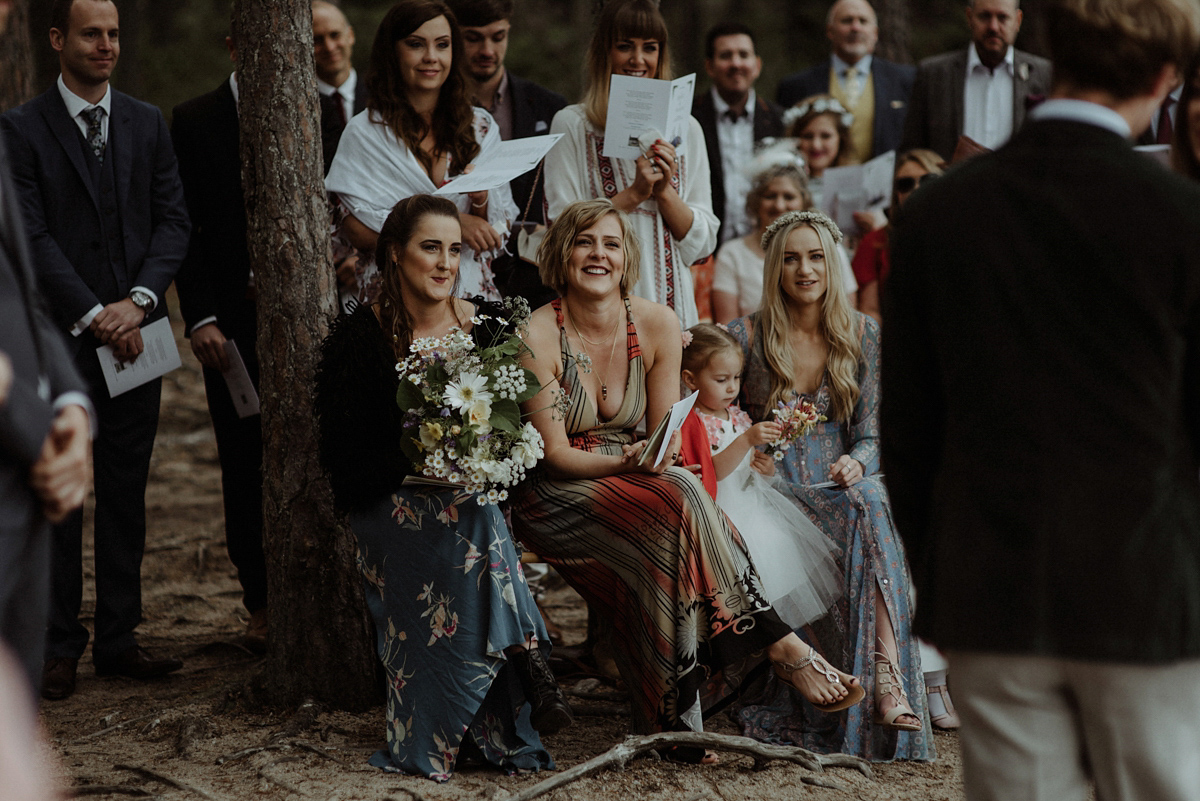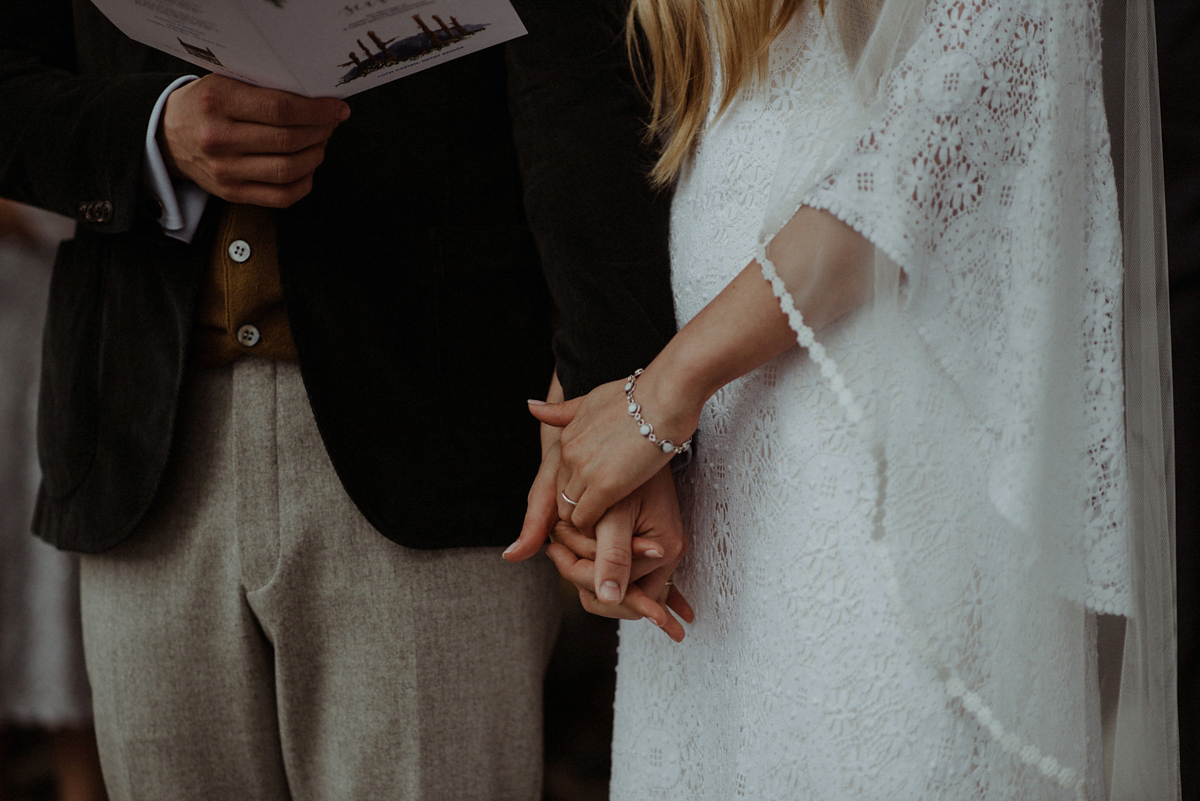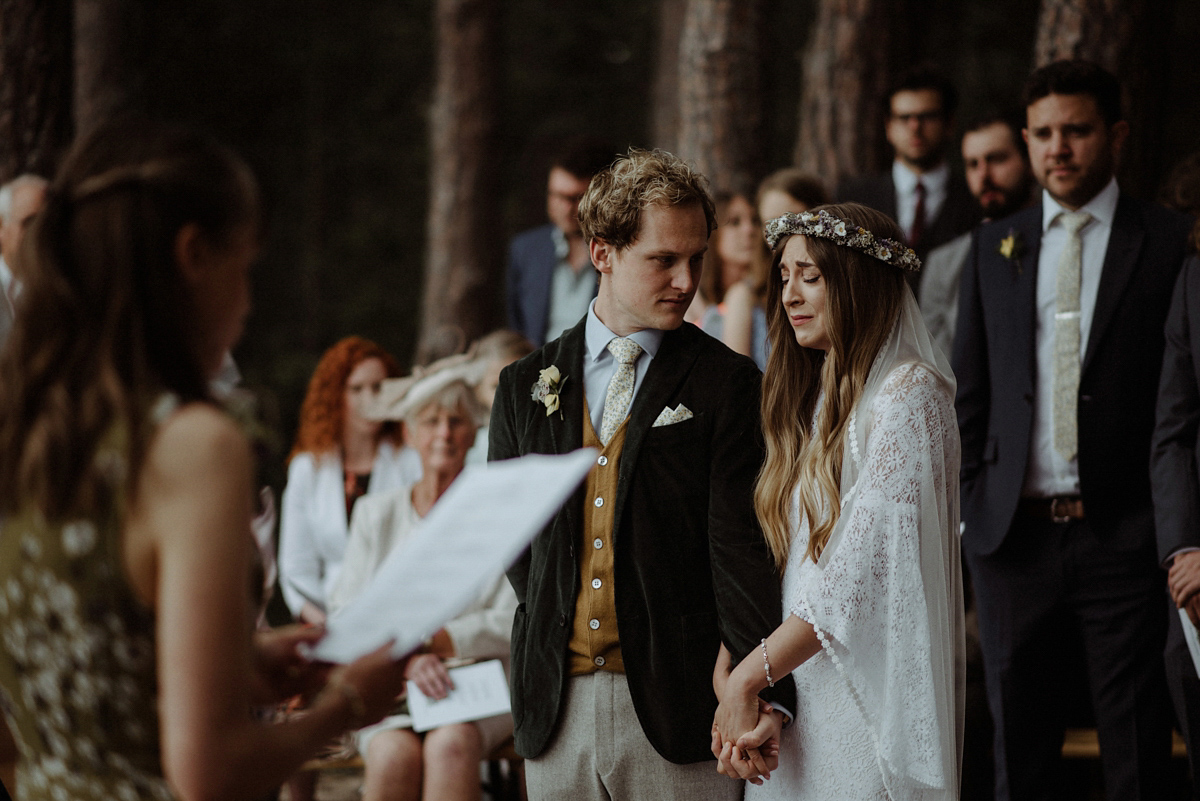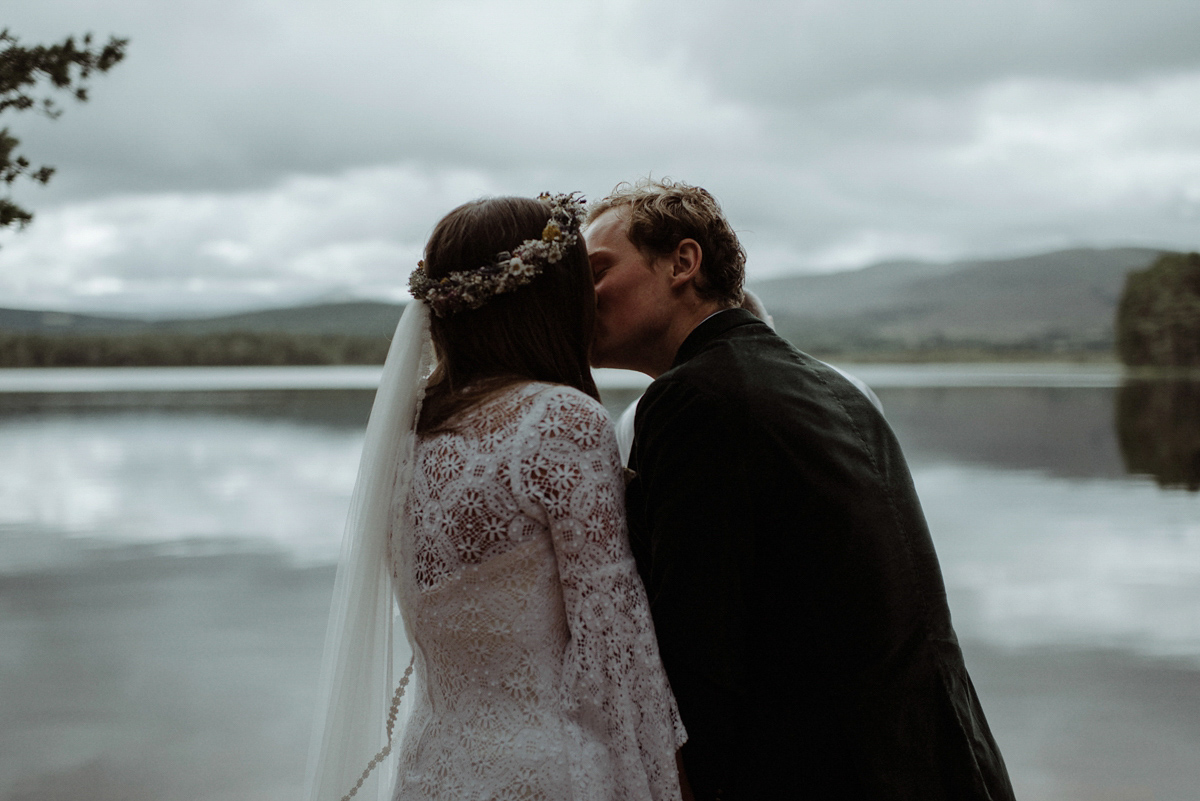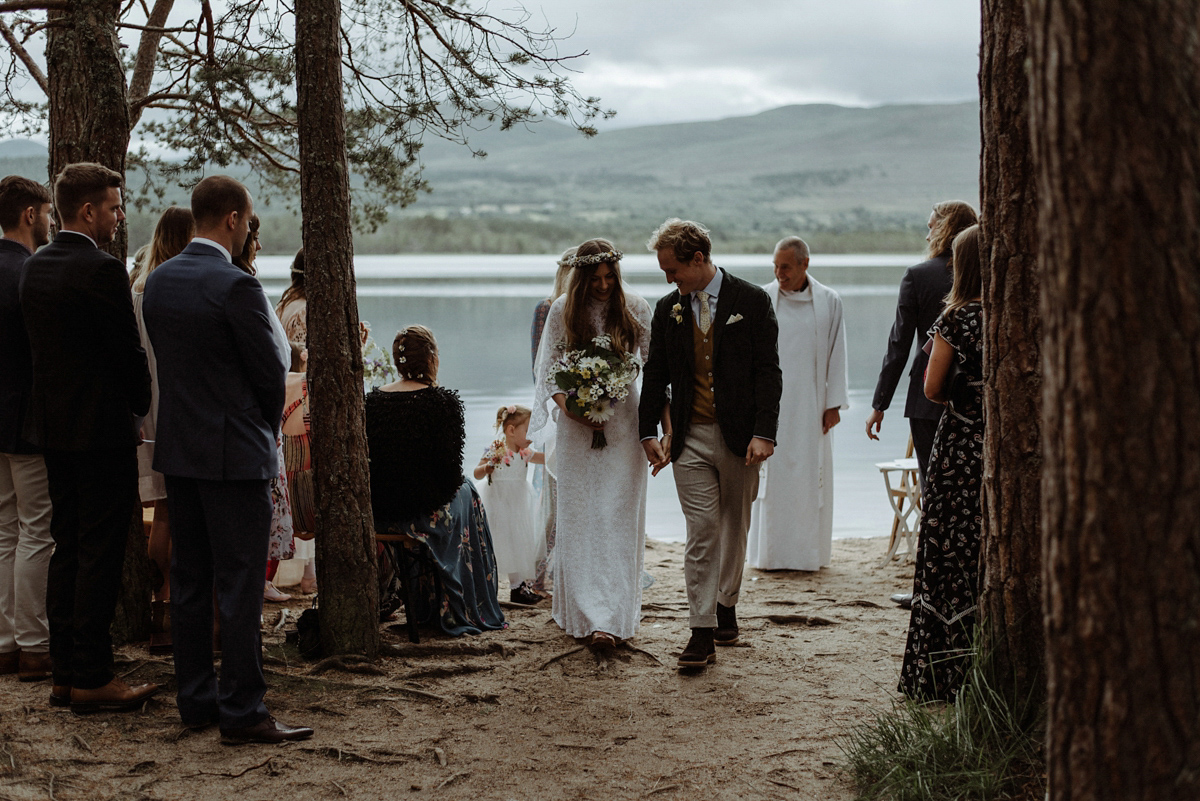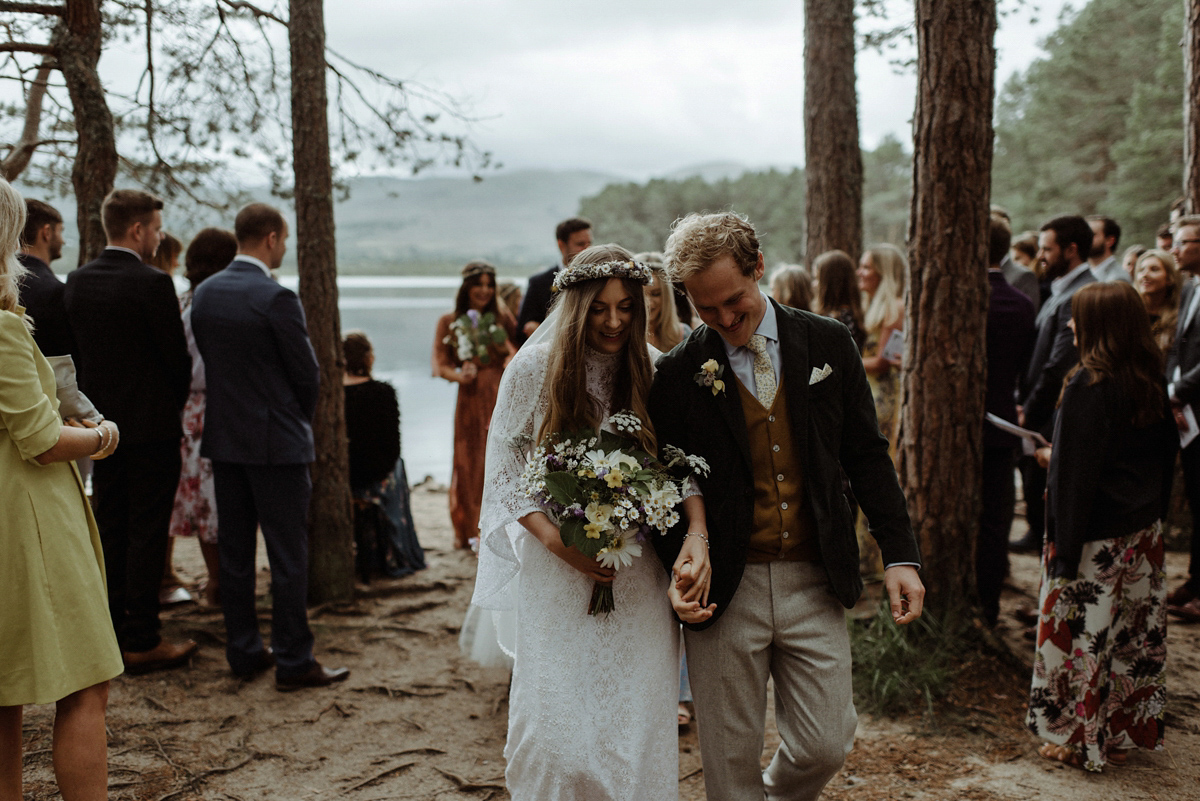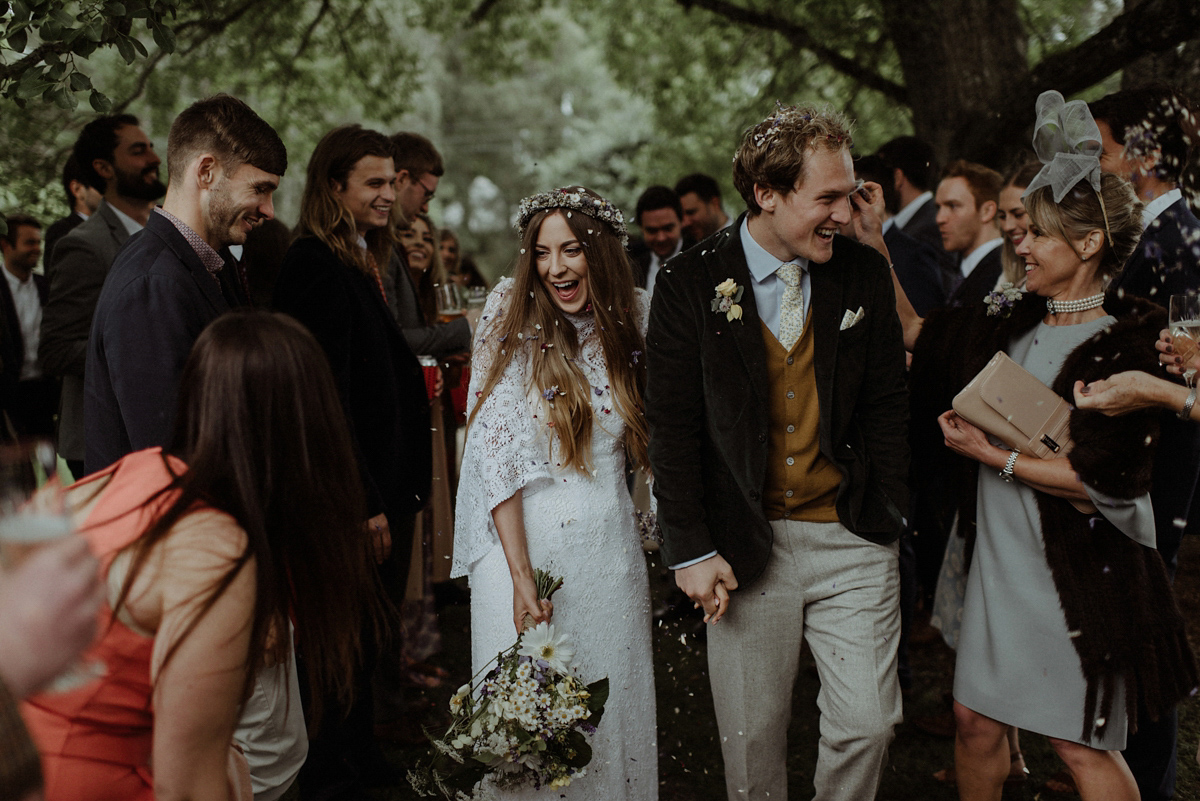 "I always knew I wanted to wear flowers in my hair, it was just logistics. I looked at some of the florists around Nethy Bridge but they were all quite twee and I worried I might order something that wasn't right. That was when I came across dried flower crowns. I ordered one for me and my bridesmaids."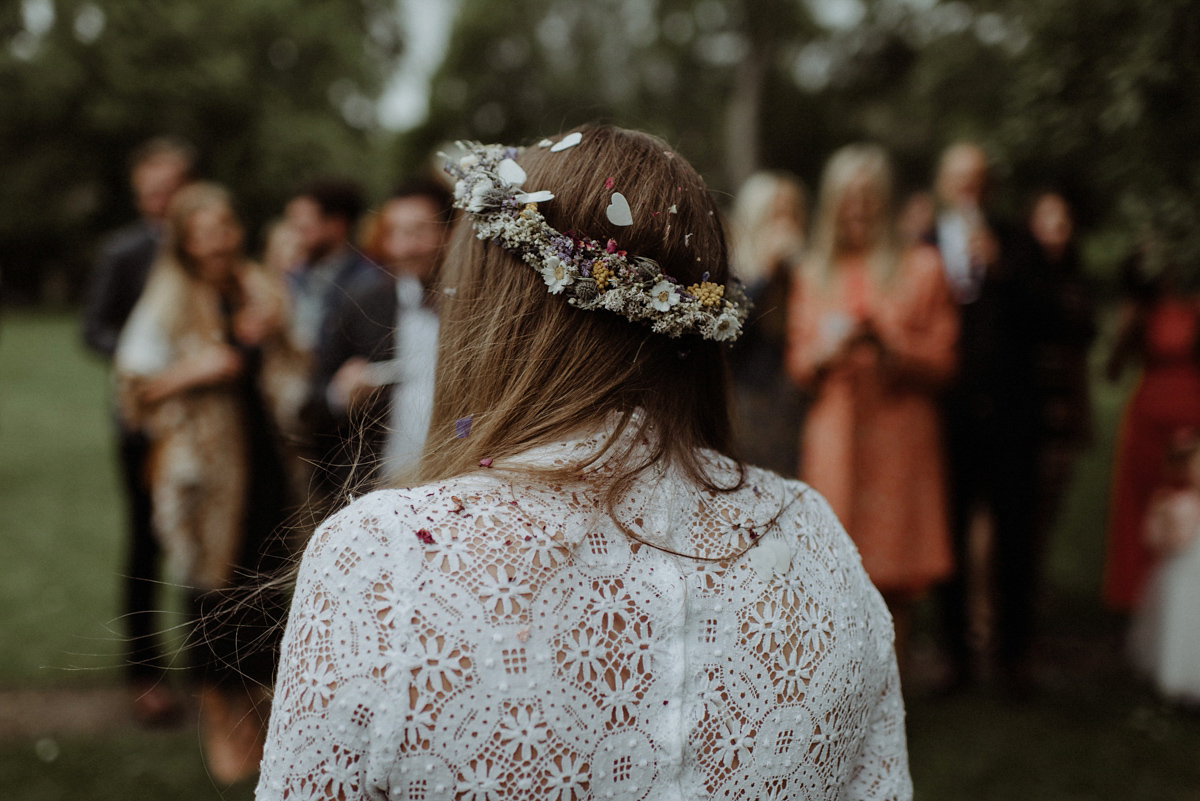 "They were beautiful and delicate. I ordered mine on Etsy from the lovely Florence and Flowers."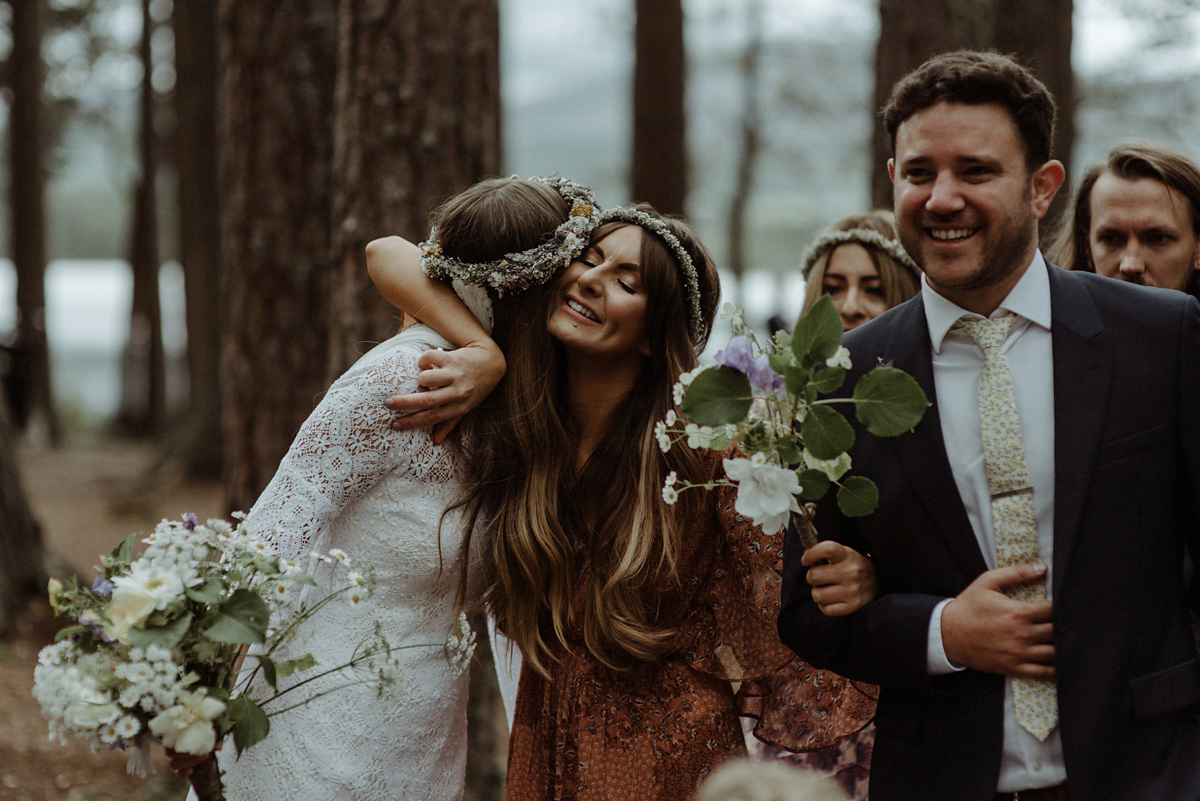 "To continue the relaxed vibes of our day I didn't want to dress my wonderful bridesmaids in anything particular. The brief was: floaty, flowery, summery colours. And the result was sheer perfection. We scoured the internet, vintage fairs and the high street to find the right dresses. All the girls have different bodies, personalities and styles so it felt right that they should wear whatever suited them – and hopefully find dresses they could wear again.
My sister Lucie and Cal's sister Mil were my bridesmaids, along with Sadie and Lisa both of whom have been my best friends since the tender age of four. They all wore their own shoes and accessories with the flower crowns I'd purchased them. I gifted each a little silver bangle engraved with something personal to them too."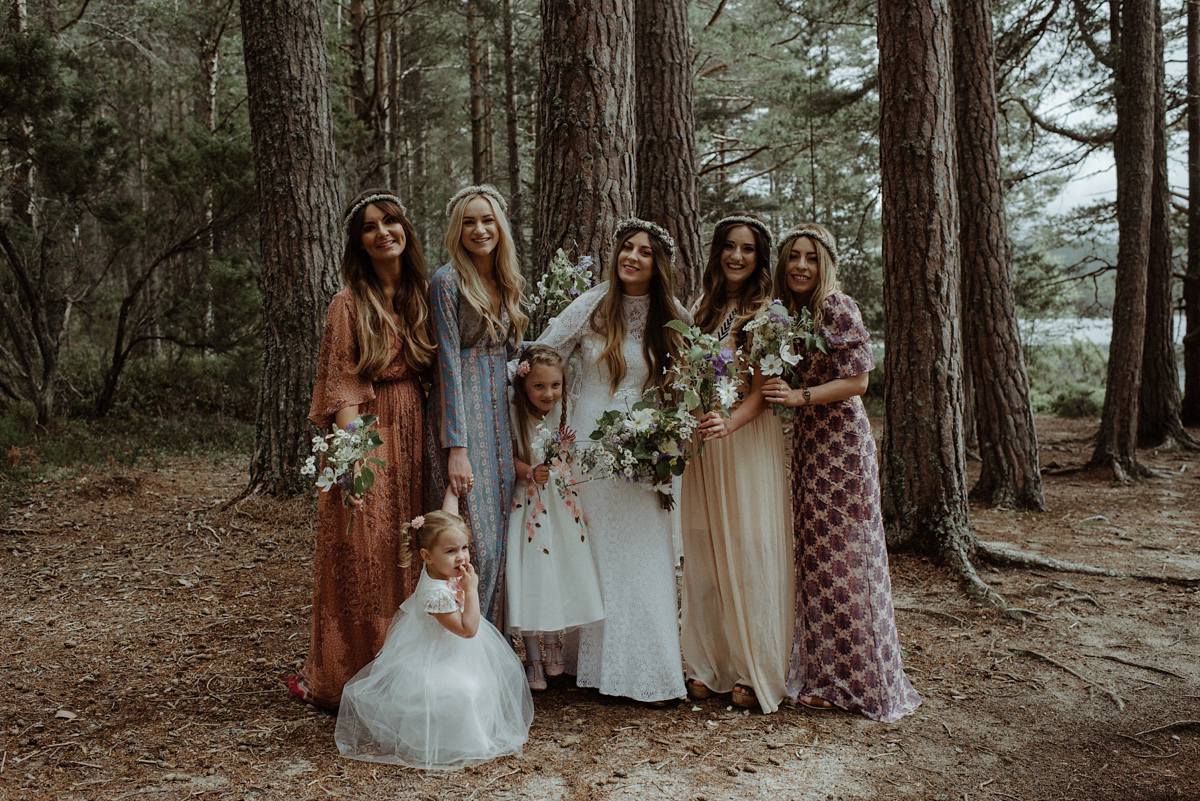 "My cousins two little ladies were our flower girls – they stole the show! Not just on the day but throughout the week. I called them my flower fairies and just loved shopping for a little outfit for them. As my bridesmaids were in a mix-mash of colours I decided to dress the little ones in white. Just like little mini brides. Monsoon Children have the dreamiest collection of party dresses, but I loved these two. I adored the fact that they were similar but in different styles. It allowed Lola, the older of the two, to feel a little more grown up than little Phoebe."
"Photography, where do we even begin? I remember the first time I saw The Kitcheners work on Love My Dress – it took my breath away. We didn't ever look for another photographer."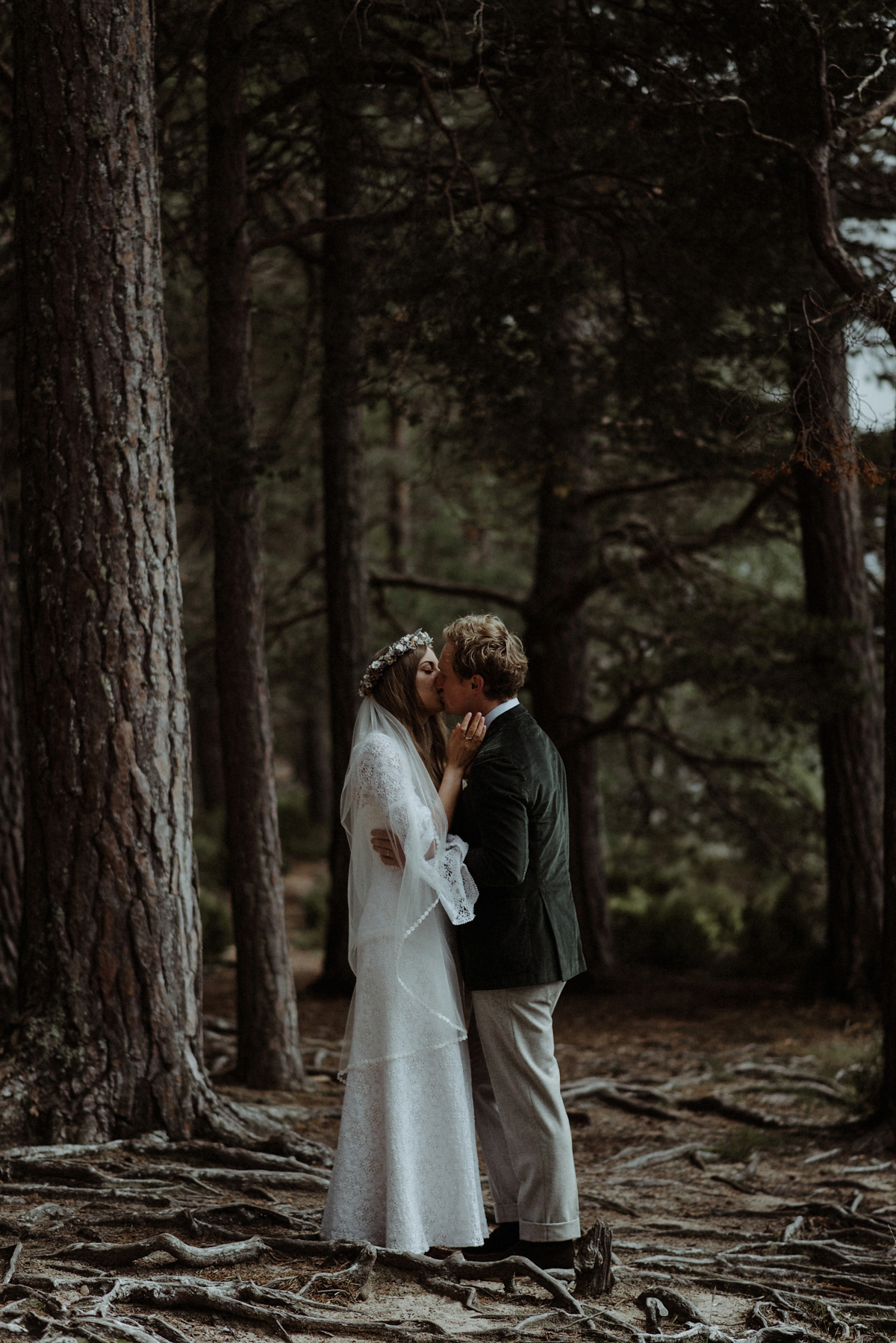 "I knew I needed them to capture our day. I cried and still cry when I look through their weddings, engagements and elopements. Their work is vivid, real, intense, emotional, personal and breathtaking."
"As a couple, Joanna and Dylan are kind, fun, discreet and professional. I look through our pictures all the time, I love the tender moments they captured without any of us realising. I couldn't recommend them more highly enough."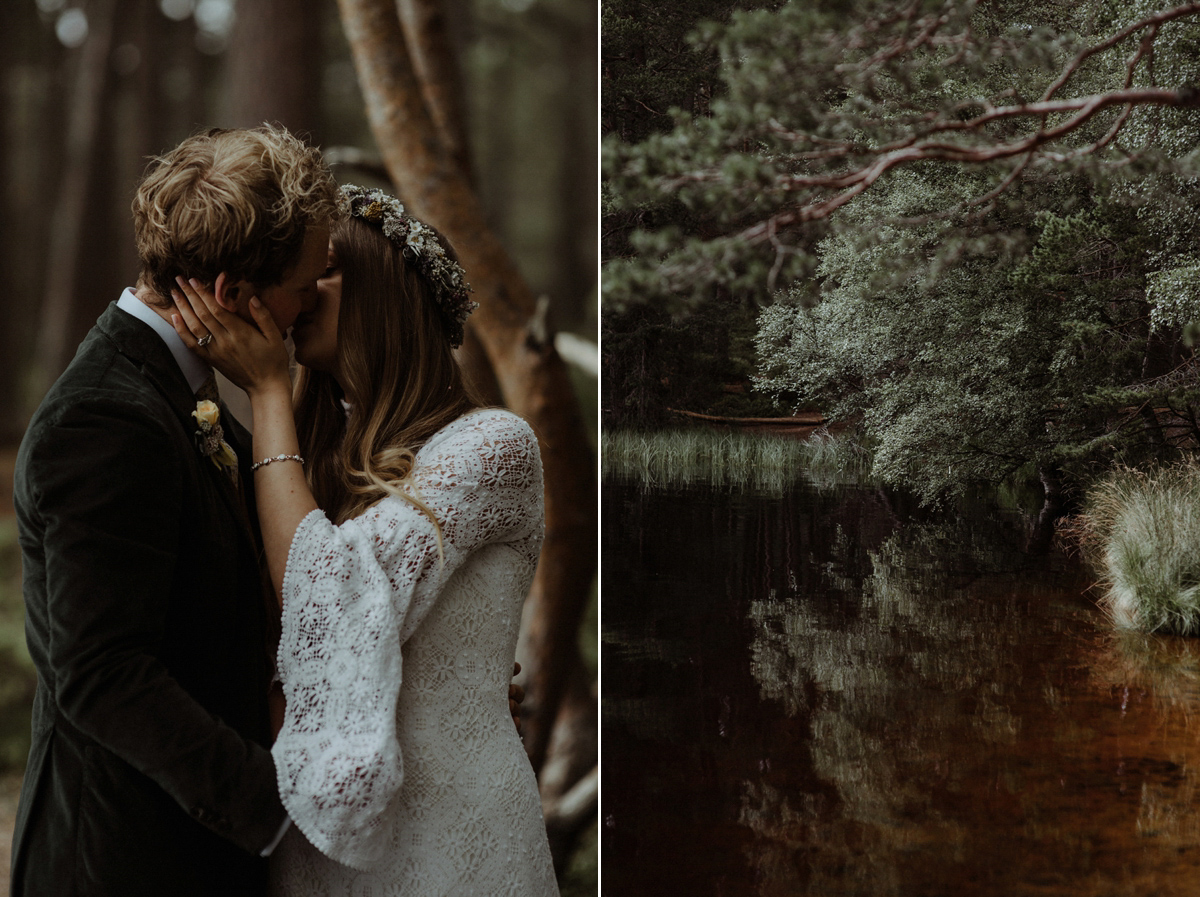 "We were blown away and those images and memories will stay with us forever."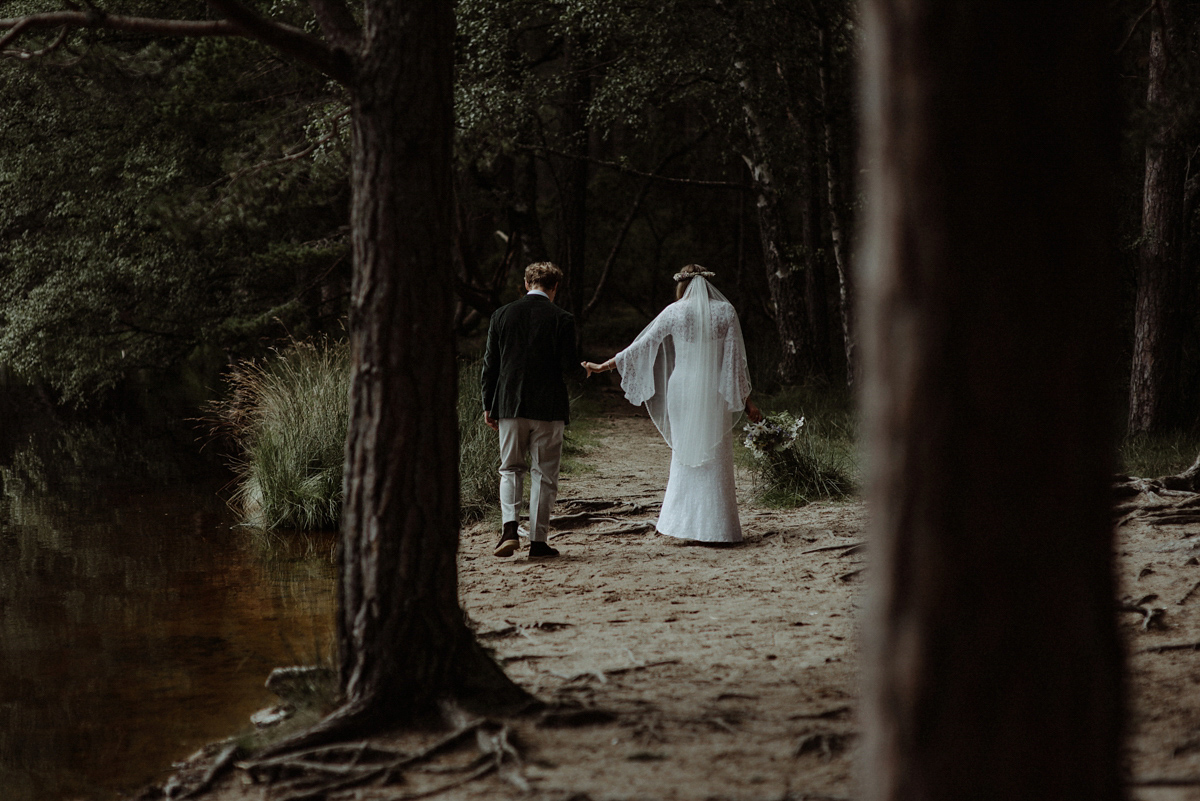 "Cal's dad filmed the entire week on a little hand held camera. It's by no means a professional edit but it really captures the mood; snippets of nights around the fire pit, the wild ceilidh dancing, the team setting up the tent. It's a great, inexpensive idea and captured moments you could almost forget."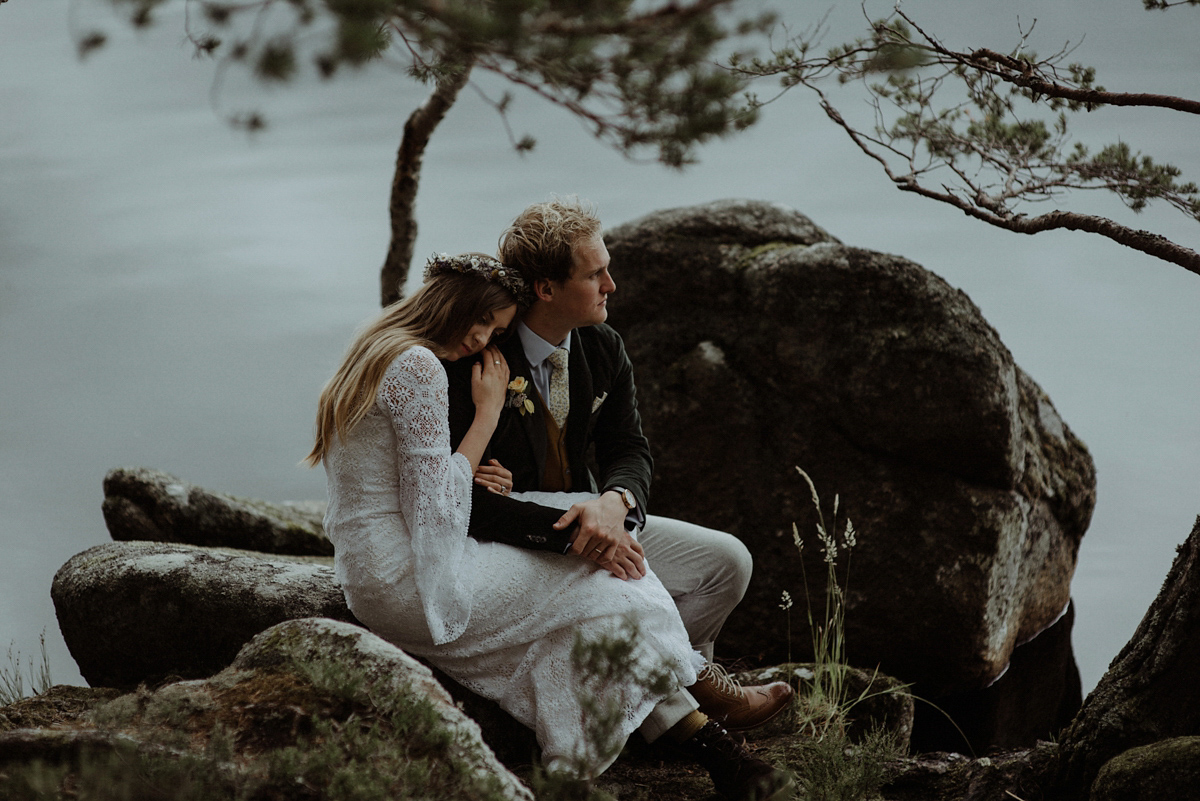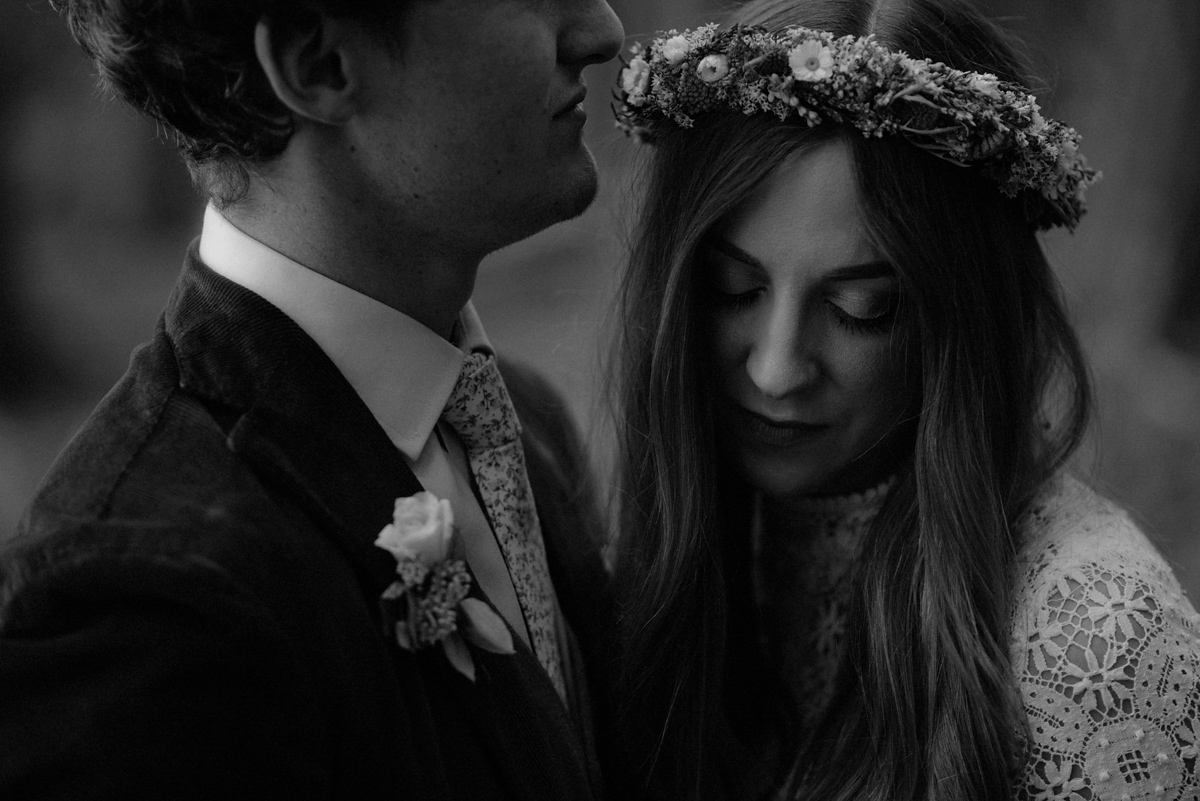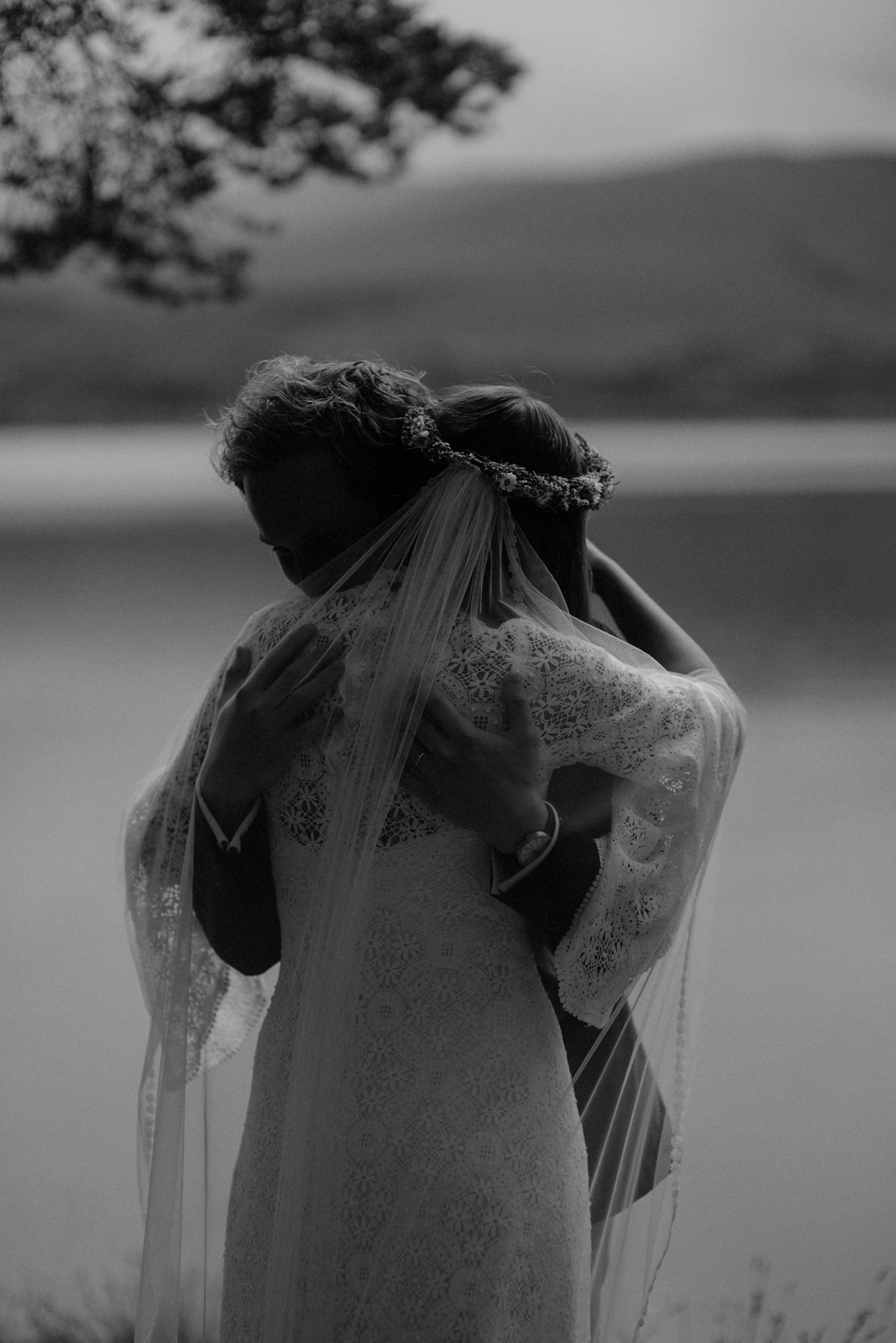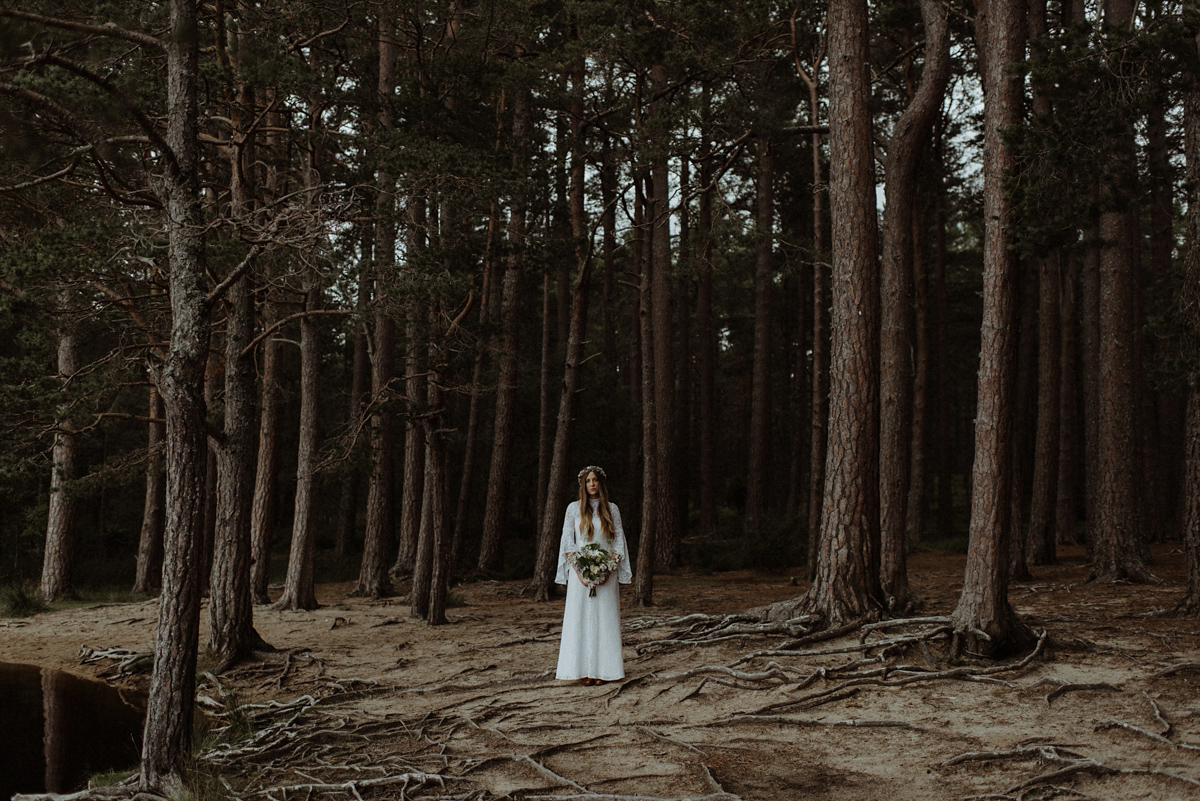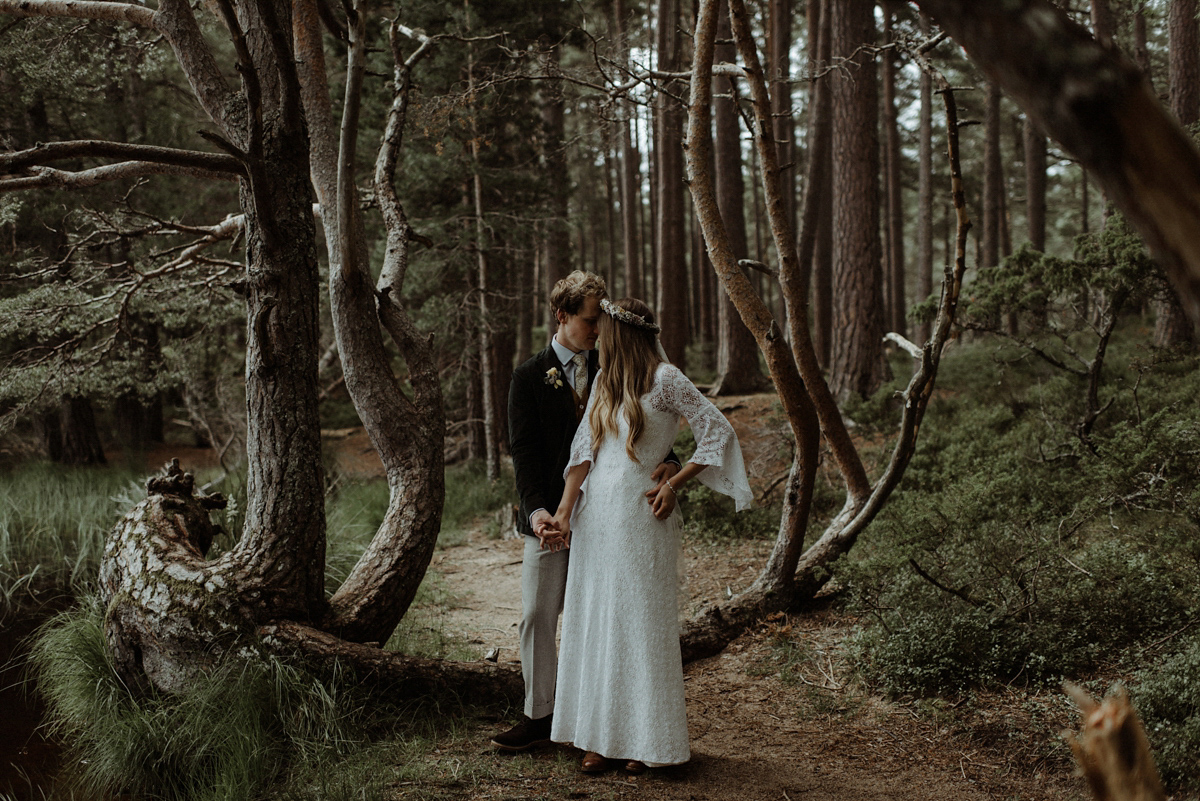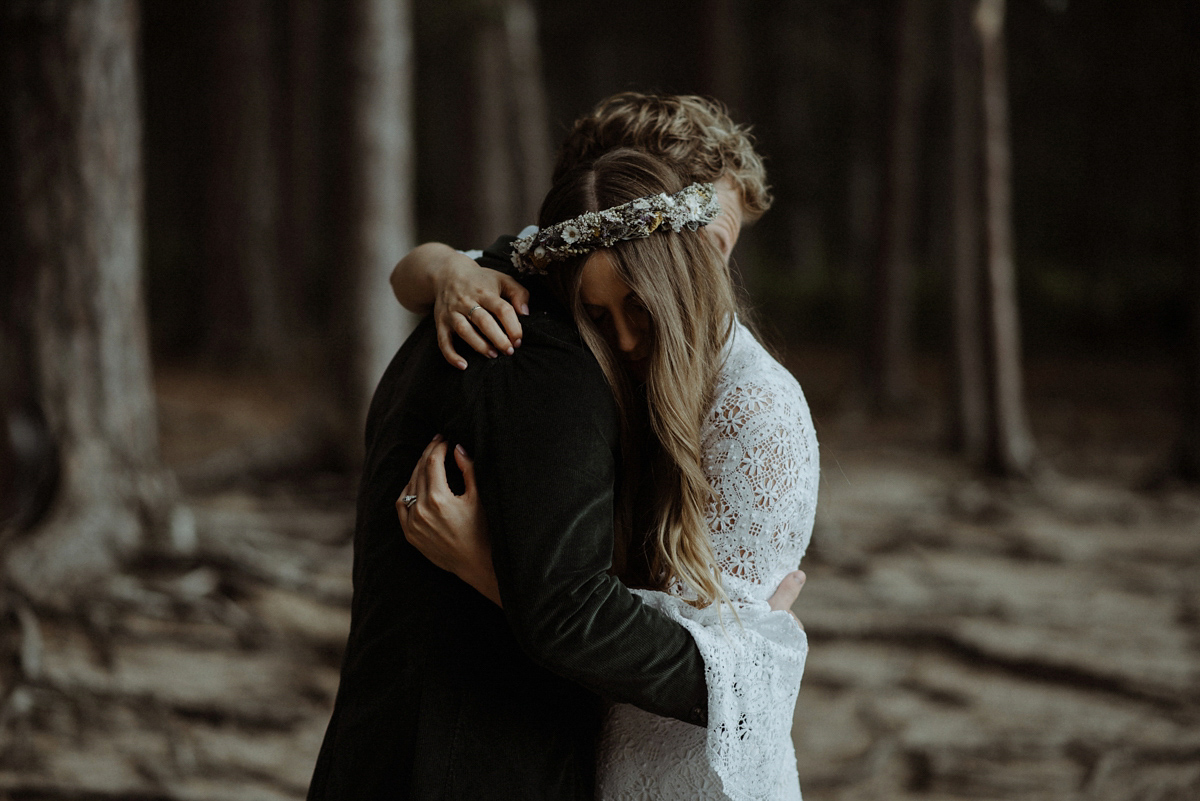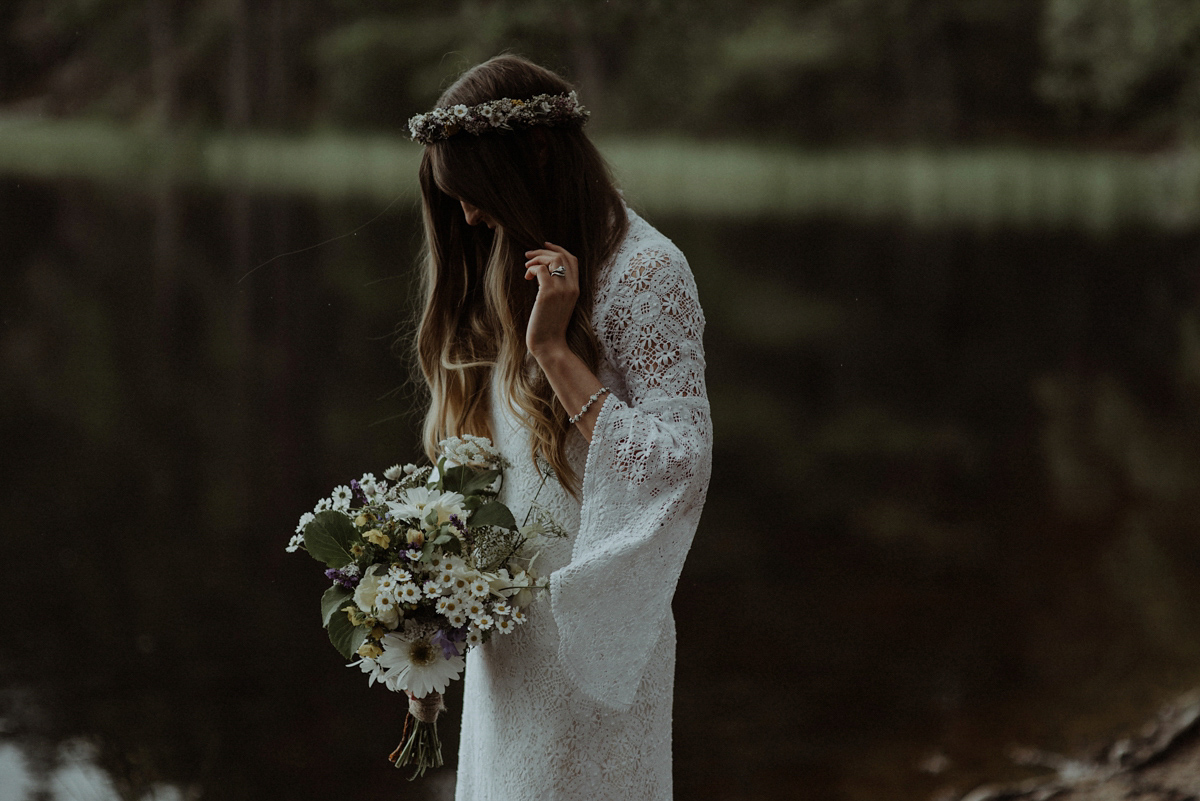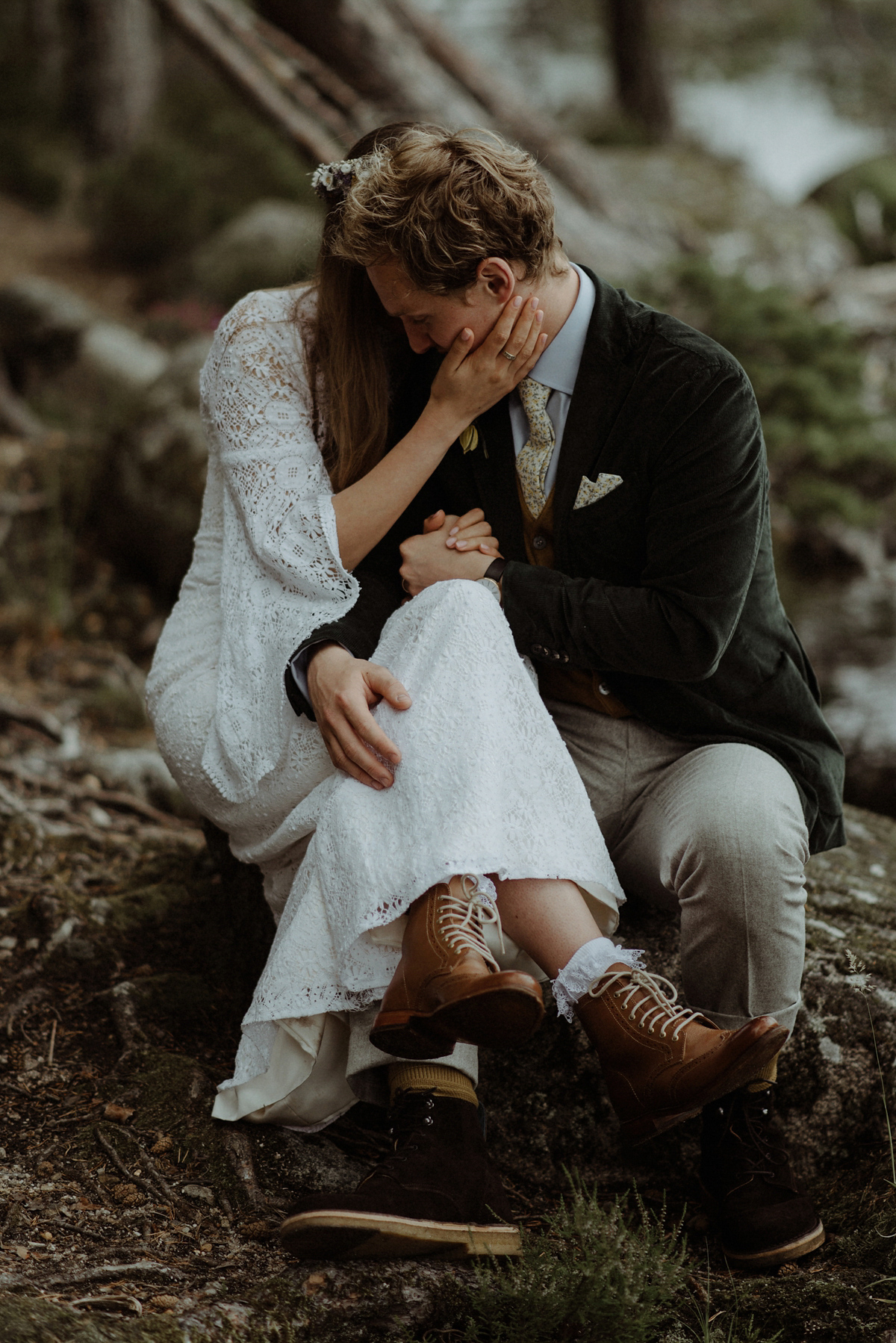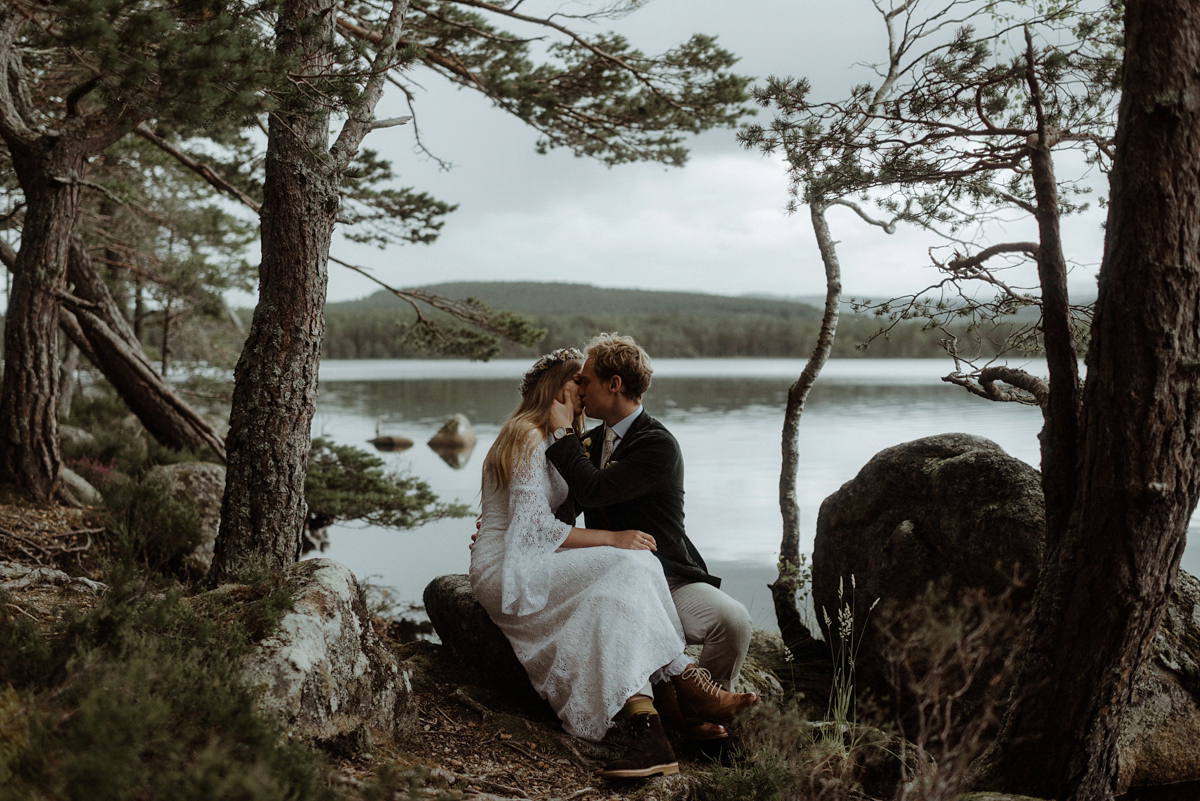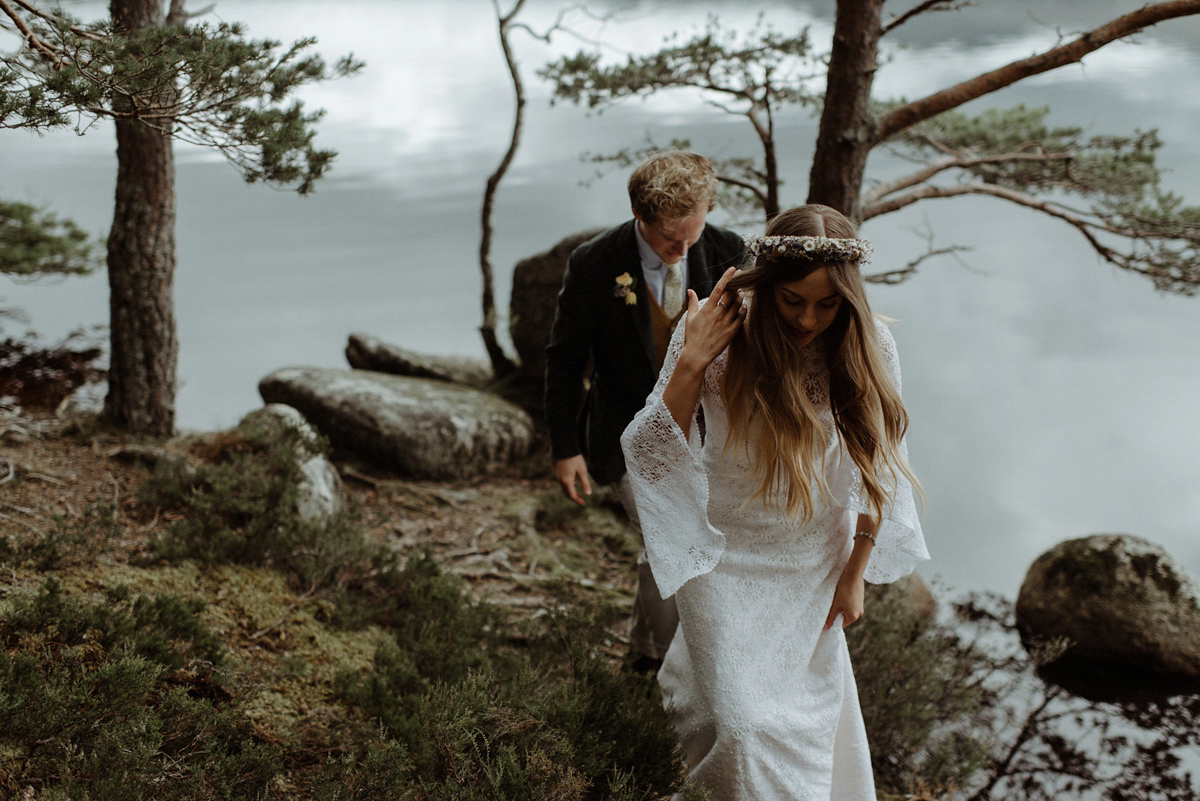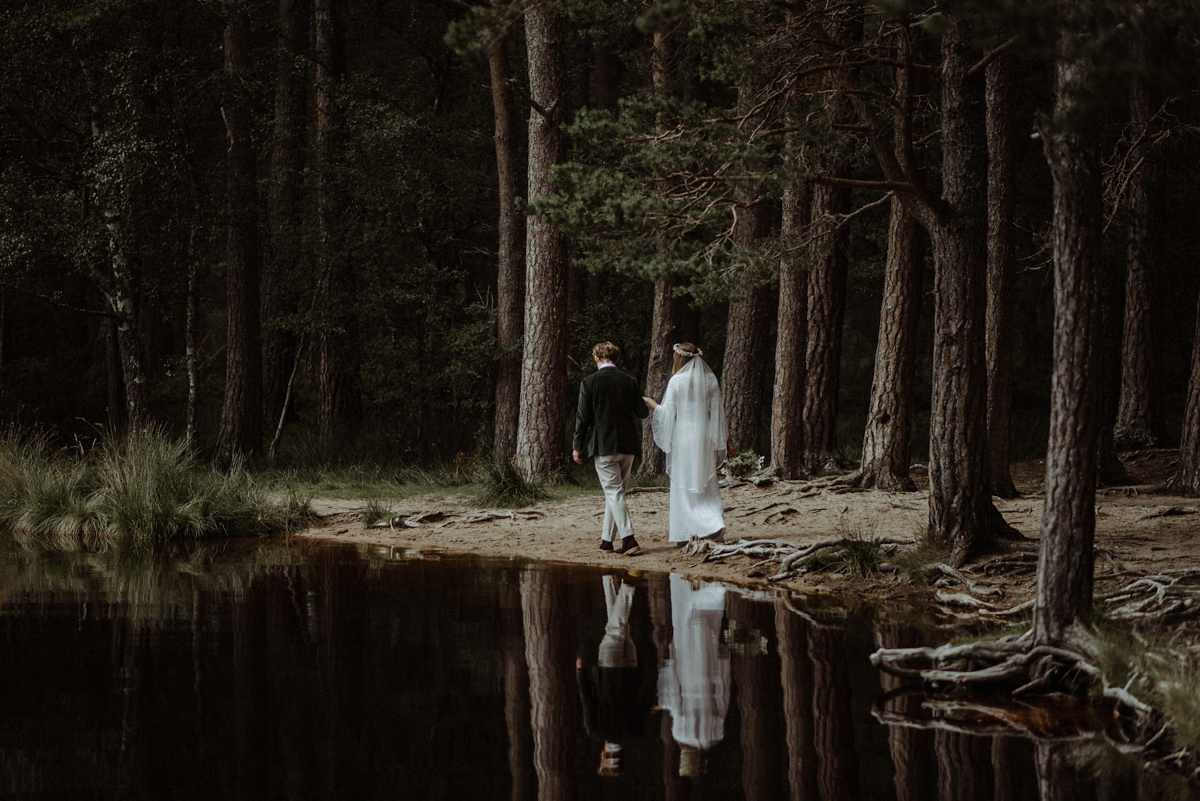 "Polly and Ross have an beautiful old vintage, eggshell blue Humber. They hire it out for weddings and events and we really couldn't resist. It's only a short drive from the Dell to the shores of Loch Garten where we had our ceremony so we did wonder if it was a silly expense. It certainly wasn't. It made everything that bit more special."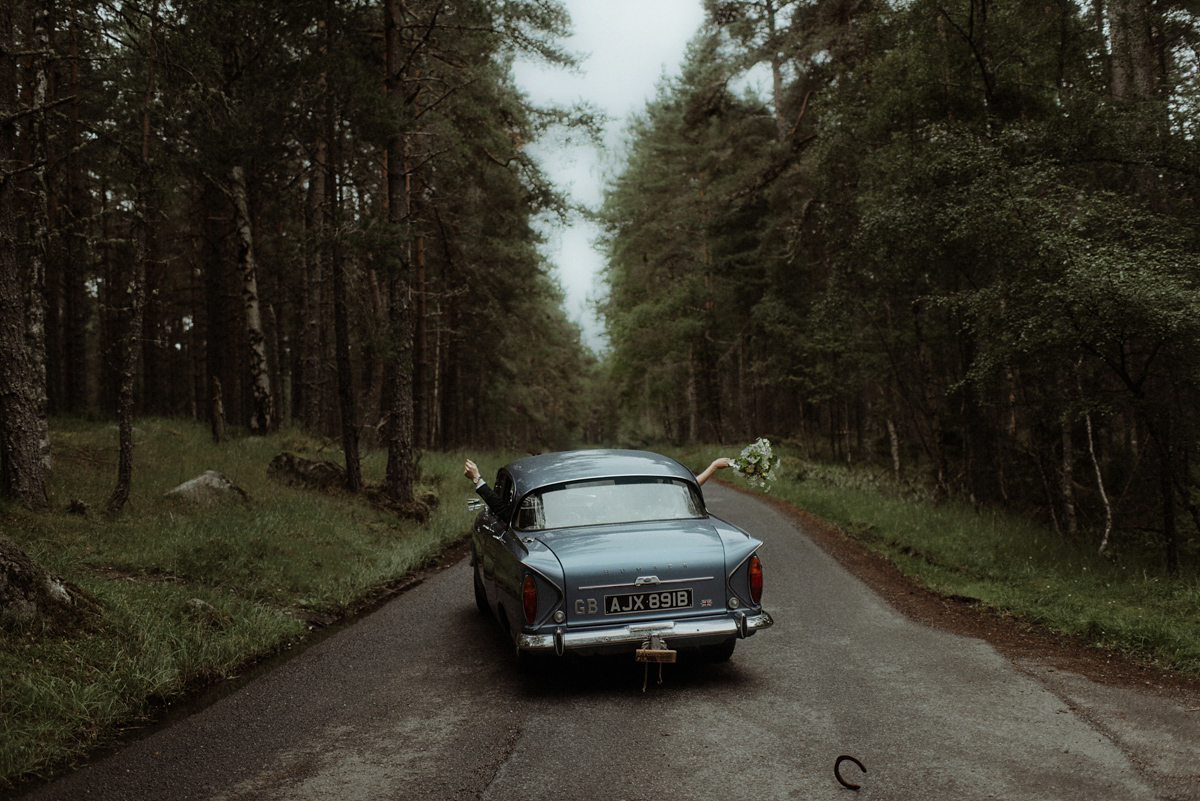 "Polly laid flowers on the parcel shelf, Ross wore a full checked outfit and was waiting for us after the ceremony with water, a blanket and even a shot of whiskey from his and Polly's traditional Scottish Quaich."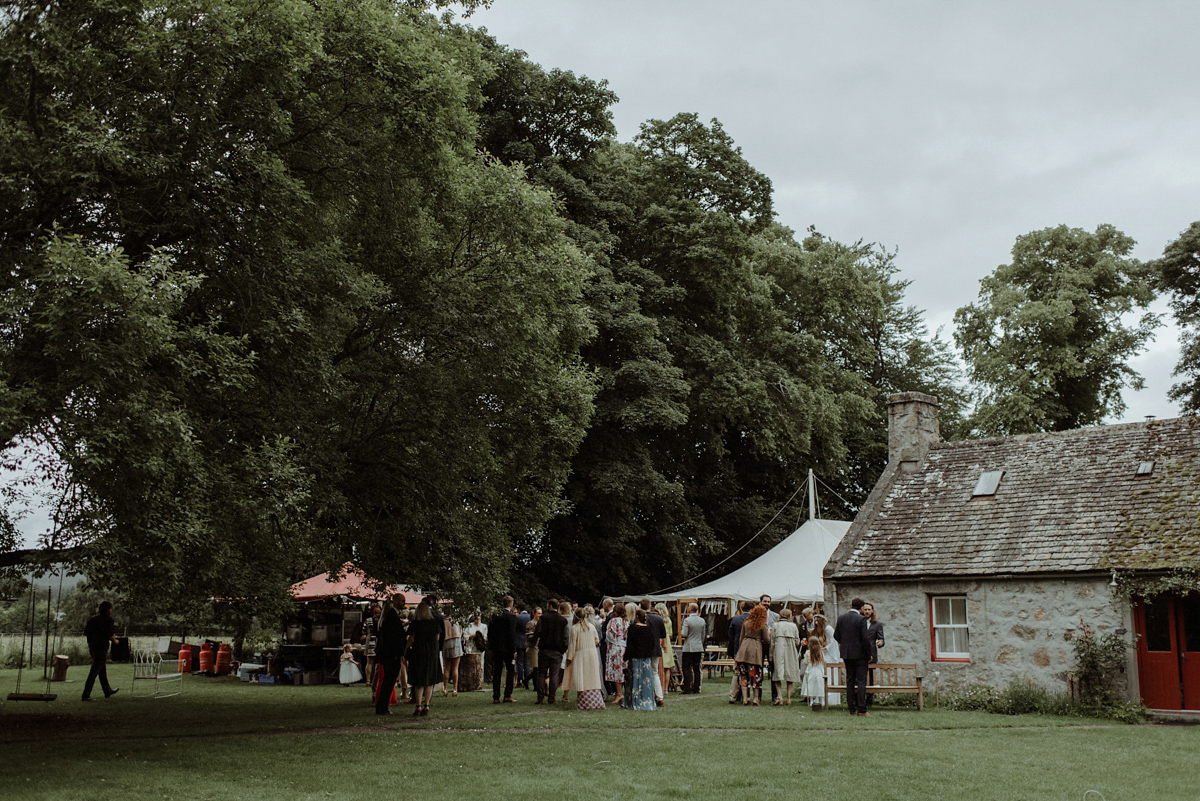 "We built our own table plan out of an old crate and I hand wrote all the place names, wrote blackboards for orders of the day and the cocktail/beer offering. We loved it, and it feels strange not to have an order of service to do, a place name to fold or an invite to post. I learnt calligraphy through an online course called I Still Love Calligraphy and it's such a great idea for any creative brides."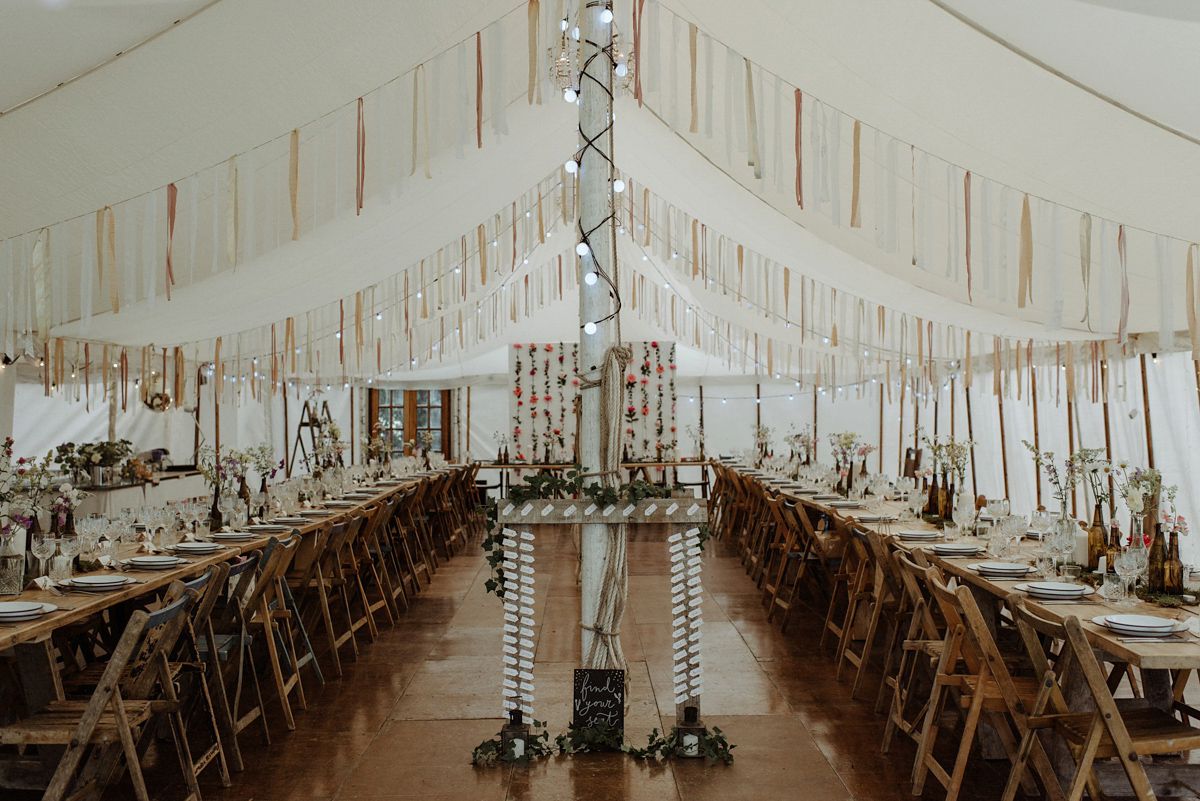 "Luckily Cal works for an amazing creative events company in Leeds called We Love This. His lovely boss Beck let us take bits from their treasure-trove warehouse of props to style the tent. I dabble in styling and we both have a huge interest in 'things' and design so, with the help of my mum Trace, we spent hours making rag-bunting to hang around the tent using fabric from markets, charity shops and friends donations."
"Inside we made little chill out areas with Moroccan carpets, poofs and beautiful peacock chairs. Cal's mum bought cigars and we laid them out in boxes, we filled little glass pots with mini sparklers, sometimes it's inexpensive little touches that are really lovely. We felt really strongly that long, trestle style tables would work best for the style of dining we wanted which focused on sharing and coming together over a good meal."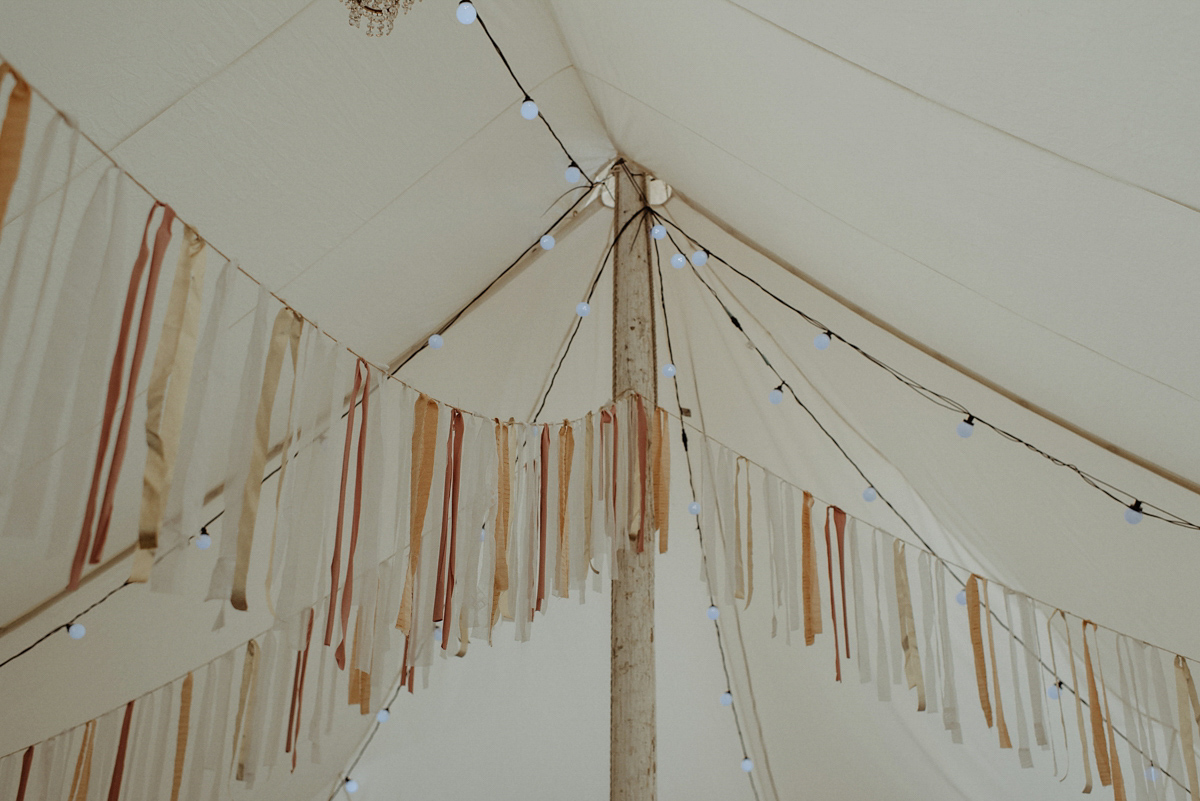 "We built a flower wall out of wooden panels and fake flowers, decorated the tables with moss, bottles and candles. Prior to the wedding, we made a pin board for Letters From Camp as a guest book. We set up outside with glitter balls, wooden tables, huge lanterns and faux fur rugs."
"We hung festoon lights and fairy light curtains. All our friends saved up brown beer bottles and then me and the girls spent hours picking the paper off them to use with gin bottles as vases for flowers. In the days before the wedding everyone staying with us at the Dell spent a whole day helping us."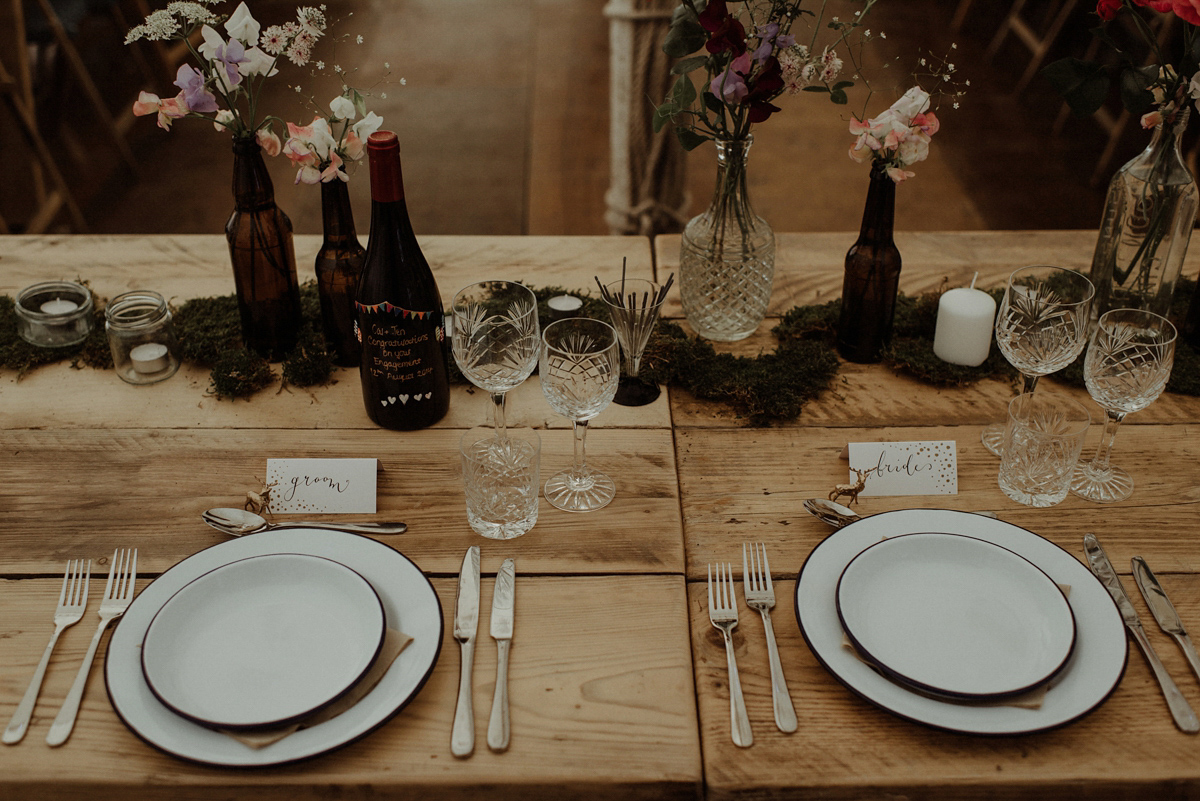 "We decided against favours, it was one wedding tradition too much for us, but we did spray paint 80 little deer's (they were Christmas cake toppers) gold which I know a lot of our guests took home. They were in honour of our woodland surrounding and we used them to decorate the tables."
"We went simple with our cake, a big fussy wedding cake just isn't us. We visit the Inshriach Nursery tearoom every time we are in the area and have done for years. Their cakes are unbelievable and you can sit in the window, looking out on birds and squirrels feeding in the branches and feeding areas in front of you. We chose a carrot cake, almond and summer berry and a cherry cake. I hand painted little wooden peg dolls to sit atop one of the cakes depicting me and Cal. They were kind, helpful and reasonably priced. They lasted until the next day and every last crumb disappeared at the Sunday BBQ.
Cal's mum arranged a cheese cake from The Cheese Society for us. A full cake, of cheese. Incredible. She chose gorgeous flavours from the Cheese Society in Lincoln and we ate it with chutneys and biscuits well into the next day.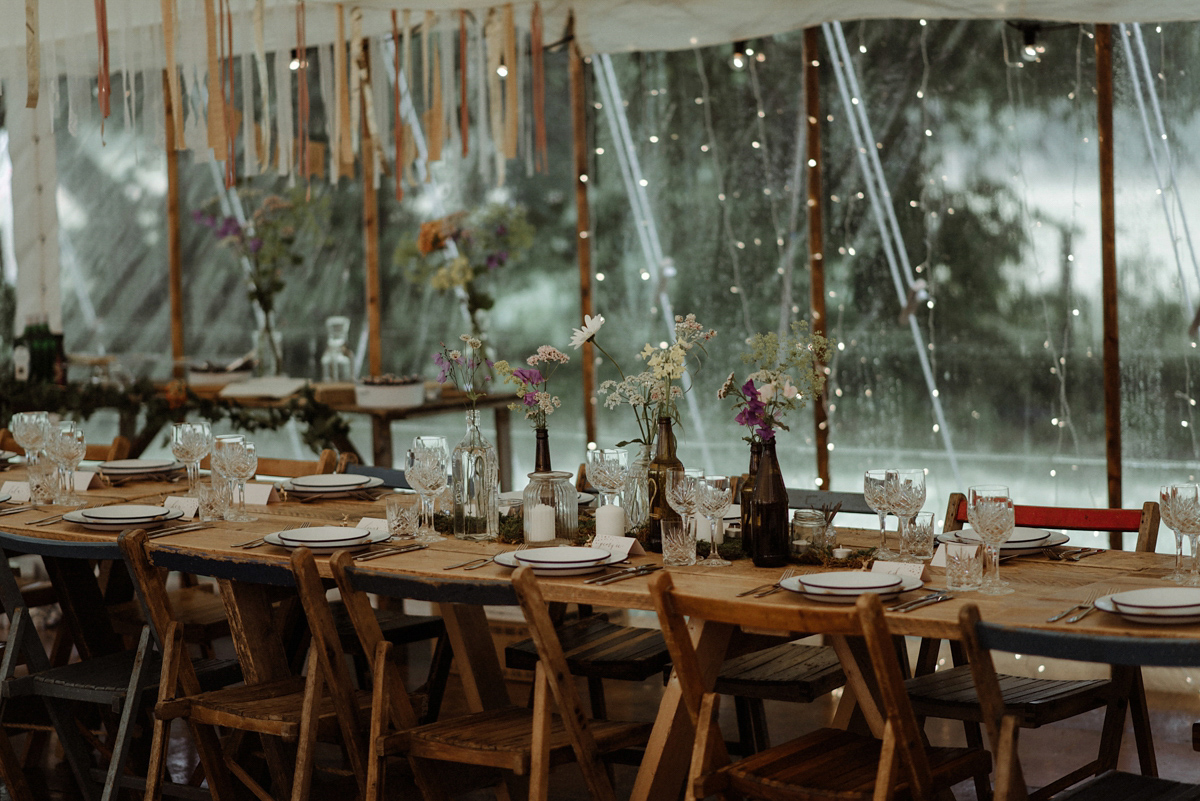 "Polly and Ross recommended, amongst others, Wild Rover Food, and when we saw their land rover pop-up kitchen, sharing platters laden with sustainable, locally sourced produce we didn't need to look anymore. We again made a snappy decision and went with them. A decision we would never regret."
"We knew we wanted a sharing style starter as one of our favourite things to do is pick over meats and cheeses. They absolutely delivered with smoked mackerel pate, venison chorizo, chargrilled courgettes, their own take on feta and bread served in little brown paper bags to soak it all up."
"Then, we always envisaged a big sharing hearty pie and mash, yes even in summer. Again, cooking a local beef, Blue Murder stilton and Black Isle ale pie served with creamy mash and sweet potato mash – it was simply perfect.Wild Rover Food are so much fun, super laid back and everything from the wood pigeon sausage roll canapes to whisky-infused chocolate torte was exceptional. They ask you to choose male guests to act as servers, they get a little pinny and collect food, dishing it out for the guests. Everyone loved it, it's so interactive and gets everyone involved."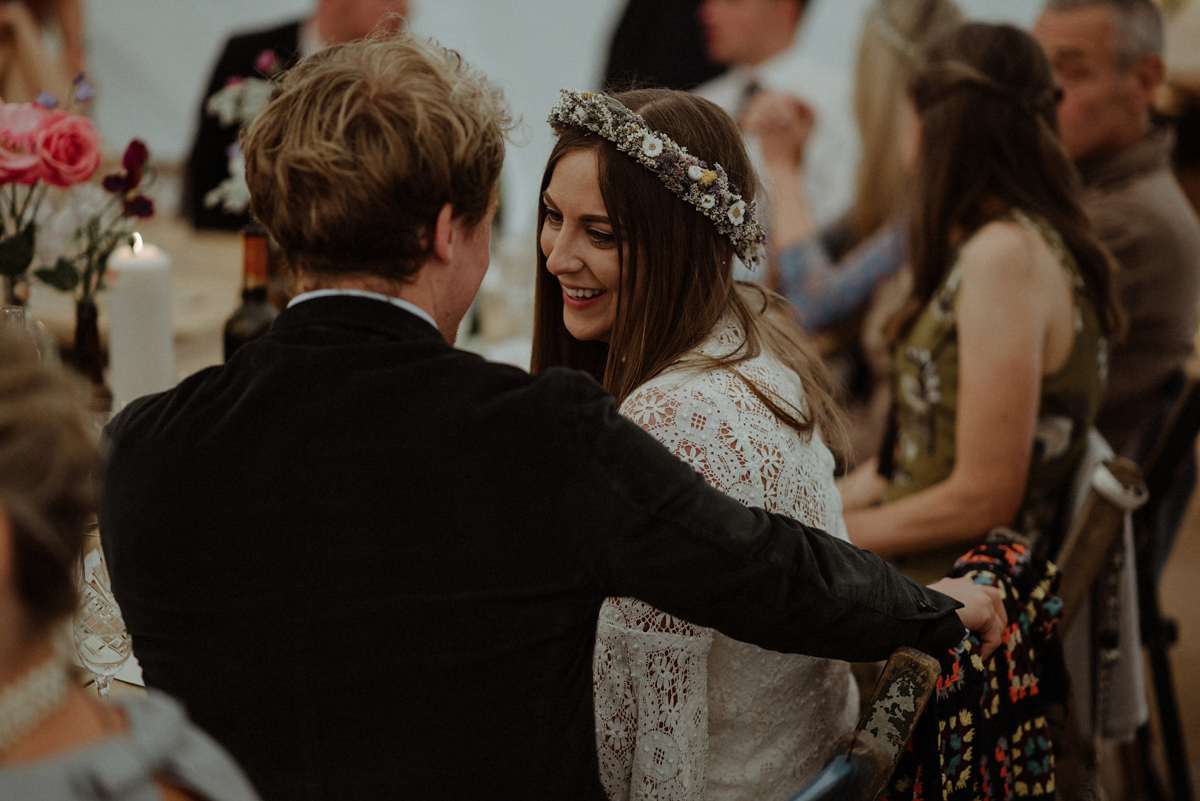 "The guys at the Dell ran the bar for us, we brought up some of our favourite beer from Leeds; Sputnik from our local brewery – North Brewing Co. and had those with a special gin cocktails when everyone arrived.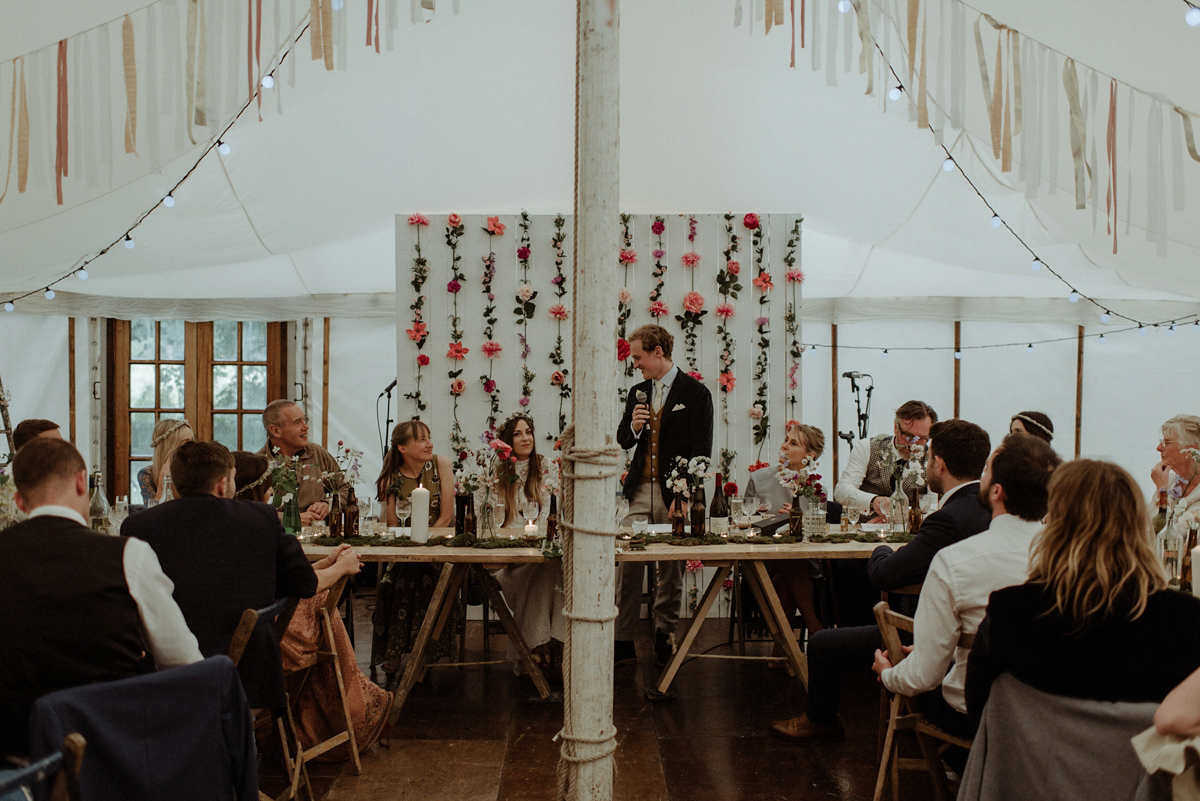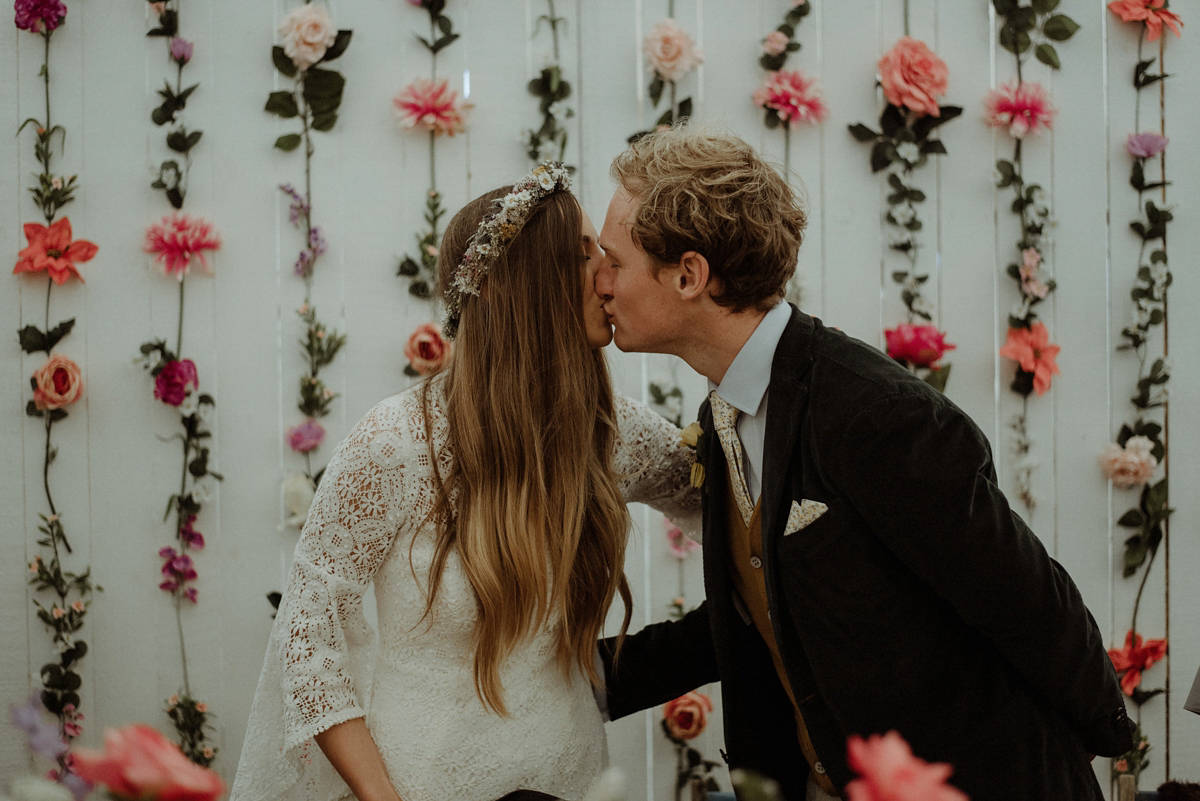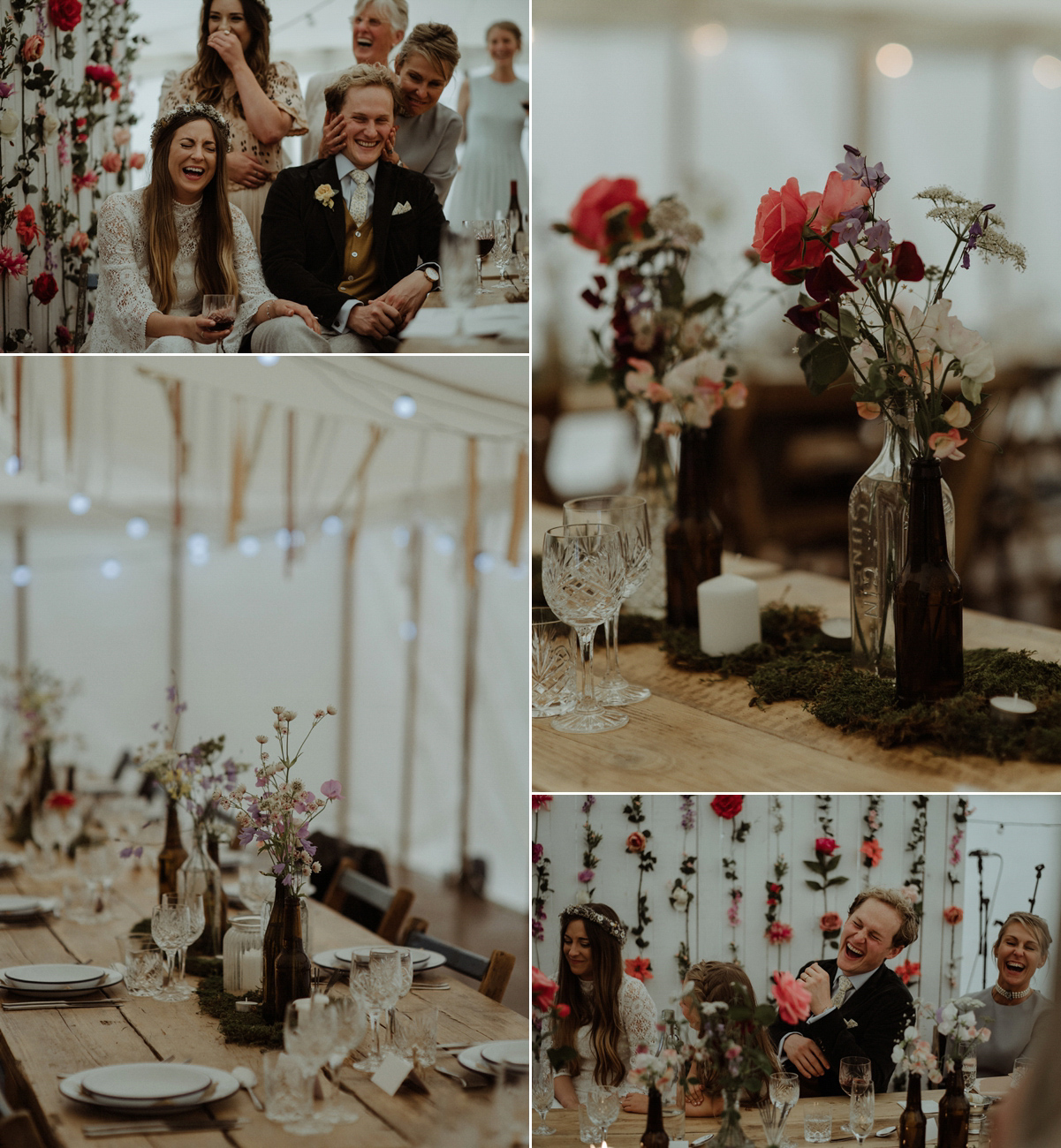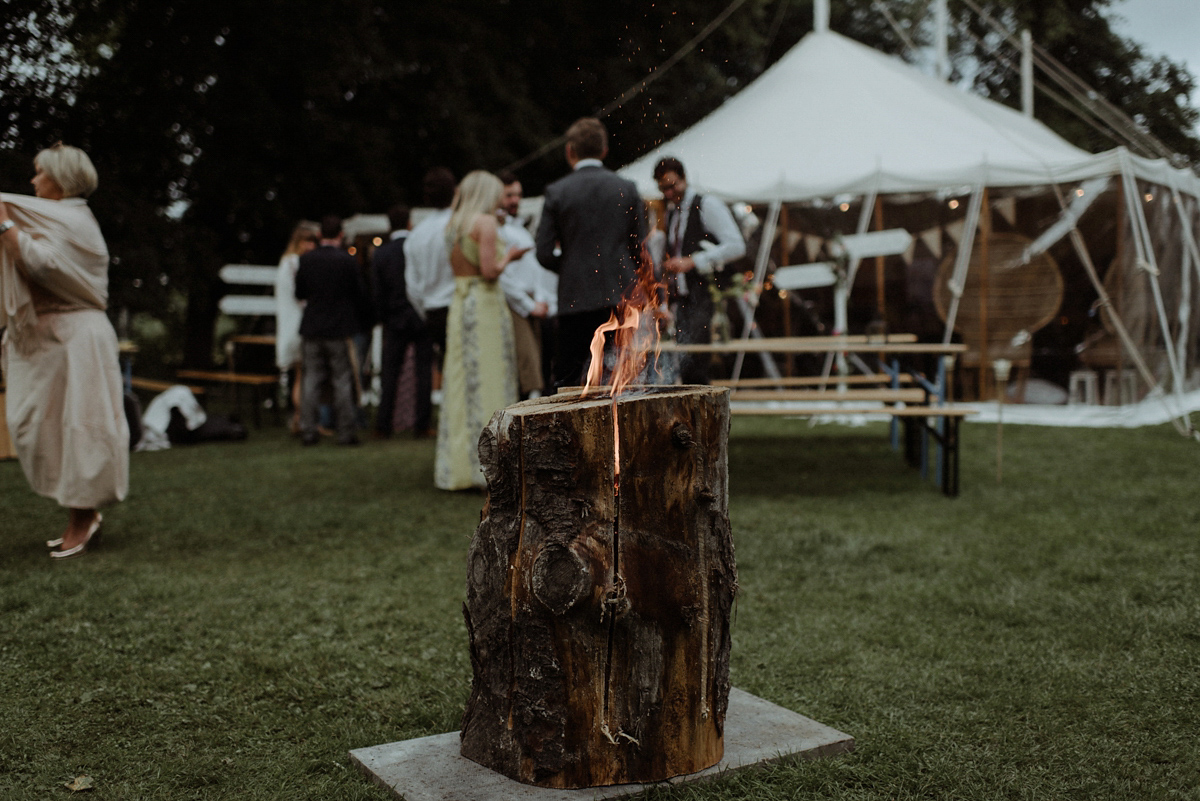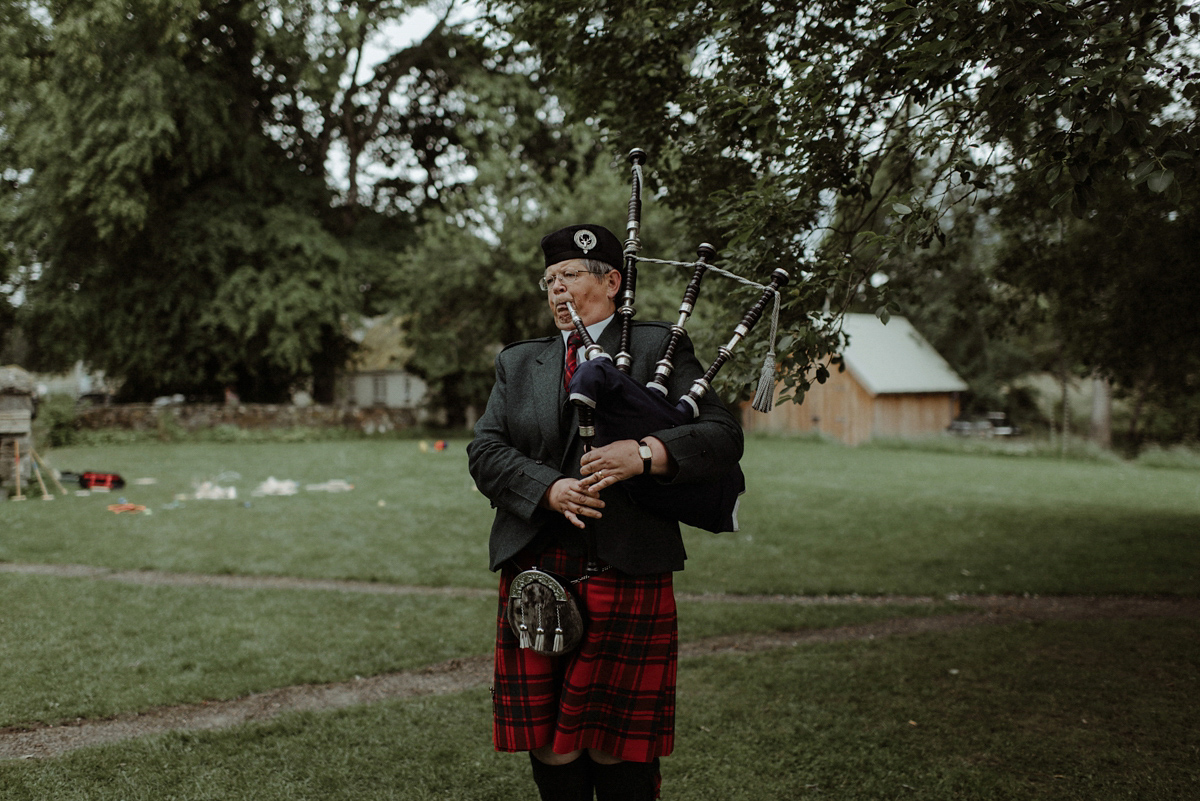 As is was always going to be a little chilly, I bought an amazing coloured, Joseph & The Amazing Technicolour Dreamcoat-esque crochet jacket from Zara. I'd been looking for a crochet cover-up and when I saw this I fell in love."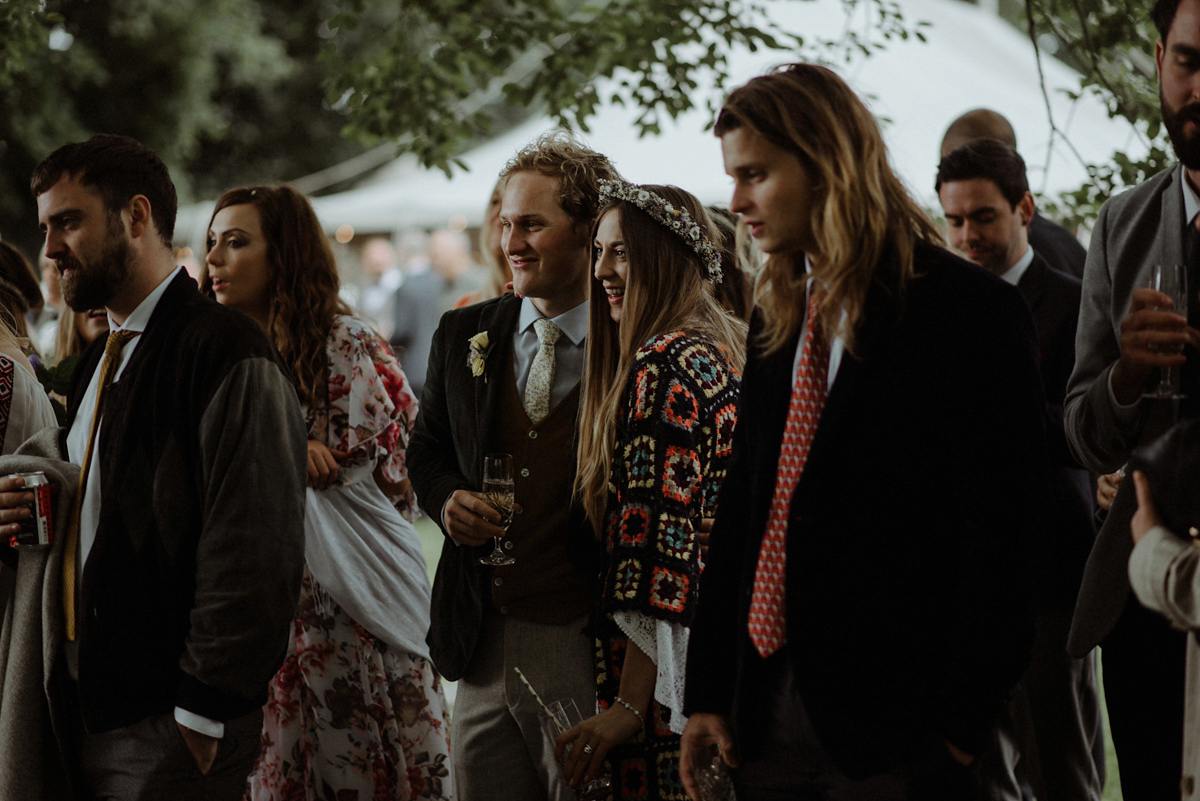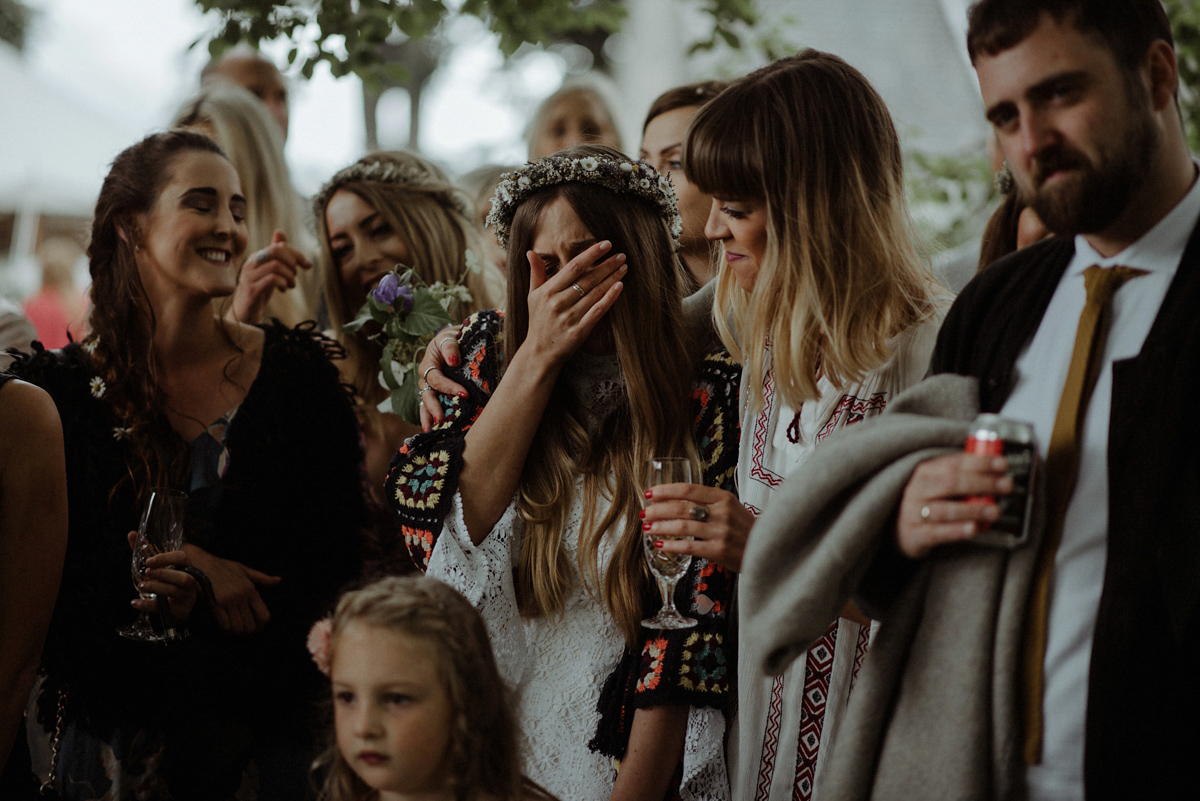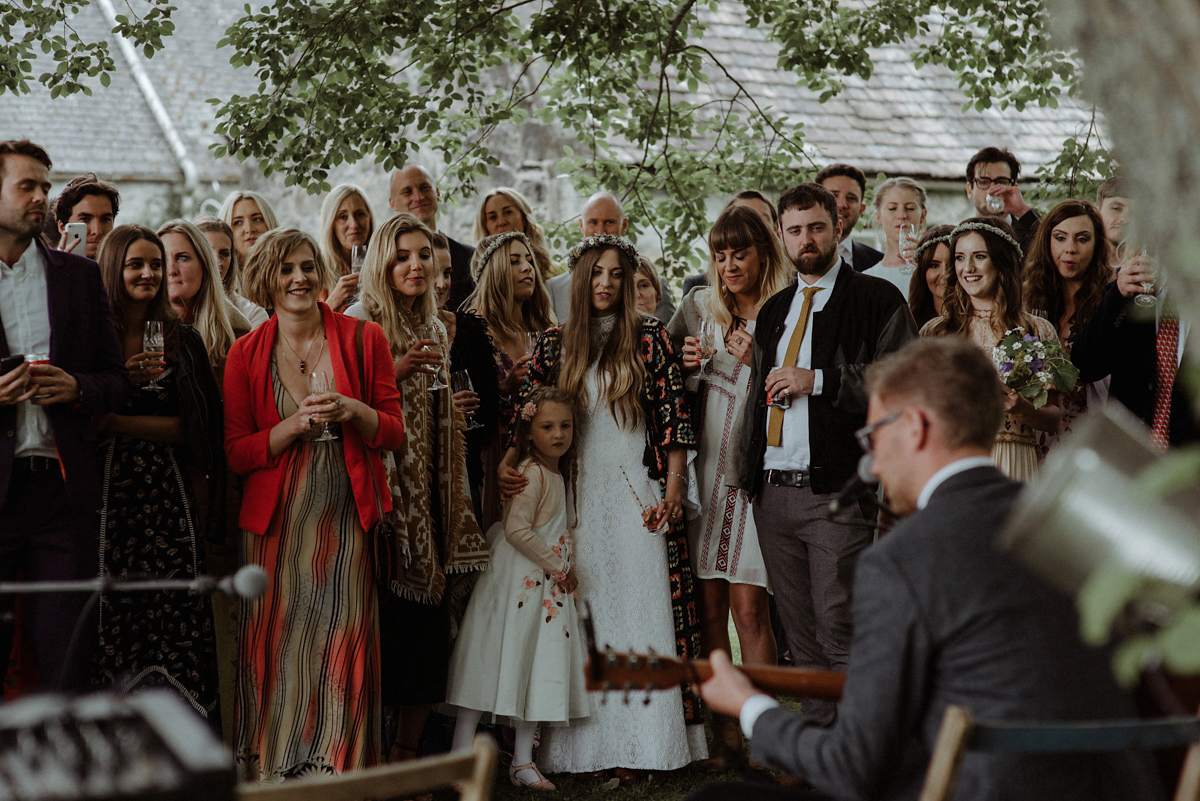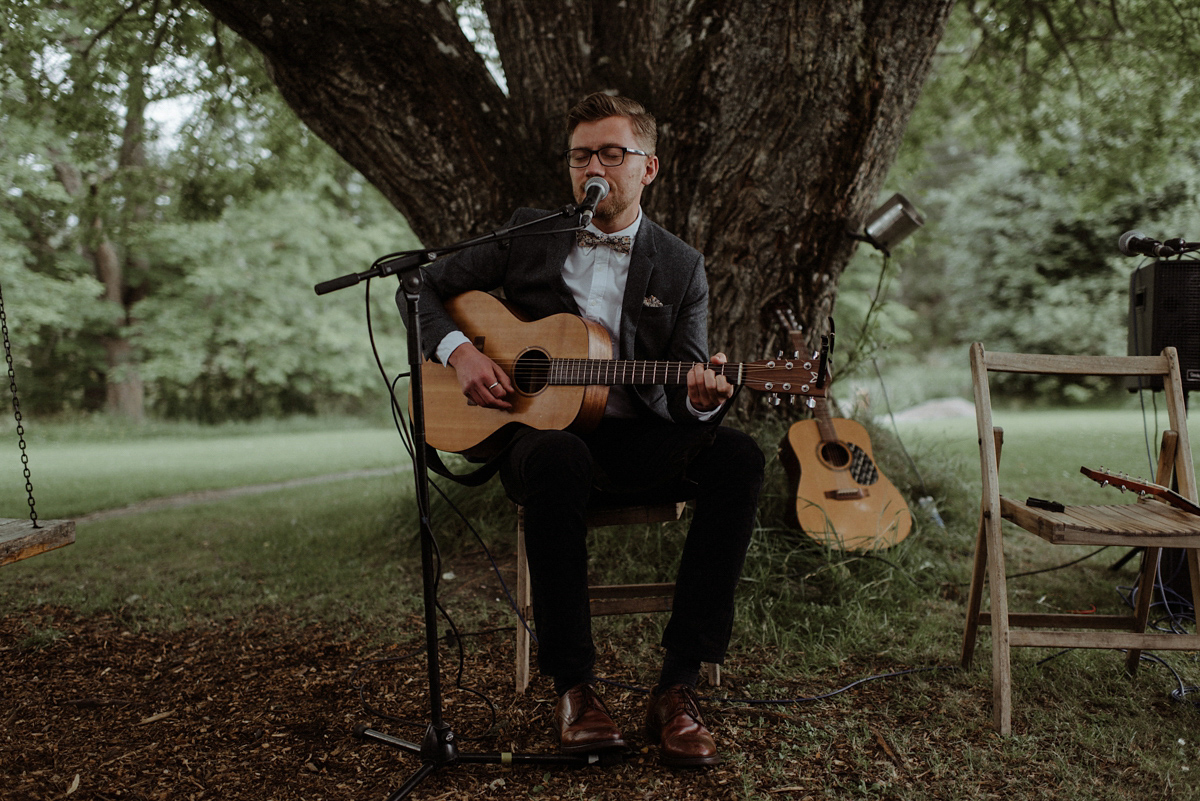 "I really can't choose a favorite part of the day – it's just too difficult. However, a really special moment was walking through the forest with my mum, sister and best friends and seeing Cal looking back at me through a sea of our most treasured people. It gives me shivers."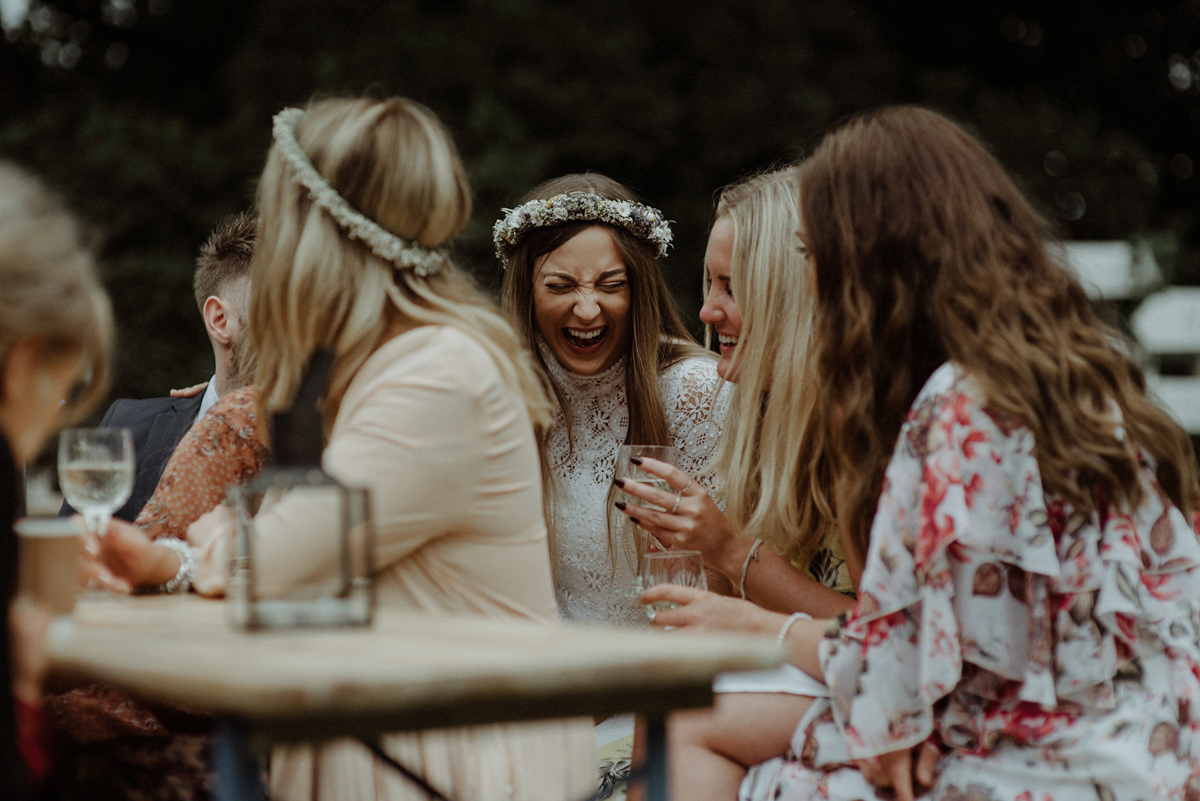 "We didn't choose a first dance song, we decided against doing one. It was another 'wedding tradition' we didn't initially feel comfortable with. The thought of everyone we know stood around watching us dance made us cringe a little bit. However, when Dave and the band started playing a folk song our friends and family formed a circle around us, clapping and cheering as we danced, twirled and spun round. It was spontaneous, unplanned and just perfect."
"Again on Polly and Ross's recommendations (where would we have been without them?!) we had Dave McGregor and his band play. Dave plays a lap-tapping percussive finger style guitar and offered to play that during our reception. It's incredible to hear him play and even if you can't have it for your wedding I implore you to listen. He and his band then played an unforgettable ceilidh for us. It's difficult to describe the atmosphere that was in the tent.
Almost none of my friends or family (bar my mum and her partner) could dance a real ceilidh so we just went wild. We spent hours swinging each other round, stamping our feet, screeching, singing and spinning in circles."
Dave was so forgiving of our useless, wild nature and just said into the microphone at one point 'just go mad'. Which we certainly did. Who knew you could rave for hours to folk music? Aside from that two of my lovely friends, one who was with us from Australia, played an acoustic set on the guitar underneath the big willow tree during cocktails and beers in the afternoon.
I've spent many a late night/early morning listening to them play and sing on their guitars, so to have them play for us was so special. They cracked (bad, sorry Ryan) jokes and had everyone dancing in the mid-afternoon as they played Arctic Monkeys, Estelle and Elton John."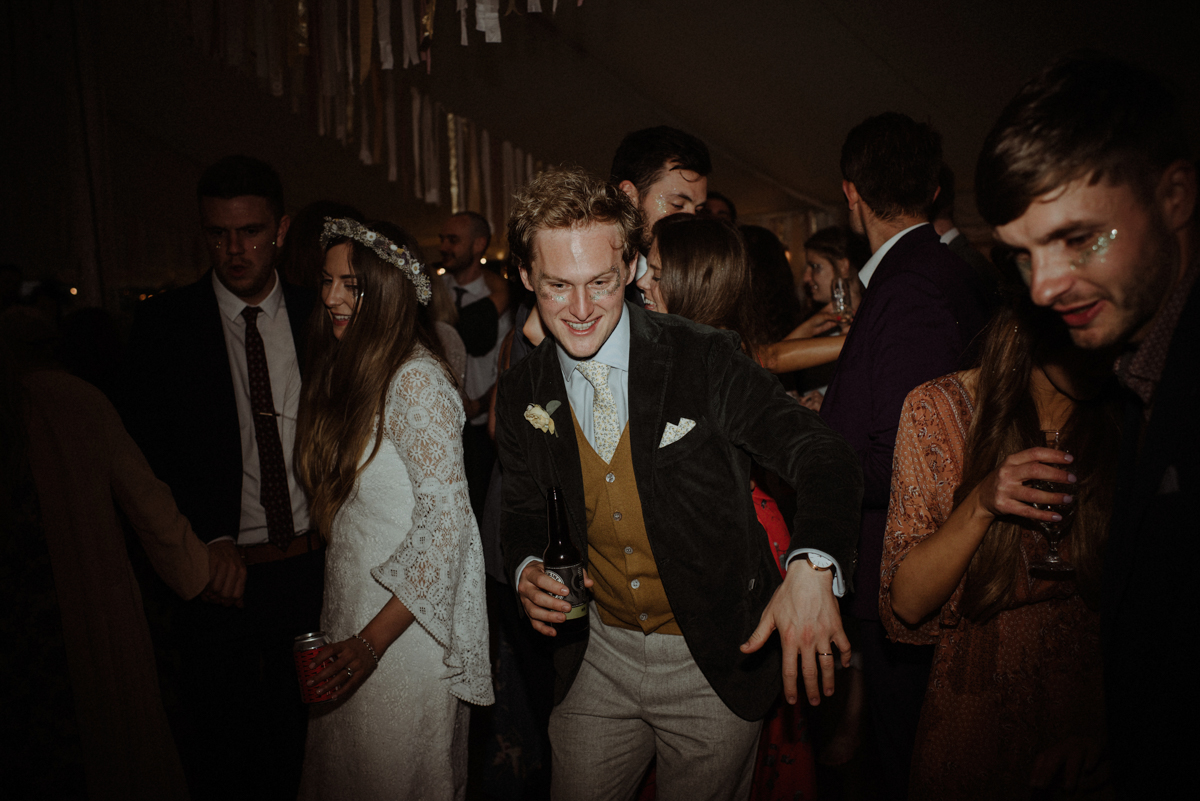 "One of the biggest hits was the Glitter Station, I have worn glitter at festivals, on nights out or just down to the pub for years and wanted everyone to share in that on the day. I wasn't sure how it would go, me and my friends cut out letters, covered them with glitter and set up a little area with mirrors and all the colours."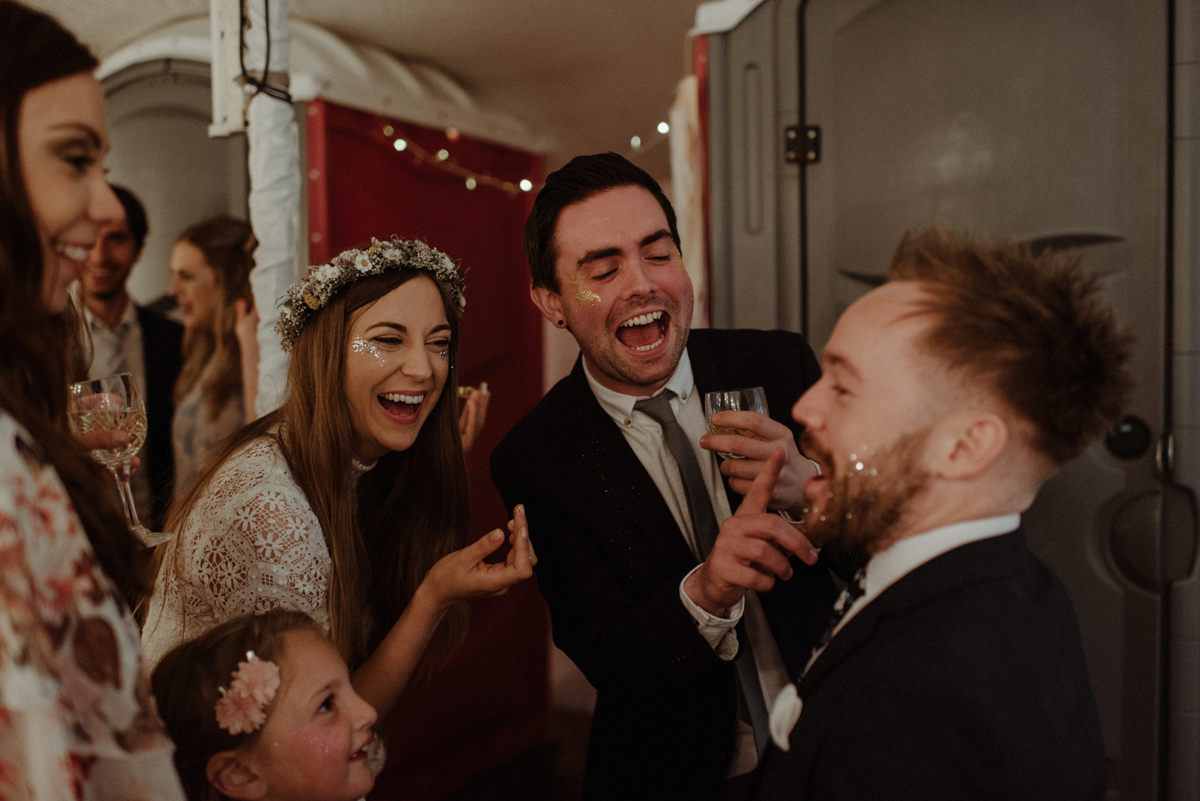 "It went down a storm! Almost everyone was crammed in the loo tent covering themselves before the dancing started, it was so much fun."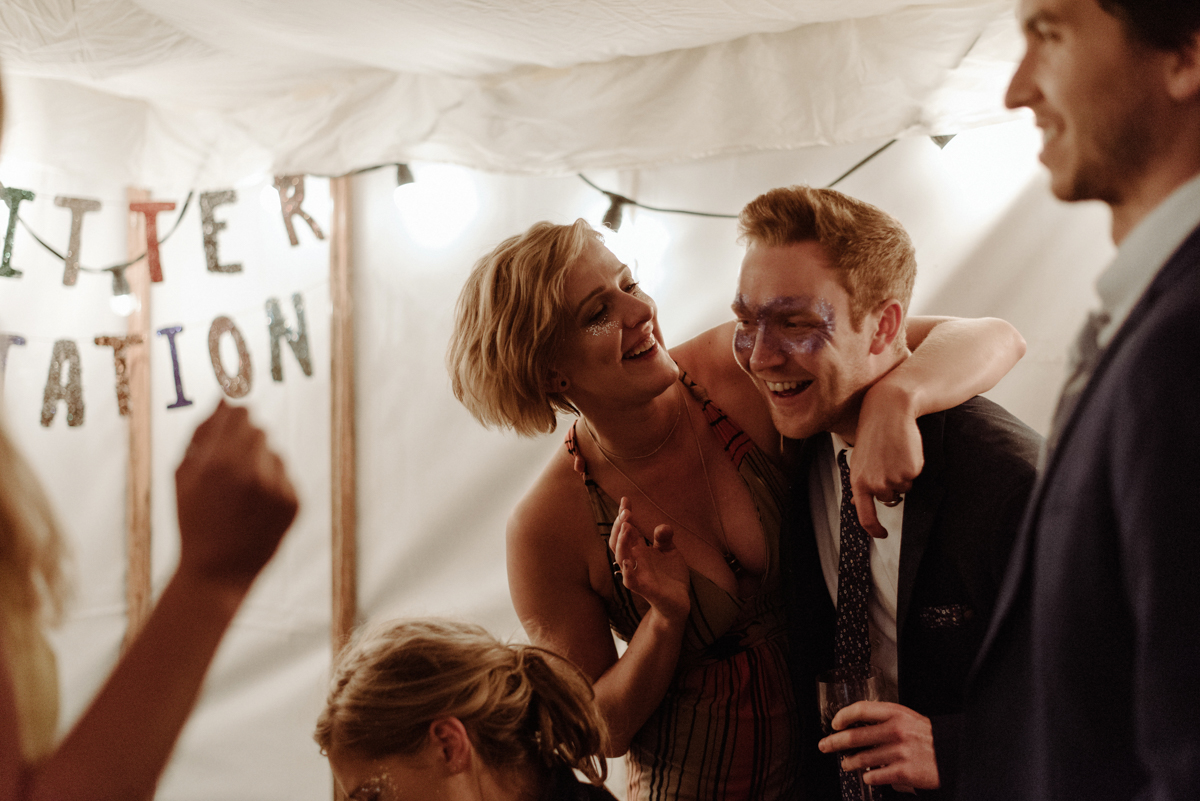 Words of Wedded Wisdom
"There are so many wedding traditions and that is truly lovely. But what I think is even more refreshing is that we live in a day and age that allows us to pick and choose the ones that feel right for us. Don't feel confined by tradition or doing things because you feel you should. My mum walked me down the aisle, we went without favours and I stood up and did a speech during dinner. Do what feels right for the two of you."
"During the planning process I always kept feeling a bit panicked. Panicked that I hadn't done enough, panicked that people wouldn't enjoy the day. They will, they love you. They will care about the little details if you do and won't notice if they aren't there. If I could change one thing it would be that, I want to go back and tell my pre-wedding self that everything will be ok. Because it will, brides to be, it really will. It's difficult to describe how you feel on the day, but if it's anything like me you feel like you're floating. Whatever happens just enjoy that moment because you'll miss it all, even the panicky planning."
"I read a 'Words of Wedded Wisdom' on Love My Dress and the bride said she imagined during the day she was tied to her new husband so they never left each other's side for longer than a few minutes. We really stuck to this and it fills me with happiness that we did. The day is about you two, so make sure you're by each other's side to soak it all in.
If it is realistic, try to do something the day after the wedding. We arranged a BBQ around the fire pit at the Dell and invited everyone who was at the wedding to come, relax, play games, drink leftover wine and tell tales of the day before. It was wonderful and gives you chance to natter about everyone's experience of the day."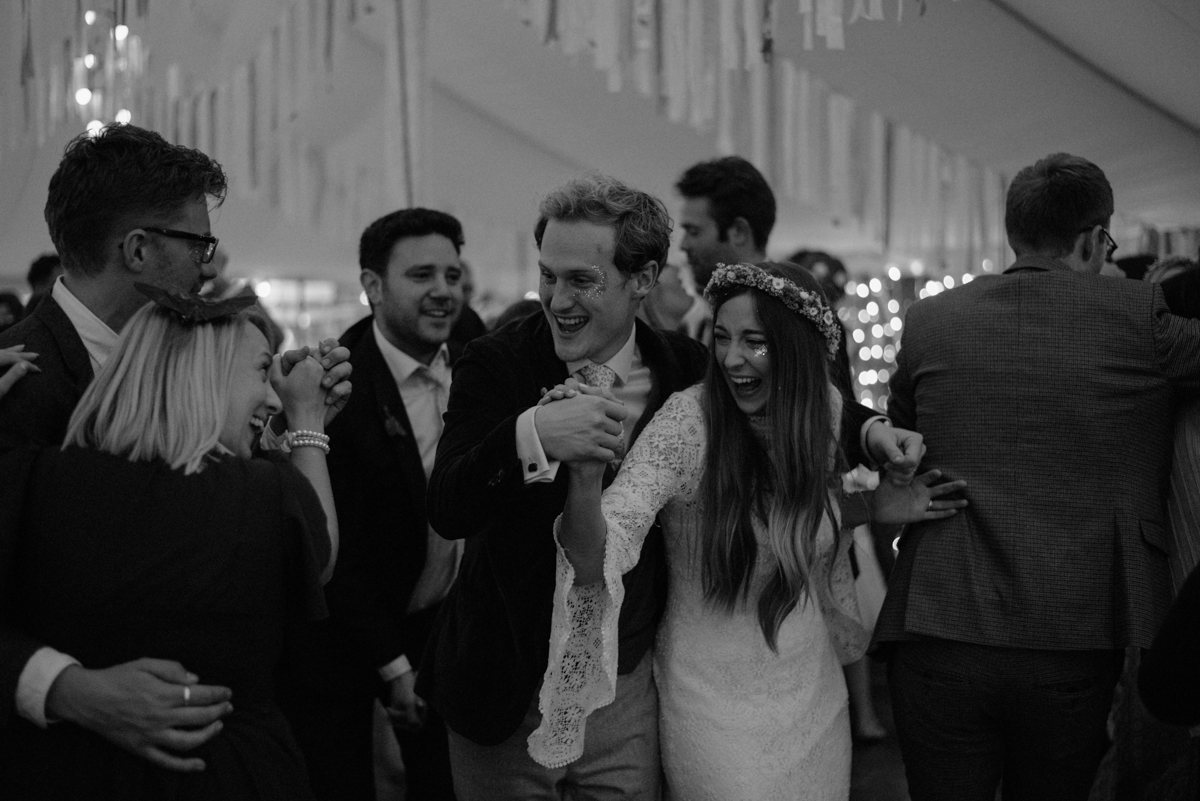 "I was and am a regular visitor and avid reader of Love My Dress. I was well before my own engagement and will be well after my own wedding. Love My Dress is a constant source of inspiration and encouragement. It is invaluable to any bride to be. Now my best friend is engaged I'm so thrilled I have a legitimate reason to pour myself over all the weddings and articles again. If you haven't yet – go join the private Facebook community. It's unbelievably refreshing to see an online group of women who build each other up, offering support, advice, praise, help and love. You'll learn lots and get to share the process with a group of people in the same boat."
I also became almost fiercely addicted to Pinterest. I made lots of secret boards, so I could pin to my hearts content. There's lots of amazing DIY ideas, just don't get too caught up in having a Pinterest perfect wedding. Easier said than done!"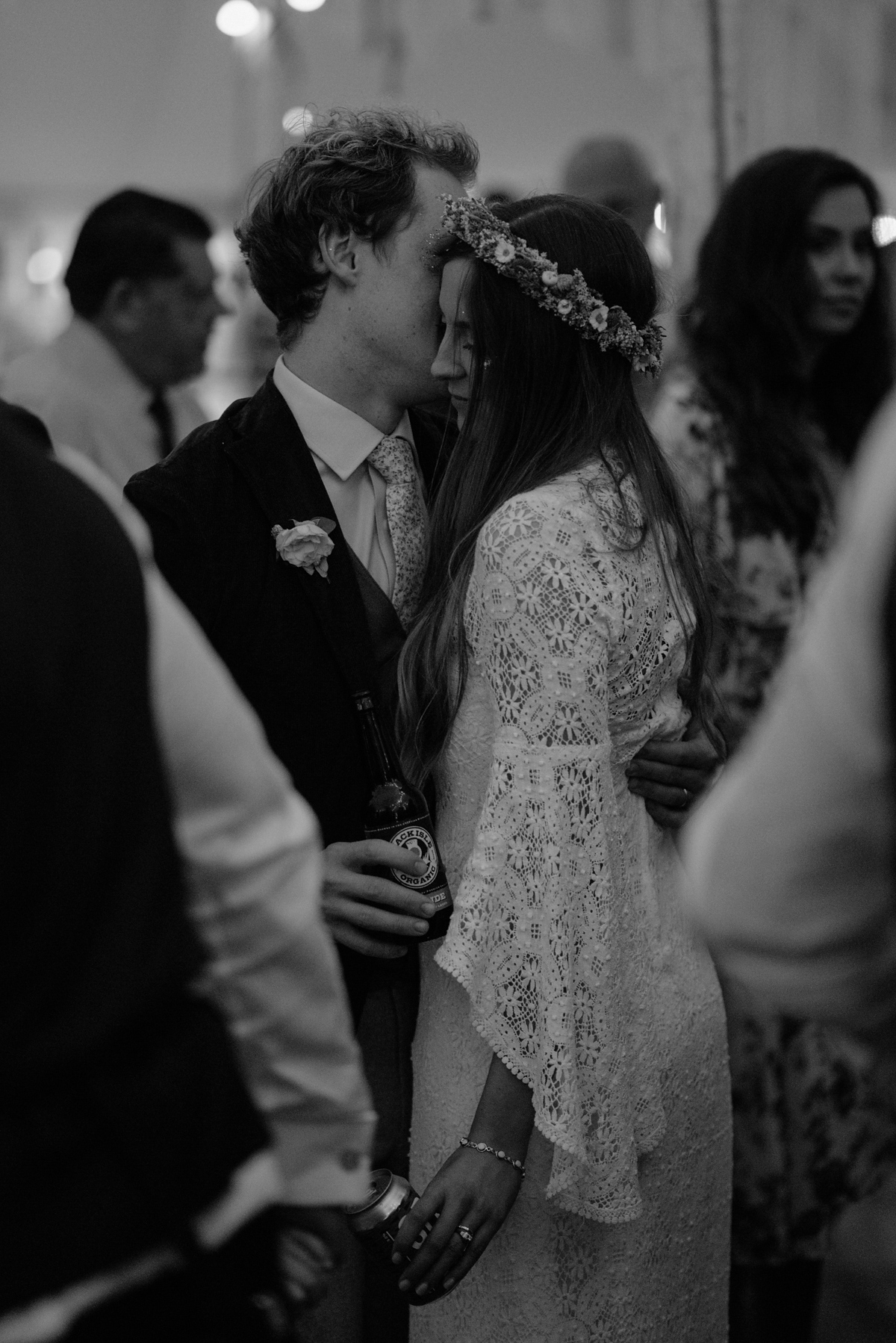 I struggled for words to complete this post and summarise what an otherworldly, magical kind of wedding day this was. Everything about this wedding is just so sublime. I'd like to thank the gorgeous Jen for her sweet, kind words about Love My Dress (Jen, it means the world, it truly does). I'm so thrilled that you found Love My Dress so helpful and inspiring in your wedding planning journey and I'm completely thrilled that we're getting to share your magical wedding – thank you so much.
Readers – you can explore more 70's, boho and woodland style weddings if you like. You can also see more work from the utterly wonderful Kitcheners on Love My Dress here.
I hope Monday is kind to you all,
Love Annabel x