A Sequin Dress for Founder of The Flock and her Formality Free Wedding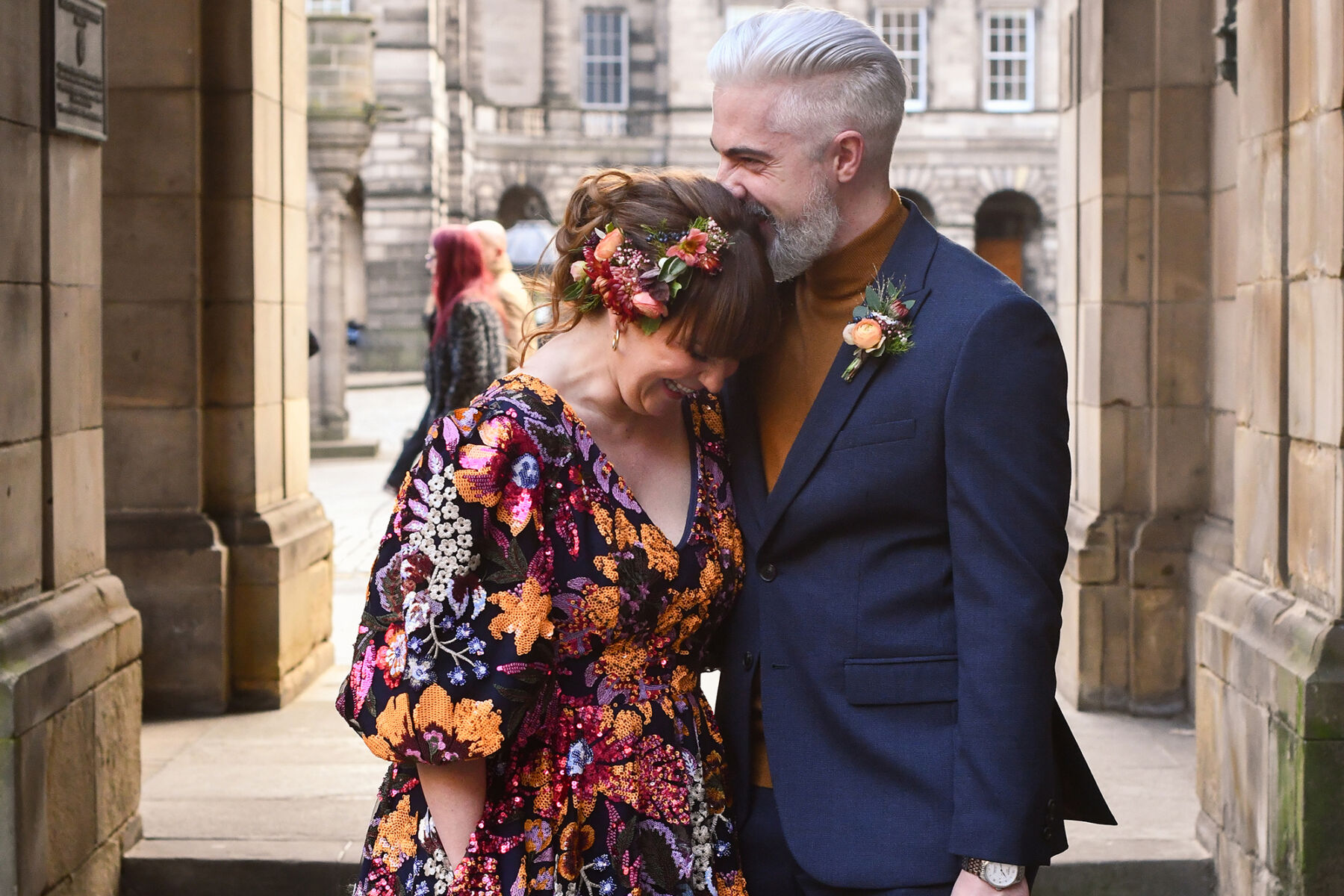 Bold, bright and beautiful, today's bride wore a gorgeously sequinned, floral gown and headpiece for her low-key, relaxed, secret wedding in Edinburgh city centre.
On 20 November 2021 Jen, a journalist, founder and editor of feminist magazine site The Flock, for women and non binary people, married her love Rich, an outsourcing manager for a design studio, at Edinburgh City Chambers. Keeping their wedding a secret from all but their witnesses and Jen's son Arthur, the couple celebrated after with a meal at their favourite restaurant, Noto. The look was relaxed, colourful and bold, with an underlying ethos of selecting local, ethical and sustainable suppliers.
Photography by Ellie Morag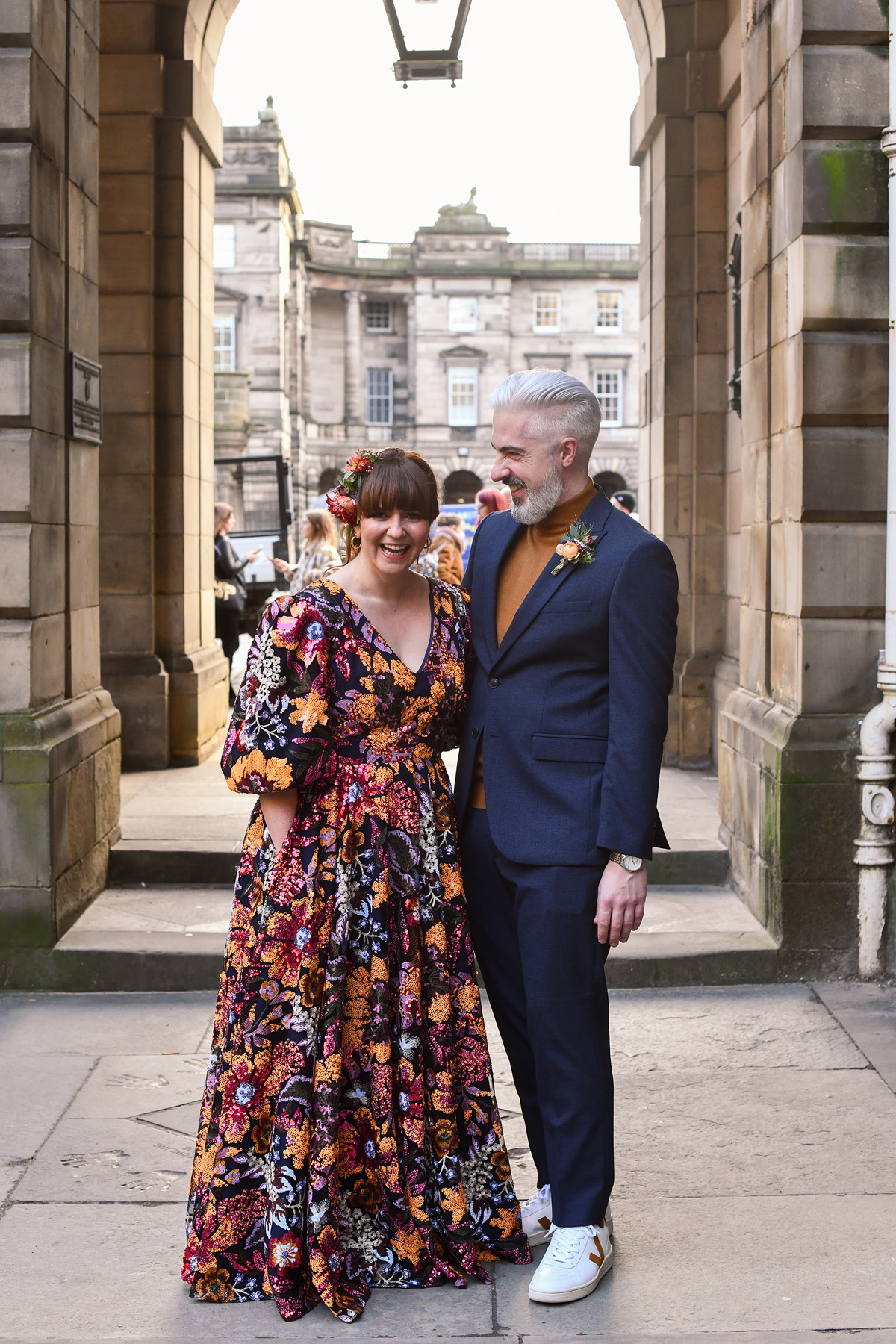 The Dress
My dress was a custom design from Rowanjoy Bridal and getting to the end result felt like a very collaborative process. Rowan was an absolute joy to work with. She understood from the word go that tradition wasn't on the table and embraced my desire for something different, despite my limited budget and timescale. She was also entirely relaxed and reassuring when the extra fabric we needed didn't arrive until a couple of days before the wedding. I enjoyed every appointment with Rowan and couldn't recommend her highly enough.
I adore fashion and live in colour and pattern. With this being my second wedding and an elopement, I didn't feel under any pressure to wear a big, white dress so I felt really excited to go and choose an outfit. I must have tried on dozens of options but nothing felt quite right. I wanted something utterly celebratory and special but with the pandemic, there seemed to be fewer dresses around that suited that bill. I'd also had major surgery during lockdown and my body was still feeling not my own. The whole thing was proving far less fun than I expected.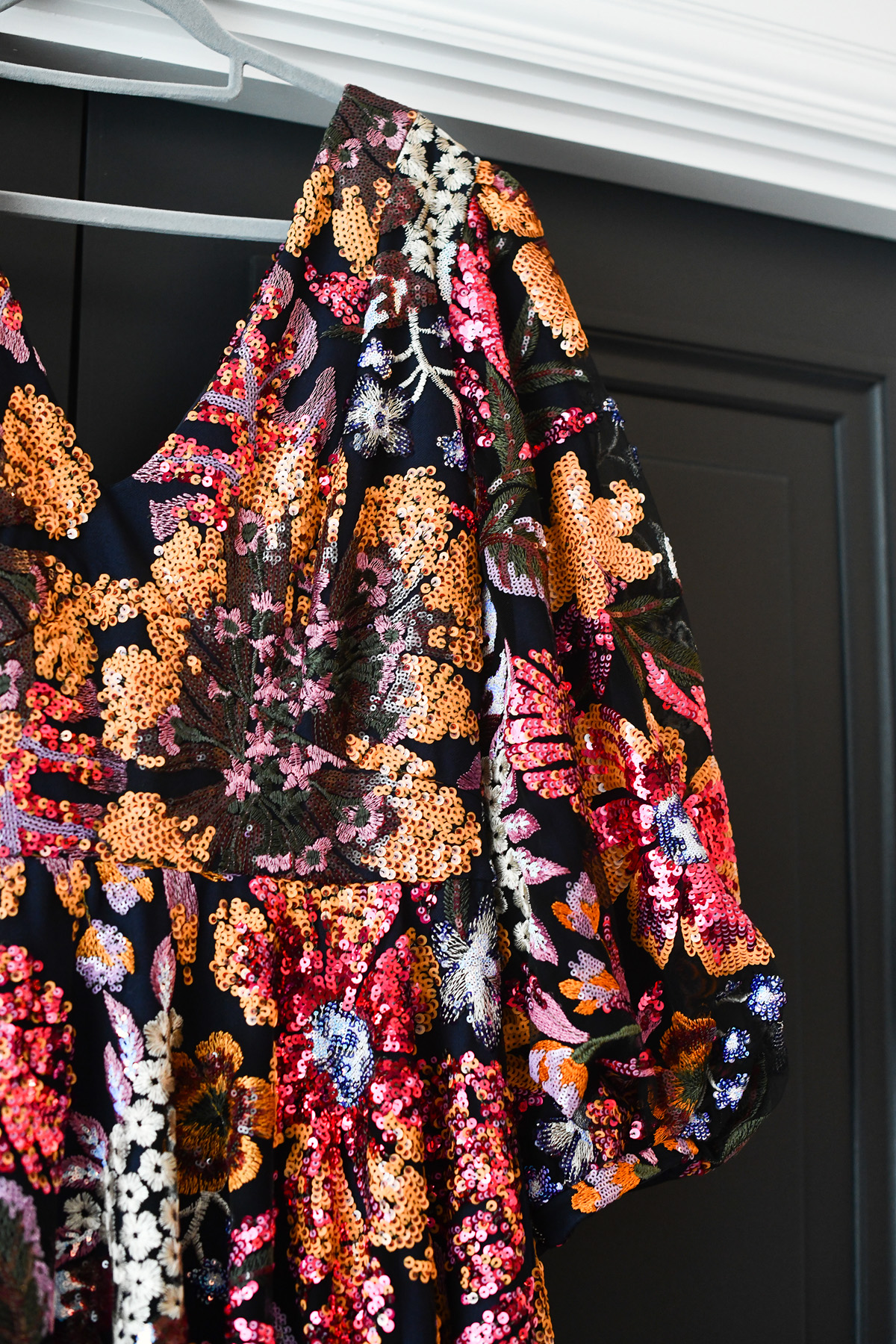 Feeling a bit worried, I contacted Rowan just seven weeks before the wedding and she was amazing. I tried on her samples to get an idea of what necklines would work best, decided on a full, circle skirt and my favourite big sleeves, and Rowan suggested sequins. From that point on, it became an exercise in joy. I actually squealed when I saw the dress for the first time and realised Rowan had managed to incorporate my longed-for pockets.
While head-to-toe sequins doesn't scream laidback, the dress had a really fun, happy and slightly silly 'to hell with it' feel. Some of the comments it received on the street were absolutely hilarious; it was a real conversation-starter and made everyone we passed smile or stop to chat. The dress came to epitomise the joy of the day.
My make-up was by the amazing Abbey Lou Smith, who did an incredible job of ensuring my face survived the constant on/off mask situation with barely a touch-up.
I had my hair done at Cheynes on York Place, Edinburgh, while Rich and Arthur both went to Ruffians Barbers.
I wanted a new scent for the day so that I would have a fragrance to associate that always takes me back when I wear it. I settled on Diptyque's Philosykos, which combined the summery, fruity fragrances I normally gravitate towards with a woody, peppery note which felt more in keeping with the autumn/winter date and colours of the day.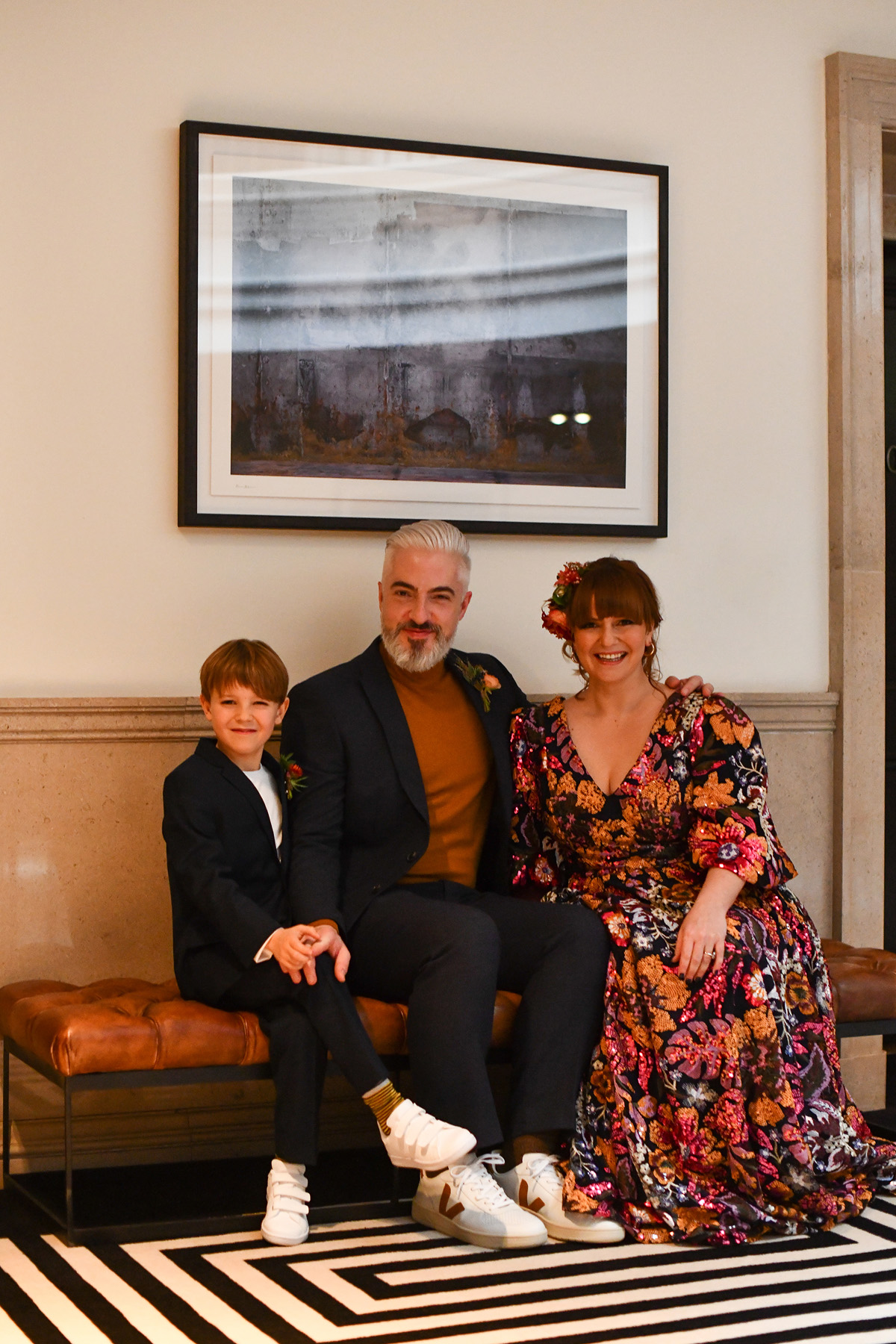 The Engagement
Rich and I met on Tinder. Rich was living in Aberdeen and I was in North Berwick, just outside Edinburgh. We were well out with each other's catchment area yet somehow, we ended up matching. We messaged for a week or so and got on like a house on fire, then Rich called me on the phone to wish me a happy birthday and we ended up chatting for hours. A couple of days later, he travelled to Edinburgh to meet for a morning coffee which turned into a long walk, which turned into lunch which lasted well into the afternoon. We were both pretty useless at playing it cool after that.
I was concerned that my being a single mum might make things tricky but Rich travelled down whenever my son, Arthur, was with his dad. Once we both felt like the relationship was for keeps, we embarked on introductions.
Everything was going swimmingly so when Rich was offered a secondment to Edinburgh a few months later, he jumped at the chance to remove the distance from our long-distance relationship. Still keen to be cautious, we decided he'd rent in the city while he got to know Arthur better. The flat we found wasn't available for a week or so, so he came to stay for the interim and then lockdown was announced. We decided to ride out those three weeks together before looking for somewhere else. But as we all now know, lockdown did not last three weeks. Having basically moved in by default, Rich became a home-schooling step-dad overnight. It was pretty sink or swim but it worked.
It was Arthur who first asked if we were going to get married. Rich had never really considered marriage in the past and I was divorced: we both knew we didn't want a big white wedding but the more we talked about it, the more we felt we did want a marriage.
While it was very much an ongoing discussion rather than a big proposal situation, Rich popped the question a few months later in bed with a temporary ring and a promise we'd design the forever one together. The holding ring was from Dinny Hall from the brand's 'Suffragette' collection raising funds for Refuge, a charity I'm a huge supporter of. I thought that was such a beautiful and thoughtful way to do it and it means the 'placeholder' ring he chose is still a special piece I can wear every day on my right hand.
Rich surprised me with an appointment at Fenton, a BCorps fine jeweller I had featured on The Flock. I had fallen in love with the company's impeccable ethical and sustainable ethos, and Rich had obviously taken note. We selected a bespoke, Art Deco, wed-set design featuring a 2.3 carat, cornflower blue sapphire, sourced from Marapana in Sri Lanka and cut by the company's lapidary, Nandana Demuvawatha in Ratnapura. Our sapphire was set in recycled platinum with a halo of fully traceable, baguette-cut diamonds.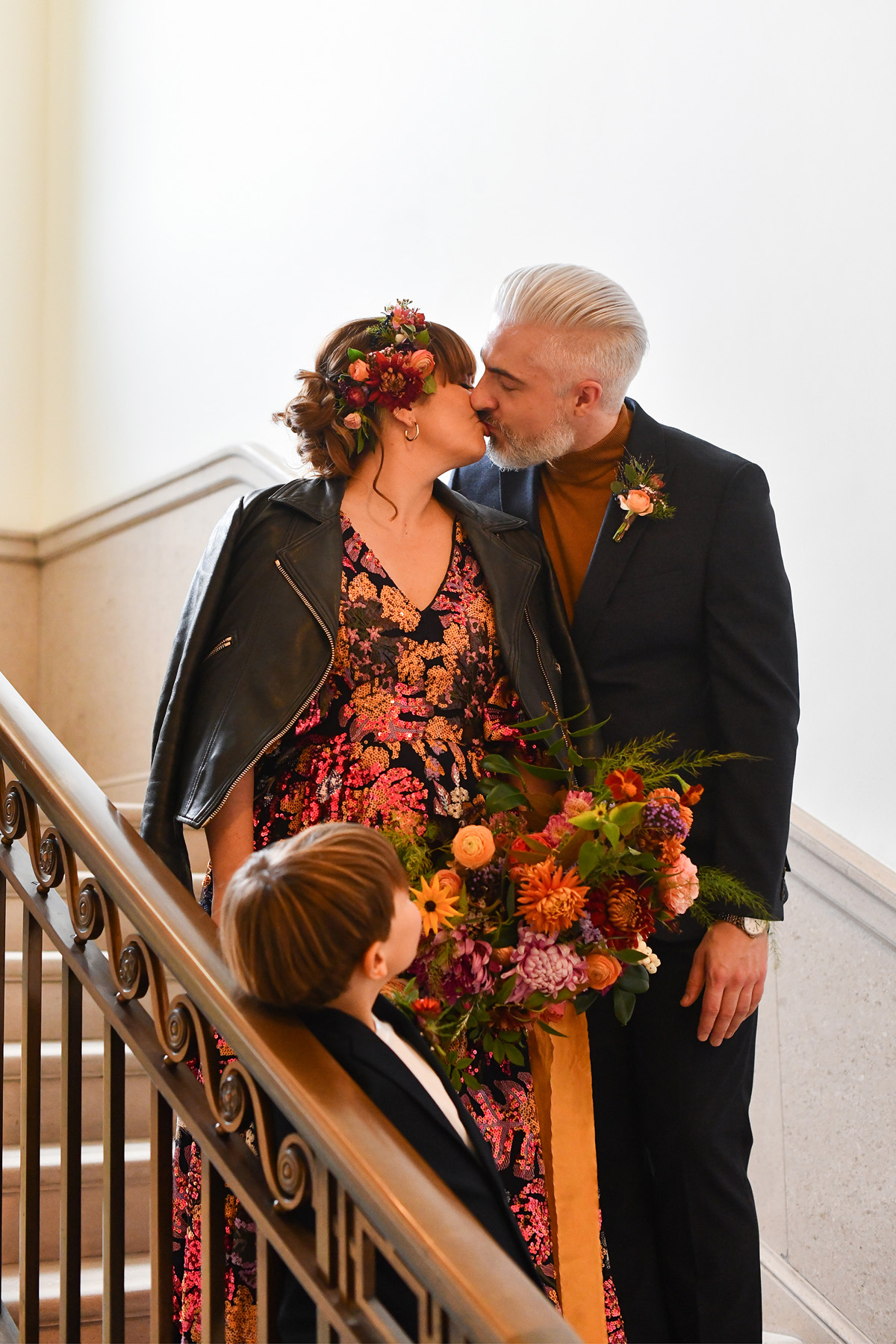 Wedding Inspiration
Rich and I always have such fun together just hanging out and we wanted a day that represented that – relaxed, easy, colourful with no fuss and formality. We also wanted to ensure that my son Arthur felt central to the occasion. We must have succeeded because he still talks about 'our wedding'.
The final thing that was a must was to use local, independent, ethical and sustainable suppliers wherever possible, and most definitely for the bigger expenses. We are very conscious shoppers but with so many suppliers having had such a hard time over the last couple of years, we wanted to make sure we were really thoughtful with how we spent our very limited budget.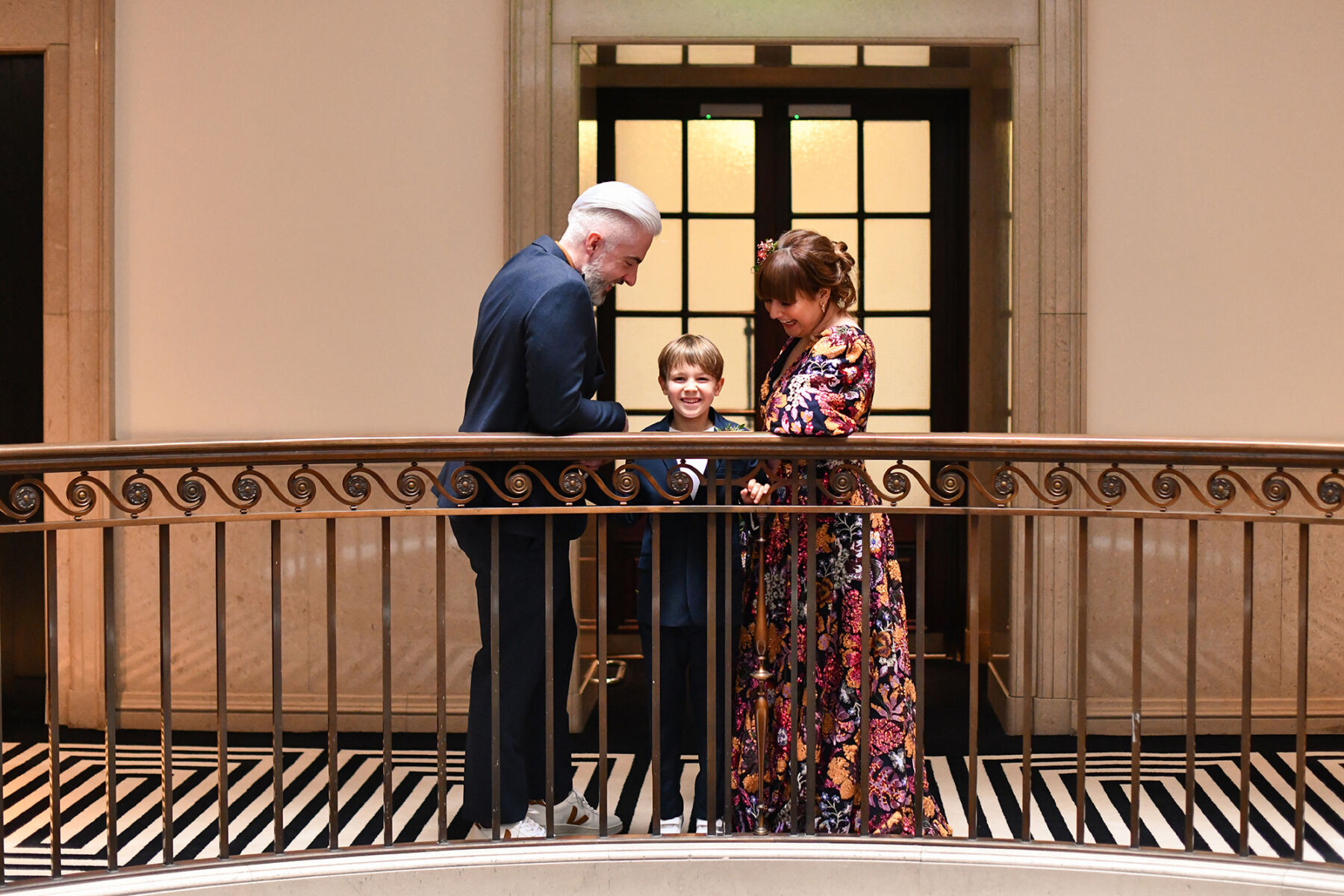 Flowers
Our flowers were by Jenny at Studio Seapink. We both loved her natural but dramatic style and her incredible focus on sustainability. I met Jenny alone (over Zoom!) so that I could show her my dress fabric and design, and we discussed the shape and scale of the flowers as well as button holes for Arthur and Rich.
Because of Jenny's focus on using only sustainable British blooms, our expectation was that my bouquet would involve mostly dried flowers, with some fresh if they were available.
Somehow, though, a mild Autumn led to a glut of beautiful fresh blooms in November and I was absolutely blown away by my bouquet. It was huge, fragrant, incredibly beautiful and fashioned with a vegetable-dyed silk ribbon. Jenny also stepped in calmly at the last minute to make a floral headpiece to pin to one side of my hair.
Jenny's vision, ethical outlook and ability to match the flowers to my dress so perfectly despite us having only met on Zoom absolutely blew me away and I have recommended her to anyone who has asked (and many who haven't) numerous times since. She's an incredible talent.
The Groom & Page Boy
Rich wore a suit by Marks & Spencer with a merino, polo neck sweater by Italian knitwear brand Il Telaio, bought from Solo Menswear. His socks were John Lewis and his trainers from Veja. Rich wore his favourite Tissot Le Locle Powermatic watch, which was the first birthday gift I bought him.
Arthur wore an H&M suit over a white T-shirt with Adidas Stan Smiths and his choice of bright yellow, striped socks.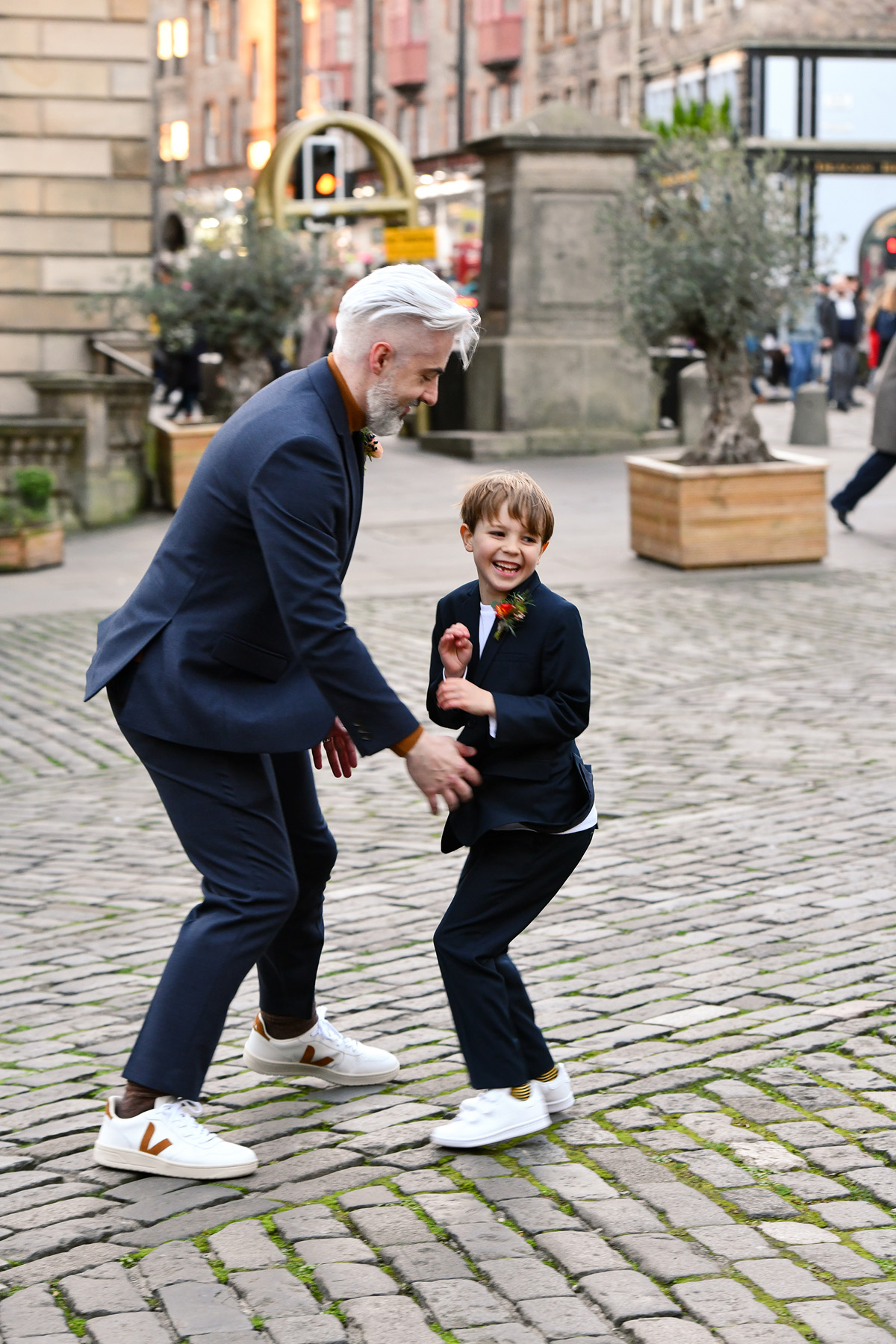 The Wedding Weekend
We agreed we wanted to have a fun, private day for just us and Arthur to celebrate becoming a family. Within a week, we had booked the registry office and given ourselves ten weeks to get everything pulled together, albeit without telling anyone.
We kept our wedding a complete secret from everyone except our witnesses, so our venue didn't require much consideration. We were married at Edinburgh City Chambers, our local registry office, and we had a post-wedding meal at our favourite restaurant in the city, Noto.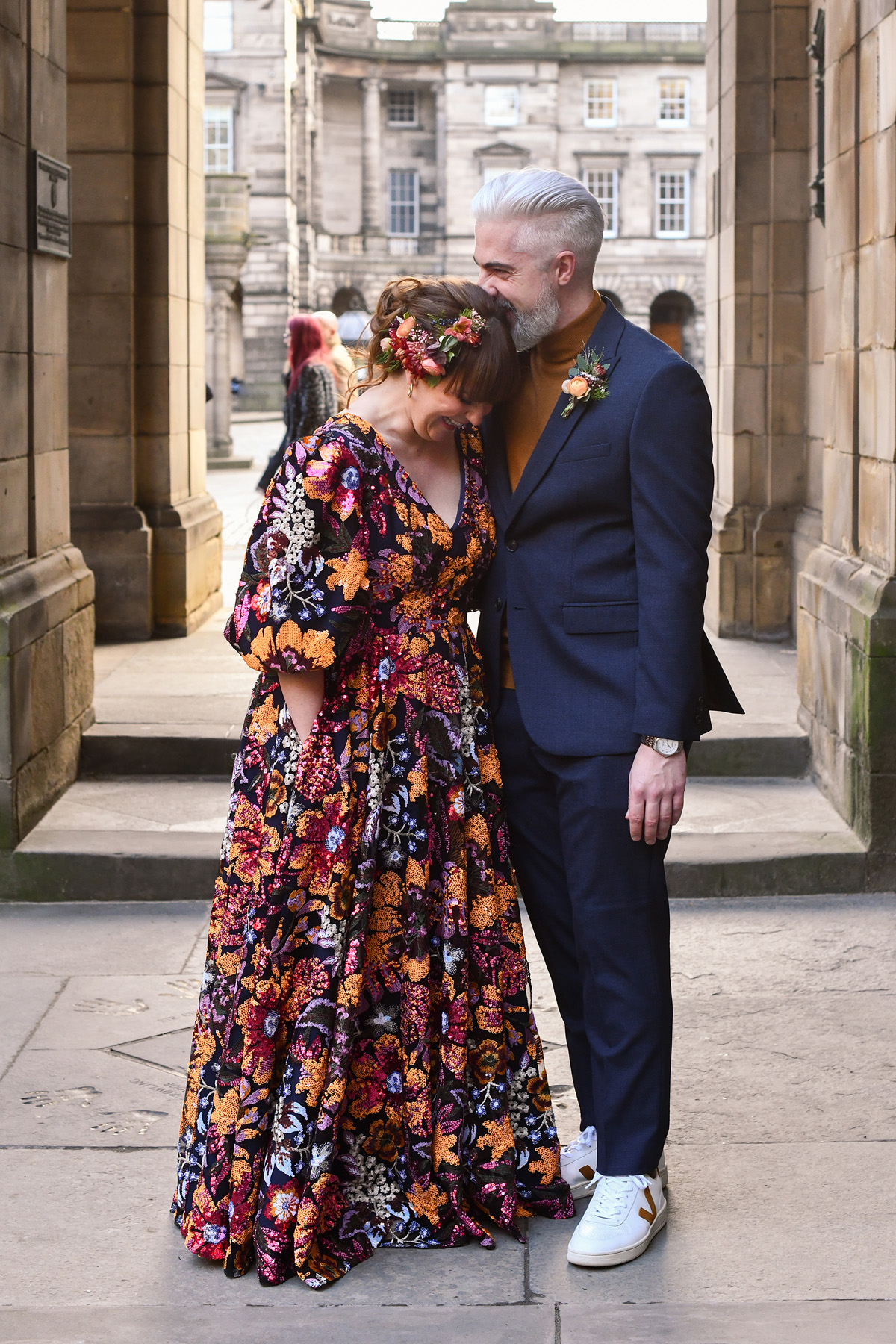 While we didn't hold any other ceremonies, we did want to make the whole weekend special for Arthur as well as for ourselves. We planned for him to leave after the ceremony and photographs to go for a sleepover with his grandparents, so we took him out of school on the Friday and booked out the Scotsman Picturehouse as a surprise. We had a private screening of our favourite 'Elf' (our first Christmas film of the year) and Arthur sat on just about every seat in the theatre during the course of it!
We then went out to Chop House for steaks and all stayed in the Edinburgh Grand the night before. On the morning of the wedding, Rich and Arthur went out for pancakes while I got my hair done. Then, we all met up for photographs before heading to the ceremony. It was perfect.
The Ceremony
We took a taxi to the City Chambers together and met our friends Hannah and Iain there – they had agreed to act as witnesses. Arthur walked me down the aisle to Rich when the ceremony started to 'Stay High' by Brittany Howard, which is our favourite song as a couple.
Edinburgh City Chambers provided us with a choice of different vows for the parts of the ceremony where certain legal wordings were required, and we added in personal notes where appropriate and allowed. Our favourite part was a promise to always dance together in the biscuit aisle in Tesco. Neither of us is very sure where the habit came from, but it's become our favourite way to embarrass Arthur so it had to get a mention.
Arthur did a very short reading from Dr. Seuss, who has been a favourite author of his since he was tiny. It was such a lovely, memorable part of the ceremony and he was so proud of himself.
I chose a very simple, narrow, plain, recycled platinum wedding band from Fenton, while Rich chose a custom, wide, recycled platinum band with a subtly-bevelled edge. We each chose a private, sentimental engraving to go in the other's band.
The three of us danced back down the aisle at the end of our ceremony to '(Your Love Keeps Lifting Me) Higher & Higher' by Jackie Wilson. It is a favourite of ours and is regularly played at full volume in the car! It's a lyric from this song that I had engraved inside Rich's wedding ring, too.
I loved the moment when we were declared husband and wife and Arthur barrelled in to hug us both as Rich attempted to kiss me. The resulting photo, with one tiny disembodied hand on my back, makes us both laugh every time we look at it.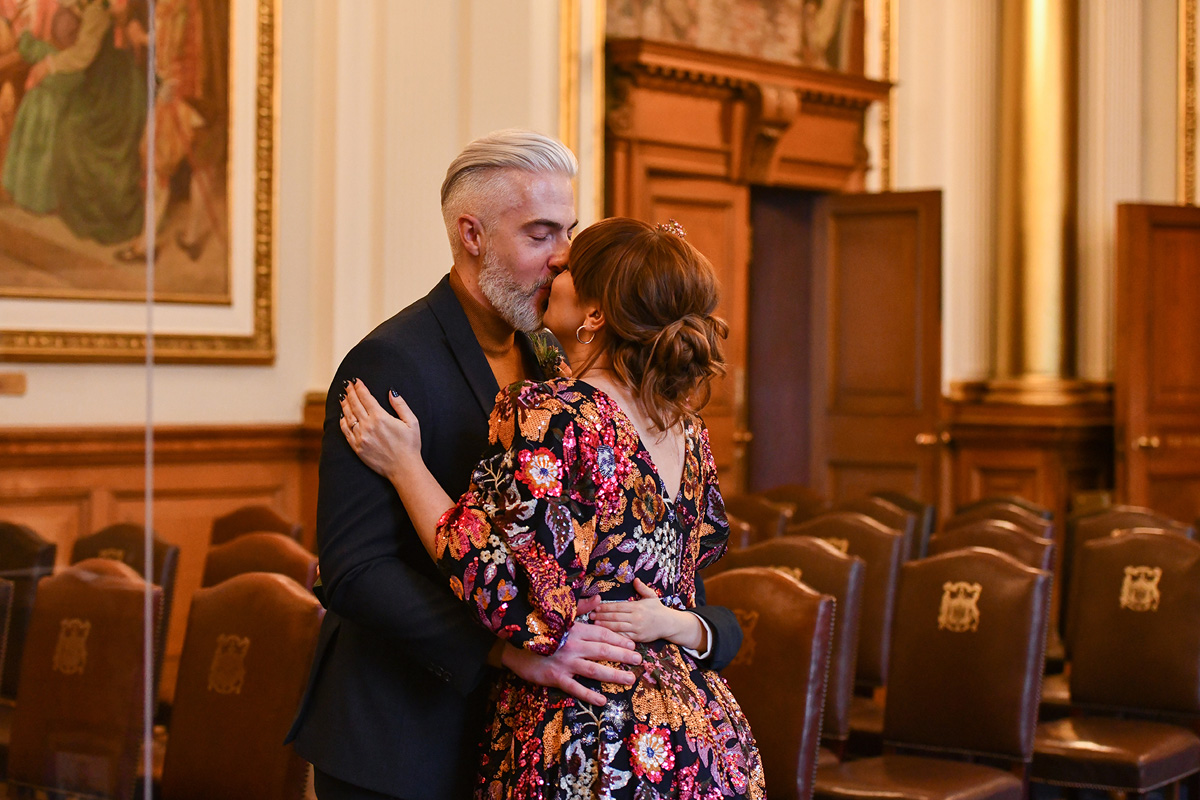 Photography
Our photographer Ellie Morag is someone whose work we were both aware of through Edinburgh's creative circles. We loved her portrait work and felt that, as we didn't require traditional wedding group shots, Ellie's style would suit us well. We share a lot of mutual friends so while we didn't know Ellie to begin with, we felt she was someone we would get on with – crucial when it was going to be such a small and personal event.
Ellie doesn't do a lot of weddings but we met her for breakfast and all got on really well. We loved her relaxed vibe and vision.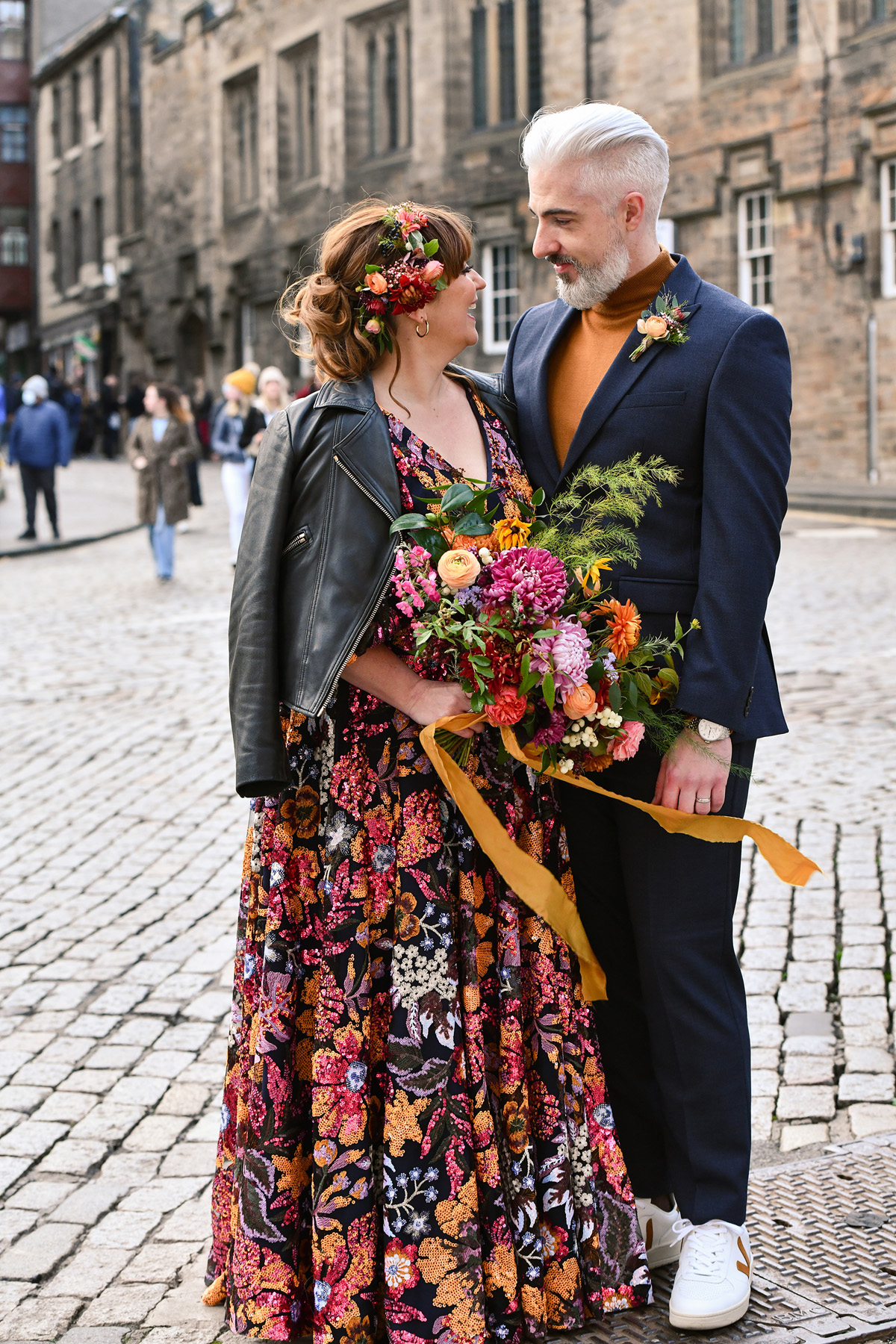 On the day, she somehow managed to appear incredibly laidback while simultaneously juggling more things than one person should feasibly be able to carry. She was so much fun to be around, was brilliant with Arthur – she even let him 'help' her and take some photos himself – and she felt like an old friend by lunchtime.
We're so delighted with our photographs, which really capture the fun, happy, laughter-filled mood of the day, and both of us have said since how incredibly pleased we are that we selected Ellie, who has now become a friend too.
My favourite, very old Reiss leather biker jacket really earthed the dress thrown over my shoulders when walking to dinner.
The Reception
After our ceremony and photos, my parents collected Arthur for a sleepover and Rich and I had some time to get some photographs alone and sit down for a drink before heading off to our favourite restaurant, Noto, for dinner.
We booked a table as normal and walked there from our hotel, the beautiful Cheval Edinburgh Grand, in our wedding gear – the restaurant had to stash my bouquet behind the bar! Afterwards, we headed back to our hotel for a slice of wedding cake for dessert.
Rich is coeliac so we weren't sure how easy it would be to get a wedding cake. With it being just the three of us, we almost didn't bother but then found out that the amazing Caked by Catherine did gluten-free cakes and we had to try one.
We didn't meet Catherine in person and she only had a photograph of my dress fabric to go by, yet she did the most incredible job of creating something in keeping with the day. We went for a gluten-free vanilla sponge with passion fruit curd and vanilla bean frosting. It was the most delicious cake either of us has ever tasted.
Words of Wedded Wisdom
Stay true to yourselves. If you want a huge, grand celebration then fantastic, go for it – but don't feel you have to have one to keep up appearances. It's so easy to get caught up in the whirlwind and forget but your wedding day should be about you as a couple. It's an opportunity to put yourselves first and do what makes you both truly happy, however big or small, traditional or unique that might be.
Our day might have been small but that meant that every single aspect felt intensely personal, rather than dictated by tradition or others' expectations. We can both remember every second and there wasn't a moment when we weren't both completely present for each other and Arthur. We had time to take it all in and to revel in each other's company; that was just such a privilege and joy. There was no stress. It was just us, celebrating each other and our future as a family. It was perfect for us and when it comes to weddings, that's actually all that really matters.