Today we're making our way to not just one, but two beautiful Scottish islands for an outdoor ceremony on the Isle of Mull, where our bride originally hails from, followed by a scenic boat ride over to the Isle of Iona (our groom's home island) for a village hall reception.
This is a day filled with music and laughter, lovingly handmade decorations and pops of vibrant colour throughout. Music tutor Zoe married Glen, a Skipper on the 1 September 2018 in the gardens of Achaban House on the Isle of Mull followed by a reception party at Iona Village Hall. The couple first met in a pub on Iona, when Zoe went to work on the island for a summer season after university.
"I am from Mull and Glen is from Iona so we wanted to use both the Islands for our wedding, the boat journey from the ceremony to the reception was very special. My pupils surprised us by singing on the ferry and we then got piped off the ferry and up to our reception; it still makes me feel emotional!"
Images by Caro Weiss
"We wanted our day to be relaxed and colourful. We both love the outdoors and bright colours so we picked bright flowers and got married outside! We both also love music, so we had live music throughout the day that added to the whole feel."
I'm so pleased to be able to share more gorgeous work by photographer Caro Weiss, one of our Little Book directory members, and someone we've been featuring for quite a few years now on these blog pages. Caro's work is sensitive, thoughtful and completely magical, and these images are no exception.
"Wow, Caro is amazing! From the first contact with Caro, I knew we had made the best decision. On the day she was so relaxed, happy and fitted into the wedding day like she was a friend at the wedding (guests kept commenting on how nice she was and even asked if I had a photographer!). Now, the photos (again, wow) are amazing, we just love them so much and they arrived so quickly. Caro truly helped make our day extra perfect."
I love Zoe's vibrant make-up, created by Niki Currie Artistry, from the subtle copper/orange shimmer on Zoe's eyelids, to her scarlet lipstick.
To choose her wedding outfit, Zoe visited Anne Priscilla Bridal in Glasgow and chose a beautiful silk slip dress from the brilliantly creative Halfpenny London. On top of the slip she wore an exquisite Chantilly lace over-dress from Atelier Emelia. The oyster colour of the slip gives such wonderful contrast to the intricate, botanical inspired lace.
"I wanted a simple boho vintage style dress, which I could wear with ease. I loved the colour of the slip and how the slip looked with the Chantilly lace over the top."
To her hair, Zoe added an Alice band of fresh, bright blooms from florist The Thistle and the Rose. To complete her look, Zoe added a lace trimmed veil from Ann-Marie Faulkner.
"My veil was the dream; beautiful pink silk chiffon with a delicate lace trim to melt in with my lace overlay. Ann-Marie designed and crafted exactly what I wanted."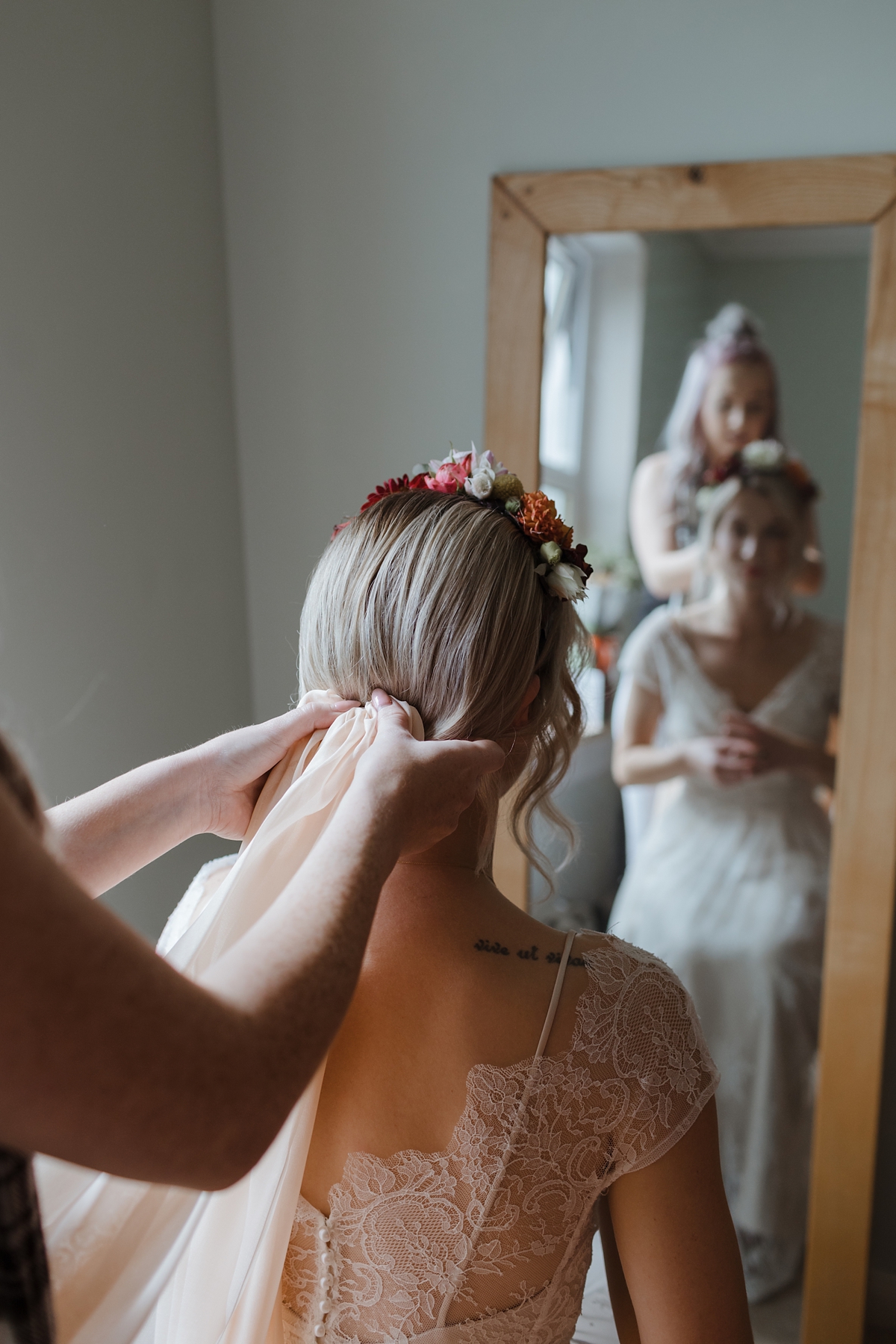 Zoe wore a pair of gold sandals from Whistles – a last-minute addition, which happily turned out perfectly, and her aunt gifted her a bottle of her wedding day fragrance, Liz Earle's Botanical Essence No.15.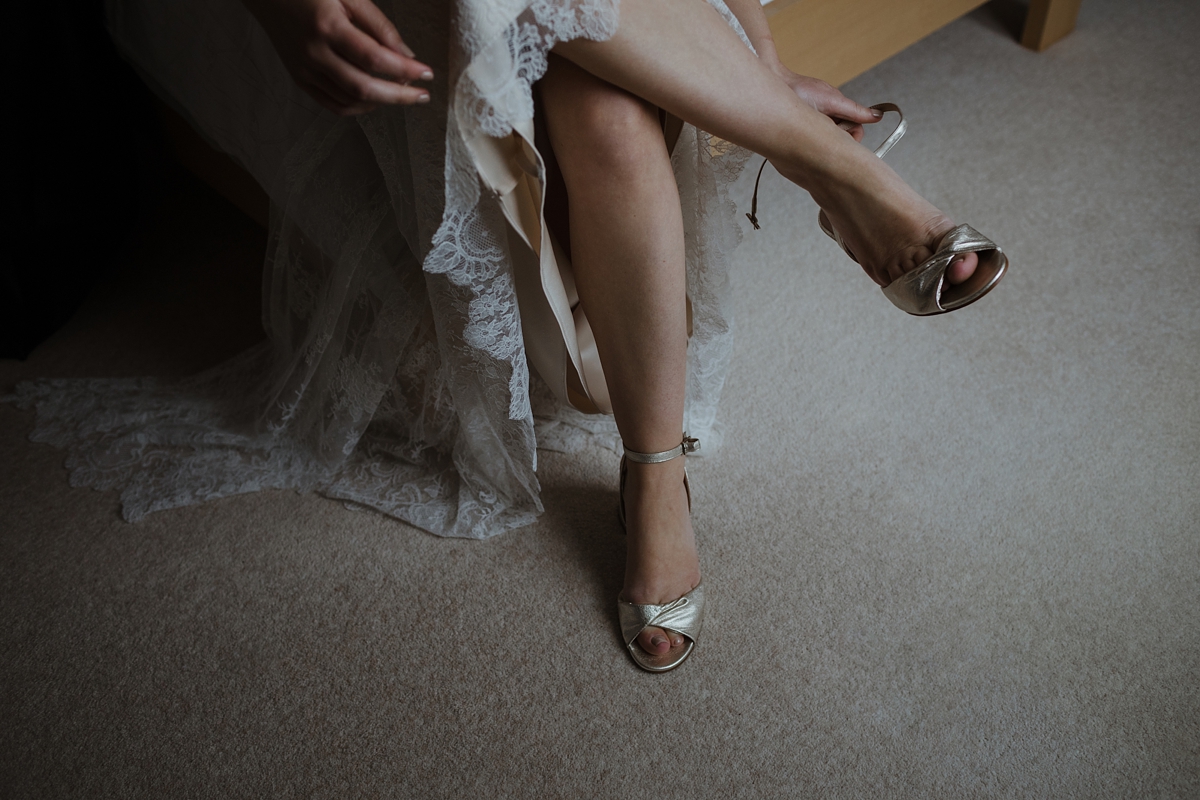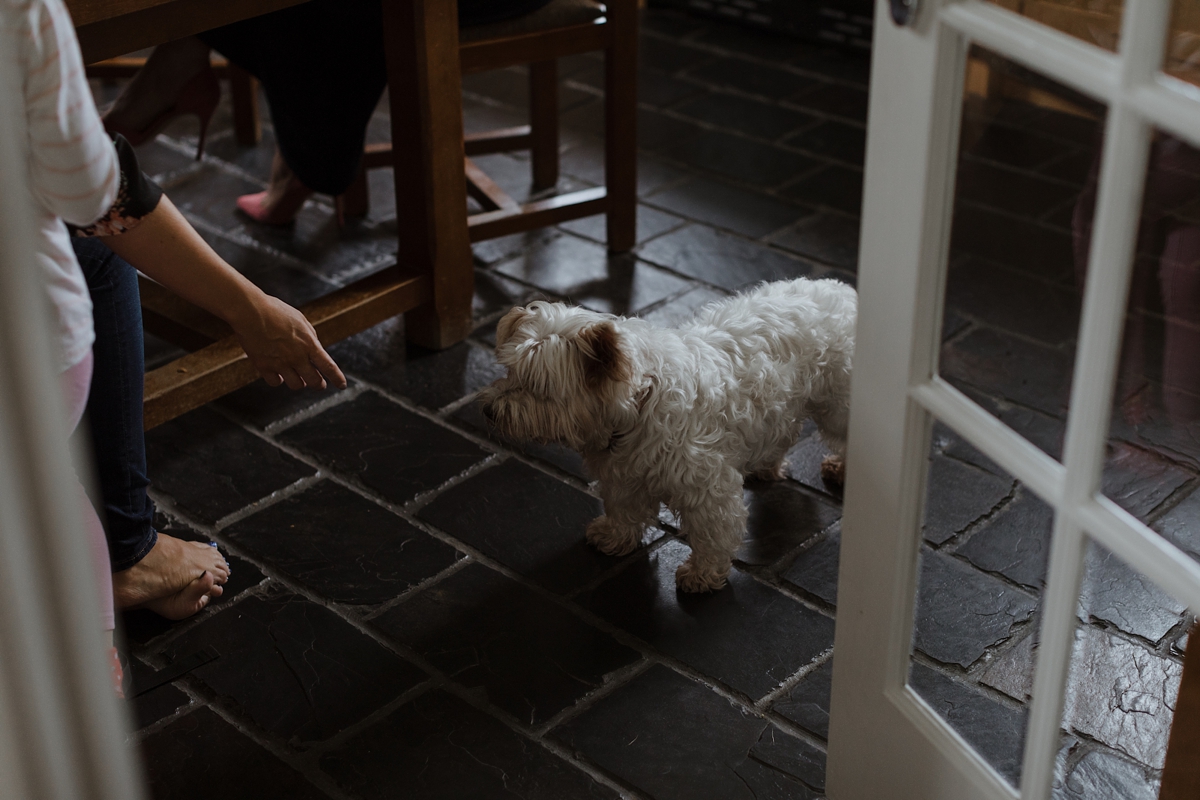 Zoe and her dad (whom Zoe describes as 'the best person ever') walked down the aisle together, and Zoe carried a glorious bouquet of summer blooms, with neutral colours mixed with bursts of orange and pink, beautiful fern leaves and other greenery, by The Thistle and the Rose.
"I wanted lots of greenery with pops of bright colours (which are my favourite), we didn't pick a colour theme but orange was the colour to pull all aspects of the wedding together."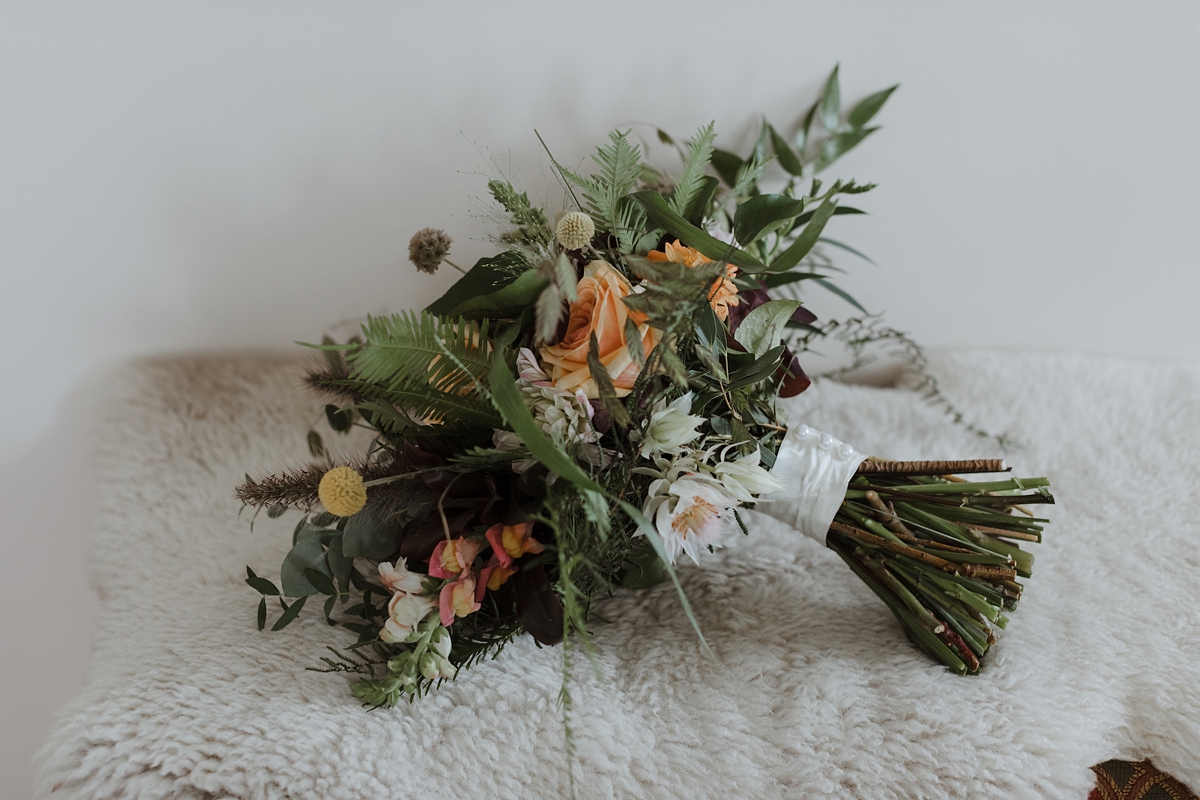 Zoe, her dad and the rest of the bridal party made their way over to Achaban House in style, in a Jaguar lent by Zoe's Uncle Bob.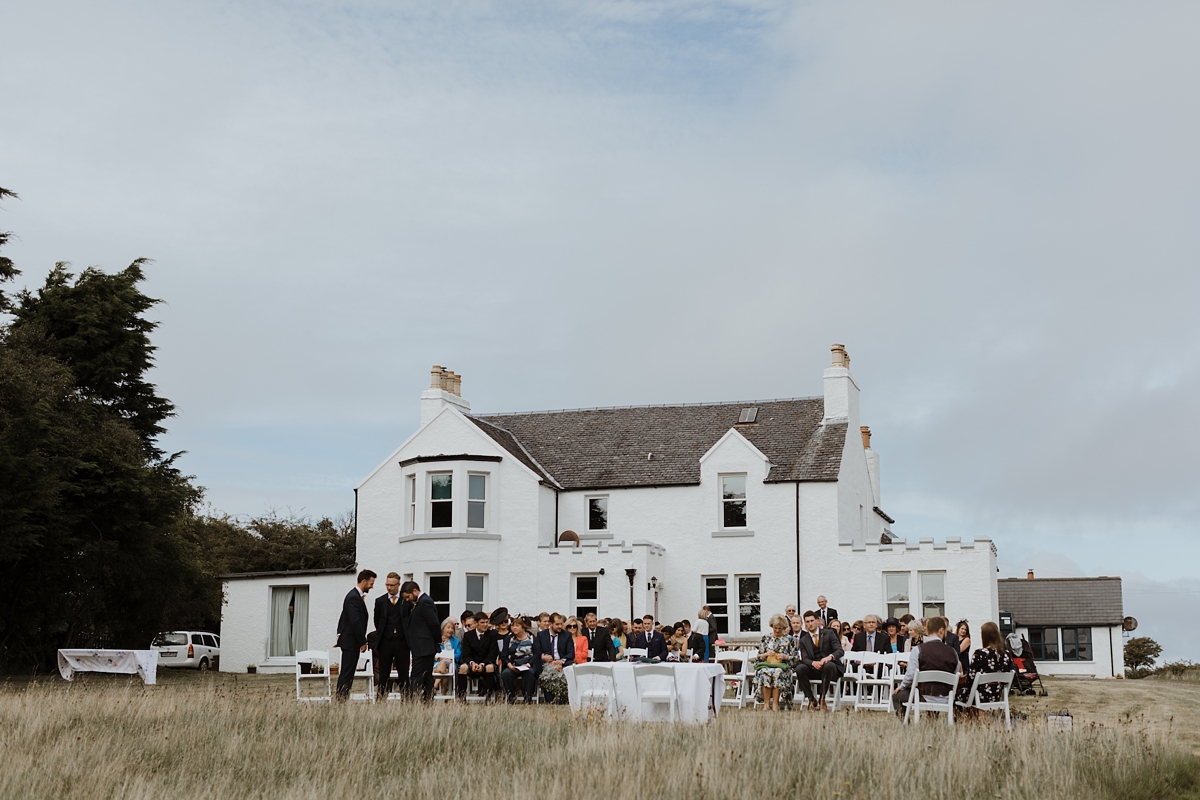 The lovely flowergirls walked down the aisle first, wearing simple white dresses from Next, with colourful Fair Isle cardigans, hand knitted my Zoe's mum. Next came the pageboys wearing trousers and sweet animal print shirts from Next with vests, again hand knitted by Zoe's talented mum.
Glen wore a fantastic three-piece Scottish tweed suit from Walker Slater – what a striking contrast between the dark blue jacket and trousers and orange waistcoat, along with a mustard yellow knitted tie.
"Glen asked if I could walk down the aisle to his favourite tune, Iona Boat Song, which was played by two members of our band on the fiddle and guitar."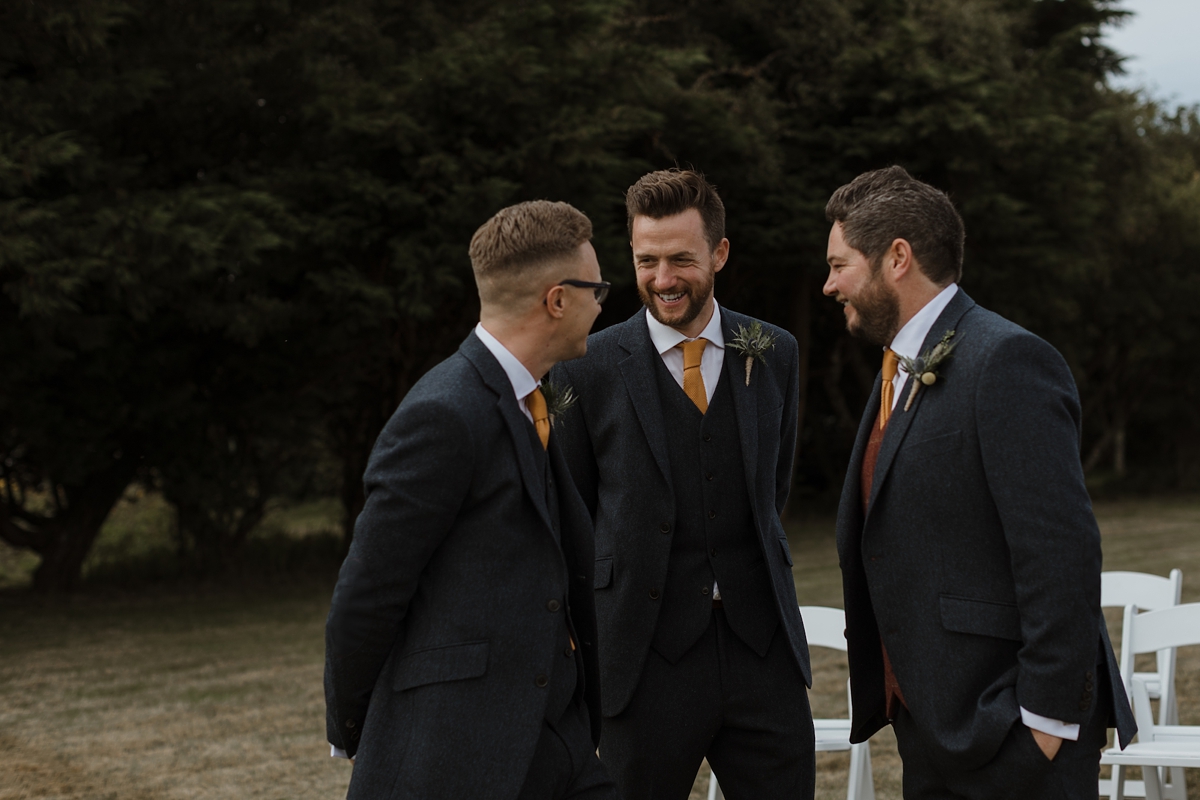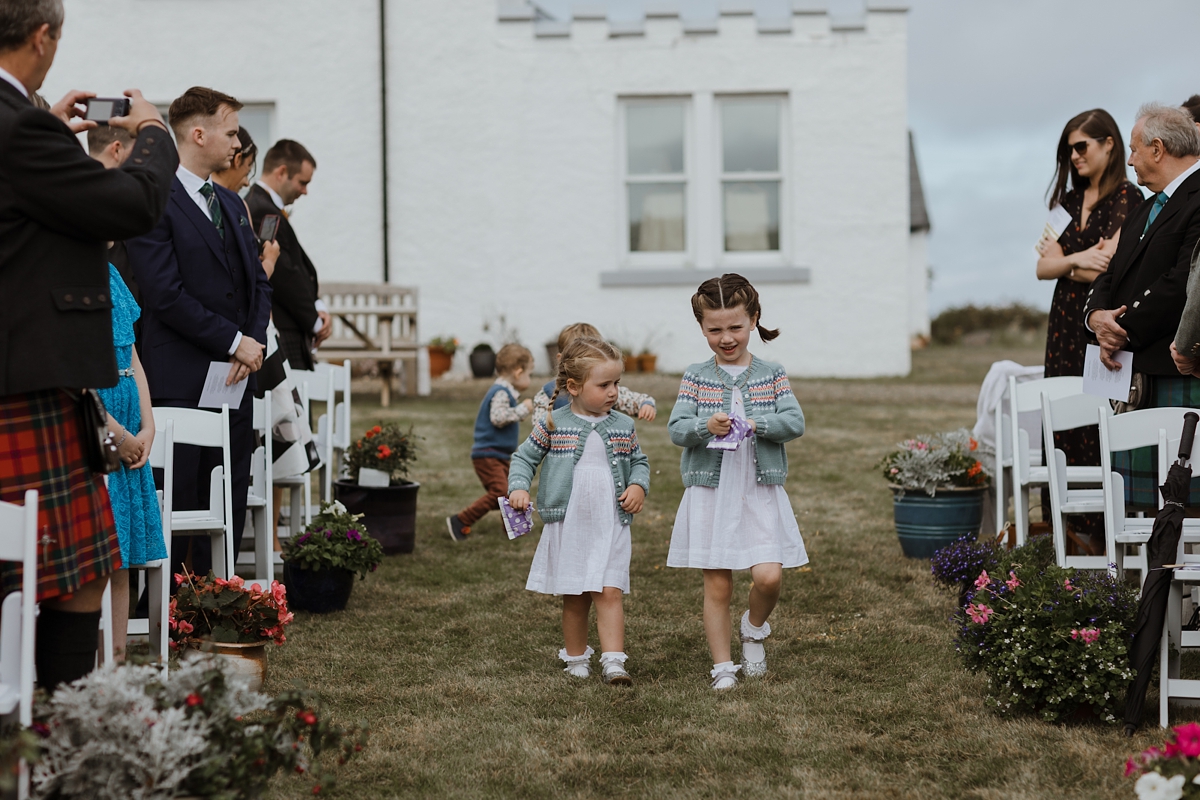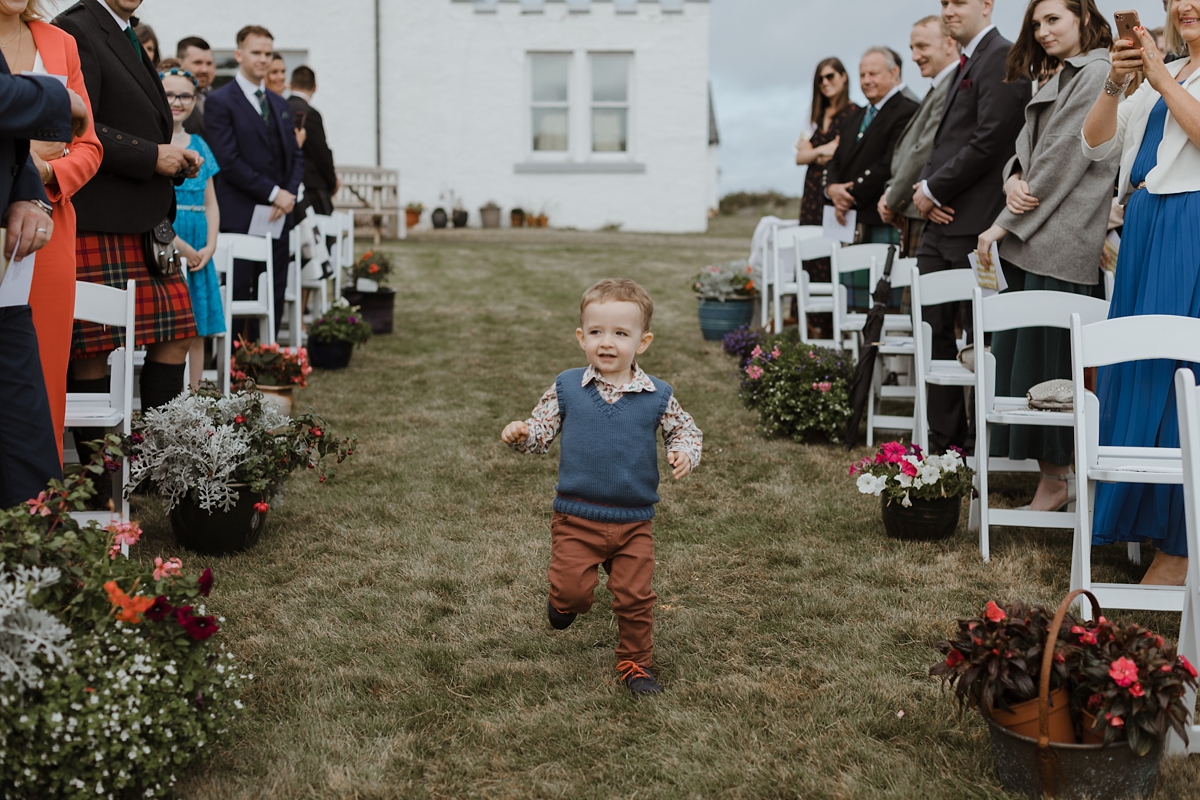 The bridesmaids wore a gorgeous selection of dresses from Mango, Temperley London, & Other Stories, ASOS and Ted Baker.
The couple's ceremony was conducted by Vernonica MacDougall from Argyll and Bute Council, and together they wrote their own vows to say to one another.
"We both wanted to say the same and both felt ours vows portrayed what we wanted our marriage to be. Here is the last section of our vows: 'I promise to cherish you and hold you in highest regard, to be your partner and equal in all things. I promise to love you in good times and in bad – Completely and forever.'"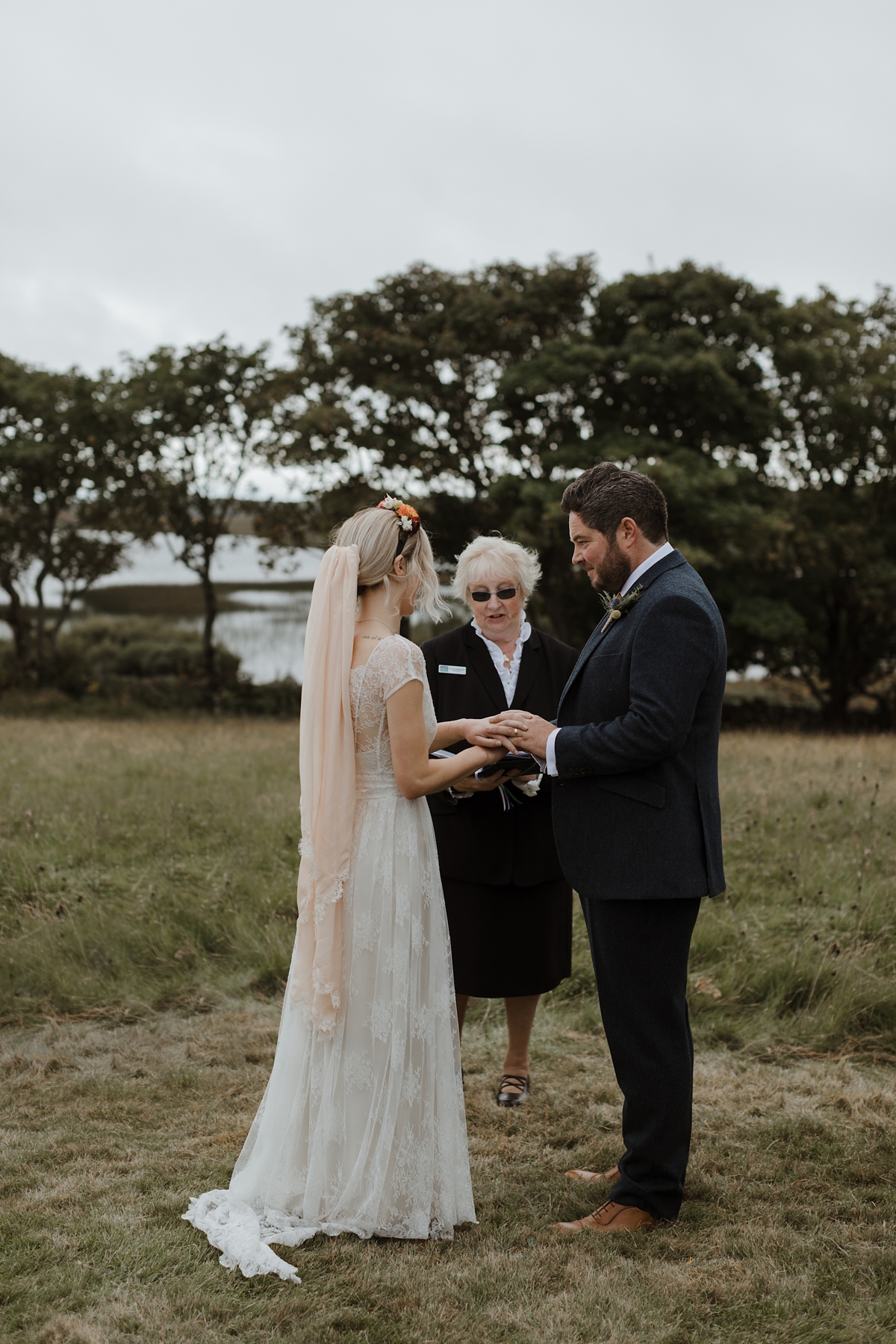 Glen commissioned jeweller Susan Macleod to make Zoe's wedding ring from yellow gold in a delicate design with two intertwining sweet pea tendrils. Glen's ring was made by Aosdana, of hammered and textured yellow gold.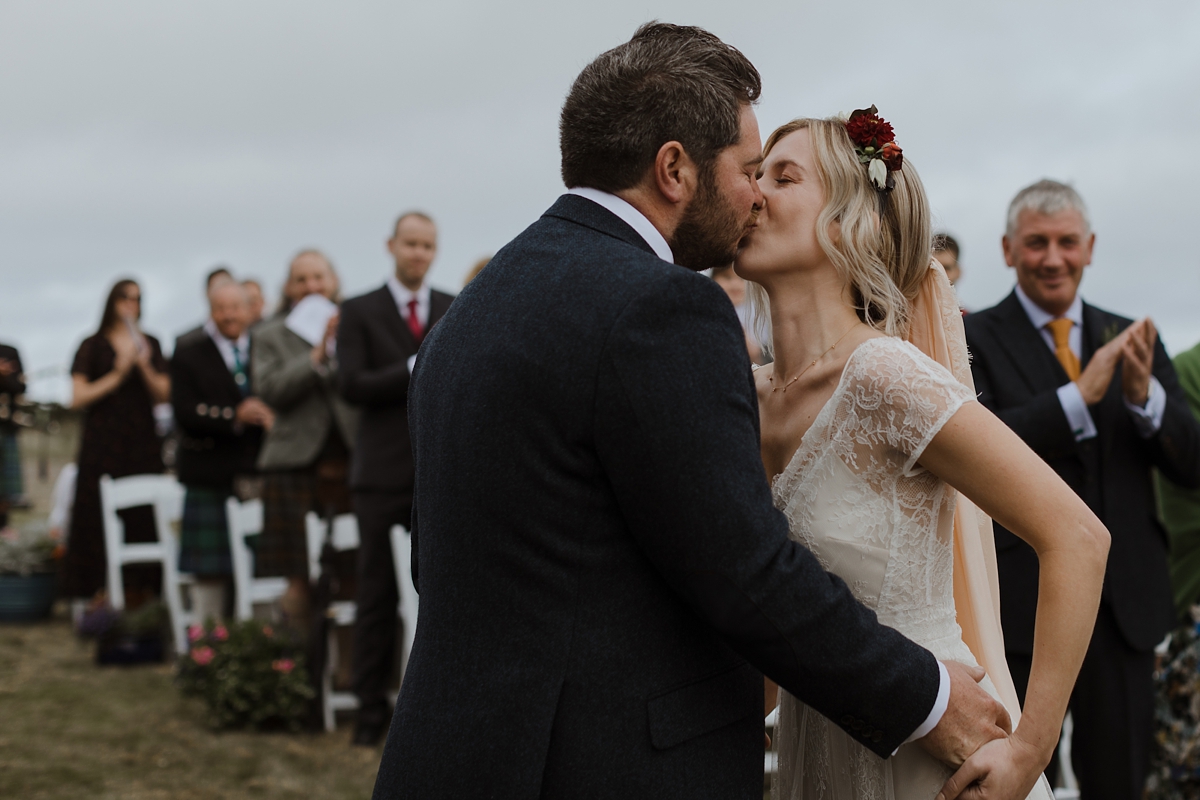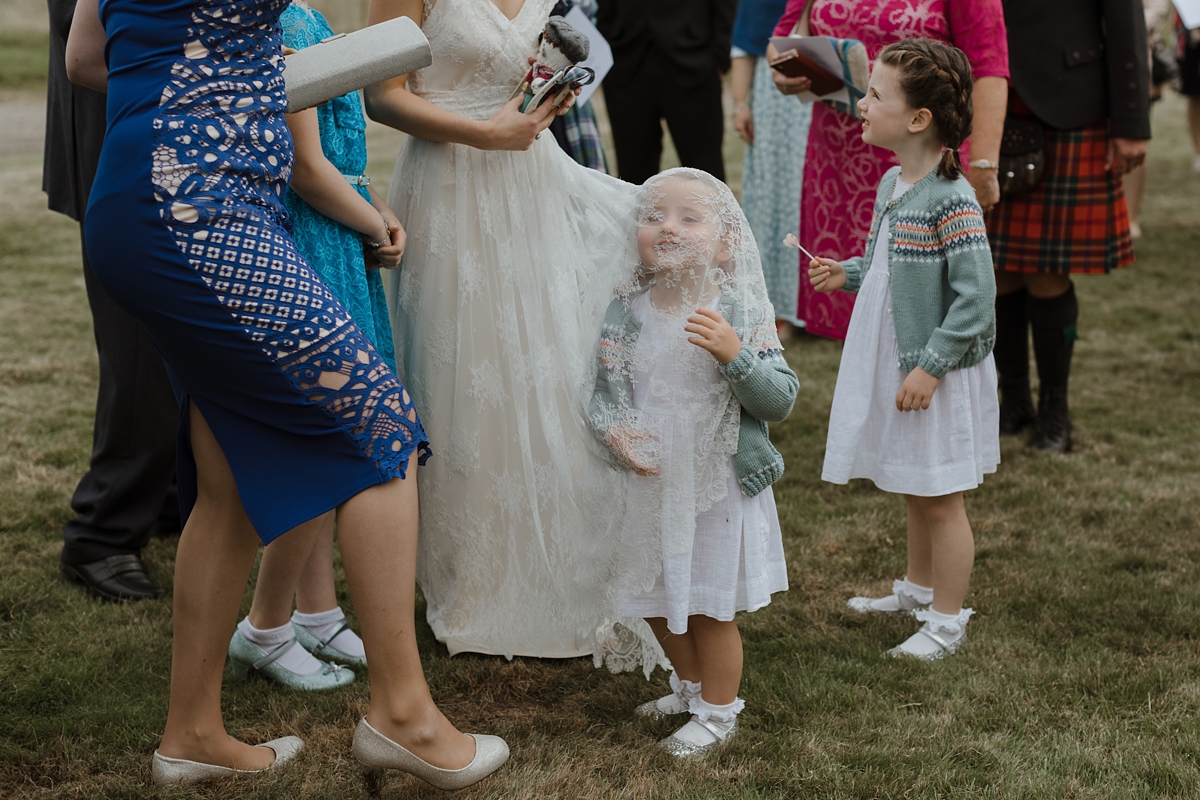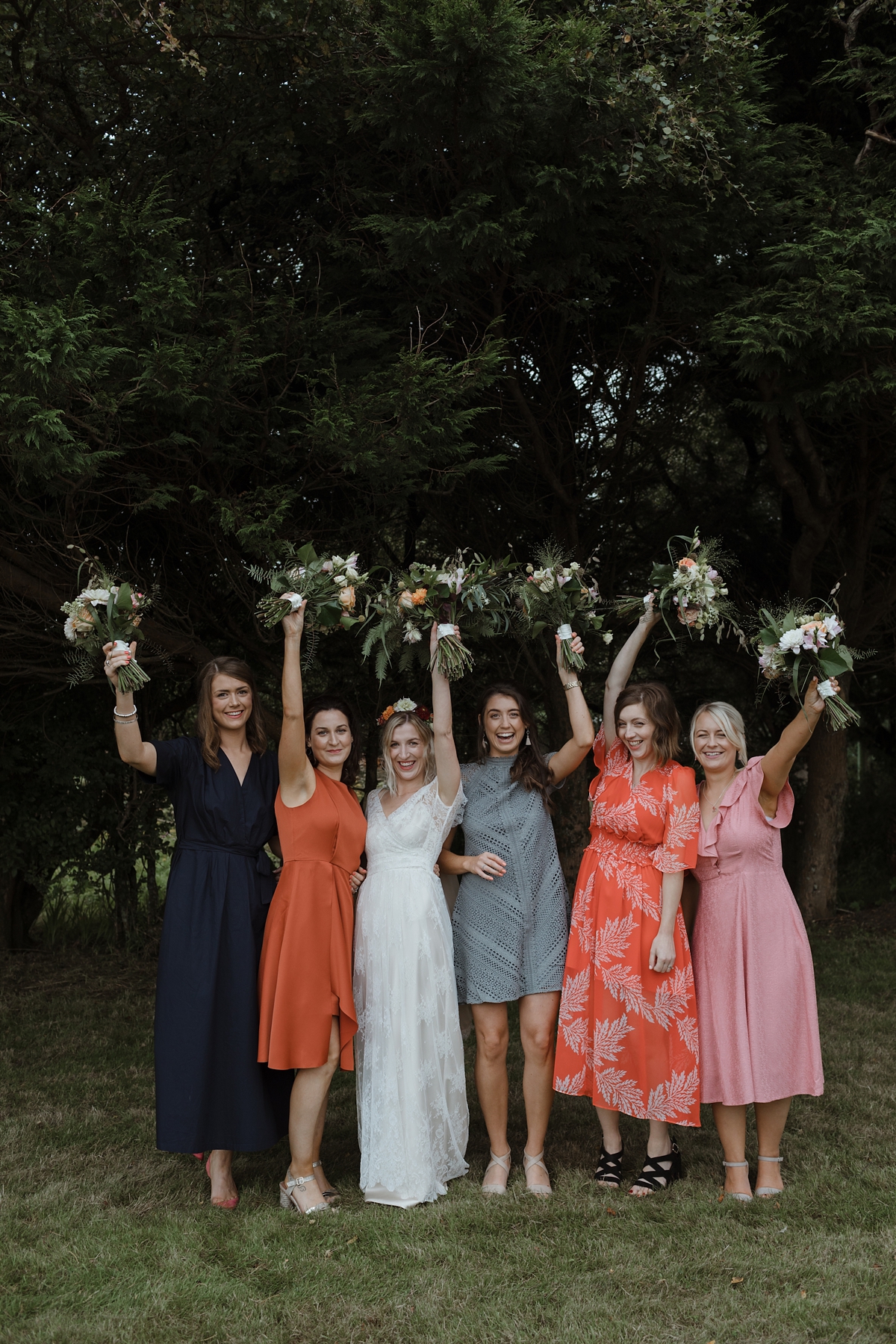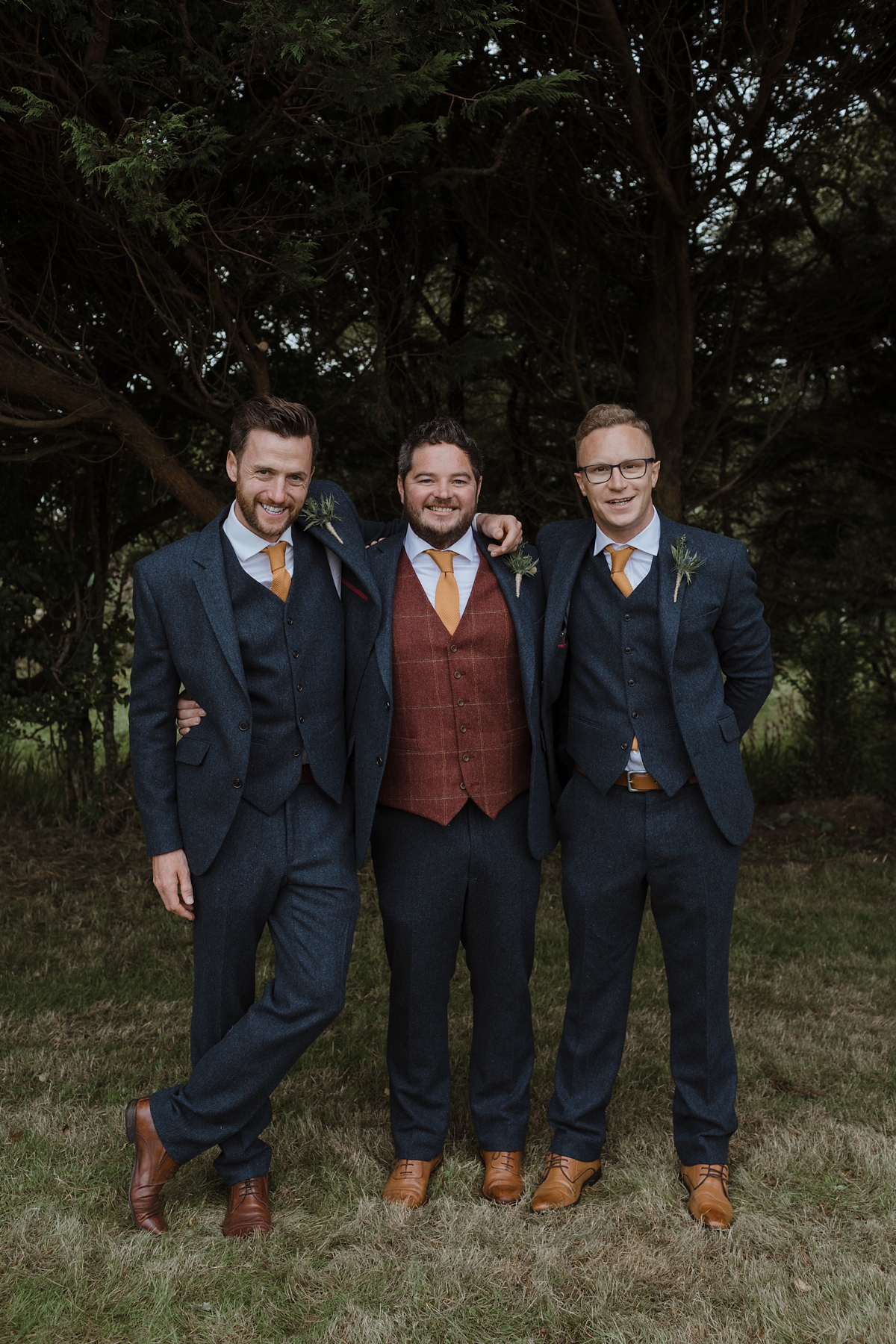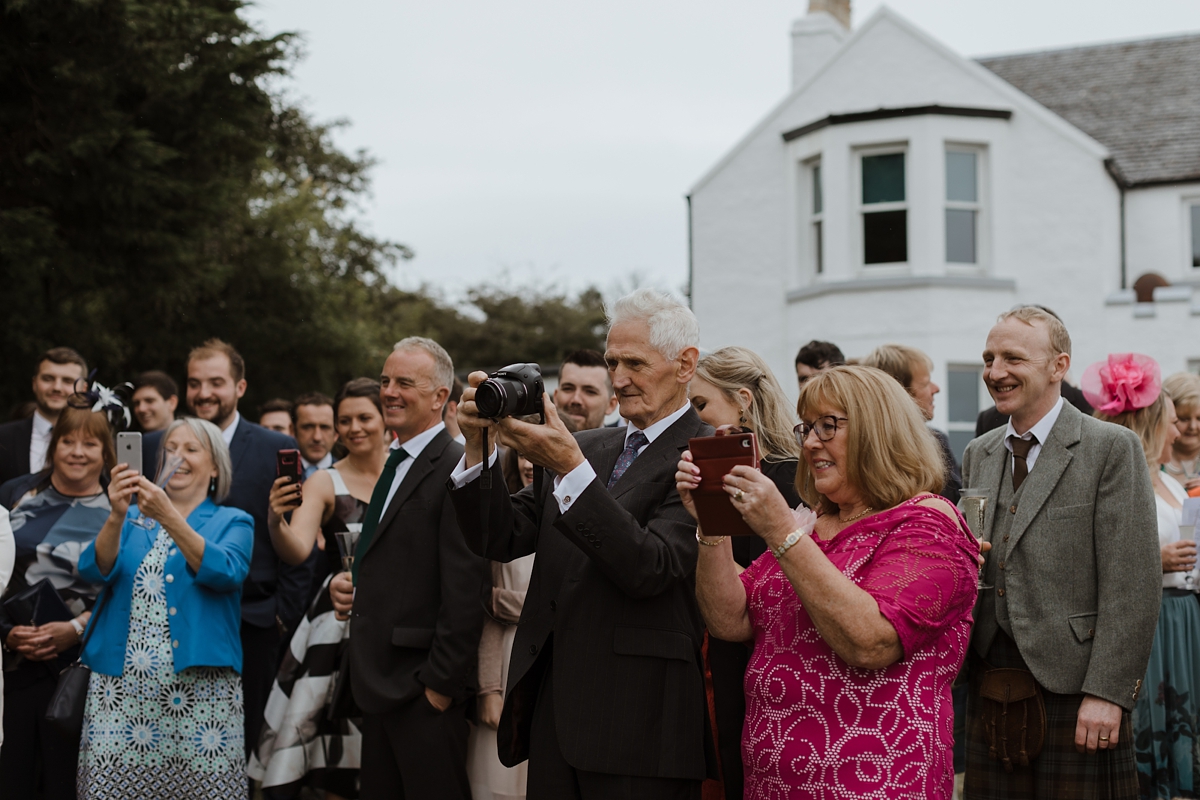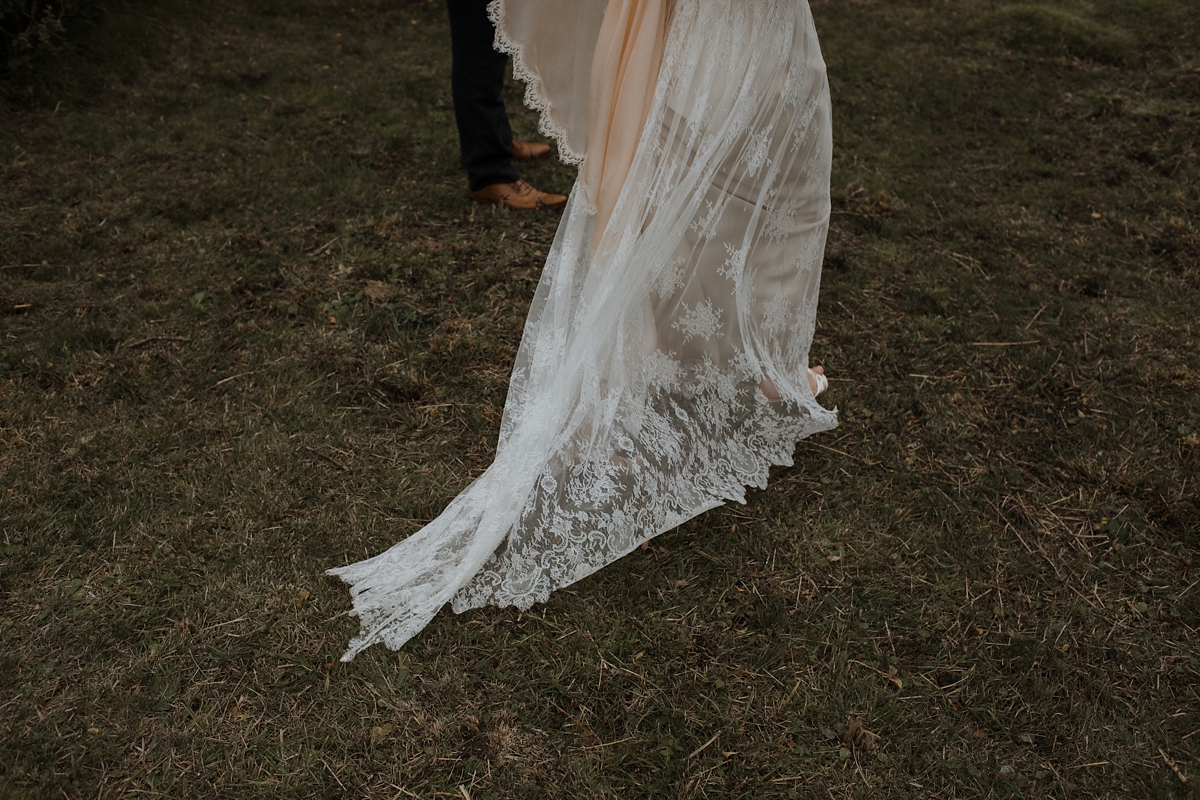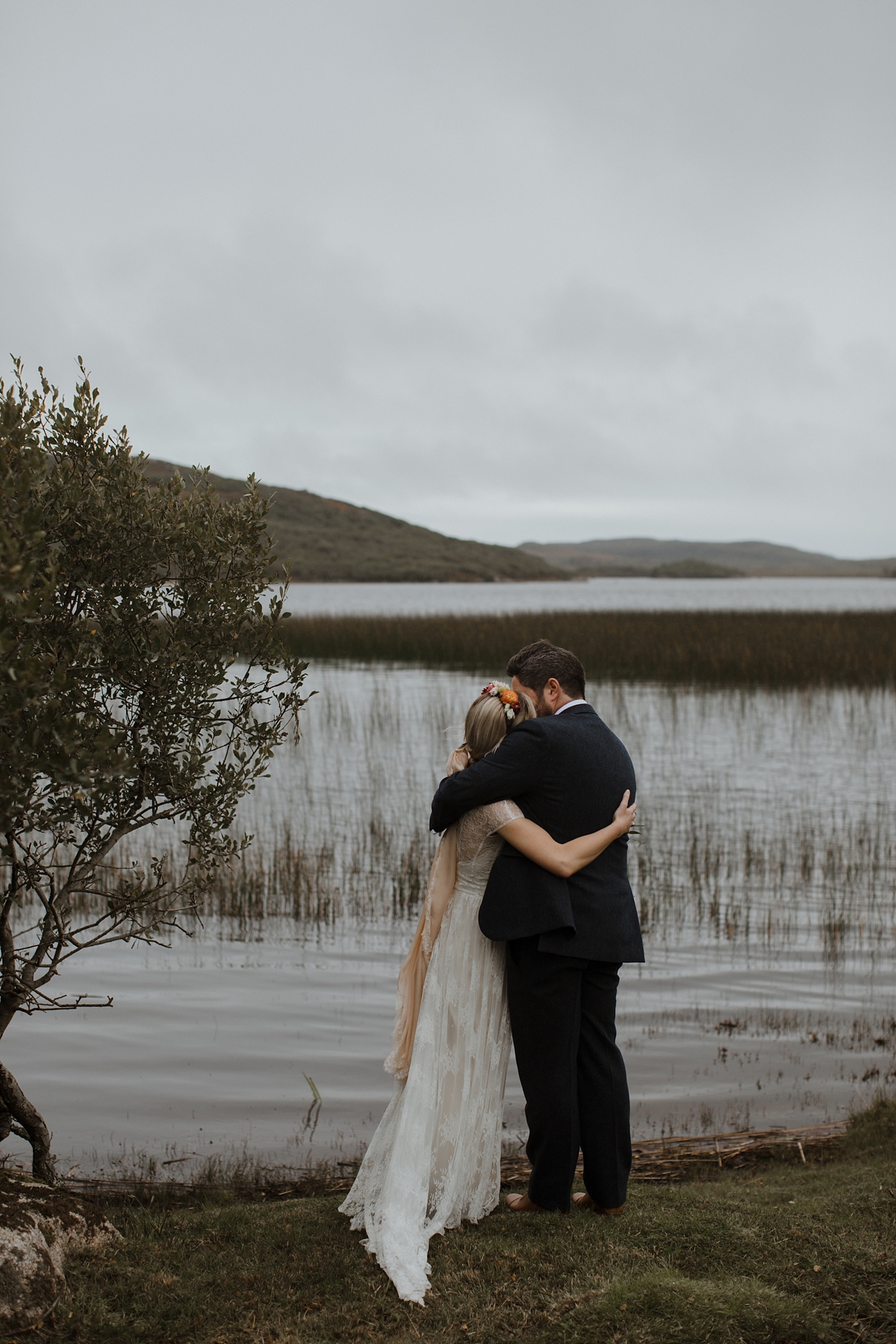 After the ceremony and before Zoe, Glen and their loved ones hopped on a boat over to Iona, there was time to cut some wedding cake – well, three actually – delicious semi-naked cakes decorated with fresh flower petals by Marion Mackie, a local cake expert!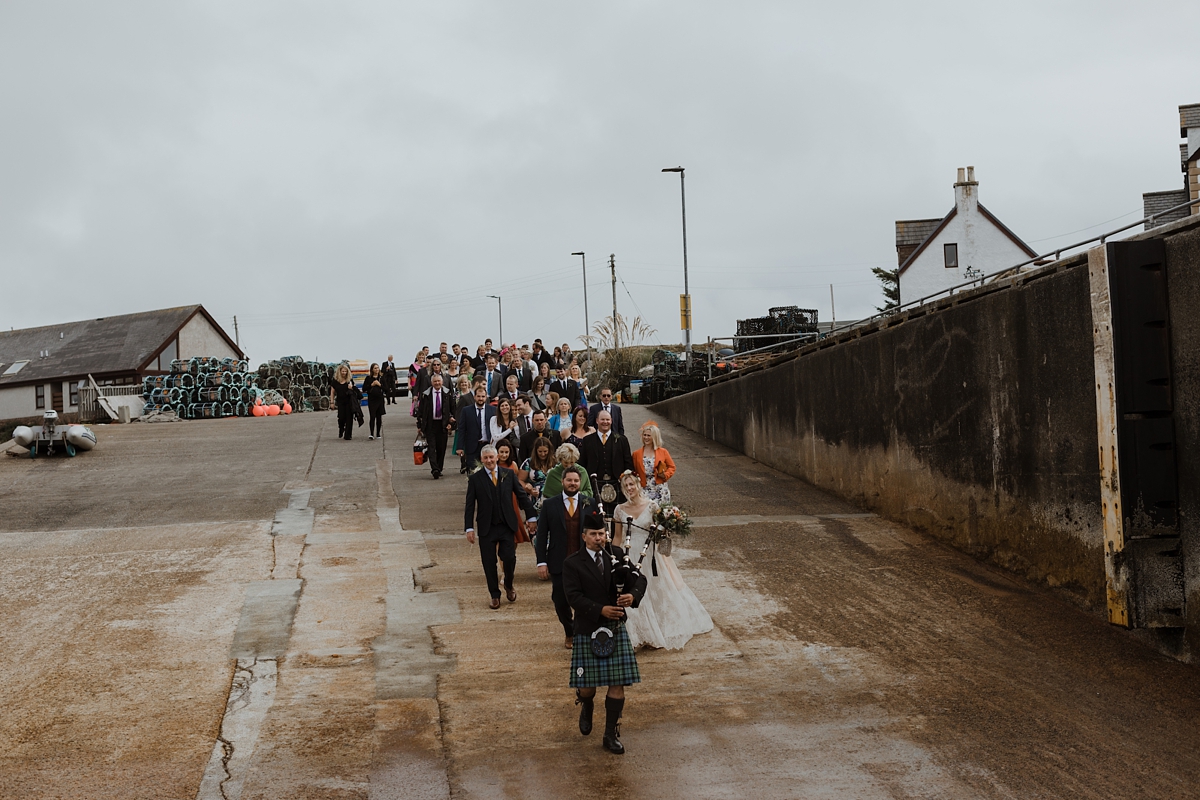 On the boat over to the village hall on Iona, Zoe's music pupils had thoughtfully got together to sing to their teacher, which proved to be a lovely and touching moment. A piper (no details provided) played as everyone walked over to the reception.
Friend and artist Isla Macleod made an amazing, colourful welcome sign for the village hall, whilst orders of the day, place cards and table menus were made by Zoe and Glen. Love Luna Calligraphy made the table names (brilliantly, to look like flags fluttering in the breeze), and the table plan was made by Etsy based Grace Belle Studio.
"We held our reception in an old village hall, and we wanted to work with the building we had and not change the look drastically. I ordered lots and lots of greenery and stems and got the help of our good friend and florist, Mairi Macdonald to help arrange the flowers."
"We also used paper butterflies (which were made up by our good friend Bec) to decorate the walls. We used cream and white streamers to line the ceiling, along with small bulb lights."
"We designed and decorated all the venues ourselves with the amazing help of our friends and family. It was such a fun and rewarding time and extended the wedding celebrations by at least four days!"
Instead of wedding favours, Zoe and Glen decided to use the money they would have spent on them to donate to charity instead.
"We chose the Railway Children, a non–profit charity who help vulnerable youngsters in the UK, India and Africa, who find themselves on the streets due to neglect and abuse in care or at home."
Local chef Anja Jardine cooked a fantastic wedding feast for everyone using fish and meat from Iona, and for their bar set up, a marquee was added to the side of the village hall and decorated with bunting, fairy lights and hay bales for seating.
"Glen made the wooden bar himself, and we decorated the bar with vintage candlesticks, bunting and flowers, We also named our bar MacD's Bar, which our friend Isla drew on the side. We had an outdoor area, which we lined with lots of festoon lights and put lots of benches and bunting out."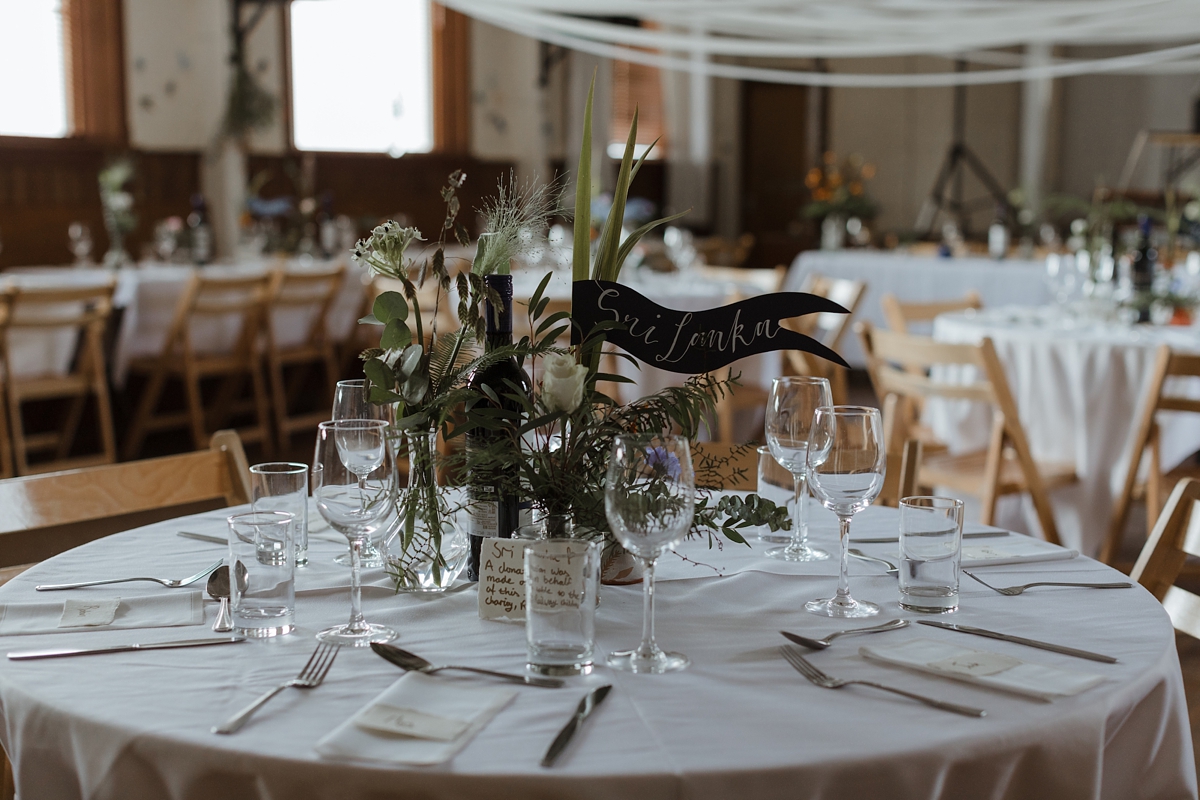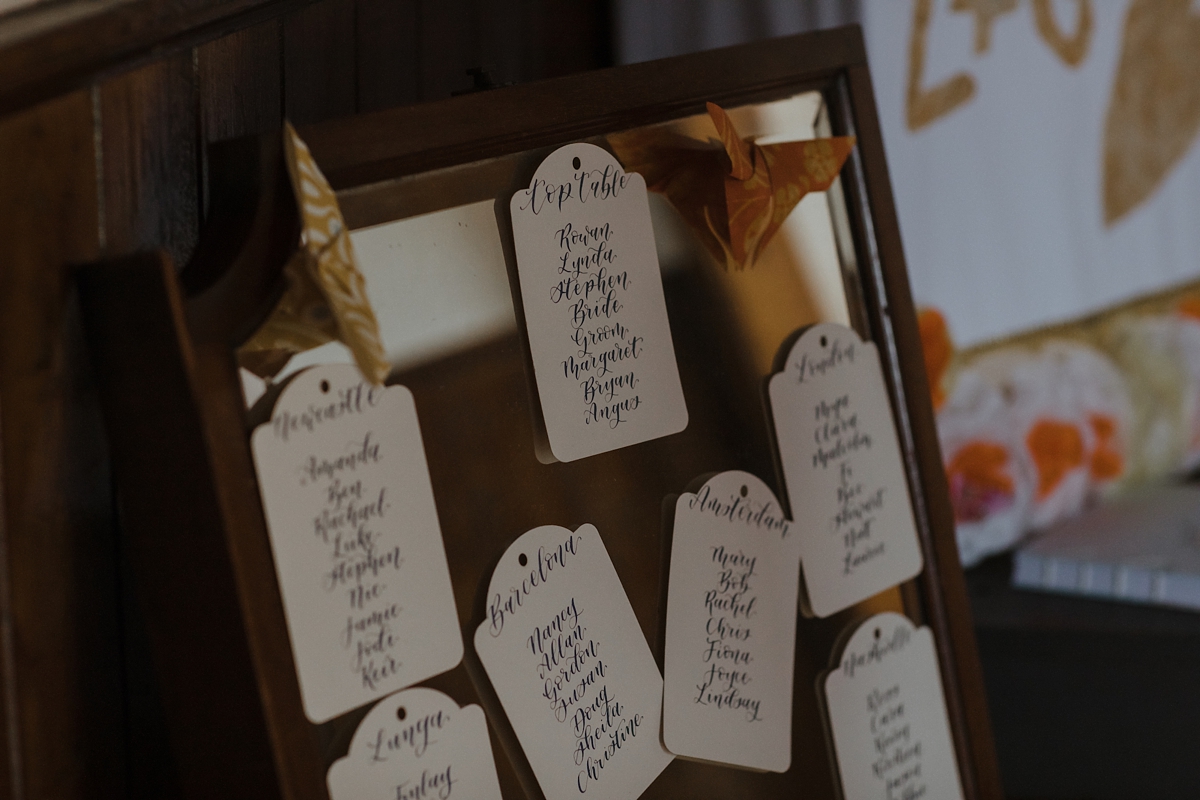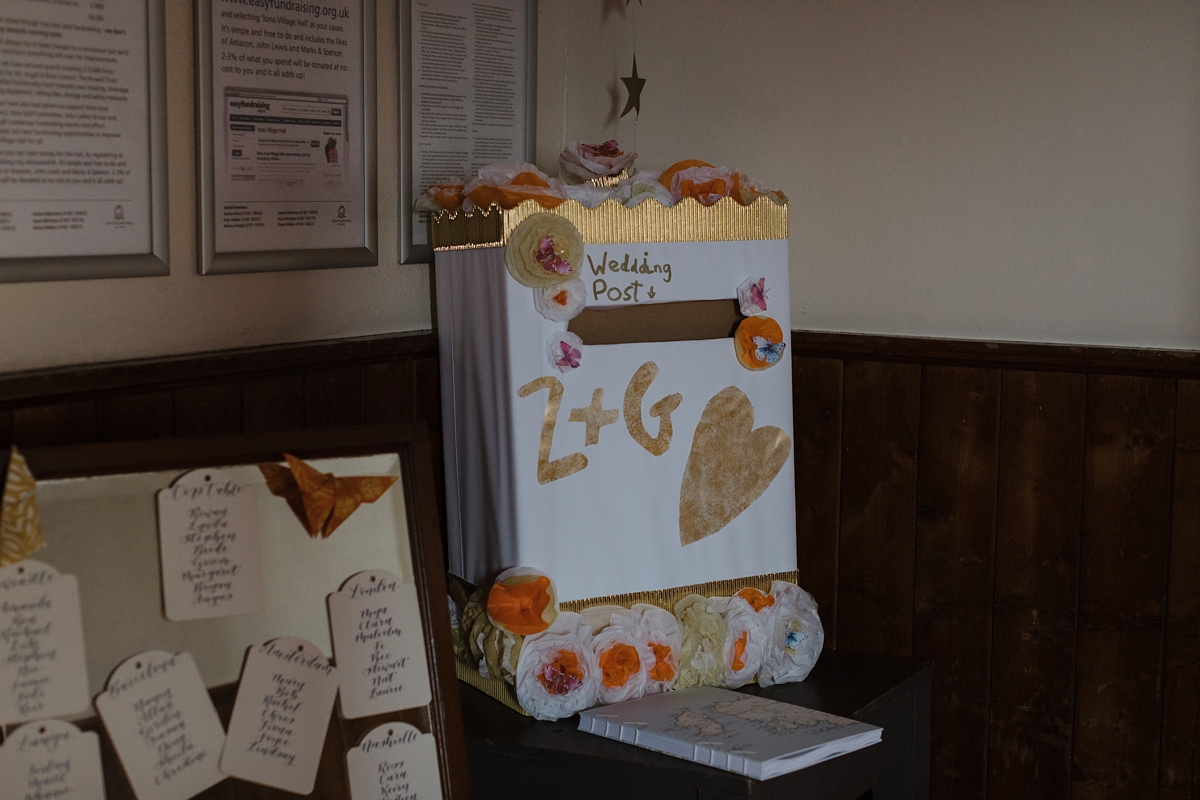 A fiddle player and guitarist from Grouse Ceilidh Band had played during the ceremony and drinks reception, and the band continued the fun into the evening, too!
"Our first dance was Talking Heads – This Must Be The Place (Naive Melody). My favourite song with the best melody (everyone was grooving) and the lyrics comprise of beautiful sayings (that don't necessarily make sense) that reflect being in love."
"Honestly, the whole day was a perfect dream and so much fun! Three random highlights are –1. My music students (age 7-13) surprising me with a rendition of All You Need Is Love, including violin and saxophone! 2.The wedding ceremony. 3. Our first dance was so much fun, and so was the rest of the evening."
Words of Wedded Wisdom
"As much as the day is for you both, remember and make it a day to remember for you and your loved ones alike, make it a day that your guests can look back on with love and happiness."
"Try not to stress about the small things, you will be surrounded and overwhelmed by the love around you that you won't be thinking of anything else."
"Relax, breath and have the best day ever. Let the day go by, don't stress about what's coming next and truly enjoy the moment."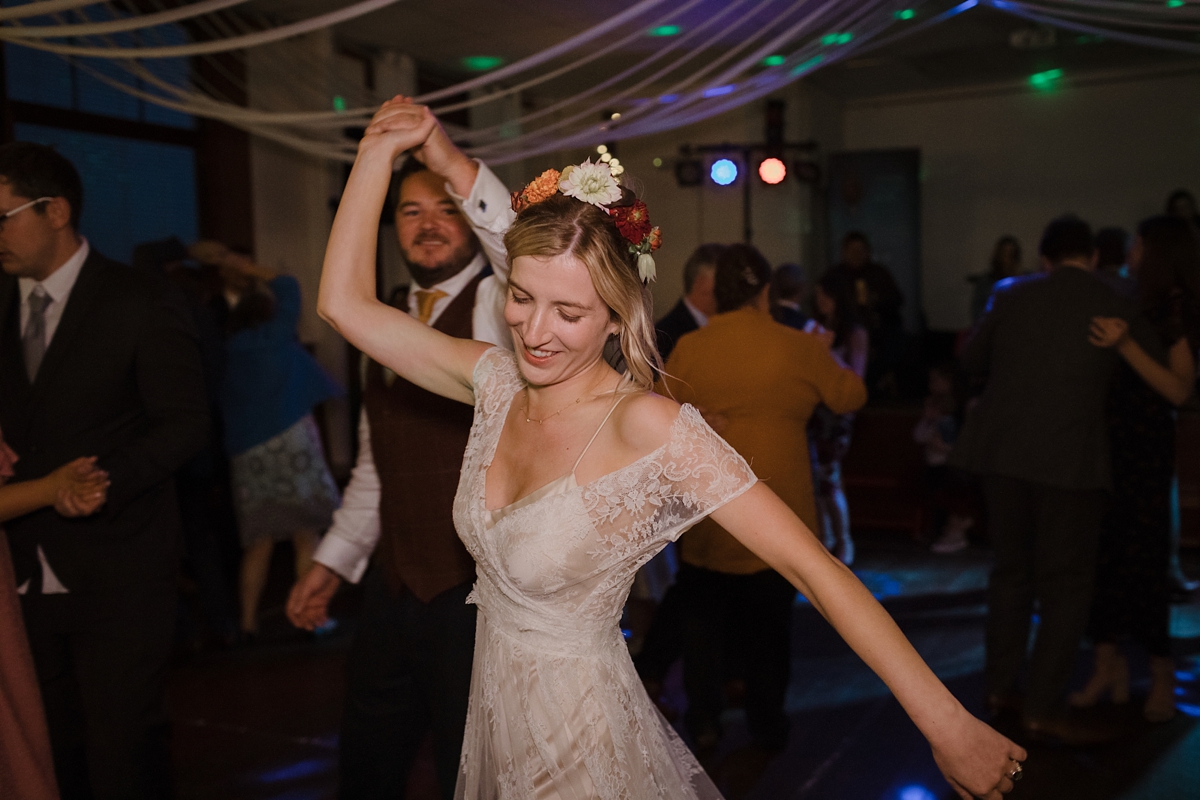 Thank you so much Zoe and Glen, what an absolutely beautiful day you had, with your loved ones and the island communities at the very heart. Many thanks to Caro Weiss for these enchanting, heartfelt images, too. See more of her work on our blog pages here.
With love,
Laura