Mid-March already? Where have the weeks gone to? Before we know it it'll be Easter. You are all in for a leafy, countryside treat today; these photographs have absolutely blown me away.
As well as getting ideas for a relaxed and casual celebration, I hope that Katy's words really do inspire all of you brides-to-be out there to really do what is right for you as a couple, and stick to your core values. Katy, a charity lawyer, wed engineer Rich on 14 August 2018 in Upton Cheyney Chapel near Bristol, with a Tythe barn reception at Manor Farm in the same village. We LOVE Katy's gown by newly launched label Indiebride London (formerly 'Minna'), but more on that shortly.
The couple used their belief in equality and a desire to keep things relaxed and casual as a starting point for wedding planning, thinking deeply about which traditions to include. For styling, the gorgeous, lush countryside was their inspiration, so leaves, flowers and fairy lights played a big part in dressing the naturally-beautiful venue.
"In terms of cultural values, a big part of our decision-making throughout the planning process was our belief in equality. I found quite a lot of wedding traditions quite troubling from a feminist perspective: the fact that traditionally no women's voices are heard during the speeches, the fact that I had to give my father's details to get legally married, despite having been raised by a single mum… *has a lie-down in a darkened room and tries not to think about the patriarchy for a bit*"
Photography Joanna Nicole Photography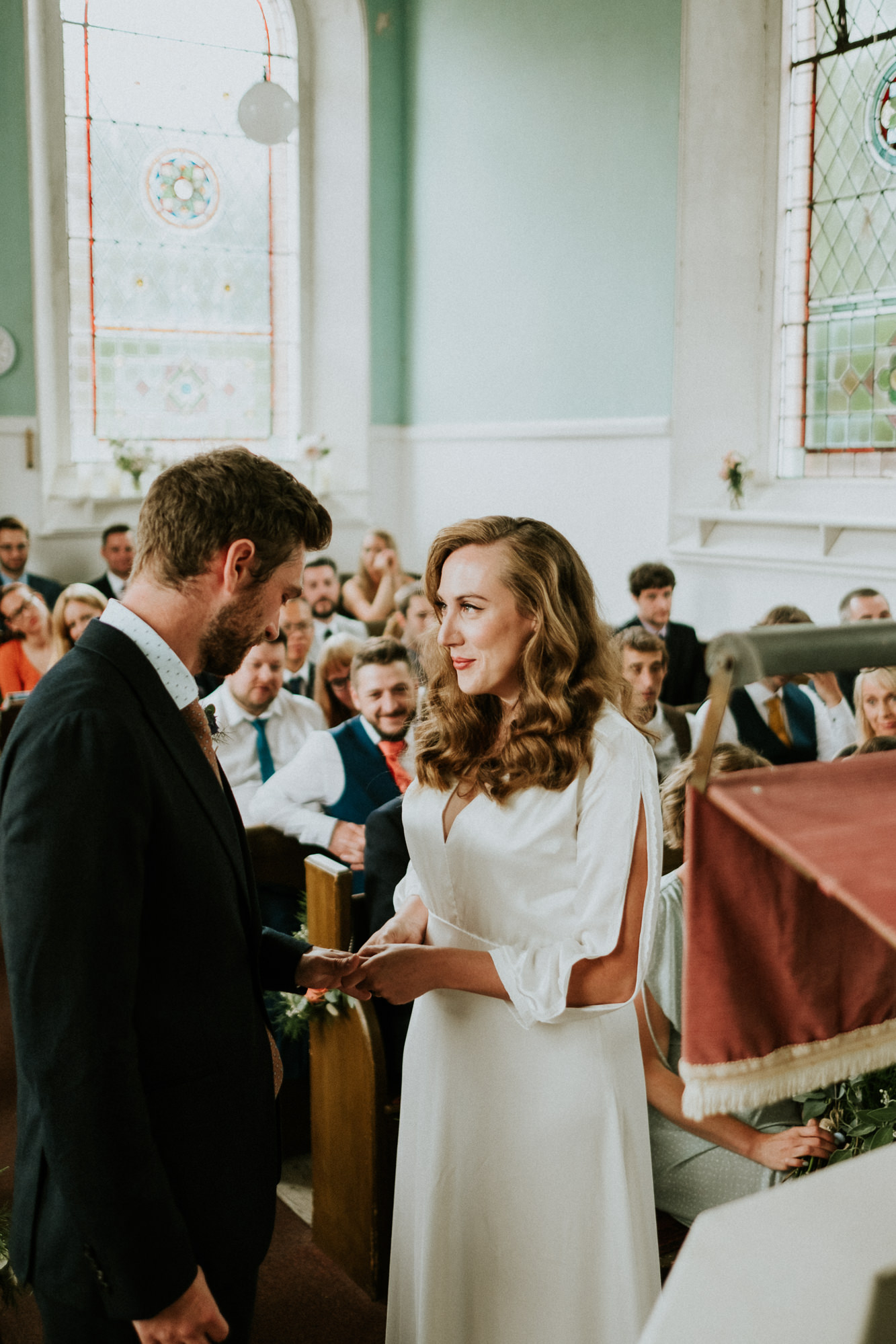 "We thought long and hard about the sort of wedding we wanted. Rich is from Swansea, I'm from Derbyshire and our friends are dotted around the planet. So we decided to stick to our local area of Bristol. We knew we didn't want anything too fussy, so a blank canvas and not having any packages foisted upon us was a must. I'm from a rural community and most of the big celebrations of my childhood revolved around farms/barns, so that seemed like the obvious place to start."
Kate Fitzgerald, found through Lipstick & Curls, was on hand to style Katy's gorgeous brunette locks into this fabulously glam but relaxed curled do. With fresh, glowing make-up and an eye-catching red lip, the look is subtly era-inspired but still bang up to date.
"Kate is another down to earth, amazing woman! I wanted something a bit vintage-y, like a better version of my usual 'dressed up' look, but didn't want it to look like a costume. She nailed it."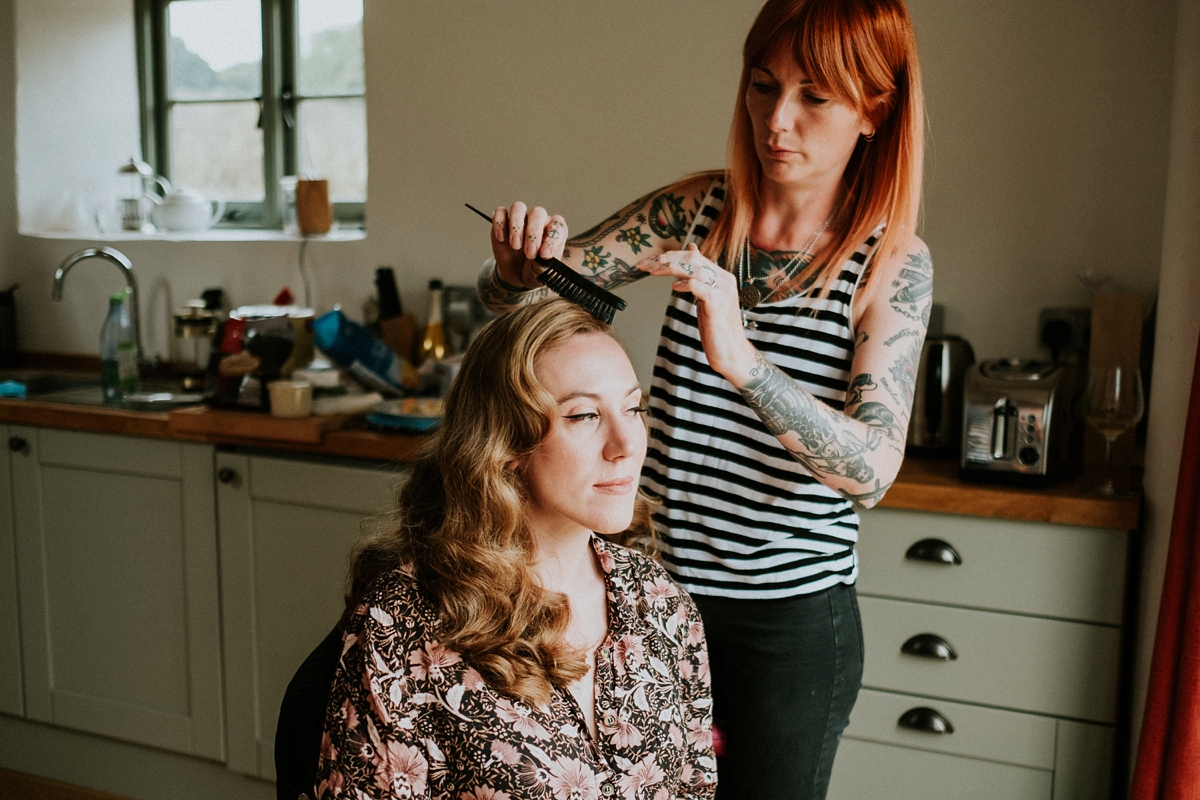 The bride's accessories were just her everyday rings and her favourite scent, Chloé by Chloé.
"It's always been my favourite, but I've never been able to afford it really (I like to spritz it on myself in Duty Free whenever I go on holiday!) My grandma and my mum bought me the perfume, body lotion and body wash for my birthday – a couple of days before the wedding – and it was such a nice surprise."
"On the day itself, my four bridesmaids each gave me something old, new, borrowed or blue. And my 'new' present was a tiny bottle of Chanel No 5. So I ended up wearing TWO fancy perfumes on the day, and basically felt like the Queen of Sheba."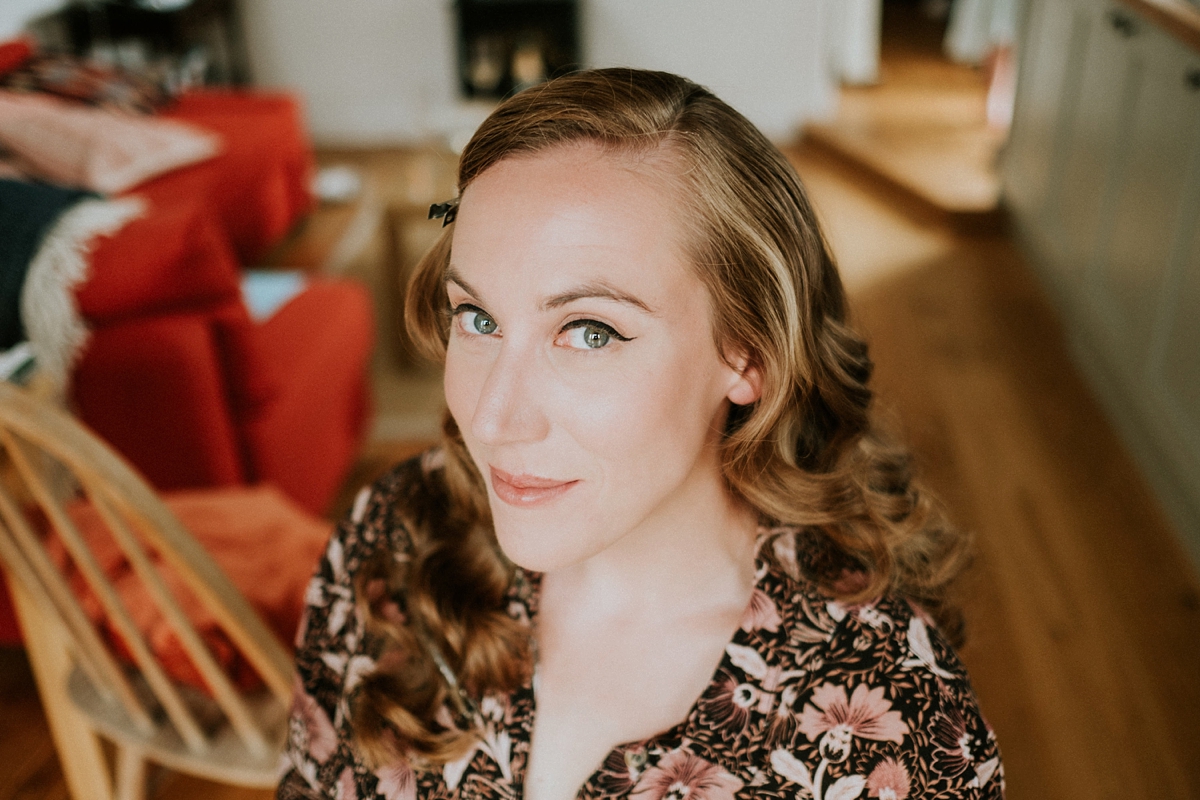 "I loved how unstructured and uncomplicated my dress was,  but the slit sleeves were just unusual enough to give it a bit of a 'wow'. Although it looks glam you just pull it on over your head: no buttons, no messing. It has an elasticated waist, so no restriction there either. As soon as I put it on, I felt really free and easy but still dressed up, which is exactly what I wanted."
"The dress usually comes with a train which I loved, but as I planned to dance all night I was worried someone would stand on it and I'd end up in my pants on the dance-floor. So Minna made one without a train for me. Given how much I ended up dancing, this was a good call."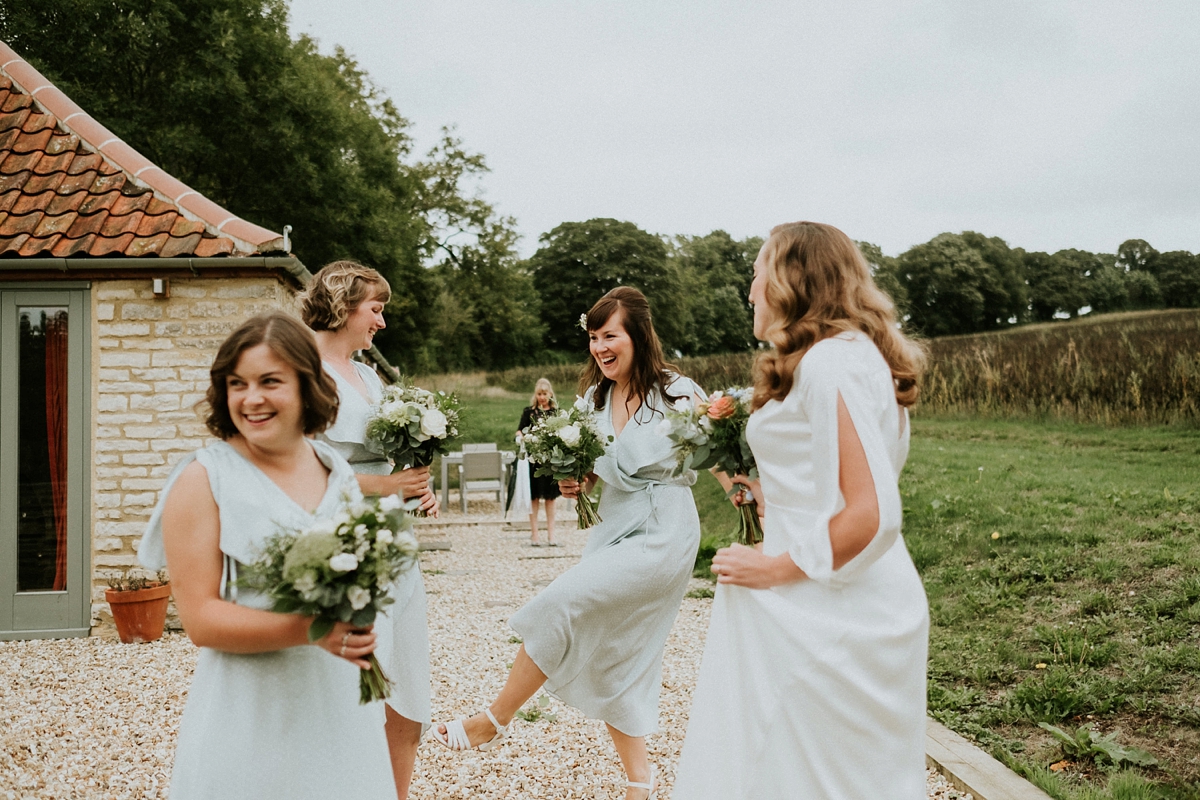 Katy found her dress through our Little Book Directory. The design was actually by bohemian brand Minna  which has recently been taken under new ownership and merged with its little sister brand Indiebride to become, Indiebride London. Indiebride London is a combination of bohemian and vintage inspired wedding dresses for the free-spirited and environmentally conscious brides who want their most precious dress to have its own story.
"I had a vague idea that I wanted to look like Kim Basinger in 'LA Confidential'. I'm also pretty booby, so I hoped a 40s-style dress would work but I had no clue about what would actually suit me. My sister-in-law had worn an IndieBride dress for her wedding and looked stunning, so I knew I'd be in good hands. dress felt like an absolute dream to wear, the silk is just gorgeous."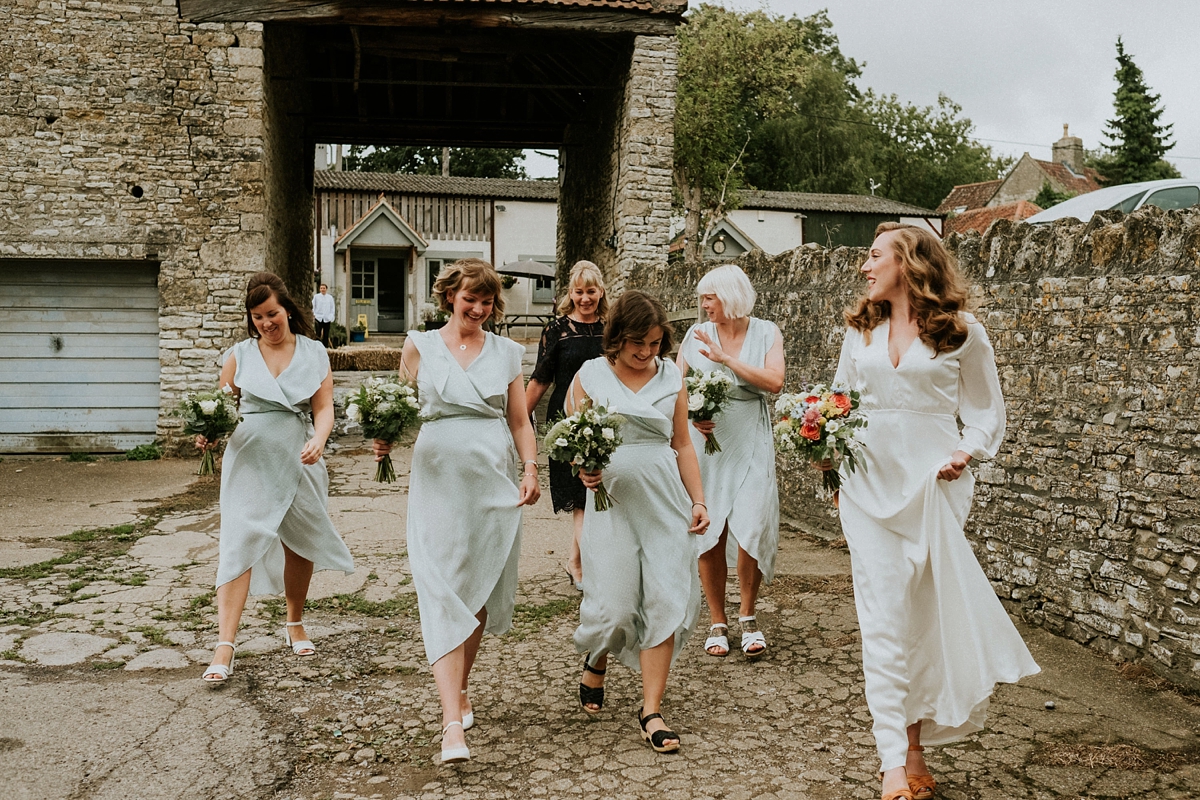 Each bridesmaid carried a pretty bouquet of rich green leaves and fresh white flowers, whilst the bride's was a colourful array of wild, seasonal flowers.
"I found Lucy Coco Floristry on Instagram. Her beautiful wildflower creations came up in my 'suggested accounts' feed – I guess because I was looking at a lot of wedding-related photos! I loved the look of Lucy's flowers instantly, but then when we spoke on the phone I knew she'd totally nail what I wanted: relaxed wildflowers, nothing too fussy."
"I think my exact words were "I'd quite like it if it looked like me and my bridesmaids just stopped and picked some flowers on the way to the chapel". And despite my not knowing any actual names of flowers that I liked, she seemed to know exactly what I meant."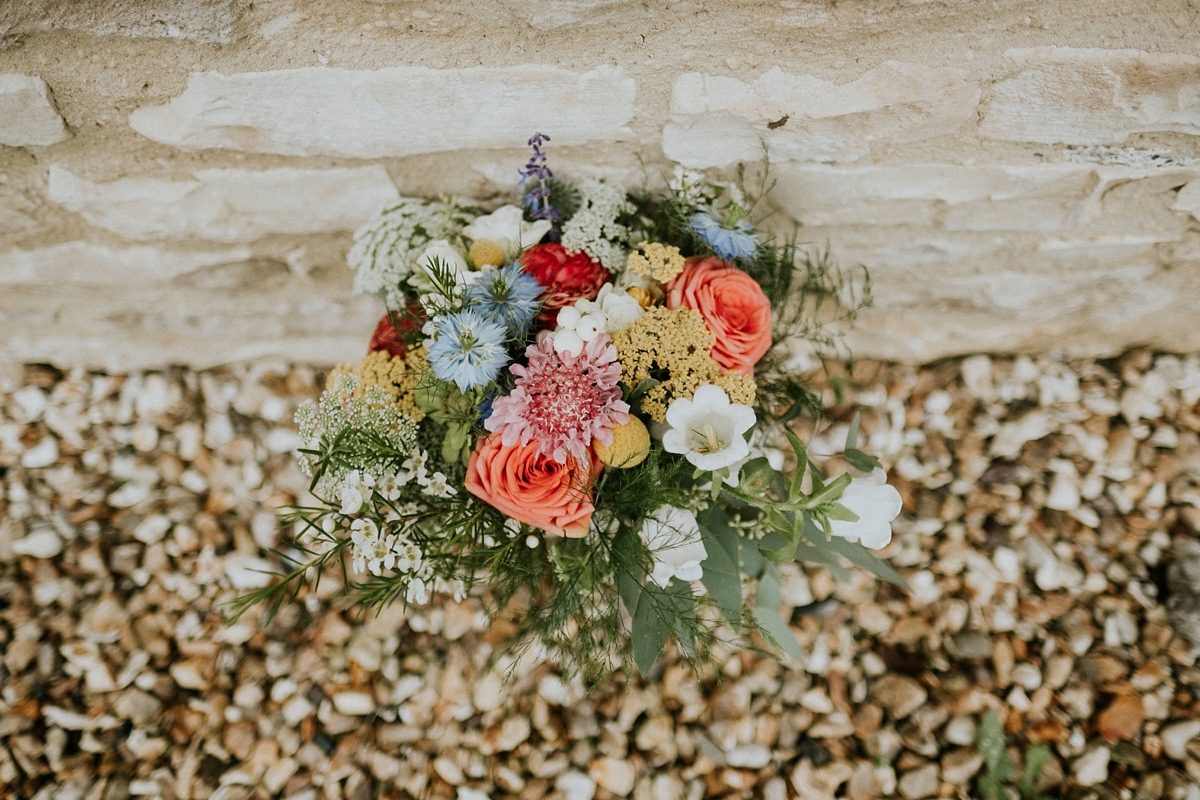 "Lucy's really enthusiastic about wedding flowers and I absolutely loved working with her – you can tell that she really, really cares about her brides. I was pretty chilled out on the morning of the wedding but when Lucy came to deliver the flowers (and I saw how beautiful they were!) the enormity of the day kind of hit me and I had a little cry."
"I hope she realises they were tears of happiness. She did the bouquets, the buttonholes and the floral hoops that were placed on the pew ends in the chapel."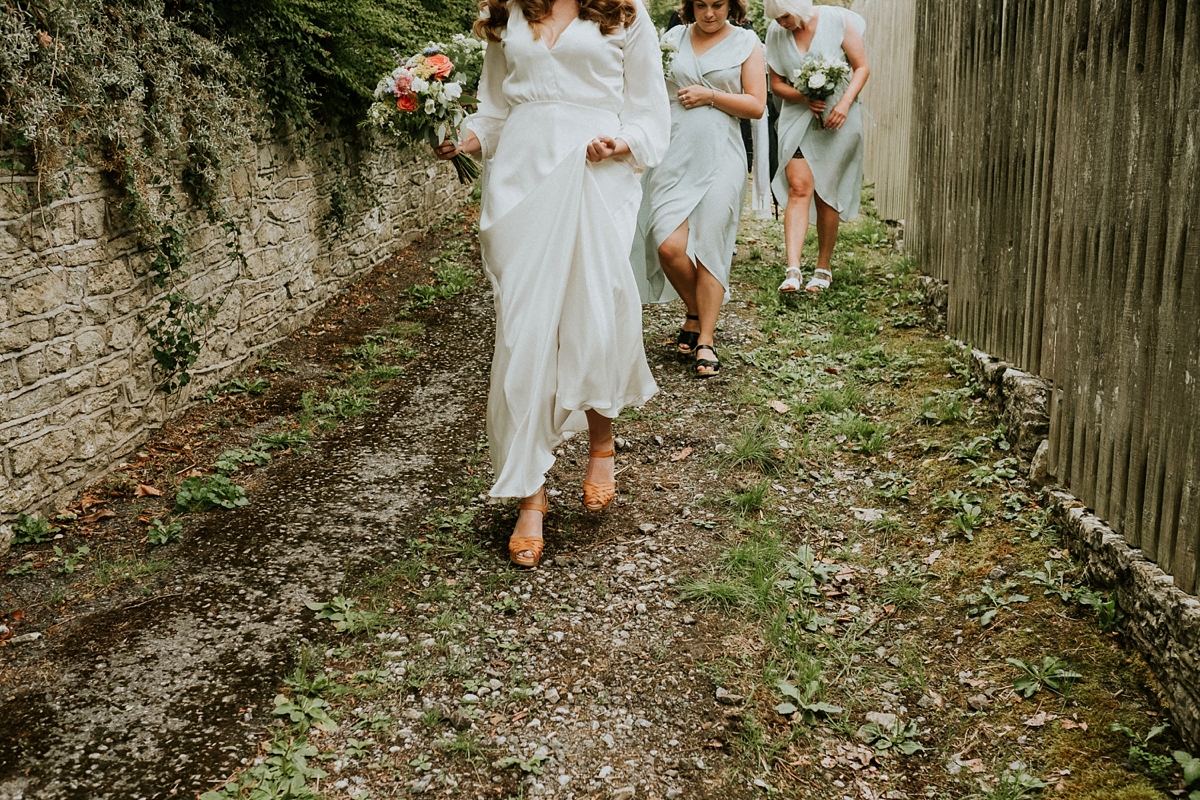 "Turns out, there aren't many farms around Bristol that haven't converted into full-time wedding venues or that are £4k just for the use of a barn middle of nowhere. So after much Googling, I found Manor Farm at Upton Cheyney. It's a family-run working farm and we literally fell in love at first sight. David, the owner, and his family were so hospitable, hilarious and laid-back; and whilst the farm is a 'proper' farm, it's also a looker."
"They only do a couple of weddings a year, so they know what they're doing without making you feel like you're a cog in a wedding machine. Can you tell how much we loved the place?!"
"Manor Farm doesn't have a wedding licence, so we weren't sure what to do about the legal bit until David mentioned the chapel down the road. Neither Rich nor I are religious so we wobbled a bit about that, but that all changed when we met the lovely vicar, Meryl."
"Meryl was so warm, welcoming and down to earth – by the end of our first visit we were practically begging her to marry us. She really believes in love, for everyone, and that just shines through in everything she says about marriage."

 
"The chapel itself is really simple – it looks a lot like the chapel in the village I grew up in; so I felt at home there right away.  Between Meryl and the chapel, we felt that it would be a really special place to get married – simple, low-fuss and full of love and laughter. Exactly what we wanted."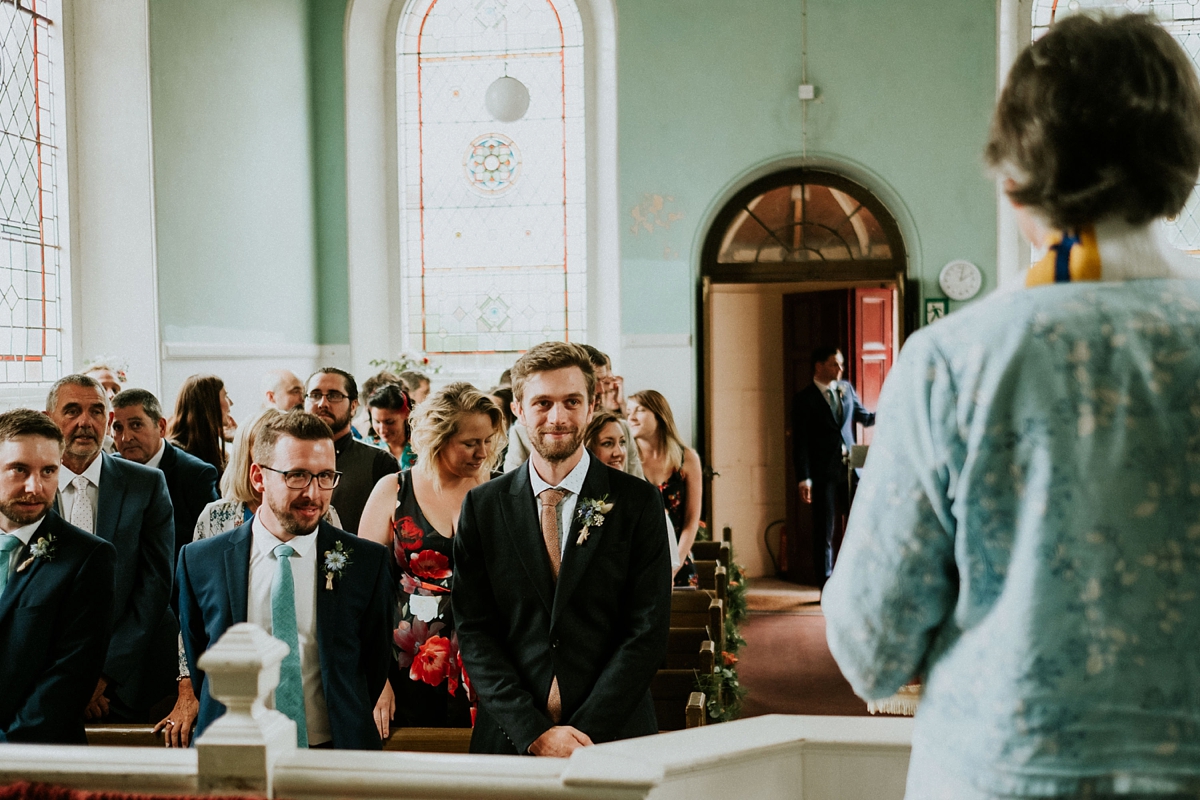 "Although our wedding probably looks quite traditional from the photos, we really questioned the choices that we made for our wedding. We didn't do anything just because 'it's tradition', we thought about the reasons and history behind those traditions and whether or not the traditions meant something to us – and if we didn't like them, we didn't do them."
"Or we took the usual traditions and made them more relevant to us. For example, the speeches – we had one each from our families (my mum, Rich's dad); one from each of our bridal parties (a bridesmaid, a groomsman); and then I gave what would traditionally have been the groom's speech on behalf of both Rich and I (I'm marginally less shy than he is!)."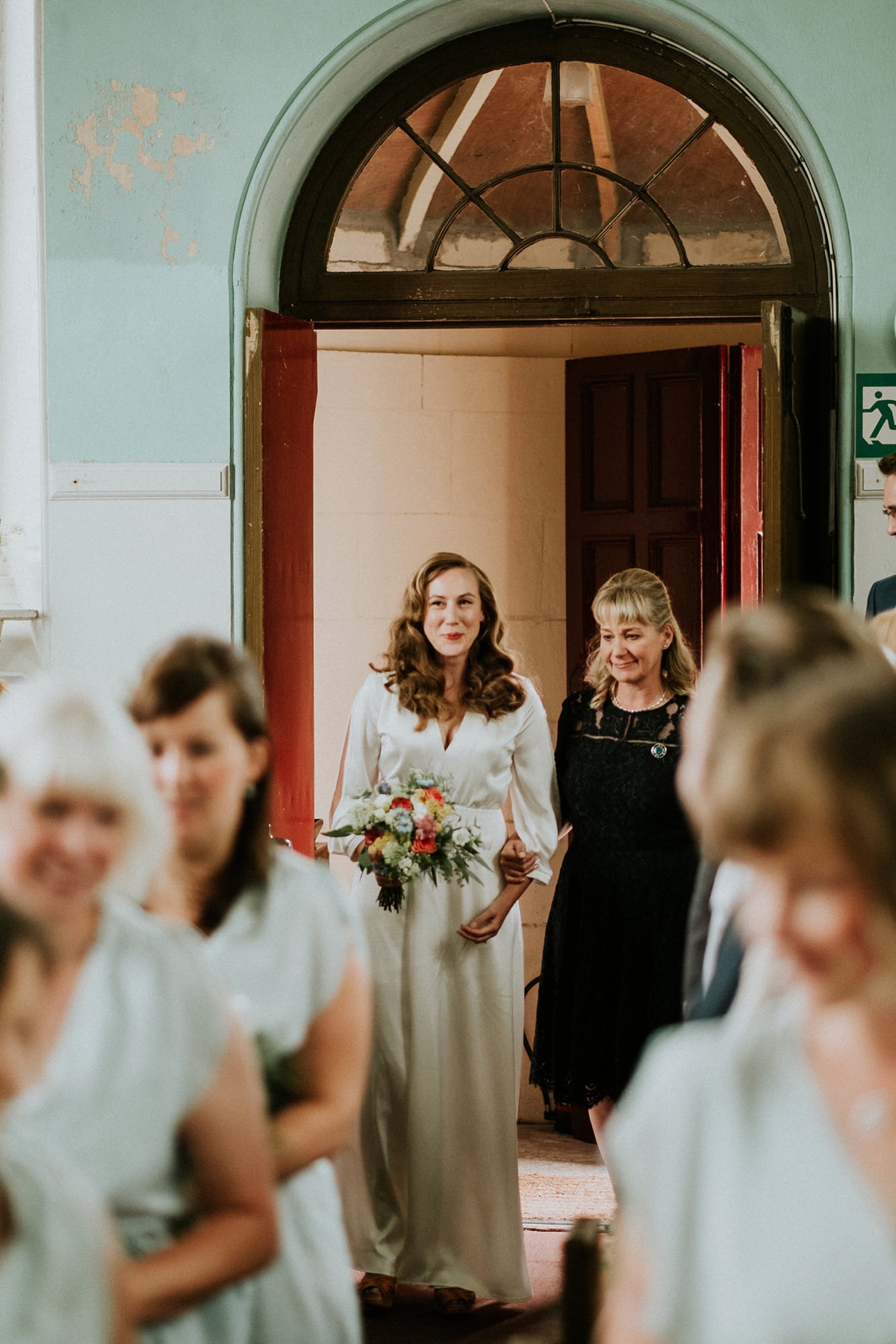 When the time came, Katy, her mum and bridesmaids walked through the village to the chapel. Katy entered on the arm of her mum.
"My mum walked me down the aisle. I don't have much of a relationship with my dad, and have barely seen him over the past 20 years. My mum raised me and my brother single-handedly, so it felt totally appropriate for her to walk with me on the big day – and I think she really appreciated being asked. Like all her hard work paid off!"
"A few people asked me why my brother or my grandad didn't walk me down the aisle. The truth is – I love them both very much – but they didn't raise me. The only reason I'd be asking them to do it would be because they were men… and as a committed feminist, that didn't sit quite right with me, or Rich."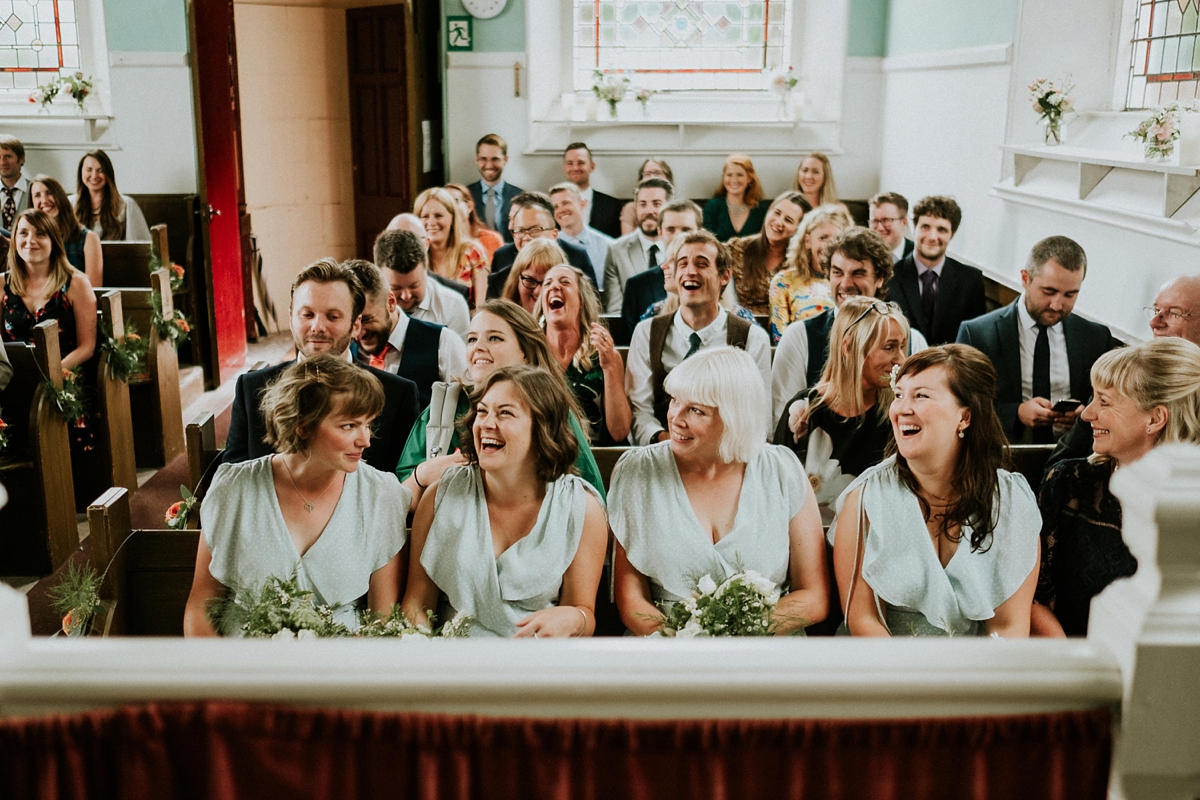 The couple had chosen The Beatles' 'Blackbird' as the entrance song.
"It's an old favourite of both of ours and there's something about its simplicity that felt really right for a low-key countryside wedding."
The service was led by the Reverend Meryl White, with two readings from friends.
"We were so nervous, we had no intention of going off piste with our own vows – even though we love it when other couples do it – so  we just went for the most informal 'script'."
"We had to have at least one religious reading as the ceremony was in a chapel. For that one, we went for "The Song of Solomon Chapter 2, verses 10-13; Chapter 8, verses 6-7". We are keen travellers so the idea of setting of together on a journey really resonated with us. My friend Jo (my oldest friend – we met on my first day at primary school when she lent me a crayon) gave that one."
"Having chosen that one, we really wanted to get a bit of Welsh into the ceremony too! We went for a love letter written by the ultimate Swansea boy, Dylan Thomas:
'I love you so much I'll never be able to tell you; I'm frightened to tell you. I can always feel your heart. Dance tunes are always right: I love you body and soul: —and I suppose body means that I want to touch you and be in bed with you, and I suppose soul means that I can hear you and see you and love you in every single, single thing in the whole world asleep or awake'.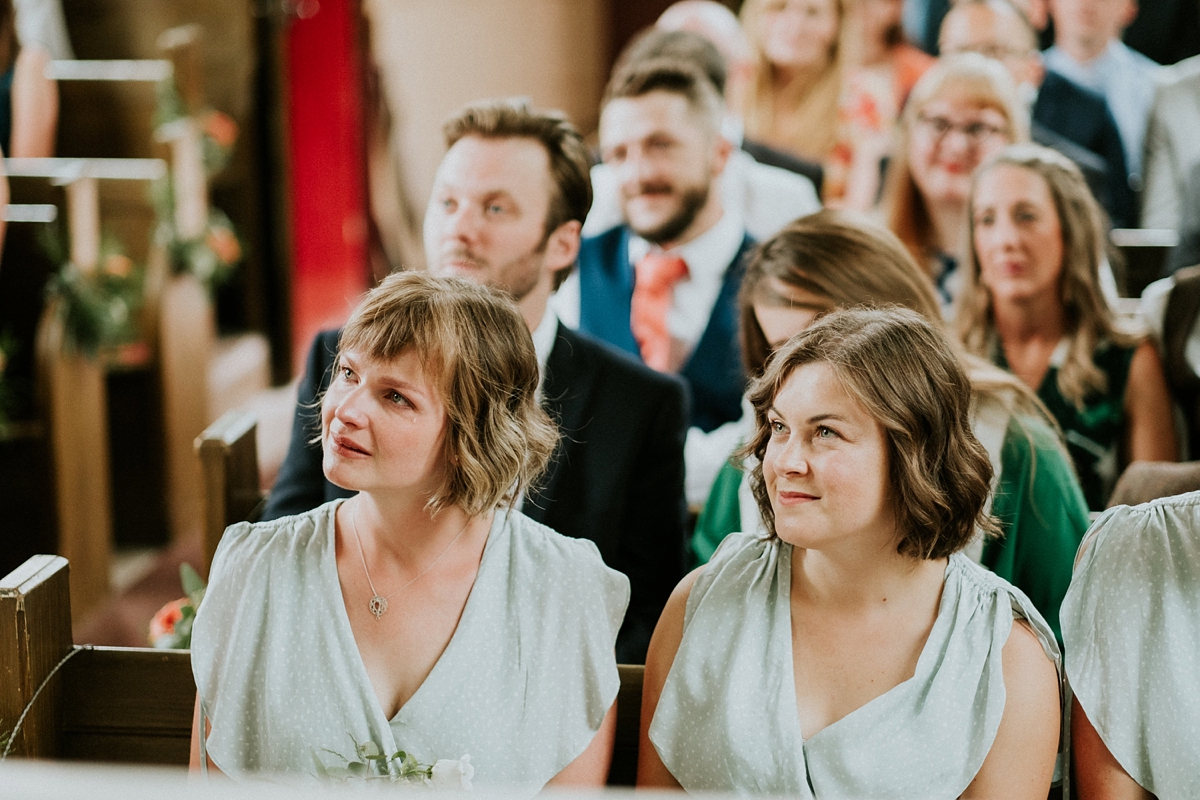 "I'd never heard it before we were looking for readings. It was great hearing something that I hadn't heard at other weddings before (although, on the day, the bit about being 'in bed with you' felt a bit sexy and made us nervous giggle like children). Rich's friend Tim gave this one."
The wedding rings were handmade by local jeweller Clifton Rocks using gold from Katy's great grandma's wedding ring. I find it so lovely that her engagement ring also belonged to another of her great grandmas.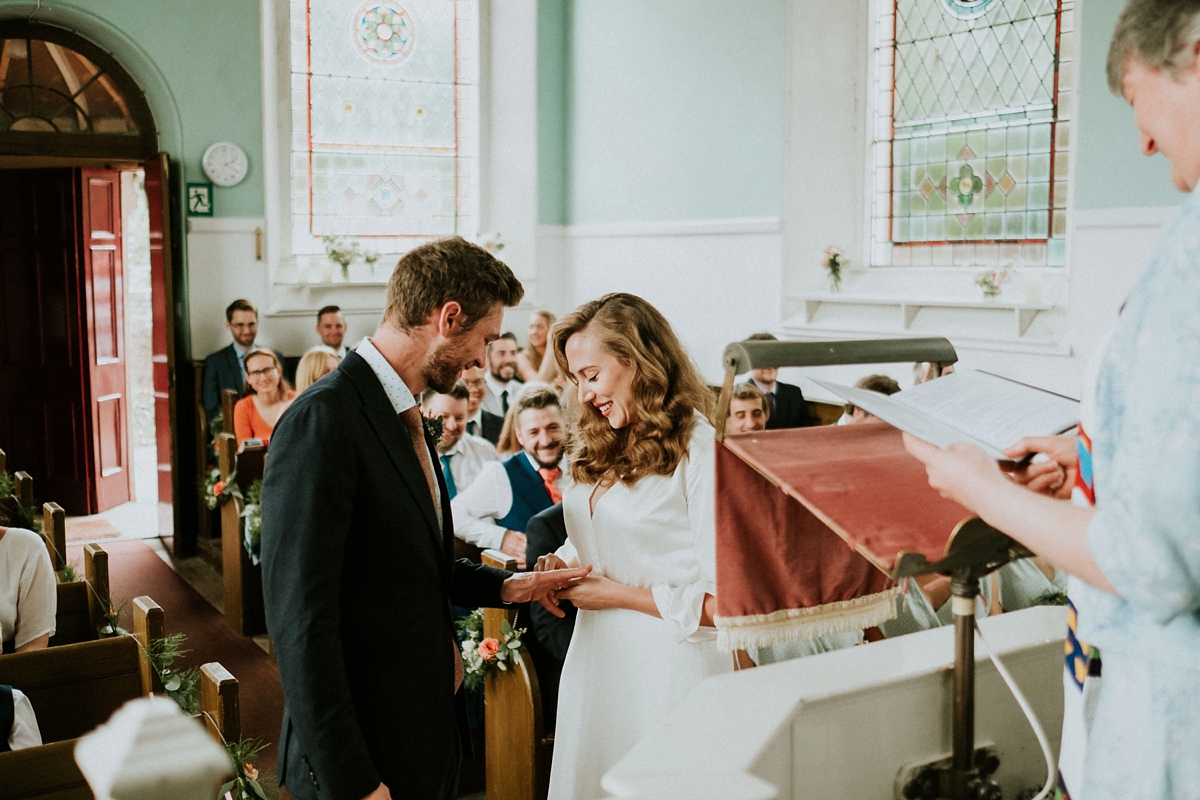 "We had Clifton Rocks turn it into two plain gold wedding bands. We had literally no idea what we were doing, and Clifton Rocks were absolute dreams to work with: giving us all the information we needed and helping us to decide what we wanted."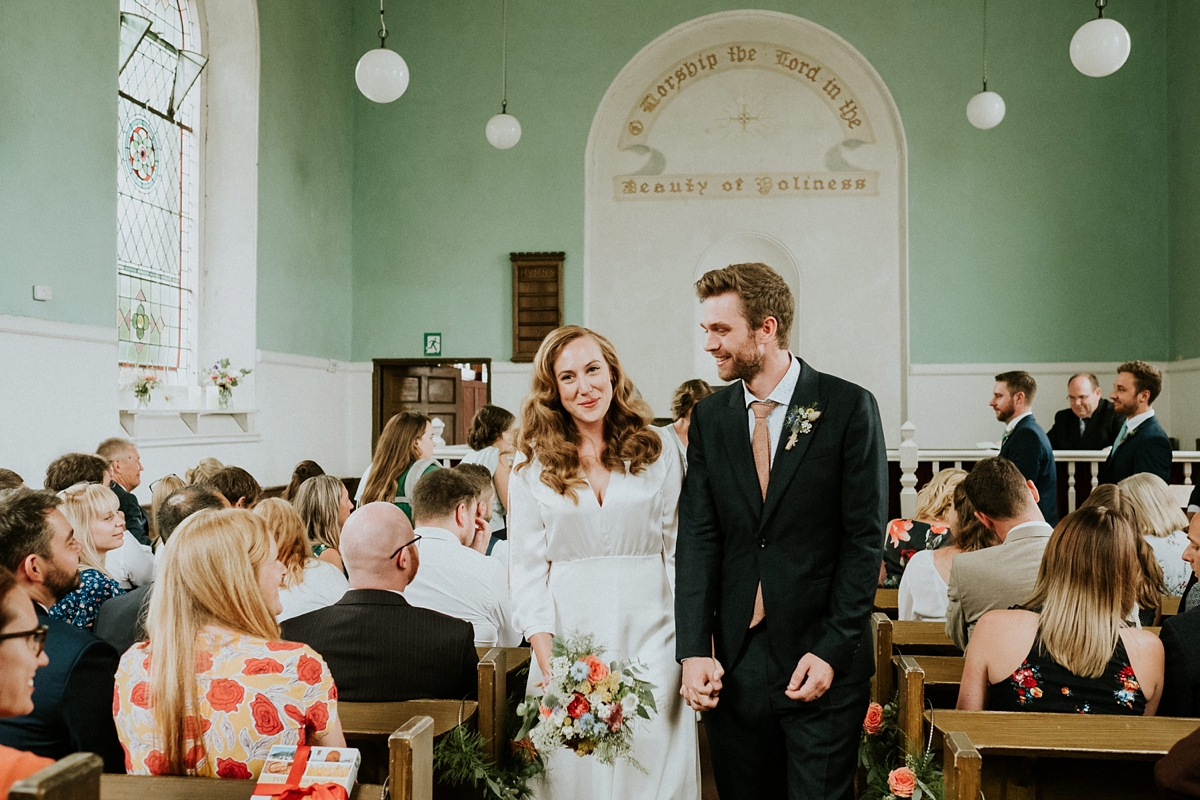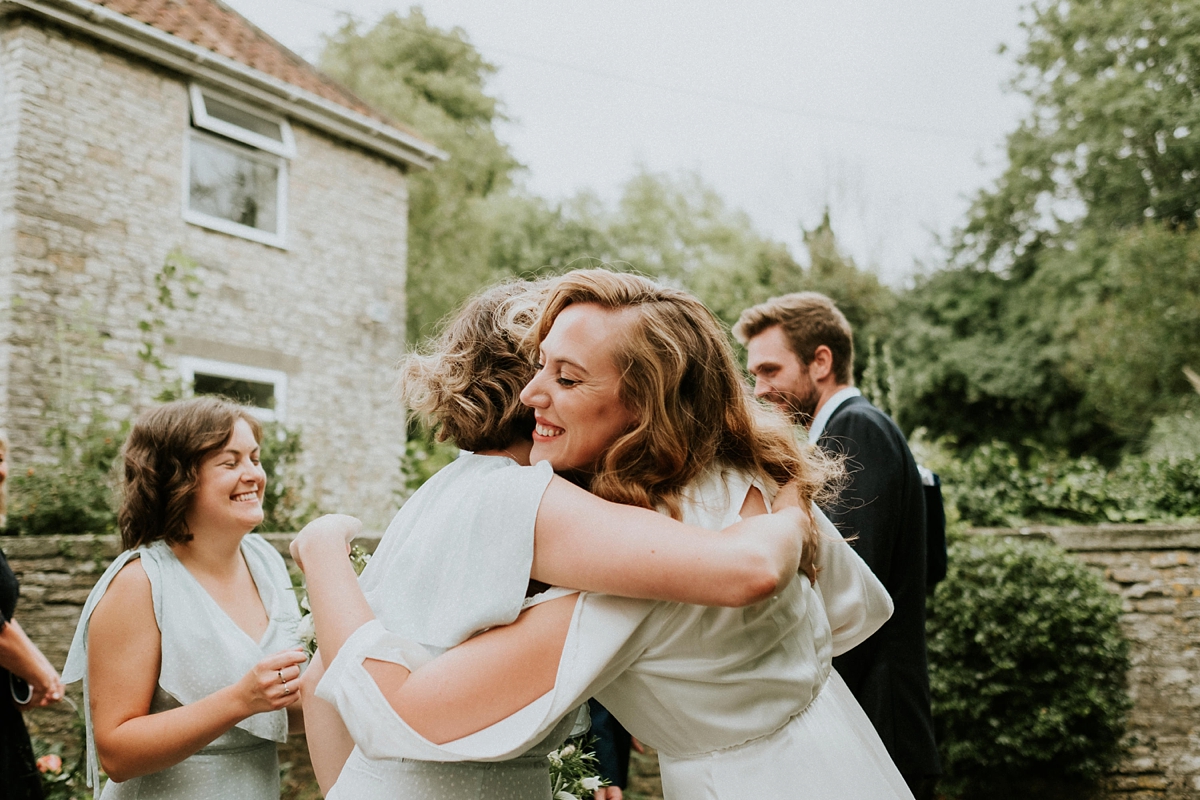 After the service, a great surprise was waiting for the guests – a New Orleans-style street band, Brass Junkies,  serenaded the party through the village to the farm.
"They met us outside the chapel after our wedding ceremony and then accompanied us as everyone walked down the lane to Manor Farm. It was pretty cool hearing them play as we wandered around the farm having out photos taken (Prosecco in hand)."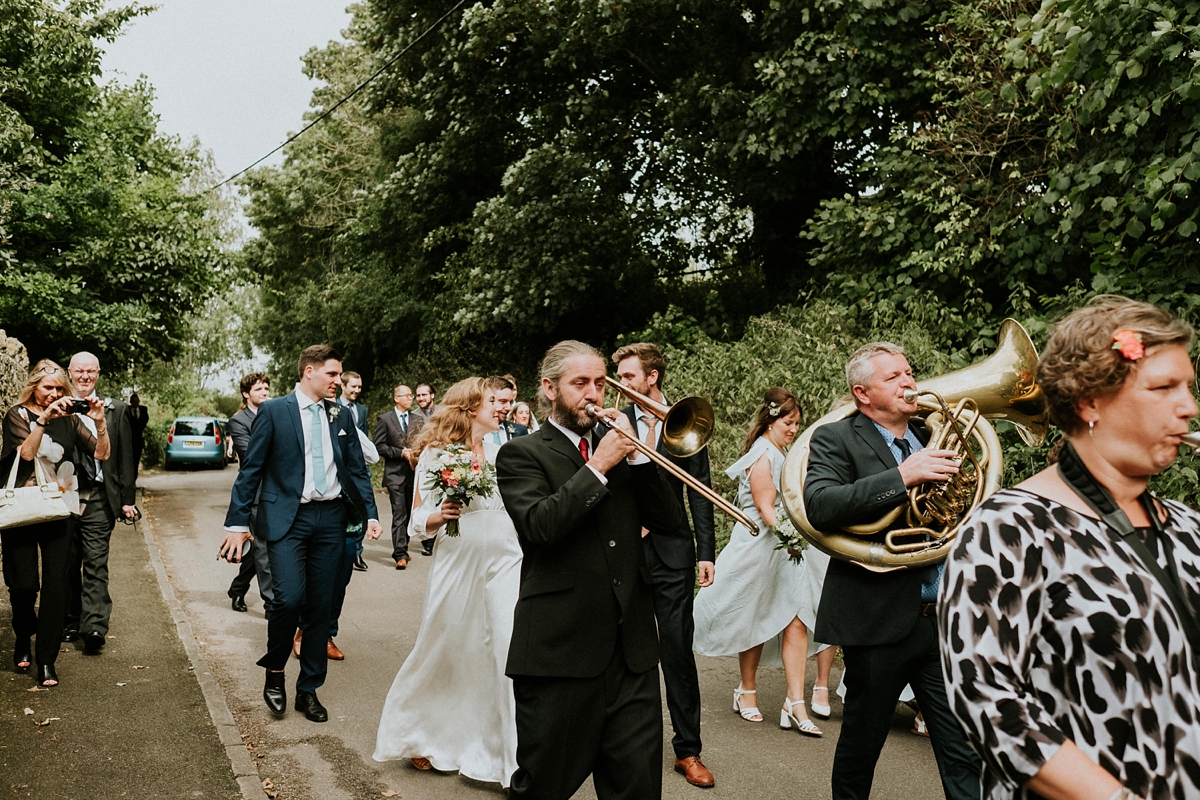 For even more casual, relaxed vibes, the bride treated herself to a pair of mustard-yellow Swedish Hasbeens for the day, perfect for the farm setting.
"I've ALWAYS wanted some, but they're a bit too 'spenny' for everyday so I thought I would treat myself. They're not wedding-y in the slightest, but I could run around a farmyard and dance all night in them, so they were perfect for me!"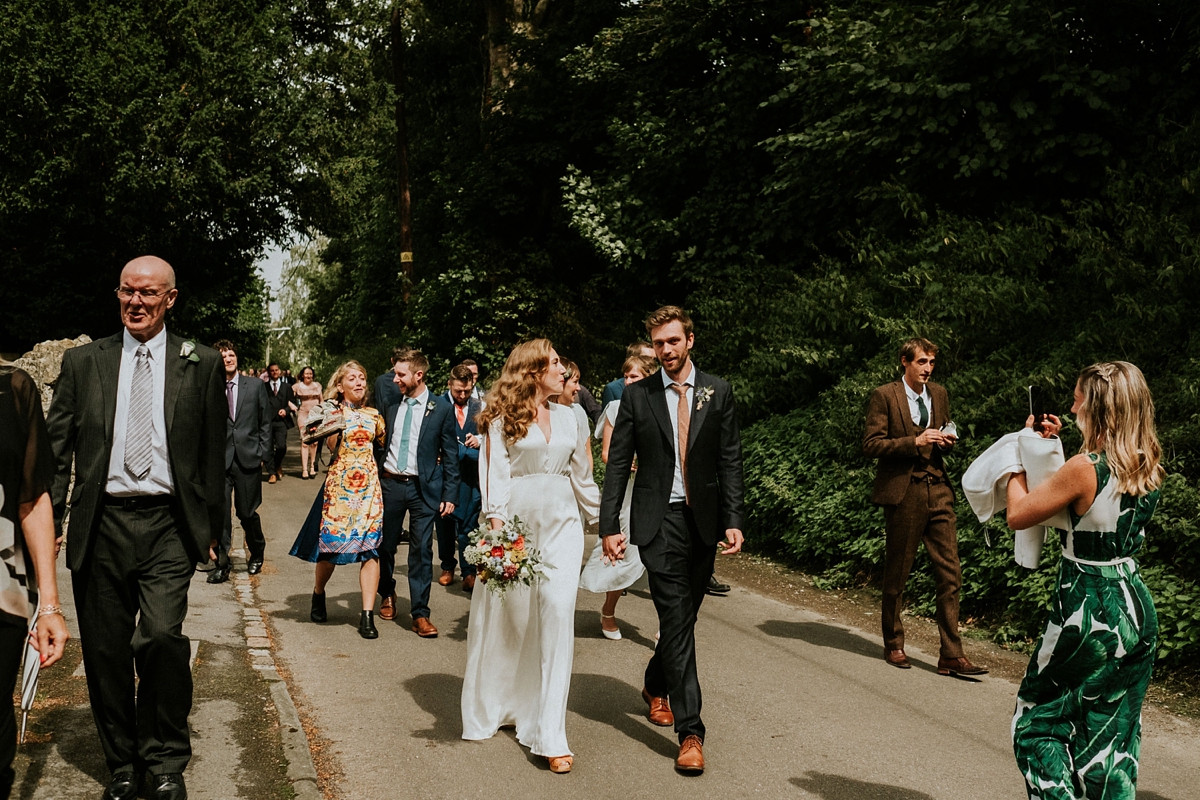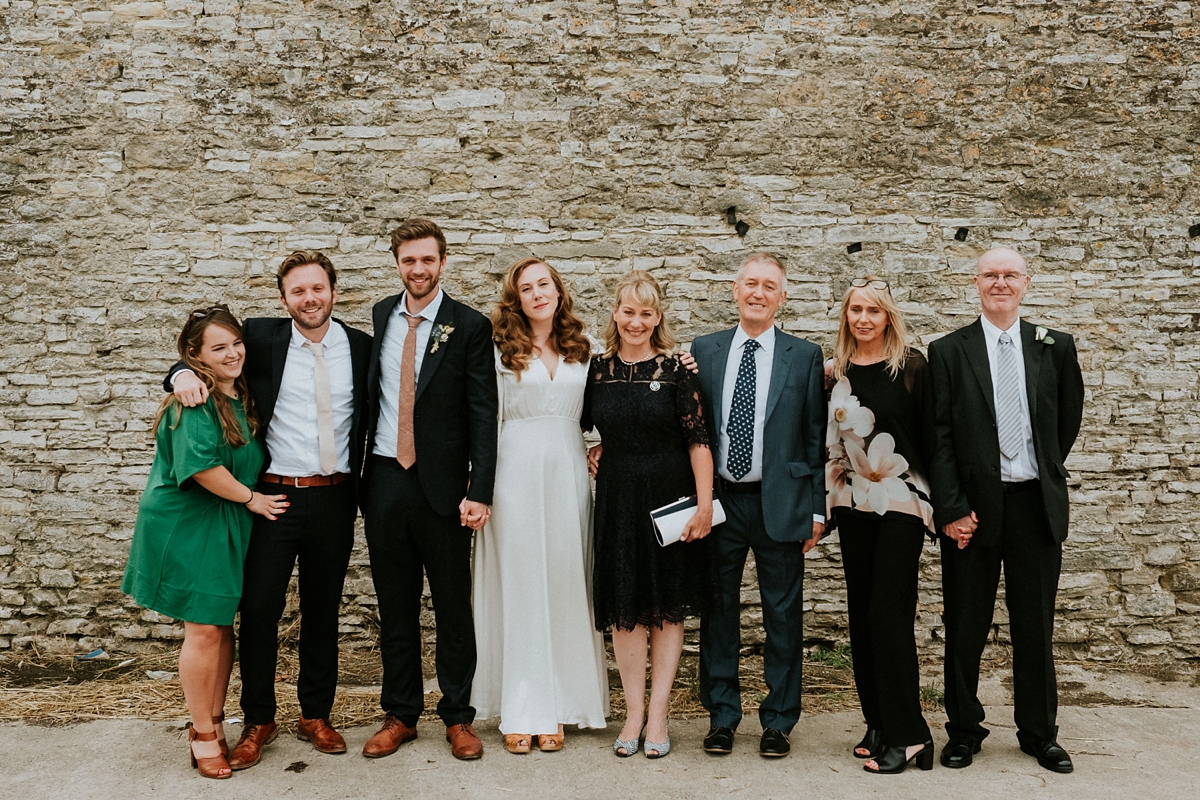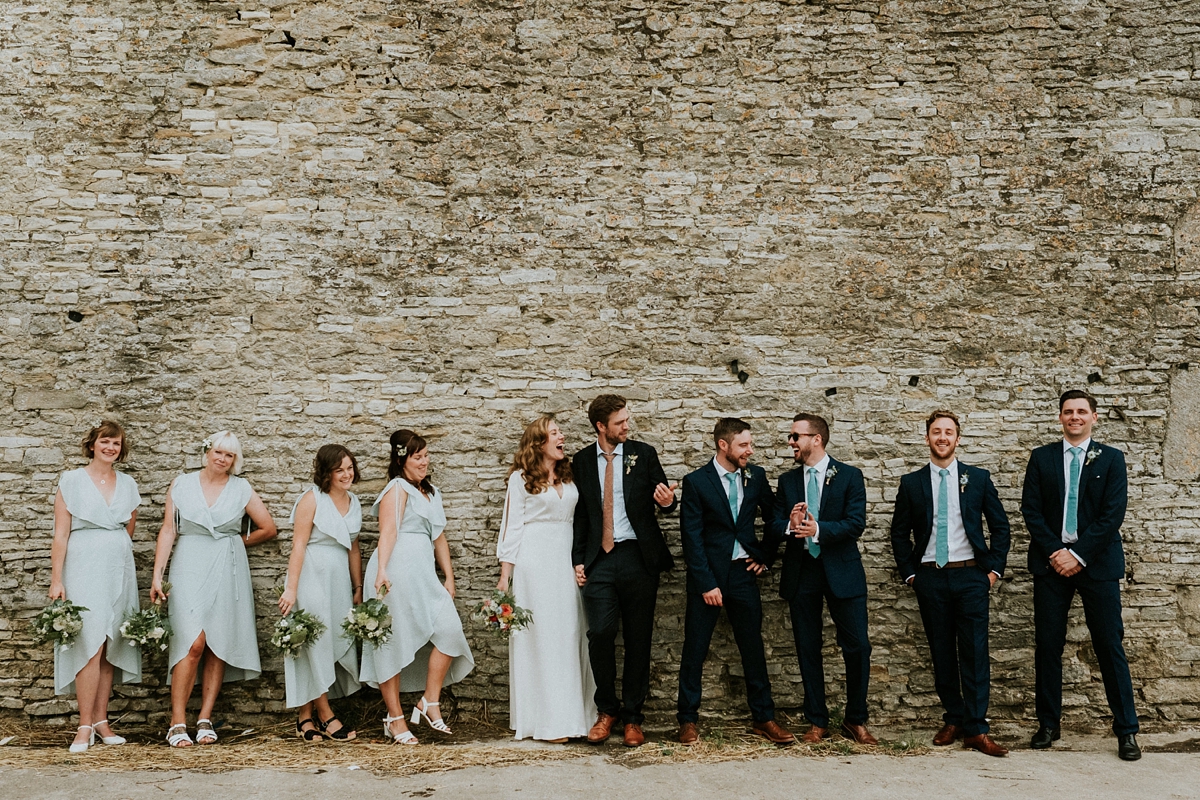 The four grown-up bridesmaids all looked elegant in pale turquoise, midi-length wrap dresses from & Other Stories.
"They each chose their own shoes. I wanted them all to feel comfortable and, as they were all in matching dresses (which I never really expected), I wanted them all to be able to style themselves exactly how they wanted."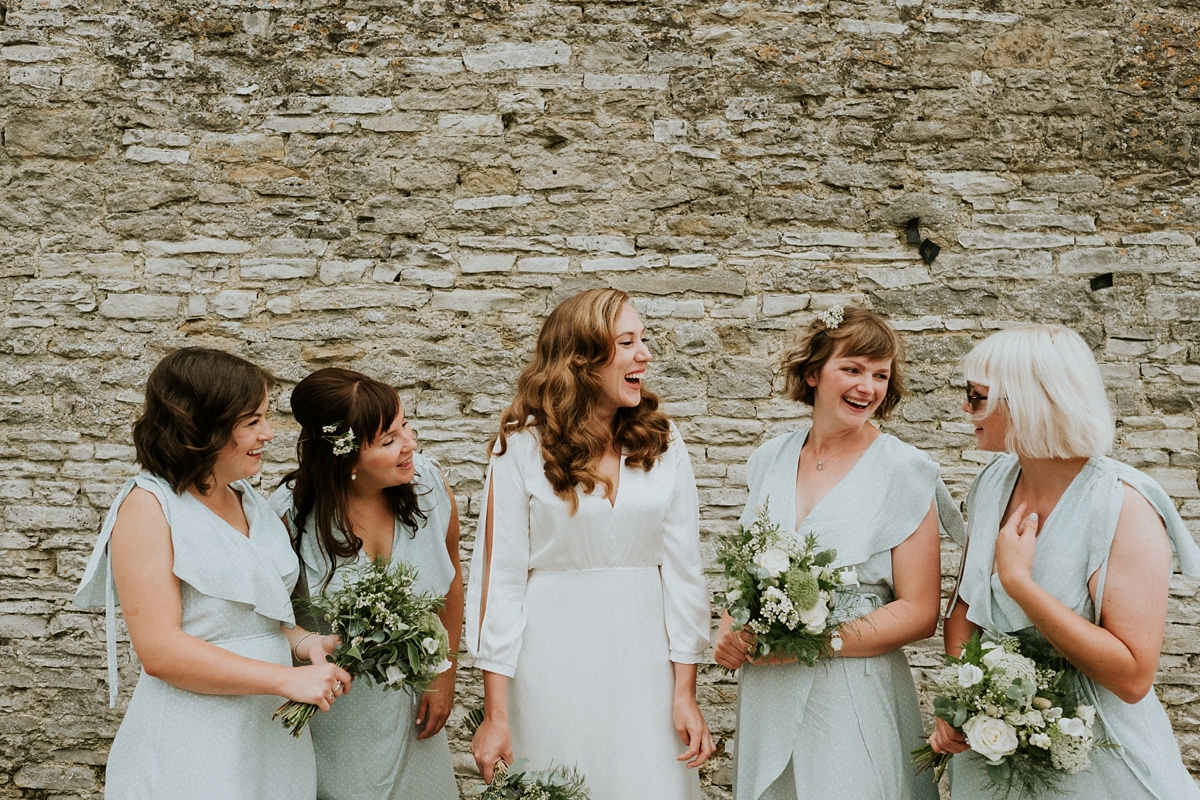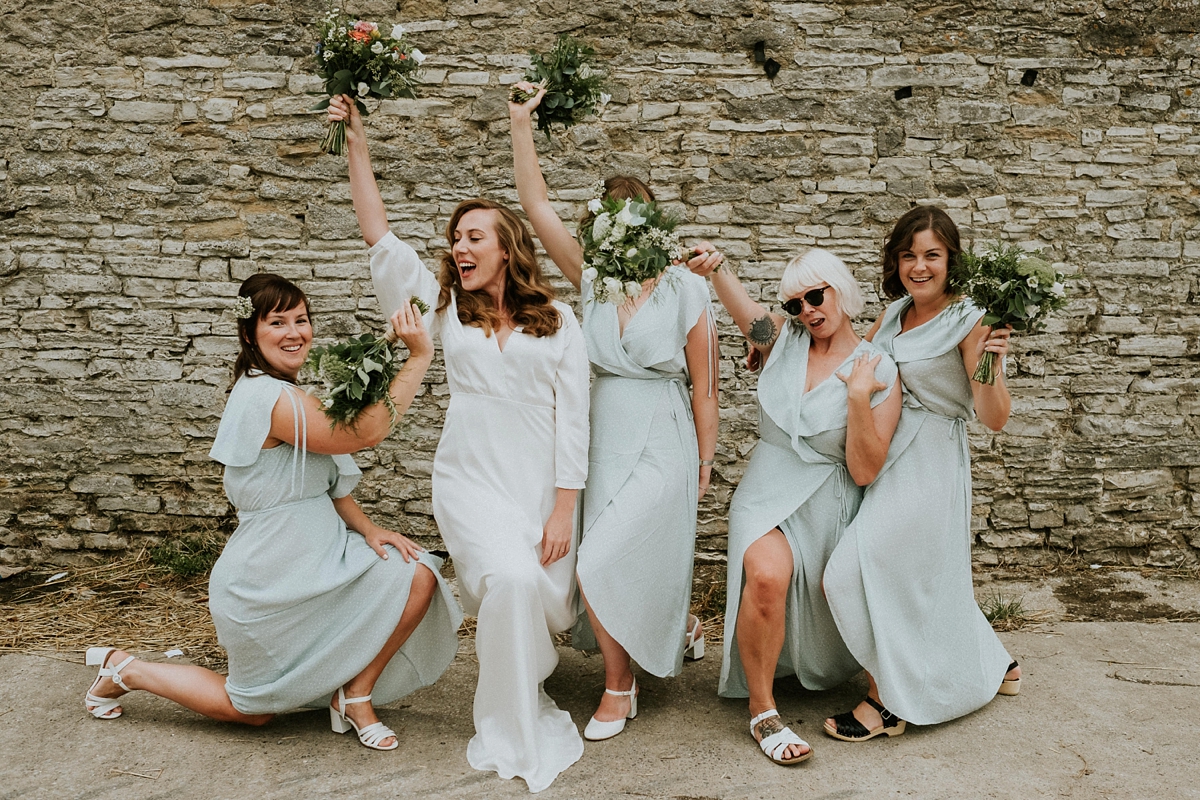 Katy and Rich met on a night out five years ago and now live together in Brisol.
"We literally bumped into each other on the dance-floor of a Mr Scruff DJ set in Bristol. At the time, Rich lived in Swansea but after about three months of us doing the long(ish) distance thing he moved to Bristol. We were engaged for a little under a year: Rich proposed on holiday the autumn before we got married."
"The engagement was quite a surprise. We were hiking in Yosemite and ended up watching the most beautiful sunset at Taft Point with literally no-one else around. After days of hiking amongst the hordes, it was surreal to suddenly feel like we had the place to ourselves. It was so beautiful that Rich ended up blurting out 'would you marry me?'."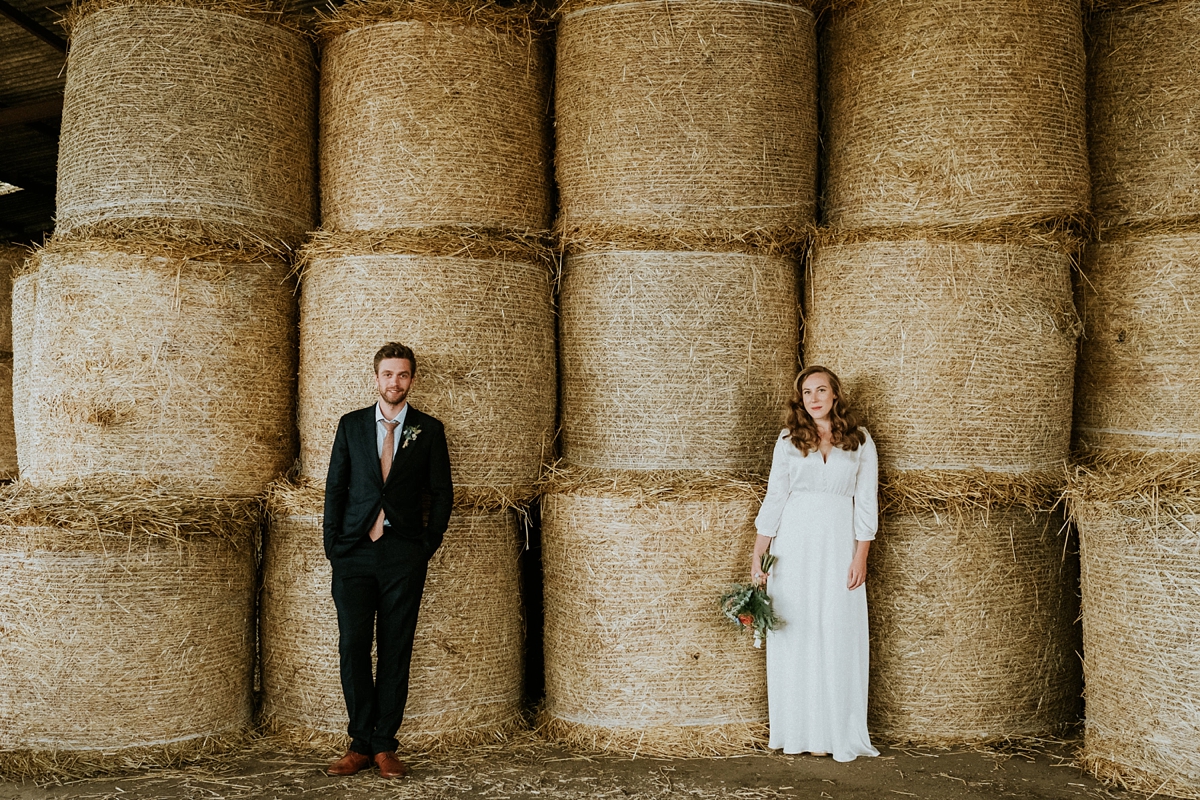 "No ring, no bended knee, no pre-amble. It was really heartfelt and spontaneous but because of the shock (and the use of 'would you' instead of 'will you') it took me about twenty minutes to realise that he wasn't just talking hypothetically and was actually proposing. Eventually, he got down on one knee and used a twig nearby as a ring stand-in to do it 'properly'. I still have that twig."
"When we got home, we asked my mum if I could have my great grandma's engagement ring, which was promised to me 'some day' so this kind of felt like as good a time as any. We went out for a meal with my family and Rich's family about six weeks after we got engaged. Cue a very awkward moment with my mum kicking Rich under the table until he put the ring on my finger. Then I really started to feel like we were engaged." 
"Initially, we weren't even sure if we wanted a wedding. We thought we'd elope to New York and get married at City Hall. But for various reasons, we remembered how fantastic all our friends and family are and decided we couldn't possibly get married without them all around us."
These beautiful photographs which convey the overall casual, relaxed vibe are from Joanna Nicole Photography. I'm so happy to hear that Katy found her, in a roundabout way, through this blog.
"We loved the look of Jo's photos from the get-go, and pretty much within five minutes of talking to her knew that she'd be perfect. I've always struggled with self-confidence, particularly about my skin and general appearance, and Jo instantly put me at ease."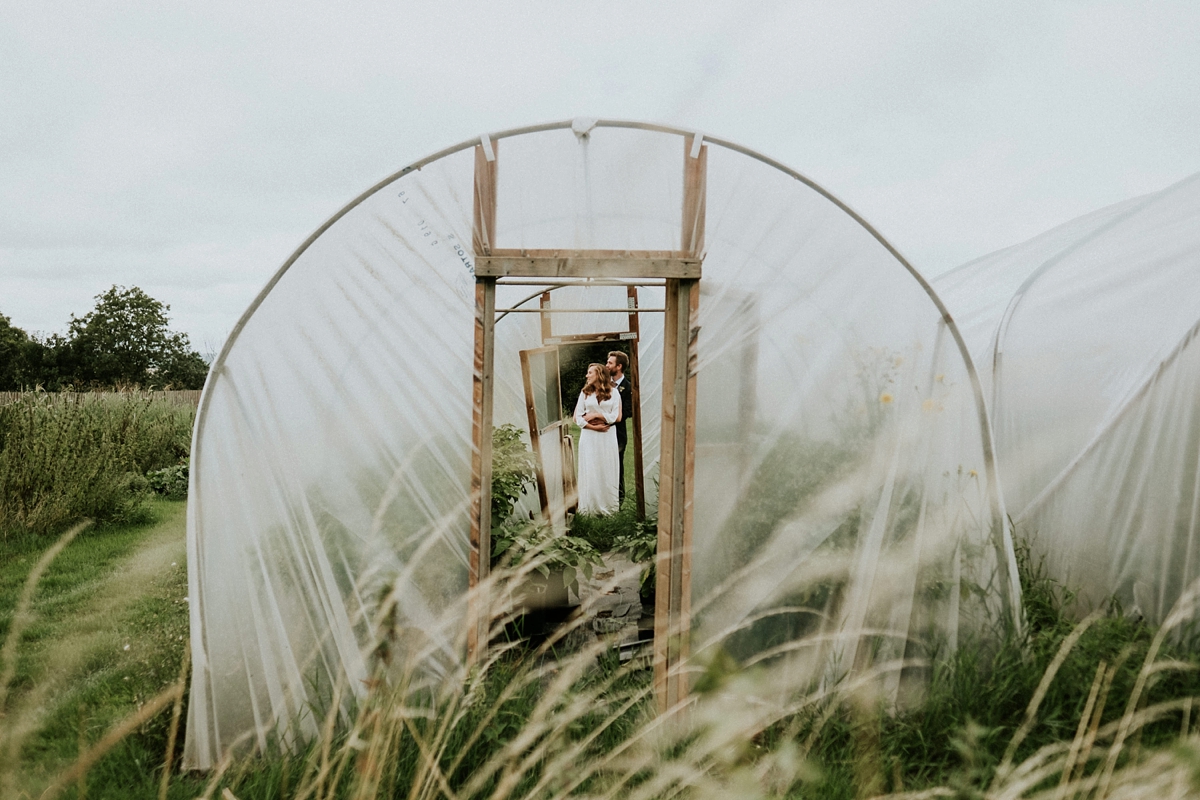 "She was so very kind and down to earth, we knew we'd be in good hands. On the day itself, she was amazing – she mixed so effortlessly with all of our friends and family, and was really easy-going and down to earth. She made us all laugh loads, which you can see the evidence of in the photos."
"Exactly the sort of person you want around you on your wedding! She fit in so well, one of my friends asked me for her number – he just assumed she was an old friend of mine…"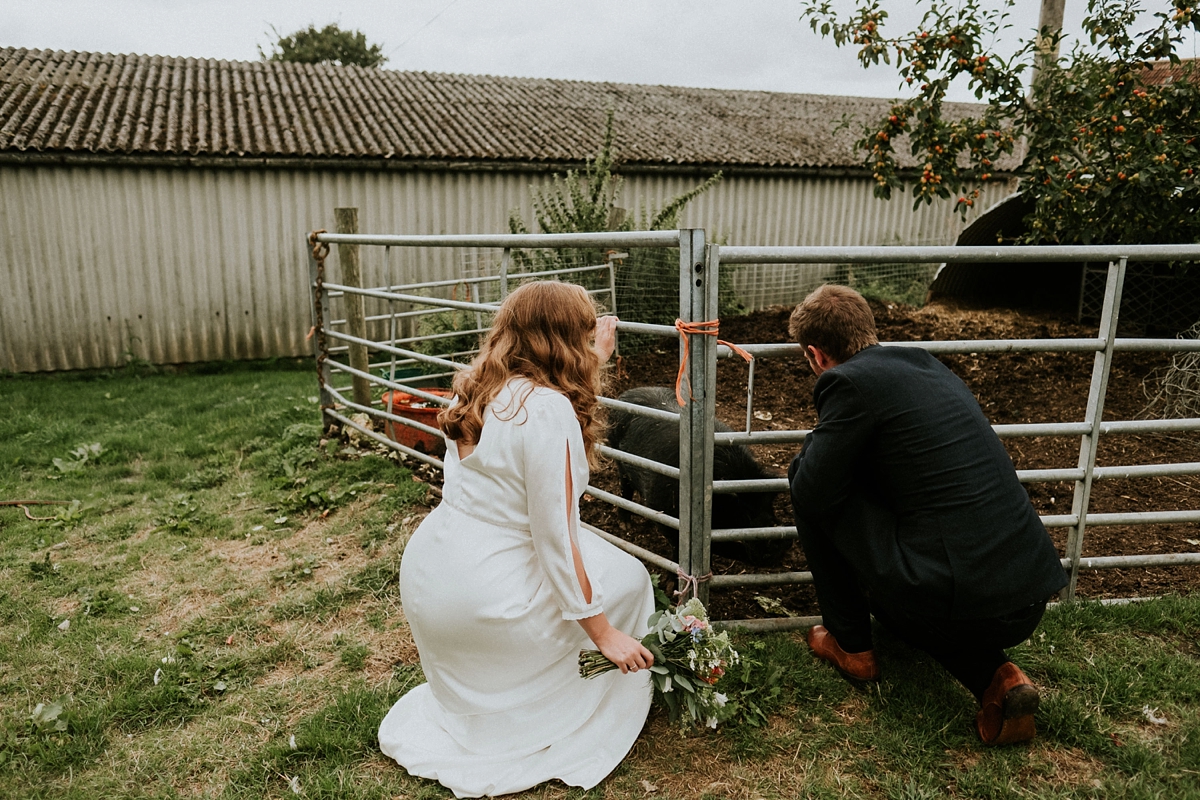 Rich wore a dark Reiss suit and burnt orange tie, whilst his best men and groomsmen hired theirs from Moss Bros.
"We actually realised a couple of days beforehand that we'd forgotten to buy Rich a new pair of shoes for the wedding, so he wore the same pair he's worn for ages."
"The boys all wore matching suits, hired from Moss Bros. Given they came to the wedding from all over (Manchester, Bristol, Hong Kong and the Merchant Navy), it was a godsend being able to order everything online and then just collect in one place."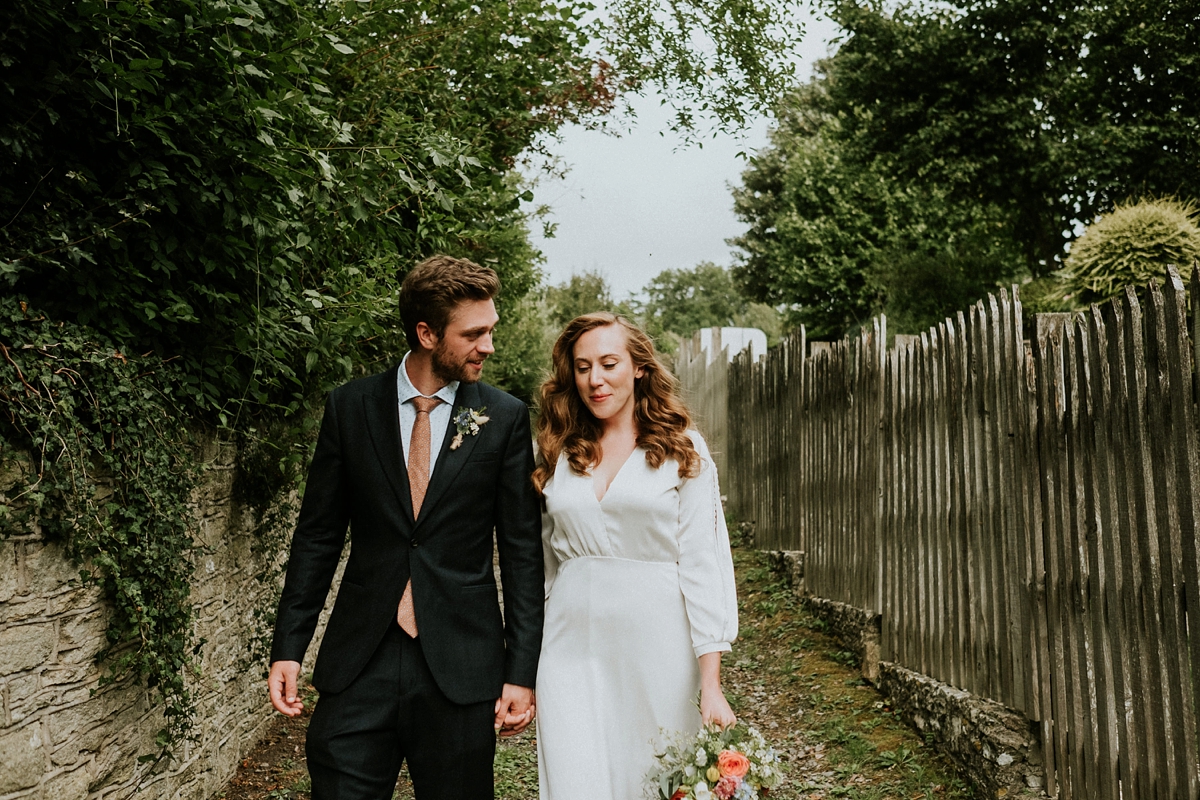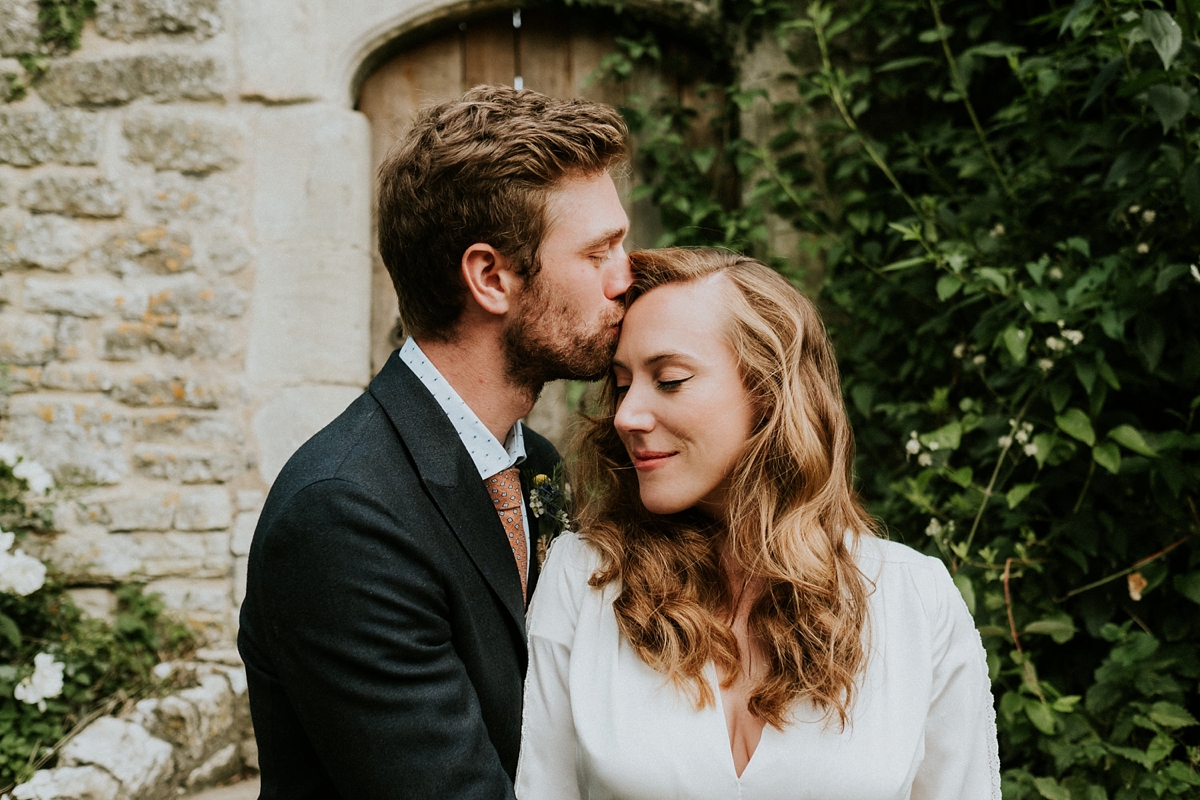 The couple worked together to create a DIY, casual day, making sure that they didn't include anything that wasn't important or that didn't feel right to them.
"We just wanted to get married, have good food, and a bl**dy excellent party. Fortunately, because the farm and the chapel were both so naturally gorgeous, we didn't have to think too much about additional décor. So the 'theme' was basically just loads of flowers and fairy lights."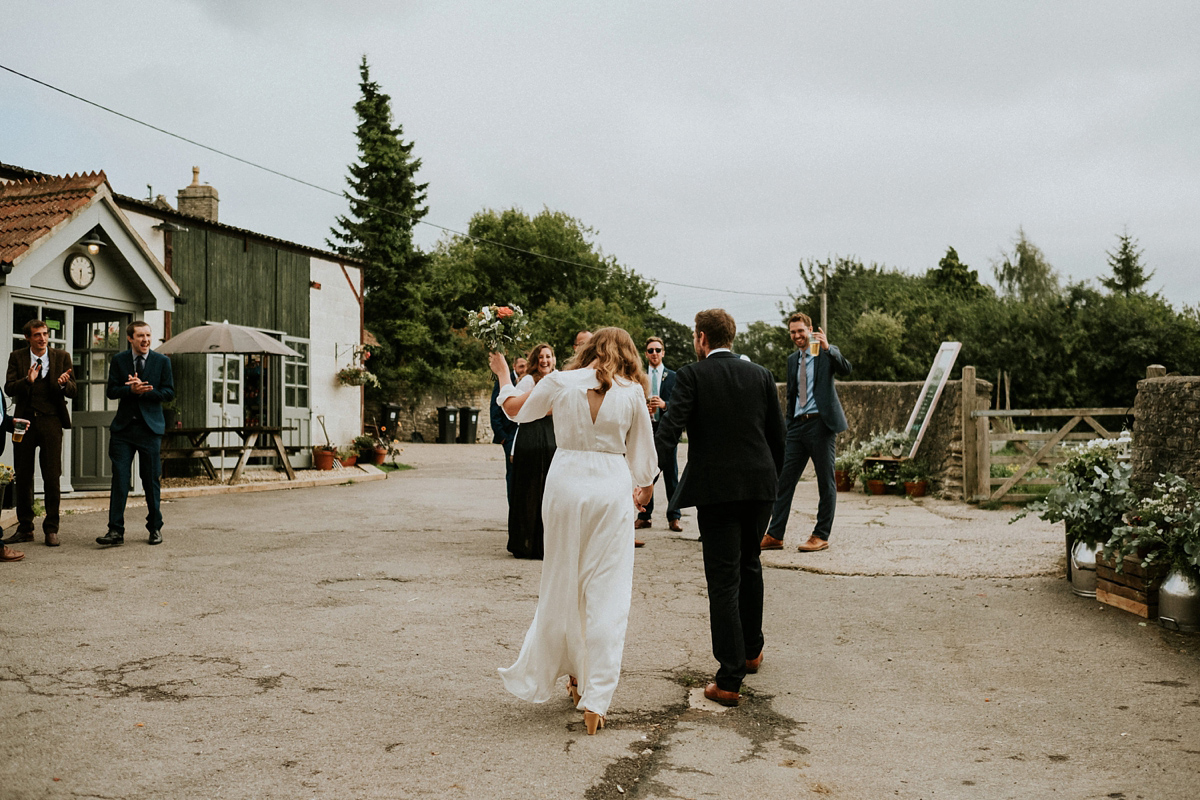 Katy and Rich had kept the styling of Manor Farm and its Tythe Barn simple, using just fairy lights, flowers and hand-written signage to decorate the simple, rustic trestle tables.
The beautiful foliage-adorned stationery was screen-printed by Bristol-based company The Old Market Printing Co.
"Originally we only planned to order save the dates, but I loved them so much I kept going back… we ended up with invitations, a table plan and table numbers from them too."
"We started to feel a bit guilty about spending so much money on a wedding, so we wanted to do some good with it too. Our favours were individual candles from Dalit Goods, which sells terracotta products made by Dalit communities in India to raise money for their healthcare and education. My granny grew up in India, and it's one of my favourite places to travel, so there was a nice link there too.  I just wrote guests' names on luggage tags and then tied them around each candle, as a simple place card."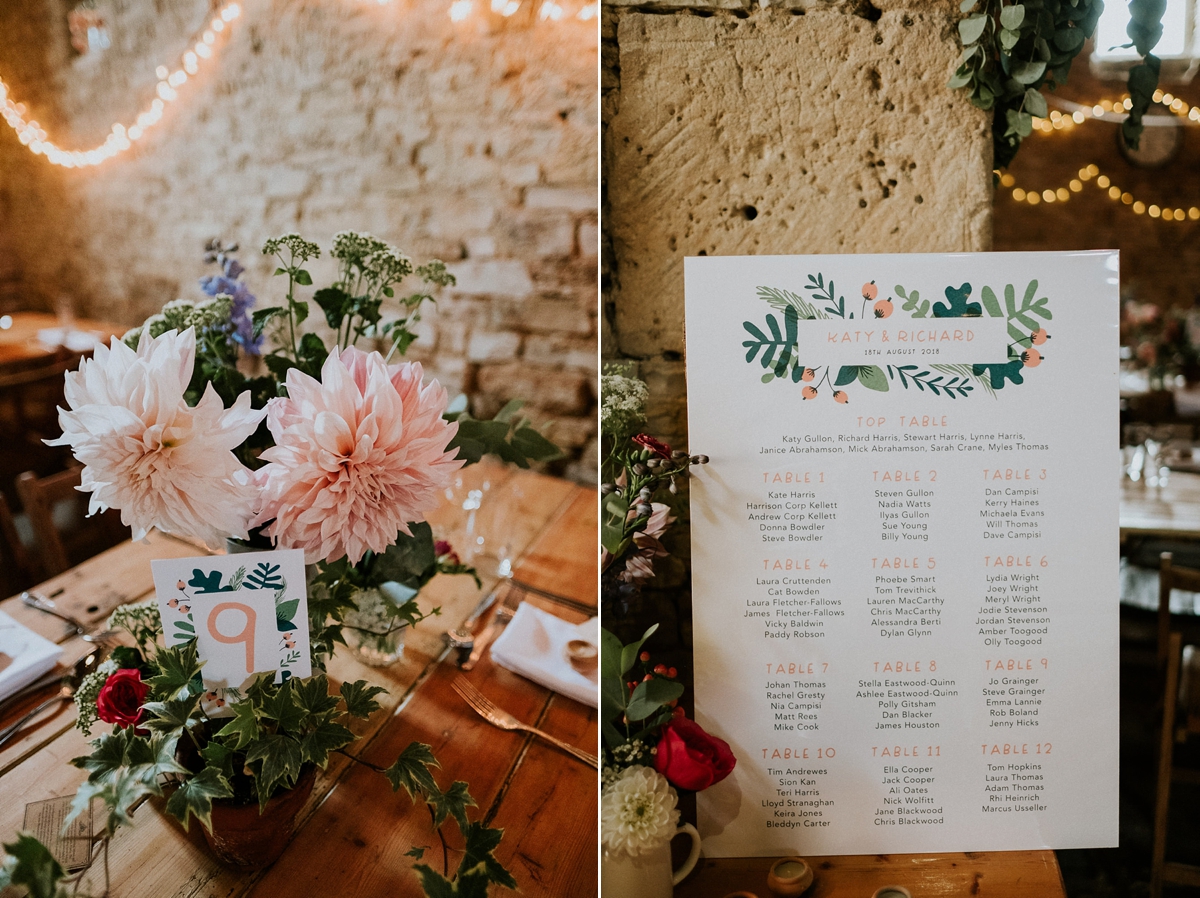 "Apart from the flowers and fairy lights, I made some signs to direct guests around Upton Cheyney village. I also made a couple of signs for around the farm out of pallets and an old door. My very talented friend and bridesmaid, Laura Cruttenden of Do It Later Illustration, helped us out massively with the sign-writing."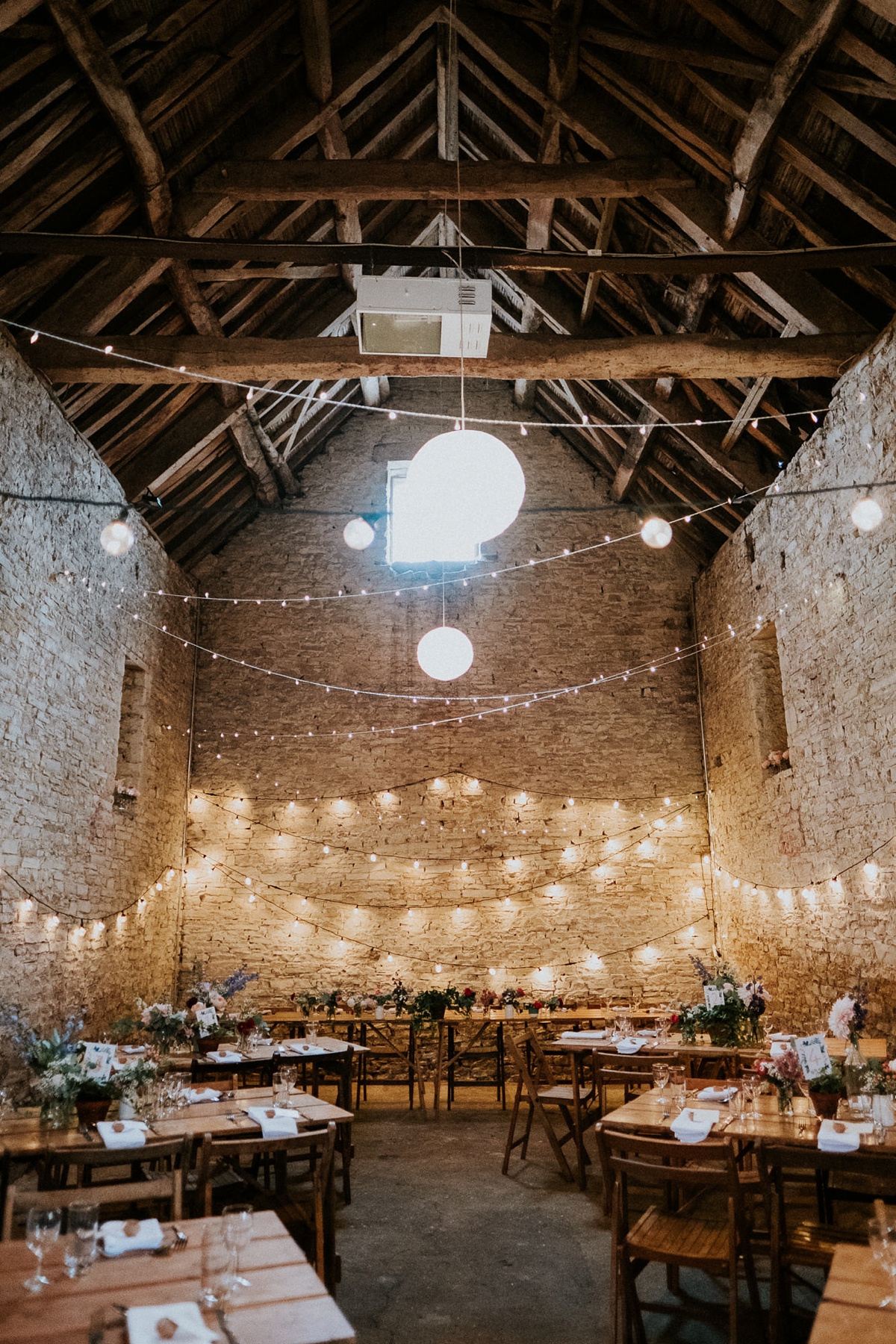 "To keep costs down, I got the flowers for the barn and around the farm from a local wholesalers. My mum persuaded a farming friend of hers to lend us some milkchurns, and we both collected jam jars for a couple of months before the wedding."
"The day before the wedding, we spent several hours (shout out to Kerry and Nia for helping!) 'plonking' the flowers in their churns/jars and scattering them around the farm."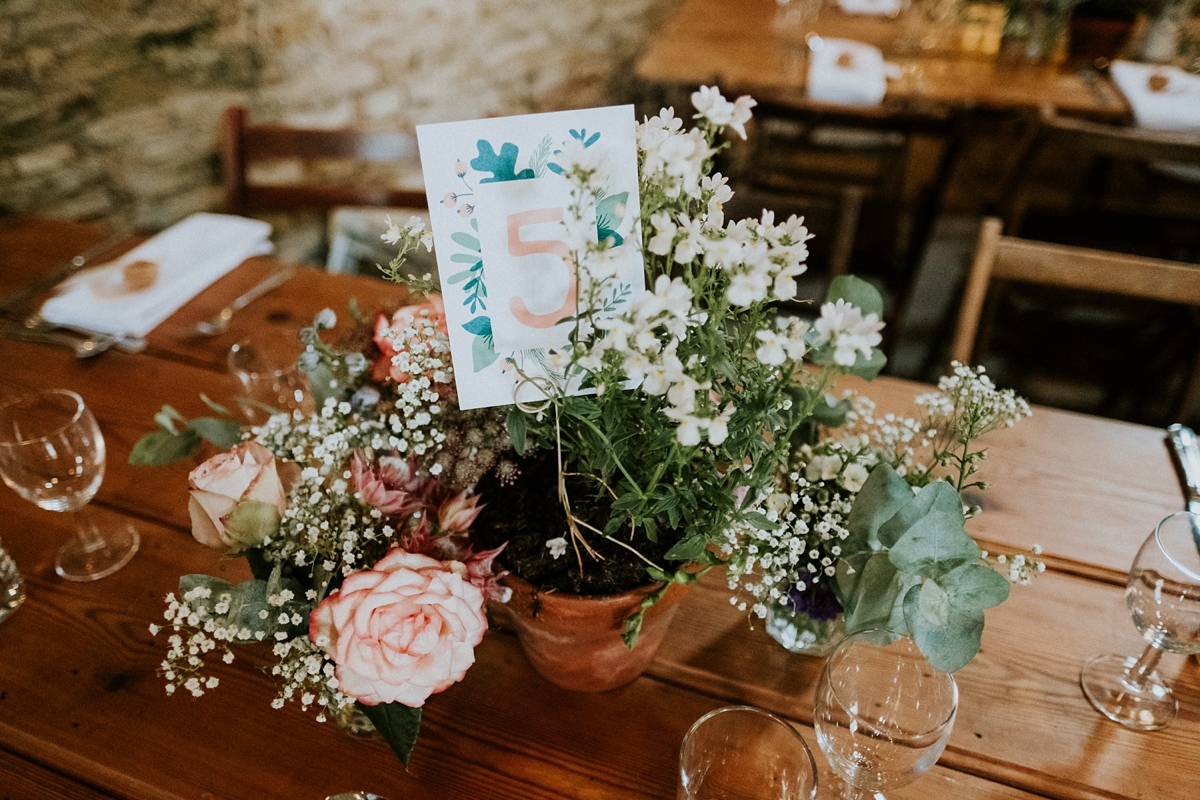 Katy and Rich had such a great time that they found it impossible to pick a favourite moment from the day.
"I know it sounds really cheesy but the whole day was just perfect to us. We had an absolute ball, it felt really free and easy and I've never laughed so much. It just felt so overwhelming to have all the people we care about most around us for a whole day."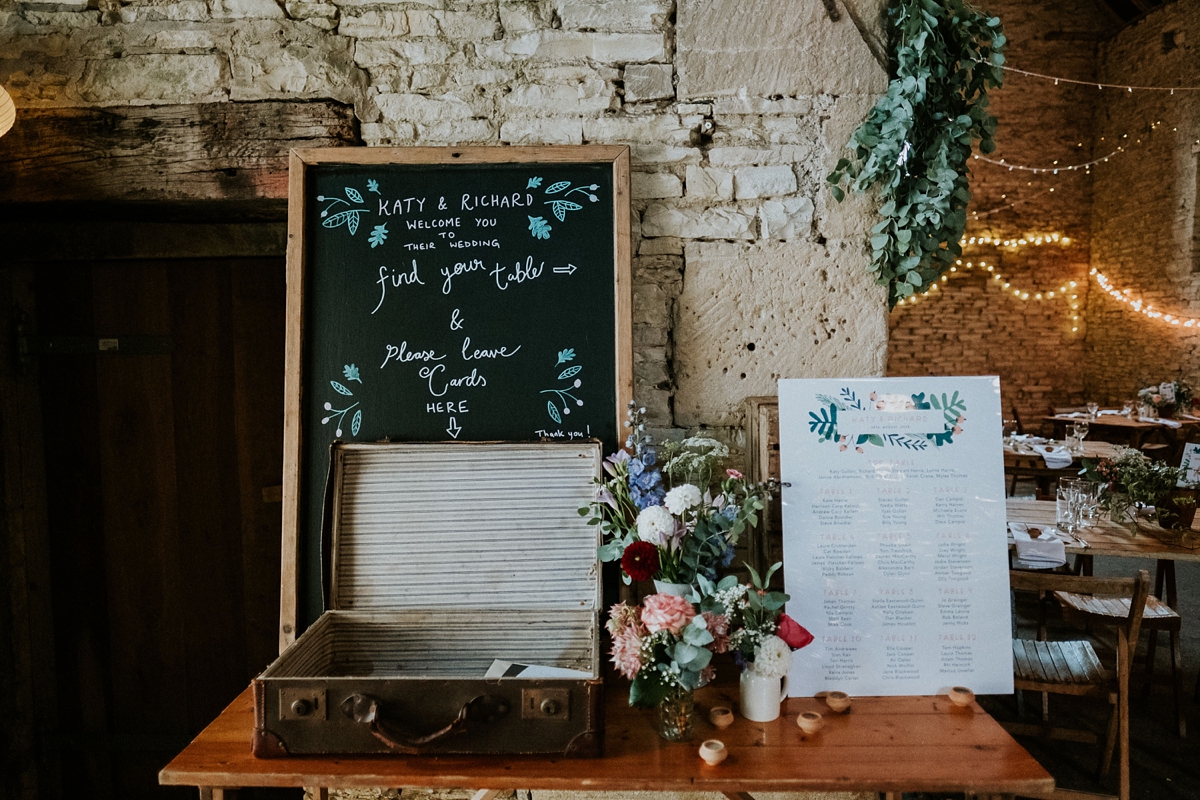 "So many of our friends had travelled to be there: friends had come from Hong Kong, Vietnam, Hungary, Serbia and Switzerland to join us; even amongst our UK-based friends and family, people had done long journeys down to Bristol from Liverpool, Newcastle and York. Thanks guys!"
"There was love and laughter everywhere we looked. I think that's really reflected in our photos, which is one of the reasons we love them so much."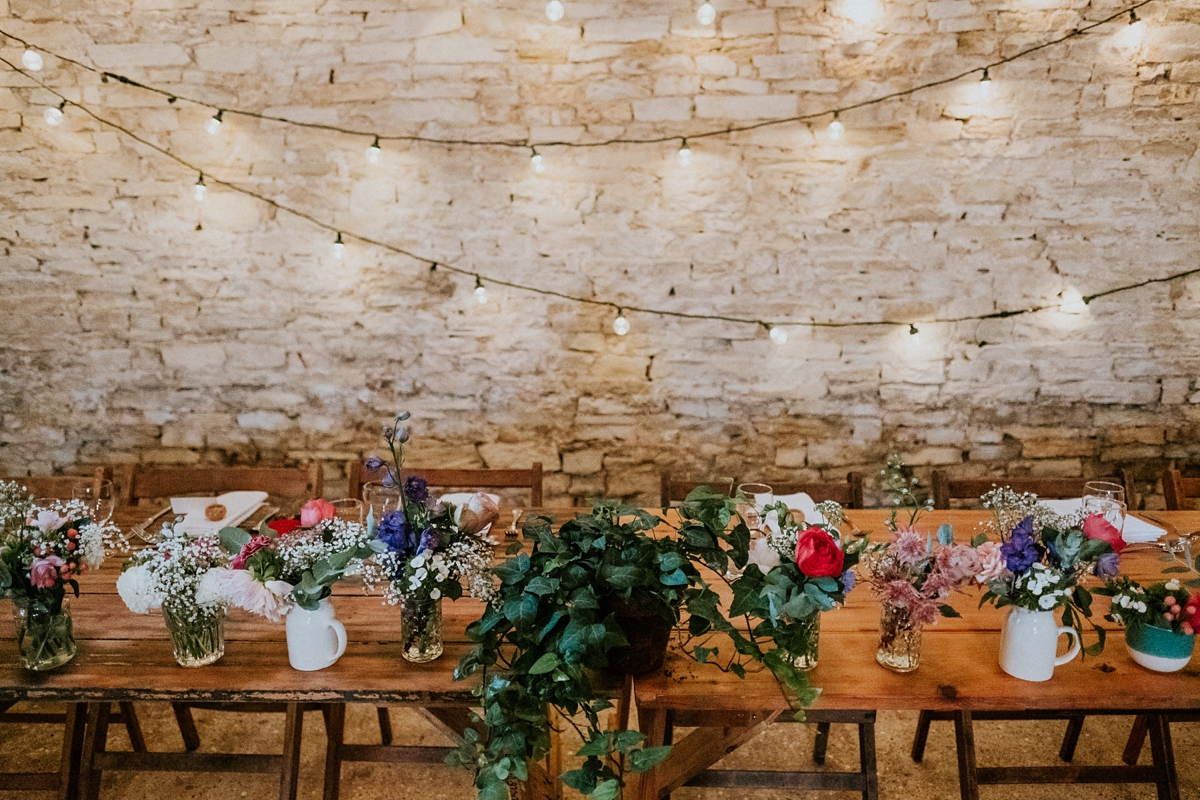 "In hindsight, I probably would have drank a bit less in the evening. I was so happy to finish my speech that I hit the wine pretty hard afterwards! Don't get me wrong, I had a brilliant time (and the fact that Rich had to carry me to bed is an anecdote for the ages…), but it'd be nice to remember more of the last hour of dancing."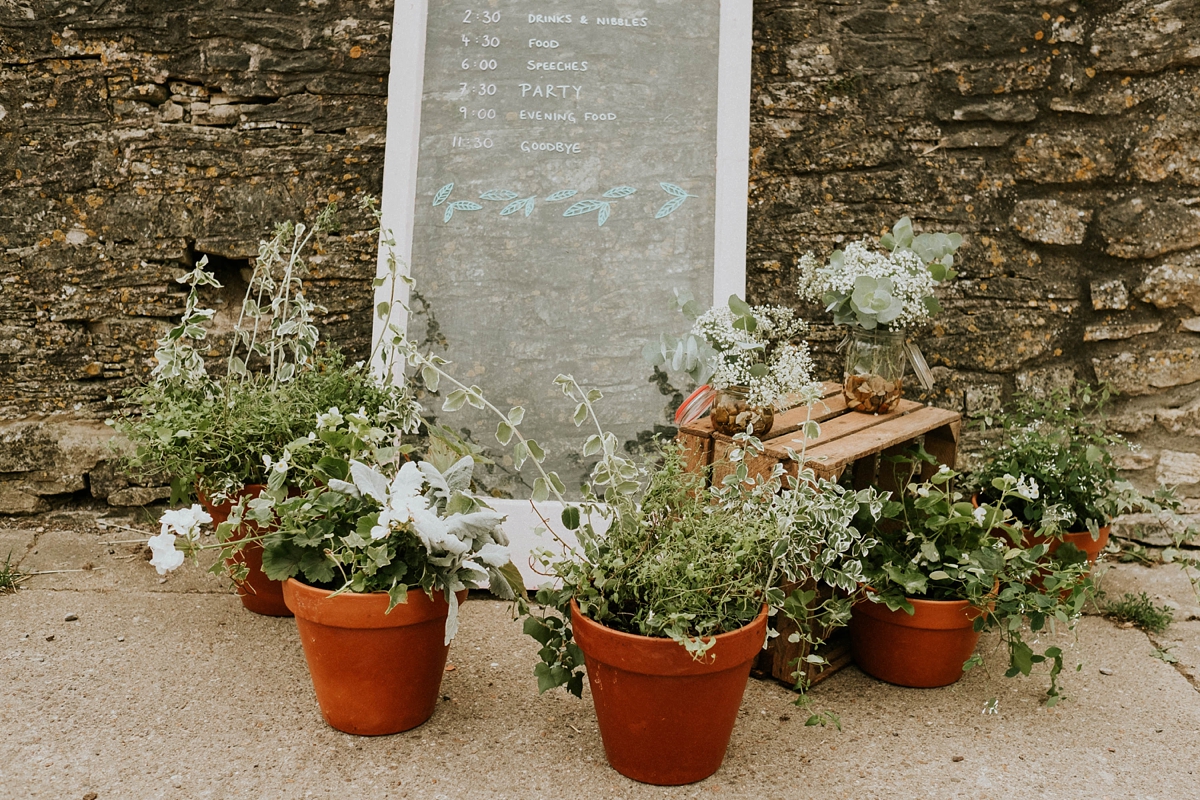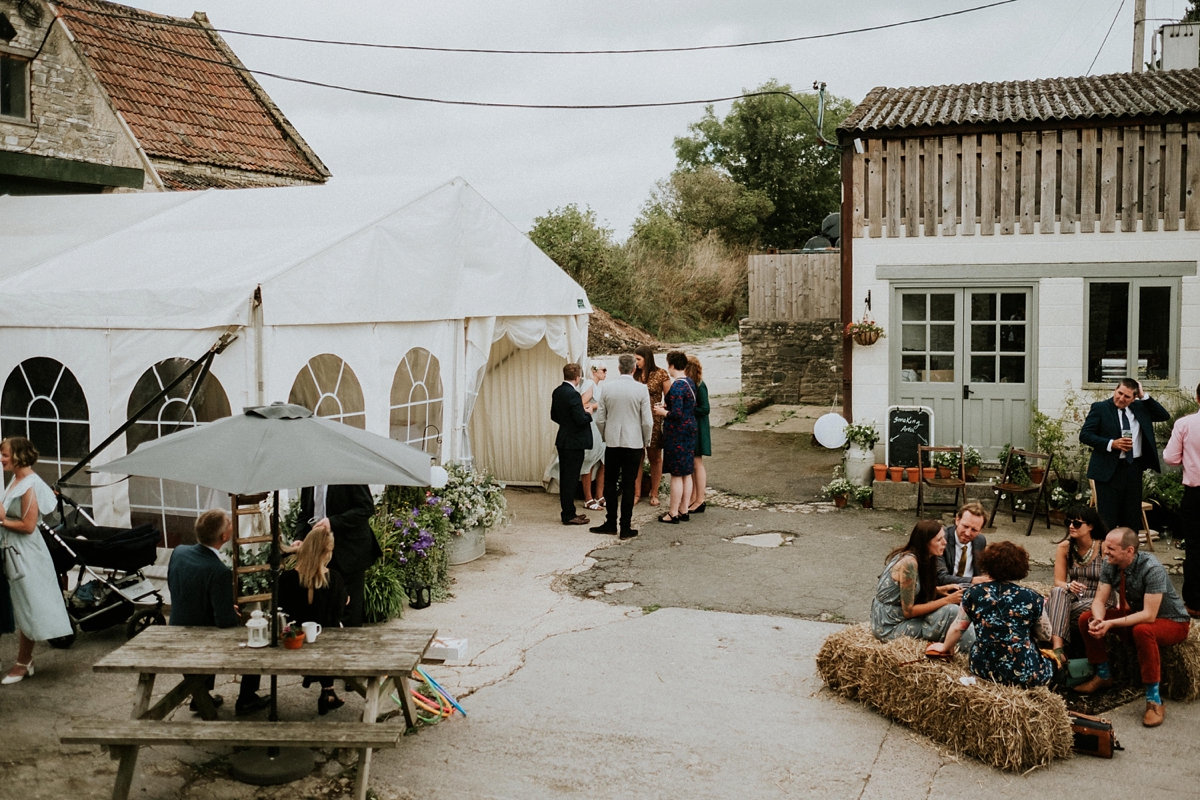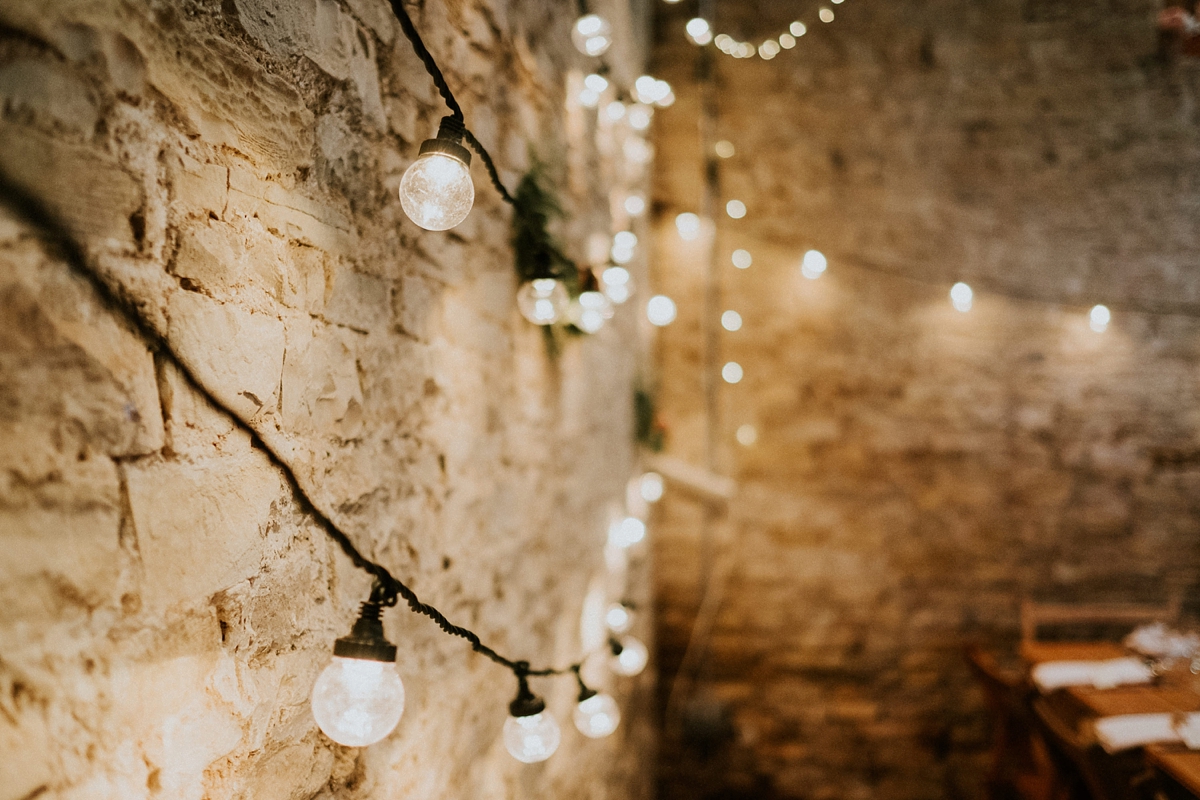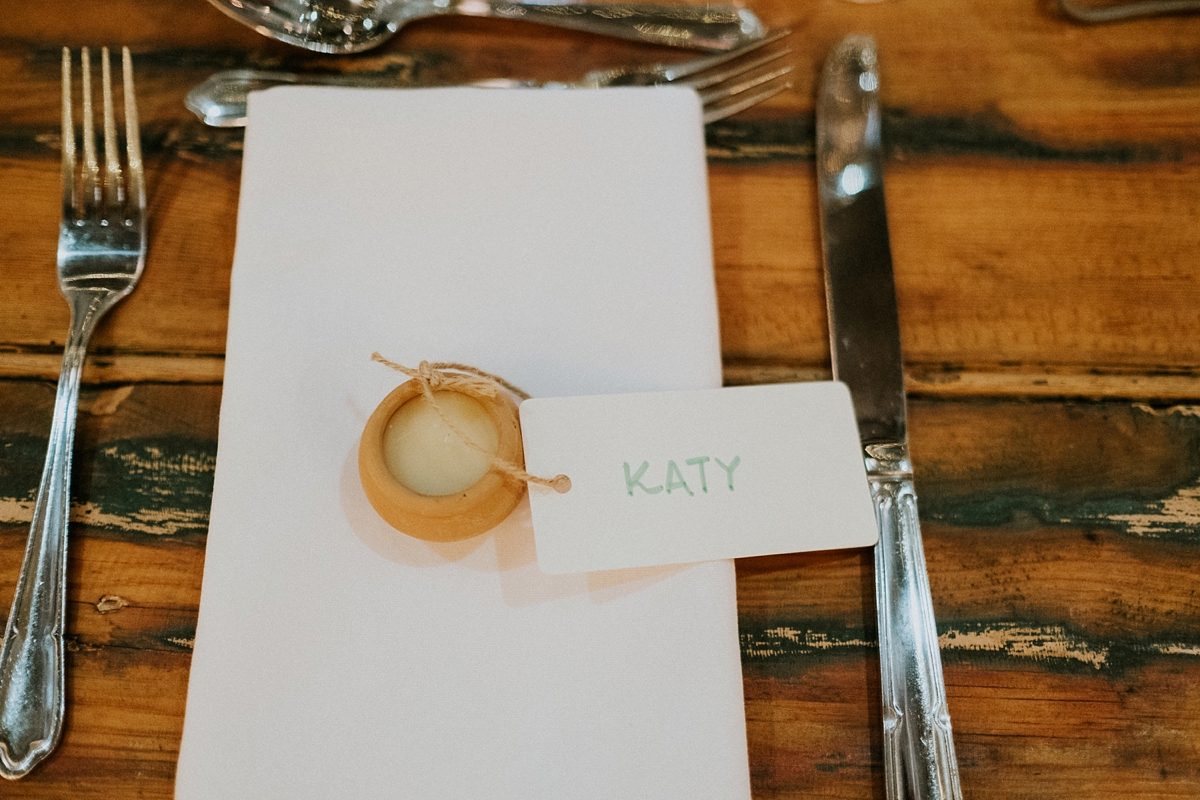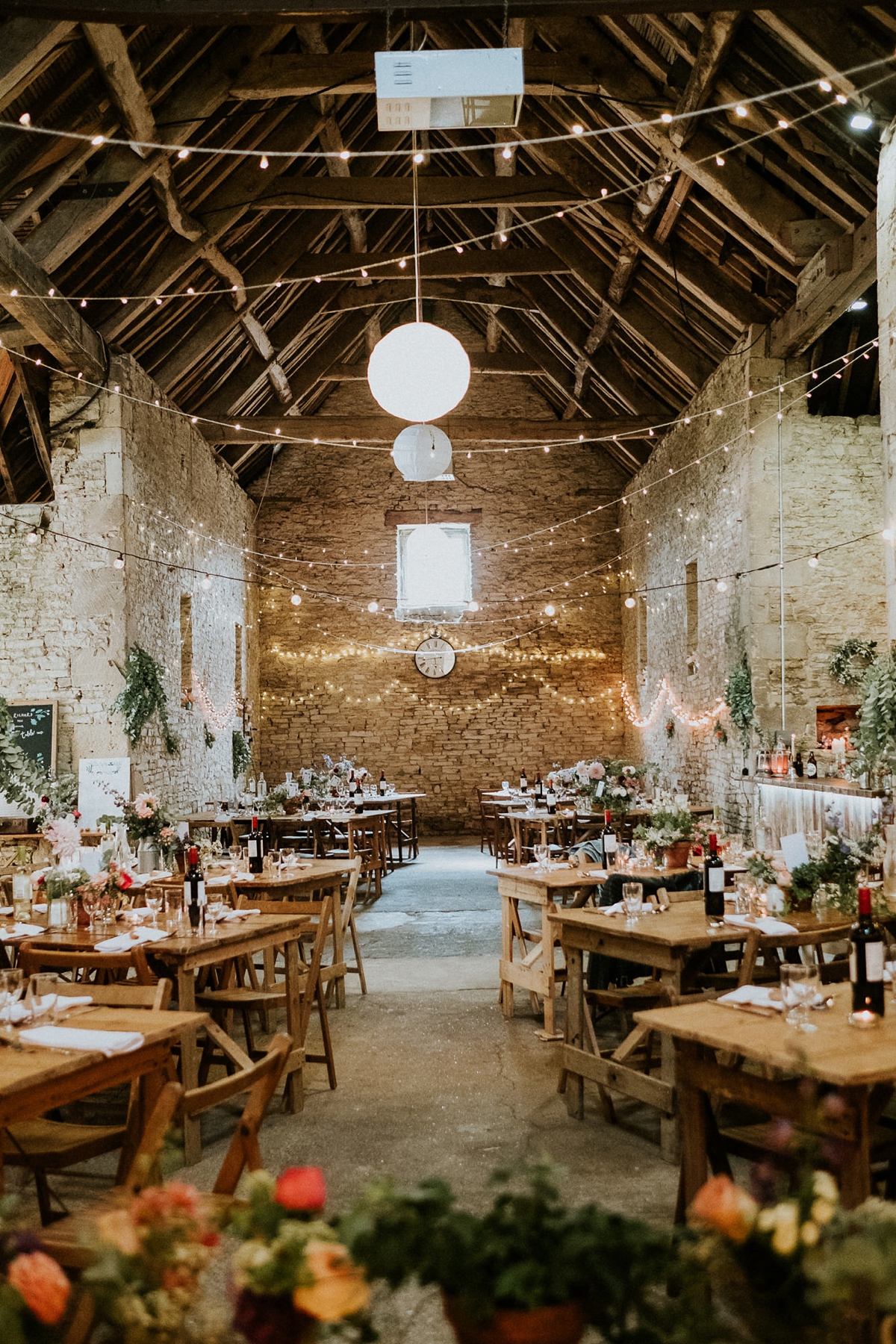 The wedding breakfast took the form of a relaxed barbecue whilst the evening food was a rustic Ploughman's spread.
"Manor Farm did the catering themselves, using their own meat and other local suppliers."
"We didn't have a cake. We did feel really strongly that we should only do traditional things that actually meant something to us. As much as we both love cake, we just couldn't justify the expense. Plus (1) Rich is really shy, and the idea of having loads of people stare at us while we cut a cake was bringing him out in hives; and (2) we didn't want the sort of situation where guests are torn away from their eating/drinking/dancing and told 'stop having fun, there's a random thing happening that you have to pay attention to'. So, we skipped it. More time boozing and dancing. Great stuff."
Katy chose to give a speech instead of the groom, a moment she loved.
"Even though I was so incredibly nervous about doing it, I really enjoyed giving my speech. Looking out onto all our friends' and families' faces (and, fortunately, seeing them laughing at my jokes) is something I'll never forget. And the rush when it was all over and I could relax a bit more was pretty great too."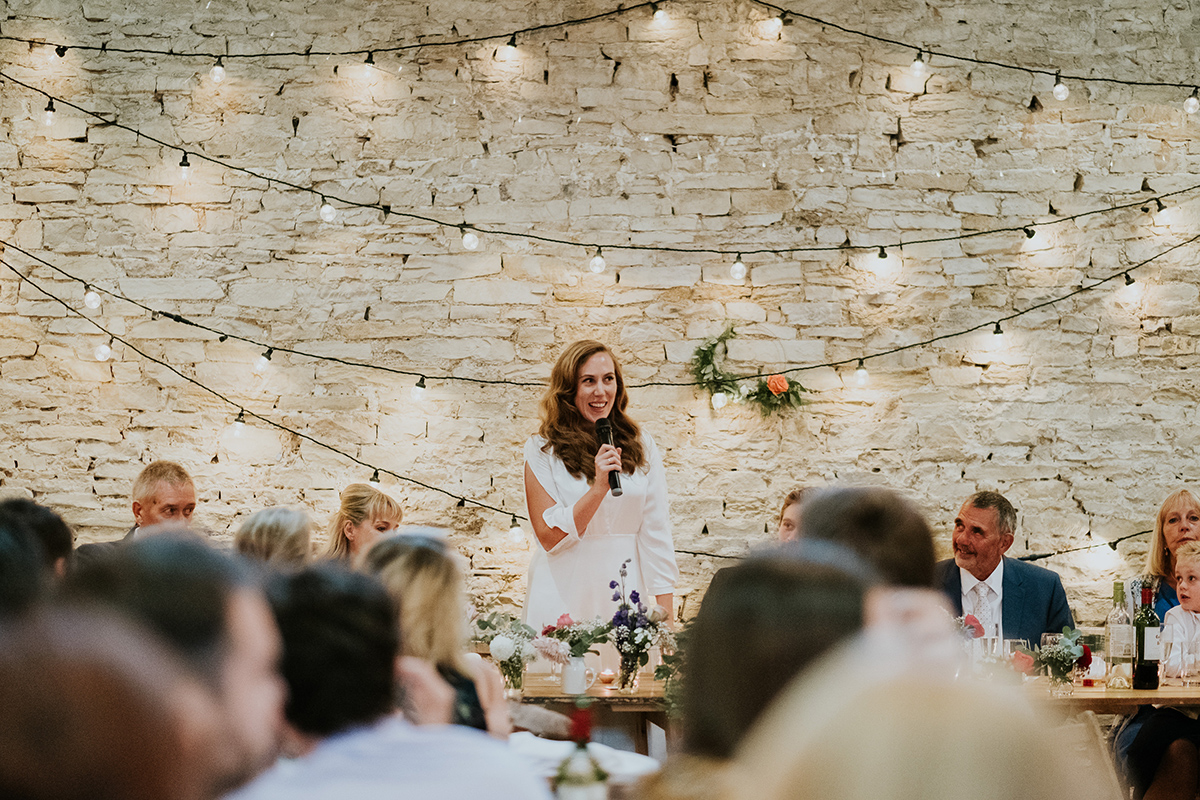 DJs The Best Men got the dancing started as night fell. The first dance was an upbeat dance to 'Let's Spend The Night Together' by The Rolling Stones.
"We toyed with the idea of just having a laptop and a playlist playing, but then remembered there'd be carnage after all our friends had had a few drinks and suddenly wanted to be DJs, so we decided to get actual DJs."
"The Best Men were amazing! We had pretty clear yet vague ideas about what we wanted – an eclectic mix, absolutely no Ed Sheeran. And they just got it. We ended up with everything from Le Tigre to Taylor Swift; Harry Belafonte to Creedence Clearwater Revival; and we couldn't have been happier. I danced so much that I only started to be able to feel my toes again four days into our honeymoon."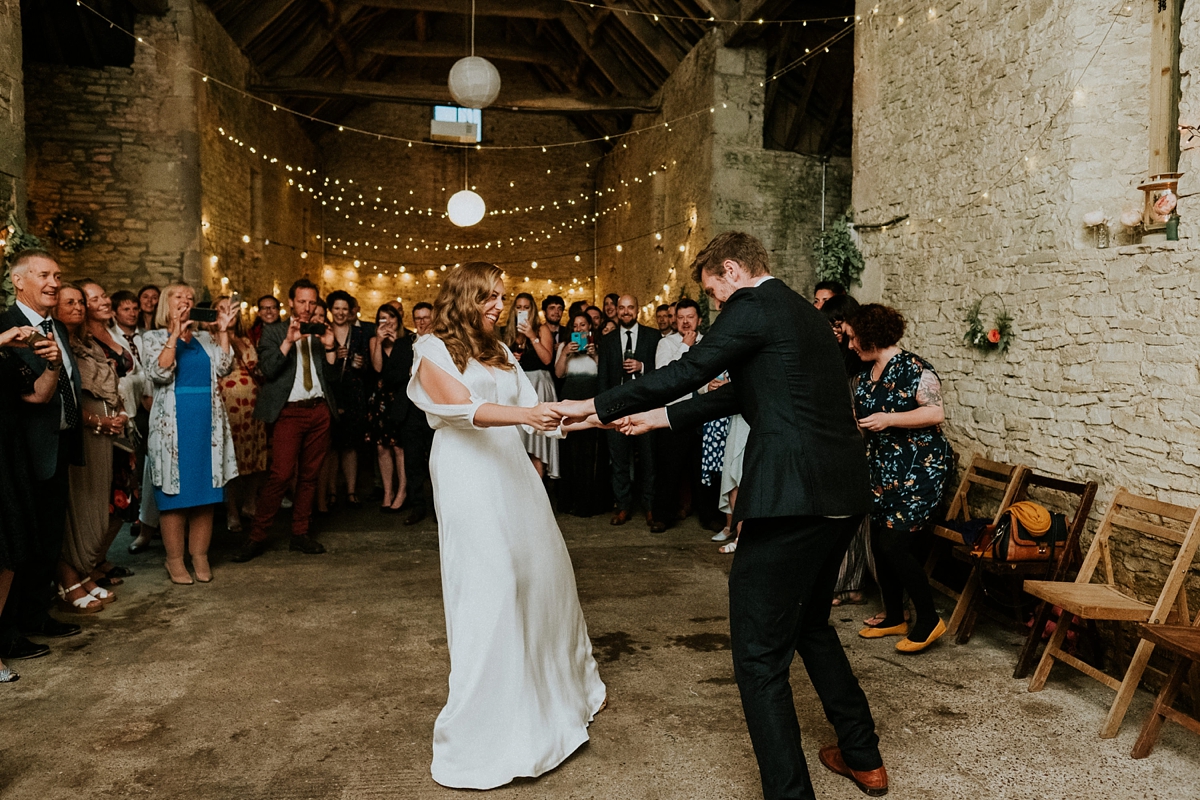 "We really ummed and ahhed about a first dance, as neither of us like being the centre of attention. But we love them as a way of signalling to guests that the party has started (and we've loved other couples' first dances!). For any brides that are similarly stressed about whether or not to do one – I would say, totally go for it."
"We danced to 'Let's Spend The Night Together'. We have a running joke that whenever Rich and I are in the car together, The Rolling Stones come on the radio. When I eventually got my engagement ring, that song came on in the restaurant as soon as Rich put the ring on my finger. As we planned the wedding, the song seemed to just follow us around – so the choice of music was never really in doubt."
"Having a fast/upbeat song worked really well for us – we basically just flung each other around the dance-floor and laughed the whole time. We were so awkward, but honestly that just made it all the more fun. It really underlined why Rich is my absolute favourite person – we're both pretty shy, but still somehow manage to do really random fun things and have the time of our lives together."
Words of Wedded Wisdom
"I know it might be easier said than done, but my biggest piece of advice would be to just chill out and enjoy the planning and the day. And to not get stressed out about the details. My mantra while I was planning ours was 'no-one gives a f*ck about your wedding' – it sounds really harsh, but I actually found it really liberating and helped me focus on the important things."
"In reality, as long as you turn up, and you give your guests food and drink, everyone is going to have a great day. So just do what makes you happy!"
"That said, having now been through it all, I've revised my mantra slightly – it's now 'everyone loves you too much to give a f*ck about the details of your wedding."
"We spent just over £10k. Our budget was 'as cheap as possible', but we were aiming for a max of £10k and I'm pretty pleased we managed to stick to it while still having plenty of free booze. Writing that down, I'm horrified we spent so much when we need a new bathroom. BuT it was totally worth it!"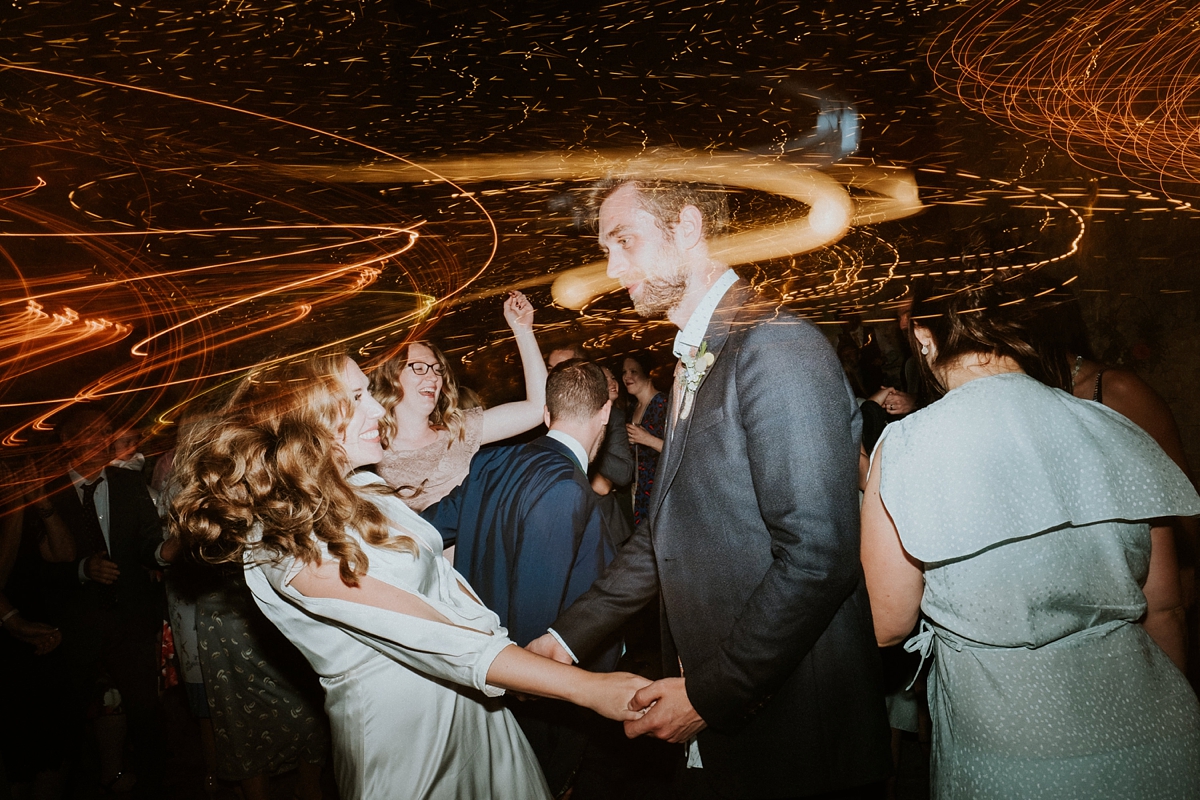 What a day, thank you so much Katy and Rich for sharing it on our pages. It's been a delight to read, and I'm so inspired by your approach to planning. I'm also so happy that you found these pages a great source of ideas and suppliers.
Lovelies, if you want to rock a similar vibe to Katy then I really do encourage you to take a look at these weddings in which the brides also wore Minna gowns.
Ele xx