Have you noticed that, ever so slightly, the nights are getting longer and lighter? Very soon (or am I being super hopeful?) spring will be in the air. In the meantime, though, cosy up and enjoy the absolutely beautiful and unique weddings that we have had the privilege to feature so far this year on Love My Dress.
Today's is an absolute riot of colourful flowers and cranes, set in the Shropshire hills and I can't wait to share it with you. One final thing too; if you're self-conscious about showing off a scar, I hope that you're inspired by Chloe's bravery with her choice of gown.
Film Up Close Wedding Productions
Chloe and Kieran married outdoors on 28 May 2018 in the glorious grounds of The Citadel, Weston-Under-Redcastle, Shropshire. The couple met at school aged fifteen and are now a trainee clinical psychologist (Chloe) and a primary school teacher (Kieran). The Citadel was the perfect spot for an outdoor humanist ceremony, and they had full rein over all aspects of the day, including food, flowers and decor. Their inspiration was 'summer English country', weaving outdoor games and afternoon tea into a relaxed, bohemian day.
They chose the most gorgeous colour palette of botanical greens, pinks and greys. Oh, and let's not forget the odd flamingo here and there too.
Photography Lisa Webb Photography
Grace Loves Lace was the perfect designer to go to for a gown that combines exquisite bridal styling with a relaxed, boho vibe. Like Princess Eugenie last year, Chloe decided to show off a scar resulting from surgery from scoliosis. I think she looks sensational in the fitted 'Lottie' gown with its deep-V neck, figure-hugging fit and sexy split.
"I saw this dress online and fell in love. Millie MacIntosh had spoken about Grace Loves Lace being one of her favourite wedding designers and after seeing their dresses once I became slightly obsessed! I love all of their dresses but in particular I liked Lottie because it was simply gorgeous! I love the lace train and the tiny detailing, the spaghetti straps, the little bows on the back straps and the hug of the dress."
The gown's train was accentuated by a pure white, single-tier veil from JJ's House which Chloe attached to her floral crown to flow behind her. Strappy Valentino heels in blush pink came from Bicester Village and she wore H Samuel diamond earrings, a gift from the groom on the wedding morning.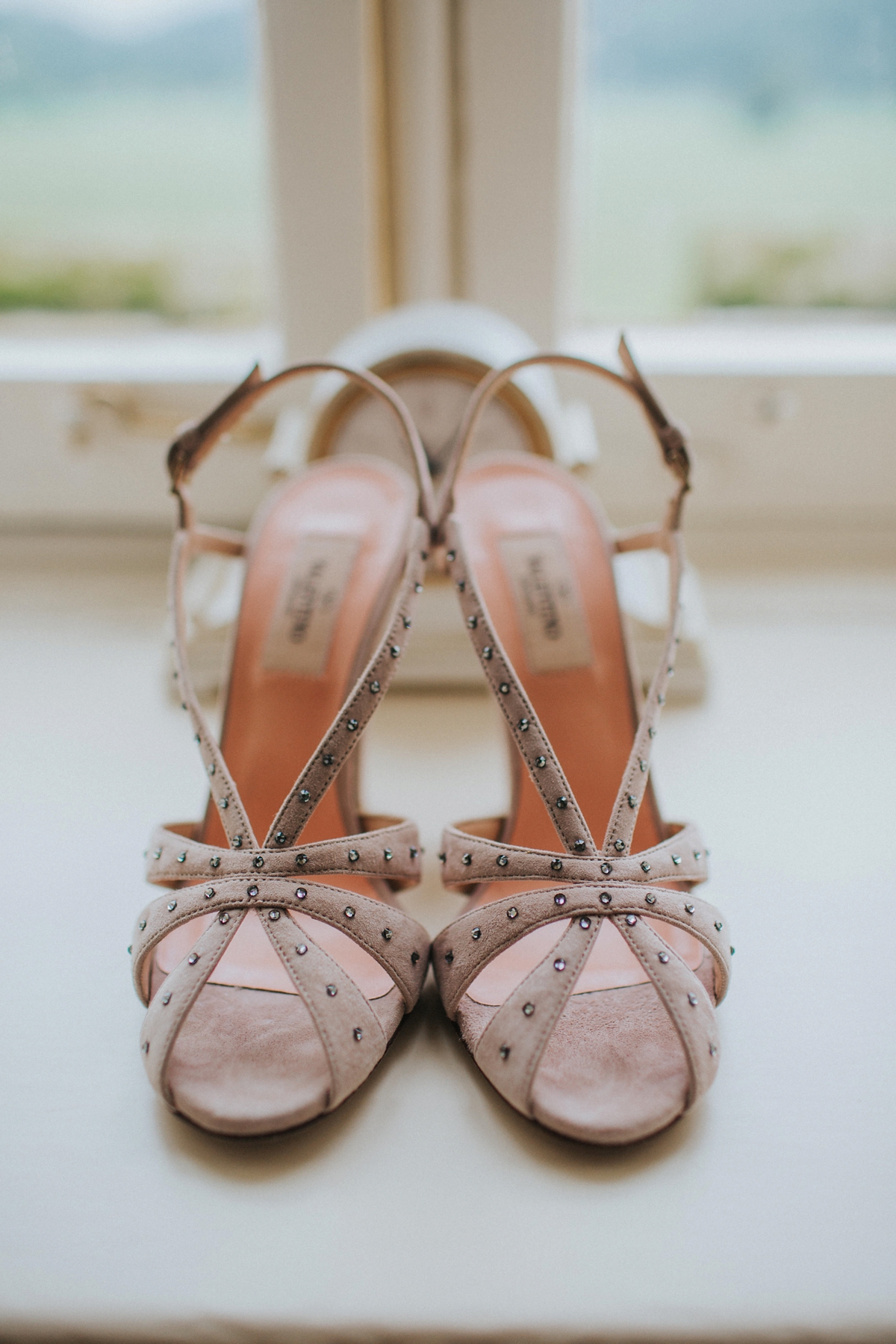 The flower girls look so cute in their pink cherry blossom gowns from Monsoon and the hue was a great match for the gowns which the grown-up bridesmaids wore; a selection of dresses from JJ's House. They all wore delicate crystal earrings from ASOS and fresh crowns to match Chloe's. I'm such a fan of the mis-matched look for relaxed bridesmaids.
The bride embraced her natural blonde curls, styling them herself for this gorgeous boho look. I'm in love with the simple and oh-so bridal crown of gypsophila and leaves which completed her outfit. It was created by florist Di Shackson.
[JP-VIDEO]
"I did my own hair. I have blonde curly hair and wanted to look like me on my wedding day so I decided that I should have it down in its full glory. As for my make-up, I am super lucky that my best friend and bridesmaid Hannah Hope is a make-up artist. She did the best job making me look beautiful on my big day."
The Citadel is a truly unique venue; a luxury B&B set in a 'castle' house with tranquil gardens with lots of little hidey-holes, winding paths and secret glades overlooking the rolling Shropshire hills. The late May wedding day was dry and calm, meaning that the humanist ceremony could be held outside against a tumbling wisteria before the reception in the marquee on the dedicated wedding lawn.
"We wanted a marquee reception and were looking for a venue that let you have full control. When we began searching for somewhere local, The Citadel was one of the venues that came up. From the first sighting of The Citadel, with 360 degree panoramic views of the Shropshire hills, we knew it would be our venue. As we walked around The Citadel with its cobbled pavement towards the B&B which looks like a castle, the big white marquee that was surrounded by those beautiful rolling hills, and the gardens which were full of so much colour, we fell in love."
"The gardens were absolutely perfect for an outdoor humanist ceremony. The courtyard had just the right amount of space and a wall which was covered in actinidia and wisteria (absolutely perfect for standing in front of whilst saying our vows). We could picture the whole day as we walked around for the first time and we booked The Citadel the next day without looking at anywhere else. We chose May because the gardens are full of colour this time of year – the rhododendrons are particularly spectacular."
"Alex Griffiths who manages the weddings at The Citadel was so dedicated to helping make the day unique and exactly how we pictured it. She only has a few weddings here a year, so it felt exclusive, and personal. She gave us full rein of the day and we were so happy to be able to have our ceremony and reception all in one place. It meant that the décor, which we did ourselves, was easier to put together in the few days before."
"We wanted the wedding to feel very relaxed and bohemian. We were inspired by summer English country vibes with outdoor games and afternoon tea. We wanted our guests to have fun and our wedding to not feel overly formal because that didn't really fit with who we are as a couple or as individuals. We went with botanical greens, pinks and greys. We had a slight flamingo theme, personal to us and our story…. Kieran had dressed as a flamingo for my 21st 'Alice In Wonderland'-themed birthday because he knew how much it would make me laugh. Making a fool of himself to make me smile is one of the most thoughtful acts I can think of!"
Meanwhile, Kieran was preparing with his groomsmen. He had selected a smart three-piece Racing Green suit in a bold check from Suit Direct, worn with a blue shirt and soft pink tie.
"As a wedding present I bought Kieran a Ted Baker tie pin and a Hugo Boss watch from Selfridges. He also wore a pair of hot and cold tap cufflinks which I bought for him when we were 16 because they spelled my initials (C.H.). He used to call me the owner of his sleeves and he had kept them safe for ten years."
"The best man and groomsmen wore the same suit as Kieran – only difference being that Kieran wore a waistcoat. The boys all wore braces and flamingo socks that Kieran brought them to match the theme of the wedding."
"We met at secondary school when we were fifteen years old and put in the same science class. We were best friends for two years before Kieran asked me to be his girlfriend on Valentine's Day… after chickening out the week before. After seven years of dating we decided that we wanted to get engaged and so we went to the Jewellery Quarter in Birmingham together to pick and buy a ring."
"We went away for the weekend to Dorset and climbed the Golden Cap before making it official. We were engaged and planning the wedding for almost two years."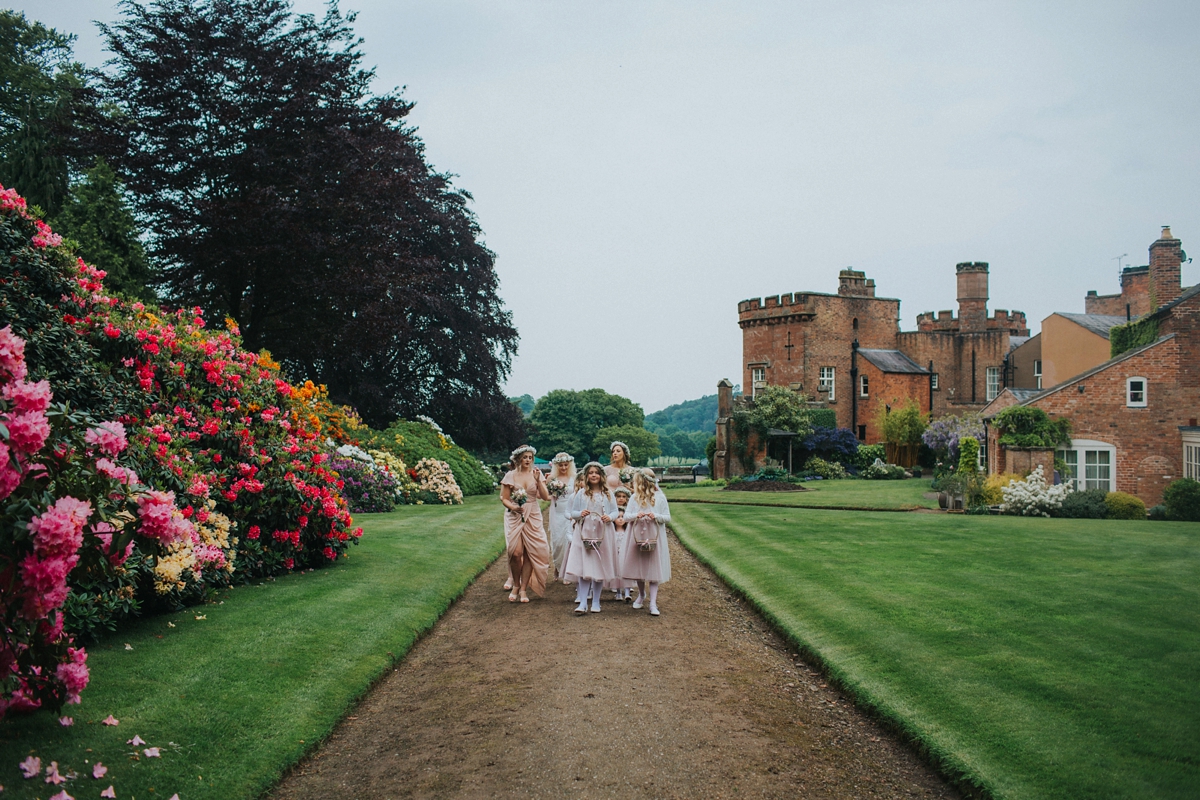 The bouquets were put together by Chloe's super-talented mother. The bouquet looks, and sounds as if it smells, absolutely divine.
"My bouquet included some beautiful hand-tied sempa vivums to add texture, avalanche roses, mint for fragrance, veronica astrantia, lisianthus and home-grown bluey-pink eucalyptus."
Kieran and Chloe chose to marry in a humanist ceremony and have shared some lovely details about its meaning.
"We wanted it to feel unique to us. The ceremony meant that we could tell our love story and each word was written by us and meant something to us. By telling our story and throwing in some anecdotes, our guests were able to follow our journey with us."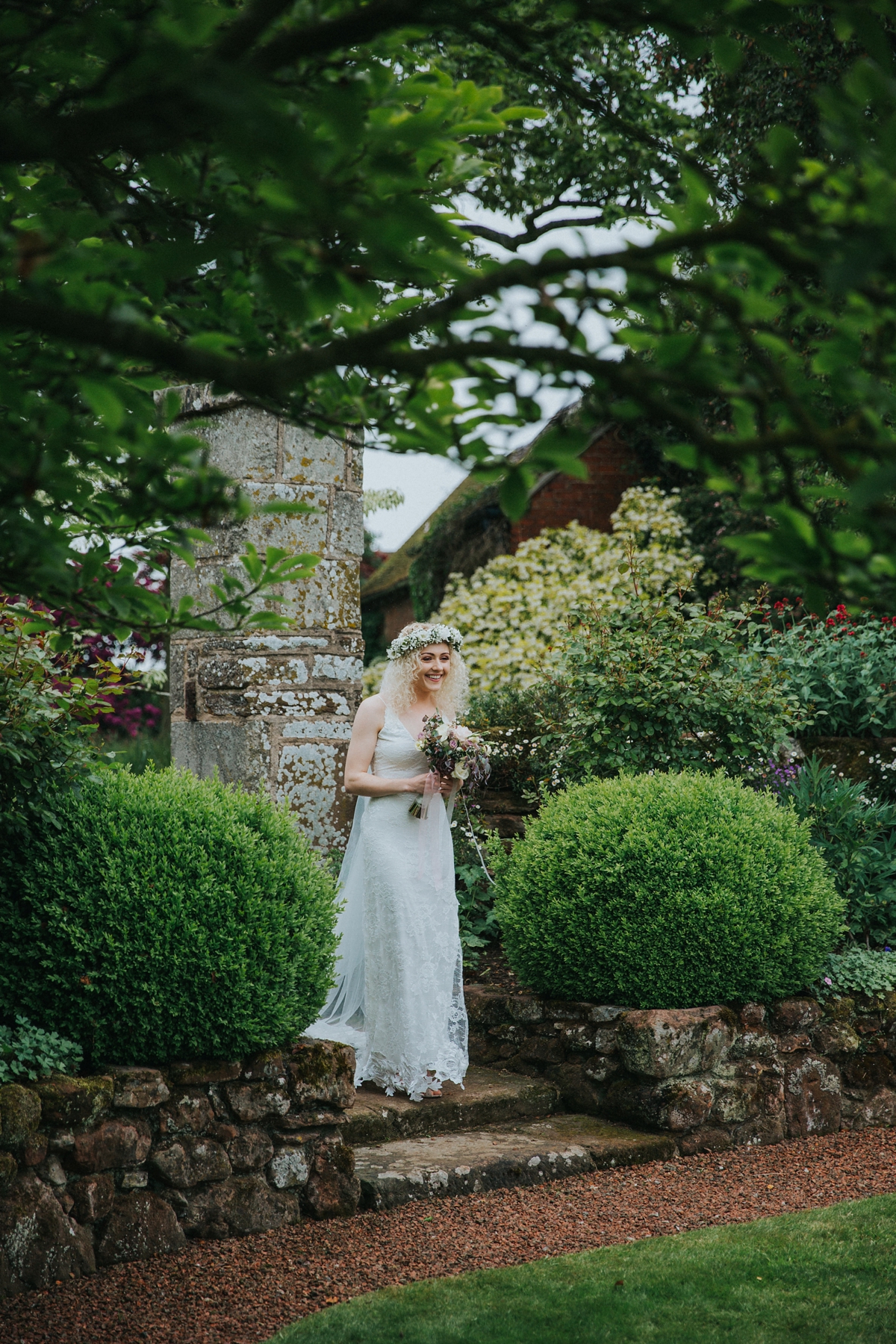 "We wanted to involve everyone, after all they were all handpicked to be our guests because we love them. We did a ring warming, where the guests pass along our rings, (holding them for a second and blessing us with wishes for our marriage) before passing them back to the best man to hand to us."
"We also had a special blessing for parents, groomsmen and bridesmaids because we especially wanted to acknowledge their importance. We handed each of them a rose which they then placed in a large arrangement. This arrangement then sat with us on our top table which was just for two (giving us chance to have moments alone together on our special day)."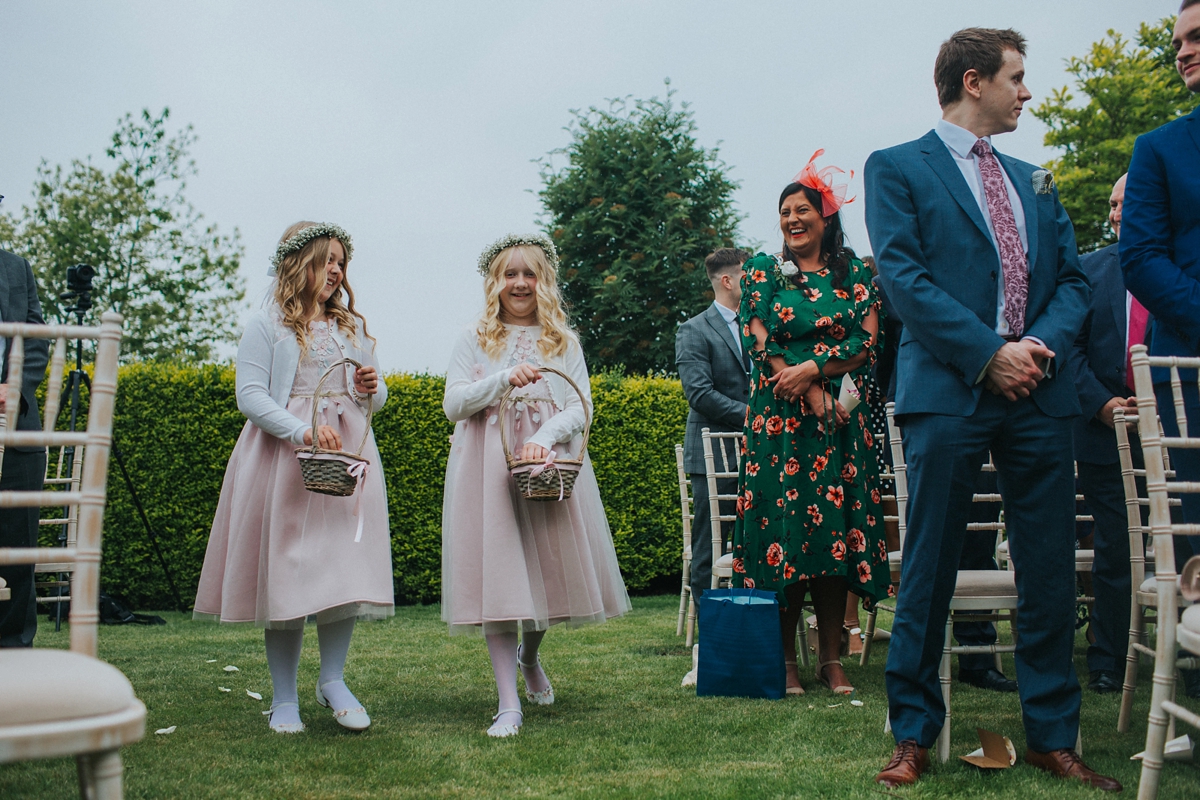 The couple took a risk with the weather but thankfully, the drizzle disappeared just in time for the ceremony. I think the rain may have made the colours of the floral backdrop pop even more.
"The ceremony was outdoors and we had no wet weather contingency. There had been no forecast rain all week until the day of the wedding when the forecast changed to include a bit of drizzle. As everyone was waiting in the courtyard, and I was stood ready to take my descent to the aisle, the drizzle began, people looked nervous and umbrellas began to go up. But, just like out of a film, the second I stood onto the aisle, the sun came out, a sky lark began to sing and the rain stopped for the rest of the day. It couldn't have been more perfect."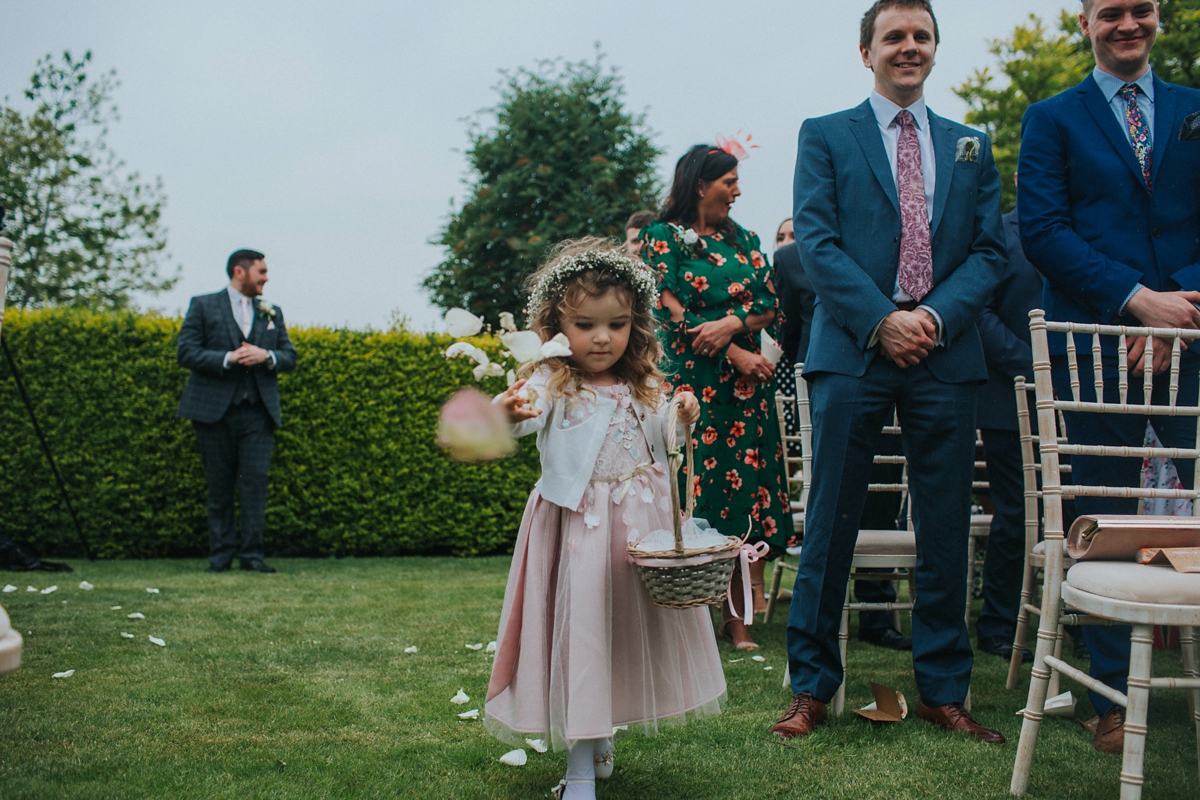 "We wanted to break many of the traditions of weddings that didn't really fit with our feminist viewpoints. For example, the groomsmen and the bridesmaids walked down the aisle together and I was not given away, and certainly not from one man to another. I walked the first part of the aisle by myself and was met by Kieran halfway down the aisle, walking the rest of the way in unison."
The ceremony was overseen by celebrant Carole at Shropshire Ceremonies.
"Both of us wrote and read alone our own vows. We did not want to say traditional words to one another and decided that we wanted to do our own. Kieran's took the form of a poem: "Chloe, today I promise to make this vow, putting into words how much I love you somehow." And mine, an honest representation of how I see love."
The couple found their rings in Birmingham's Jewellery Quarter and exchanged them after their unique ring-warming ceremony.
"We looked around a number of places and thought that we might have to get a band made to fit around the curve of my engagement ring. However, we got to Warstone Jewellers and found a small diamond band that fit the shape perfectly and gave a bit more sparkle to my finger. Kieran found a plain white gold wedding band from the same jeweller."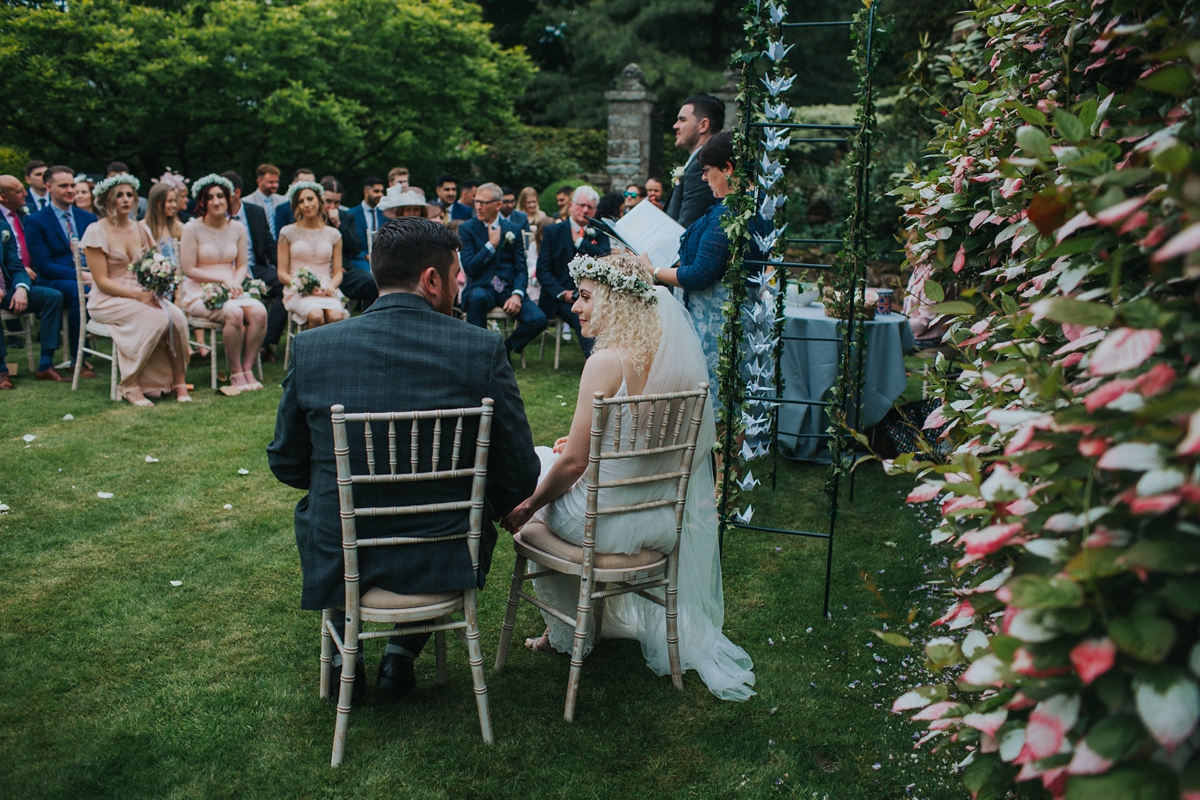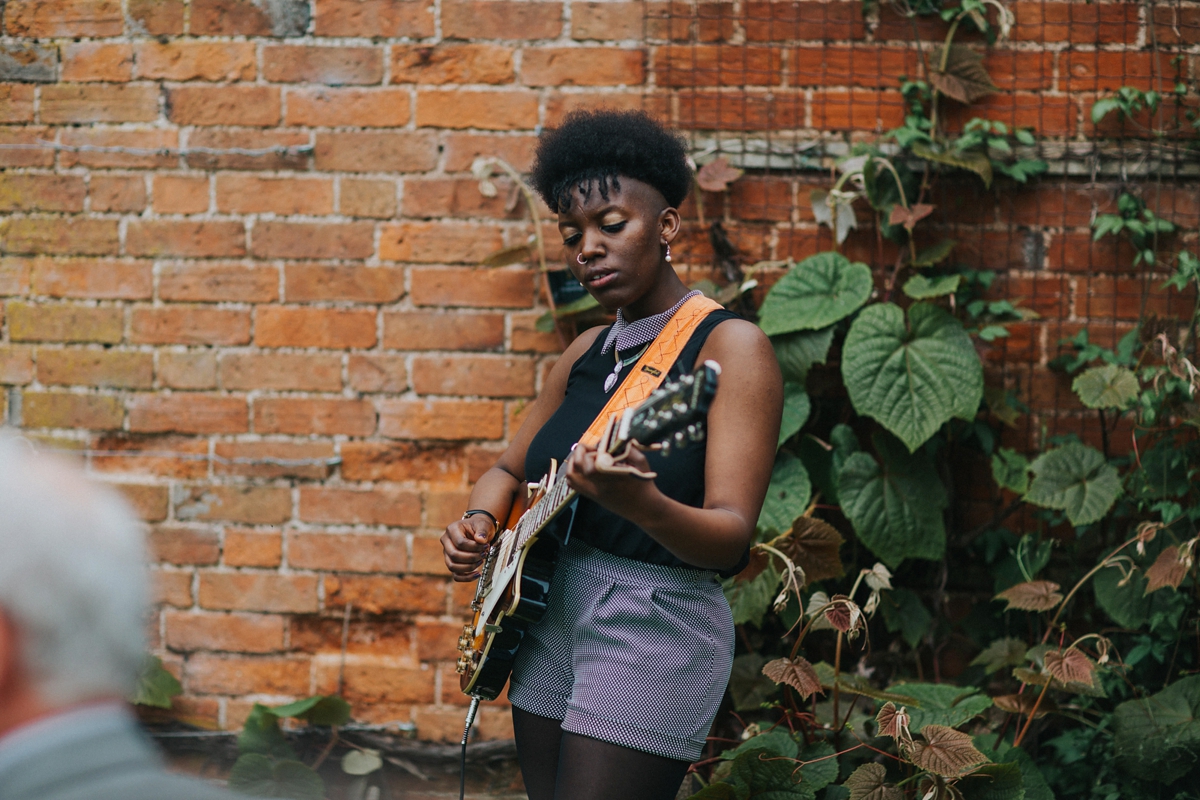 "Whilst the ring warming took place, my wonderfully talented friend Tehilla Henry performed a song that she had written for us based on a poem that I had written for Kieran. It was absolutely beautiful and had us both in tears."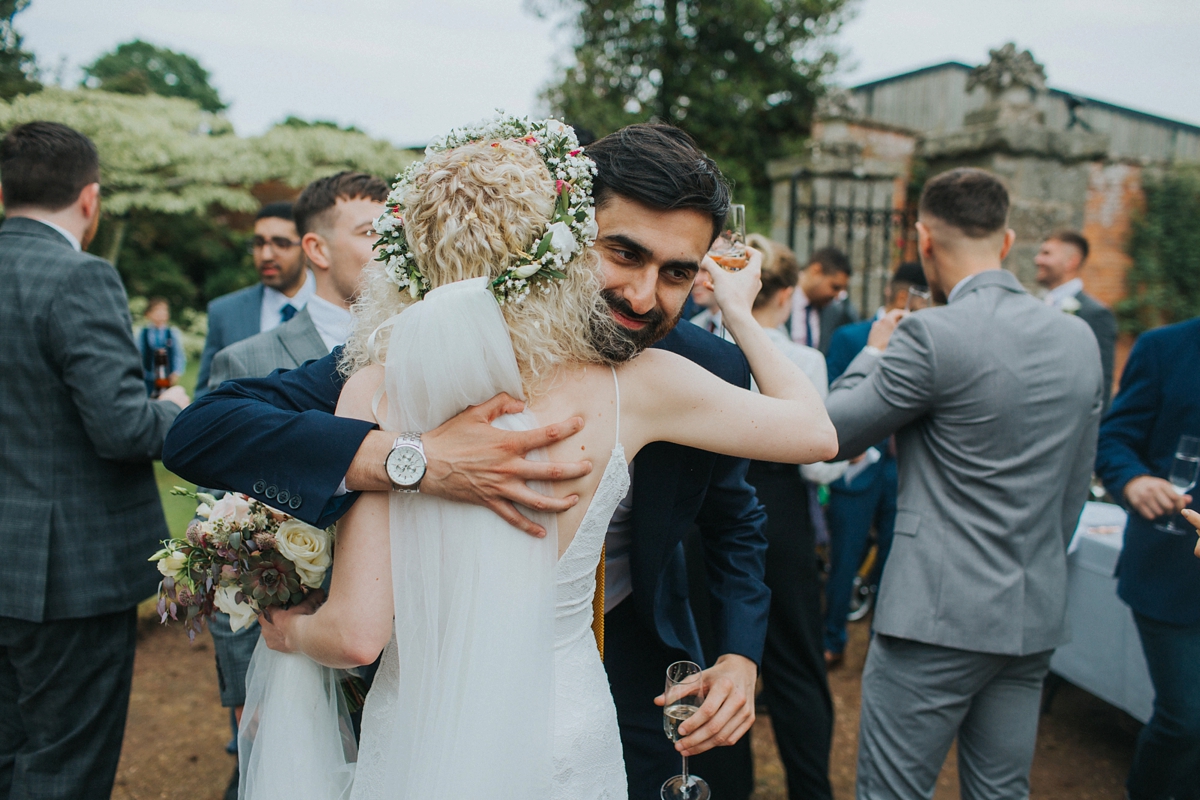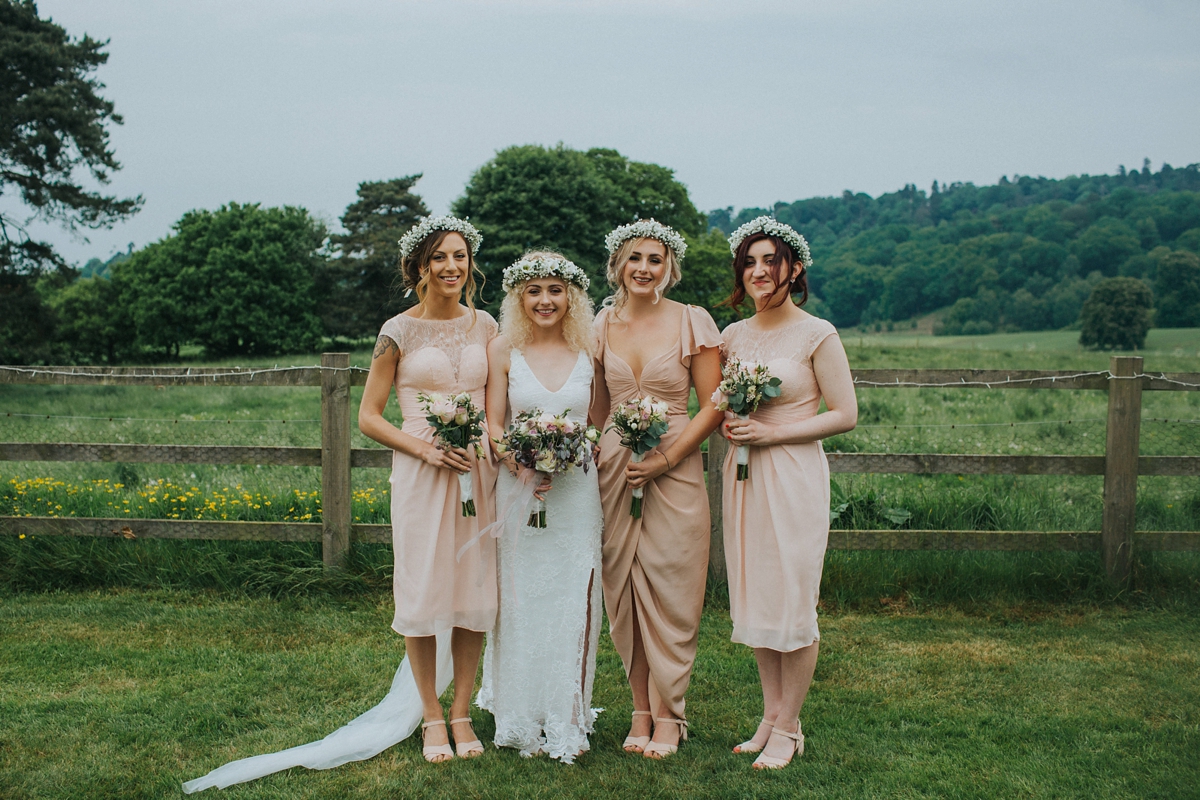 The wedding marquee was decked out with so many personal details and touches. Chloe and Kieran are lucky enough to have a host of talented friends and family who helped them to create the day of their dreams. Over to Chloe to tell us more.
"My sister (Verona Designs) and her boyfriend hand-designed and printed my wedding invites and menus for the table and they were absolutely gorgeous. For the order of the day, my bridesmaid (HARt bespoke gifts) painted a beautiful timeline that stood outside the marquee. She then outdid herself even further and for the table plan she painted album covers onto vinyl, each table having a band that Kieran and I have seen together."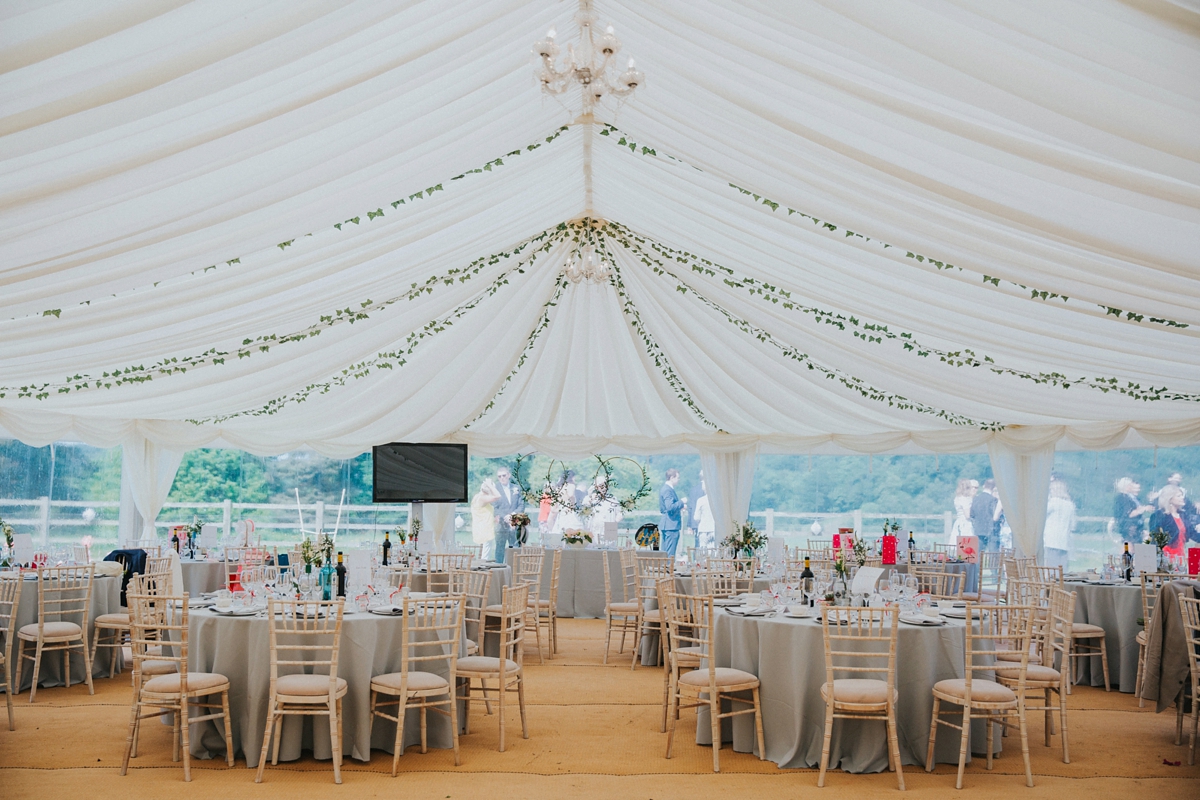 "I have an incredibly talented mother. She did all of the flowers for the marquee – milk churns, table tops and flower hoops. The centre pieces featured our favourite botanical gin bottles which held flowers of white lisianthus, rosemary, mint, and white veronicas. Some gin bottles also held tall candles which were lit at dusk. The centre piece sat on round grey slate tiles and the base was decorated with antique glass tea lights and moss-covered sempa vivums."
"The milk churns stood at the entrance of the marquee and at the side of the top table. Each had white hydrangeas, a large sempa vivum, roses and trailed with wisteria. The vintage wooden hula hoops were arranged with soft ruscus, roses and wisteria and they featured above the dance floor and behind us at the top table. Everyone commented on how beautiful the flowers were – the pictures speak for themselves!"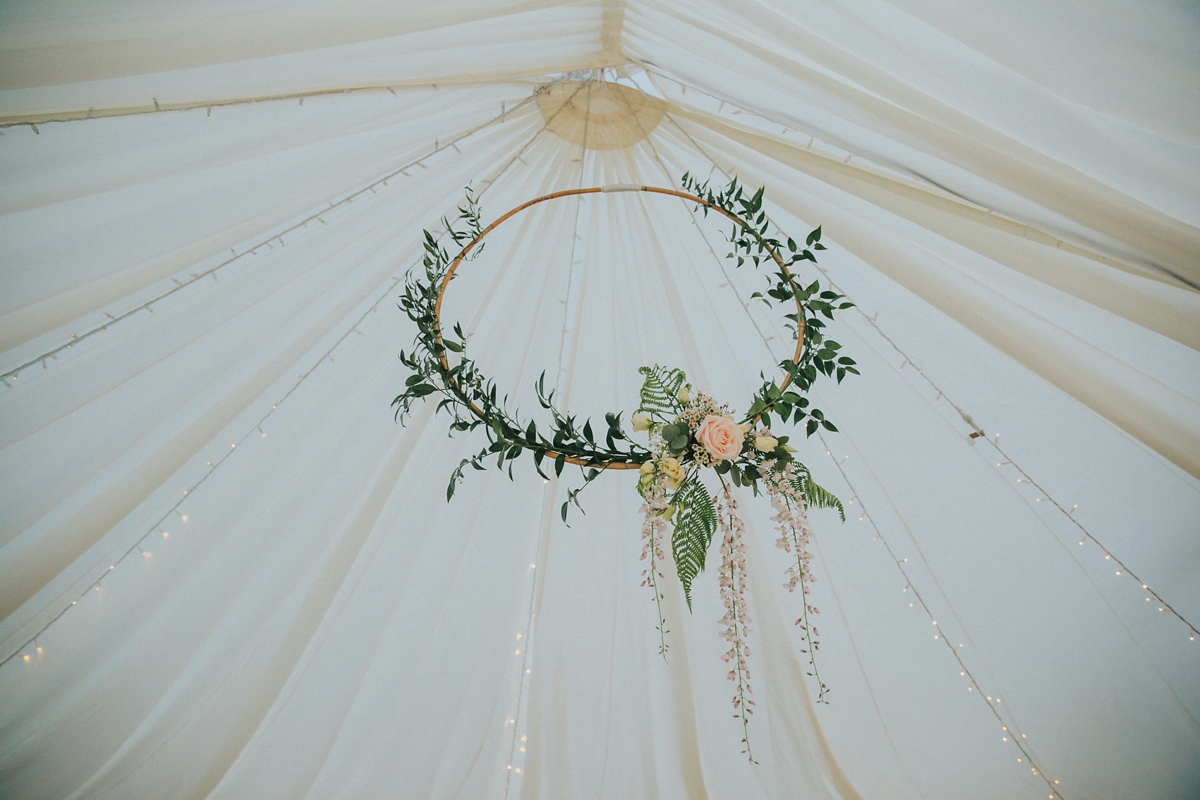 "To style the venue, we had a photo booth that we created ourselves buying hats and props from charity shops and outlet stores. We already had a Polaroid camera, so provided plenty of film and a book to stick them in! We also had a finger print painting which was again created by my best friend and bridesmaid."
"My dad and my nanny Sylv had collected lots of fresh ivy which we hung around the borders of the marquee. Fairy lights and chandeliers hung from the ceiling of the marquee."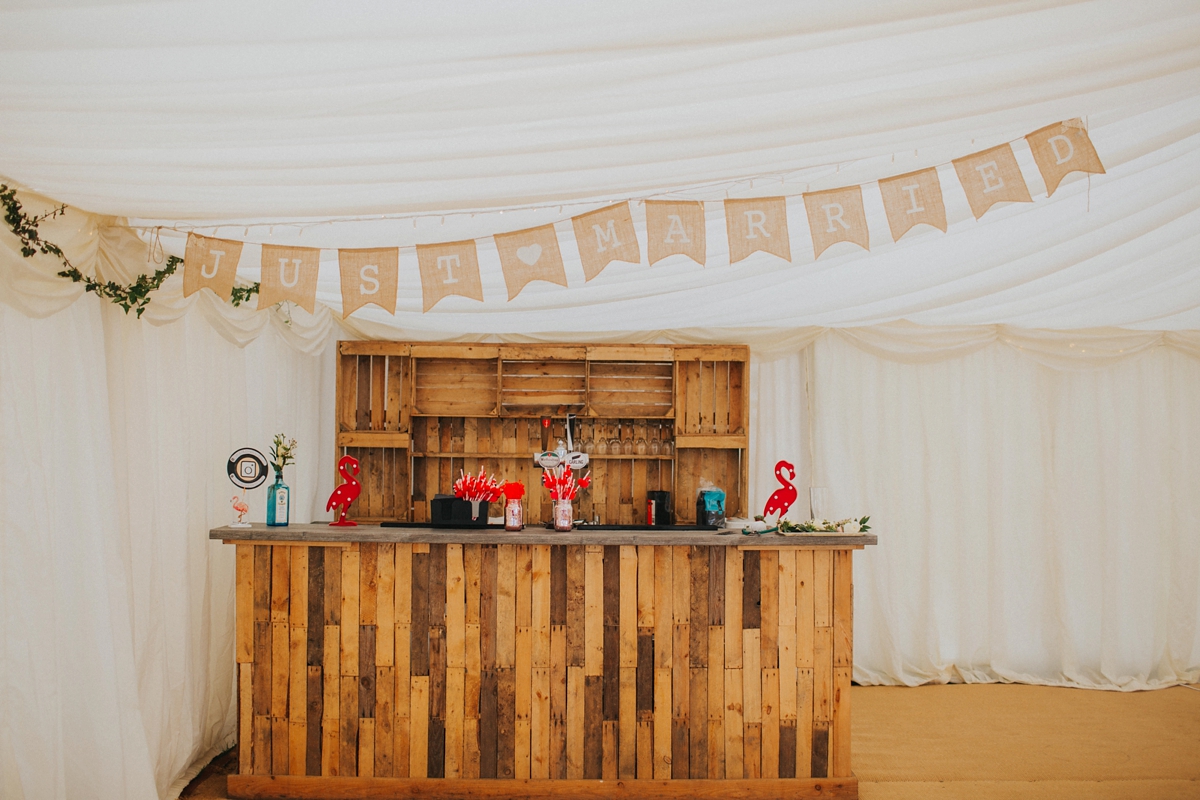 "We decided not to have a cake because as much as we love cake, and we do really love cake, cake was being served all day with the afternoon tea. Instead we decided to create our own Krispy Kreme doughnut wall. We borrowed a clothes display unit from my mother-in-law's shop, decorated it with some fairy lights and succulents and let our guests help themselves after the evening meal."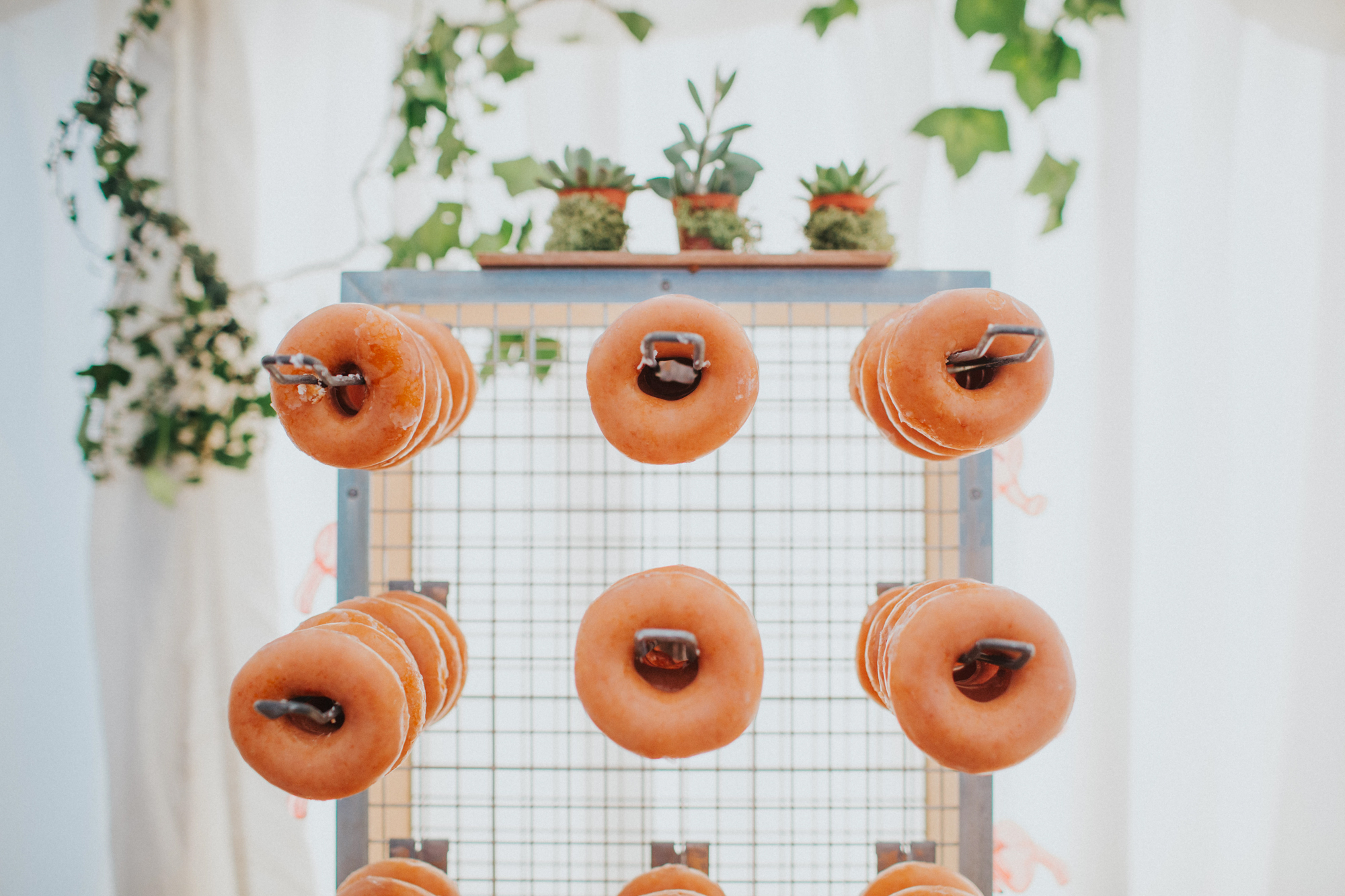 The afternoon tea was served up by Roslin Catering and sounds absolutely divine.
"We had an afternoon tea for a wedding breakfast (with finger sandwiches, hot pastries, lots of cake and even more tea and Prosecco) and fish and chips in the evening which was served in cute cardboard boxes so that people could eat them outside if they wished. The afternoon tea worked well because the food was being topped up between speeches which we staggered throughout the sitting which lasted two hours. The food was amazing all day – I've never tasted a sausage roll so good."
"In terms of outdoor decor we had outdoor games, lanterns and fairy lights. My father-in-law took his hand to help and had created an amazing bar made out of pallets which had post ceremony snacks (popcorn, peanuts, pretzels, flamingo Haribo and lollipops). He also made some outdoor seating with the pallets which we decorate with big cushions and blankets."
"I have to give a big thank you to our family, bridesmaids and groomsmen here because everyone worked so hard in the days before to decorate the whole marquee and grounds. It was a lot of hard work but so lovely to see everyone we love helping to create a day so special."
As well as games and a photo booth to entertain the guests, local artist Lois came along to run a flower crown workshop. Love, love, love.
"We met Lois at our local apple festival where she ran an activity for people to make flower crowns out of willow and fresh flowers. We thought it was so lovely that we asked if she would come to the wedding. Our guests absolutely loved it!"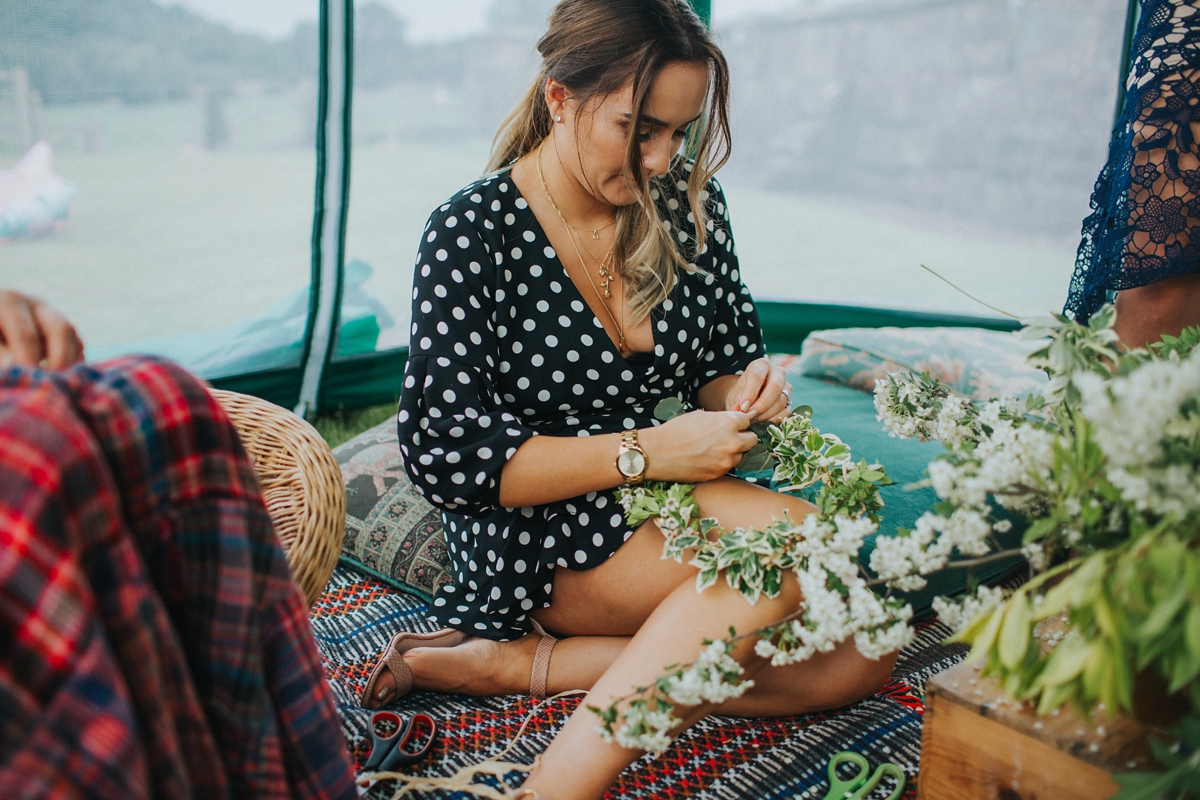 "The only thing that I did not like so much about the dress was the low back. I had major back surgery was I was fifteen for scoliosis and have always felt insecure about having my scar on show. I tried the dress on at a London concierge and loved the front and the train so much that I decided to be brave and embrace my scar to marry the man of my dreams in the dress of my dreams."
The entire day was photographed by Lisa Webb, whose camera has so wonderfully captured the vivid flowers in The Citadel's grounds. My favourite photos, though, are those of Chloe who looks so happy and excited just before the ceremony took place.
"Lisa is a phenomenal photographer. I think choosing her was the best decision of the entire wedding. I have cried a hundred times looking at our photographs. Selecting the ones we wanted to print and put around our house was the most difficult decision. We loved every single photo. I can't quite express how rare that is. We aren't particularly photogenic people at all and yet every photo is faultless."
"She captured our happiness perfectly, shot after shot. We didn't have to pose or take massive amounts of time out of our day, she just beautifully blended in to the background capturing every aspect and angle. Lisa was an absolute gem. So professional and friendly, going above and beyond (staying far past her time, emailing me often and answering all of my questions) to ensure that she knew us as a couple and our hopes for our wedding style."
"She is a magical sort of human – instantly feels like your friend, has an eye for detail, seems to disappear but captures so much, and most incredibly of all, makes ordinary people look beautiful."
"Jack Close from Up Close Wedding Productions did our videography. It was worth the wait and every penny."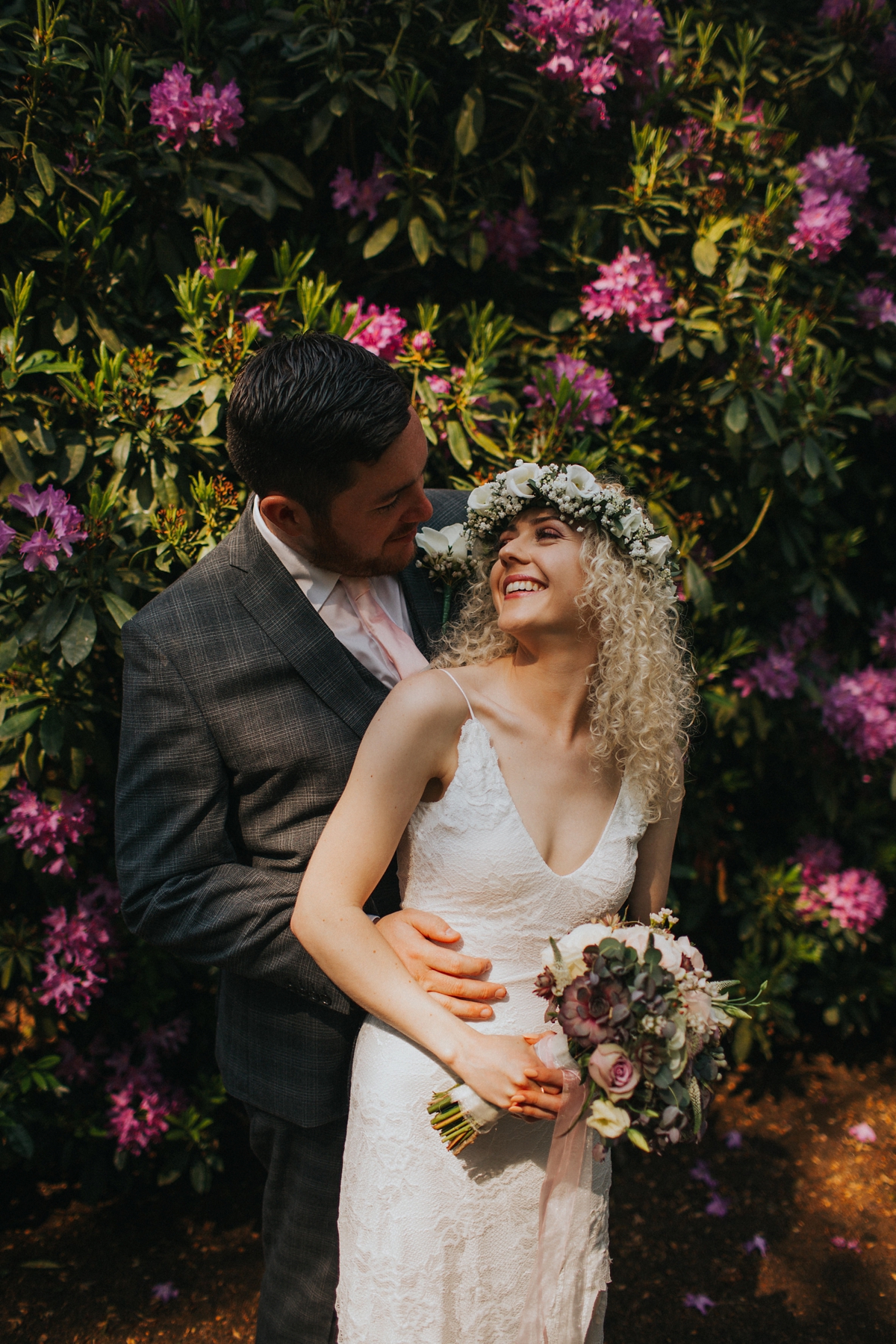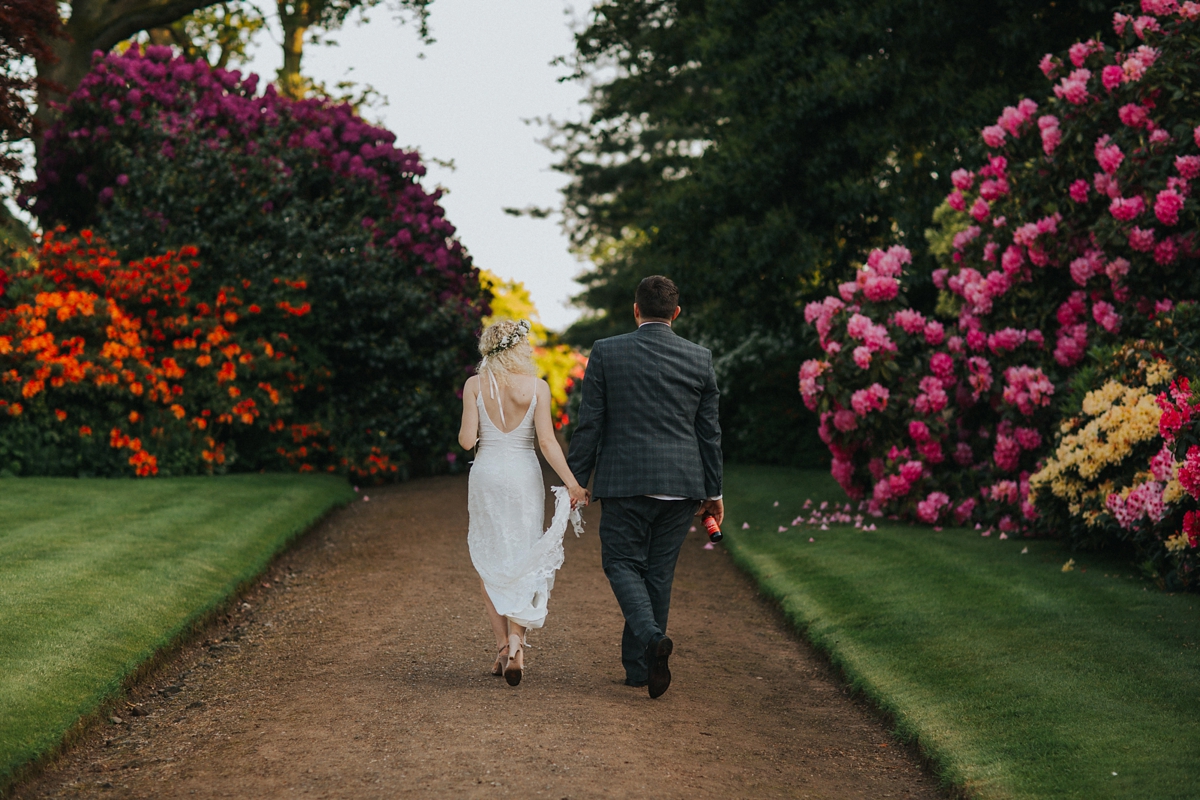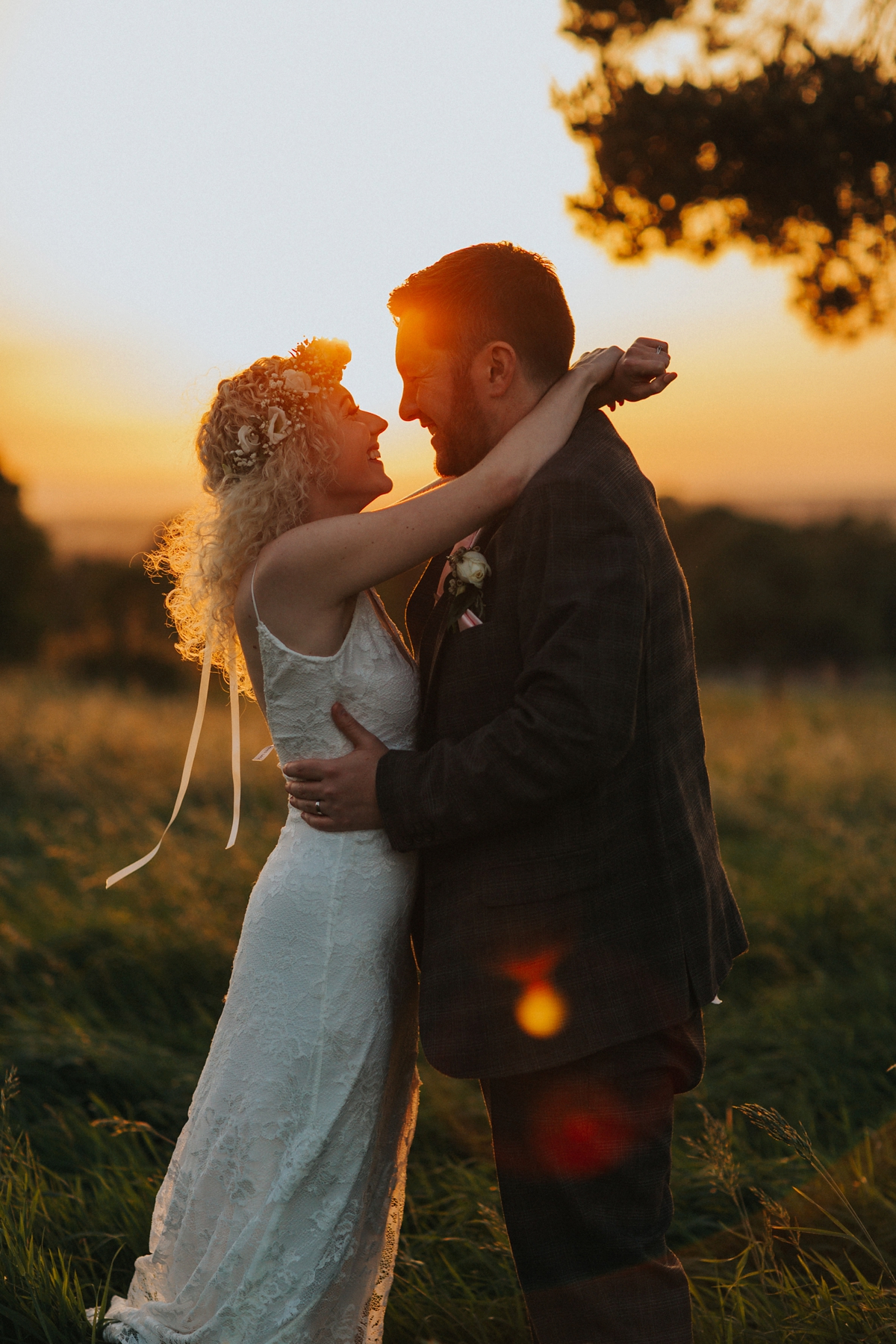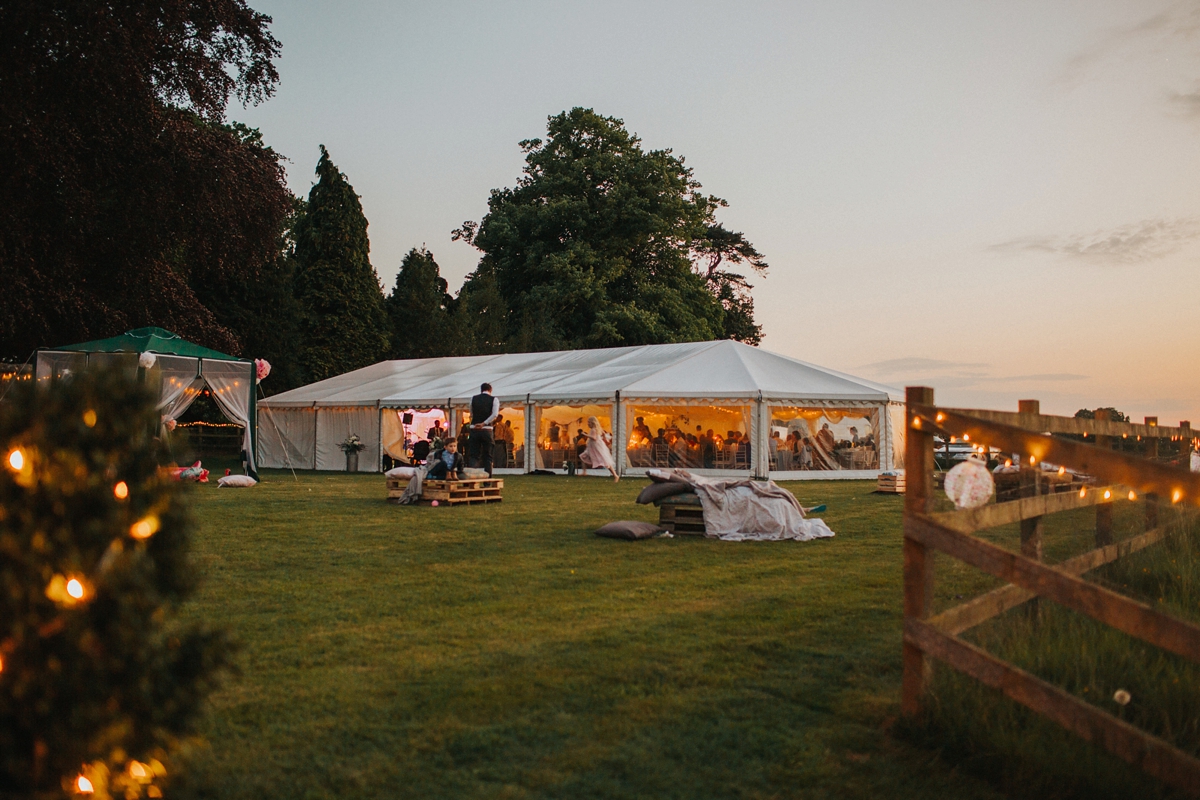 "My favourite part of the day was probably the ceremony because it was so personal, unique and beautiful. I have never felt so much love and emotion hearing our story read aloud to everyone we care about and reading each other our hand written vows."
The evening's entertainment unfolded with a first dance to 'Toothpaste Kisses' by The Maccabees, a floor-filling dance-off and a magical sparkler send off.
"We had The Hot Jazz Biscuits. Our band played two 50 minute sets and certainly got everyone onto the dance-floor! We wanted something a bit different and loved the jazzy addition of a trumpet. They were fantastic entertainers, and even joined in during our dance off."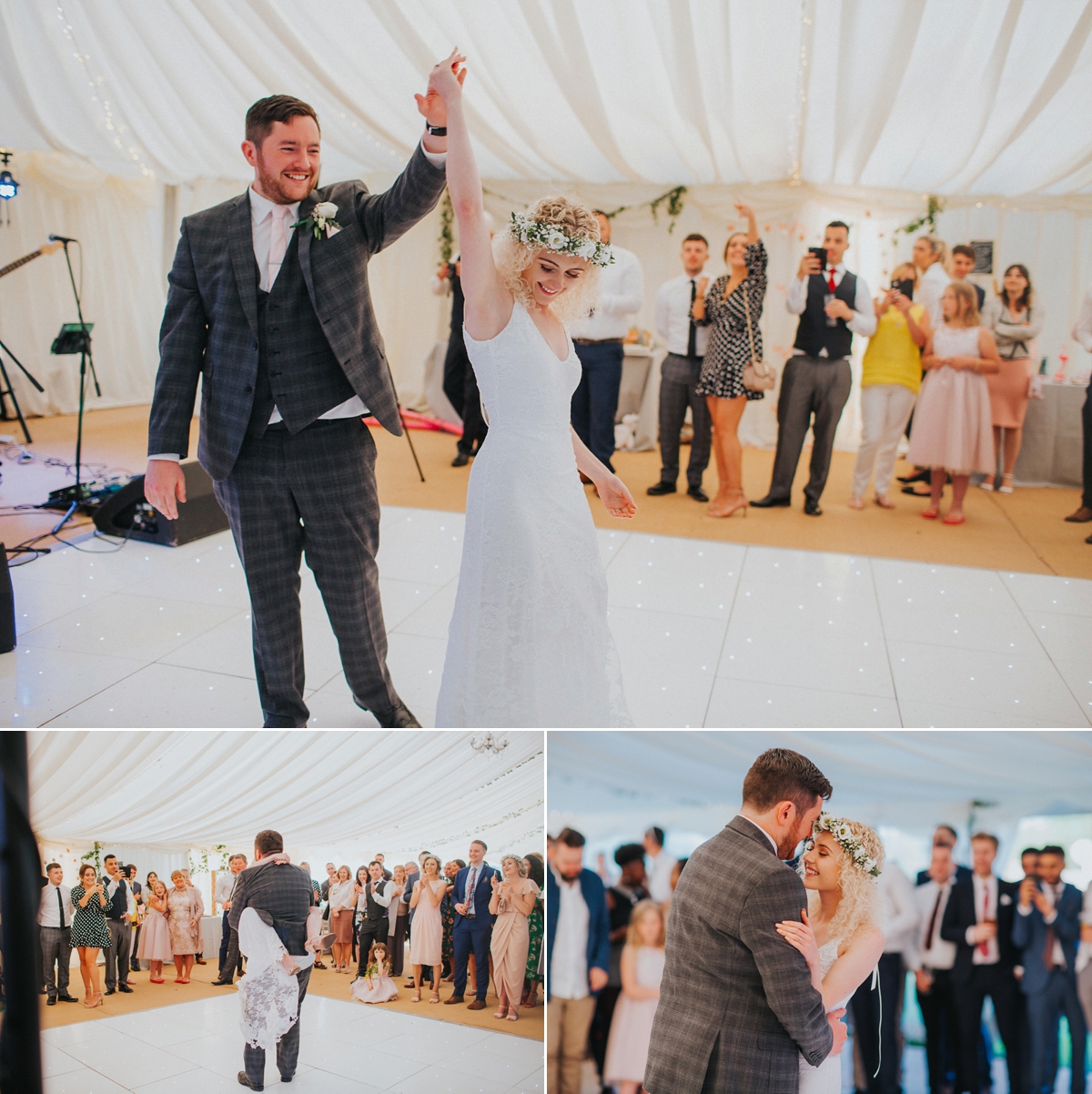 "Other highlights were dancing all night long on the dance floor – including getting a bit wild on my friend's shoulders and group dance-offs. Also the speeches, which were all phenomenal. The best man's speech was absolutely hilarious but beautiful too and my maid of honour (my sister) made a surprise speech which was so heartfelt and unexpected."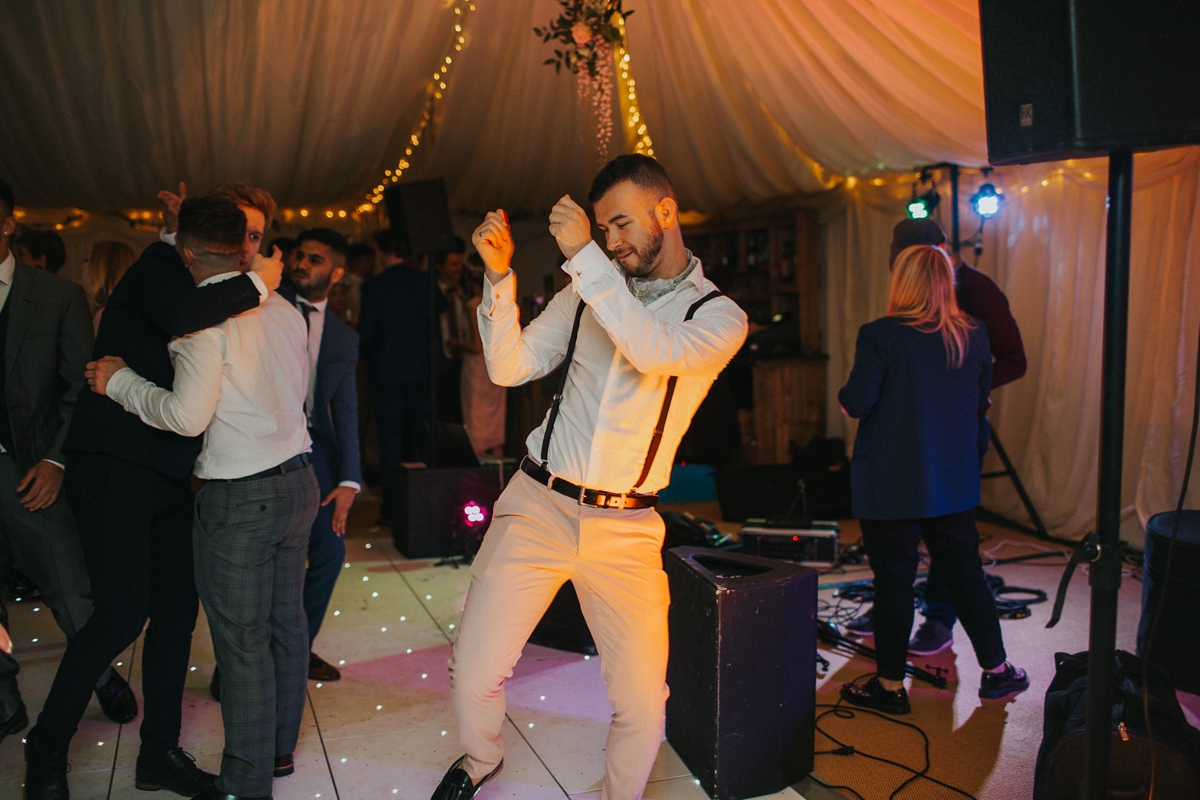 Words of Wedded Wisdom
"My words of wisdom would be to worry less. When you are on such a high on the day, nothing can dampen your mood. All of those little things you worried about, even if they came true, would mean absolutely nothing. I have divorced parents and I was so nervous about everyone getting along. It turns out I had nothing to worry about because the happiness and love dissipated all awkwardness. Everyone danced, laughed and cried together. I had all of my family in one marquee and I couldn't have wished for more."
"For some reason on your wedding day you become this celebrity and none of your guests seem to know whether or not they can approach you and how much of your time they are allowed to take. I don't know if there is a way to make this less of a thing? We were lucky that our top table for two and our afternoon tea that lasted several hours meant that we could both get off our chairs and make circles around the room to talk to our guests."
"I suggest ensuring you get some time alone with your husband to be. After our couple portraits we made time to walk around the gardens alone together and it was one of my favourite parts of the day."
"Kieran made better use of taking moments out from the wedding. As the whole party was on the dance floor, he took his groomsmen outside for a whisky. They took a moment to step back and look at the beautiful wedding they had helped to create and the buzz of the guests inside."
"One piece of advice given to me, which I wish I had followed, is meeting your husband on the hour every hour to have a brief moment together to say 'Isn't this amazing?"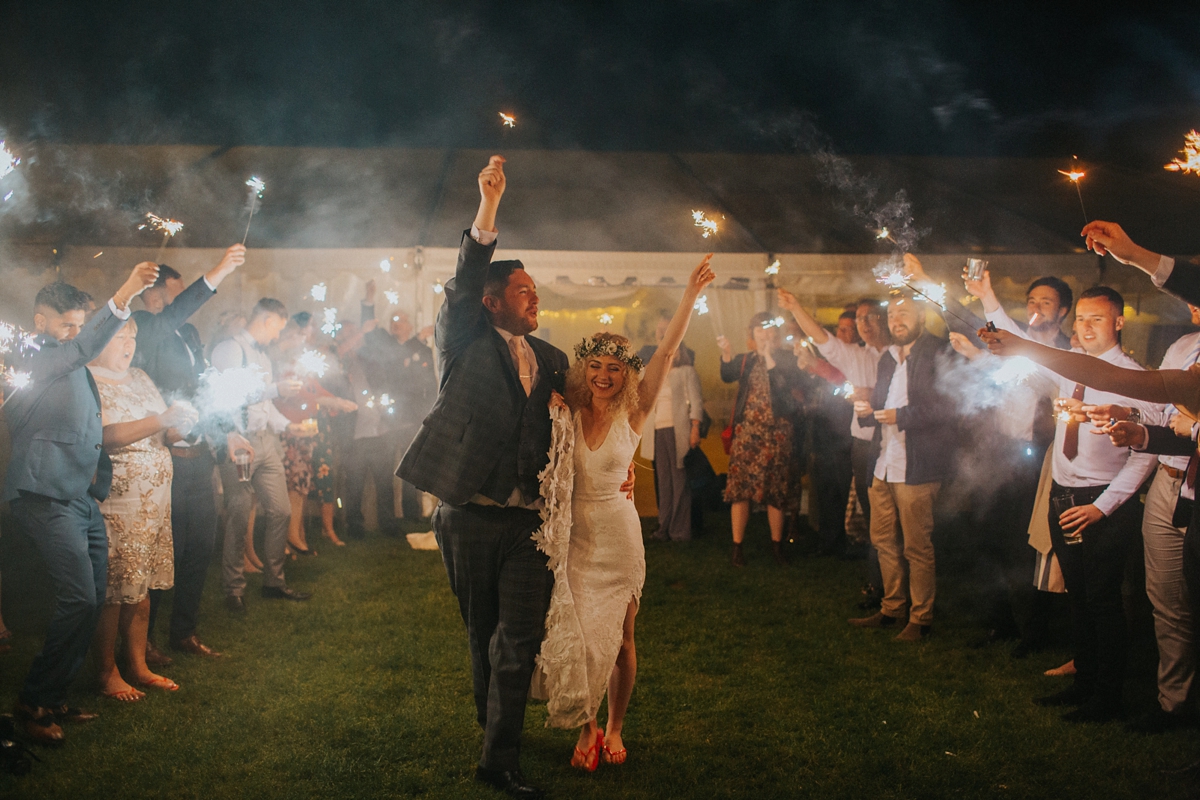 Just one word; wow! What a beautiful day, and spectacular setting. Chloe and Kieran, I'm so pleased that you followed your hearts and made the day everything you wished it to be, as well as enlisting the help of your super-talented friends and family. I love your choice of gown and hope that you enjoyed every second of wearing it.
Thank you so much Chloe and Kieran. I've loved reading about your day, and seeing these gorgeous photos by Lisa Webb. Thank you to you, too, for your gorgeous work.
Ele xx