Readers, you're in for such a treat today – a real feast for the eyes, and if you're in need of some autumnal wedding inspiration, well, look no further because there's a tonne to be found here.
We have a lovely couple marrying in the most exquisite rural setting, surrounded by trees and overlooking the calm waters of a beautiful Scottish loch, and seasonal hues in dramatic deep reds, oranges and yellows in the breathtaking flowers. The incredibly talented florist (more soon!) also made magical use of berries, crab apples and seed heads, too. Read on for this beautifully thought out celebration of autumn.
Meet Katie, a Senior Creative at Aspect Film & Video and Alastair, a Carpenter. They were married on the 15 September 2018 at the Dell of Abernethy in the Cairngorms, Scotland, exchanging their vows on the shores of Loch Garten.
Images by Caro Weiss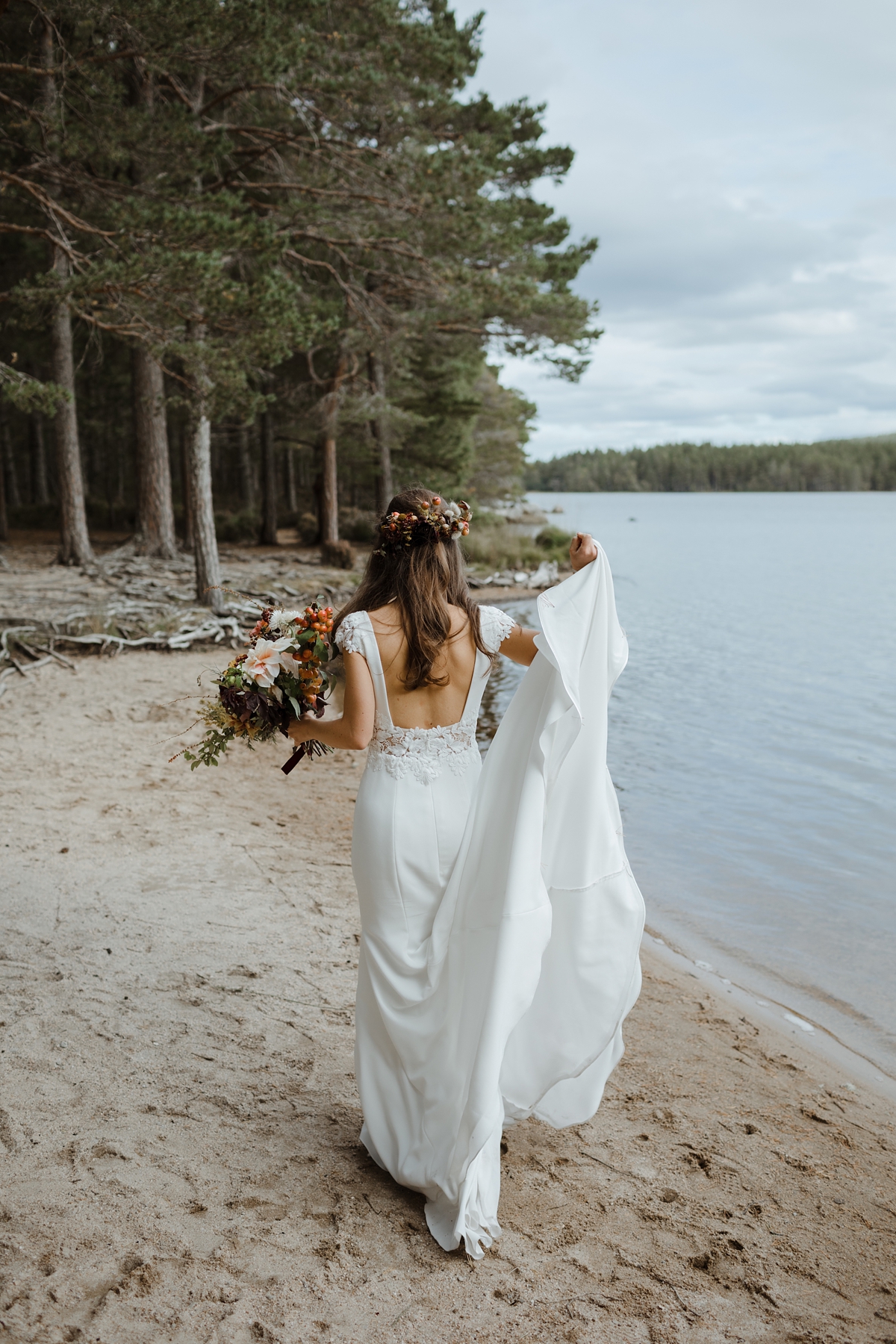 Capturing all the emotion and happiness of Katie and Alastair's day with a fantastic creative, fine art eye was Caro Weiss, who also happens to be one of our Little Book directory members, too.
"As soon as we saw her photography we knew she was the perfect photographer for our wedding. Such a lovely person and an equally amazing photographer. We loved her documentary, low-key style – she captured the atmosphere and moments perfectly."
Make-up Artist Gillian Hoban created a subtly radiant look for Katie, and her hair was put into a pretty braided style by Jenna Cooke. Florist Julia from Wild Gorse Studio made an autumnal dream of a hair comb for Katie, with crab apples and seed heads mixed with dramatic blooms.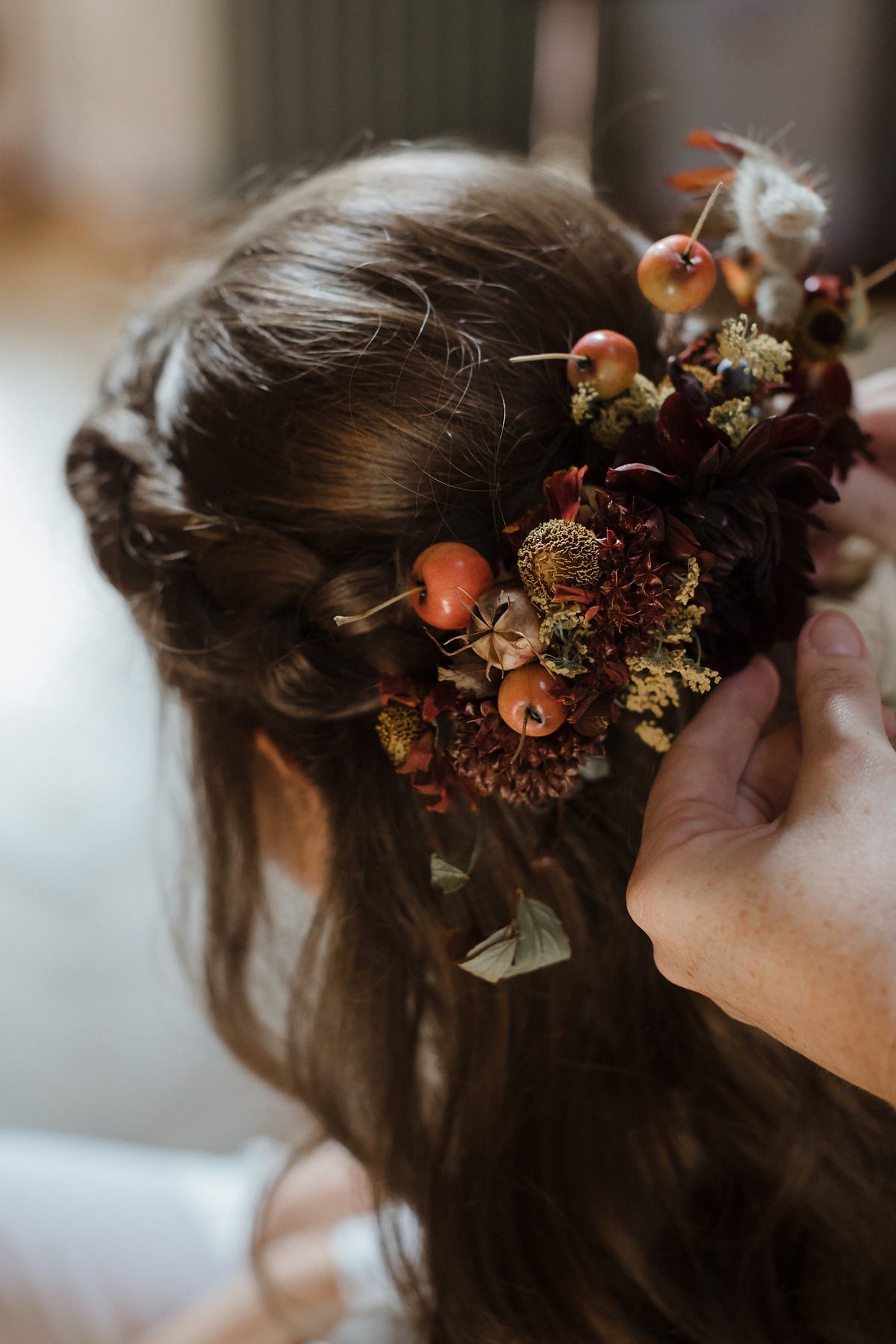 "My bridesmaids wore their own dresses. I gave them a colour and let them pick their own dresses. Considering they all live at different ends of the country (and world) they did such an amazing job!"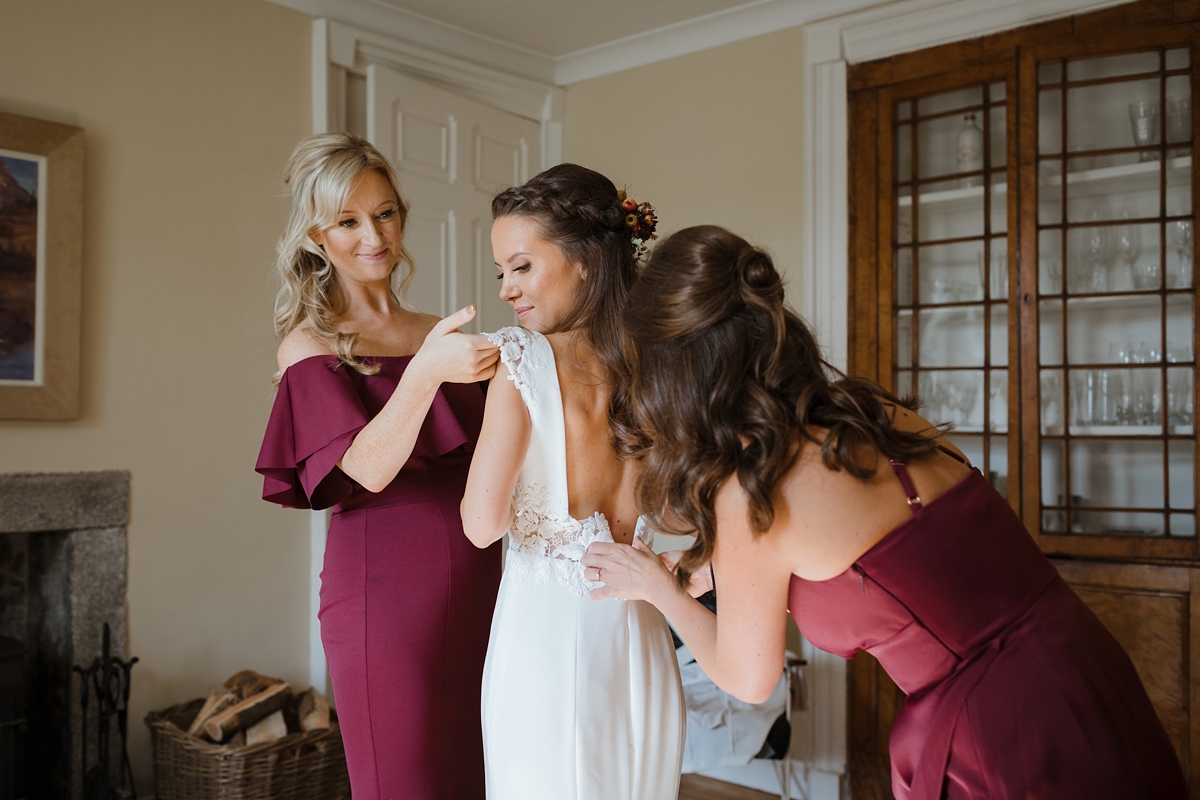 On her feet Katie wore a pair of luscious forest green velvet platform sandals by Tory Burch and had gold stud earrings made out of leftover gold used to craft her wedding ring, by Emily Gliddon Jewellery. Instead of perfume, Katie used Therapie Roques O'Neil's Aura Spray to help create a feeling of relaxation and to calm her nerves.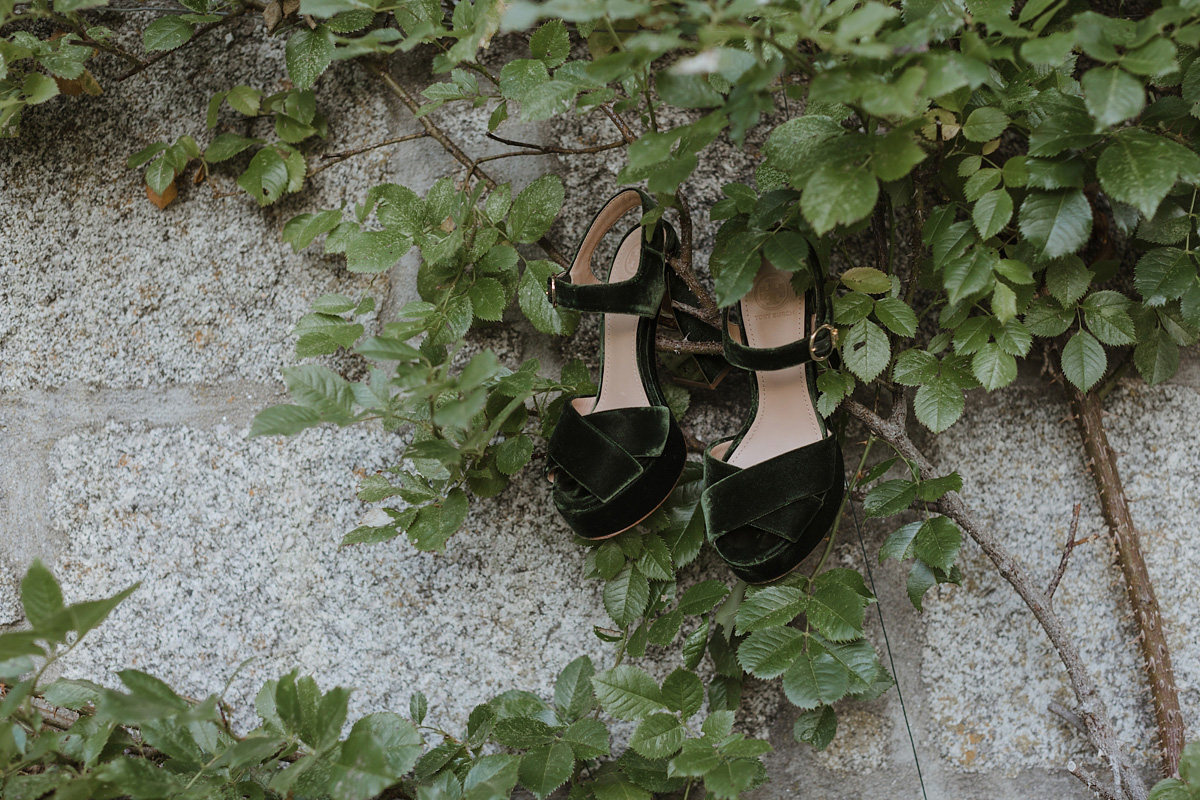 Katie chose her elegant Mikaella Bridal, with botanical inspired lace cap sleeves and waist detailing from Lace & Grace in Keynsham.
"I wasn't somebody who dreamed about my wedding dress since I was young, so I struggled with what direction I wanted to go in. I didn't even think I wanted a wedding dress at the beginning. I was expecting to find 'the one' but found the choice a bit overwhelming…"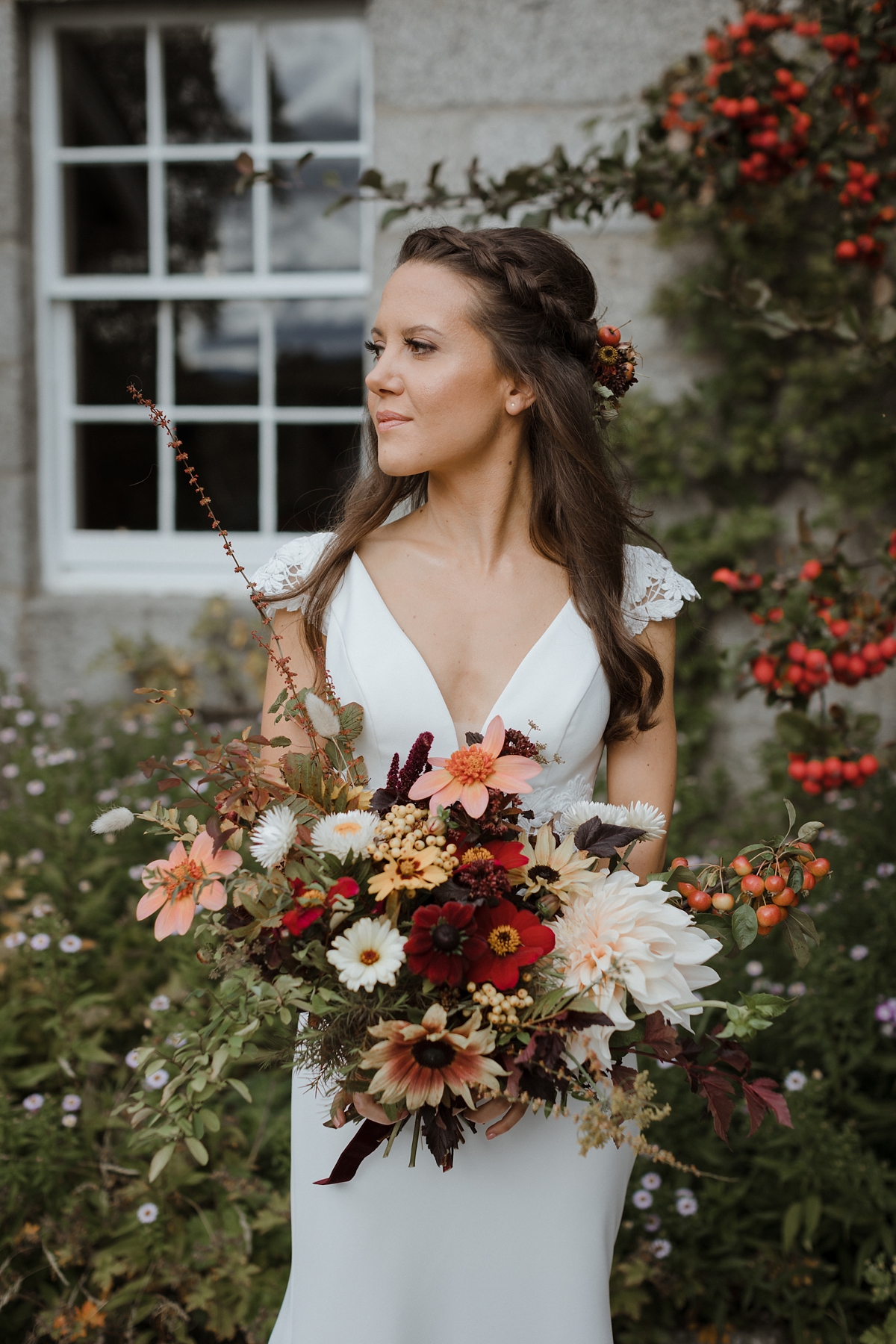 "At a tiny 5'1 it's hard to imagine what the dress will actually look like when it comes back in your size, but Lace & Grace were amazing. They had lots of really different styles that I loved but when I put on the dress I did end up getting I knew it was the one! Choosing a dress 6 months in advance though did make me doubt my decision…but on the day I loved it like the first time I put it on again."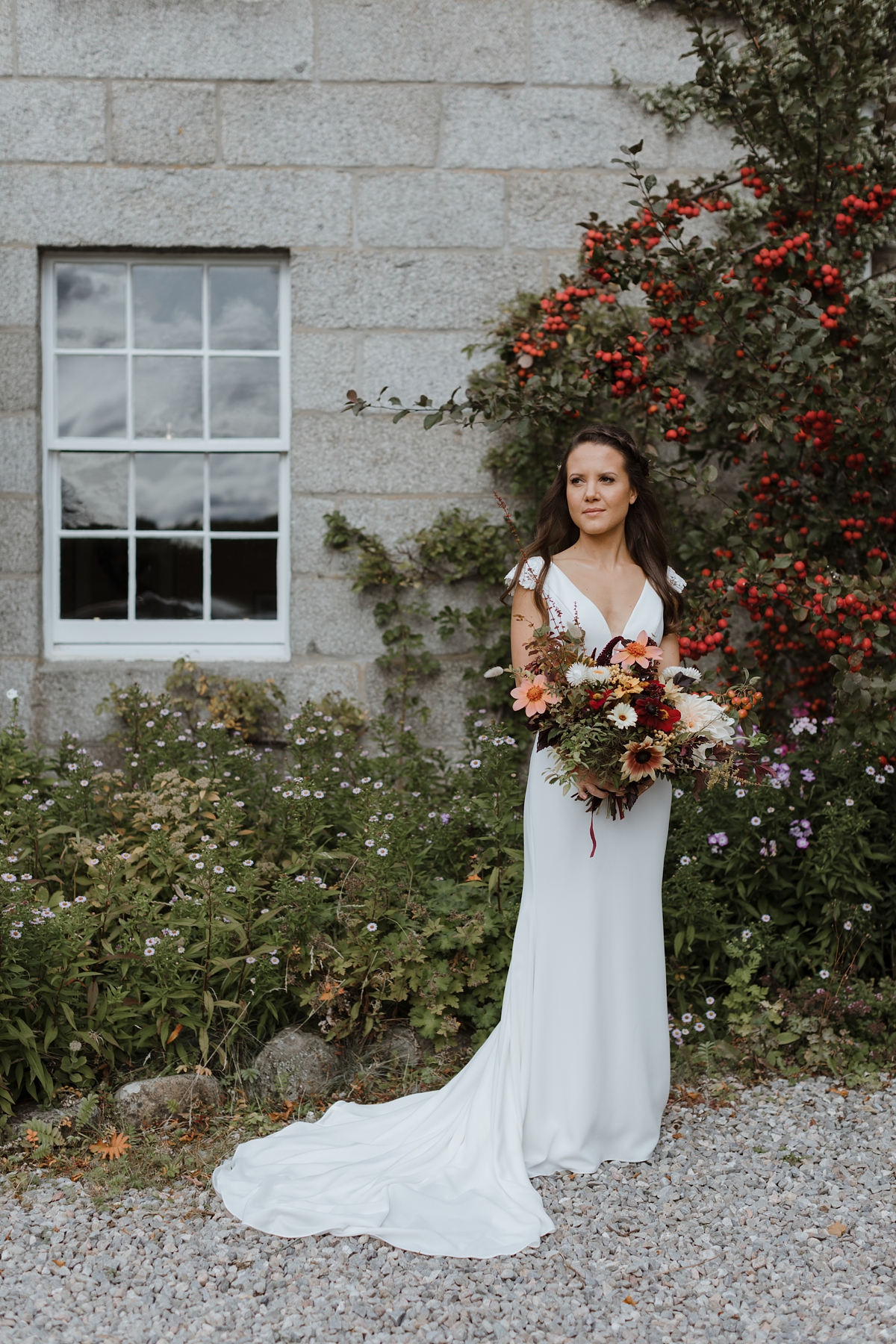 I'm in complete awe of the extraordinary floral arrangements for the day, created by Julia and Duncan at Wild Gorse Studio. Katie carried a bouquet filled with textures and burnished autumnal shades, with different varieties of dahlia as the focal point.
"We sent Julia some references but gave her free rein to do what she felt was right. She's a true artist and we couldn't have been more happy with what she created! We wanted the flowers to be seasonal, local and hand picked. We were overwhelmed by what she and Duncan created, so beautiful!"
"As soon as we went to The Dell, I burst out crying. Anyone who has been there would agree that it has an amazing feel, a certain magic to it. We wanted to get married somewhere that felt like a home from home and Polly and Ross (and their amazing set up and their incredible energy) definitely made that that dream come true. We also wanted to be able to have our closest friends staying with us on site and the Dell cottages are perfect for this."
"We had our little cottage that was connected but allowed us some privacy. We also really wanted to get married down by the Loch! Loch Garten is such a special place. All of our guests met at The Dell first for a bramble gin fizz in the tipi in the woods before we transported them all to our undisclosed ceremony down by Loch Garten."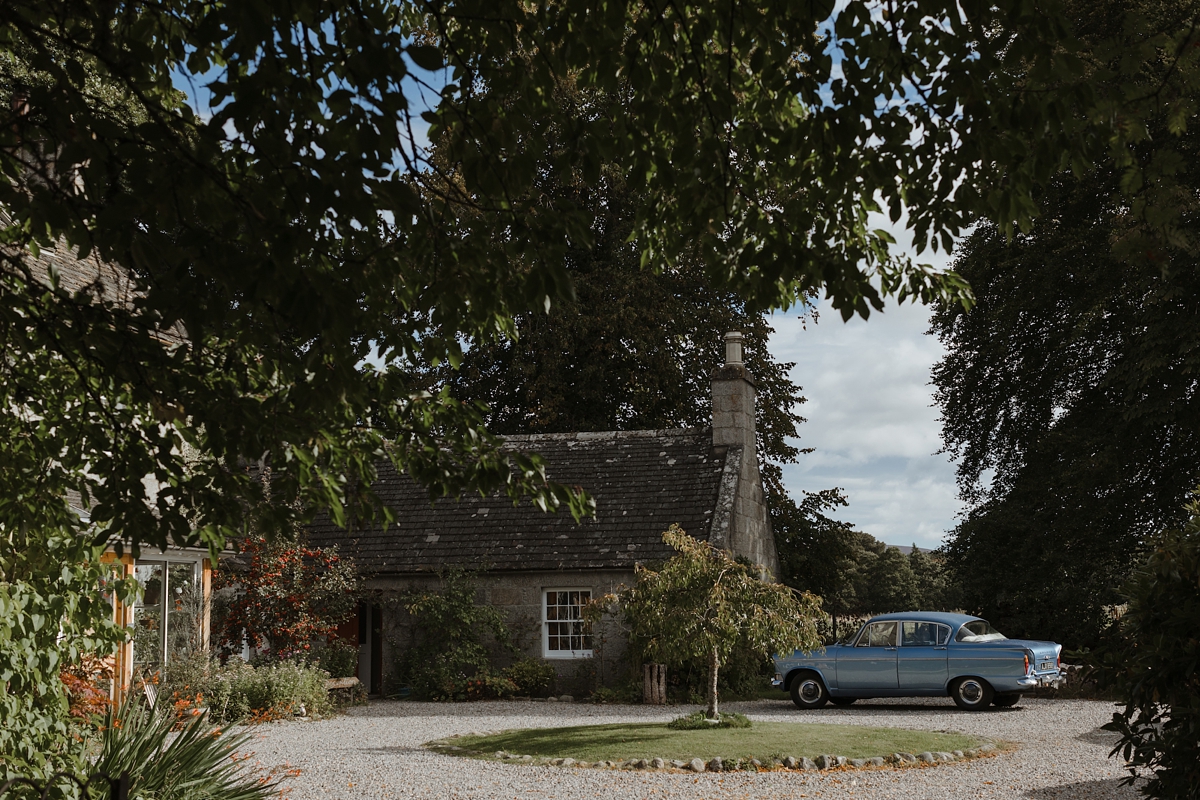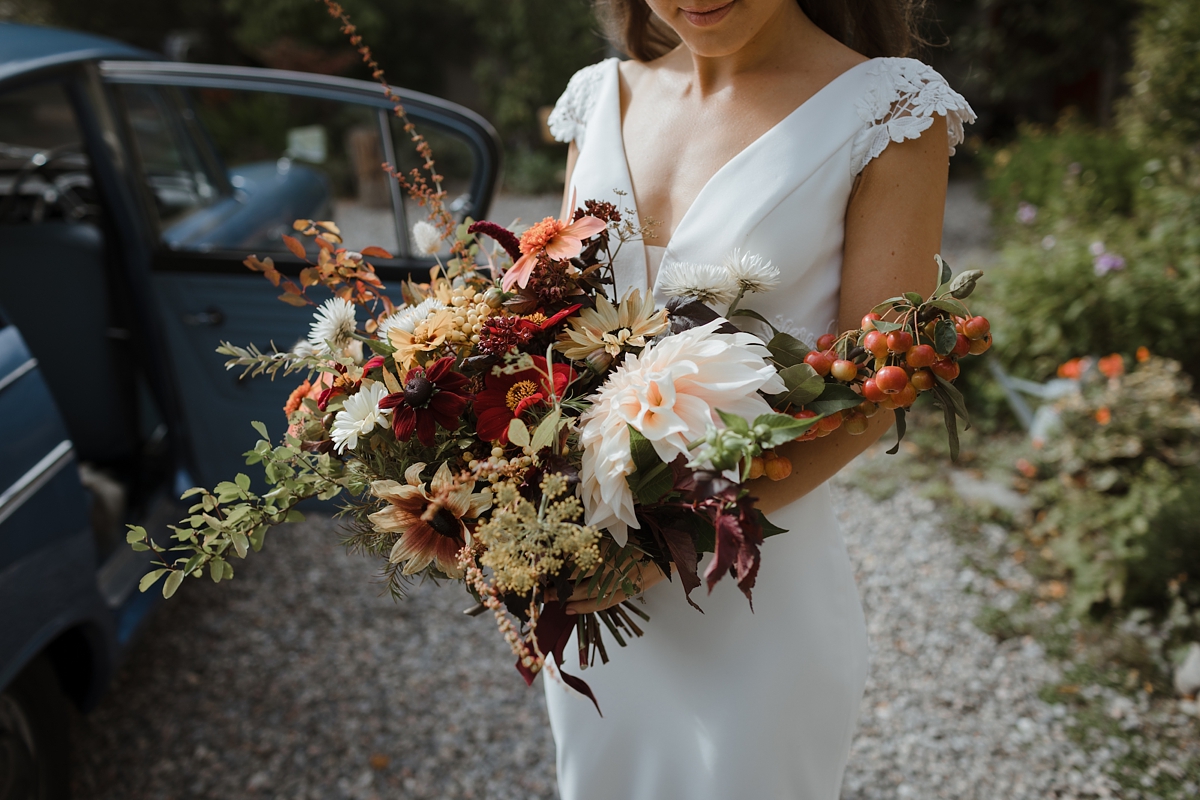 To transport the bridal party down to the Dell, venue owner Polly provided Bluebell, her amazing 1964 Humber Spectre!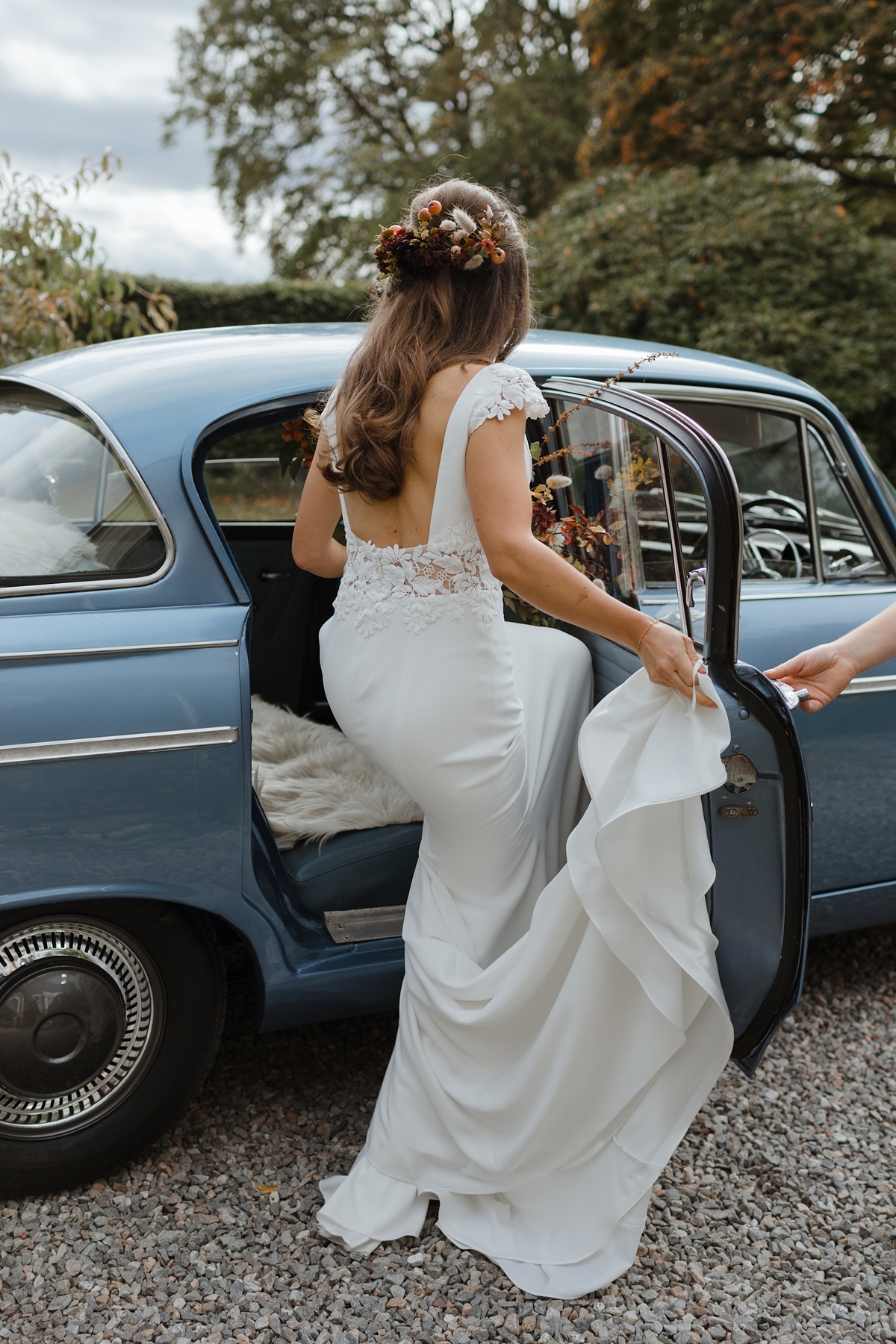 Alastair wore a fantastic dove grey three-piece vintage suit (no further details provided) with a knitted tie in a beautiful teal colour. He also wore personalised Falke socks gifted to him by Katie on the morning of the wedding.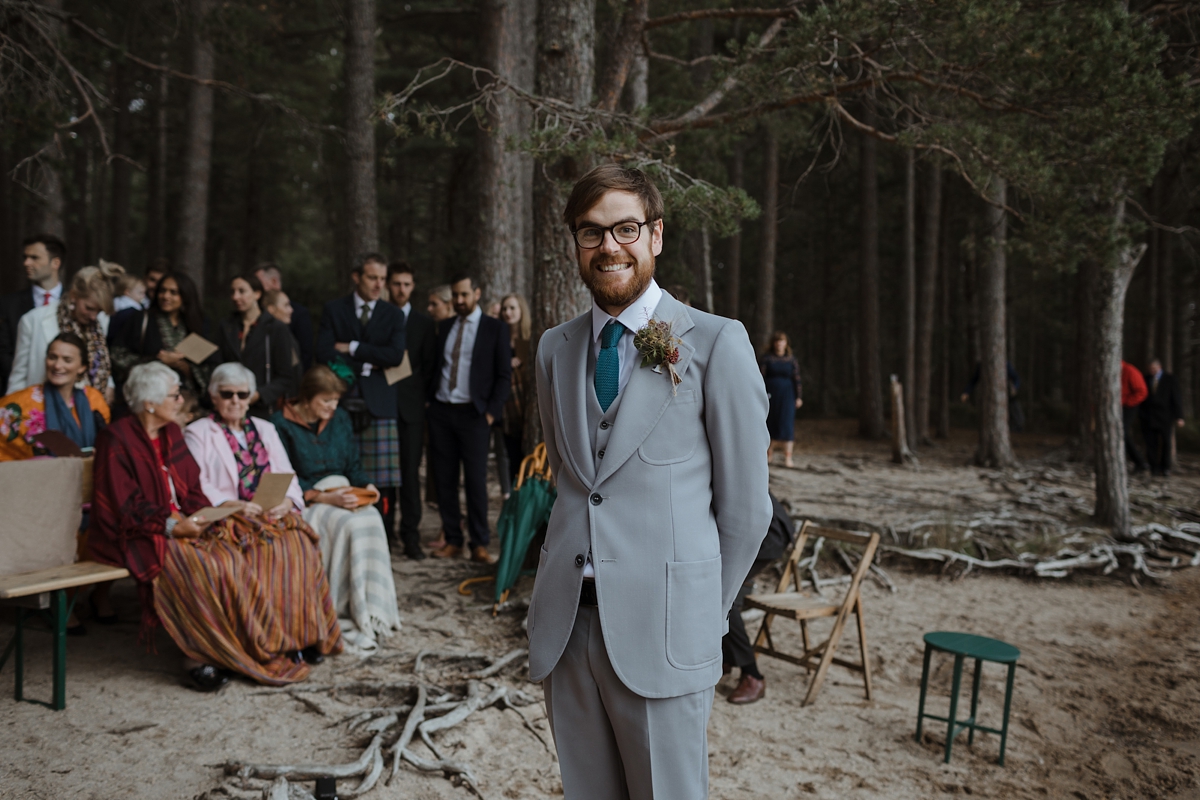 "We met at Sheffield University 13 years ago and got together 5 years later in London.We got engaged whilst on a camping trip in Switzerland. On an epic walk, he got down on one knee and I nearly had a heart attack."
"Alastair always said he didn't want to get married but then apparently he changed his mind 5 years ago and didn't want to tell me 'in case I was expecting it' – which I certainly was not!"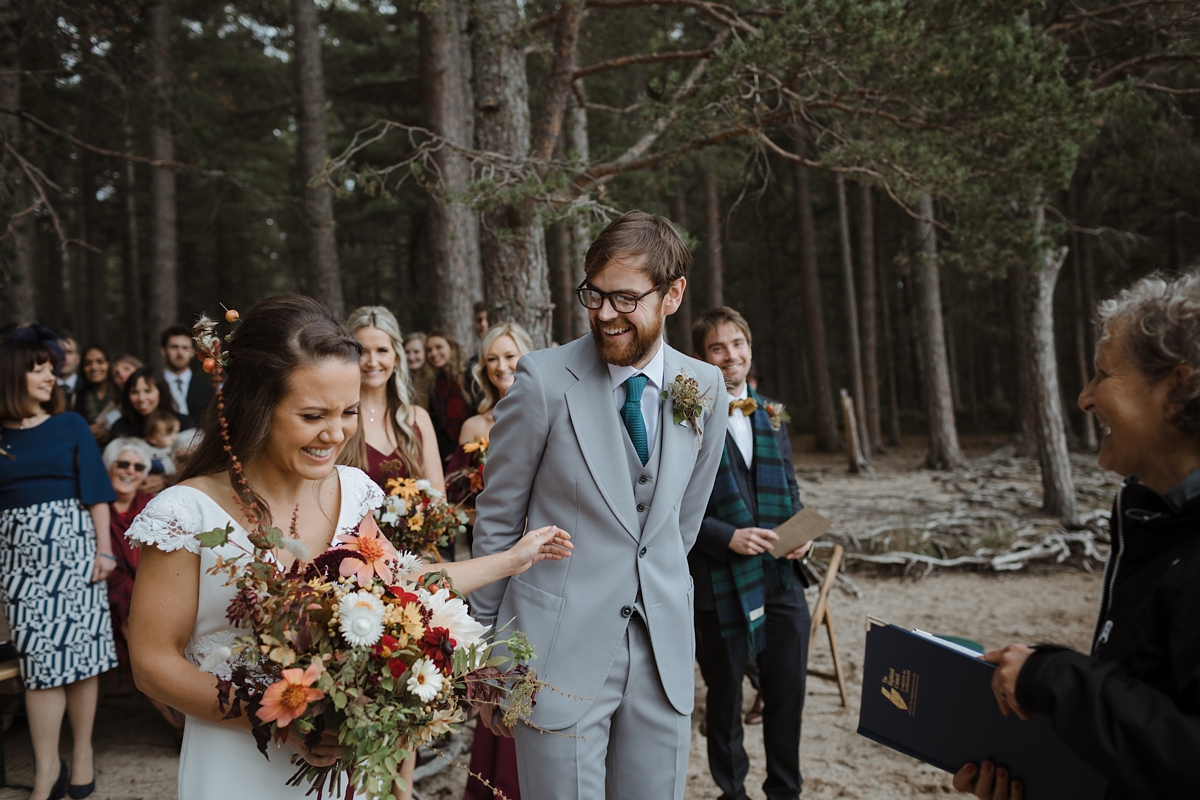 To the song May You Never by John Martyn, Katie walked through the pine trees and down the aisle to begin the ceremony and said their vows to one another overlooking Loch Garten's still, glassy waters.
"Alastair wrote our ring vows in bed one morning. He based it around the fact that we had made our own rings and it also tied in really nicely with the ring warming ceremony we opted for."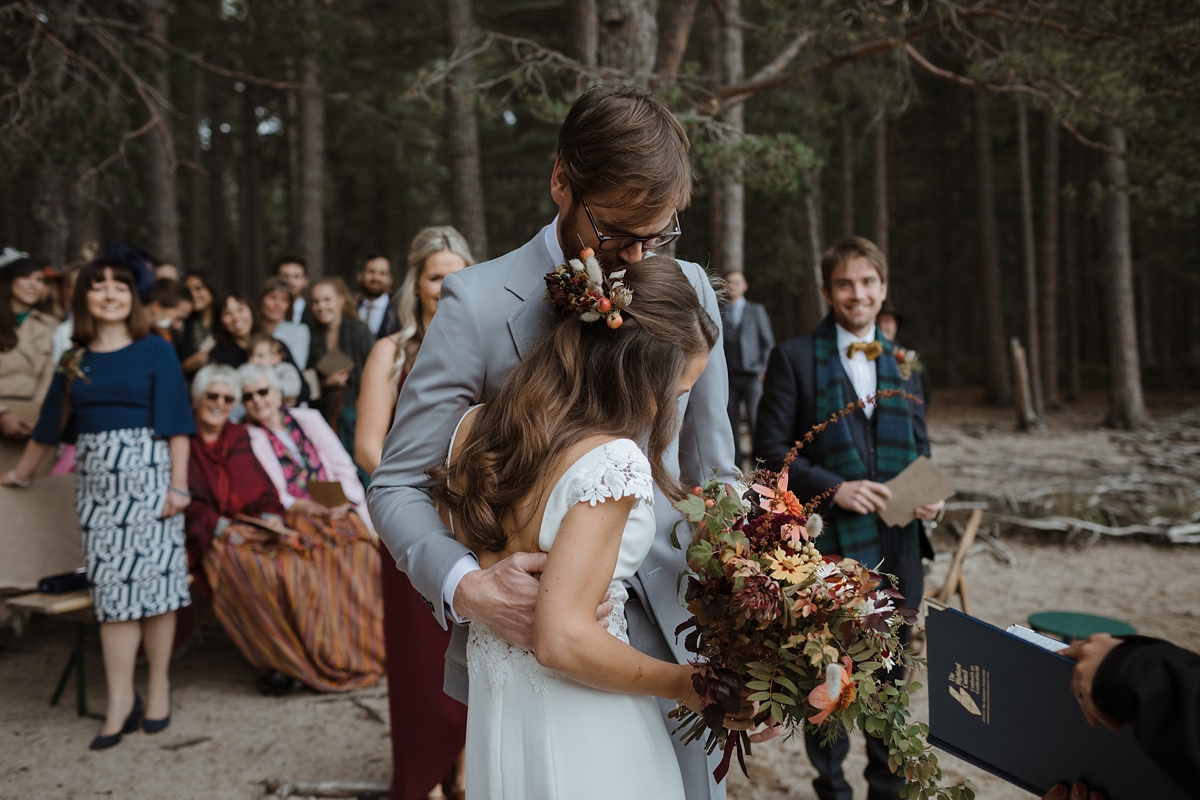 "I made this ring for you to manifest our love. It is shaped by my hand to fit yours. Its imperfections a reflection of ourselves. Its permanence a symbol of our love. In wearing it the character will develop, as our love will too. Not perfect, forever improving, but always true."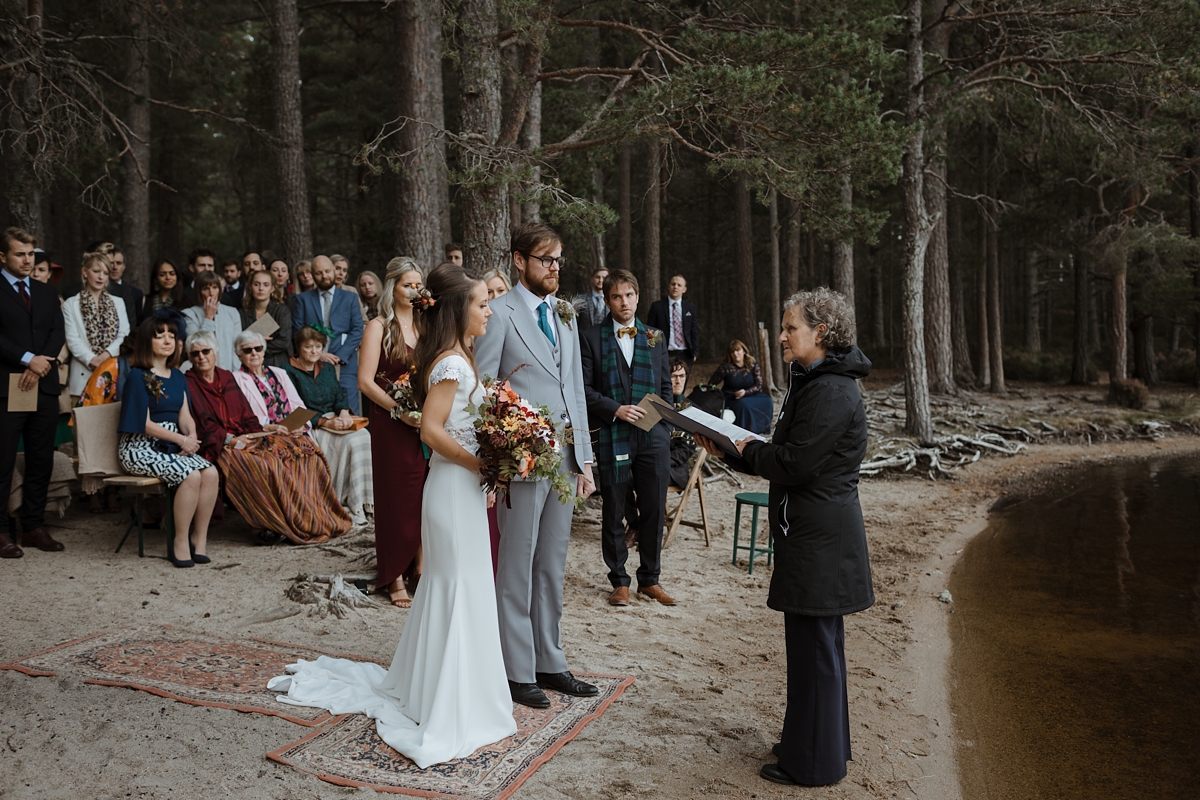 The couple made one another's rings together at Emily Gliddon's studio, choosing a matte, slightly textured finish to them both.
"We passed string around all of our guests and the rings were passed from guest to guest to encourage them to warm our ring and add any blessings. Our nephews kicked it all off. One of them dropped them on the sand which made us all laugh. The idea is that when they get to you they are saturated with all the love and well-wishes from your guests."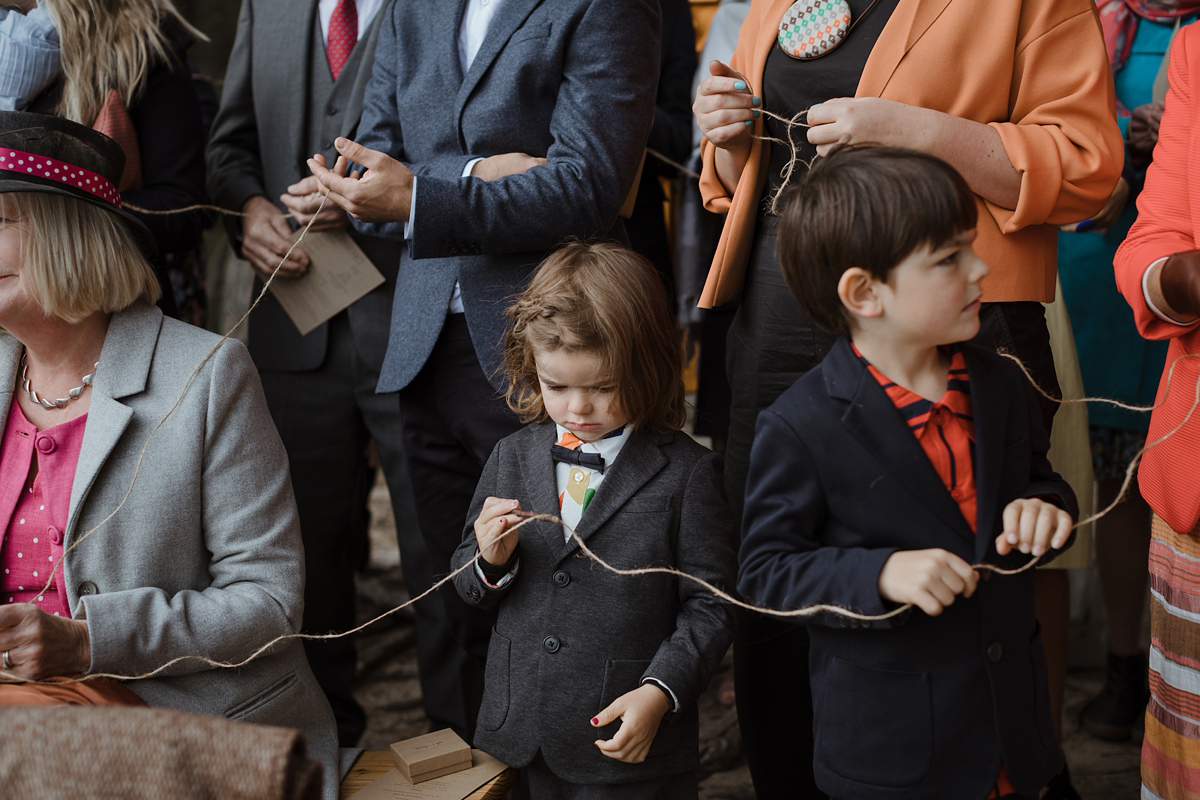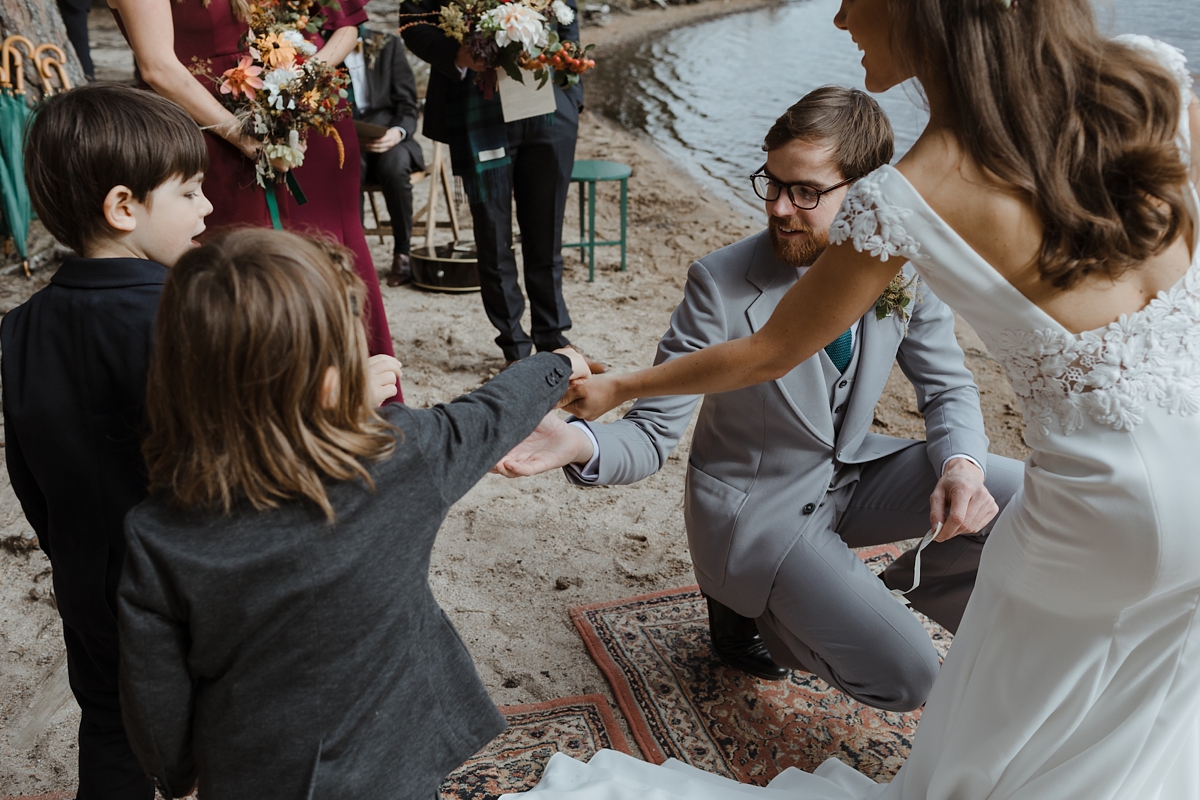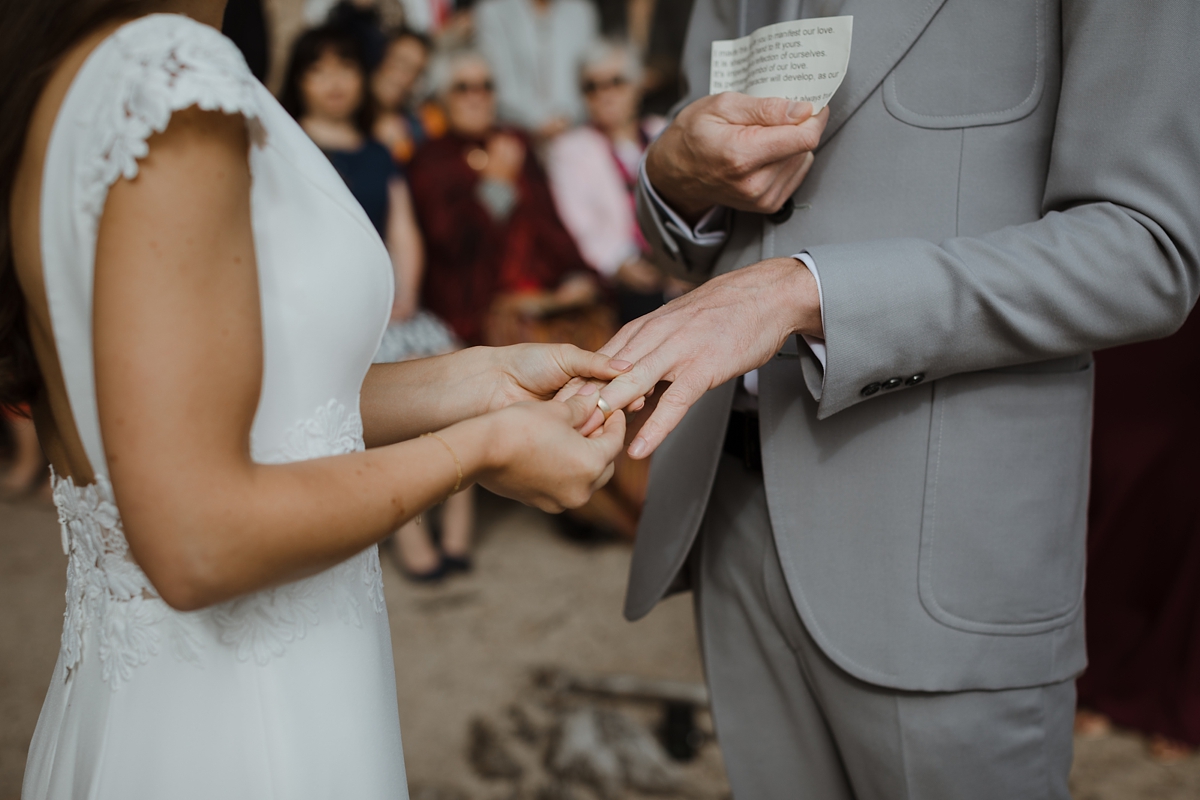 Katie and Alastair's mums, and two of their closest friends each chose a heartfelt reading for the ceremony, too. Katie's mum Theresa read an excerpt from Gift From The Sea by Anne Morrow Lindbergh, whilst Alastair's mum Lindsay read W.H Auden's poem O Tell Me The Truth About Love. 
The couple's usher Edward chose to read an extract from Letters To A Young Poet by Rainer Maria Rilke, and finally, friend and usher Thom read a piece called A Tale Of Two Scots, which he wrote himself.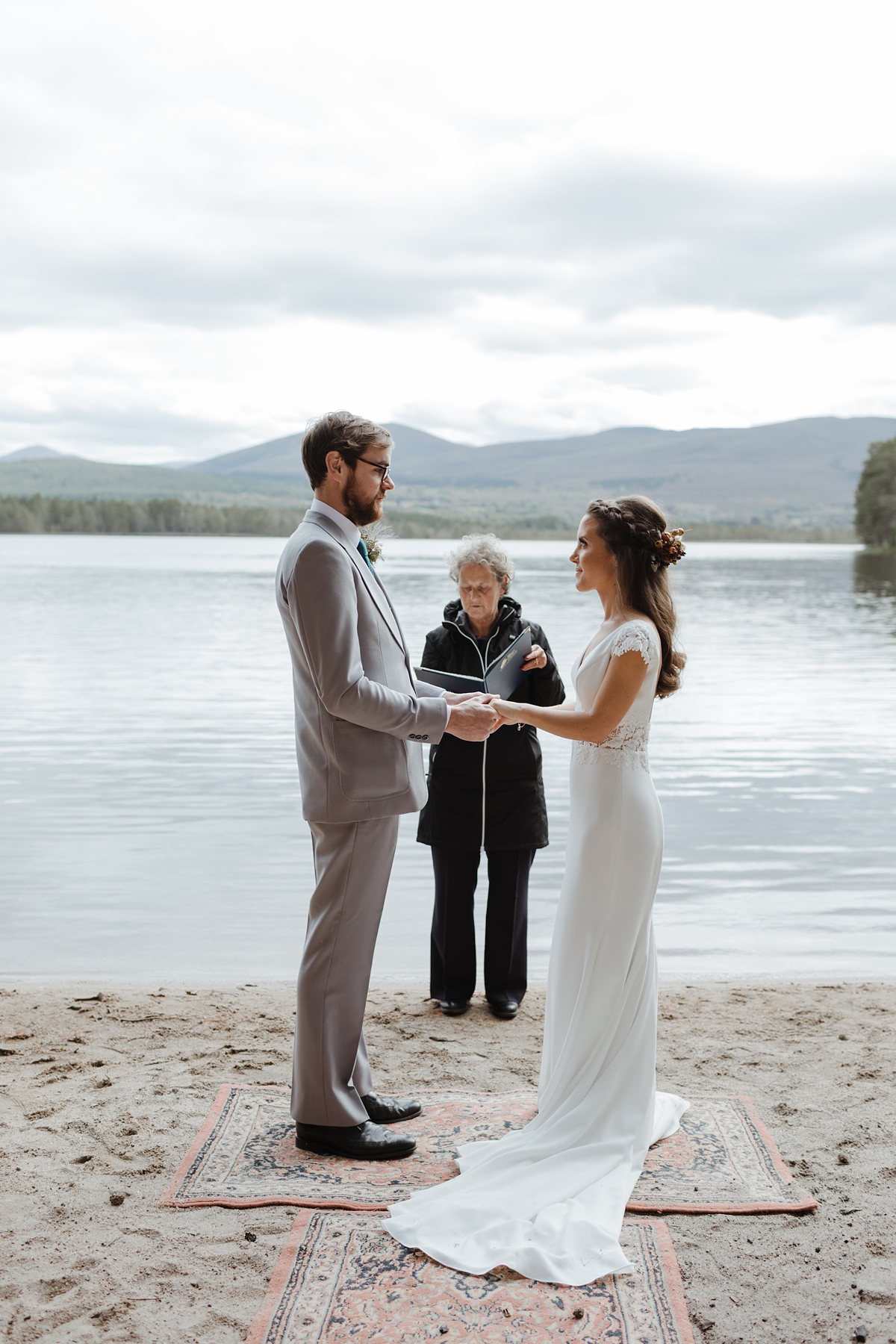 "Our wedding was basically us translated into a wedding. We kept everything quite simple and didn't want to dress it up too much. Our suppliers were super important to us. We basically got all of our favourite things and people together to make up the key ingredients of our wedding."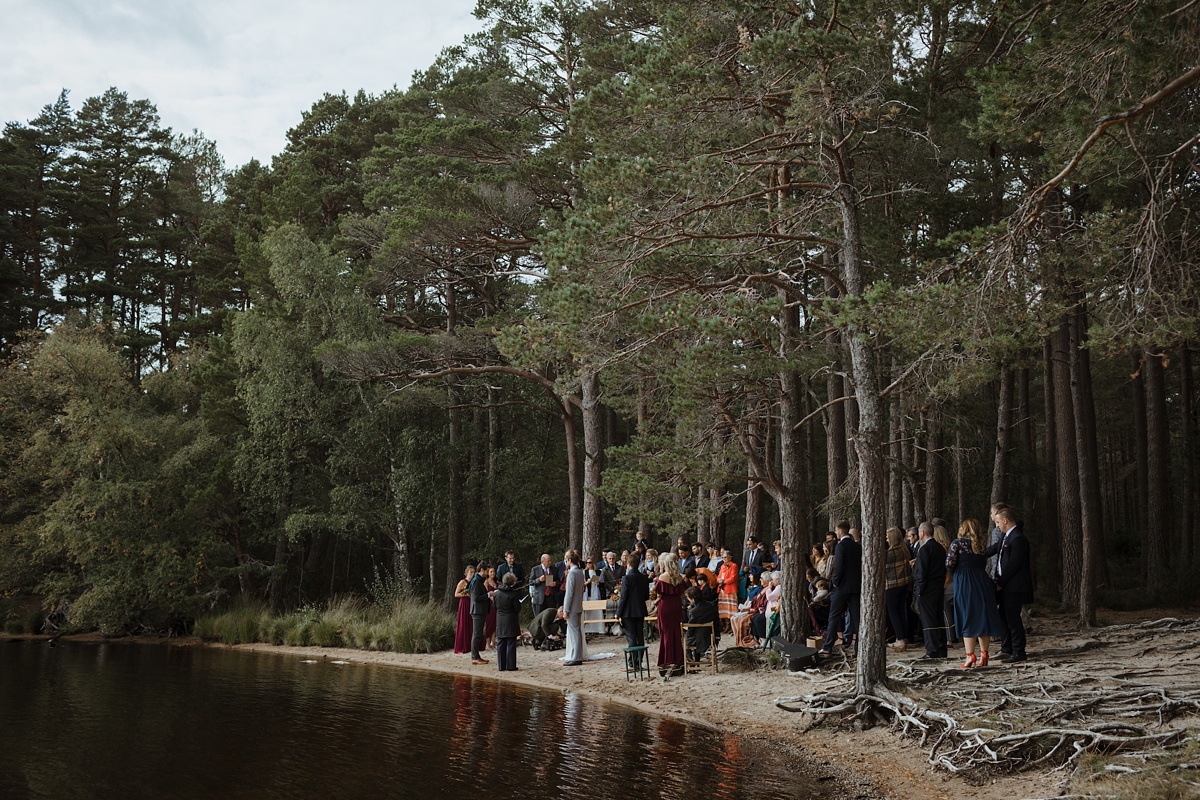 "Our suppliers included our favourite things from the locations we have lived in. We wanted handmade things made by people who care and people with creative talents, responsible sourcing and quality ingredients/products. We didn't want to be controlled by tradition and went against many wedding traditions but used them to guide us a little!"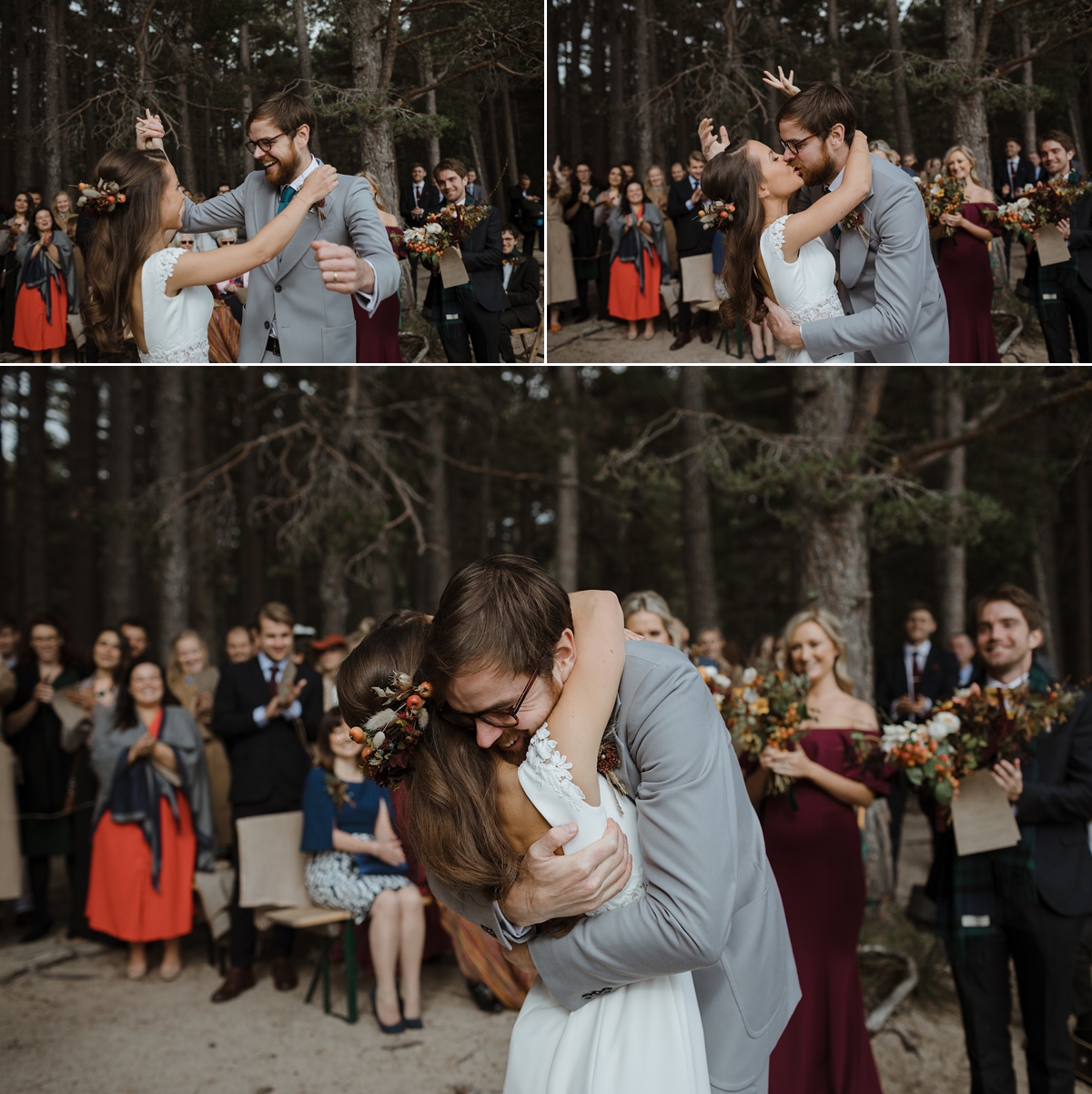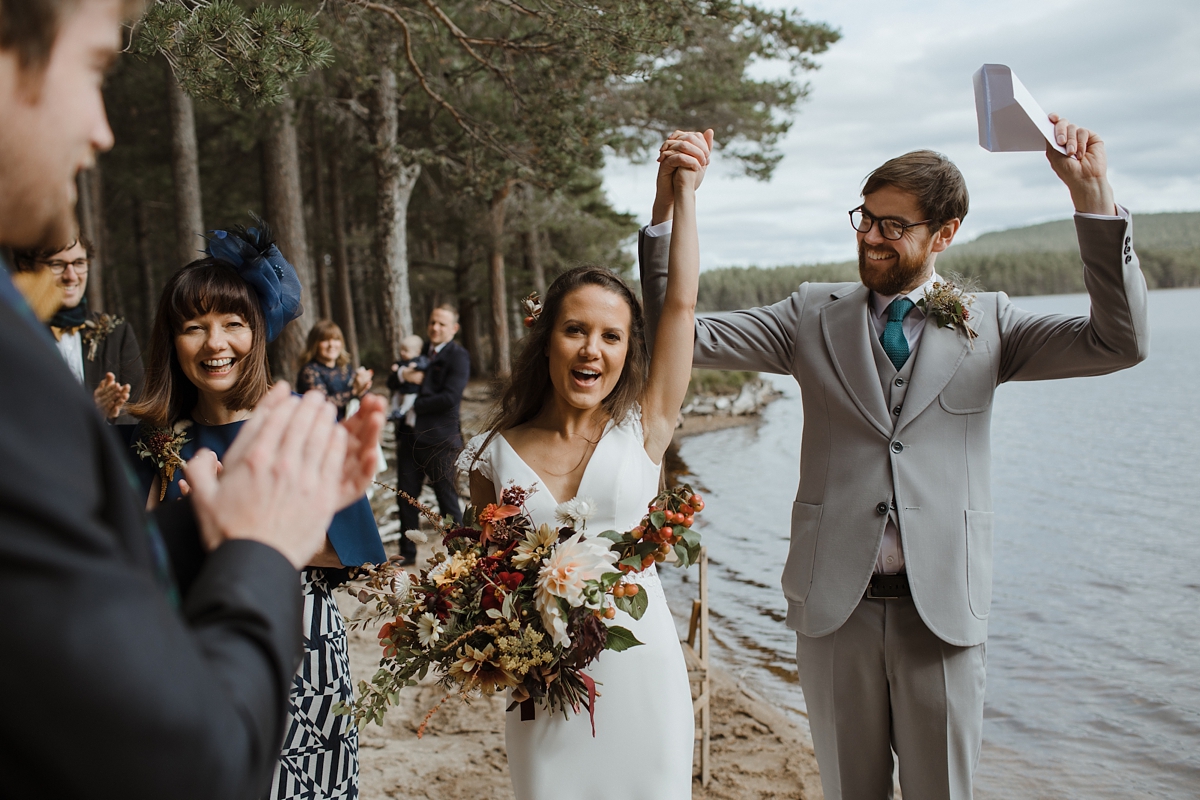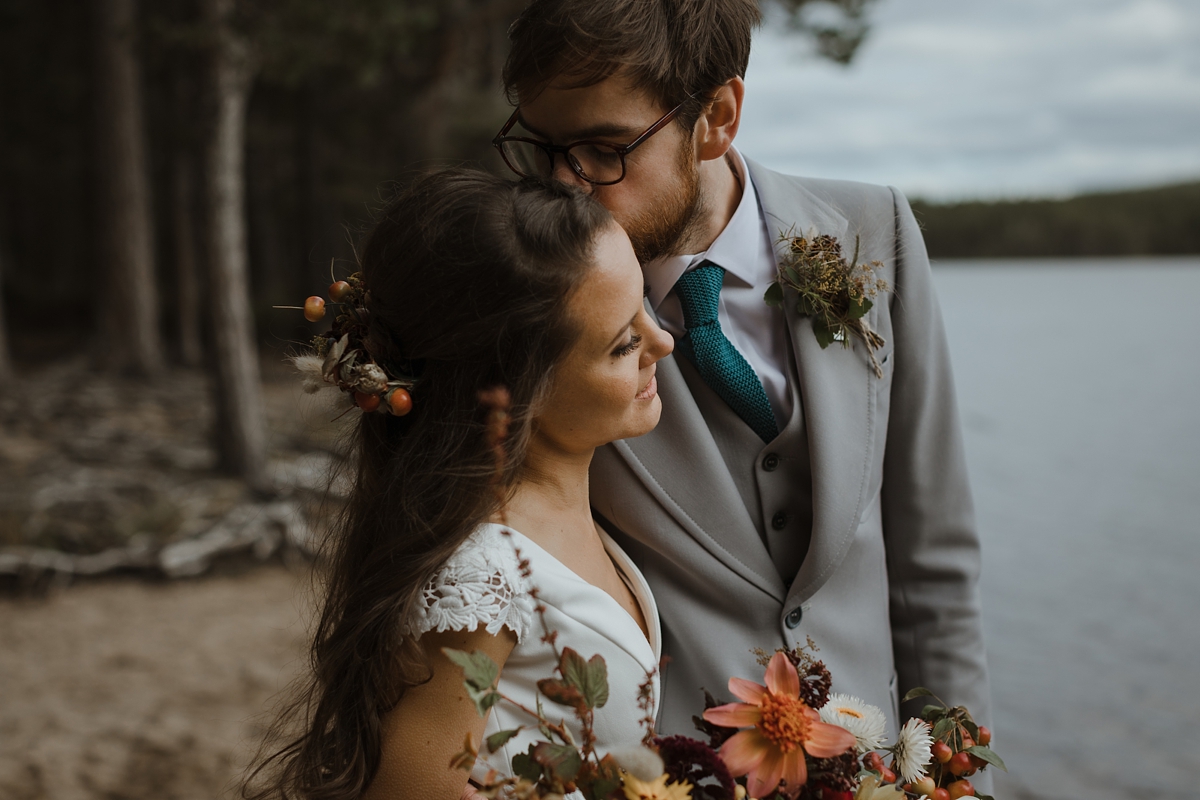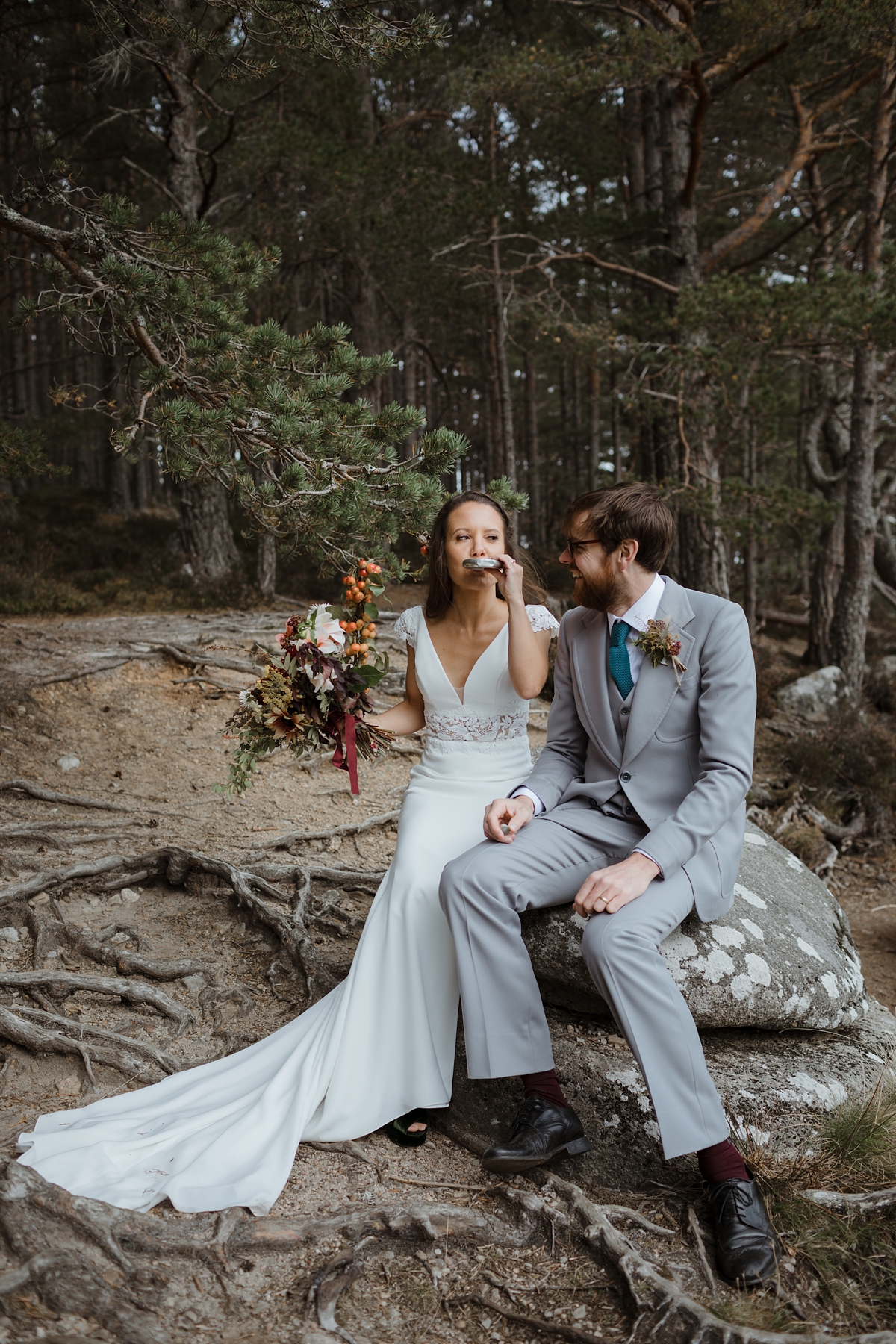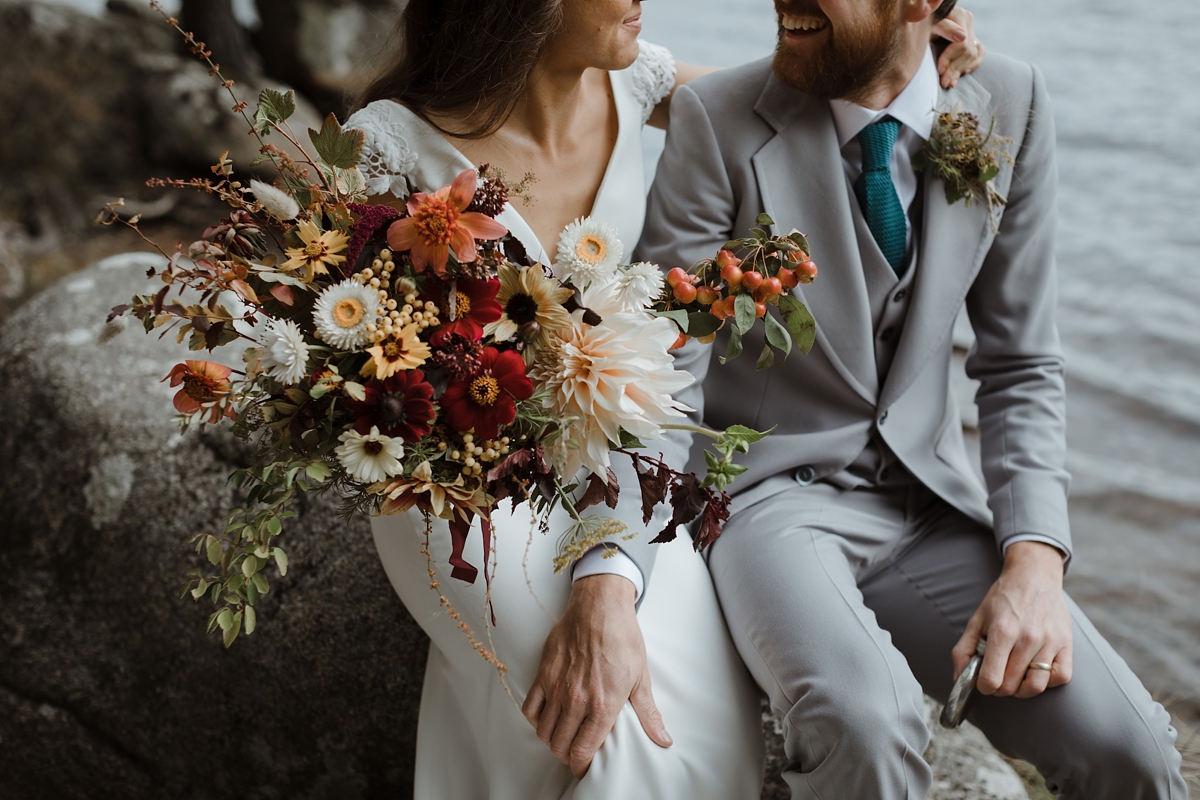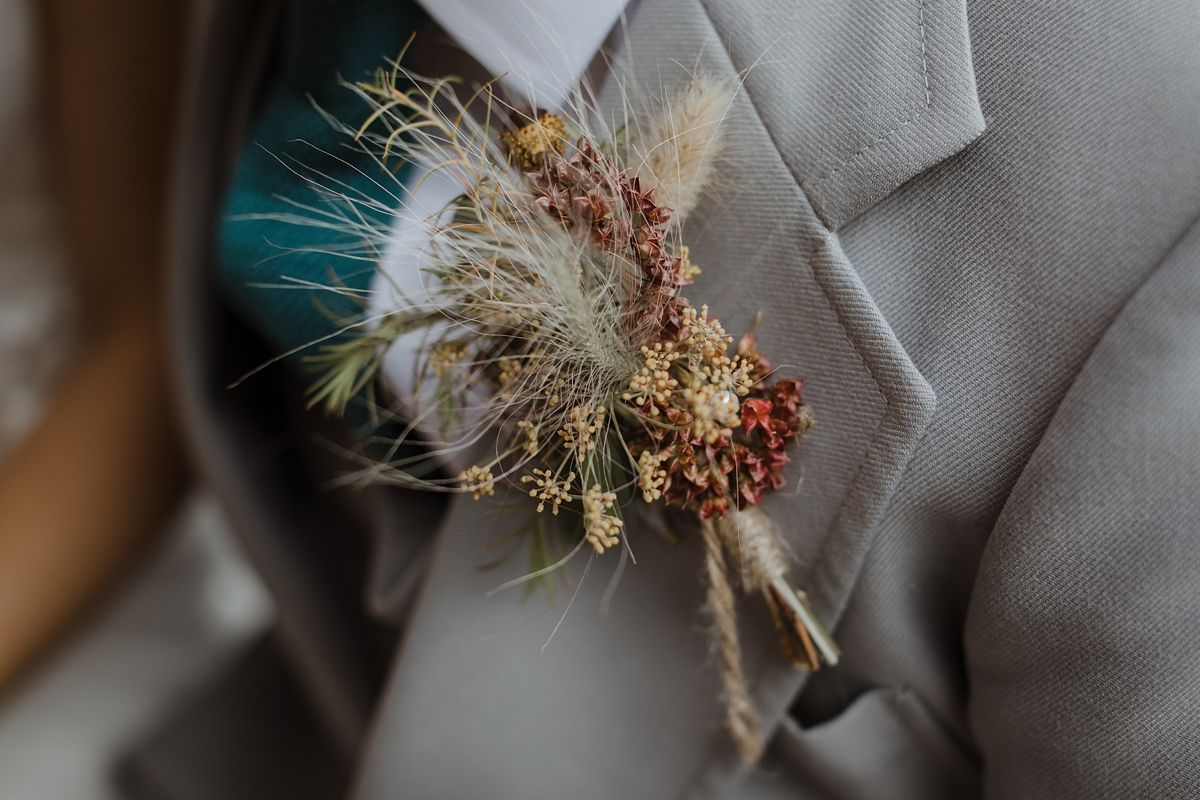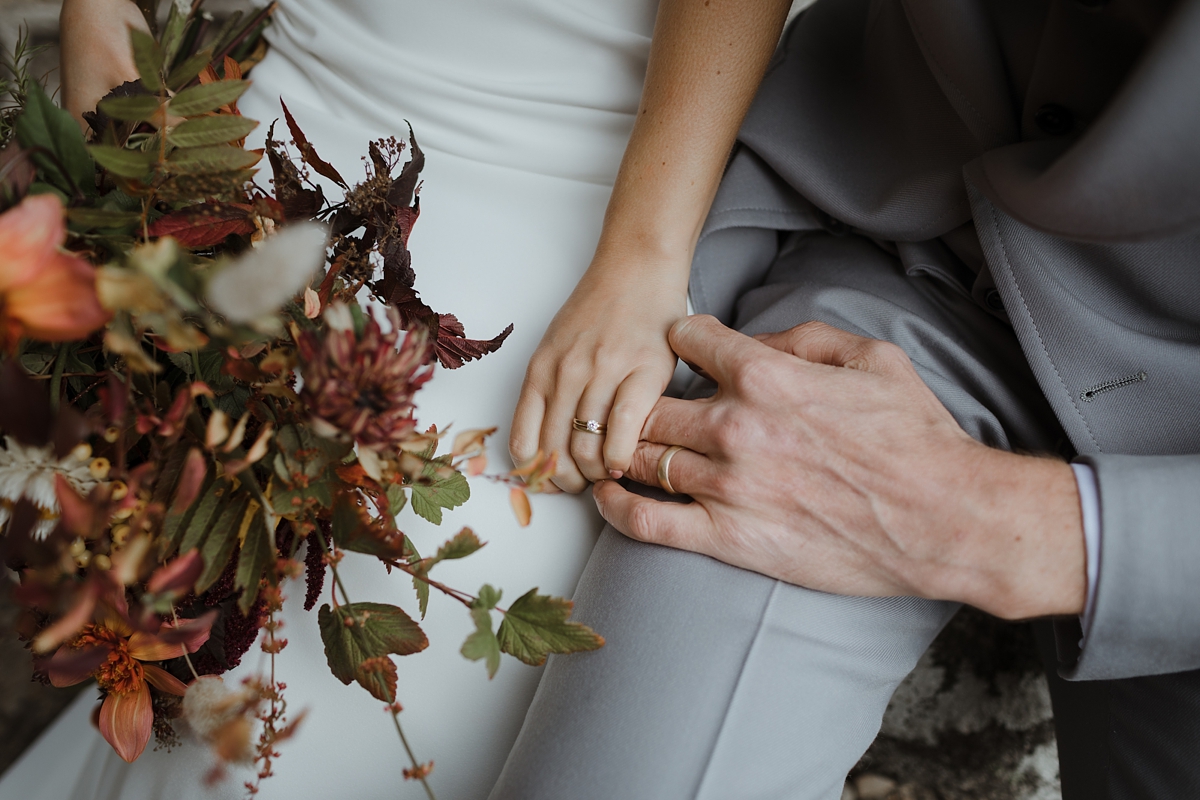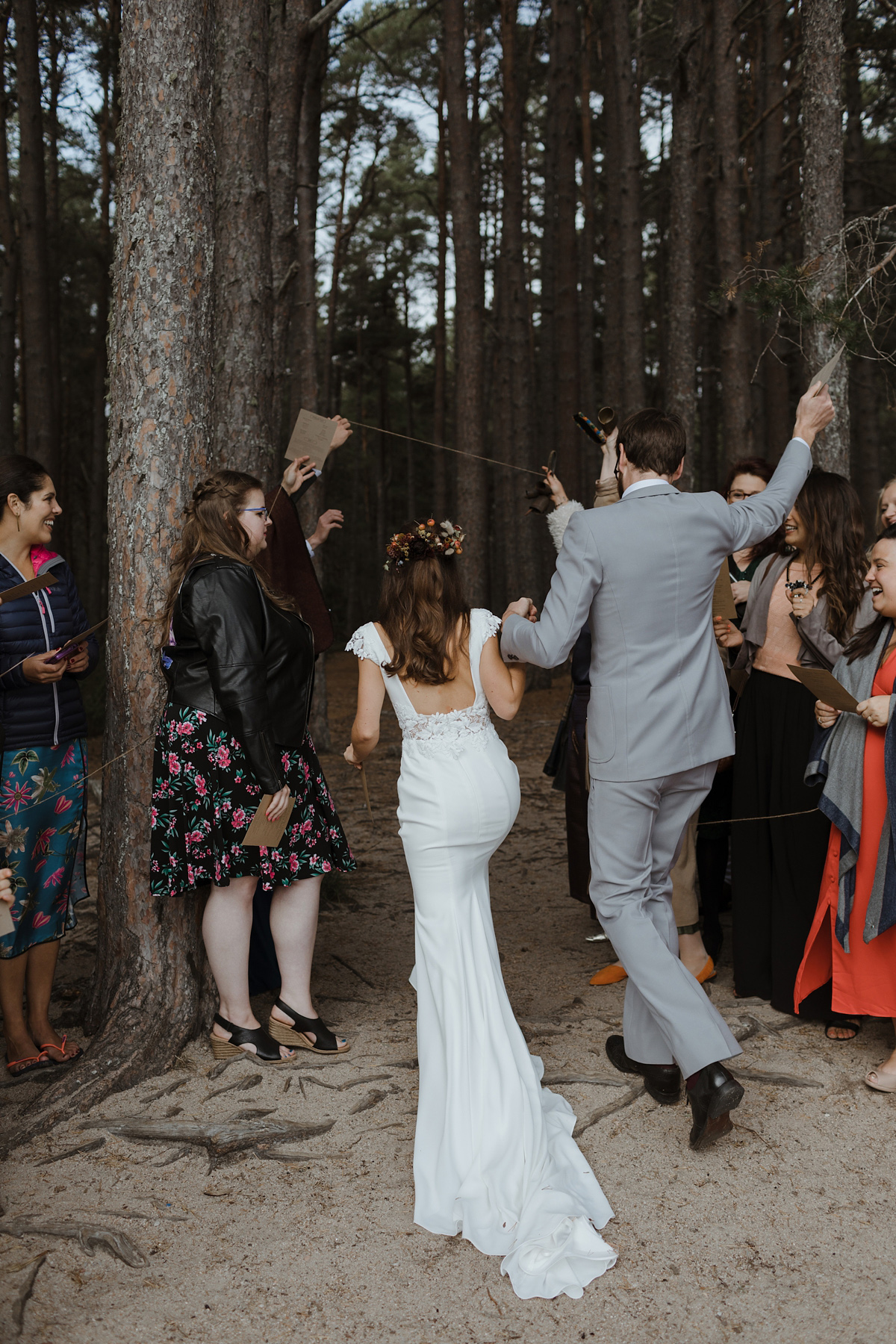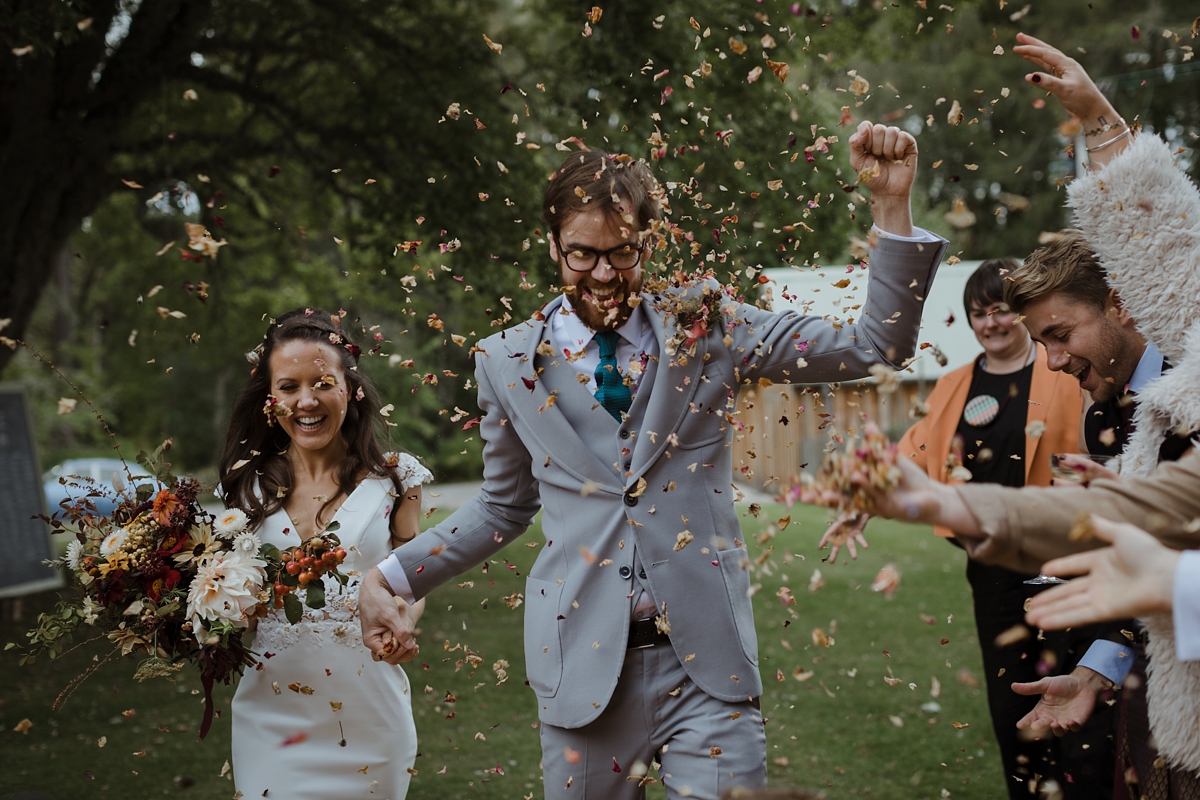 After the ceremony. there was time for games, confetti, drinks and delicious canapes made by Mhor – ham hock, apricot and mint rilettes, smoked haddock ceviche with ginger, chilli and coriander and cauliflower pakoras with mint and cucumber yogurt.
"We went for English sparkling wine from Davenport Vineyards for the drinks reception and served it alongside Bristol's amazing Wiper & True beer – the beer was an Amber ale called In The Pines, which was perfect for the setting!"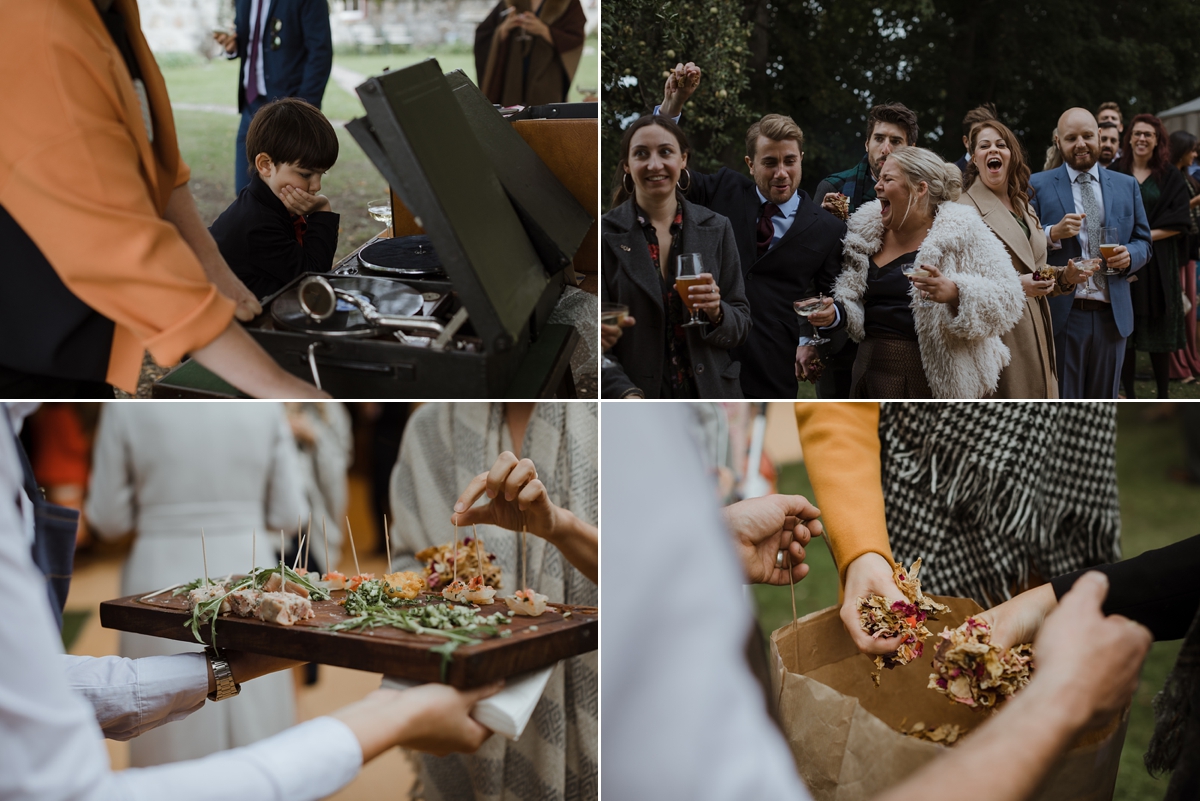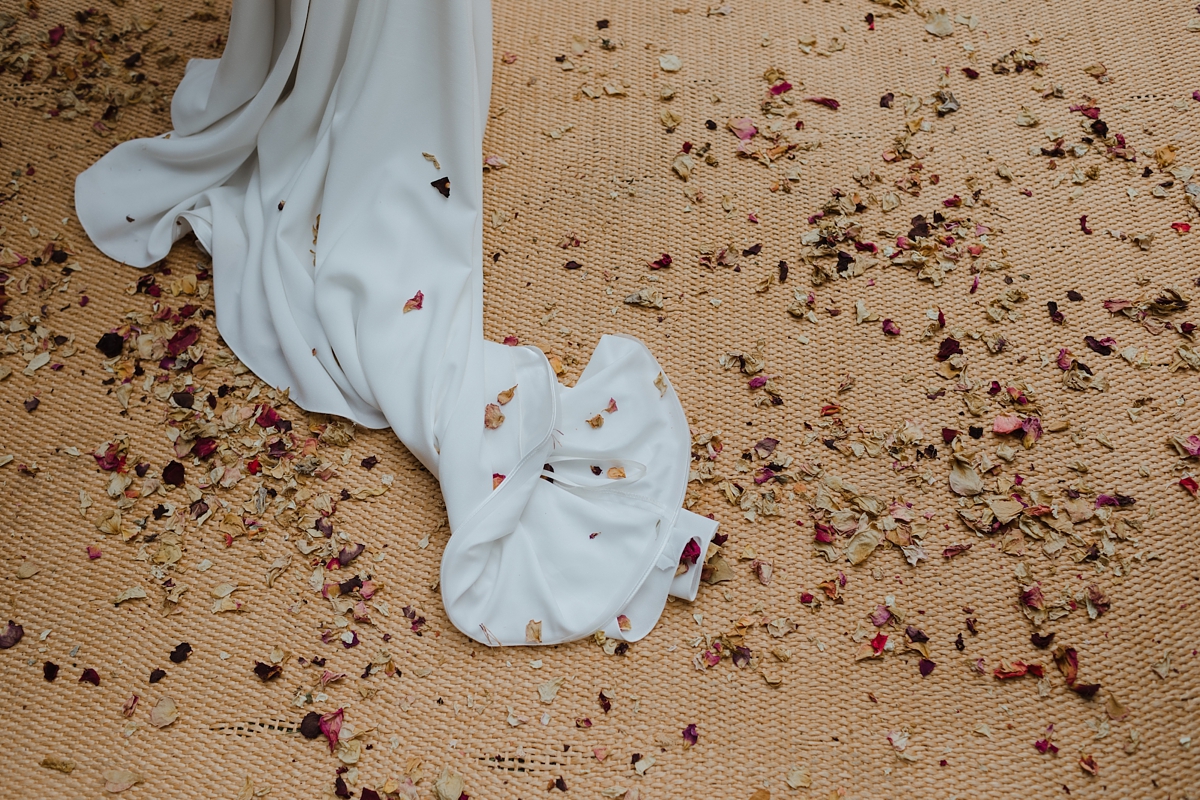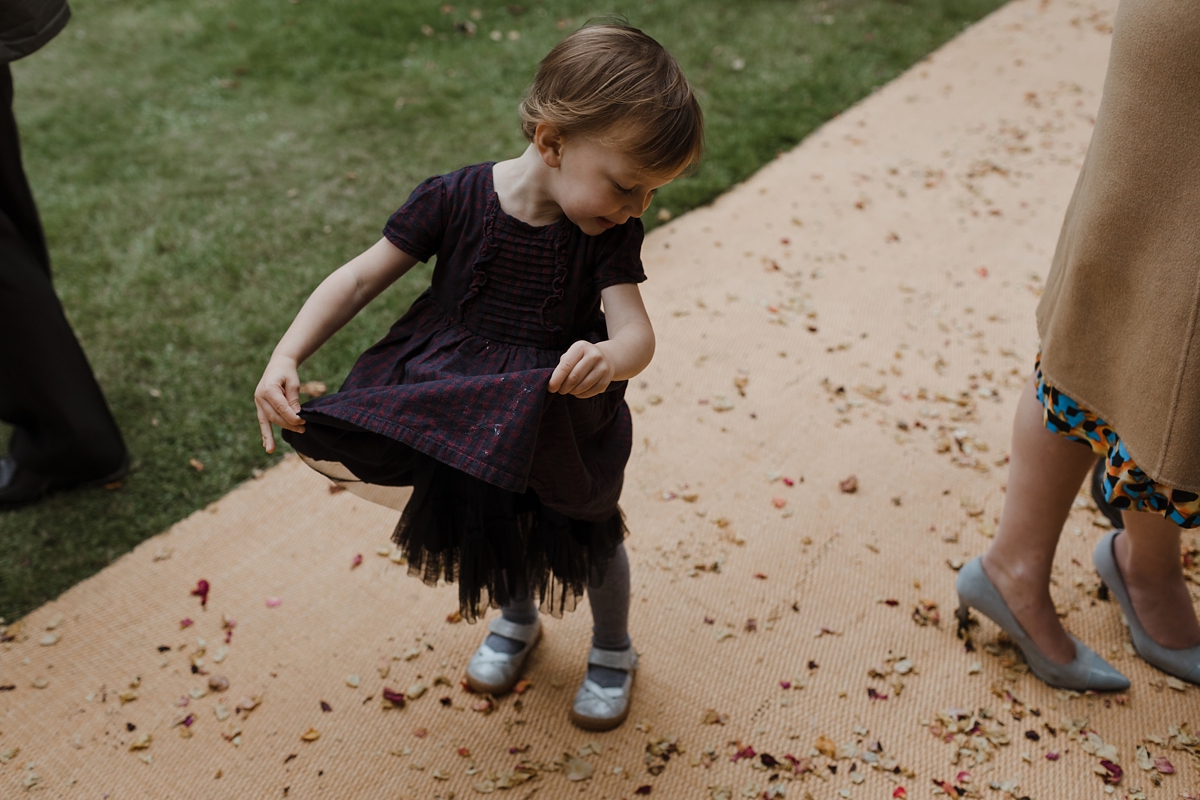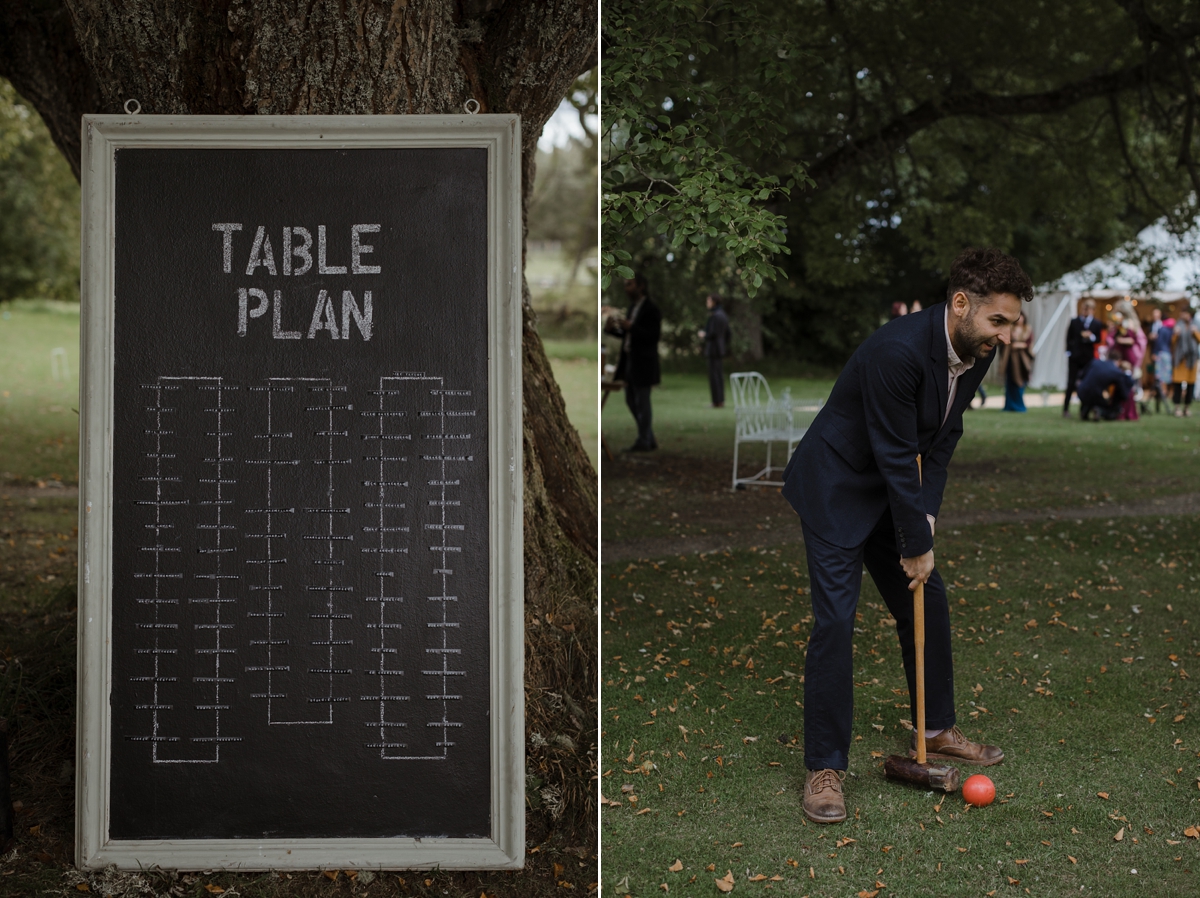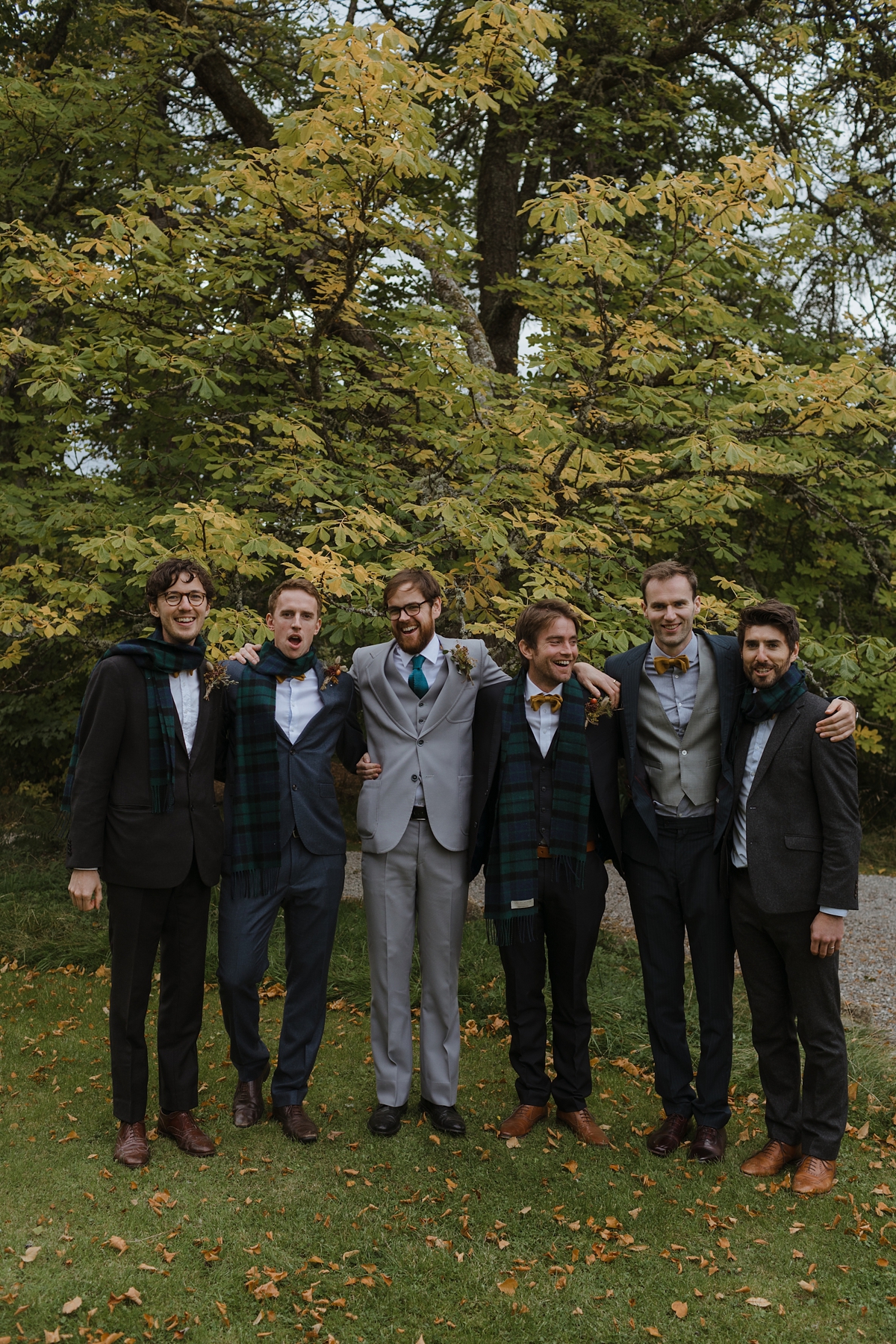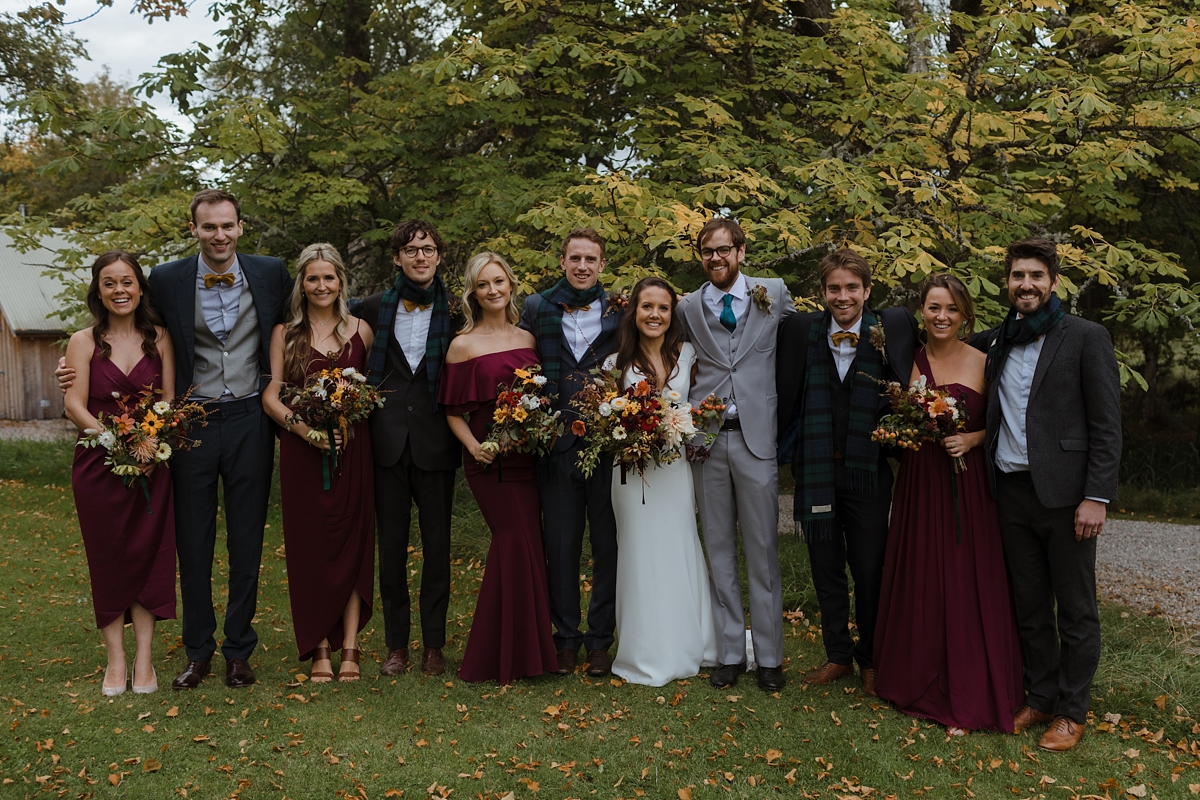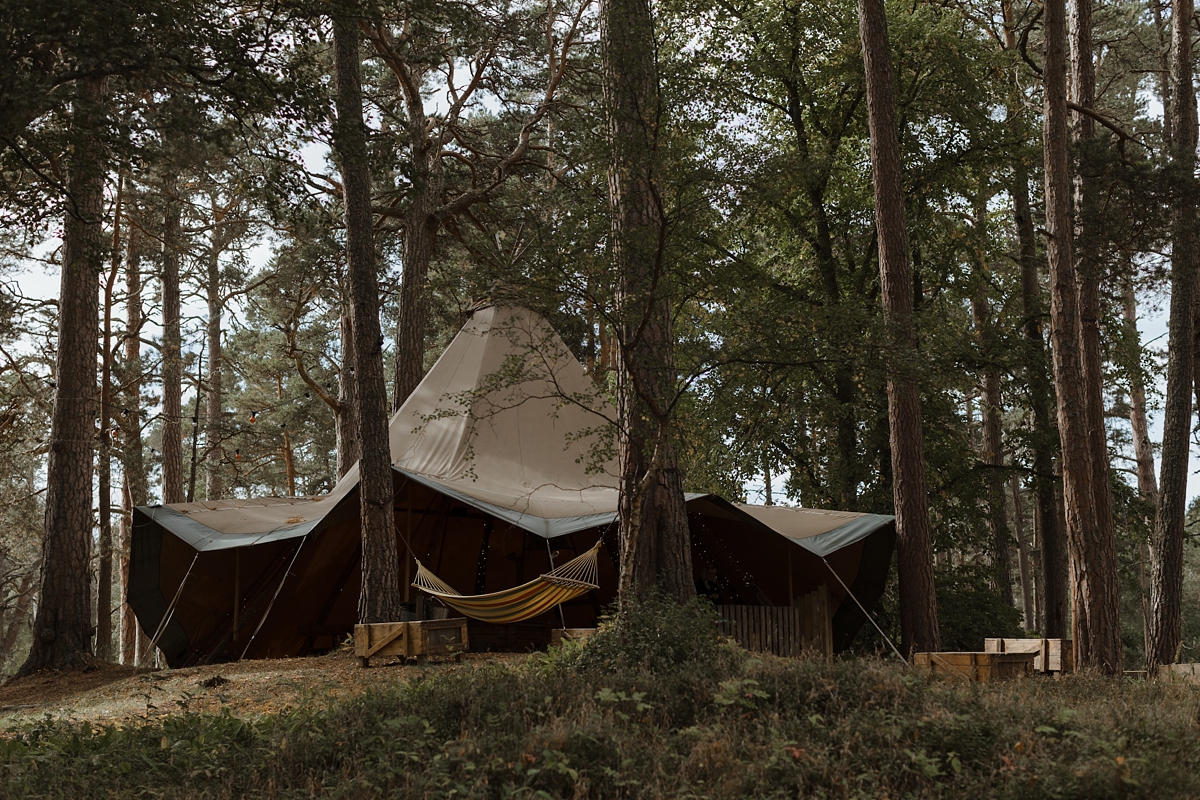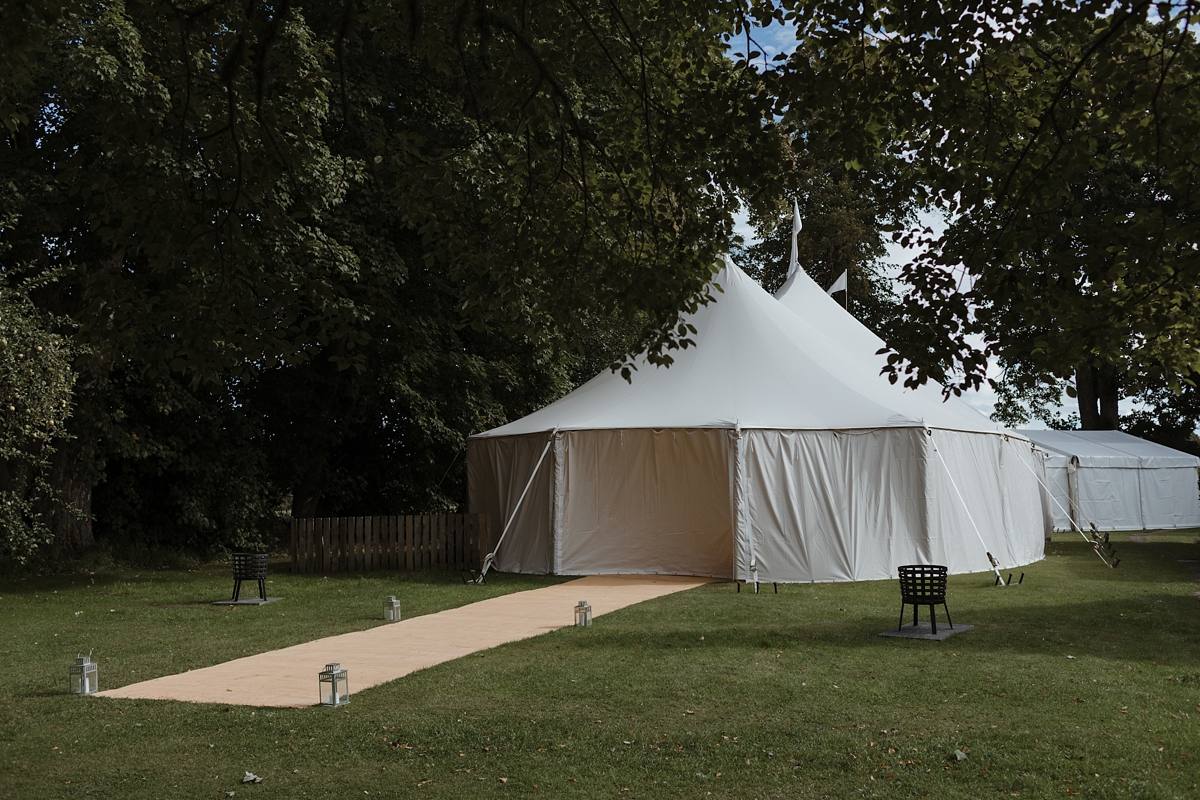 The marquee space at the Dell was completely filled with more glorious flowers – a spectacular hanging centrepiece, and on the tables, everything from vases to single stems and branches laden with apples and berries.
"We'd been saving our favourite wine bottles for years and teamed them with handmade beeswax candles from Moorlands Candles in Cumbria (where Alastair is from). Our family friend Gilly gave us masses of lavender from her garden that we used to fragrance the tent."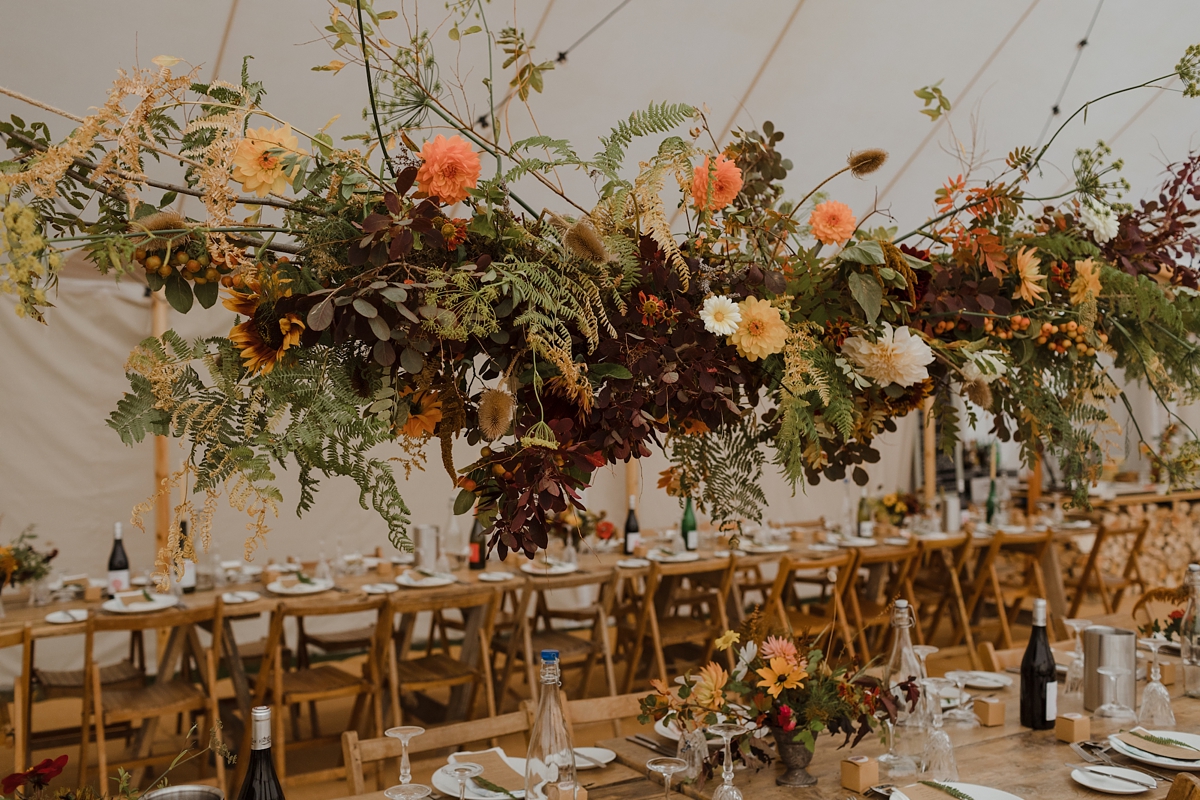 Place settings were made by Katie, and menus on each plate, adorned with fern leaves, and there were favours too – Irn Bru flavoured macarons from Mademoiselle Macaron in Edinburgh.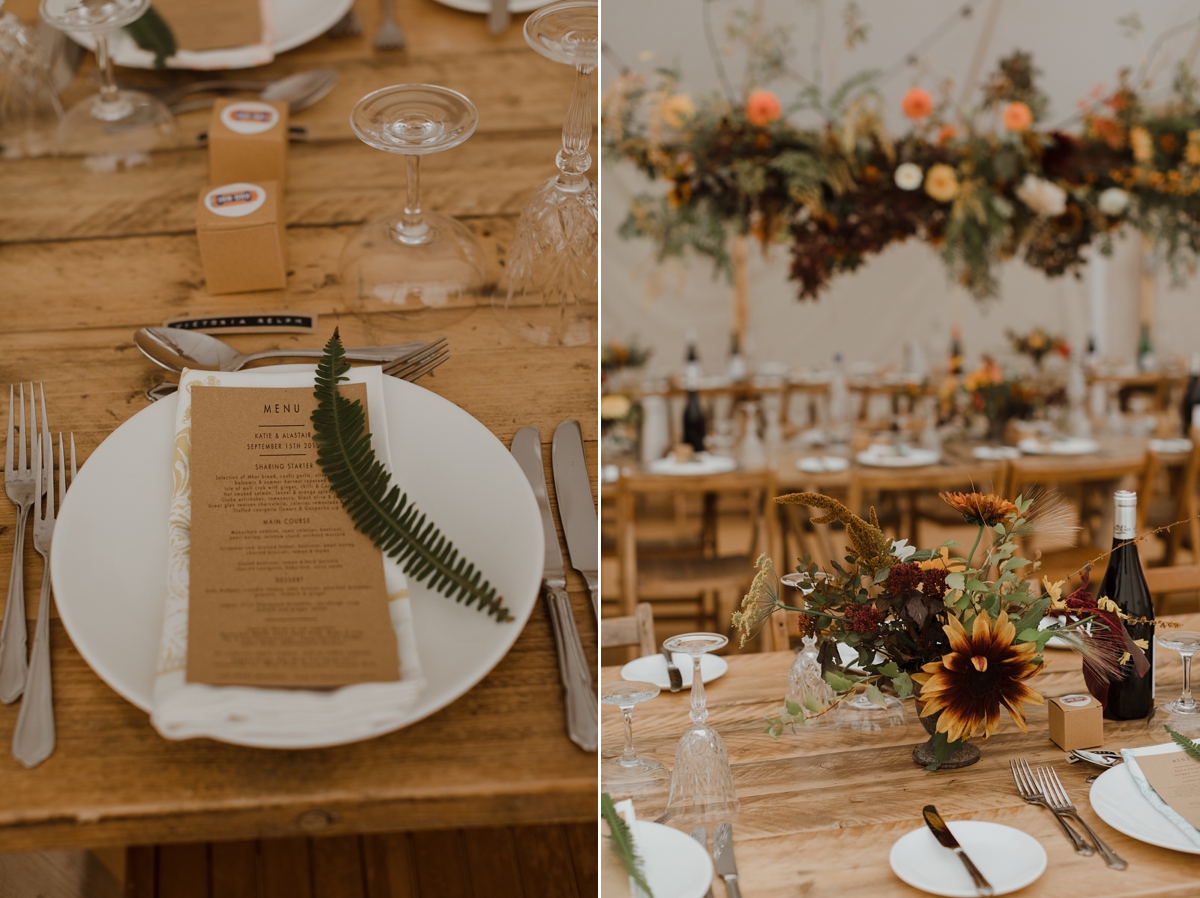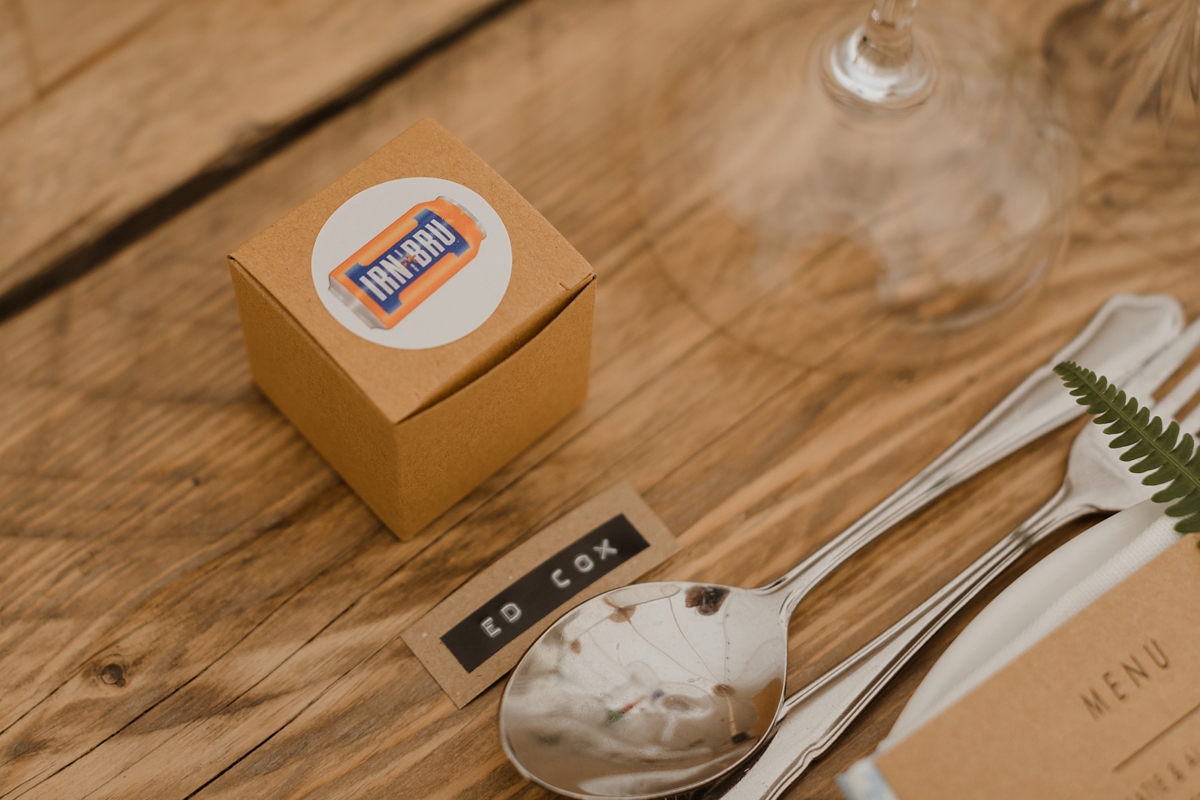 Sharing platters of bread, olives, oils and vinegars, crab, smoked salmon, pickles, vegetables, salads and venison charcuterie were followed by Monachyle venison, roast celeriac, beetroot, spiced pearl barley, rainbow chard, anchovy mustard, or Scrabster cod, braised fennel, beetroot, spiced pearl barley, chard broccoli, lemon & thyme – or glazed beetroot, lemon & herb quinoa, chard courgette, baby leek, salsa verde.
To finish, there was Katy Rodgers' Crowdie cheesecake mousse with poached brambles, granola, rhubarb and ginger.
"Our teas were from Bristol's Pukka Herbs and our coffee was from our favourite West Country coffee supplier James Gourmet Coffee. It's honestly the best coffee ever, freshly roasted and responsibly sourced."
"We didn't have a sweet cake but went for a cheese cake. Rosie, founder of The Bristol Cheesemonger helped us put together a delicious tier of cheeses from the South West. We went for mostly goat's and ewe's cheeses and served them with homemade chutneys by Katie's Aunty Sue and our favourite Nairn's oatcakes and Peter's Yard crackers."
"Wine was important to us too. We sourced all of our own wine and went for all organic, minimum intervention wines from small, independent vineyards. We got our red wine through Sam at Penrith's Black Hand Wine and our English white wine from Davenport Vineyards."
A fantastic meal was designed and created by the team from Mhor, a place where Katie and Alastair love to stay.
"A truly special place. All their produce is farmed, foraged and cooked on their grounds. We went for a seasonal menu with something for everyone. It was all incredible – all of the guests commented on how great it was. Sharing platters for the starter worked really well and the canapes went down a storm. Paulina and the team were all really lovely did an amazing job! The vegan options were delicious -vegan guests can sometimes feel a bit neglected when it comes to food!"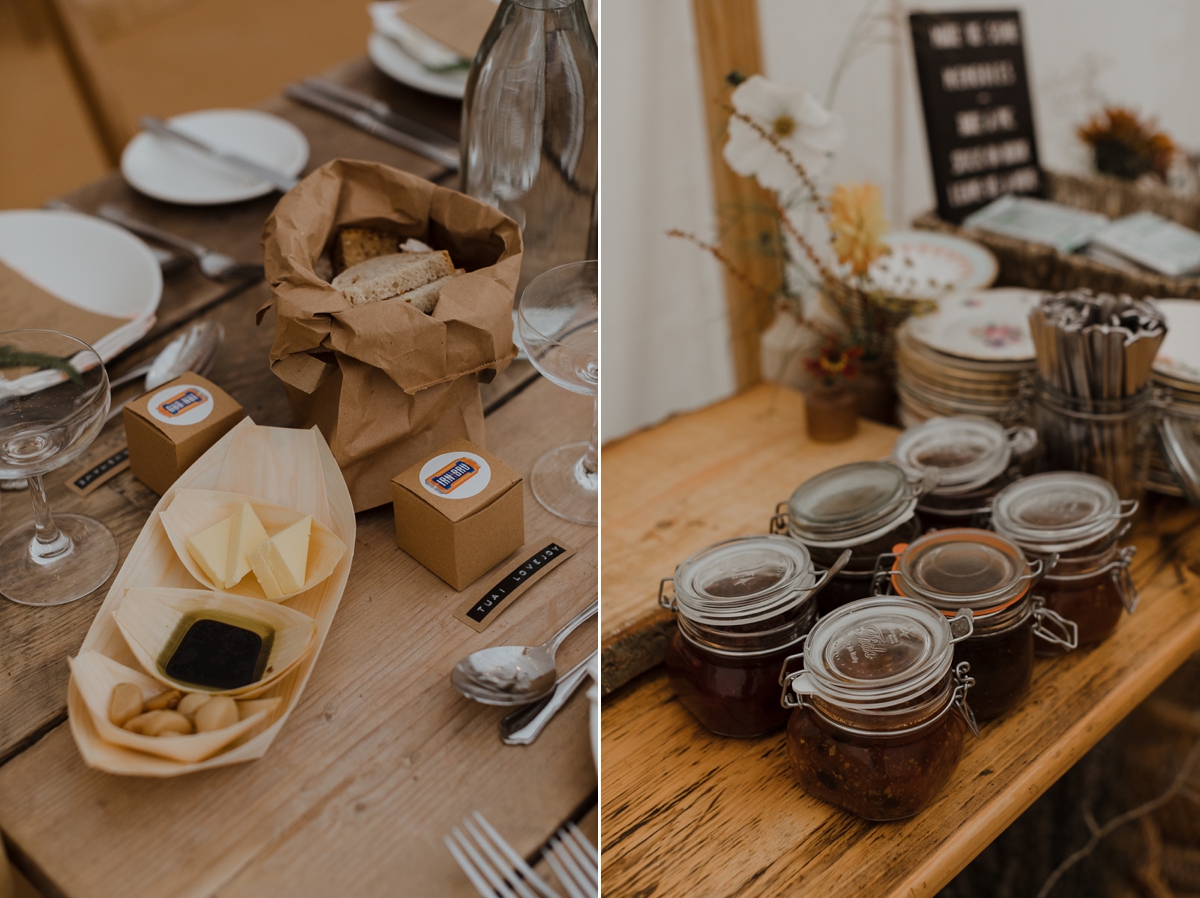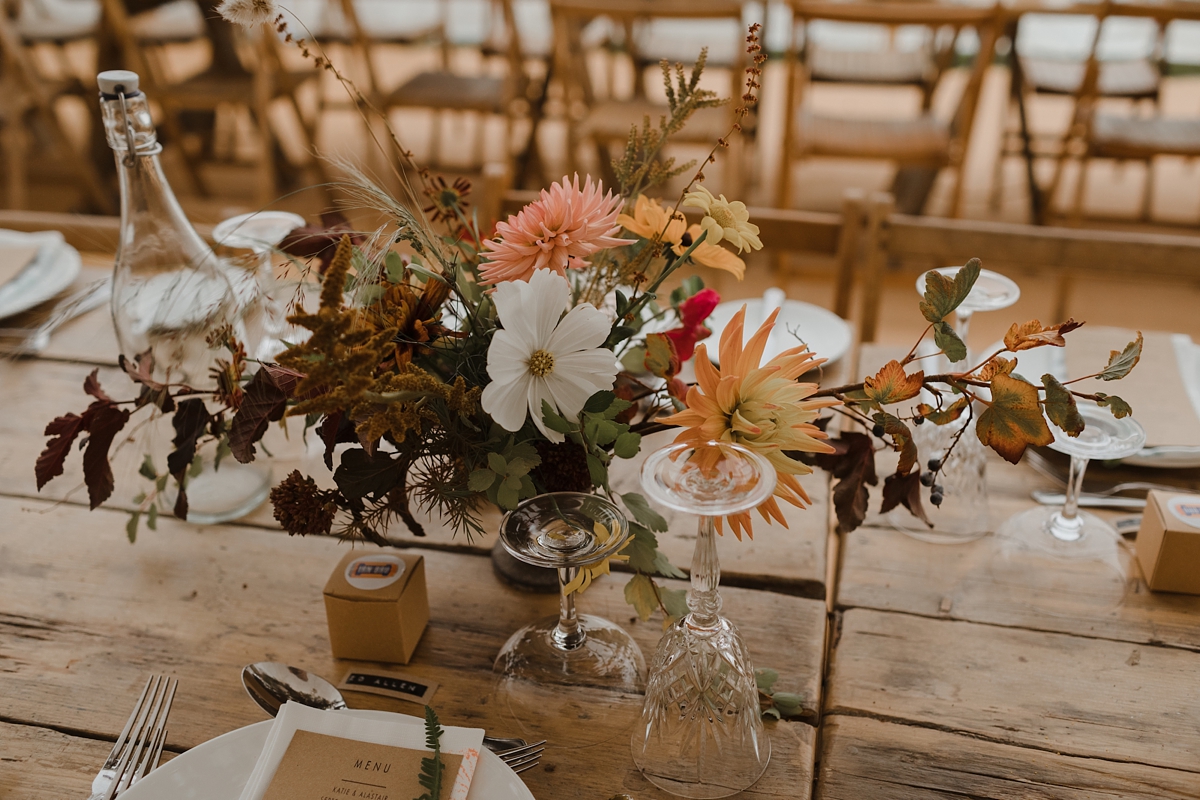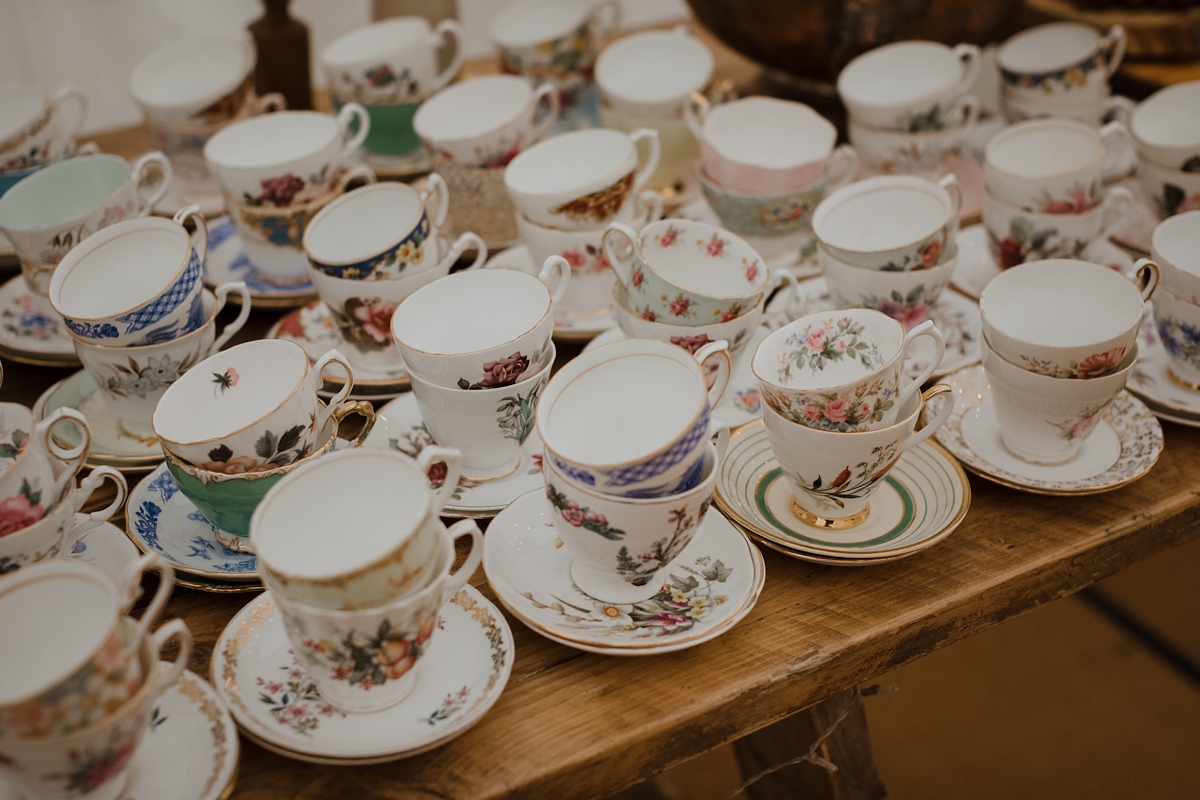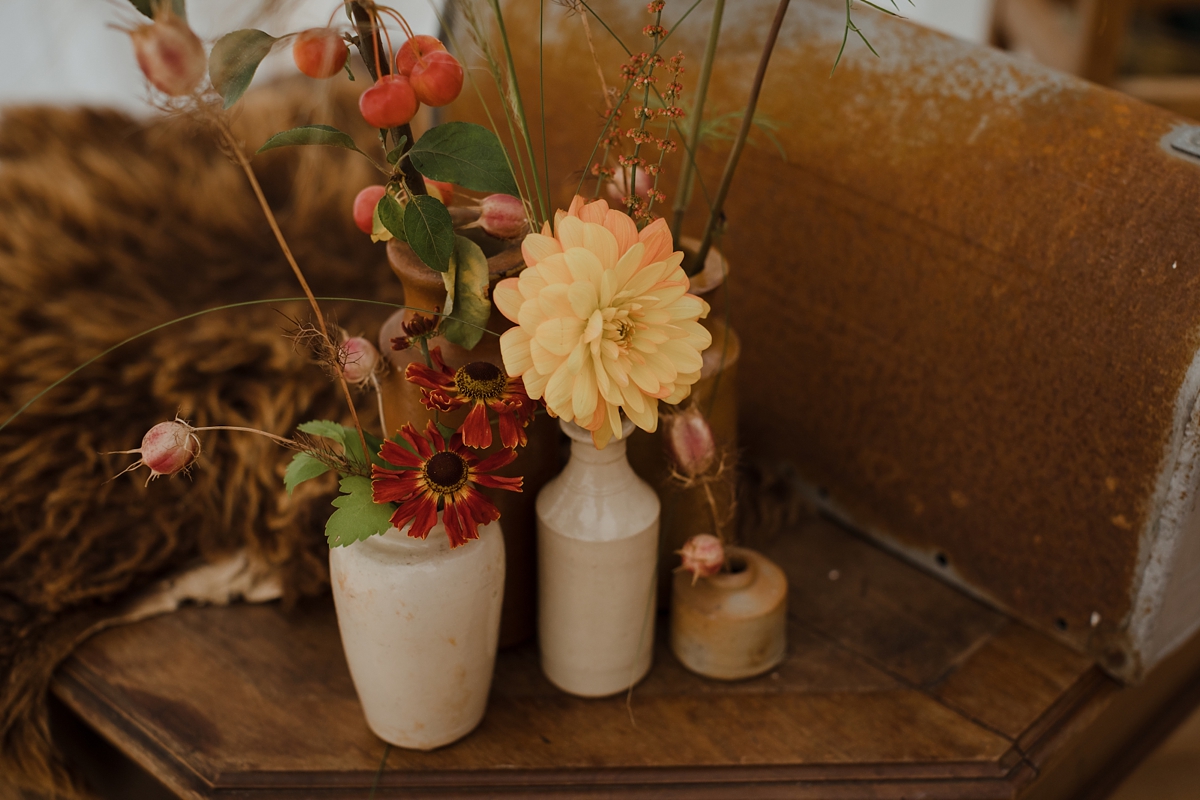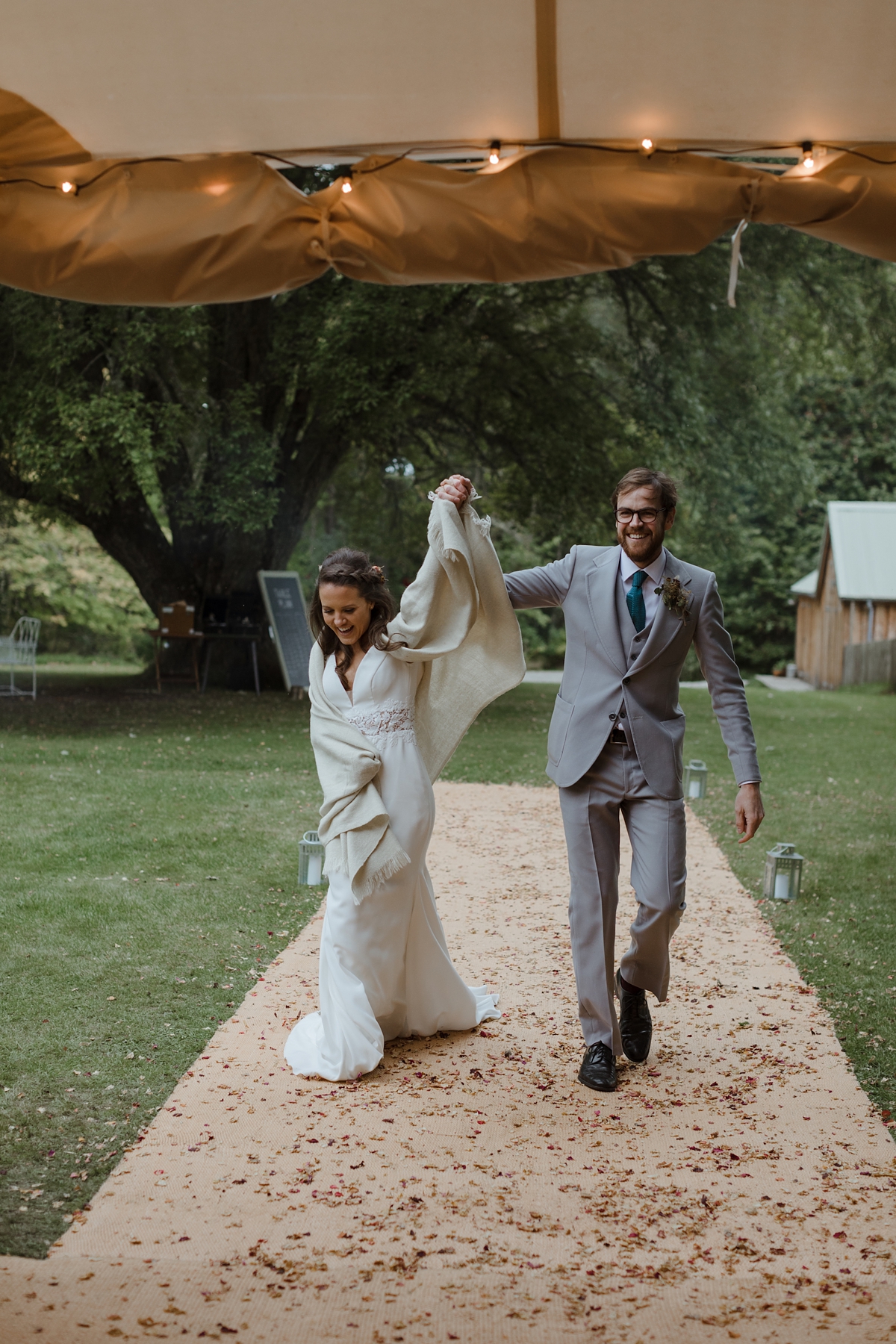 After the meal, Polly and Ross from The Dell ran the bar, mixing up cocktails like negronis and bramble gin fizz as well as serving local beer and spirits.
"Two of our favourite people in the world, Haz and Em were our Masters of Ceremonies. They provided a lot of entertainment in between speeches. Speeches were done by Alastair, myself and Best Man Greg. Alastair had everyone in the room in tears and I revealed early excerpts from my diary from when Alastair and I were first getting together which had everyone laughing and me very red faced."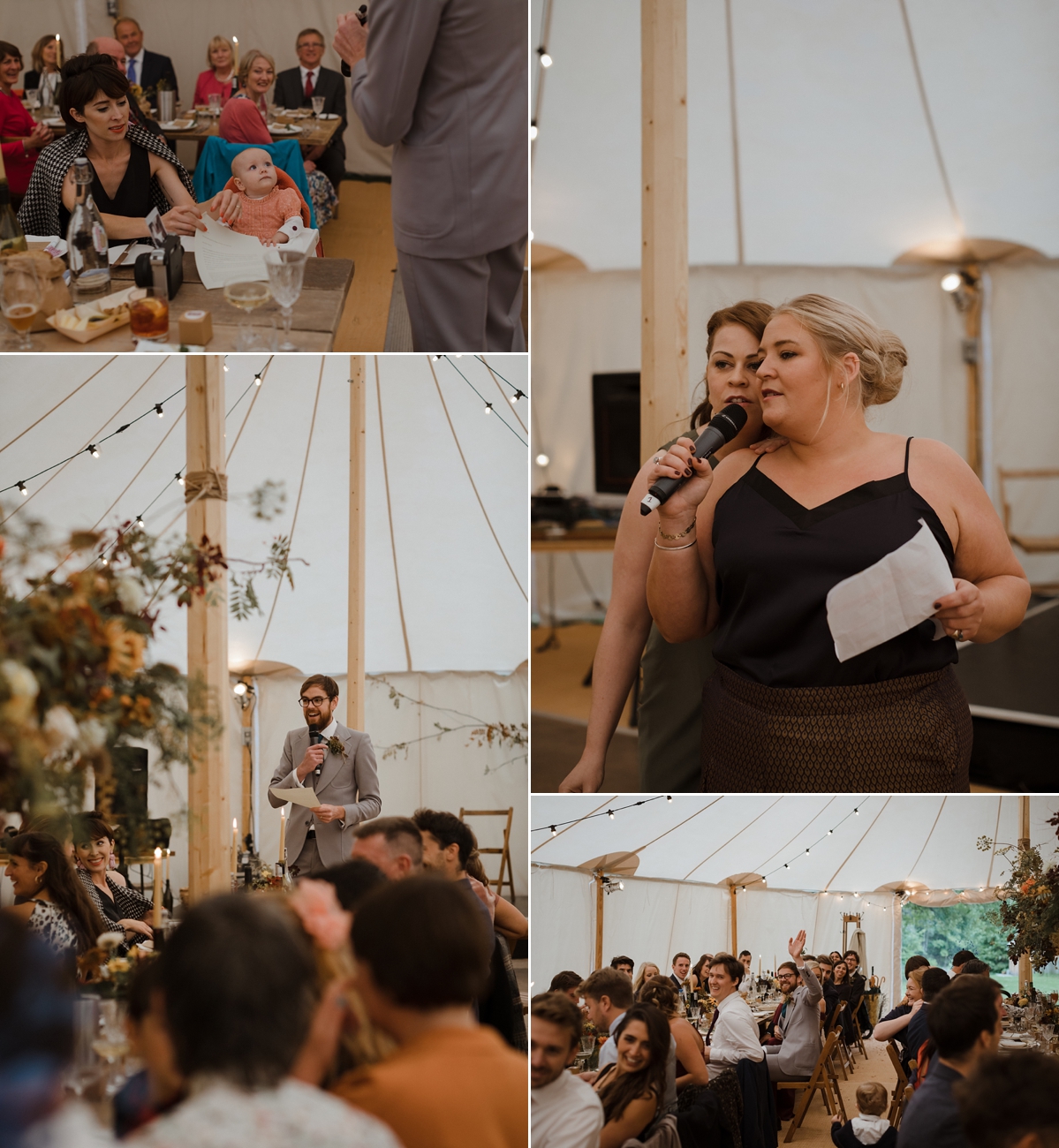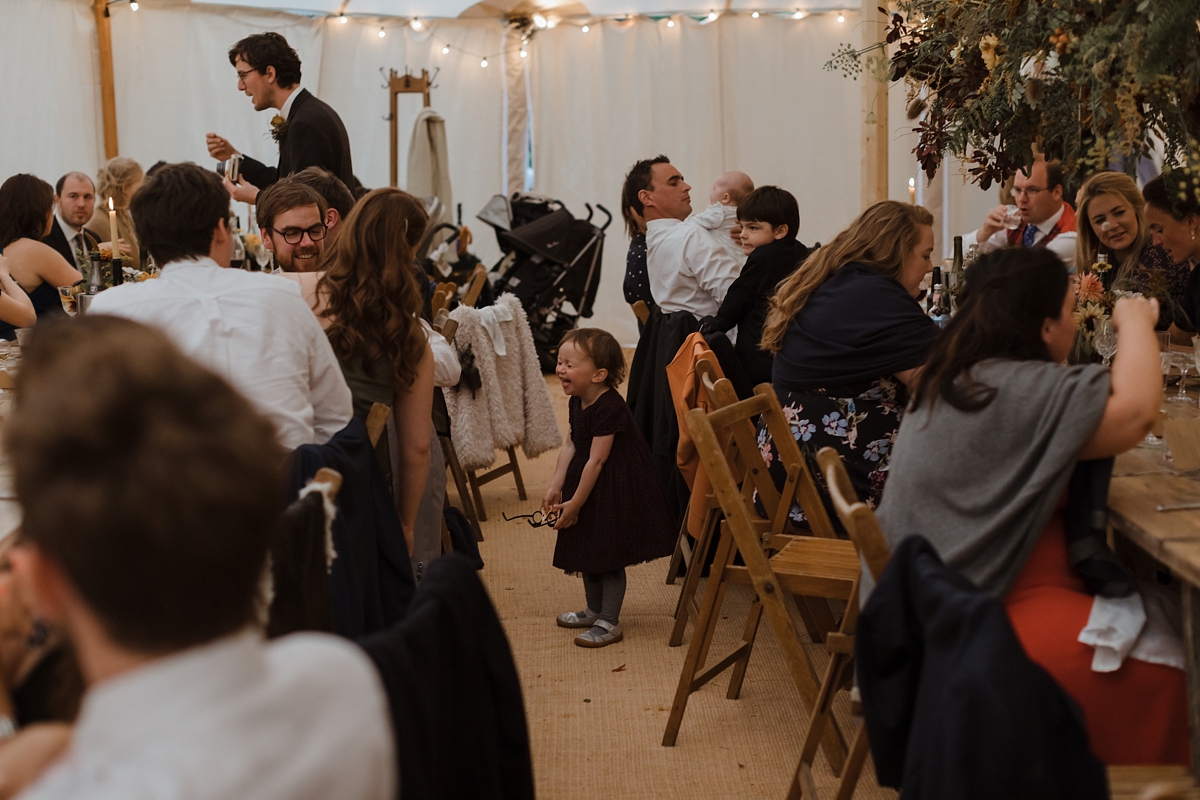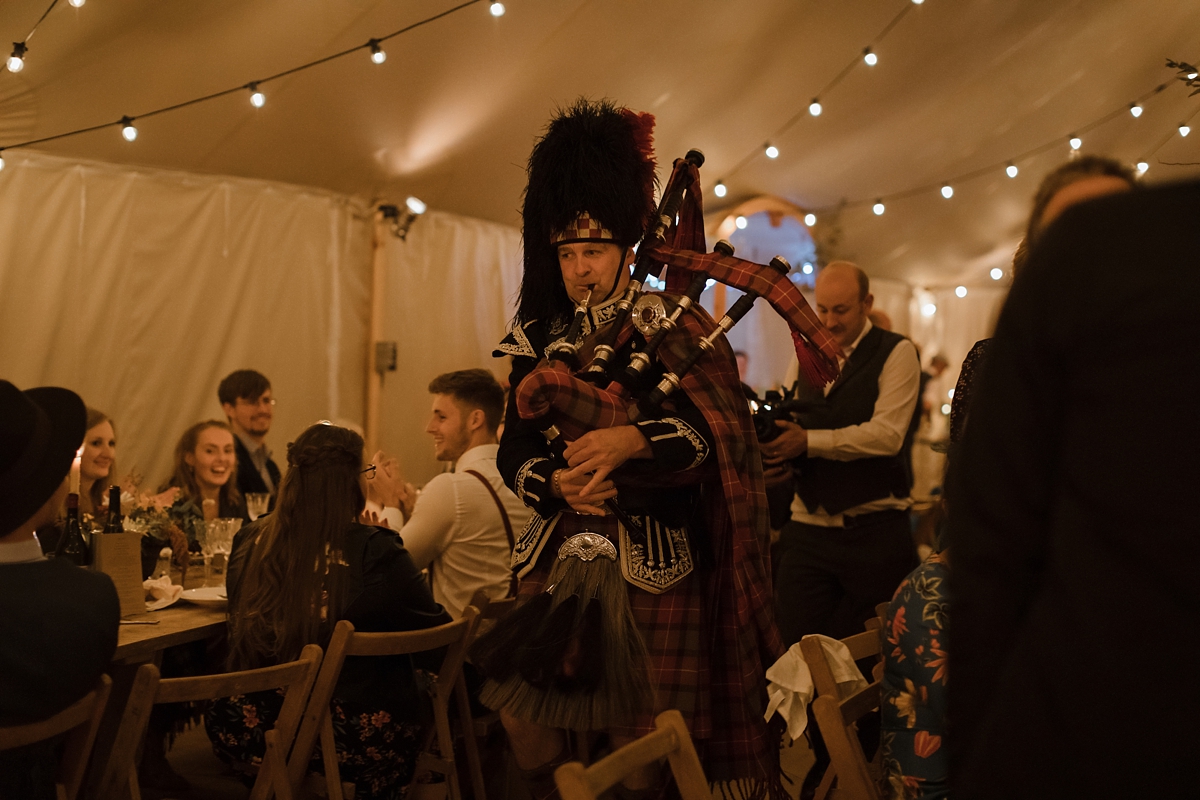 Freddie Scott's Got What I Need has been Katie and Alastair's song for a while now, and was the only choice for their first dance. Katie was lucky enough to find a rare vinyl copy, which she had given Alastair for Christmas, and which DJ Scott Rapson was able to play for them.
Tweed Ceilidh Band also played an hour or two of brilliant, lively music for everyone to enjoy.
"Our favourite moments were, all of it! Seeing each other for the first time down by the loch. And turning around to see all of our guests gathered around us at the loch."
"Our Best Man surprised us during his speech to Spud The Piper who burst into tent playing Mairi's Wedding on the bagpipes. It was hilarious! There's some amazing photos of this moment."
"We also really enjoyed the morning of the wedding. We chose to stay together the night before and got up together to have breakfast and give each other a gift in the morning before getting ready with our groomsmen and bridesmaids. It was such a relaxed morning and the sun was shining after the days leading up pouring rain. Our closest friends were staying in the main houses which we loved! We had our own little one bed cottage in Little Dell so that we could also get away from it all."
"Alastair and the groomsmen went for a swim in the Loch that morning, armed with a hipflask of whisky of course. We wouldn't have changed anything!"

Words of Wedded Wisdom
"Do things your way because you can't please everyone. This is how we ended up with our dream wedding."
"Strip everything back. Make your Pinterest board but then really narrow down what is important to both of you. Most people don't realise things that are missing but they will notice things that are done badly or feel added in."
"Have fun planning it. Try all the wines and all the cheese and remember the reason why you are getting married."
"If you don't believe in the traditions don't feel pressured to do them. Make it your own! Be organised and make a spreadsheet. It means you can step away from plans every now and again but you know what still needs to be done when you pick it back up again."
"And don't be afraid to delegate! People love to be part of the plans and prep. But don't overwork them either… and make sure you thank everyone who did play their part."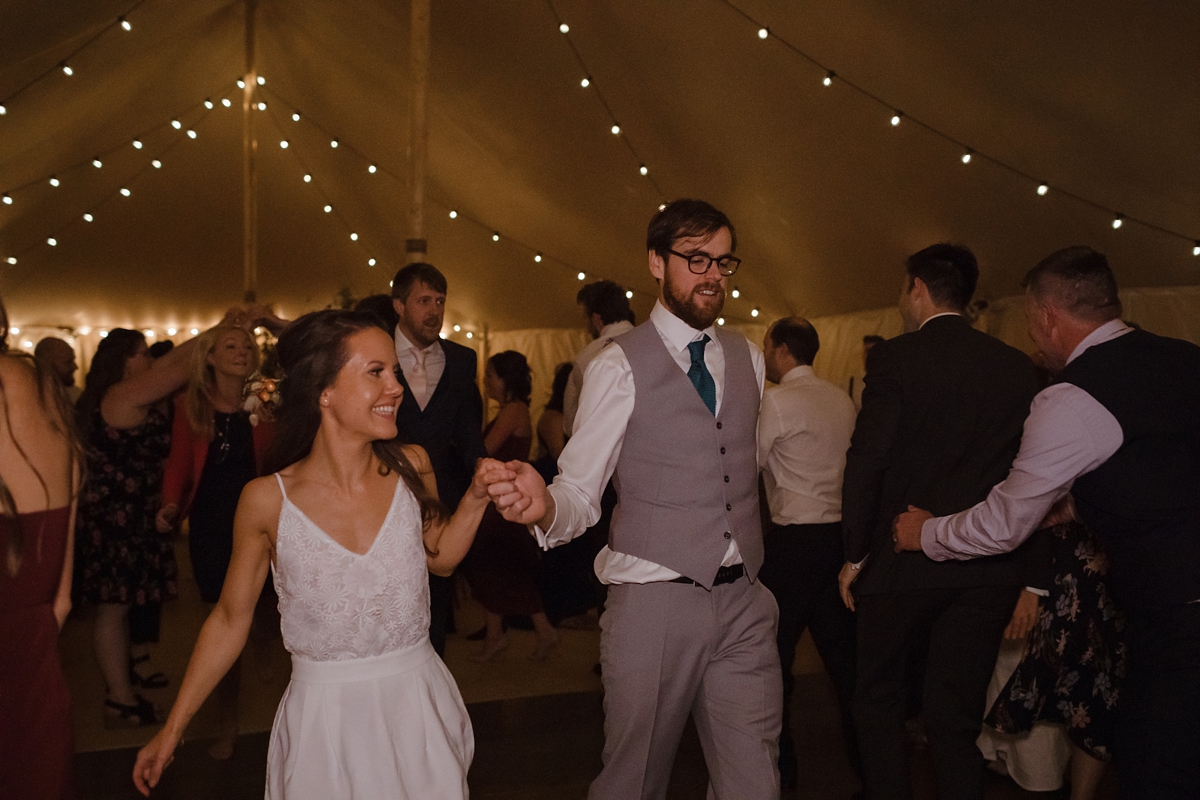 Katie and Alastair, thank you so very much! What a magical day you had, and it also shines through in these charming images from Caro Weiss, so thank you for that! You can see more of her fantastic work on Love My Dress right here.
Love,
Laura