Today's swiftly organised wedding, which took place under Coronavirus restrictions in place in Scotland in September 2020 has a very special kind of magic about it; borne out of our couple's wish to be married simply and quickly after their original plans were derailed, and the fact that they chose to do so in their own back garden.
On the 12th September 2020, Marketing Manager Amy and Paul, who is currently in the process of becoming a Computer Programmer were married in their pretty back garden in Edinburgh. The couple first met in a bar in the city in 2014, and became engaged in Rome in September 2018.
Solen Photography

+ Follow
Love My Dress highly recommended supplier, Solen Photography, always brings such a light, natural touch to her work, and these images of Amy and Paul's relaxed, intimate celebration are a true joy to behold.
"Solen is by far the best wedding photographer. Not only is she delightful and has great banter, she makes you feel completely at ease – even my husband who hates having his photo taken. I love the relaxed and candid nature of her photography, with no set up shots. I look at my photos a lot – and love them all so much."
Amy's ethereal, boho dream of a dress was a bespoke creation by Edinburgh based designer Rowanjoy Bridal, featuring delicate lace, and off-the-shoulder sleeves with the most beautiful floral embroidery and buttons on the cuffs.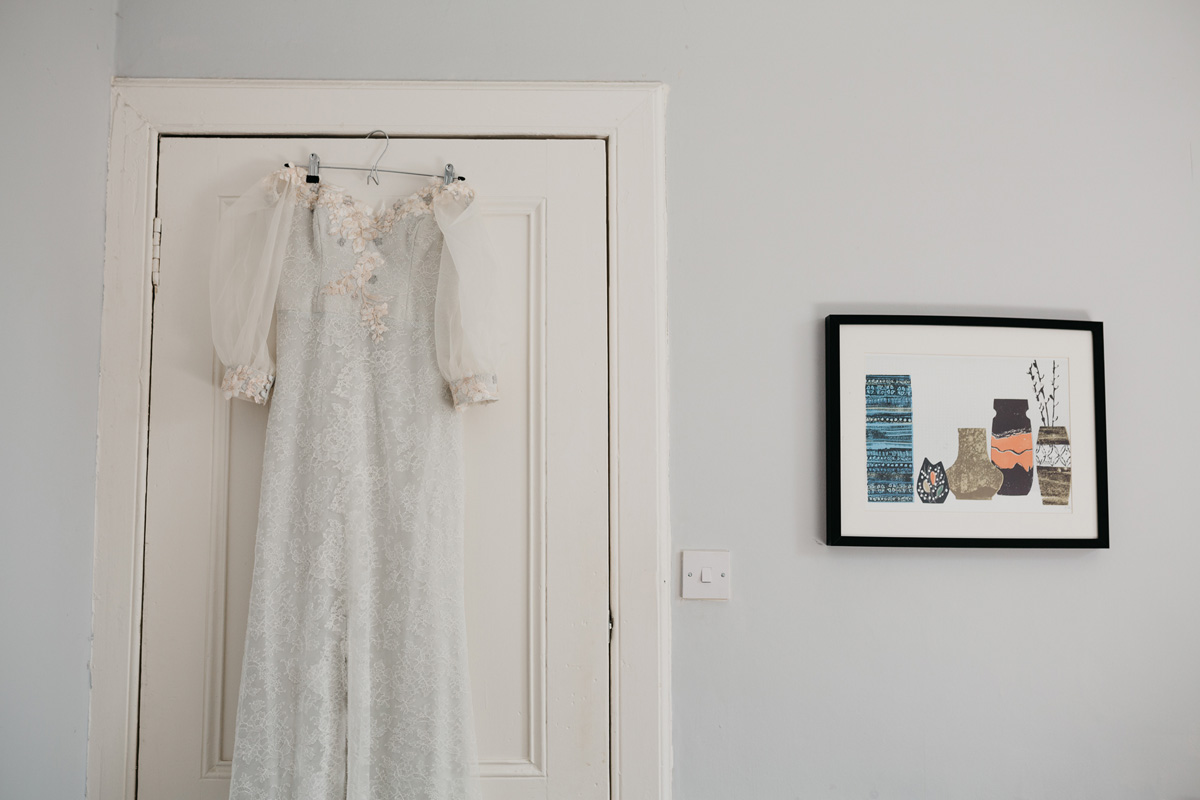 "Rowan is an independent wedding dress maker, and I think she is wonderful. She listened to my many ideas and adapted one of her original designs to suit the style that I wanted."
"She even adding emergency sleeves when I called her saying that the wedding was moving to Scotland. A wonderful and creative soul, every step of the experience was lovely."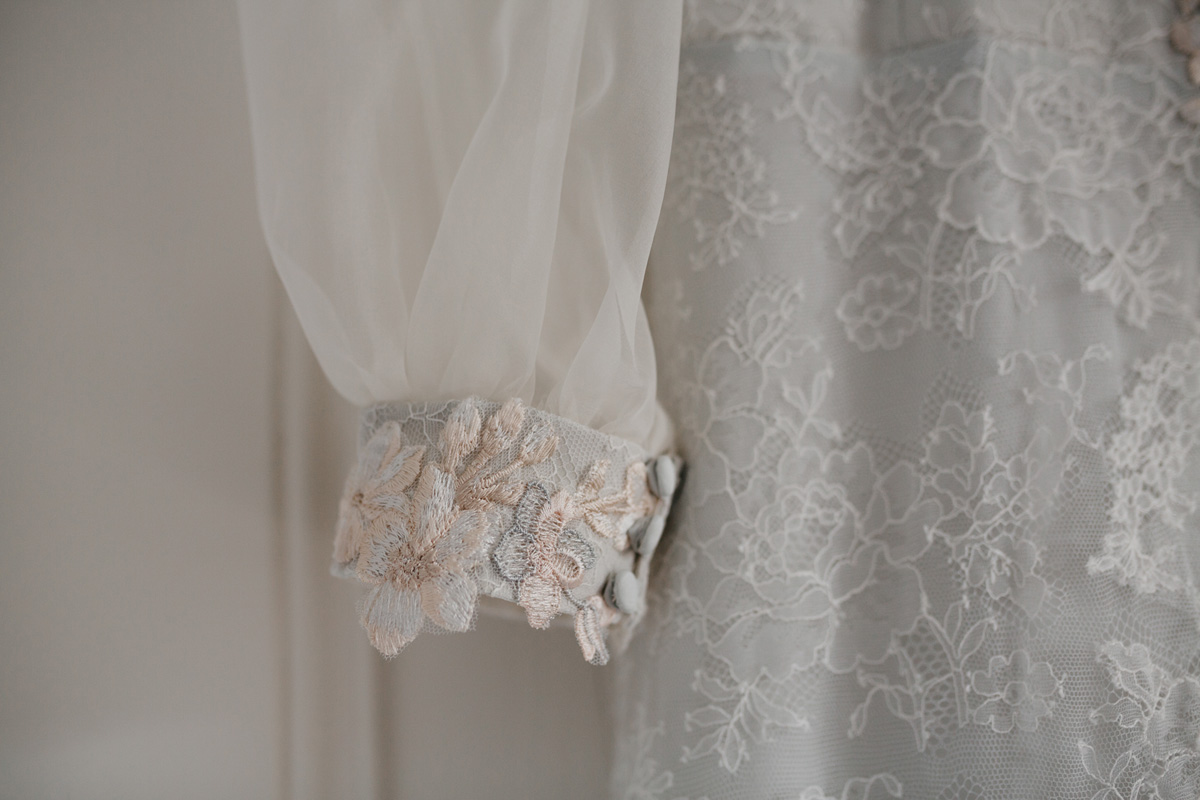 "I'd been following Rowan on Instagram from a while, even before we'd gotten engaged so I knew I had to speak to her when we did. I wanted something unique and not very traditional, and all of Rowan's designs are just beautiful."
"My favourite part of the dress ended up being the sleeves, which weren't event part of the original design – given that the wedding was supposed to take place in the height of summer in Italy! I felt amazing the whole day and am trying to figure out if there is a way for me to wear it again someday!"
Amy paired her beautiful dress with gold platforms from Office, and a bespoke necklace by Katie Lees Jewellery. Narcissus Flowers and Plants created a lovely bouquet for Amy, with peachy hued roses, thistles, waxflowers and lots of fragrant eucalyptus.
"Our original wedding was to take place in Tuscany in June 2020, however it became clear in April that this probably wasn't going to happen."
After lots of consideration and questions from friends and families, we dithered about postponing for another year – and also came up with a second wedding plan for August if the restrictions were lifted."
"Again this soon became obvious that it wouldn't be possible."
"I woke up one weekend and turned to Paul and said, 'Why don't we just do it in the garden?' By that afternoon I'd Instagram messaged a celebrant and found out her availability, and hand delivered notes to our neighbours."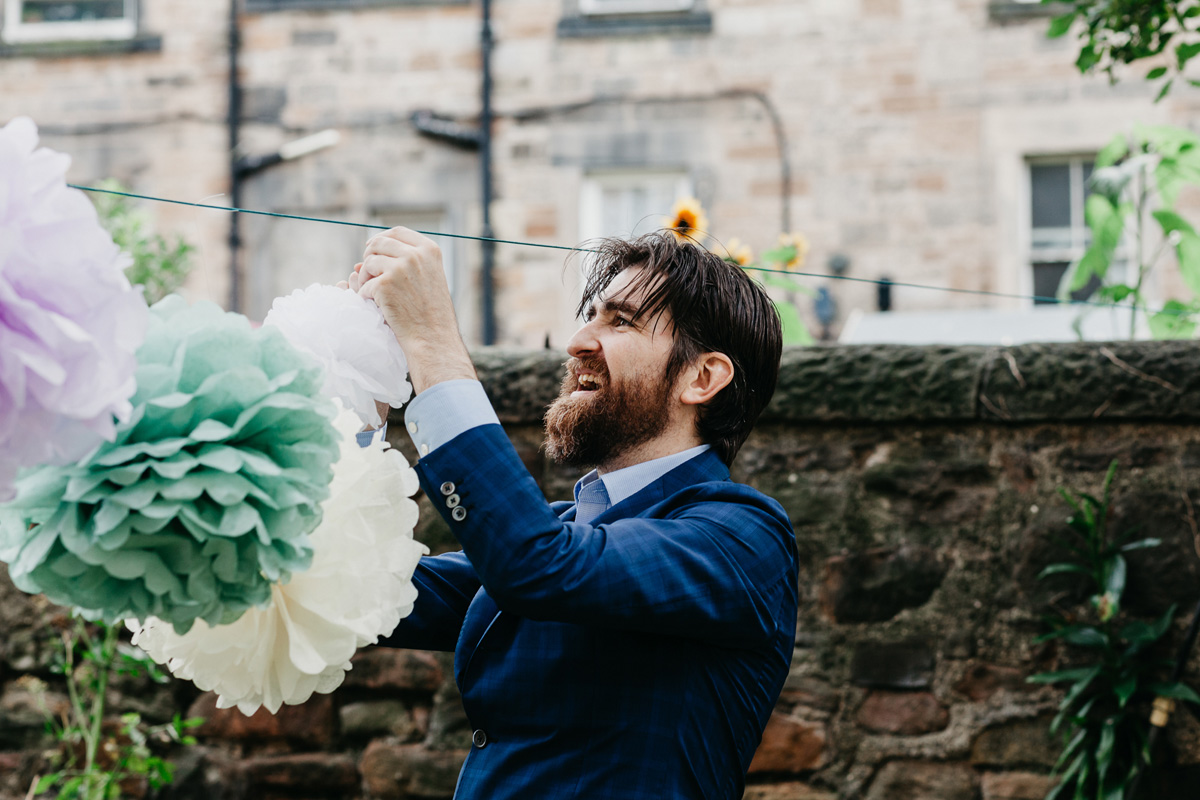 "In the end, I wouldn't have it any other way. It was really special to be able to have the wedding in our home, to be able to wake up and get ready in my room – whilst hearing people arriving in the garden."
Amy and Paul really wanted their wedding to reflect who they are as a couple, and that was simply achieved by bringing lots of the furniture from their flat outside, including every chair they own (!), as well as house plants and colourful rugs.
"We decorated our usually pretty grim Edinburgh Tenement stairwell with hundreds of fairylights – turning an often dingy space into something quite magical."
\
"We had to limit our guests to 20 including ourselves and our photographer. Cutting our guests down from 80 to 16 was very difficult, with it ending up being close family and a handful of friends."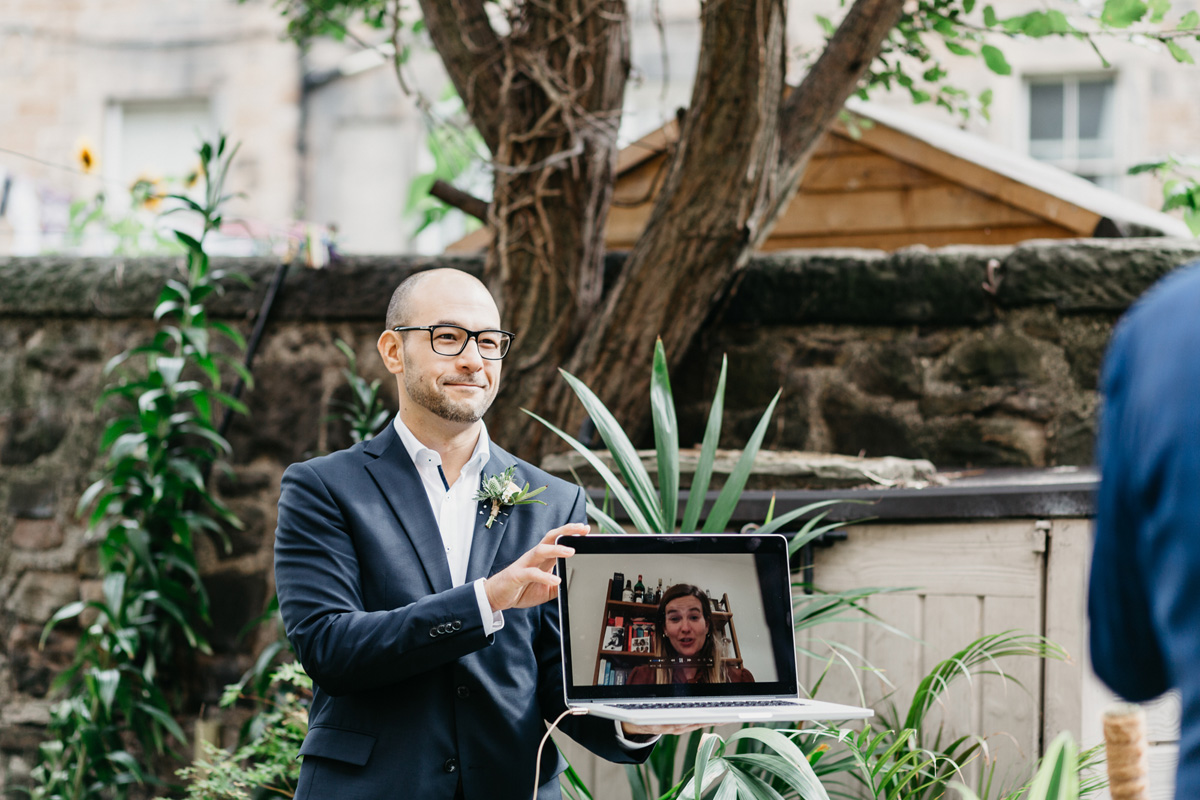 Amy chose the song, The Way You Look Tonight, sung by Ella Fitzgerald as she walked down her green garden aisle to Paul, and their Humanist celebrant Kathryn Hanson. Amy's Dad performed the ancient Celtic ritual of hand fasting as part of the ceremony, and rings were exchanged by Katie Lees Jewellery.
"We live streamed the ceremony to 60 people online, and now have that recording as a memory. I would never have had anyone film it in other circumstances. It meant that we had people joining us from America at 9am with coffee, and midnight in Australia – with a Facebook watch party where people were commenting on the live stream!"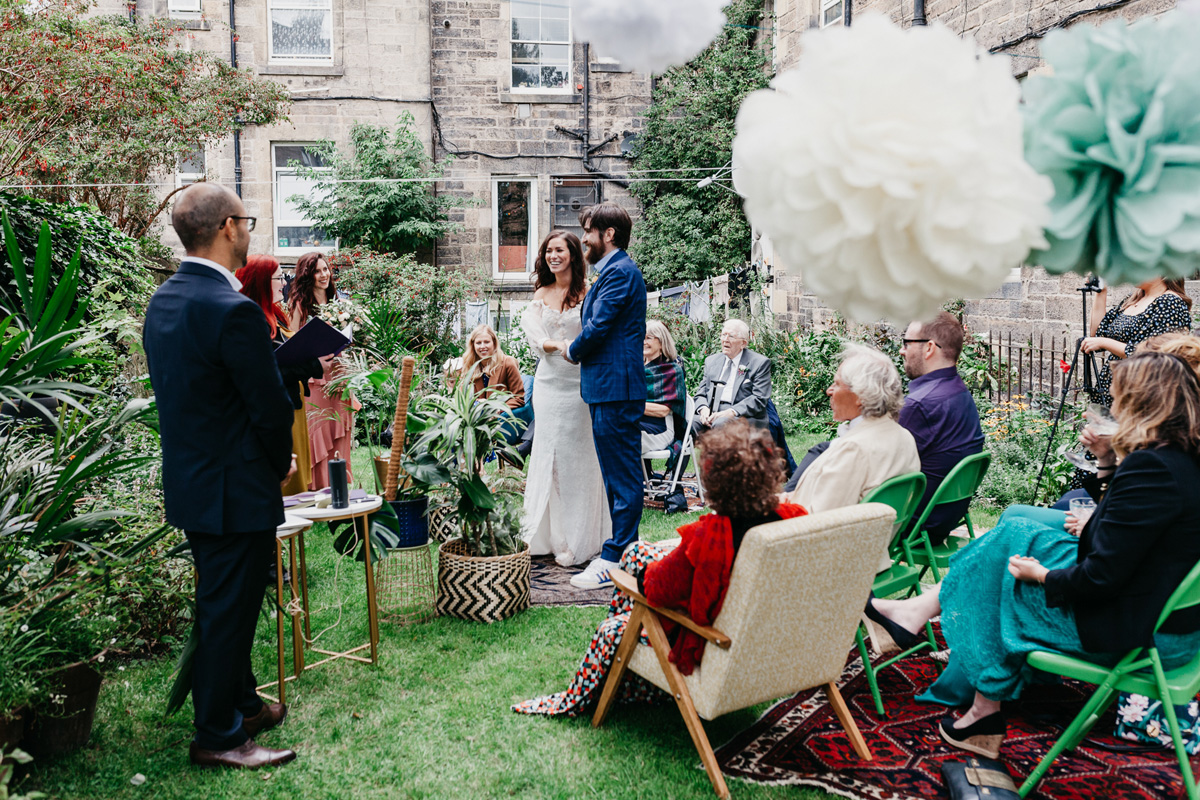 Sadly one of Amy's original bridesmaids was unable to make the journey to Scotland for the wedding, but was included in the day with a poem she had written specially for the couple, filmed and played during the ceremony.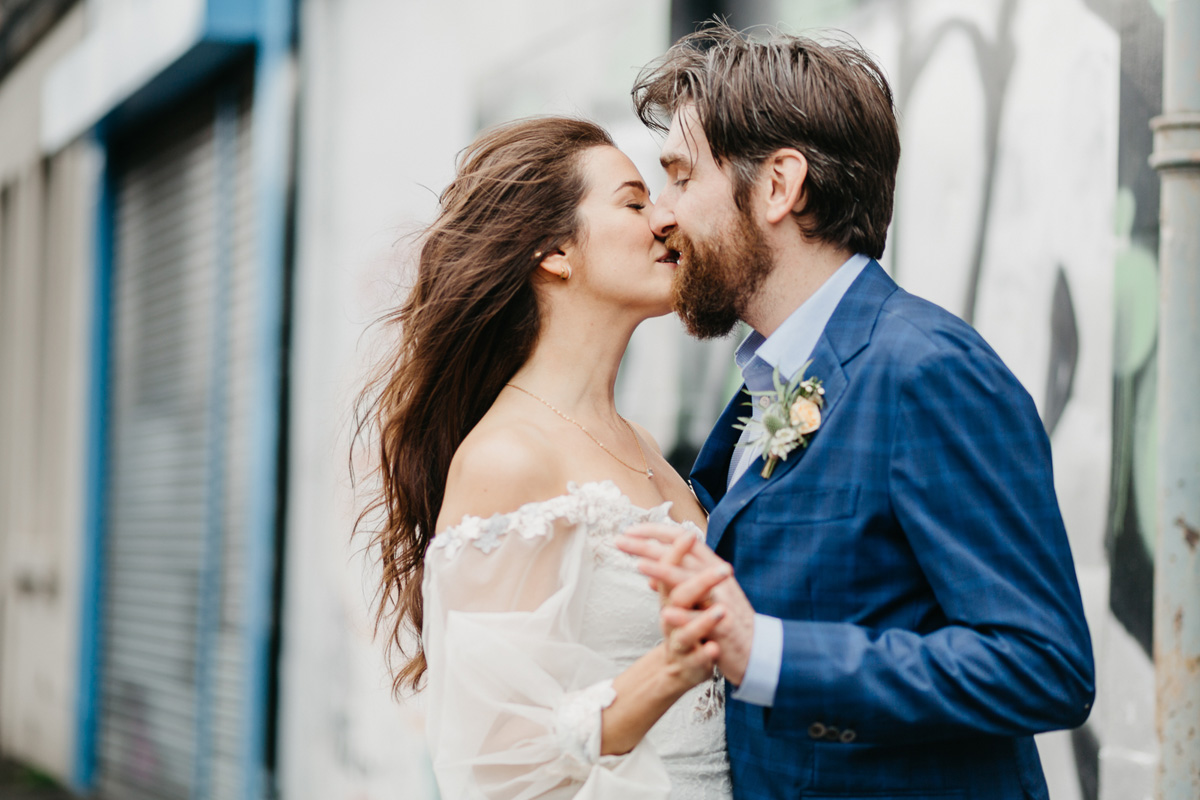 Post-ceremony drinks were enjoyed in the garden along with a grazing platter of treats courtesy of Platter & Pop, whilst the newly married couple took some time alone to stroll their local streets – champagne saucers in hand!
It was then over to Bodega Taqueria for a delicious Mexican feast.
"Having to start from scratch so many times enabled us to choose things that we really wanted, without any outside pressure."
"When we initially got engaged, we had joked that we would really want to eat tacos – because we love Mexican food and had eaten tacos on our first date."
"So in the end we had our 'wedding breakfast' in a local taqueria – with margaritas and churros for dessert!"
Loved ones gathered in Amy and Paul's garden, drinks chilled on ice, and the Groom awaited the arrival of his Bride, looking smart in a blue check linen suit from a tailor in the Tuscan city of Lucca.
"We had hand sanitiser as wedding favours, and placed bottles around the garden for guests to use, keeping distance where possible between seats for households."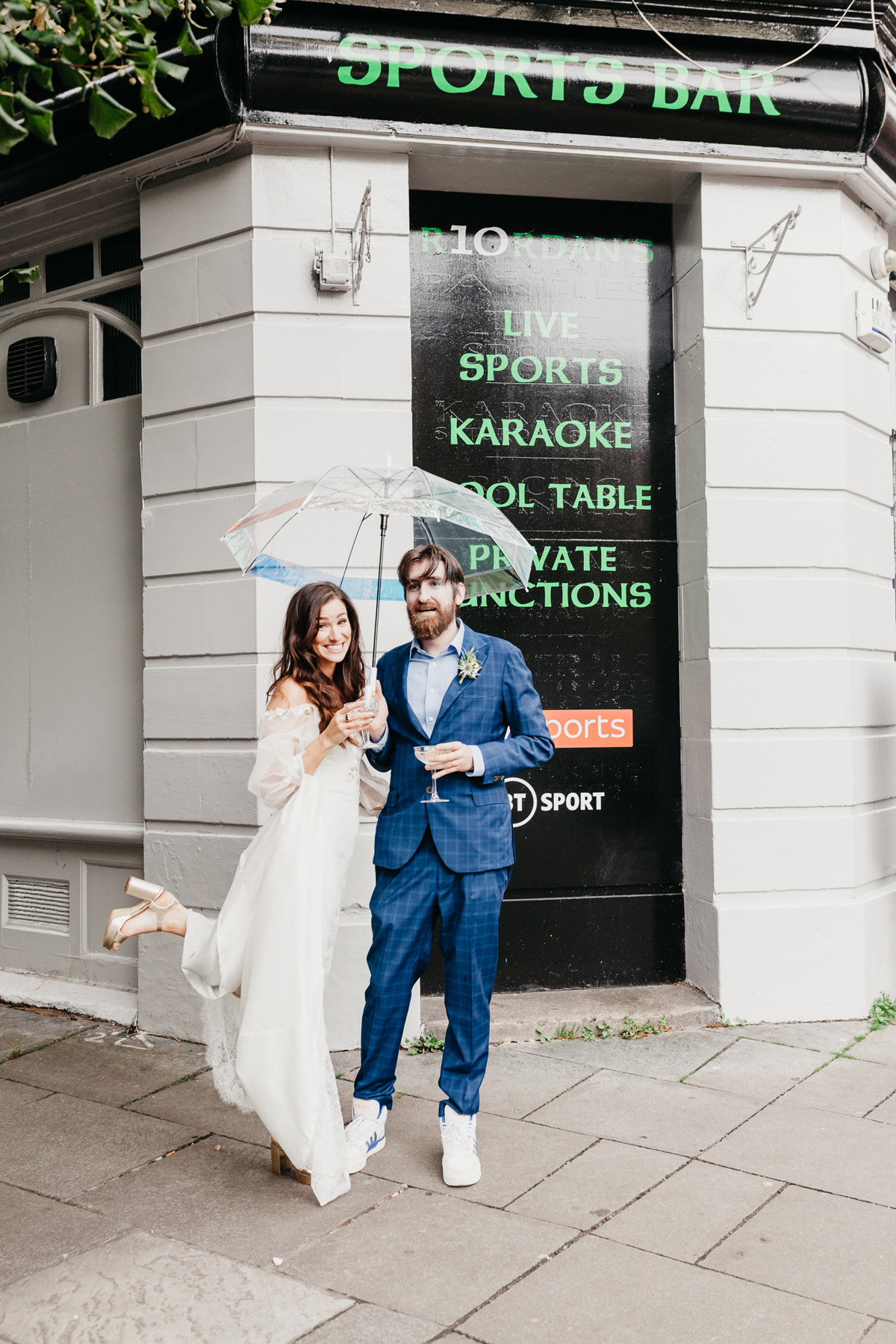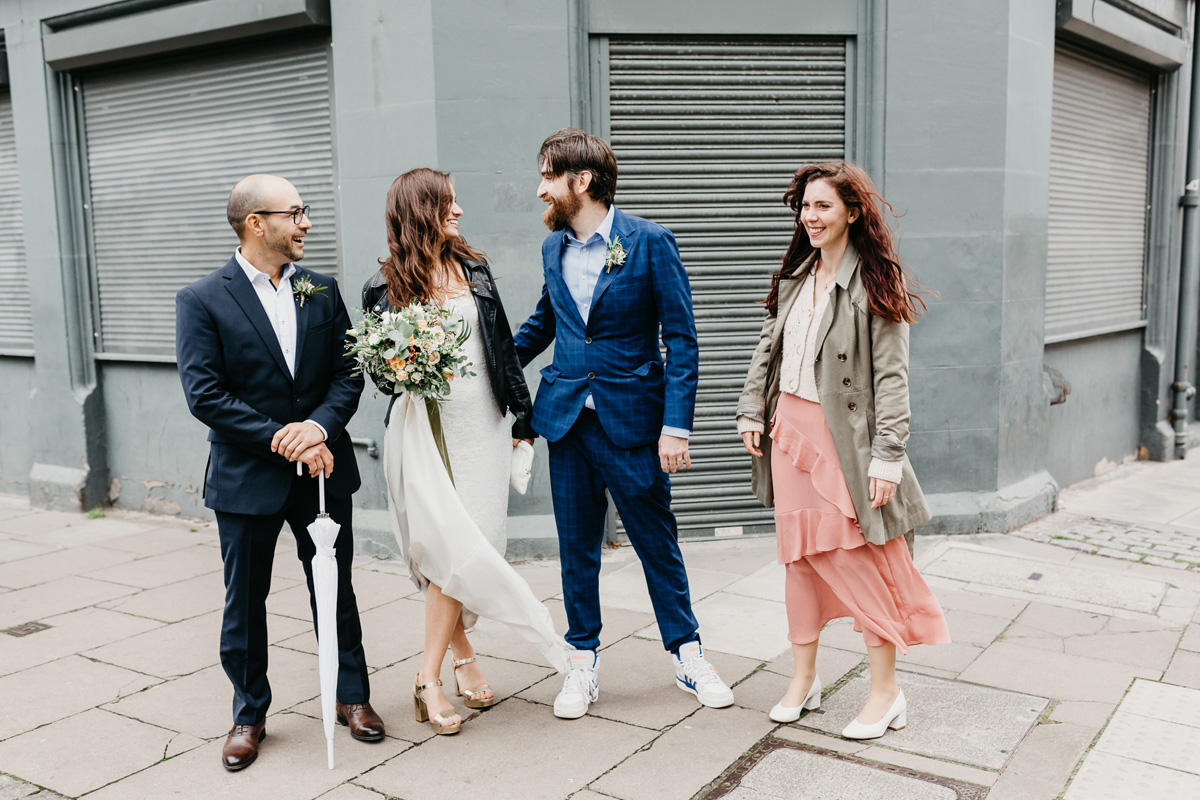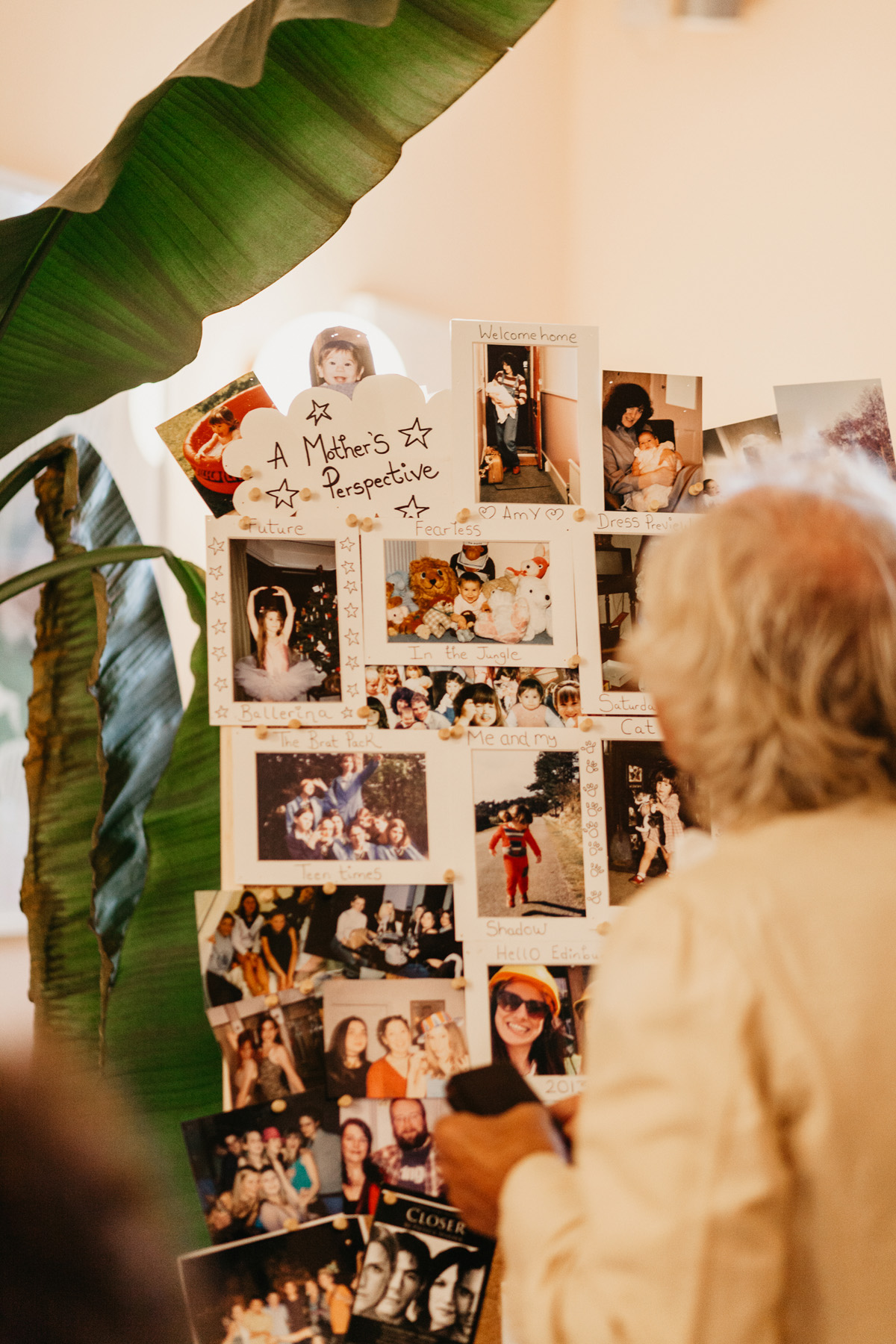 Words of Wedded Wisdom
"Whilst the day that we ended up having was nothing like I would have ever imagined at the start of 2020, it was such a joyful occasion. Having an intimate wedding was just so wonderful – and in our garden even better. I honestly don't think I would do it any differently given the choice now. The mood was so positive, everyone was just so happy for us, and probably for themselves to be doing something fun and exciting after 8 months of doom and gloom."
"We really wanted to be married, and now to be able to say to our children and children's children that it was during Covid feels quite unique. We may have a party at some stage with more people, but then again we may not – and that's ok!"
"Small weddings are so, so special. If Covid has dashed your hopes, something small can be really wonderful – and removes all of the pomp from big weddings. The most important thing for us was that we were getting married, in front of our nearest and dearest – both virtually and in person. We managed to re-plan our whole day very easily, by being flexible and working with local suppliers. We would't do anything differently."
Congratulations Amy and Paul! I'm so delighted you were able to re-plan and enjoy such a wonderful day with your family and friends. Many thanks to Solen Photography for more superb, sensitively captured work.
With love,
Laura