Maya married Russell on 26th May 2021 – the couple tied the knot with a ceremony at Old Marylebone Town Hall, followed by a restaurant reception at The Wolseley and a laid back picnic in Hyde Park.
This gorgeous, intimate celebration was beautifully captured by London based wedding photographer, Maja Tsolo, whose we truly adore sharing on Love My Dress.
"Because we had planned a whimsical countryside wedding for our big celebration (to be continued!), I wanted the Town Hall wedding to be different with a chic and classic London vibe. I was also inspired by the 60s/70s – think Bianca and Mick Jagger."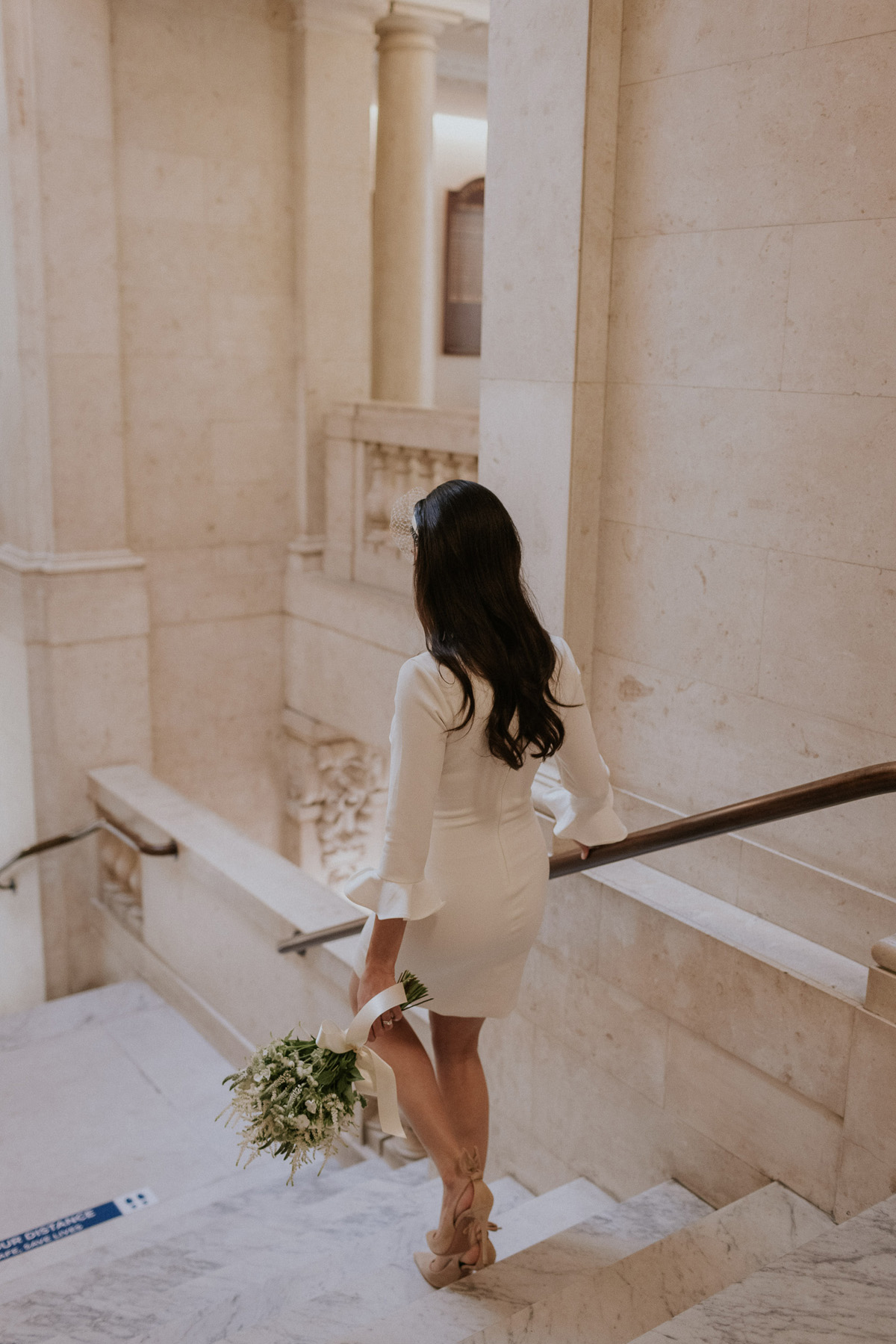 Maya prepared for her wedding at The Connaught, and the couple stayed there on the wedding night. The hotel was chosen for its 5* service and experience. Her short Revolve dress provided all the chic vibes and suited the tone and vibe of the day perfectly.
"I wanted something simple and classic. The birdcage veil was a last minute addition and I'm glad I did something 'bridal'."
"Initially I wanted a bouquet of Lily of the Valley but was difficult and costly to procure, so found an alternative with white flowers in season – I was obsessed with the bouquet!"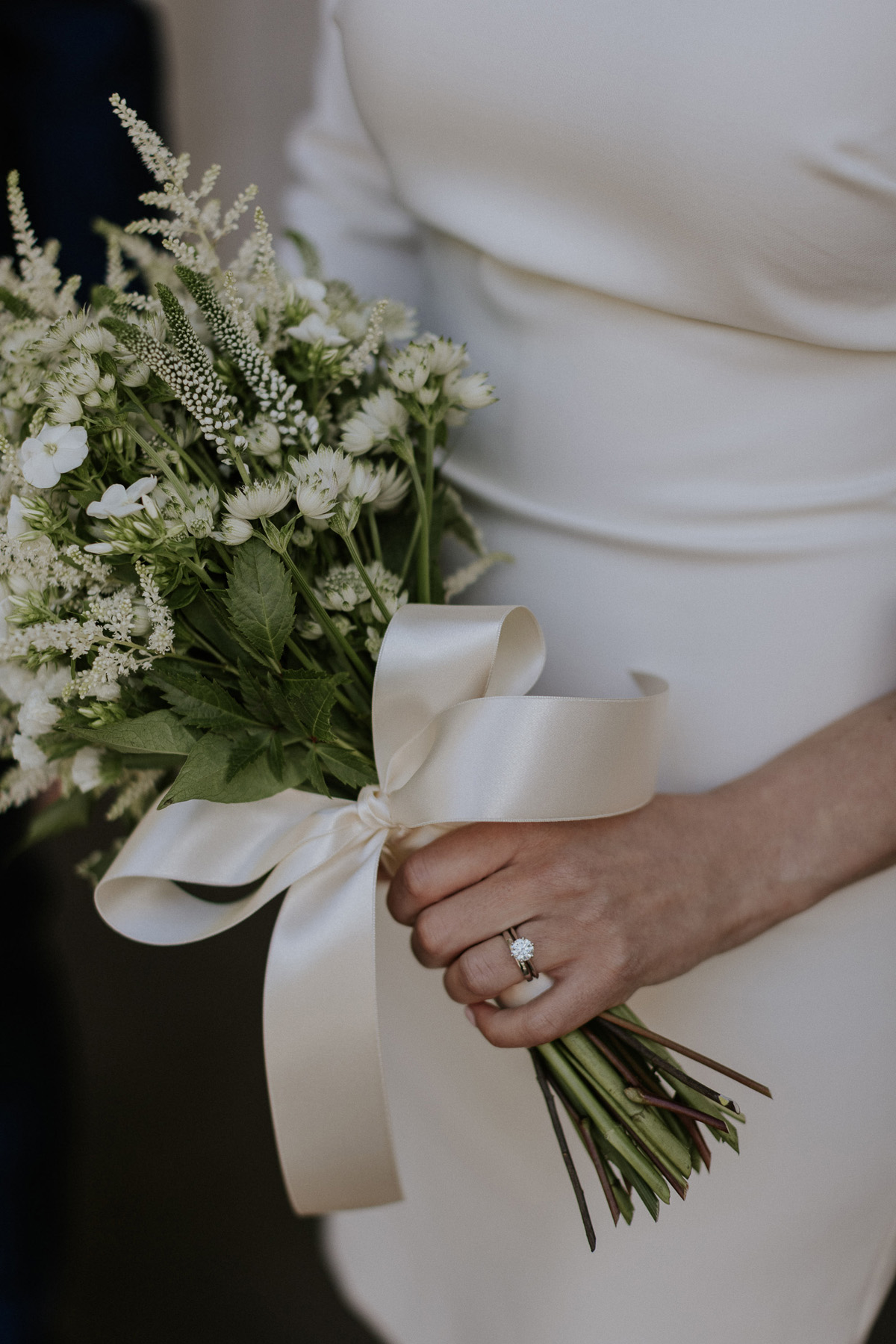 Russell wore a pale pink silk tie and navy blue suit, from Suit Supply.
"Russell and I met at a Christmas party in 2016, shortly after I moved to London from New York. We got engaged in Japan (overlooking Mt Fuji) on 15th March 2020."
"We arrived back to London on the day lockdown started. Not thinking the pandemic would last as long as it has, we planned our wedding for Easter 2021, but plans inevitably changed."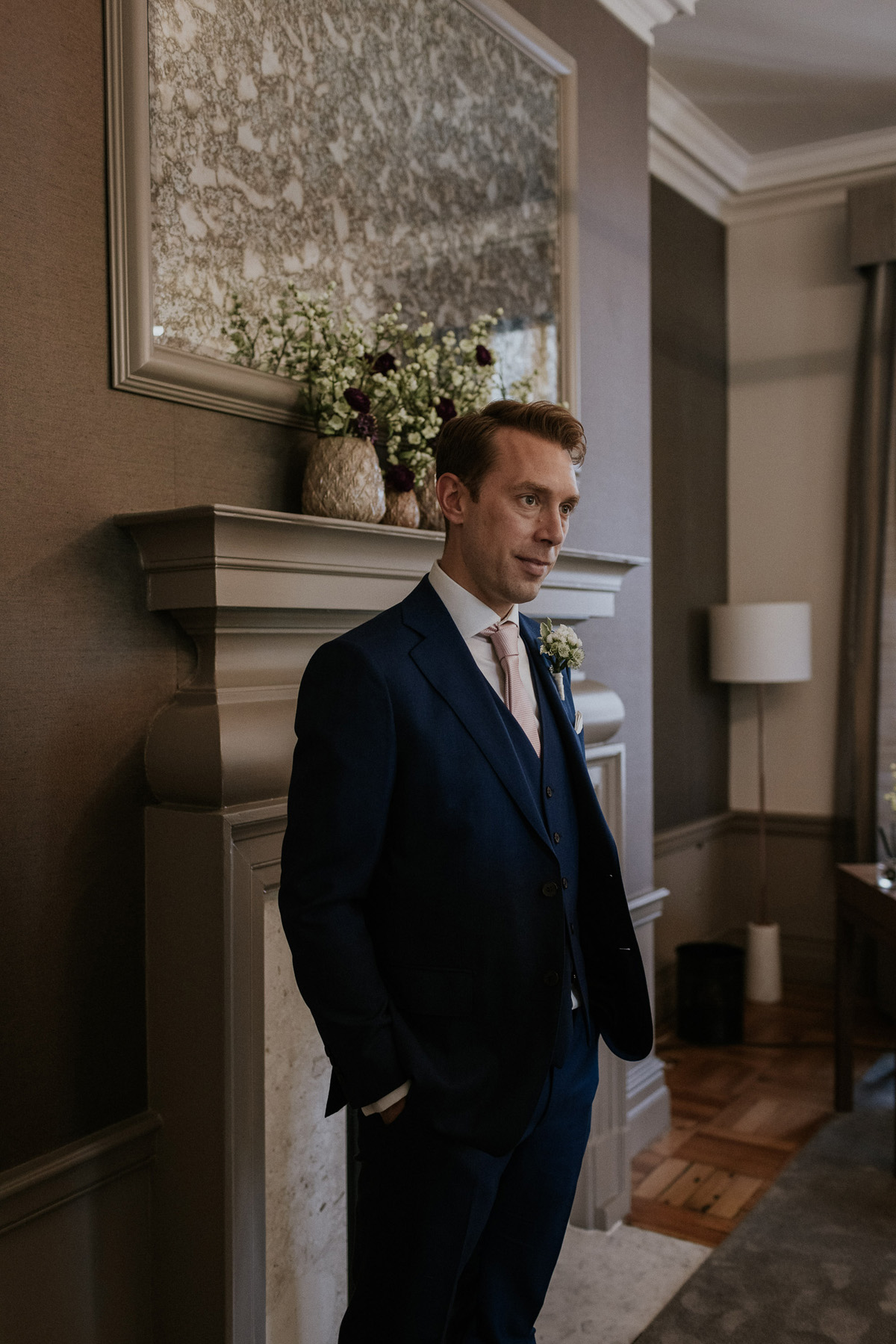 The bride's mom and dad accompanied her down the aisle, to the sound of 'Can't Help Falling in Love' by Joseph Vincent – a rendition of Elvis' famous song with a ukelele.
"We got married at the Old Marylebone Town Hall in London. Initially, we booked the town hall to satisfy the legal marriage requirement ahead of our larger wedding celebration in the Cotswolds, which was just meant to be a blessing."
"However, due to the pandemic it ended up being the only wedding ceremony we would have – for the time being!"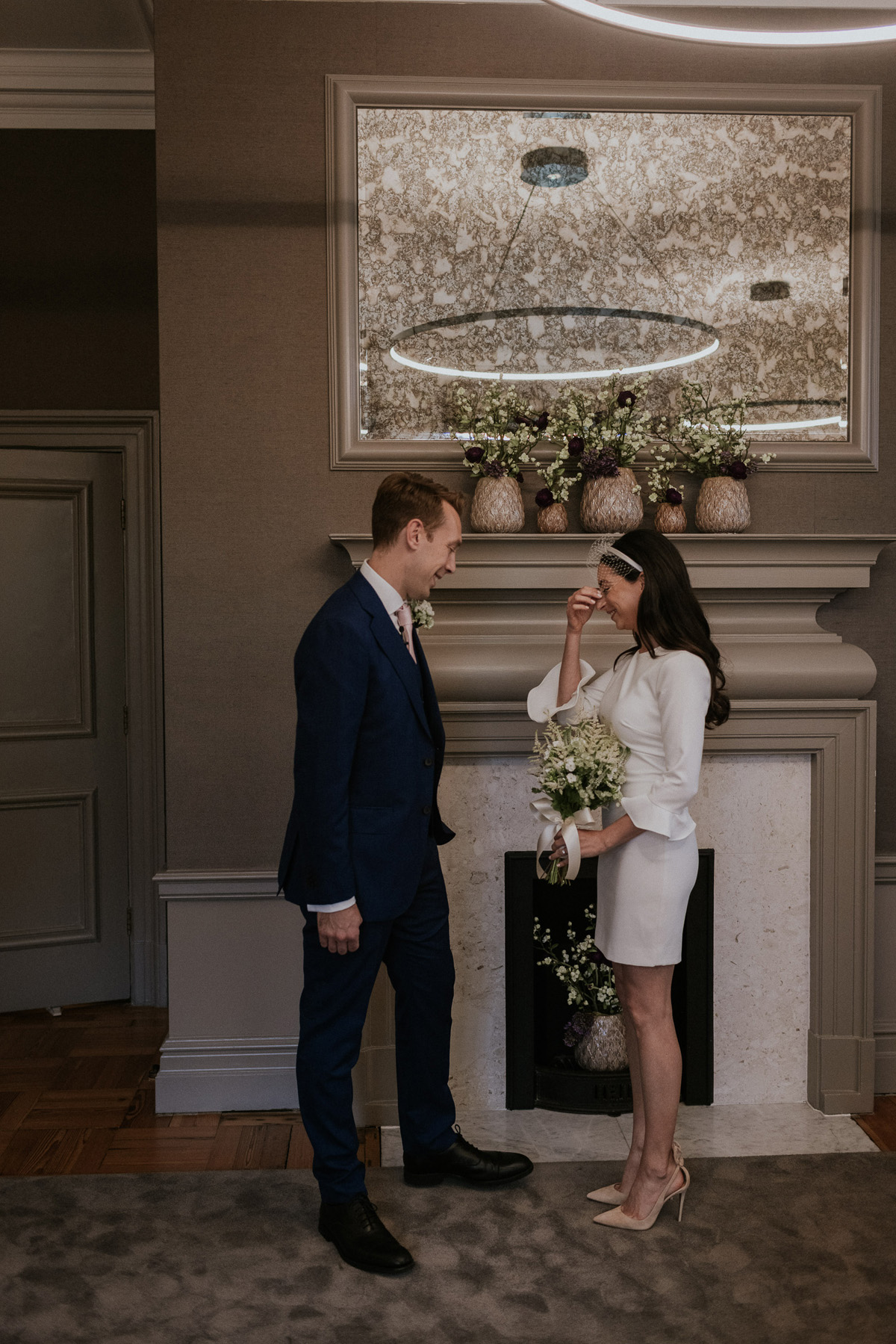 "We got our wedding bands from the same jeweller in Hatton Garden who made the engagement ring, Hyde Park Design. We wanted to personalise our bands so we both had engraving in the interior with the wedding vows in Hebrew and my husband also had his grandfather's ring melted down and plated the inside of his ring with that metal."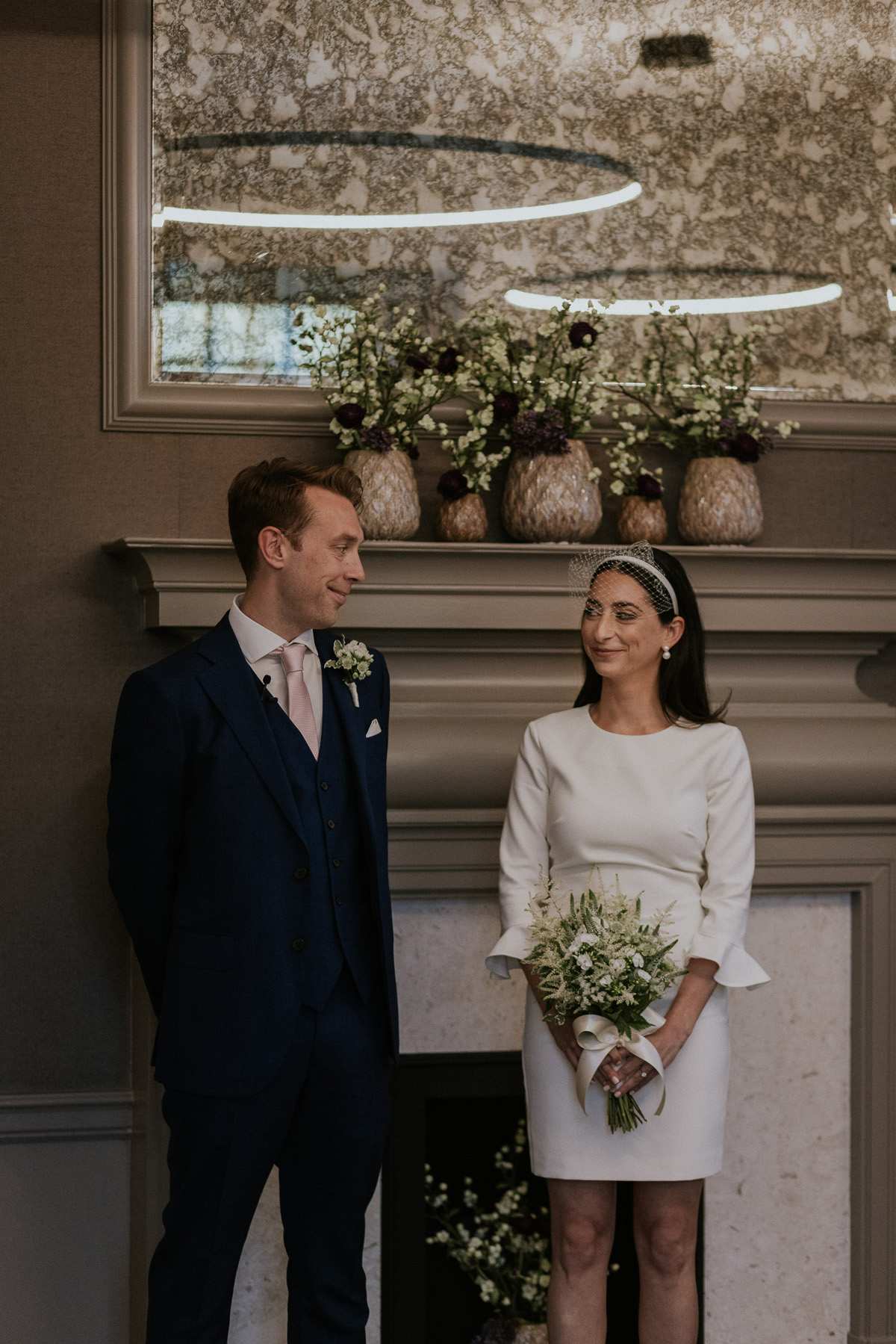 "The Town Hall was my favourite part of the day – they made it so much more special than I could have ever imagined from a Town Hall."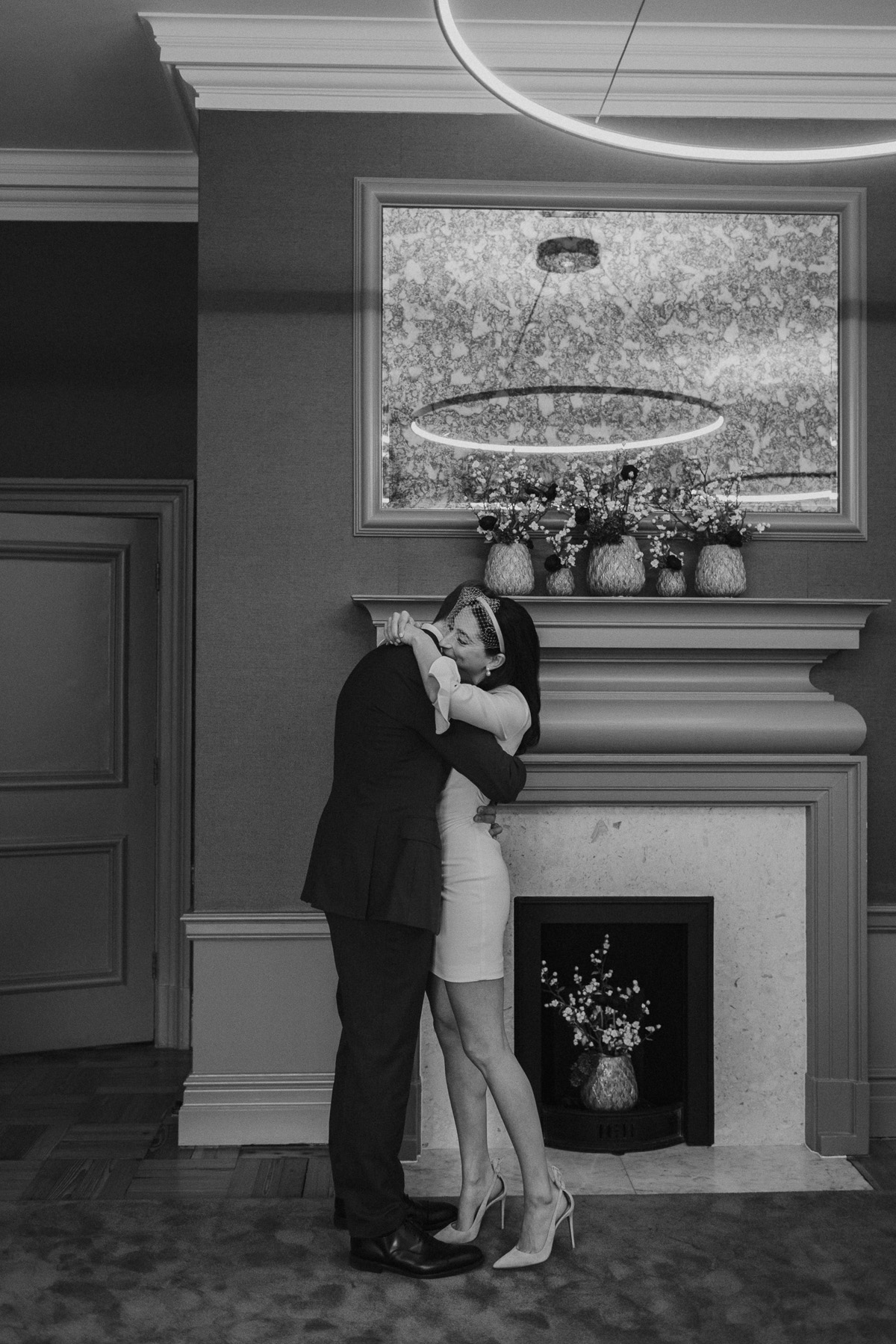 "I'm not sure if it was due to Covid, but it seemed like we were the only ones there. We were escorted by ushers, did not feel rushed at all and the registrar was great. It was just so intimate and lovely."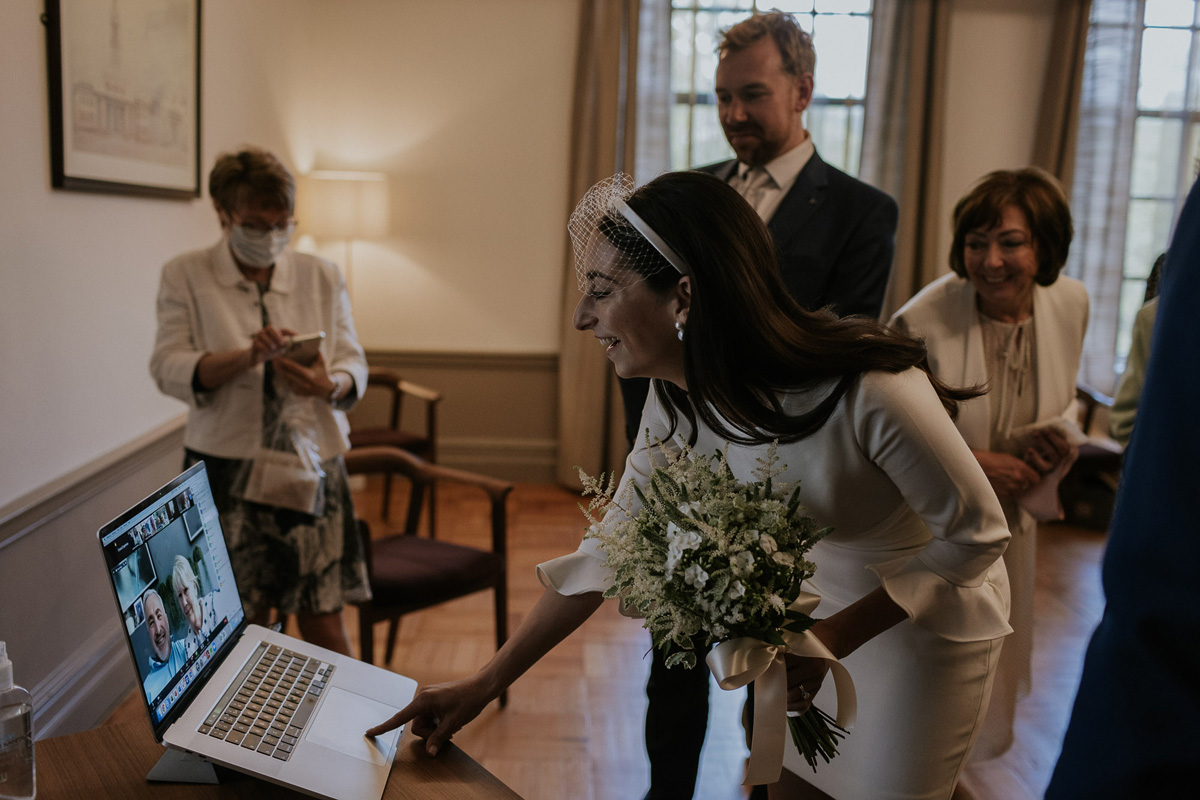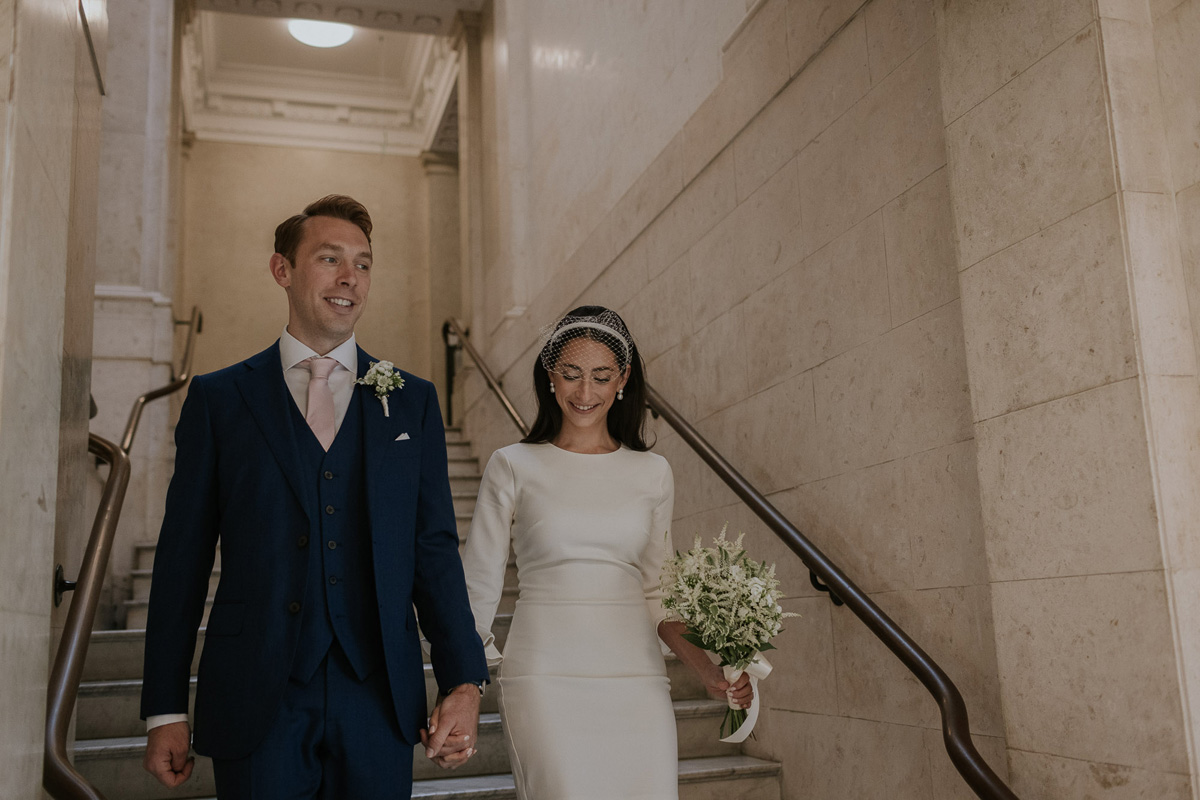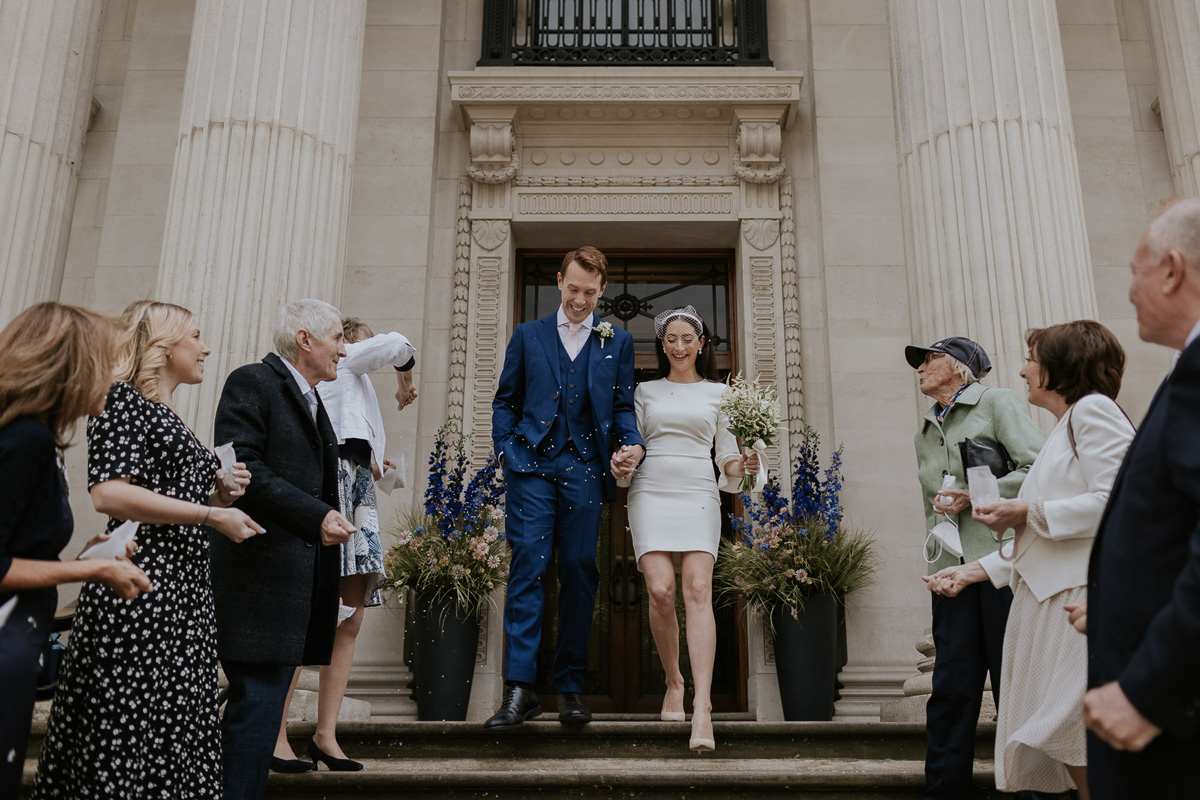 "I discovered photographer Maja Tsolo  through Instagram since she had photographed at the Old Marylebone Town Hall previously."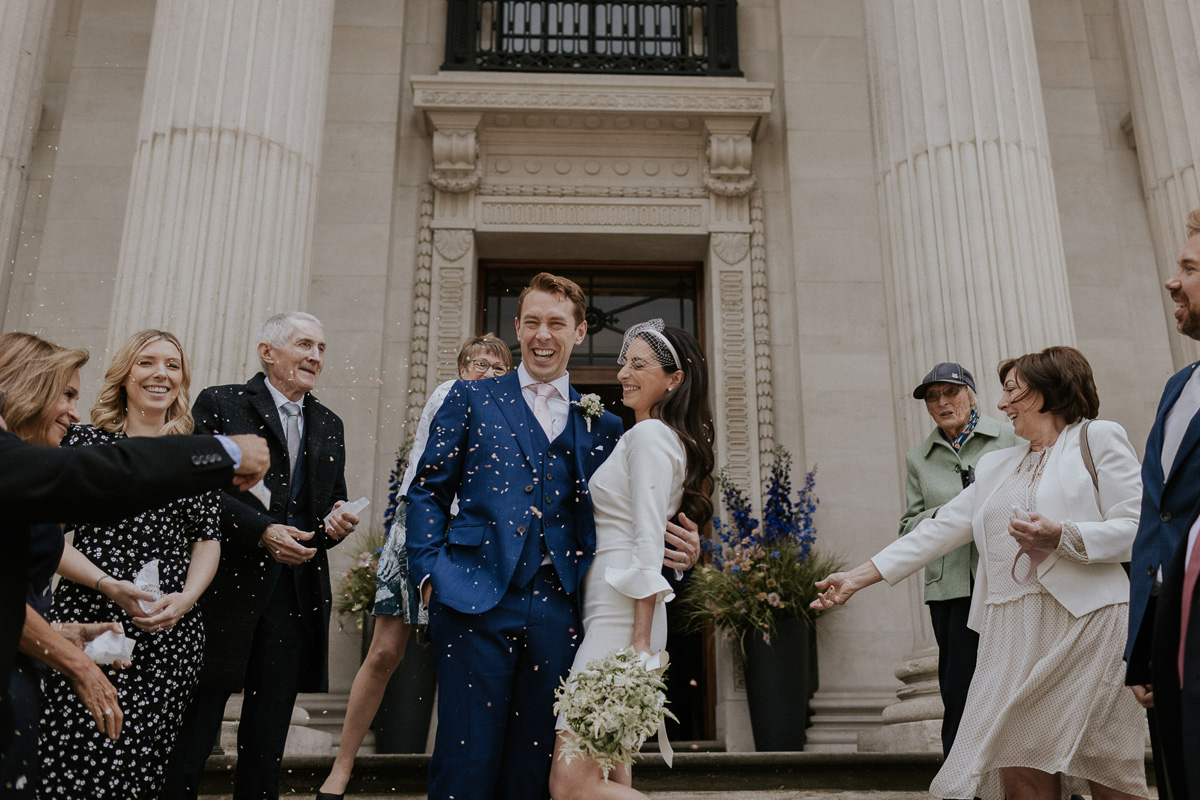 "The quality of photographs is very important to us, since my cad is a photographer and we were impressed with Maja's work."
"I would definitely recommend to others – we already have friends raving about our photos and asking who our photographer was."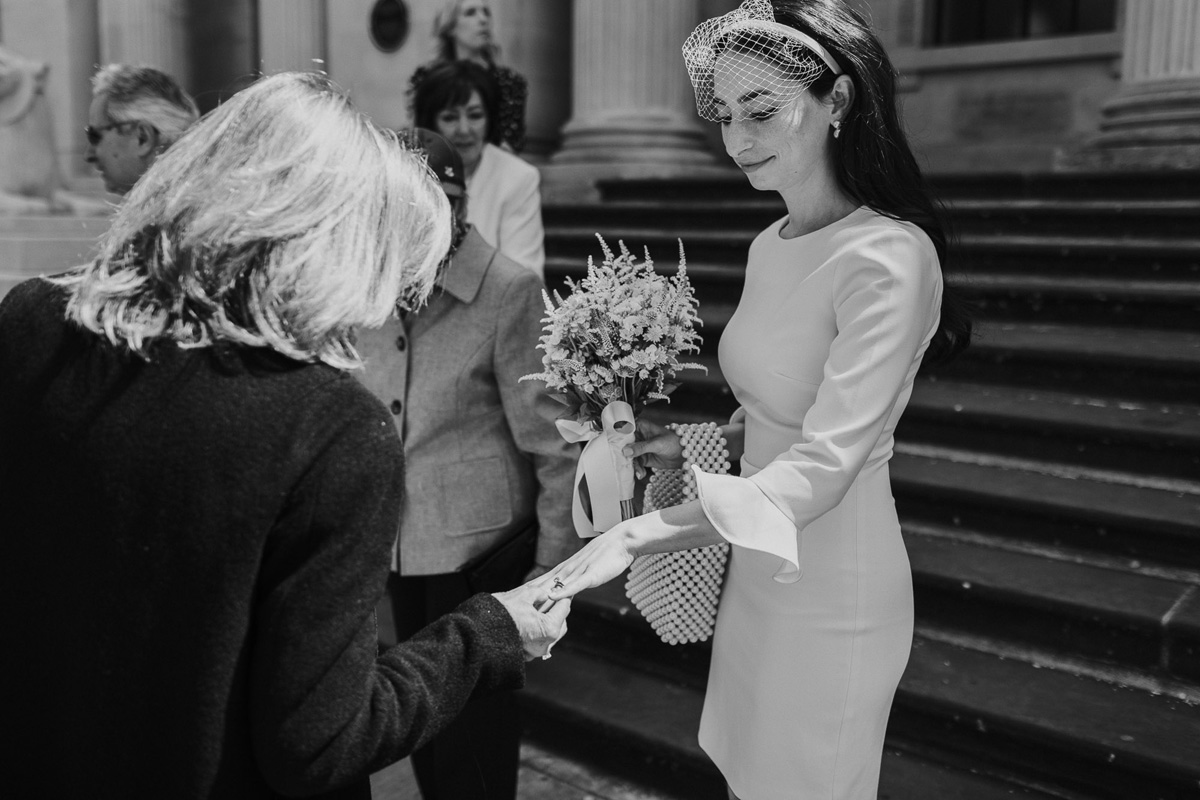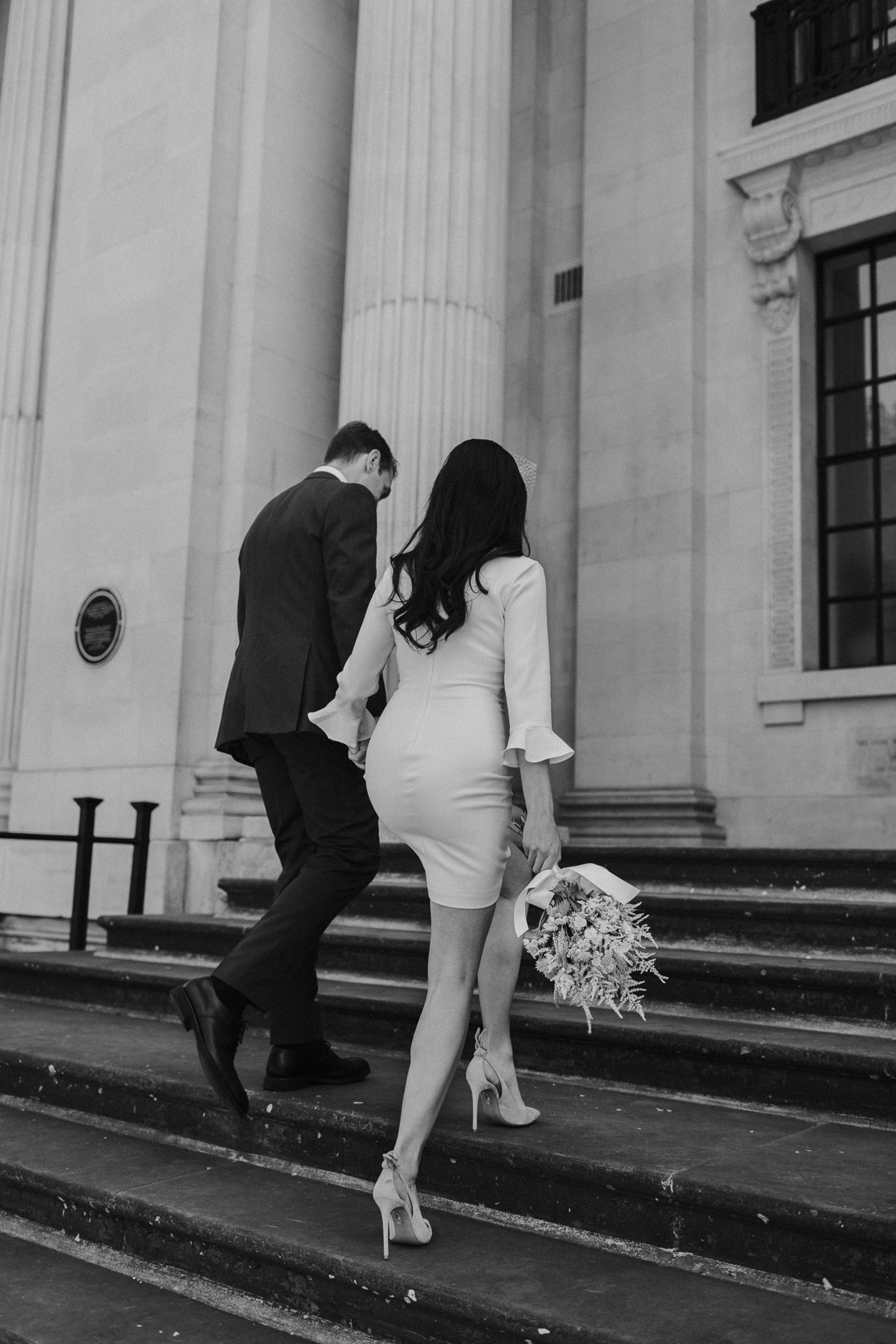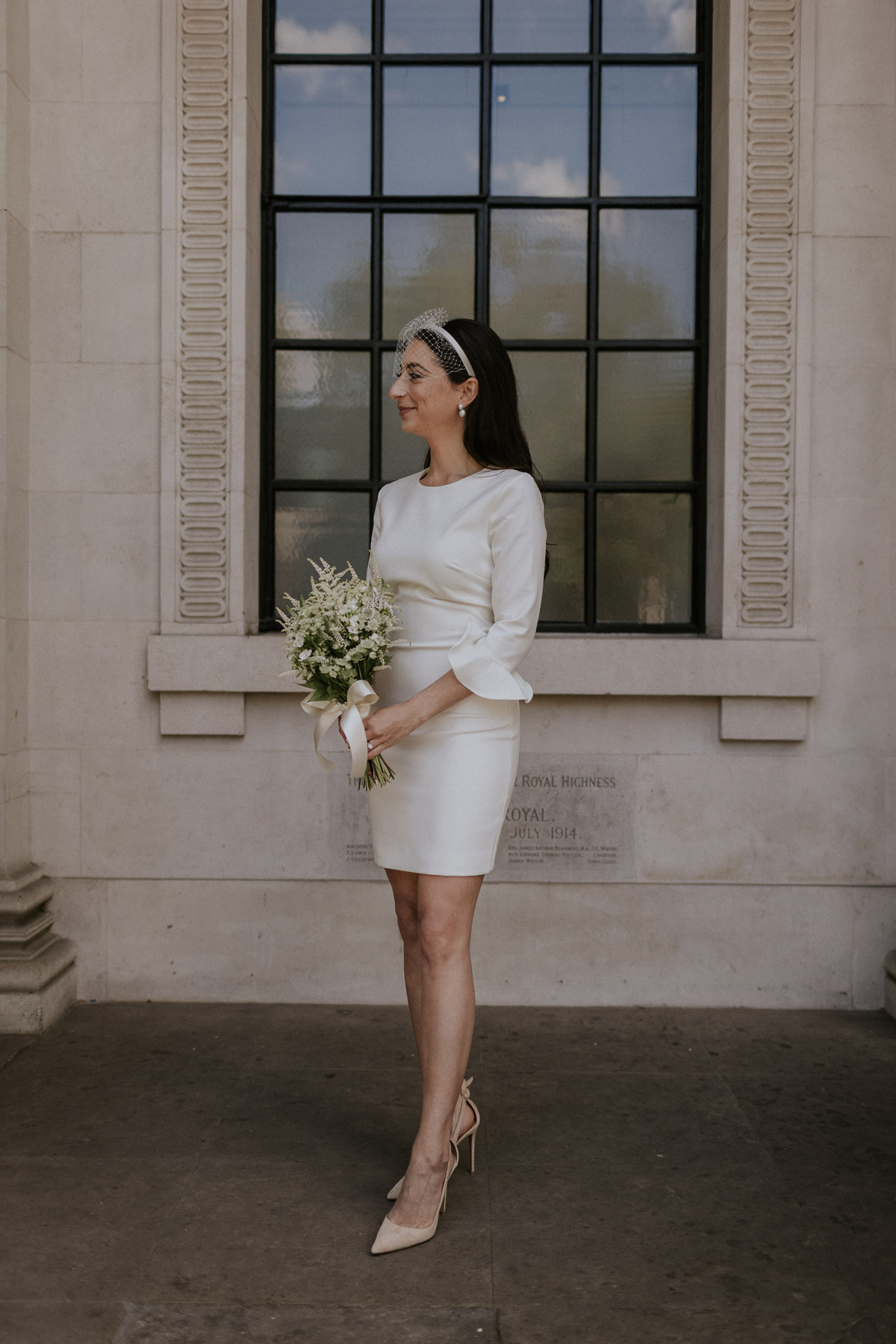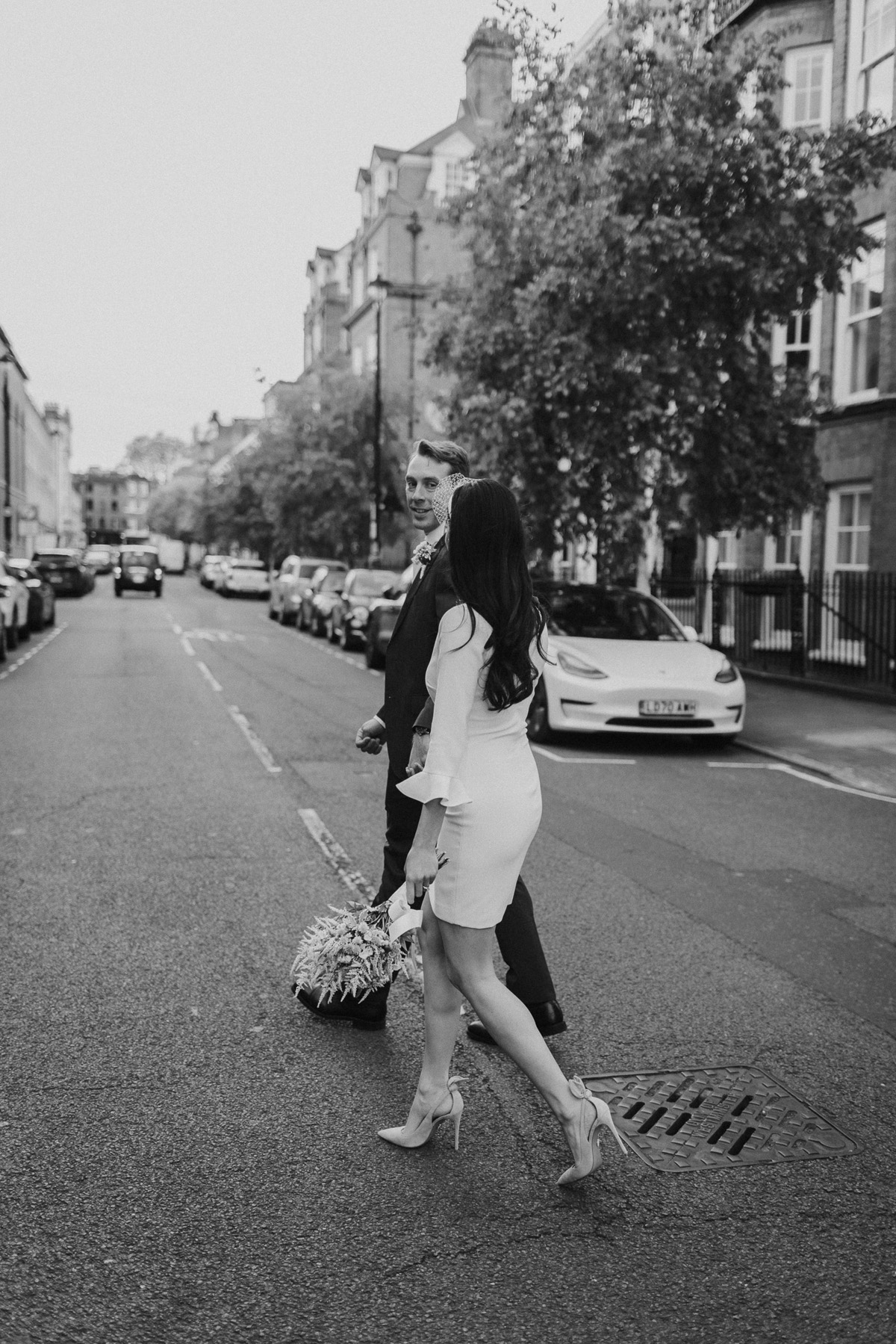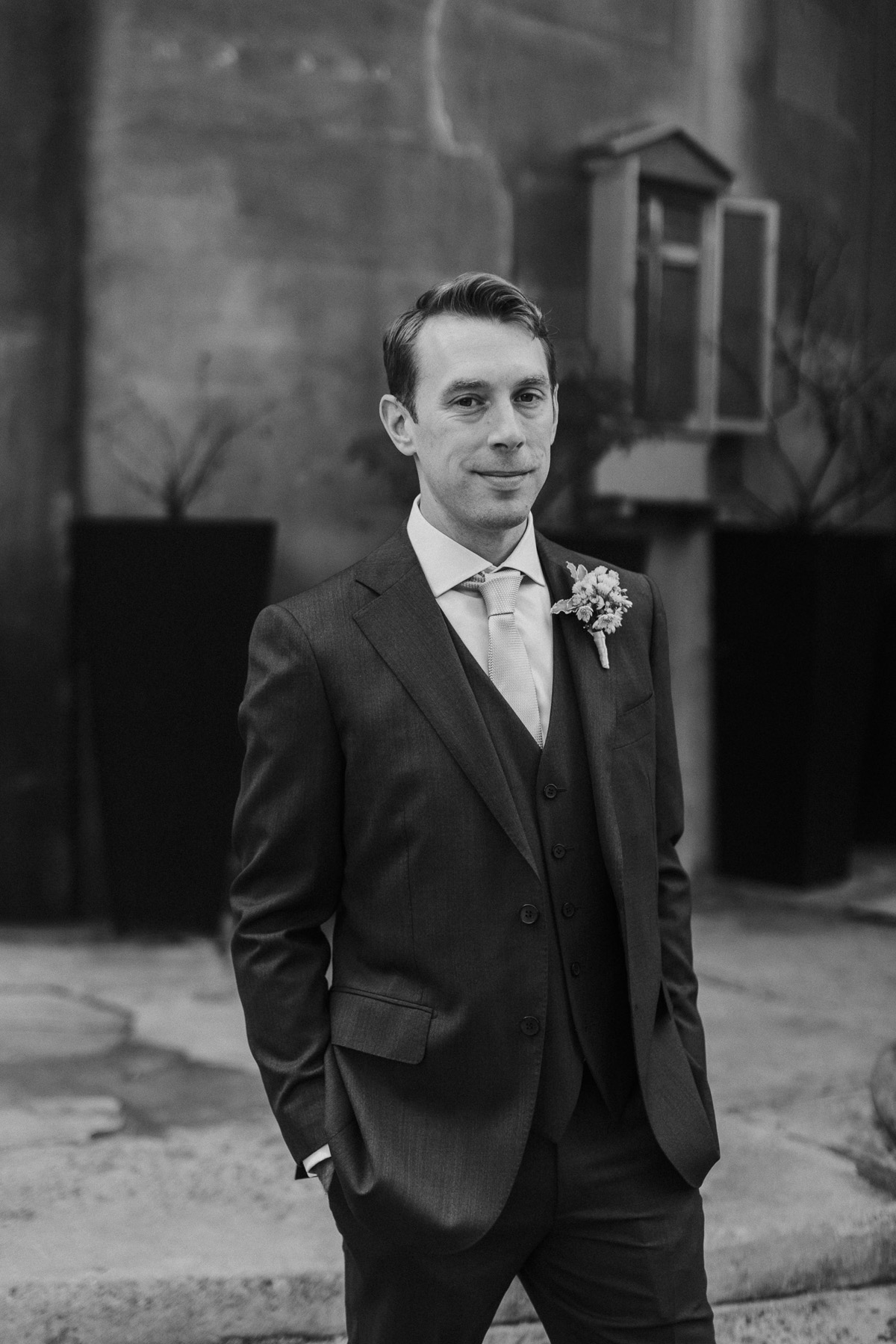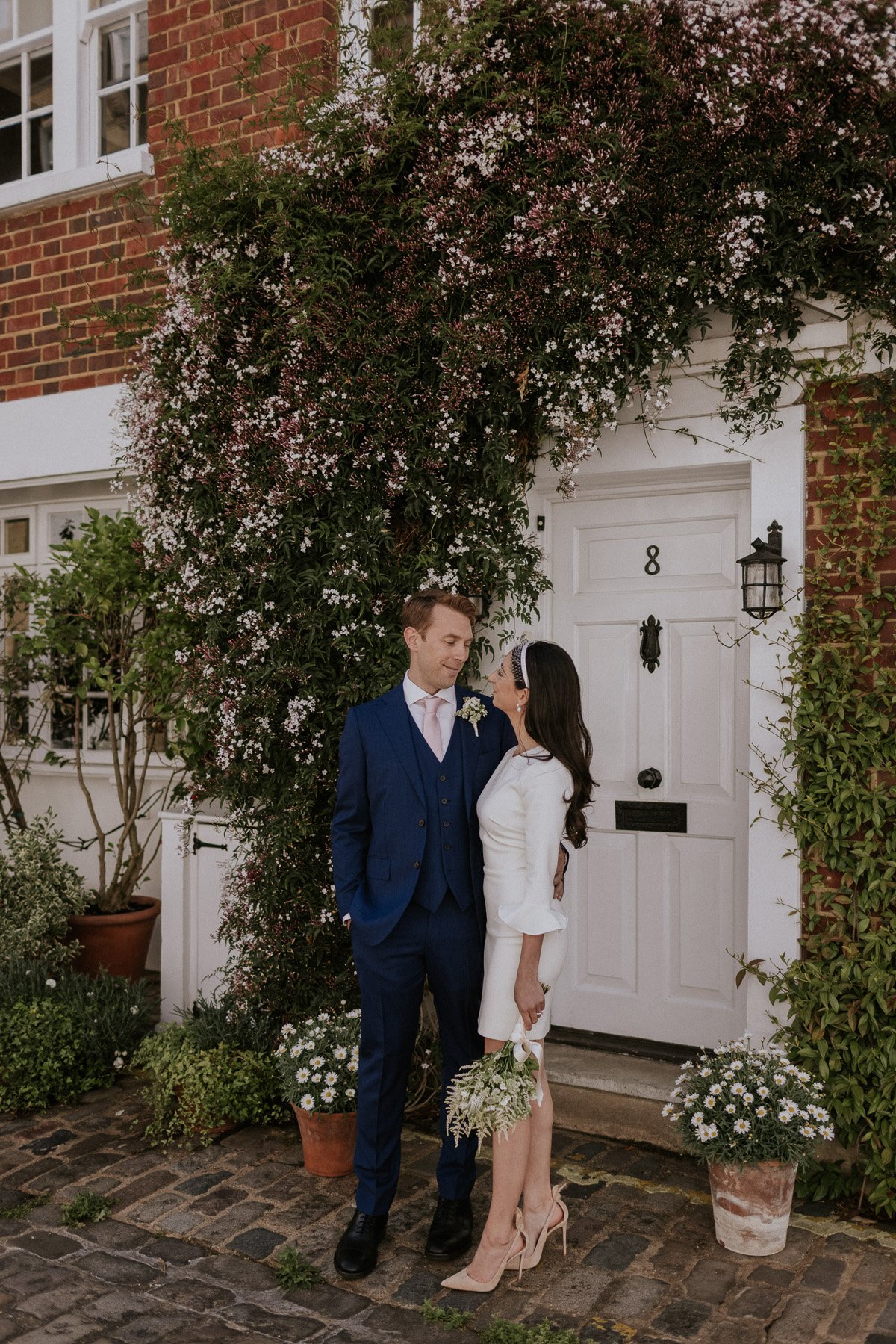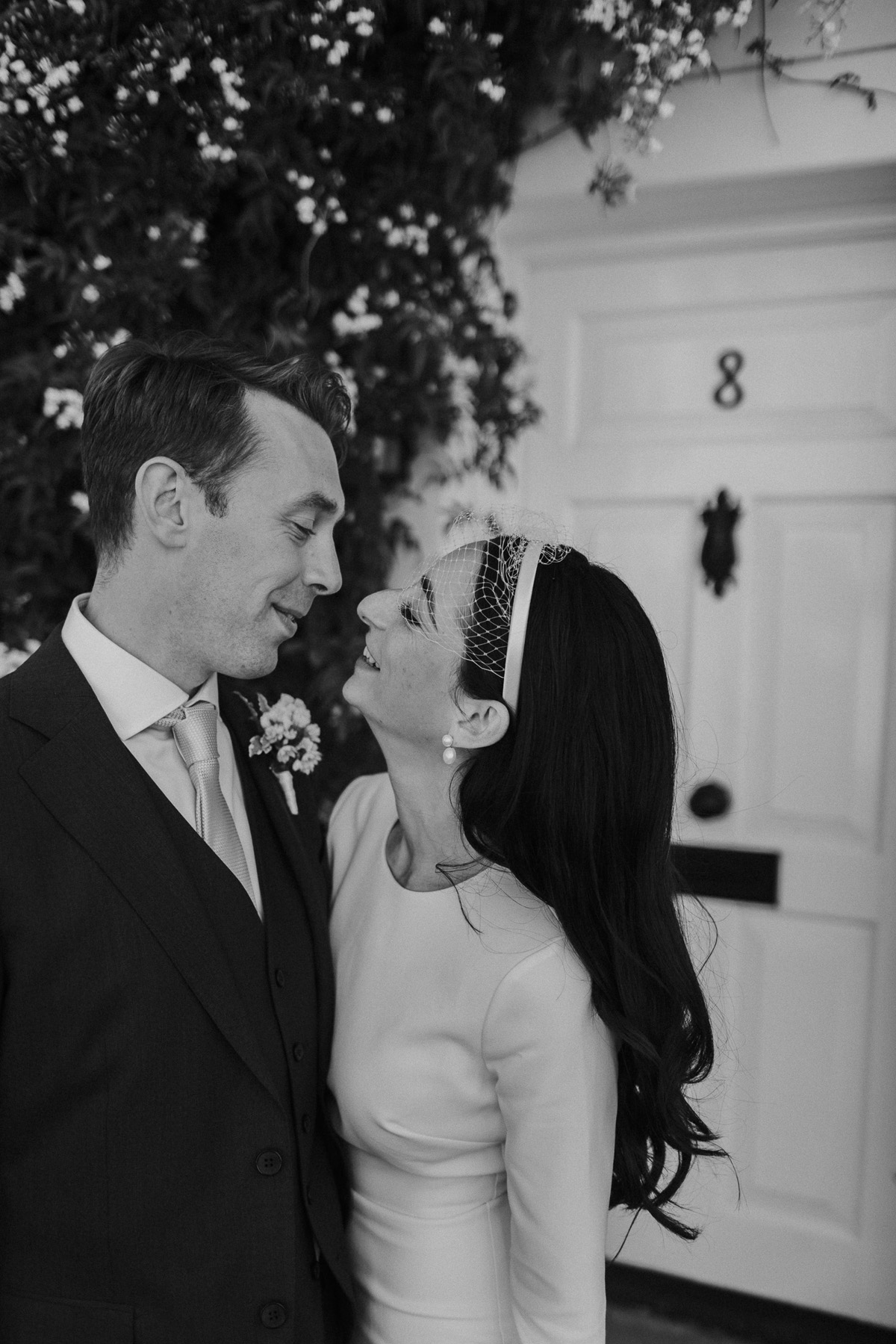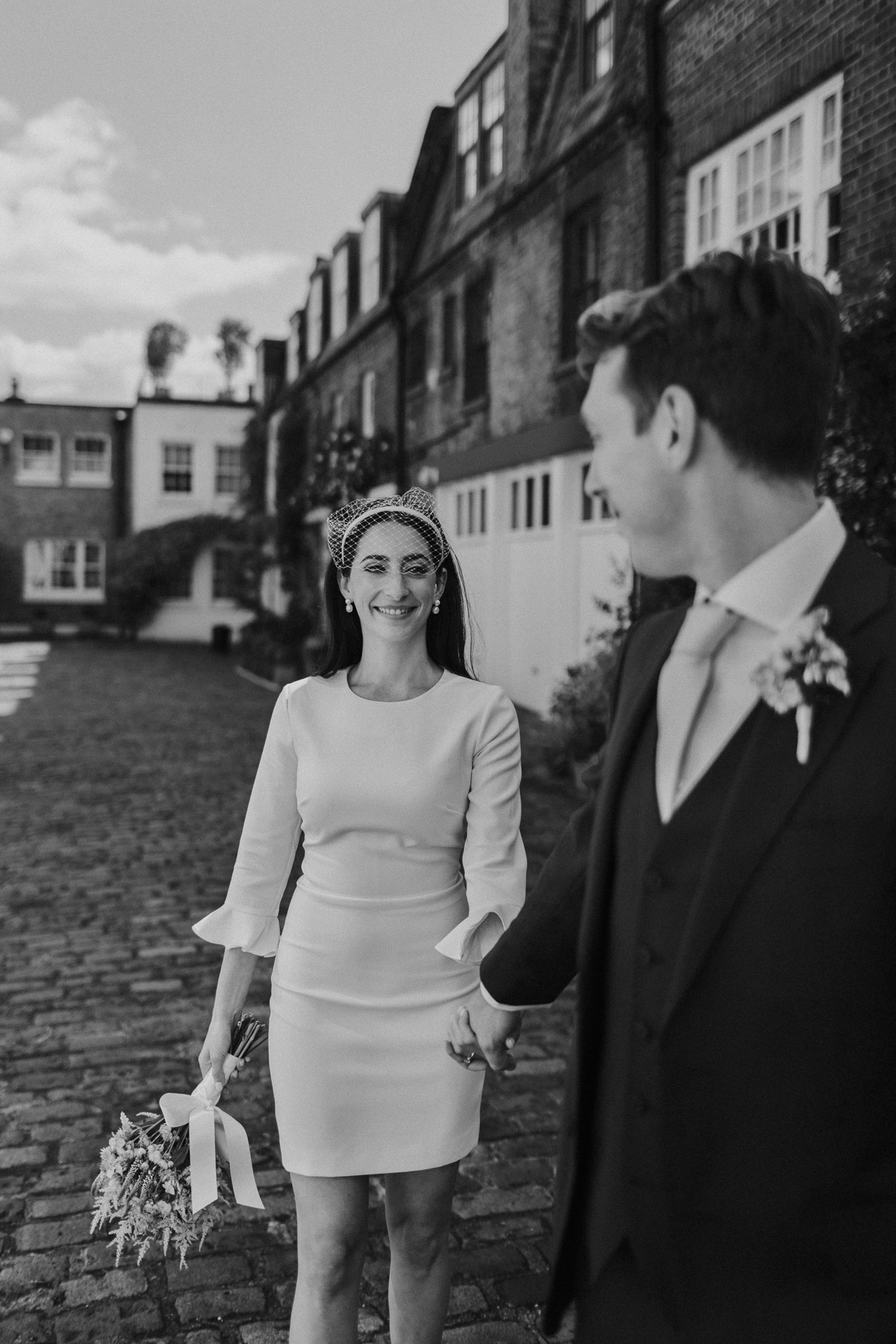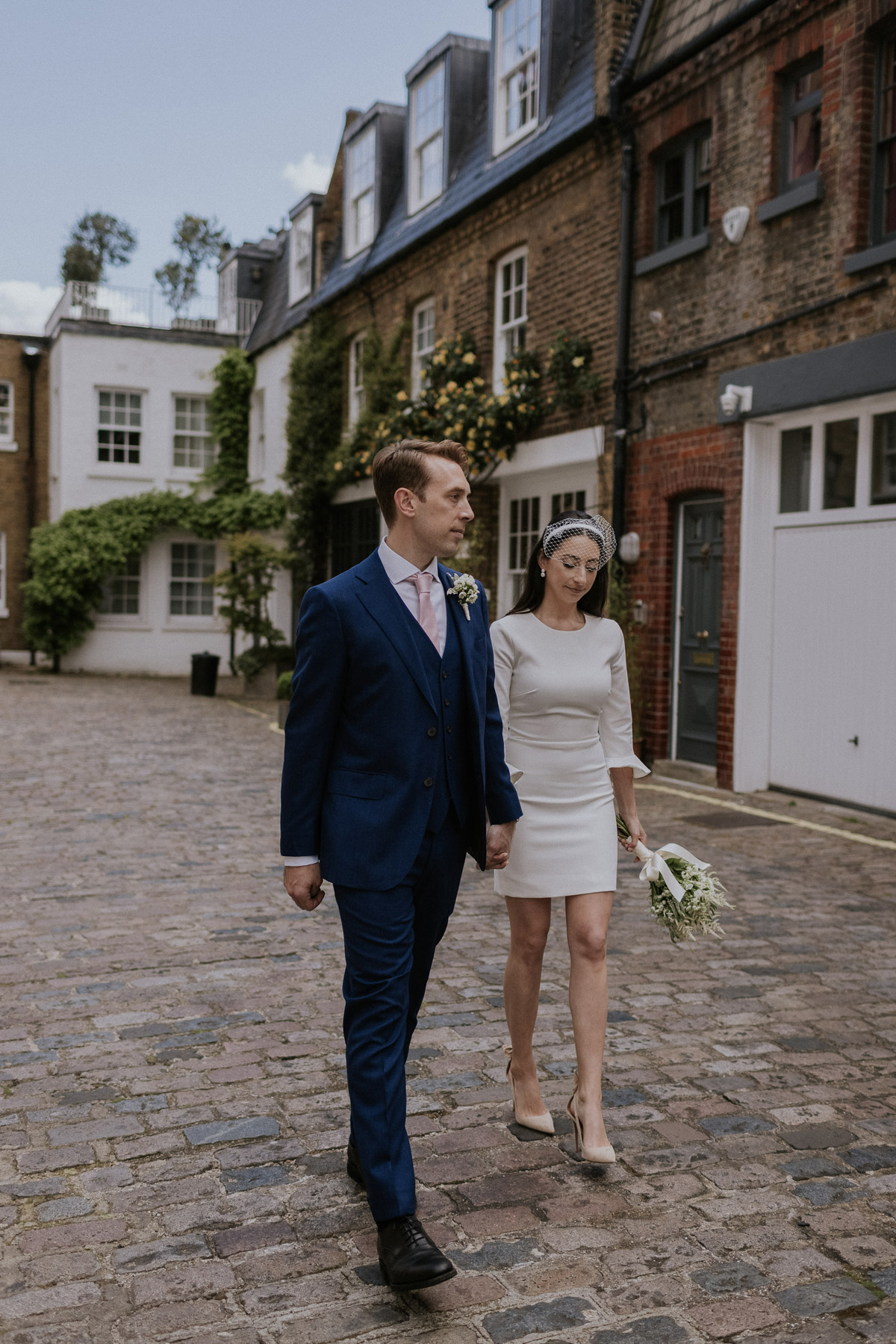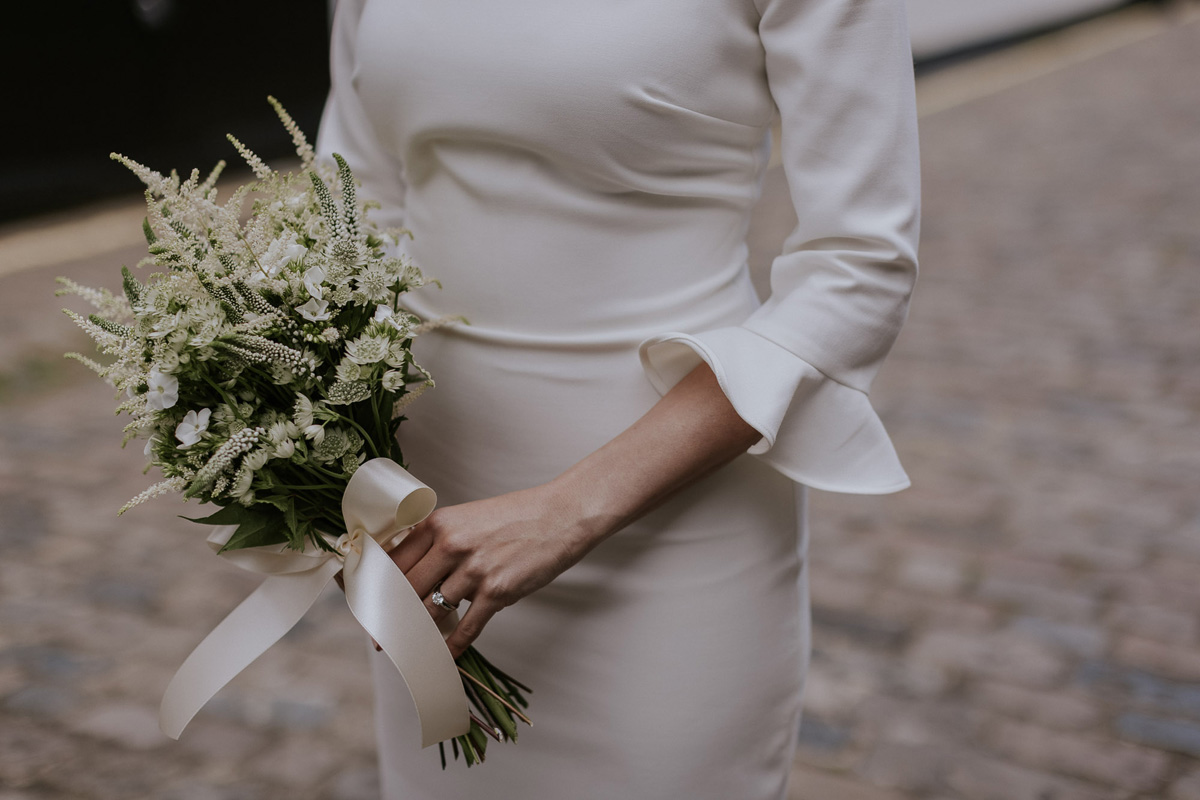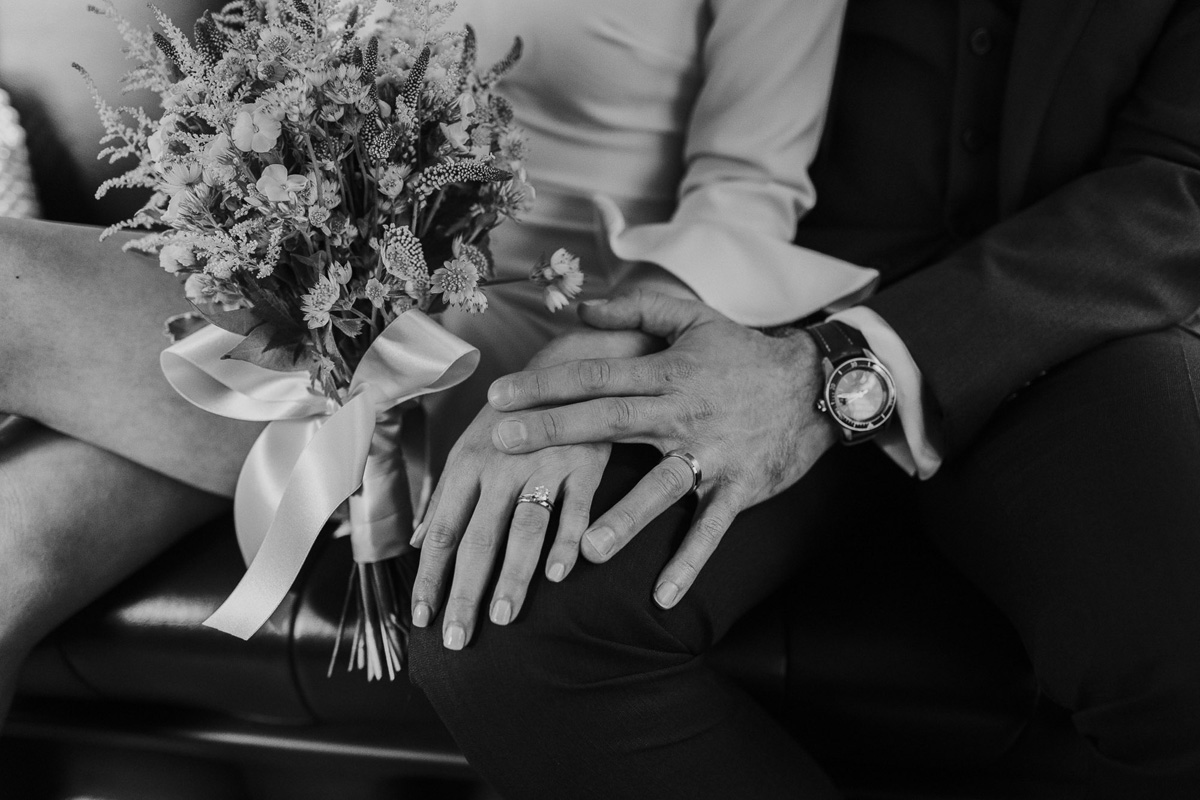 "Due to wedding restrictions at the time, the only way we could have 30 people without a 'sit down'/'table service' requirement and to celebrate in central London would be to have a picnic in one of the parks – so we did!"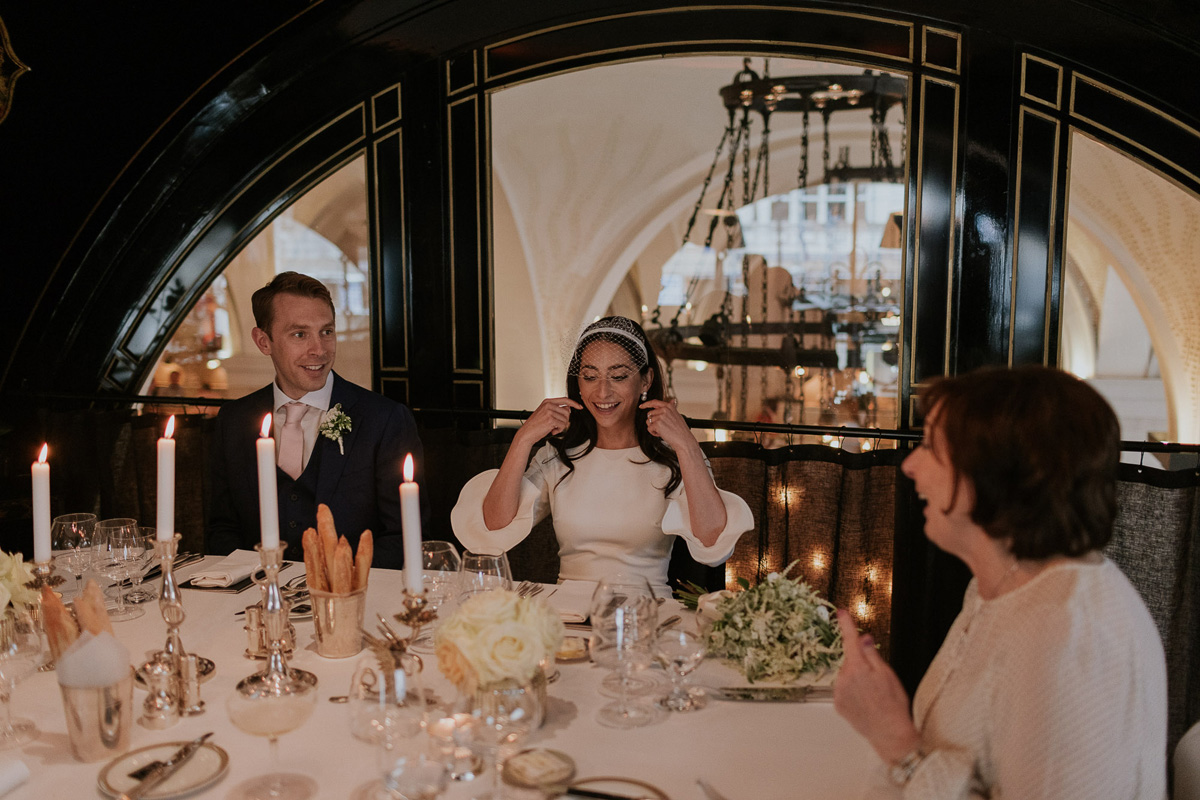 But first, the couple enjoyed an intimate, sit down meal at The Wolseley.
"The Wolseley is a classic London staple in central London, not too far from the Town Hall."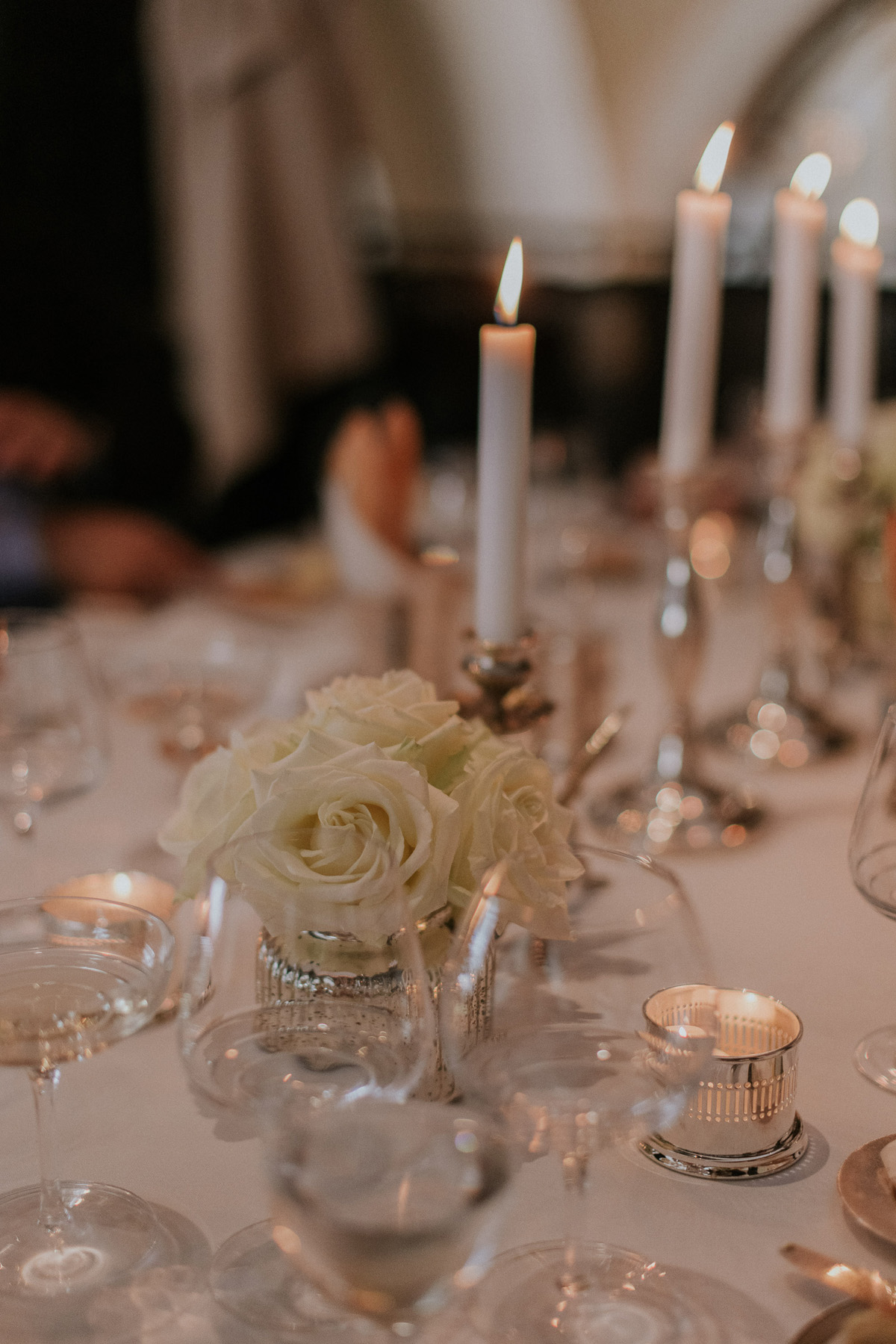 Words of Wedded Wisdom
"My advice would be don't wait – don't postpone because the day won't be exactly what you planned. It's easy to say with hindsight because at the time there was so much uncertainty and stress, but if you are able to celebrate with your closest friends/family that is the most important thing – life is too short."
"Also, read T&Cs and negotiate with venues and suppliers to make sure everything is clear and in writing. Luckily everyone we dealt with was super understanding and flexible."
"Just enjoy the day! Don't let the stress of the day take over. Make sure to take time to speak to everyone and most importantly that you spend time enjoying the day with your partner."
"On reflection we would have shared the Zoom with more people. We were hesitant to do so because we wanted our family and friends to consider the big wedding celebration as the wedding. We didn't anticipate that the day would be as amazing as it was and that perhaps we wouldn't need the big wedding."
"We didn't have a budget, but in the end I would say our wedding probably cost around £3,500 – 4,000 (with the hotel stay at the Connaught included)."