Who else feels like they are limping through January as a permanently exhausted zombie? I've seen Annabel's inspirational Instagram posts on pared back nature, wrapped-up walks and wooly sweaters , but I just can't seem to relinquish thoughts of carefree cheese-eating and the right to drink Baileys throughout the day. The key to shrugging off this sniffly slump is looking forward; the green stirrings of Spring and a whole heap of Summery goodness is coming our way in 2017, with many of you *finally* getting to tie the knot (I'm looking at you Emily D). In an ode to sunlight spilling through windows and the freedom of bare arms, I bring you today's delightful offering from Northern Ireland.
Choosing a home-spun and personality filled day were Jonny, a teacher and Kirsty, a company secretary assistant. After tying the knot in a sunken garden at Castle Ward in Downpatrick, they celebrated at Kirsty's parents house in Portaferry in a riot of amazeballs homemade decor on 24th July 2016. I totally have my Love My Dress favourites, and days full of this much joy and colour have to be added to the ever-growing list. And Here come the familiar pangs of bridal look envy/joy, Kirsty has nailed the bold bohemian vibe, using bursts of blooms and a statement lip to titillate the relaxed loveliness of her lace trimmed Rue de Seine gown from Little Book for Brides favourites Leonie Claire Bridal boutique in Brighton. This is one of those entrances where you feel the bride looks how she was destined to look on her wedding day: a glorious version of herself.
"I loved how comfortable my dress felt on and the detail in the lace was spectacular. I wanted a bohemian style of dress and this fitted perfectly with my vibe."
Photography by Honey and The Moon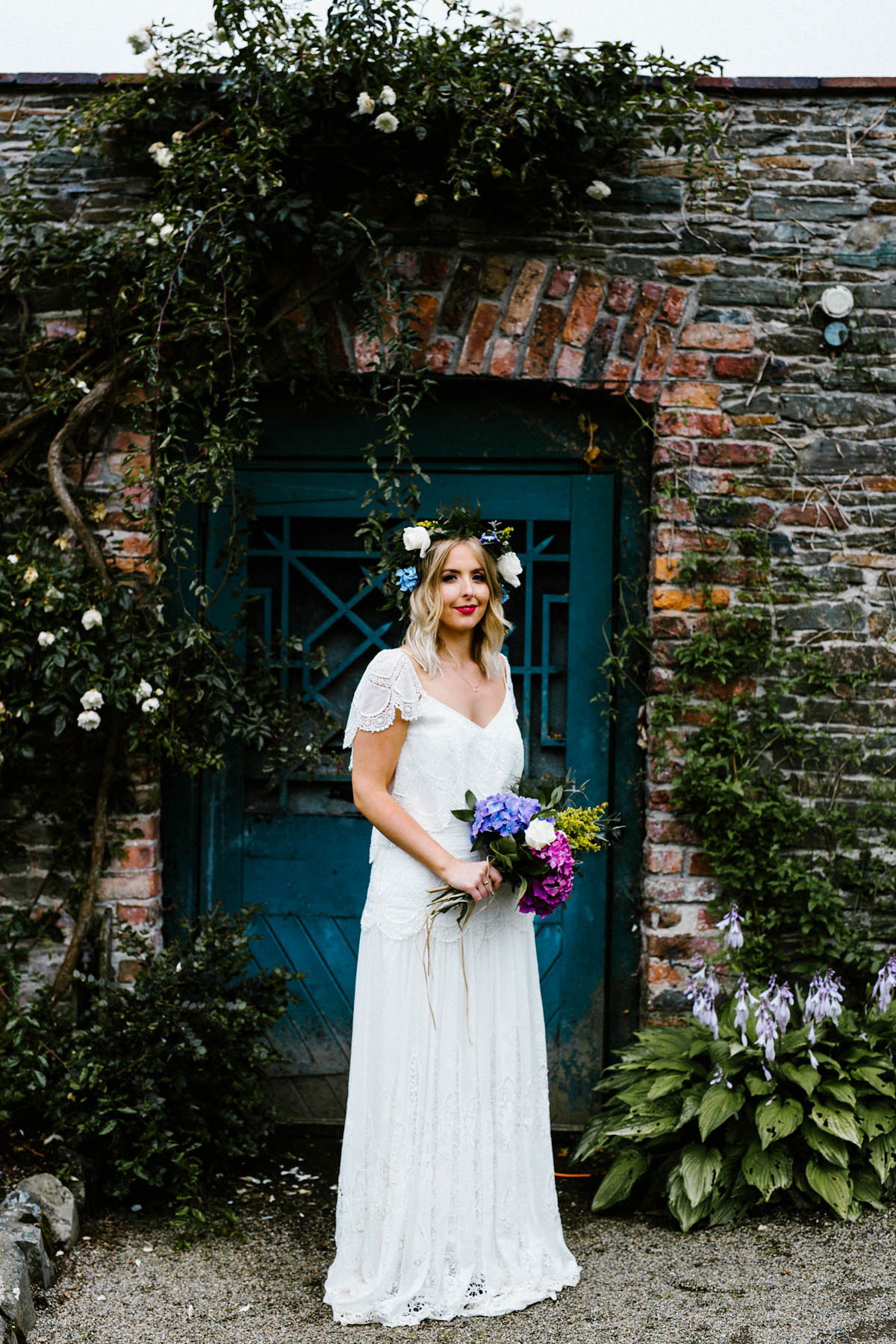 "We both wanted a very relaxed feel to our wedding, with lots of homemade elements. The main thing for us was just having everyone there so having it at home didn't restrict our numbers."
Kirsty's beautiful dress hanging in all it's resplendence…
Mango shoes were our brides something blue, a &Other Stories necklace borrowed from a bridesmaid and Jo Malone's Nectarine Blossom and Honey spritzed liberally for this outdoor, sun-soaked love-fest.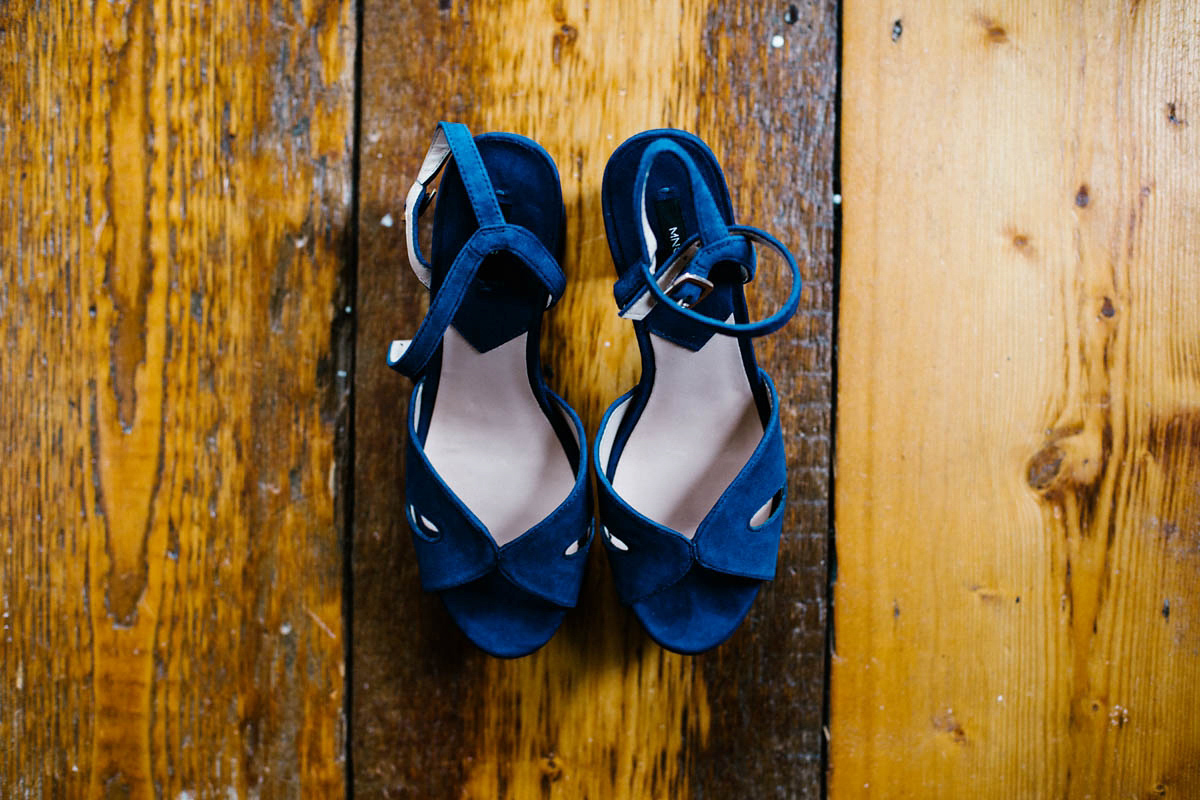 Kirsty chose not to hide the detailing of her gown with a veil, instead making a floral crown with her bridesmaids from foliage from the local fruit & veg shop and roses from the garden. You will see this can-do, creative thread throughout this whole celebration and it adds such magic!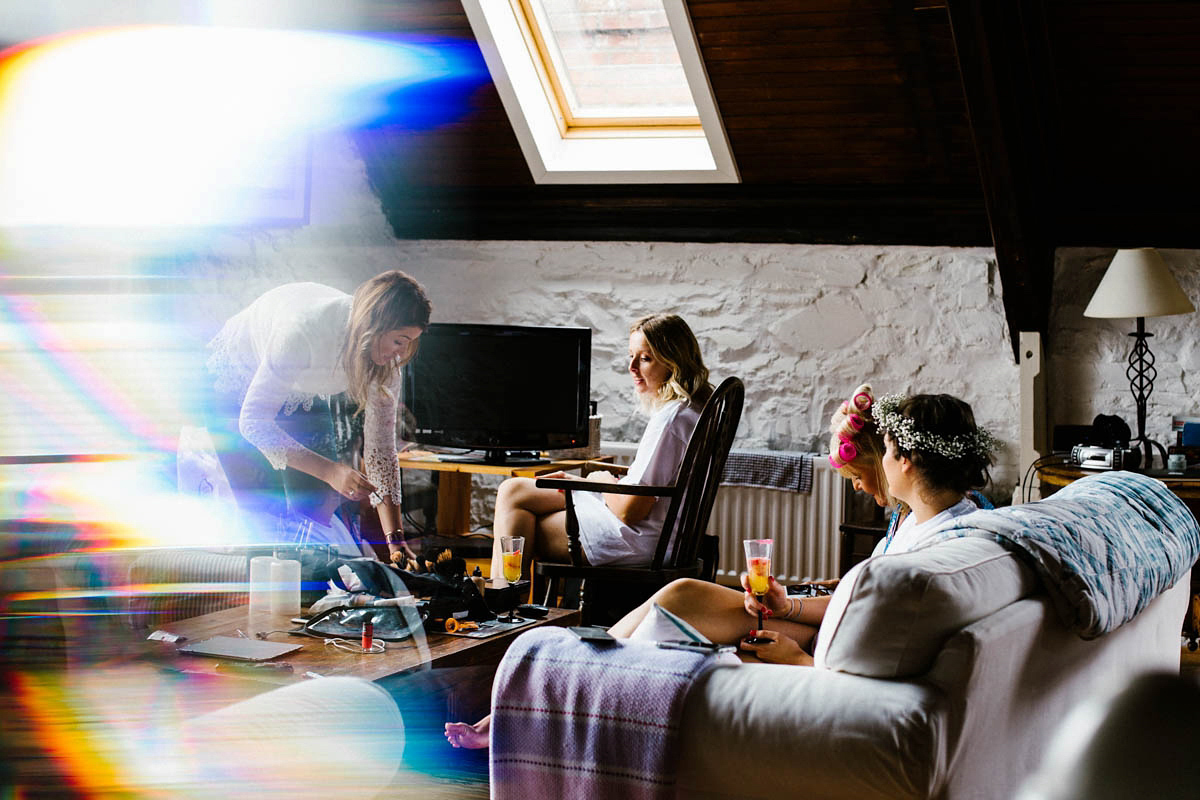 "We both met when we were 19 through our mutual friend (the best man) at the end of 1st year (2007) at Newcastle University. We then started going out with each other that Christmas."
"Jonny took me to Bordeaux for my 27th birthday in April 2015. It wasn't expected at all as he had thrown me off the track after saying he wanted us to buy a house first before we thought about marriage. We arrived in Bordeaux on the Thursday and we went for a walk as he told me there was a lovely wine bar across the Pont de Pierre."
"It was drizzling so I was storming ahead (like I usually do) and Jonny was faffing looking at something in the distance. I had walked back to tell him to hurry up and he then got down on one knee and proposed."
"My initial reaction was 'Are you (beeping) joking?' to which was followed by tears and a high pitched yes! It was rush hour at this point and the traffic was backed up so we got a great reception from the drivers beeping their horns and shouting in French. We were engaged for 15 months before the wedding."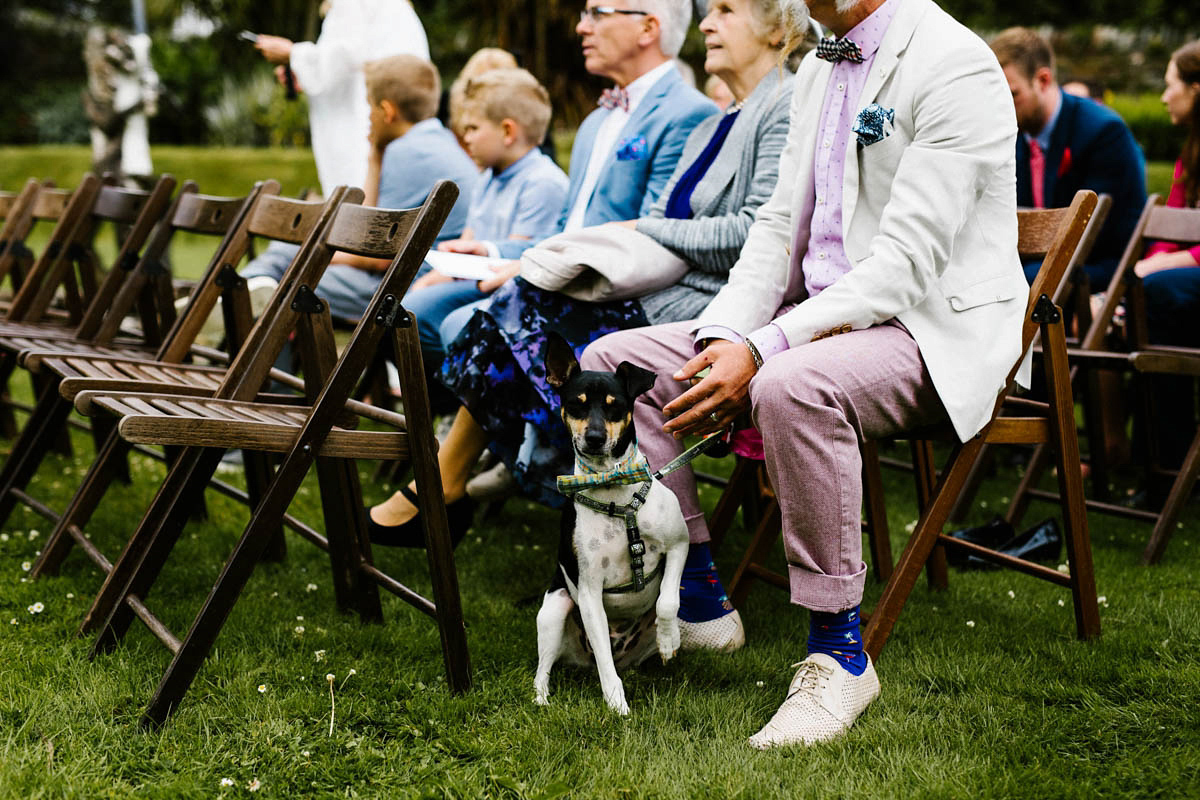 Kirsty arrived in a VW Convertible Beetle from Loggybear Camper Hire and made quite the entrance following her all-white bridesmaids through the amazing floral archway with her beloved Dad. 'Sally Cinnamon' by The Stone Roses played as they descended the stairs to the garden and greeted Jonny, looking every inch the dapper groom in his John Lewis suit and Paisley tie that his Dad bought when he was born (all of the feels).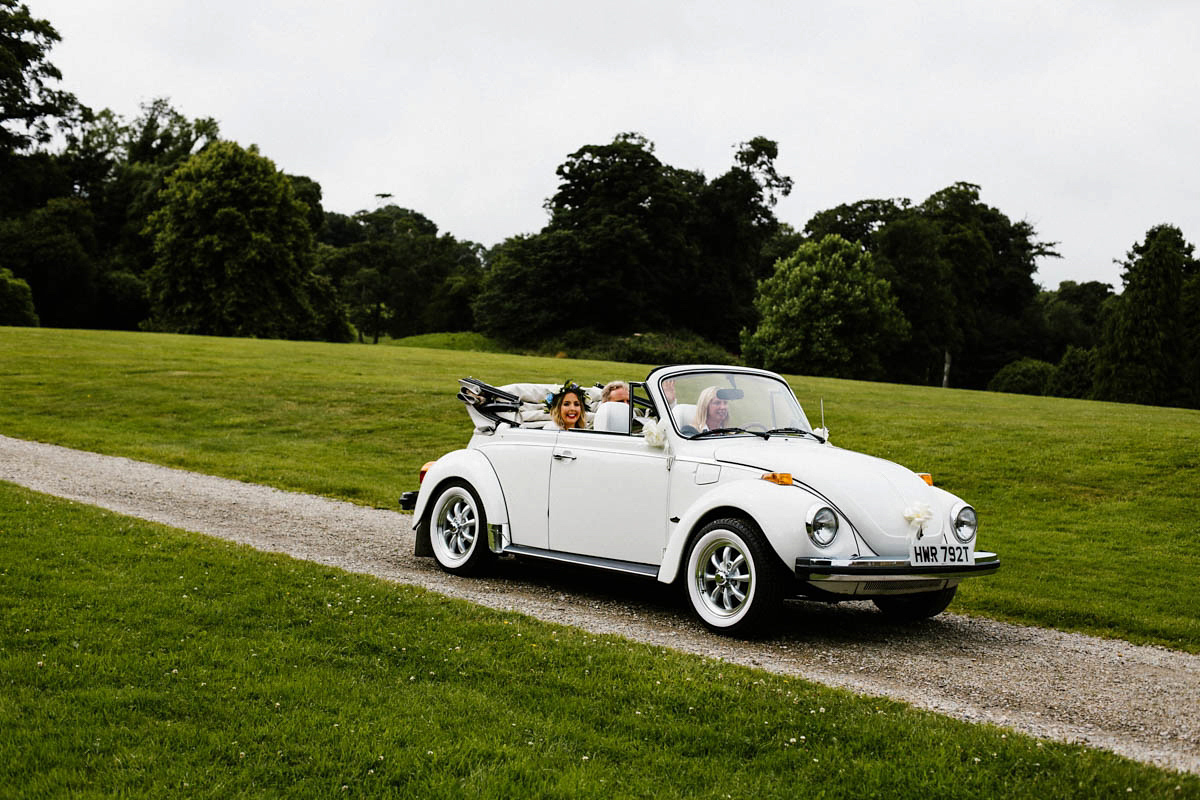 Love My Dress is no stranger to bridesmaids in white, and every time I'm bowled over by the sheer impact this makes; part gleaming traditonality, part bohemian twist, it makes for quite the backdrop to pops of colour from home-grown hydrangeas. The girl gang matched their bride with whimsical floral crowns made from gypsophila circlets adorning thier beautifully smiley heads.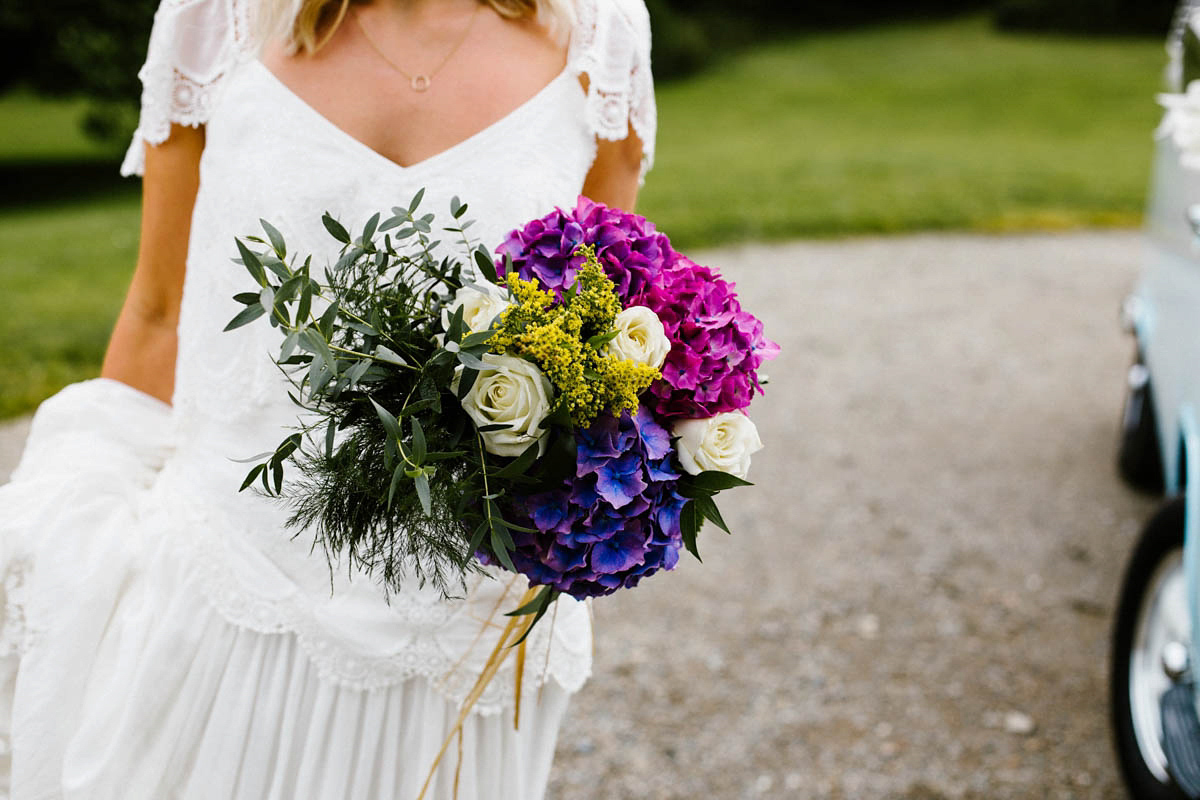 Castle Ward offered a totally unique venue for this laid-back and gloriously green ceremony. A sunken garden, complete with palm trees and waterlilies (so romantic!) allowed for a smattering of chairs as loved ones gathered for the all-important 'I-do's'. This National Trust property has also featured in Game of Thrones, so was the obvious choice for two huge fans looking for a wedding with a difference.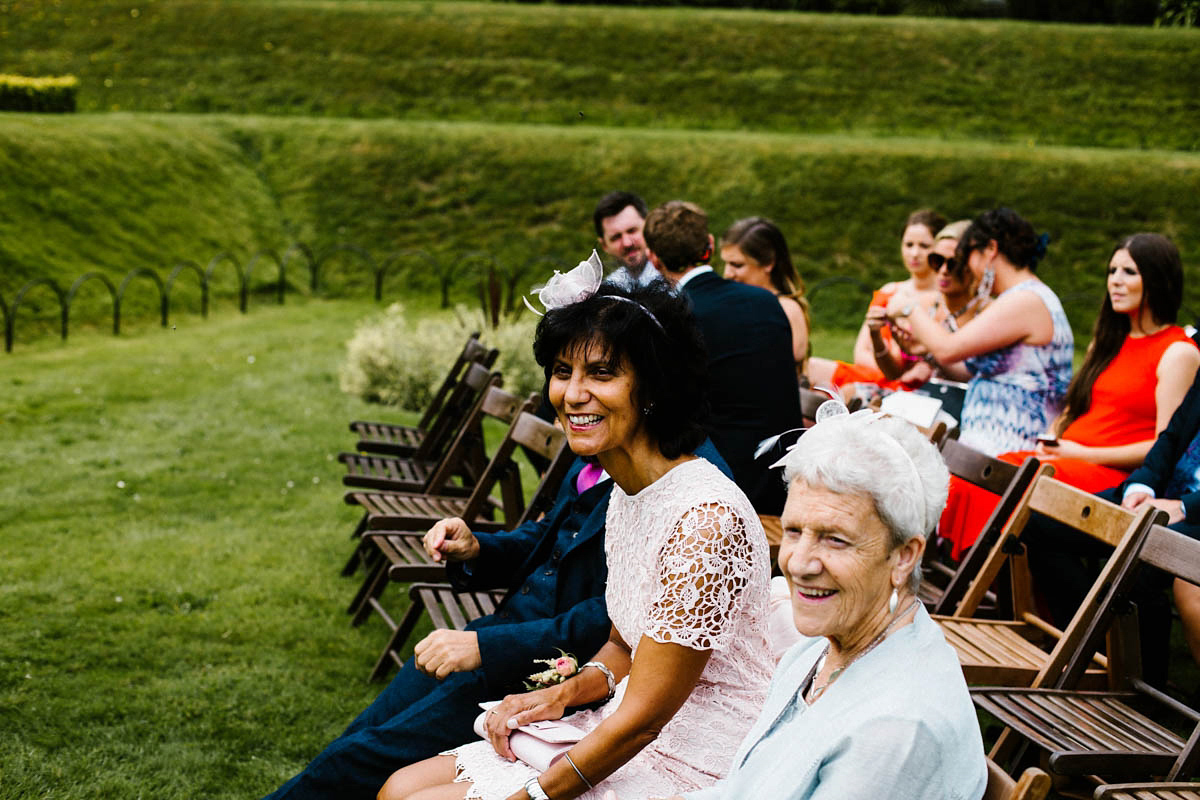 "We aren't religious and wanted an outdoor ceremony, so Castle Ward was the perfect place. This is also where Game of Thrones is filmed and we are big fans."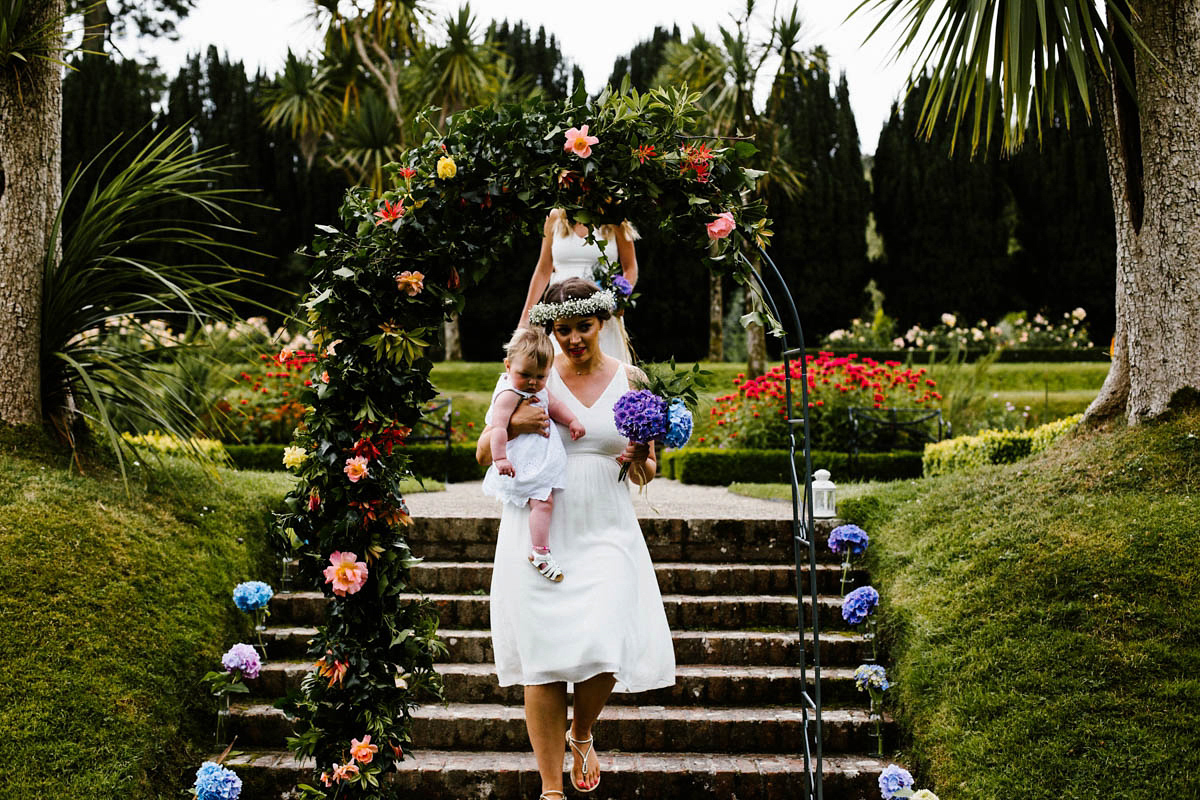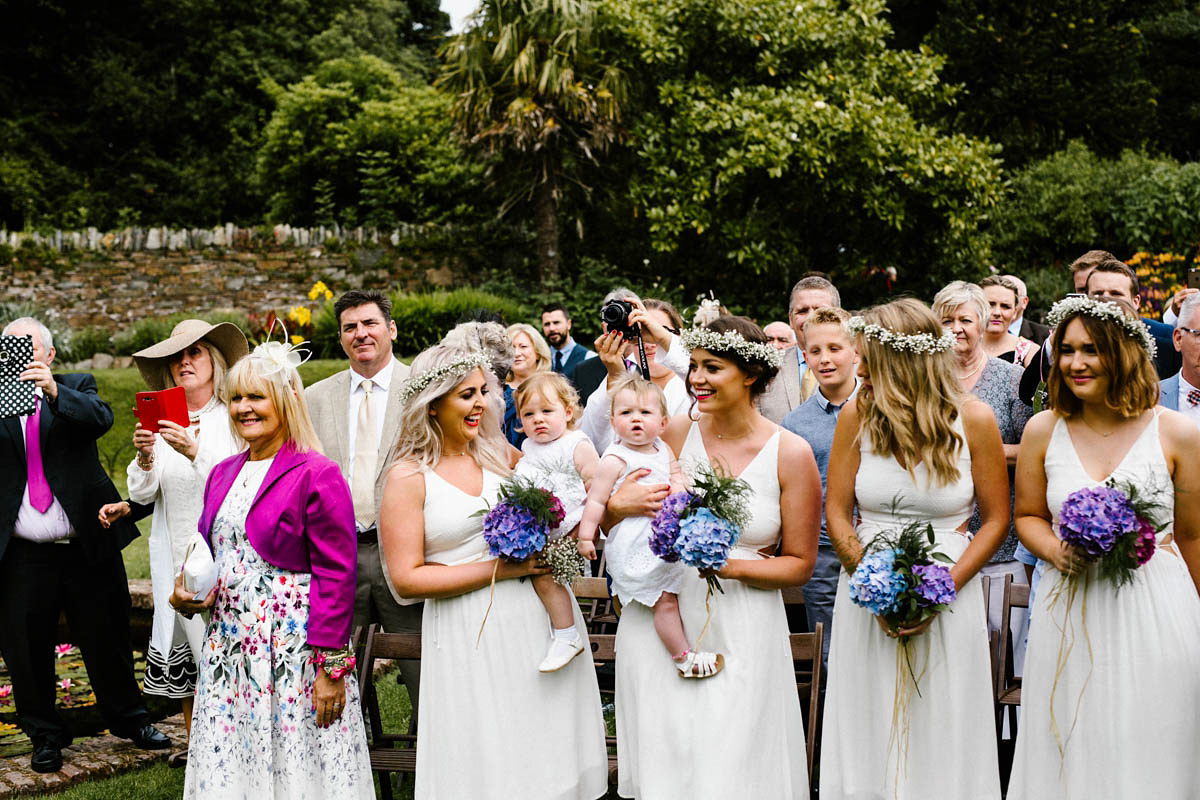 Kirsty's favourite part of the day was exchanging vows with her man, something that is so evident in the emotion in these images.
"We both wrote our own vows. Jonny learnt his, where as I read mine off a scrap piece of paper, much to amusement of our guests."
Two readings added further personal touches to this summery ceremony, chosen by loved ones as a surprise: 'The Bridge Across Forever' by Richard Bach read by MOH Carly and and extract from Captain Correlli's Mandolin read by Jonny's brother Steven.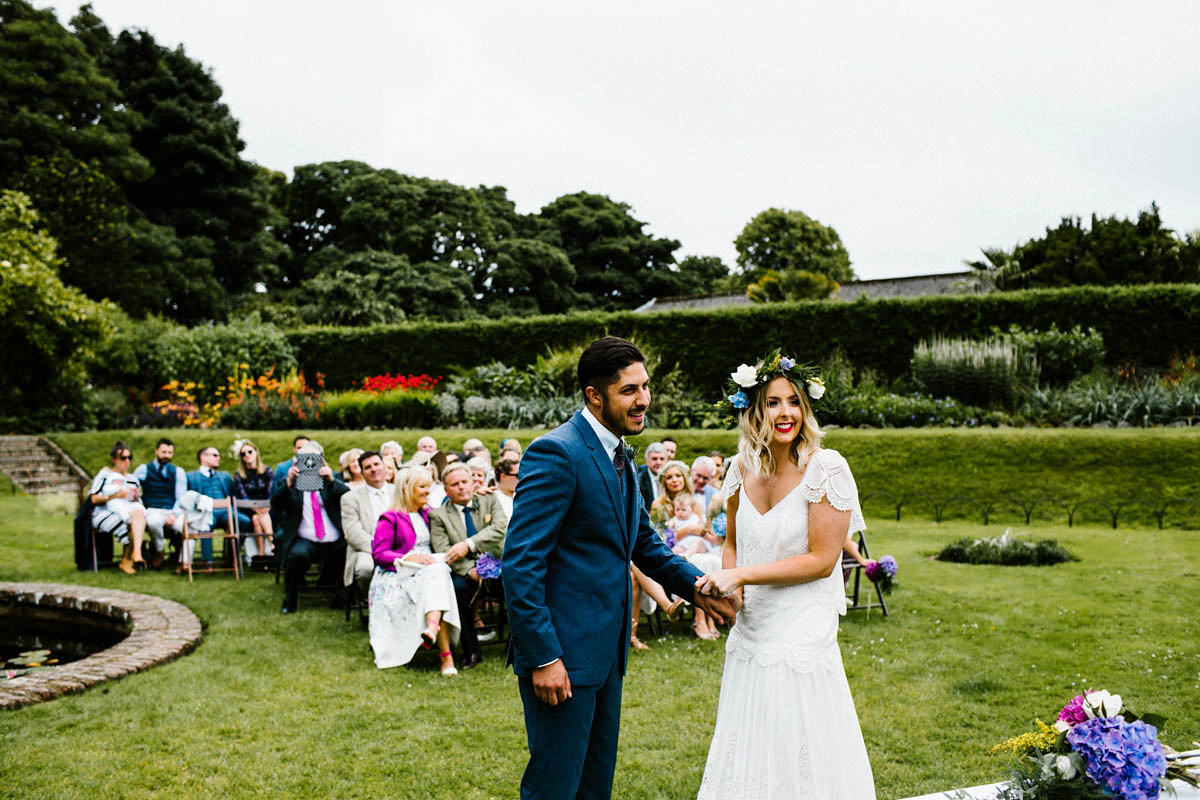 "My engagement and wedding rings were my mum's. I always admired my mum's rings when I was growing up and my dad bought her a new set a few years ago. Jonny's ring was also his dad's as he no longer wore his ring."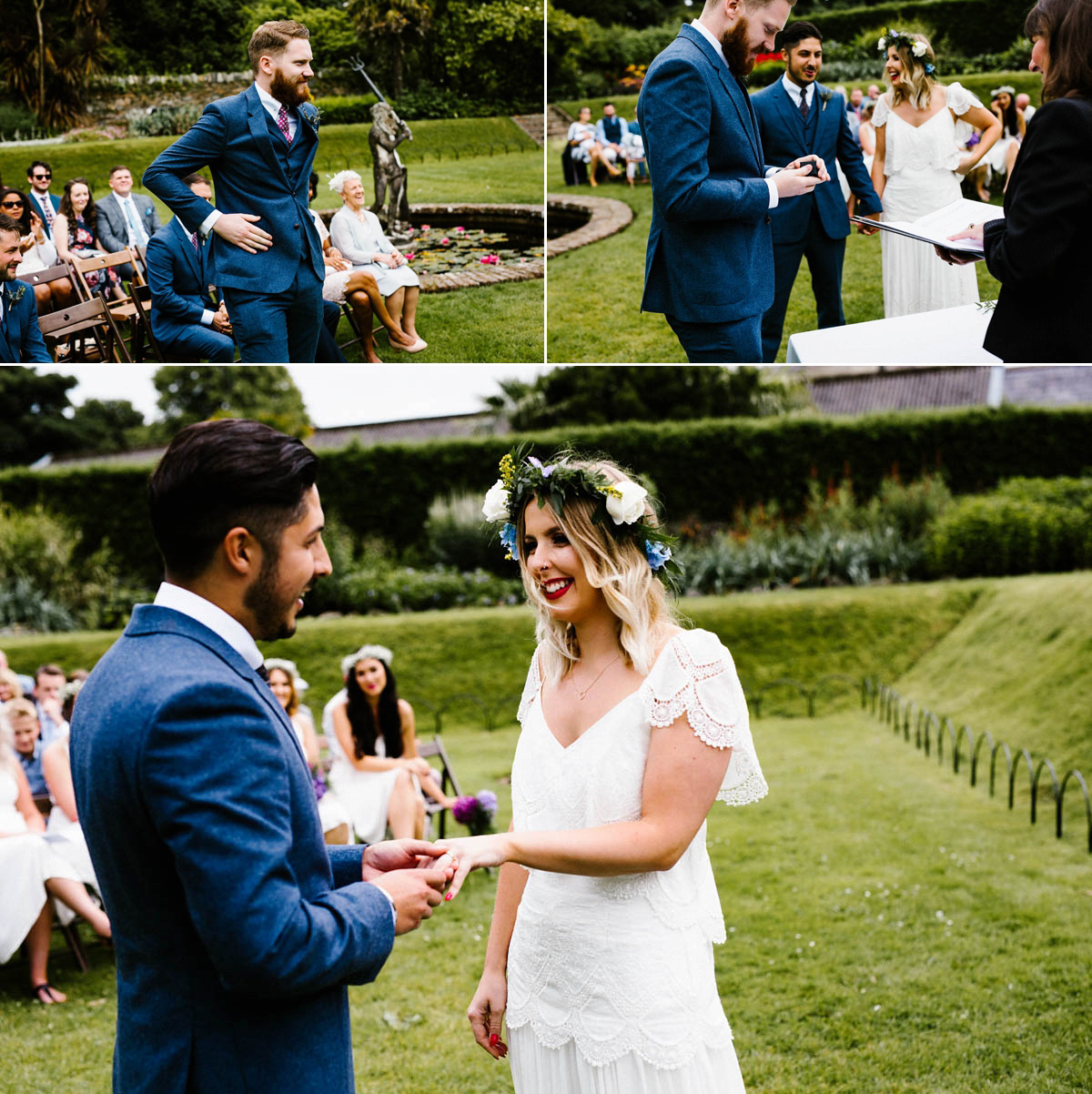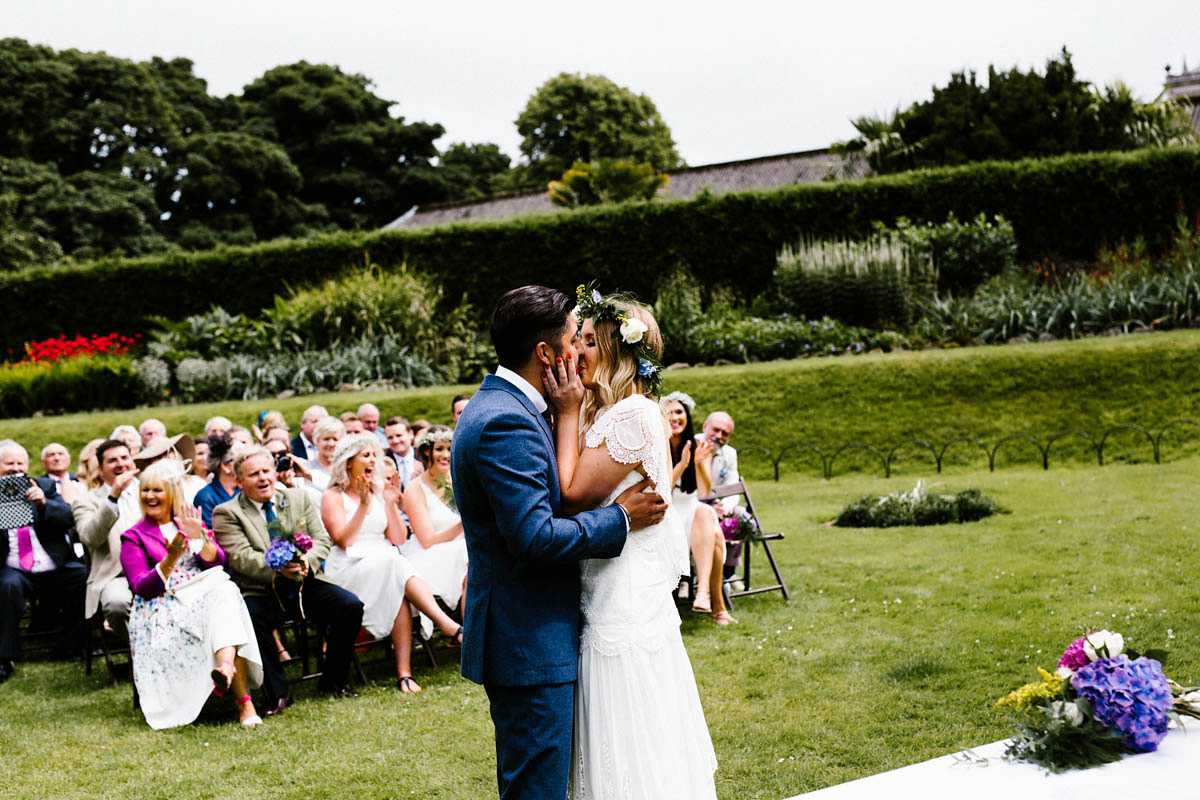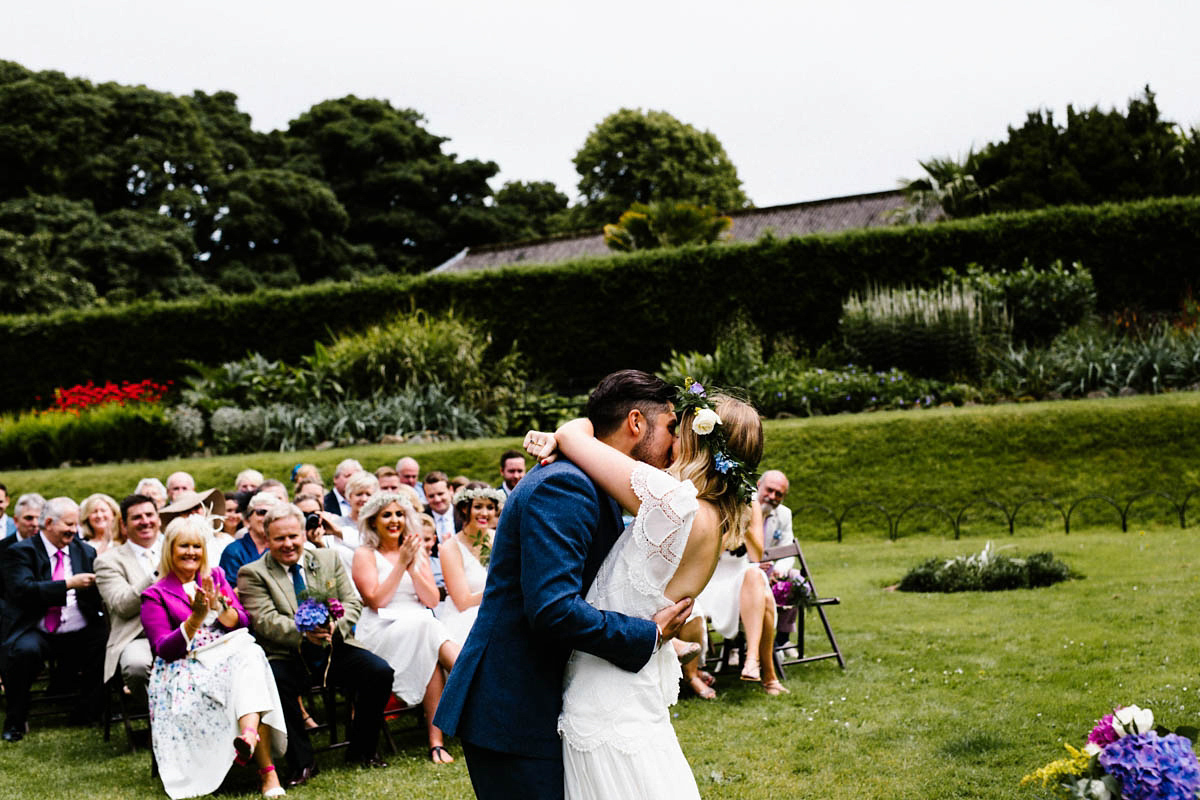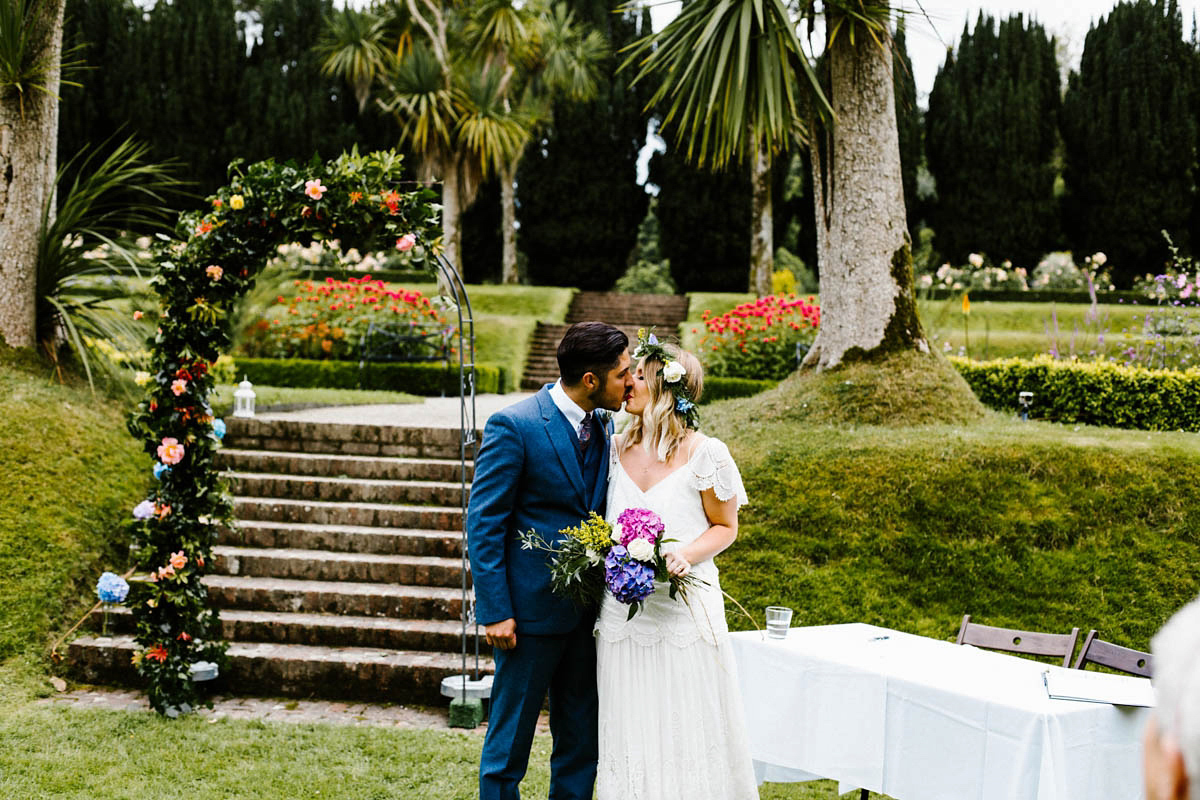 The scale of wedding production from Jonny and Kirsty's family and friends is astounding and a testament to the creativity and love in their life. Every element of this joyous celebration at Kirsty's parents house was crafted by loved ones – it was a true communal effort.
"All of the hydrangeas were picked from my mum's friend garden, she had been taking extra care over the past year watering them. We ordered all the gyp from a local fruit & veg shop that sell some flowers. My uncle and his husband spent the past year collecting and drying all the lavender and from our finca in Spain and drove it all over."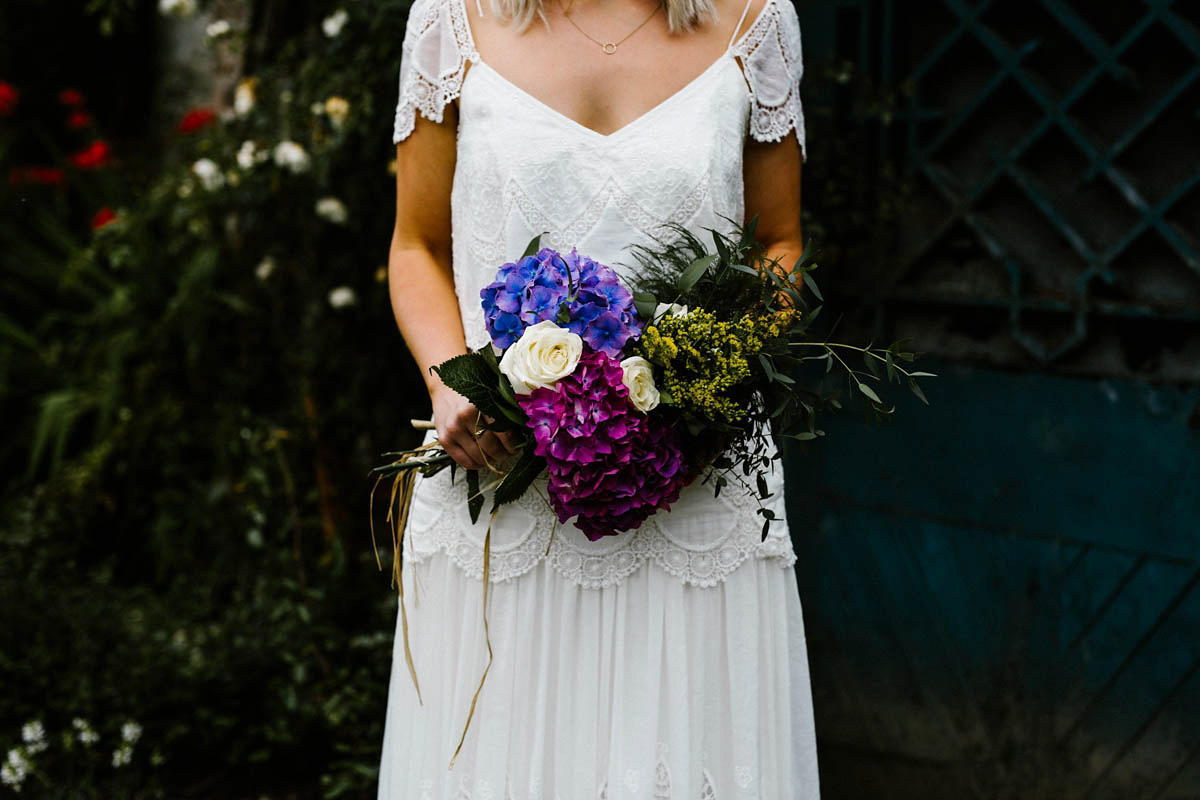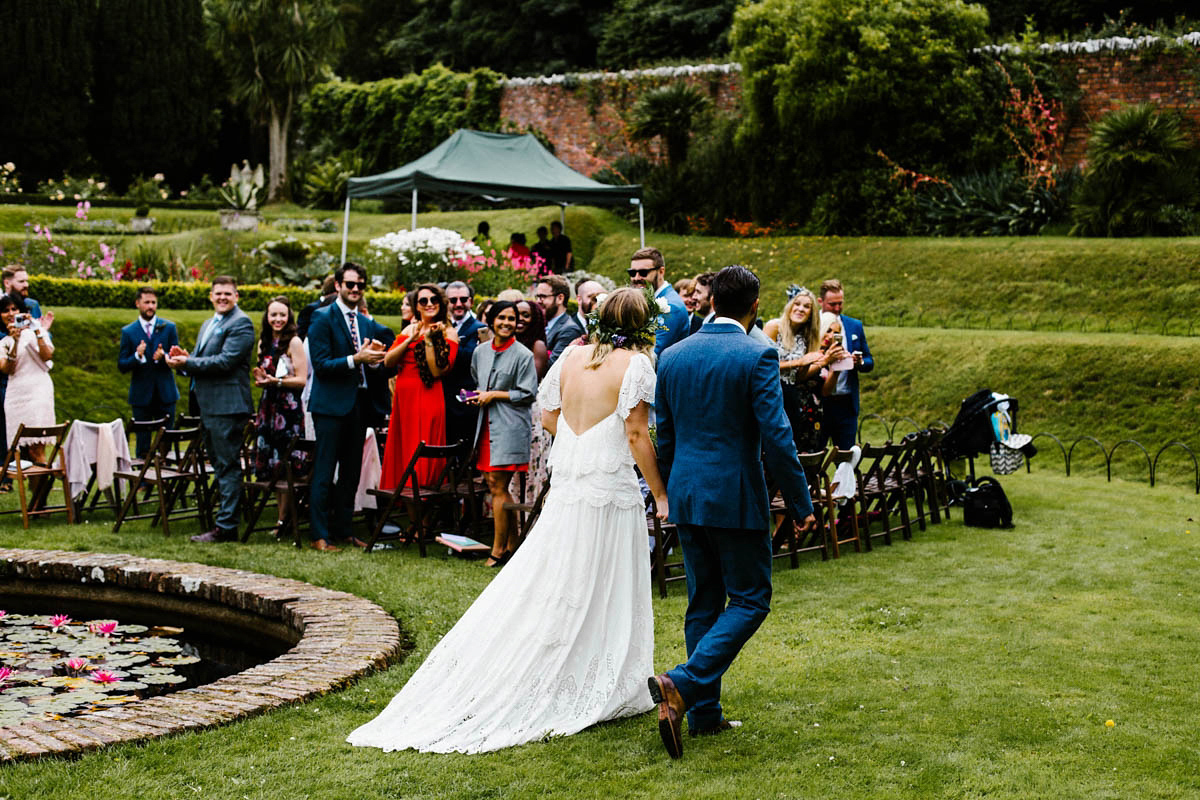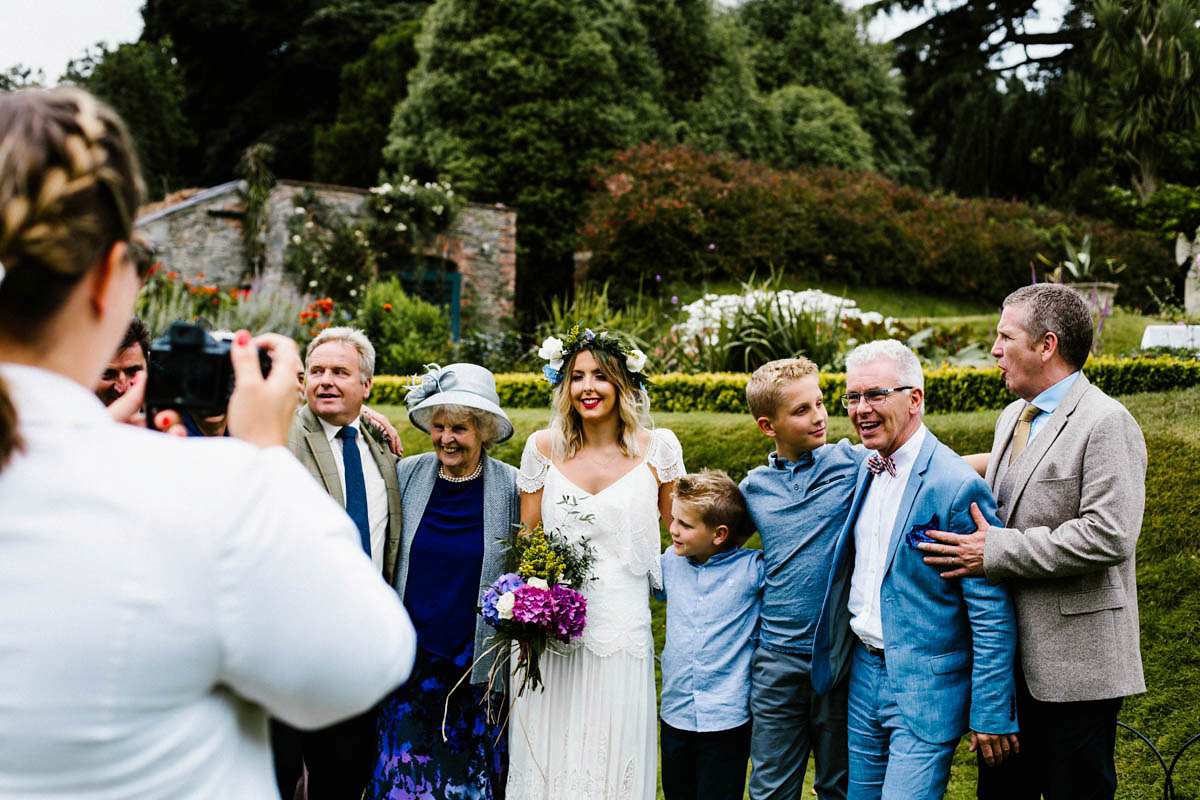 You may already be in love with not only the eclectic and bold vibe of this wedding, but also the colourful photography that allows us to really get to grips with such a delightul celebration.
Honey and The Moon Photography produce honest wedding photography, streaming the vibrantly hued happiness through their cameras and directly into our eyes.
"As soon as we looked at Honey and The Moon's website I knew I wanted them. The style of photographs are just perfect and quite arty. We didn't meet beforehand as we are based in London. Jess and Karolyn were incredible, they blended in so well and seem to catch all the moments I missed."
"They made us both feel very relaxed and we kind of forgot they were there. It can be quite draining having to pose and smile but with their style it was all so natural. The photos really captured the emotions on the day and the beautiful surroundings. I would highly recommend them both. Also the presentation box that our photos came in is a keepsake itself."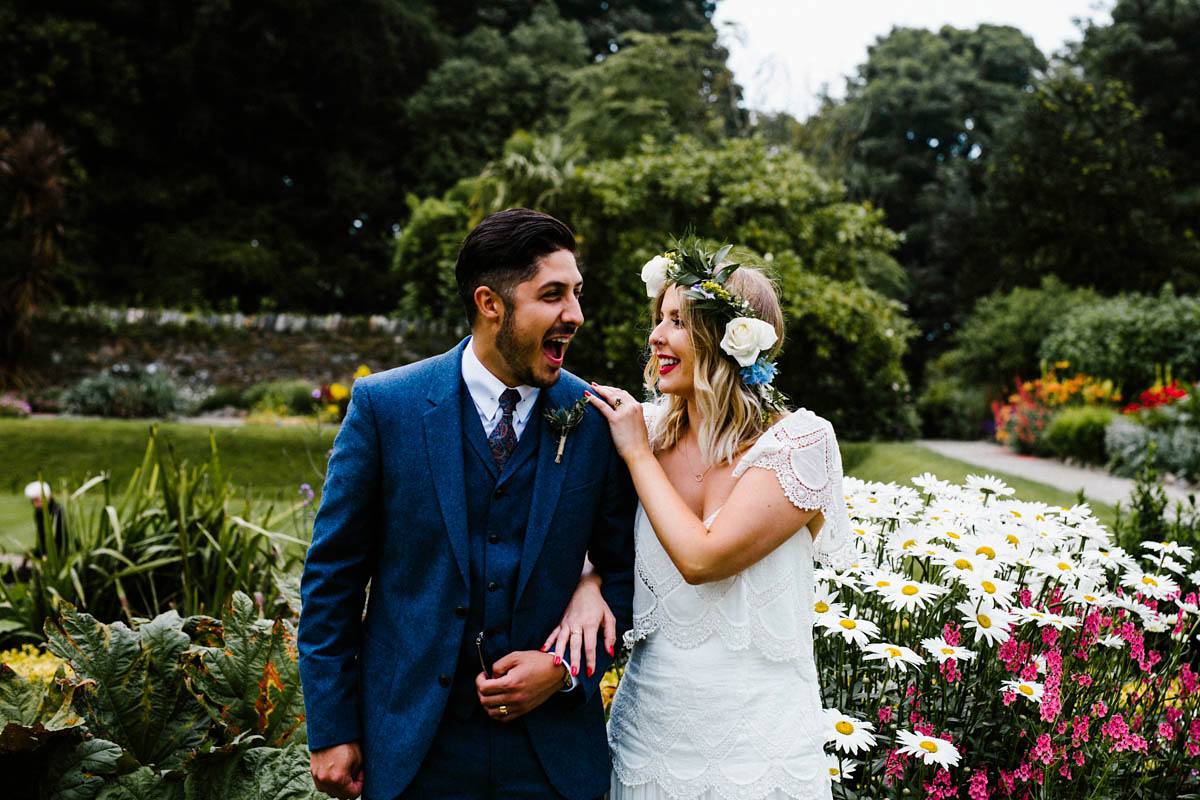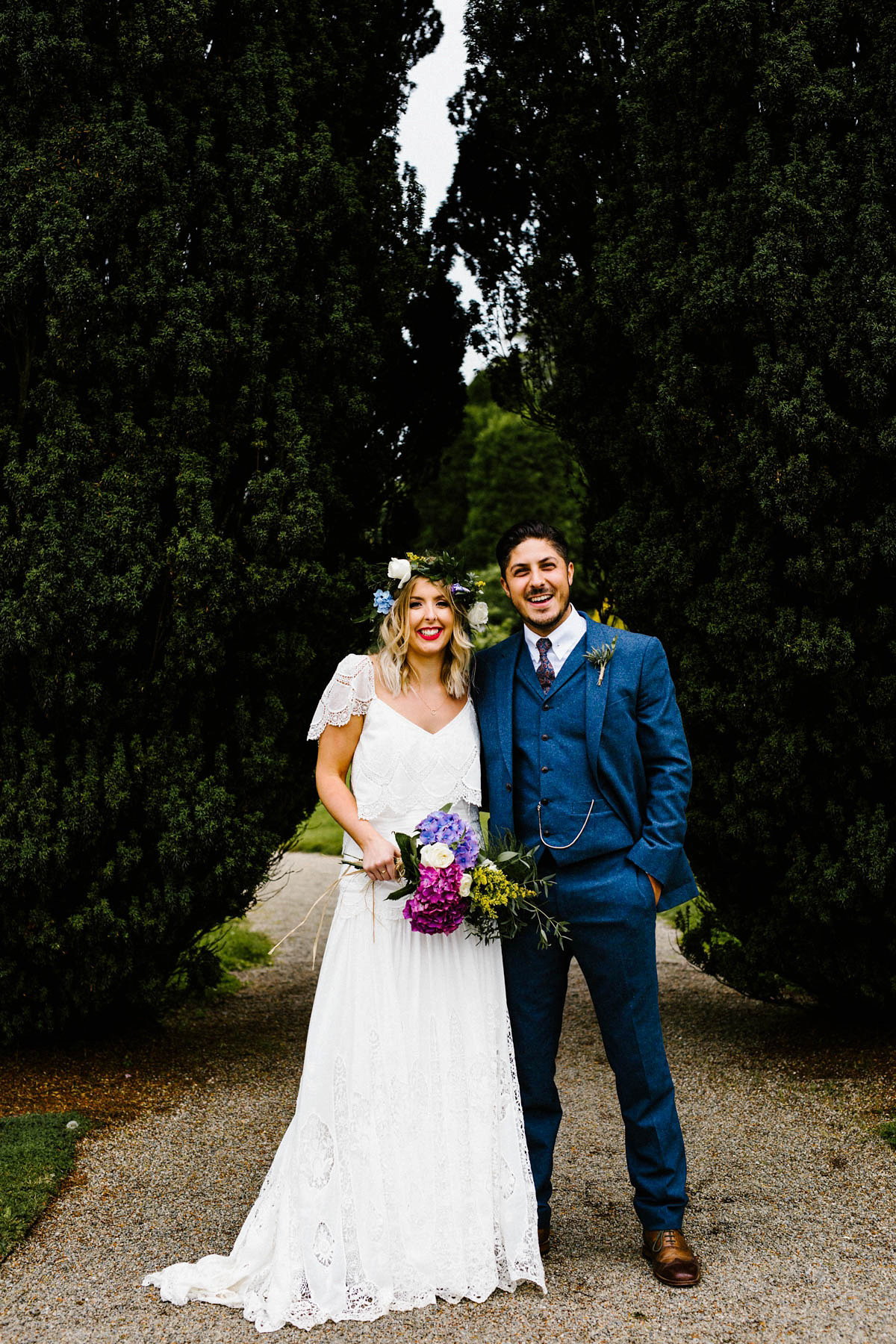 Coaches transported guests back to Kirsty's parents home and they were greeted with incredibly thought-out decor that had transformed this agricultural hub into something breathtakingly beautiful.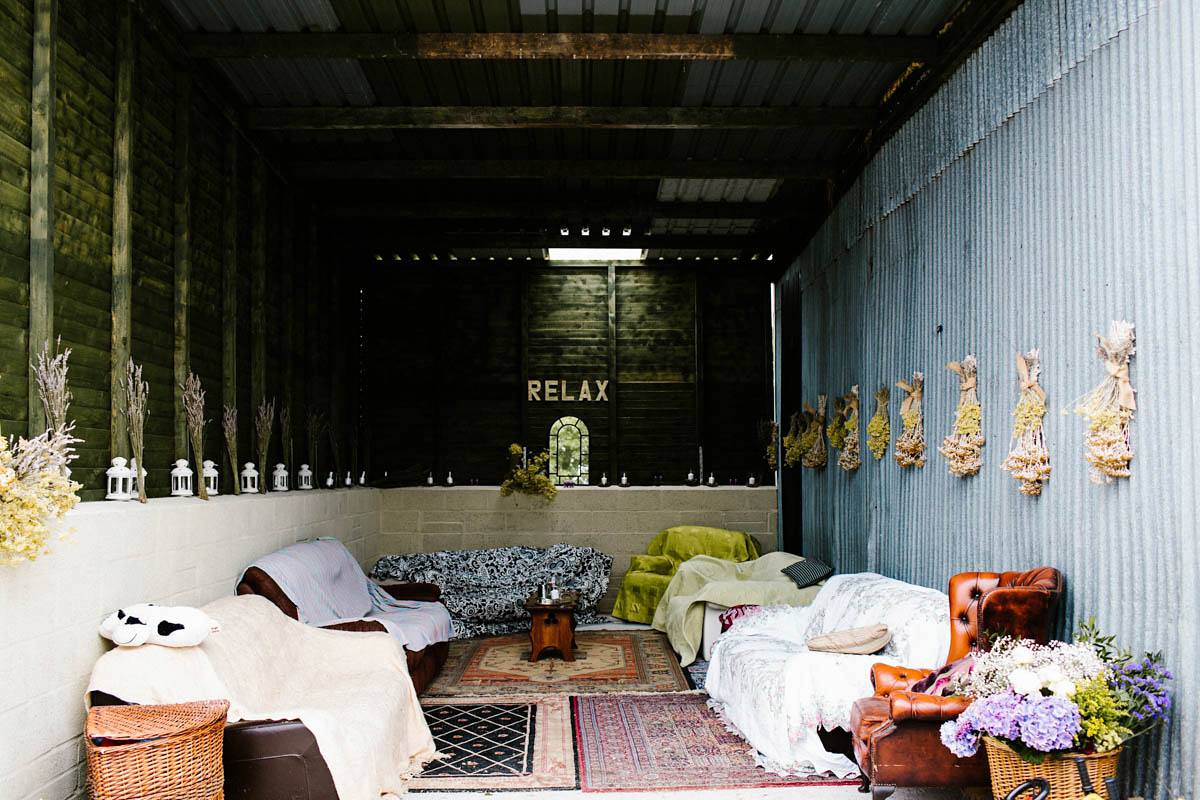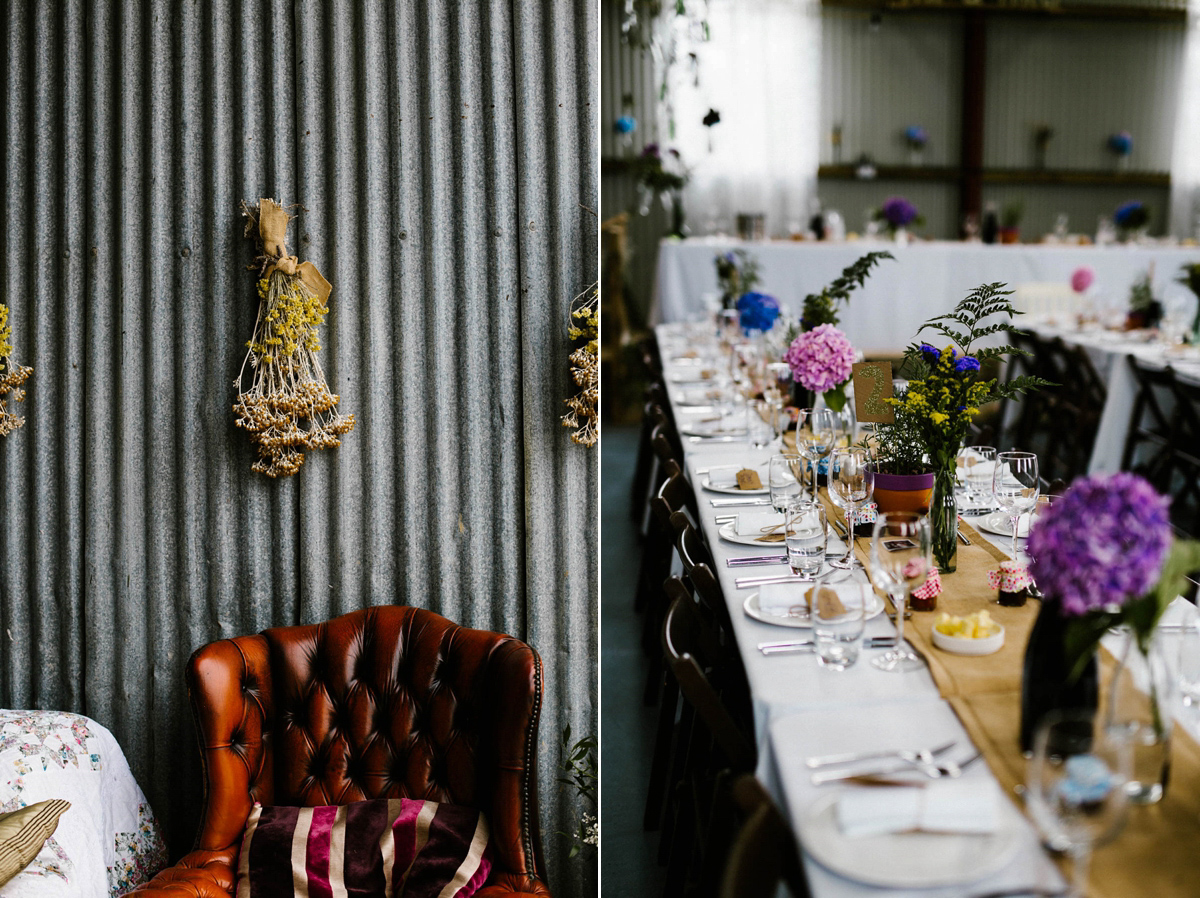 Guests were given chutneys and jams made by a friend of the family as delicious little flavours.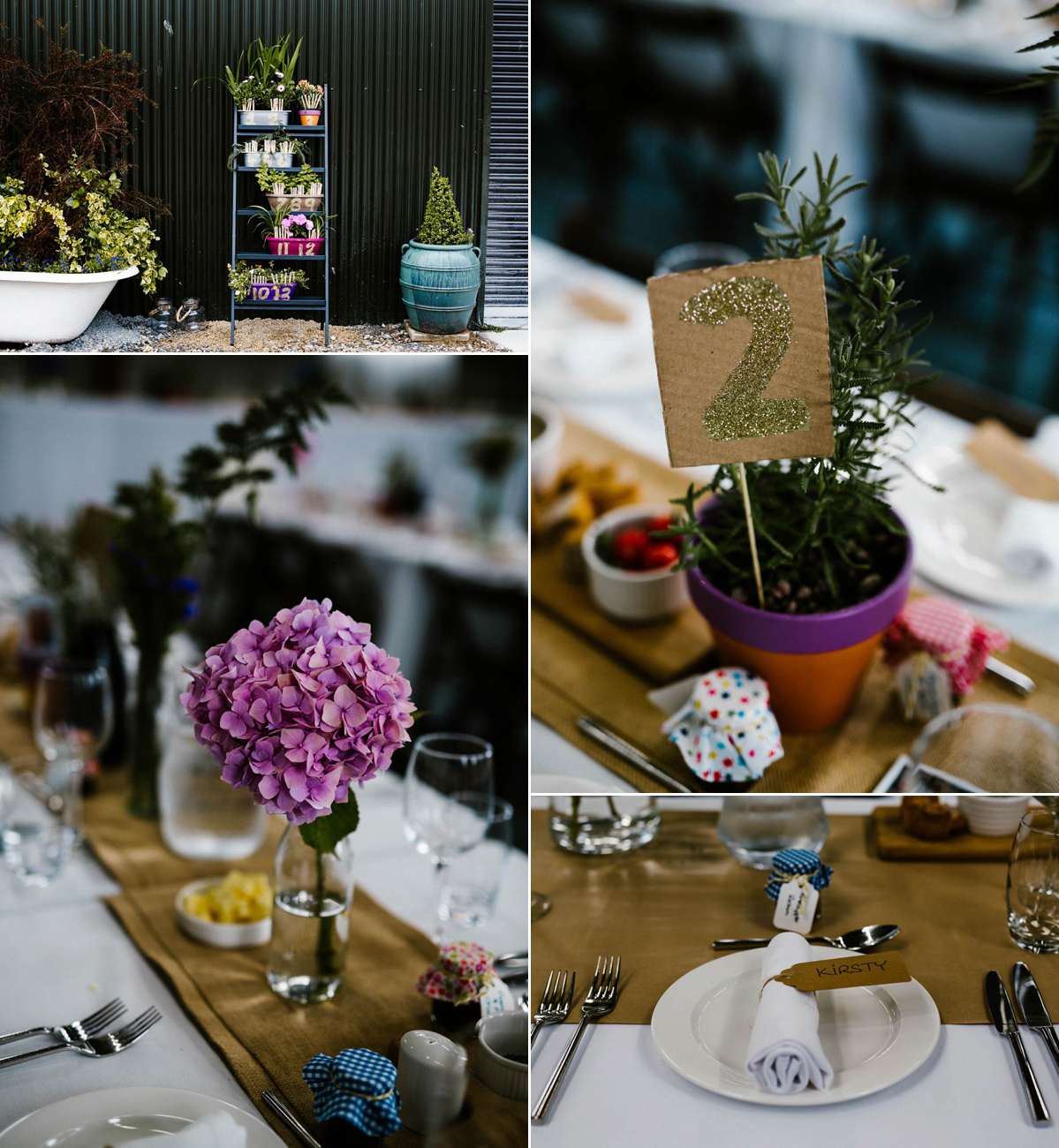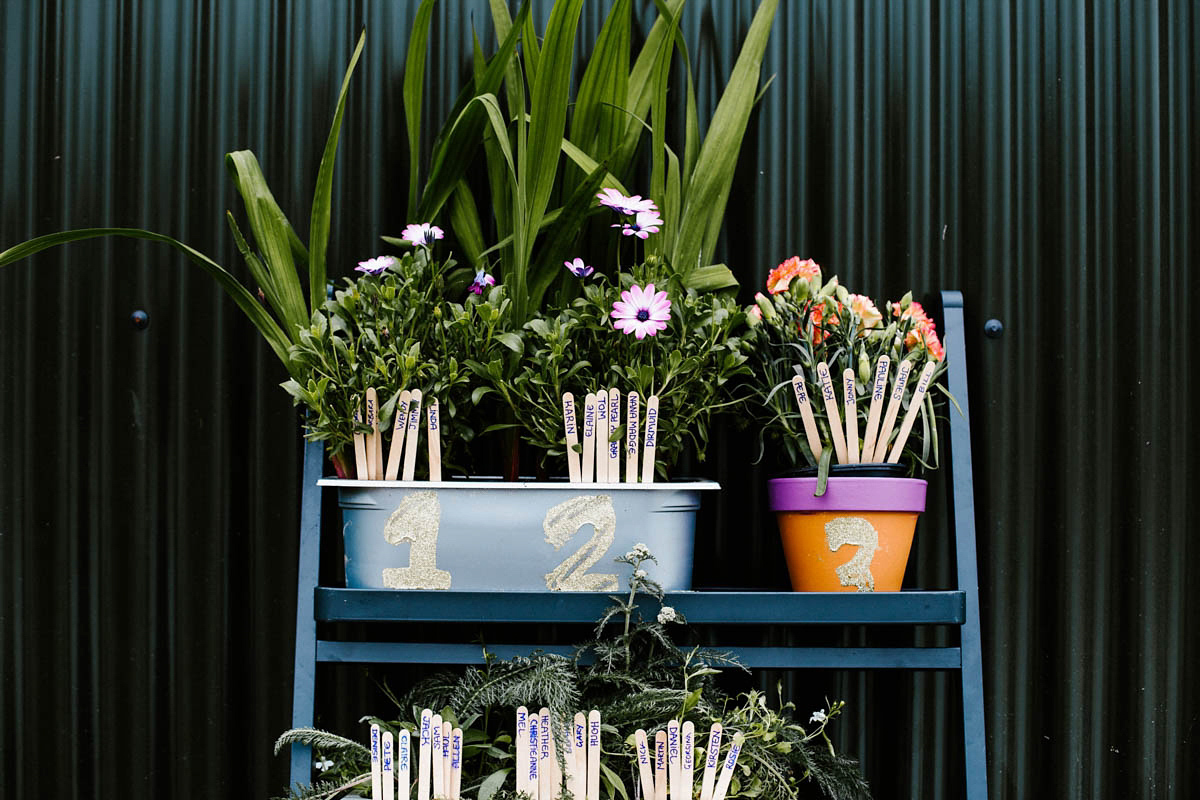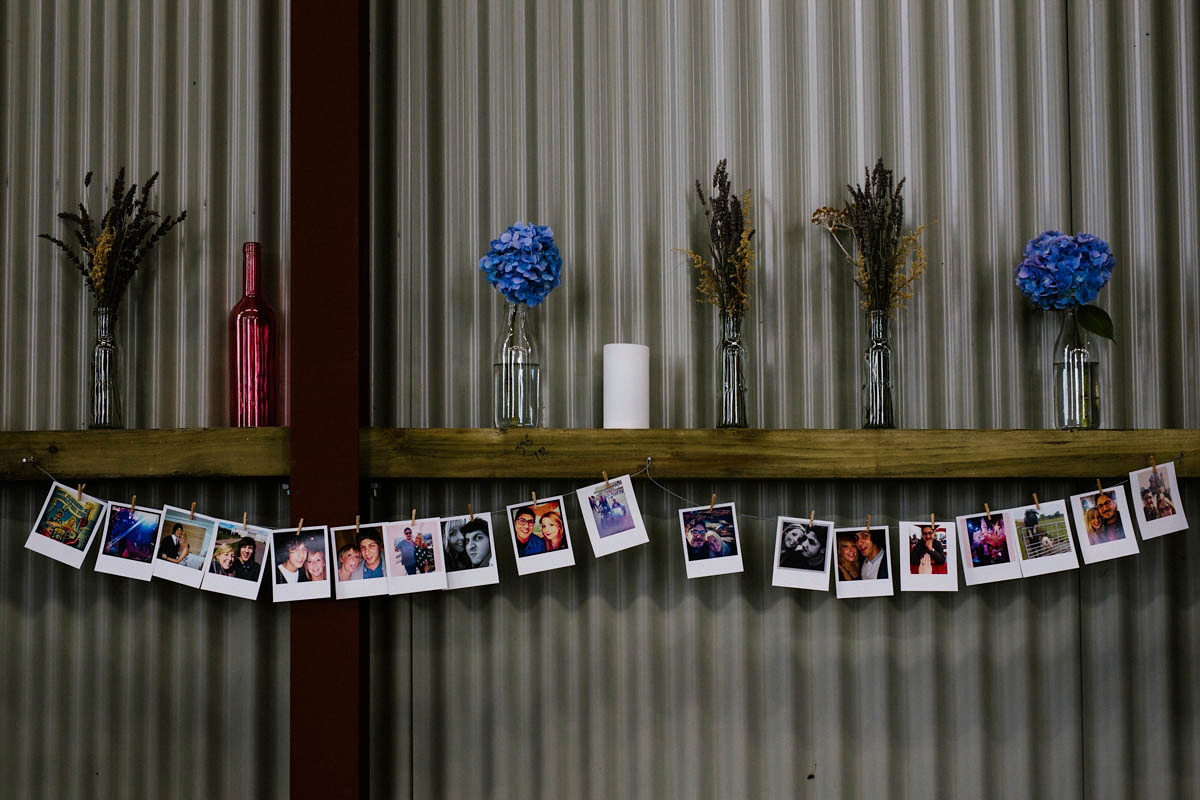 Kirsty's uncle came up with the amazing idea of floral chandeliers from bike wheels, something I hope many of you attempting some decor DIY feel inspired by. A simple but oh-so-elegant idea, they look spectacular against the industrial setting and bursts of gold glitter.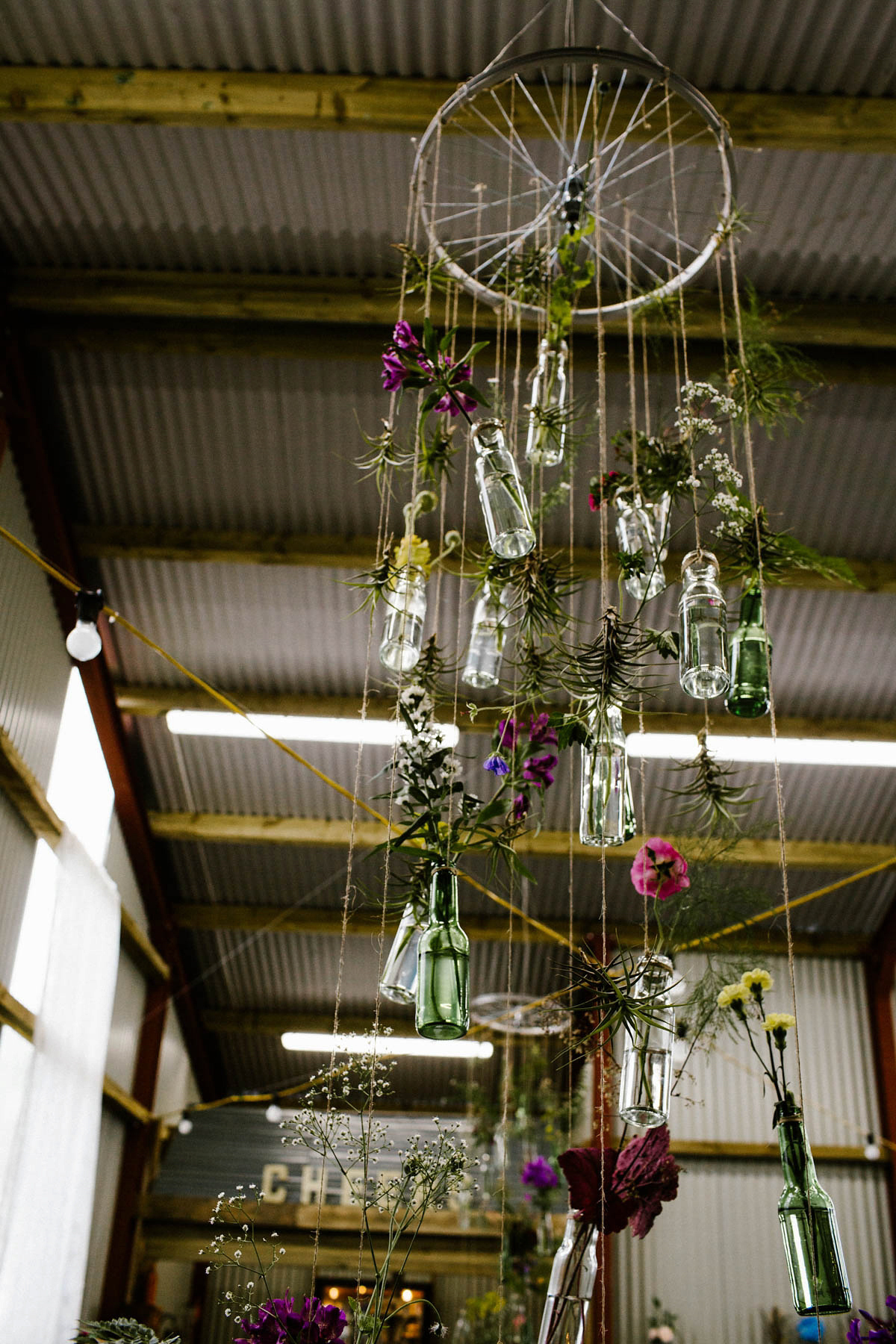 "My mum spent the year collecting a lot of china, lanterns, glass bottles you name it she collected it. I bought cardboard letters off eBay and decorated them in gold glitter for signs. My very creative uncle came up with the amazing idea of the flower chandeliers with the bike wheels. These were definitely the focal point of the room. My dad also surprised us with a photo collage of Jonny and I printed out on a banner. My dad's cousin built us a bar and stage all from a recycled fence."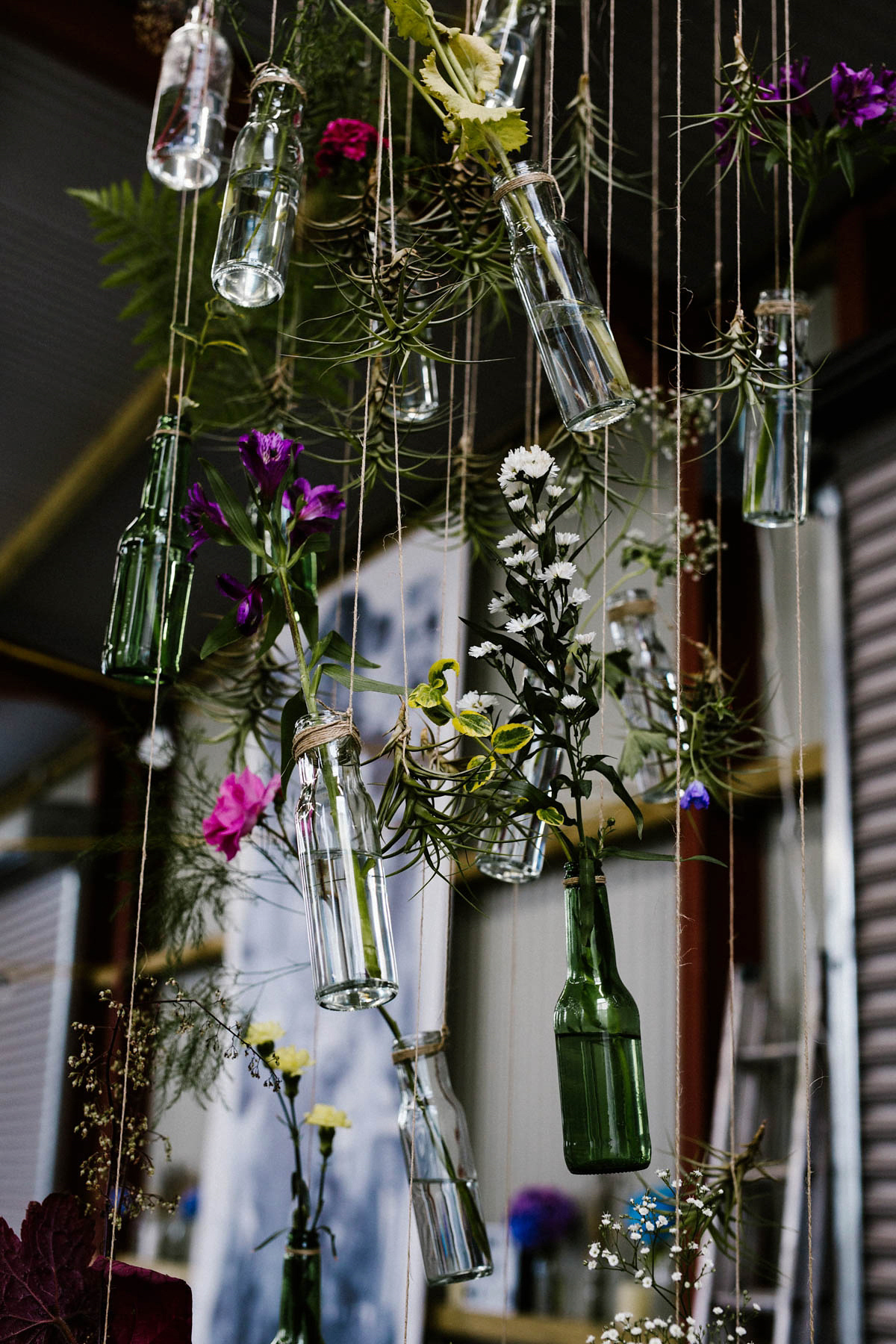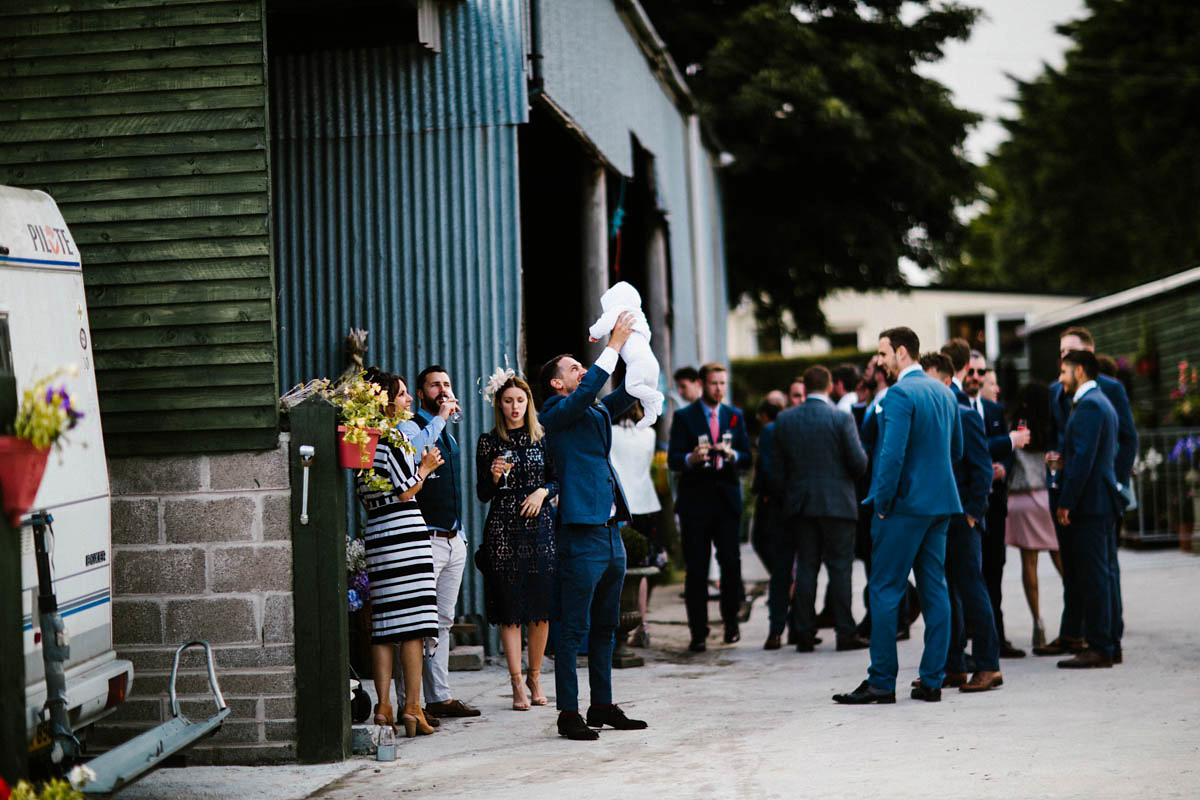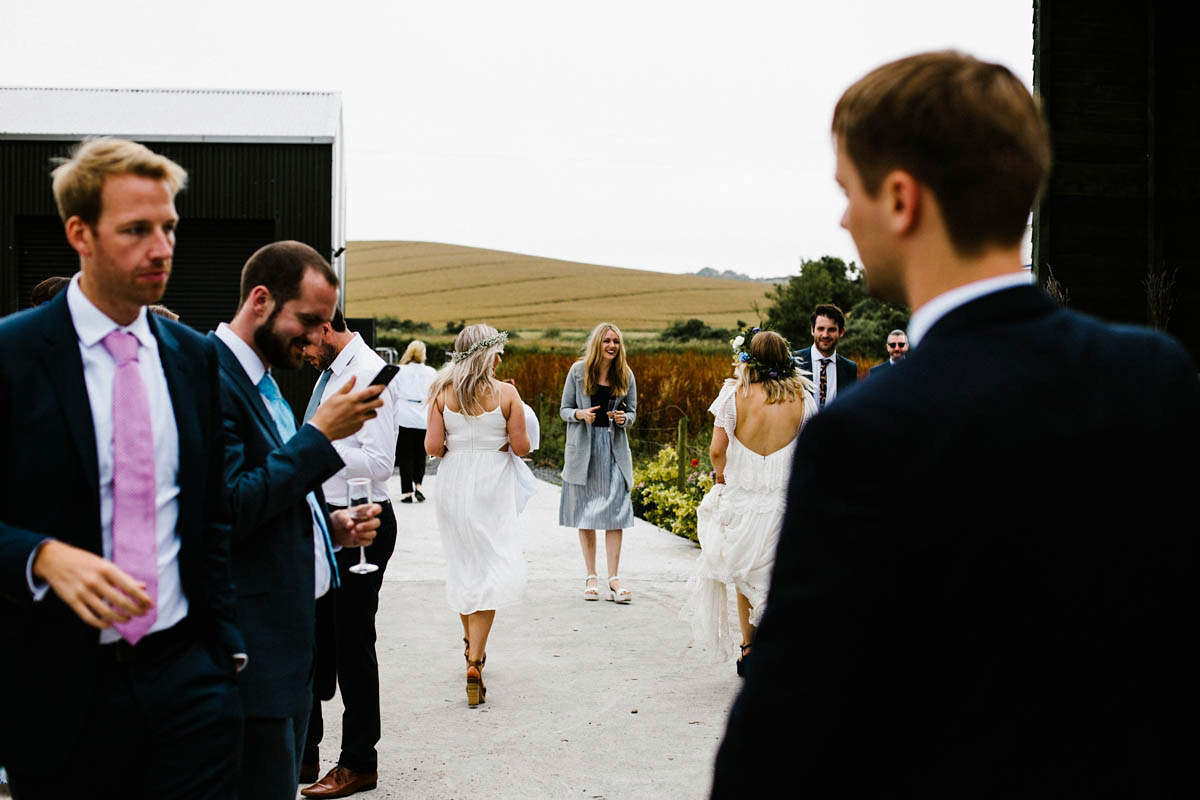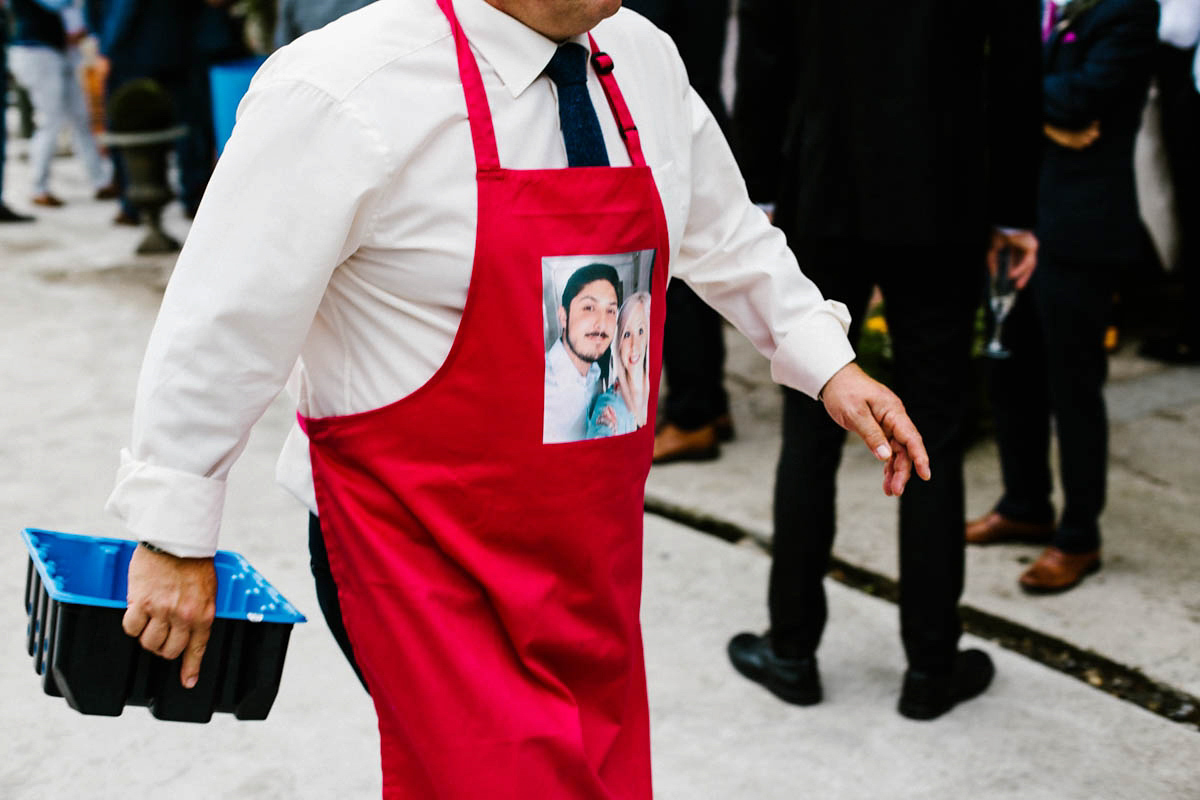 Sweet Heart Vintage provided ice cream at the ceremony, a retro twist and a needed cool down after a ceremony in the warm July sunshine.
"All food was prepared by my dad and family and a local farmer supplied us with the pig on the spit. In the evening my aunty and uncle made pizzas in the pizza oven my dad built especially. We hired all the catering equipment, tables and chairs from Table10."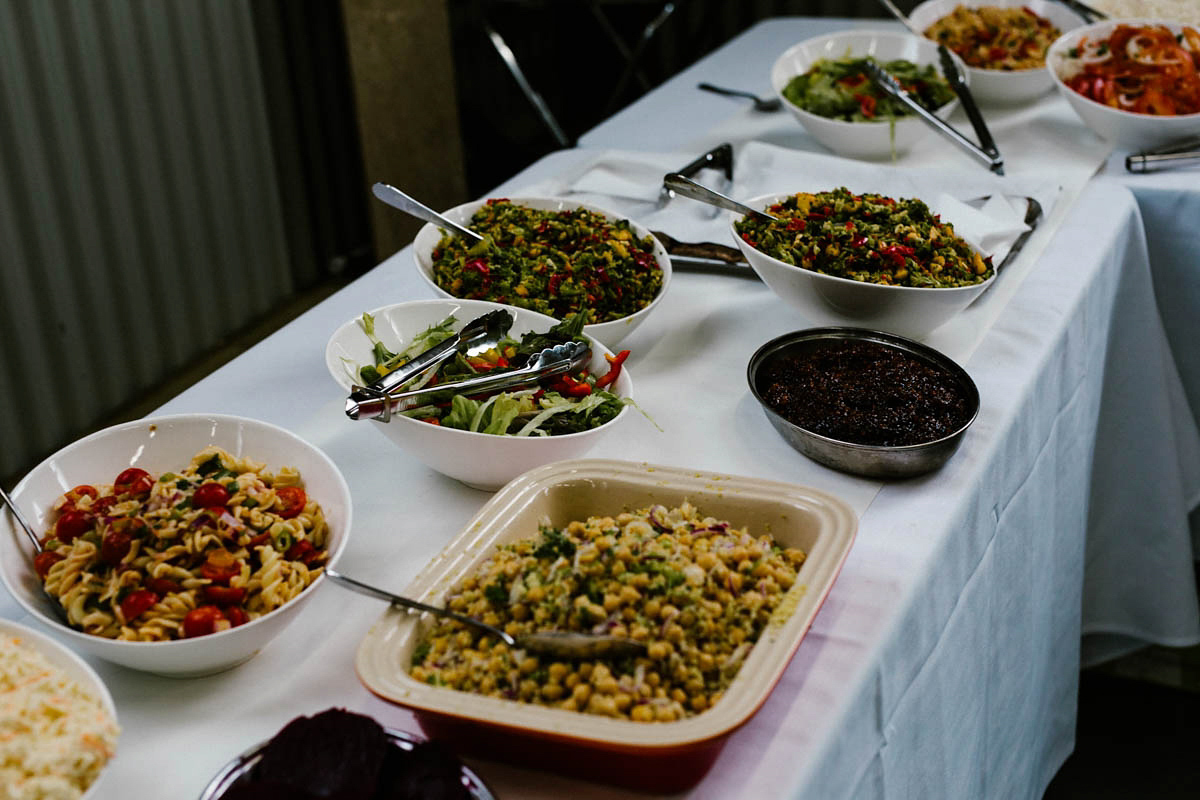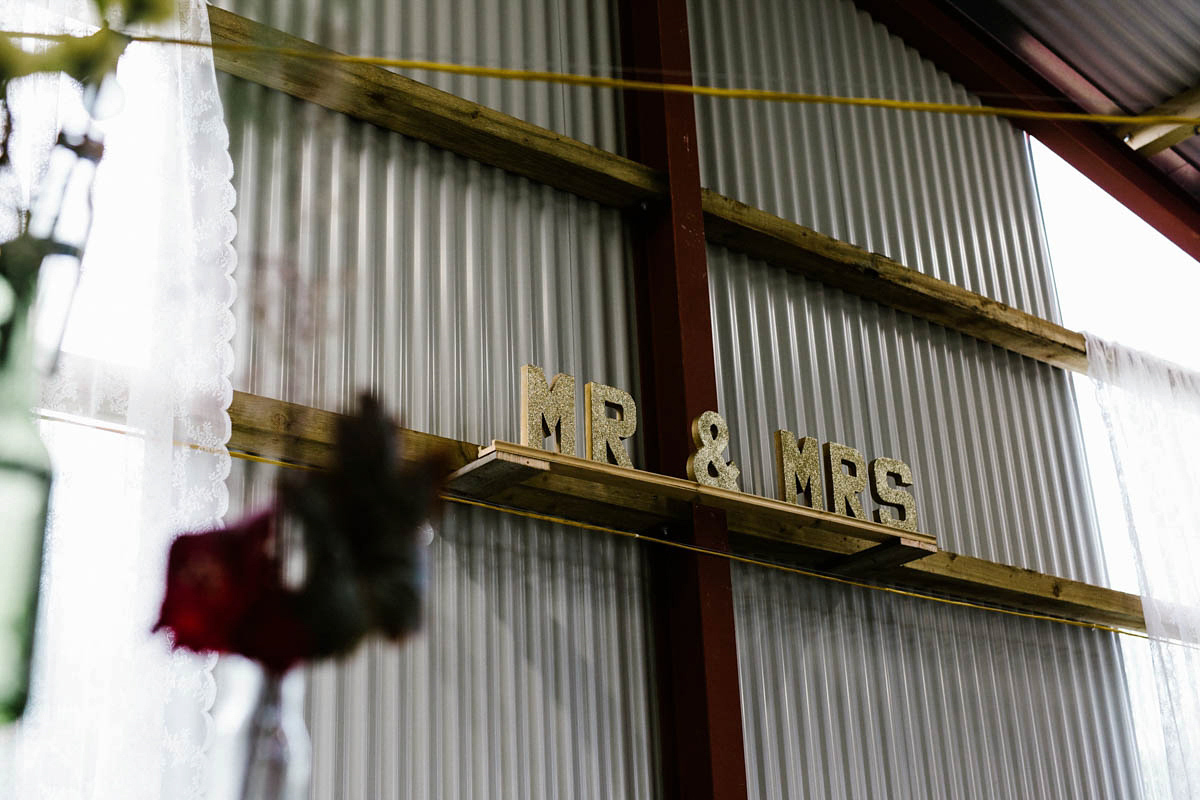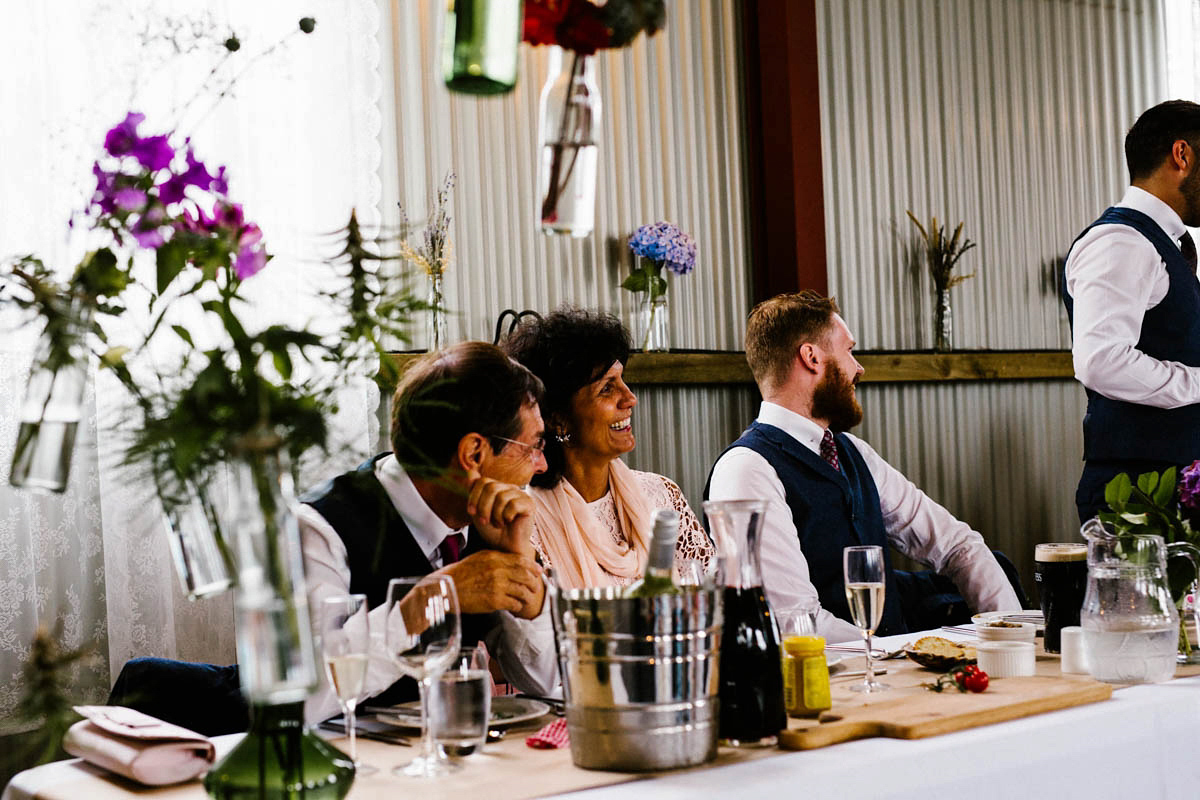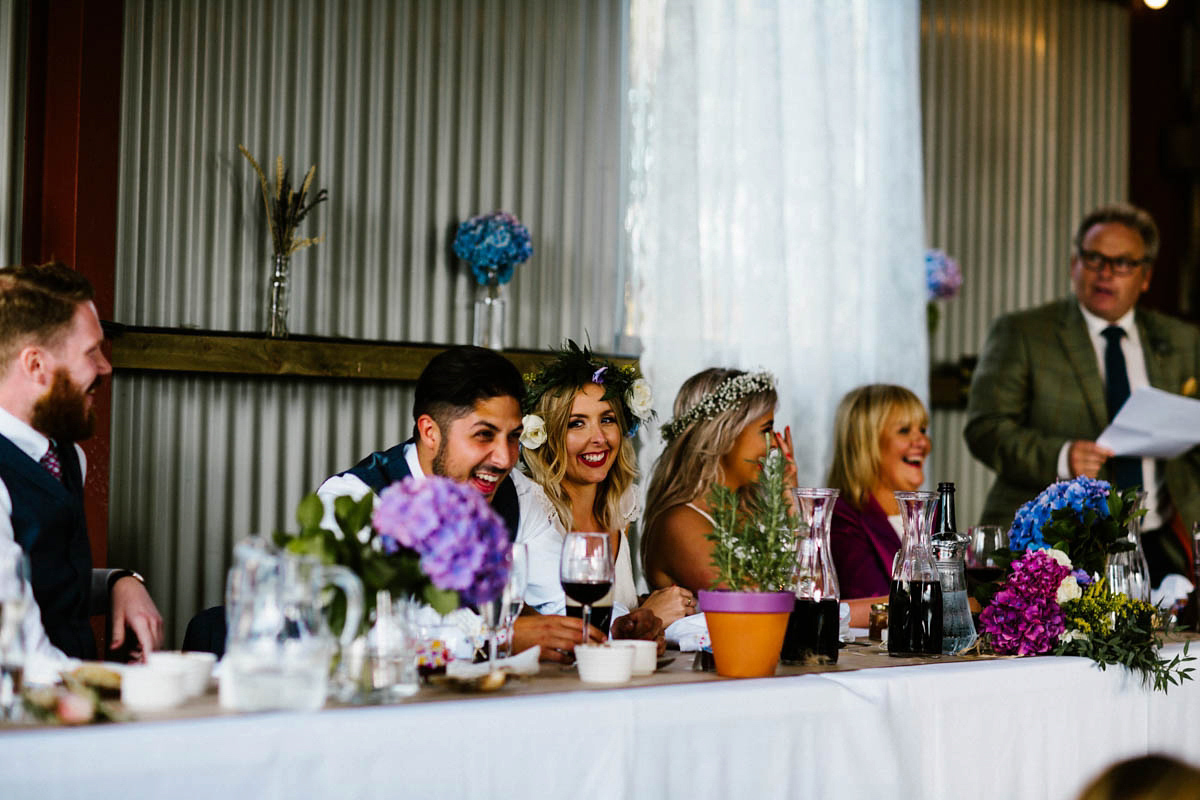 "My mum's best friend Elaine baked the cake. It had 3 layers made up of Victoria sponge, lemon drizzle and then coconut with a marshmallow icing. It was the most amazing cake I have ever tasted. Her 4 sisters and daughter in law all volunteered to waitress on the day and also brought a cake each."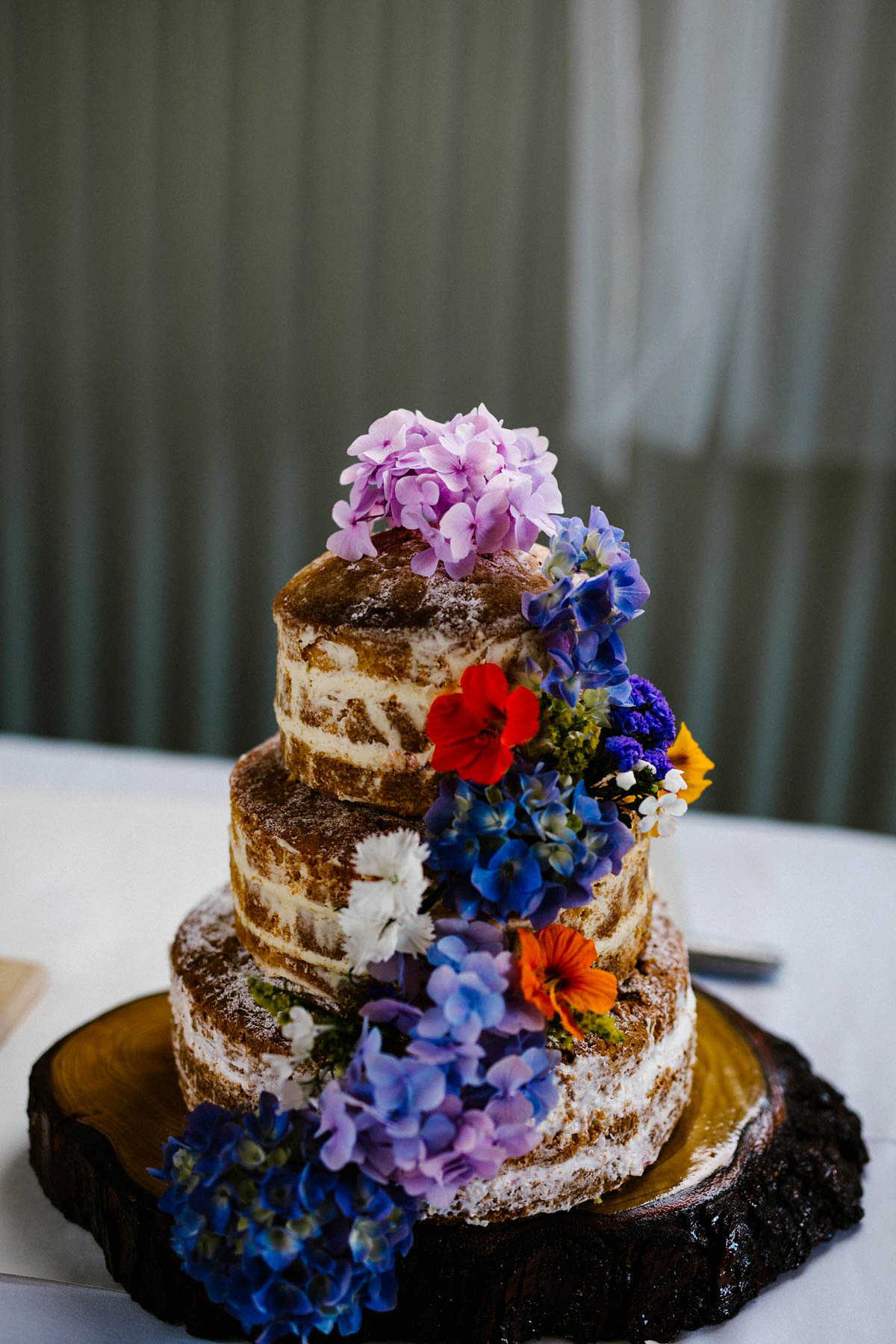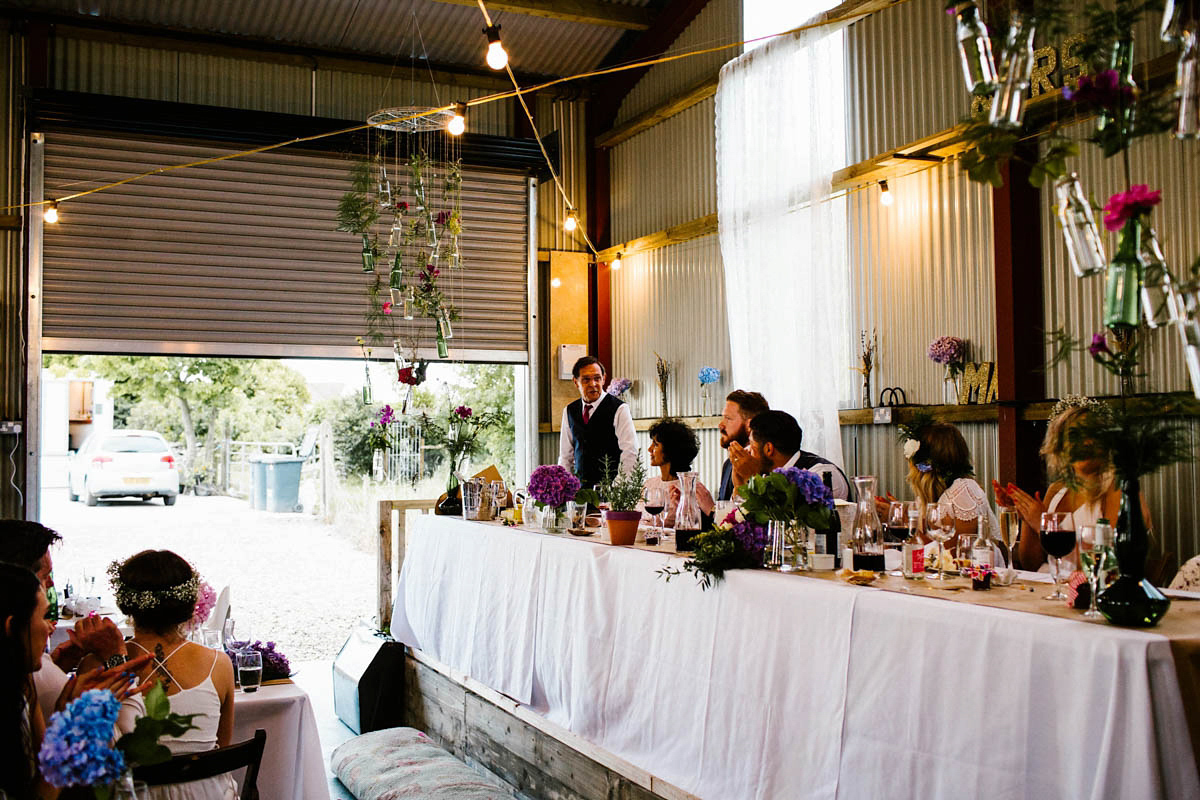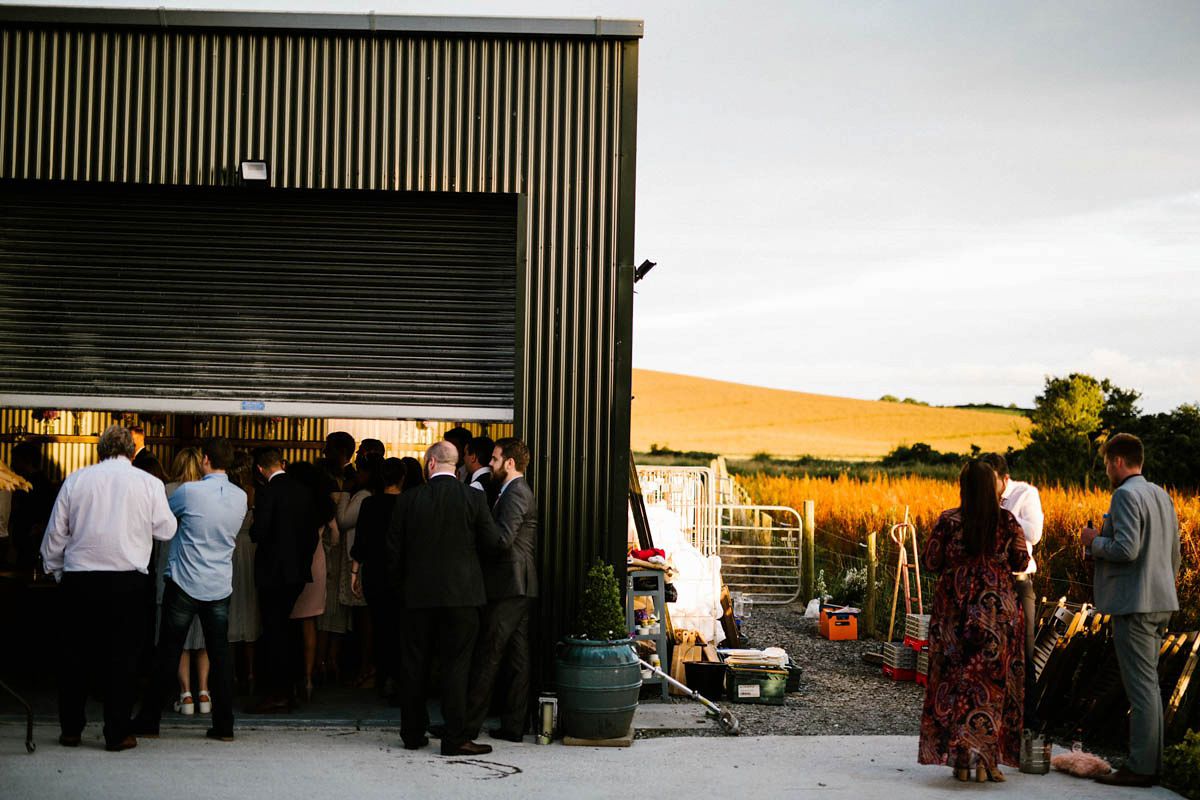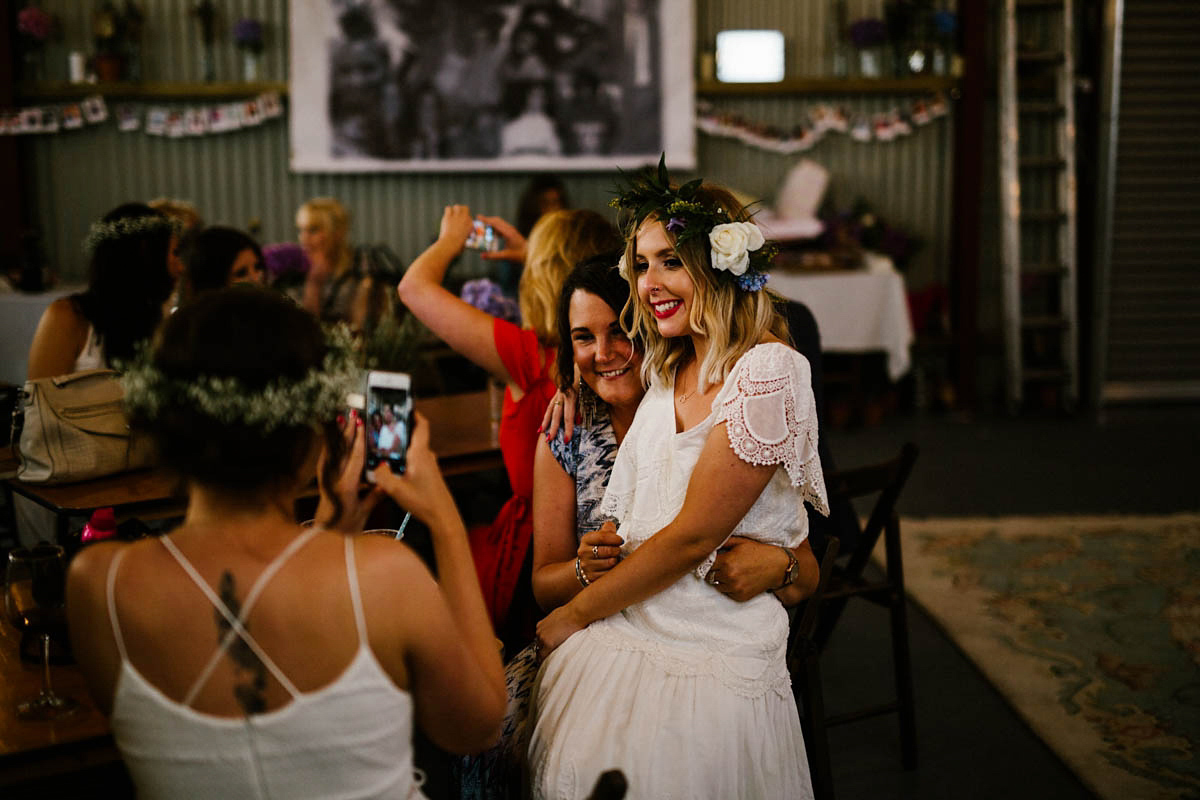 An Irish folk band called 'Full as Shuck' got guests spinning, before Kirsty's pal Tim Clerkin aka Herectic DJ filled the dancefloor in the evening.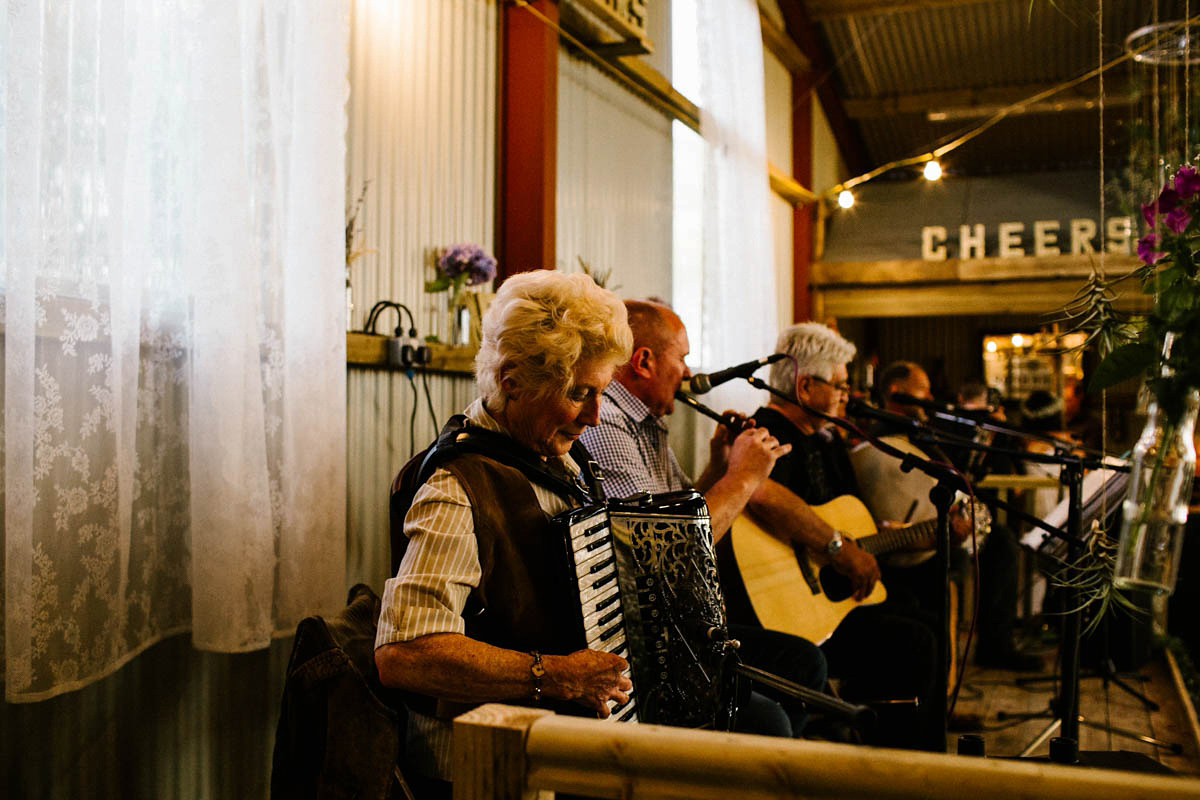 "We had two first dance songs: 'Islands In The Stream' by Dolly Parton and 'You Make My Dreams Come True' by Hall and Oates. The funny thing was that my dress strap broke on the first song so the best man had to step in to help out!"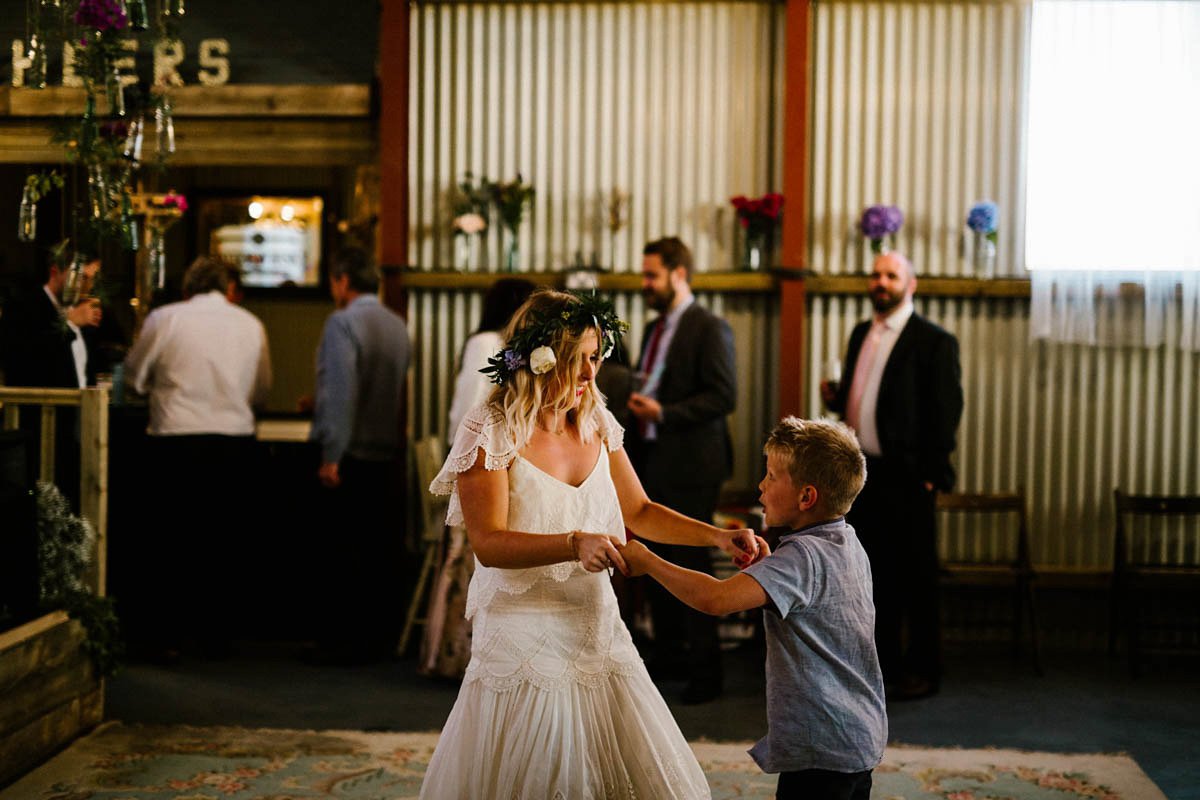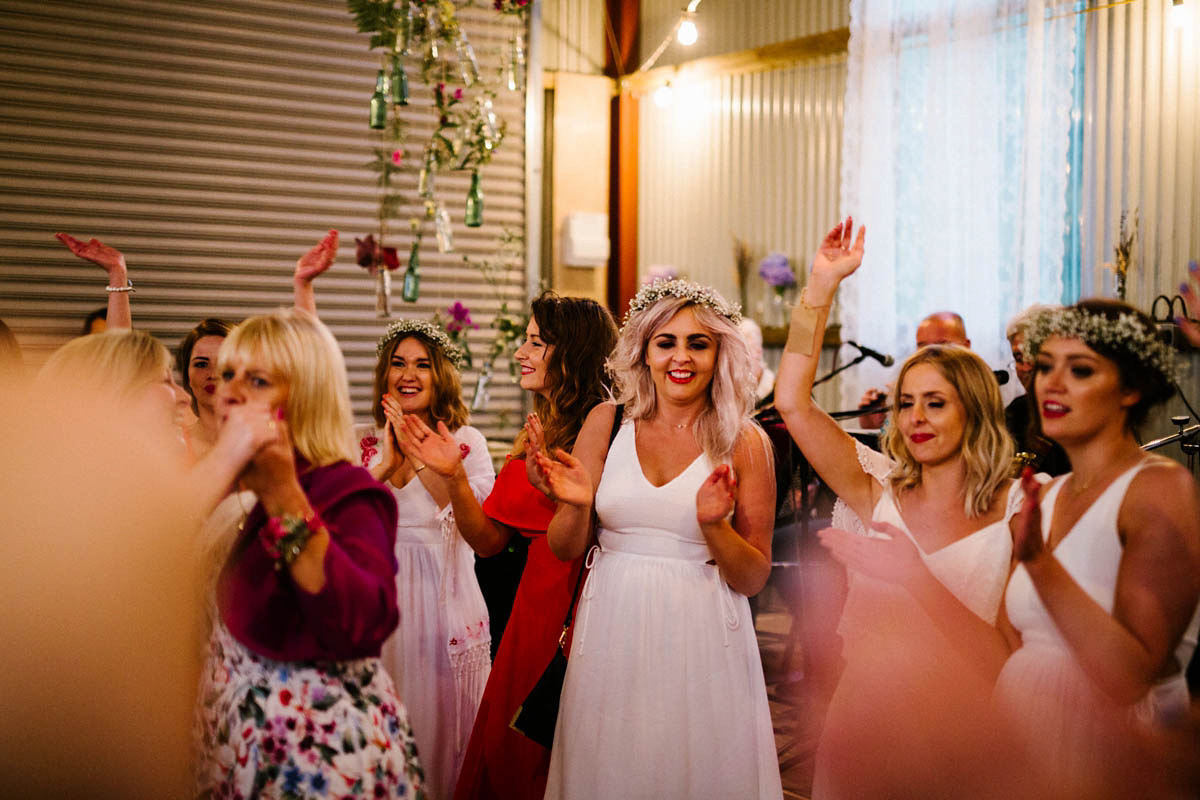 Words of Wedded Wisdom
"Make sure the day is about you two, it can get stressful when planning on who to invite. Be prepared for some hiccups along the way, no matter how much you prepare something will also go wrong but you'll not care on the day. Definitely make sure you take a moment away from everyone to reflect and take it all in, it can be very overwhelming at times!"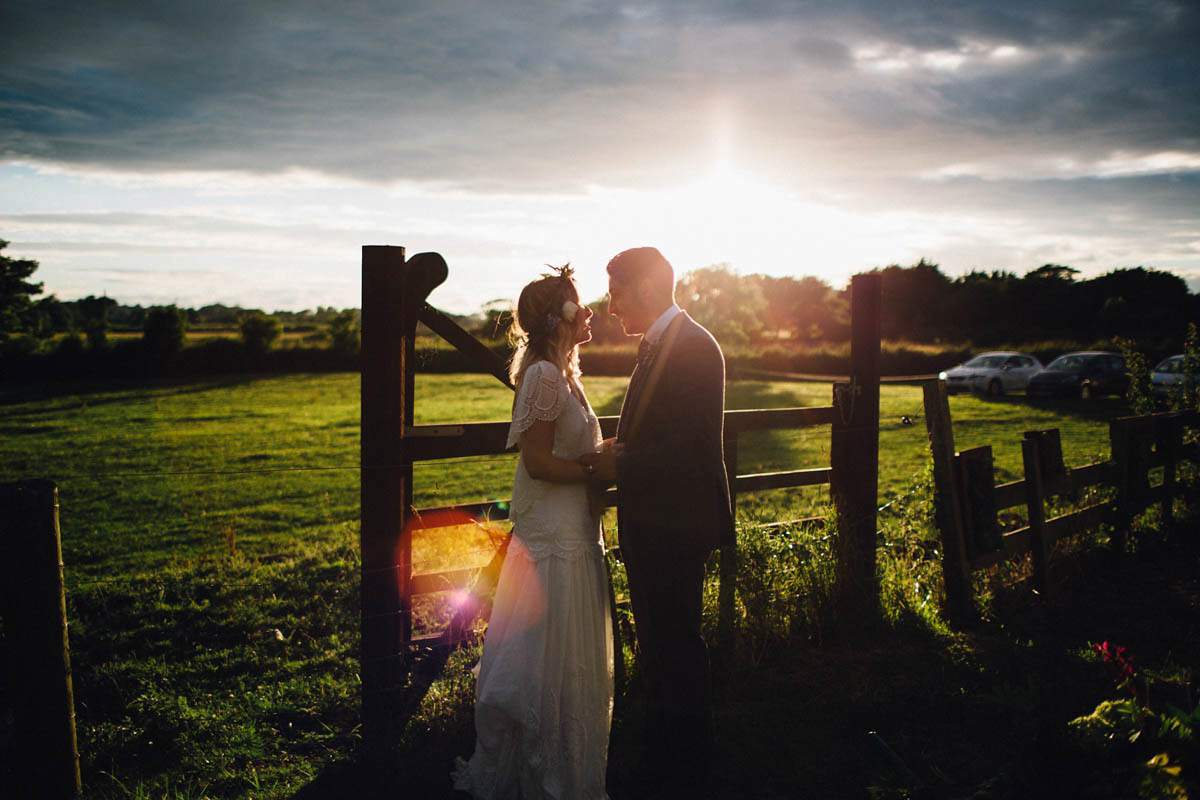 Who knew corruagted metal could look so bewitching and beautiful, pared with so many perfectly executed and charming touches? I'm wondering if my in-laws would mind if I popped round and filled a cattle shed or two with some whimsical touches, just because I'm feeling so darned inspired right now! Huge, squeezey hugs to Kirsty and Jonny for allowing us all to beat those January blues with their burst of colourful sunshine, and to Honey and The Moon Photography for all of these delicious, fun filled images.
Speaking of colourful, did you catch my very own wedding that was featured on these hallowed pages last week? Expertly written by one of my all time favourite humans Emily D, its been an excuse to discuss the day in detail all over again (sorry to everyone I know).
So, lets keep things light and bright as we breathe life into 2017,
All my love,
Emily C