Have you ever met someone and known from that first spine-tingling encounter that they'll be in your life forever? Someone so special that you can feel the connection in your very bones? On this occasion I'm not actually talking about my fiancé, (feel all of the above for you though L, if you're reading!) I'm talking about the truly extraordinary human being that is Emily Colwill – our very own peanut-butter-obsessed, dog-loving, wanderlust-suffering Love My Dress writer.
On 10th September 2016, my fiancé and I were honoured to be guests as our darling Emily, Writer, Wedding Co-ordinator and Administrator extraordinaire, married her wonderful love Bob, a self-employed Electrician, and the two of them became the utterly awesome team that is Mr and Mrs Colwill. The stunning Coombe Trenchard in Devon played host to their balloon-filled nuptials and the mecca of retro fun that is Dingles Heritage Fairground was quite simply the most joy-filled reception venue I've ever seen. Let's start with their tear-jerking wedding video (that just married kiss Bob, gahh!), documented by the couple's gifted friend, Sam Brown.
"Basically all of our favourite things inspired our day. The fairground inspired a lot of the decoration and games as we wanted this to flow throughout the day, not just as we arrived at Dingles. 'Adventureland' is one of my favourite films and I wanted this slightly retro vibe and we had a lot of the music from the film as part of our playlist."
Film by SamB Video
https://vimeo.com/182416238?ref=em-share
"Balloons became my life, having stemmed from our love of the film 'Up', and we felt they were a more fitting way to make an impact than flowers or anything too wedding-y. Gold glitter snuck its way into my heart and added a more luxurious and celebratory vibe (I also just really like putting glitter onto things). We wanted to incorporate our love of Japan too, it's a place that forever feels in our hearts."
Photography by Freckle Photography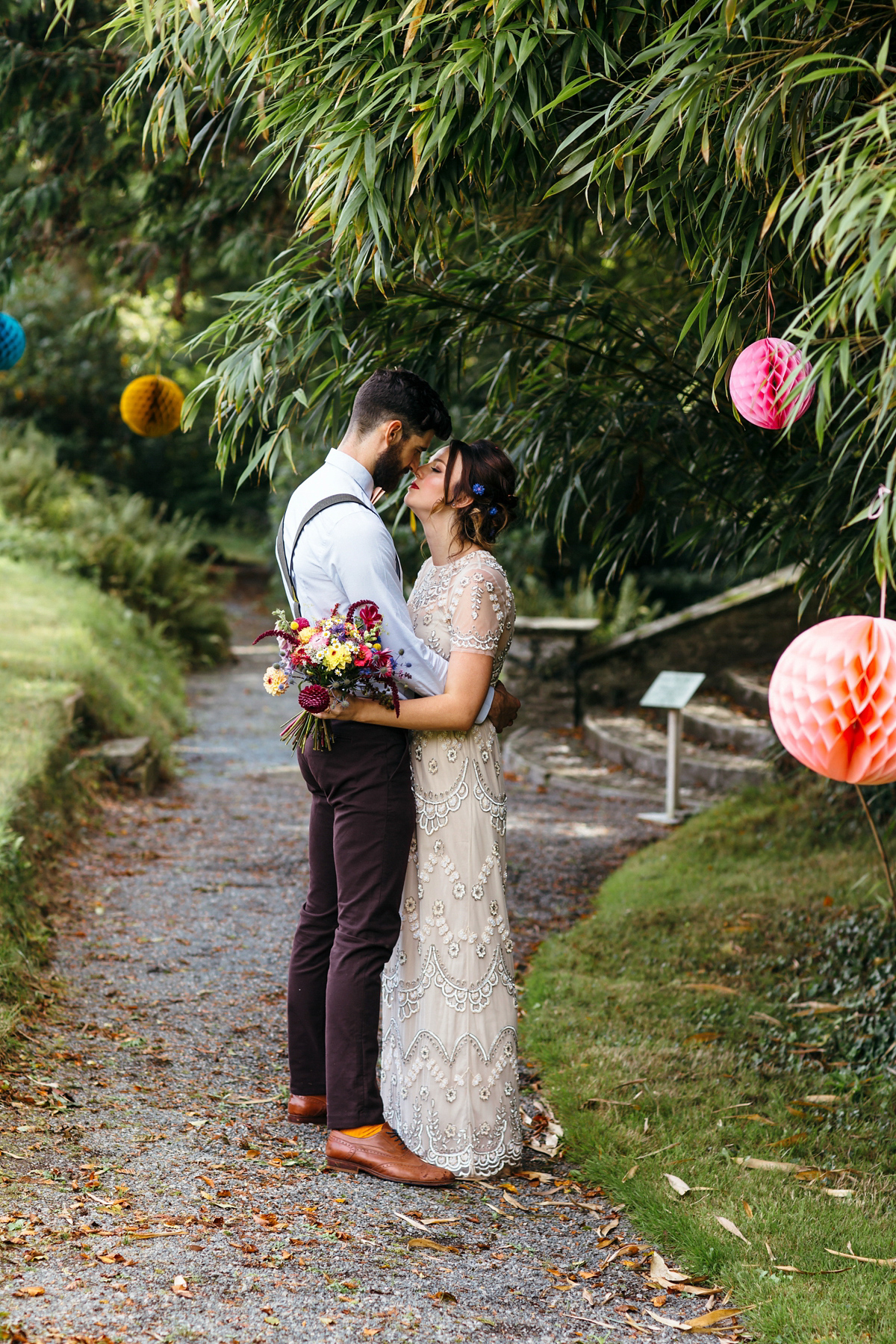 Picking my way through the woodland, eyes wide, clutching tightly to my love, the pathway dotted with hand-drawn signs and clusters of bright balloons, everything hinting at the magic to come – it's a memory that will stay with me forever. Mr and Mrs Colwill ordered pretty invitations from Wendy at The Charming Press, but made each and every piece of signage and all the other stationery themselves in a few jam-packed weeks before the wedding.
I can safely say that the beautiful country home of Coombe Trenchard, with its gorgeous Edwardian gardens, was utterly transformed and electrified by the creative genius of Emily and Bob. Colourful chairs, a giant carnival sign and garden games from The Prop Factory created a vibrant outdoor space, smattered with 1001 origami cranes; a year-long project undertaken by the groom in the run up to the wedding in a whimsical nod to the couple's treasured time in Japan.
"It's hard to put into words the magic of Coombe Trenchard. Full of original Arts and Crafts features, jaw-dropping rooms and acres of woodland, flower-filled gardens and even a stream, it had everything we wanted and more. It was the perfect character-filled backdrop to our colourful day and I loved the mix of exceptionally beautiful stately rooms and balloons. Sarah, who owns Coombe Trenchard, was hugely helpful in the lead up and on the day and I have since been asked to join the team at Coombe Trenchard which is a dream come true."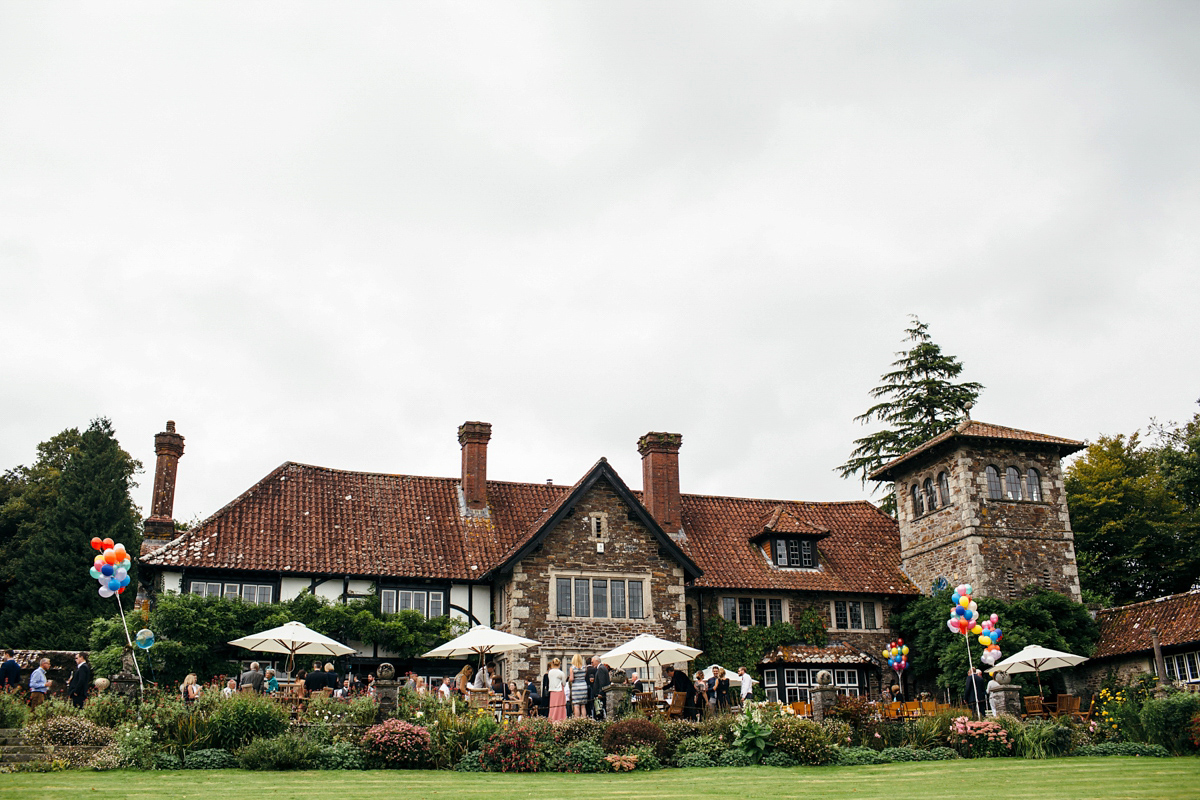 Our girl wore a intricately beaded Needle & Thread bought from ASOS, which she paired with rose gold shoes from Boden.
Her perfectly disheveled up-do was dotted with dainty blue corn flowers from The Flower Mill Cornwall, gorgeously contrasting with a luscious deep berry lip.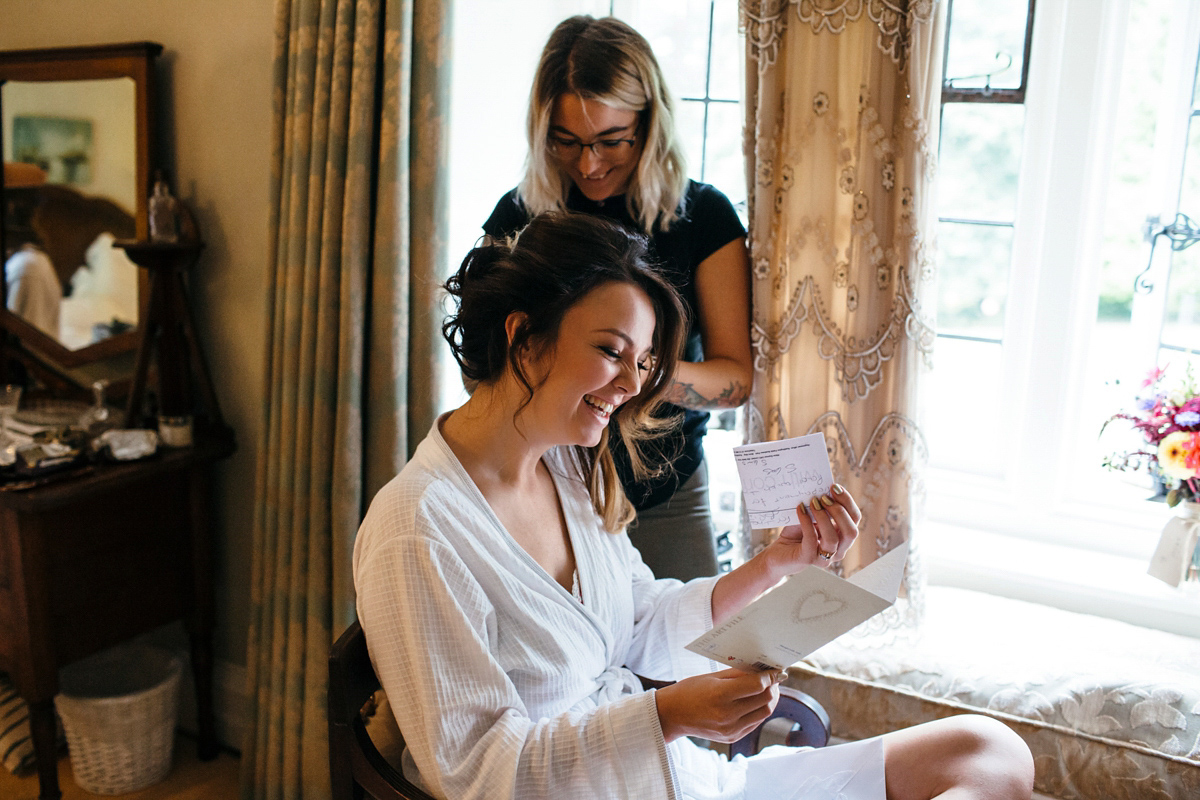 "Make-up was an area I wanted to make sure I got exactly right. I searched long and hard for an artist and right 'look' for the day and my dress. I wanted something slightly dramatic and to feel like myself but on an Oscars red carpet. Elle Hitchens has buckets of style and totally gets current looks and ideas. She is a complete sweetie and I loved working with her."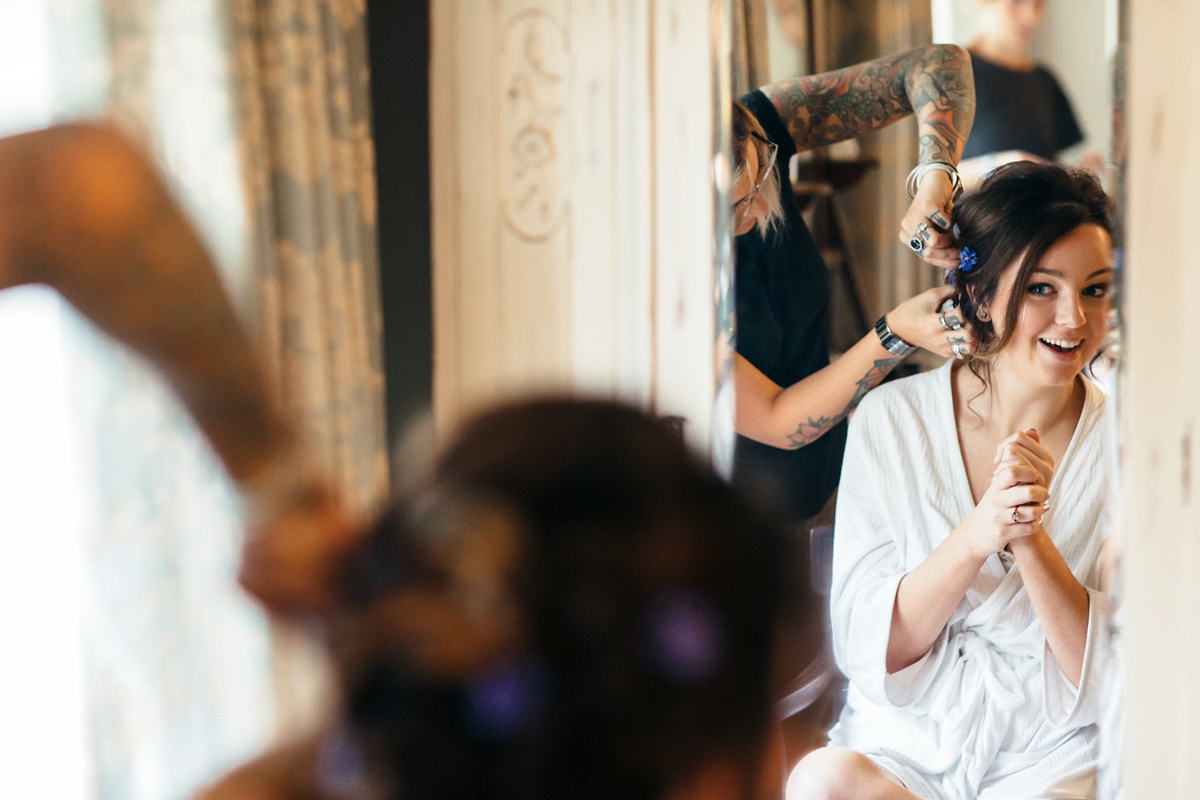 "My hair was done by Hannah Woodgates Hair Design. Hannah is my normal hairdresser and I trust her completely. My request was to make me look like I'd been dragged through a very pretty hedge and she did just that."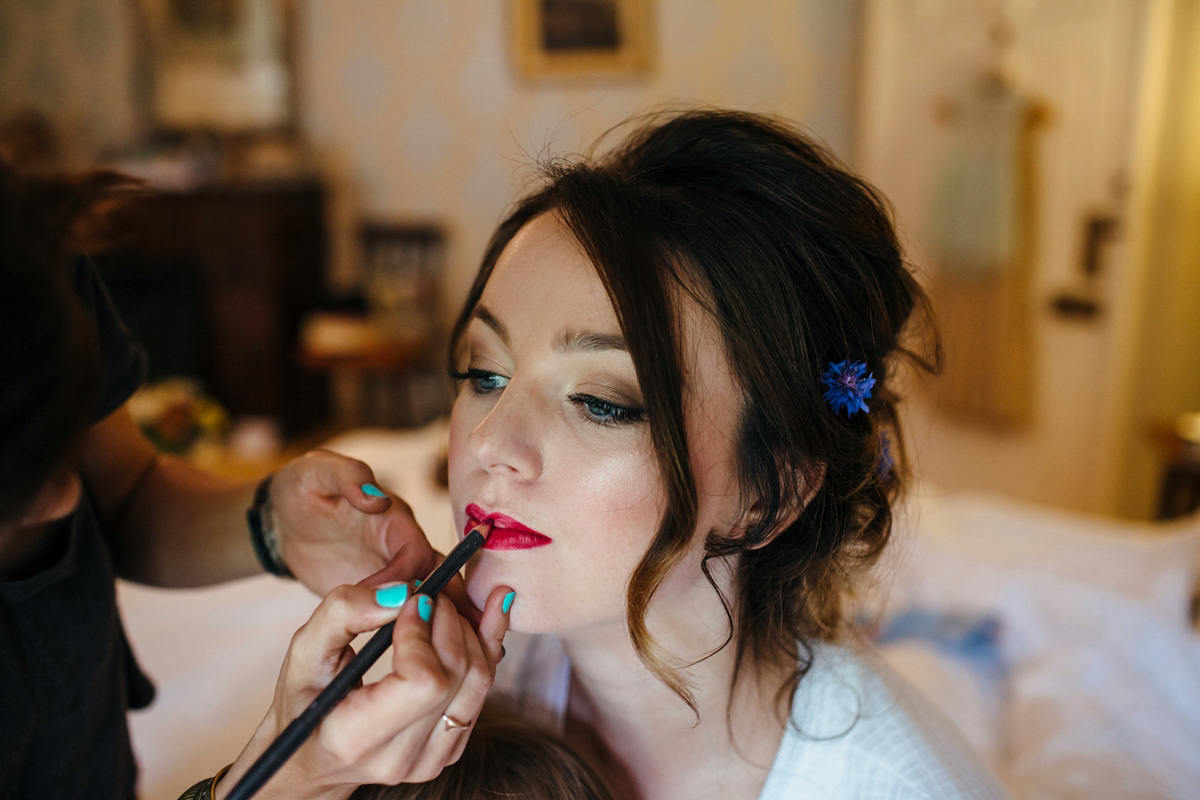 "I set my heart on a particular Needle & Thread dress whilst browsing my ASOS app way before we even got engaged. I thought ordering it before the ring was on my finger would be a step too far so I saved it in my basket and upped the hints I had been dropping."
"As soon as we returned from getting engaged from Budapest I tried to order it only to find ASOS were out of stock and that style of dress had stopped being made."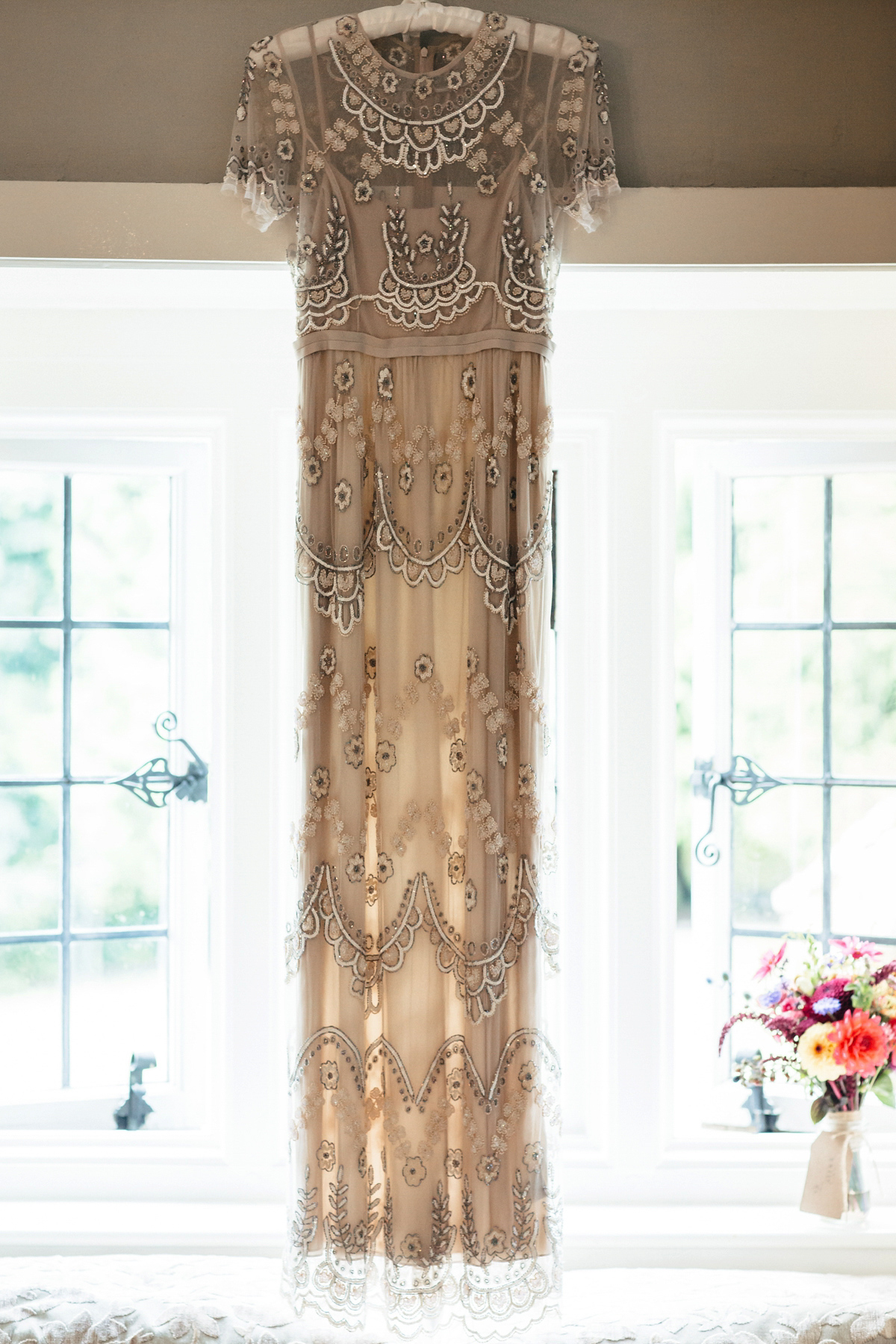 "I tried other stockists as well as Needle & Thread themselves and was told by all my only hope was a return. I checked websites and sent emails daily until they received a return one size too small. When you know, you know, and once that tiny ASOS bag arrived (the delivery driver laughed when I ran outside in my pjs to greet him, then looked suitably shocked when I told him the small bag contained my wedding dress) I felt my anguish had been worth it, it was THE dress."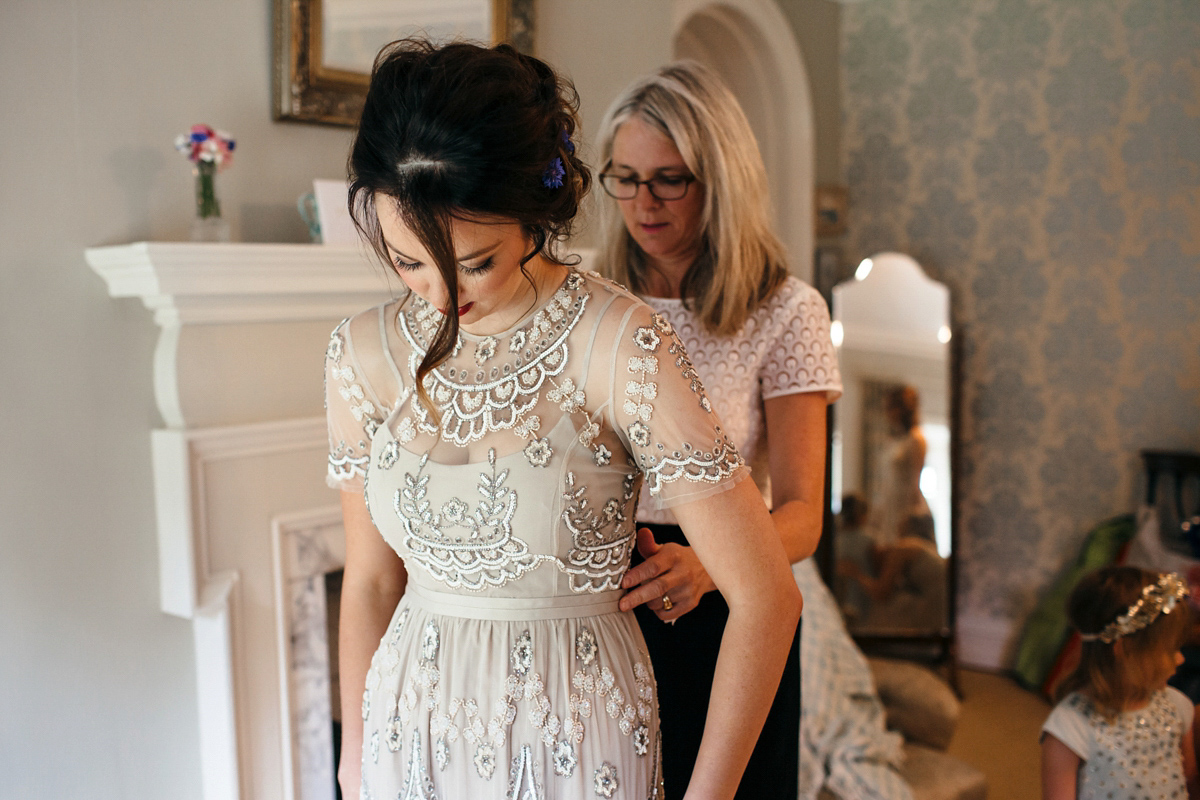 "I lost a stone to fit into it on the day and am so, so glad I followed my heart and tracked this dress down, it was a gamble but it paid off."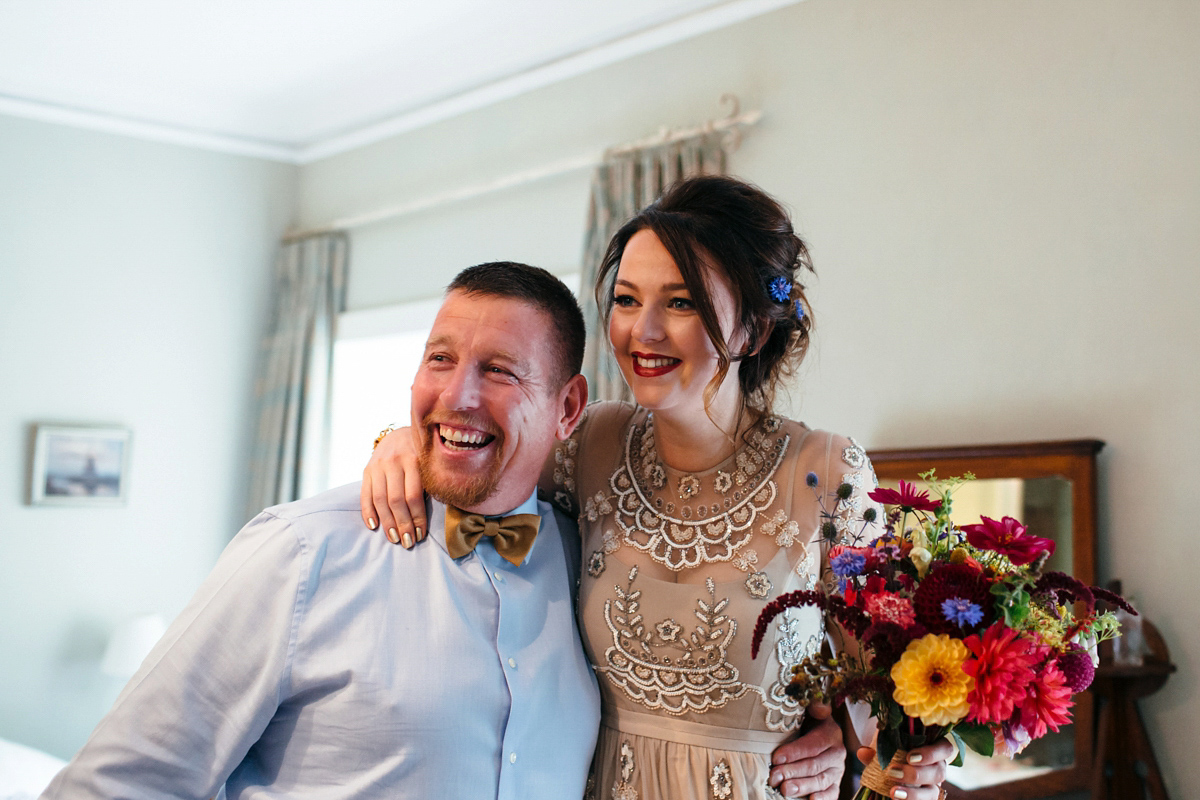 Emily wore her late Nana's favourite pair of earrings, such a special memory to carry with her on the day. An Alex Monroe bracelet, a birthday gift from her parents the month before the wedding, was a second nostalgic reminder of the wildflower woods of her childhood.
"My perfume was Red Roses by Jo Malone. I spent a wonderfully tipsy morning with my Mum having a Jo Malone bridal consultation and can't ever resist the smell of roses. Bob calls me his English Rose (mainly when I'm sunburnt) so this felt right."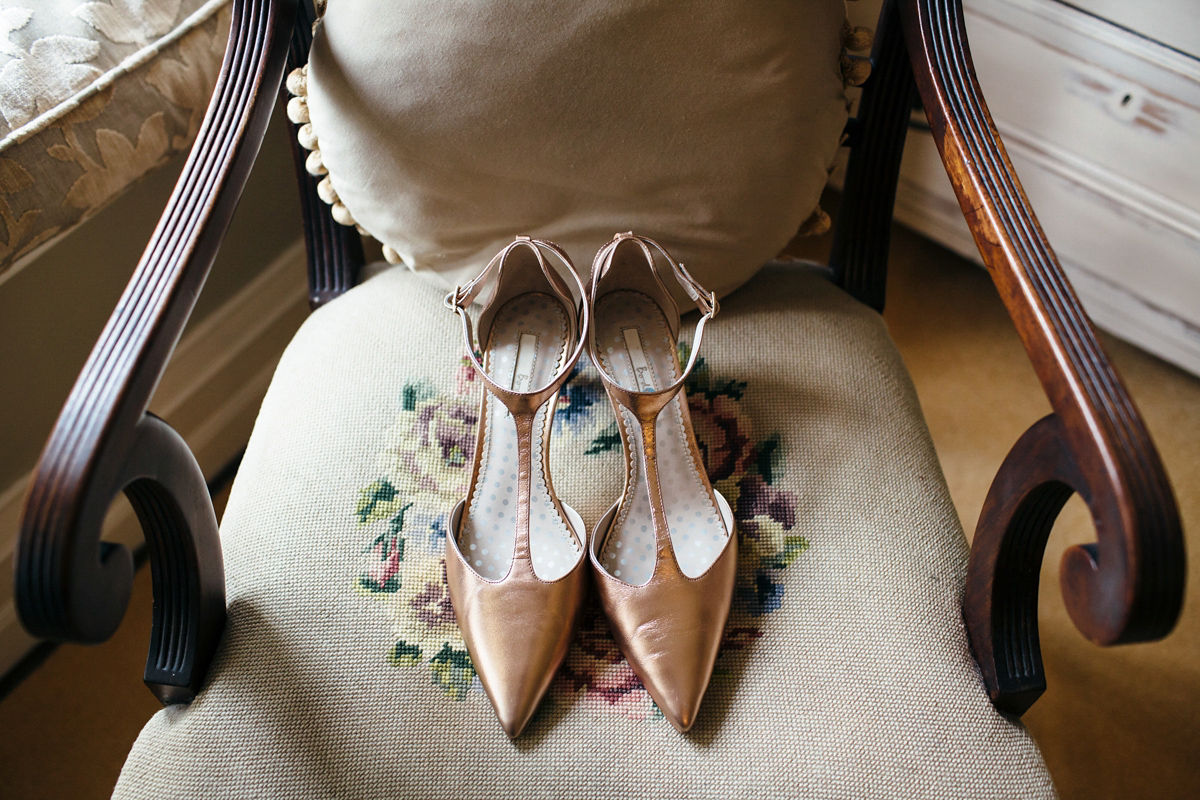 In the very gorgeous vein of putting glitter on everything, Emily chose pretty gold beaded chiffon dresses from French Connection for her two bridesmaids. Their elegant frocks were given a cool twist with chunky mint shoes from Urban Outfitters and they accessorised with gold H&M hairbands and crane earrings from Not on The High Street; a lovely gift from the bride.
"I think the bridesmaids dresses were my most searched for wedding purchase. I wanted elegant but different, something they could wear again and that looked right with my heavily beaded dress as well as our wedding vibe. This seemed to be quite a tall order and I was SO happy once I found these French Connection gowns (and they were in the sale – boom.)"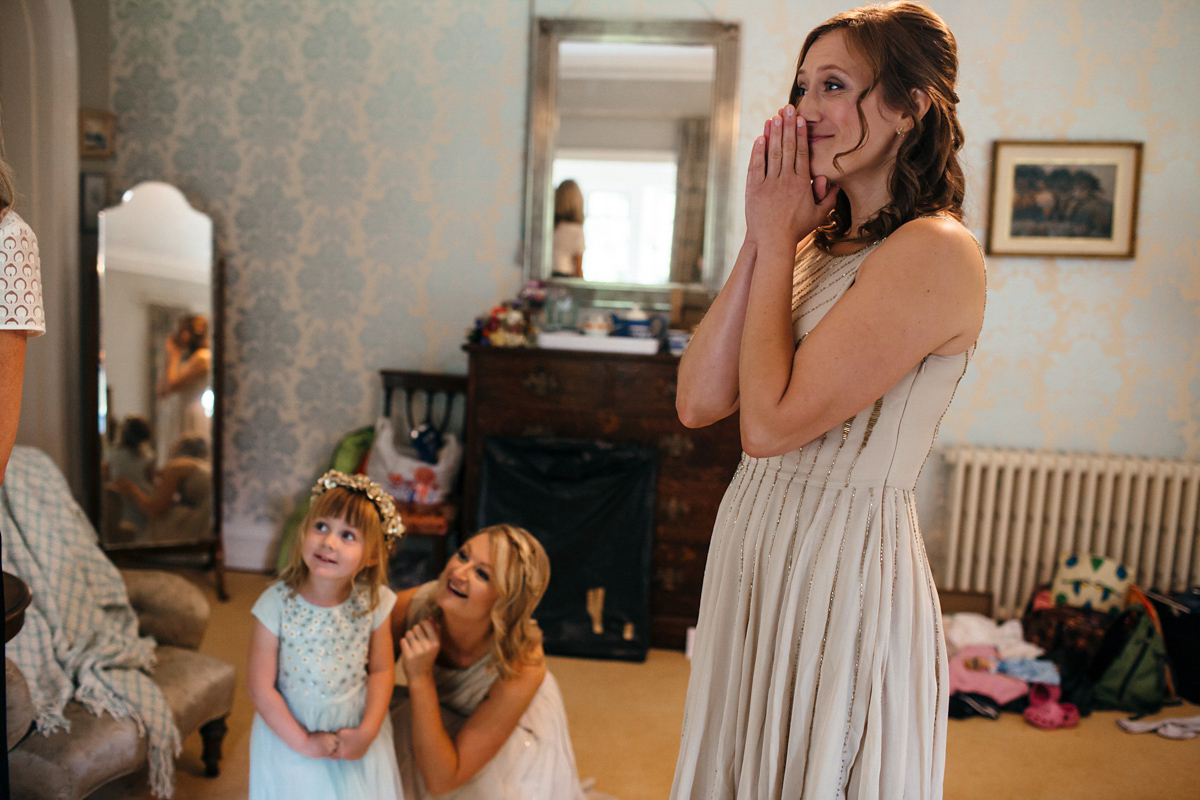 "Our smaller bridesmaid's mint dresses were from Next; I loved that they matched elements of my dress to the adult bridesmaids – very sweet little high street finds. Lacey, our little flower girl, wore a Stella McCartney dress that we spotted on a Christmas shopping trip to Liberty and had to have (it was gold, sparkly and polka dots.) Her sequin bomber was from H&M (again, I was powerless)."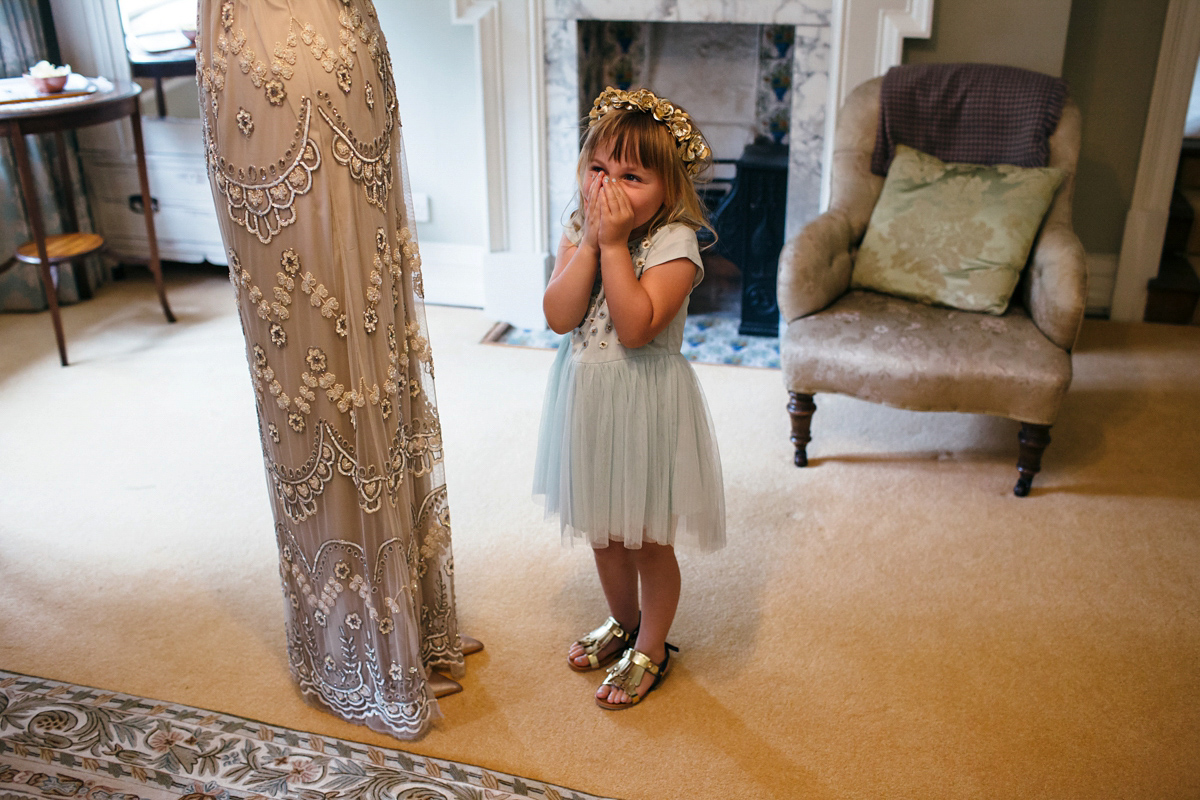 Oh gosh those little ones are just scrumptious! The mini maids walked down the sun-drenched outdoor aisle with multicoloured lollipops instead of bouquets – such a charming touch of retro whimsy. For the vibrant, textured bouquets and buttonholes, Emily and Bob worked with Vanessa at The Flower Mill Cornwall to create arrangements bursting with dahlias, foxgloves and juicy blackberries.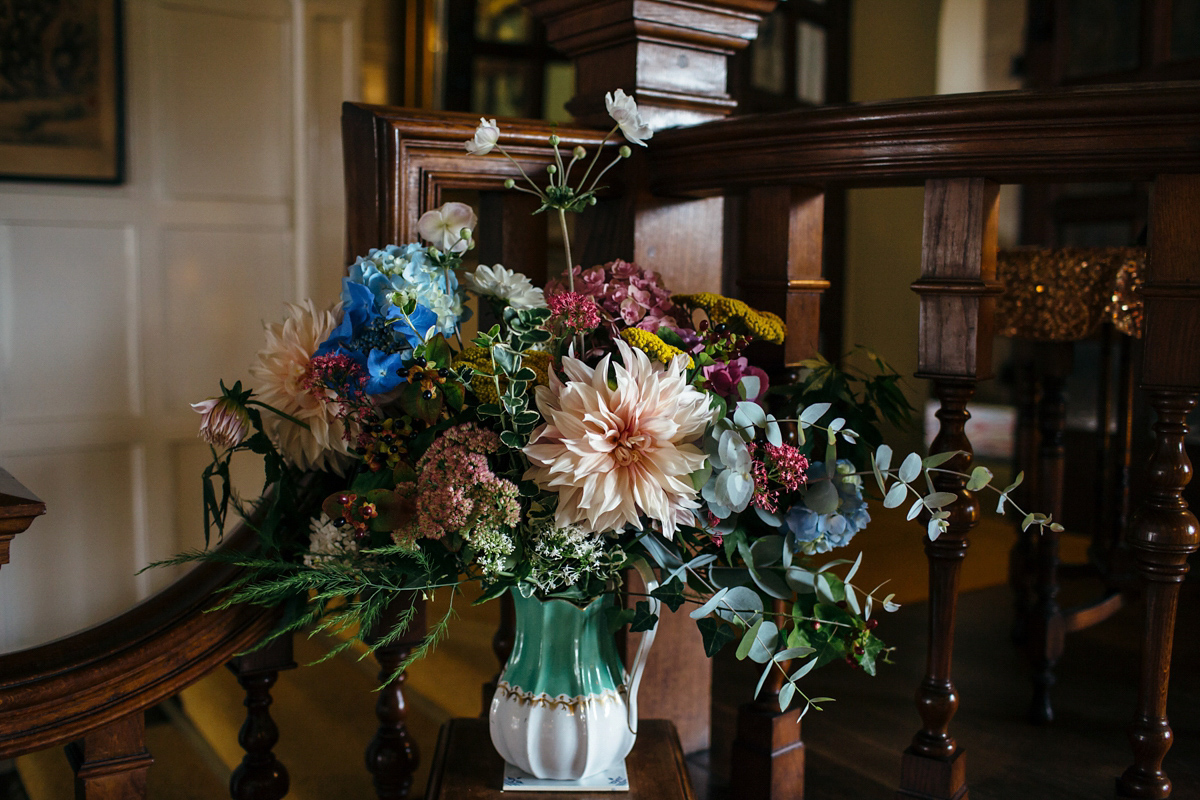 "I feel so lucky that we had such wonderful, kind hearted suppliers for our day. Vanessa and I met on a shoot for a magazine and I loved her instantly, she's so sweet. She squeezed me in to her diary and I went down to her flower fields near Liskeard two weeks before the big day and literally walked around pointing and choosing my flowers."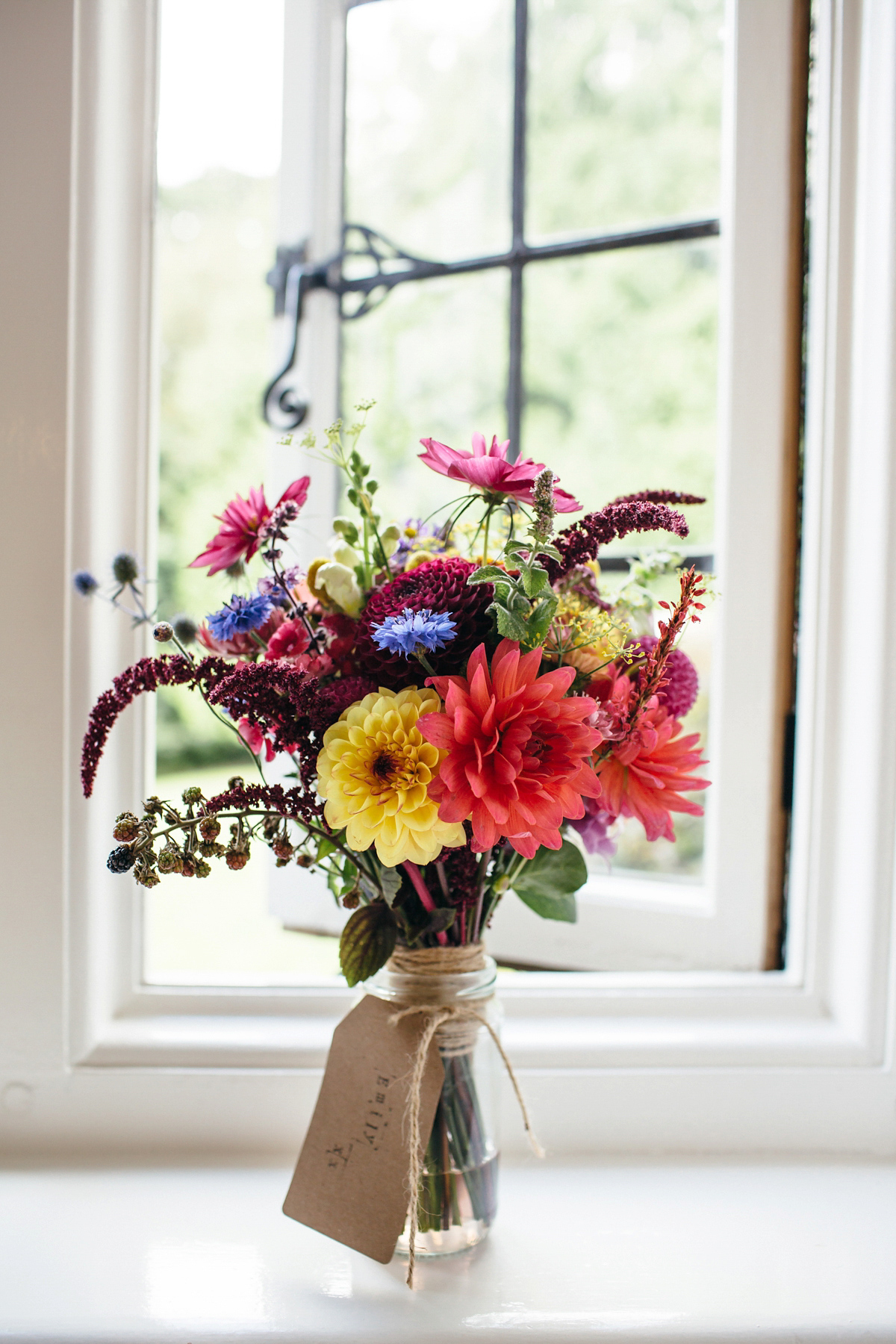 "She got that I wanted unstructured, happy flowers and even added some blackberries and foxgloves as I said they made me think of family walks when I was a child. She is a true gem of a person and I'm SO happy she was a part of our day."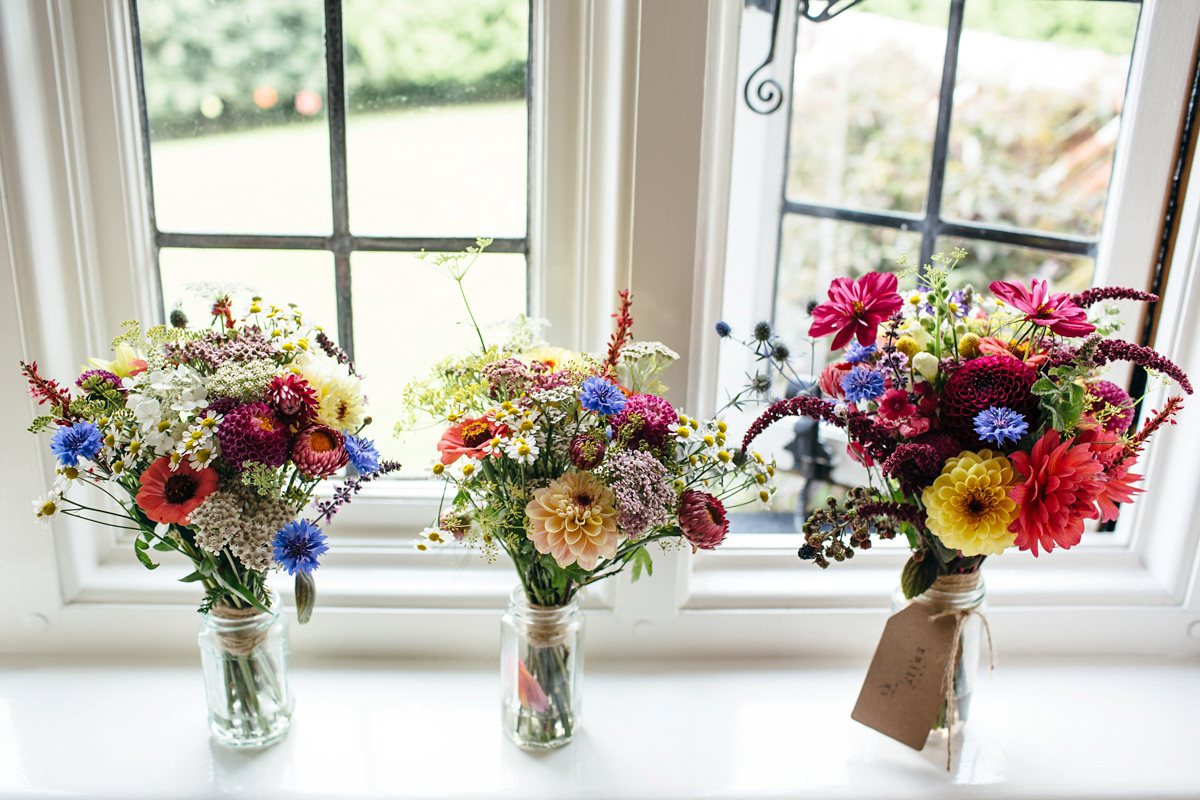 "Sarah at Coombe Trenchard also grows flowers and arranged some of her amazing blooms around the house and gardens for us. She is exceptionally talented and I love that Coombe Trenchard grows its own flowers to sprinkle extra joy and prettiness over the celebration."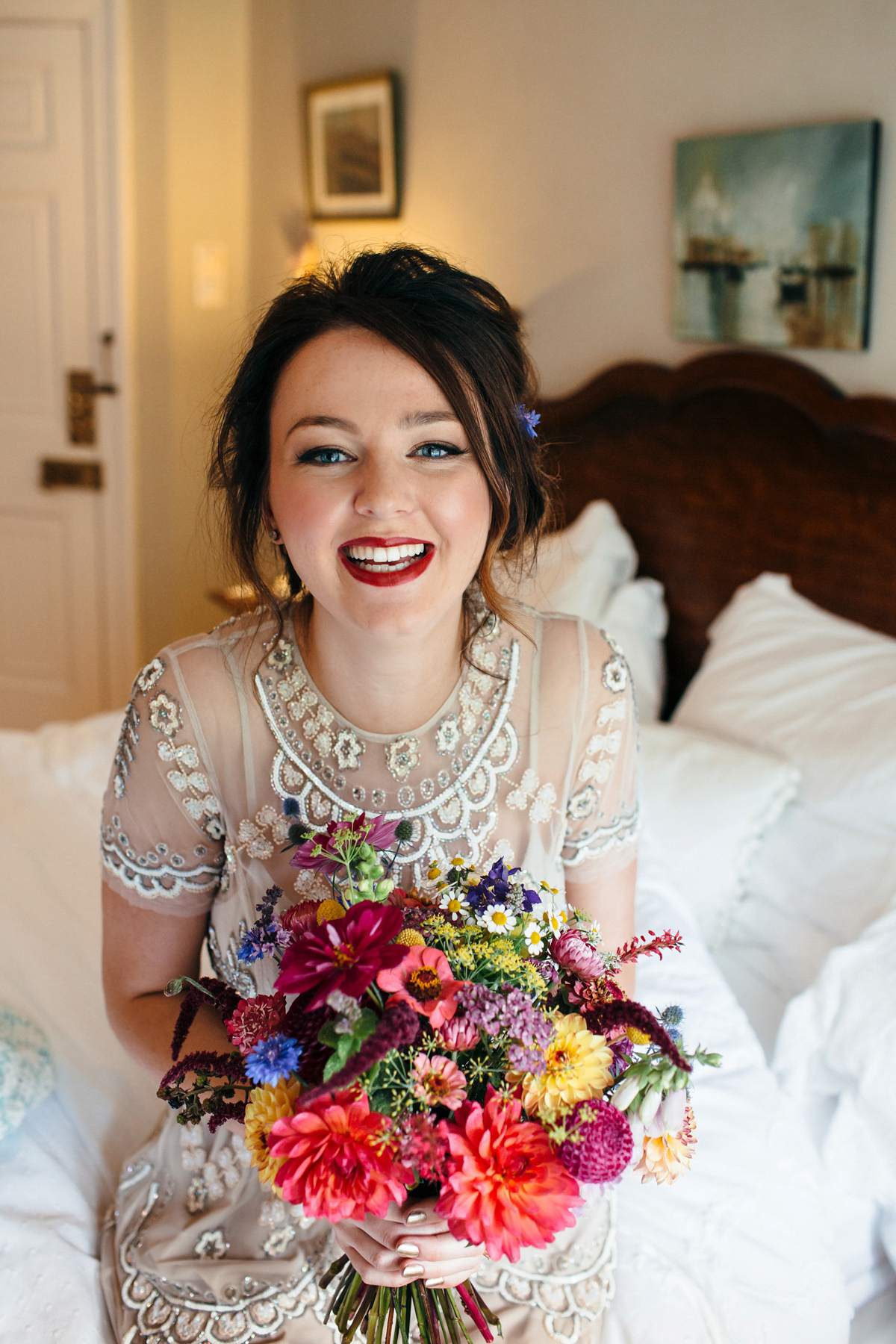 "Bob and I must have spent many hours together during our teenage years as our respective best friends are siblings. This culminated in a summer of silly conversations and dancing in the local club (we did, in fact, find love in a hopeless place) and when Bob told me, very drunkenly, that he fancied me, I thought it was a dare."
"One week after our first kiss we told each other we knew we were 'The One' and after he disappeared on a pre-planned three-month trip around Asia, (cue so much chocolate, tears and sleeping with his t-shirt) he moved in with me the day he got home."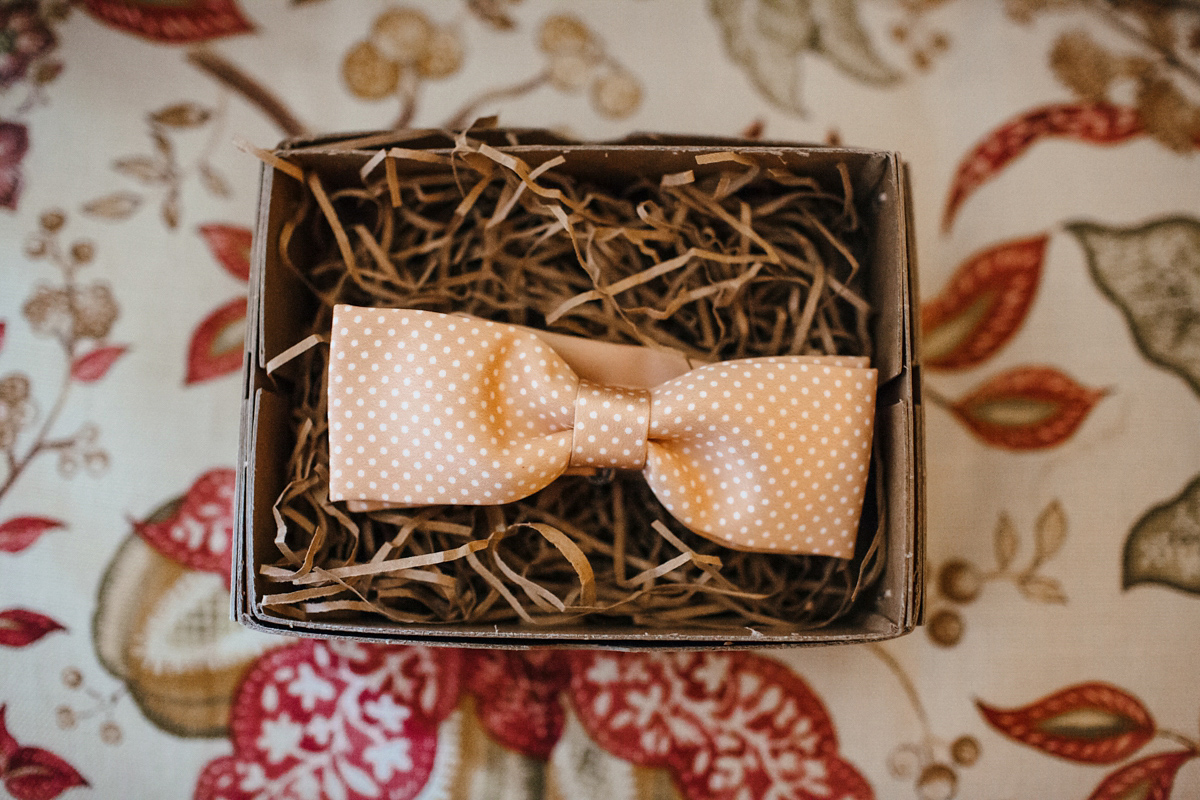 "Since then we've spent most of our pennies on travelling (the wedding put this on hold for a year) and love nothing more than getting on a plane together."
"Bob hired a whole boat to take us on a night time cruise of the Danube river in Budapest, complete with candles and champagne and presented me with a much longed for Anna Sheffield ring. The following eighteen months were spent googling balloons and putting glitter on everything."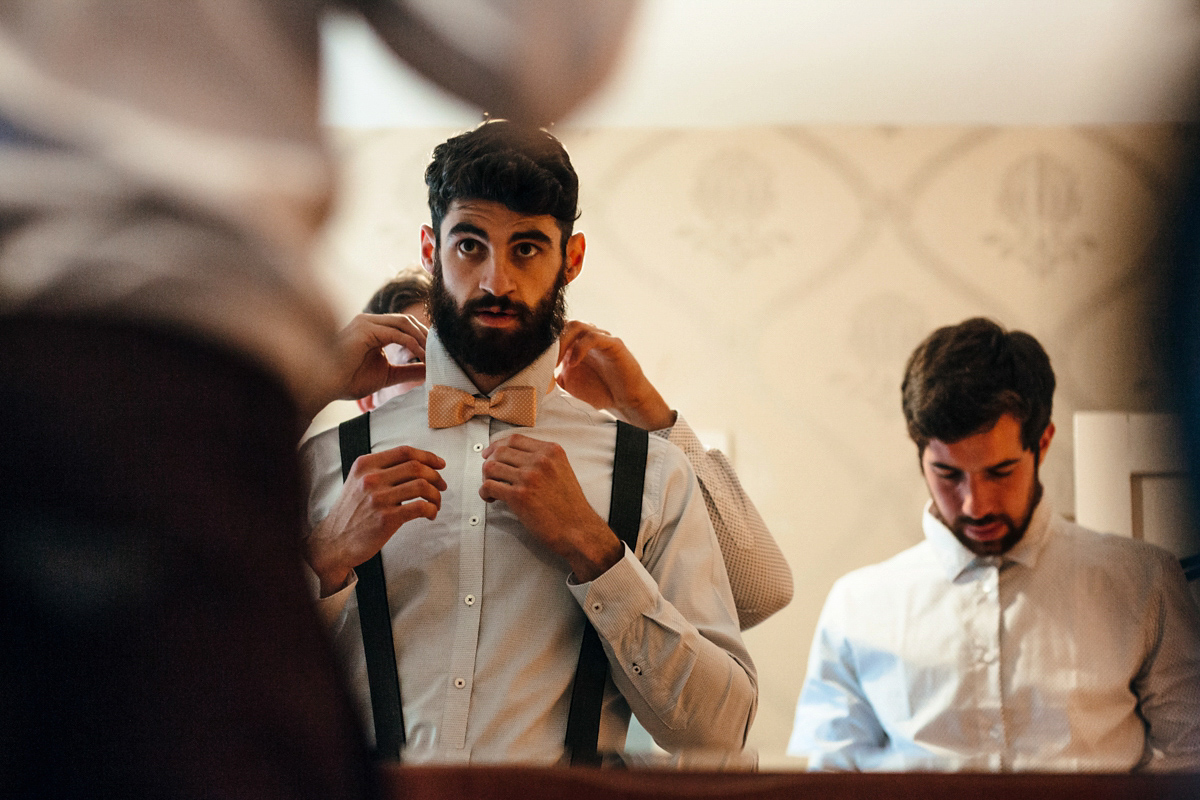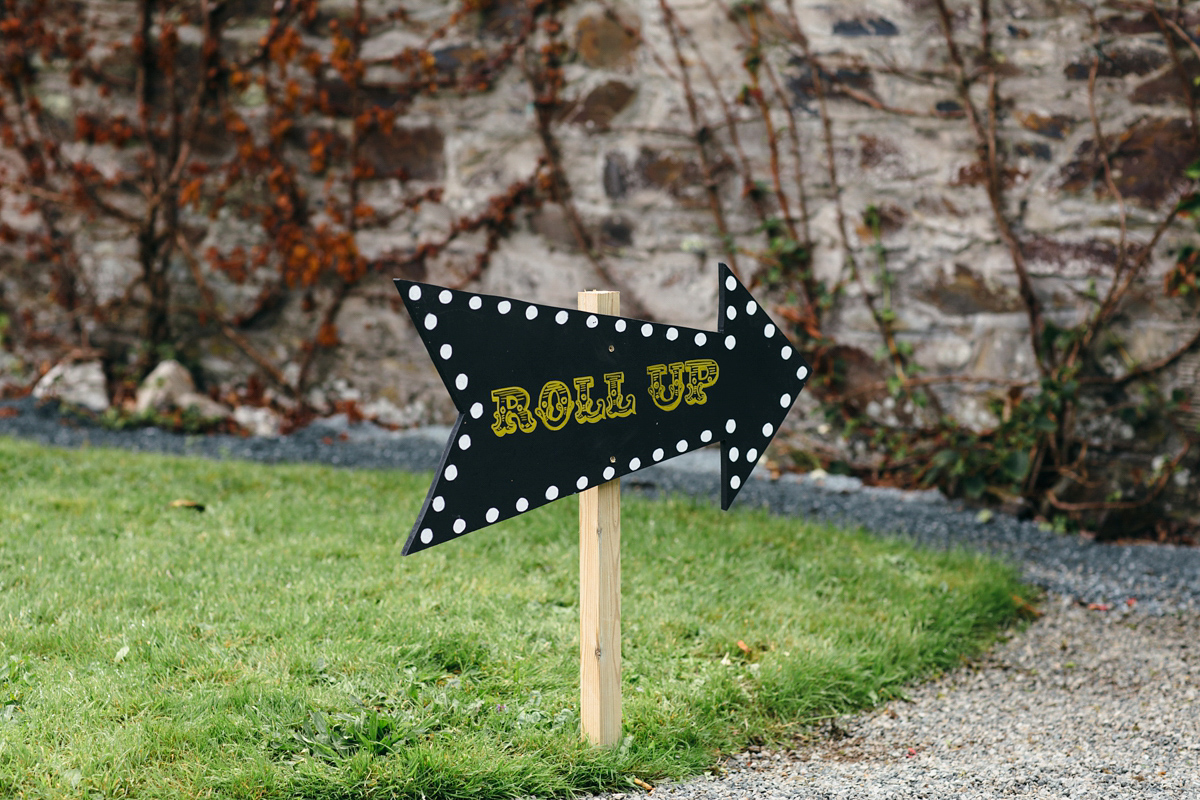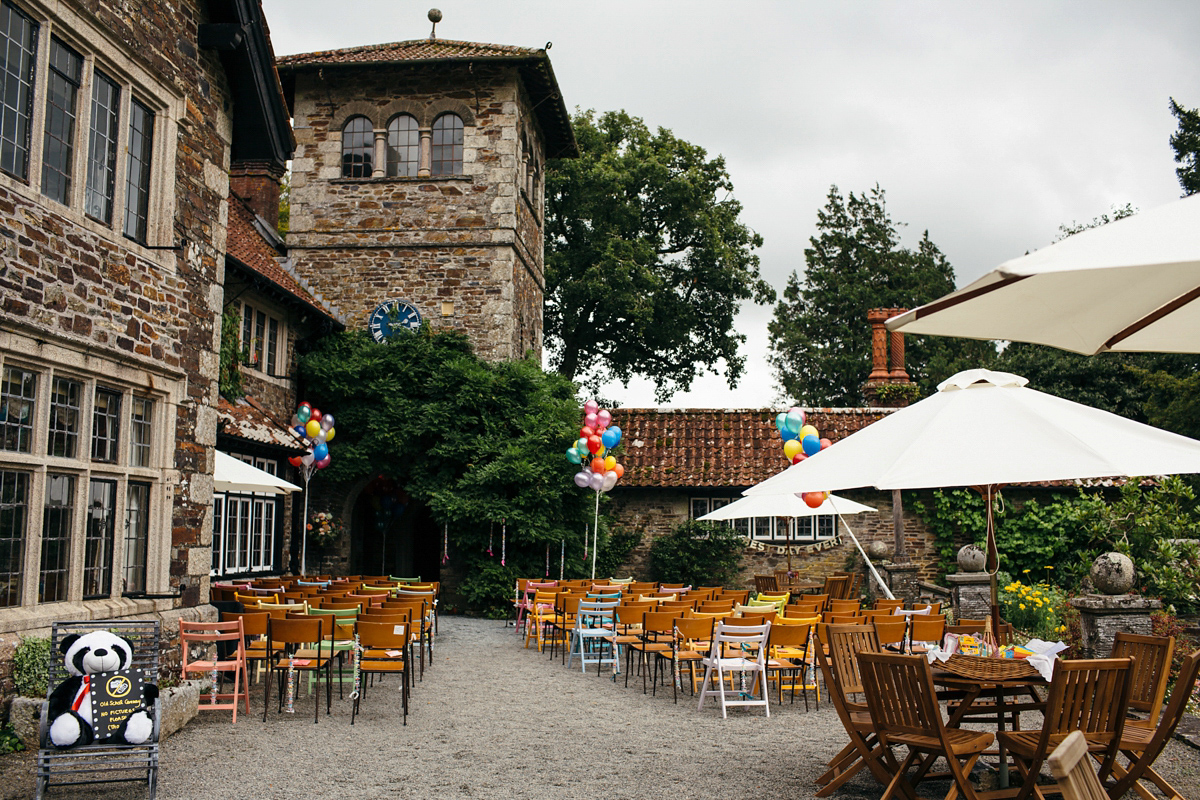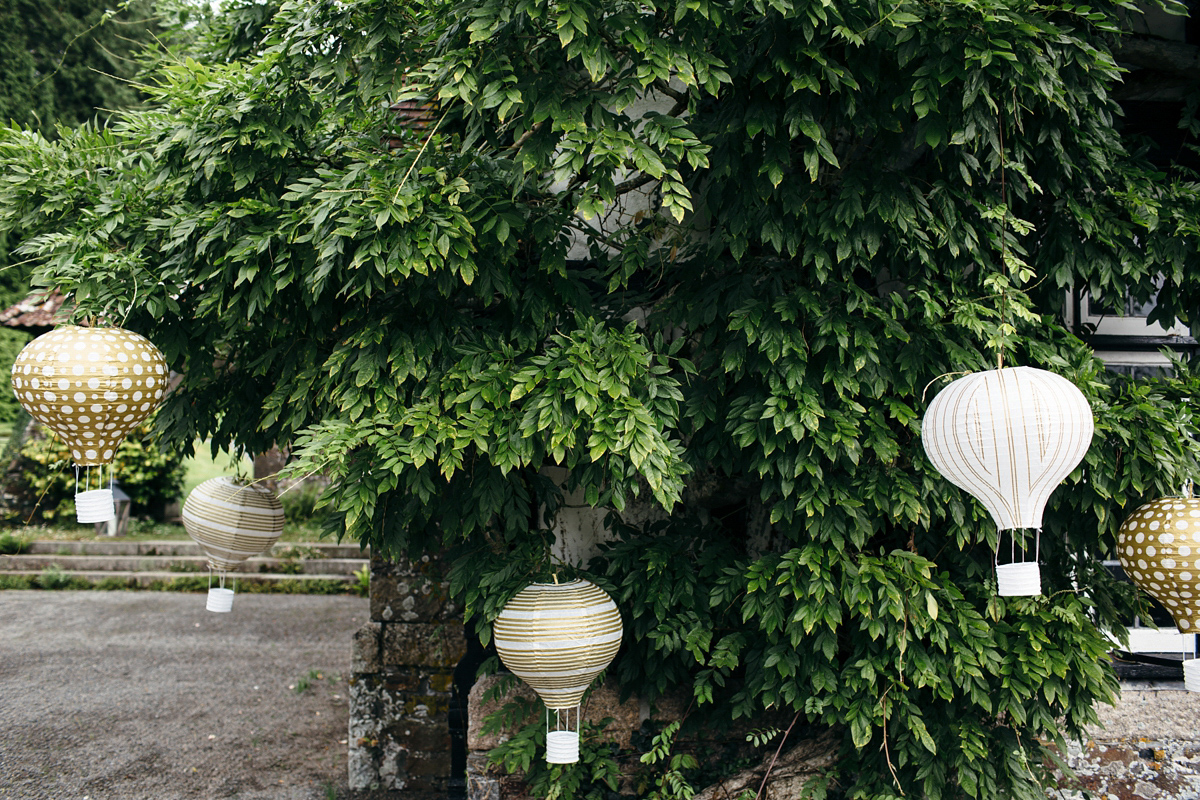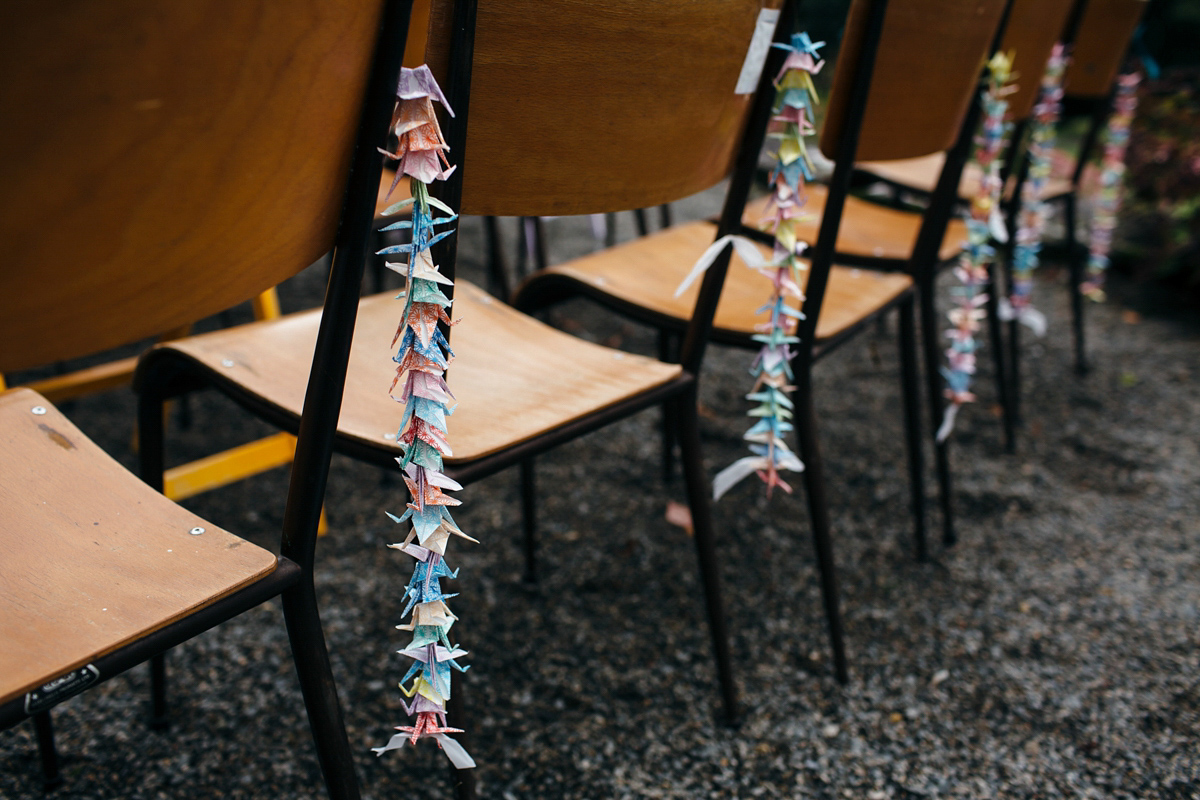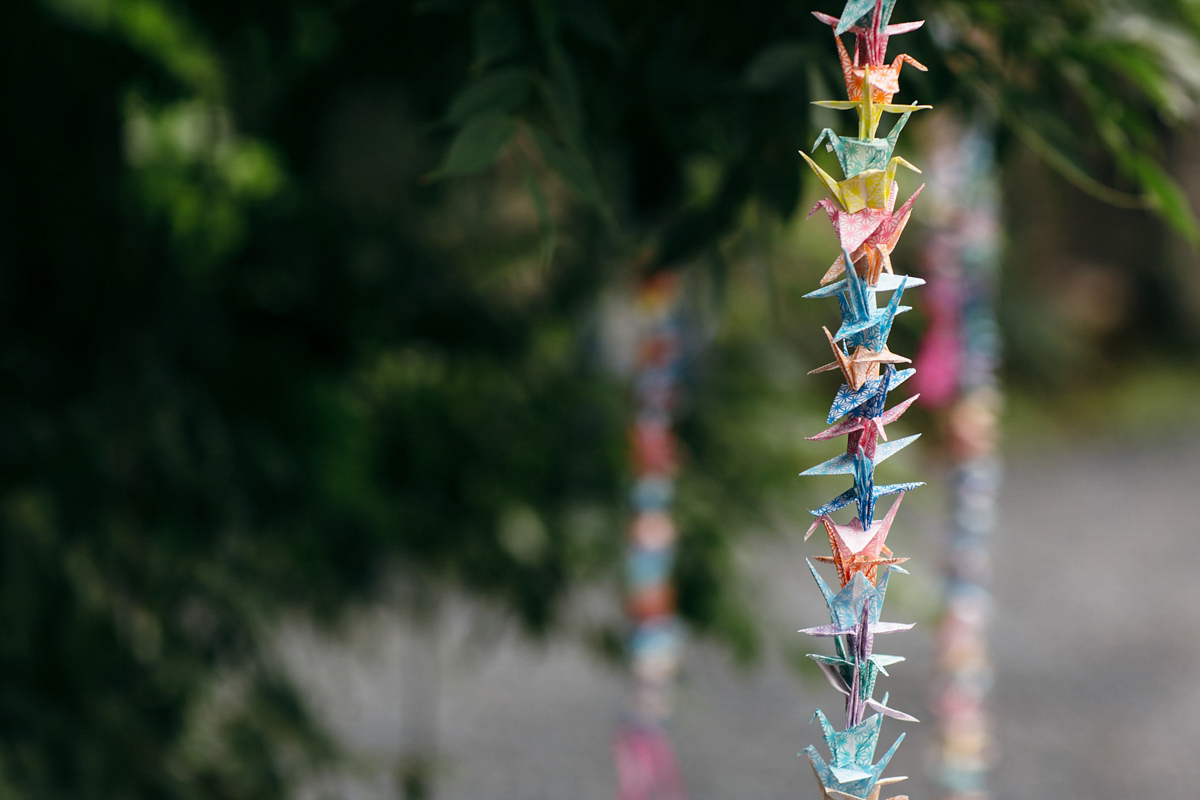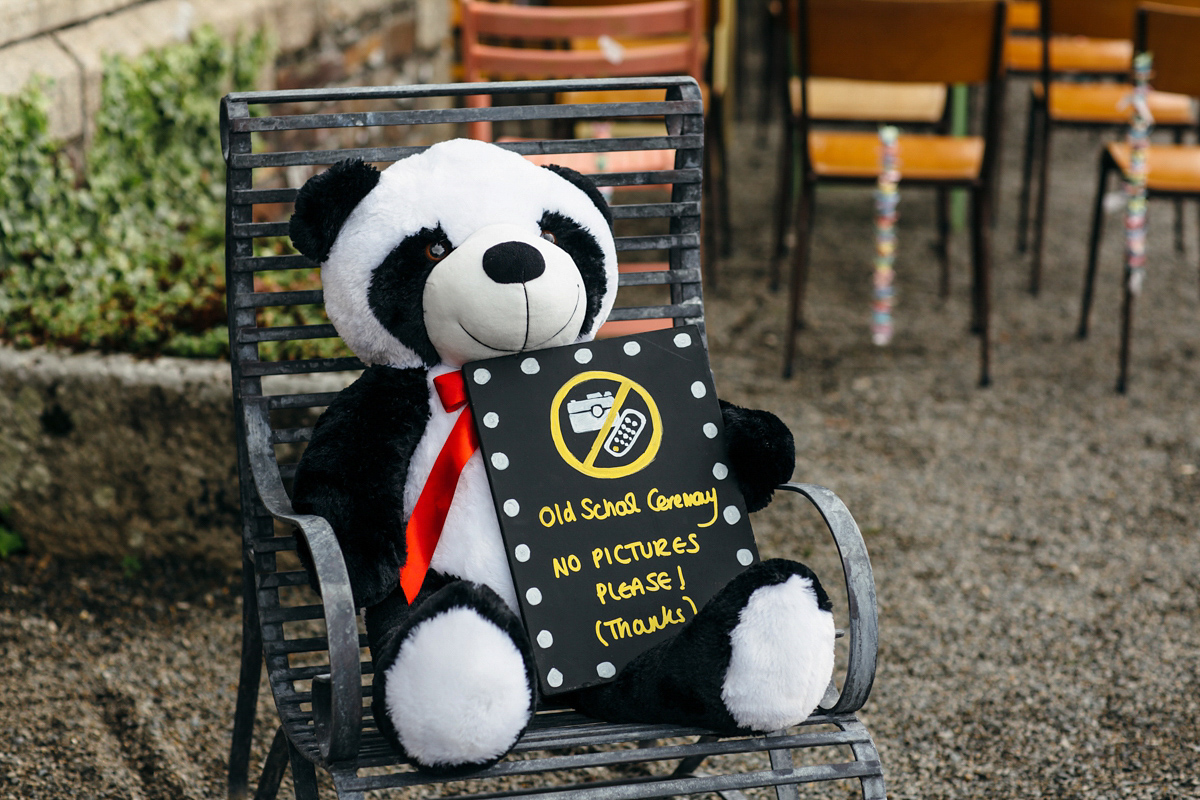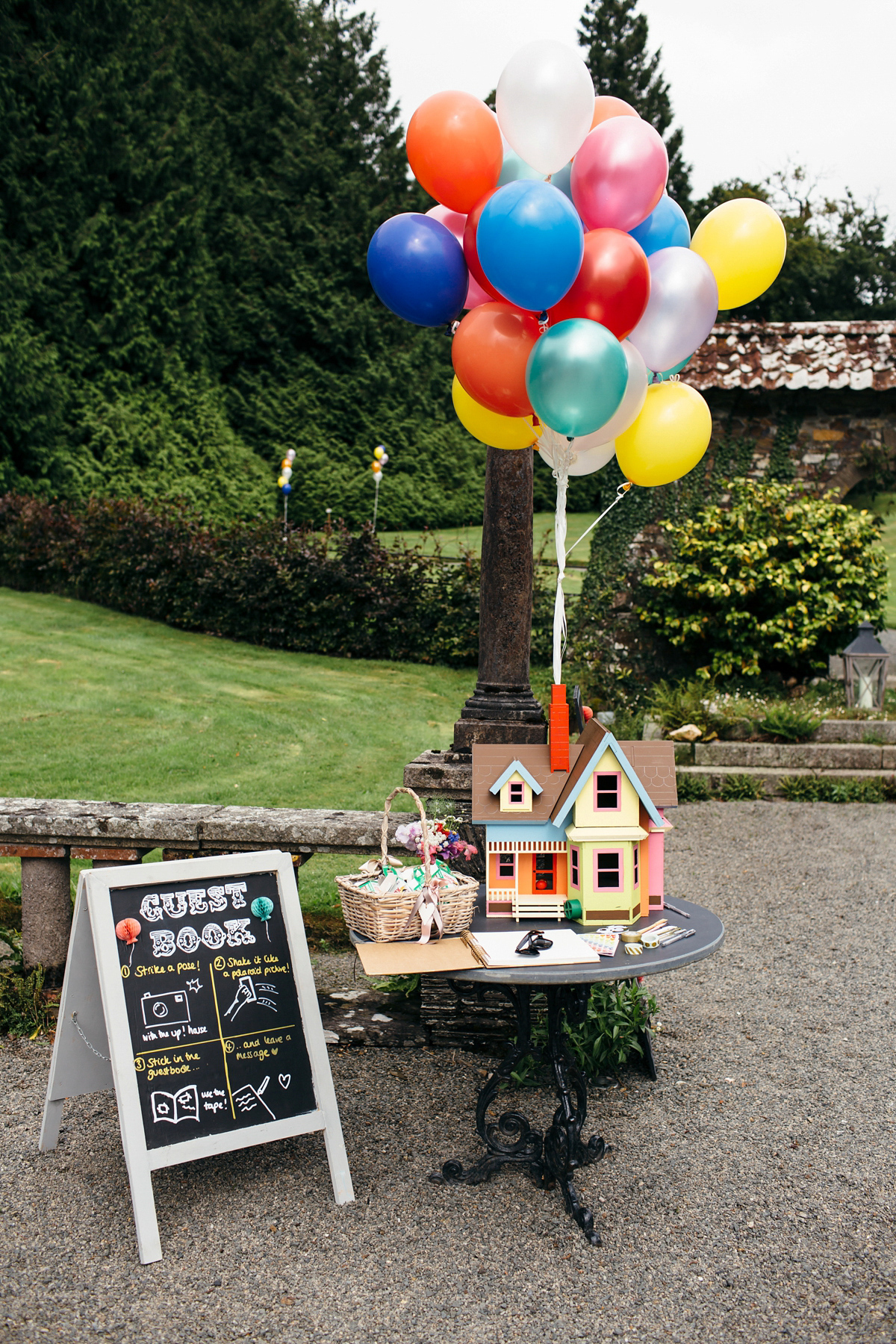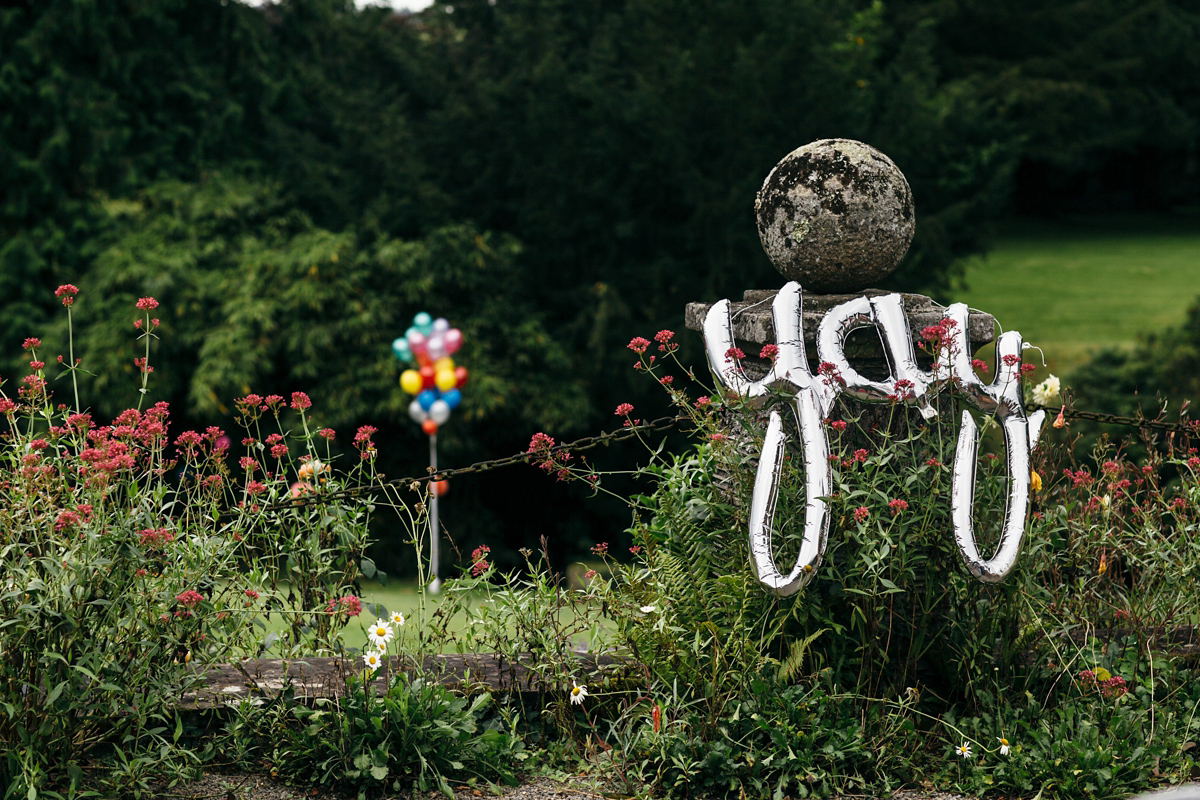 The exceptionally handsome Bob (seriously that beard game is strong, I've felt it!) waited in emotional anticipation at the top of the aisle for his beautiful bride. He rocked M&S shoes, trousers and a shirt from Ted Baker with a bow tie and braces from Mrs Bow Tie – matching his best man and ushers.
"Orange is Bob's favourite colour and so we wanted him to have a touch of it in his outfit. His socks from The London Sock Company were a gift from me but I forgot to wrap them or write the lovely card I'd bought him, so I called the night before to tell him where I'd hidden them and cry for forgetting!"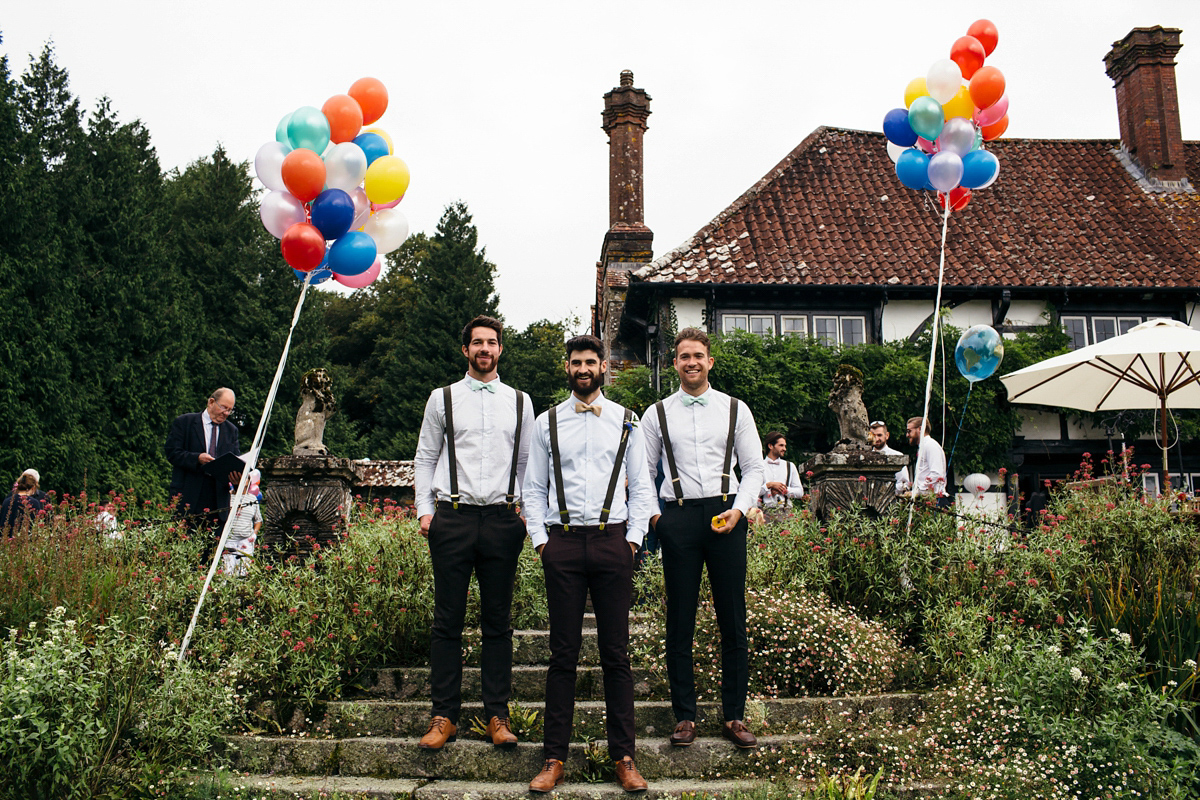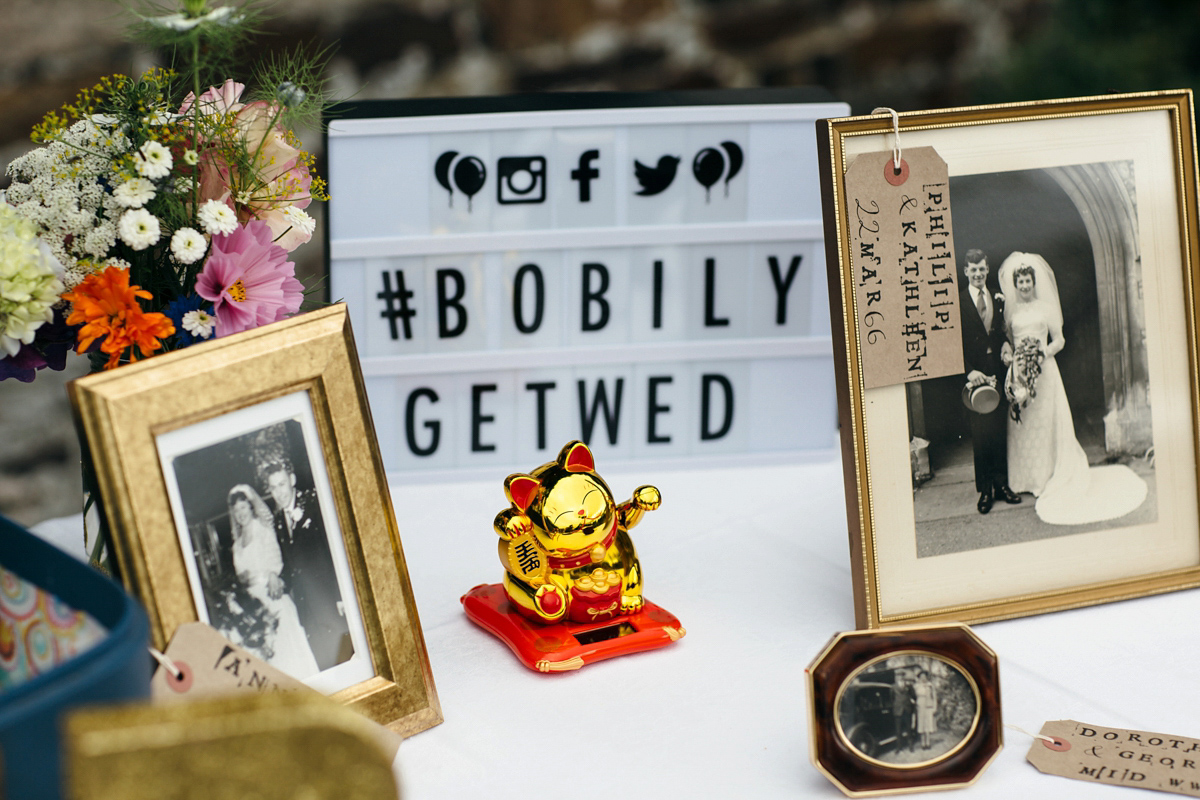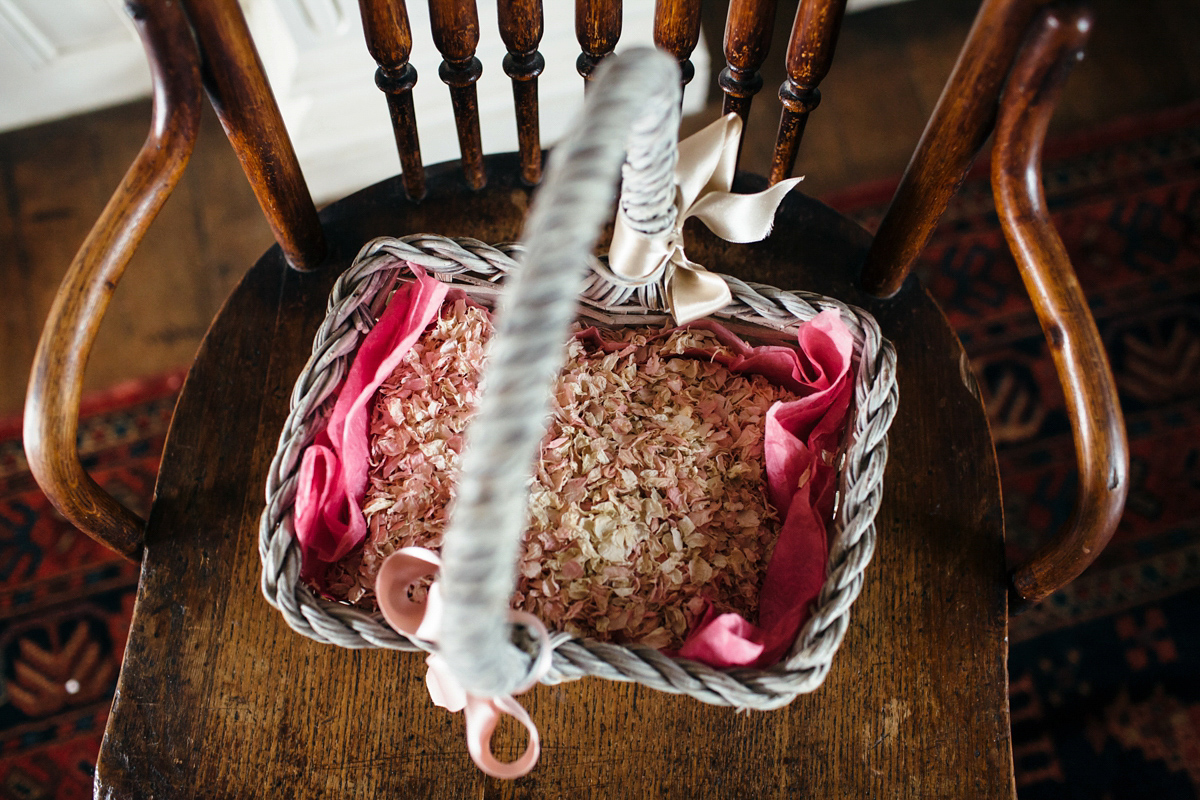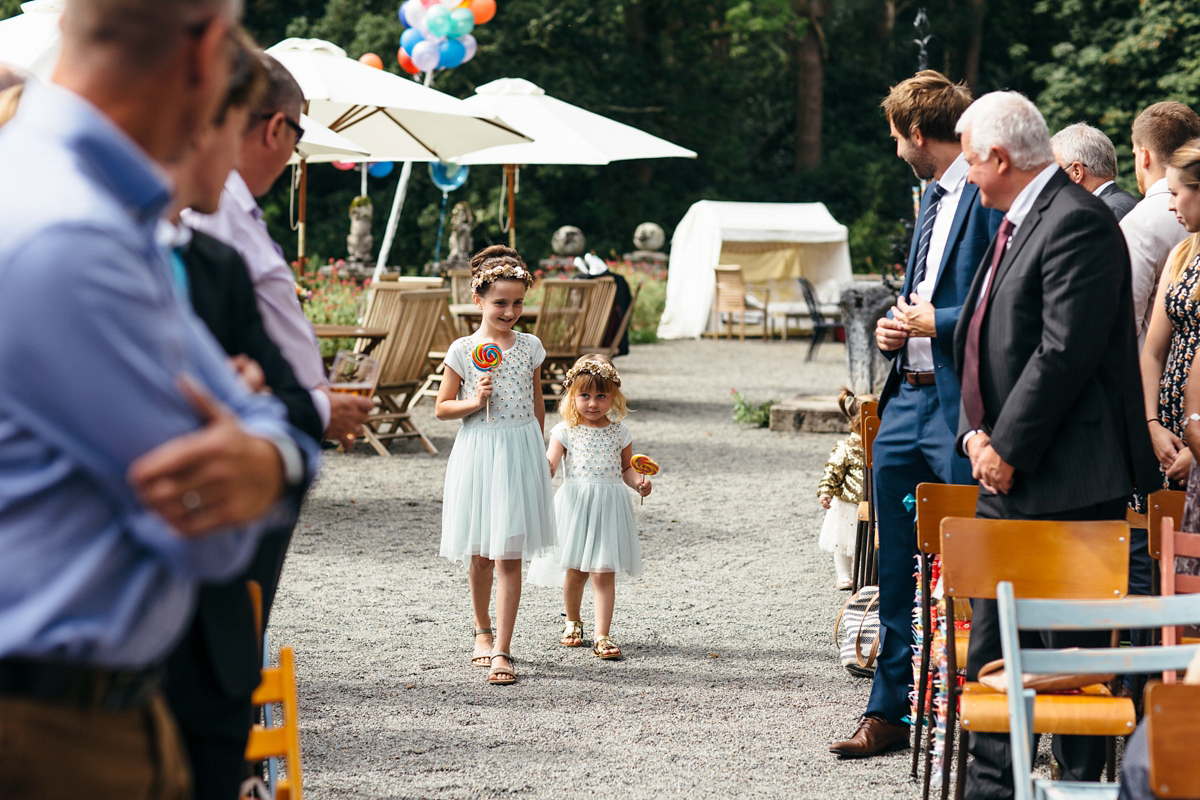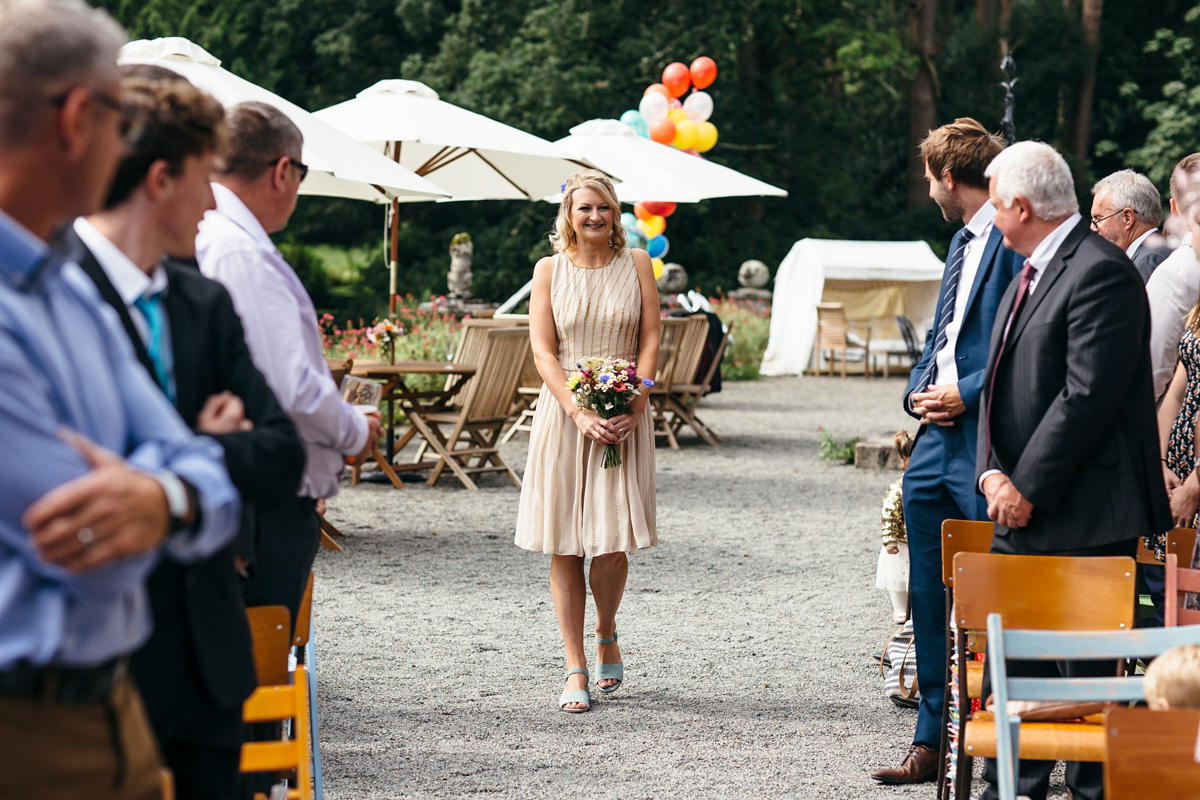 "My Dad accompanied me down the aisle but didn't formally give me away as I'm not keen on that tradition. I knew it meant a lot to him to walk with me and loved the time we had just beforehand."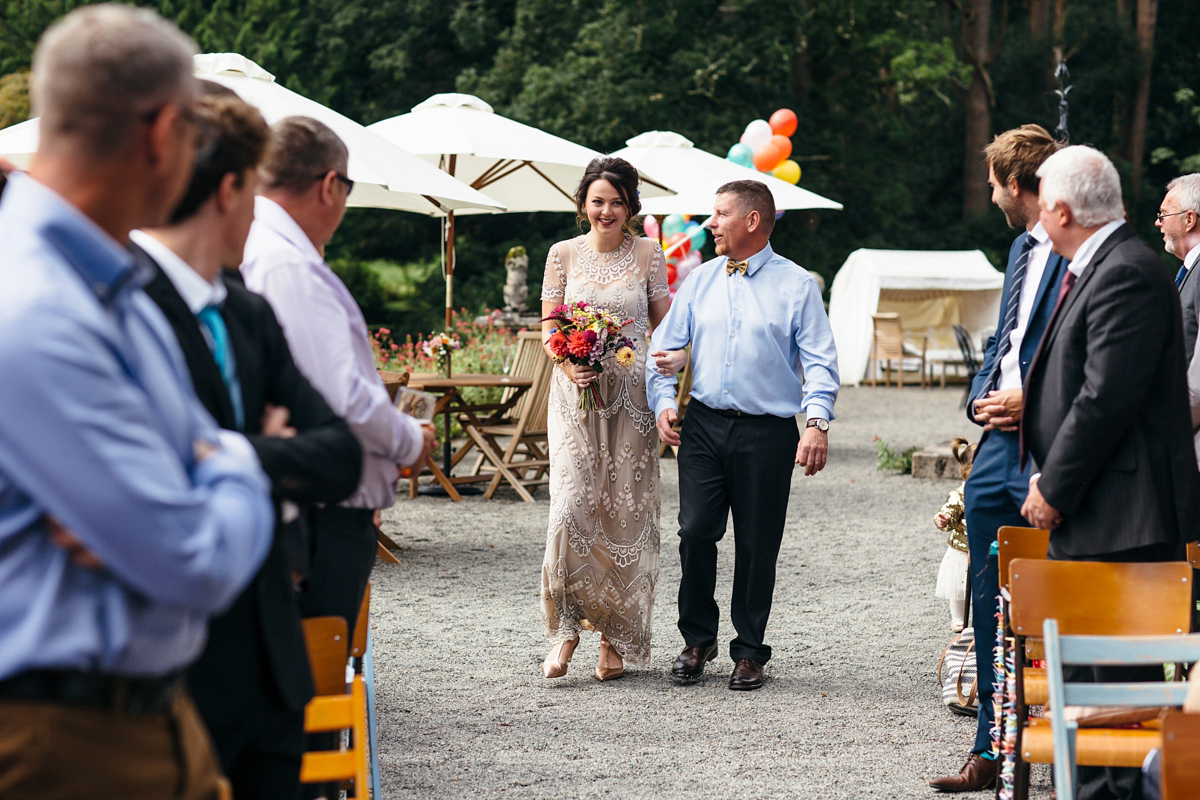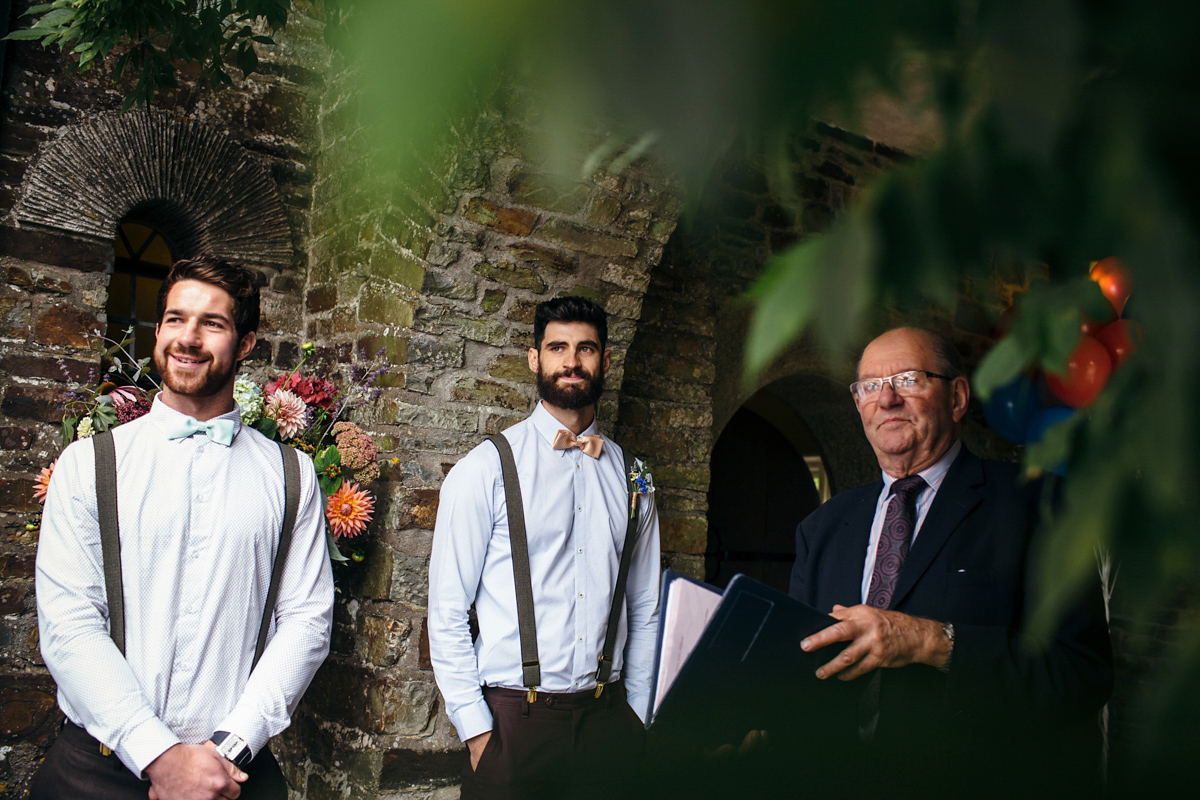 "Andrew Vanstone played our song 'Higher Love' by Prides on guitar as I walked down the aisle. Bob and I having both grown up with this sweetheart like a brother to us, it was very emotional to have him sing and play guitar. He played Mcfly's 'Love Is Easy' and an acoustic version of 'Latch' by Disclosure and Sam Smith as we signed the register. We did write a small section of personal vows but the registrar didn't read them!"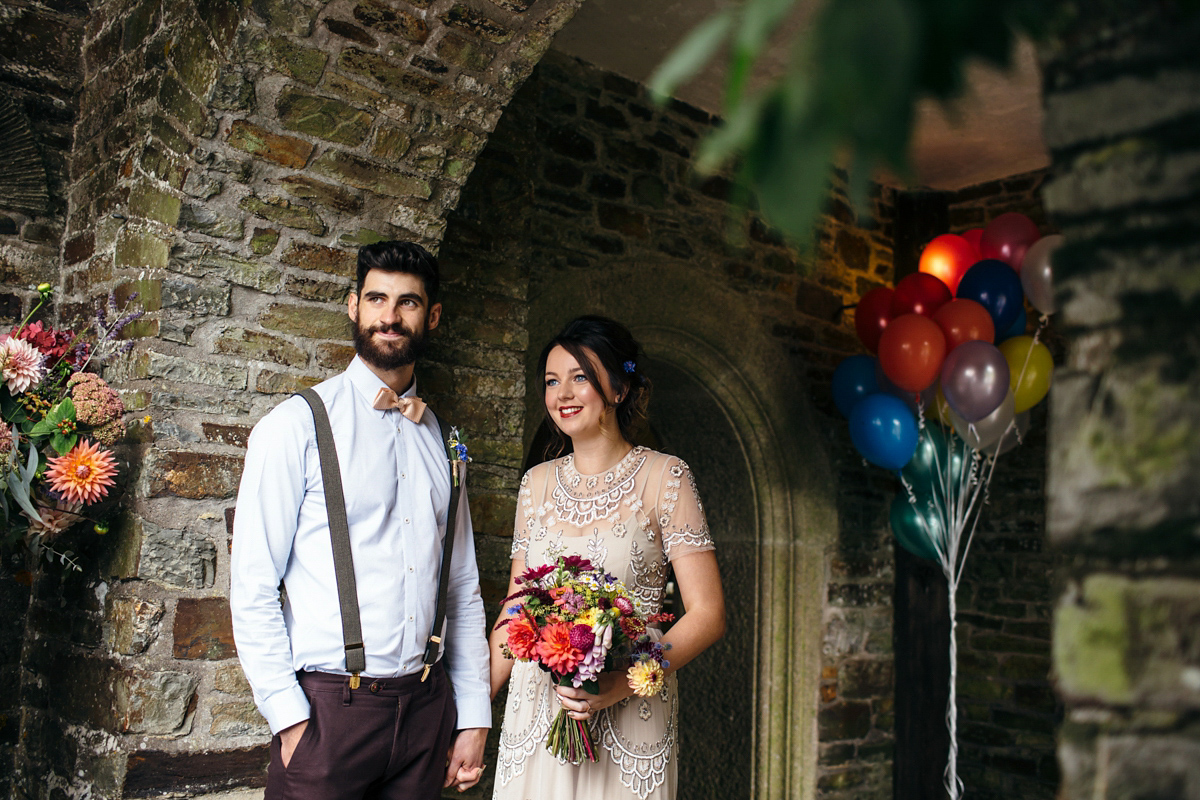 Emily's gorgeous mum read an extract from John Steinbeck's letter to his son, which had me, and Em's lovely auntie who was sat next to me, in floods of tears. Bob's gran also read That Still and Settled Place by Edward Monkton; Mr and Mrs Colwill felt both readings perfectly described their relationship.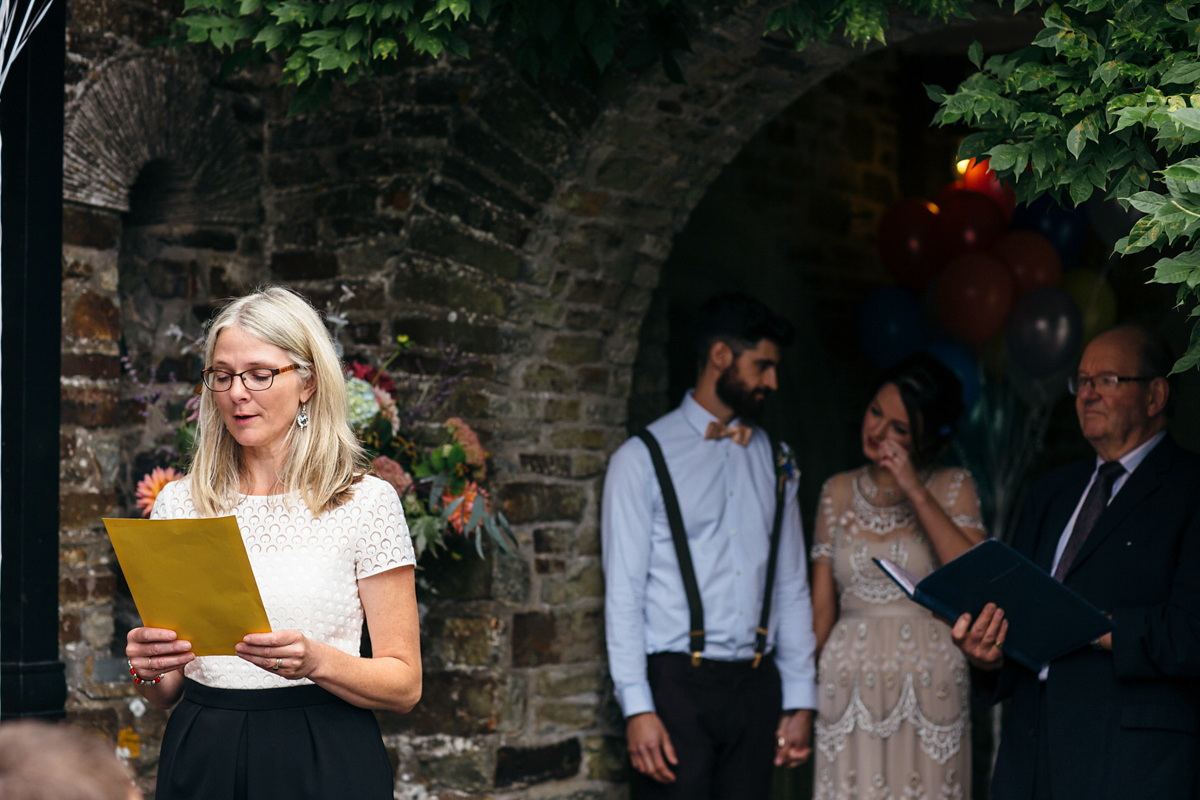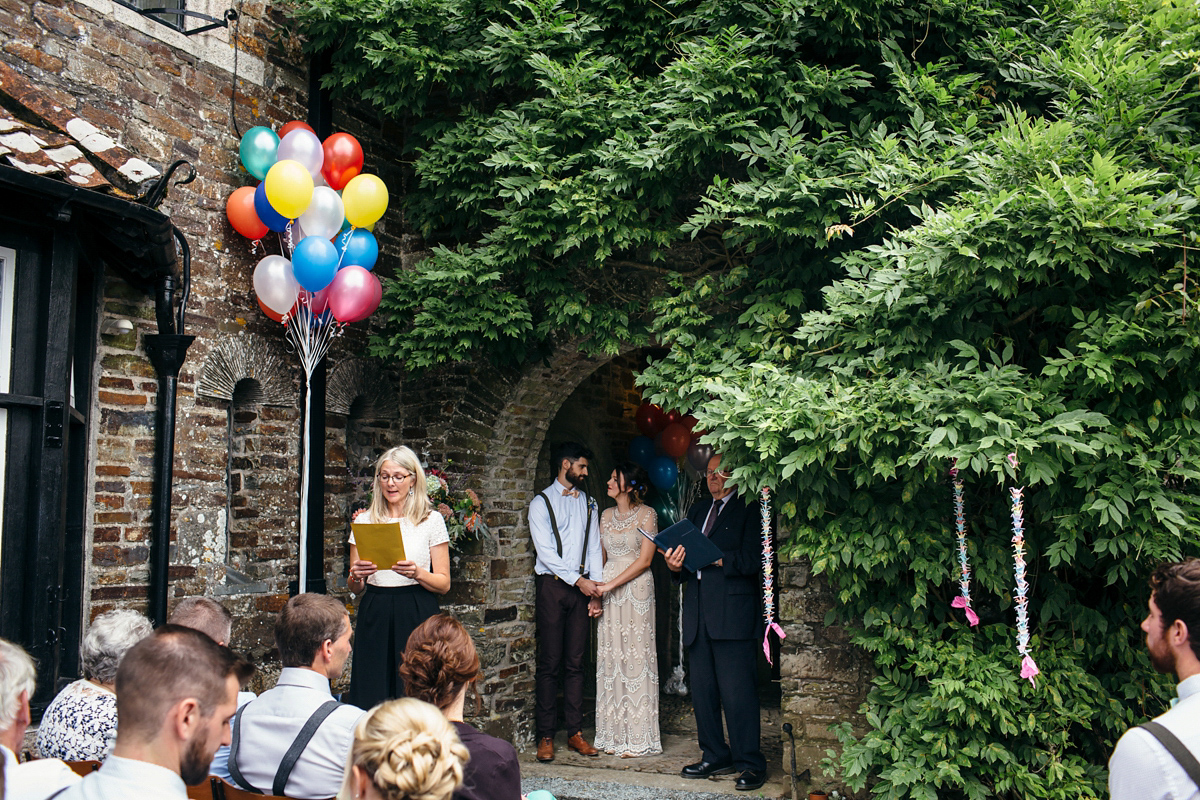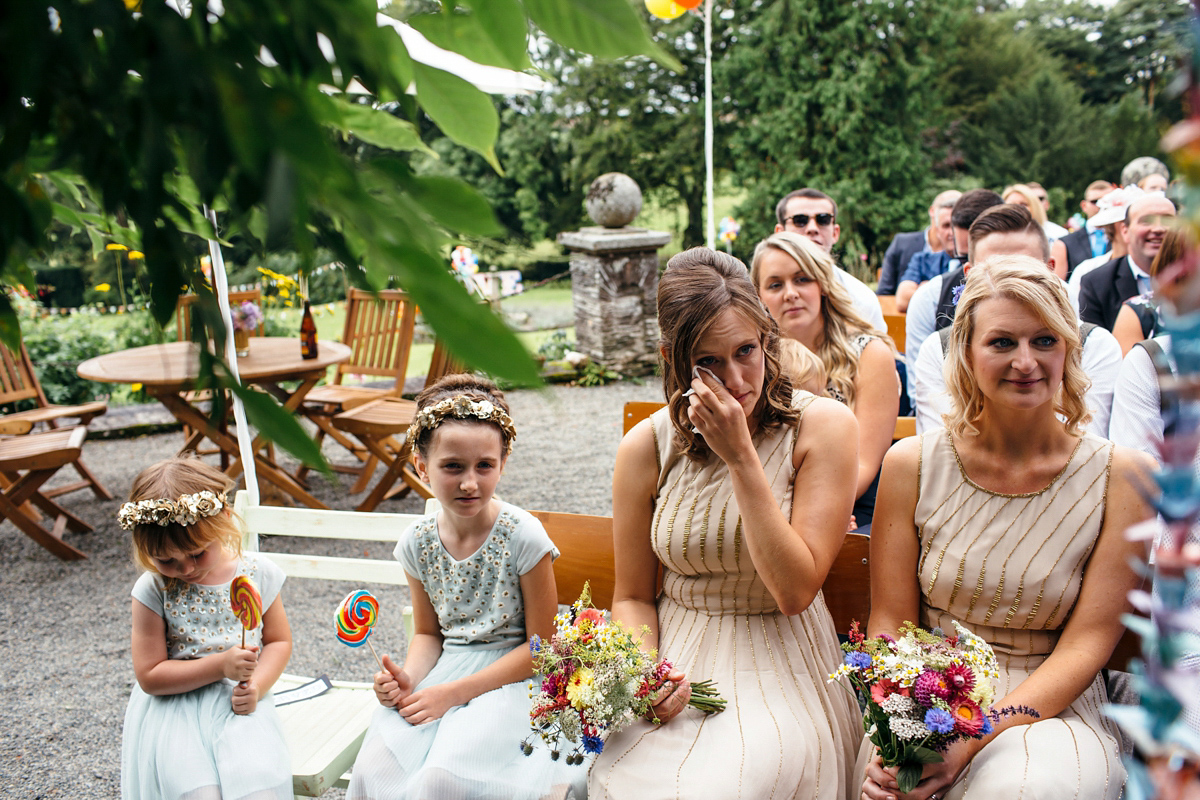 Bob sealed the deal by adding a curved rose gold band to Emily's stunning Anna Sheffield 'Bea' engagement ring of rutilated quartz and black diamonds, while his wife delightedly made him her husband with a rose gold band from Goldsmiths.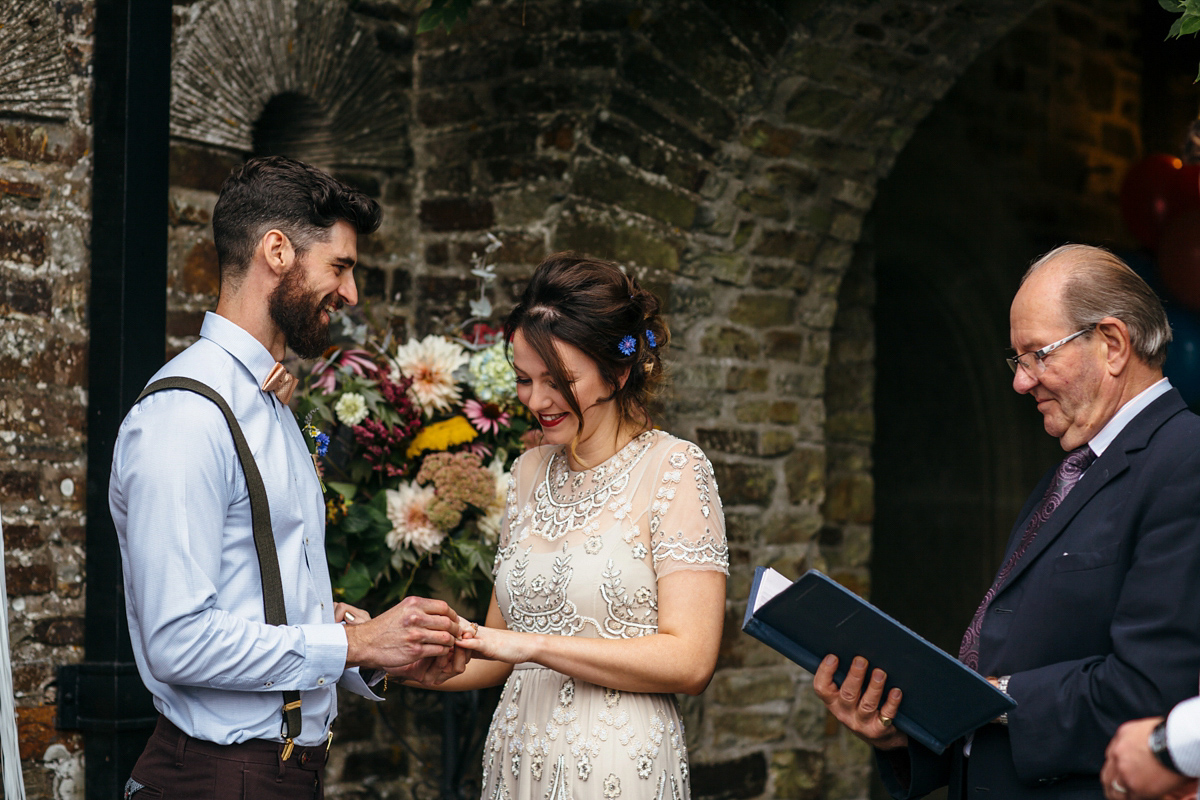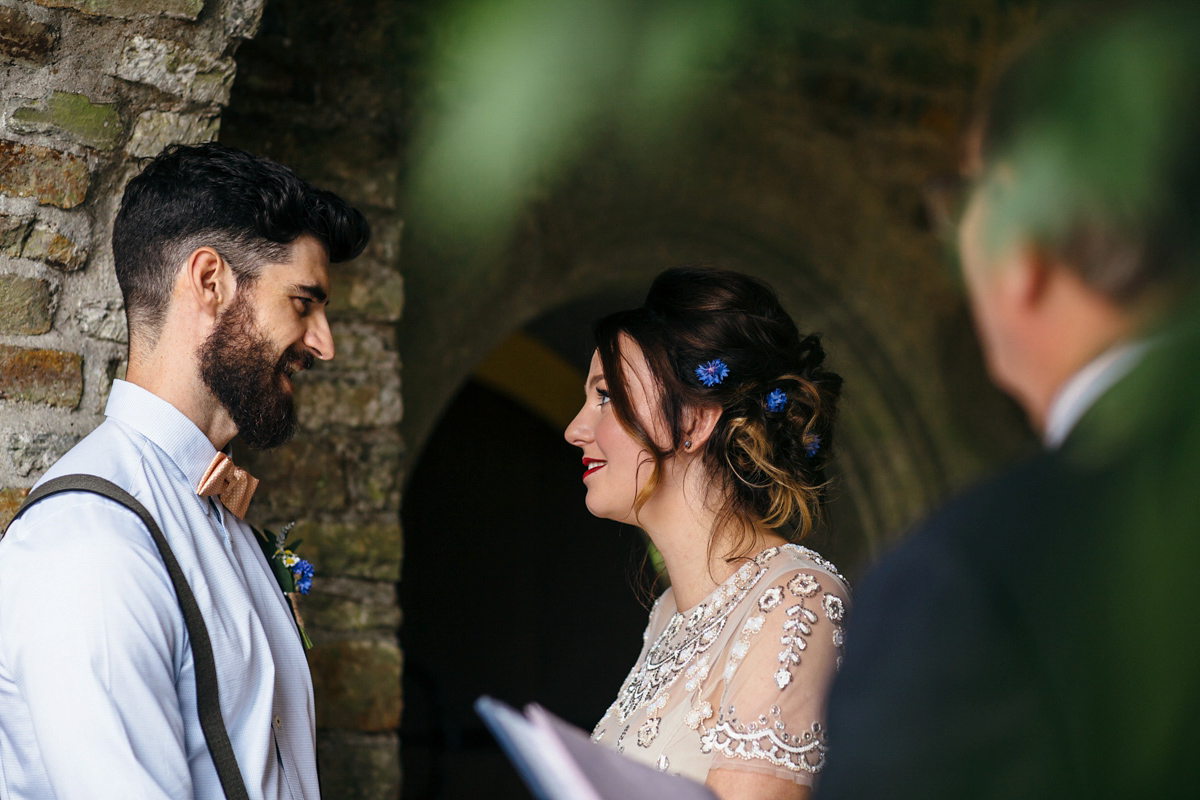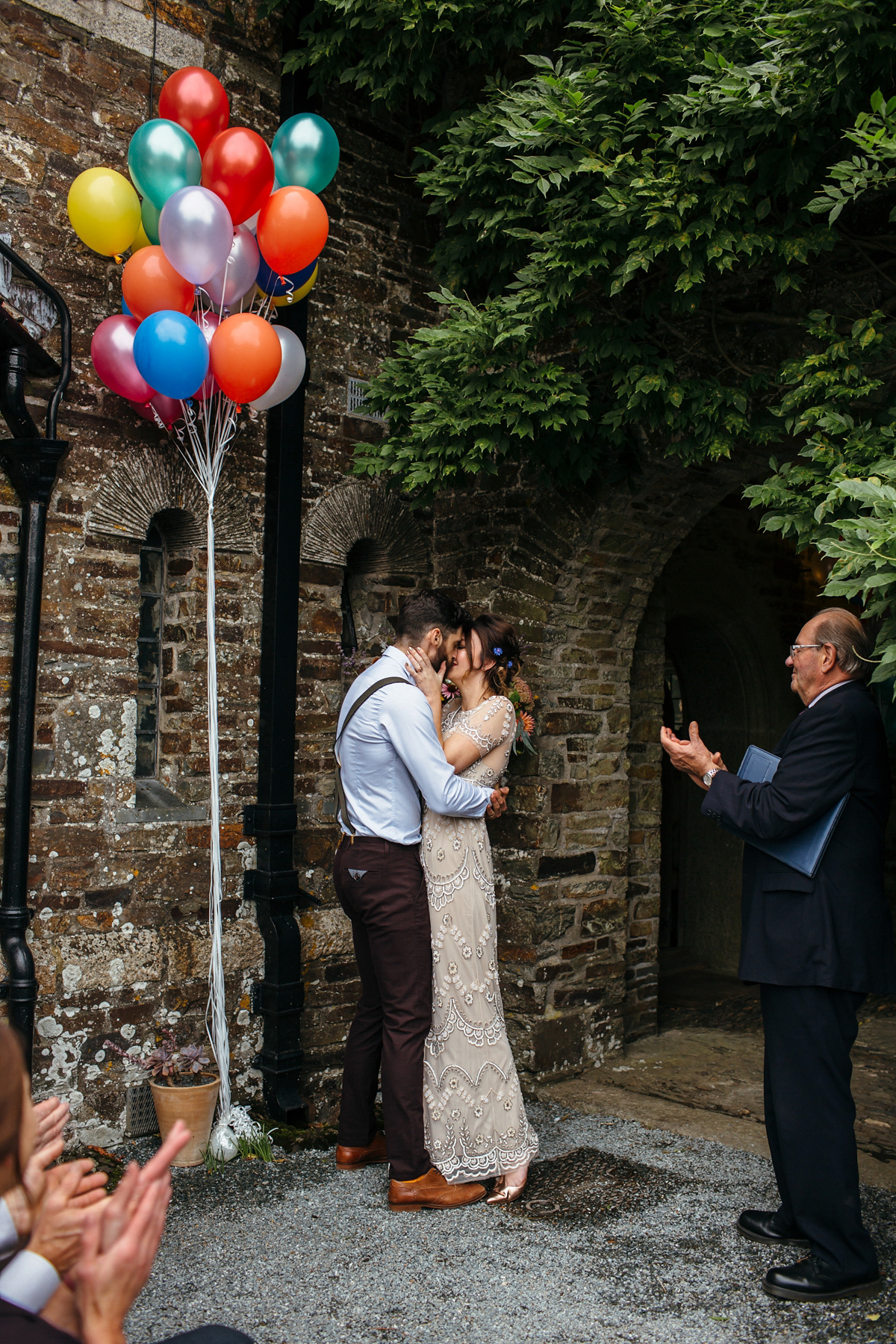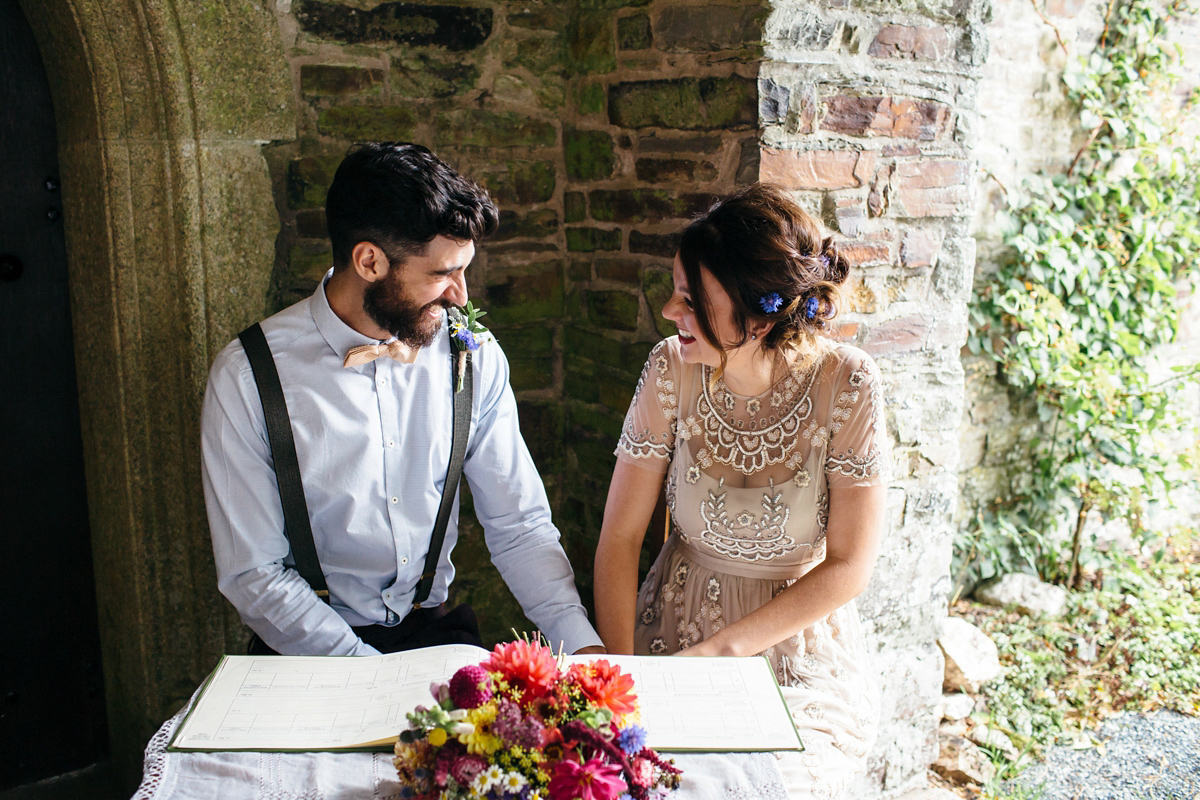 "We didn't have a first dance but walked back down the aisle to Paramore's 'Still Into You' whilst having confetti thrown at us. Bob then swung me round and we had a moment, it was euphoric!"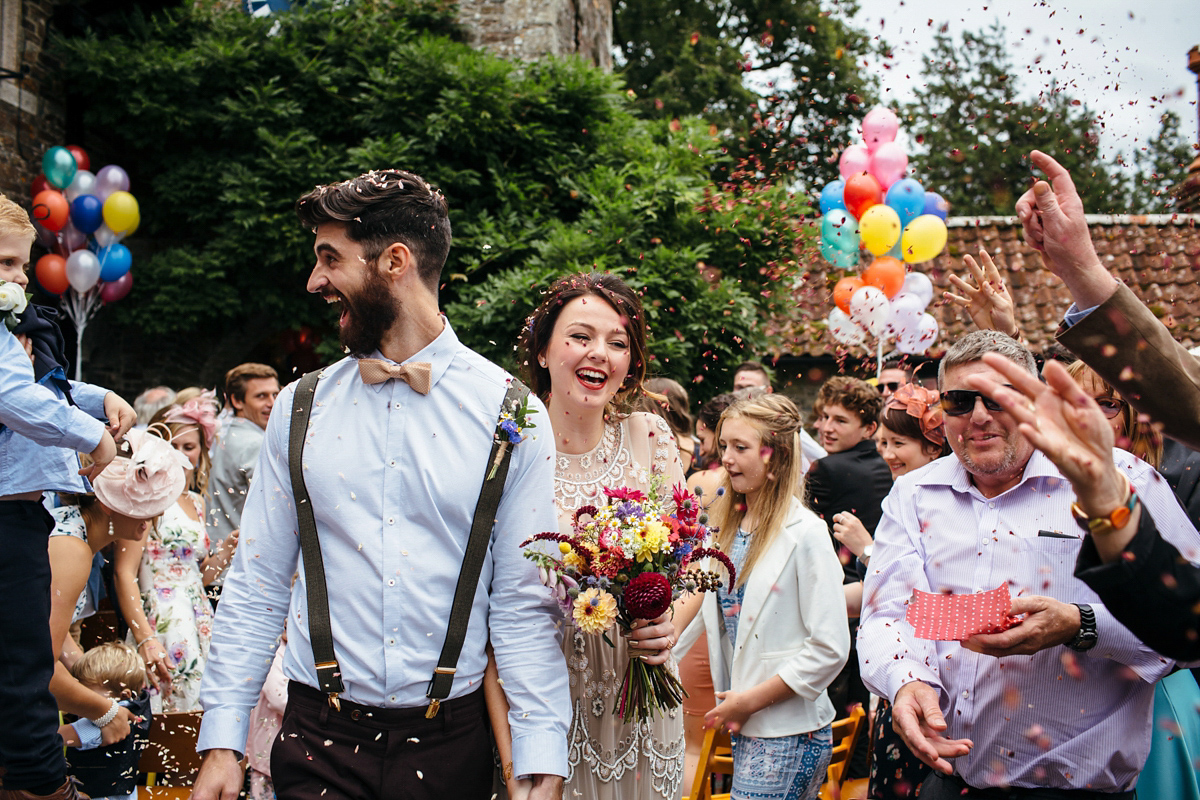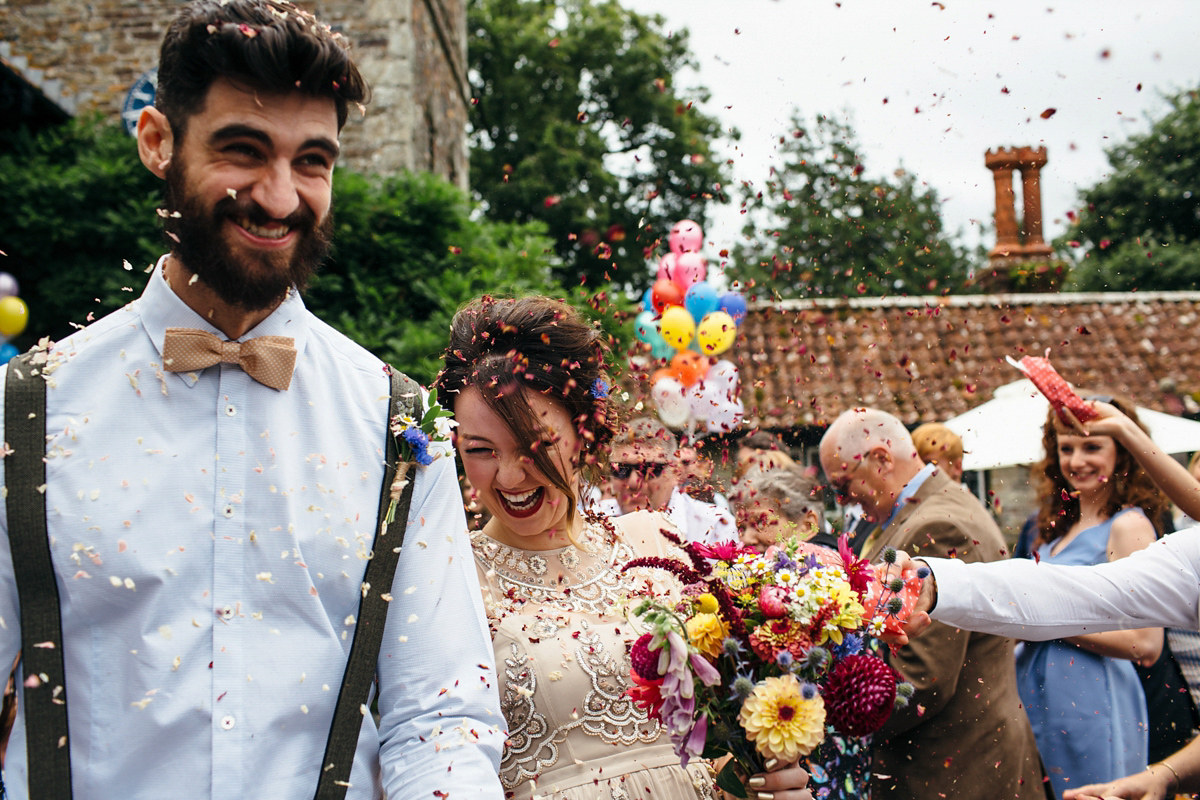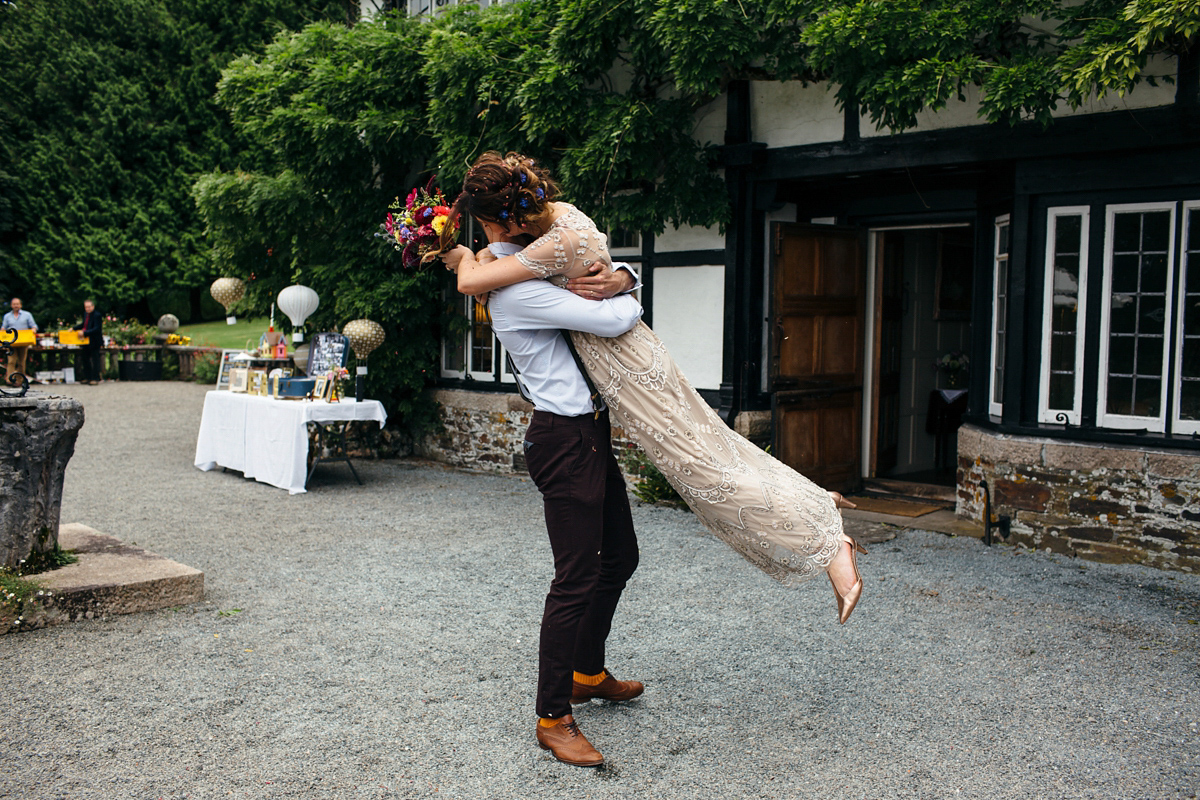 On hand to capture every heart-stoppingly beautiful second was Emma Latham of Freckle Photography. Emma takes the time to get to know each and every couple she works with and unobtrusively captures those subtle, emotional moments which bring that love-filled wedding atmosphere flooding back. Take a look at a little more of Emma's gorgeous work on our blog – this is one seriously talented and lovely photographer.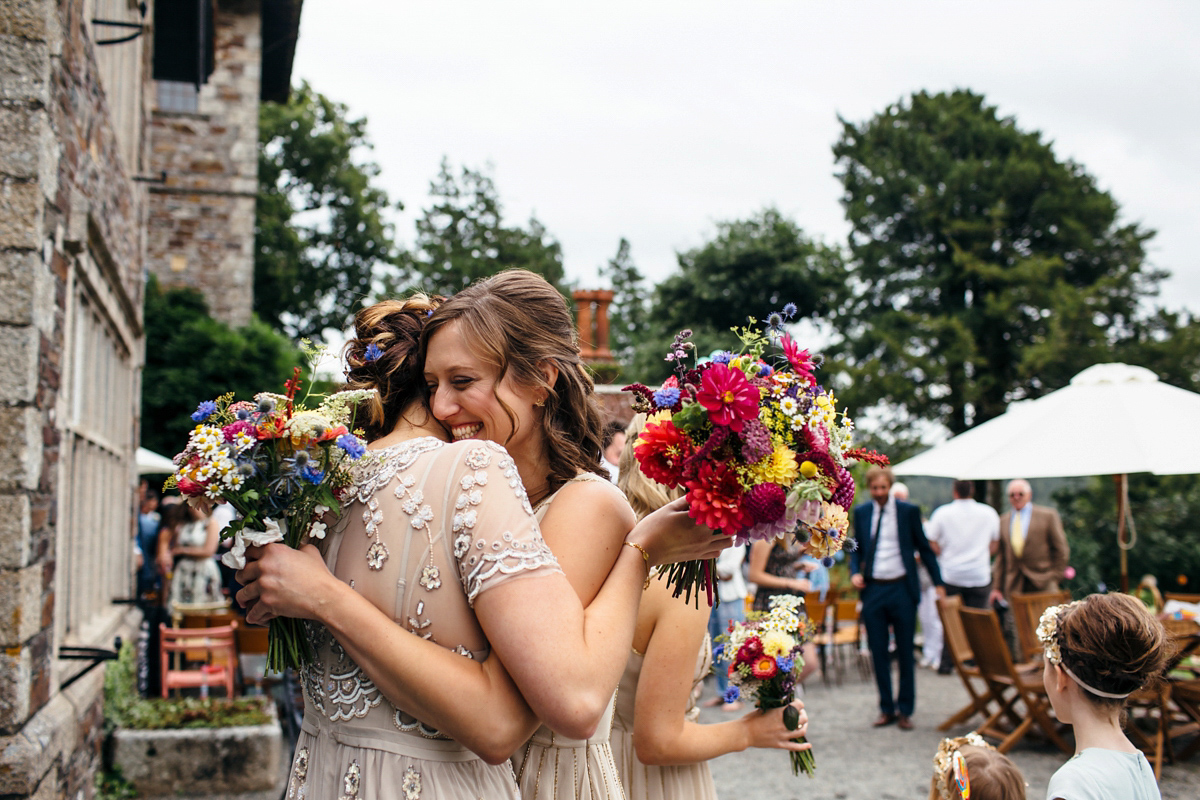 "I don't know where to start on this glorious ray of sunshine. Emma is an amazingly talented photographer, and genuinely makes the area around her better by being in it. We both got giddy with excitement – she makes you feel carefree, comfortable and happy by being such a lovely, fun and cheery human being. I love our photographs and I love any excuse to be near this person."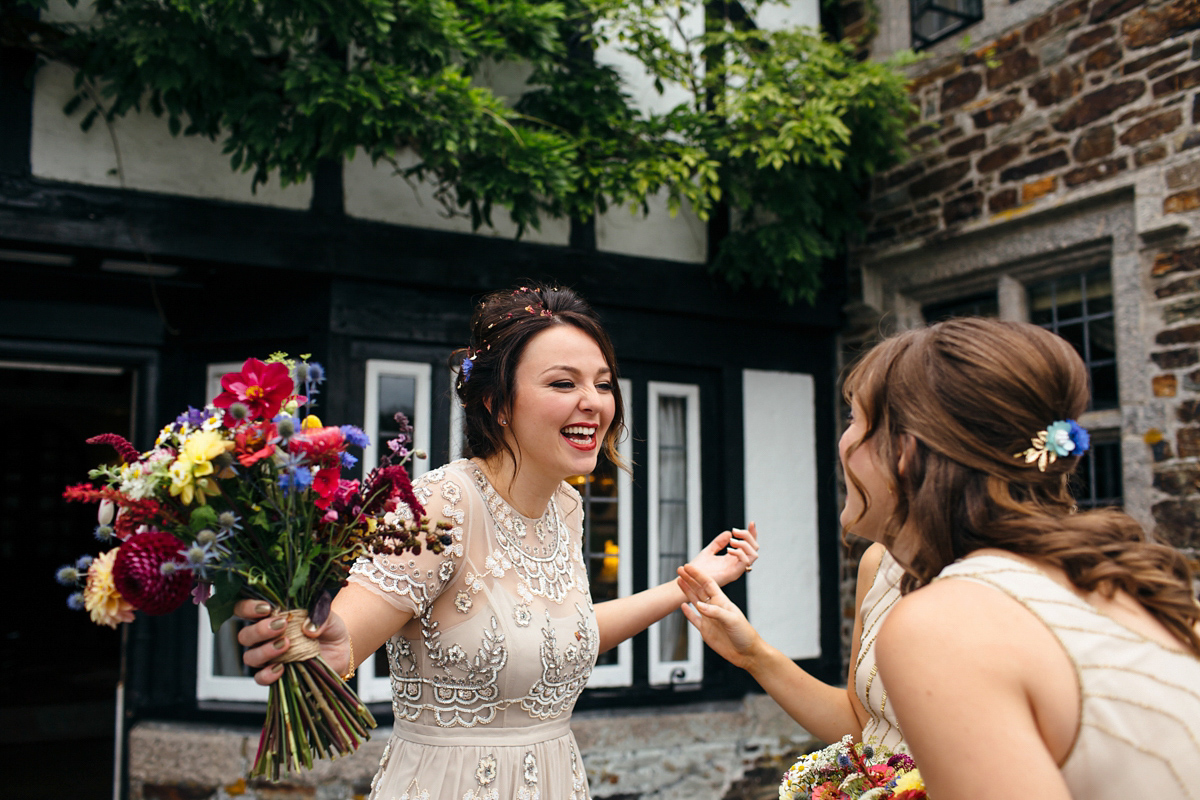 "Sam Brown of SamB Video is one of our best friends and a very clever videographer. He has an amazing eye for detail and little moments of happiness and we both love him dearly. I'm SO glad we have a video of the day, it brings it to life and my niece asks to watch it and sings along every time she sees me!"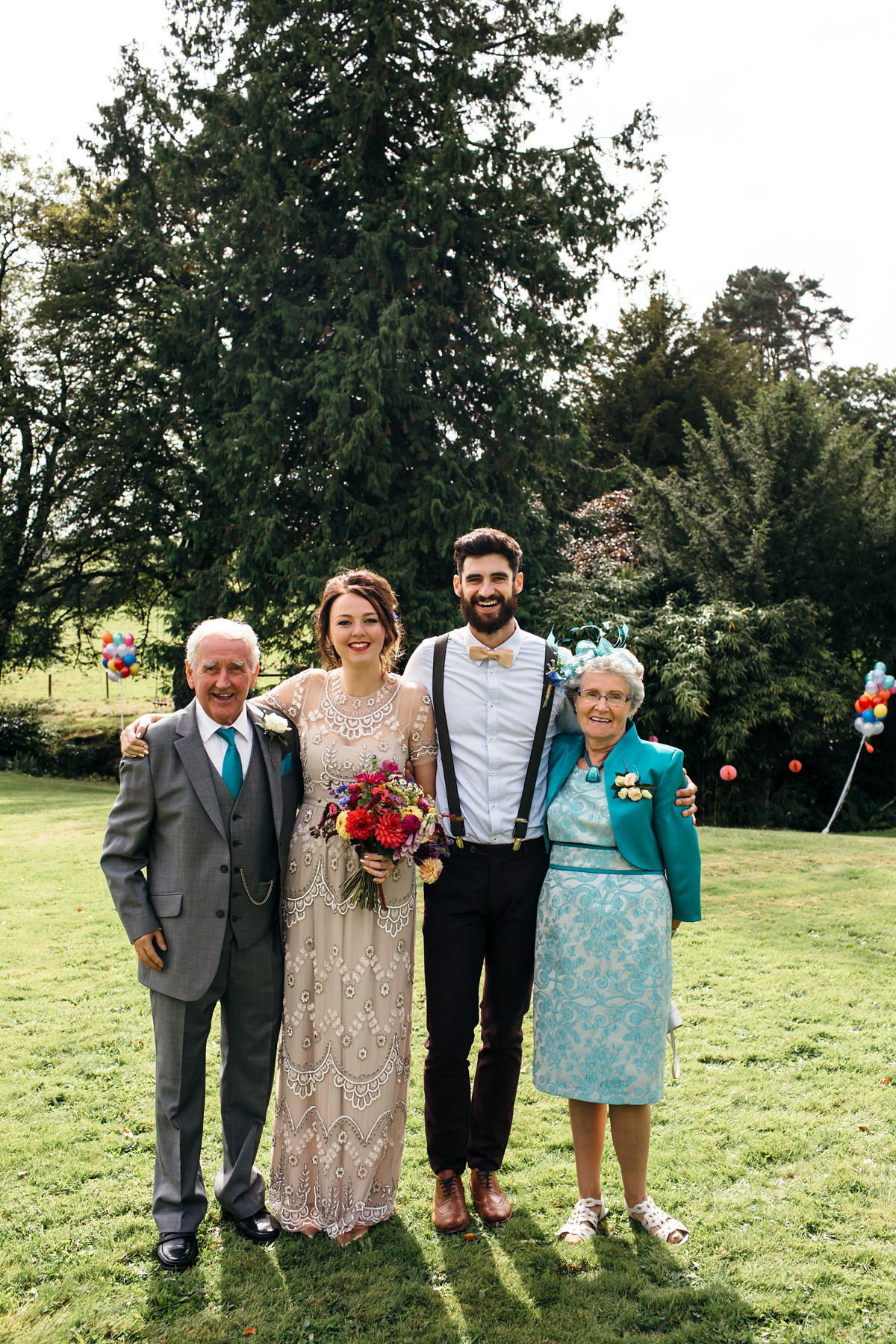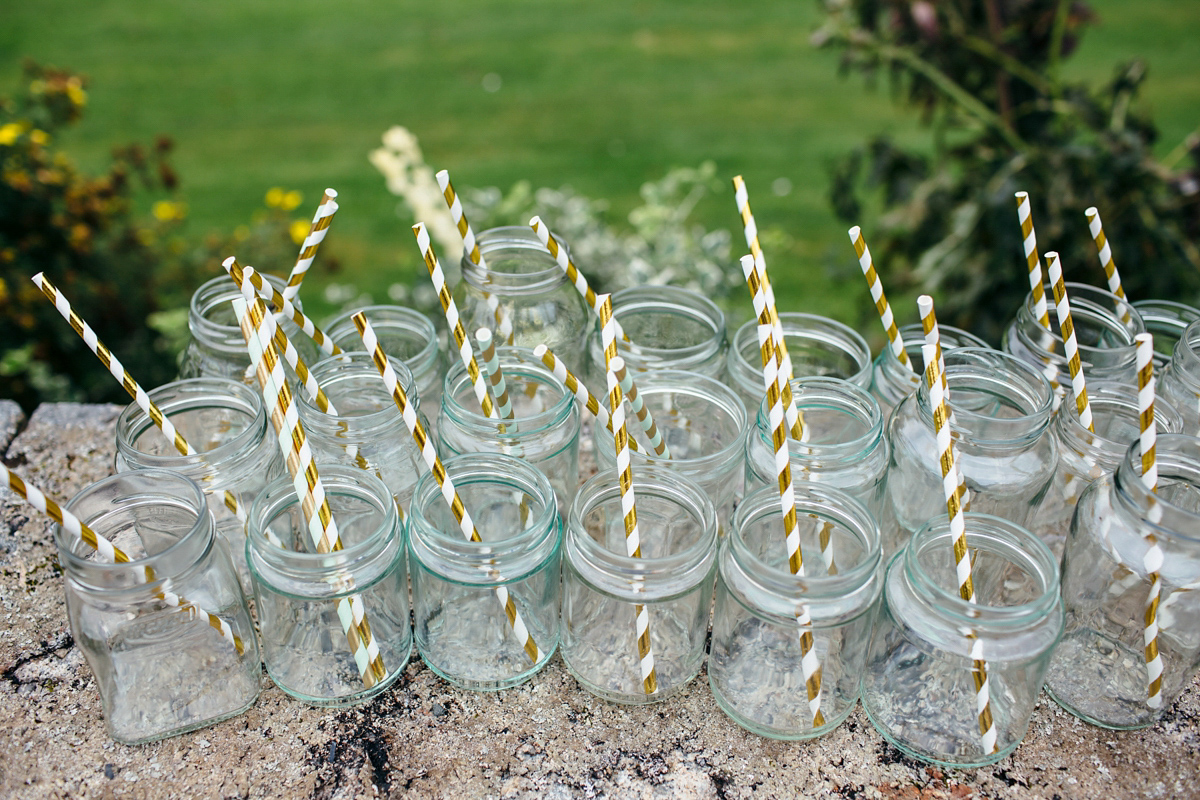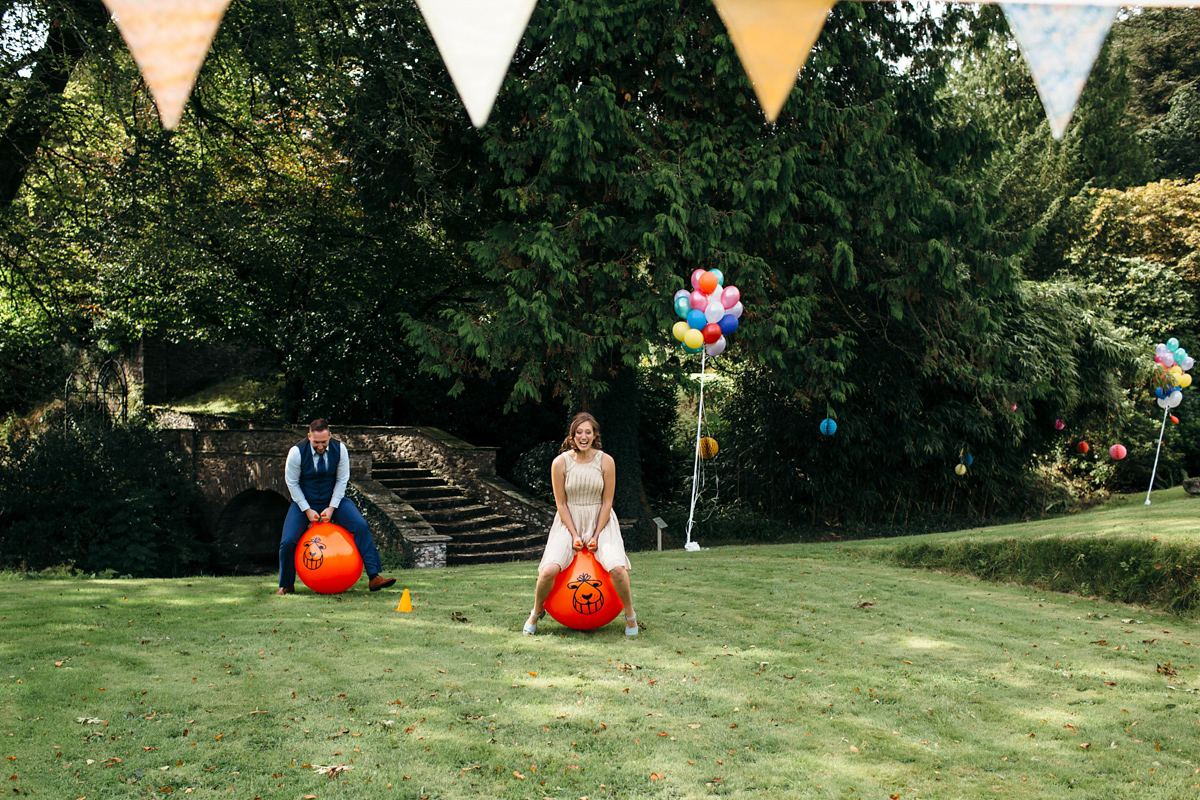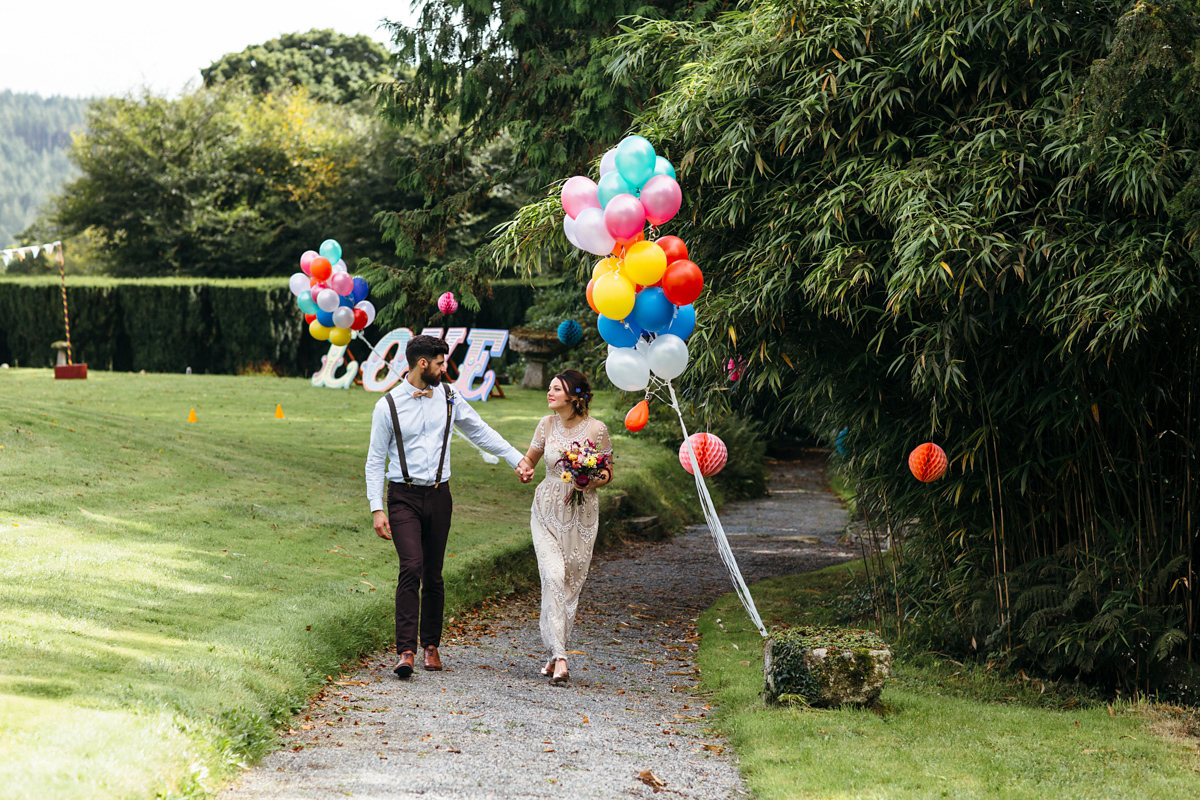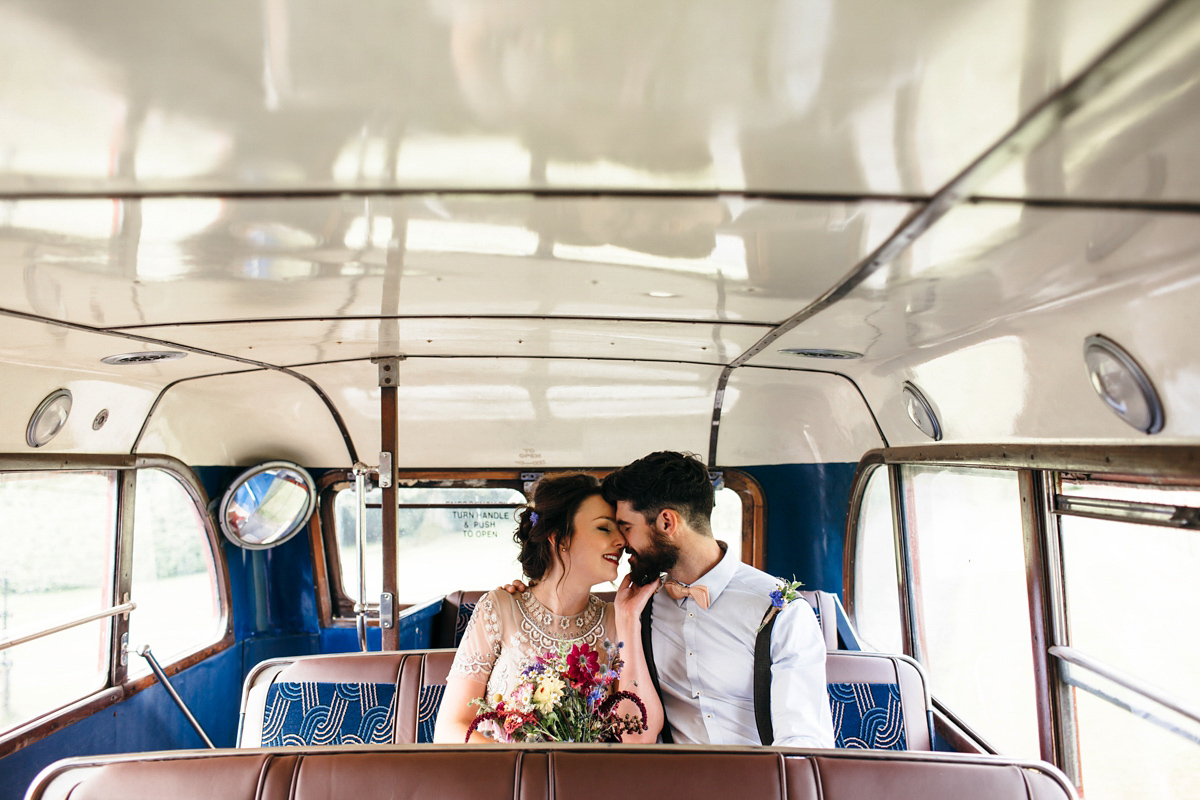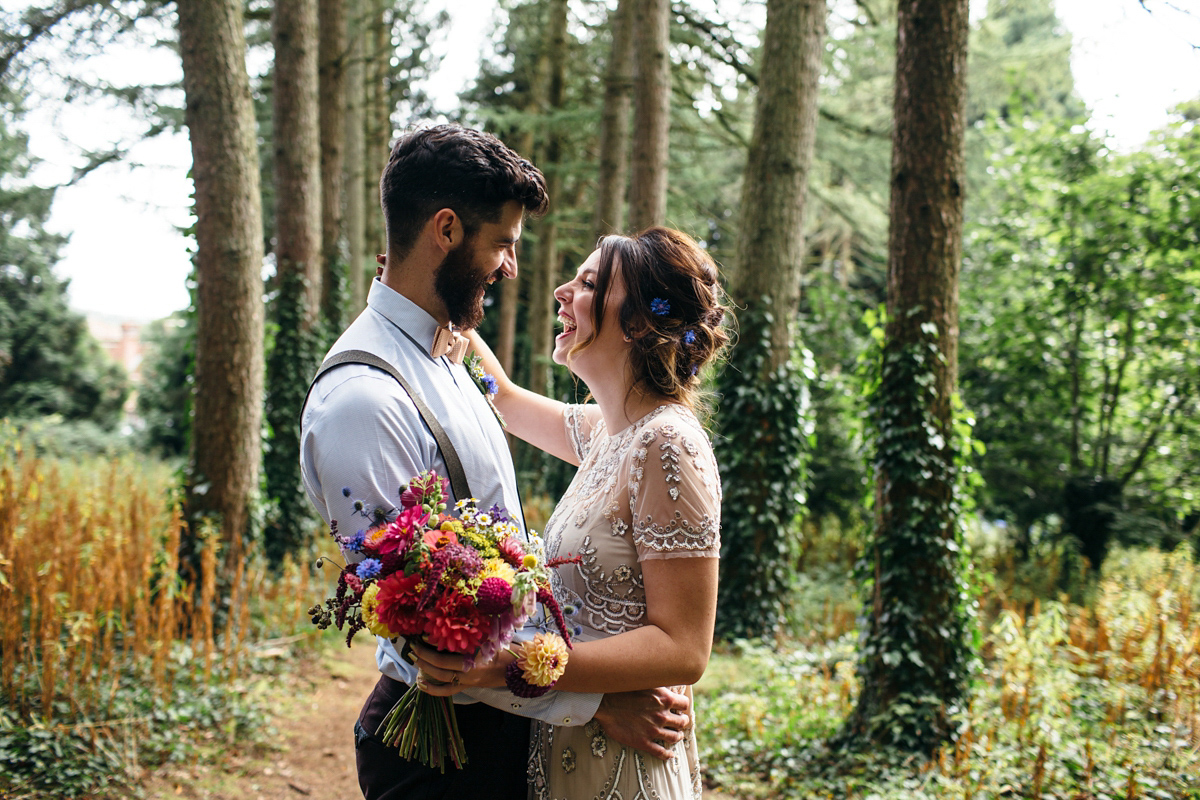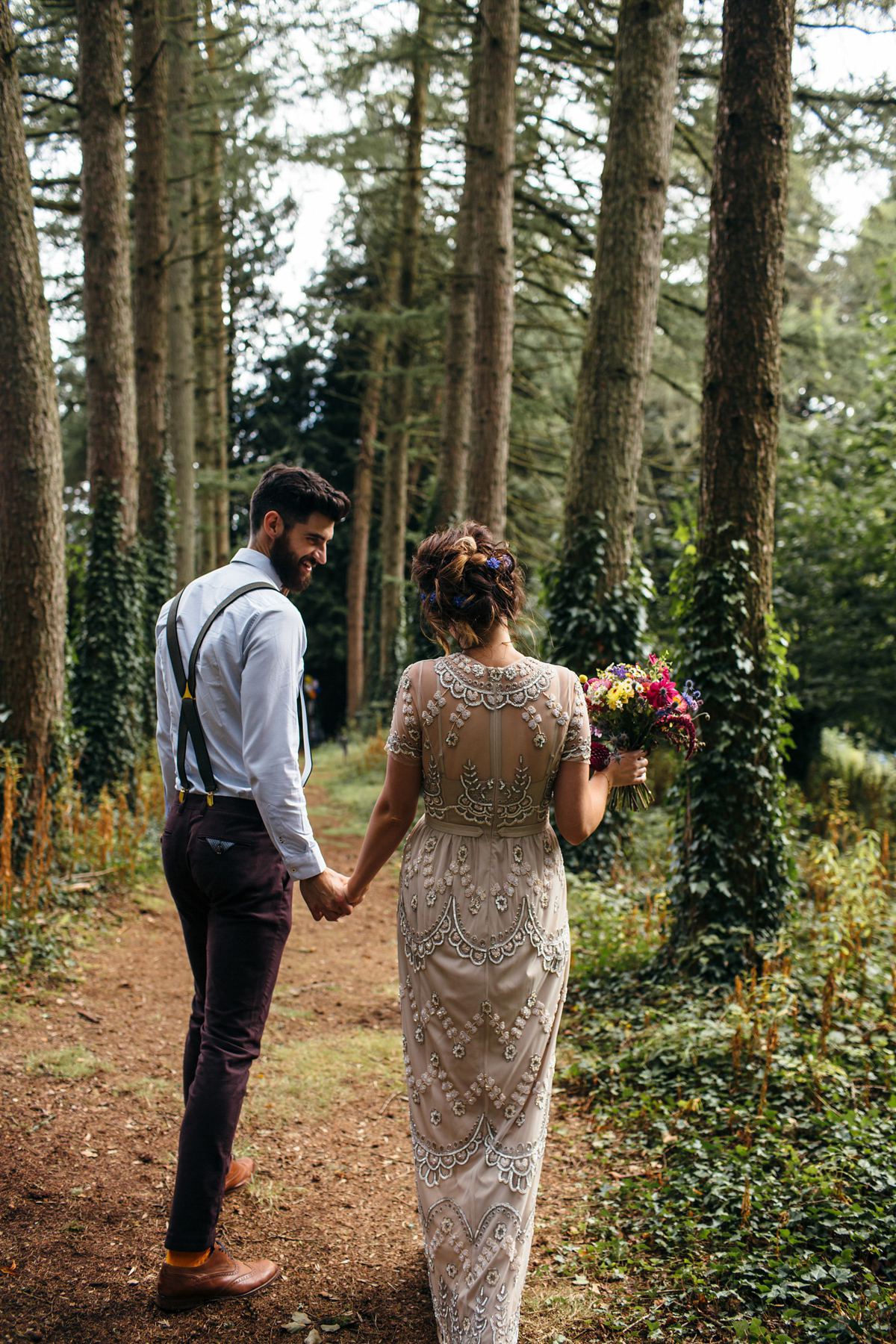 Late in the afternoon, the giddy wedding party moved into one of Coombe Trenchard's glorious rooms for a series of hilarious and deeply moving speeches, culminating in the cutting of a staggeringly beautiful cake and the most delicious afternoon tea I've ever been lucky enough to devour.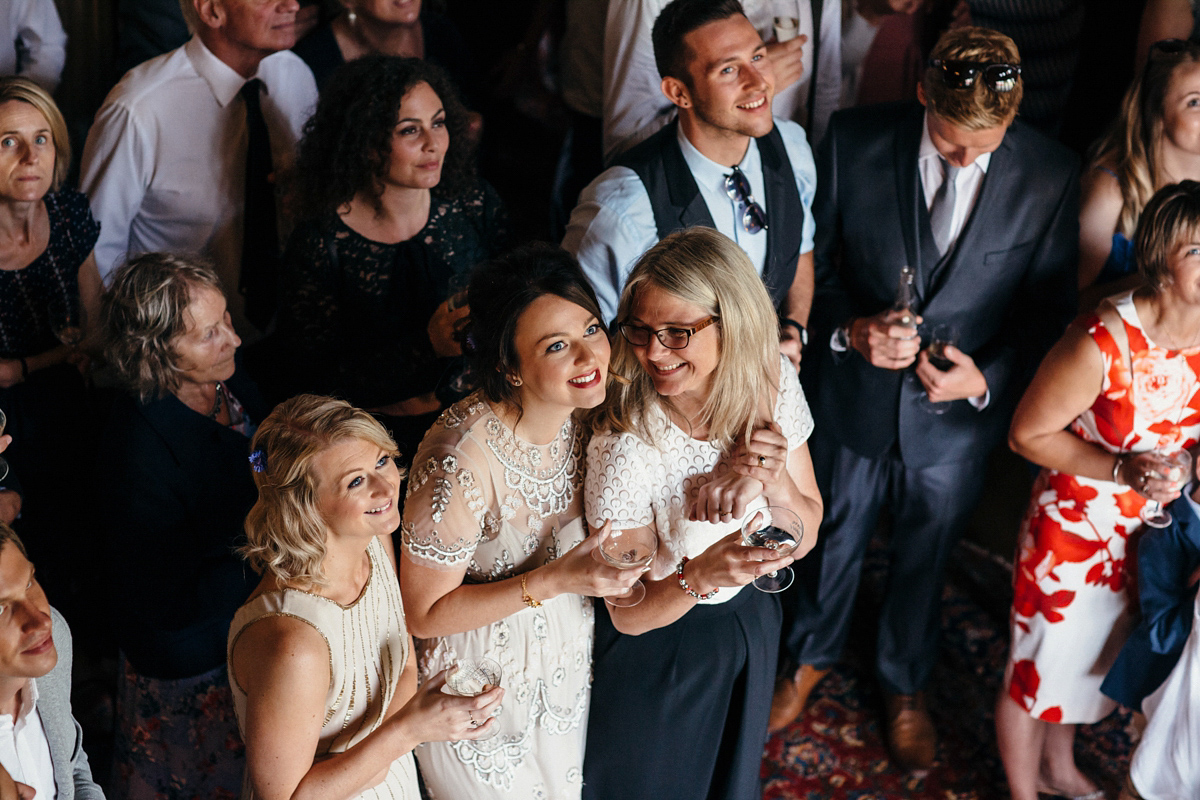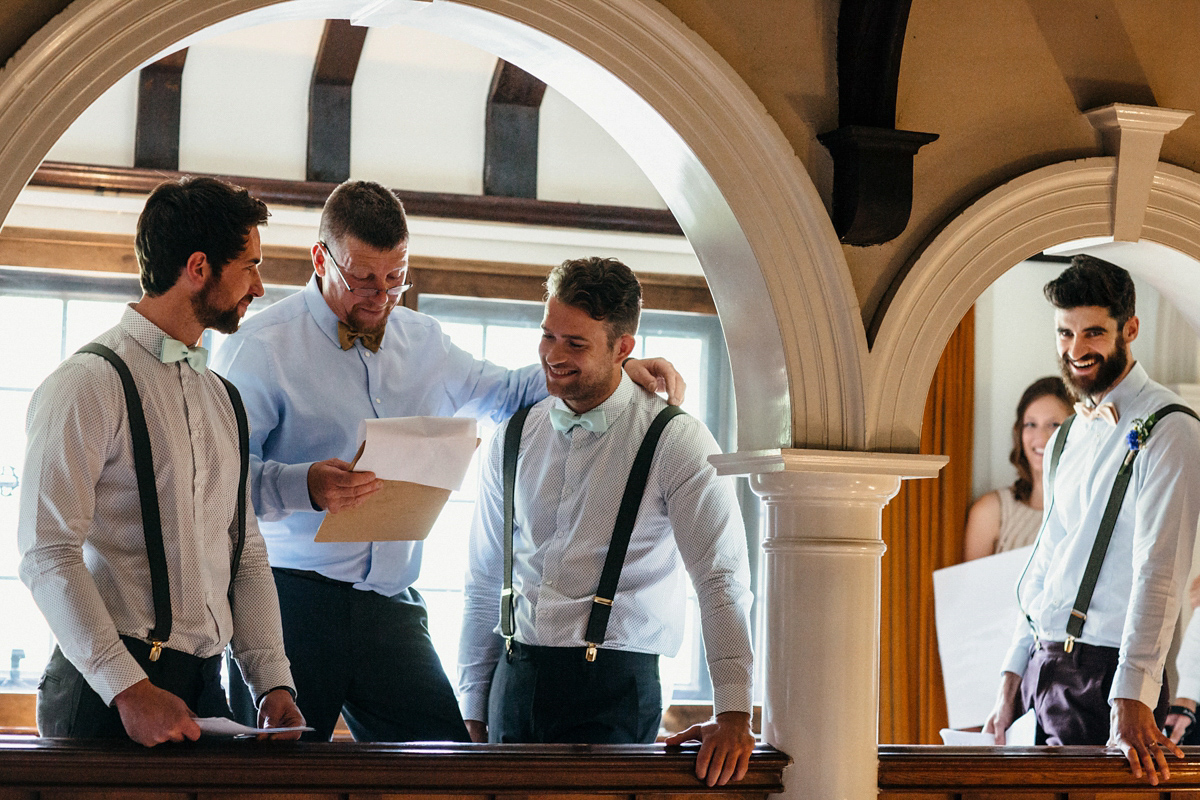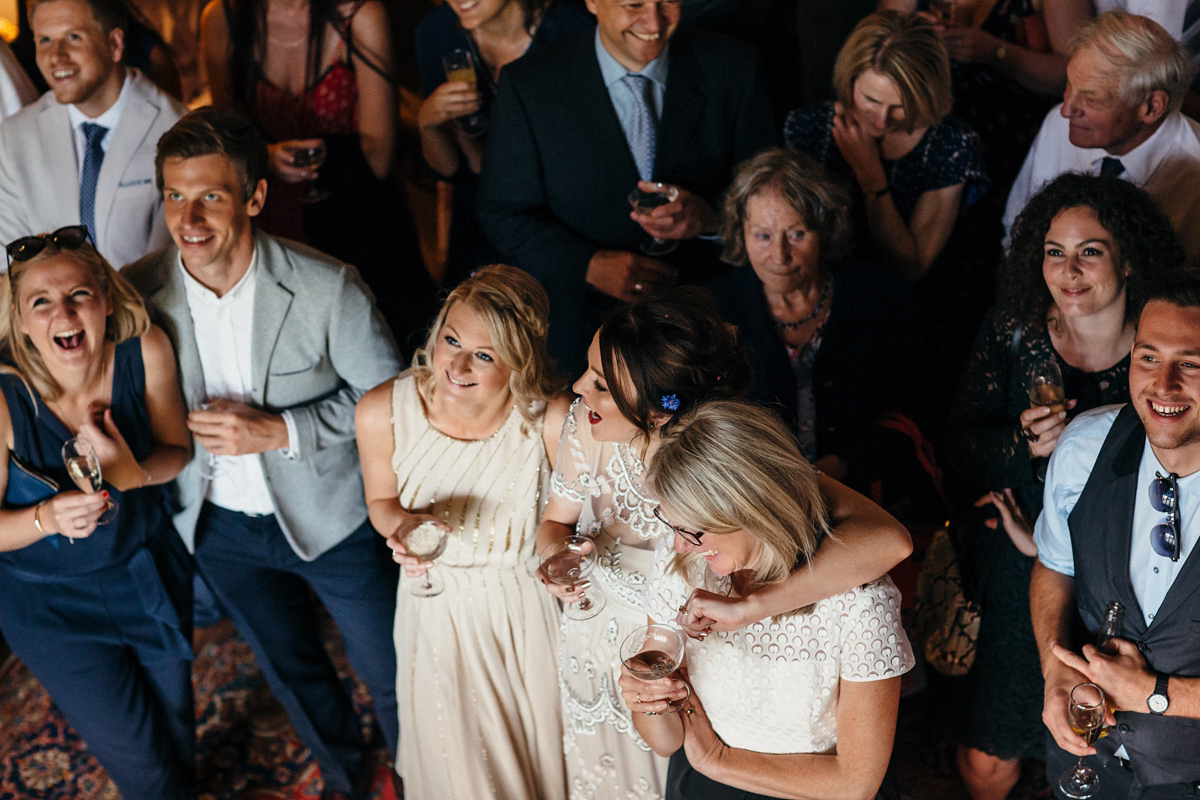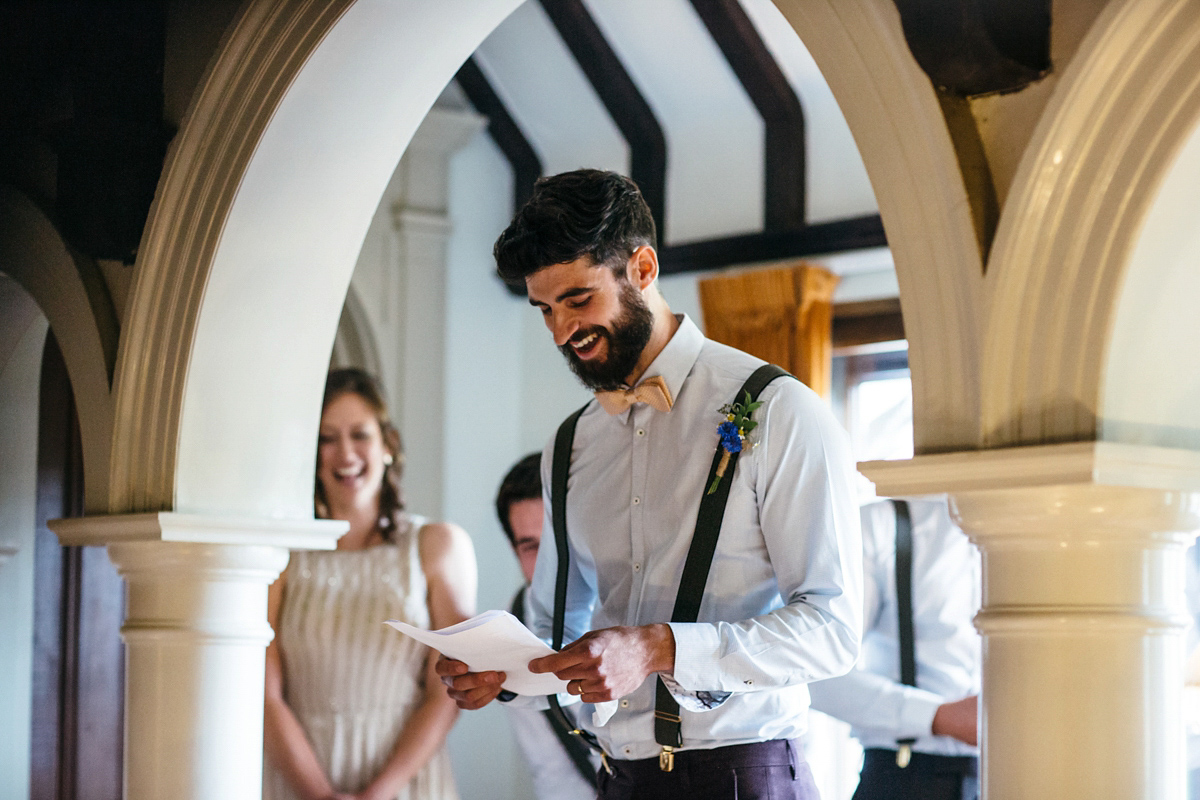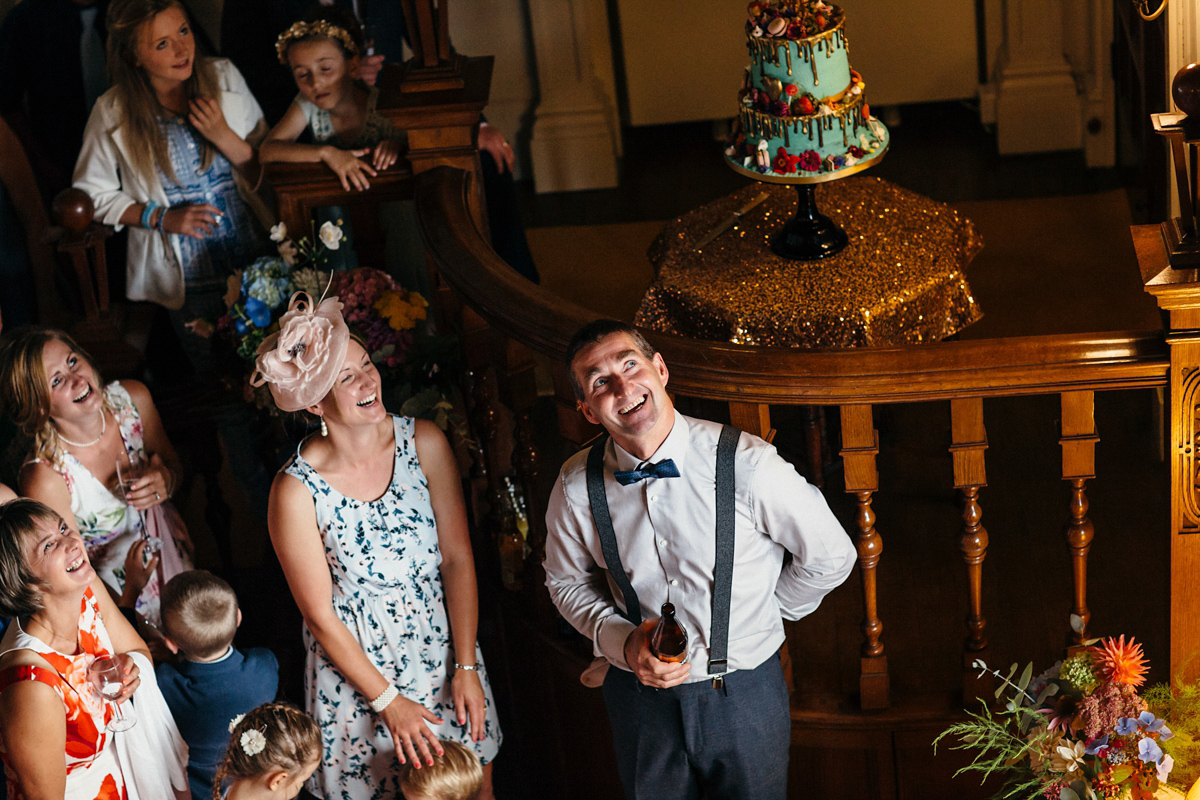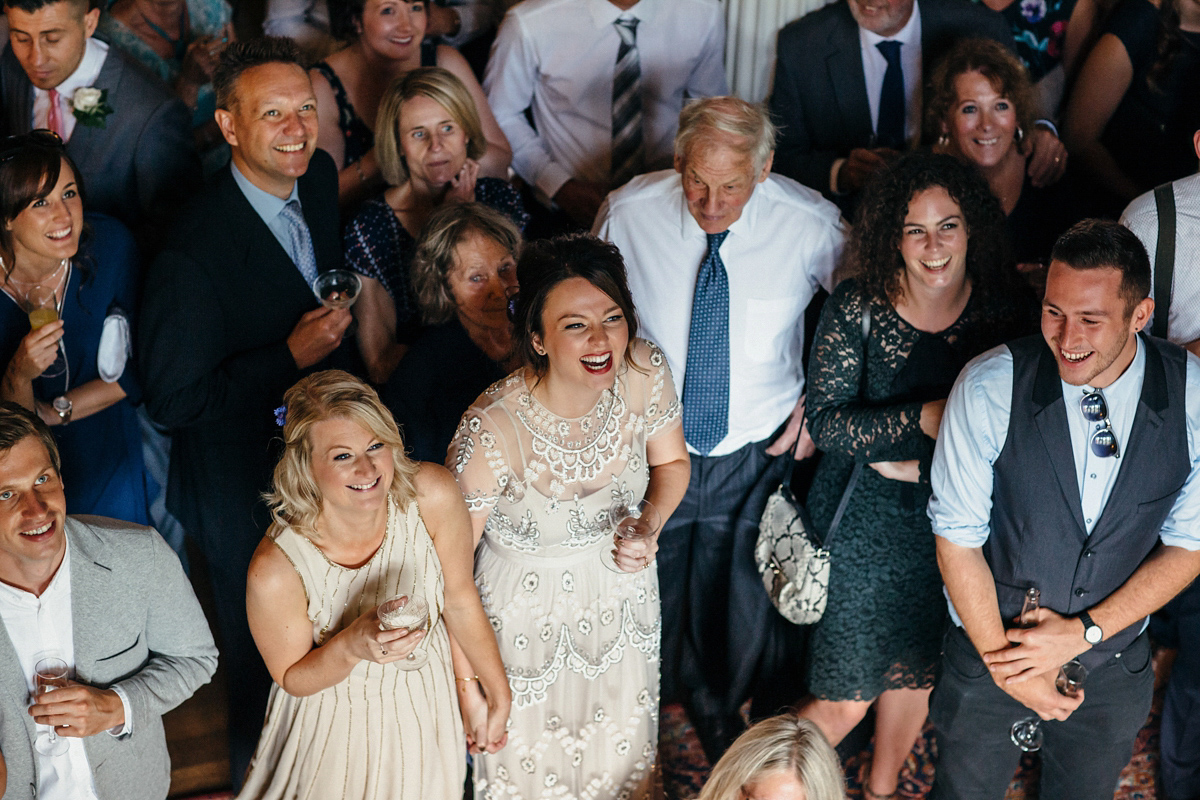 "Our cake was by Hannah's Cornish Cakes. Hannah has been a friend for a long time and is a total perfectionist. Her cakes are exquisite and after showing her a few pictures of what we were looking for I trusted her to run with it and come up with something spectacular. We each chose a flavour; Bob went for lemon and I went for chocolate fudge and everyone commented on the most awesome wedding cake ever!"
"Seeing it on the morning actually took my breath away and the cake topper was a present. We also had a cheese cake comprised of cheese from our local deli that went down a storm (sorry, that might have been me.) Coombe Trenchard provided a pretty darn special afternoon tea that was insanely delicious and blew our guests away. Sarah's food is some of the best I've ever eaten."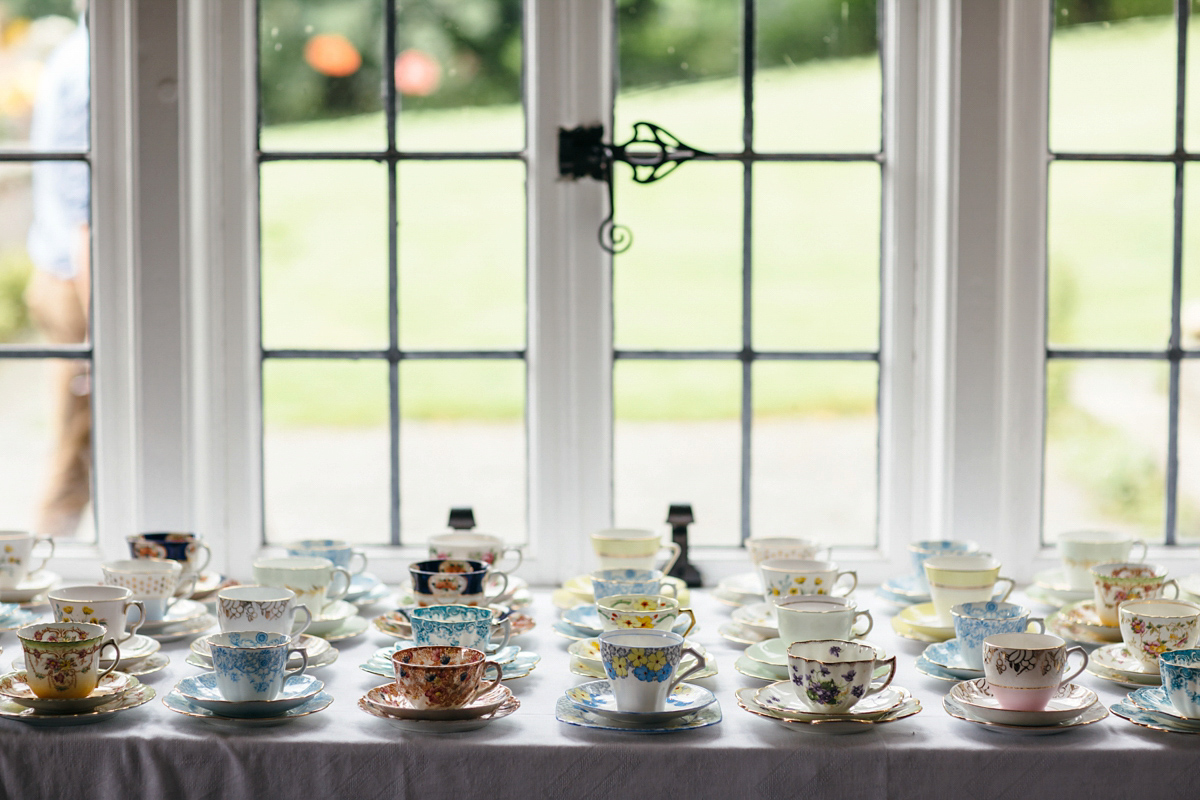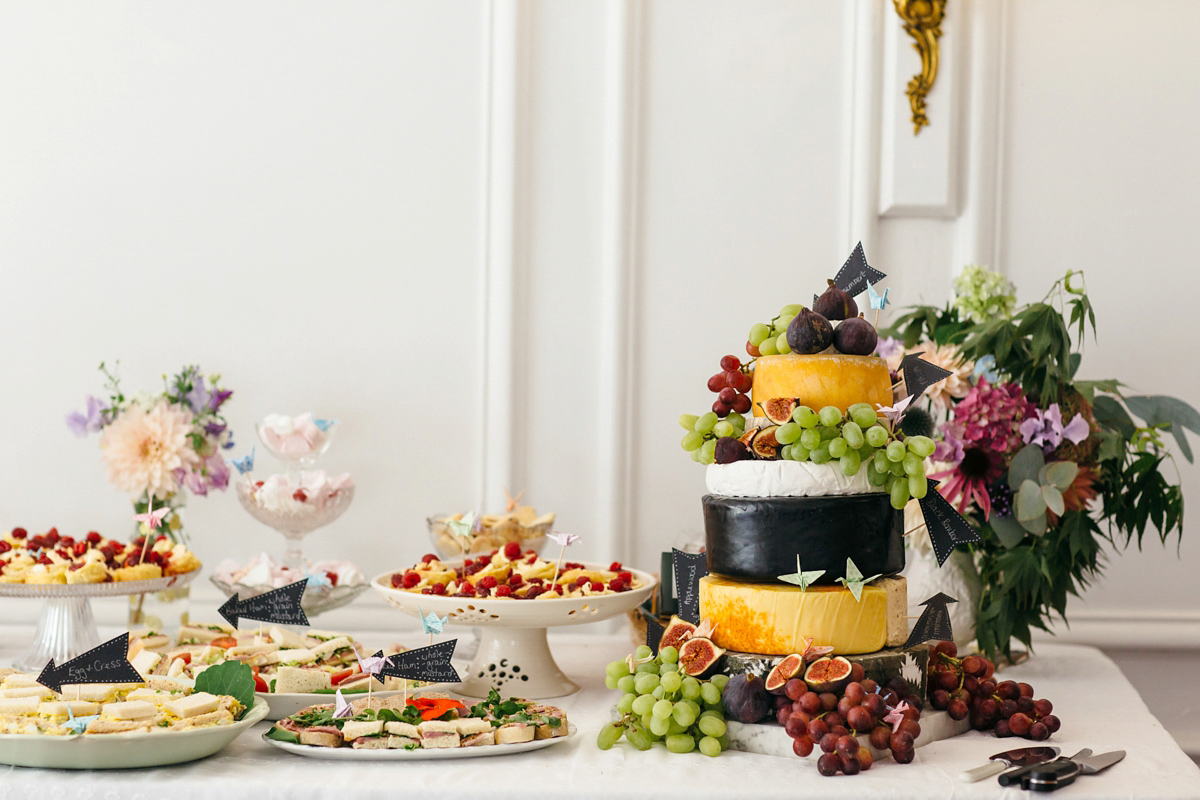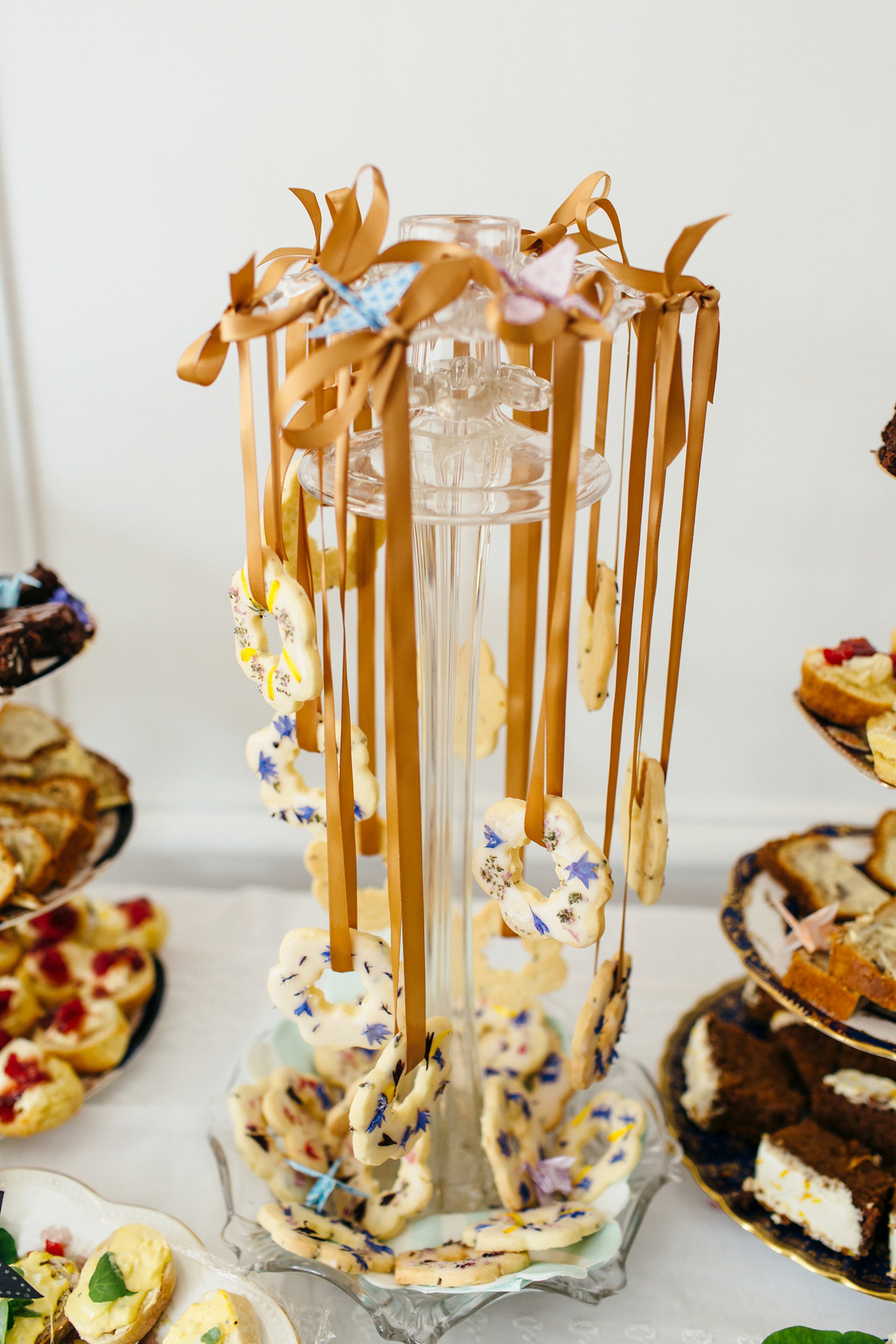 An afternoon of joyful retro games in the late summer sun gave the new Mr and Mrs Colwill a chance to hug each and every one of their guests. Several highly competitive space hopper races ensued (seriously, Emily is lightening fast), I lost to several small children at hook-a-duck and the newlyweds took some time alone to revel in their just married joy in the beautiful gardens of Coombe Trenchard.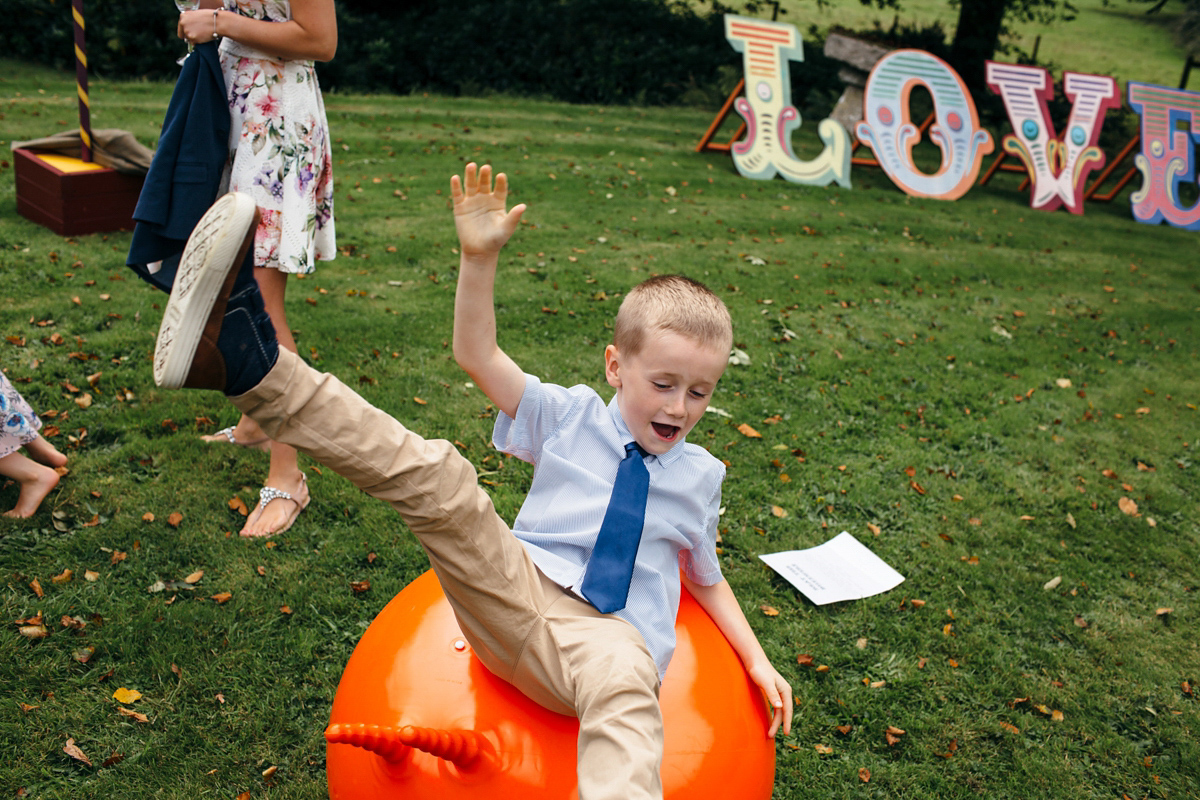 "I bought a random array of colourful happy things to decorate Coombe Trenchard alongside the balloons which was probably my favourite part of wedmin."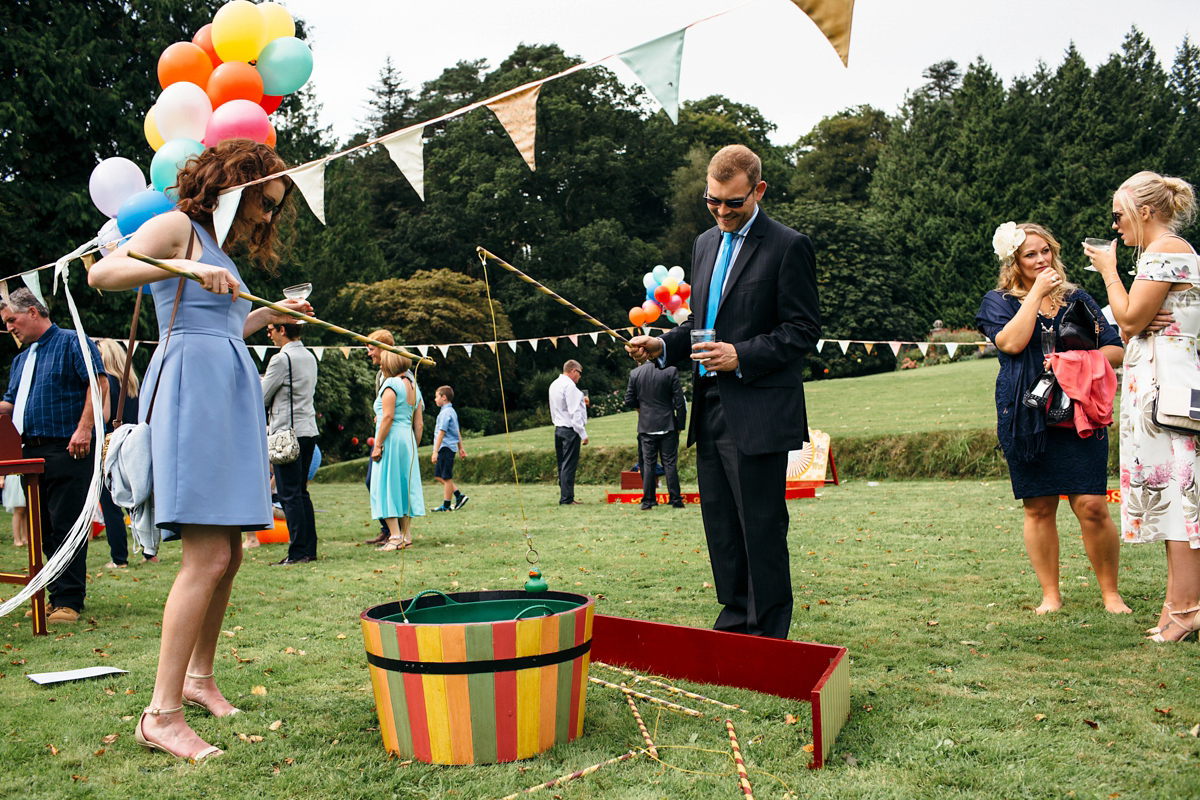 "I'd forgotten what I had when it came to unpacking it all so it was lovely to remember pretty things I'd squirreled away. I'm a firm believer in nothing being too matchy and I loved the mix of things we had that represented us."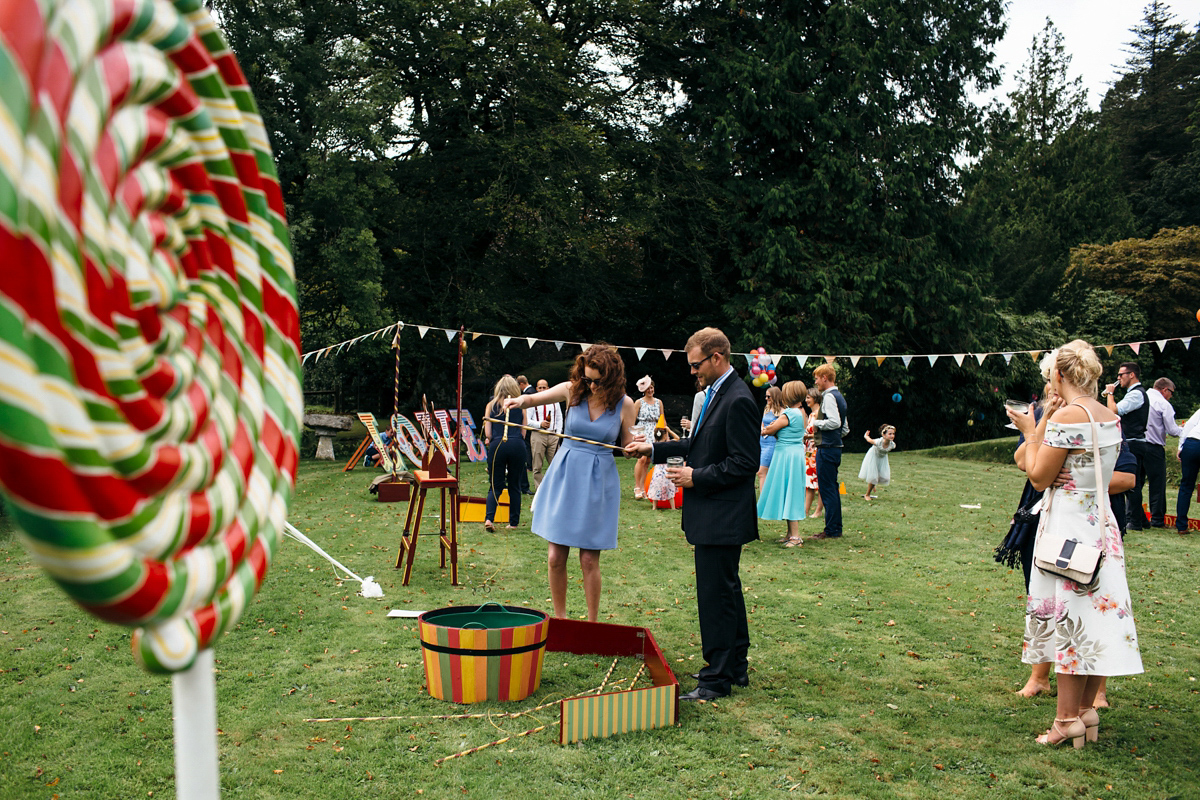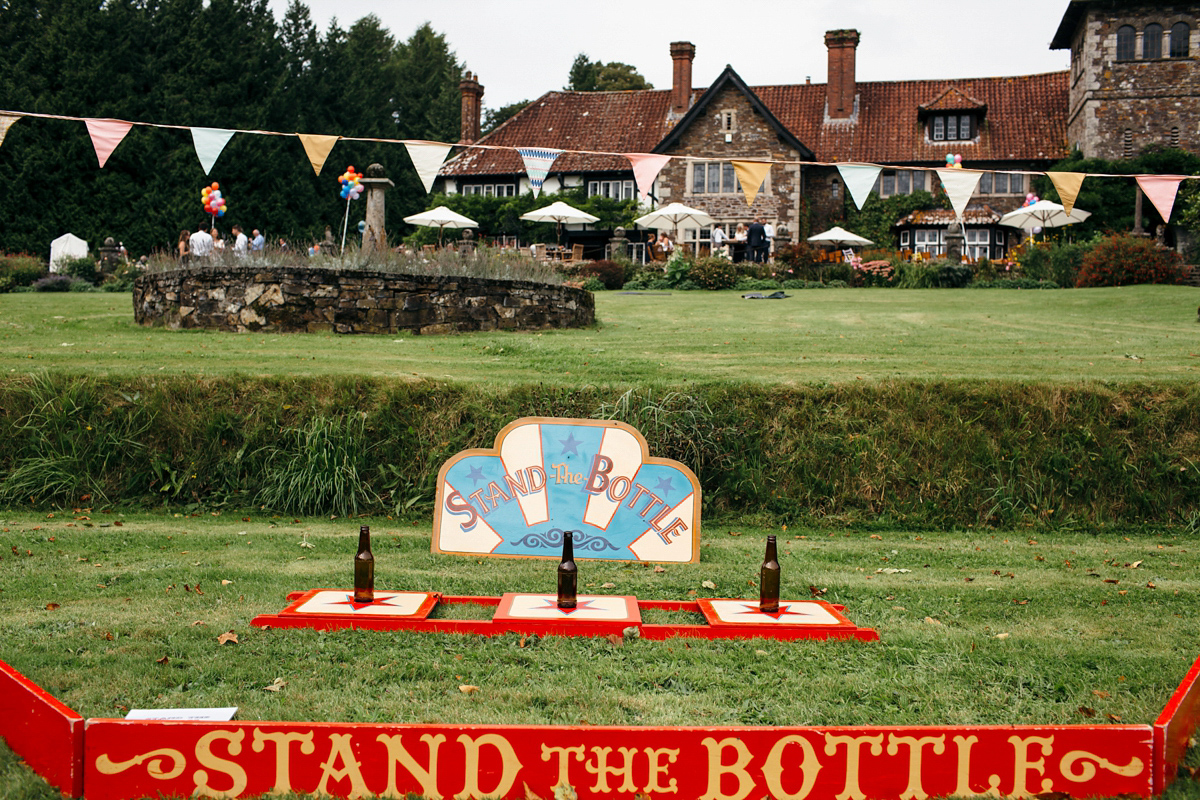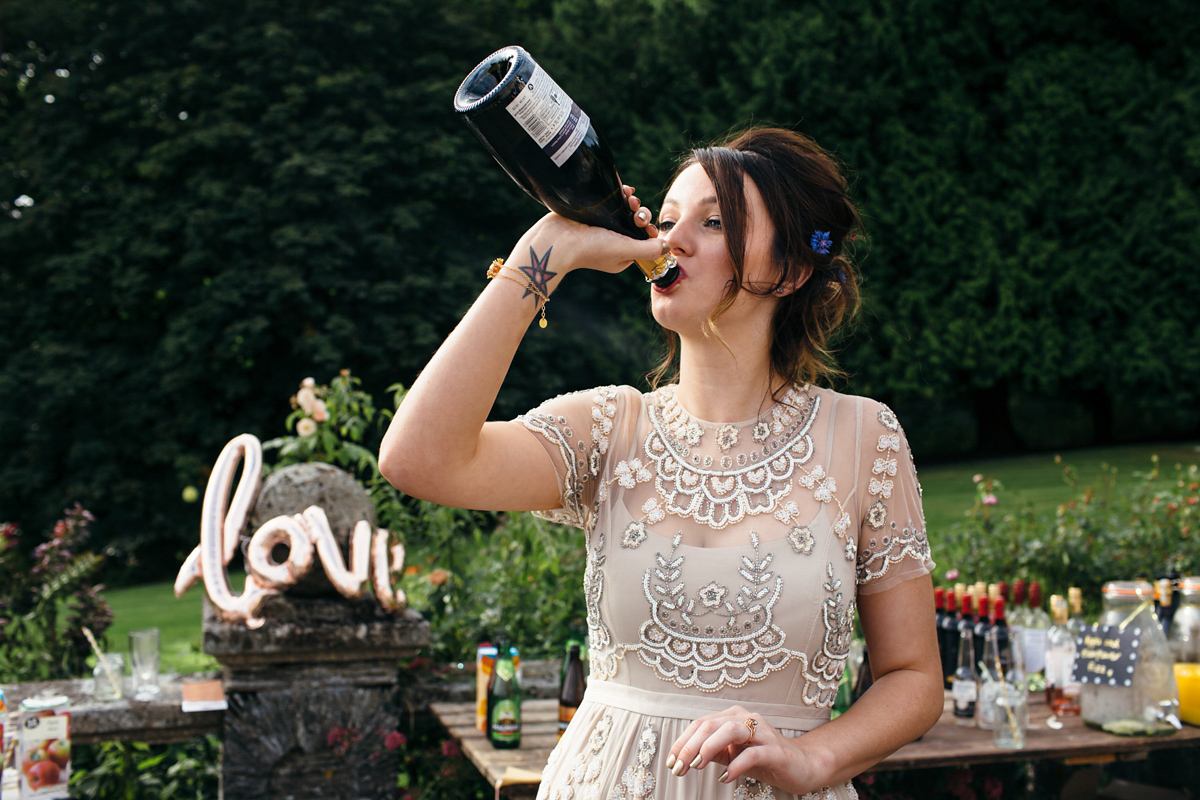 "We were originally going to inflate the balloons ourselves in the morning; thankfully we shelved this plan and contacted Jane at Balloon Creations in Bideford instead. She did a fabulous job of creating some 'Up' inspired bunches."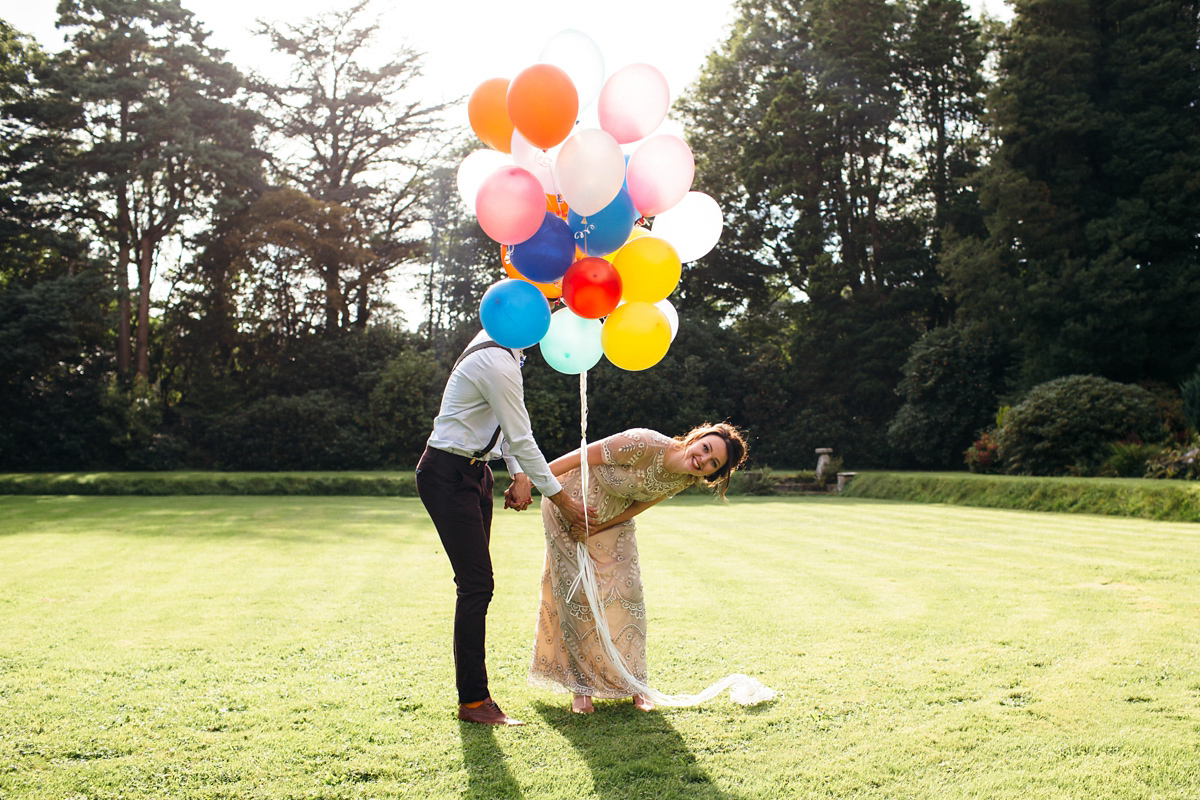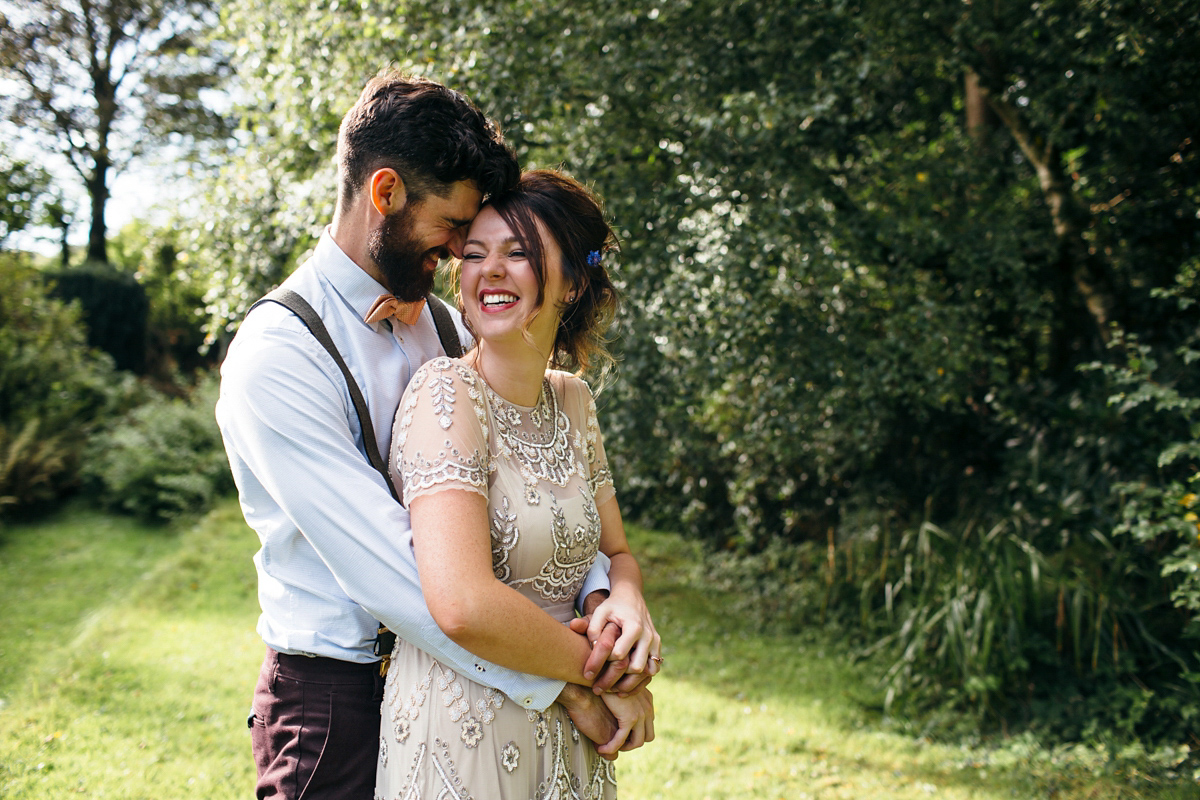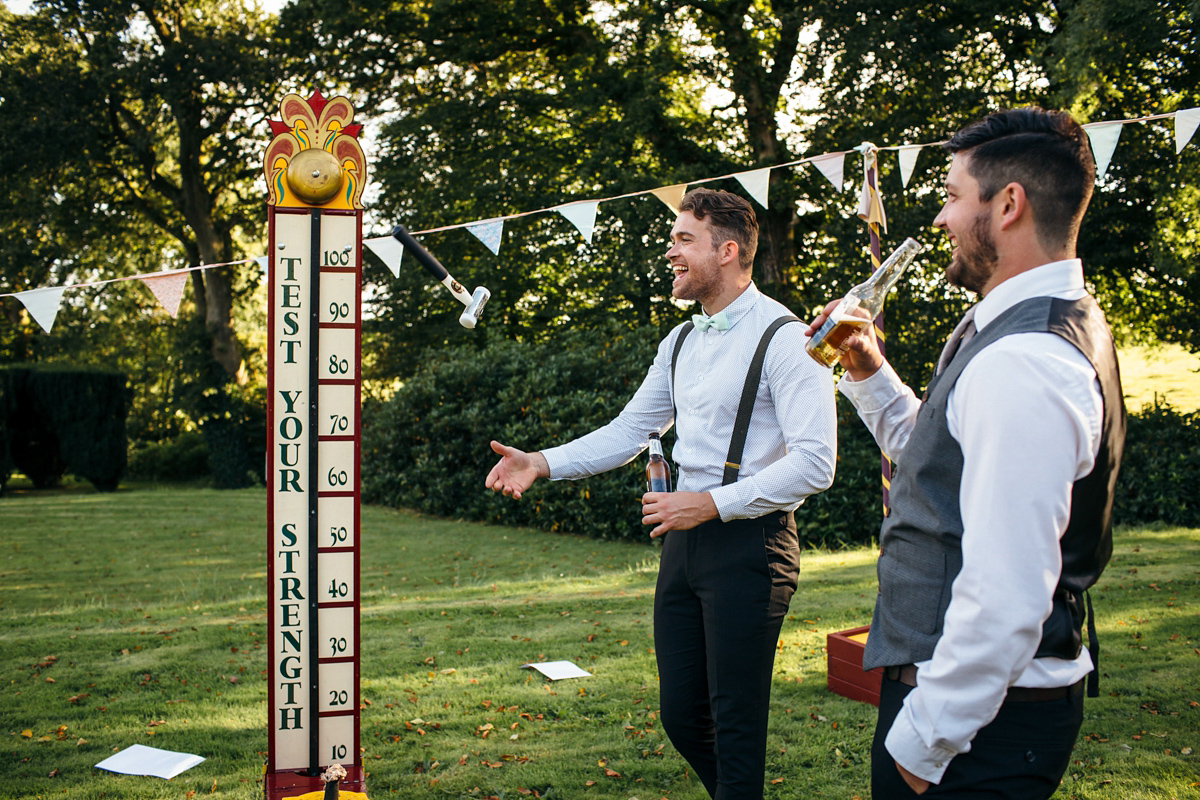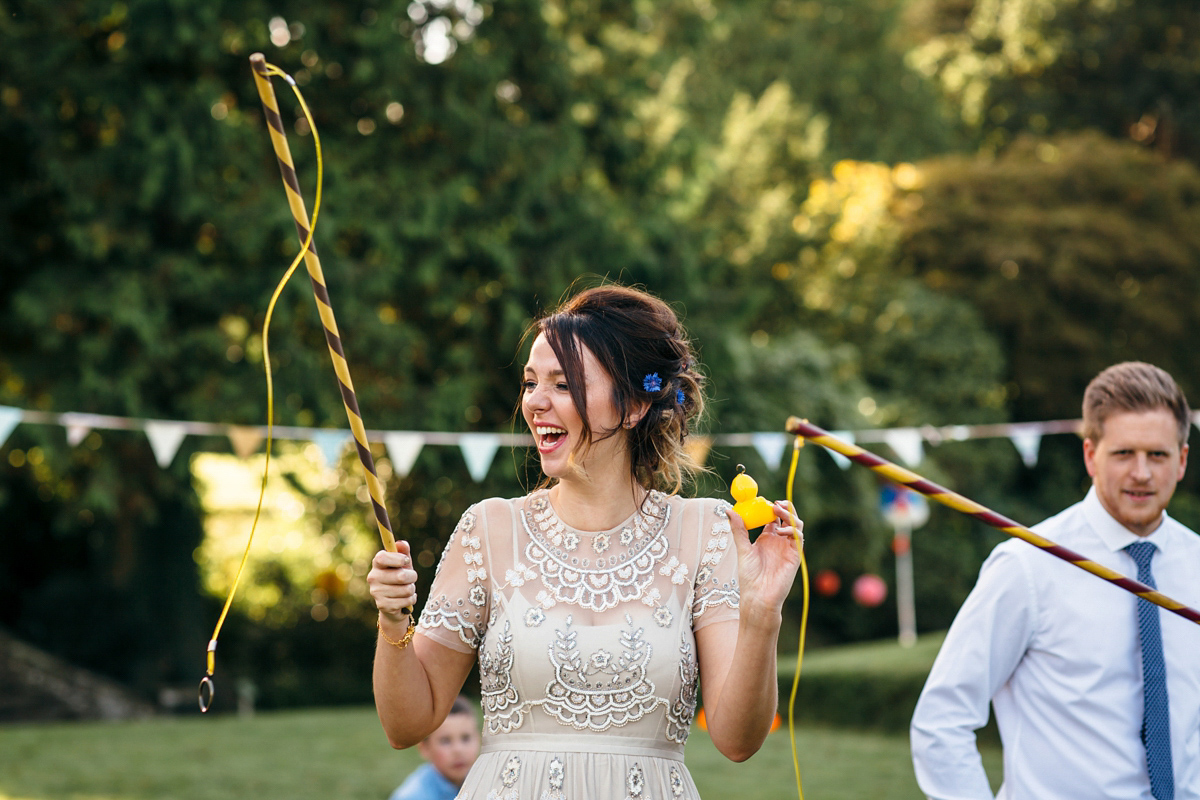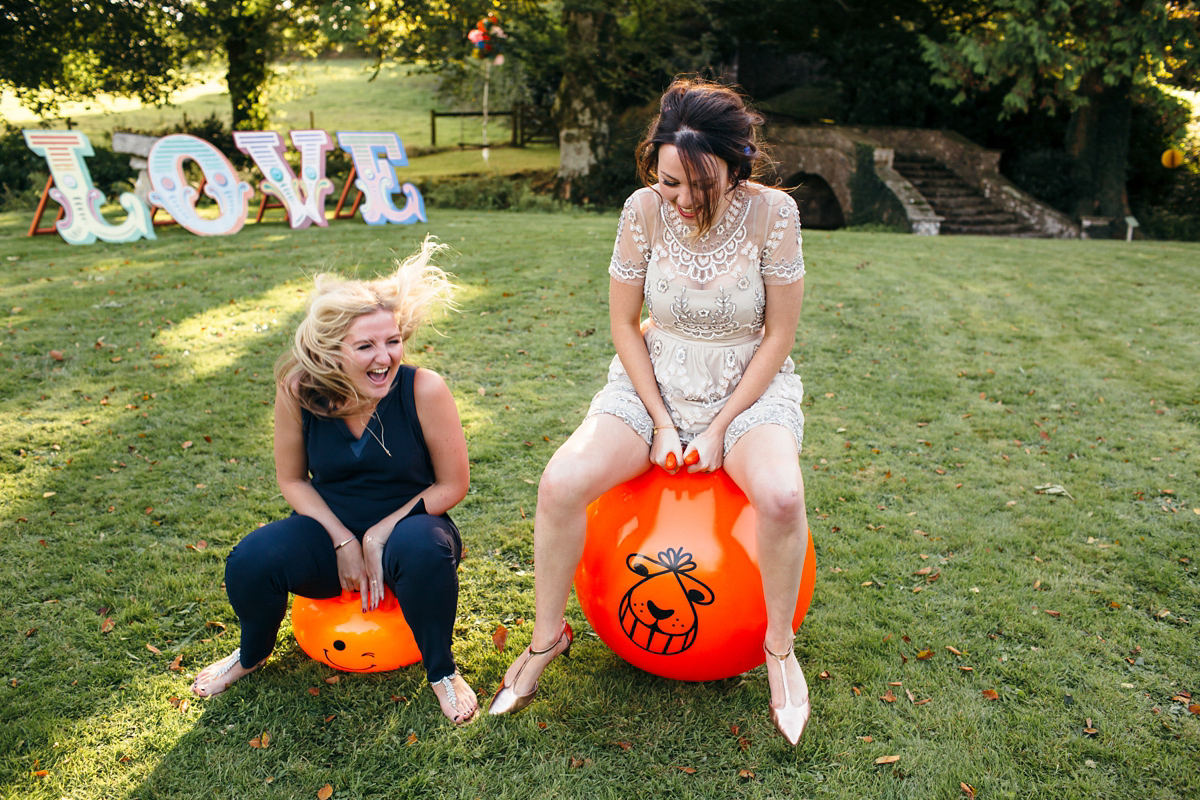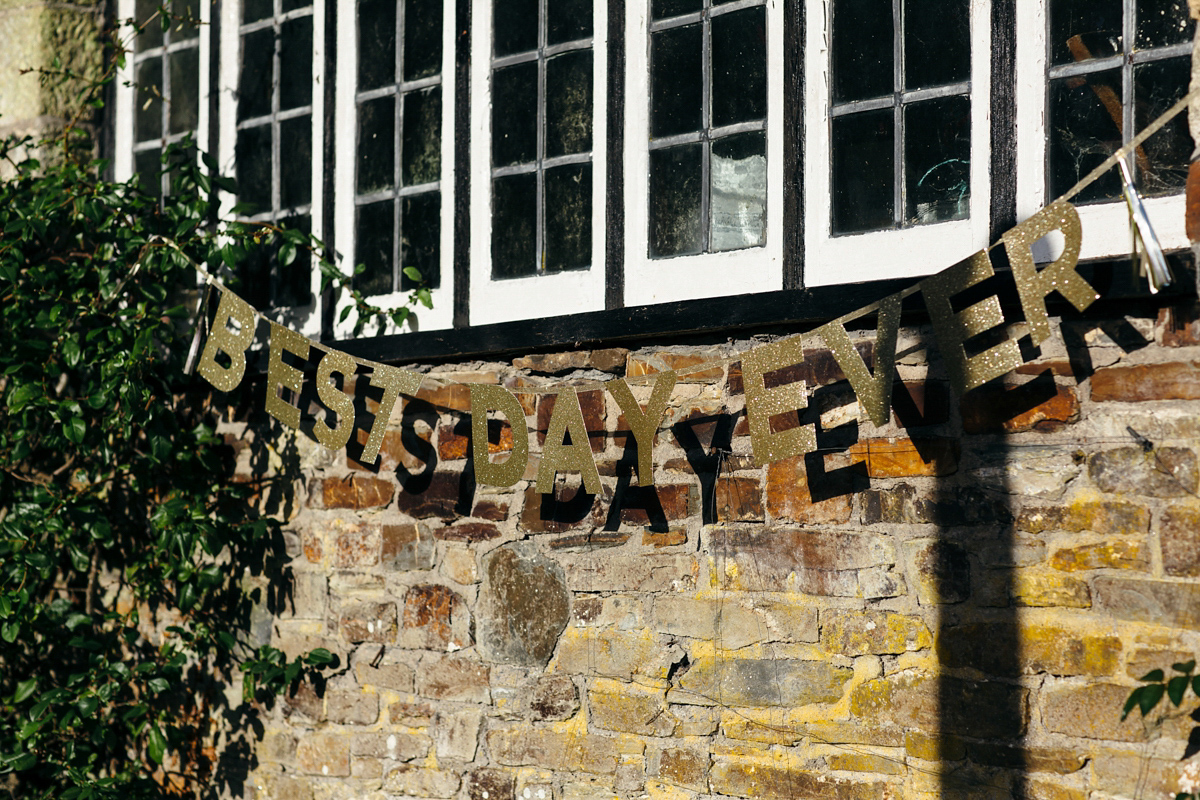 One of my very favourite moments from Emily and Bob's day was the hilarious journey to Dingles Heritage Fairground. A culmination of the heady joy of the wedding ceremony, combined with a smuggled bottle of wine and more balloons that you can possibly imagine set the back drop the the newlyweds' jubilant voyage to their evening reception.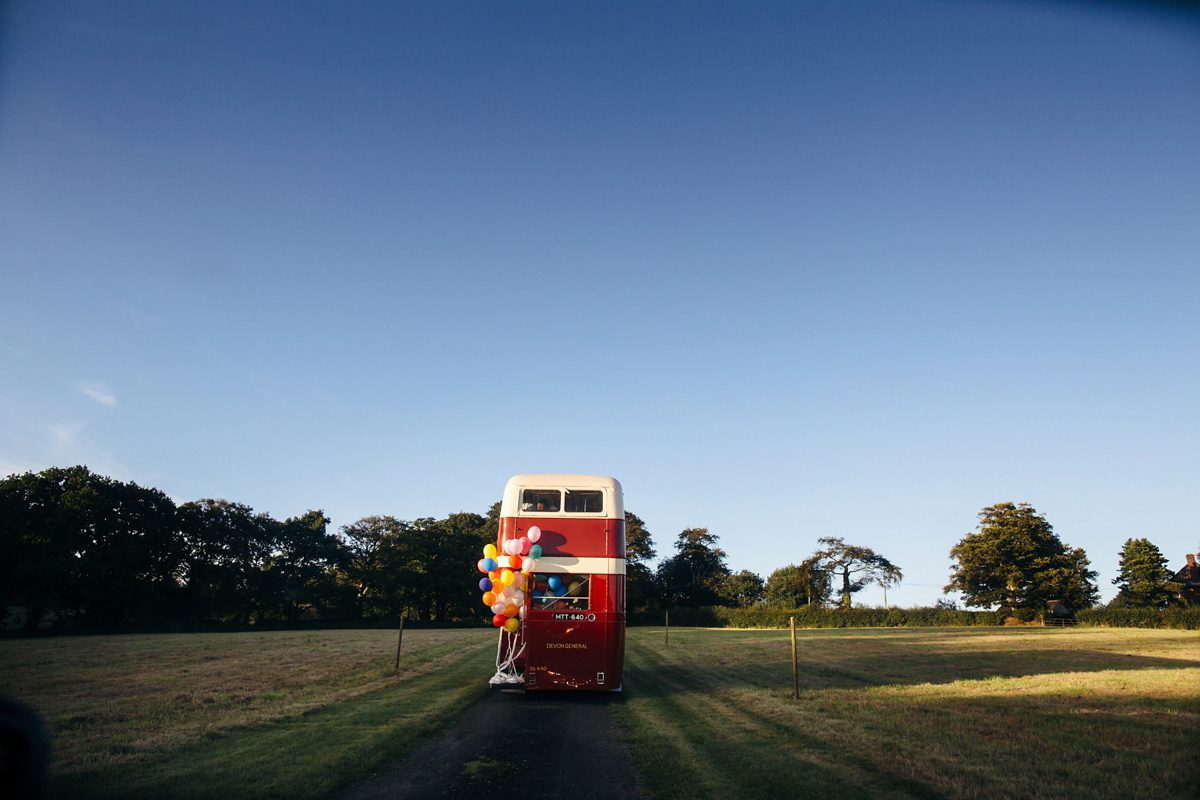 "We hired a vintage double decker bus to transport most of our friends (the ones who wanted to drink mainly!) from where we live, to Coombe Trenchard, then Dingles, then home. I'm so glad we decided to do this as it made for such a relaxed day and we got to hop on to the bus (along with ALL of the balloons) between Coombe Trenchard and Dingles; passing around a bottle of wine and laughing with our friends whilst surrounded by balloons was one of the highlights of my day."
"Our evening reception was held at Dingles Heritage Fairground. Bob and I had been together three months when I first visited this magical place with a friend; I promptly rang him (whilst he was half asleep in Thailand) and told him I had found our wedding venue. Luckily, he was open to the idea and once he had seen it for himself needed no further convincing."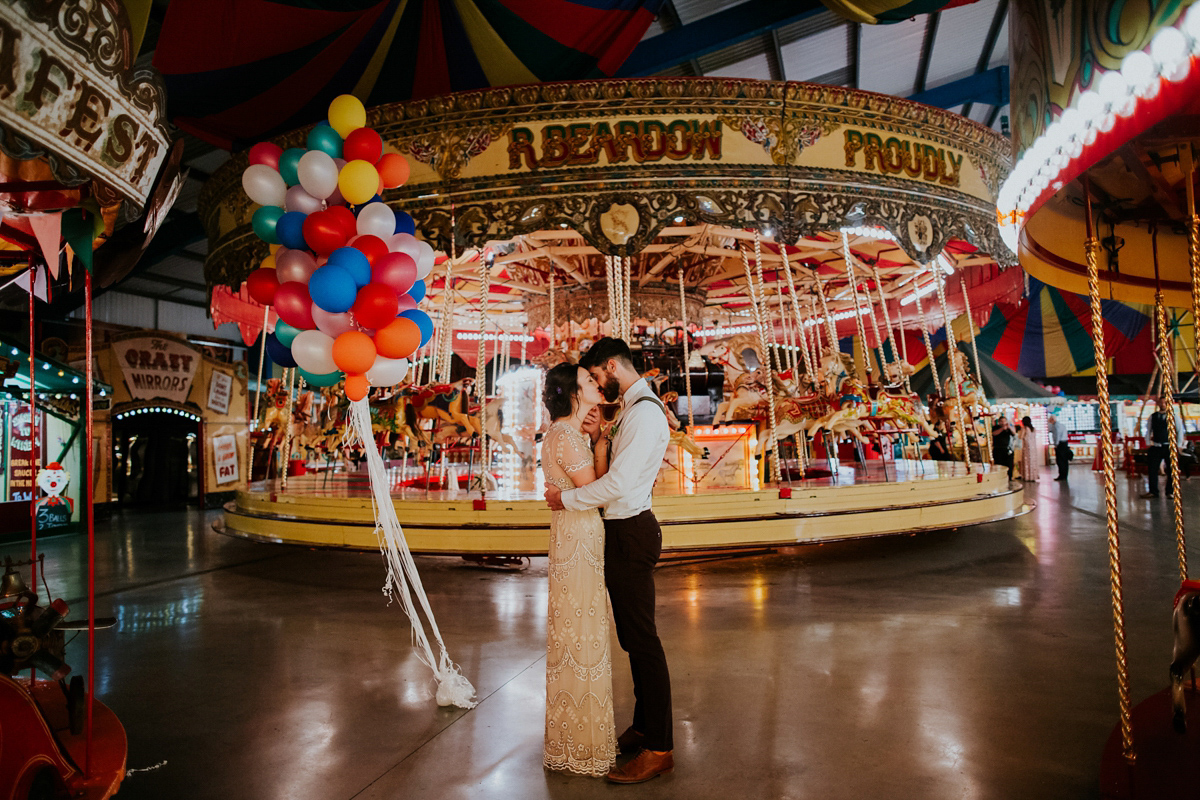 "Picturing our friends, grandparents, cousins and favourite people laughing and getting involved on the rides together felt like the perfect way to celebrate – it's impossible not to be joyously happy there."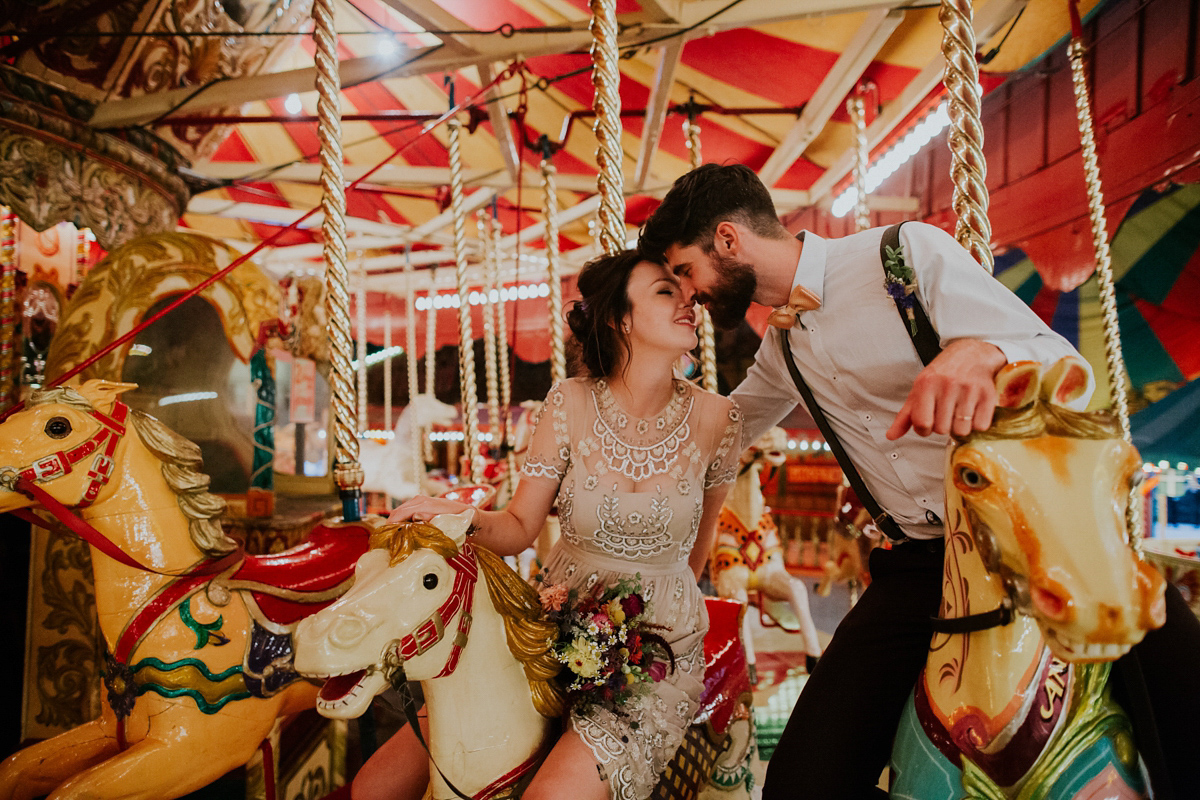 I can tell you that that the evening played out exactly as Mr and Mrs Colwill envisaged – we made ourselves dizzy on the waltzers, screamed with laughter on the dodgems and ate cheesy chips and candy floss until we could eat no more.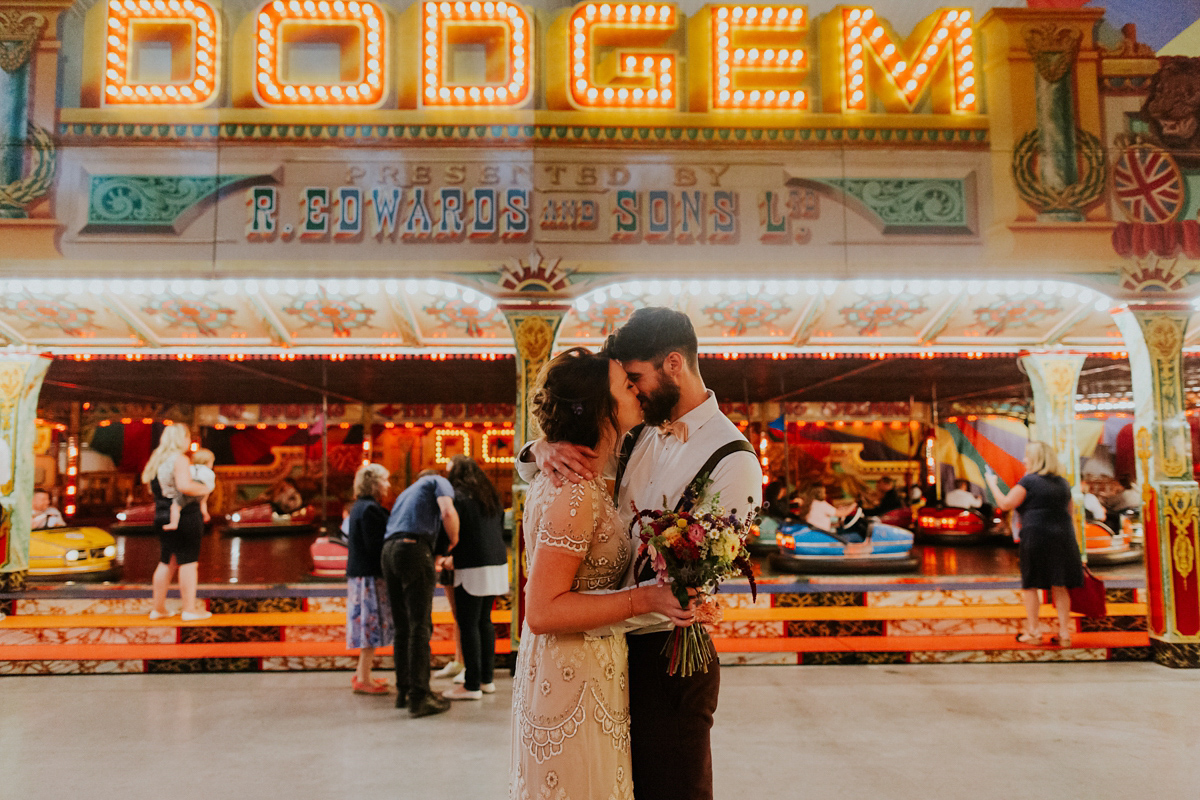 I will always remember the look of utter adoration in their eyes as Emily and Bob rode the carousel – that extraordinary connection, that earth-shattering, mountain-moving love is what this day was all about.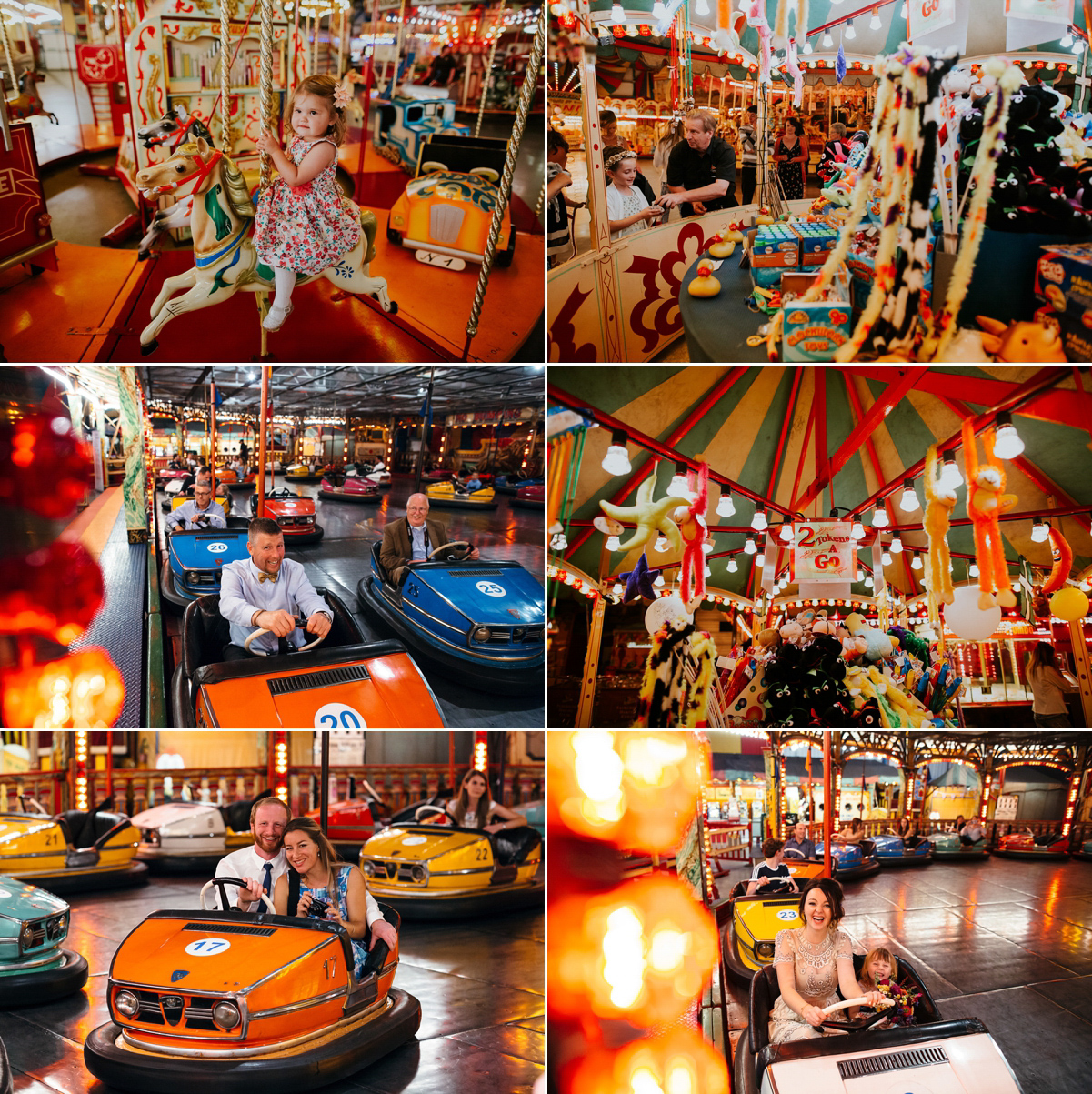 "In the evening The Carousel Café at Dingles provided scrummy fair food – hot dogs, burgers and the all-important cheesy chips ( I needed my favourite food on my wedding day). We also had a popcorn bar with Joe & Seph's incredible creations available."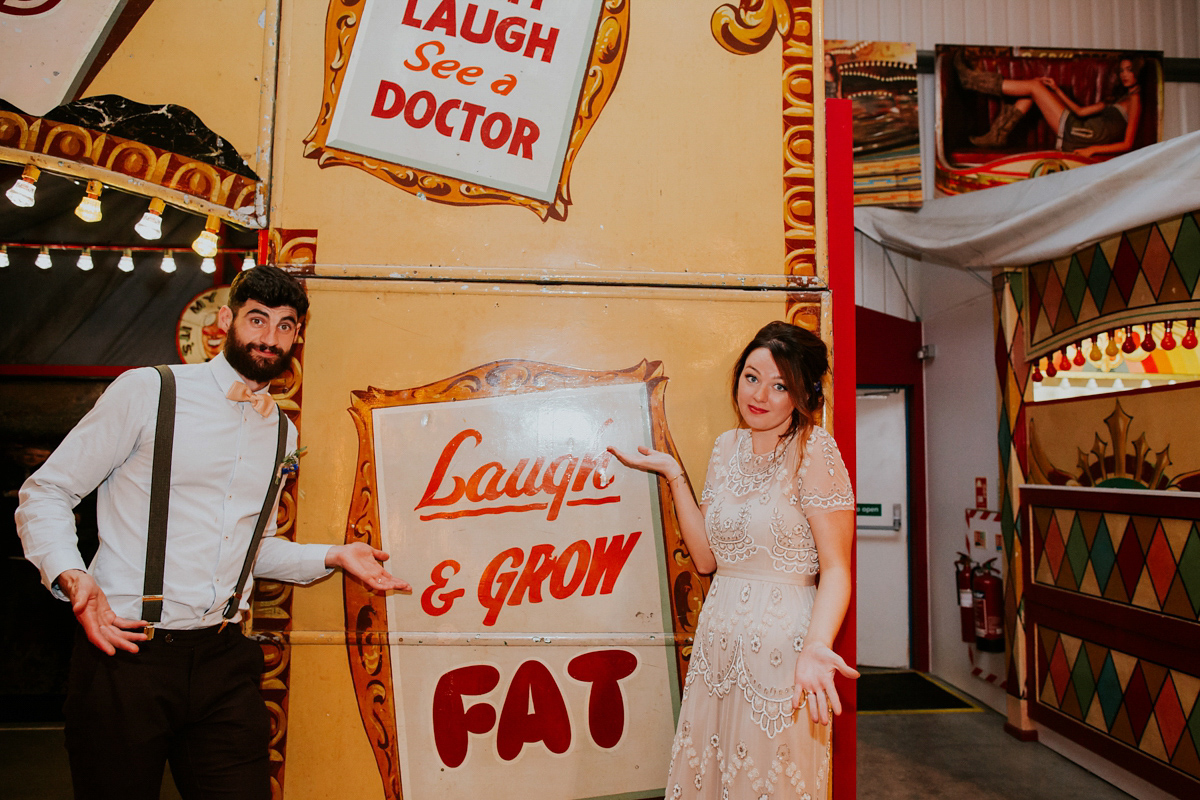 "My favourite moment is so hard to pick. Waking up in the morning and jumping on the bed with my bridesmaid Jess, walking down the aisle towards my Bob, being pronounced husband and wife, our first kiss, space-hopping, looking around and seeing everyone on the picnic blankets I'd made with my mother in law in the sun, riding on the bus to Dingles with a bottle of wine laughing my head off, dodgems with my niece, looking at my husband in awe all day."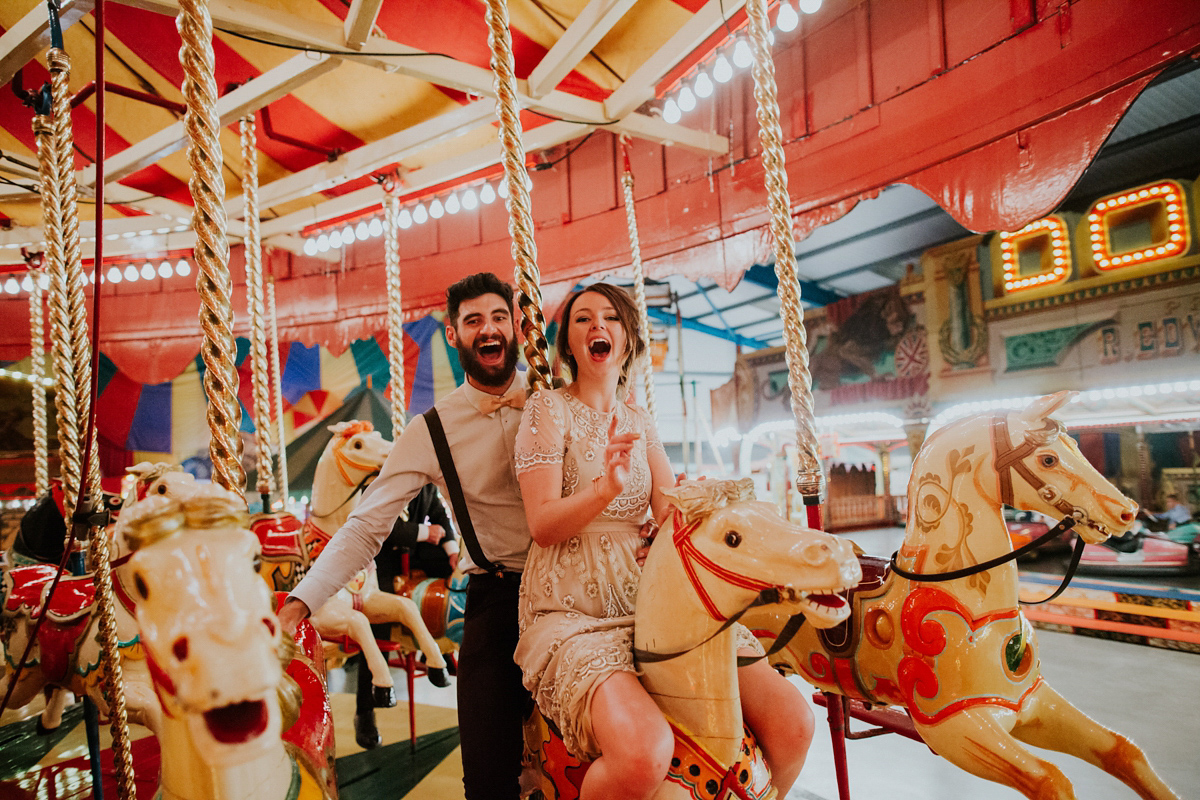 Words of Wedded Wisdom
"One of my friends said to me 'it looks like the inside of your brain out here' about Coombe Trenchard's terrace and garden and it was the biggest compliment. Bring your personality to life and make a day unique to you and your partner.  Go with your heart and your gut, even when faced with lacklustre comments or bumps in the road. If you feel strongly about something, do it."
"Make your day exactly what you want with a big dollop of perspective mixed in; but don't put your whole life on hold or cause future money worries. Make things, get creative, think outside the box and have fun with it. Plan together and with excitement and release the pressures of what you 'should' do (you'll hear a lot of this)."
"I would have made my signage MUCH earlier and not been in a weird state of panic and confusion in the week or so before. Have a honeymoon straight afterwards as you may crash and need to mainly sleep and order room service somewhere pretty."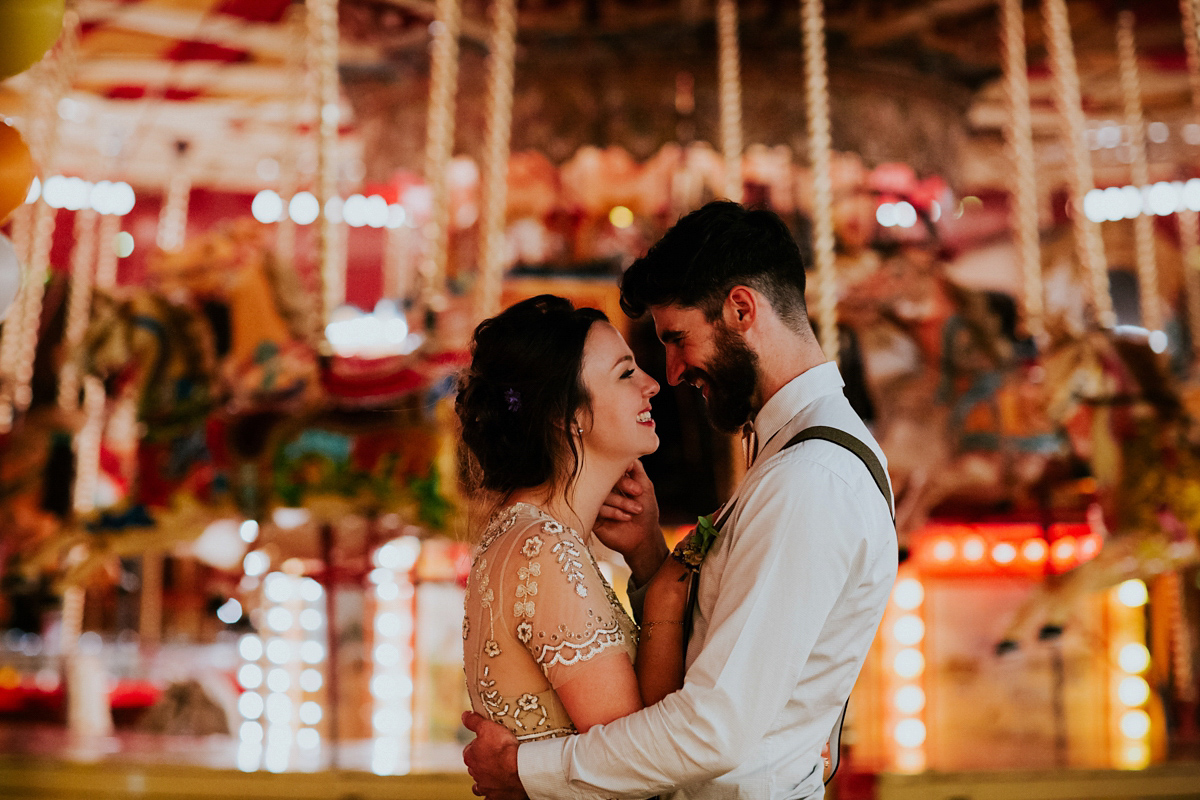 I'm totally unashamed to admit that I laughed and cried writing this feature, revelling in the chance to once again celebrate this most incredible day. Emily (my darling twinnie) and Bob, I can't tell you how I honoured I am to share your beautiful wedding. A great big massive in awe thank you also goes to Freckle Photography; a framed photo of 'the two Emily's' sits pride of place on top of my bookcase – one of my very favourite Christmas presents from Mrs Colwill.
And lastly, for those of you who have yet to join our private Facebook group for brides and newlyweds – do so immediately. You never know who you might meet; perhaps even a beautiful, kind-hearted, hilarious, wonderful girl who'll you'll end up meeting in real life and totally falling in love with. Perhaps you'll meet each others fiancés, simultaneously invite each other to your weddings and organise as many opportunities to see each other as possible. Perhaps you'll find a friend for life.
Love you Mr & Mrs Colwill,
Em x