What a treat I have for you today ladies, one that I already know will be inspiration gold-dust amongst this style-savvy wedding community. Striking the balance between fresh, modern and oh-so-Instagram worthy, this day also carries the distinguished weight of timeless, classic style. Add into this delightful mix a healthy dose of unbridled joy, and you've got yourself another Love My Dress hit.
Prepare to fall in love with Sarah and Cameron, both dentists, who got hitched at Holy Trinity Church, Dorchester before celebrating at Gorwell Barn, Abbotsbury on 23rd July 2016.  Simply choosing elements that they liked without trying to conform to a particular theme created a day full of whimsy and relaxed happiness; get ready to screenshot every aspect of this beautiful day. These photographs were taken by our highly recommended supplier, Richard Skins.
"We really wanted a relaxed country wedding. It was really important to me to try to use local suppliers, I didn't really have a particular theme in mind and just ended up picking things that we liked, luckily everything came together in the end!"
Photography by Richard Skins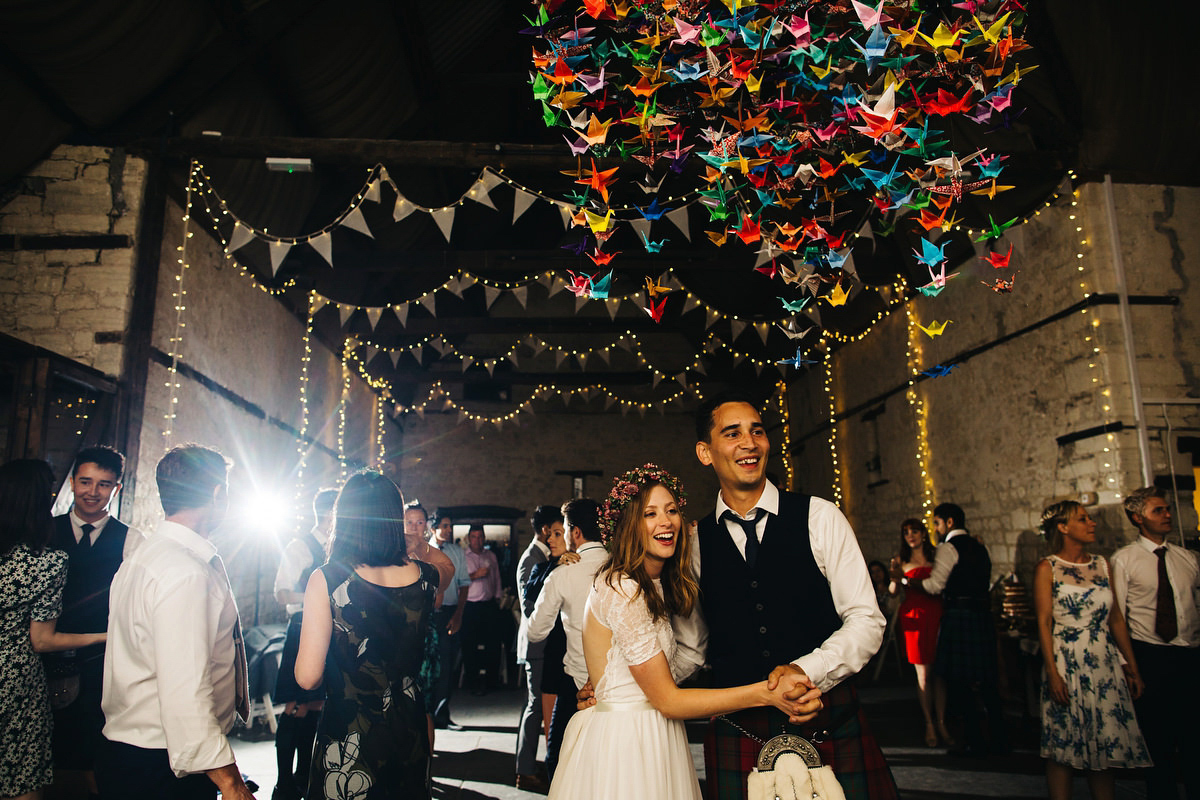 Sarah started the day in a bubble of excitement with her bridesmaids, relishing the giddiness of her impending nuptials. Adam Shaw at SGM Hair created this voluminous, wavy vision that feels just as relaxed and stylish as the rest of the day. Our bride did her own make up, making a glowing complexion with perfect-level-of-smokey eyes seem easy (any tips gratefully received Sarah!).
Finally time to don her dress of dreams, Sarah slipped into her Grace Loves Lace gown, purchased from a trunk show in London. You can sign up for updates on when other UK based trunk shows will be happening here and delight in some further lace-loving creations from GLL here.
"I knew that I wanted something relaxed, non-traditional and most importantly something that I could bust some moves in during the Ceilidh! I had lusted over Grace Loves Lace dresses after finding them on Pinterest and was lucky enough to get a ticket to their first London trunk show last year."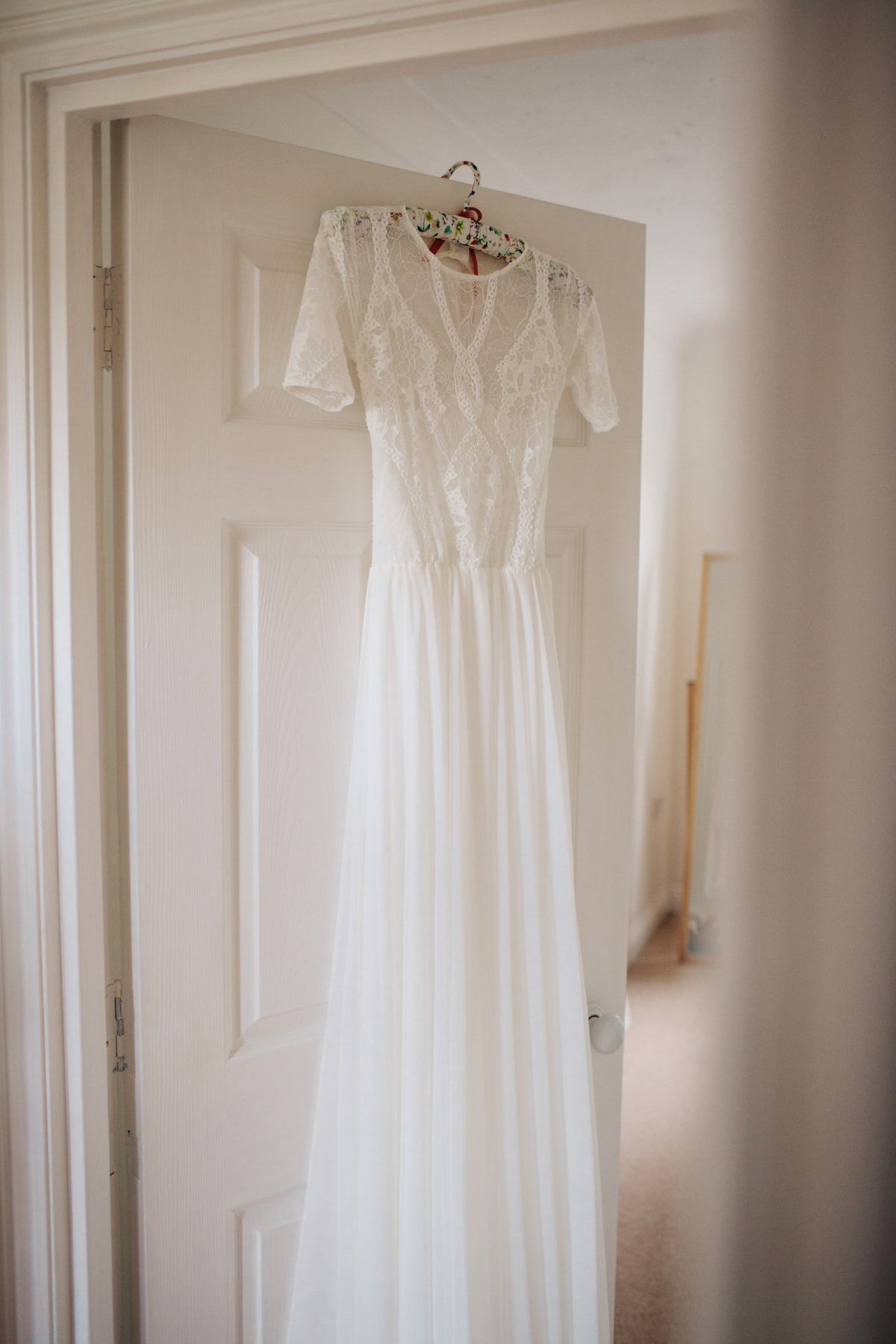 "I took my Mum and one of my best friends, who is well known for her shopping prowess, and managed to try on almost their entire collection in the allotted 30minutes time slot! I could have chosen any of their dresses, they were all beautiful, unique and pleasingly reasonably priced!"
"Ultimately I thought the Venice would be the most appropriate for our wedding ceremony. The dress was stunning and fitted perfectly; I couldn't have been more pleased."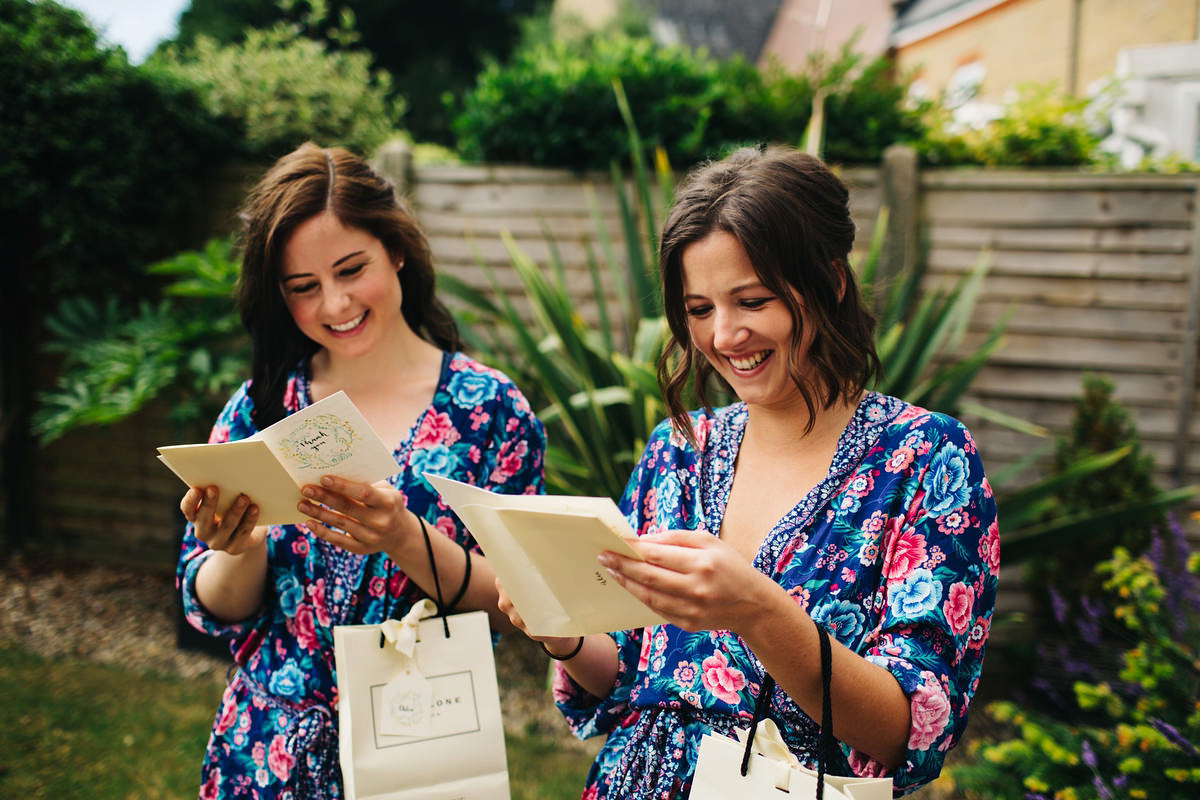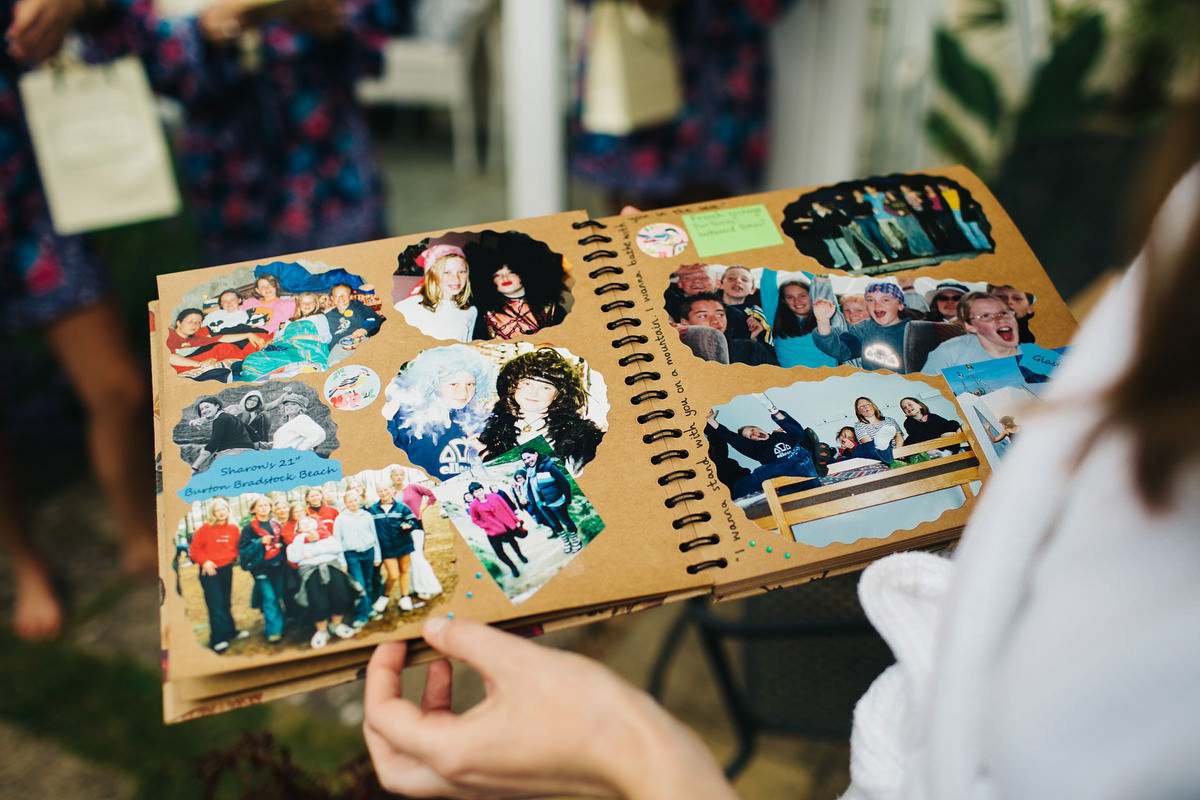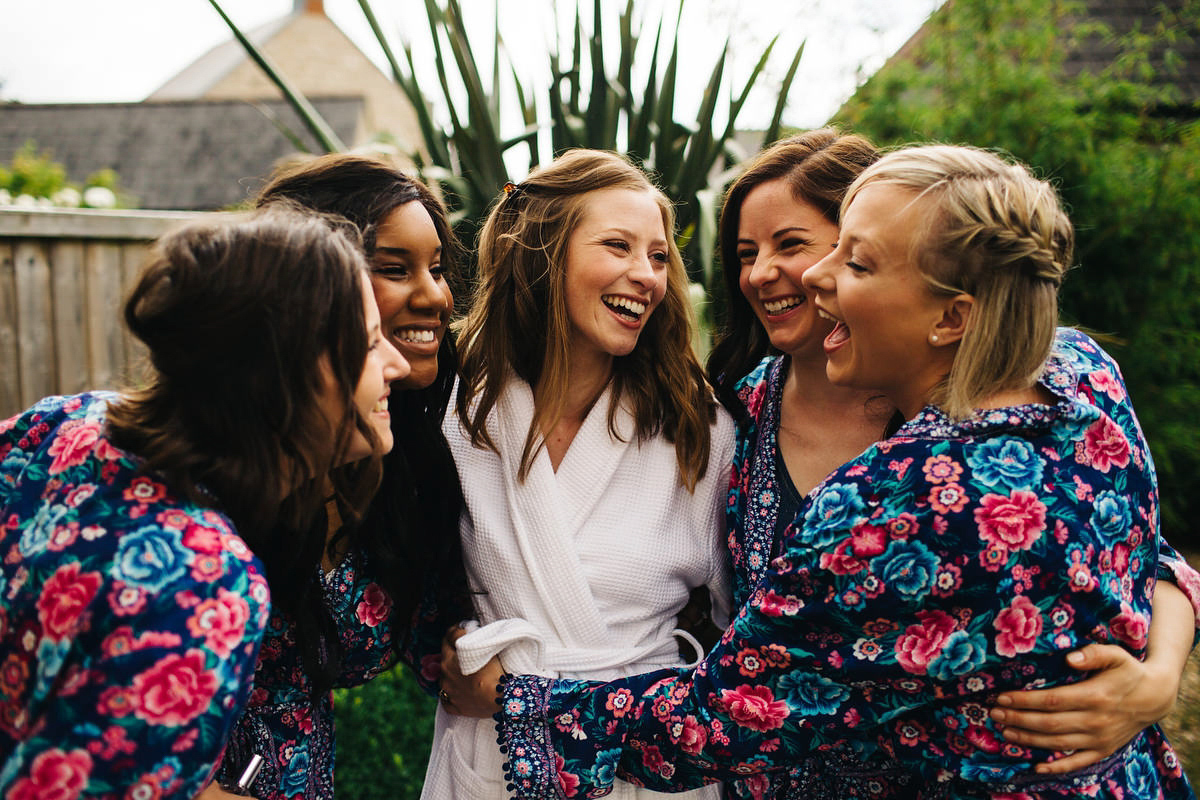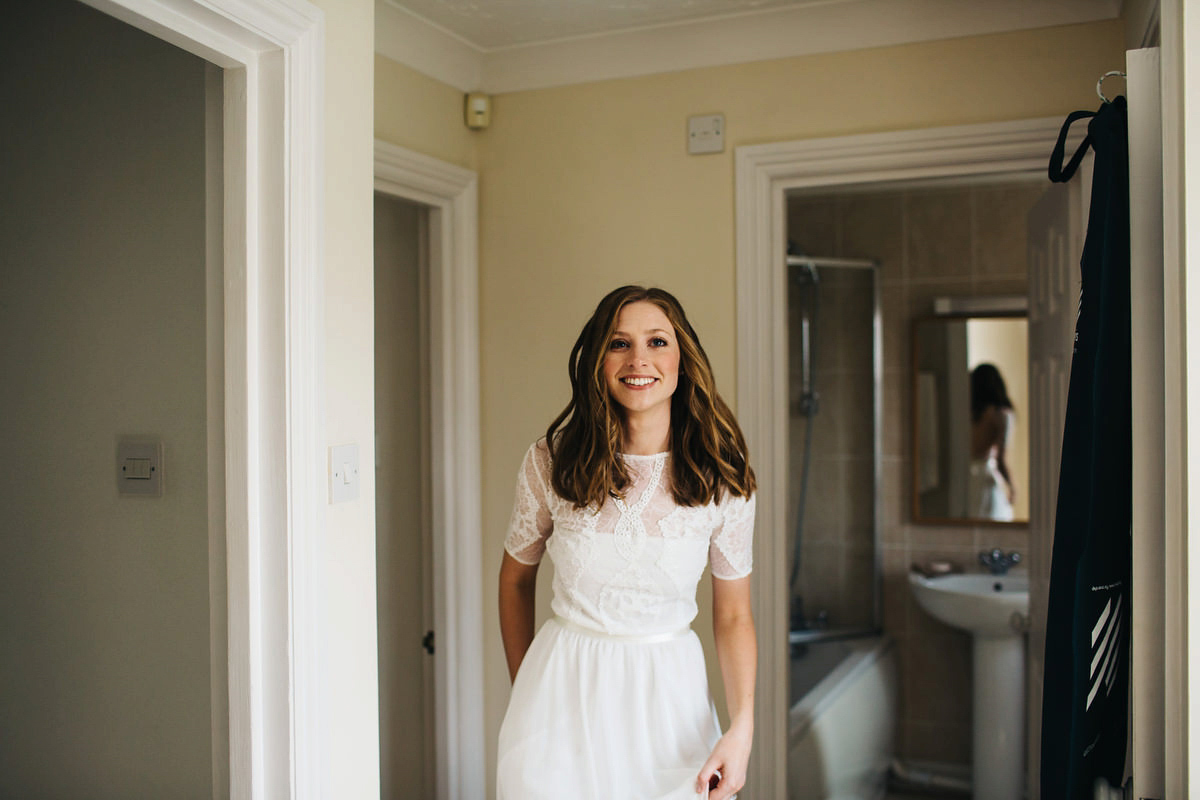 Making such a style statement and adding a touch of countryside, bohemian glamour was a flower crown from West Dorset Wedding Flowers . Complementing the open back and delicate lace detailing on this glorious gown was a matching Grace Loves Lace 'Gabriela' veil. Block wedge heels from Hobbs and a spritz of Jo Malone's classic 'English Pear and Freesia' finished this wonderfully laid back yet crisp bridal look.
"Jessie from West Dorset Wedding Flowers made the most beautiful flower crown from wax flowers and Astrantia. I would highly recommend a flower crown to any Bride. It had to be prised off me the day after the wedding before we headed to the airport!"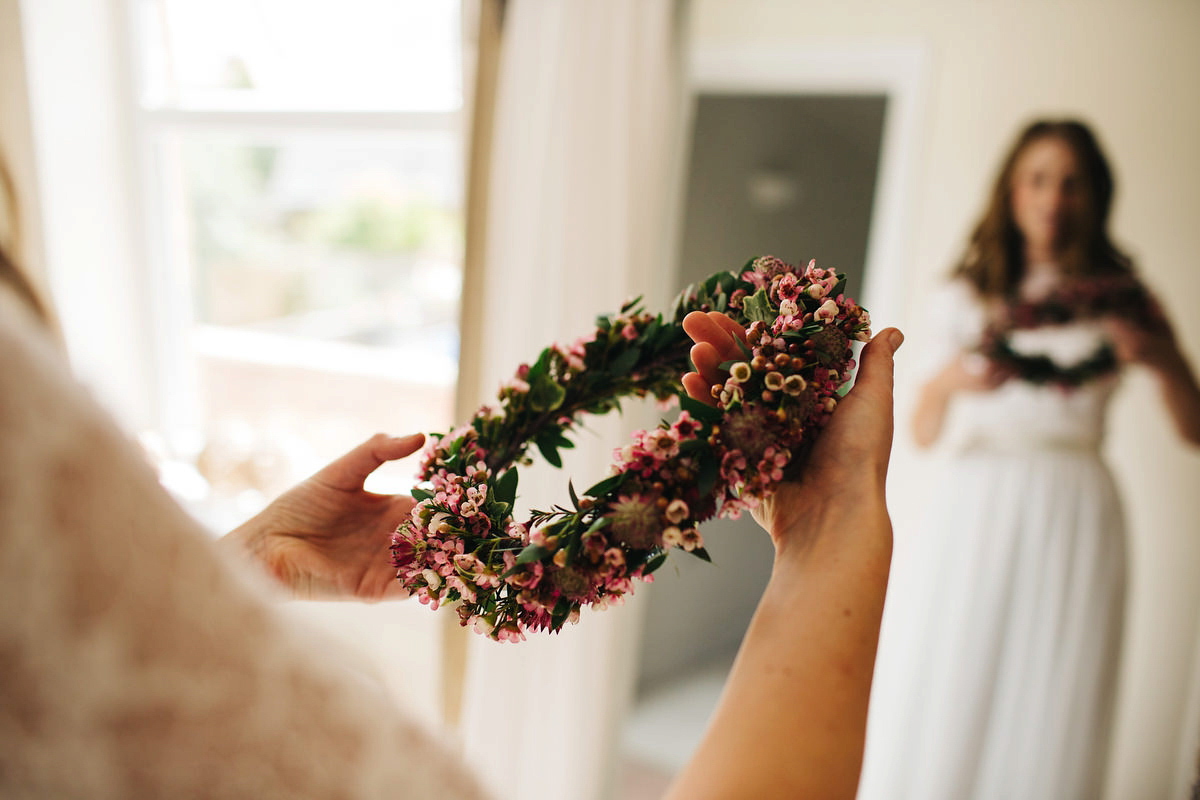 "I bought the Bridesmaid's dresses from Hobbs when they went on sale on a bit of a whim in truth. It was always going to be a bit of a challenge choosing dresses with 2 Bridesmaids living abroad and another having just had a baby so I picked them more because the style was one that would suit everyone rather than anything else."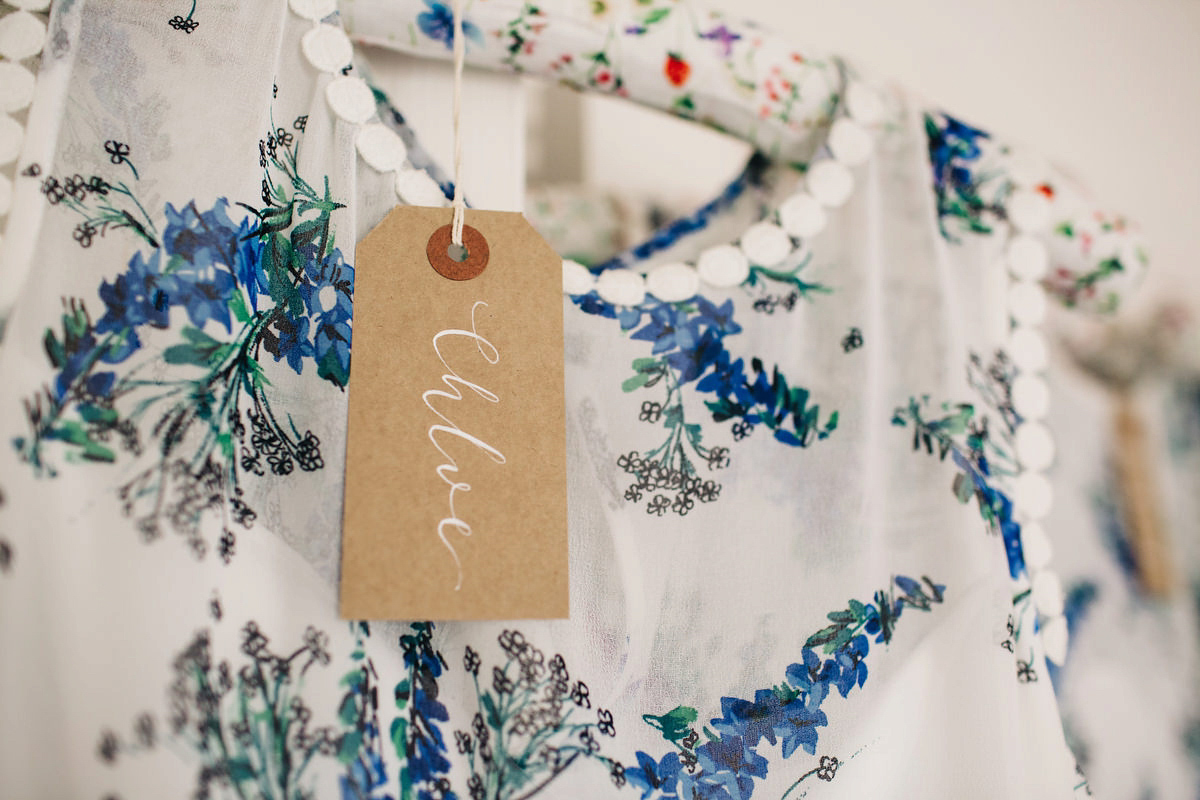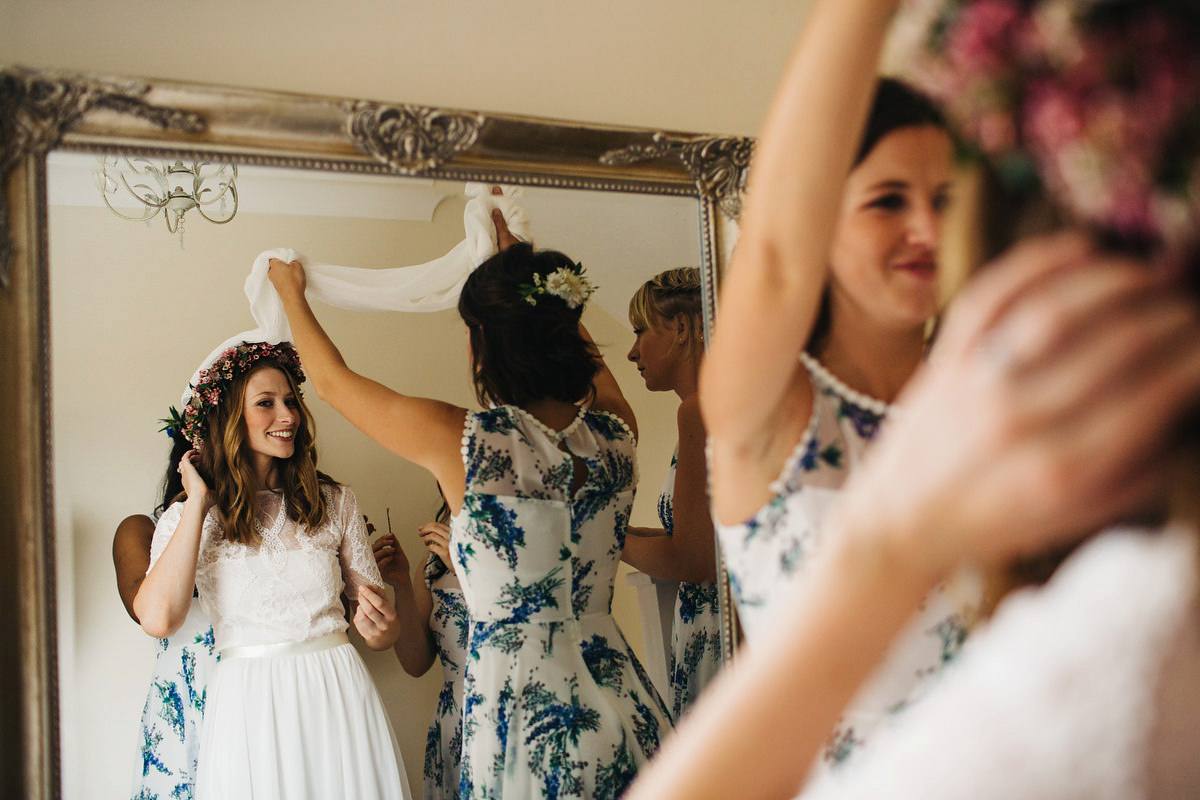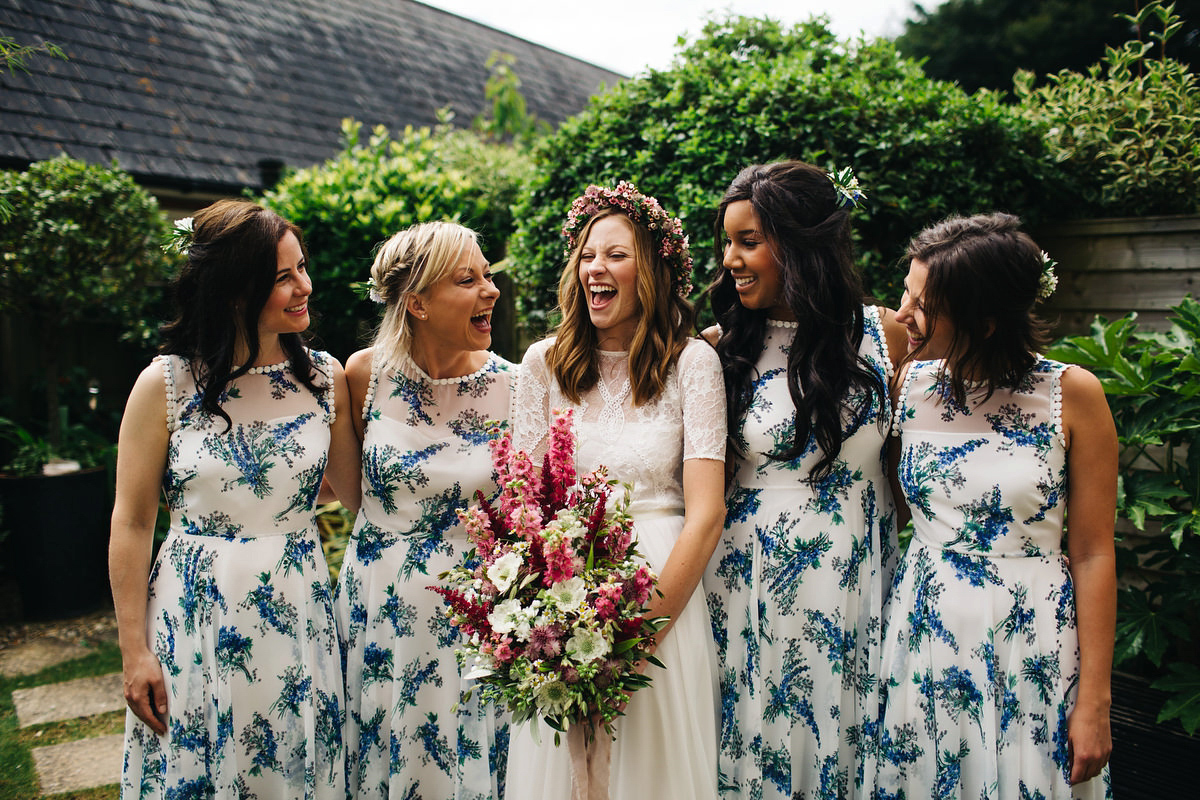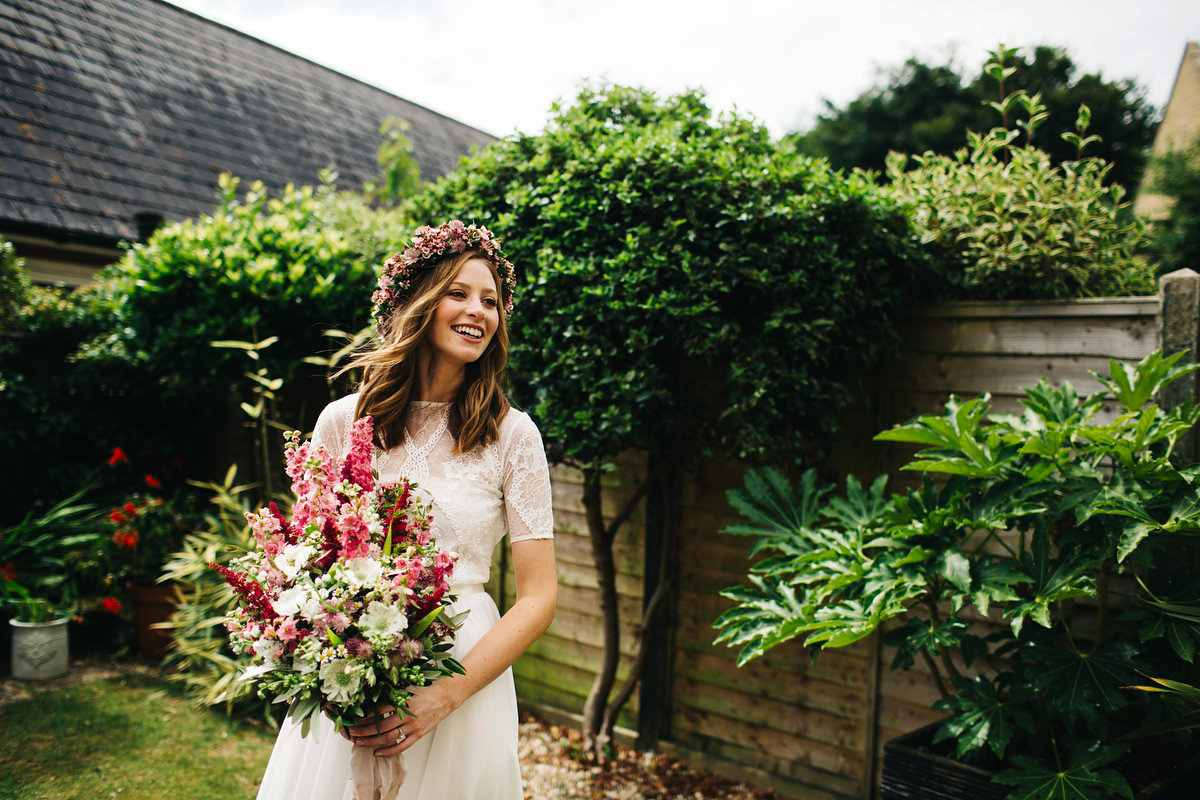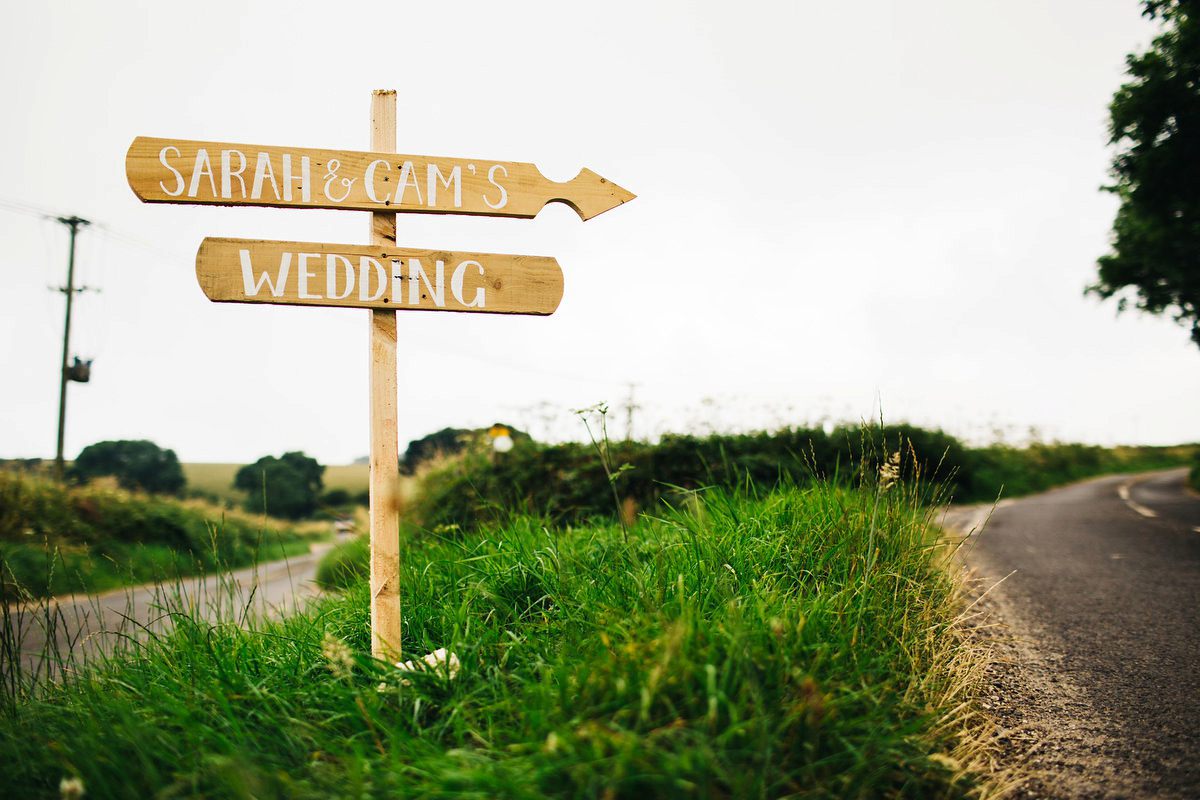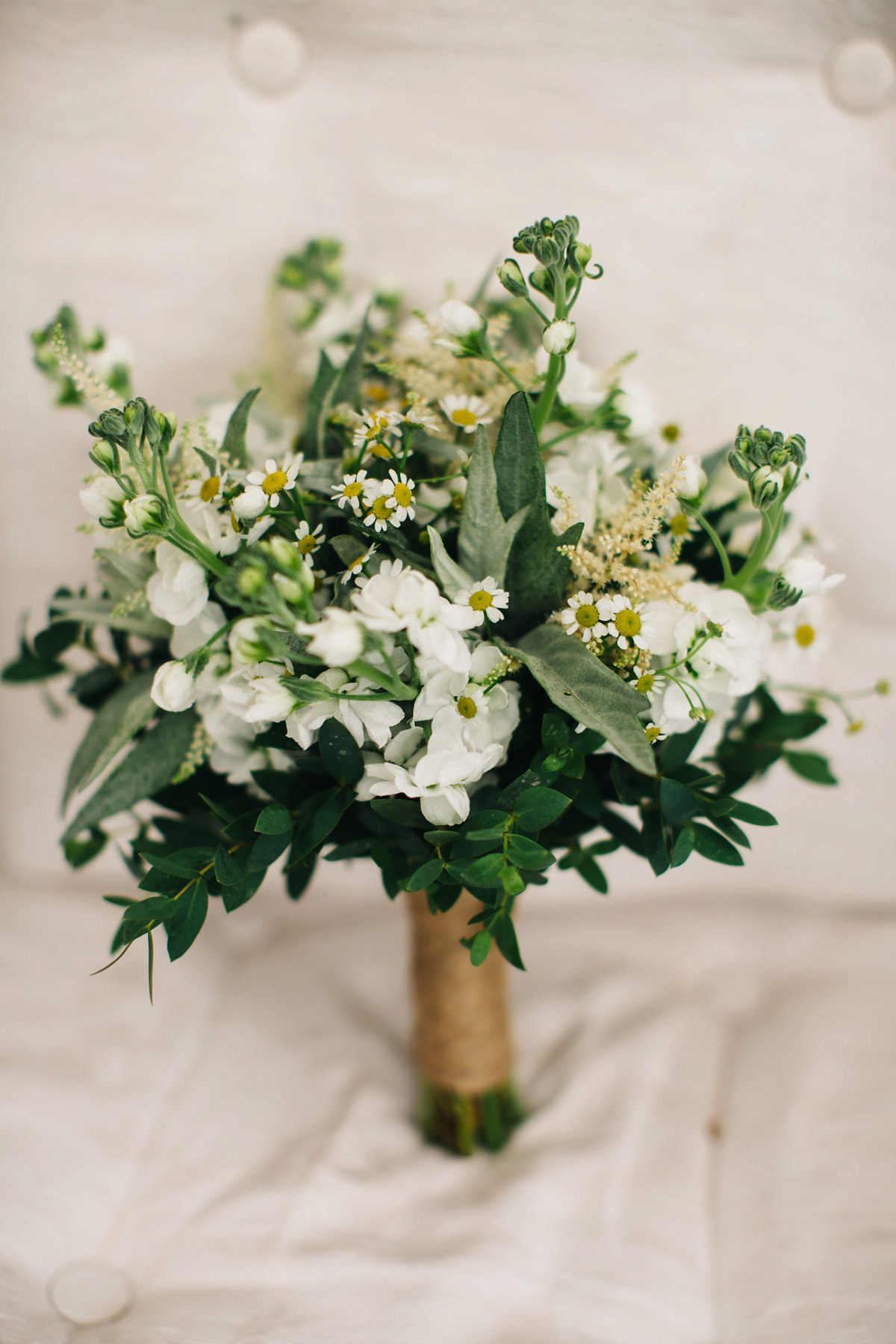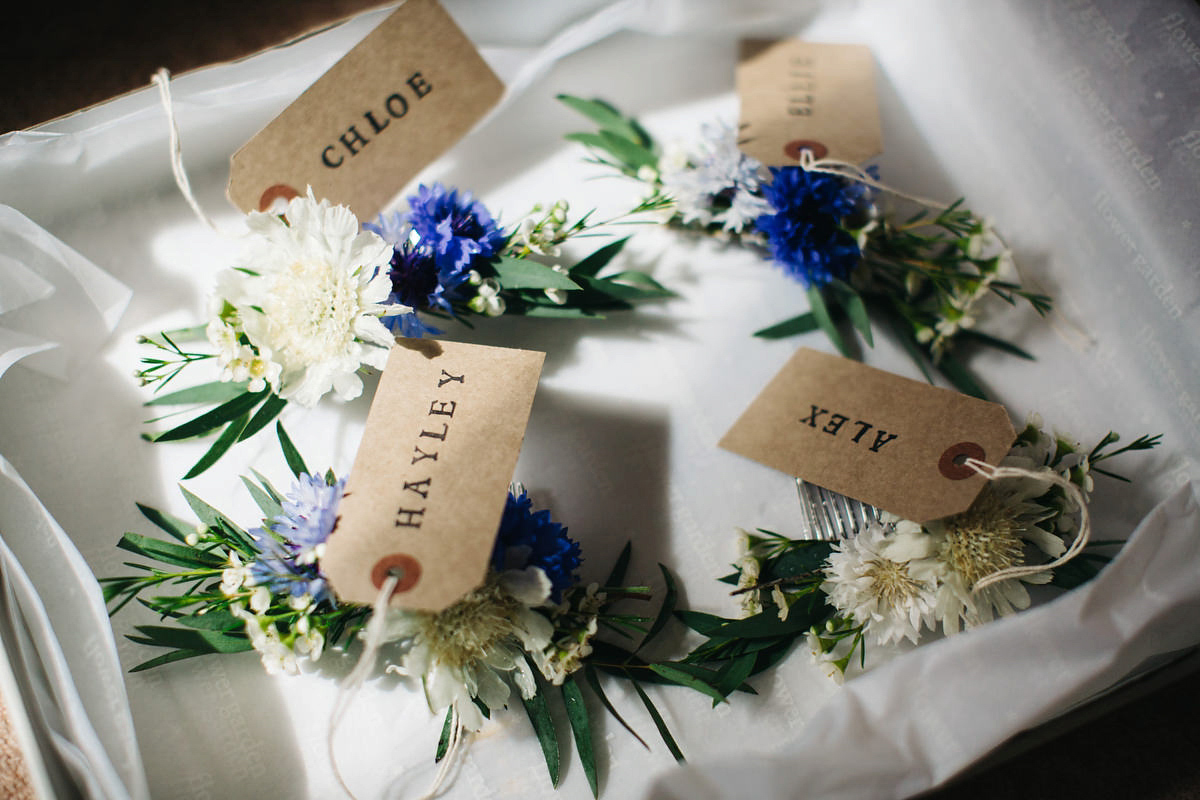 "We met at Bristol University and were in the same year at Dental School. Cameron would be the first to admit that I took a fair amount of persuading (two years worth in fact) before giving him a chance but the rest, as they say, is history."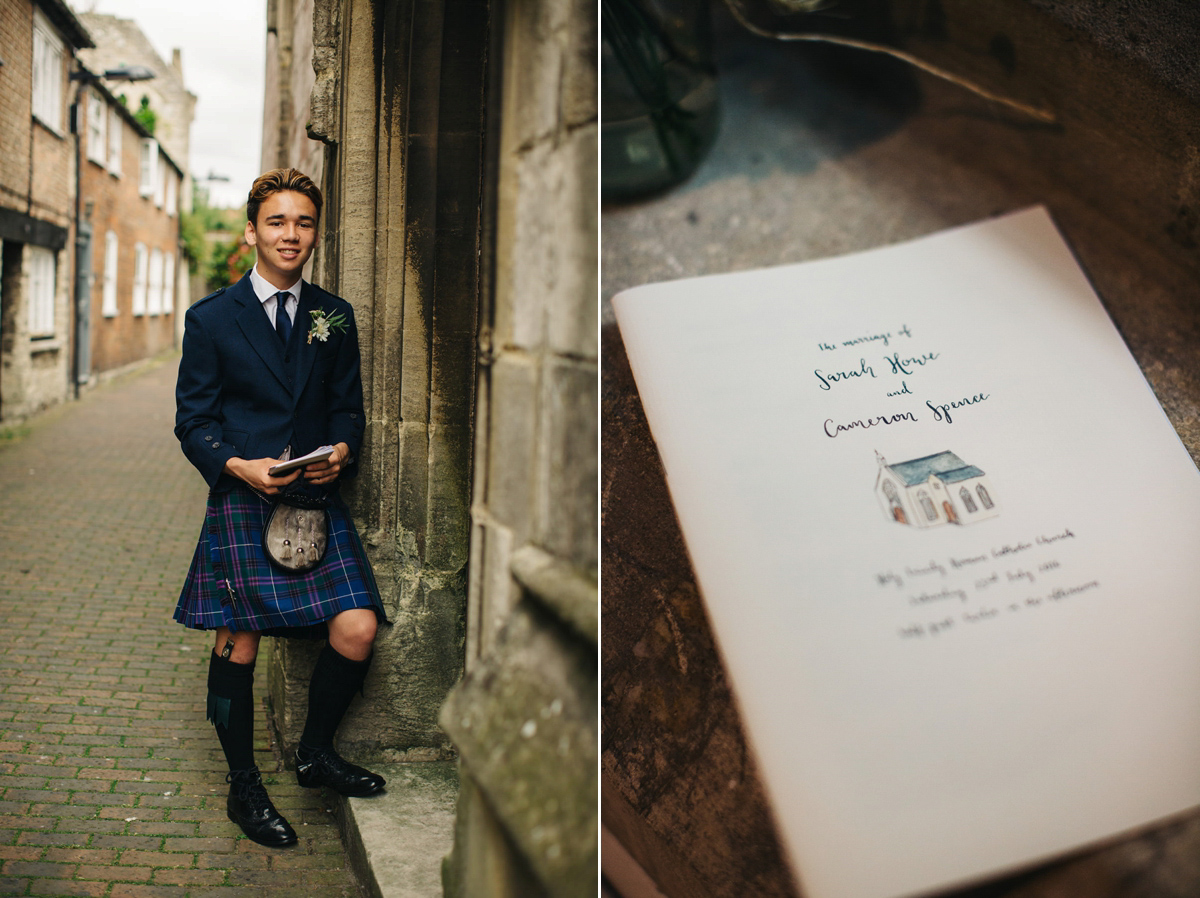 "Cameron proposed 8 years later on a Christmas skiing trip in Val Thorens when he orchestrated a surprise proposal as part of a blind folded skiing drill in a lesson. I can honestly say I have never been more shocked, skiing back down the mountain afterwards was quite a challenge with shaking legs! We were engaged for 19 months before the big day."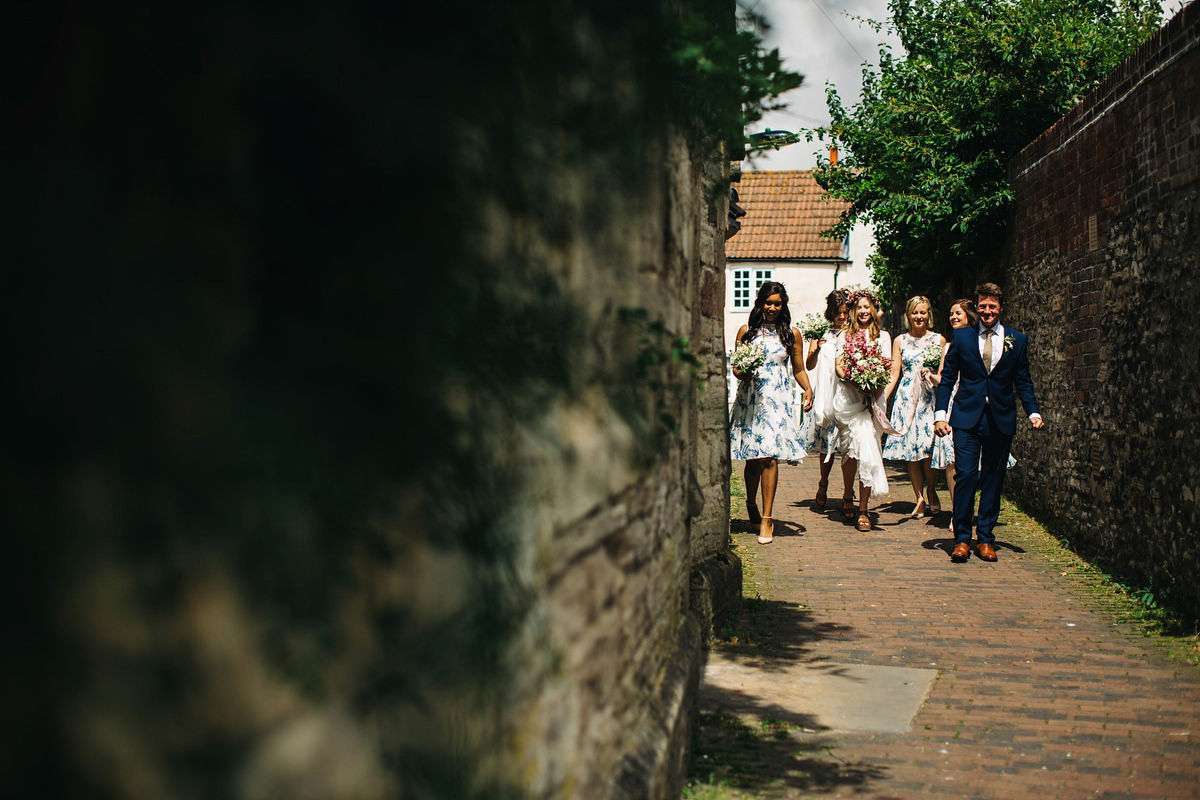 "We just couldn't bring ourselves to pay for a wedding car so we asked Cameron's brothers and sister to decorate our old VW Polo which Cameron has had since we were at Dental School (we went for our first date in that car!)."
"They did an amazing job with white chalk paint and we received a lot of attention when driving it to the airport the next day."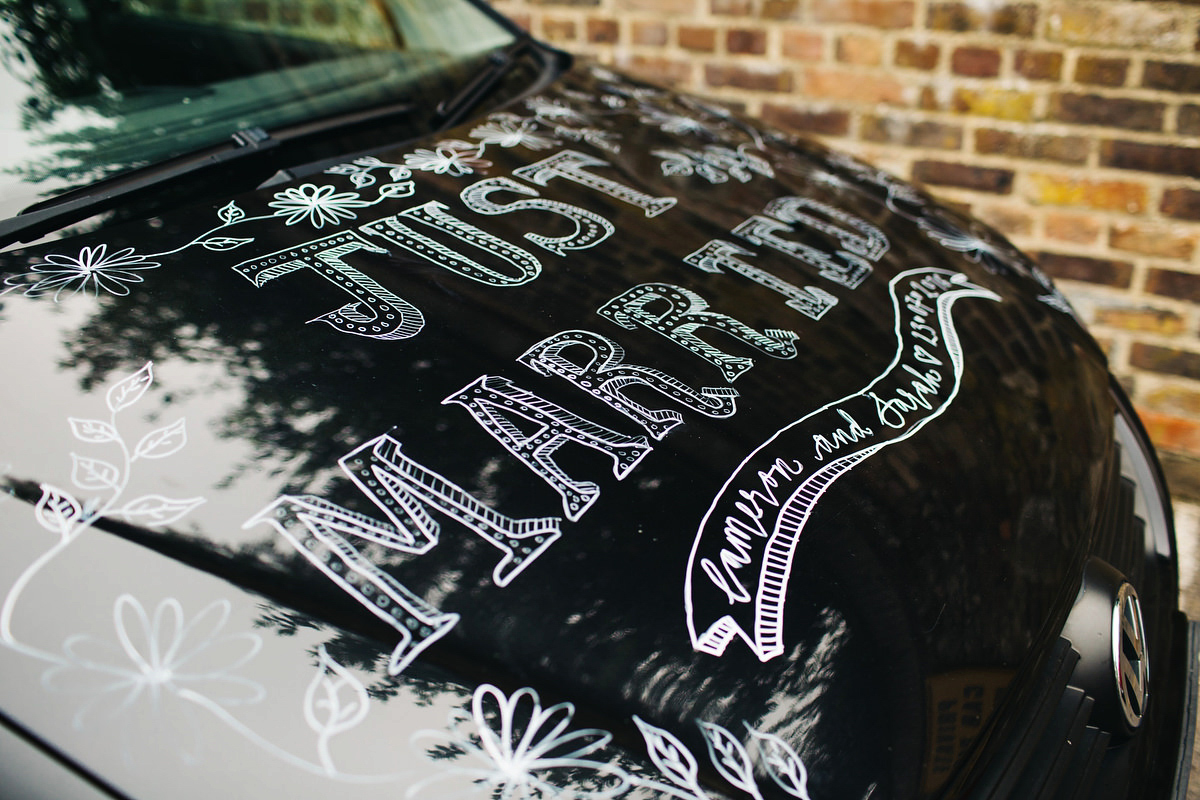 After making quite a stir with her amazing wedding transportation (can I decorate my own car?), Sarah walked down the aisle with her Dad to Debussy's Clair de Lune played by the church organist.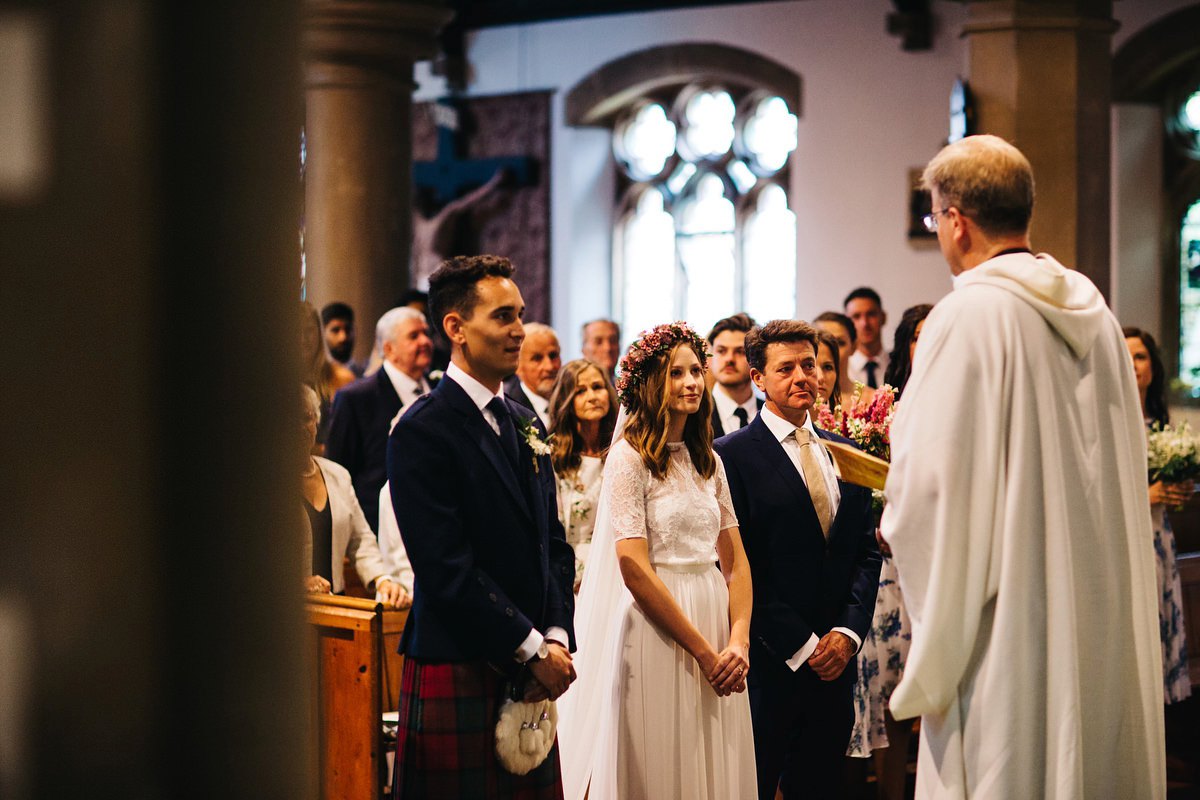 "I was absolutely set on getting married in Dorset which is where I grew up and luckily Cameron was wise enough to agree with me. We are currently based up in Manchester so it gave us a good excuse to make several trips down to Dorset to meet with suppliers. Cameron is Catholic and his old housemaster (also a Benedictine Monk) from school kindly agreed to prepare us and perform the ceremony. We were married at the Holy Trinity Church in my home town of Dorchester, Dorset."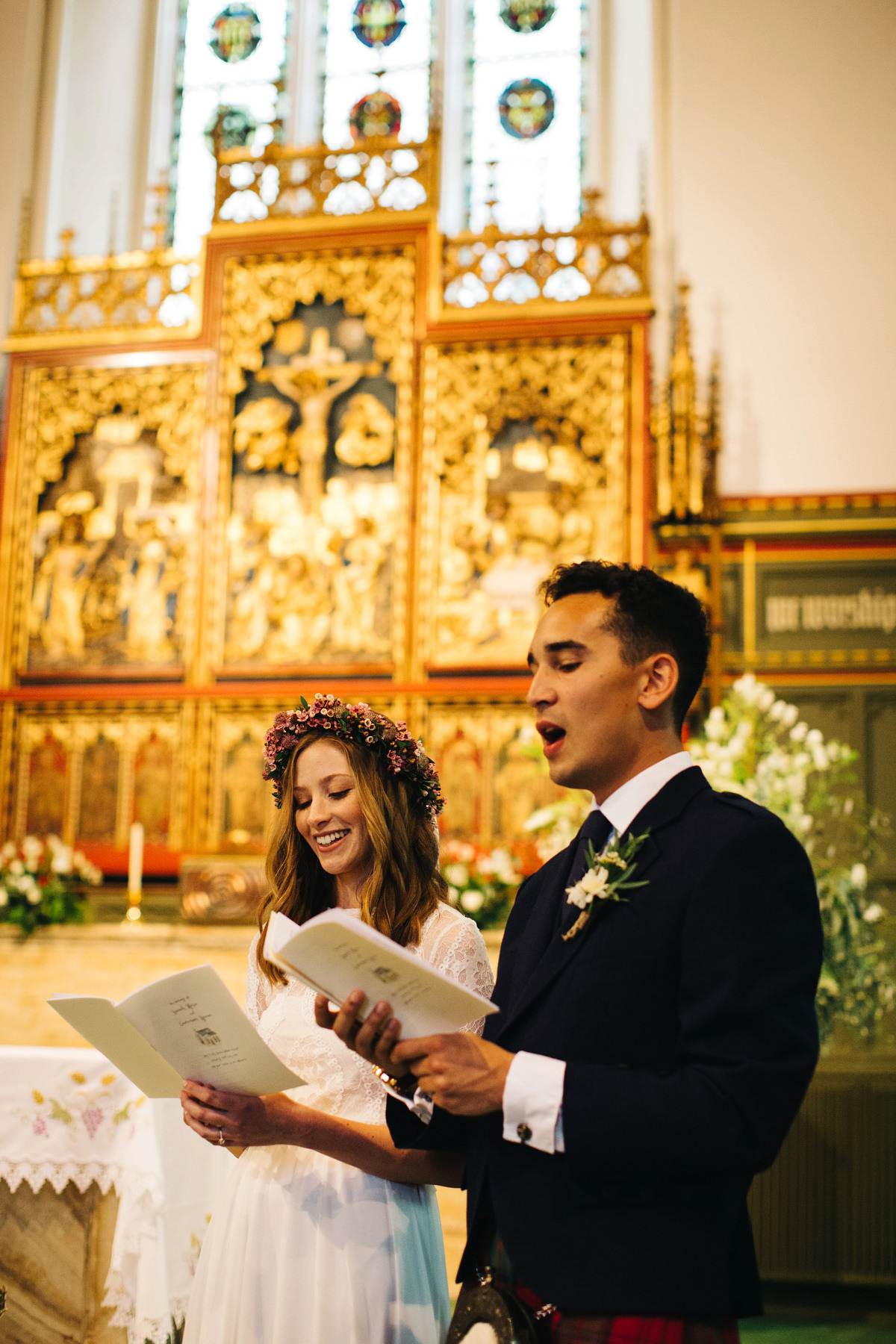 Choosing to stick to traditional vows, the couple personalised their service with readings, one of which was Seamus Heaney's 'Scaffolding':
Masons, when they start upon a building,
Are careful to test out the scaffolding;

Make sure that planks won't slip at busy points,
Secure all ladders, tighten bolted joints

And yet all this comes down when the job's done
Showing off walls of sure and solid stone.

So if, my dear, there sometimes seem to be
Old bridges breaking between you and me

Never fear. We may let the scaffolds fall
Confident that we have built our wall.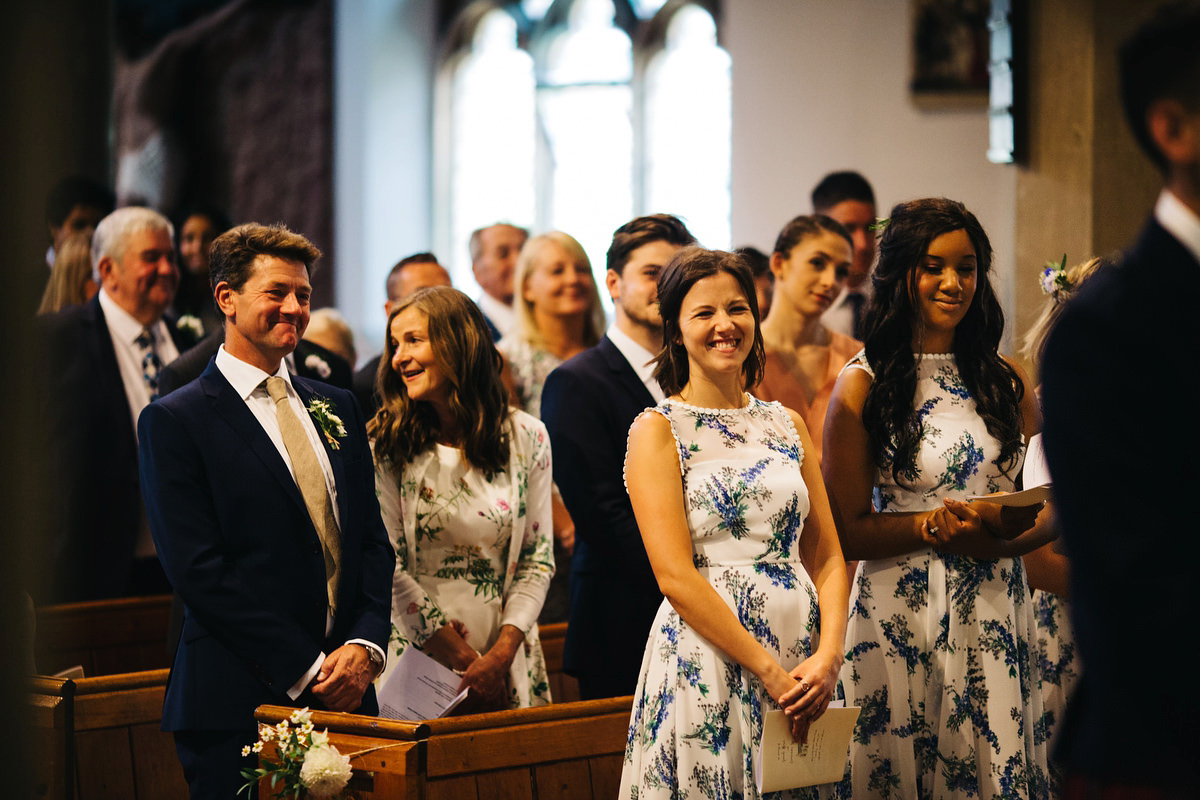 Groom Cameron gave a nod to his Scottish roots in his family tartan, hiring his jacket and groomsmen outfits from Cameron Ross Formal Hire. Groomsmen agreed to don kilts to match, surprising guests and tying in part of Cameron's story to the church in Sarah's home town.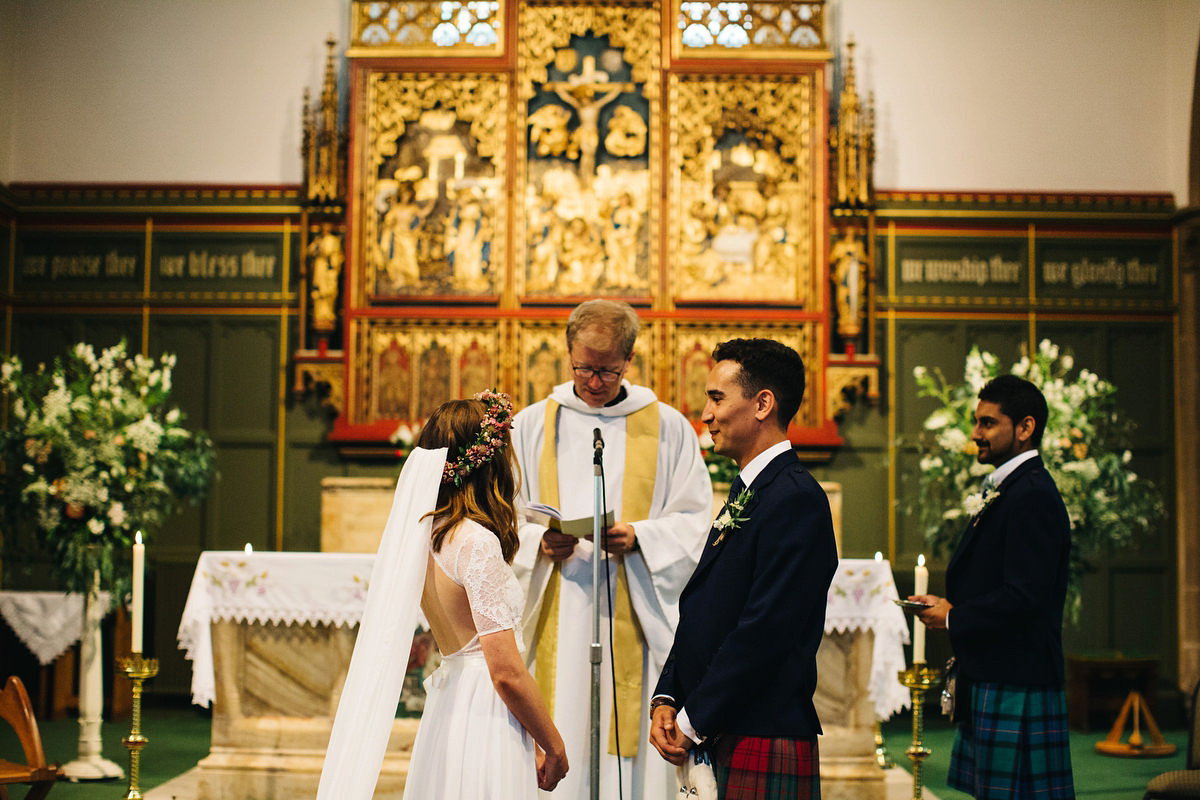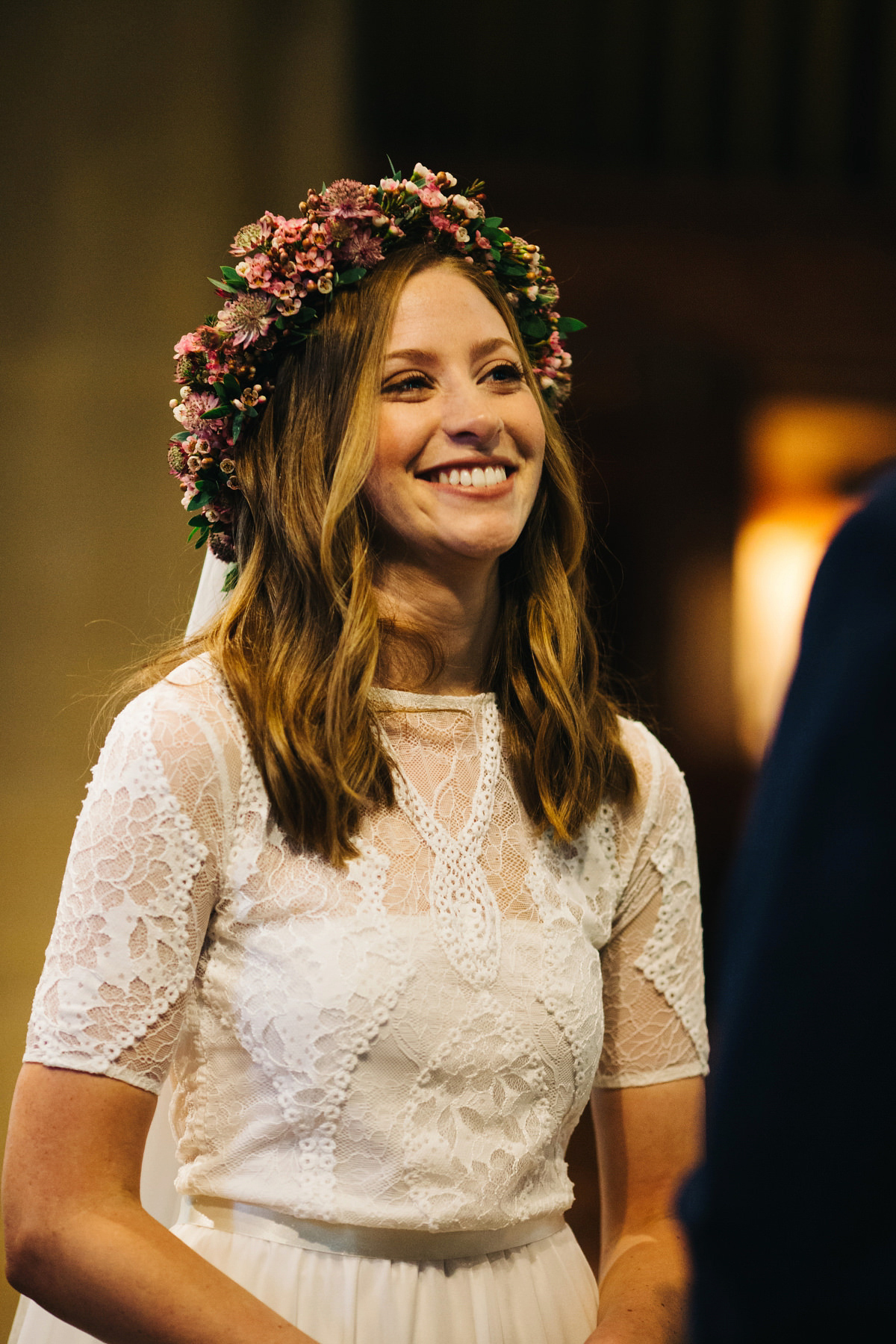 "My Mum and I did all the church and venue flowers a couple of days before the wedding. This was great fun and we were really pleased with how they turned out."
"I'm so glad I left my Bouquet, Flower crown and Bridesmaid bouquets to the professionals at West Dorset Wedding Flowers though! I found it really difficult to make a decision on flowers as we hadn't really picked a colour theme but opted for a palette that wouldn't clash too much with Cameron's kilt!"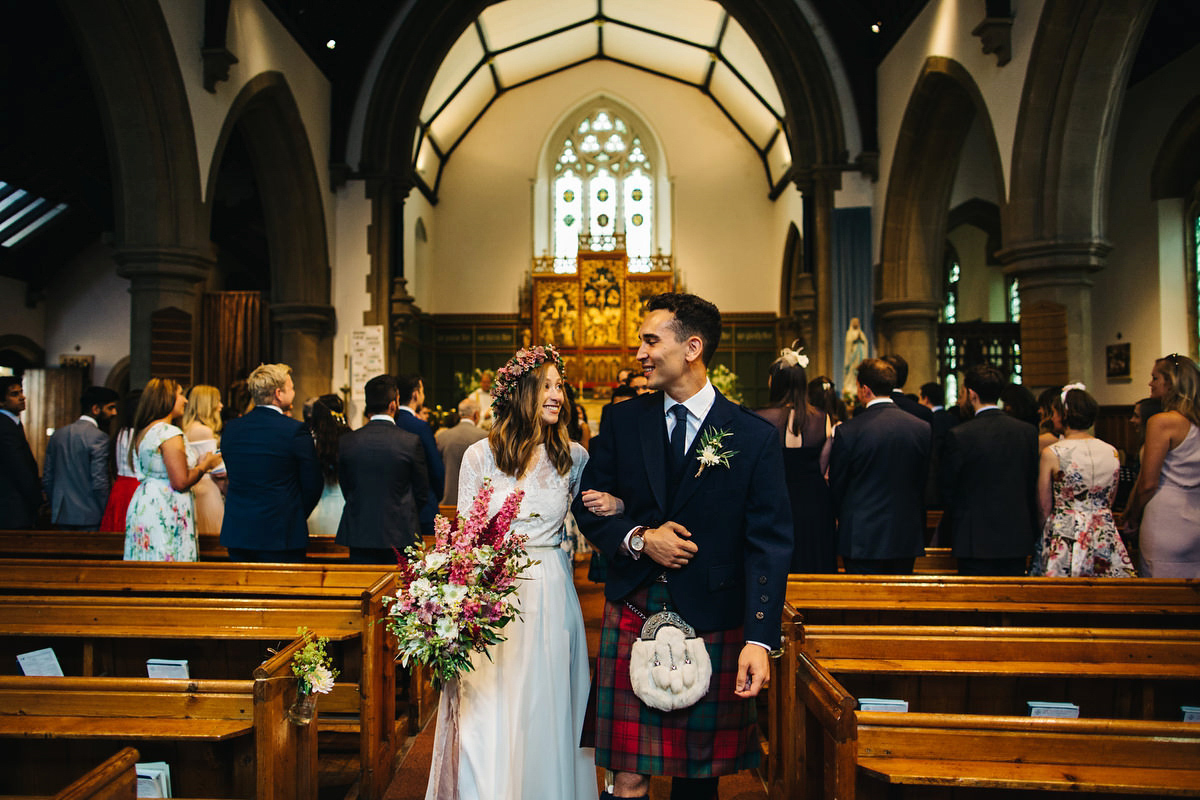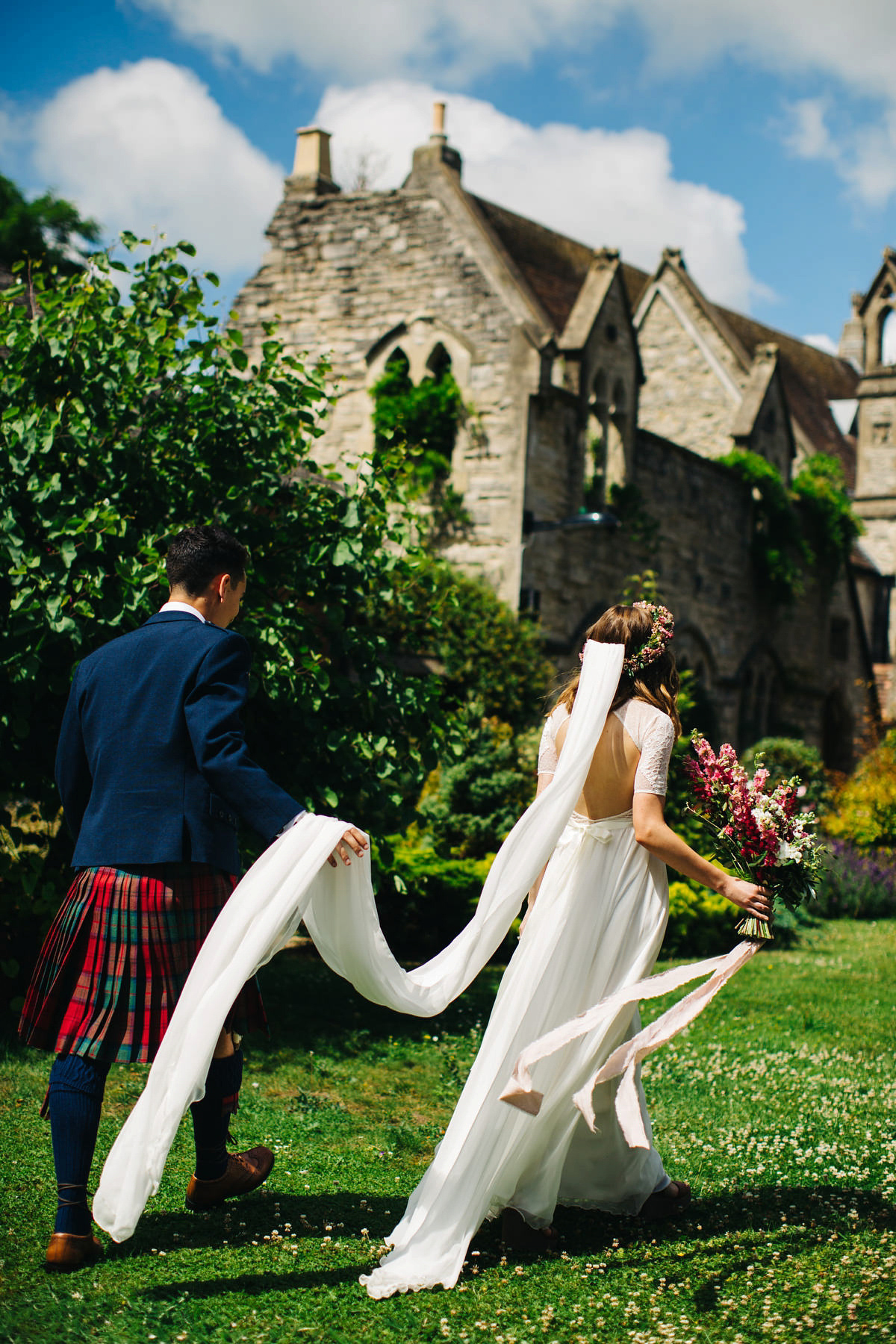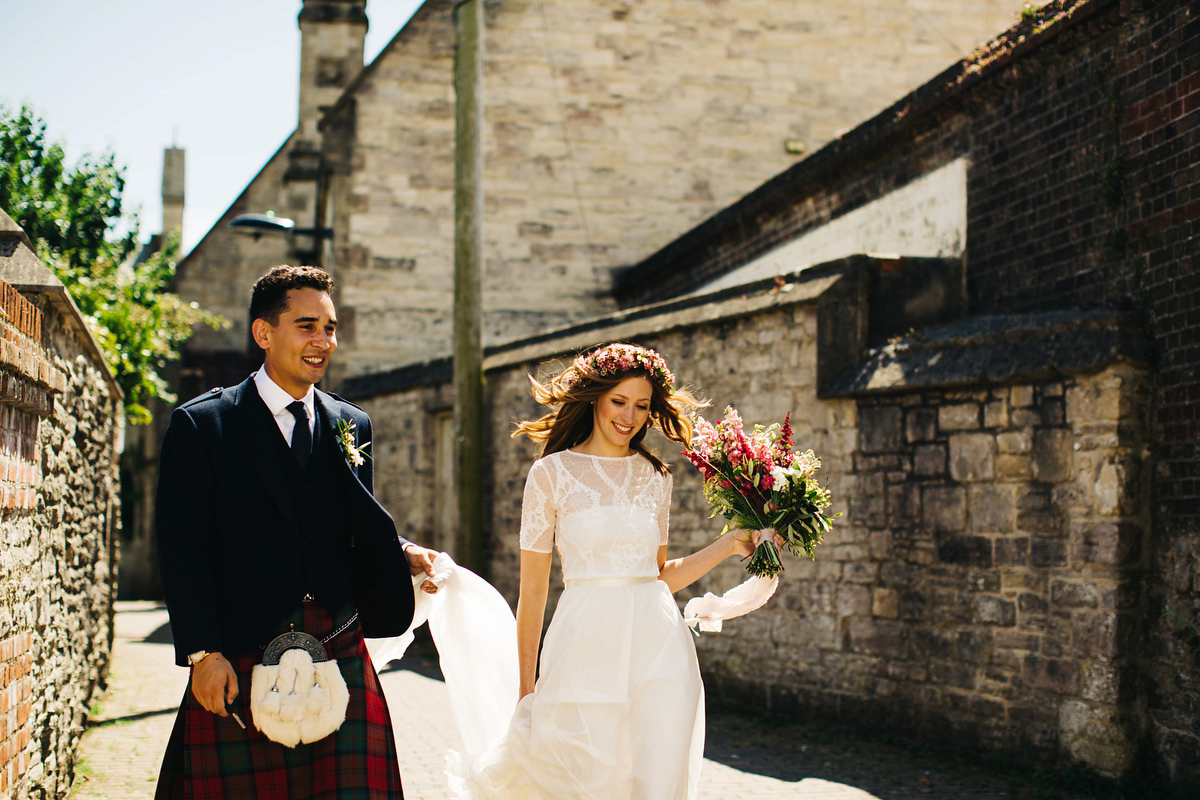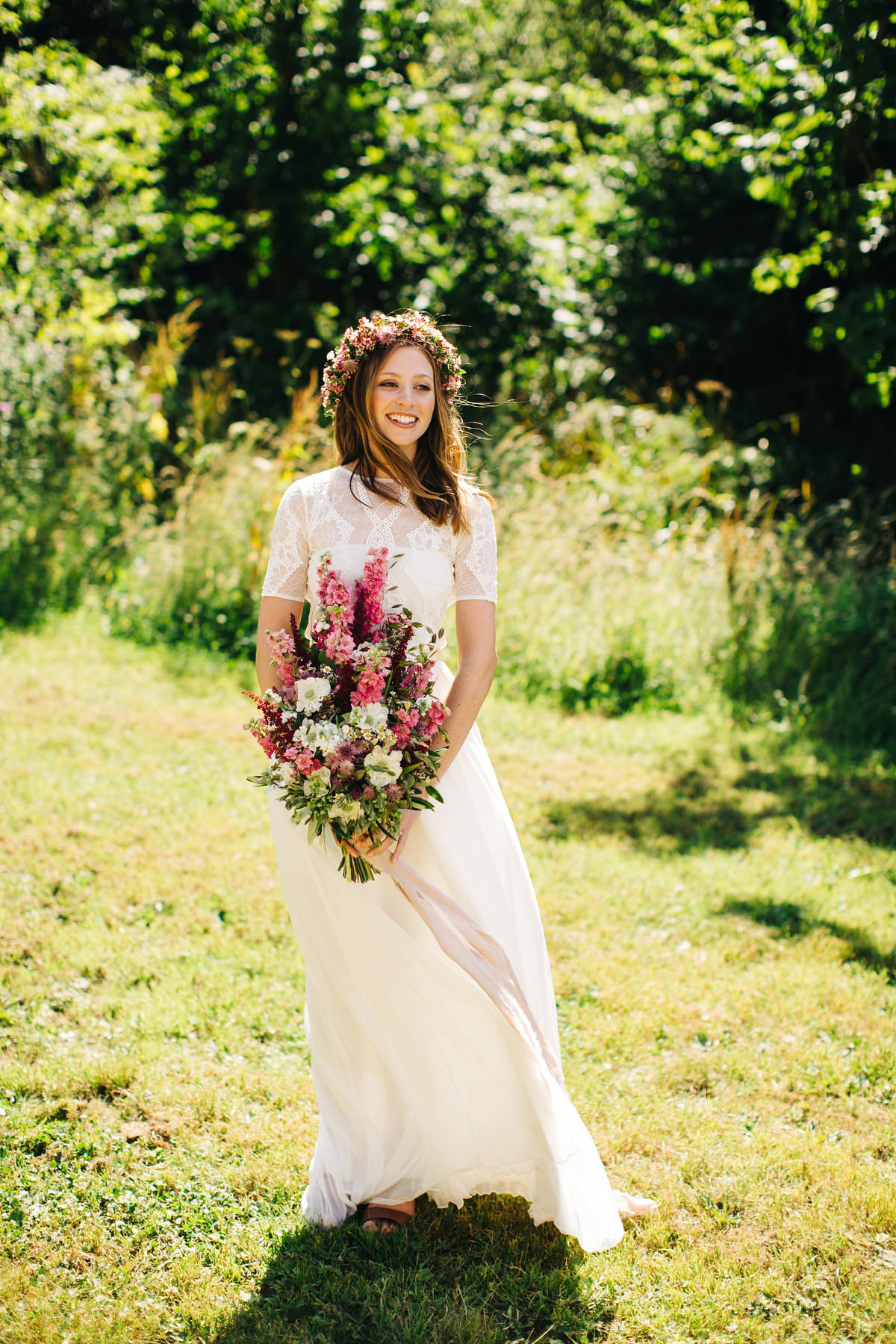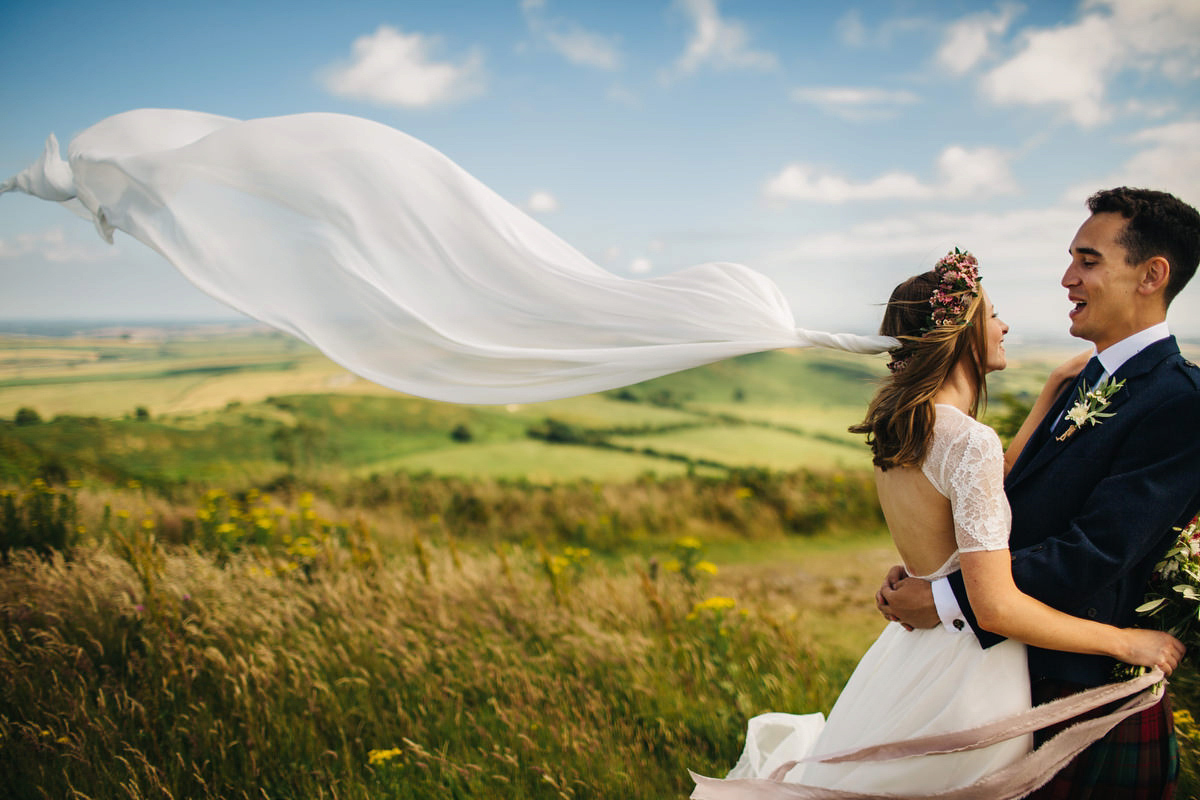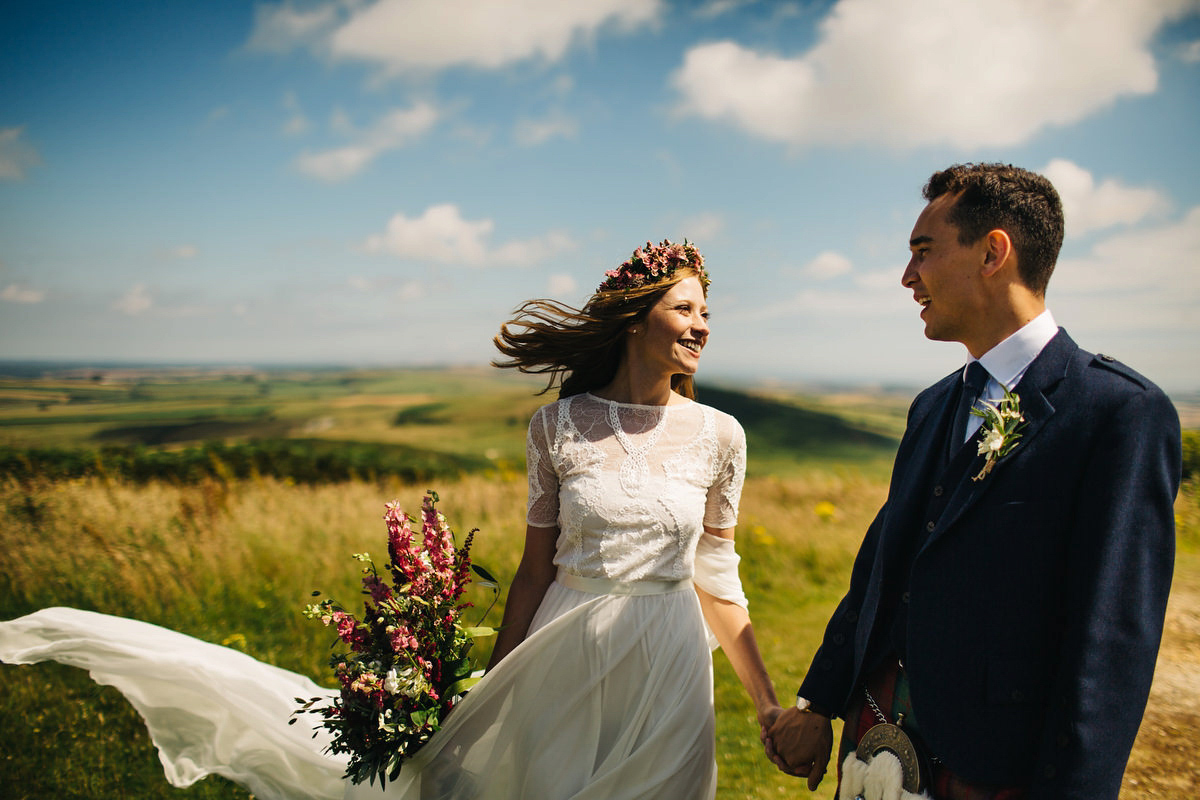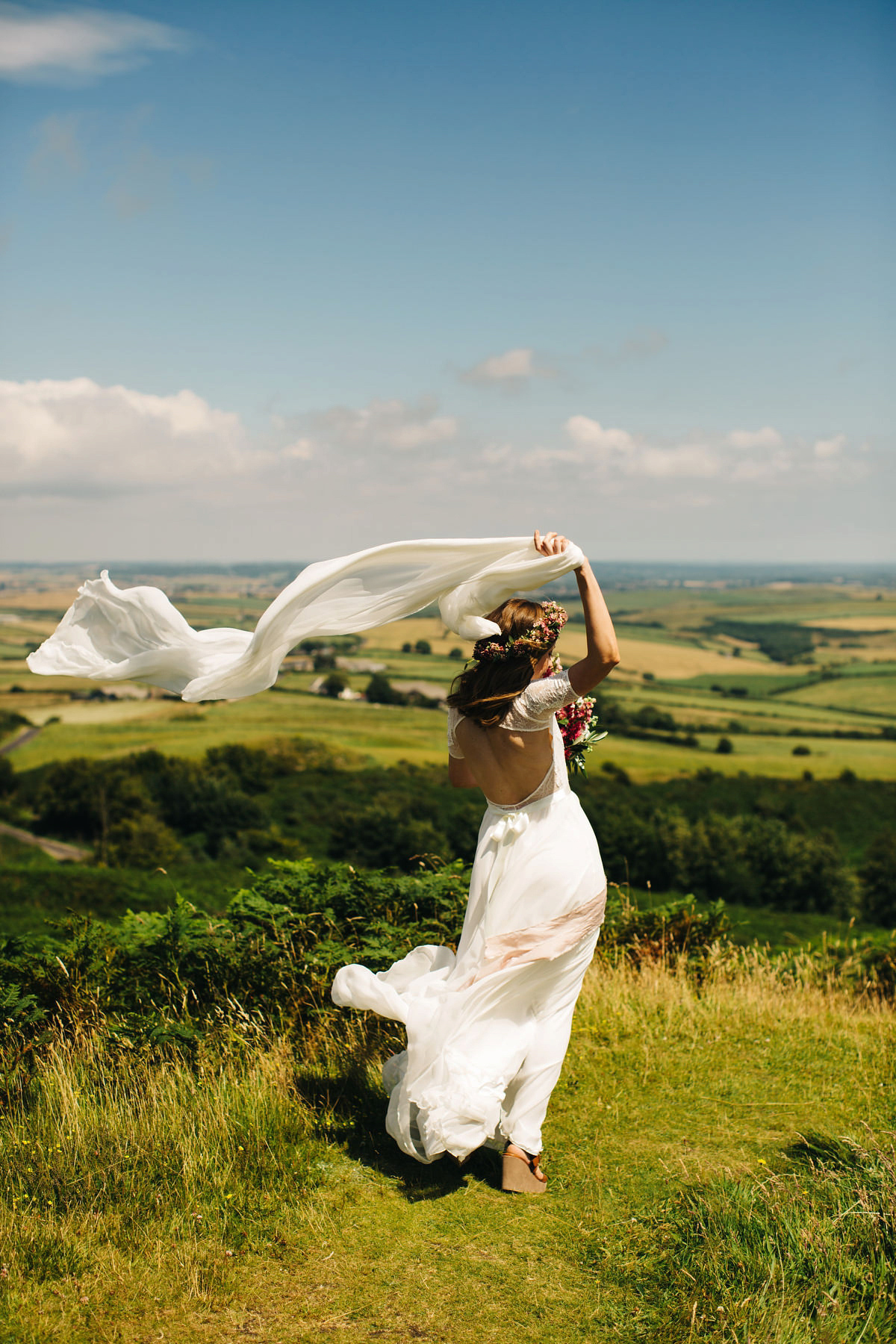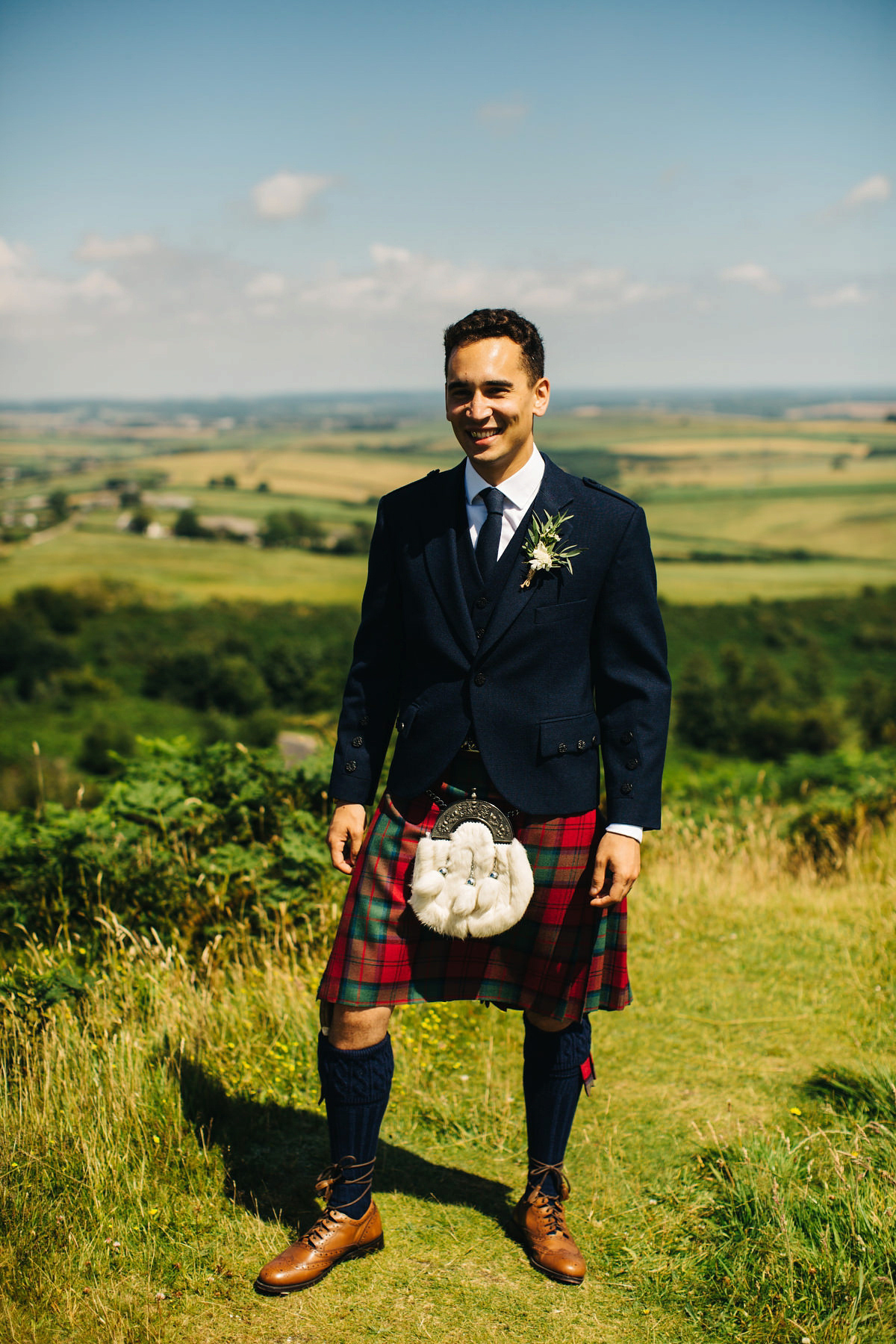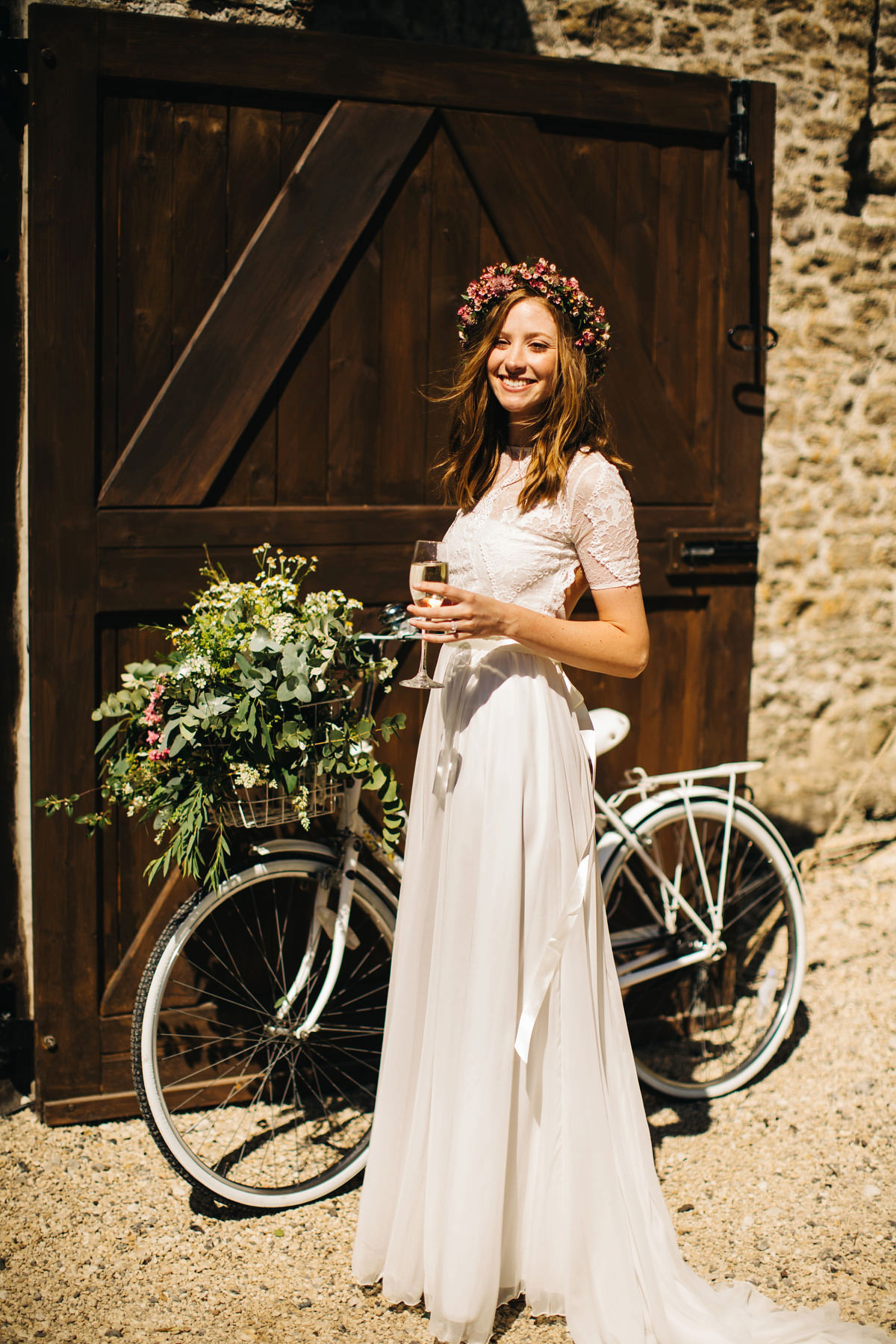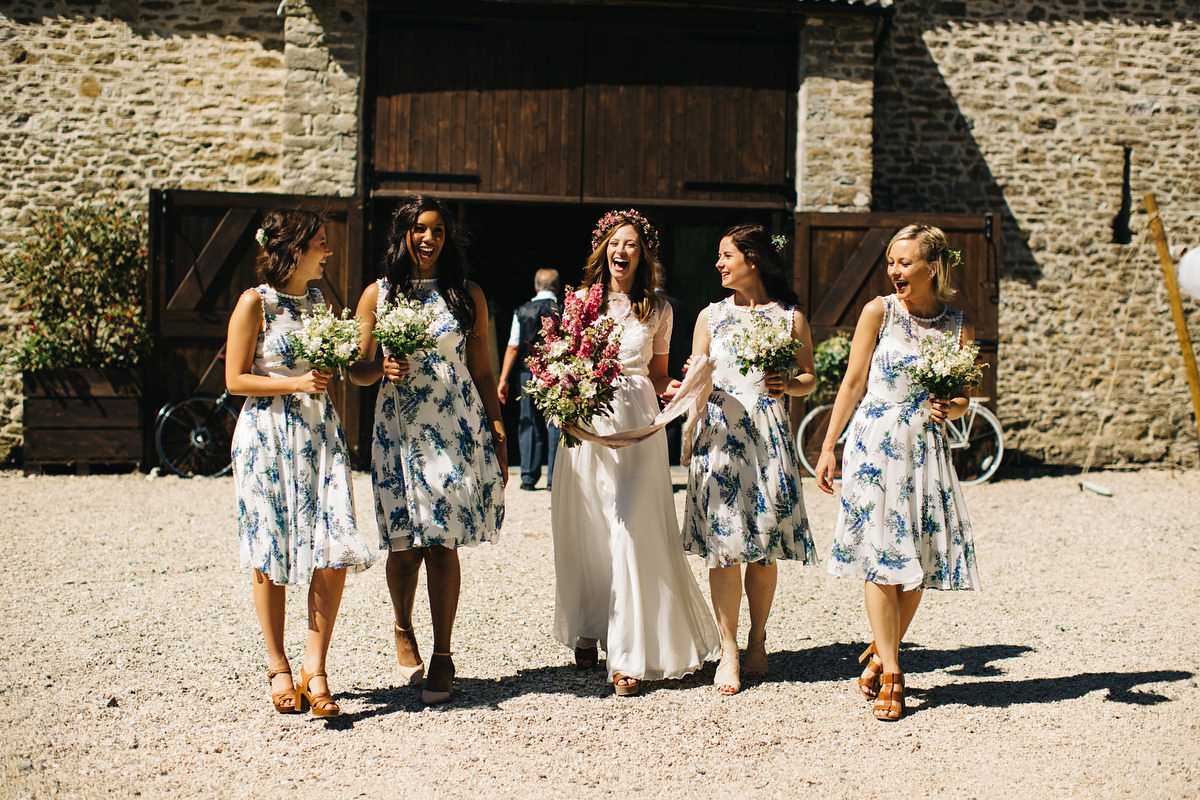 The sun shone for this glorious barn wedding with a twist as guests moved to the rustic character of Gorwell Barn for the reception. Adding quirky additions and colourful pops to the picturesque countryside setting worked wonderfully, and I feel no room is now complete without a paper crane chandelier (you may be aware that I'm a big fan).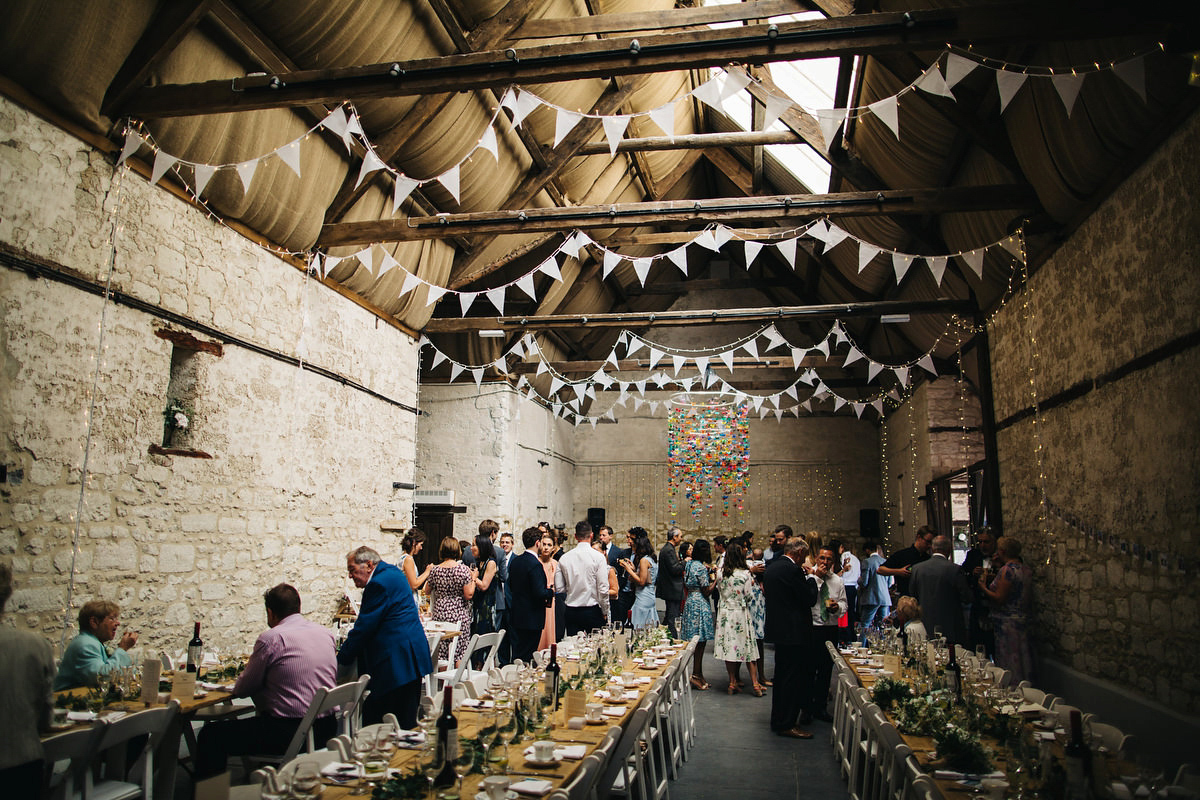 This venue also allowed guests to camp, adding to the party vibe and ensuring total relaxation and logistical ease.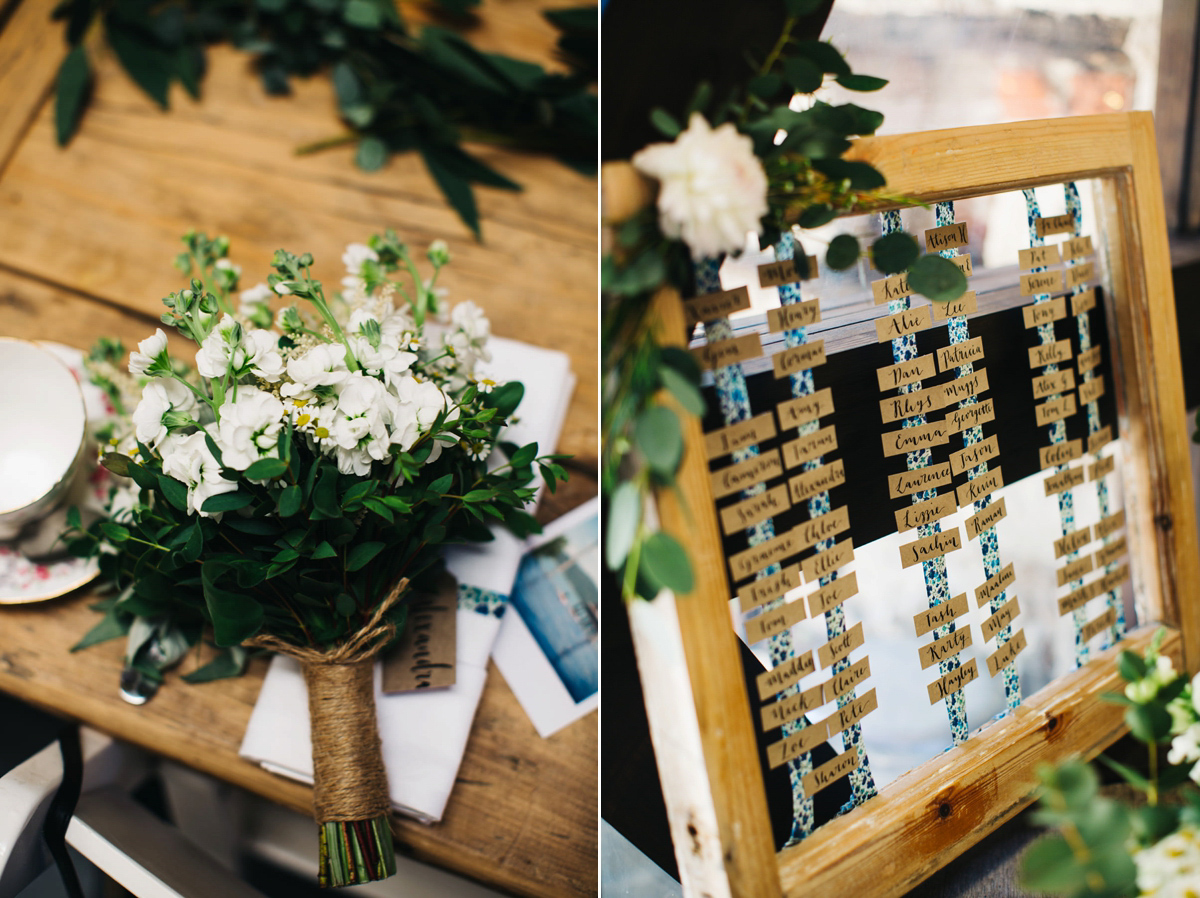 "The reception venue was Gorwell Barn, Abbotsbury. This is THE most stunning venue in a valley with views of the whole of the Jurassic coast from the top of the driveway. We very much wanted a venue with no restrictions that we could personalise and I felt as though it showcased Dorset in all its glory for our visiting friends and family."
"The farm has several cottages and space for camping so most guests stayed overnight allowing us to party into the wee small hours and make a bit of a weekend of it."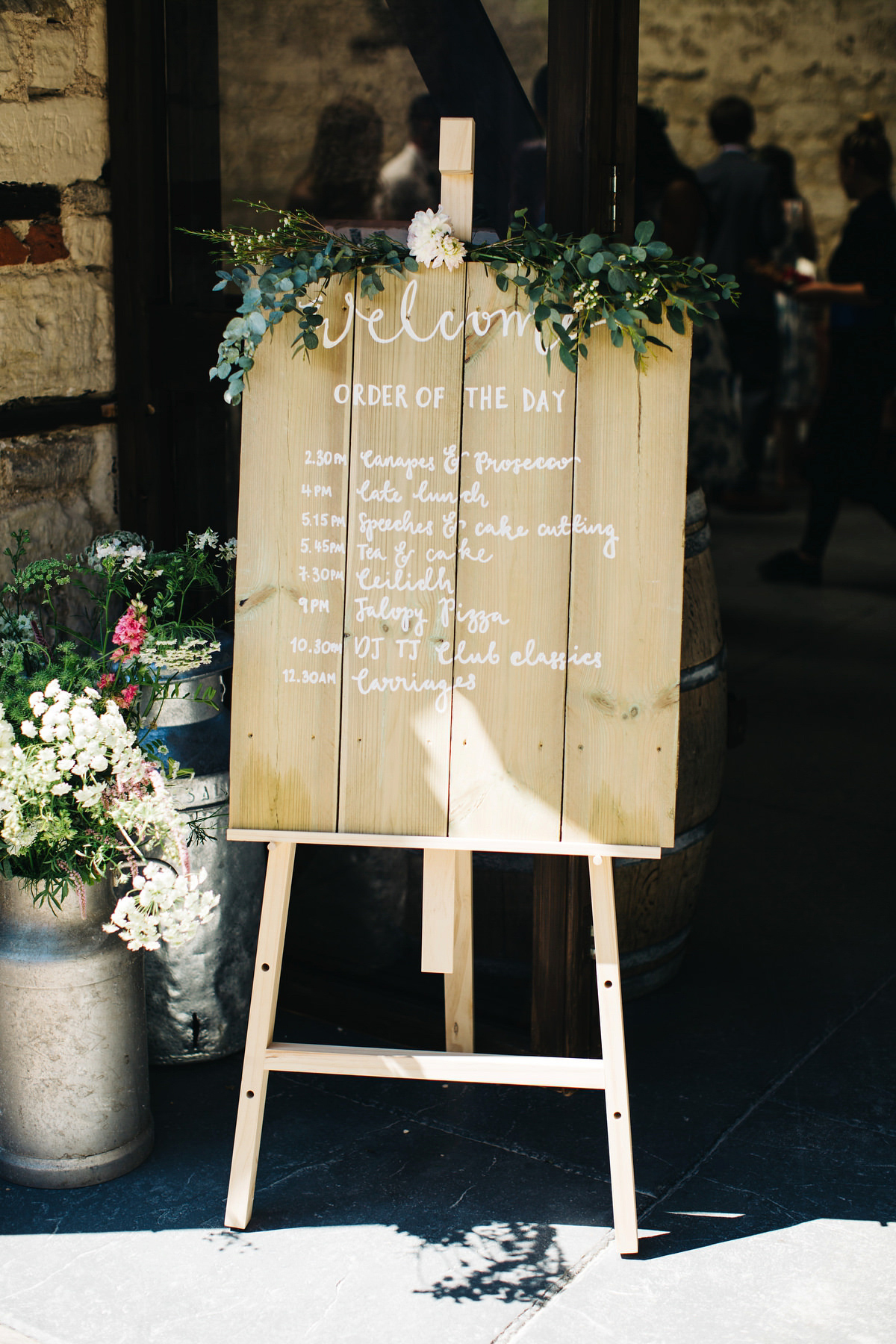 "The barn is so beautiful that we didn't need to do too much. With the help of my Nan who was transformed into a paper crane folding machine, we constructed a 'chandelier' to act as a focal point in such a big room. I loved decorating the venue in the days before helped by some of our closest family and friends. We used lots of fresh flowers and foliage at the venue as well and loved getting green fingered copying displays from Pinterest."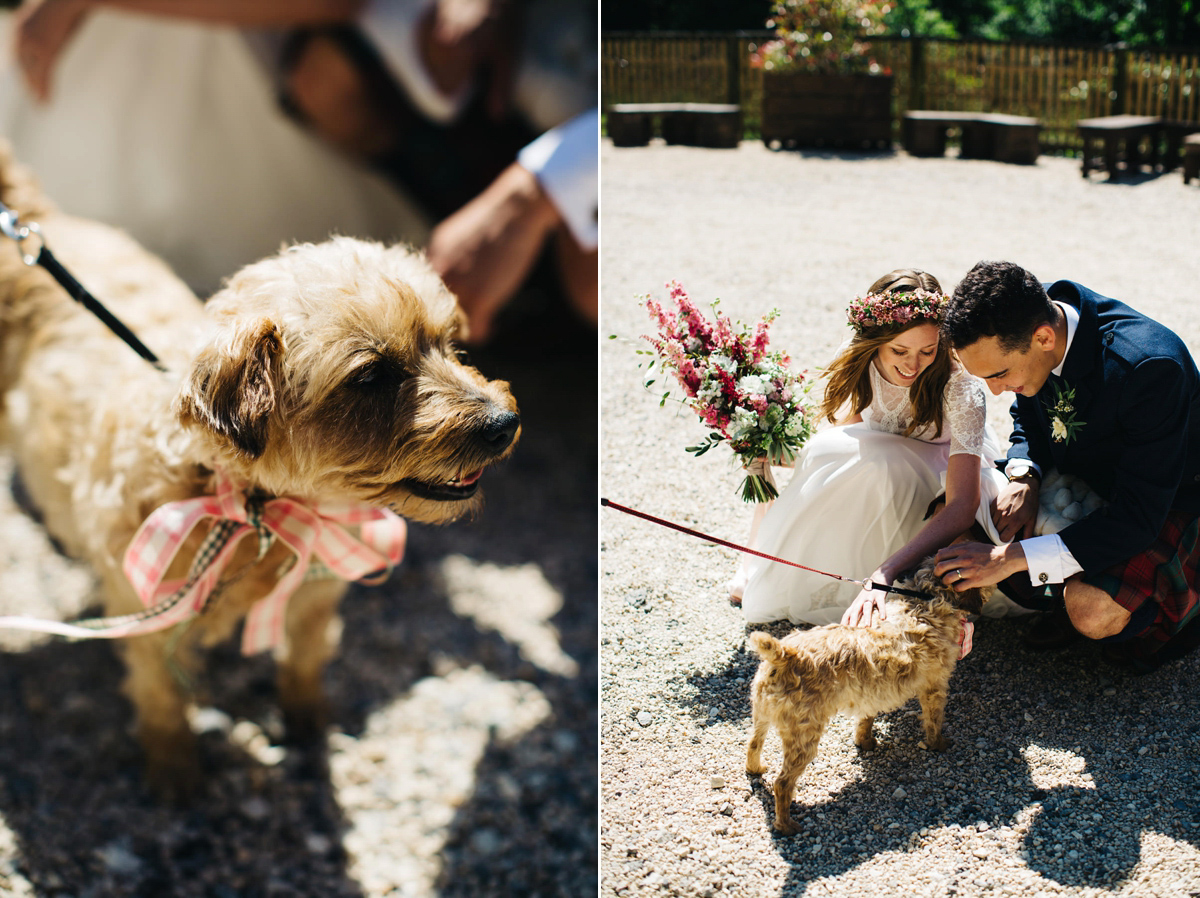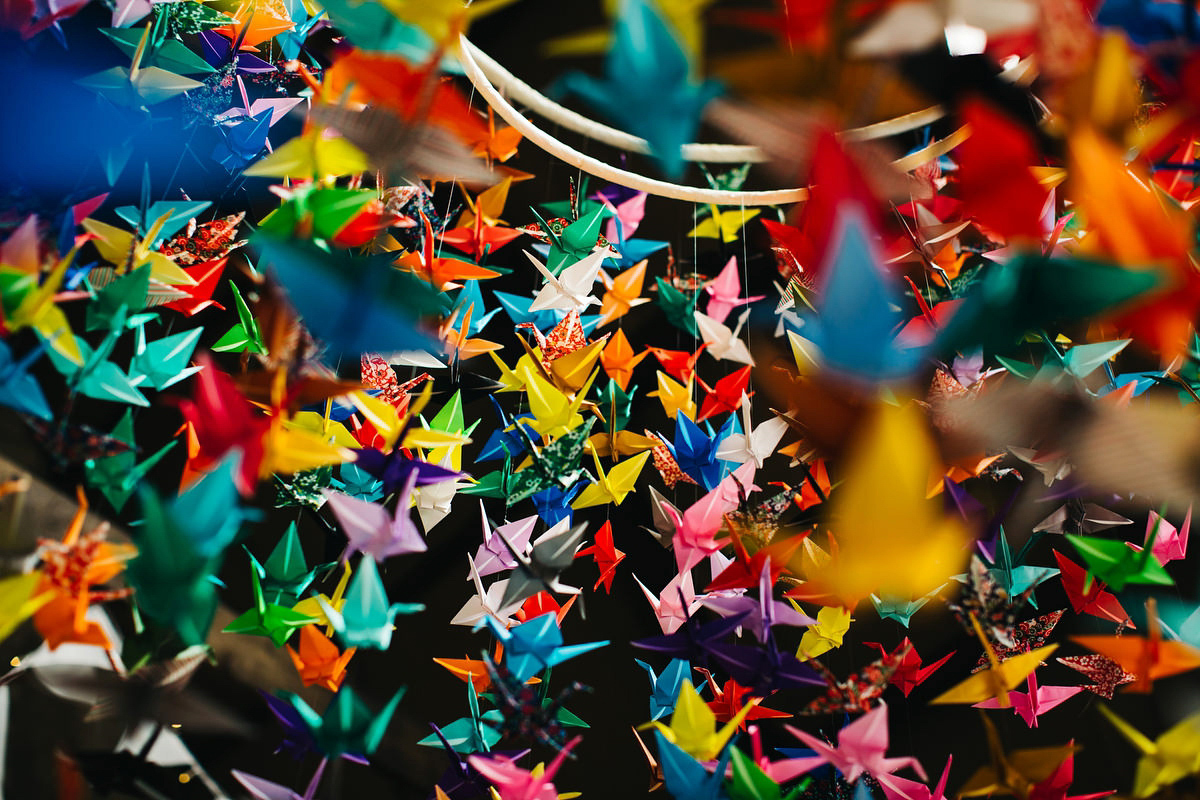 Holway Kitchen brought Sarah and Cameron's inclusive and fun feasting vision to life, ensuring that relaxed dining does not have to scrimp on impact or flavour.
"My vision for our food was an Ottolenghi deli meets Dorset Hog Roast so we had roasted pork, butternut squash frittata and some big sharing salads. For desert we had cream teas supplemented by a lot of cake made by friends and family. Bea did an incredible job, using all locally sourced and seasonal ingredients, it was so colourful and beautifully presented it took my breath away. Bea and her staff were just so lovely on the day as well."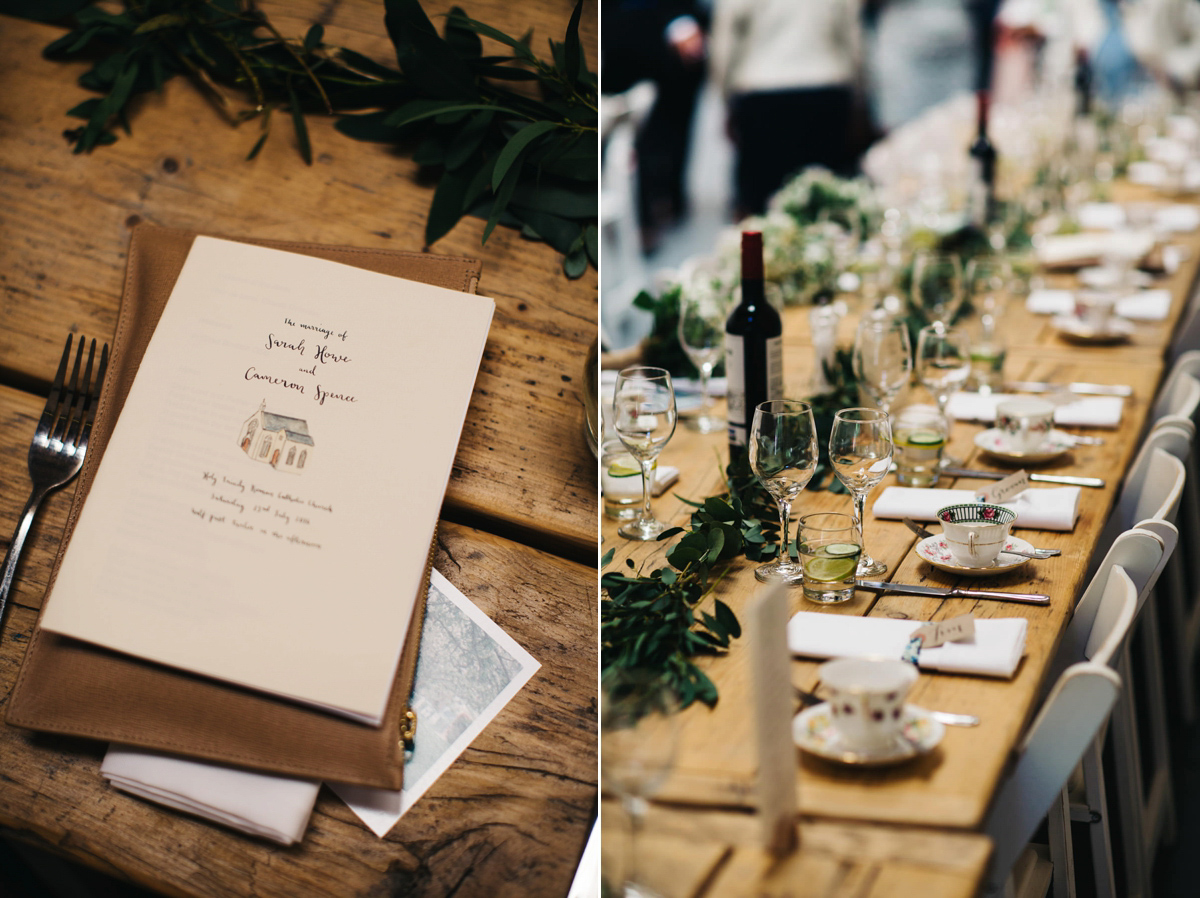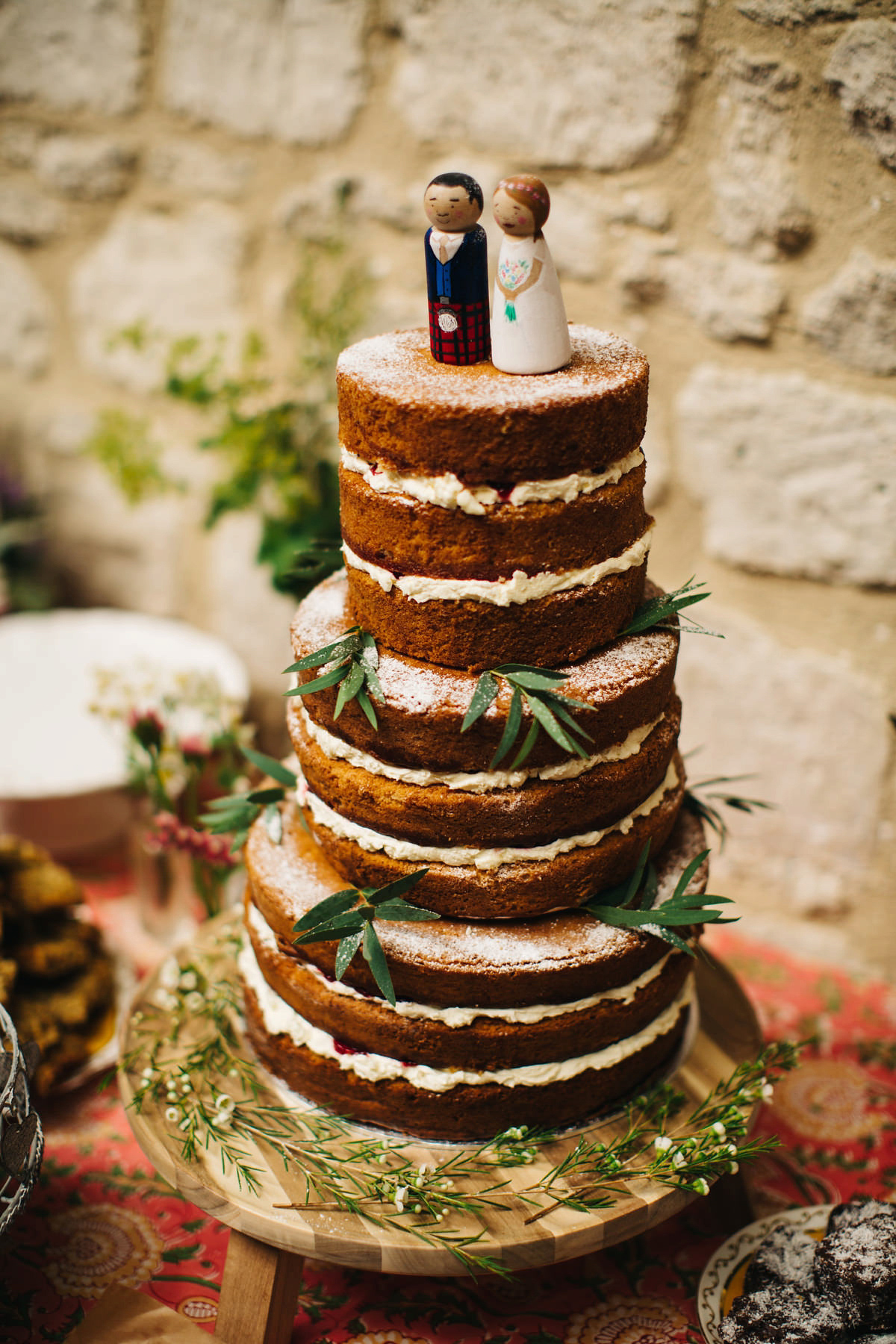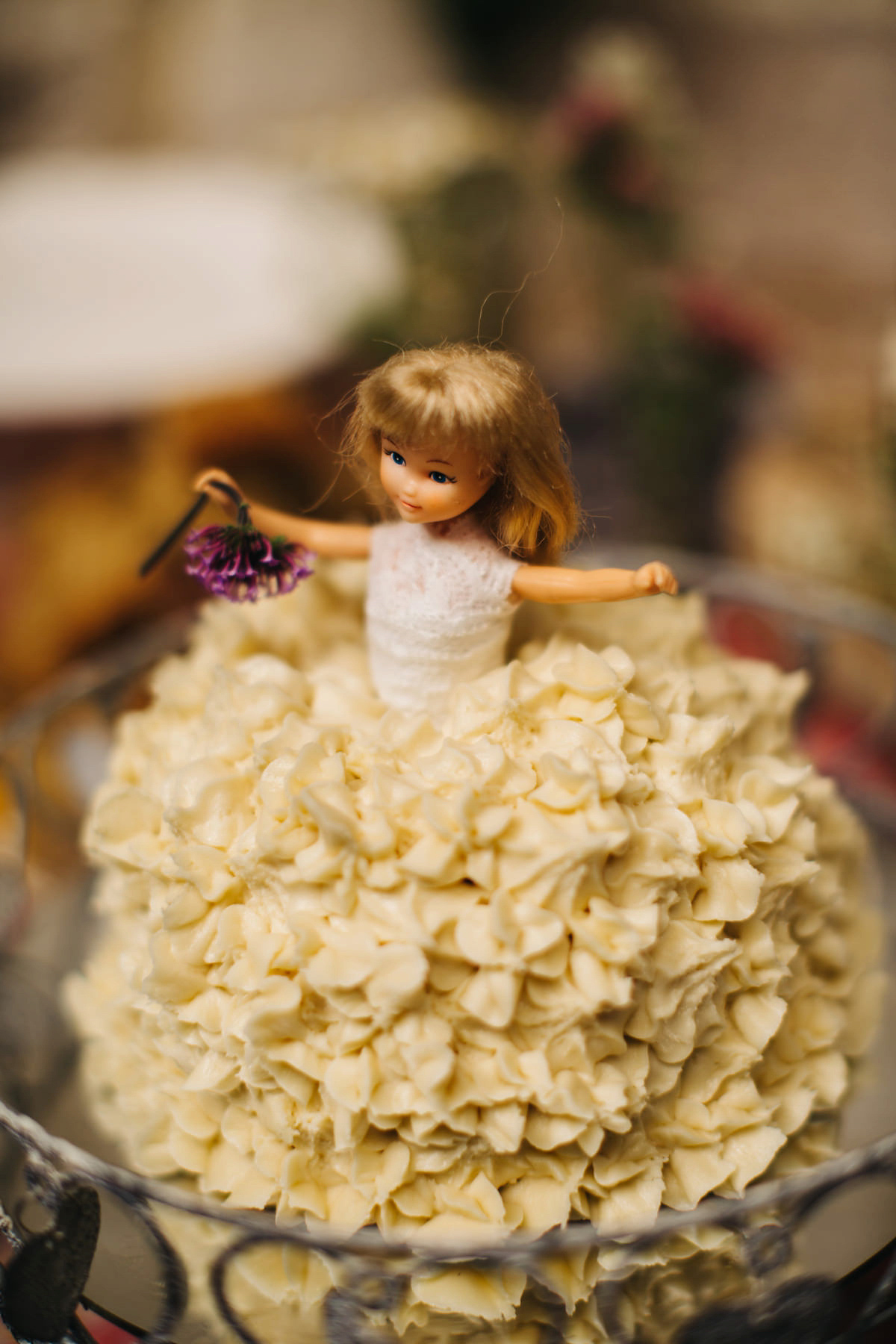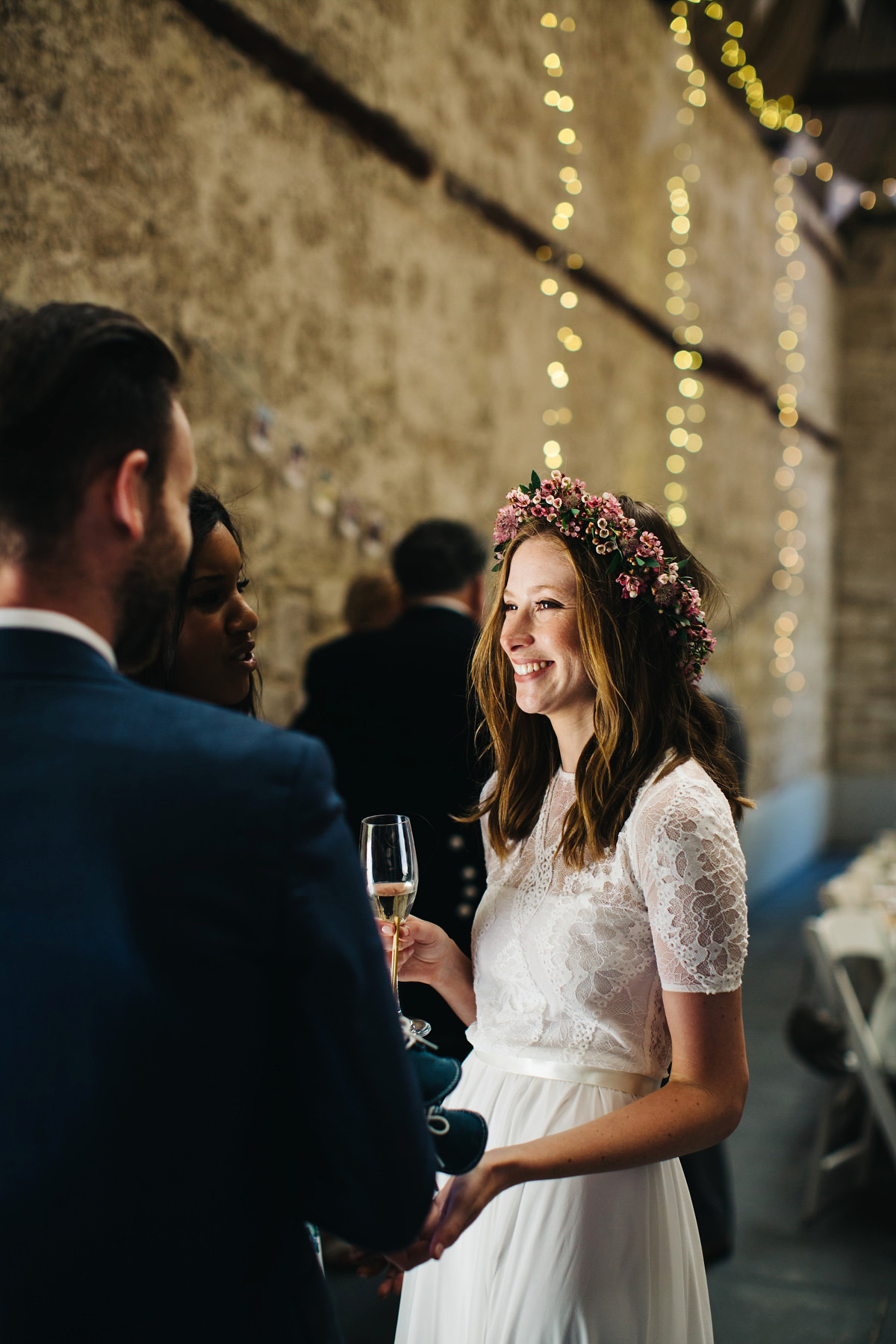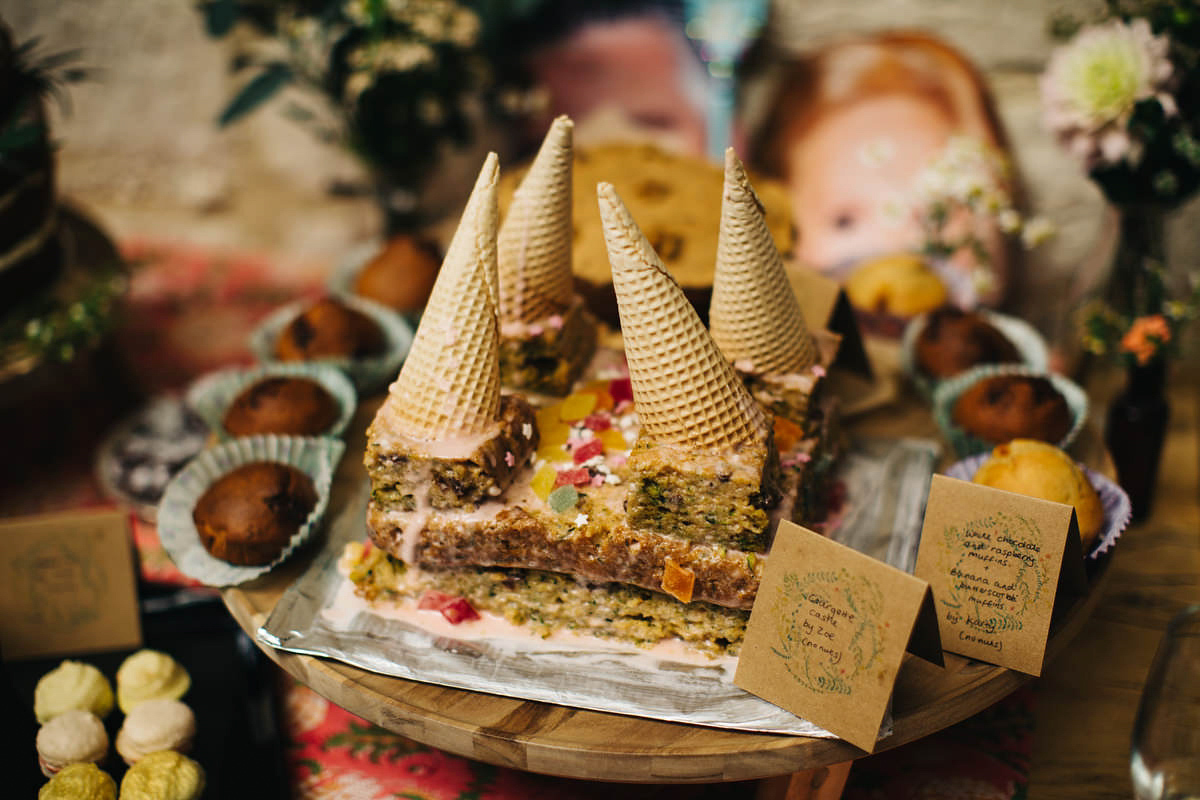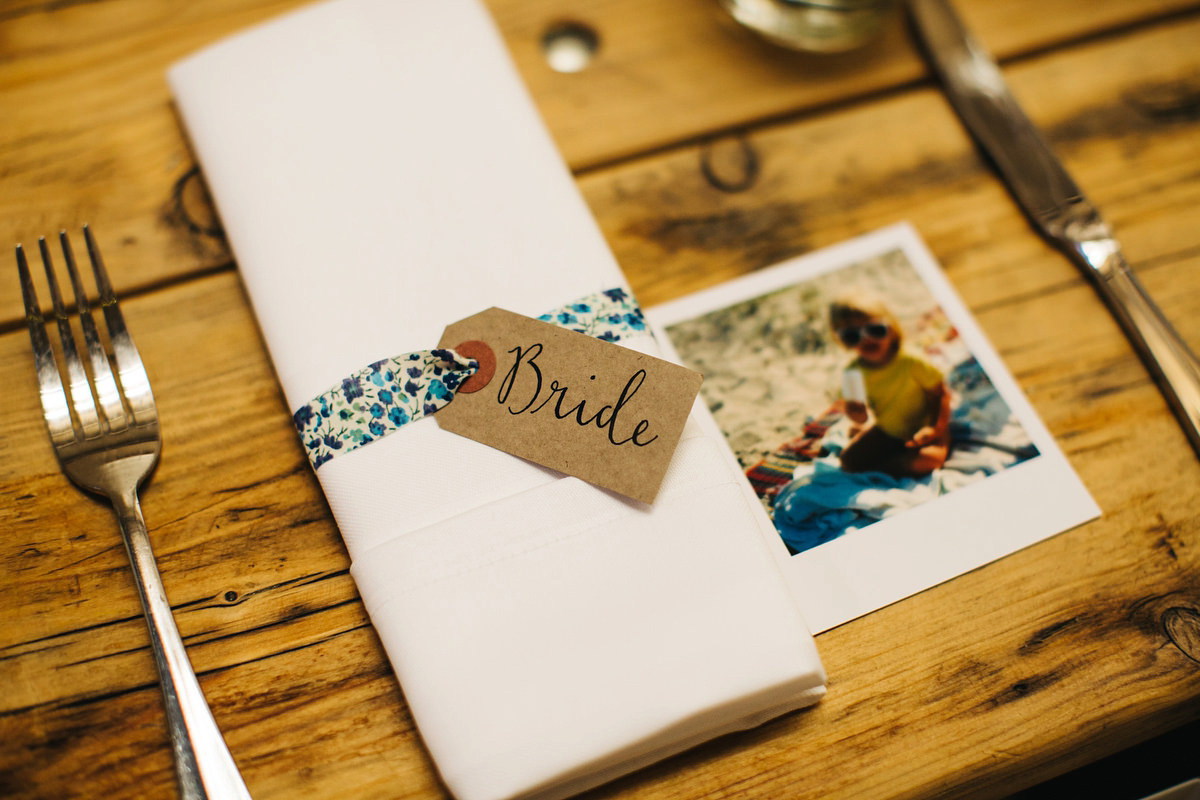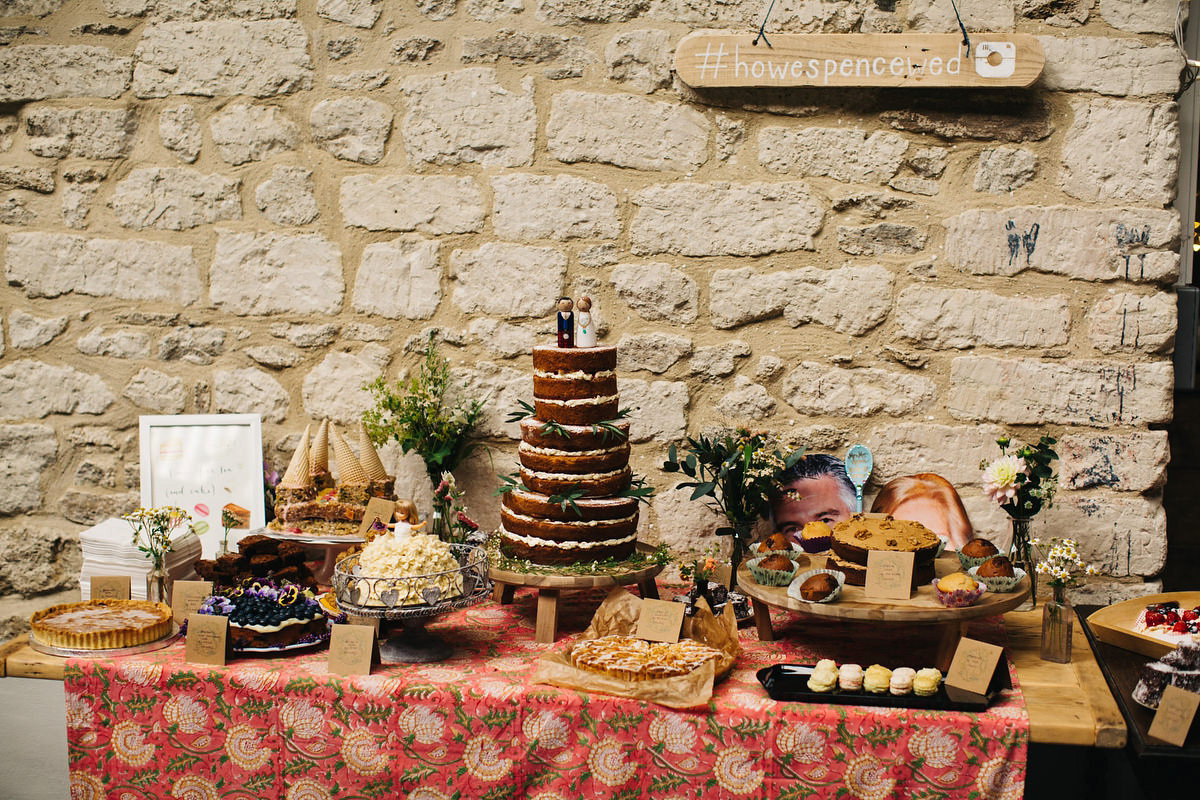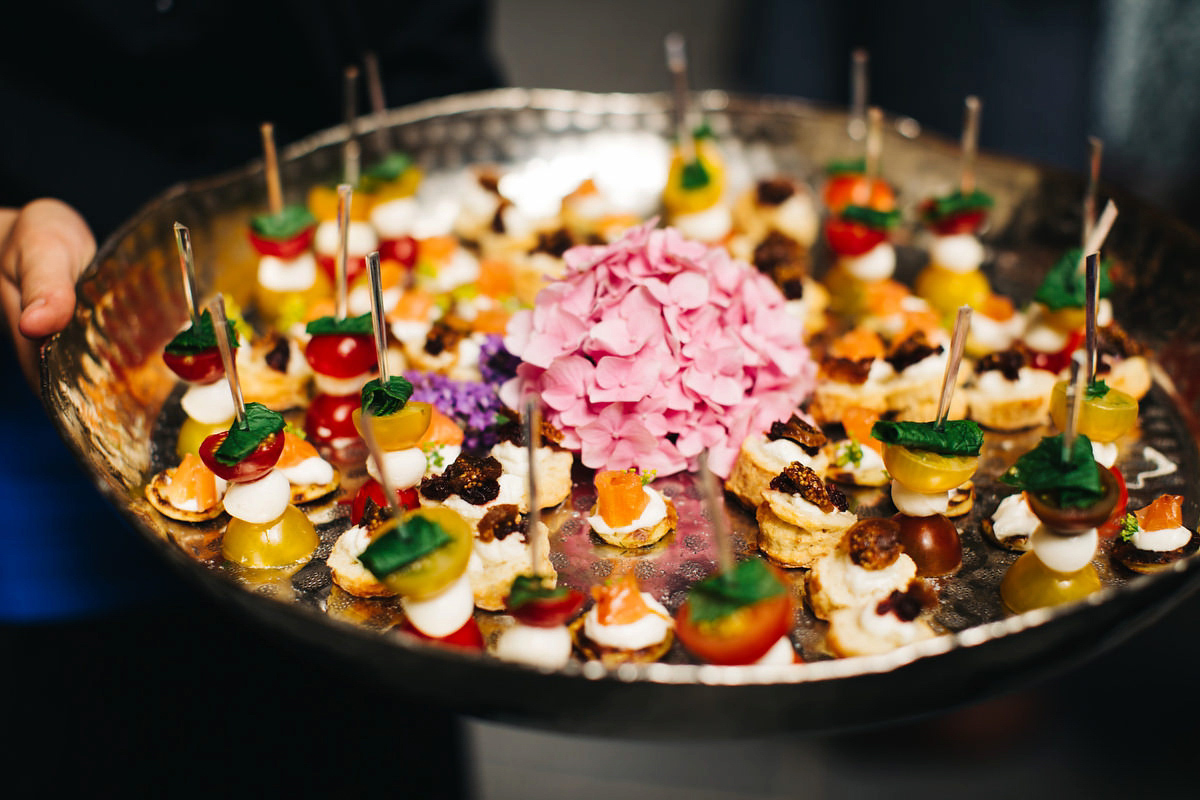 Making sure their guests got a true taste of all that is held dear to the couple, guests were given mix tape favours and encouraged to play one of their favourite games 'PIT' which, as you can see from these images, was enjoyed hugely!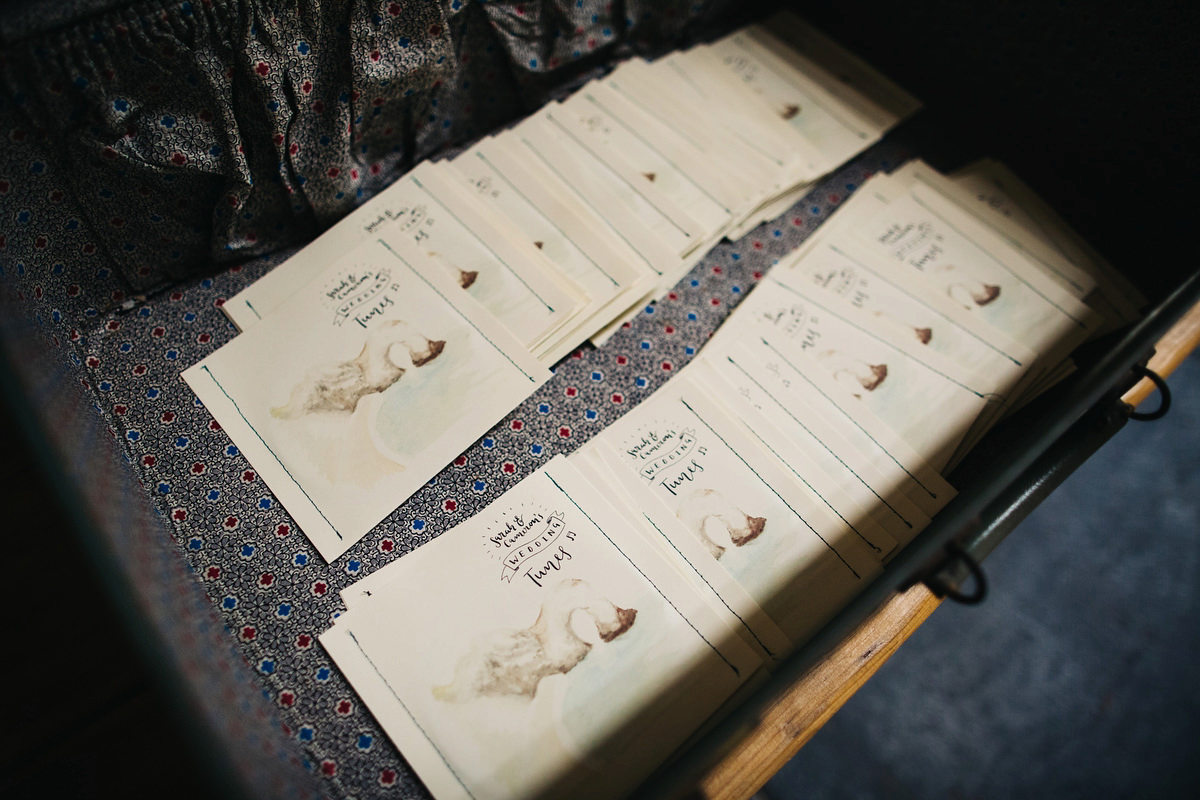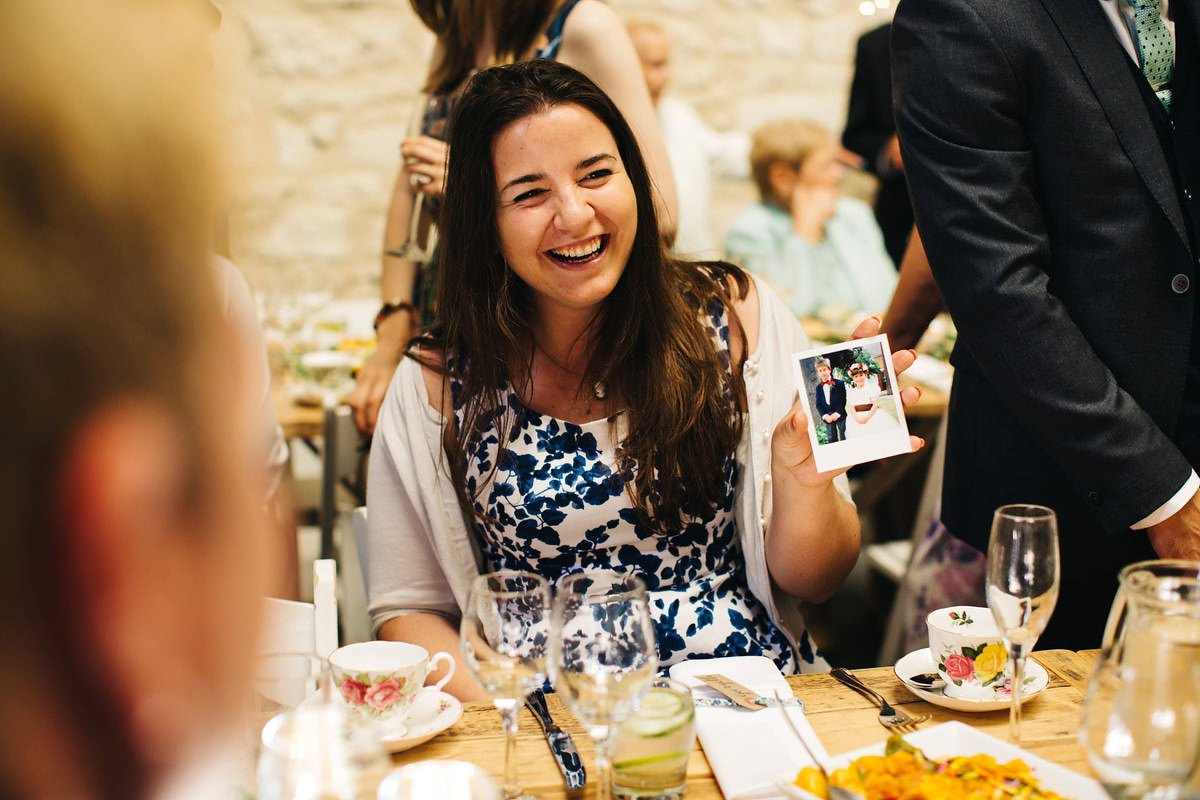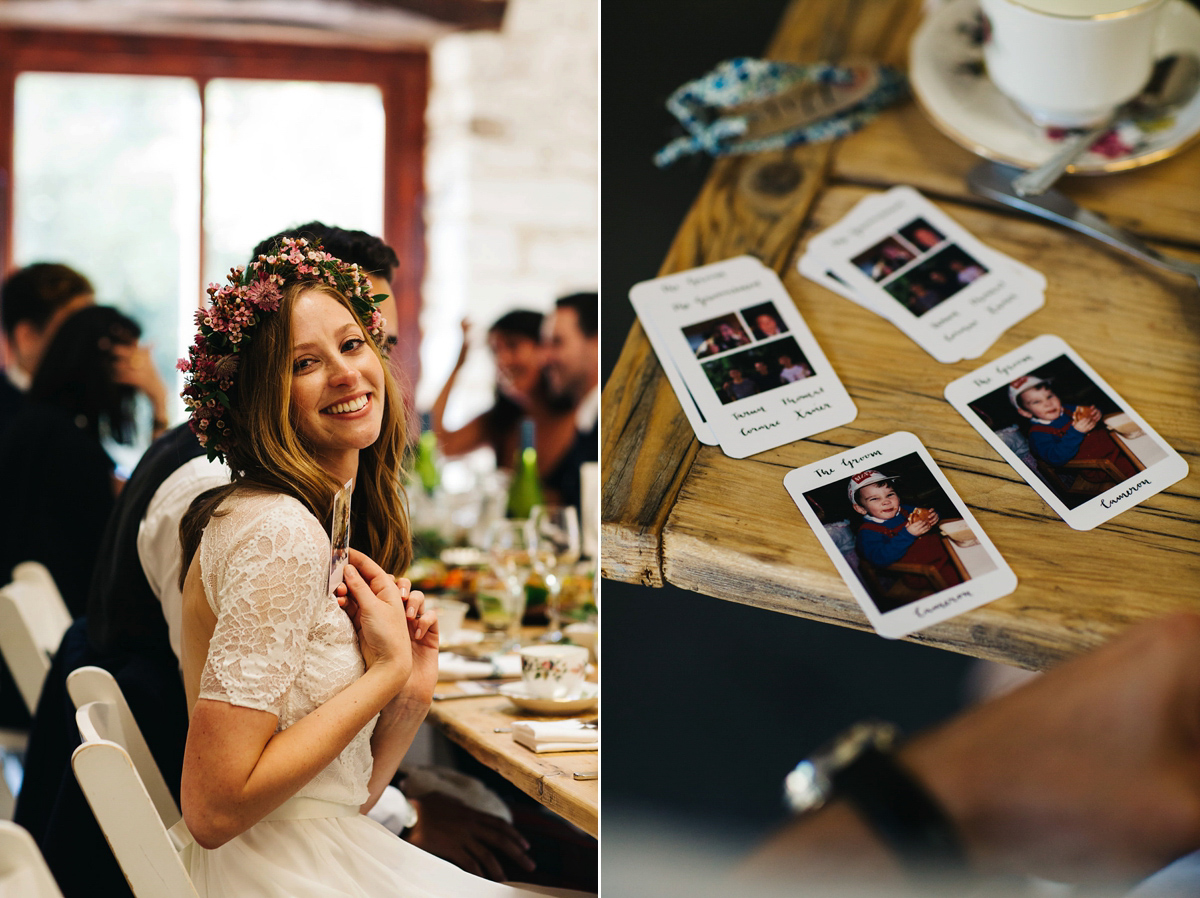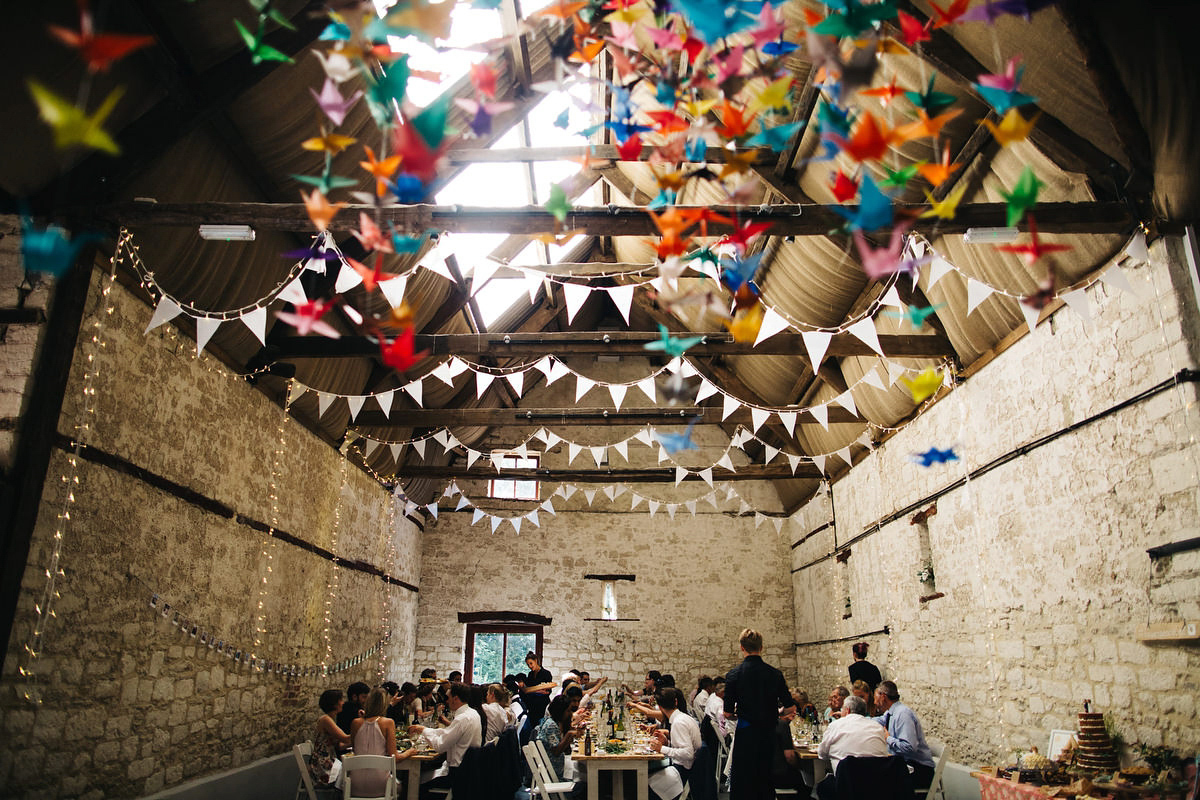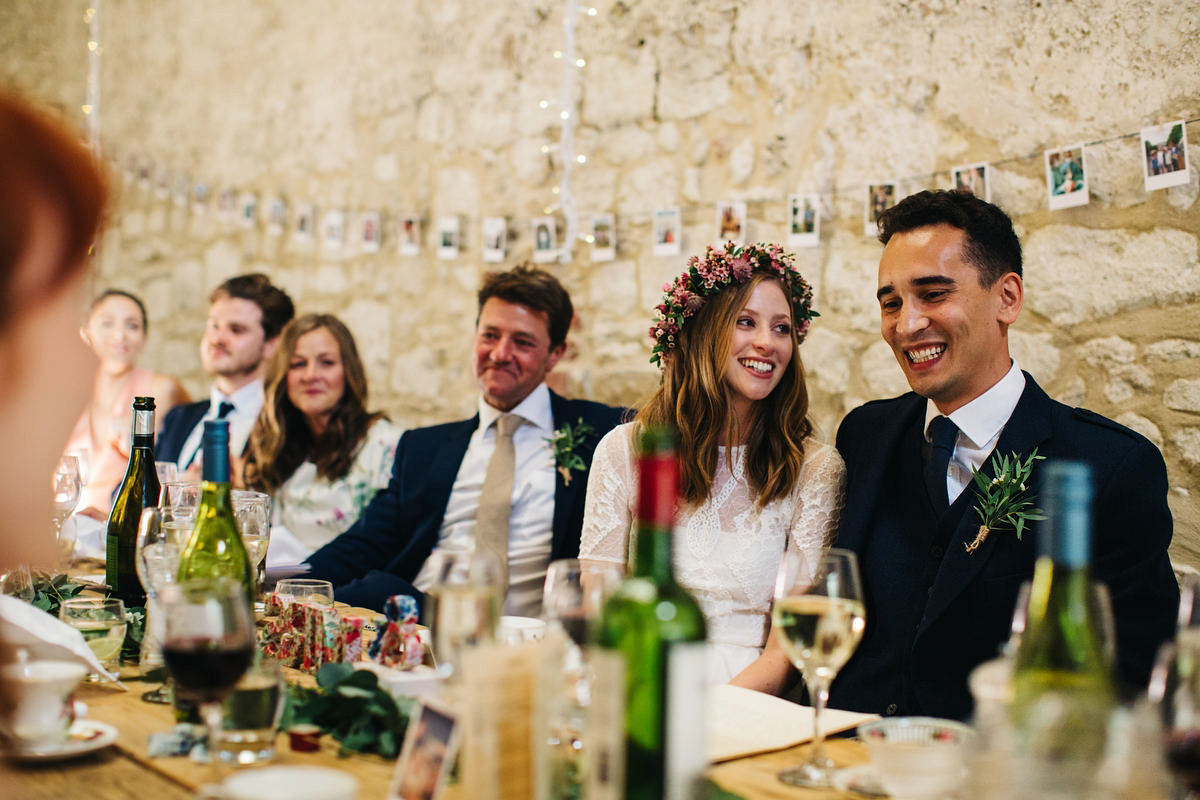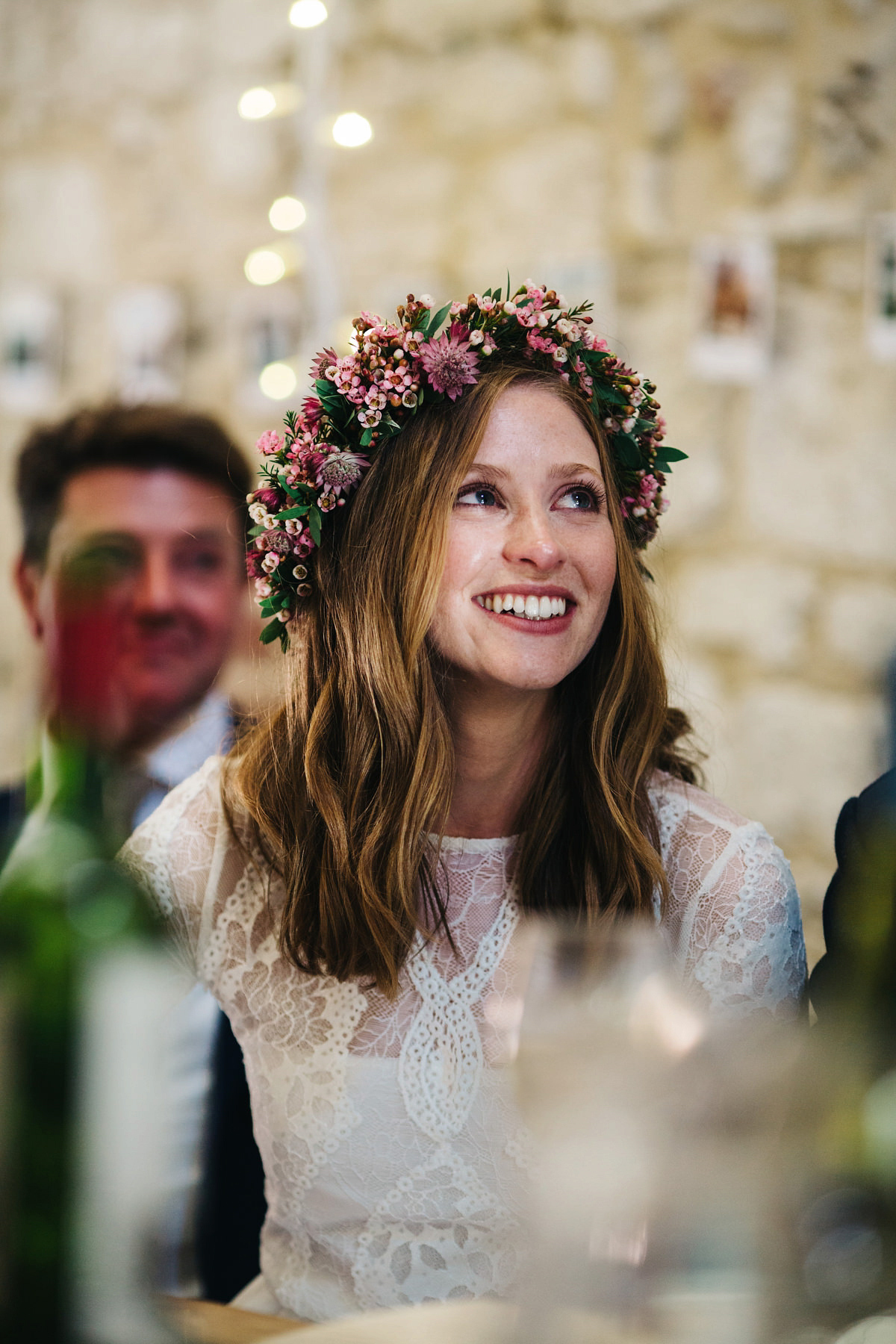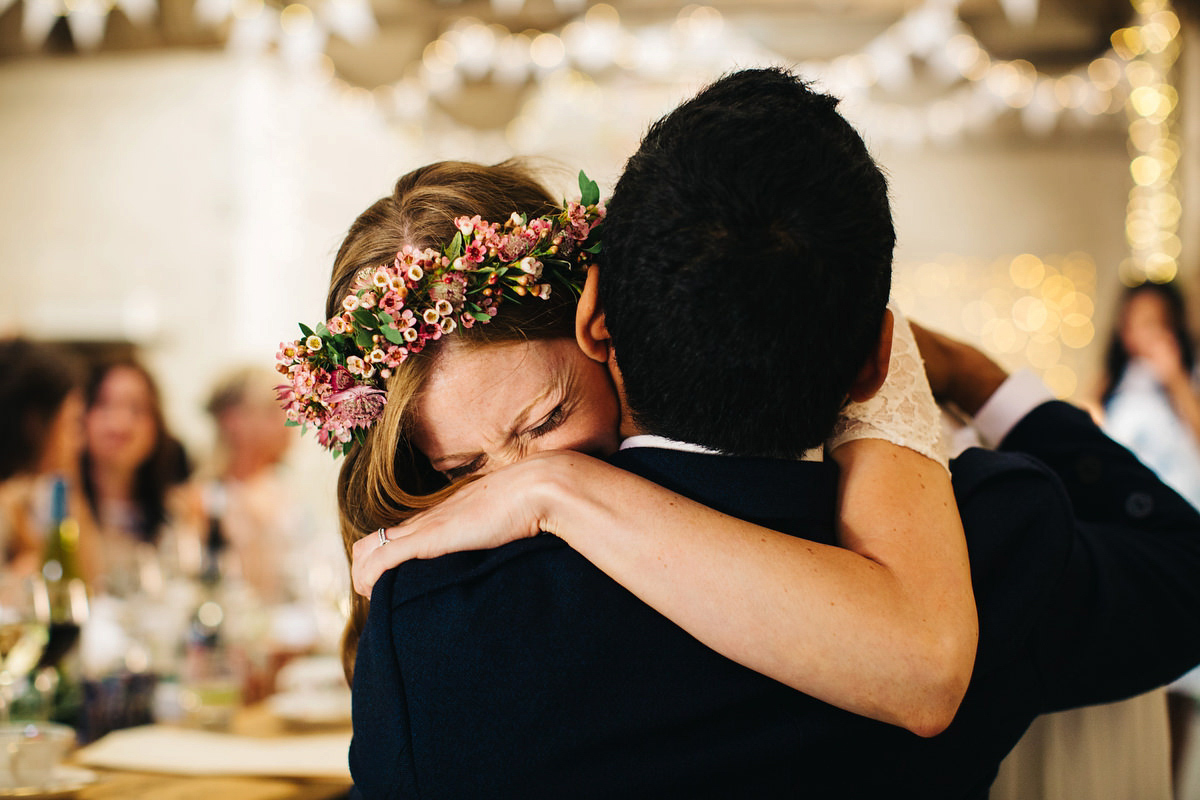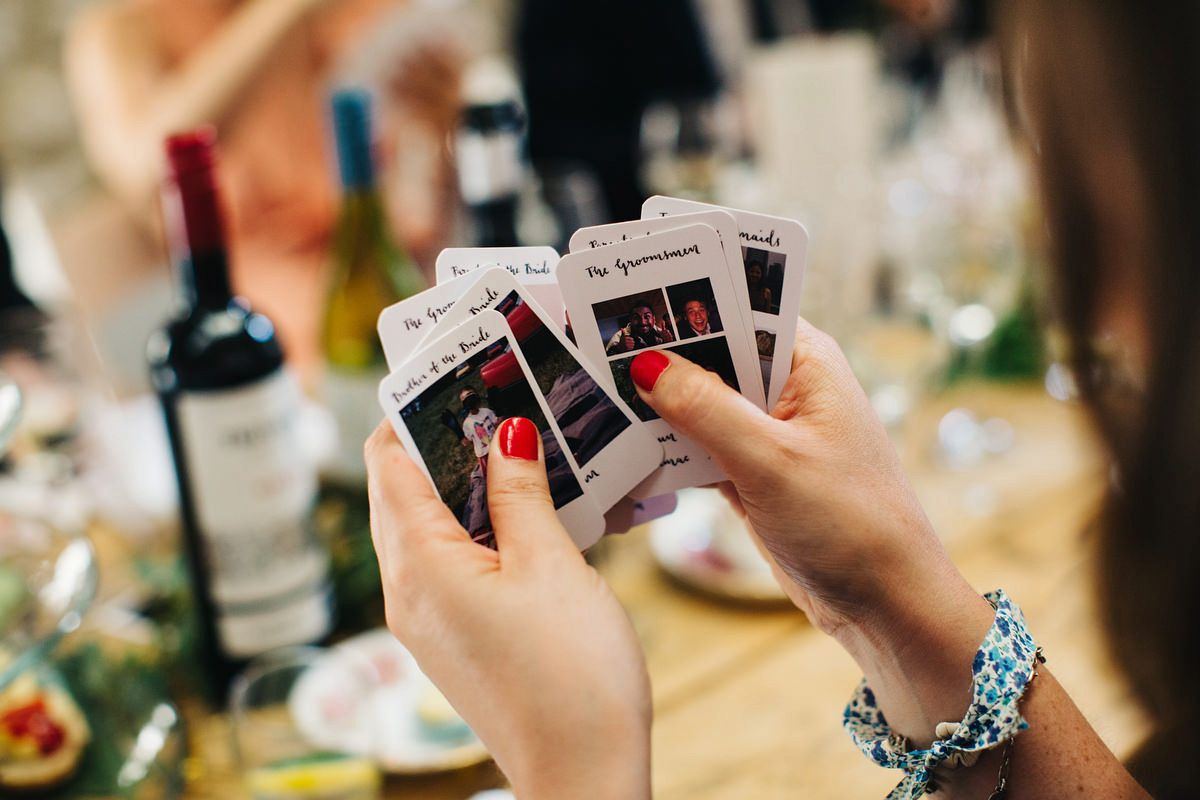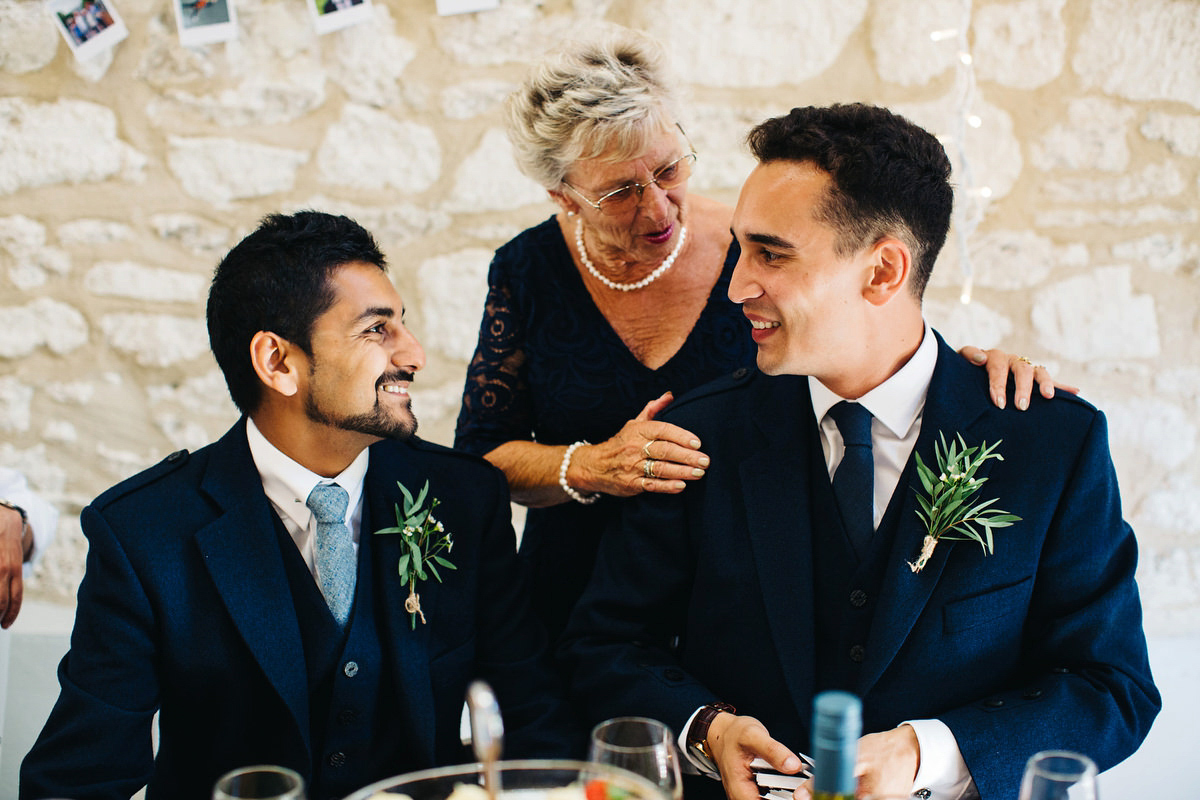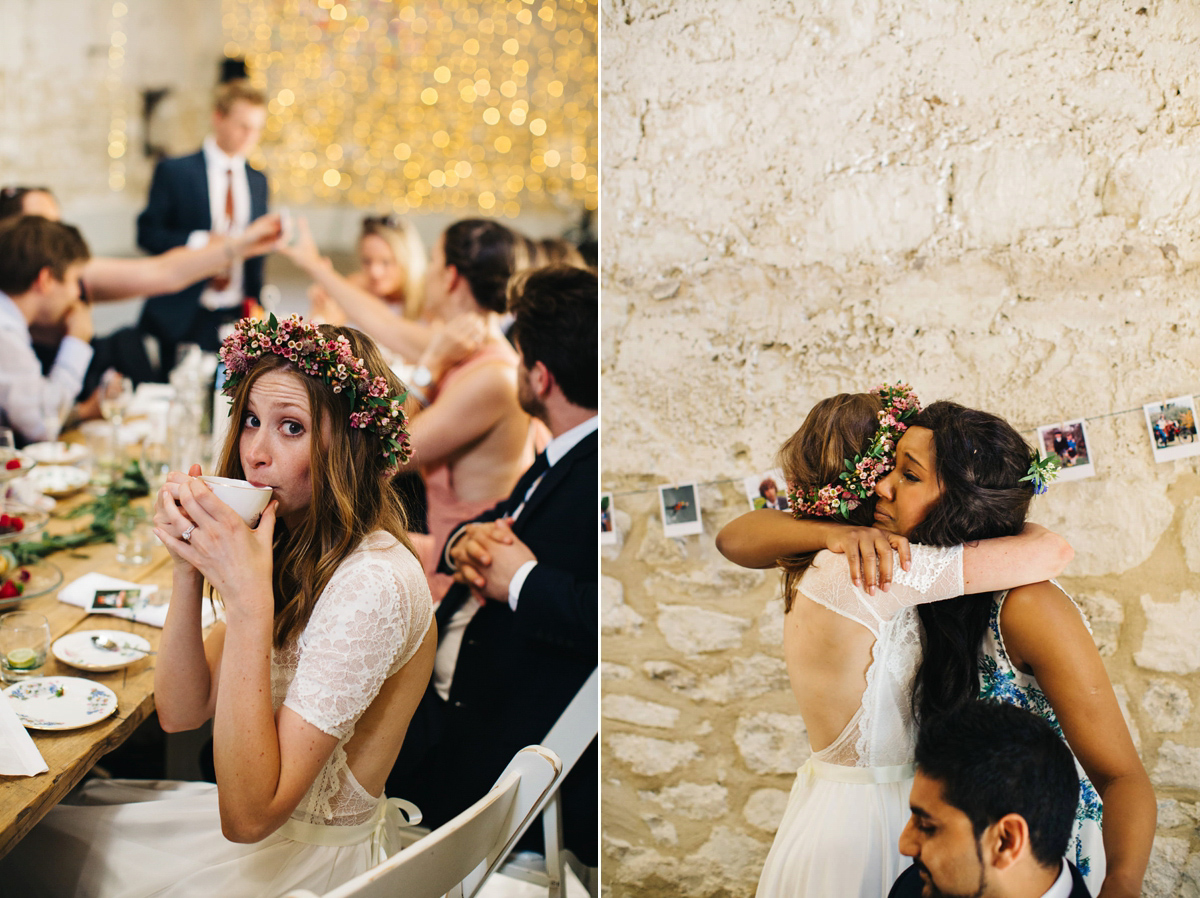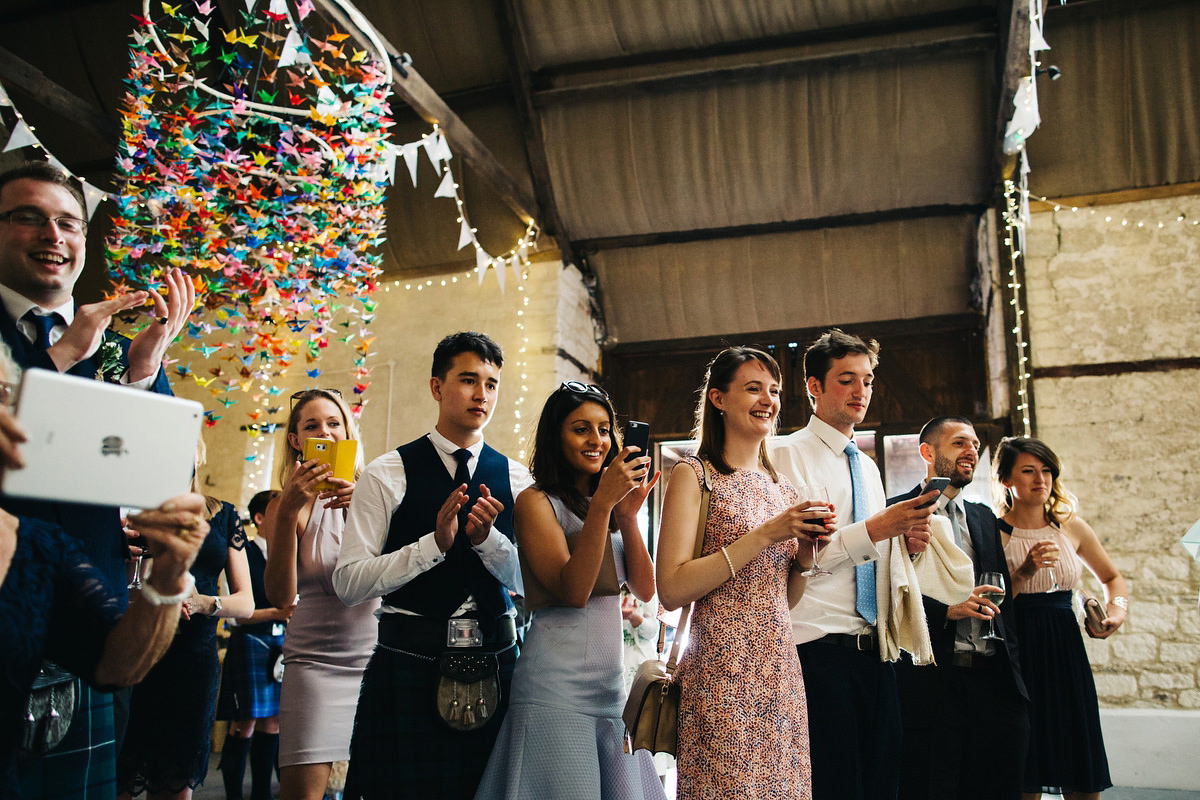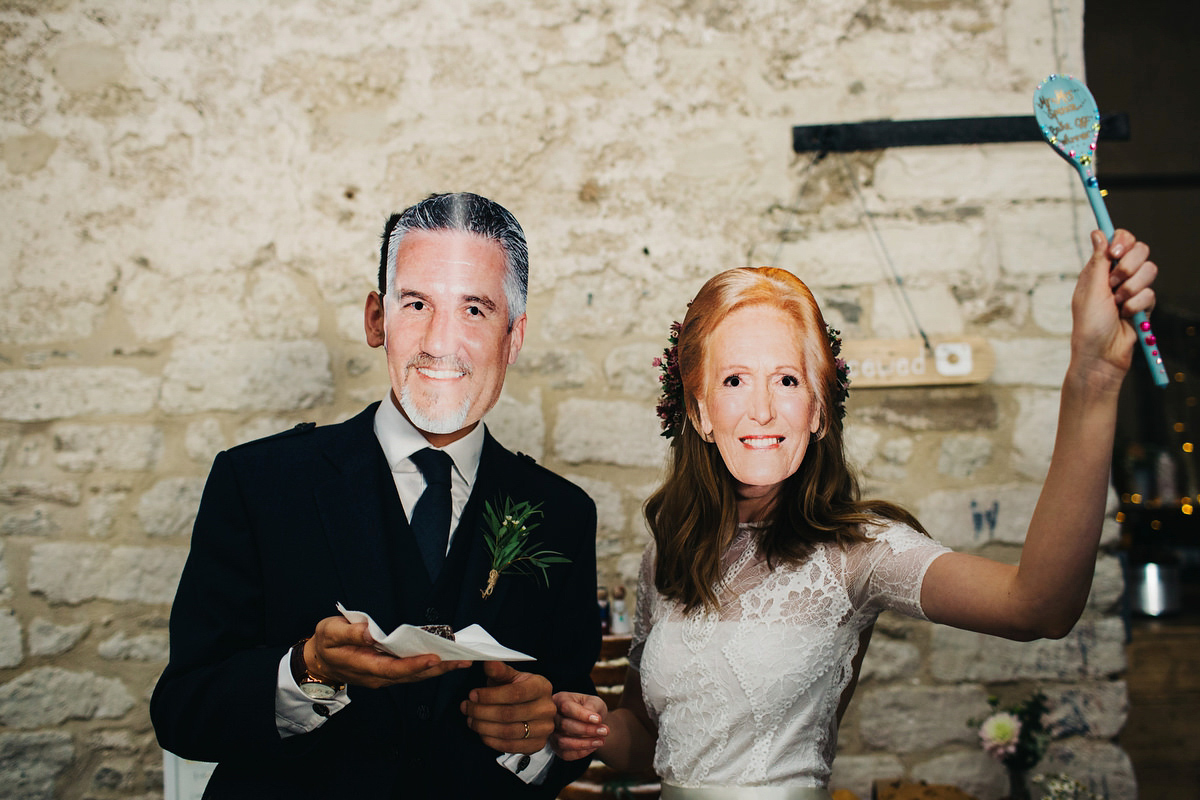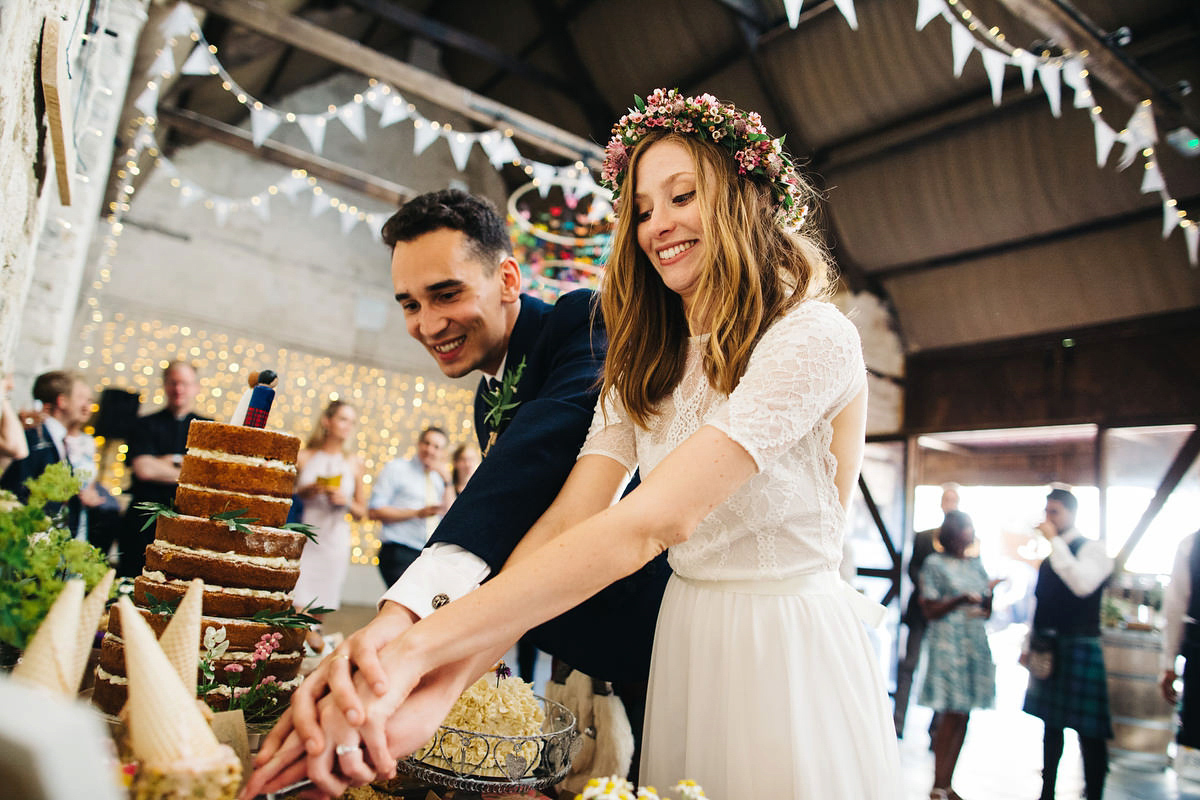 Soaking up the warm summer air and sitting out on the grass under the bewitching sunset made for quite the early evening party at Gorwell Barn. Games were played, pizza's were feasted on and our bride even got her hands on a cigar!
"In the evening we had Pizzas by Jalopy Pizza in their vintage van with wood-fired oven. This went down an absolute storm; I just wish I could have eaten more!"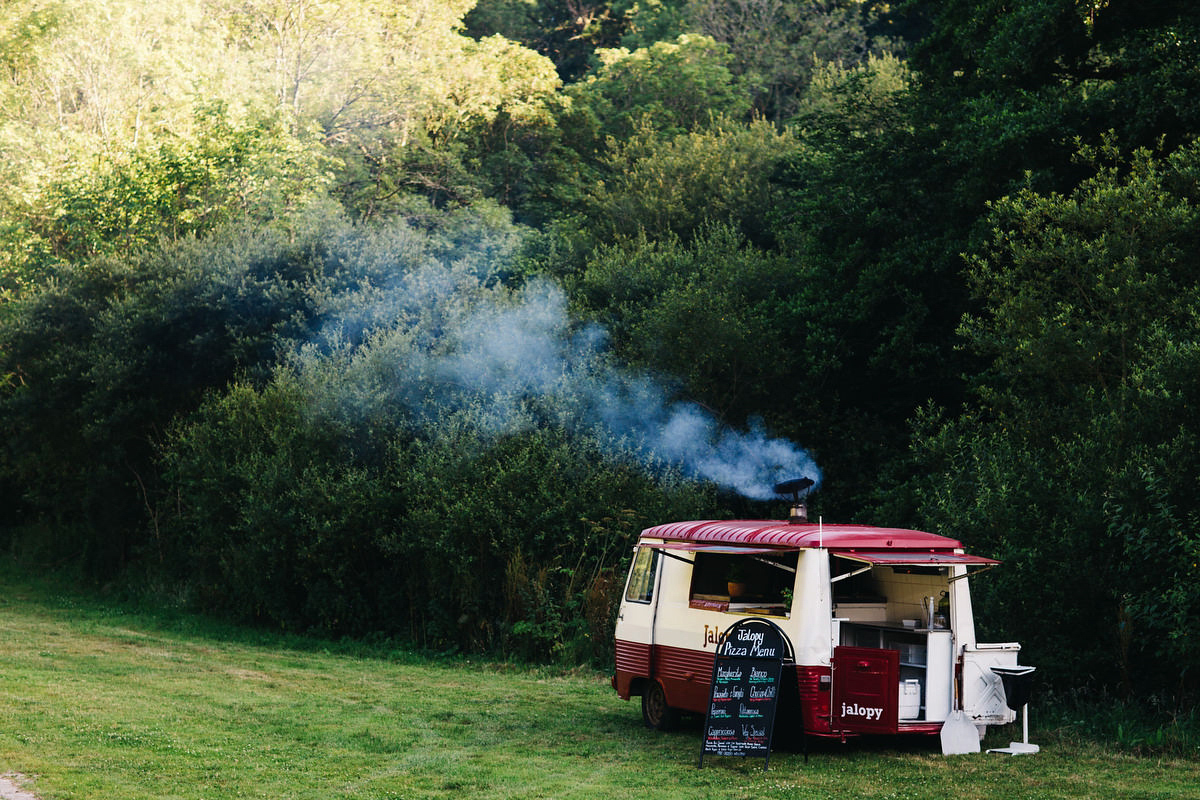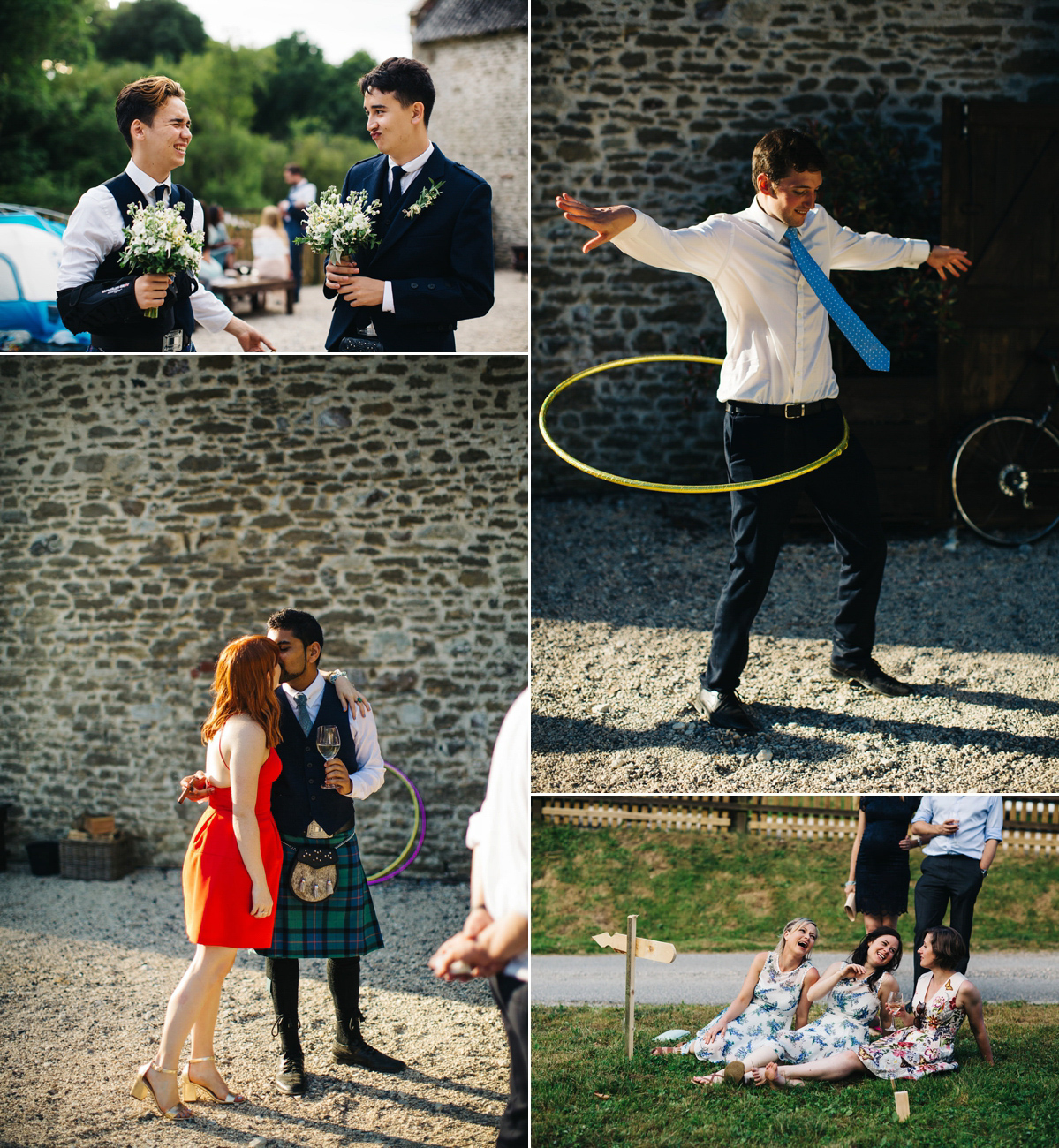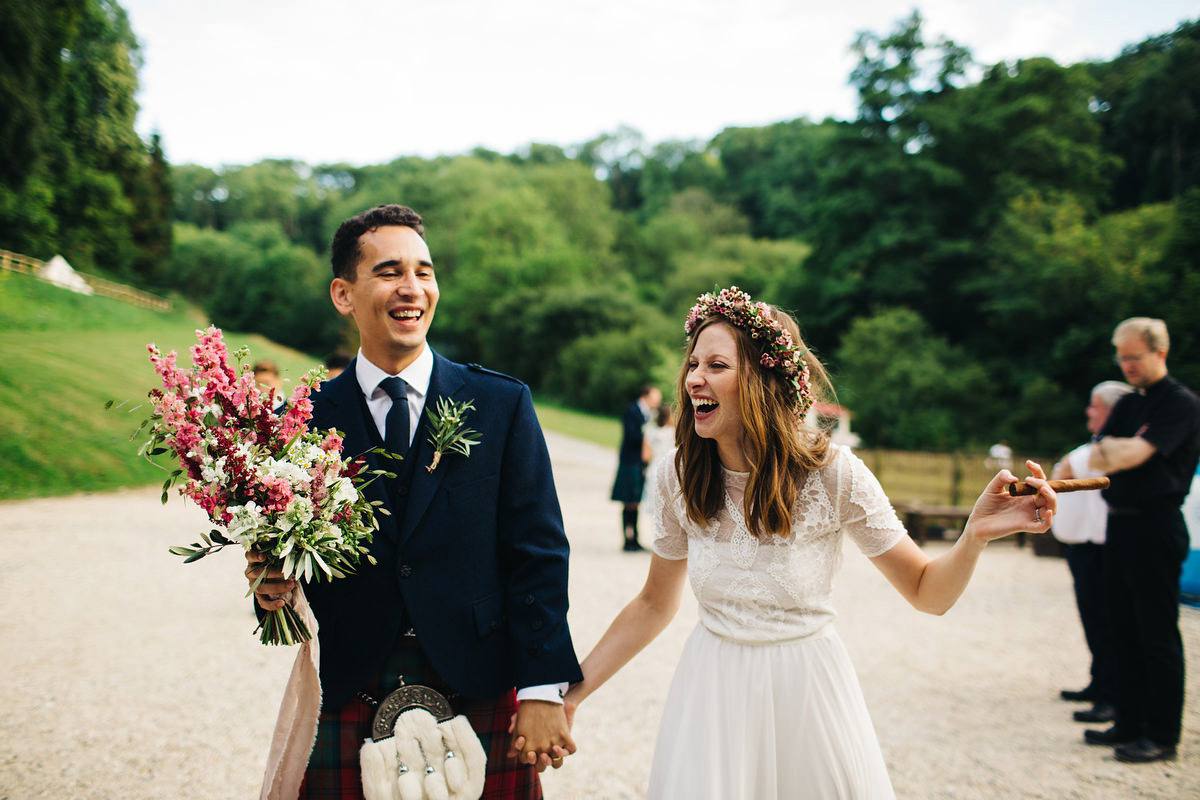 Golden hour images and big sky joy was captured by photographer Richard Skins, a beloved Little Book for Brides member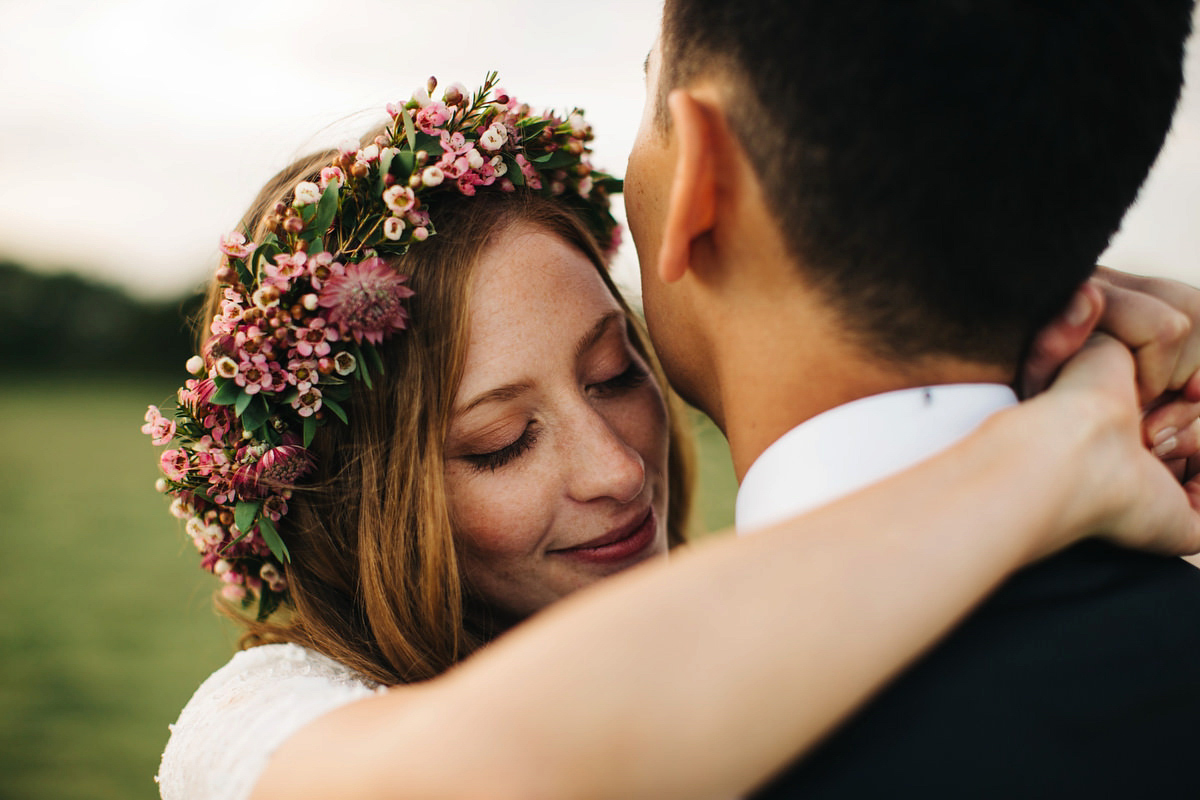 A perfect fit for Cameron and Sarah's bold use of colour and stunning, multi-faceted settings, all of the happiness of the day is captured so vividly. You can see more glorious celebrations shot by Richard here.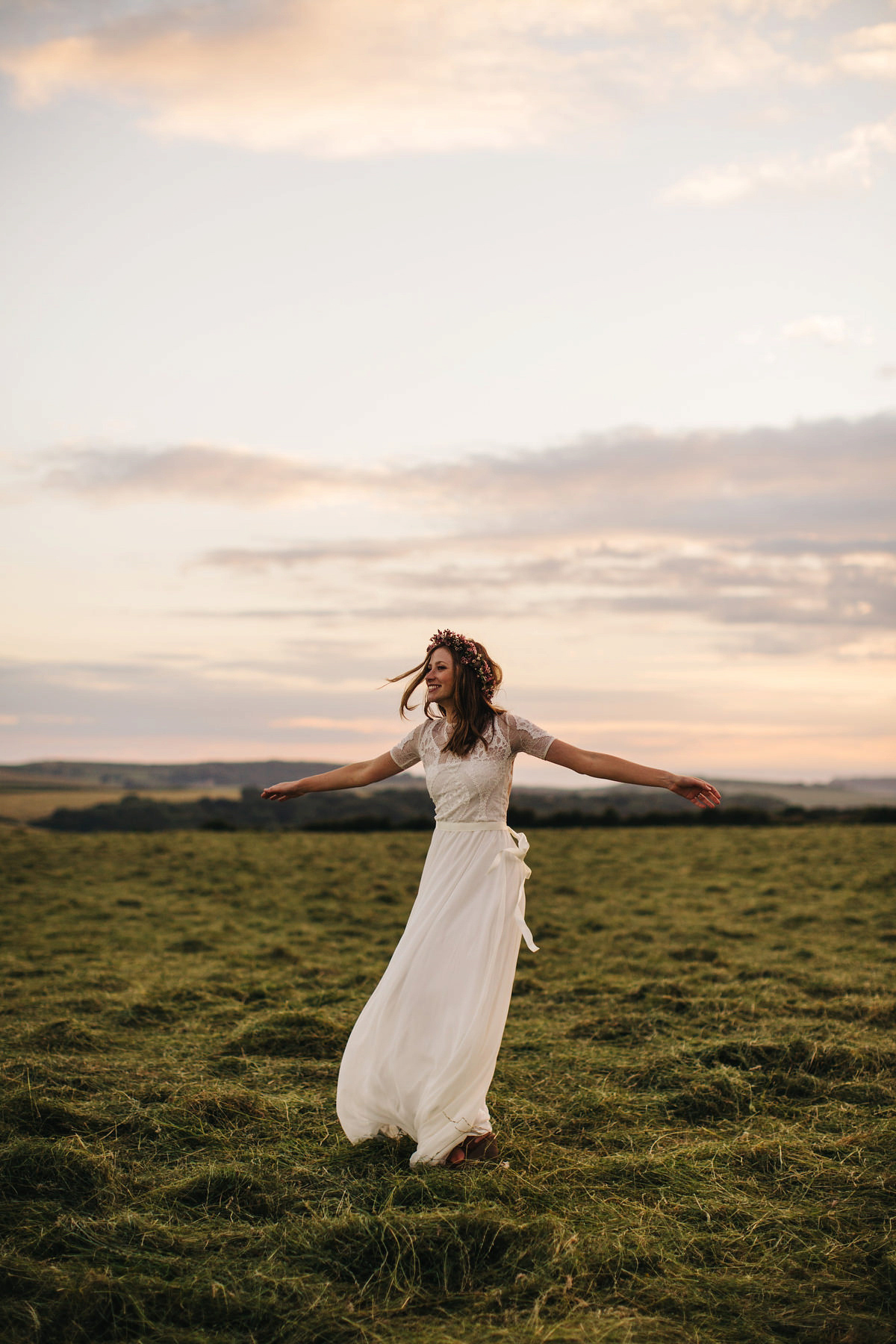 "We were drawn to Richard's reportage style and colourful images when choosing a photographer. I knew the photos would be good; we had done our research and the man clearly knew what he was doing but when we received the final photos we were just overwhelmed."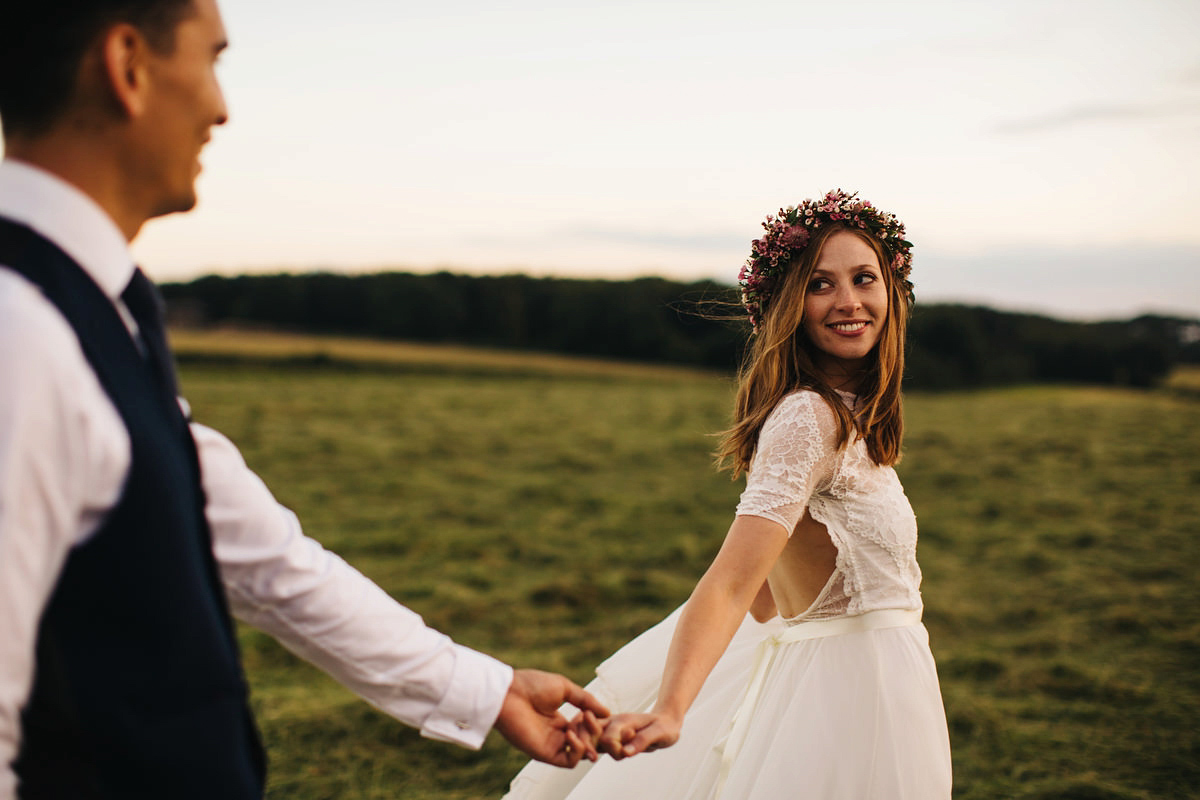 "Richard made us feel so comfortable and captured the day perfectly, we were so thrilled with the images."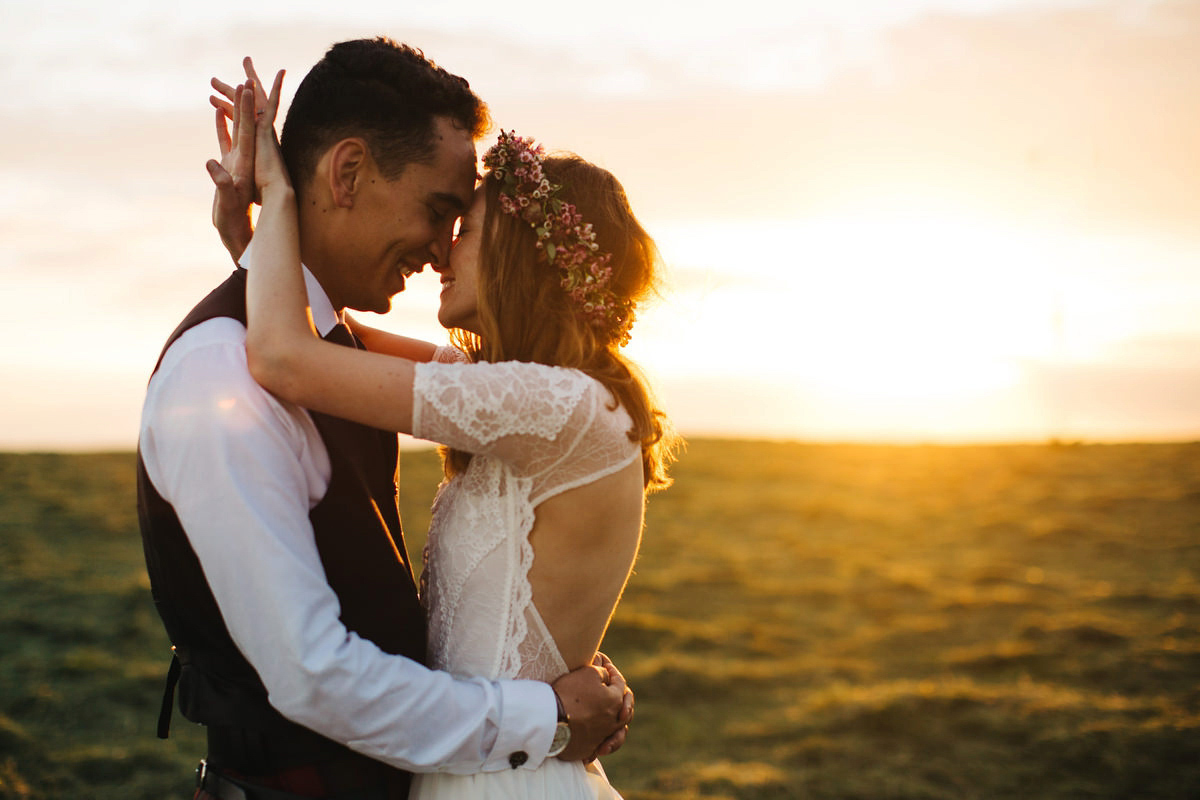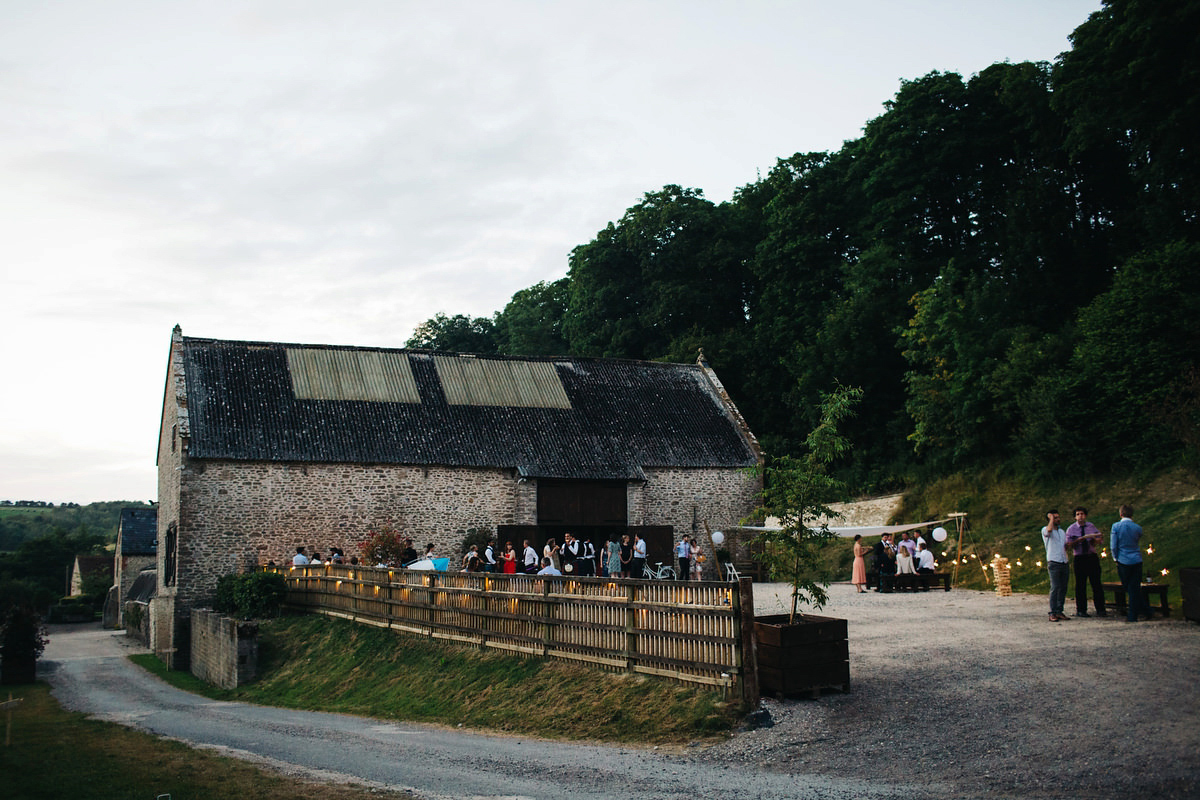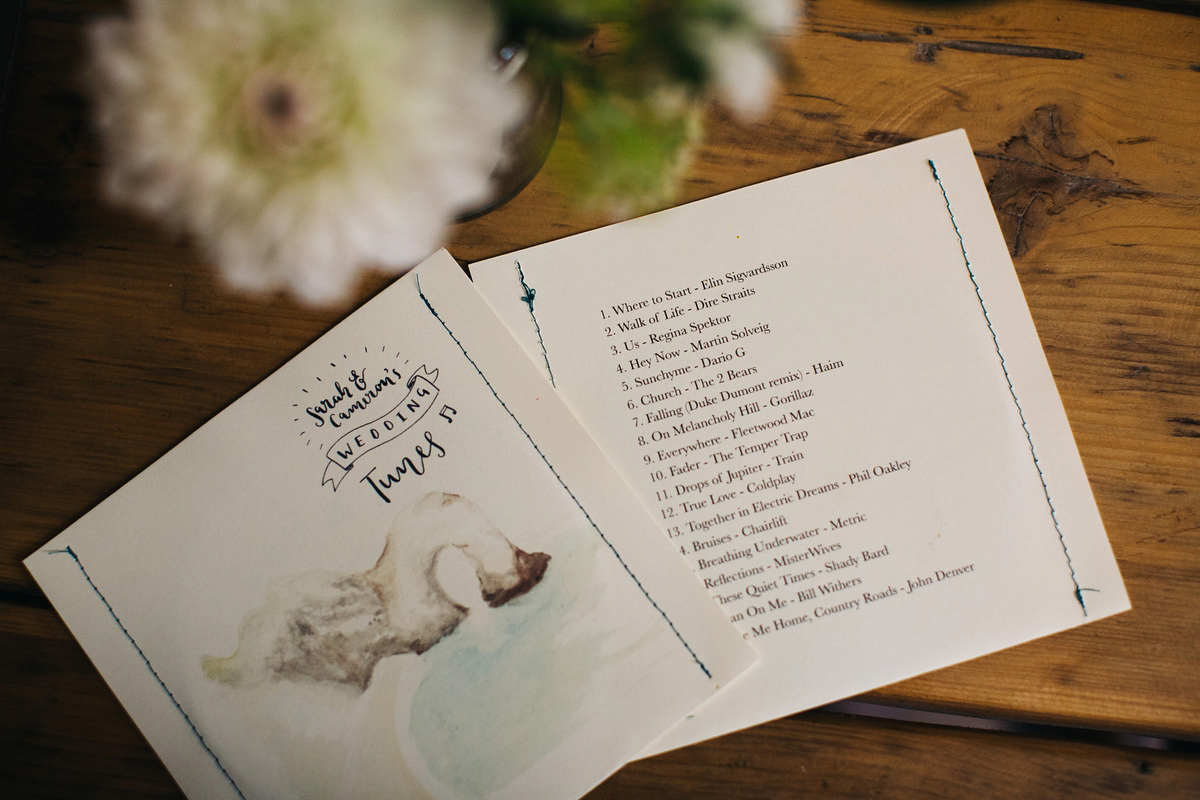 Such a popular choice for fun-filled celebrations and gleeful memory making, Sarah and Cameron couldn't not choose a ceilidh band for their entertainment. Having hired the venue for the weekend and with many guests camping, the festivities carried on long into the night.
"There was never any question over our choice to have ceilidh. We chose the Dorset Ceilidh Band who were just fab, we had so much fun and everyone got involved."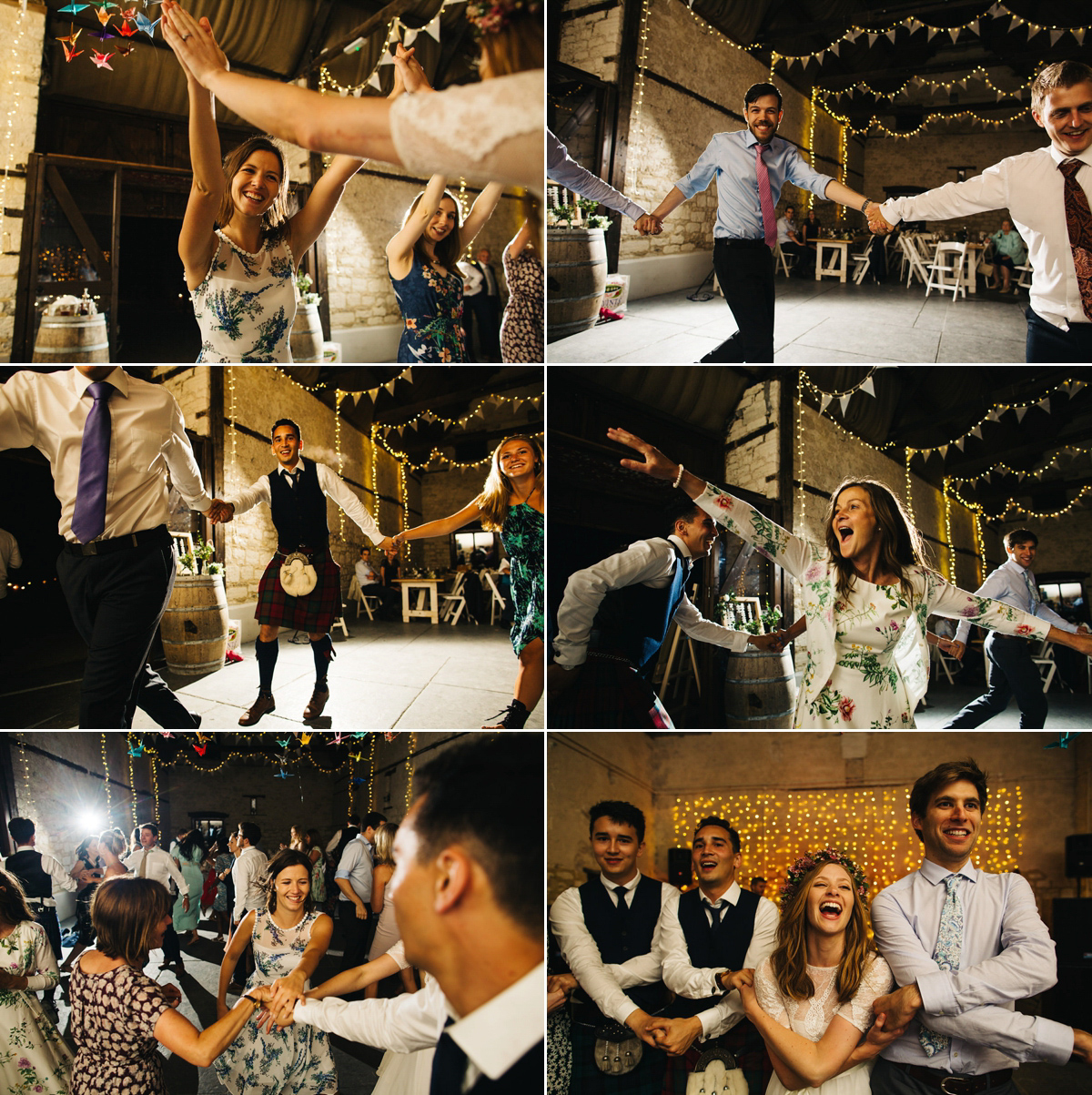 Words of Wedded Wisdom
"I am notoriously bad at delegation and possibly took on too much in the run up to the wedding. I get this from my Mum who was up at 4am on the day of the wedding assembling the cake, but in truth I wouldn't have had it any other way and enjoyed every bit of it (I'd like to hope my Mum would say the same thing!).
Be realistic about how much time you will have in the days leading up to the wedding if you are having a DIY wedding, some things are best left to the professionals for a reason! Everything took so much longer than I had anticipated, we were so lucky to have such fantastic family and friends helping but we really couldn't have done it without them."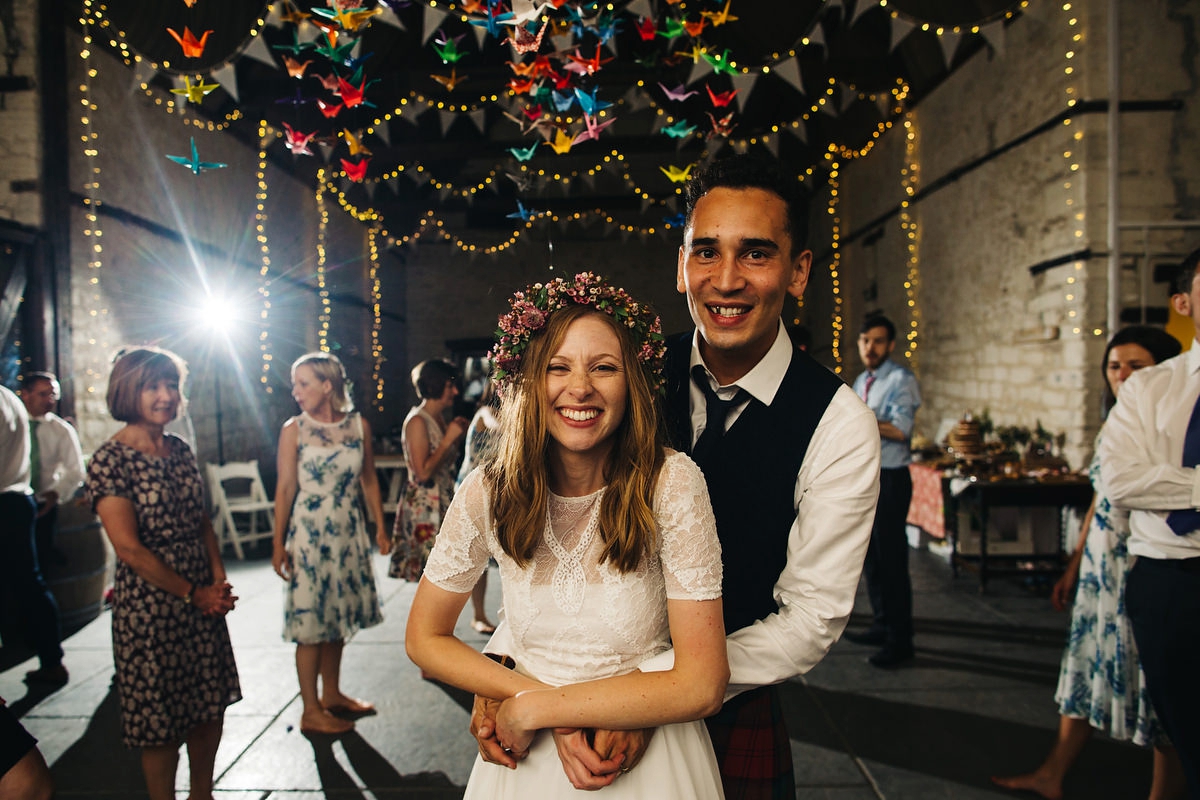 Time is so precious in those last few weeks and days, it really does help to have a gaggle of helpers and ensure you haven't bitten off more than you can chew. As we can see from this celebration, hard work and putting your stamp on proceedings pays off spectacularly well. Its been a total pleasure to share an insight into Sarah and Cameron's love story today, huge thanks to both of you for giving us all get the feels from your sunny, just-married bliss. Obviously, we couldn't have delighted in it without these wonderfully immersive images from Richard Skins.
I implore you to visit our archives and surround yourself with further paper crane joy if you need a pep me up on this wintery Tuesday, truly no better remedy that colourful paper birds.
All my love,
Emily C