Choosing a bridal hair accessory should be one of the most exciting parts of your wedding planning process but it can also be quite overwhelming.
If you're finding it hard to make a decision just by looking at the (thousands of) pictures you'll find online it can be useful – and a really special part of the wedding planning journey – to go somewhere you can try on different styles with the help of an expert.
Accessories by Debbie Carlisle

+ Follow
Just like finding your wedding dress, choosing your wedding hair accessory is something you can do in person and is a great way to involve a loved one in the process by bringing them along for advice and support – and maybe combine it with a special meal out or a full day of wedding-related shopping!
I would suggest making a shortlist of the hair accessory designers you like and then see if they offer in-person consultations – often designers will do this in their own studios, at their stockists or at wedding fairs and events.
If a designer you love is stocked in a bridal boutique near you but you haven't bought your dress from there, ask them for an accessory appointment – many bridal boutiques do this and you can also look at other accessories like veils, shoes, belts and earrings at the same time and benefit from the expert eye of the stylists who can help you find the right accessories for your dress and style.
If you can visit the designer in their studio this usually means you can choose from a large number of designs – and they can use their expert knowledge to guide you through the different options to ensure you're not overwhelmed and that you get to try all the different styles that will suit your look, hair and wedding dress.
I am proud to open my studio space to customers by appointment so they can see for themselves how and where my designs are made – I love being able to share my creative process with my clients wherever possible. As well as being a working studio for me and my small team, we have a beautiful consultation area where I host one-to-one accessory consultations to help brides find their wedding hair accessory in a calm, relaxing and welcoming environment.
If you can't get to your favourite designer, in most cases they will happily help to advise you online. For me, the initial stage is the same whether I'm going to meet my client in person or chat online. I ask my brides to send me a wish-list of the accessories I make that they love the most, as well as a picture of their dress. If we're not going to meet in person, I ask for a picture of them and any ideas they have about how they plan to have their hair.
This helps me build up a picture of their personal and wedding day style so I can make a few suggestions of my own – and I can usually help to whittle down a big wish list to one or two perfect choices with just a couple of emails. I also check whether you have a budget you don't want to exceed so I can keep my ideas and suggestions firmly within your price range.
If you come to the studio the first thing we'll do is have a chat over a cup of tea or coffee about your wedding plans and how you hope to look and feel on your wedding day. If you've sent me a wish-list in advance I'll have all your chosen designs out on the dressing table ready for you to try, along with any extras I think you might like. There's also a chance to browse my cabinets in case any of my other designs catch your eye.
The next bit is the really fun part – we'll start trying on pieces. Quite often we quickly discover that a certain style or colour is – or isn't – right for you and this is how we can start narrowing things down to your perfect piece. An experienced hair accessory designer will know the best pieces to wear for your chosen dress, veil, wedding venue, hair style and hair type and will be able to advise you no matter whether you have long or short hair, curly hair, thin hair, thick hair or no hair. A consultation will really help you if you are worrying that certain styles of accessories won't work on your hair – and you may learn a few tips and tricks to help style and keep your chosen piece in place even in the shortest or finest of hair.
During my consultations we'll try headpieces with a few different hairstyles if you haven't chosen your definite style yet, in lots of different positions, and with or without a veil too – I keep a beautiful simple tulle veil in the studio especially for this!
If you feel like you can't make a decision without a trusted friend, partner or parent – bring them with you and make a day of it. My Sheffield city centre studio is in Exchange Place Studios, a stunning Art Deco building packed with 60 workshops belonging to artists, jewellers, craftspeople and artisans – you could even get your wedding or engagement ring or pick up a wedding hat in the same building!
We're also close to the large Meadowhall shopping centre and Sheffield has some spectacularly good independent places to eat and drink. Kommune is a brilliant independent food hall, bar, bookshop and art gallery just around the corner from my studio (I get my coffee fix here) and we're just a short hop from Sheffield's highly-rated Kelham Island where you can find some of the best places to eat in the UK, including a brilliant Michelin approved restaurant in a shipping container on the edge of the city centre if you really want to treat your besties!
Things to consider when choosing a wedding headpiece or designer
1. Quality of materials
I use Swarovski crystals because they offer exceptional quality, clarity and sparkle or shimmer. Real freshwater pearls and mother of pearl have a special lustre that will add a natural glow to your skin – adding to that fabled bridal glow! A high quality designer will use non-tarnish gold, silver or rose gold plating on their wire and settings.
2. Customer service
Look for companies or designers that can show testimonials or pictures from real brides who have worn their accessories on their wedding day – and who will go that extra mile to help you find the right piece, either in person or online.
3. Time constraints
If you're ordering close to your wedding or would like to take your hair accessory with you to a hair trial check how long your chosen designer will take to make and dispatch your hair accessory. Our standard lead time before dispatch is 2-3 weeks and we also offer rush orders which have a lead time of up to one week. We use next-day delivery in the UK and we offer rush DHL shipping for international orders. Even if you only have a few days' notice the key is to get in touch – we can usually help if we know you need something super-fast!
4. Bespoke orders
If you think you might want a bespoke design made just for you get in touch as soon as you can as this might take longer if we have to order in special materials – for example some Swarovski components can take 6-8 weeks to arrive.
5. Provenance
Are the designs made by people who love what they do and earn a good wage working in good conditions? My hair accessories are designed and made by hand in my Sheffield workshop using quality materials – and I am proud to show off my happy and welcoming studio space and team to my customers. Does the designer use eco-friendly products where possible? I have carefully sourced beautiful eco-friendly branded gift boxes which are made from recycled card and are of course recyclable themselves – although I recommend keeping your accessory in its gift box to keep in the best possible condition! We use eco-friendly, biodegradable, recycled or recyclable postal packaging and work hard to keep the studio as free of single-use plastic and other non-recyclable goods as possible.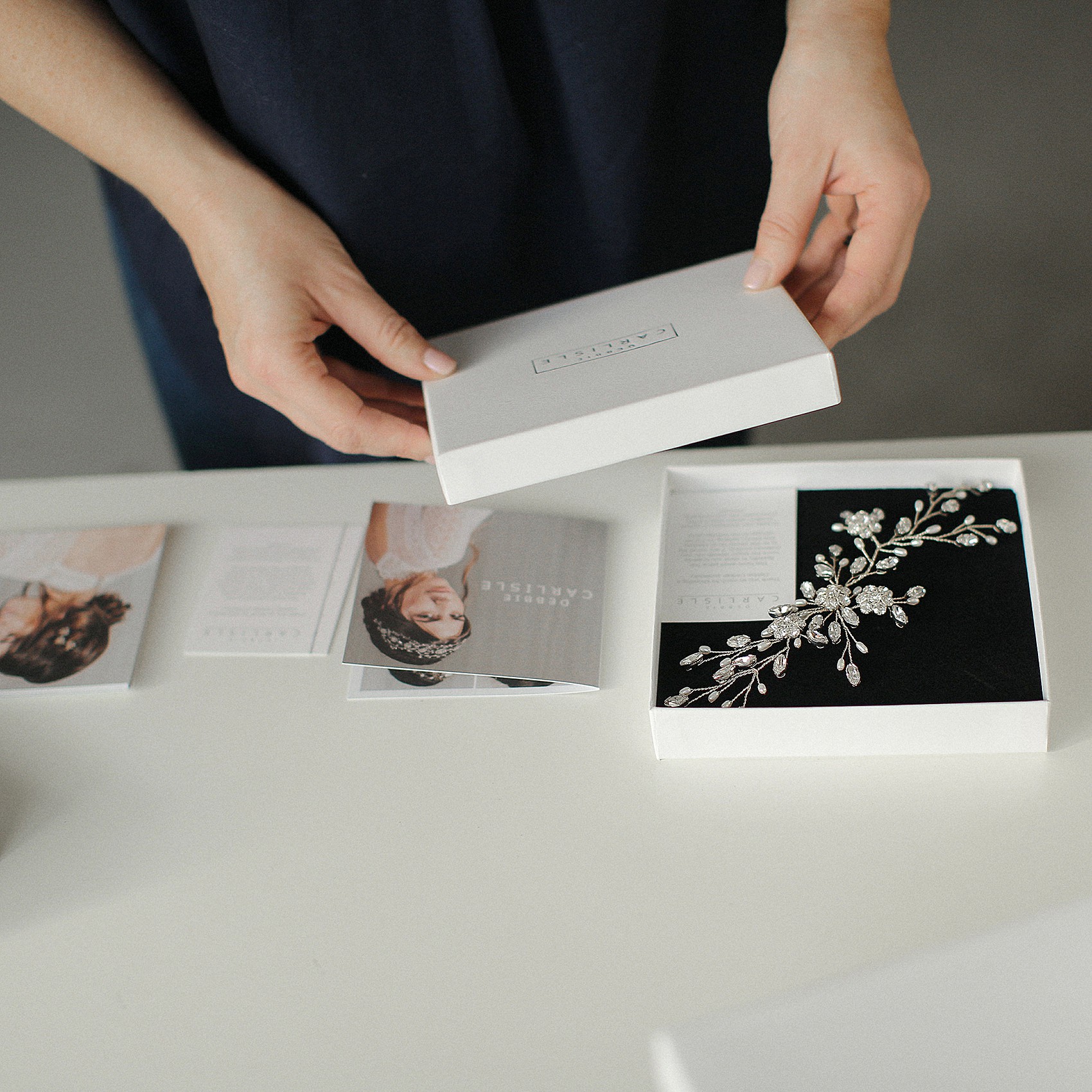 Where we use materials frequently we buy them in as much bulk as practically possible to keep our carbon footprint and packaging low and we make our hair accessory designs to order to avoid wasteful stockpiling of products. I take our environmental and social responsibility seriously – it's a work in progress but one we are determined to improve on every day.
For more advice about choosing a hair accessory take a look at the following Love My Dress advice posts written by Debbie Carlisle for brides with short hair, curly hair or for general advice on choosing a hair accessory to suit your style and dress.
Accessories by Debbie Carlisle

+ Follow