Sophie et Voila at Miss Bush, UK Luxury Bridal Boutique
There's a name I want you to be familiar with after reading and enjoying the images in this article; Sophie et Voila.
This is a special time of year in the world of bridal fashion. Designers are busy launching new collections on the international bridal fashion show circuit (London, Barcelona and next month, New York). All the usual chatter about upcoming trends and new names is abuzz, but this year more than ever, the focus is very much so on sustainability and authenticity – which are the two main characteristics that represent this sought after bridal fashion brand, available at the wonderful Miss Bush Bridal boutique in Ripley, Surrey.
Minimalism & Modern Elegance
Sophie et Voilà is Spanish brand haute couture bridal fashion brand that embrace minimalism and modern elegance. These are designs for women who appreciate refined style and enjoy making a fashion statement on their wedding day.
The brand was established in 2016, by Sofía Arribas and Saioa Goitia. Formerly an architect, designer and creative director Sofia has a strong contemporary signature style. Her designs include voluminous puff shoulders, mini skirts paired with elegant sweeping trains and large, playful ruffled straps.
The Cristóbal Collection
The brand new collection from Sophie et Voilà is inspired by couture master, Cristóbal Balenciaga. One of the most famous ever couture fashion designers, Cristobel had the highest most uncompromising  of standards. He was regarded as "the only couturier in the truest sense of the word", by Coco Chanel,
This is a beautiful, contemporary collection which strikes out and creates its own unique, confident and feminine aesthetic, delivering the most beautifully crafted gowns through the same couture high standards set by Balenciaga himself.
Made By Women, For Women
Spanish design houses are renowned for their incredibly high standards of production. Sophie et Voilà represent a team of incredibly skilled pattern cutters, seamstresses and stylists.
The entire team is made up of women who are employed at the company's production house in Bilbao, where every single design is lovingly and carefully produced, right through from initial sketch to the most delicately hand-applied finishing detail and rigorous quality checks. Each individual garment is sewn together using incredibly high quality craftsmanship, honouring traditional and highly skilled dressmaking techniques.
In the directory Miss Bush
Listed in
Boutiques
Size Inclusive
It is important that all brands we work with and promote at Love My Dress are able to reassure me that their designs are created for all women, of every beautiful shape and size.
Encouragingly, as each individual Sophie et Voila gown is created on a bespoke basis, women of every size can wear one of these beautiful gowns with confidence.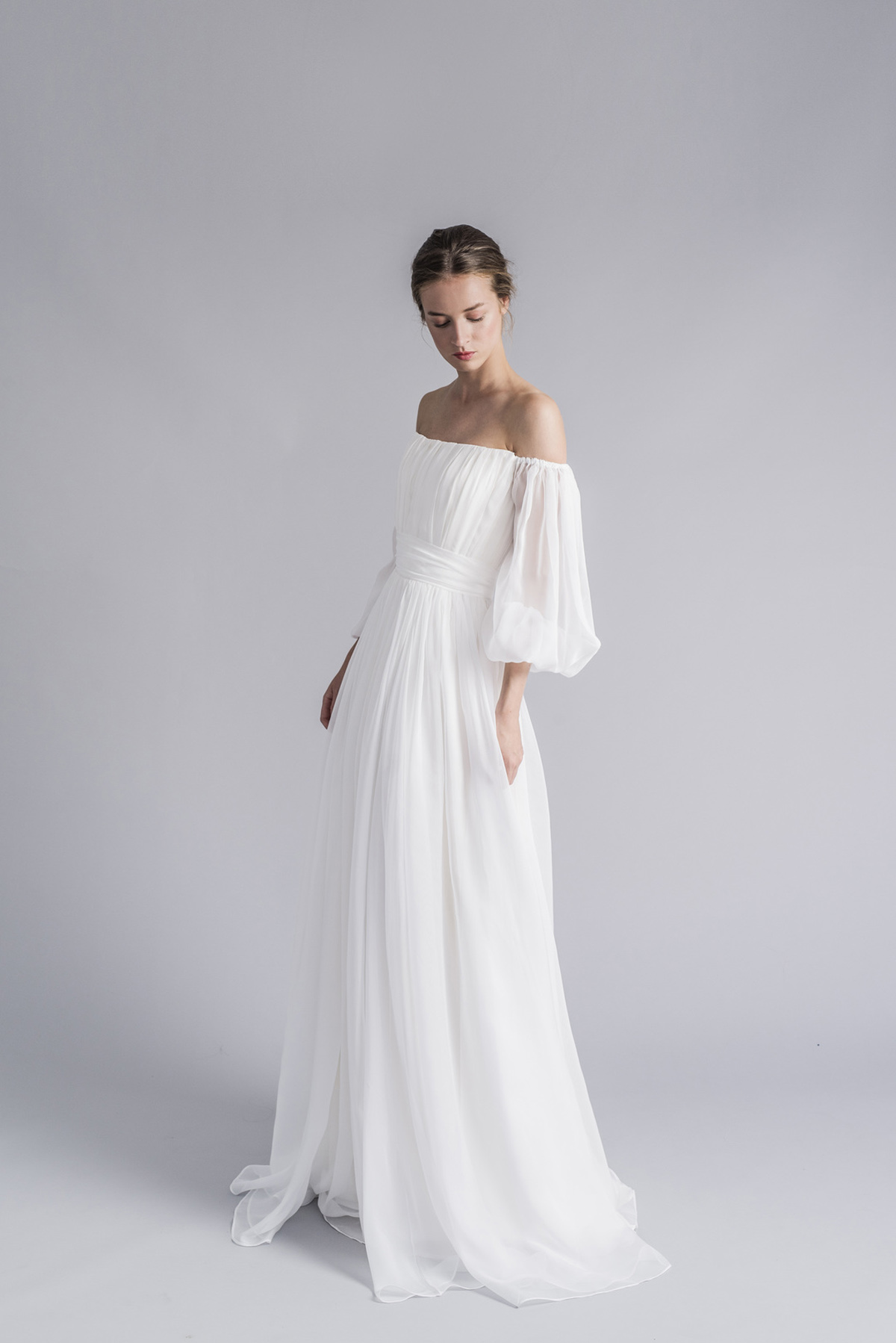 The talented team of stylists at Miss Bush Bridal will be able to advise you further on size and fit – please never worry about theses aspects when finding your wedding dress. This is an experience to be enjoyed!
Try on a Sophie et Voila Gown
We have long had a working relationship with Miss Bush Bridal, a beautiful bridal boutique located in a former, lovingly and beautifully converted chapel, located in the village of Ripley, Surrey – just a 20 minute train ride from central London.
Managing Director Emma Marshall was the first to bring the Sophie et Voila brand to the UK and is now the prime stockist of this wonderful brand. Having worked with Emma for 14 years now, I know of her eye for design talent and exceptional quality. She runs a fantastic business – we've featured hundreds of her brides on Love My Dress and every one of them are full of high raves for the confidence boosting, fun and memorable experience they gain from visiting the boutique.
You are warmly invited to book an appointment at Miss Bush Bridal to try on Sophie et Voila gowns and chat with one of Emma's talented stylists, through any questions, concerns and queries you might have. Right now, boutiques are advising brides to book in as early as they can for their appointment as demand is at an all time high following the disruption of the past two years.
You can email Miss Bush Bridal on hello@missbush.co.uk, telephone 01483 225 355, find them on Instagram at @missbushbridal and visit their website at missbush.co.uk/book-an-appointment.