One of the constant joys of writing for Love My Dress is the huge variety in styles and approaches to wedding celebrations. The opening of each Dropbox folder of images for a new feature is like a lovely surprise gift.
Today's couple put fun, great food, and epic cocktails at the heart of their day, and chose an amazing industrial venue in which to party. Dog lovers, you're also going to be very happy that the couple's awesome dog Jeff features throughout this day!
Kate, who is an advisor for a weight management service, and Joe, who is an art director, were married on the 22 June 2019 at the Peddler Warehouse, 92 Burton Road, Sheffield.
"Eileen Dunn at Sugar 8 was the only supplier that wasn't local to us. We really liked the idea of using an old film camera for our wedding video, and stumbled across her work online. We fell in love with her method of mixing Super 8 and digital footage, and we met up with her whilst we were on a weekend trip to Glasgow."
"In our opinion, a wedding videographer would be our top recommendation. Watching the video back with friends and family is such a lovely experience. It also means that you get to see how happy everyone else at the wedding is. It's so nice being able to see the day from another perspective."
India Hobson Photography

+ Follow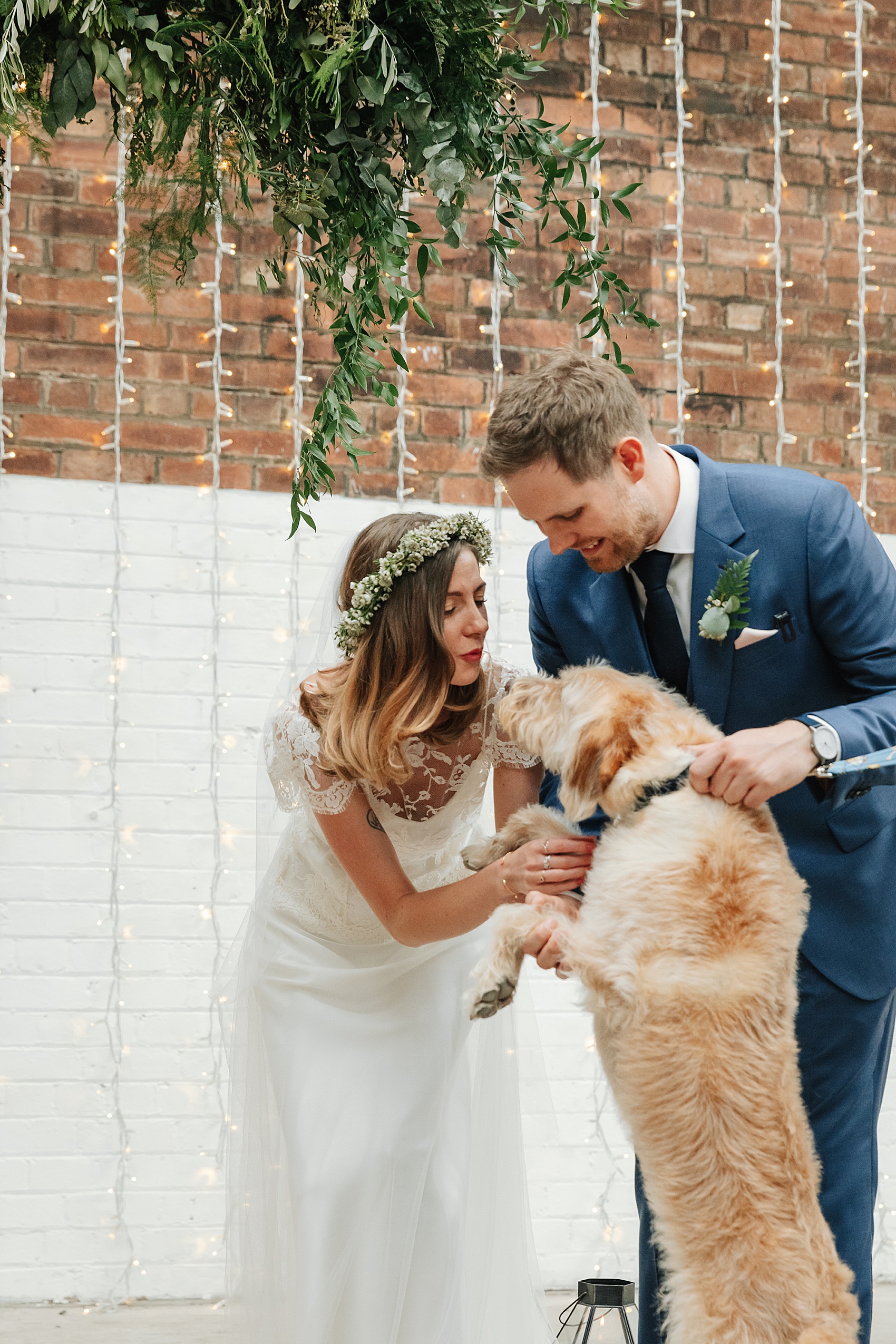 "We didn't really have a theme for the wedding. We just wanted it to be a super relaxed day with our nearest and dearest, with an emphasis on good food and music." 
The bridesmaids sparkled in pale pink floor length sequinned dresses from ASOS. They wore their own choice of shoes, and Kate gave them each a sterling silver heart ring by Ruby Tynan as a thank you gift.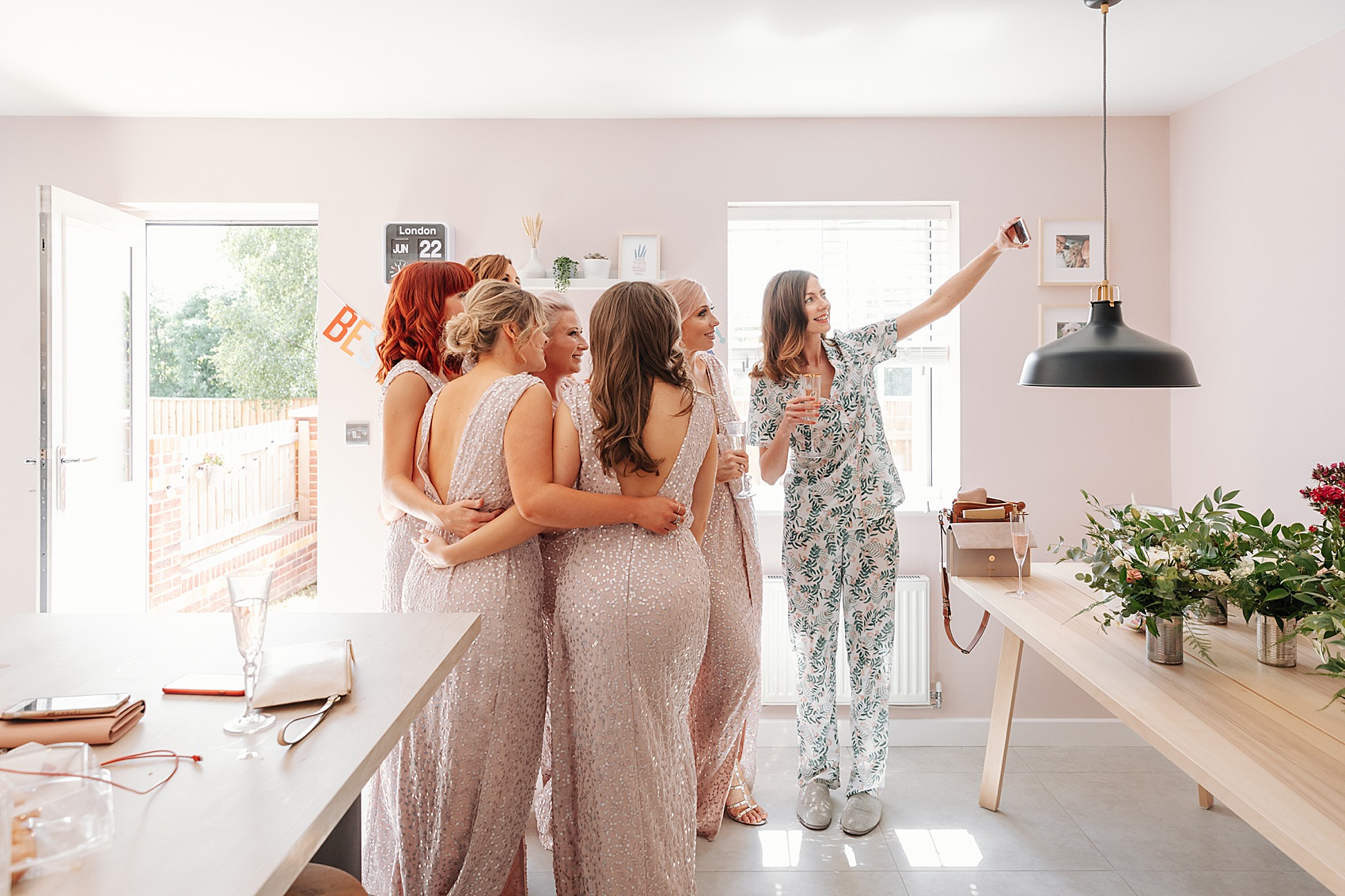 Kate's timelessly romantic dress, with a beautiful lace top over an elegant slip style dress was by our friend and Little Book member Halfpenny London. Kate found her dress at The White Room in Sheffield, which I'm sad to say is no longer operating.
"I had my heart set on a particular Halfpenny dress, but The White Room staff encouraged me to try on a variety of styles, just to make sure. I ended up purchasing the dress I initially saw online, but the process of trying on other styles helped to cement my decision."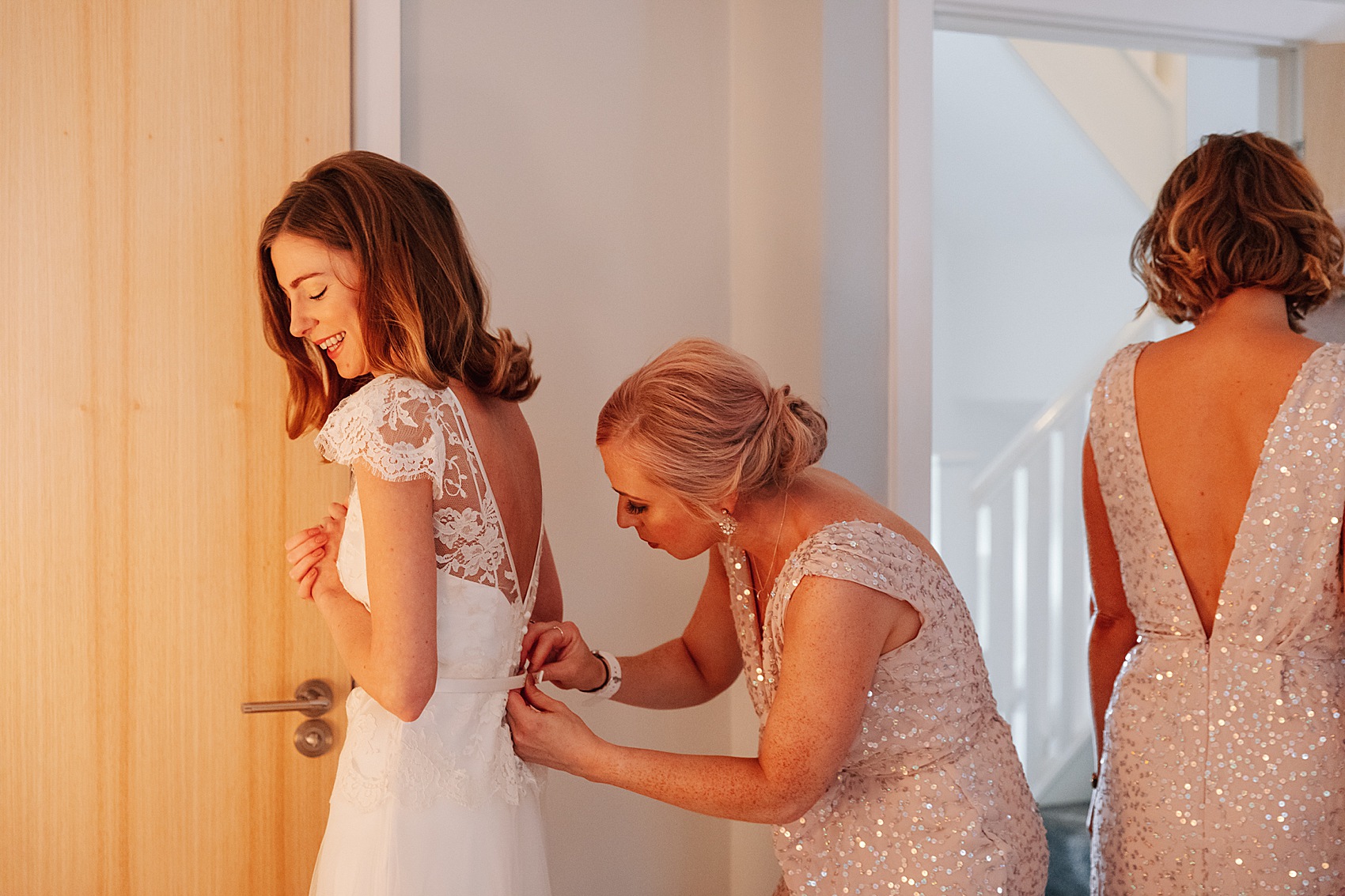 "I've always admired Halfpenny dresses since the moment I discovered her online, many years ago. I loved everything about this dress; it felt light, delicate, relaxed. It was the back of the dress that really wowed me, however."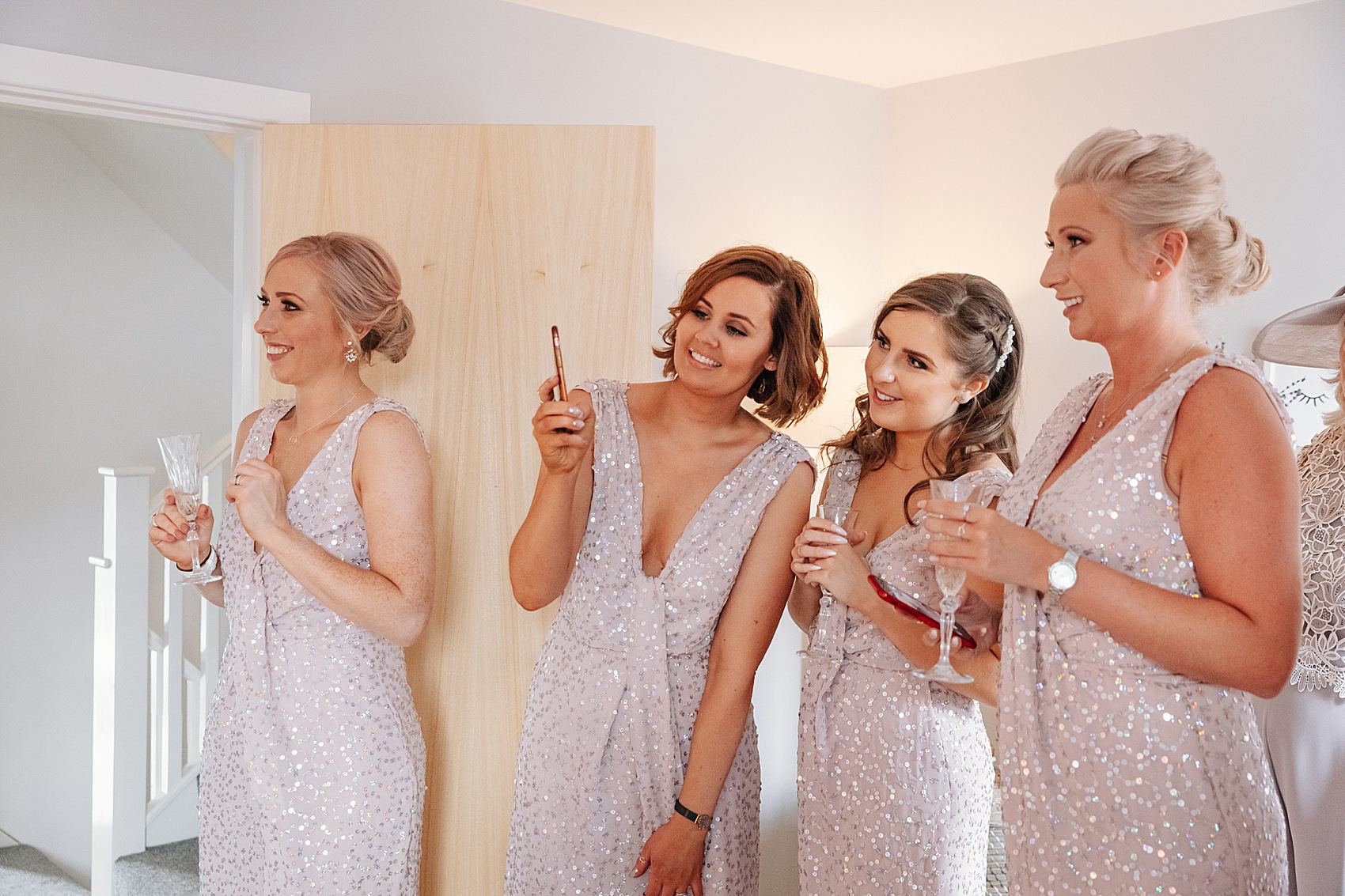 Kate was initially apprehensive about finding a hair and make-up artist, but after a trial with Jenn Edwards & Co., she was put at ease by their approach. Jenn's team created such a radiant, elegant look for her.
"I'll be honest, this was the only part of the wedding that I was dreading, as I am extremely self-conscious about my appearance, and have had some pretty awful experiences in the past with regards to make-artists."
"I spoke with Jenn prior to booking and she immediately put me at ease."
"I attended a trial a couple of months before the wedding with my mum, nanna, Joe's mum and sister. Jenn's team were so friendly and really put us at ease. Kelly and Helena really listened to what I liked and disliked, and I was so pleased with how I looked on the day. Plus, they made the morning of the wedding so much fun!"
"I booked in for a 'Scent Your Wedding' consultation with my mum and nanna at Jo Malone in Leeds about 6 weeks prior to the big day. We each received a hand and arm massage, and a glass of fizz whilst we tried a variety of fragrances. I knew immediately that Peony & Blush Suede was the scent for me. It smelt light and romantic, yet modern, and wasn't too overpowering."
"The owner of Vintage VolksWeddings, and our driver on the day, was Richard. He was an absolute gent in the lead up to the wedding, and on the day itself. Richard is quite honestly one of the loveliest men we have had the pleasure to meet."
On her feet, Kate wore gold block heels, as well as earrings and a bracelet from Anthropologie. Her florist Moss & Clover made a classic flower crown of waxflowers for her hair, to which she added a cathedral length veil from The White Room.
"I never thought I would wear a veil, and was pretty set on a just wearing a flower crown. However, once I decided on my dress, I was convinced to try on a floor length veil, which perfectly matched the tulle of the dress. I was sold! I didn't want to take the veil off (ever) so I decided at that point that I would be wearing both a veil and a flower crown – why not?!"
92 Burton Road's Peddler Warehouse is a vast, soaring space, which lends itself perfectly to modern, contemporary styling. As a backdrop to their ceremony, Kate and Joe asked their florist Emma from Moss & Clover to create a lovely 'cloud' of greenery to float above their heads.
"We were introduced by a mutual friend (bridesmaid and wife of the Best Man) on a night out in our hometown Doncaster, back in the summer of 2008. We talked online for months whilst Joe was back at university, and finally got together over the Christmas break that year."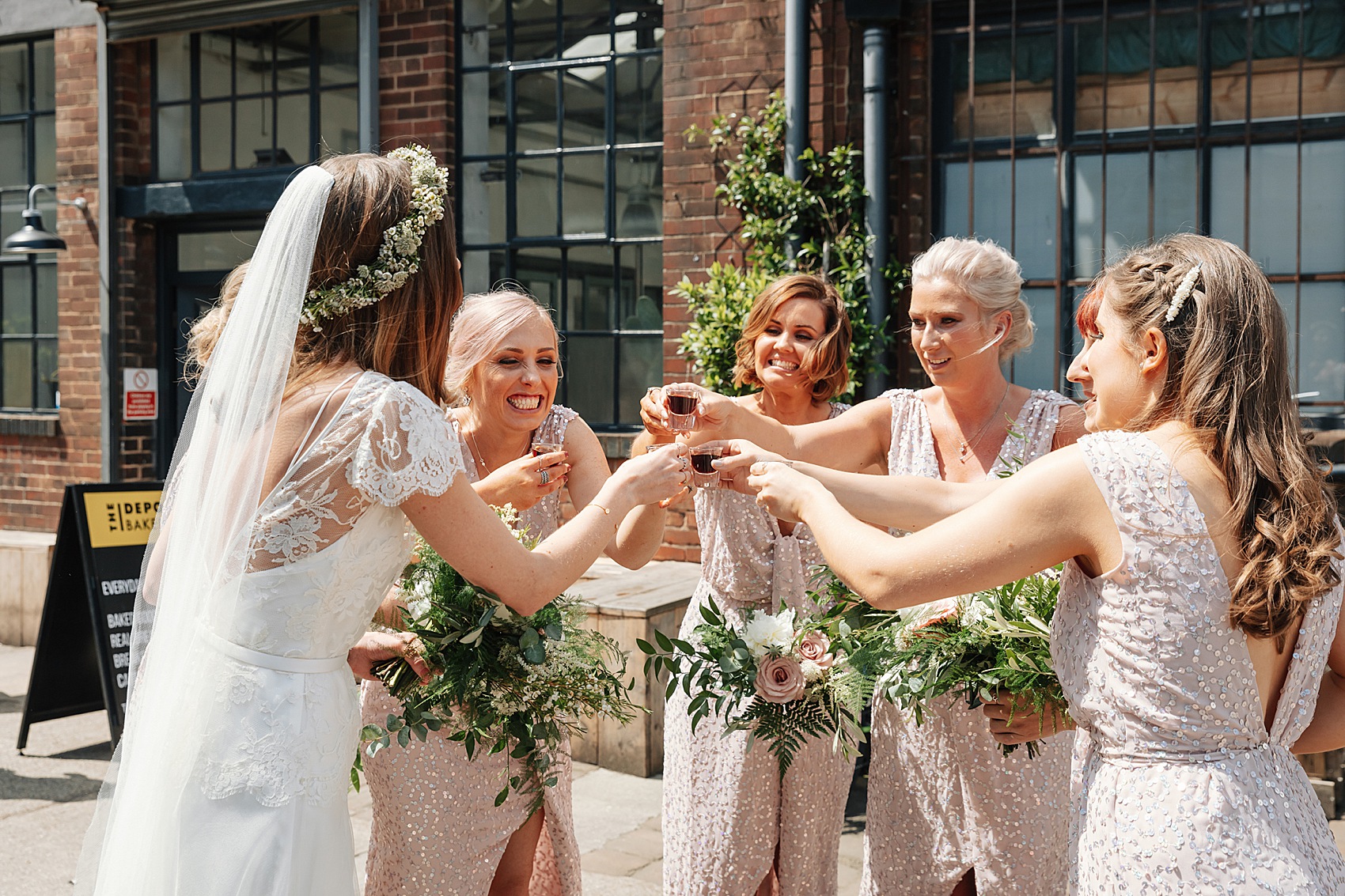 "Whilst travelling together in 2012/13 we were browsing the jewellery shops that lined the Ponte Vecchio bridge in Florence. I spotted an engagement ring in a shop window and headed inside to try it on. I asked the elderly shop owner which finger you wear an engagement ring on, much to Joe's amusement. The lady replied in Italian, which her son then translated, 'It doesn't matter where the ring is worn, true love is in the heart.'"
"It was at this point that I fell in love with the ring, the lady, her son and their shop! We then continued our day sightseeing and returned to the hostel we were staying in for a much deserved afternoon nap. Unbeknownst to me, Joe had a plan . After a quick phone call to his mum to ask her advice, Joe decided he needed to get the ring."
"Joe asked the lady in the shop to write down what she had said to me earlier in the day. He ran back to the hostel with the ring and the note safely stored in his backpack. Our travels ended around 6 weeks after this, and Joe managed to keep the ring hidden for that time. It then sat in his bedside drawer, at his mum's house, for almost 4 years."
"In May 2017, we bought our first house together. Throughout our relationship, we had collected a number of prints and posters with hopes of filling the walls of our home one day. On Friday 12th May 2017, we opened a bottle of wine, laid out all of our artwork on the living room floor, and attempted to decide where to put them, whilst half watching the MasterChef final."
"Joe produced one print that I had never seen before. A framed print that he'd had made that read: 'Non importa dove si indossa questo il vero impegno é dentro al tuo cuore', in the handwriting of the little old lady who owned the jewellery shop. As I was 'attempting' to read the print, Joe got down on one knee, and produced the ring that I had tried on all those years before."
Joe awaited the arrival of his bride, wearing a smart blue suit by Paul Smith, which he chose at their Leeds store, where he enjoyed great service from assistant store manager, Dan. Joe paired his suit with a white shirt from Thomas Pink, shoes by Grenson, and an INSTRMNT watch gifted to him by Kate.
"I decided that I would walk down the aisle myself. I am very close to my dad, Brian, but the idea of being 'given away' was not a tradition that I was interested in sticking to. The bridesmaids and I walked down the aisle individually to a beautiful piece of music named You're So Cool by Hans Zimmer."
"This is the theme song to one of our favourite ever films, True Romance."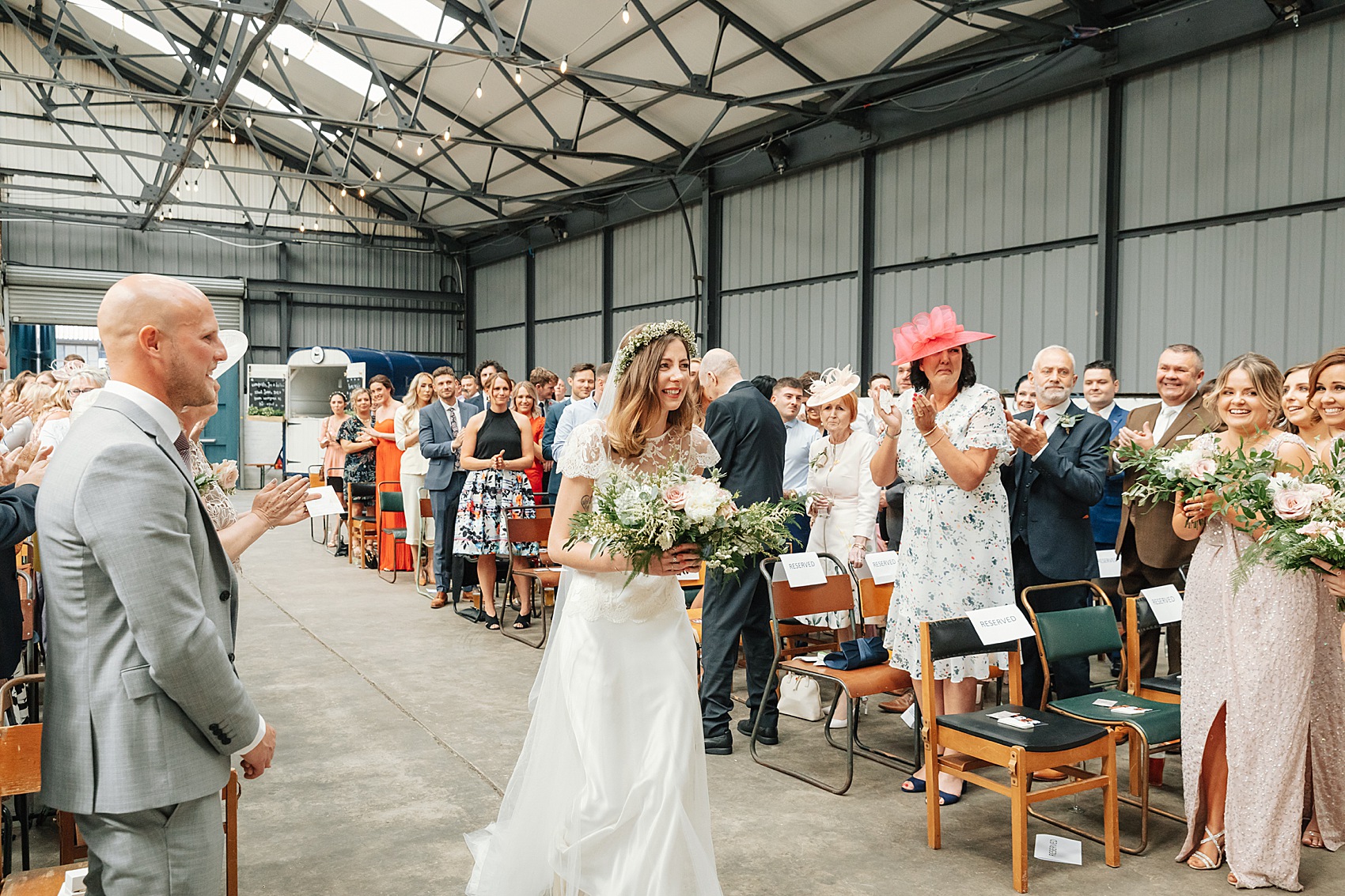 Kate and Joe opted for a humanist ceremony, and after an extensive search, found their perfect celebrant in Maxine Beech. They were able to write their own vows, which they did with Maxine's help and support.
"Maxine sent us tasks leading up to the day, and provided us with a vow workshop, which we both found extremely beneficial. Our ceremony was so personal to us, and we have had so many compliments from guests about this part of the day."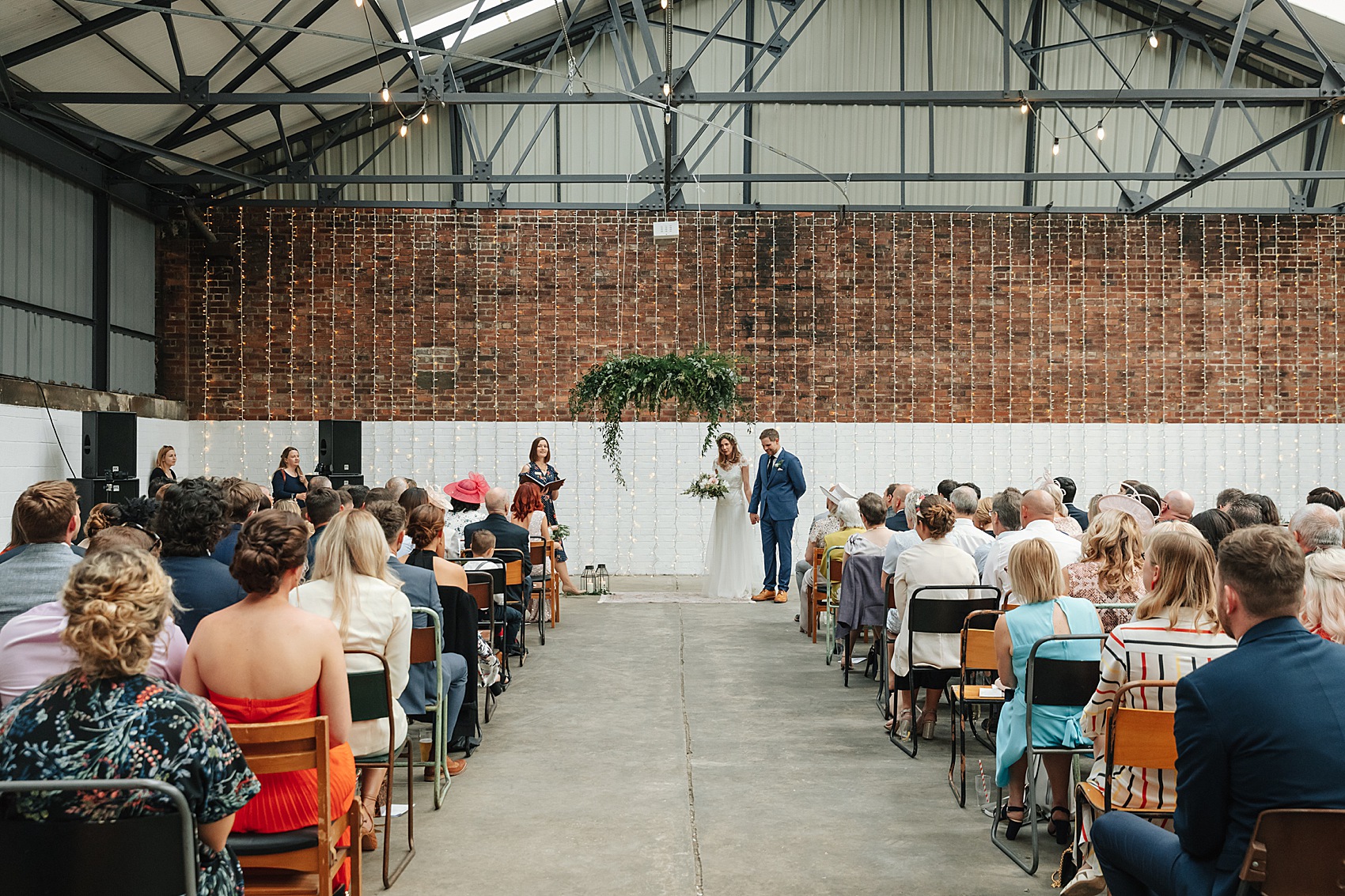 "My vows to Joe: 'Joe, you are my favourite person in the world. You are without a doubt the coolest guy I have ever met, as well as the most hilarious. But what I love most about you is your endless loyalty and kindness to others. Thank you for being my fellow explorer, my personal chef and my go to guy for fashion advice. I promise to always support you in everything you do, I promise to always make sure we have at least one adventure planner, and I promise that I will always remain a loyal Newcastle fan. I know that neither one of us is perfect, but I also know that we are perfect for each other.'"
"Joe's vows to me: 'Kate, we made it. I'm here today because I've found the one. The most jaw-droppingly beautiful, snort inducingly funny, and inspiringly selfless individual I have ever met. My favourite. I want to thank you for your patience, your laughter and the drive you have that has led us to do so many amazing things together. You've inspired me to do so much, and go so far. I really can't thank you enough for that. I'm not going to promise that I'll always close the dishwasher properly, or push the laundry baskets in neatly. That, you're just going to have to deal with. What I will promise you is that I'll love you forever, and not a second less.'"
The couple met their wedding ring maker, Ruby Tynan, at one of 92 Burton Road's many markets a few months before the wedding, and were thrilled with her approach, ethos, and their finished rings.
"We were really struggling to find rings that we liked, especially as Joe had never really worn jewellery before, and my engagement ring is so delicate. Ruby was amazing. She suggested different styles, materials and finishes."
"She was incredibly patient with us, and even sent tester rings in silver for us to try before making our final decisions. In the end, Joe decided on a 9 carat white gold band with a satin finish, and I went for an 18 carat yellow gold wishbone ring, which sits perfectly next to my engagement ring."
There were lots of sweet, touching moments throughout the ceremony, with bridesmaid Nichola reading a few words she had written specially for her friends, and friend Kayley reading Edward Monkton's A Lovely Love Story.
"We also decided to have a song during the ceremony, and chose a track by one of our favourite bands, The Housemartins. We provided all our guests with a song sheet, with the lyrics to Caravan of Love, and requested that everyone join in."
"Our Best Man, Tom, had a short solo, which he was terribly nervous about, but he wowed us as expected."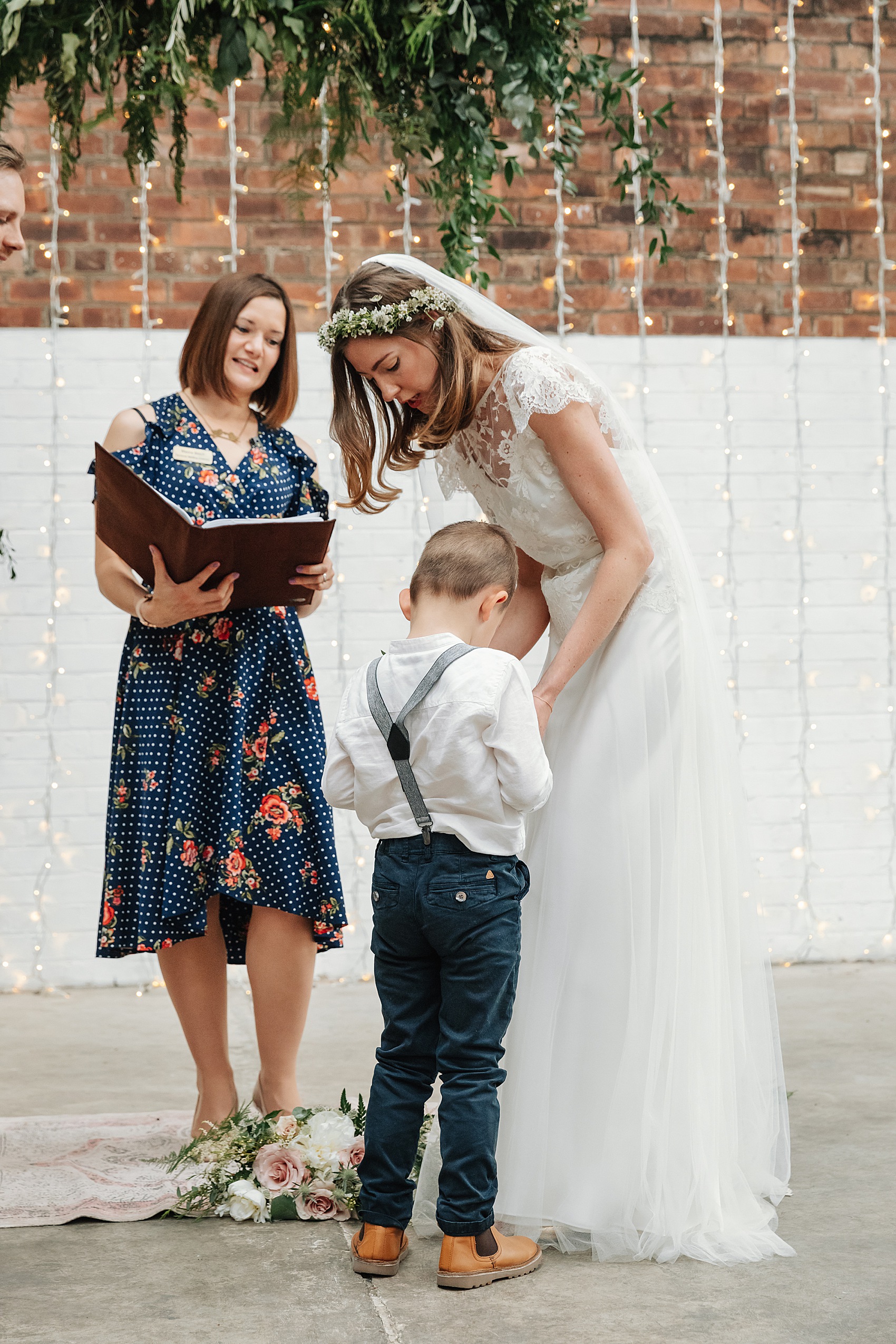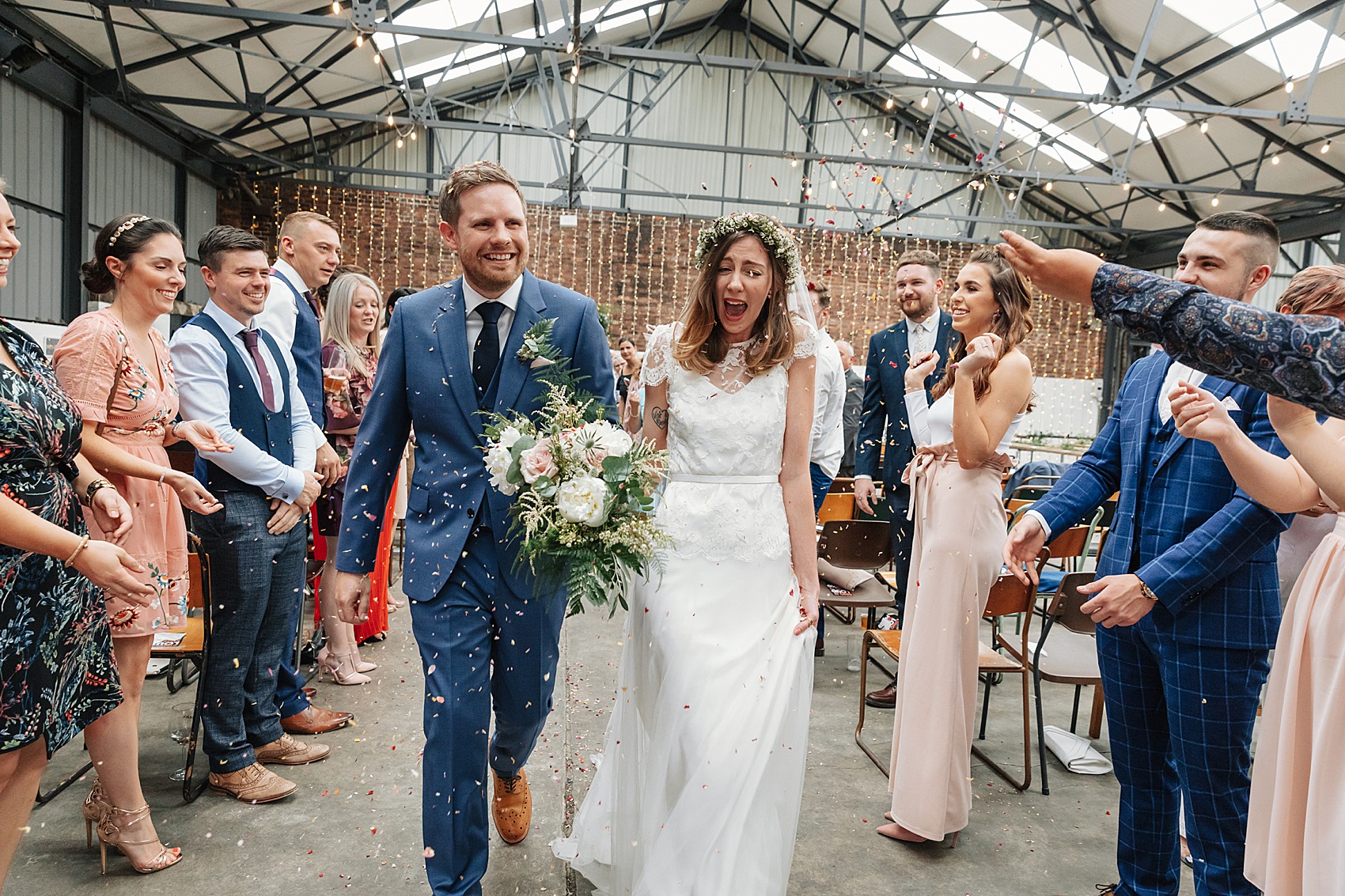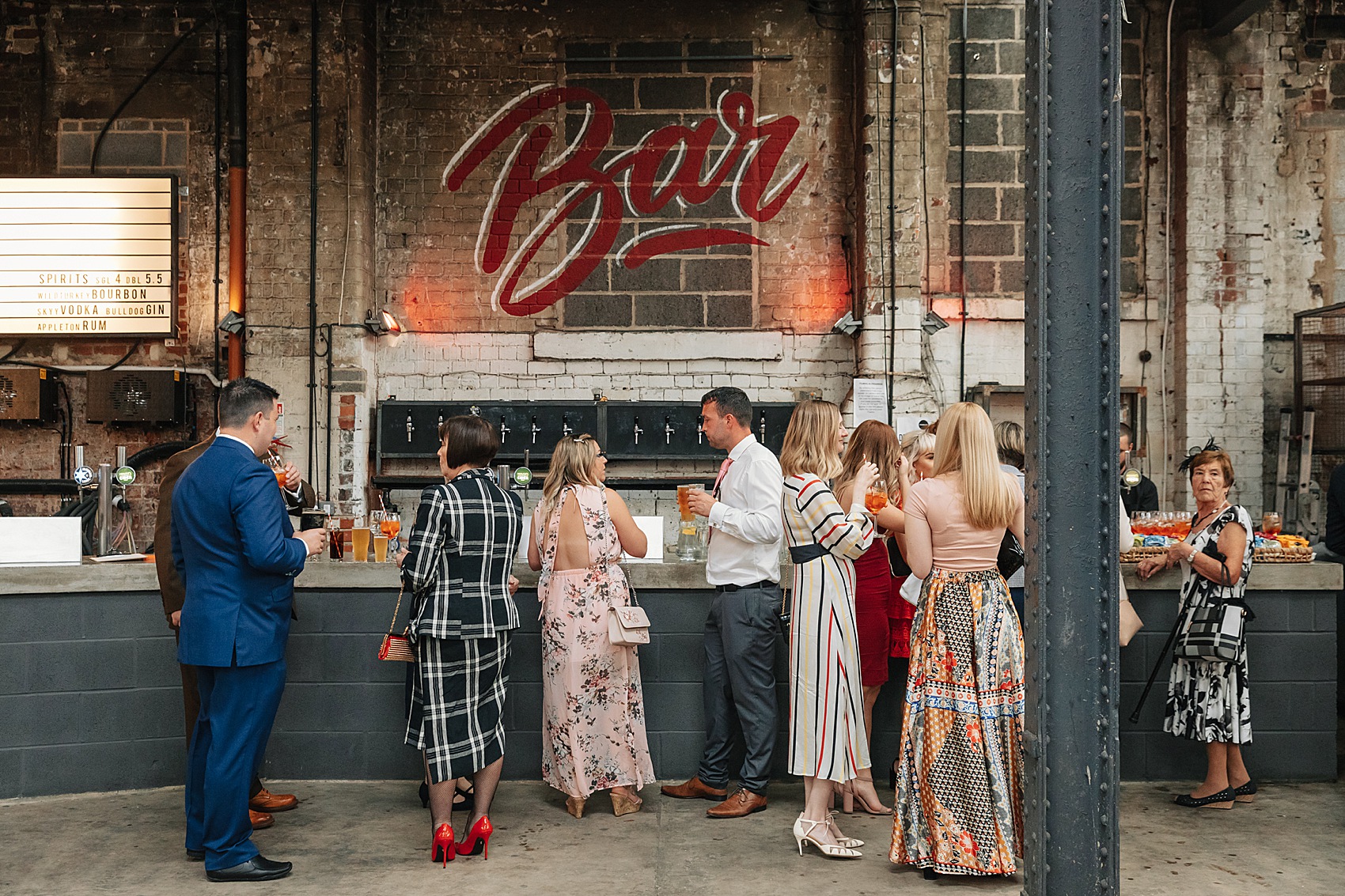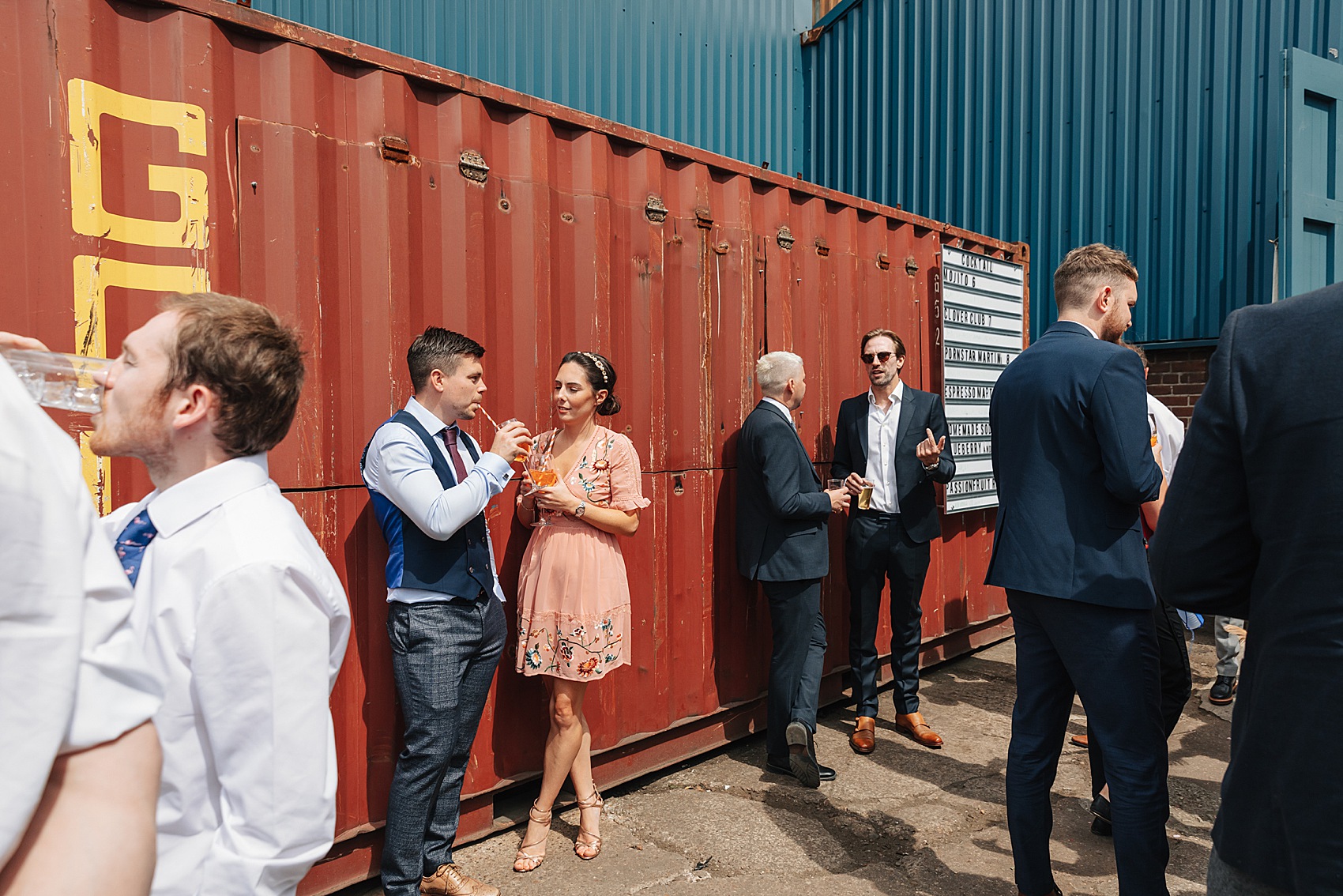 Kate and her bridesmaids carried lovely, wild bouquets in soft pastel colours by Moss & Clover, featuring big garden roses, peonies, waxflowers, thistles, eucalyptus, and different ferns.
"Our florist Emma was great, and extremely patient with us. We had lots (and lots) of ideas, and Emma really helped to pull all of these together. We decided upon mainly foliage for our tables and buttonholes, with hints of blush and white for the bouquets."
I love the way photographer India Hobson captured all the fun of the day. These gorgeous, natural images are a real joy to behold, and it's great to be able to add to her work featuring on our pages.
"Joe had been introduced to India through work a number of years ago. We've always admired her work, and can honestly say we'd already decided on her before we were even engaged."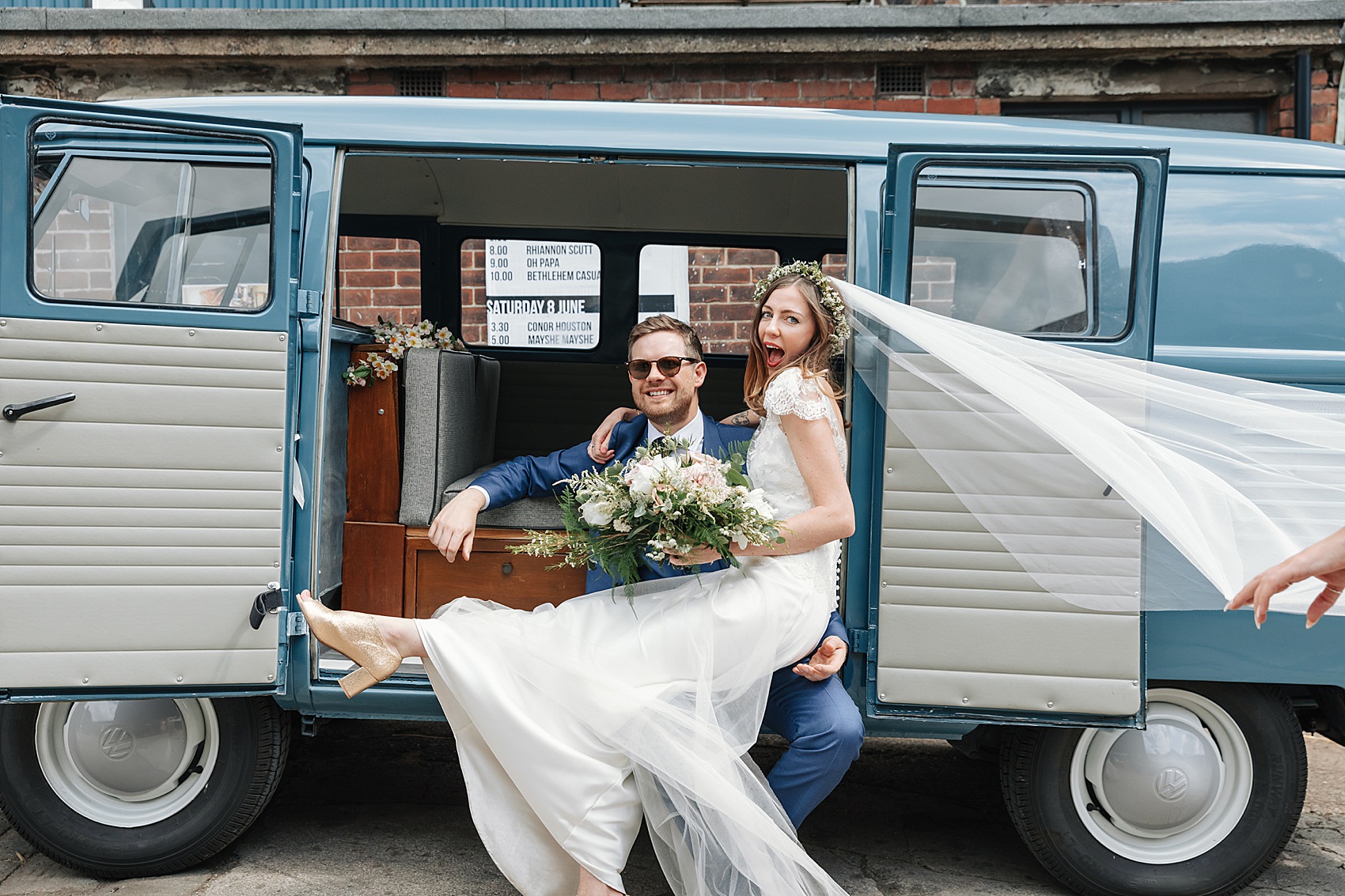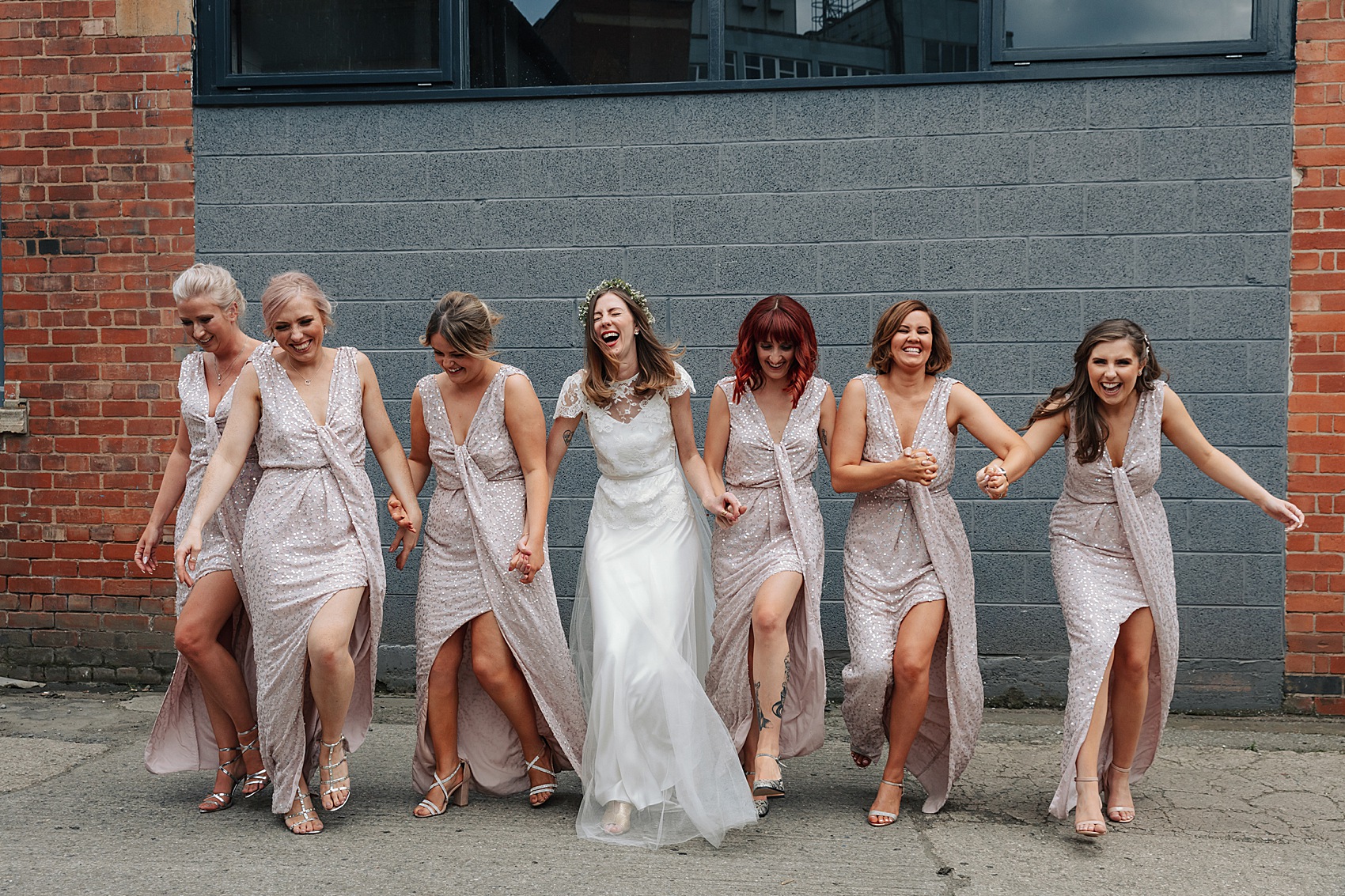 "We met up with India prior to the wedding for a coffee and a quick chat about what we wanted (and didn't want). She was super cool to hang out with, and such a calming presence on the day. Nothing fazed her, and we're so happy with the photos she produced."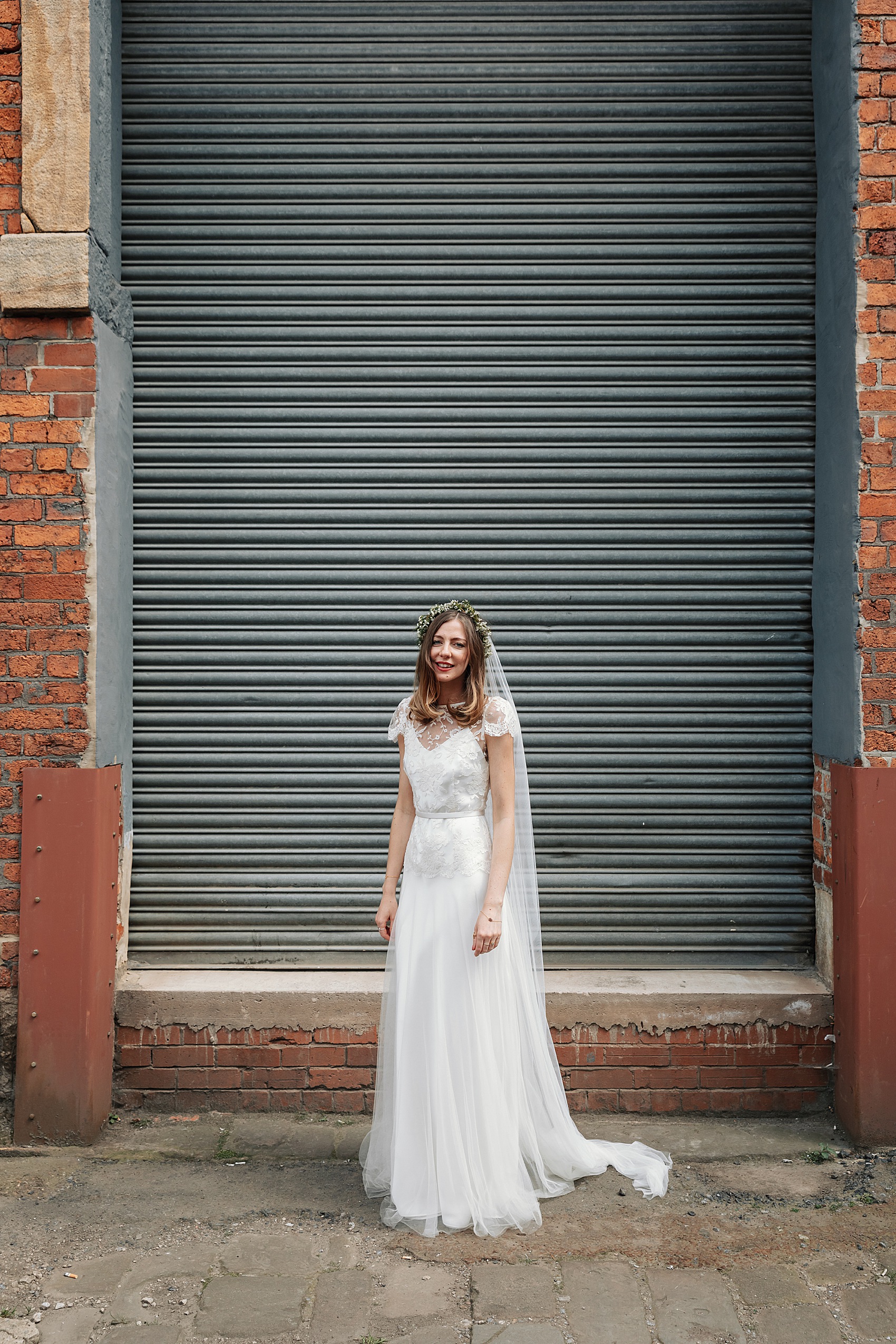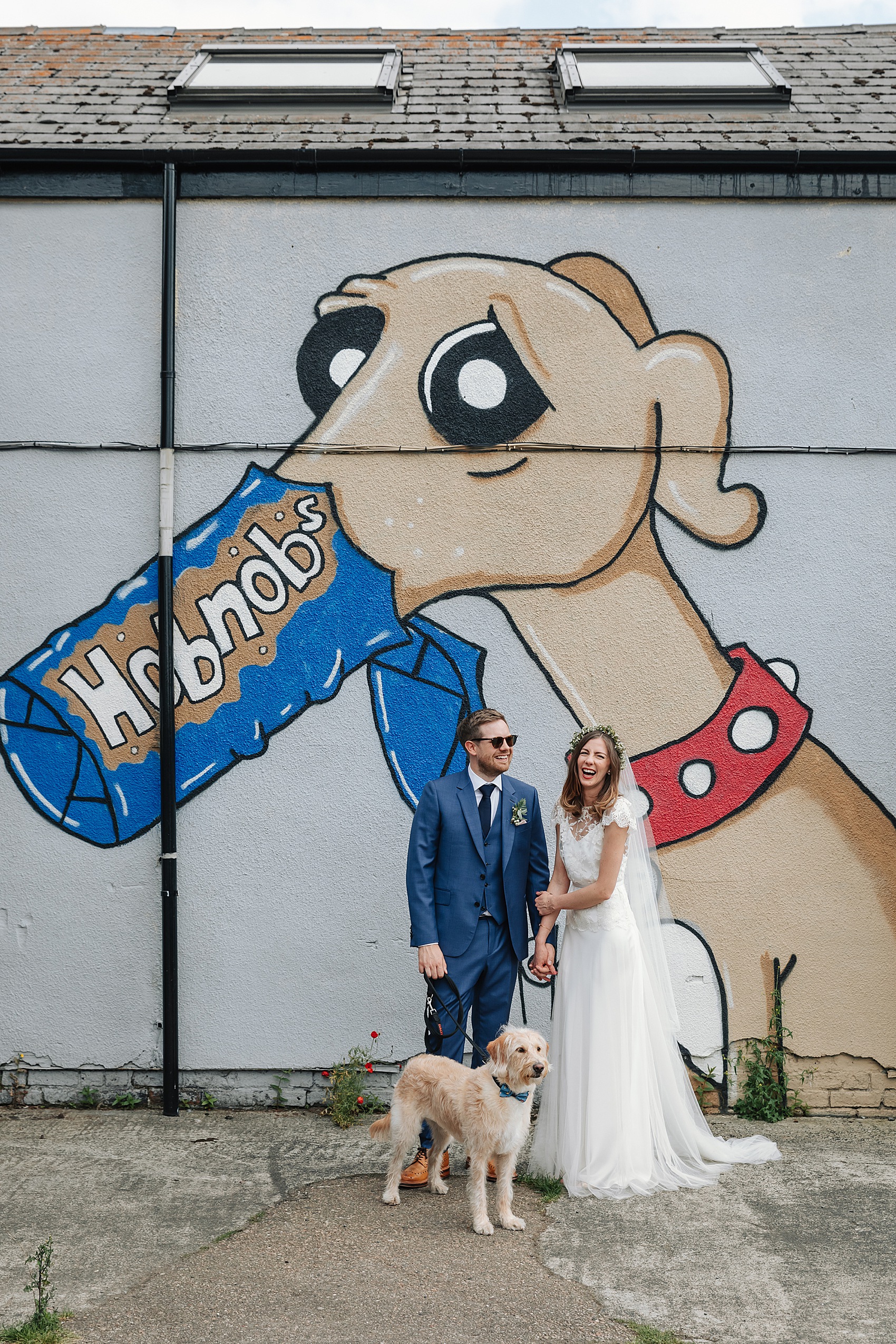 Kate and Joe describe their planner Ellie from Inner City Weddings & Events as an 'actual superhero', and she worked hard, together with their other suppliers to give the couple the most amazing day possible.
"We had a vision of creating a huge curtain of fairylights across the whole of the back wall of the warehouse. Ellie, our wedding planner, sourced these at Wide Eye Lighting. It took Chris hours to put these up, but they looked absolutely perfect. We were so so pleased with them."
With such a big, versatile space at their disposal, Kate and Joe also decided on creating an area for relaxation, and hired sofas, armchairs, and coffee tables from Modular Moods. There were also fun and games with beer pong and table football, too.
"Joe designed all of the stationery himself. The invite was designed by one of his favourite artists, Jorge Lawerta. All of the stationery was inspired by that."
Long dining tables were decorated with trailing garlands of greenery and candles, and each place setting had an iced biscuit favour (featuring some of Kate and Joe's favourite song lyrics) made by Lady Bakewell-Park.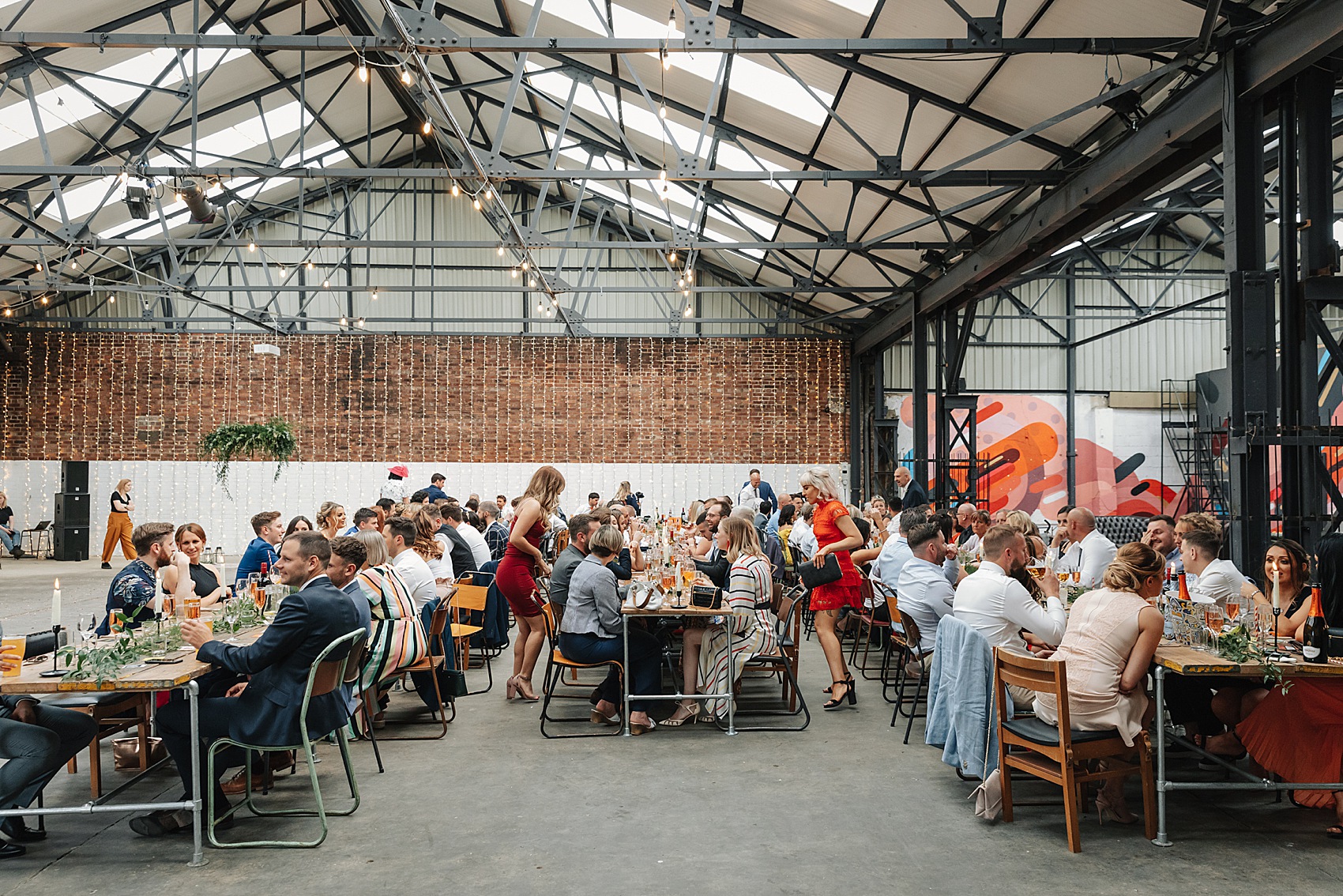 Great food was an important element of Kate and Joe's day, and what they decided on was a three-fold treat. Firstly, pie, mash, peas and gravy from Pie Eyed (flavours were steak and cheese; pork, apple and black pudding; chicken, leek and bacon, and a vegan shepherd's pie).
Dessert came courtesy of The Depot Bakery, whose home is just across the courtyard from the wedding venue. Kate and Joe decided on doughnuts, with delicious Nutella, white chocolate and vanilla custard filled flavours.
"Again, located in the same yard as the wedding venue, we chose to have pizza from Nether Edge Pizza Company (the ultimate post drink snack) for our evening food. They set up their clay pizza oven in the courtyard, and our guests queued up in the setting sun for their tasty pizzas."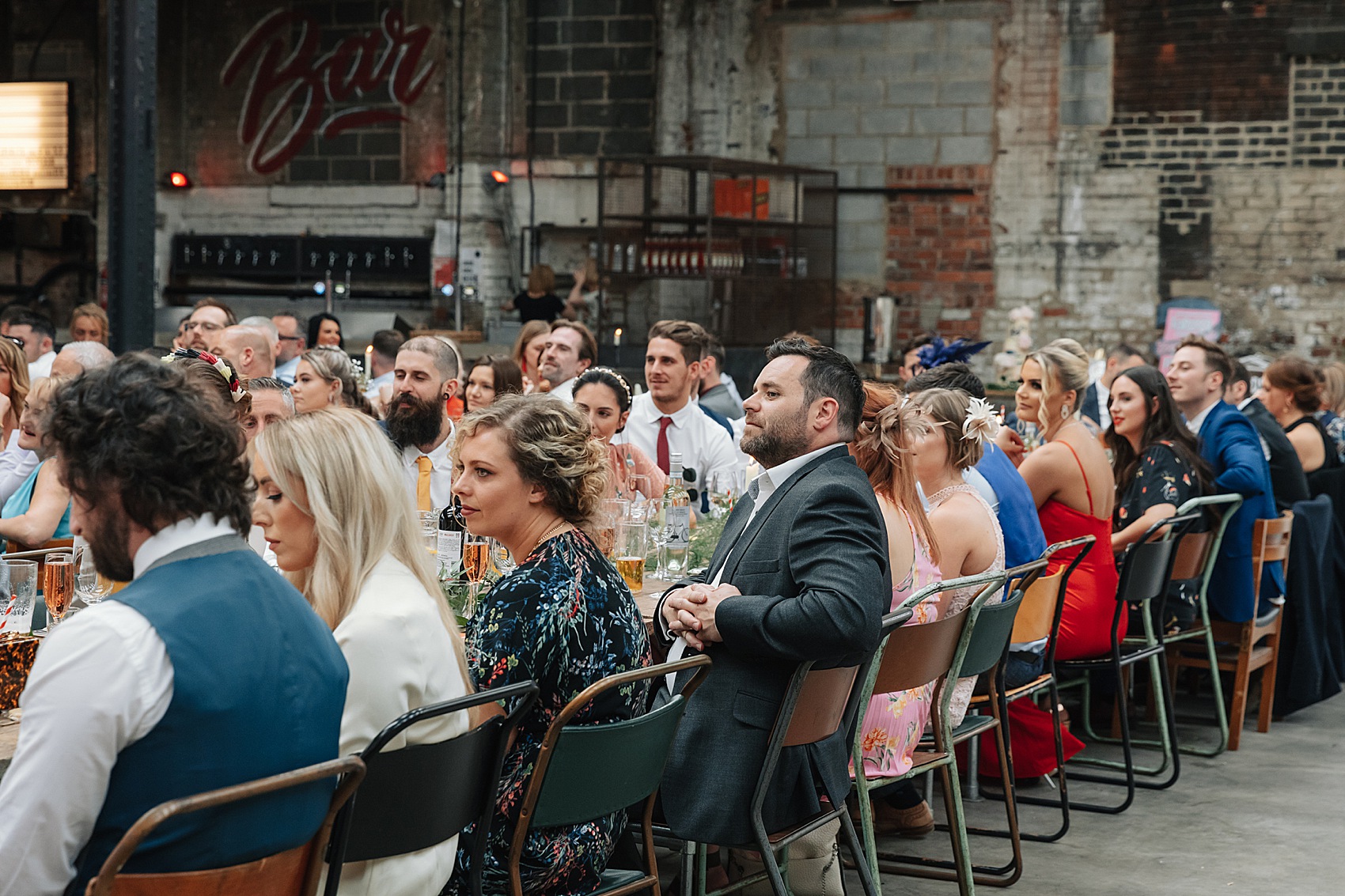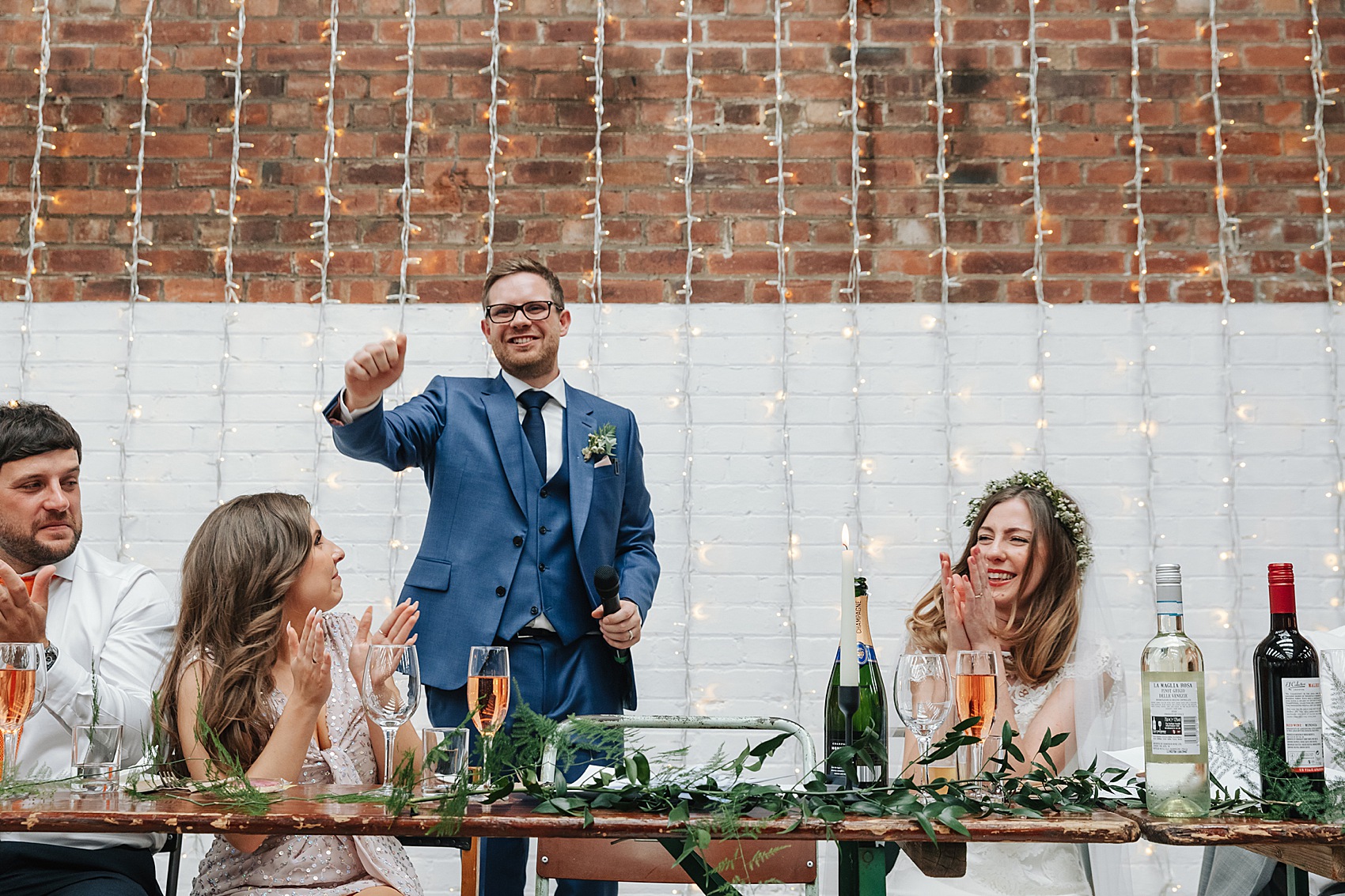 "Our cake was made by one of our bridesmaids, the incredibly talented Nicola. We asked Nicola for a three-tier buttercream cake, decorated with pink peonies. Nicola included three of our favourite flavours: raspberry and white chocolate, lemon and elderflower, and orange drizzle. The cake looked and tasted absolutely beautiful!"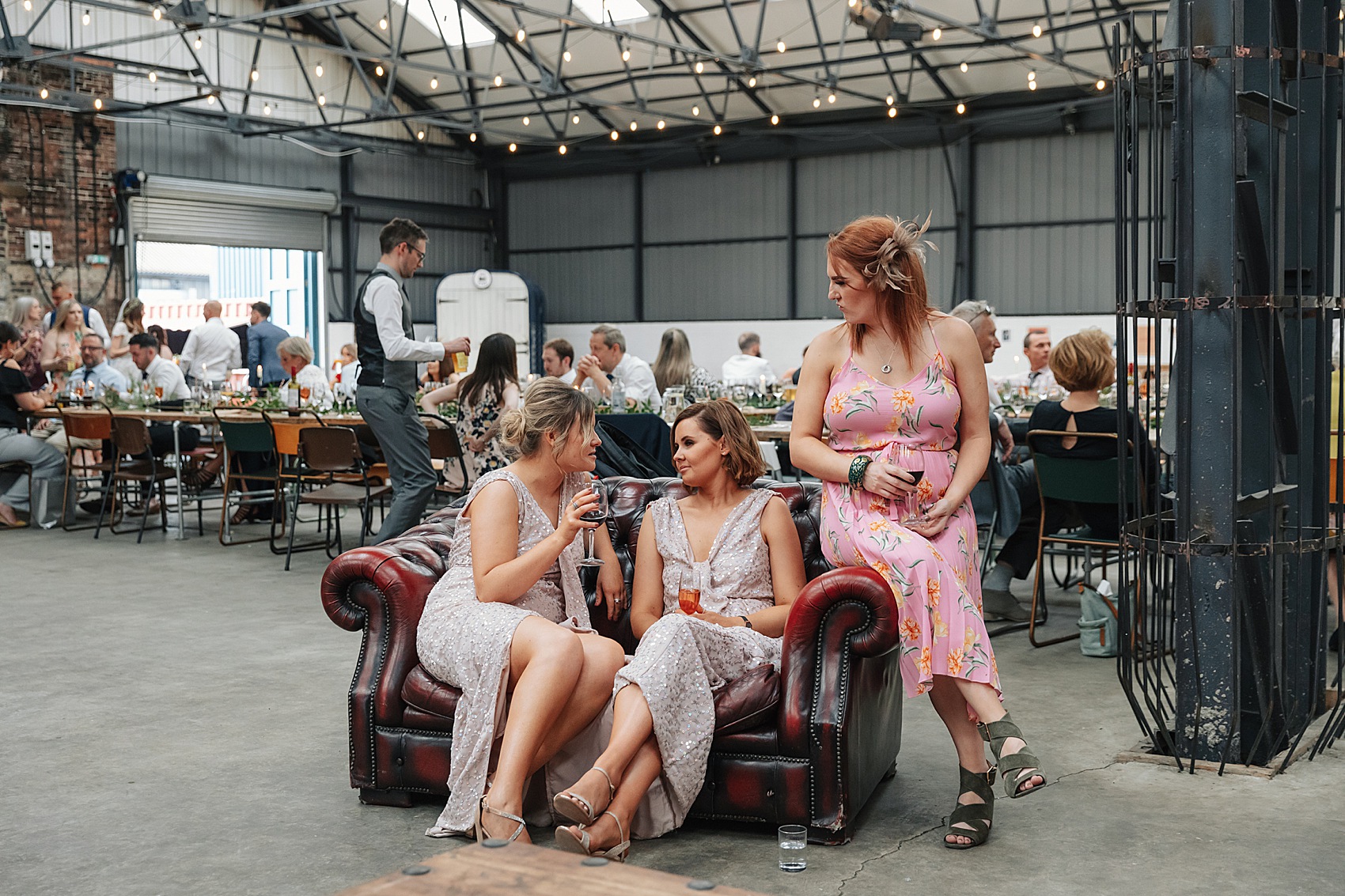 After that amazing food and speeches, Kate and Joe enjoyed their first dance together, which also featured a colourful confetti cannon explosion!
"Our first dance was to the song To Be Loved by Jackie Wilson. We both absolutely love Jackie Wilson, and the lyrics of this song just seemed so perfect. Plus, it's a relatively short song (2:26) and neither of us wanted to be awkwardly swaying for longer than this."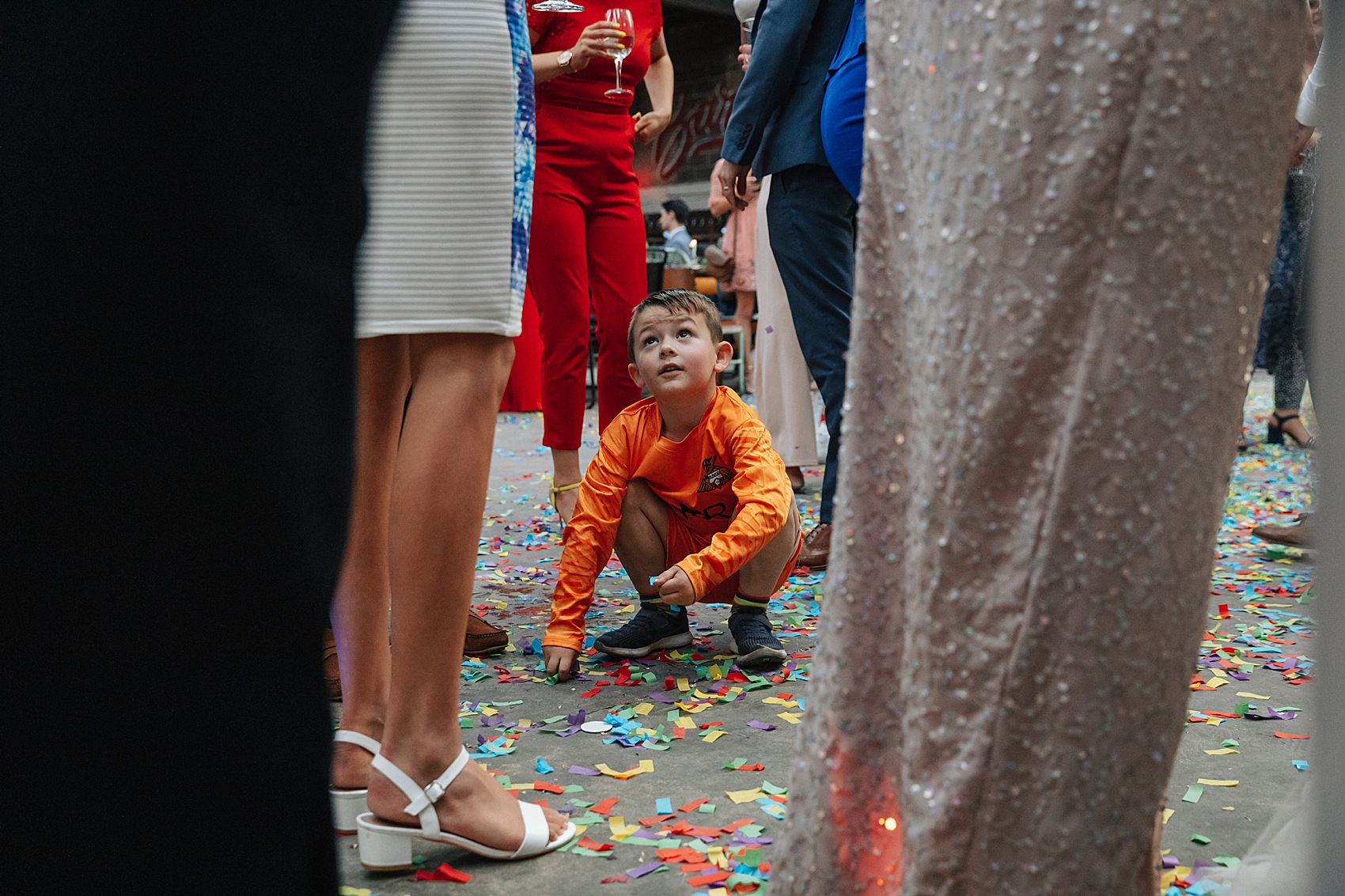 The couple's evening entertainment was DJ Clare Powell from Wedding Jam, who they booked after seeing her at the Indie Wedding Fair.
"We met up with her a few weeks before the wedding to discuss our likes and dislikes, and provided her with a Spotify playlist of some of our favourite tunes so that she could get an idea of the kind of vibe that we were hoping to create. We're both passionate about music, and so this was definitely a part of the wedding we were really keen to get spot on. Claire absolutely nailed it on the night, and we all danced our socks off!"
"It really is hard to pick a favourite part of the day as there were so many unforgettable moments. The ceremony was beautiful, and it was an amazing feeling marrying Joe in front of all our friends and family. My mum's speech just before the meal was touching and hilarious, and really blew me away."
"I also really enjoyed going for a walk with Joe and the Best Boy (our dog Jeff) in the afternoon for a couple of photos. It was lovely to take a breather and spend some quality time with each other. The dancing at night with all our pals was also amazing, I don't think I've ever felt so happy in all my life."
Words of Wedded Wisdom
"I found lots of inspiration on Love My Dress with regards to décor, flowers, hair and make-up. I was also part of the Facebook group. I was so impressed by how all members are respectful and supportive of others in the group."
"My words of wisdom would be, just do you! Don't let anyone influence your decisions, and don't worry about what anyone will think about your day. Also, be prepared that the day will not be perfect. But that's okay. I'm the biggest perfectionist out there, and so many things didn't quite go to plan, but these did not dampen our joyous memories of the day."
Kate and Joe, thanks so much to you both. Your day looked like an absolute blast, and all of that delicious looking food has left me feeling pretty hungry! Many thanks to Sugar 8 for their film, and to India Hobson for these glorious images.
With love,
Laura