An Interview With Rita Colson: Sustainable, Modern & Contemporary Bridal Fashion Designer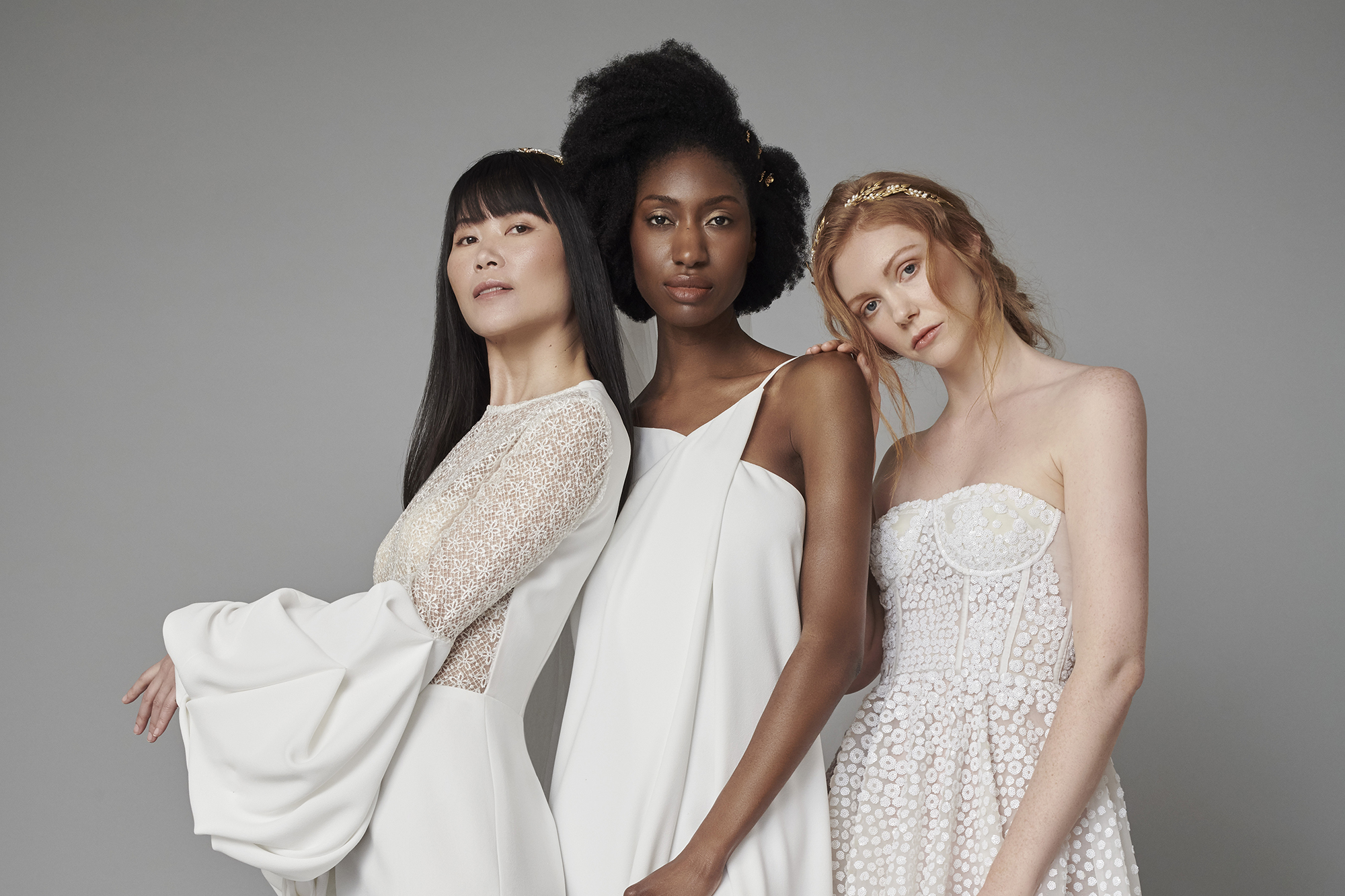 I'm so thrilled to finally have the opportunity to introduce you to someone who for me represents an exciting new generation of bridal fashion designers.
Rita Colson first came onto my radar around a year ago with her two beautiful Instagram feeds, her professional feed at @ritacolson and her personal feed at @colsonstyletheory. I've been watching this talented designer of contemporary, non traditional wedding dresses closely ever since and thought it was about time I got to know her a little better. The launch of her new bridal collection, 'Light in Movement', provided a perfect opportunity.
Rita Colson is a West London based bridal fashion and wedding dress designer, who specialises in bridal couture and evening wear.
Her style is unique and fresh with a beautiful, clean and contemporary aesthetic not like anything I've seen before. This is partly why I'm so drawn to her designs – she has her own modern elegant signature and is completely owning it.  Let's find out more…
Hello Rita! Please introduce yourself…
My name is Rita Akosua Colson. I was born and raised in London. I'm a Ghanaian-British.
How did you end up running your own bridal design business?
After four years of working for a designer/stylist I left and went back to university to train as an Art & Design teacher. I wanted to gain another skill to support myself so I would still be able to design on my own. I went into teaching, loved it, and forgot all about fashion.
Fast forward five years and I decided to go back to my dream of owning my own label. I made four dresses, created an Instagram account and posted them online. Three of these dress were grey and black and one was beige. I noticed the beige one was receiving a lot of attention but all for the 'wrong' reasons, people thought it was a wedding dress.
Before I realised, brides were coming to me asking where I was based. I resisted for a while but eventually did my research into the industry and found that there was a gap in the market for what I had accidentally created.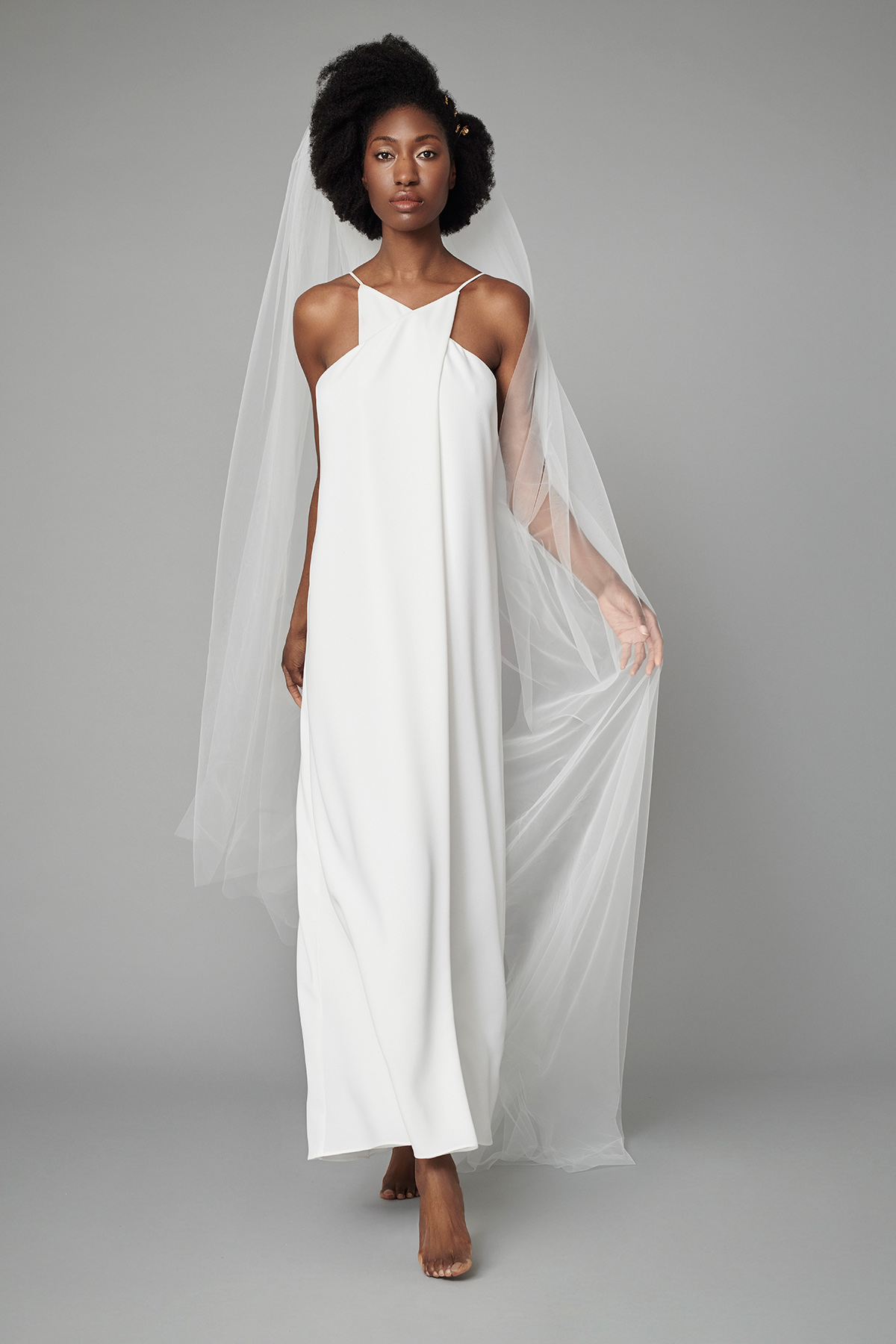 How would you describe your work in 3 words?
Stylish, classic and modern.
Describe your studio space?
My West London studio space is a very small well considered 'jewel box' with wonderful vintage finds from nearby Portobello market. It's minimal without being sterile, with accents of nature and West African influences.
It's very important to me that my gowns are British made. Not only is it cost effective, I believe we all have a responsibility in knowing who makes our clothing, and the conditions in which they're working. All my dress materials are sourced ethically and sustainably.

How would you describe your typical client in a single sentence?
My client is a modern woman who's not driven by trends. She has a deep appreciation for classic shapes but also loves modern silhouettes. She's confident and knows her 'body type' she knows what works for her.
Tell us a little about your latest collection
This latest collection in comparison to my debut collection focuses more on the modern woman. The attention is on shape and form.
I wanted to create light and movement, I loved using crepe and silk tulle playing with the weight of the fabrics and creating fluidity and movement.
The collection is modern without being too minimalist, classic without being boring and feminine without being too fussy in the details. The pieces can be worn as both bridal and evening wear taking you from the Registry straight to the party or from the church to the dance floor.
View this post on Instagram
You describe your work as 'for style conscious brides'
A 'style conscious bride' is a bride that knows her 'uniqueness' (problem areas) can be a personal style. She's not swayed by trends or 'body perfection'. She's aware of the importance of sustainability and the impact it has on the environment. She seeks designs that she can wear again and again if she chooses to.
What role does Sustainability play in your design process?
Sustainability to me is using vintage within some of my work. I love vintage so I always find ways of using something like a bodice or a trimming from an old dress to make a new one.
For example the embroidery section of the 'Marta' Jacket in the latest collection is made from a bodice of a 1980's wedding dress. I also love to use end of line fabrics which is cost effective and minimises waste.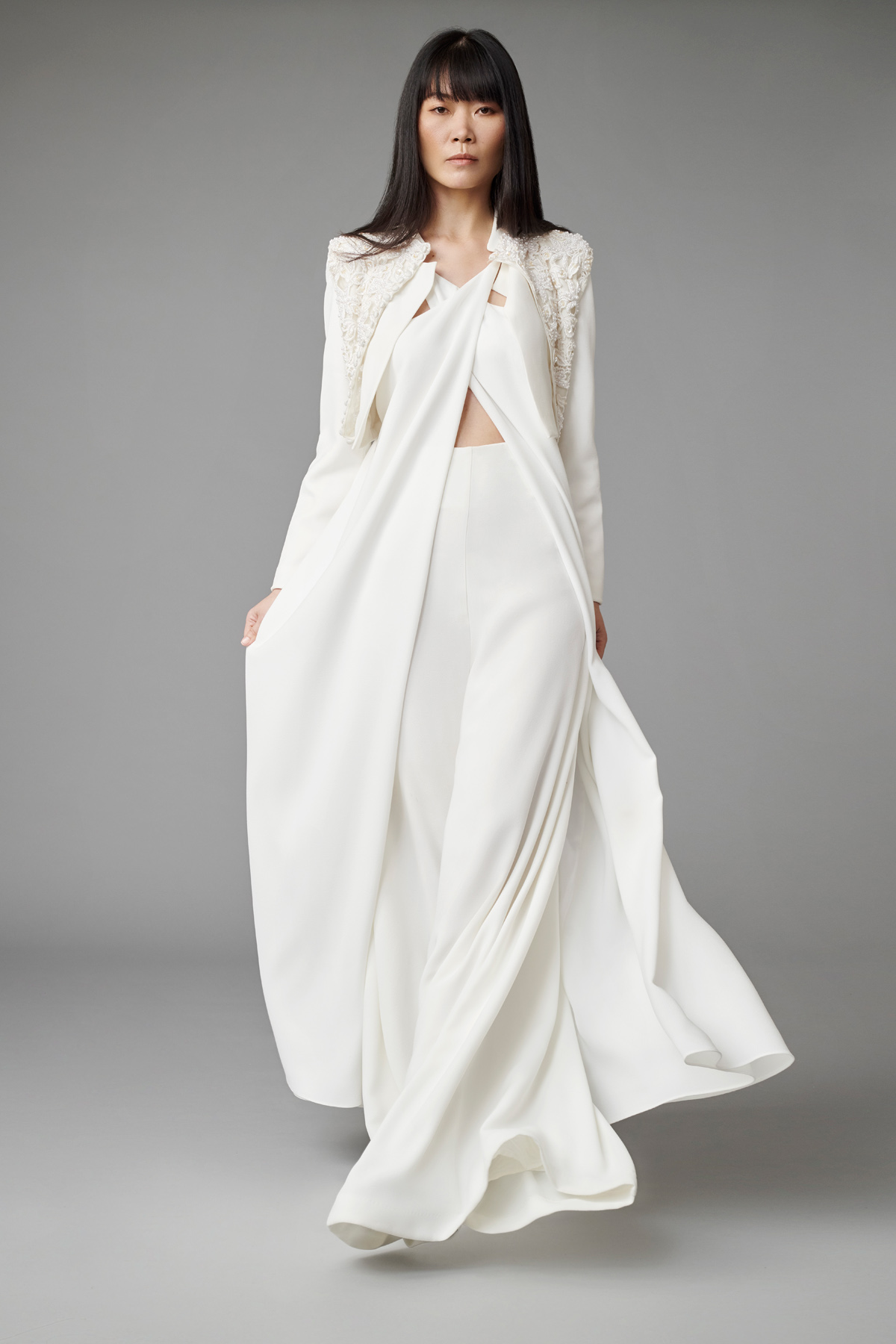 What is your couture design process?
From a practical perspective, the very first thing required is completion of the forms on my website, to secure a consultation appointment.
I love welcoming new brides into my studio space. Our first appointment is spent discussing the ideas the client has, or sometimes they have the option of selecting something from the collection and using it as a starting point. By the end of the consultation there would be a very basic sketch of the dress, then we'll go ahead with creating the first draft (or 'toile', in fashion terms) of the dress, which is always created in a cheaper fabric.
There are often between two to five fittings on average. It really depends on how complicated the design is. When we're both happy with the fit, the final gown is created.
On average the process takes between four and eight months, although sometimes shorter if a client's time is limited. I've made gowns in as little as one or two months,  so it's possible – it just depends on the design!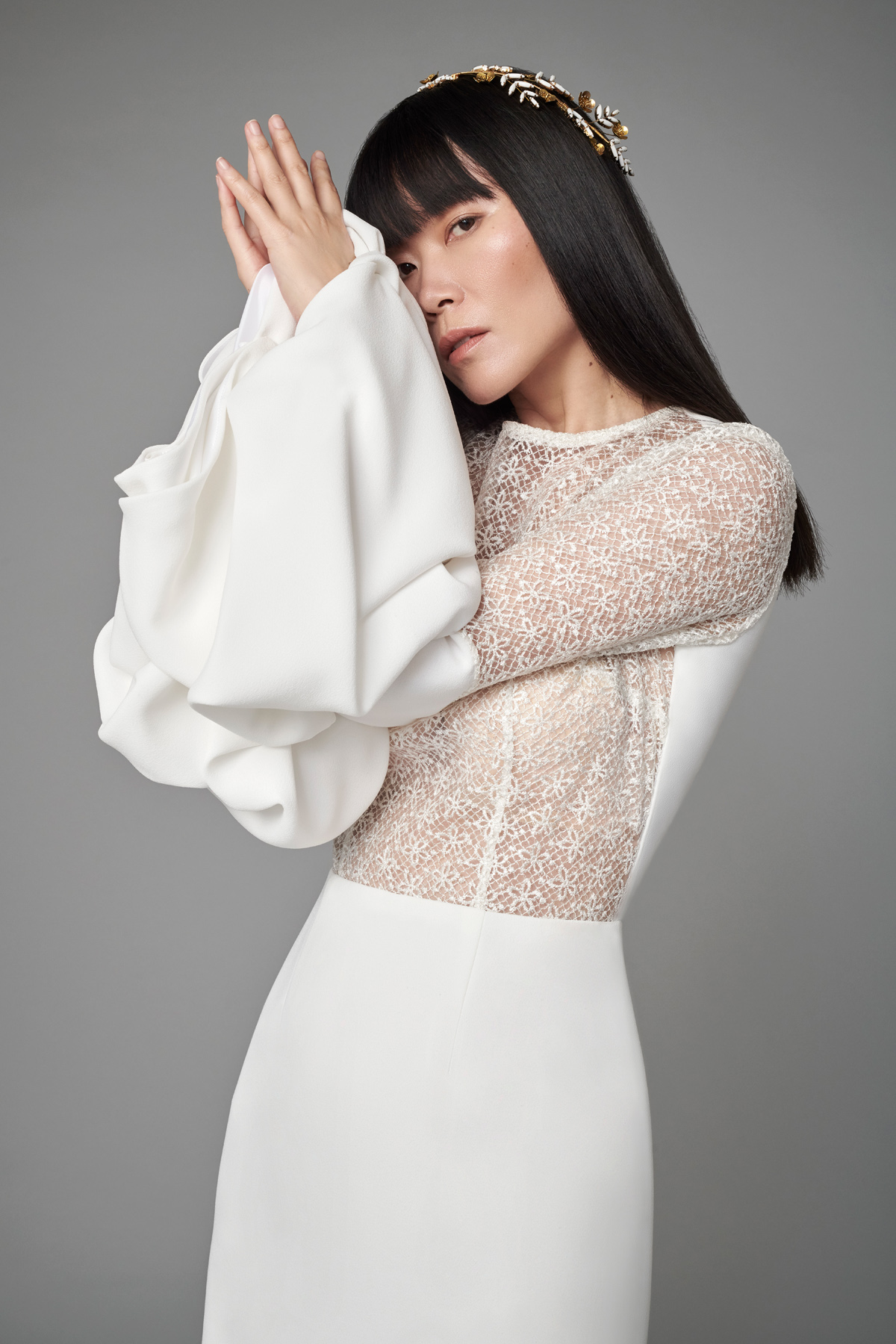 Where do you find your design inspiration?
My design inspiration comes from everywhere sometimes it's from a painting, fabric I found or nature.
But more than often I have gone back to classic Audrey Hepburn films for inspiration, I love the creative partnership she had with Hubert de Givenchy.
I often share my inspirations on my personal Instagram account, @colsonstyletheory.
Do you have any particular muse?
Actresses Rooney Mara, Audrey Hepburn and singer Solange Knowles.
What role does social media play in your business?
I use social media a lot – I started my business using social media. I use Social media to increase visibility and as a marketing tool – I really appreciate the instant feedback of followers. It's a great tool in understanding current customers and building up new ones.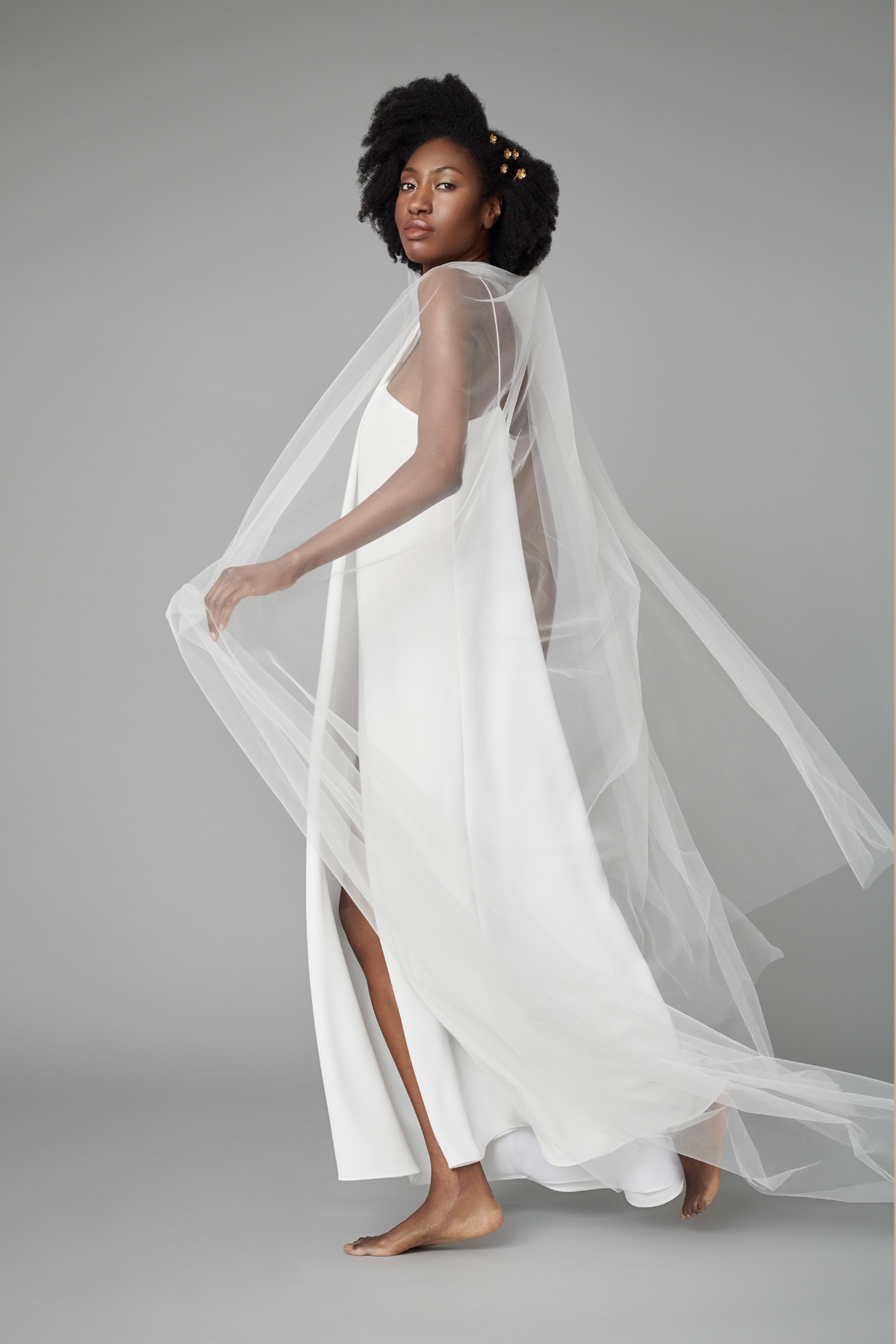 How do you keep yourself motivated?
I revisit the dream/goal daily and I look at how far I've come, what I've been able to achieve so far and what I want to achieve next. I never stop dreaming. I stopped telling myself all the possible reasons (which are sometimes very valid reasons) why it can't happen for me and I've started asking 'what if it works out'. It's an instant mood changer!!!!
What music is currently on your playlist?
A New Zealand group called Electric Wire Hustle, and and up and upcoming artist called Sam Henshaw (Sound Experiment) – very talented he's amazing live!!
Last 3 books you read?
Dream It-Pin It-Live It by Terri Savelle Foy
Becoming by Michelle Obama
Unstoppable by Cynthia Kersey
I read Unstoppable' over and over again because there are short stories of people making it in life against all odds. Uplifting, inspirational stories.
Which Instagram accounts that inspire you?
Next holiday you're planning?
I would love to go to Dominica Republic for my birthday but I haven't booked it yet.
Favourite thing to do in your spare time?
I love reading, listening to podcasts, painting, going to exhibitions, and eating out.