All the weddings we share on Love My Dress are special, but some have that extra little something.
Today's beautiful nuptials are those of a friend and colleague of mine, Freya Rose of Freya Rose London. Freya designs the most beautiful shoes and super cool boots for brides – honestly, if you aren't familiar, then you must go and take a look at her creations after enjoying her wedding today – her mother of pearl heels are something other worldly.
Freya married her Lawyer husband, Matthew on 1st June, just over a week ago and we are humbled and so happy to have been asked to share. The couple, who met via a dating app, chose to tie the knot at St Hubert's Church in Idsworth followed by a reception at Park House Hotel & Spa in Hampshire – a venue chosen so that the children could play and enjoy the grounds.
They wanted a daytime look that was minimal, chic and elegant, with a distinctly modern English-countryside feel. Décor, stationery and accents in white and gold were designed by Freya and expertly created by Lo & Behold Bespoke (whose founder's own wedding we have shared on Love My Dress too).
Images by Carrie Lavers
This day, full of love, joy and celebration, came after the heartbreak of loss for Freya – which makes these images all the more poignant.
"The reason we had such a long engagement was not only because my father got diagnosed with terminal cancer at Christmas 2017 and passed in April 2018 – we then moved house a week later,  then found out I had placenta previa and couldn't go far from home. After the birth of our daughter in August 2018, I almost died from sepsis. We didn't actually start organising the wedding until after Christmas 2018 – which left us about 5 months to go before the big day. It all sounds like a bit of a sob story, but it's an experience that has made me stronger and appreciate the life and beauty of everyone and everything." 

As if I did't have tears already streaming down my cheeks preparing this feature, excuse me if I continue to sob out loud with these kind and generous words from Freya…
"Love My Dress has always been one of my favourite blogs – I love working with Annabel, she has been consistent, innovative and always evolving with a fast changing bridal industry. She is a friend and someone I respect to execute beautifully written and visual content. Always getting involved with the industry and designers and keeping brides well informed and inspired."

But before we go any further, we have to talk about the shoes. Oh, those shoes! With the bride being a bridal shoe designer herself, you can imagine she was somewhat in her element being able to pick out her own designs to wear on her wedding day.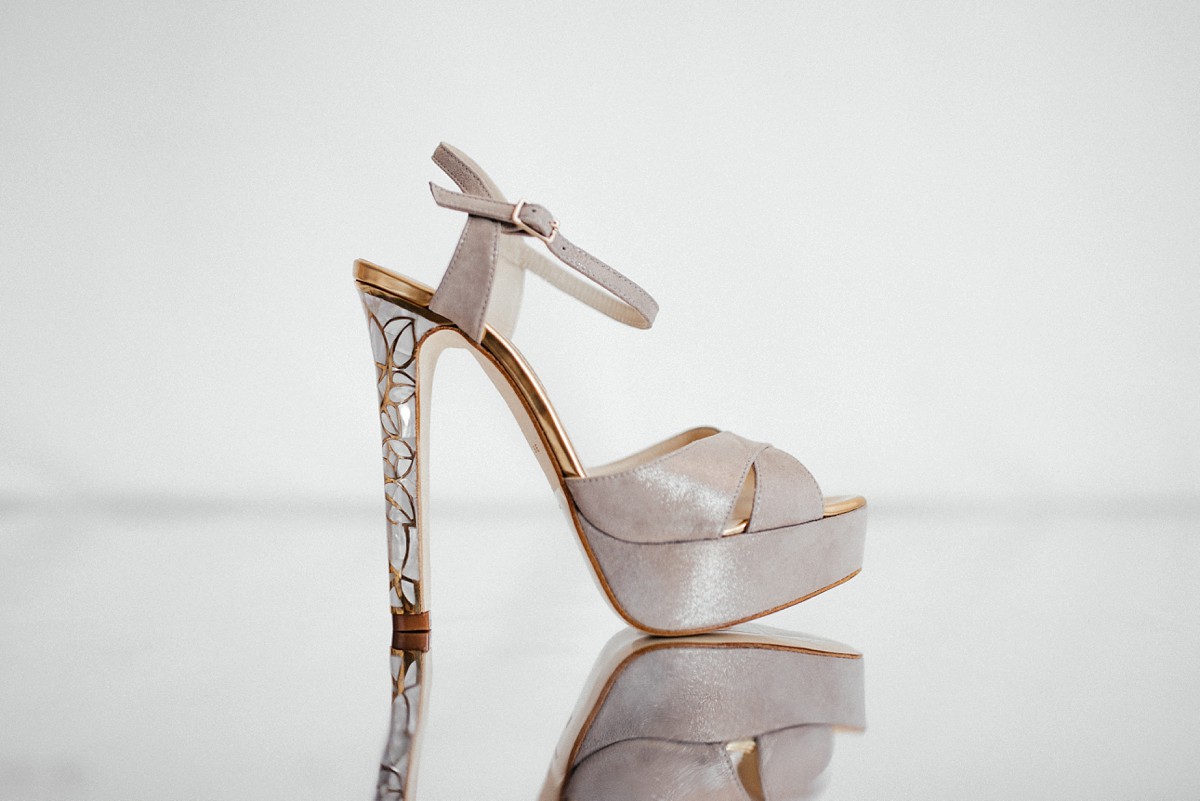 Freya in fact chose three of her own shoe designs, each made to her brand, Freya Rose's own unique design, using exquisite materials that include polished brass, sterling silver and her signature mother of pearl heels. The three pairs of shoes she chose to wear are her most innovative and opulent designs to date, each one taking months to finalise and perfect by the talented artisans Freya works with.
The first pair, aptly named 'Freya', was designed to provide height, as Freya stands at a petite 5' 2" whilst her husband Matt is 6' 2" tall. These gorgeous platform shoes were made in a soft ivory shimmer suede with silver leather lining, a subtle rose-floral mother of pearl heel and sterling silver monogrammed initials: F.A and M.A. These heels finished her daytime bridal look perfectly with their simplicity and timeless style.
The second pair, 'Glory', are a modern take on a classic platform silhouette, with ornate floral block heels in sterling silver and mother of pearl. Freya designed these stylish, statement shoes to be ultra comfortable and perfect for photos in the fields and in the woodlands – and for dancing the night away.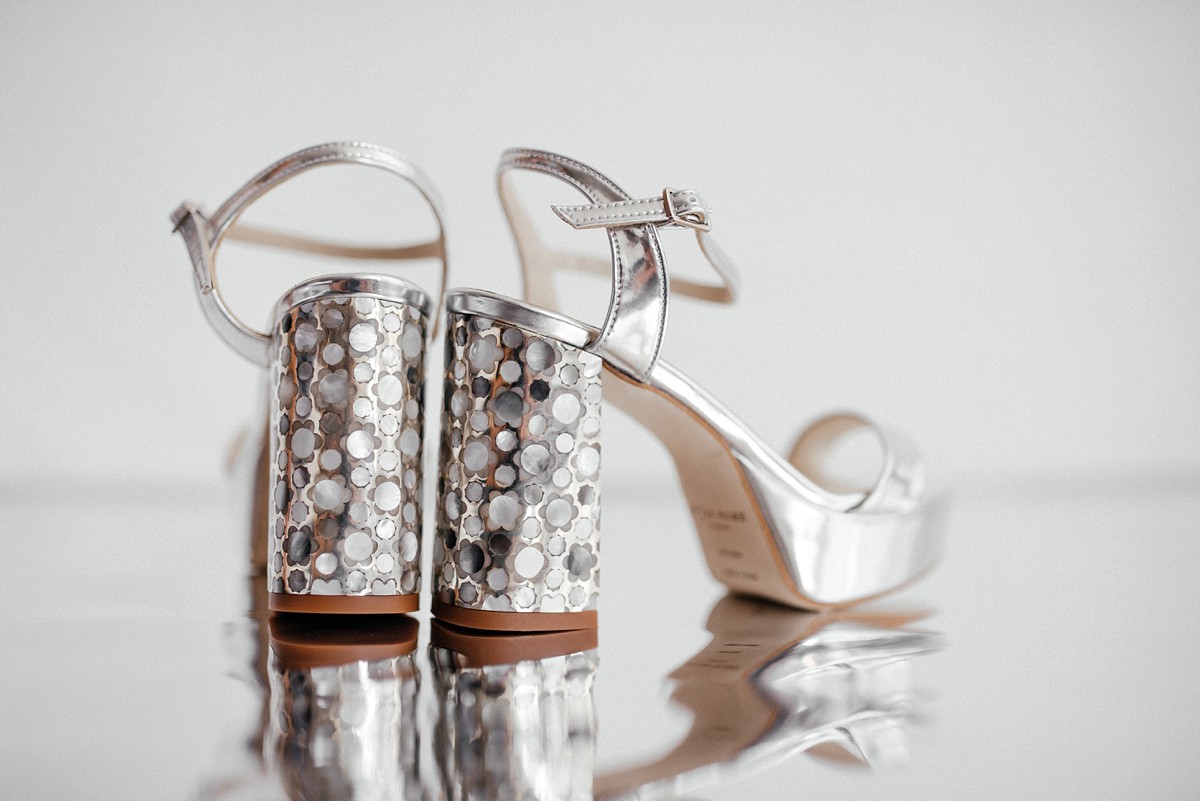 Finally, the last pair of heels, 'Rose in Bloom', were another beautiful sky-high platform, this time in sultry taupe shimmer suede and golden leather to match the brass rosebud detail on the mother of pearl heels, again with exquisite monogrammed initials.
Hair and make-up Artist, Amanda Clarke, was hired by Freya to provide an effortless, natural but healthy and glowing look for the day.
"My hair and makeup artist was Amanda Clarke, a top celebrity makeup artist.  She kept me calm in the morning and translated my vision perfectly; natural and minimal."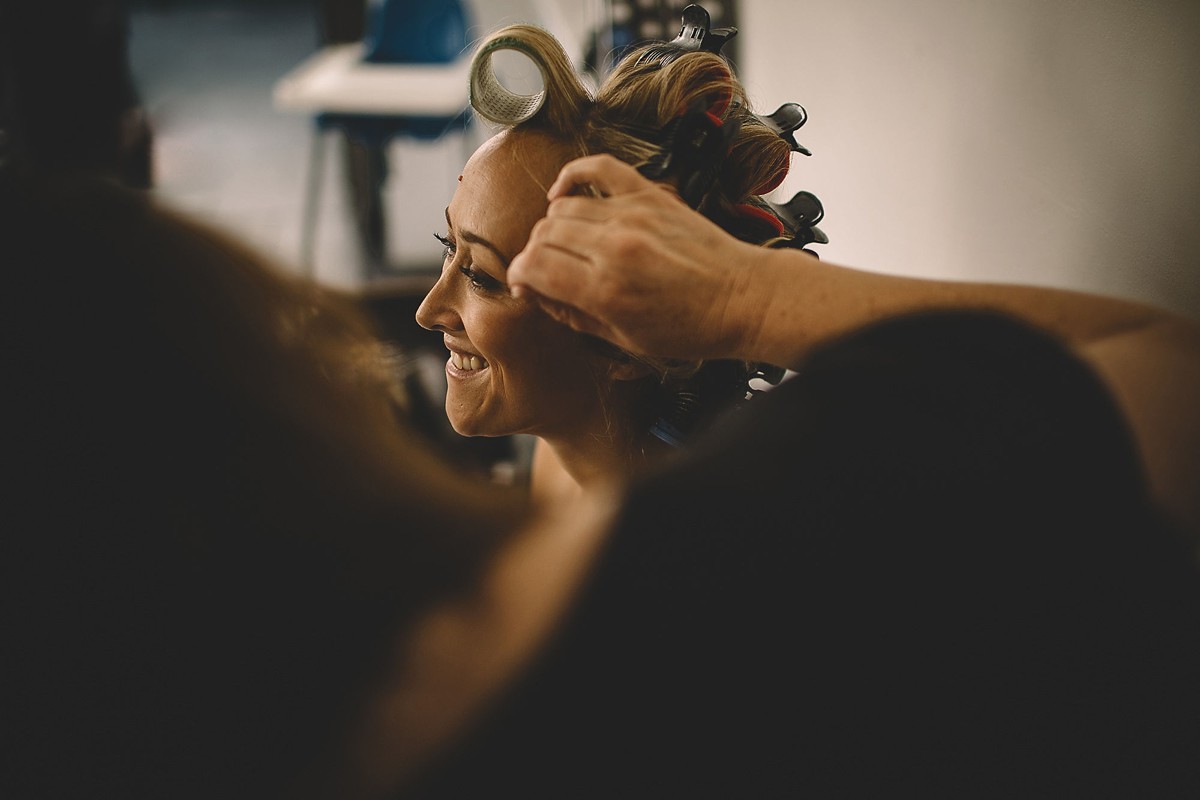 I was thrilled to discover that Freya turned to ethical wedding dress designer, Sanyukta Shrestha for her dress – a beautiful creation made in just 8 weeks. That gorgeous and romantic off-the-shoulder detail – so romantic.
I'm a huge fan of Sanyukta's work and am so proud to be supporting a designer who has been so dedicated to the ethical garment movement from the off. You can read more about Sanyukta and her exceptional range of organic pure silk fabrics (which are an absolute dream to touch) here on Love My Dress.
[RELATED]
"Sanyukta Shrestha made me a bespoke dress – I love working with her she is an old friend and came to the wedding. Her fabrics are to die for and she is so talented. I had quite a clear vision of what I wanted, I knew what suited my body shape and wanted something that would be timeless, and ethereal."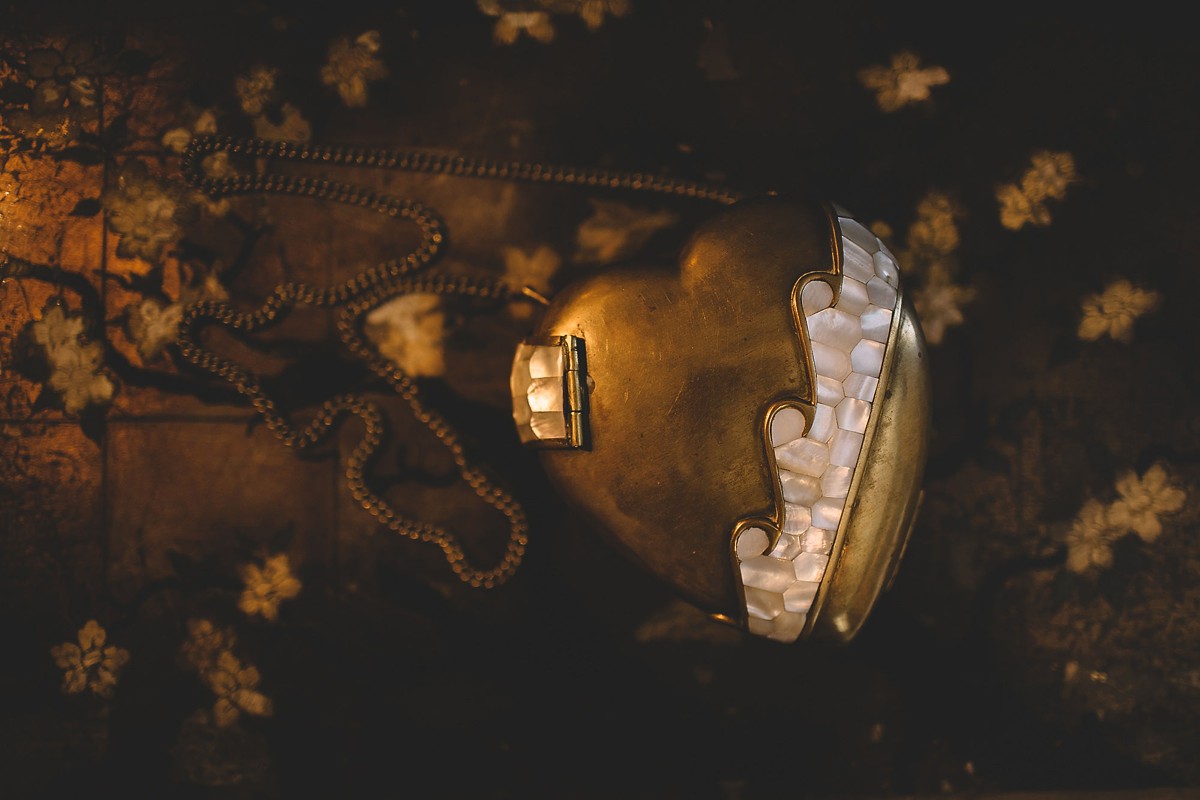 Descending from a family of creative talent, Freya's own mum, an established jeweller, Barbara Tipple, loaned her jewellery for the day, which included a rare blue moonstones and diamonds necklace. What a beautiful 'something blue'.
Freya's second 'something blue' was a poem, written on blue paper by her late father that she found the night before her wedding. The words were beautiful, poignant and delivered a wonderful message relevant to Freya and Matt's big day.
Freya says it was this poem that helped her get through her wedding day nerves, and the line 'Slow down, and it will be well', is the best piece of advice she will now give to any bride-to-be….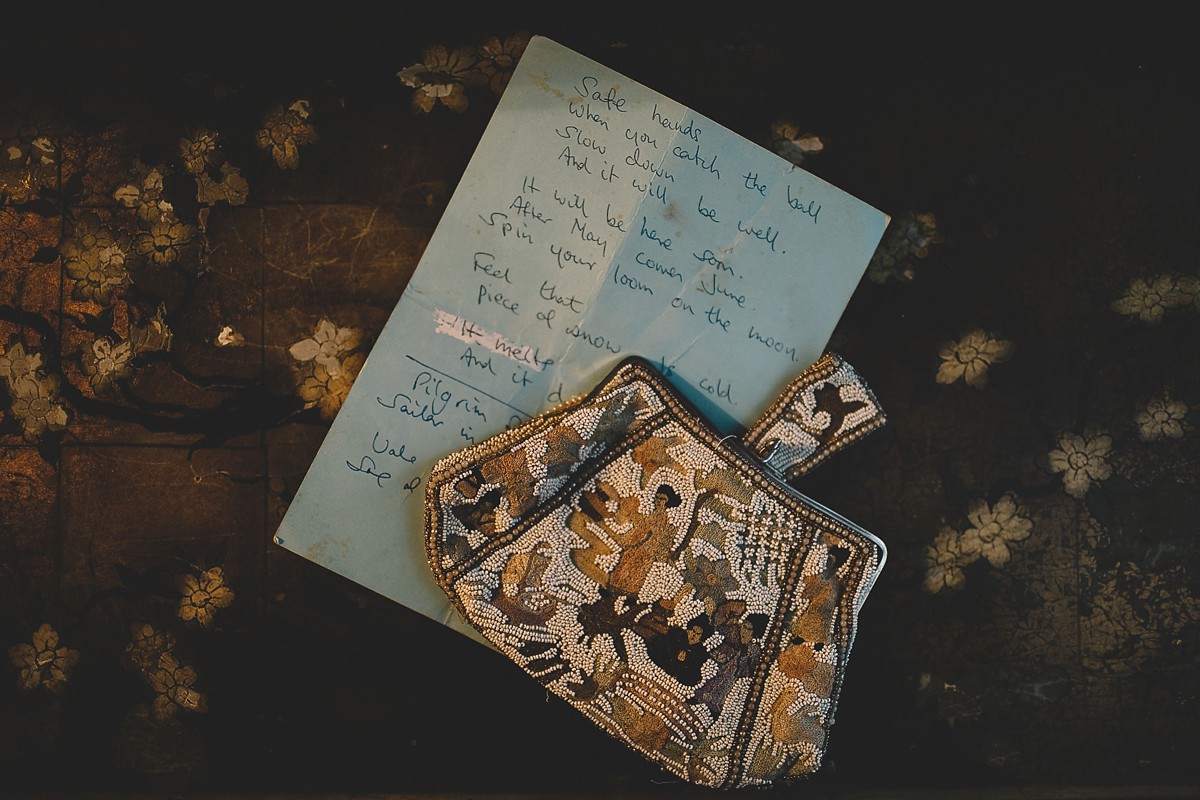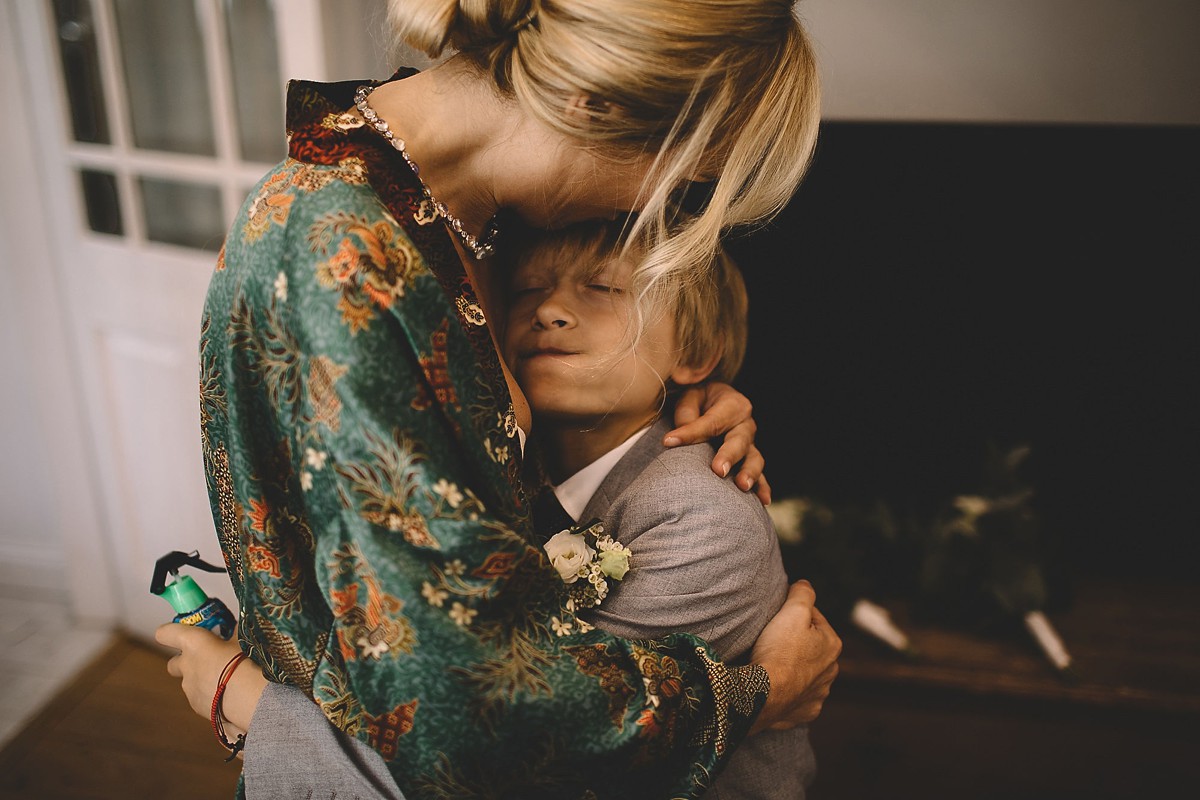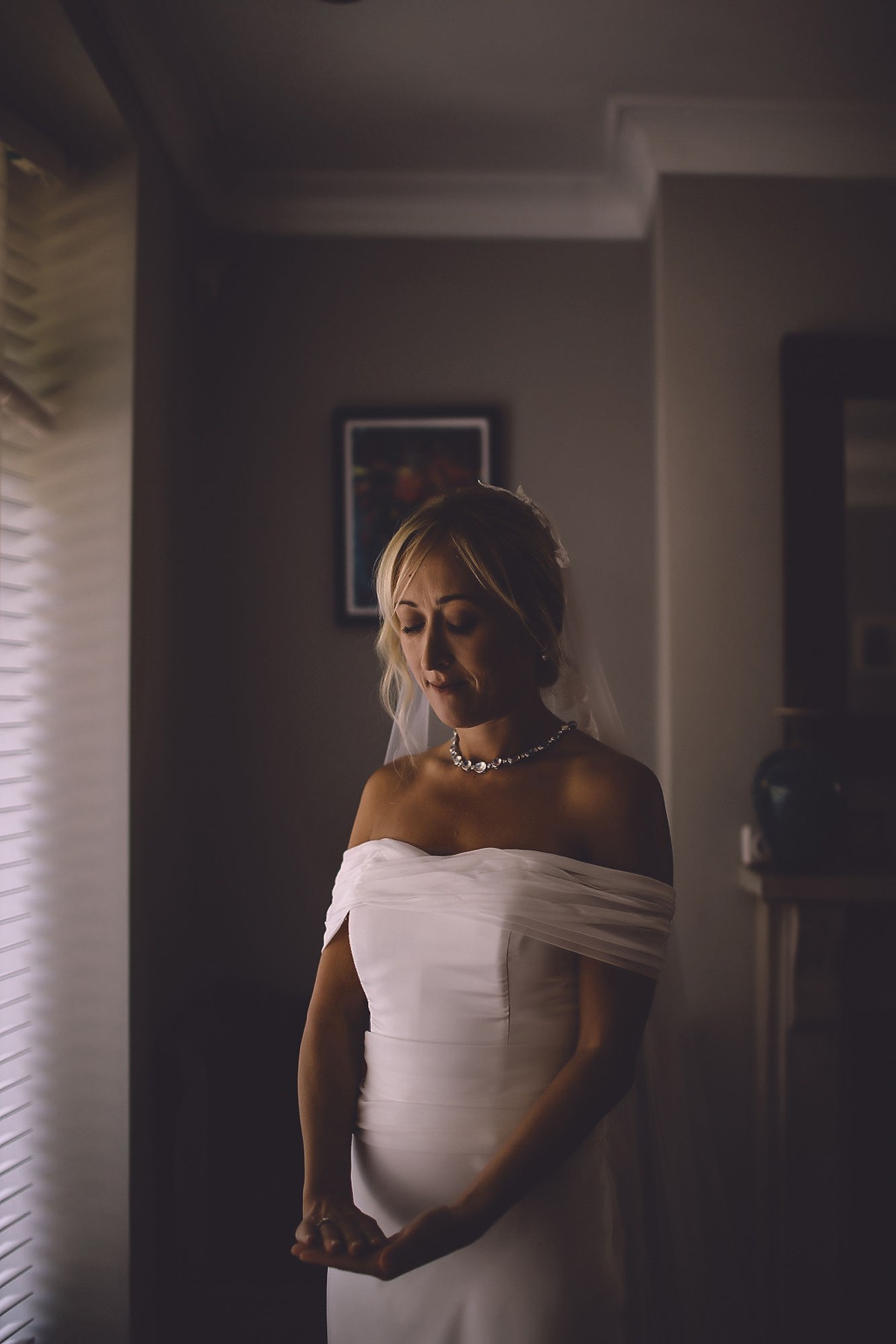 The bridesmaids wore the beautiful Echo Earrings by Freya Rose herself.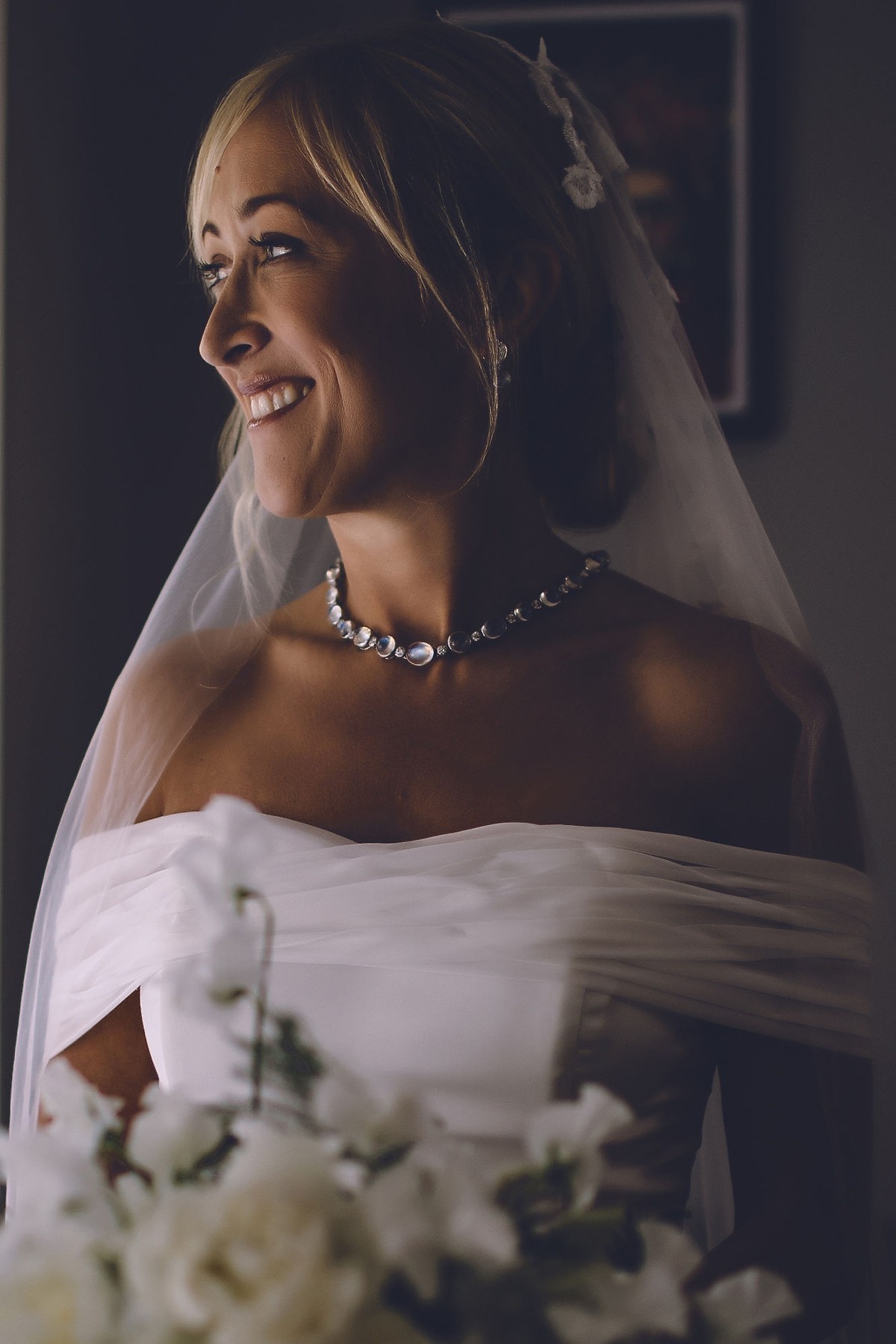 It was important to Freya and Matt that their children be involved in their wedding day. Freya's son Johnnie was their pageboy, and he designed the cover of the order of service, whilst their daughter Willow was made a custom pair of baby shoes with silk flowers for her role as a flower girl. The children both came into the church with Freya for the marriage ceremony.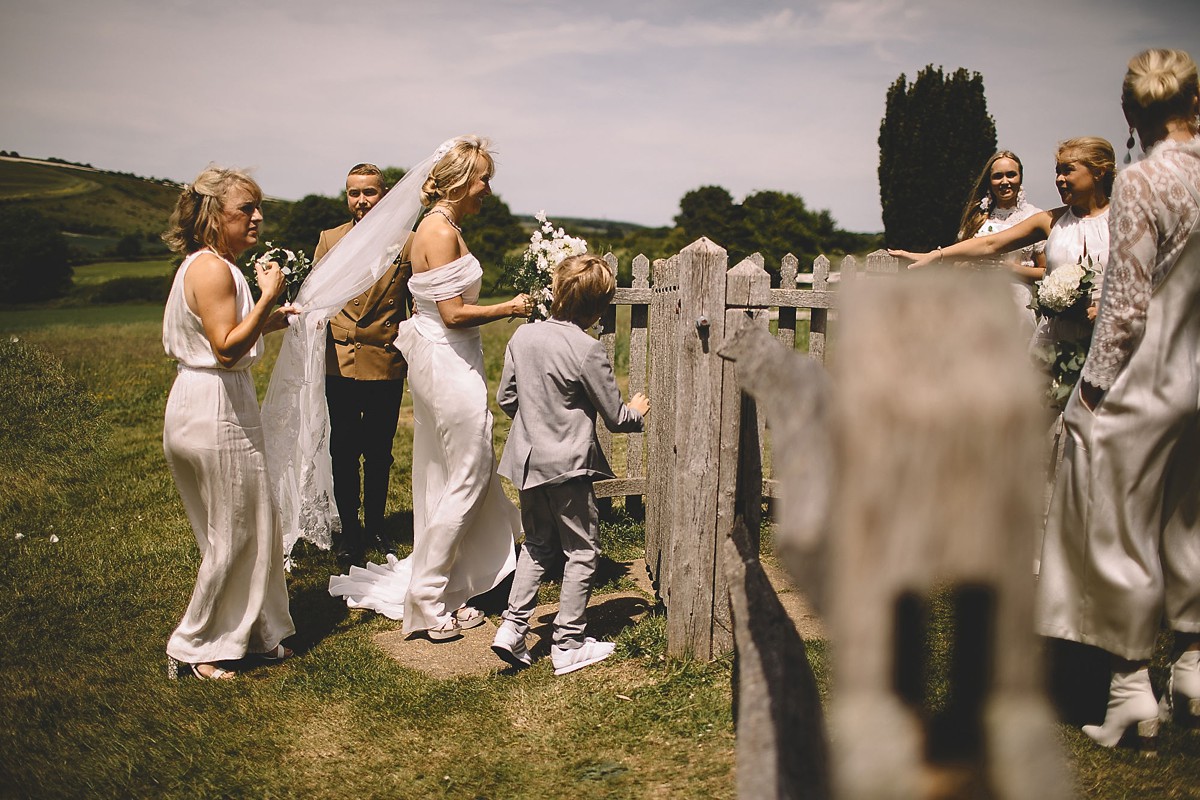 Johnnie told his mum as they left the house that morning, that she looked like a goddess, and that this was the best day of his life. What a poppet.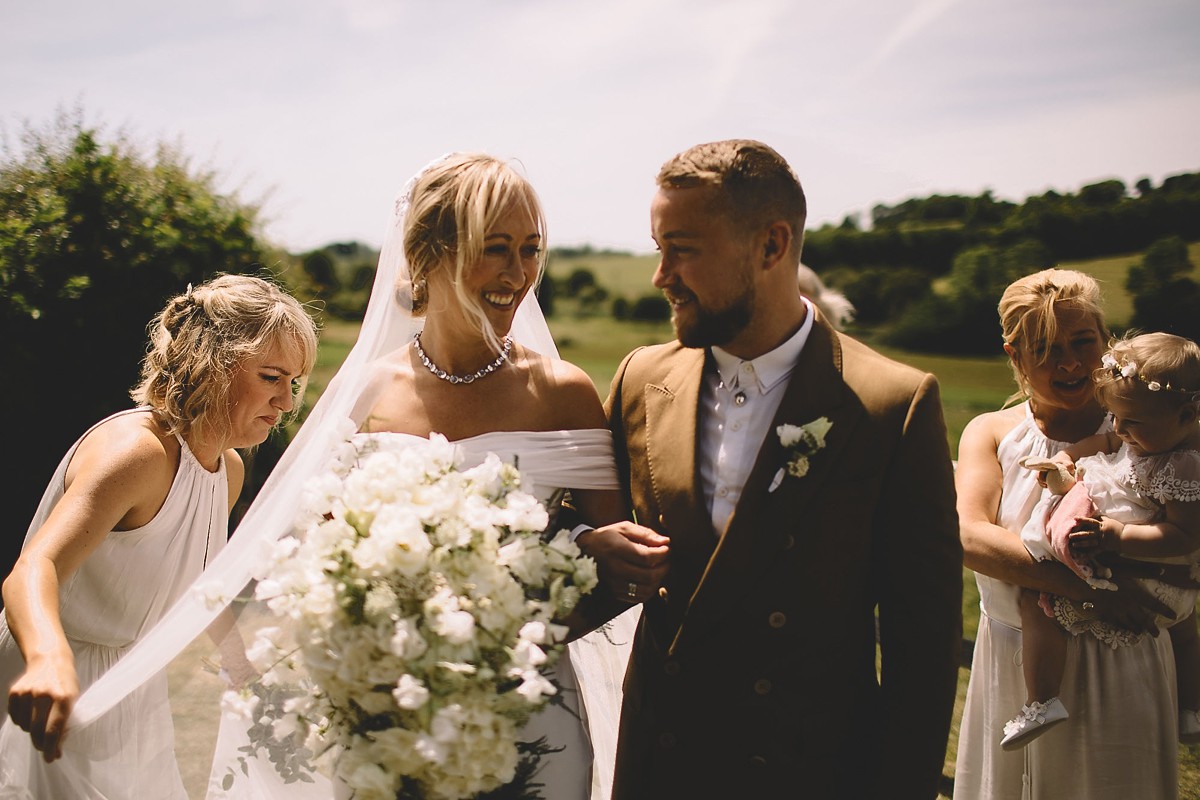 Freya and Matt married at St Hubert's Church in Idsworth, one of the oldest churches in the country, built in 1053 AD with incredible Roman murals on the walls. It is located in the rolling hills and idyllic countryside of the South Downs. Freya's own grandfather had been the vicar there between 1950 and 1960. This was the place that the couple had always wanted to marry in.
"I woke up on the morning of my wedding to find my step father had sent a picture of the church, taken that same morning, during his 5am early bike ride. It looked mystical and magical."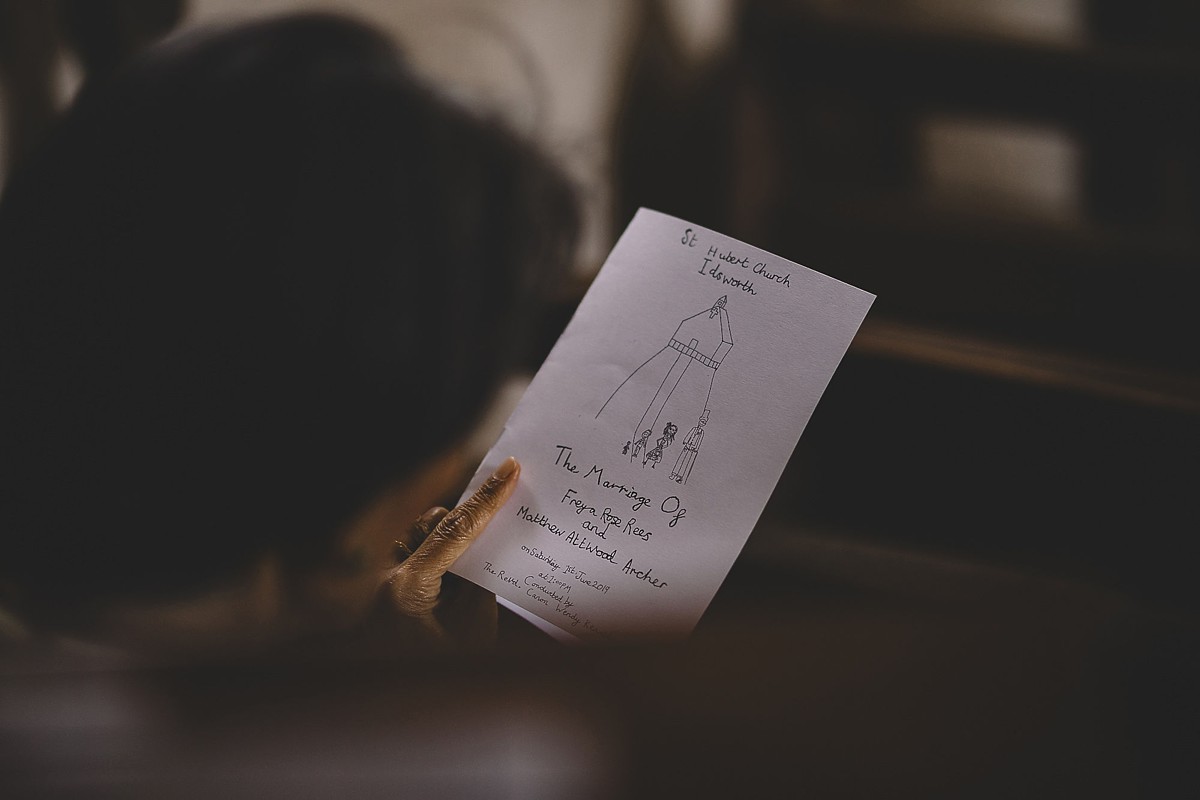 With her beloved father having recently passed, Freya's brother (and best friend) Joseph accompanied her down the aisle, with her children and bridesmaids – to the sound of Edelweiss played by the organist.
Freya says she is sure her father was there with her during the truly magical and love-filled ceremony.
"We met via an app called Happen – I was a single mum, busy running a business and with a 5-year-old boy and feeling time short, I thought I'd try a dating app.  Matt was my second date!"
"We met for a couple of drinks, he then walked me home and came in for some Indian carrot cake and Luwak Coffee (I'd just returned from Bali). Matt proposed six months later at Christmas 2016. We postponed the wedding as my father got sick and I became pregnant."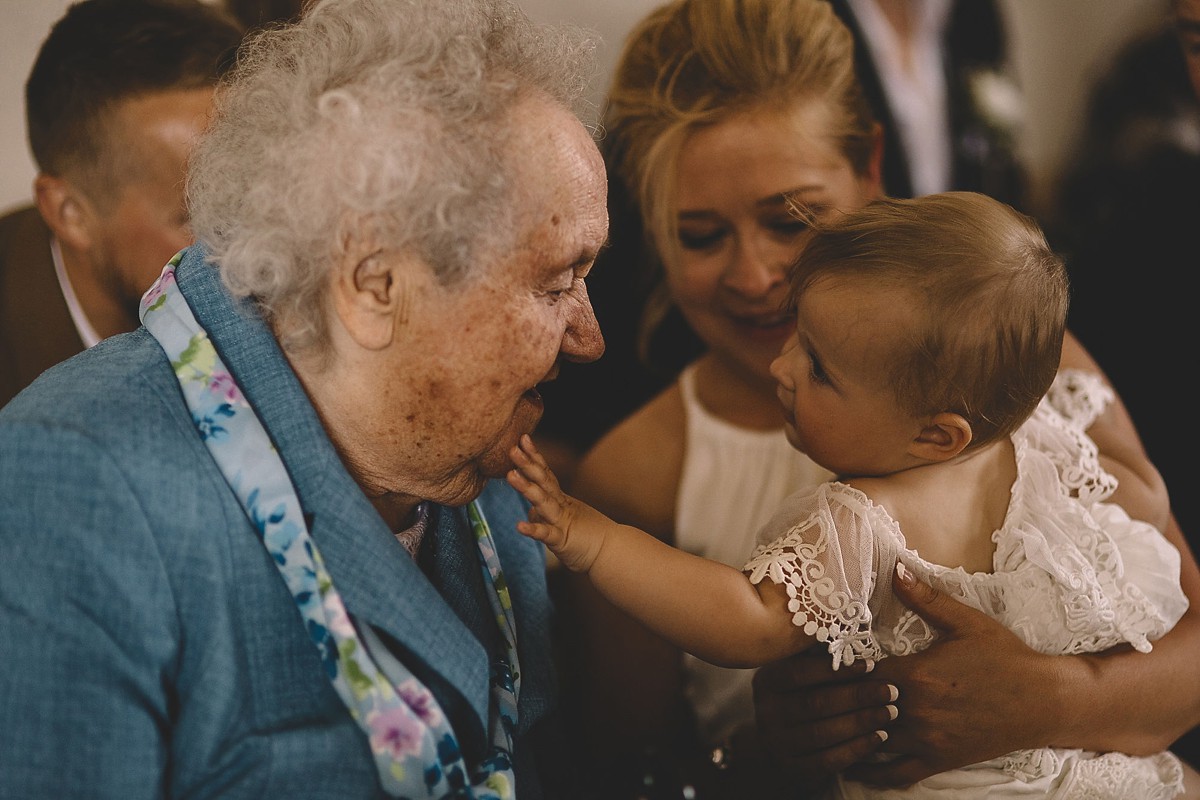 The couple's ceremony readings included 'Native American reading'.
"It was all magical, but the church ceremony was so emotional, and I felt so much love."
As her wedding ring, Freya's mother recreated a design Freya did as a 5-year-old girl; 3 pear shaped diamonds in platinum.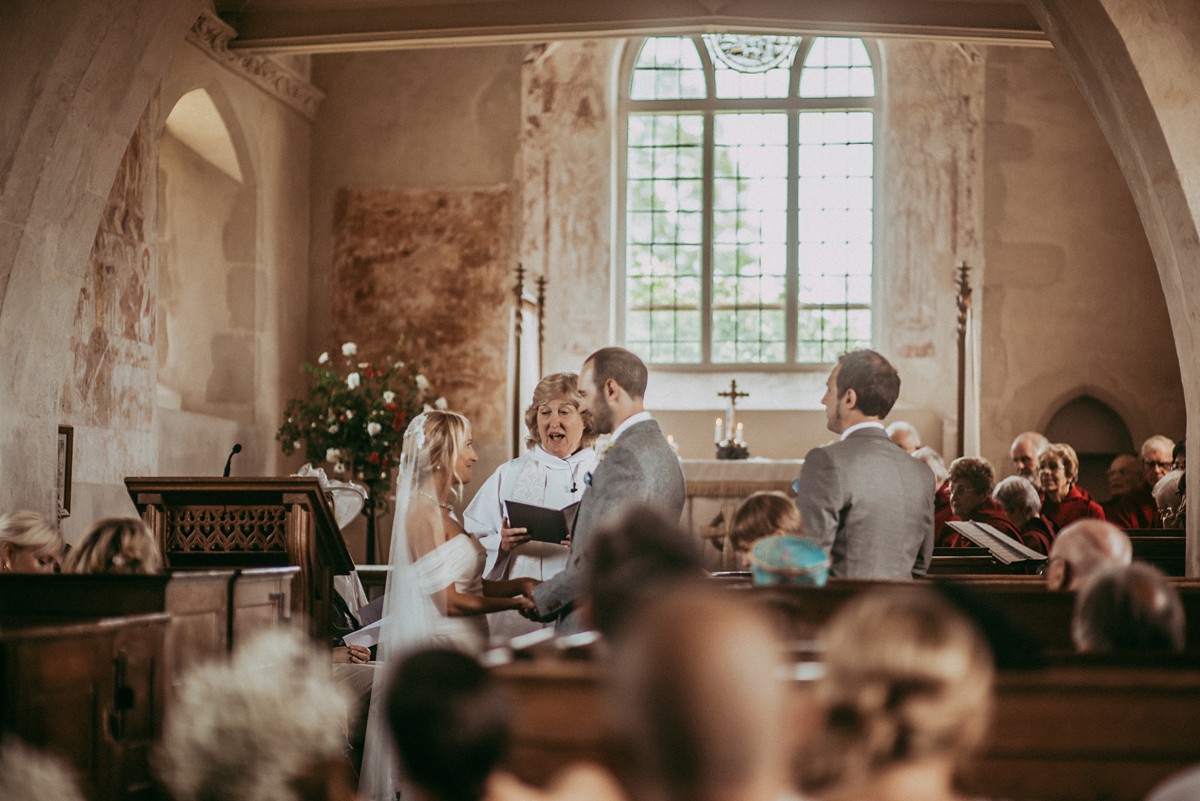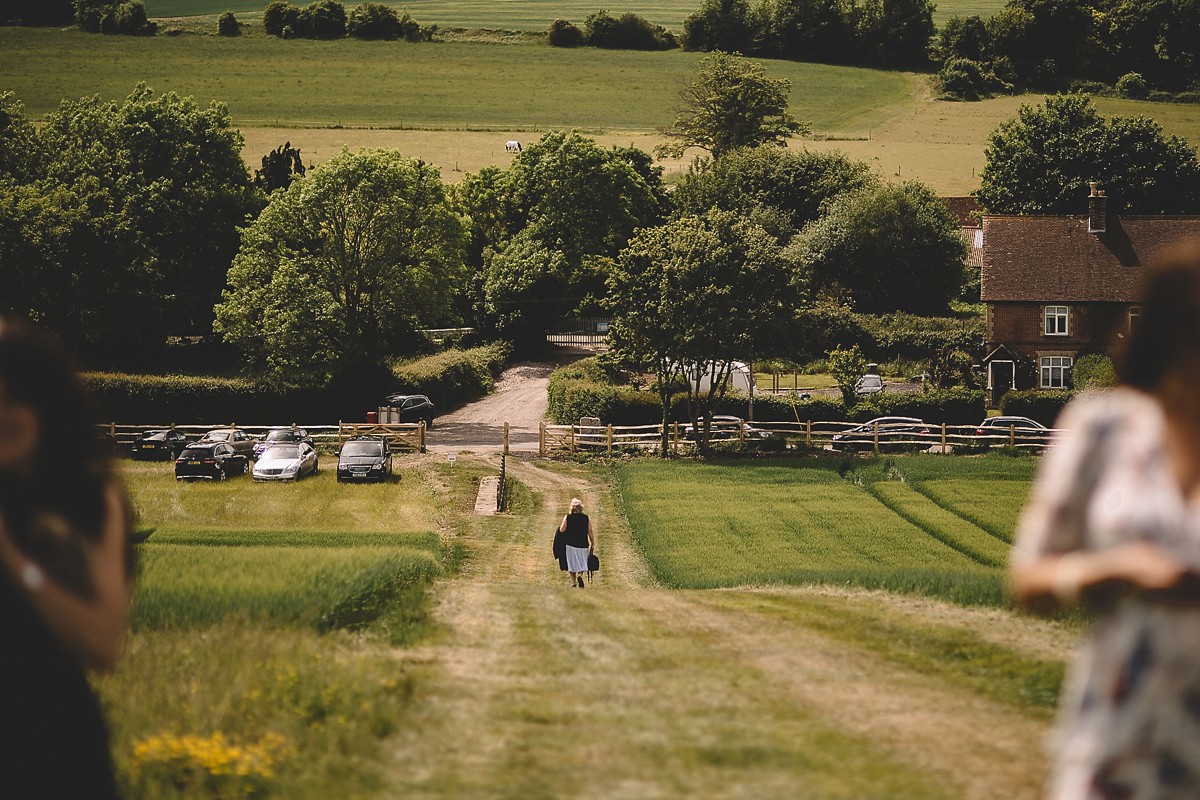 Florals were supplied by Blossom Boutique. The bride carried the most gorgeous bouquet of cascading white sweet peas and peonies, inspired by her grandmother's wedding bouquet but with a modern twist.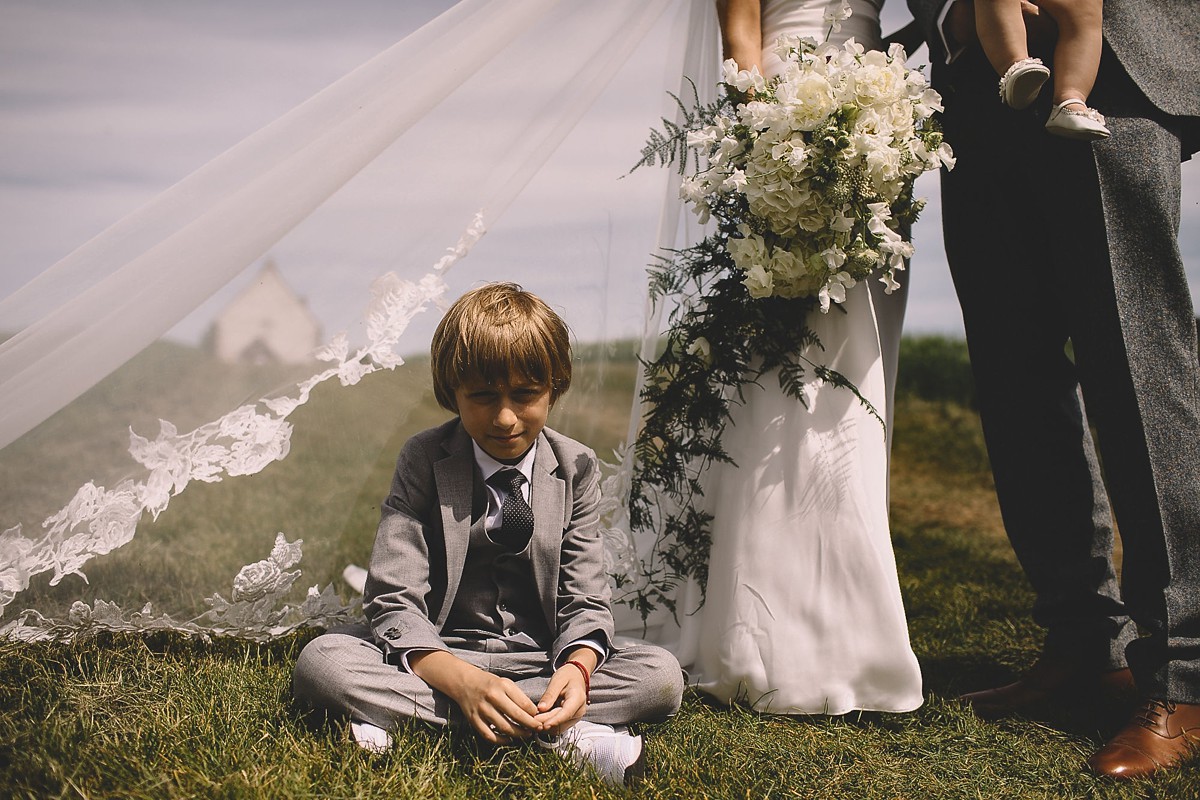 The couple chose Carrie Lavers to document their day in images.
"I just loved working with Carrie, you didn't even know she was there snapping away capturing the moments beautifully."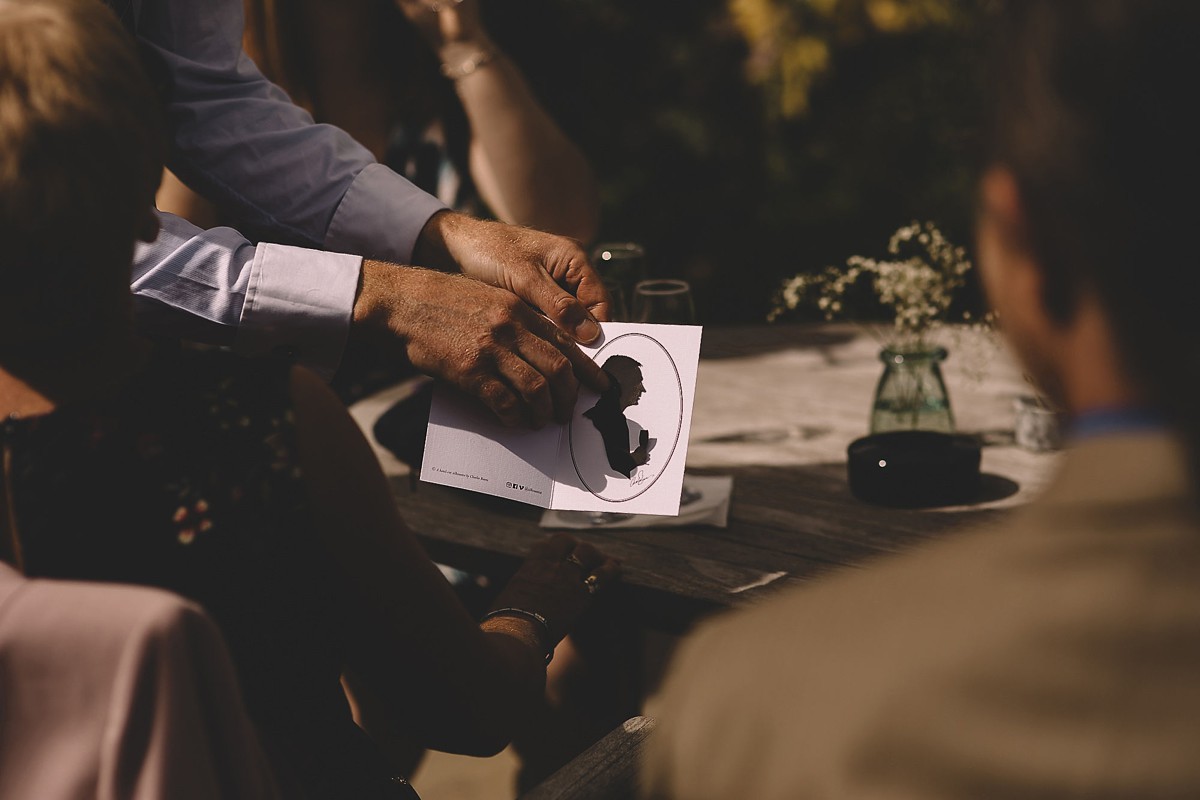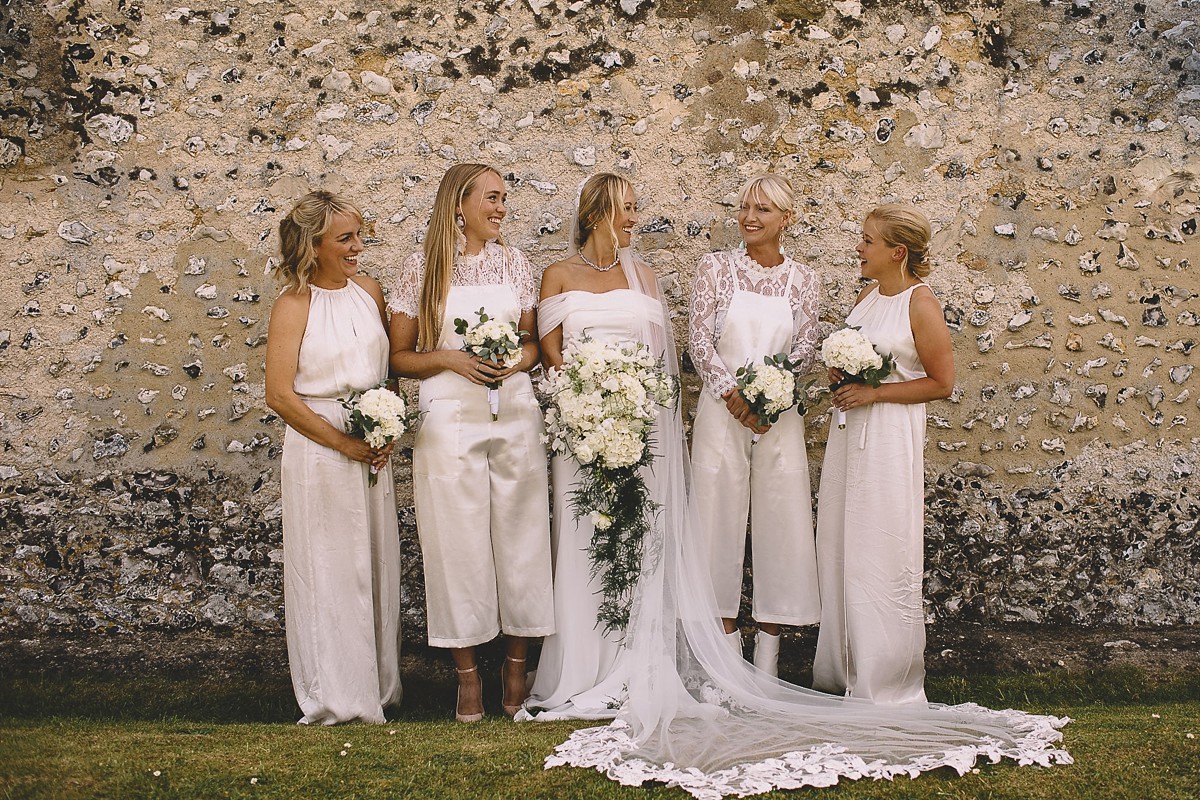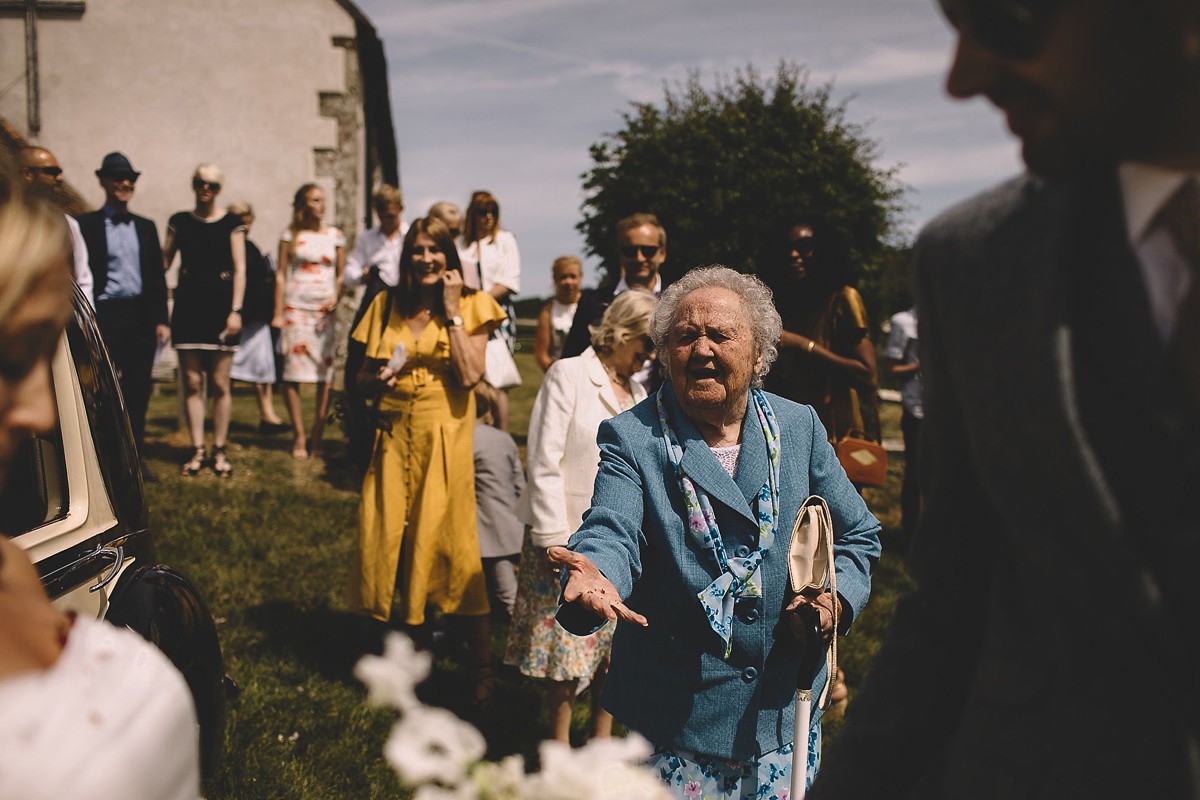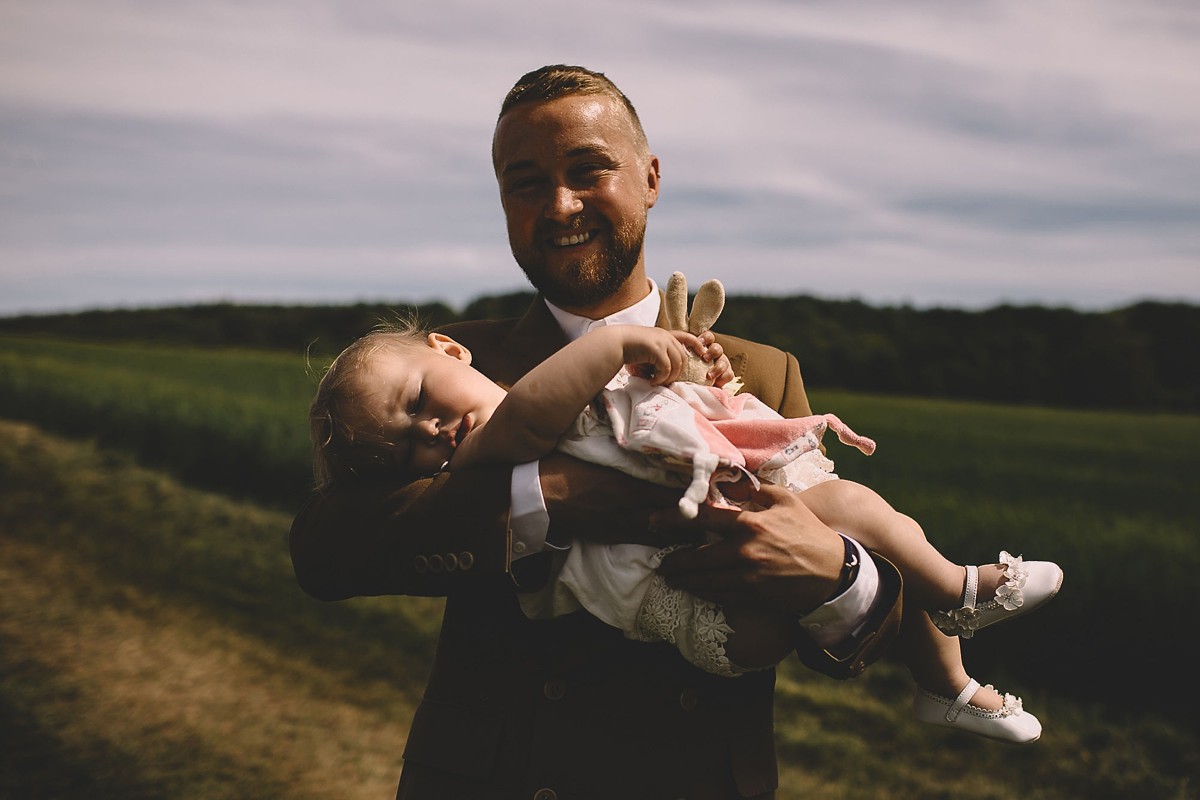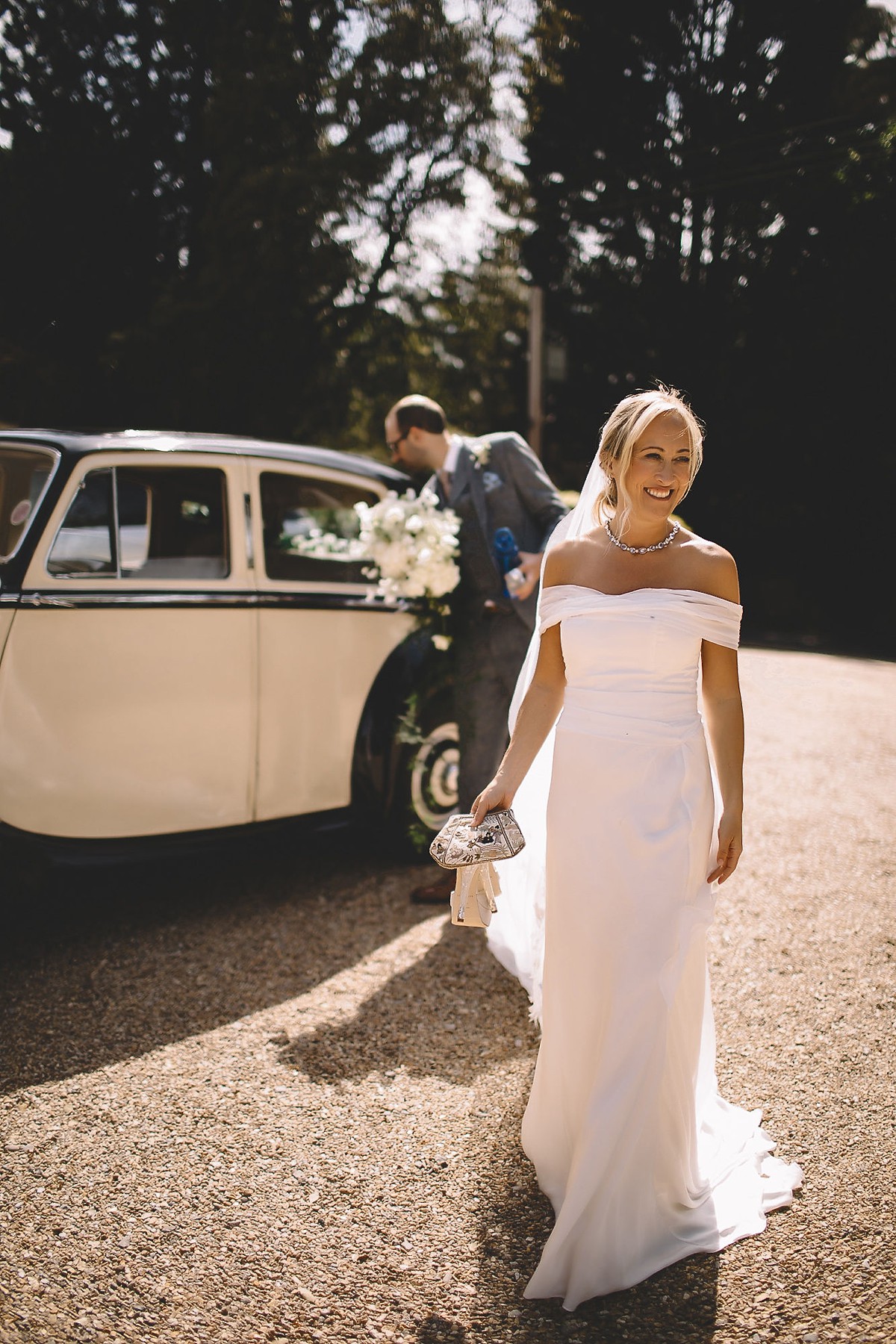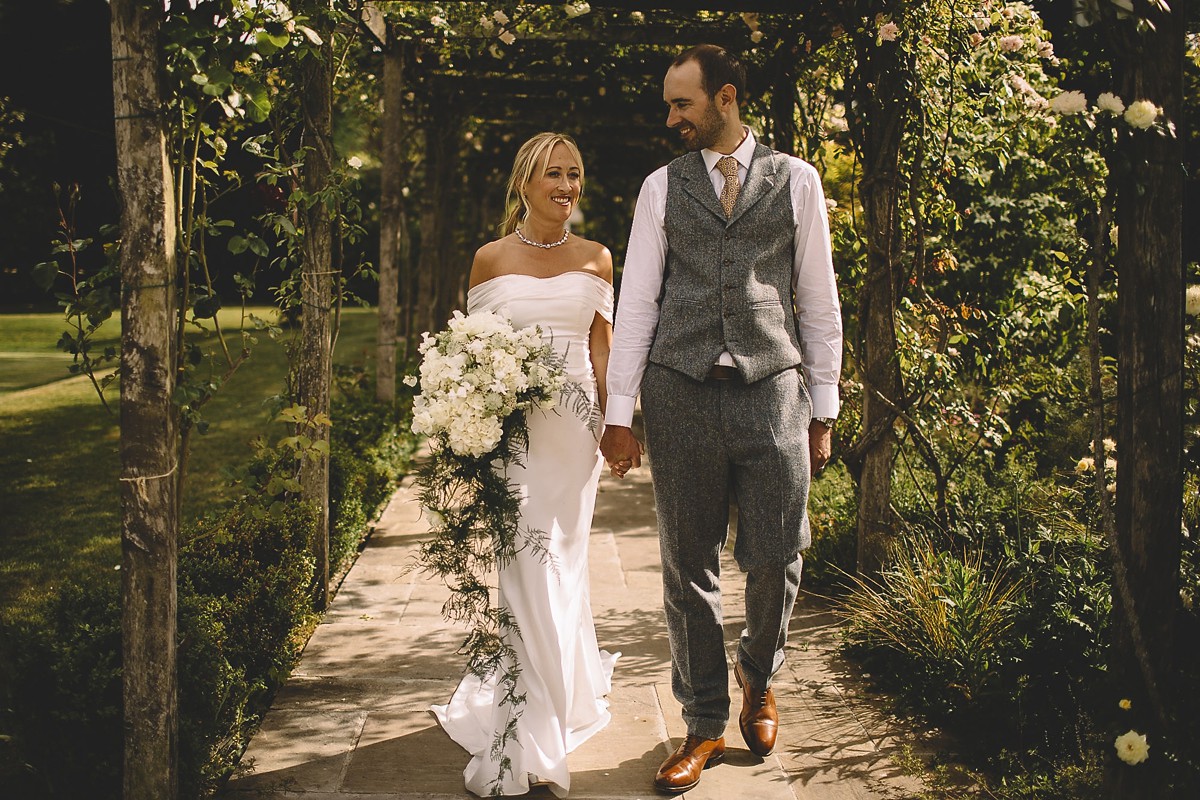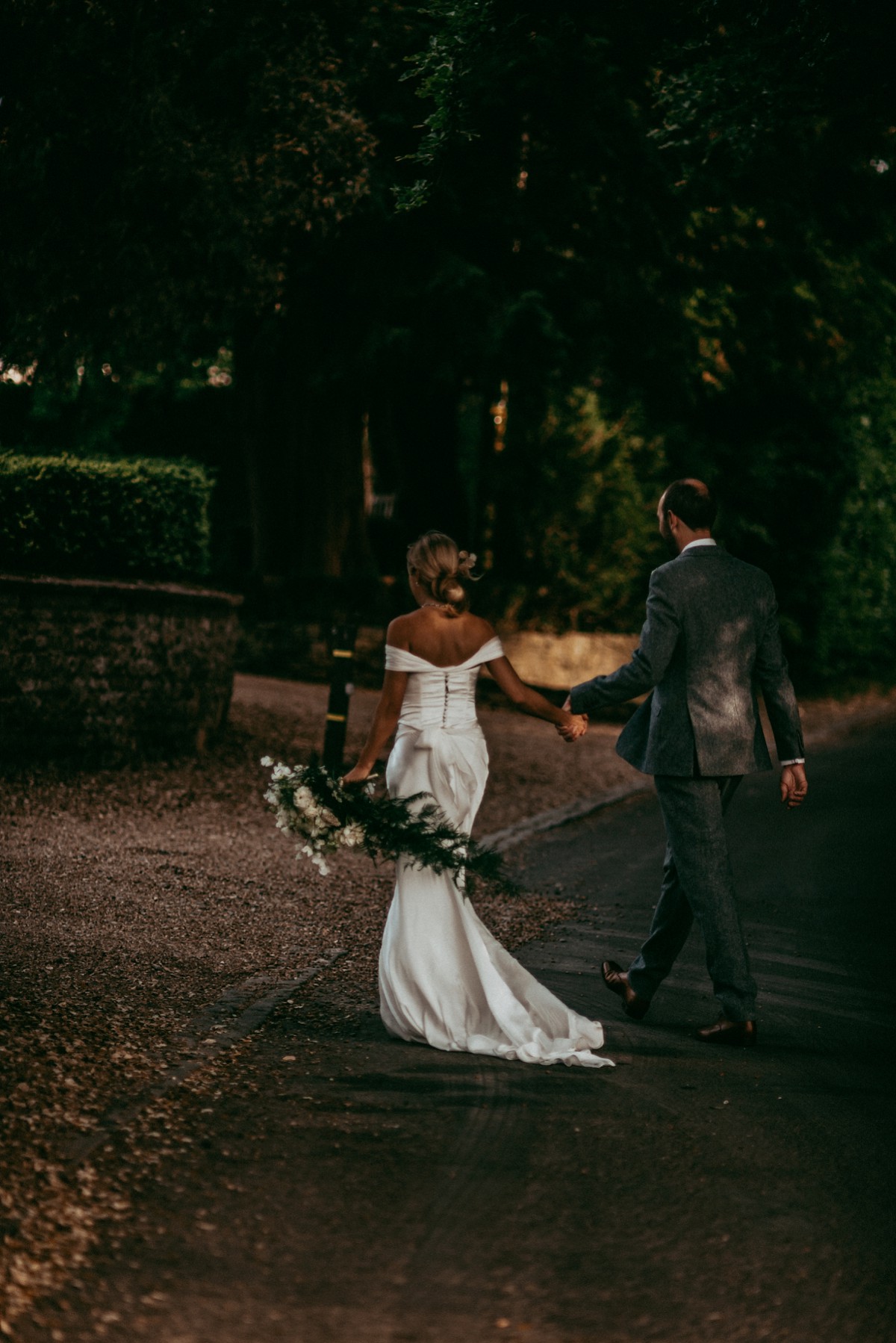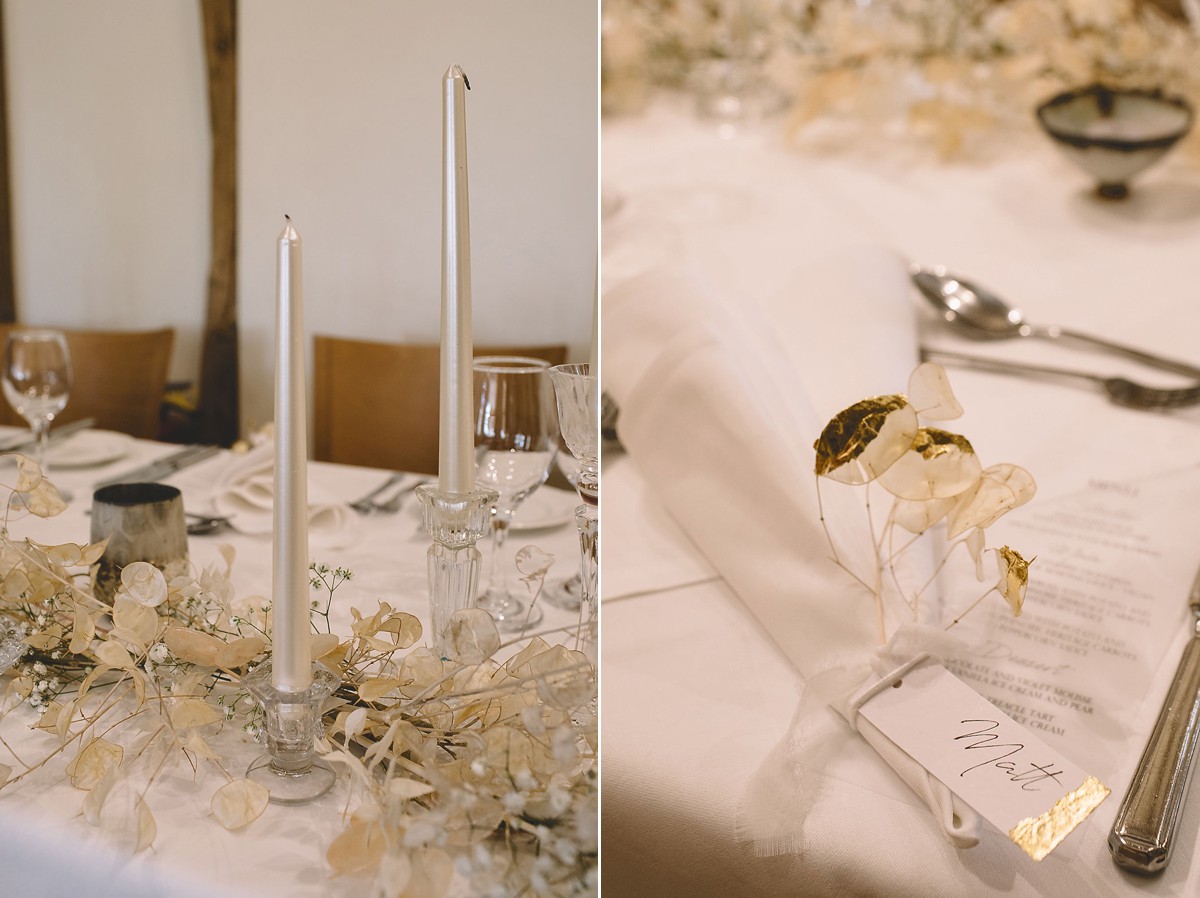 As the day moved merrily on into the evening celebrations, Freya changed into a shimmering ethereal champagne dress by Amanda Wakeley, and wore her hair naturally down with a delicate golden rose headband by her friend Lila, whose beautiful new collection of delicately hand-crafted headpieces we shared recently.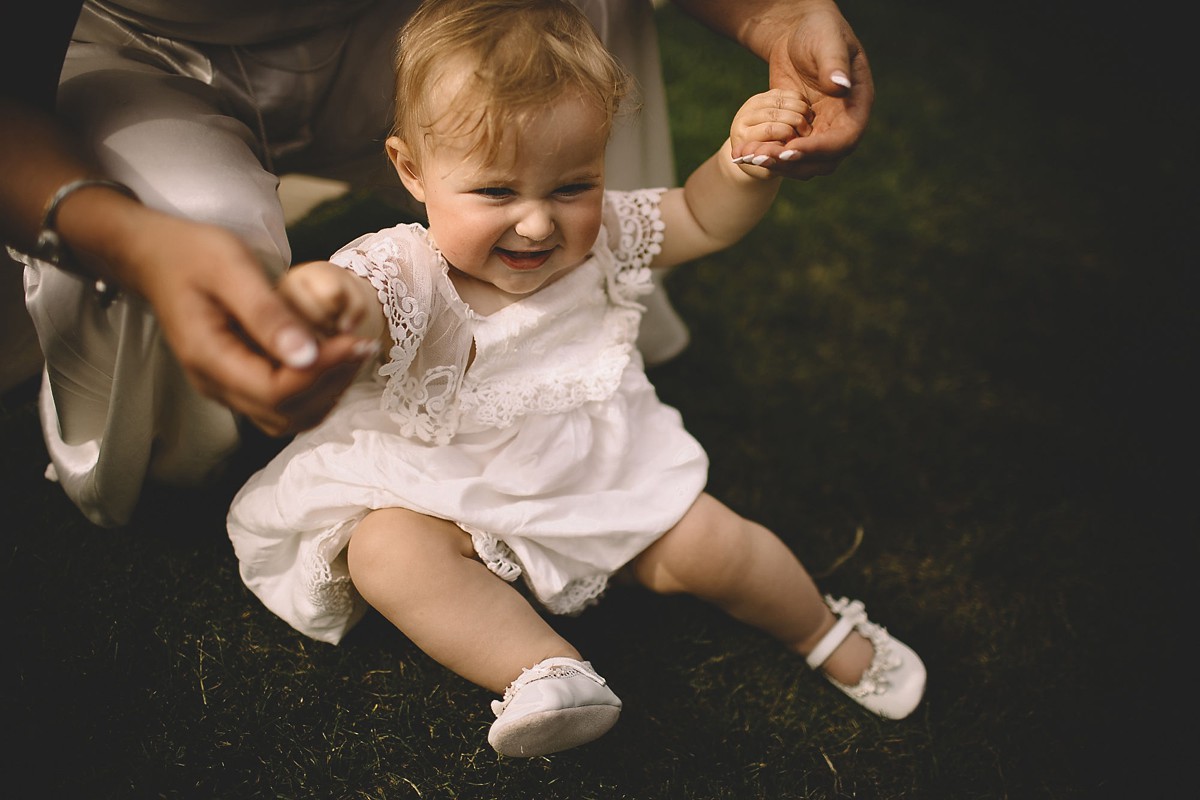 The couple danced to 'Let's Stay Together', by Al green, to kick the evening celebrations off. What a gorgeous track to end a magical day full of love and sentiment.
Guests enjoyed live music from The P.Y.Ts (via Headliner), Mediterranean food by The Southsea Deli, singing and toasting marshmallows around the fire pit in the stunning grounds of Park House Hotel & Spa.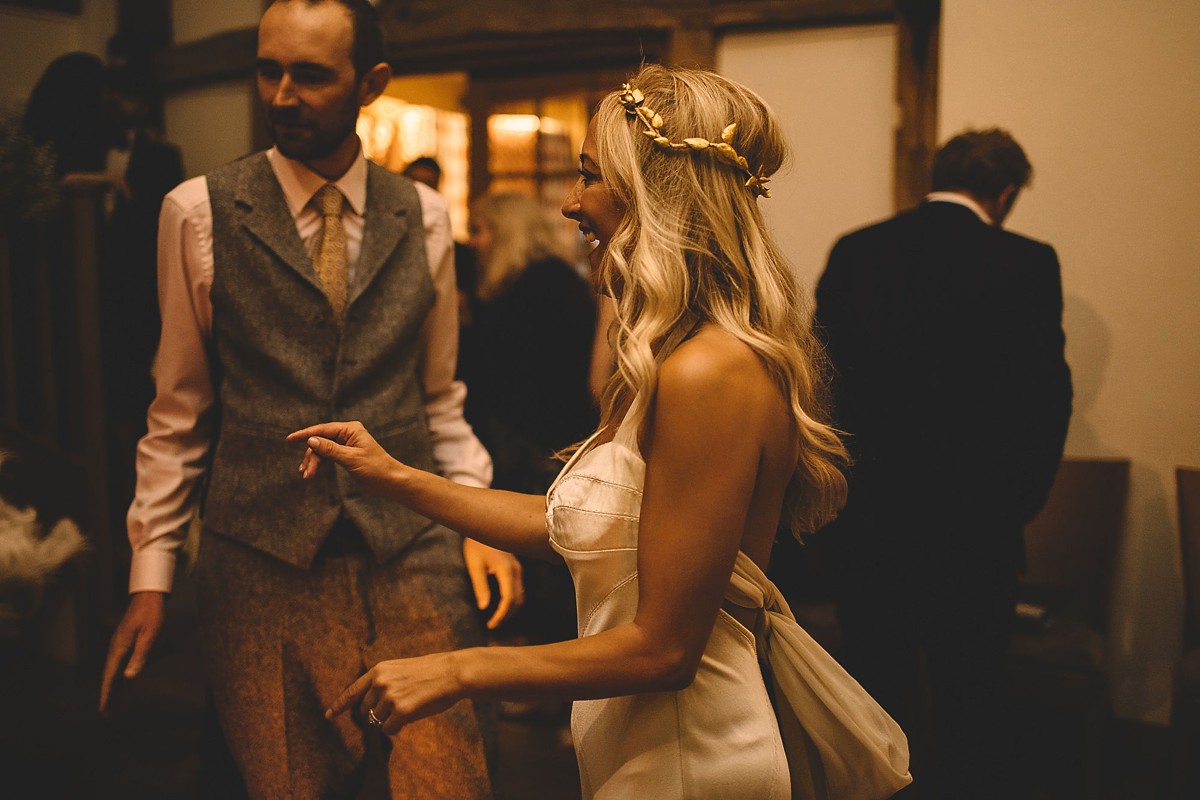 Words of Wedded Wisdom
"Take it slow and all will be well.  Also, words I read from a poem my father wrote that I found the day before. They were on a blue piece of paper (my something blue)."
"And finally, remember everyone you love is there – I don't think you realise how happy this makes you until the day – everywhere you look people are smiling for you.
All I can say about our wedding budget is, it was BLOWN!" 
Hehe! What a glorious day, you can feel the love radiating from every image. Freya and Matt, we are so happy for you and wish you a lifetime of love, joy and happiness.
Annabel x