Hello hello lovely readers and I hope that wherever you are today, you're cosy and snug.
I've been looking forward to sharing this feature with you for a while now as we've been lucky enough to be able to interview Sanyukta Shrestha, the inspirational wedding dress designer. Not only are Sanyukta's gowns as gorgeous as they come but they're also wonderfully environmentally friendly. So my lovelies, let's go forth together…
Before we hear from Sanyukta Shrestha herself, let me tell you a little more about this fabulous brand. Sanyukta feels very strongly that beautiful design shouldn't harm the environment or its inhabitants so she works incredibly thoughtfully to create luxurious yet sustainable products. She uses amazing fabrics, including vegan options, and she also supports the communities that produce the fabrics themselves.
We've shared Sanyukta's stunning vegan wedding dresses and her latest collection, Entwined Love Chapter Two, here on Love My Dress and we know from the response that you all love her designs and her business model so it seemed only sensible that we find out more to give you a peek into Sanyukta's fantastic world.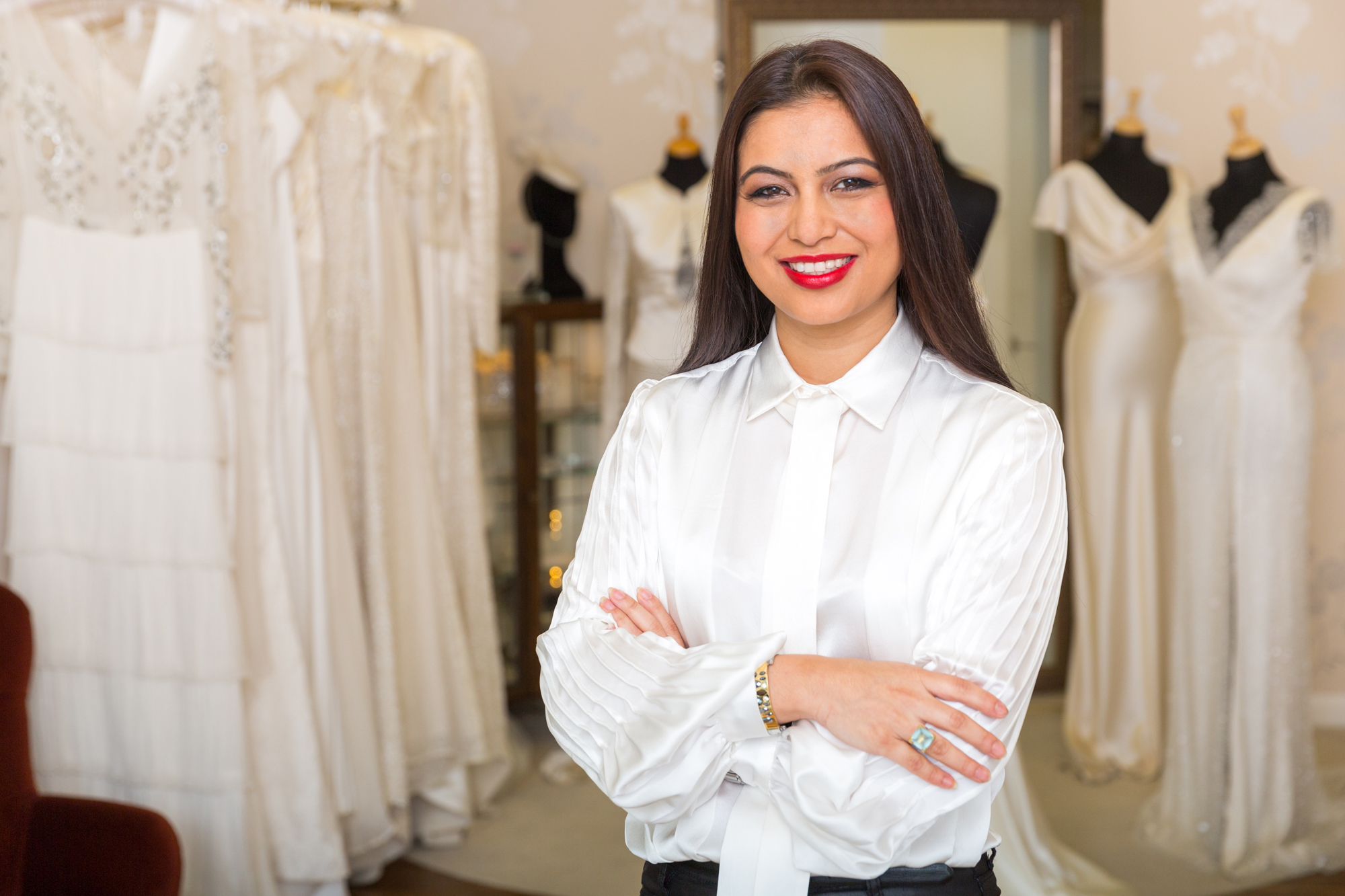 Welcome to Love My Dress Sanyukta! To start, would you like give us a brief history of the brand?
"After graduating from London College of Fashion, my first sustainable bridal collection was launched in 2011. Since the launch, the brand has been honoured with various national and international awards including Best Newcomer and Bridal Innovation Award in our debut year. One of our bridal creations has been preserved at The Fashion Museum in Bath along with renowned designers like Alexander McQueen and Vivian Westwood."
"With many celebrities wearing our designs, our brand is going from strength to strength, attracting women all around the world. My desire has always been to create a design that defines the personality of woman who wears it so that she is empowered and cherishes every moment she wears my design without hurting the earth. Compassion is the only way we can connect people from heart to heart and make the world a better place. I believe ethics and fashion should go hand in hand. Every part of my brand embodies fair fashion."
Tell us a little about the fabrics you've used in the current collection. Why are you so passionate about using organic and sustainably sourced materials?
"The environment and the future of our planet is very important to me and I want people to be aware that luxury and sustainability aren't two separate industries. To me, luxury clothing is about elegance, fit and how it feels against your skin and that beauty only comes through CARE – care for people, care for planet and care for customers. I call it a wheel of luxury entwined with sustainability."
"Our gowns are completely handmade, not only is the fabric made by hand, even the thread is made by hand. Yes, it hard to believe, but that's the beauty of our organic fabrics. Consisting of organic cotton & bamboo fibre, this soft and skin-kind fabric is handmade in Nepal, supporting women empowerment and keeping artisanal skills alive. Every thread is made with love, every thread has a story behind it as a designer I could not be much happier to be able to contribute and use skills for the betterment of people and planet both."
View this post on Instagram
We love the fact that your gowns are handmade. Tell us a little about this process, and how you're supporting communities in your home country of Nepal?
"Our gowns are created by a team of couture artisans, who are real masters of their craft in Nepal. From looming the yarn to sewing the final gown, everything is done by hand to guarantee an exquisite finish. A bride's wedding dress is a very special part of her life, and we want to make our gowns with love, care and focus to be a part of this. I'm proud that while we are bringing sustainable fashion to luxury, we are also taking care of fair-trade fashion. It is so important to me to make clothing that isn't harming the environment and protects the world for the next generation, and at the same time, the women who are sharing their skills are able to keep their craft alive, for the future workers to learn and experience."
Do you tend to design with a certain type of bride in mind?
"As no two women are the same, no two dresses in our collection are the same. My designs are a tribute to every individual woman, for the sense of freedom is entwined with comfort throughout the collection which is a celebration of their personalities, their lifestyles and above anything, their individuality. And this is my signature style – to celebrate individuality with elegance and comfort."
What are your design influences right now? What do you predict will be the key bridal trends for the coming year with regards to inspiration, cut, colour, fabric and embellishment?
"Between the rise of veganism and the millennial generation embracing activism, so many more brides are environmentally inclined, so I think vegan-friendly gowns will be a big trend. I'm confident sustainable wedding dresses will be more in demand than ever before, due to its luxury and health benefit from organic skin soothing fabrics like bamboo, organic cotton and hemp."
"I think colour will be more present in bridal gowns. London being such an international city, with thousands of languages spoken here, there is significant rise of multicultural weddings and inter-religious weddings where brides gravitate towards colourful wedding gowns."
View this post on Instagram
"I think we'll see fewer princess-like gowns with extravagant beading and detailed embroidery, in favour of a "less is more" aesthetic. I see simple silhouettes and minor accessorising so the brides themselves, are the focus point and not the gowns."
"The modern woman wants options – I think the ball gown is on its way out in favour of practical silhouettes such as jumpsuits and A-lines. Instead of committing to a silhouette fit for the red carpet, brides will be opting for a fuller gown for the ceremony and a slinky gown for the reception or vice versa."
"Now, more than ever, women are embracing their individuality. So while for decades, brides have desired to look like Grace Kelly or Elizabeth Taylor on their wedding day, now they want to feel like themselves so I think brides being the inspiration will be the new norm of the bridal industry. Since the launch of our collection Entwined Love: Chapter 2, inspired by real brides, has been a much greater success than previous collections, we have been receiving great response from new brides- they feel so individual and comfortable in this latest collection as it's inspired by them and designed for them."
What are your proudest moments workwise?
"I have been lucky enough to receive many awards throughout my journey as a designer and I feel very blessed. However, the proudest moment for me is to be able to bring a smile to those people who are much in need. Through blending sustainability with ethical values, I have been able to create opportunities for village women in Nepal, by merging and turning their traditional skills into delicate fabrics and designs."
"I feel incredibly privileged as a designer, to be able to put their inspirational skills to good use. I am committed to continue my support in reviving their industry further as my bridal collections evolve. To be able to empower women in need through my work is certainly the most gratifying feeling for me as a responsible designer and a human."
View this post on Instagram
What, in your opinion, sets your brand apart? What are your core values?
"Desirable innovation – every Sanyukta Shrestha gown is known for its originality, whether the gown is made from milk, hemp or bamboo. With the clothing industry being the second largest polluter in the world, keeping sustainability as our core value, our wedding dresses are the most desirable innovation, leading the wedding industry in a sustainable direction."
"Versatility in design – every piece is designed to fulfil the needs and insecurities of the real bride. The gown meets every bride's desire of finding their fairy-tale modern princess inside them and the gowns are practical and fashion forward without compromising quality, cost and comfort. This versatility is what modern brides are looking for now. You have the options to choose the type of bride you want to be. Whether you dress up to look regal princess bride with dramatic long overskirt or dress the gown down for a glamorous, slinky silhouette, the choice is in your hands. Also, the back feature of each of our gowns are often the most desirable part. With the adaptability to suit different personalities and venues, the clients can create into 2-5 different looks."
"Impeccable finish – every thread is made with love, every thread has a story behind it, yet does not scream and shout."
"Finally, we care that each and every bride feels her very best. Modern brides are more conscious about the choices they make. They want to feel happy and safe on the most important day of their life. With the kindest, softest and luxurious organic fabrics, our gowns not only protect the earth, they protect the skin, making each bride feel like her best self in the comfort and style she desires. Using all natural fabrics, our light-weight materials are softer than milk, and the UV protection entwined within the materials means our gowns are nourishing our bride from the inside out, creating a joyful occasion. A wedding is joyous time and celebrating it with compassion gives the bride self-confidence and empowerment."
View this post on Instagram
What do you do to relax? How do you escape from the wedding world?
"Spending time with my four-year old daughter Ameya and dipping into her fantasy world with fairies and wizards is the most blissful and relaxing moment I get."
What are the most important things brides should keep in mind whilst choosing their gown?
"The best advice I would give any bride-to-be is to keep an open mind when it comes to choosing the wedding dress. Everyone is different, we all have different personalities and we all have unique shapes, sizes and curves. The 'dream dress' a bride-to-be has seen on another bride or model might not necessarily be the right dress for her. Try on different styles to get a feel for what flatters your figure and suits your personality."
"A wedding dress should be 'beauty with comfort' so brides should follow their heart and not trends. The perfect wedding dress is the one that reflects a bride's personality, complements her figure and most importantly, it's the one she feels most comfortable in. So I would say stay true to yourself and stick to the shapes you know work. You should feel beautiful and happy while you are wearing it!"
If you weren't designing wedding dresses, what do you think you would be doing?
"I would surely be an artist. I have been an aspiring artist from the age of 4 as far I recall my childhood. I remember winning many awards for dancing and sketching during my childhood so I was inclined towards a creative field since then. I would have found a different way of combining my skill to give back to the community. My purpose would have been the same, only the medium of expression would have been different."
View this post on Instagram
What were your highlights from 2018 and do you have any exciting plans for 2019?
"2018 had been a wonderful year as it began with two award nomination for Best Wedding dress Award and Best Bridal Boutique. The launch the 2019 collection has been a great success and we have been shortlisted for the Best British Bridal Designer by British Wedding Awards 2019. The new year seems already very promising with some exciting collaborations on its way and surely a new product launch which will be revealed very soon too."
Sanyukta, we can't thank you enough for taking the time to answer our (many!) questions. It's so great to hear more about your business and we wish you all the best for 2019.
If you'd like to know more about Sanyukta Shrestha, do take at her beautiful website. Here, you can request an appointment at her London boutique and view the collections. I'd also urge you to take a look at Sanyukta's huge gallery of happy brides – who doesn't love a real wedding?!
Love,
Tamryn x