Can I interest you in a little beach jaunt today? We're heading up to Northumberland for a beachy, outdoorsy wedding which I have a feeling that you're just going to love.
We're also featuring the beautiful floral work of a very special Little Book member, Bels Flowers, so let's take a look. *Thrills with excitement*. The beautiful bride and groom are Laura, a performance manager and Will, a professional rugby player, who married on 30 June 2018. The outdoors ceremony and reception, held at Newton Hall, Alnwick, Northumberland, were inspired by a love of nature and botanicals and featured a simple, pared-back scheme of pure white and fresh green which encapsulated the spirit of an English country garden in full bloom.
Film One Digital Image
Laura and Will met ten years ago and enjoyed two years of engagement before their wedding.
"Will's sister is my best friend. We got engaged on Bamburgh beach – the perfect setting as it was just the two of us and our German Shepherd Kohl."
Photography Katy Melling Photography
I have to talk about these crisp, clean photographs by Katy Melling Photography. They are so pure and 'fine art' in style, and capture the heart-felt emotions in a really intimate yet elegant way.
"I was given a recommendation for all of my suppliers and I fell in love with Katy's outdoor, pastel, fresh and natural style from the moment I saw her photos. She captured our day so beautifully we are struggling to pick any for an album! She was a pleasure to have with us on our day and I'd highly recommend her to anyone. We have had so many comments on how beautiful our pictures are."
"Invitations and save the dates were from Etsy. I got our menus from Papier and our place cards, order of the day sign, mirror and table plan were all done by a friend of ours who is a creative designer (@barefootcreative). She did an amazing job and we have kept them all for keepsakes."
During the day the bride wore a pretty pair of laser cut white shoes from Harriet Wilde (who you can find out more about on our Little Book), switching them for dusky pink velvet dancing shoes from Whistles for the evening.
Laura's sublime gown came from Bridal Wish, Blagdon, Northumberland; a confection of tulle and appliqueé lace with a train that pools out behind her.
[JP-VIDEO]
I really love the delicate foliage-inspired lace that winds its way over the bodice, as well as the subtle blush hue.
"Wendy is absolutely incredible. I wanted something fitted, but without too much detail. I adored the back and it fitted like a glove and made me feel so comfortable when I was wearing it. It also wasn't too hot – which I was worried about!"
Don't the bridesmaids look so elegant in their pale pink gowns? They're from Here Come the Bridesmaids in Newcastle and feature the loveliest sleeve detail to keep the look modern. Their hair was adorned with a simple floral hair comb from Bels Flowers, to match the adorable flowergirl's full crown of foliage.
Laura gave them all an infinity necklace from Tiffany to say 'thank you', too.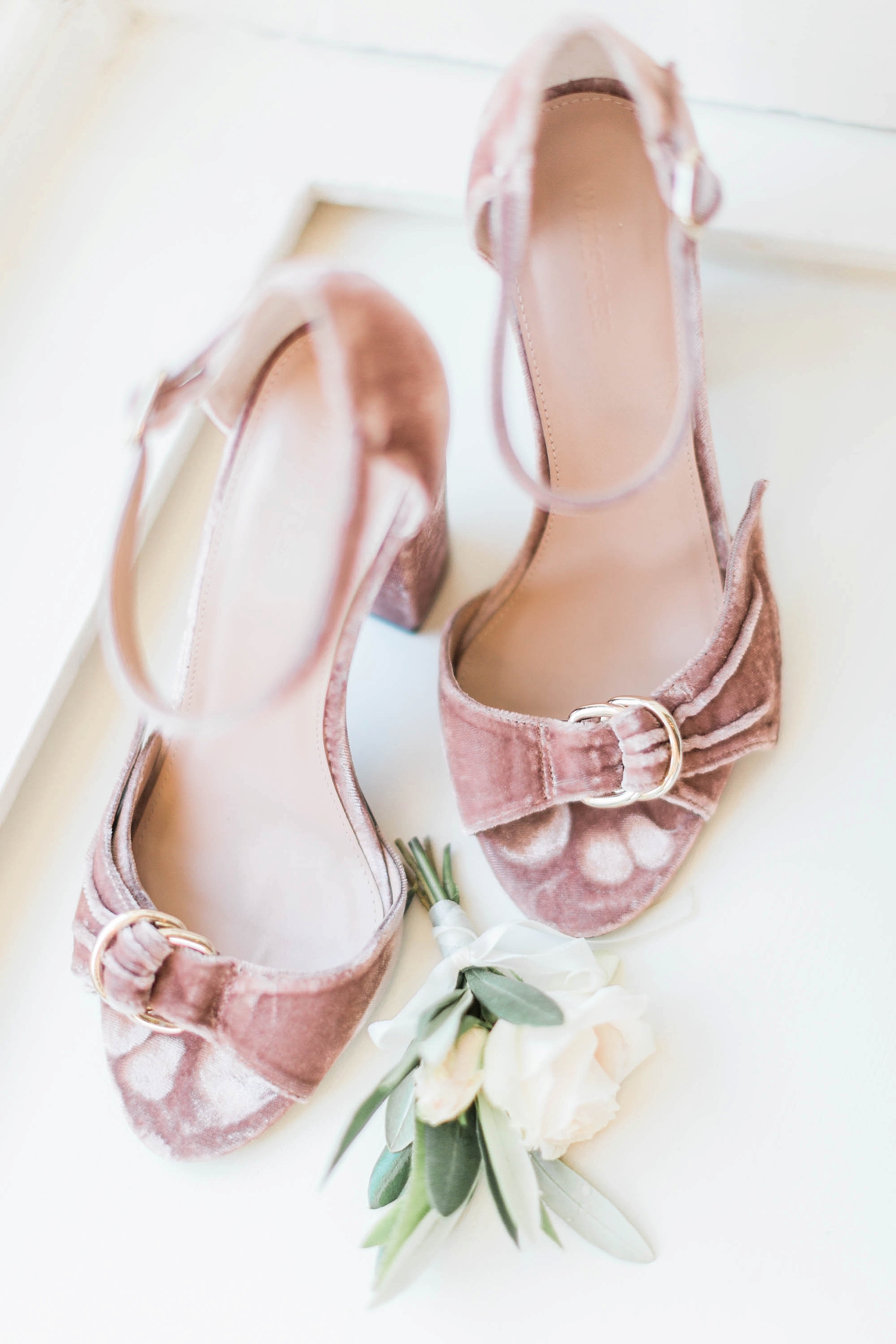 A short veil, also from Bridal Wish and a diamond ring and earrings from her granny completed her look. She added a spritz of Flowerbomb by Viktor Rolf which Will gifted to her on the wedding morning.
"It was the first gift Will bought me ten years ago so the smell reminded me of that time. I was so touched when I unwrapped it from him on the morning."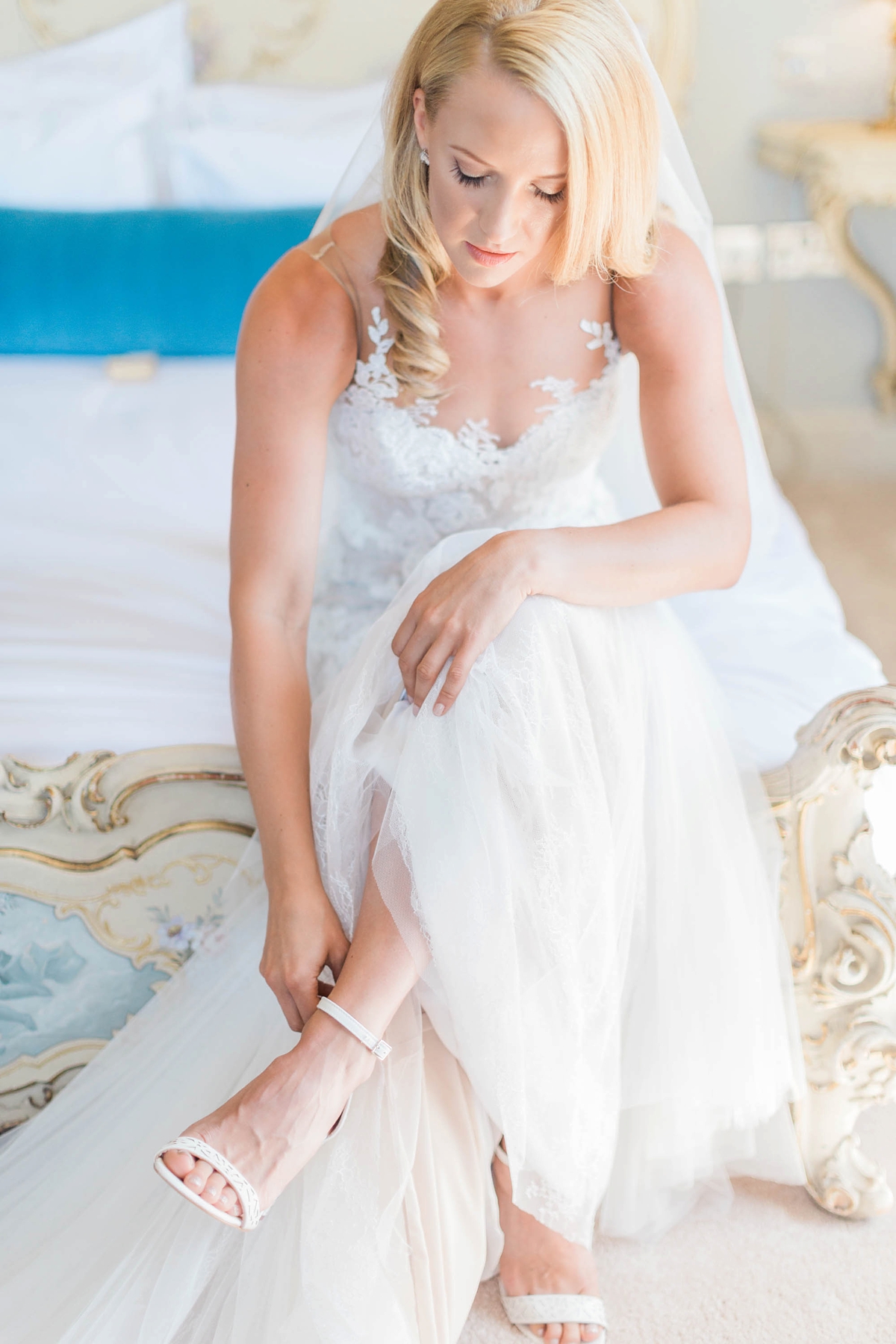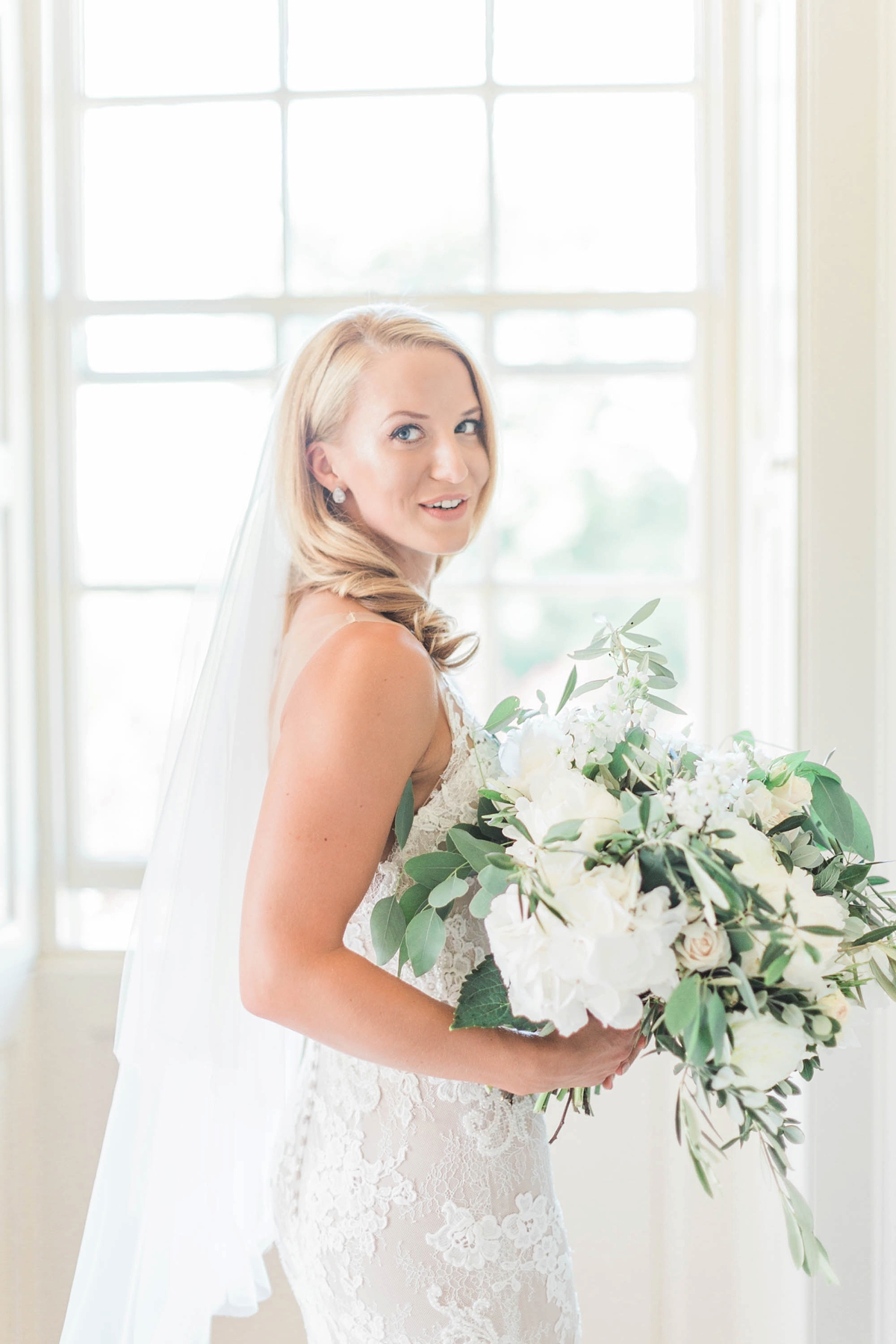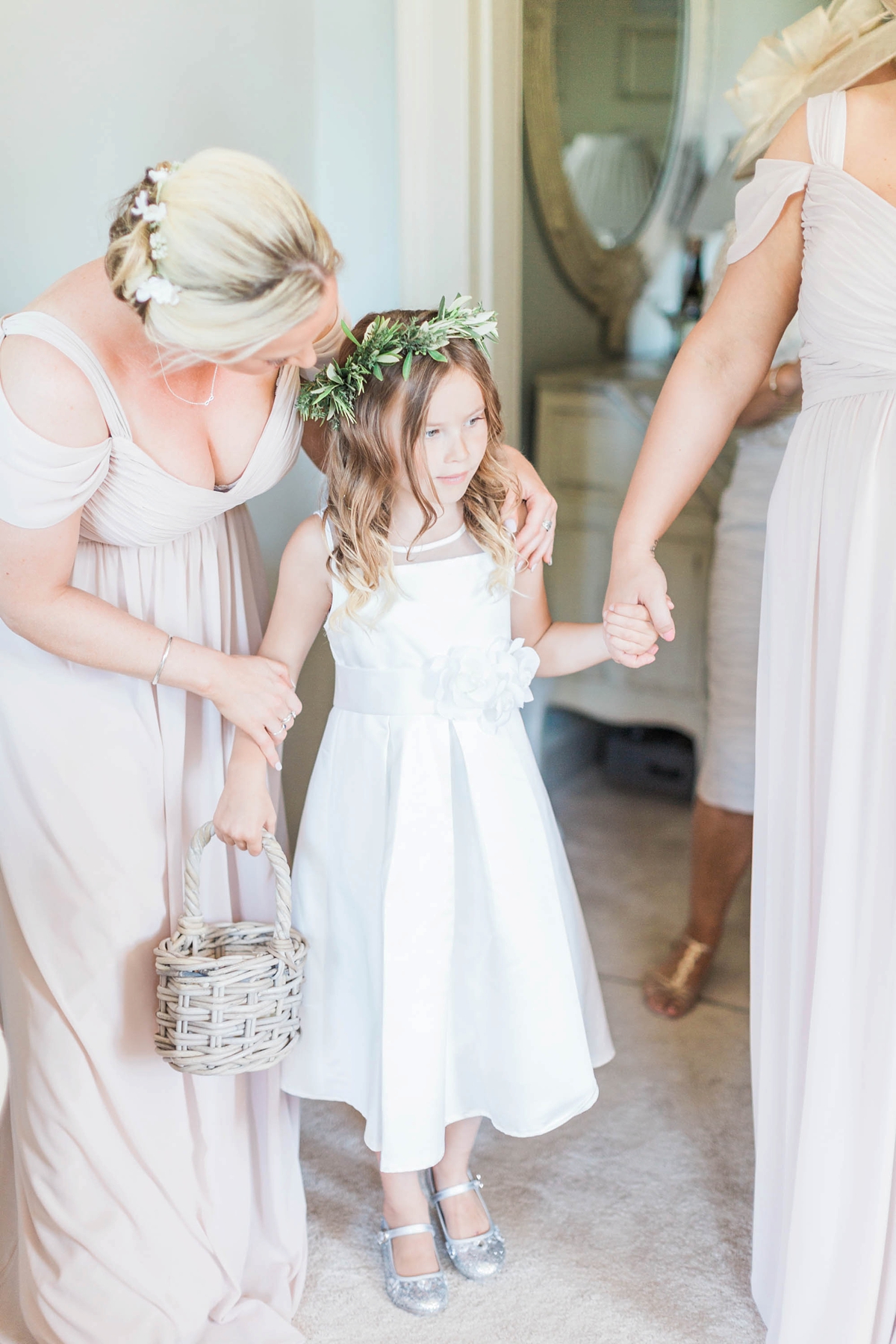 The groom chose to have eleven groomsmen, all dressed similarly in bold tweed three-piece suits from Most Suitable in Newcastle. After the ceremony Will ditched his funky pink raspberry bow tie and jacket for a more relaxed, informal style.
"The majority were his closest friends from rugby over the years but he had three friends who he has known since he was pre-school."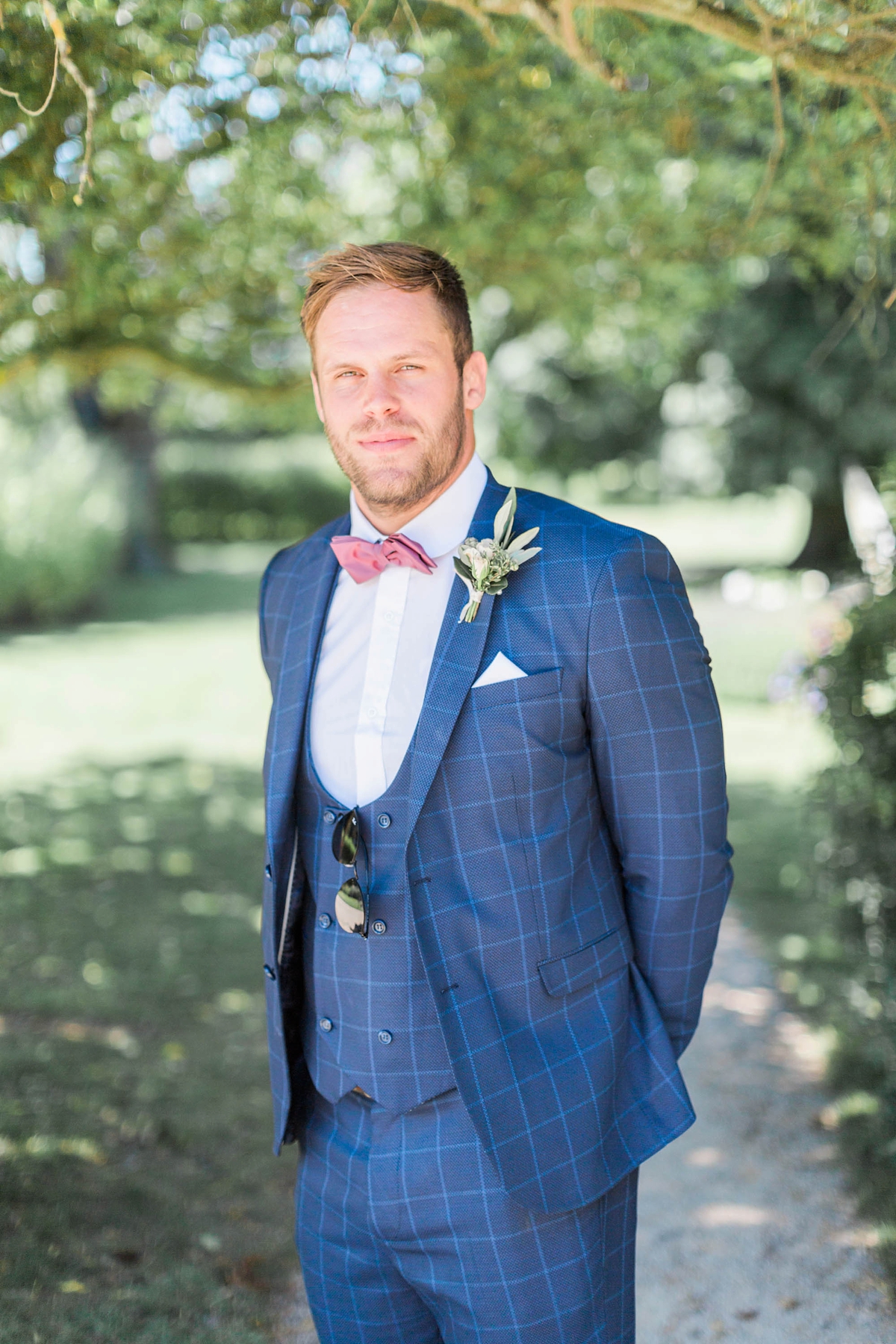 Laura chose a really joyful song – Coldplay's 'Army of One' – to walk down the outdoor aisle to, accompanied by her dad.
"We wanted something upbeat and happy which reflected us and we both loved it."
The ceremony was officiated by Alnwick registrars and featured a reading by Will's sisters Georgia and Bridget.
"We picked the very traditional vows which are quite standard! My favourite part of the whole day was literally locking eyes with each other for 15 minutes the whole way through our vows. We had spoken about it previously and were both nervous about saying them in front of 135 people, so we agreed to pretend it was just us there. It gave me the biggest butterflies and was so intimate."
"My engagement ring and our wedding rings were from Richard Sinton, a beautiful jeweller which closed down about six months after we bought them as the owner wanted to retire. Really sad. Both our families have been buying their jewellery for years and years from there and they do such beautiful bespoke pieces."
The couple's love of the outdoors informed the day's styling and thankfully the day dawned bright and still letting them marry outdoors. Bels Flowers is the talent behind the wild and luxurious abundance of flowers and foliage which adorned the Hall. For more details about Helen of Bels Flowers we'd love for you to visit her Little Book listing.
"I wanted everything to just be simple, white and with a little touch of nature. The brief to our florist and venue was that we wanted it to feel like it was outside, inside! We wanted to spend as much of the day outside as possible and were so lucky as it was a beautiful day."
"Helen was a recommendation and she blew me away with what we delivered on the morning of the wedding vs what we planned. I asked for all the flowers to be white, but with loads of foliage (75% foliage/25% flowers) as I wanted them all to be big and messy and scream of the outdoors (like a garden!)."
"When she came in with everything on the morning I just couldn't believe it, everything was bigger and better than I imagined. Even the corsages and button holes were huge and just so gorgeous! I actually cried the next day when I came downstairs and saw loads of them wilted in the heat (a combination of the waste of their beauty and I think I was just emotional!)."
The beautiful day meant that the guests were quite happy relaxing and mingling on Newton Hall's lawns whilst the bridal party escaped for some portrait photographs. There was a special doggy surprise for the newly-weds too, one of Laura's very favourite moments in the day.
'Being surprised by our dog Kohl which my dad arranged… it was the only time I cried the whole day (apart from the morning!)."
I'm sure you'll agree that the Hall looks wonderful dressed with so many blooms, especially the top table with its profusion of leaves. The wedding breakfast was provided by Newton Hall's catering team and the guests were spoilt with fresh ice-cream, too.
"The band Groove Central Station and Tilly The Tricycle were on hand to dish out ice cream. It was 20 degrees so it went down a treat!"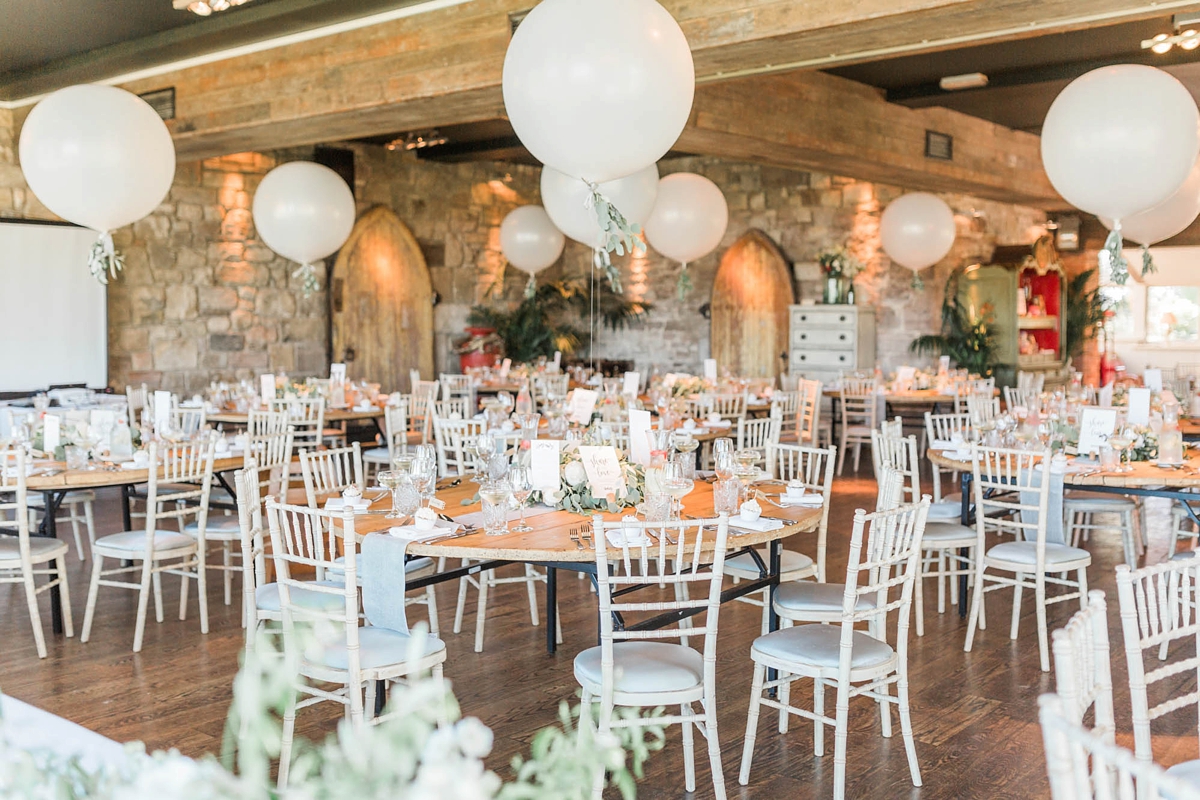 The floral arrangements were supplemented with details handmade by the bride, and pretty stationery designed by a friend.
"I made a lot of the decorations myself. I love being creative and made the menu holders out of corks, the table number signs out of corks and toothpicks (which was a painful job!). Our centre piece was a really simple big white balloon with a wreath (matching our flowers) around the base, also made by our florist Helen. The tables looked so beautiful."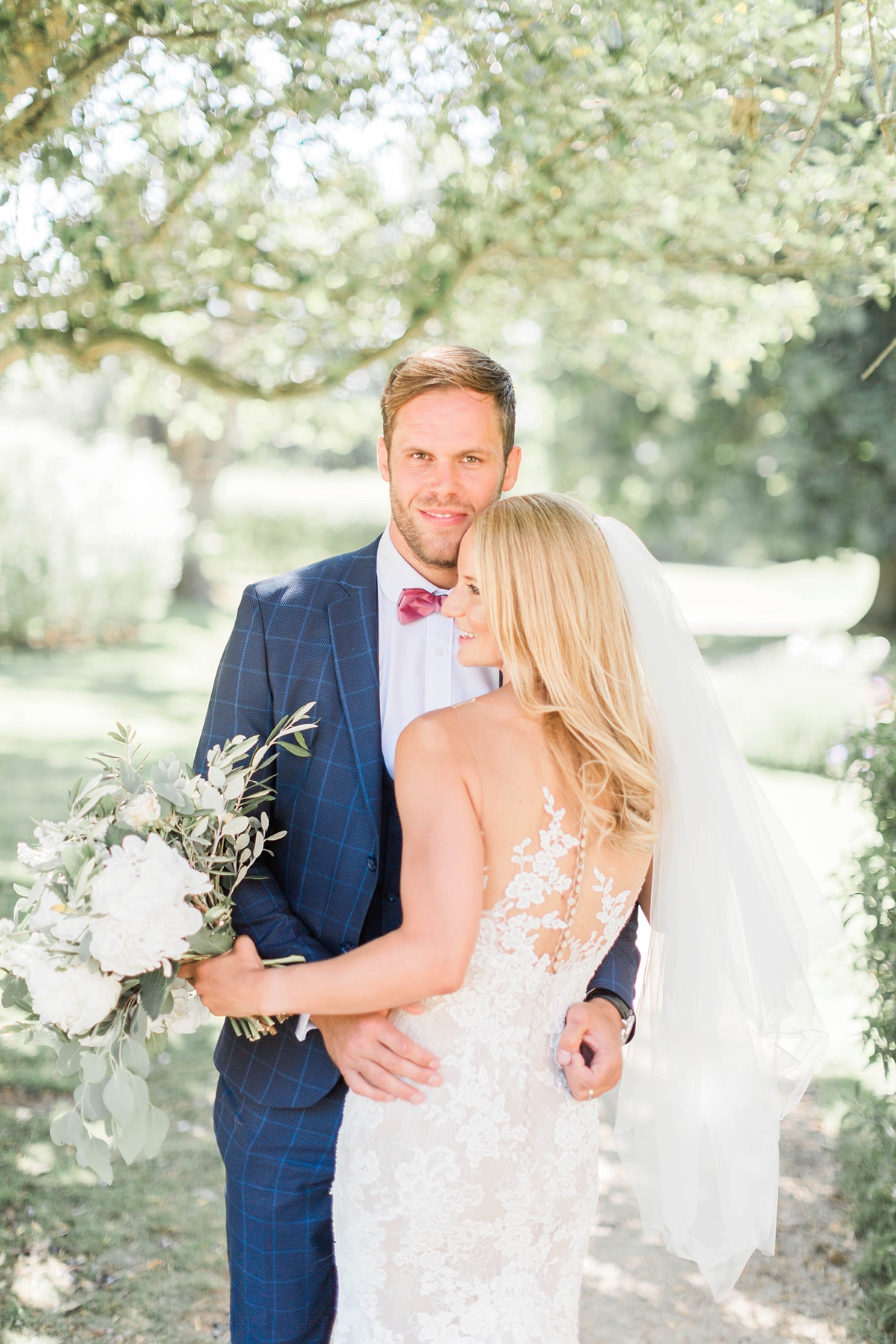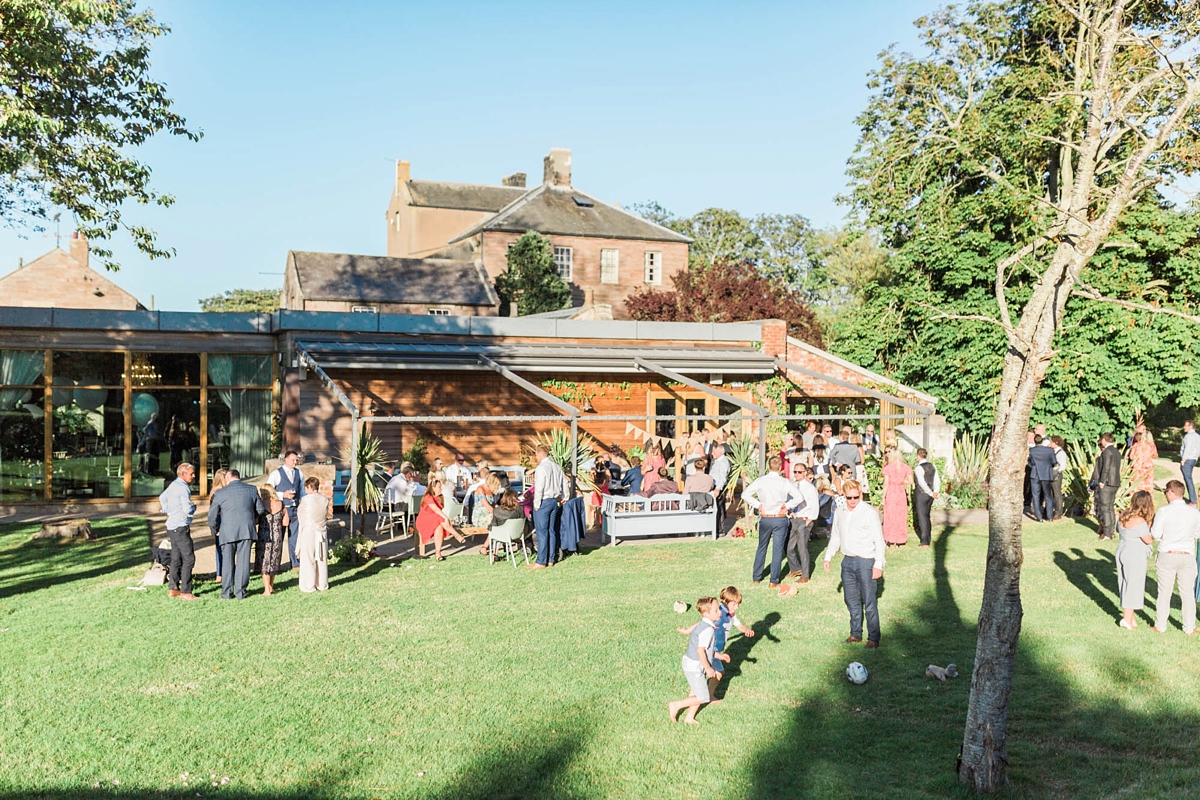 The tiered wedding cake was made by Will's super-talented mother, and decorated simply with a garland of leaves.
"My mother-in-law made the cake. She is so talented. She's not professional at all, but everyone was so impressed and she loved the process so much she has now made three more cakes for our friends weddings since June!"
"We had lemon and red velvet cupcakes for favours made by a family friend, Judy, who is incredible."
Words of Wedded Wisdom
"I loved the whole planning process. I'm quite proactive and love a project so it I hit the ground running with it a couple of months after we got engaged. My advice is:
"Try and enjoy it – it only happens once, it's over so fast and it's such an exciting time."
Try and give yourself as much time as possible – I had 20 months and wasn't stressed at any point throughout as I did loads early on so had ages to faff."
"Remember to find your husband on the day! We had so many friends give us this advice as the day is so hectic you spend ages talking to people and can forget the day is about you! We had a rule to go and speak to people together. You still get side-tracked but every time we realised the other wasn't there we made a point to find each other.
Try and go away and get some time on your own. We went to the beach and they are some of my favourite photos."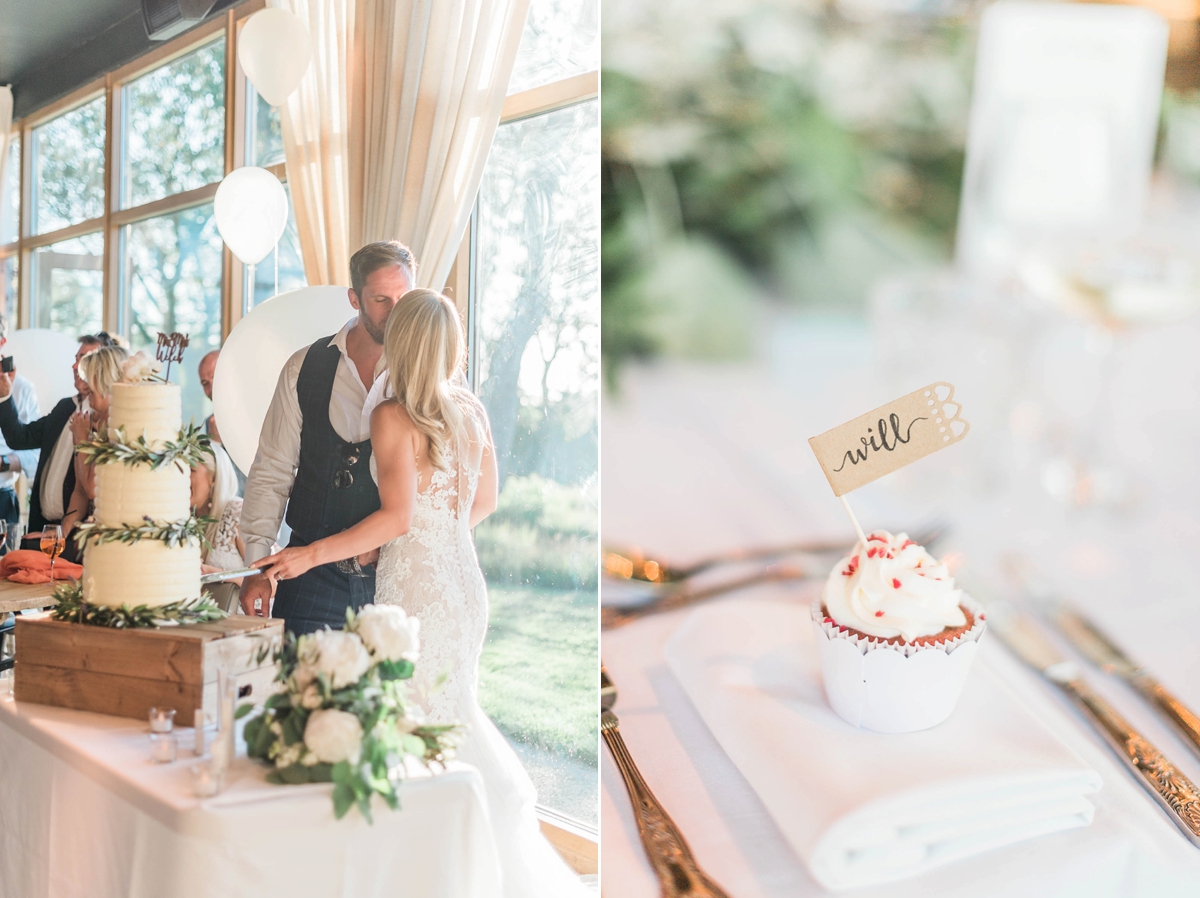 Love Eleanor x