Dear Readers, we're heading to the idyllic Dorset countryside today for an intimate wedding inspired by the wild and natural beauty of its surroundings – classic, timeless, and blending the cultures of the couple together in a joyful and fun way.
Meet Georgie and Omar, who were married on the 21 October 2017 in a ceremony at St. Mary's Church, Netherbury followed by a reception at Axnoller, a beautiful, private rural retreat. These wonderful images by Robin Goodlad are painterly in their use of the dramatic autumn light of the day – just so lovely. Robin is also a member of Little Book – our directory of talented and trusted suppliers.
"I'd say finding a photographer was maybe our toughest search. We really wanted to find someone who understood what we were after. Our brief was someone we felt comfortable with, someone who put us at ease, someone who blended into the background, and someone who captured fantastic shots. Robin exceeded our expectations."
Images by Robin Goodlad Photography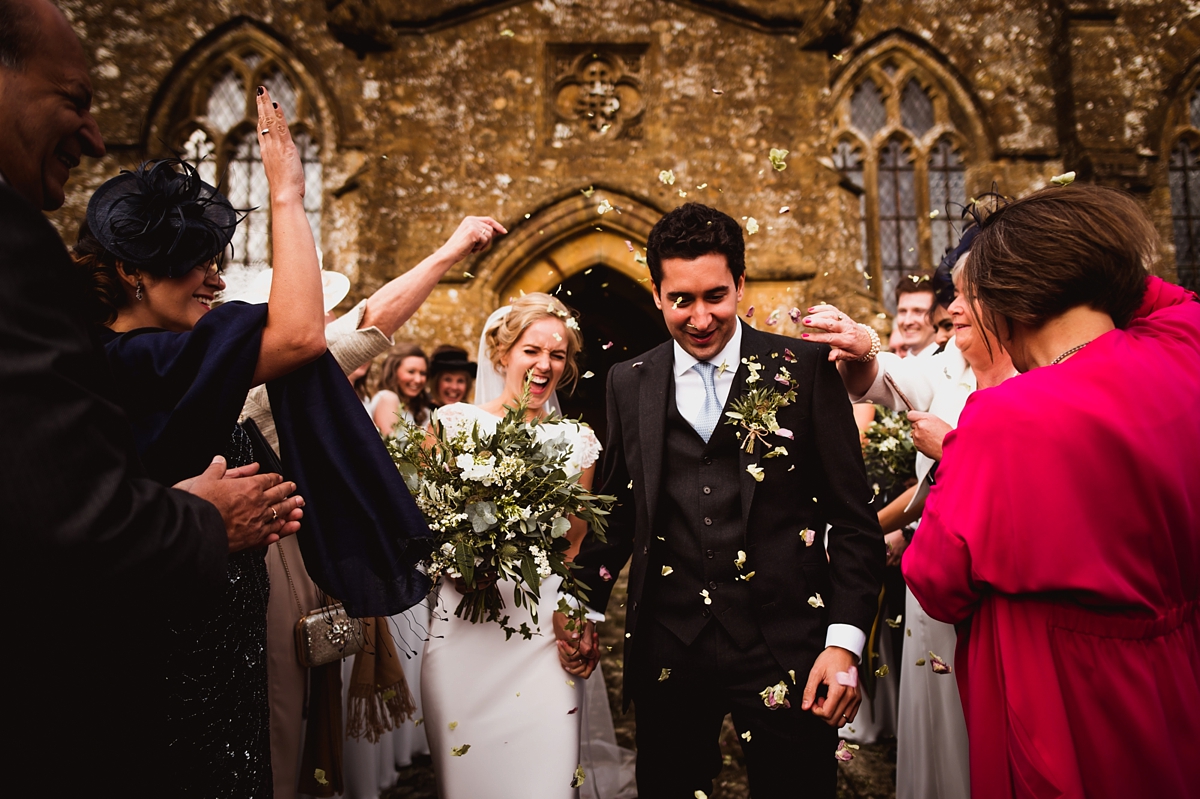 "We found Robin online, and he agreed to meet us in London after work in a coffee shop. Robin shared some of his previous 'real weddings' with us so that we could see lots of his work, and he also shared photographs from his previous weddings at Axnoller. Whilst initially we weren't that keen on having an "engagement" shoot, we were both really pleased we did. We went to Richmond for the afternoon and it really put us at ease with Robin and meant we knew we'd made the right choice…"
"On the day, Robin arrived with his assistant Rachel. Rachel spent time with the boys, and Robin with the girls.We really loved getting our photos through and seeing each other's mornings and seeing the whole day through two angles. They both just blended into the day and made everyone feel at ease, they also managed to fit in some incredible outdoor shots before a storm set it. We were both keen to spend as much time with our guests as possible on the day, and Robin's ability to capture natural shots made this possible."
"We are so thrilled with all of the photos and it was definitely worth the time we took to find our perfect photographer."
Georgie fell in love with a pair of gold sparkly Stuart Weitzman pumps, and although she was worried they might be too high to wear all day, found they were very comfortable to wear. For perfume, she chose her favourite everyday scent, Chloe Eau de Parfum.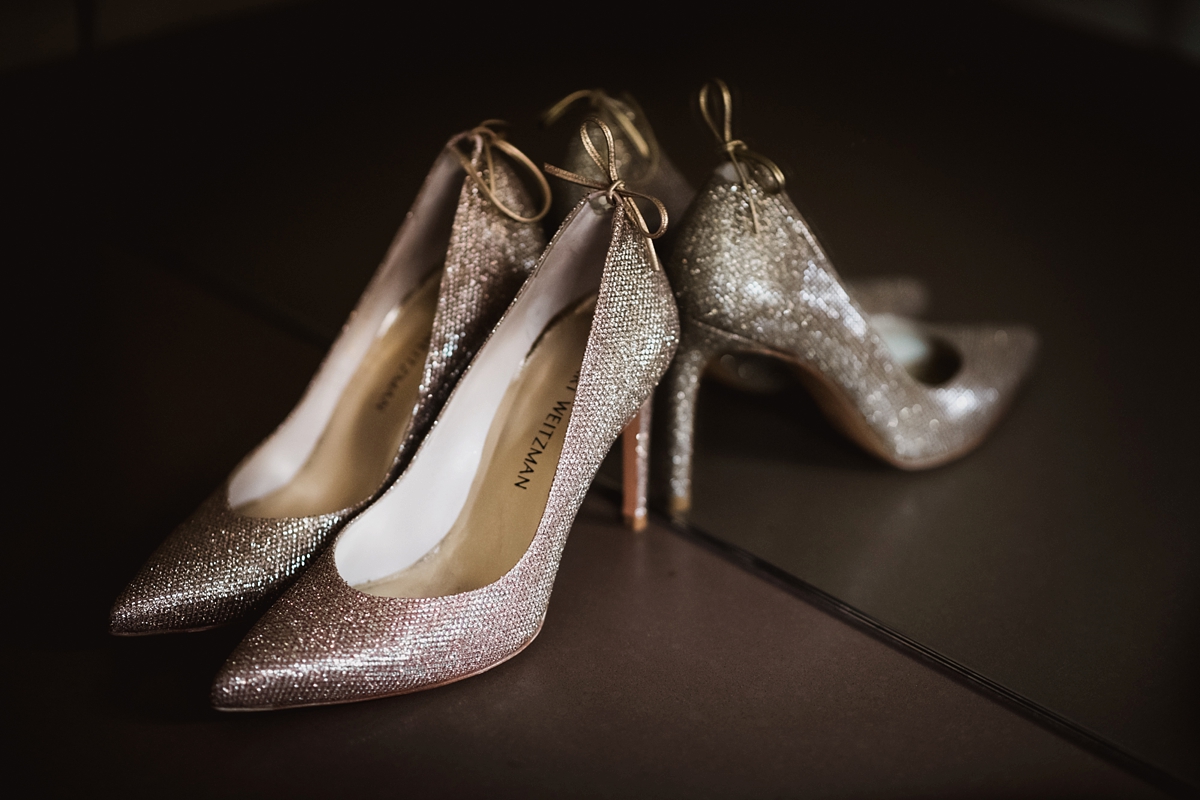 Cheryl and Caroline from Amazing Face took care of grooming, and Georgie's softly curled hair worked wonderfully with the simple Sassi Holford veil she chose.
[JP-VIDEO]
"I wanted to wear something of my grandma's who couldn't be with us on the day, so I wove a bracelet of hers into my hair do."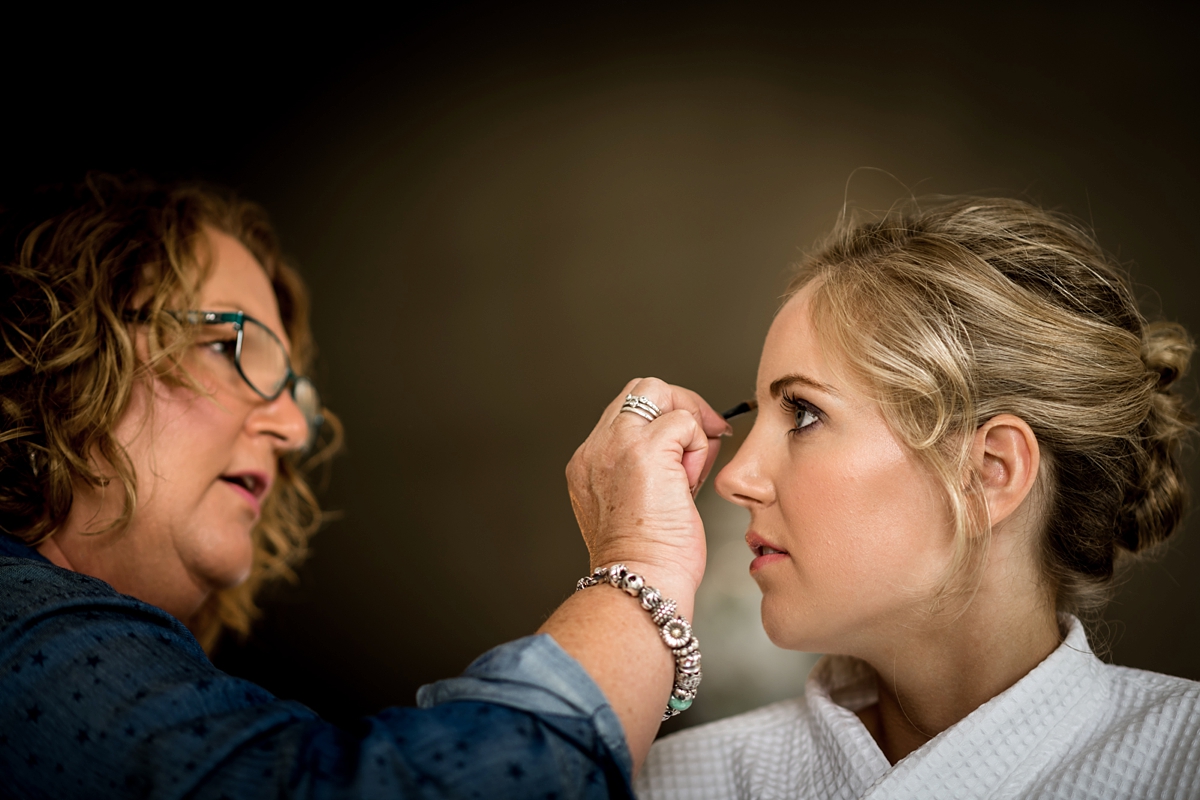 Georgie chose a gorgeous bias cut silk gown with guipure lace bodice from Elaine Closs, and found the bespoke process exciting and enjoyable.
"I initially had no idea what style dress I was after and my first day of dress shopping with my Mum and sister was so fun –I really embraced the day and tried on all sorts of dresses! As the search continued, I had a clearer idea but felt there was always something that wasn't 100%. I found dressmaker Elaine Closs online and my perfect dress was created!"
"With Elaine's help and expertise I was able to design the dress exactly the way I wanted, play around with features and choose my own lace.The whole experience with Elaine was refreshing, relaxing and exciting and I came away with a unique dress that I loved and felt so comfortable in. She even ended up making my Mum her outfit for the day."
Georgie and Omar chose an elegant neutral colour palette for the day, which let the natural beauty of their surroundings shine. Stylish and simple stationery came courtesy of the Smallprint Company Letterpress and Design.
Florist Clair Lythgoe created a stunning bouquet for Georgie in shades of green and ivory, and filled with interesting textures, from seed heads to rosemary, ivy, thistles and waxflowers.
"Clair got our brief spot on. I wanted really natural flowers and opted for lots of foliage and textures with simple white flowers throughout (continuity between the bouquets, the church and Axnoller)."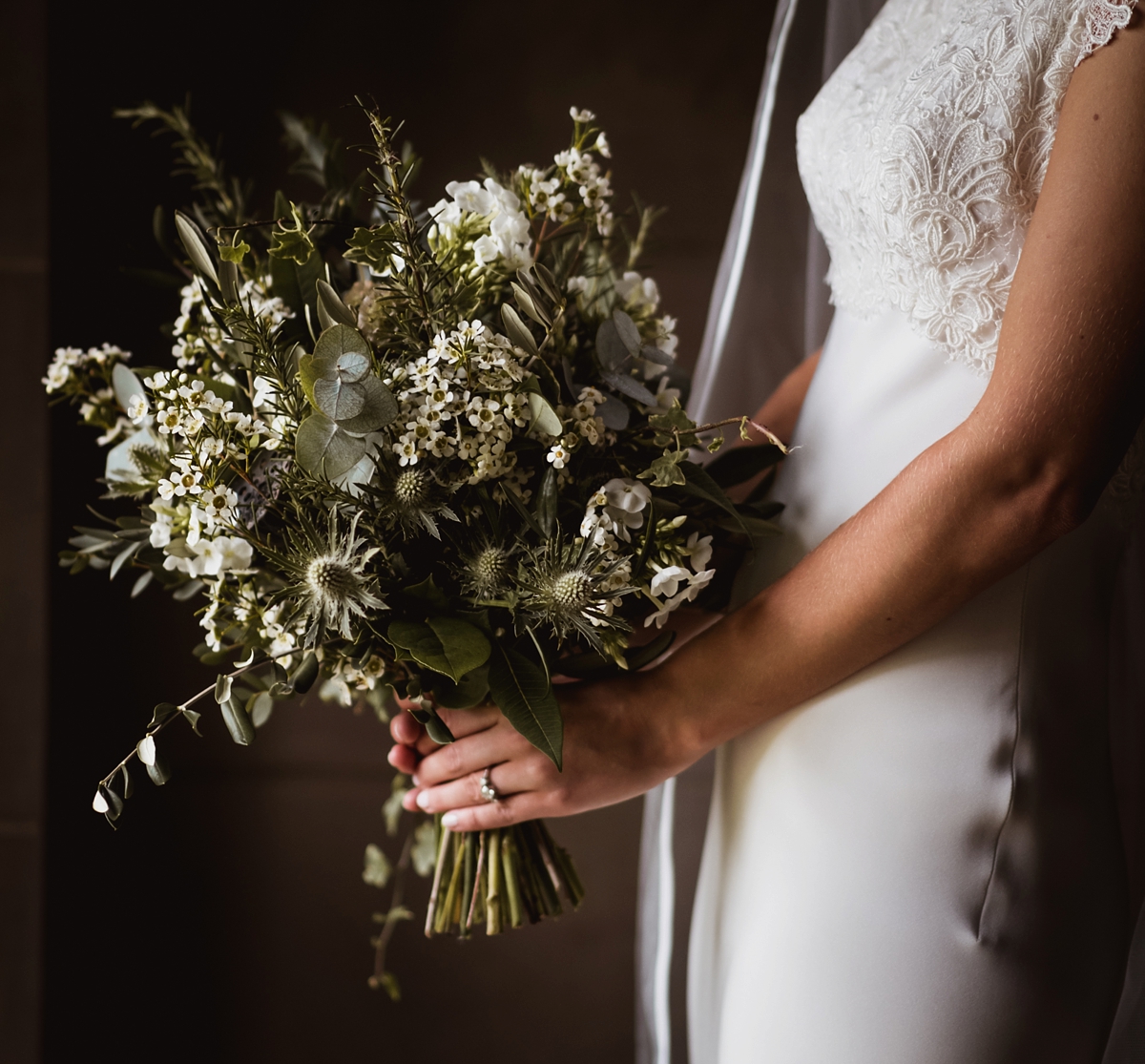 The bridesmaids looked lovely in the 'Regent' dress from Maids to Measure in a light shade of dove grey, and in their hair, delicate sprigs of waxflower, as well as glitter heels from Kurt Geiger, chosen to complement Georgie's.
"I bought the girls a Monica Vinader rose gold rose quartz bracelet, which they all wore on the day."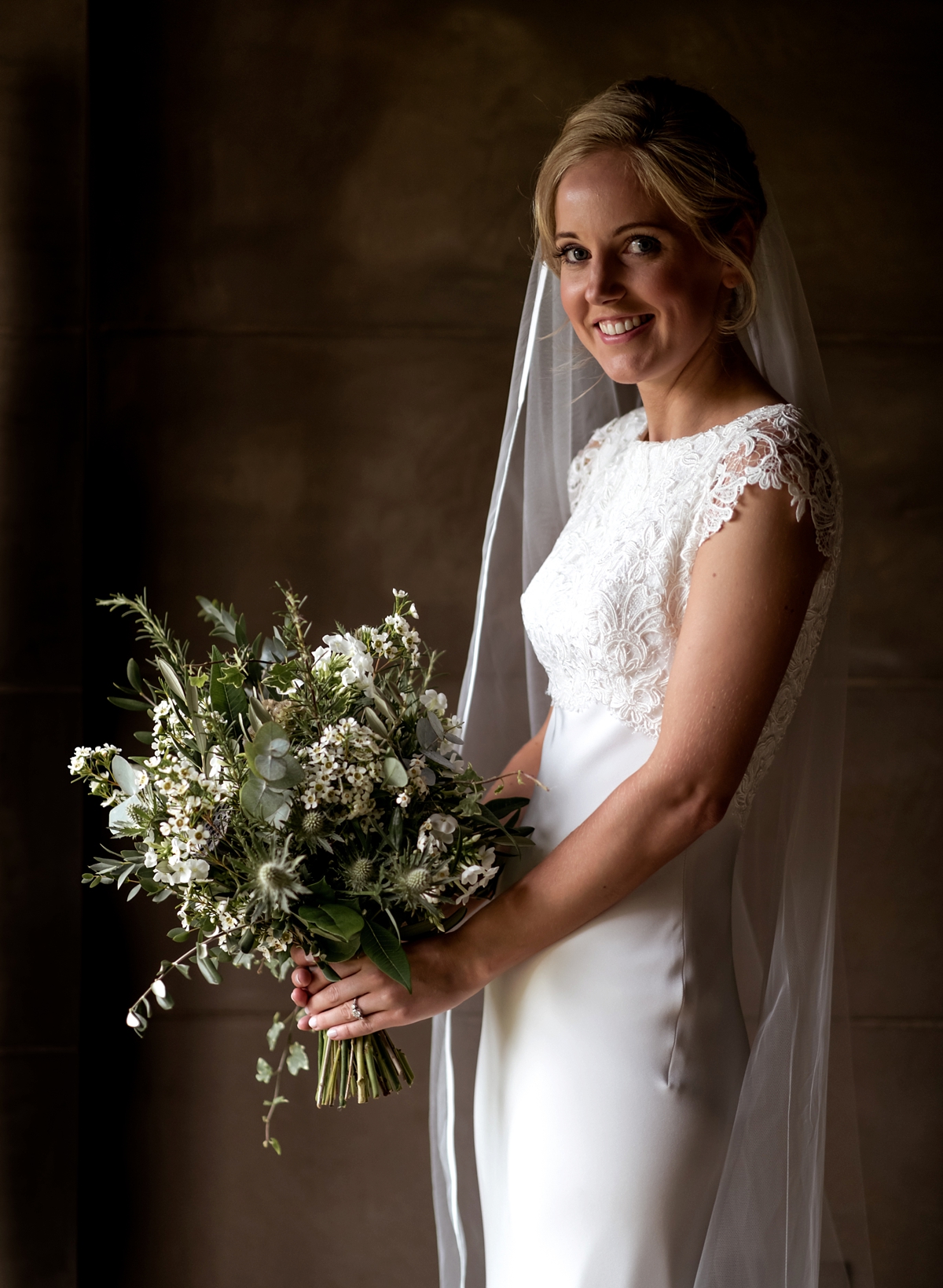 "We were looking for a venue where we could celebrate with our closest friends and family for the whole weekend (Axnoller sleeps 34 in 3 houses.) We really wanted a stylish venue for the day where we could party into the night with no strict curfew. After falling in love with Axnoller, we spoke to the local vicar and instantly both knew this had to be the place we got married!"
To transport them to the church, Georgie and Omar chose a chauffeur driven cream coloured Rolls Royce Silver Cloud from Premier Carriage, and Georgie and her dad walked together down the aisle of St. Mary's Church as the organist played Pachelbel's Canon in D.
"Getting ready in the morning was so much fun, the excitement really hit in, but walking down the aisle surrounded by everyone we love was a moment I'll never forget."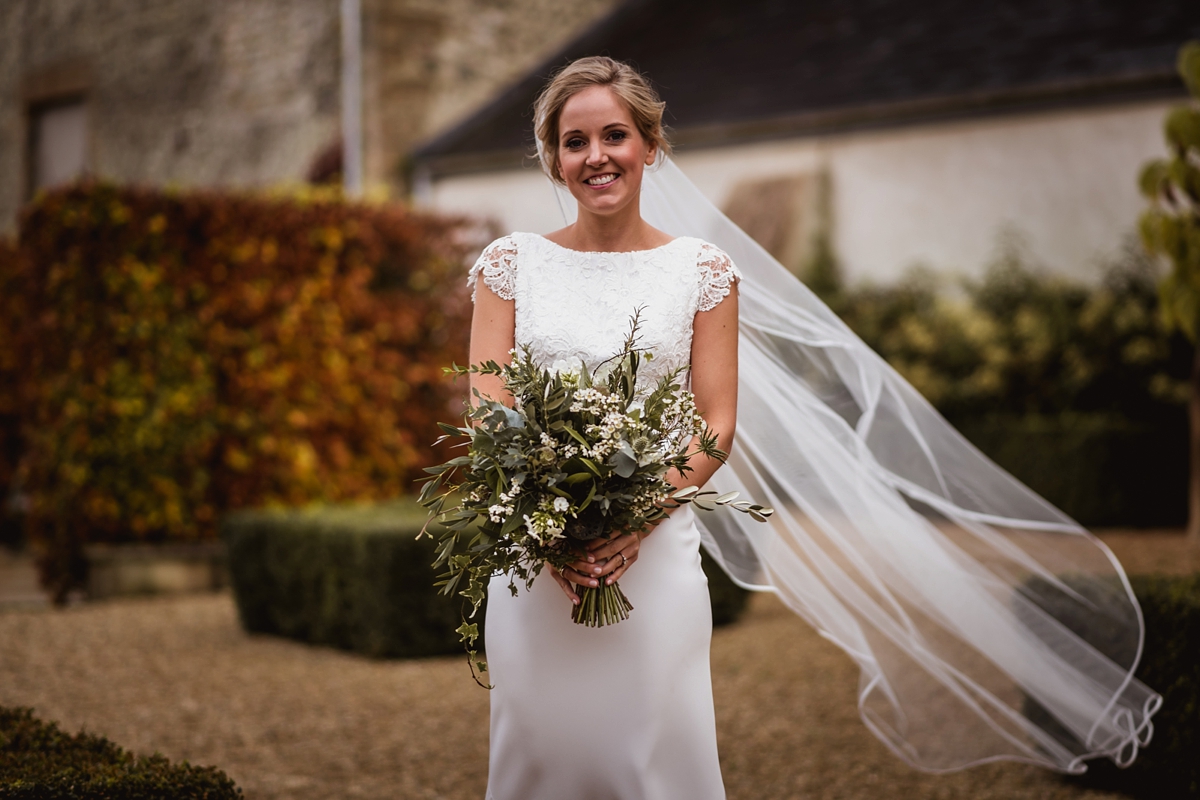 Omar wore an incredibly smart charcoal grey three-piece suit from Yardsmen, with the groomsmen wearing two-piece versions of the same suit together with pale blue ties from Beaufort & Blake, gifted to them by Omar.
"We chose Omar an Hermes tie for the day and he wore a watch that his parents gave him on the day, and his grandpa's cufflinks."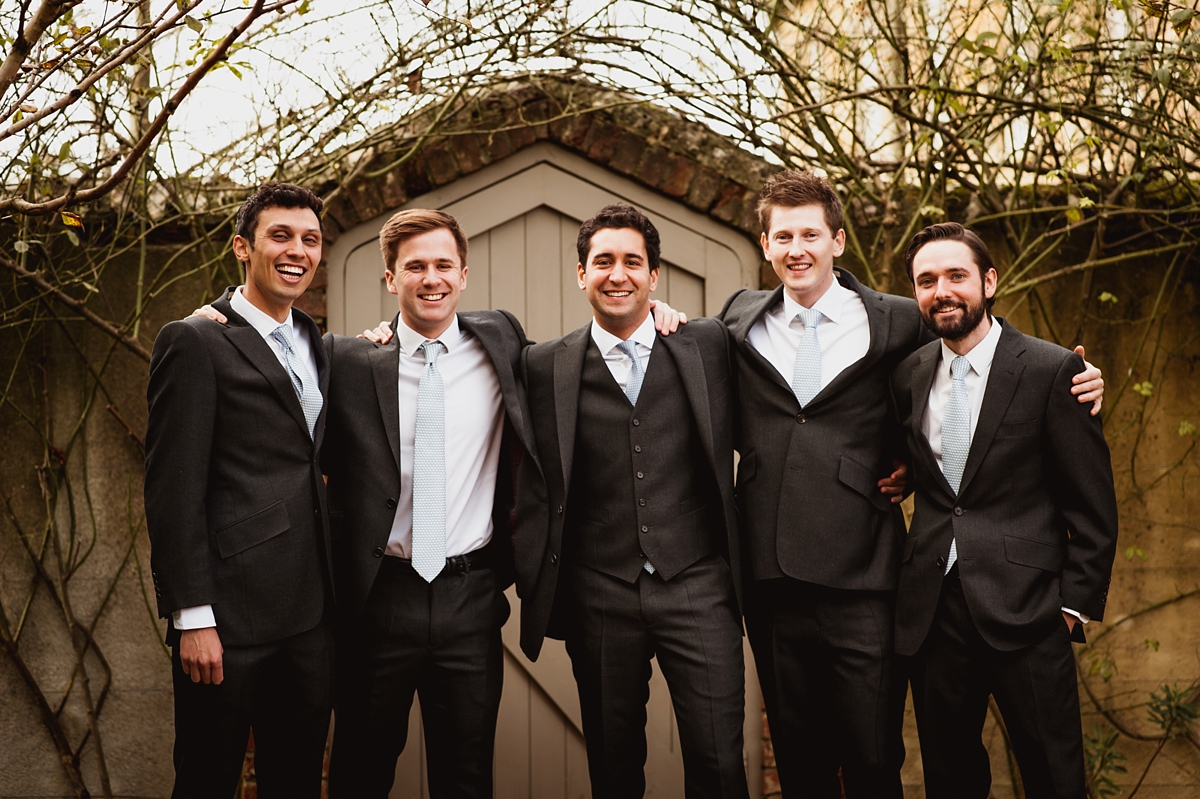 "We met in our first year of university aged 18. Omar proposed 9 years later, on an autumnal walk in my village near my family home in October 2016. We started planning immediately and got married a year later."
"In the church florist Clair lined the aisle with small arrangements on the pew ends. We had arrangements on wooden crates at the front of the church and lots of candles and foliage on the window sills."
In this beautiful setting, Georgie and Omar exchanged vows and rings, which were made by the same jeweller who also made Georgie's engagement ring (sorry, no further details provided). Georgie chose a v-shaped band to fit with her engagement ring, and Omar opted for a simple gold band.
"My Aunty read Edward Monkton – A Lovely Love Story and Omar's Uncle read Colossians 3: 12 -17. We also had Angus (groomsman) play the clarinet during the signing of the register."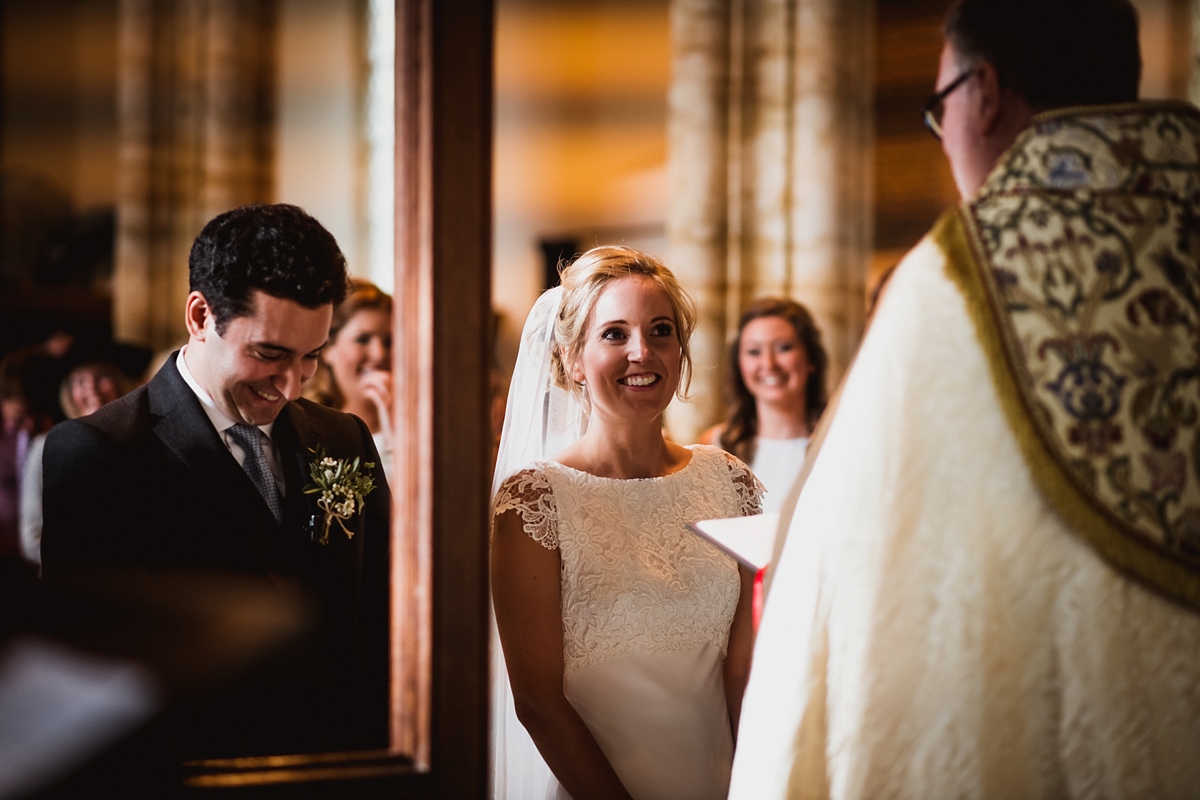 Matt Hampton of Hampton Films captured the day on film, too – a last-minute and much treasured gift from Georgie's parents.
"He fitted alongside our photographer brilliantly and captured the wedding perfectly. I can't stop watching the videos and re-living the day! It was really special for us both to be able to share the day with our elderly grandparents who were unable to attend by watching it with them."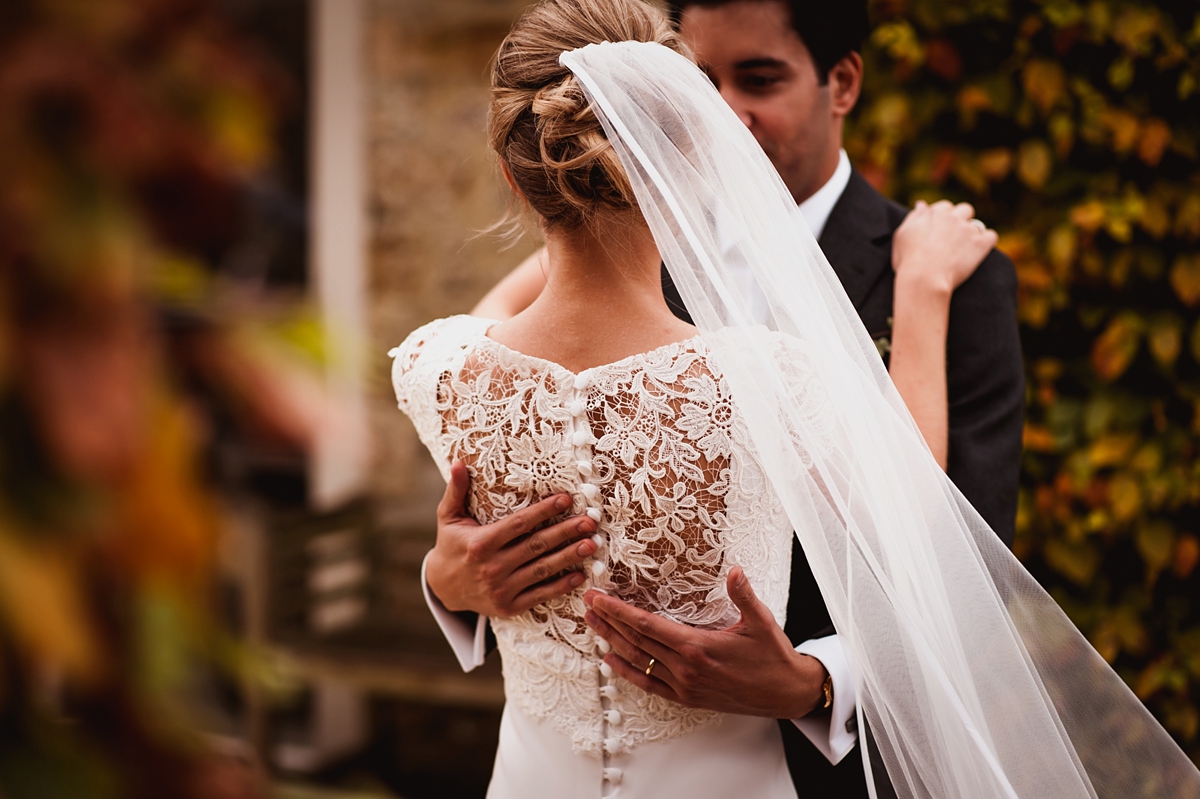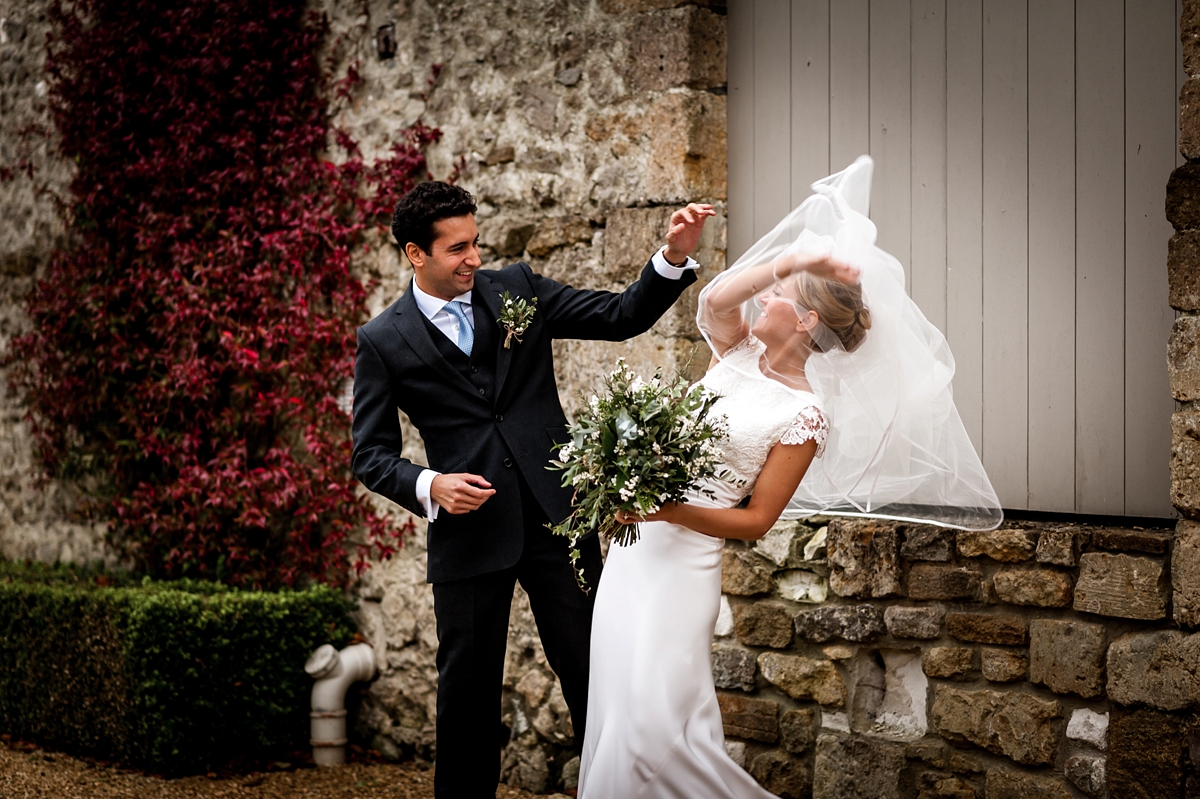 After the ceremony it was over to lovely Axnoller for a feast cooked by Gordie Sutherland and the team there. The space was decorated beautifully, making atmospheric use of candles on the tables and hanging from delicate glass baubles.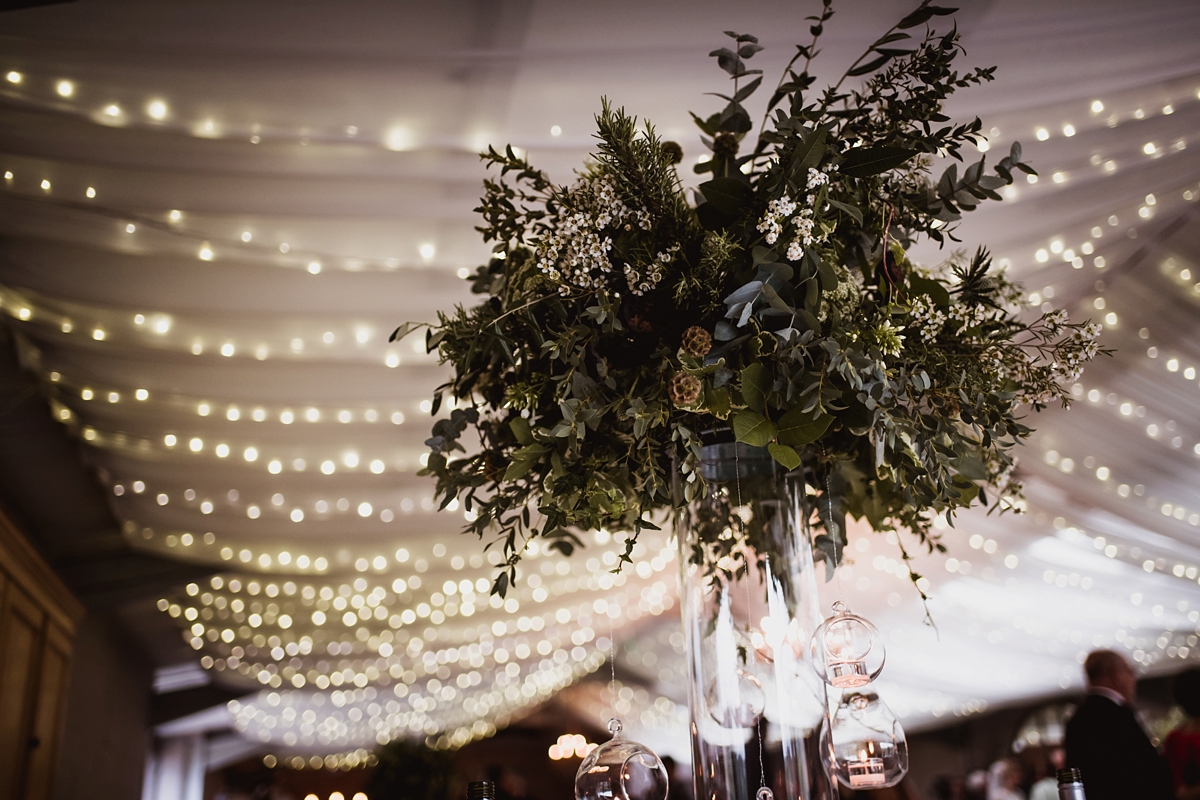 As place cards, Georgie and Omar used black and white Polaroid photos of their guests and also displayed treasured family photographs of their parents and grandparents on their wedding days.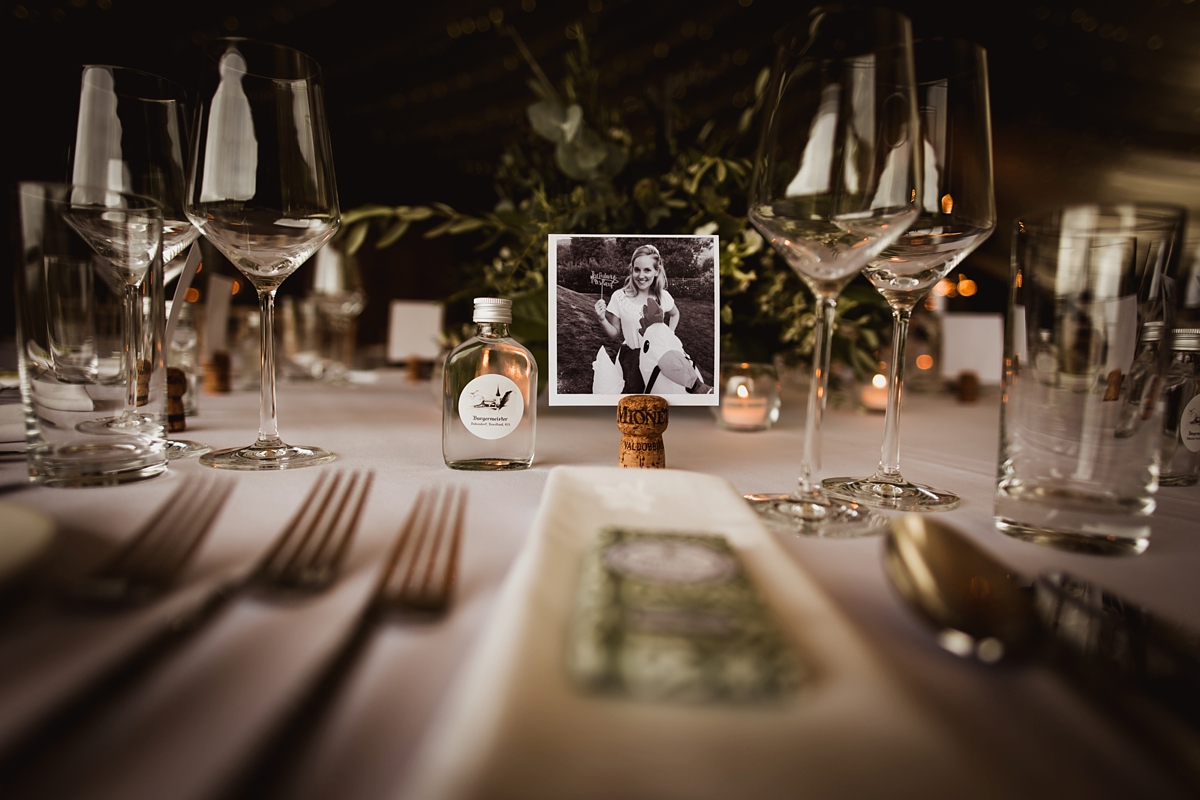 "Clair alternated high and low table arrangements and used lots of candles (hanging and on the table) to provide added warmth to the room"
"The room looked absolutely fabulous and I loved the bouquets… Clair suggested reusing elements of the flowers back at Axnoller, and kindly rushed them back seamlessly after the service before our guests arrived!"
As sweet favours, there were mini bottles of schnapps from Omar's grandparents' village in Switzerland, and individual chocolates from Rococo.
"My Mum put the cheese cake together from The West Country Cheese Co. and decorated it beautifully with foliage and fruit (including pears – the local symbol of my home county) which we served in the evening with her homemade chutneys. It went down a treat!"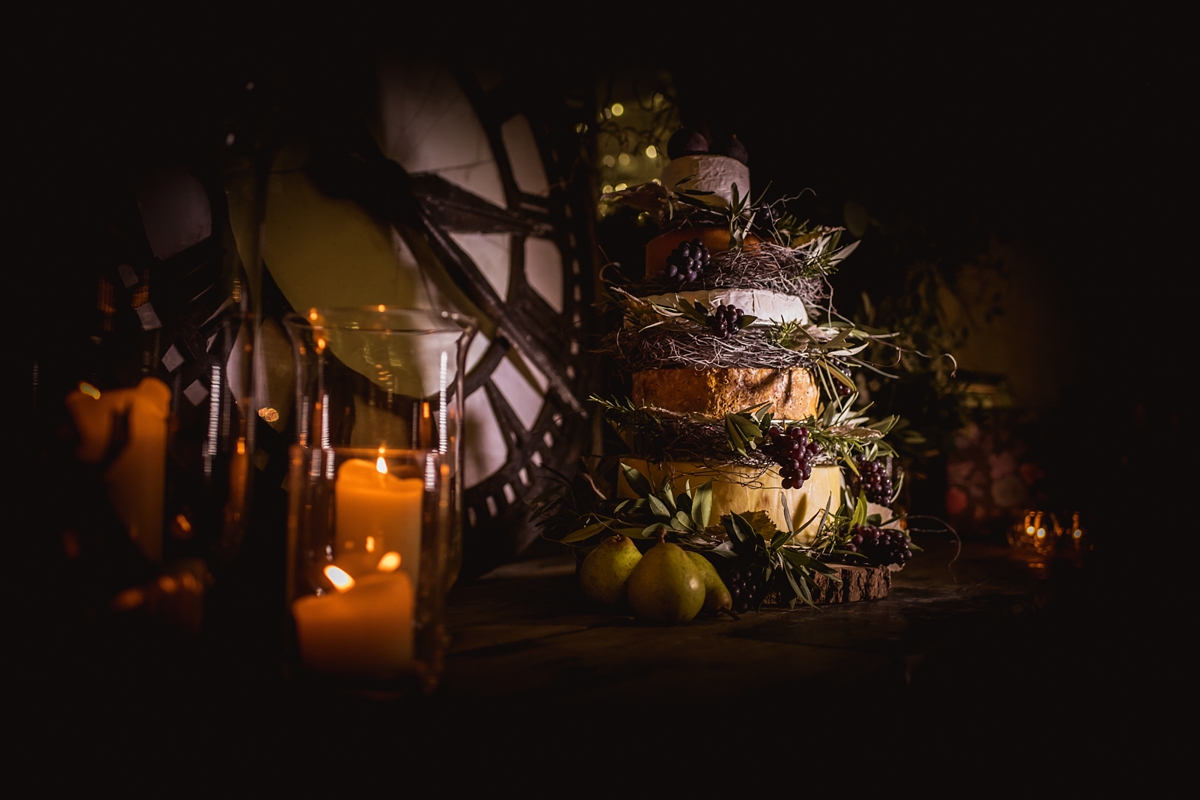 As their first dance together, Georgie and Omar chose Rod Stewart's This Old Heart Of Mine – Georgie grew up on Rod Stewart and the couple felt the song lyrics fitted perfectly for them.
"We found the band, Anthem on Warble. They played a couple of live sets followed by DJ. We wanted everyone on the dance floor! The band were great and definitely got everyone on the dance floor and instigated a great dance off!"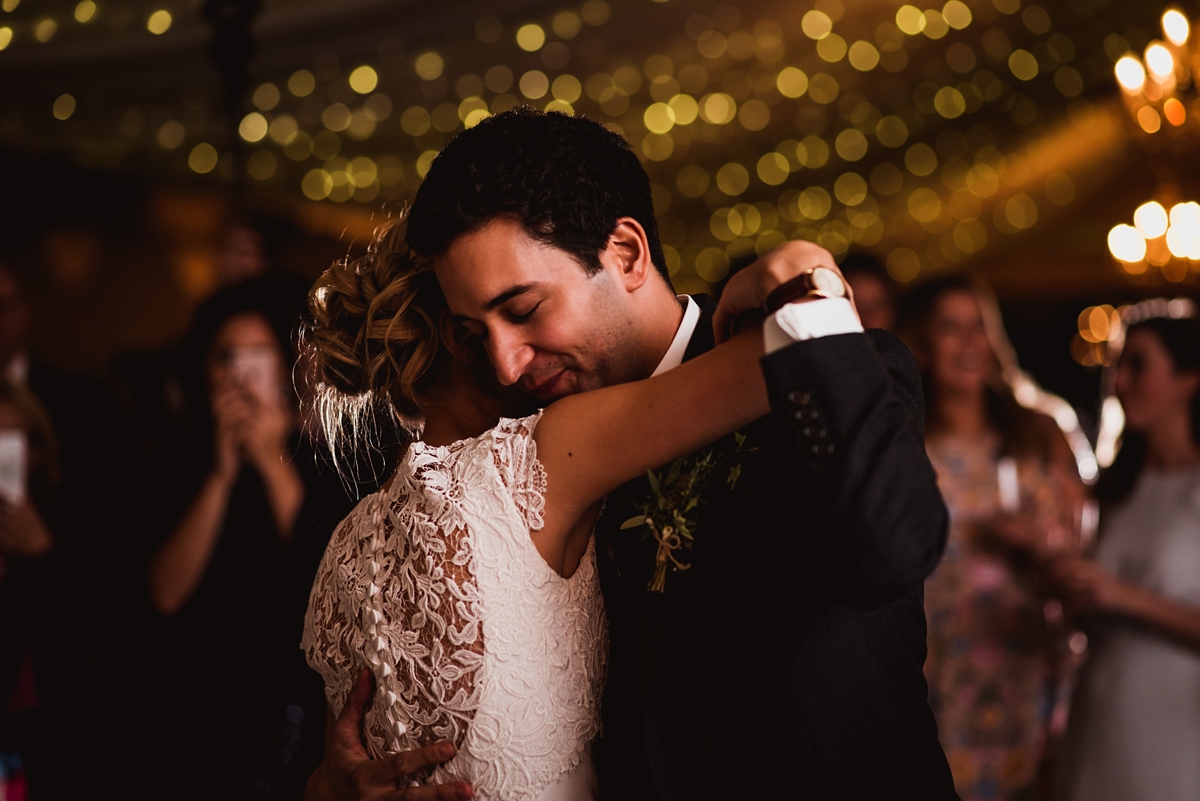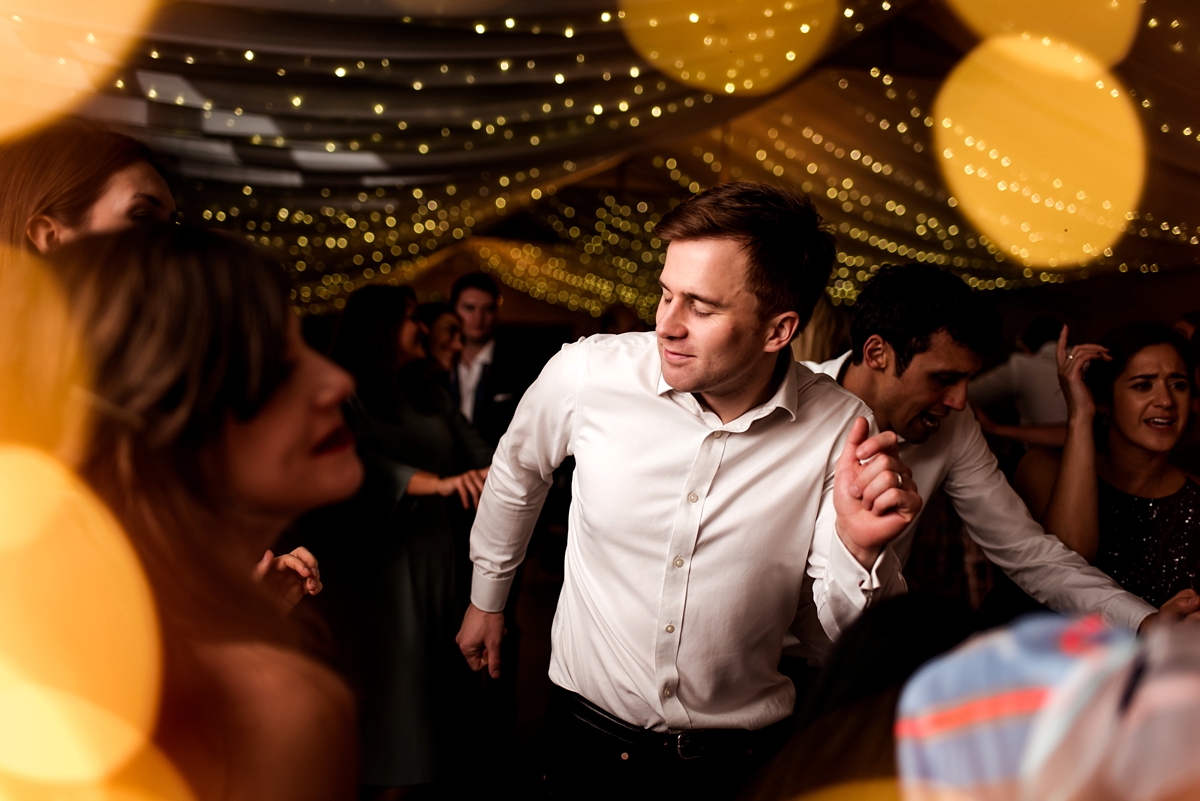 Words of Wedded Wisdom
"Take regular steps back and remember why you're getting married. Planning can be all-encompassing, with differing 'ideas' and 'suggestions'. It's the people who surround you that will make your day –if you're happy with the invite list and the person you're marrying then it will be a fantastic day whatever!"
"Choose your suppliers not just for their skills, but as people – they share some of your most special moments with you. I loved Caroline and Cheryl (our hair and makeup ladies) and felt like they were part of the wedding party!"
Georgie and Omar, thank you! What a stunning venue in a breathtaking part of the world. I love how your day blended your heritage in a fun and personal way, too. Many thanks to the talented Robin Goodlad for these super images, too.
Until next time!
With love,
Laura