We're heading to the North Yorkshire and County Durham borders today for a wedding celebration in a marvellous country house filled with natural light.
It bathes the whole day in such a lovely way, accentuated by a colour palette of soft blues, greys and ivory. There are also some wonderful personal touches, a romantic gown of dreams and two smartly attired dogs, too! Meet Georgia (who says she was following Love My Dress before she became engaged!), who owns and runs a dog grooming business, and Thomas, who is a head of marketing.
The were married on the 12 May 2018 at Lartington Hall in Barnard Castle, a country house set in idyllic parkland. These elegant, fine art images are by the talented Melissa Beattie – a member of our one-stop wedding directory, Little Book. Georgia entered a Love My Dress competition to win a photography package from her, so we feel super pleased to have played a small but important role in these beautiful images.
"I came runner-up in a Love My Dress competition (to win your wedding photography). Melissa was always my dream photographer after looking at her work on various blogs and features I knew that she was the one! I love her casual approach, her images look natural and real moments are captured…we wanted something that would last forever, that we would always be happy to display and show. She is also so lovely and an absolute pleasure to be around."
Images by Melissa Beattie Photography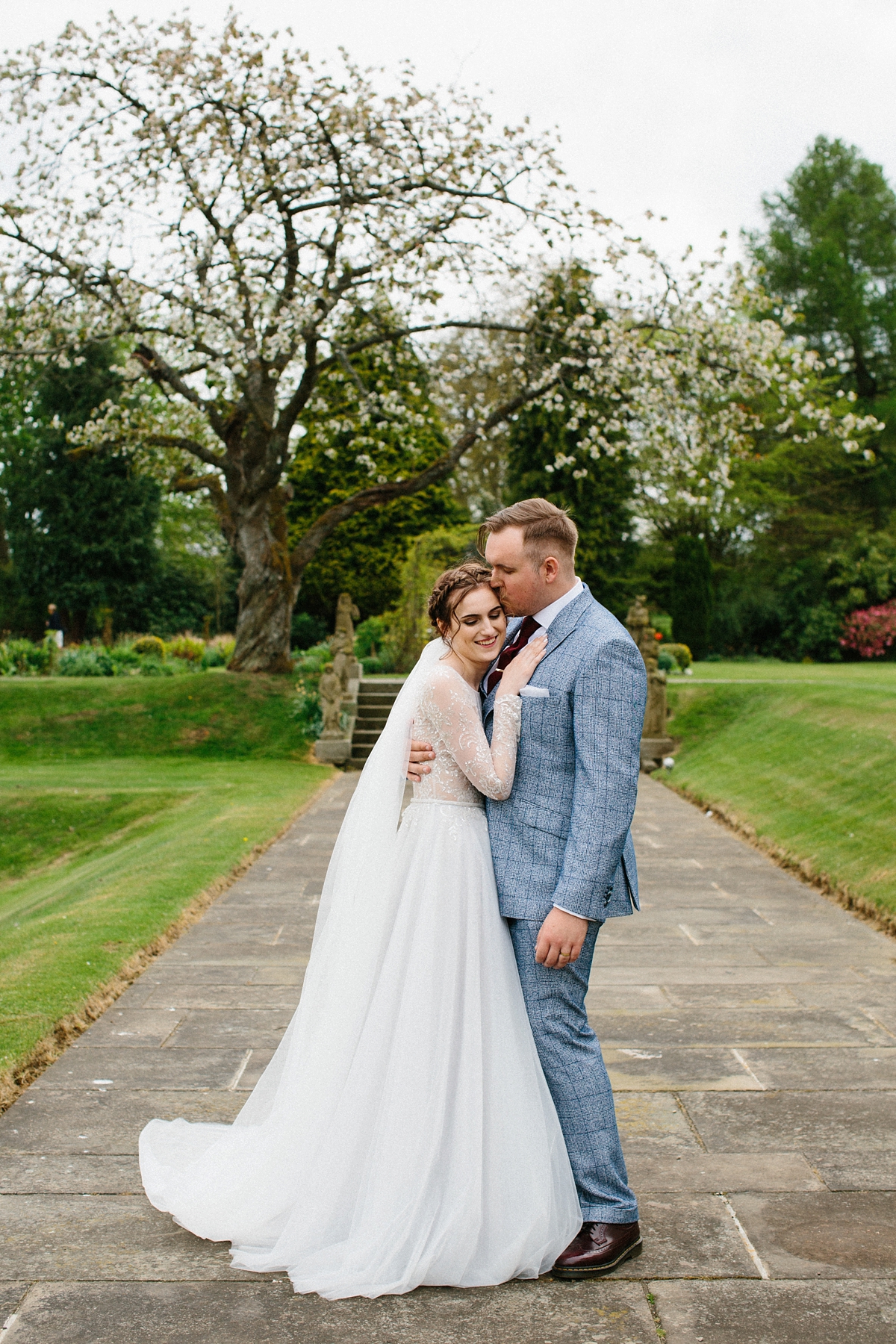 "My favourite colour is blue and that complimented our venue perfectly. I also always knew I wanted a dress with grey/silver tones so we tied those two colours together to created soft hues of blue, grey and ivory. It was a complete coincidence that the dressing of the main rooms in the venue went with this scheme. We wanted something which would be timeless and classic."
Georgia and Thomas also went with videographer George Parkes – Thomas' sister's boyfriend, and who valiantly stepped in after their original videographer unfortunately cancelled at the last-minute.
"Lartington Hall was love at first sight. It was Tom's find and as soon as I stepped through the front doors I knew our wedding could only be there. We booked the next available Saturday in May which happened to be Tom's birthday (so he'll never forget an anniversary)."
"The venue is light and classic, completely exquisite but somewhere we also felt completely comfortable and ourselves…we had a 'wedding fairy' as part of our package in the form of John Harper-Wilkes, owner of the venue."
A radiant make-up look with a lovely and subtle smoky eye was executed by make-up artist Emma Treveil (sadly, no contact details available) and Georgia's beautiful braids were styled by The Little Hair and Beauty Boutique. In her hair, Georgia added a crystal hair comb from Debenhams and an elegant veil by Emma Beaumont.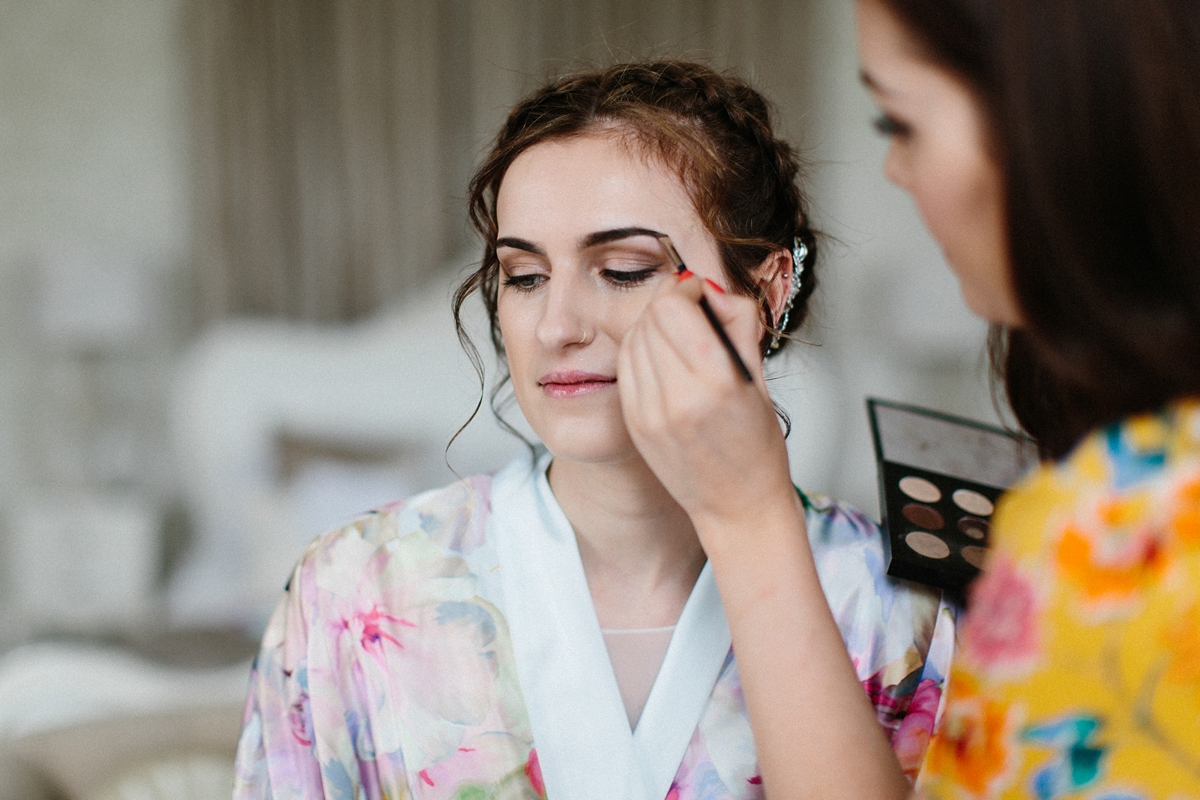 Georgia's dreamy confection of a gown was custom-made for her by Emma Beaumont, and I just adore the subtly sparkly embroidery and the layer upon layer of frothy tulle in a delicate blue/grey colour.
[JP-VIDEO]
"I had a Kate Spade wedding planner and I put pictures of all my favourite dresses to make a mood board. I wanted something which had a sheer top, hand applique and lots of tulle."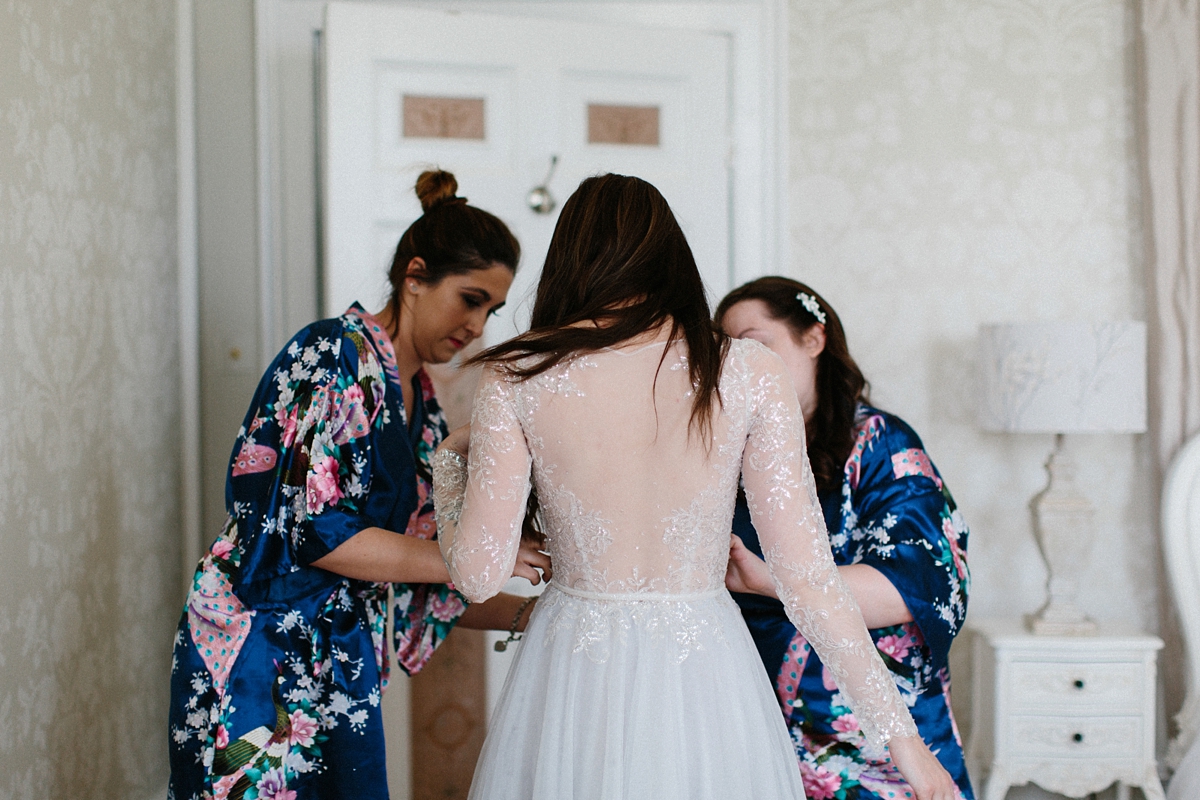 "I always knew I wanted Emma to make it; she was a friend of a friend and before I was engaged I followed her work and knew if I ever got married she had to make my dress."
"She took in all my ideas and the fabrics I loved then she made a sketch, it was perfect from that moment and each step afterwards it just got better and better, I knew she was brilliant but I couldn't believe what she created it was beyond perfection!"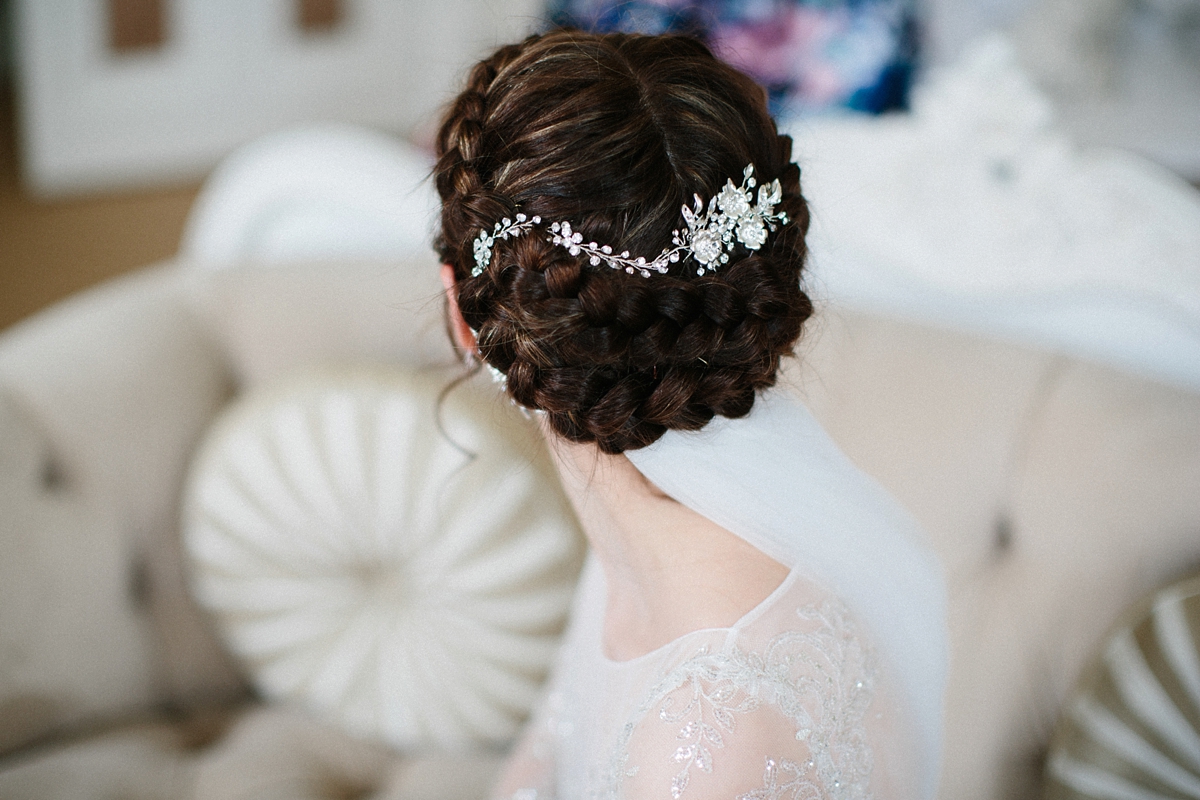 On her feet Georgia wore silver glitter heels from Roland Cartier, and for jewellery, a pair of earrings from T.K Maxx. Georgia also had the most incredible hand painted faux leather jacket, too – by Greg Davies (sadly, no contact details provided). She chose Viktor & Rolf's Flowerbomb as her wedding day perfume.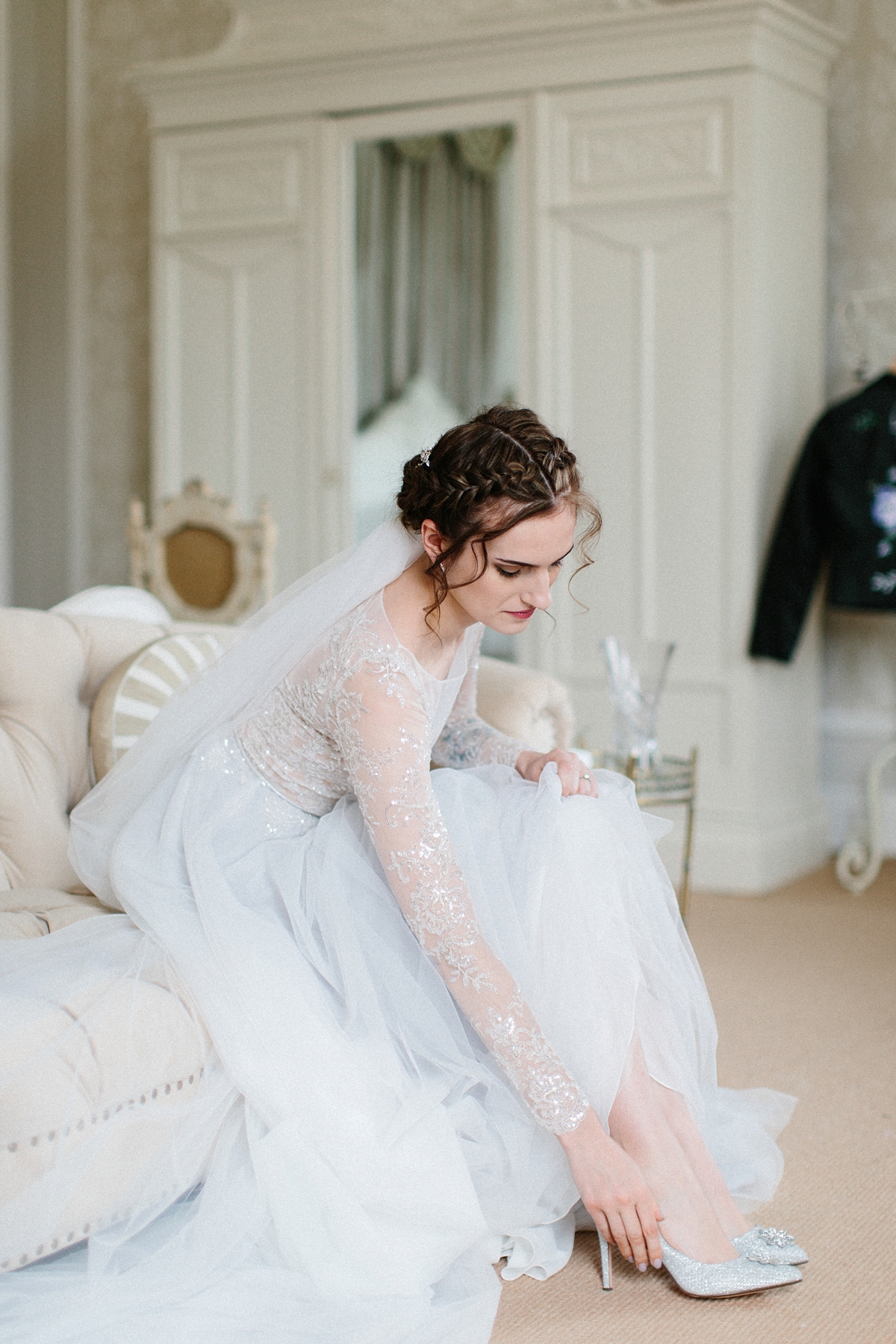 "I loved this scent and for some reason when I first smelled it I knew I wanted to wear it for my wedding. I thought it was pretty special. I saved it to that day and my mam bought it for me to wear."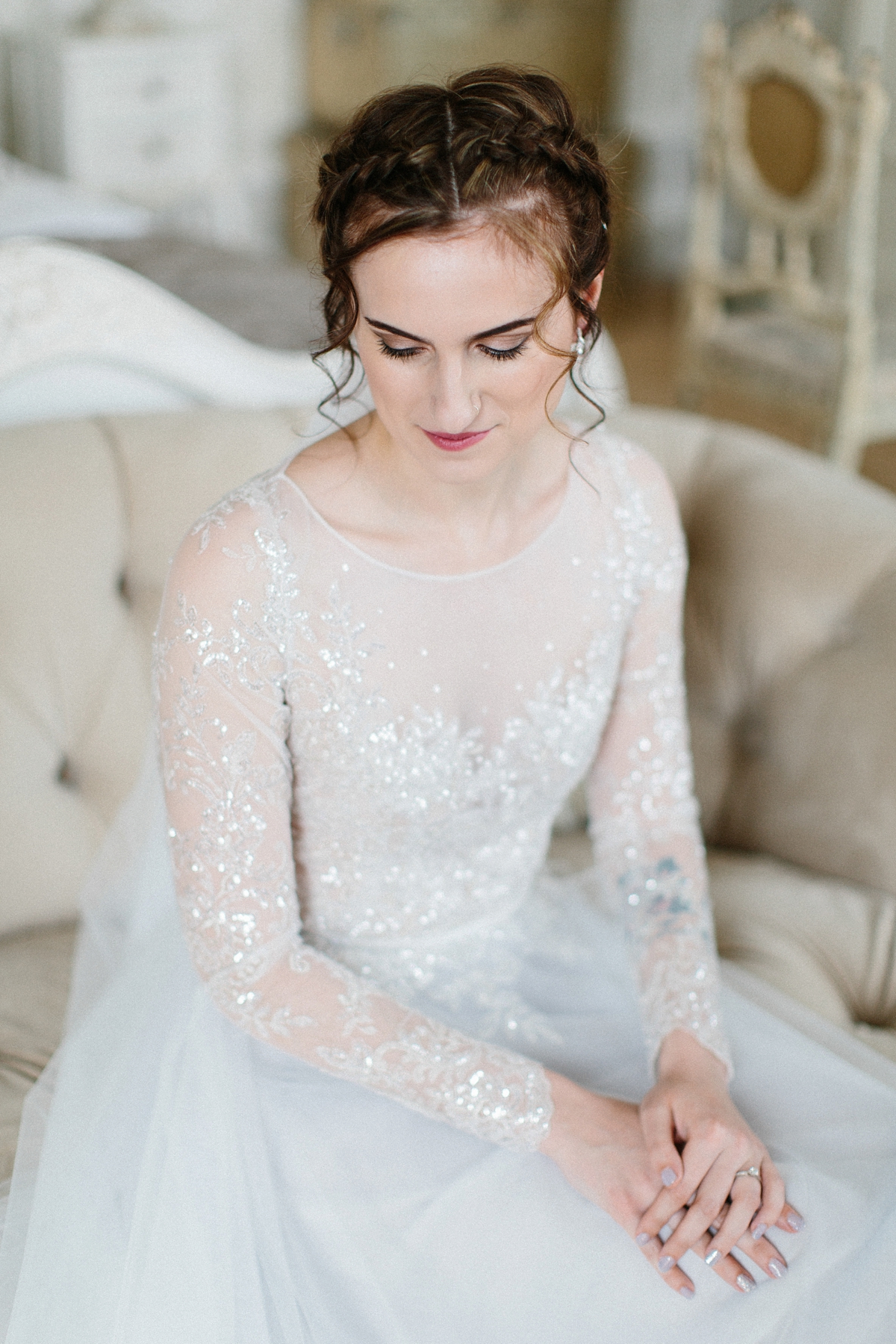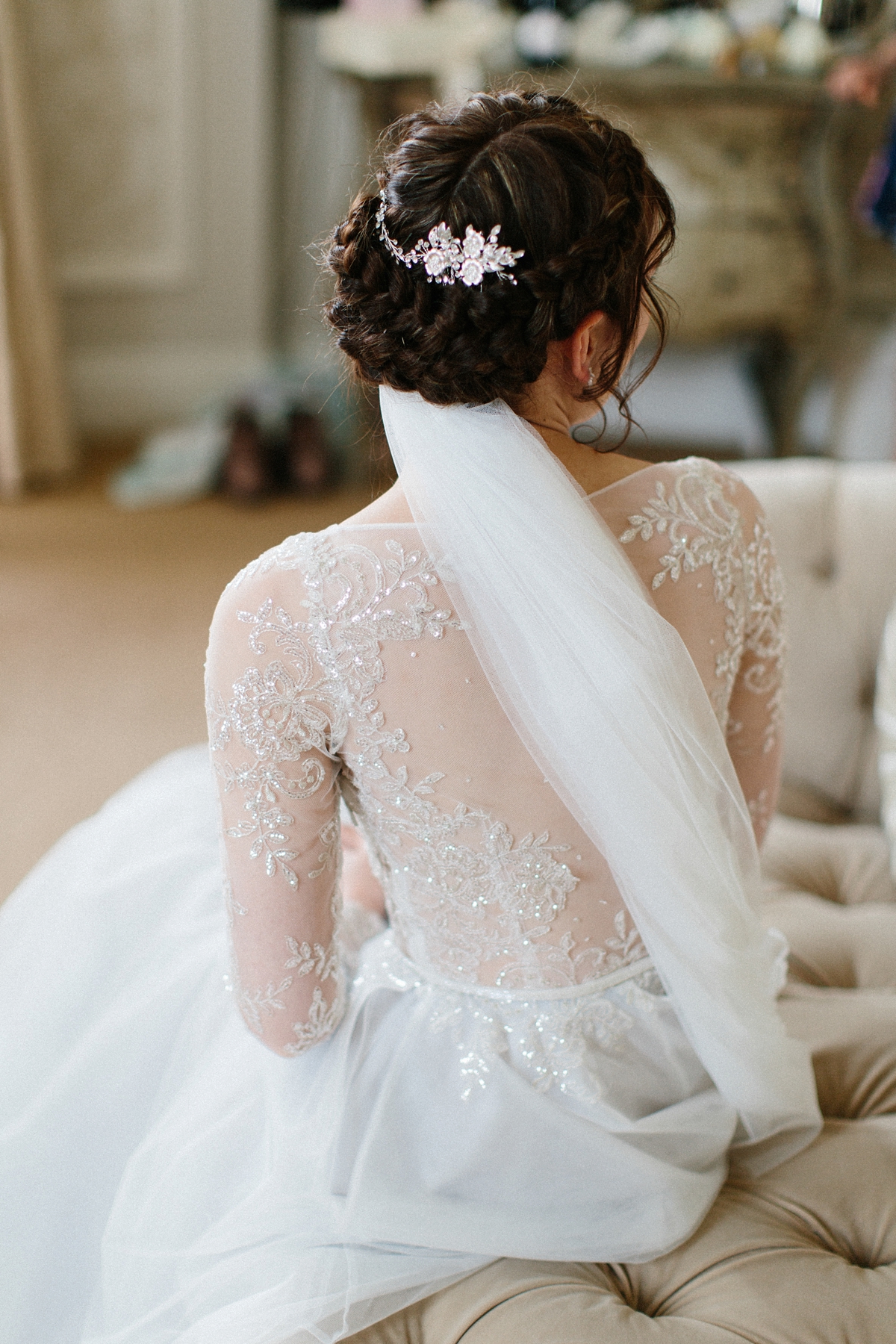 The bridesmaids all wore embellished dresses in shades of navy and petrol blue from Maya at ASOS, shoes from New Look, and carried posies of gypsophila, which they also wore in their hair. Georgia's sweet flower girl looked lovely in a sparkly blue dress from eBay.
The stems of Georgia's pretty bouquet were wrapped with glossy navy blue ribbon, and a special charm tied to it, from Etsy seller HgPictureThis.
"My husband's grandmother made my flowers up with her flower club. She is very special to me and I was happy to have her involved in both that and being a bridesmaid!"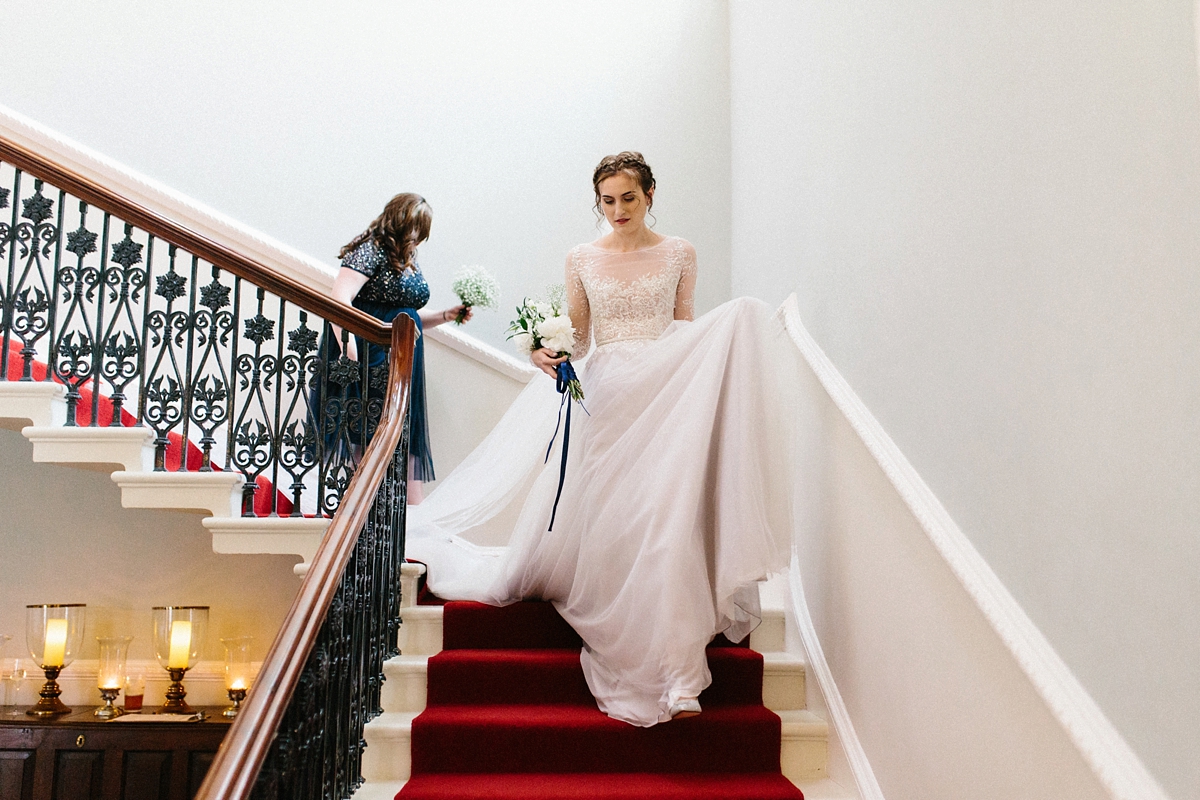 Georgia was accompanied down the aisle to begin the ceremony by her dad, Kenny.
"I went down the aisle to To Build A Home by Cinematic Orchestra (our song). This song means even more now as Tom surprised me a few months after our wedding day with a house!"
Thomas looked smart in a striking blue Prince of Wales check suit from Moss Bros., which he wore with a white shirt and contrasting red tie. On his feet, Thomas wore Dr. Martens, and accessorised with a watch from Elie Beaumont's Mr. Beaumont collection.
"In 2010 we met at a bar; I thought he looked down in the dumps so I popped a cocktail umbrella in his drink. I noticed his smile first. On our first proper date around Christmas time, it was snowing and we broke down in the car. I have a tattoo to remind me of this time 'puis la neige commence a tomber' then the snow started falling, but we were soon rescued."
"On Christmas day 2017 we broke down in the same spot (or so I thought) but this time when I opened the passenger door to check on him, he was on one knee with a ring. We had originally thought about waiting until 2019 but as soon as we saw our venue we wanted to make it sooner!"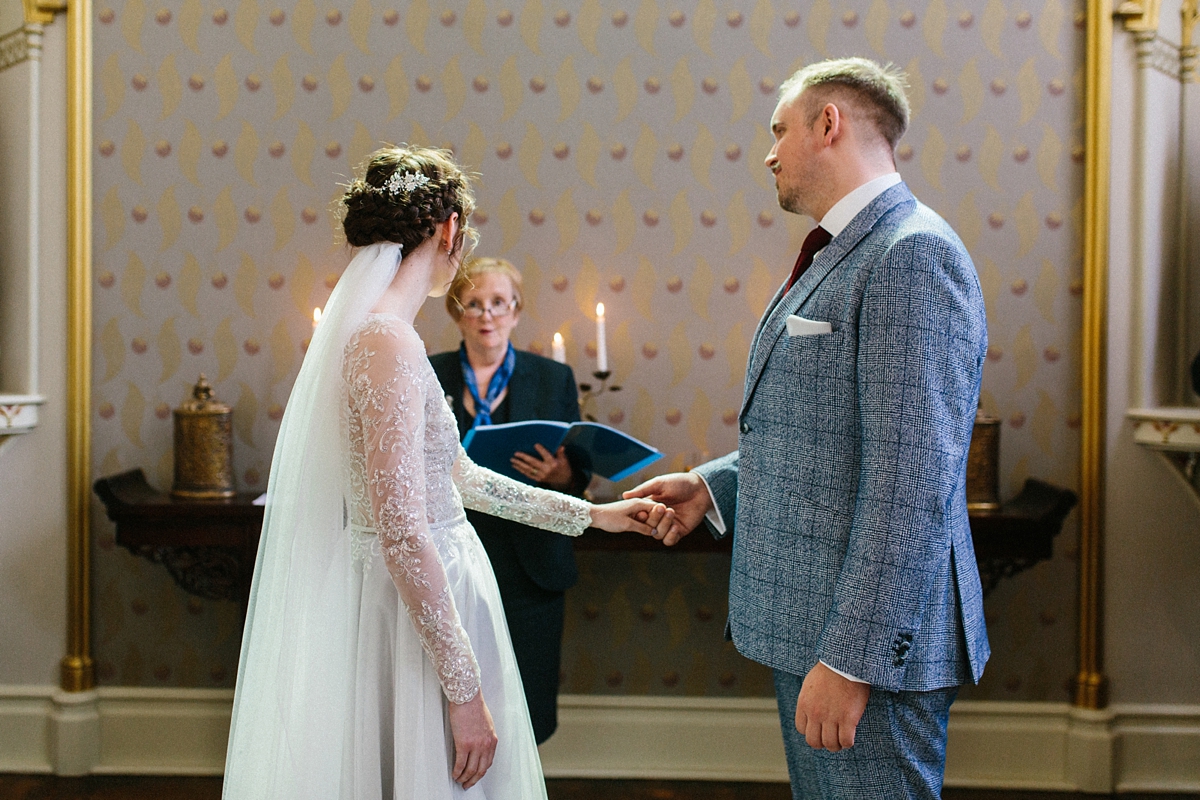 The couple worked with jewellery designer Mark Lloyd to create bespoke weddings rings, as well as a replacement engagement ring for Georgia, to match perfectly with her wedding band.
Georgia and Thomas said specially written vows to one another – here is an extract from Georgia's to enjoy.
"I offer myself to you as I am, all my flaws and all my strengths, safe in the knowledge that you compliment me perfectly, safe in the knowledge that you will accept me exactly as I am. I promise to be patient and to be kind, to remind you of your worth every day. I promise to listen to your troubles and help lift them when they get heavy, inspire your dreams and stand by you during your failures."
"I promise to support you both quietly and out loud. I accept your flaws and admire your strengths, I take you as you are and will encourage you to be everything you want to be. I will continue to love you as I have, with everything I have. I trust in you and in us completely."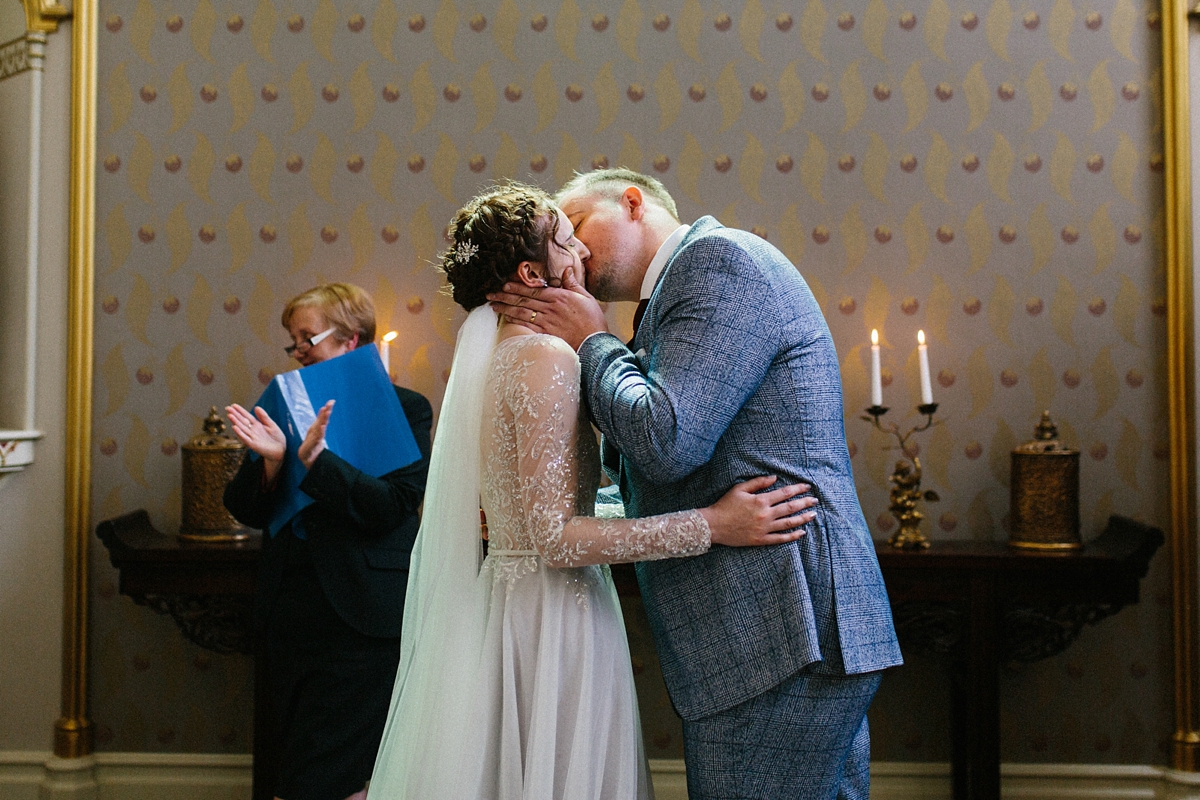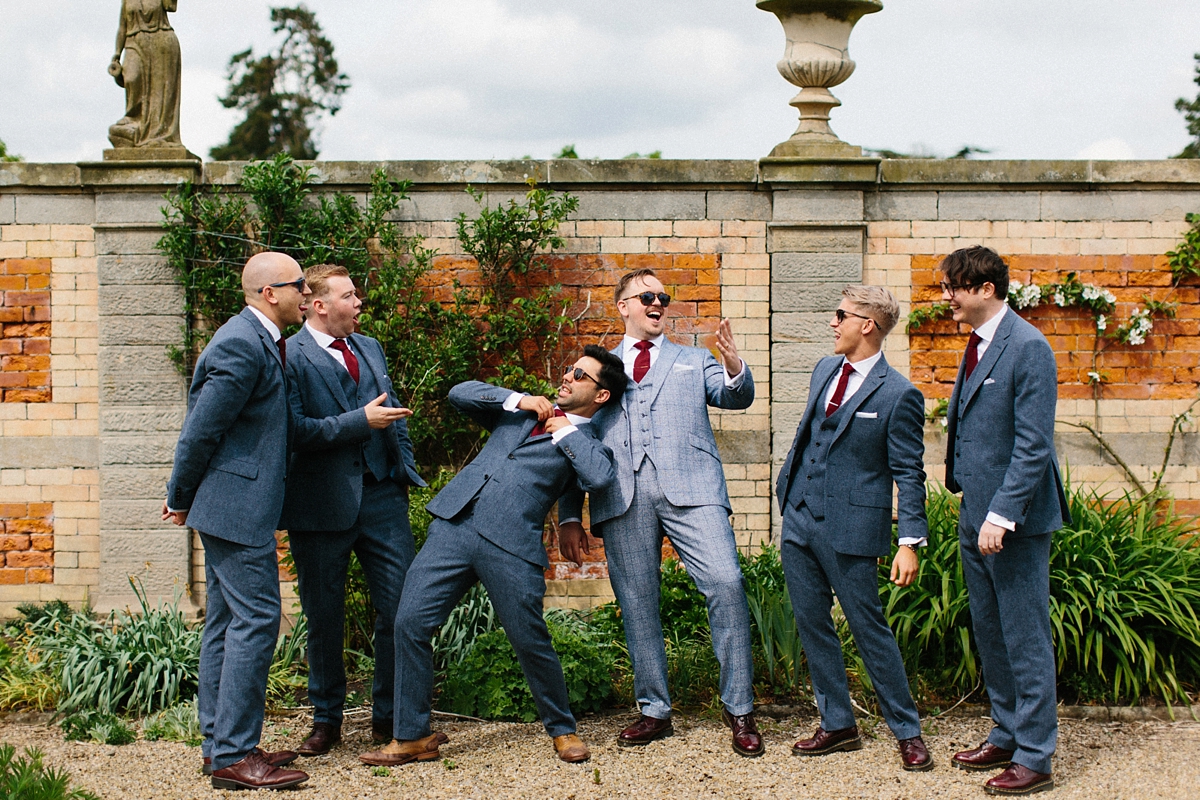 Welcome signage and a table plan were cleverly made from palettes, hand-lettered and adorned with faux flowers from T.K Maxx, with additional signage from The Range. There were various lovely touches from Ginger Ray – sweet wooden hearts, a guestbook, table numbers and trimmed mason jars, and an ivory painted postbox for cards, provided by Lartington Hall.
Amazingly, there was also a dog treat table (with custom bags from Amelia Moon UK).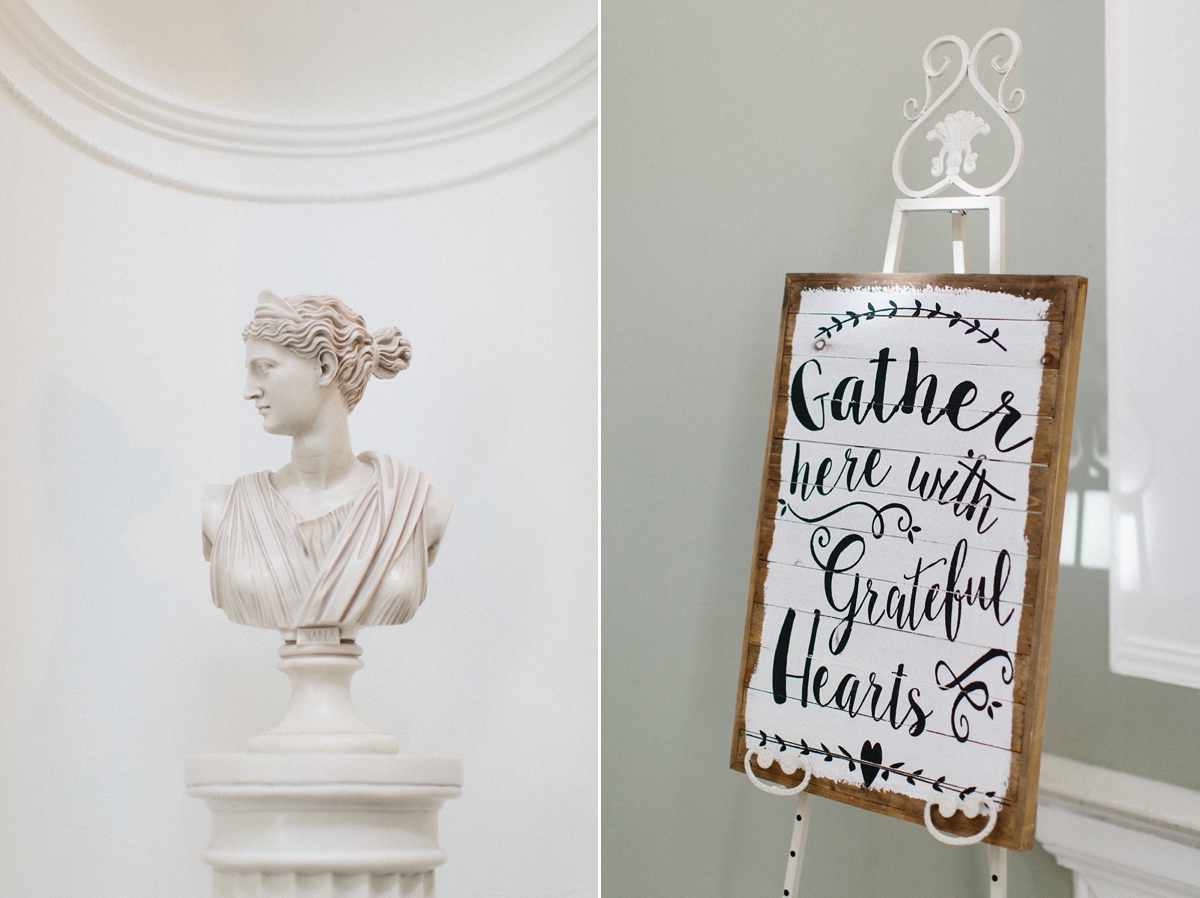 "For favours, I bought a custom stamp from Etsy and small envelopes, and I filled them with different flower seeds. We also had love quotes on the table which we got from T.K Maxx."
Everything came together beautifully in the light and airy venue space with its elegant features (and incredible wallpaper!), and everyone sat down to a wonderful wedding breakfast from chef Richard Picard Edwards, with entertainment from pianist Dave Smith (sadly no details).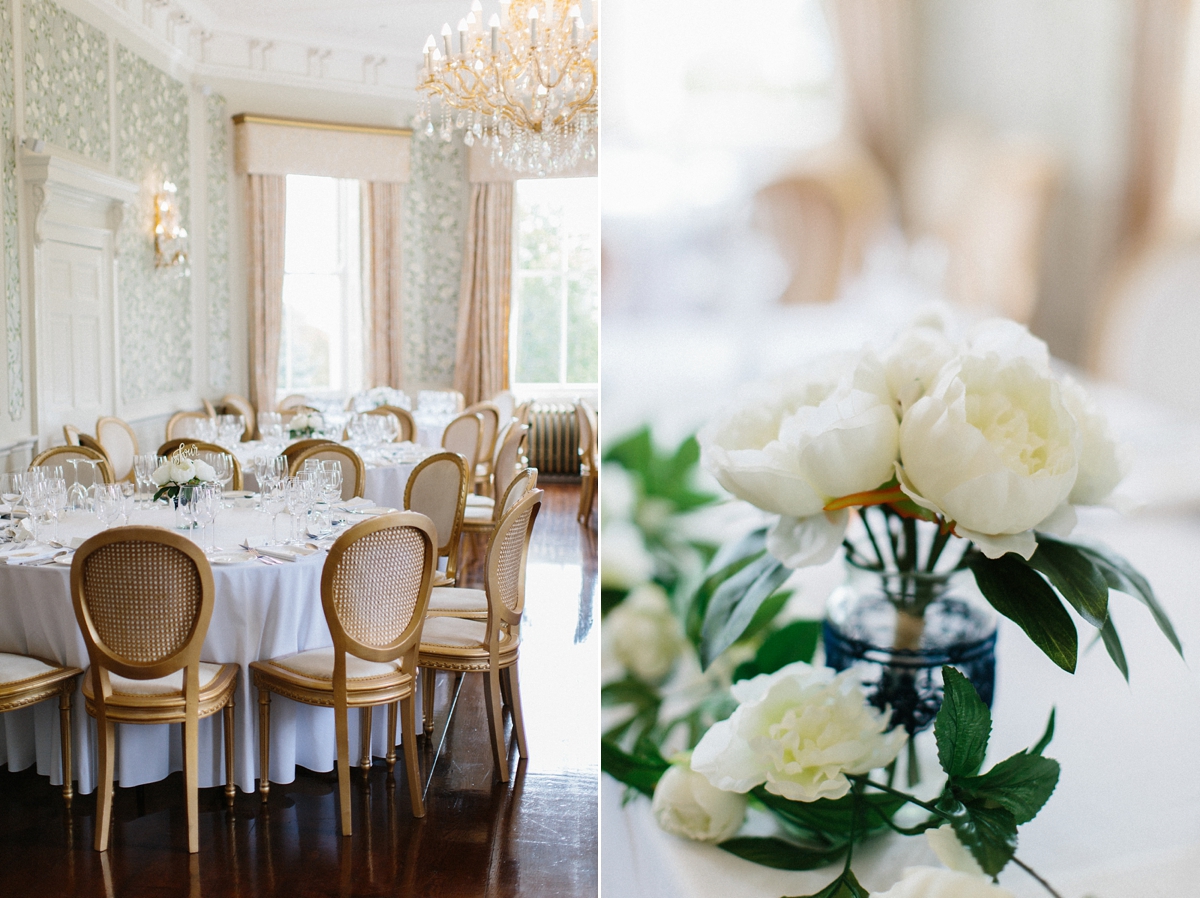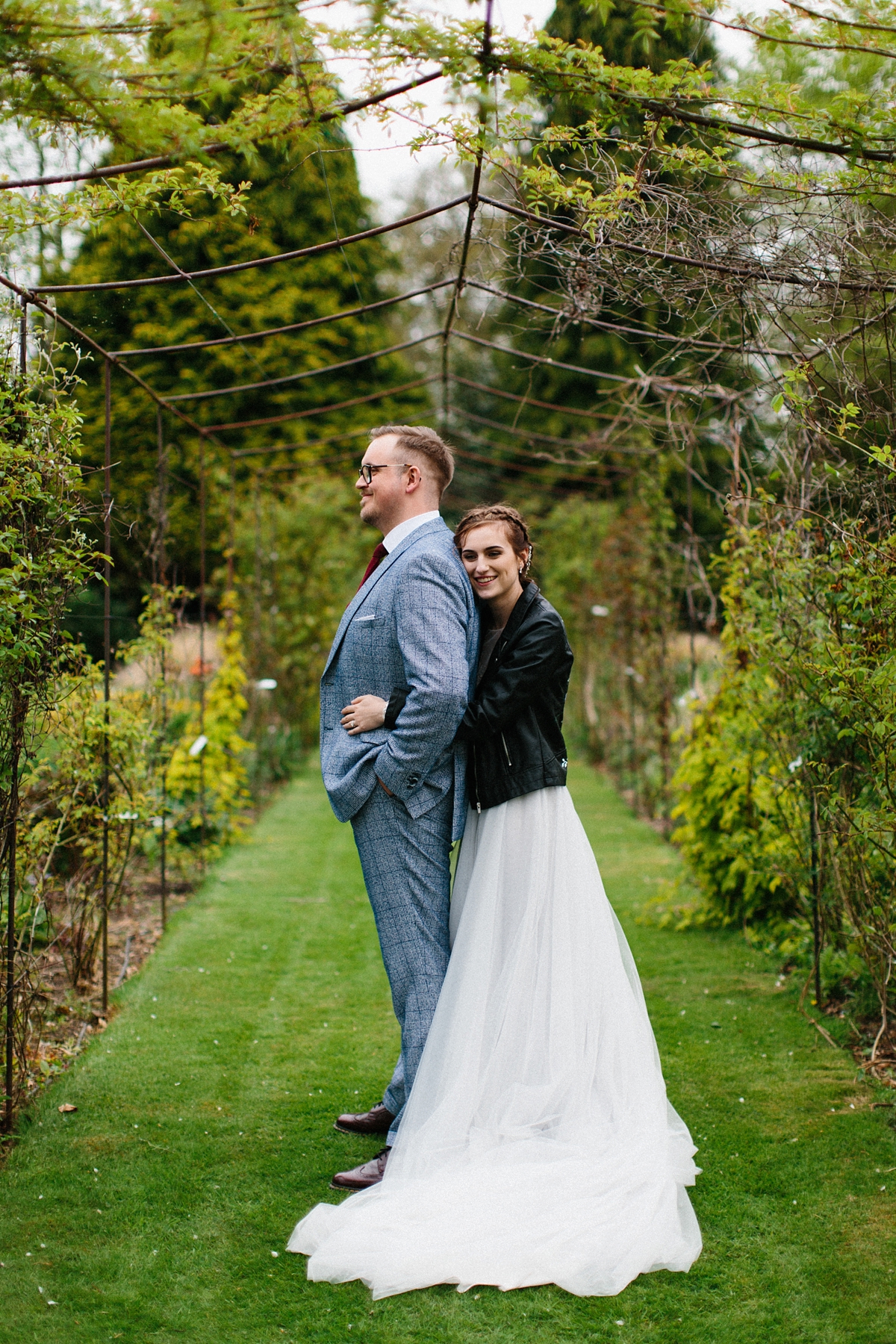 The stylish, three-tier marble effect wedding cake was designed by Thomas and made by Rachael at Tender Loving Cakes, in delicious flavours of carrot, lemon and chocolate.
"Our first dance was The Book of Love by Peter Gabriel one of our favourites, performed by Martha and Tim Cook. We think that the whole idea of a typical love and what it should be is nonsense and what people expect and judge means nothing – it is unique to each couple, we don't compare our love to anyone else. All we care about is what it means to each other. I think this is reflected in the song."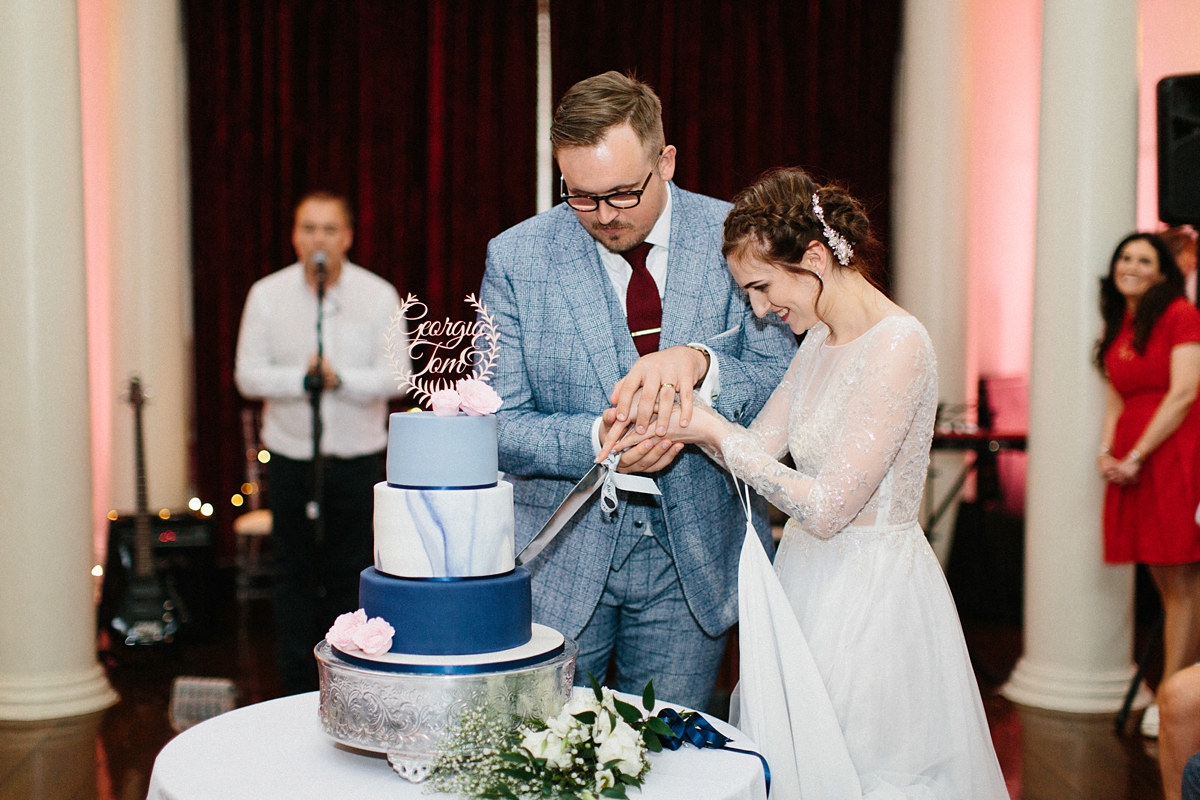 There was more live music to get everyone dancing through the night, courtesy of band Thank Funk For That.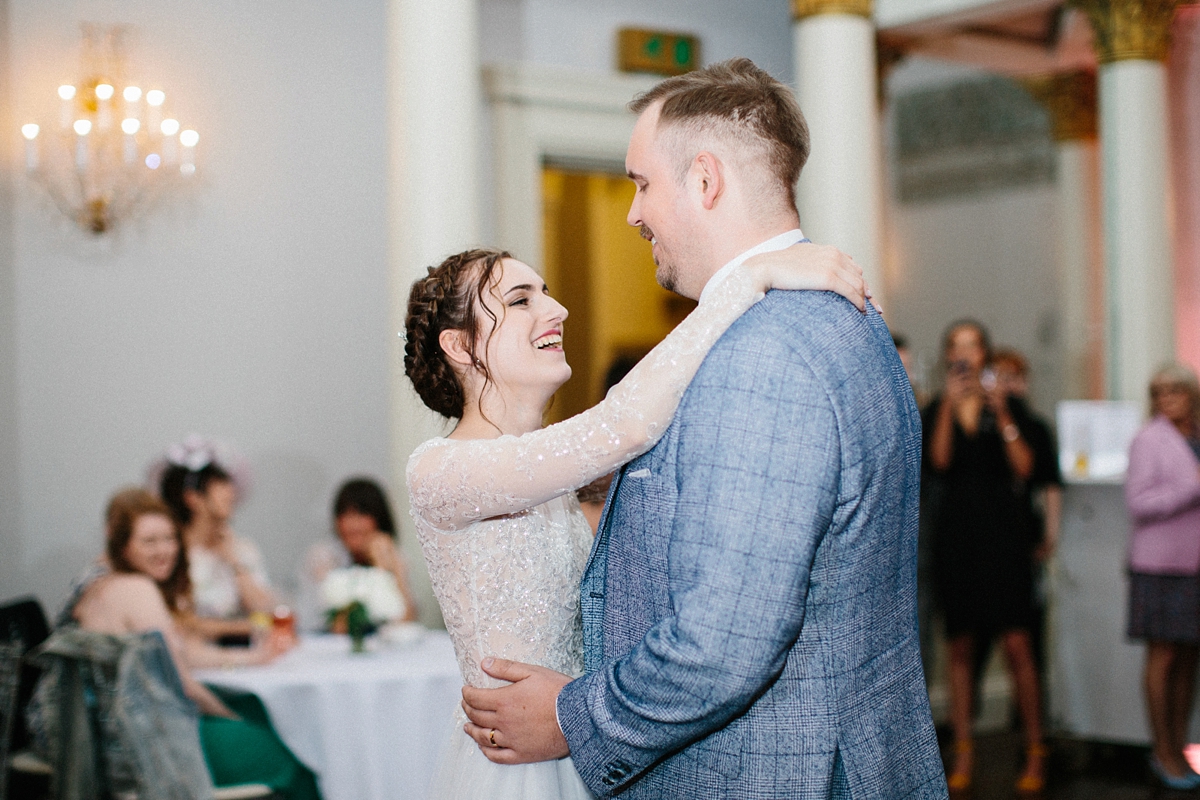 Words of Wedded Wisdom
"Be organised! Do everything you can to avoid any stress up to the wedding. Think carefully about what you want to spend your bulk on. We set a lot back for my dress and venue for example and cut down on other details that I made, such as our table plan and centrepieces."
"At the end of the day the wedding is for you and your husband and remember that, don't change what you want for other people, they will be happy to be included. Be selfish, celebrate your marriage in whichever way expresses your love the way you want it to!"
Many congratulations Georgia and Tom, and thanks for this very special glimpse into your lovely day. Thanks also to Melissa Beattie for these fantastic images. You can view more of her work on our blog pages right here, too.
With love,
Laura