Good afternoon lovelies! Today I have the honour of sharing a simply stunning seaside wedding set on the West Sussex coast of Brighton.
I'm certain it's one you're going to love just as much as I do so seat yourself in a comfy spot and prepare to be wowed. Ami, a Charity Craft Organisation worker and freelance maker married her beloved Maxwell, a self-employed Carpenter and Shipwright on 27th July last year in Brighton. The couple we so inspired in the planning of their own wedding, that they have now gone on to set up Lo & Behold Bespoke – a hire and design company specialising in bohemian styling for weddings and events. And, did you know, they will be exhibiting at next weekend's A Most Curious Wedding Event?
"Both of us have an eclectic style and our home is a mix of vintage and second-hand pieces. We were keen not to have a 'themed' wedding but just for it to be a reflection of us, our style and all the things we love. We incorporated so many props and styling items from our home that our reception venue was like an extension of our house!"
Film by Elliot Mariess
"We are both passionate about making, building and crafting as much as possible. Our colour palette was all of our favourite colours; ivory, grey, green, mustard, blush, tan and burgundy, and this was reflected in the decor and styling we chose."
Images by Hayley Savage
And on hand to capture the day in all of its bohemian glory was photographer Hayley Savage who Ami already knew after photographing her two best friends weddings previously.
"We honestly cannot praise Hayley enough. The images she took will be cherished forever. She perfectly captured the day and the feelings of everyone present. Every time we look through them we spot something else; the look on the guests faces, or the sheer delight on my face. She is incredible and worked so hard. We asked Hayley for lots of candid shots as staged photo's aren't really our 'thing'. She just hit the nail on the head time and time again. We literally can't recommend her enough!"With the creativity seemingly never-ending with this couple, Ami also designed and made all of their own wedding stationery.
"I wanted to make sure the stationery reflected the day we had planned and so I started by designing a monogram which featured the art deco lines of The Bandstand, but also blooms of wild flowers. Everything complimented the day and I had such fun designing it all."
Ami decided on doing her own hair on the day but recruited Make up Artist Amy Richards from Made Up Brides for her wedding make up, who she found via a recommendation from a fellow Belle on the Love My Dress Facebook group.
"I was utterly blessed to find my MUA after my first one cancelled. Amy was so lovely and made me feel utterly at ease. She listened to my vision and made me feel amazing. The make up was beautiful and I felt gorgeous – I can't thank or recommend her enough."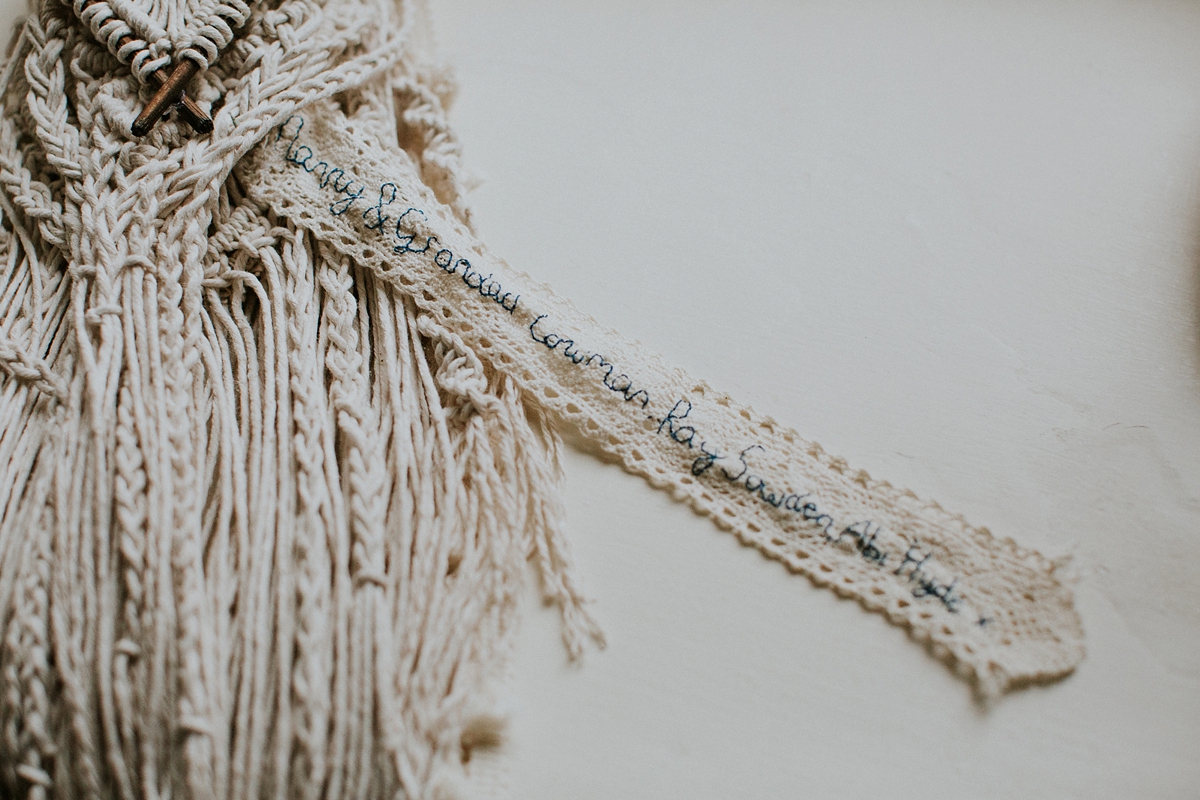 "There's a funny story with my wedding shoes as the grey suede lace-up vintage boots I'd planned on wearing had been misplaced by the hotel, so I ended up wearing my Maid of Honour's mustard leather vintage boots instead. I found them on Etsy and actually they worked perfectly. I only wore them for the ceremony as I spent the rest of the day running around barefoot with big Indian inspired bracelets on."
"As I'd stolen my Maid of Honour's boots, she instead wore my tan leather block heels which I'd packed to wear out to a family dinner the night before the wedding. As we'd grown up swapping shoes on nights out to avoid the dreaded foot burn, it was actually quite apt that we ended up switching shoes on my wedding day."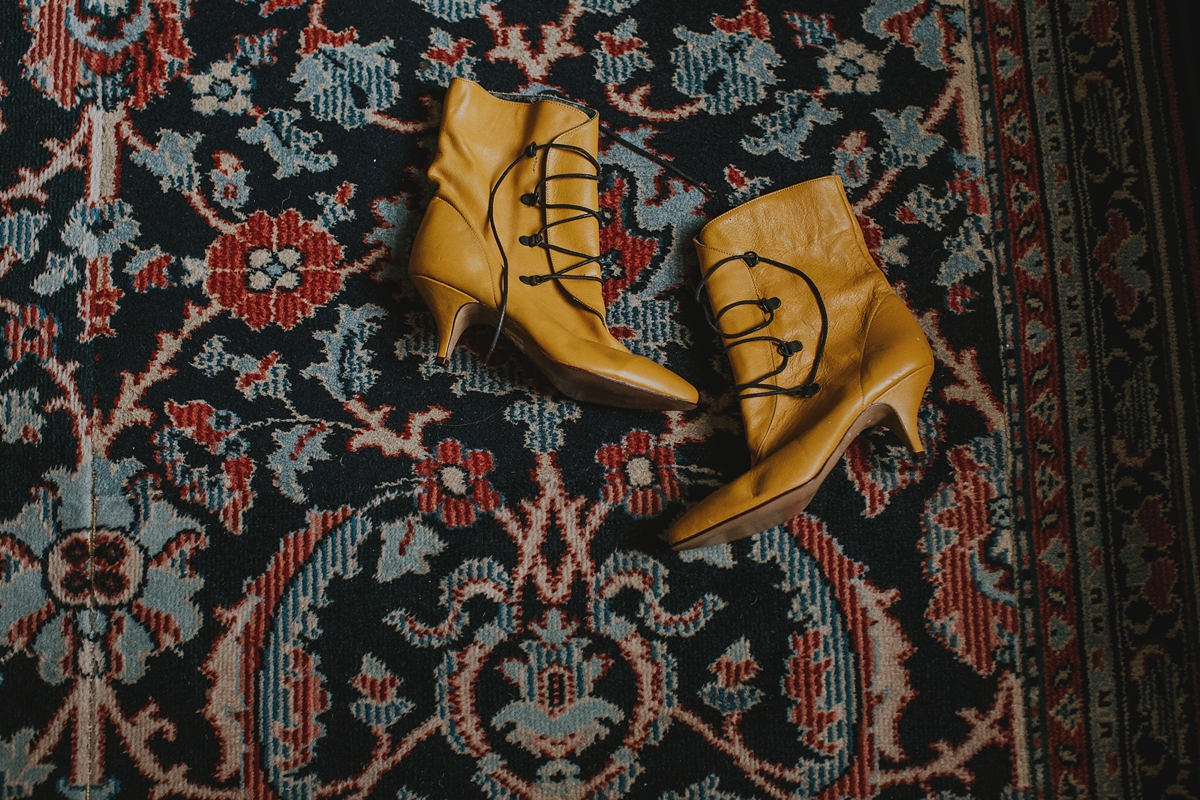 Ami's bohemian inspired wedding dress took my breath away when these images first landed in my inbox, homemade by her own mum, it was the perfect gown for the setting of the day.
"Not being a standard size, I found wedding dress shopping an interesting experience…All of the bohemian dresses I adored were obviously designed with a much smaller frame in mind and all of the dresses designed with my shape in mind were so far removed from my style and vision that nothing seemed to connect up. Luckily for me, my mum is an amazing seamstress so we decided to design and make my dress together."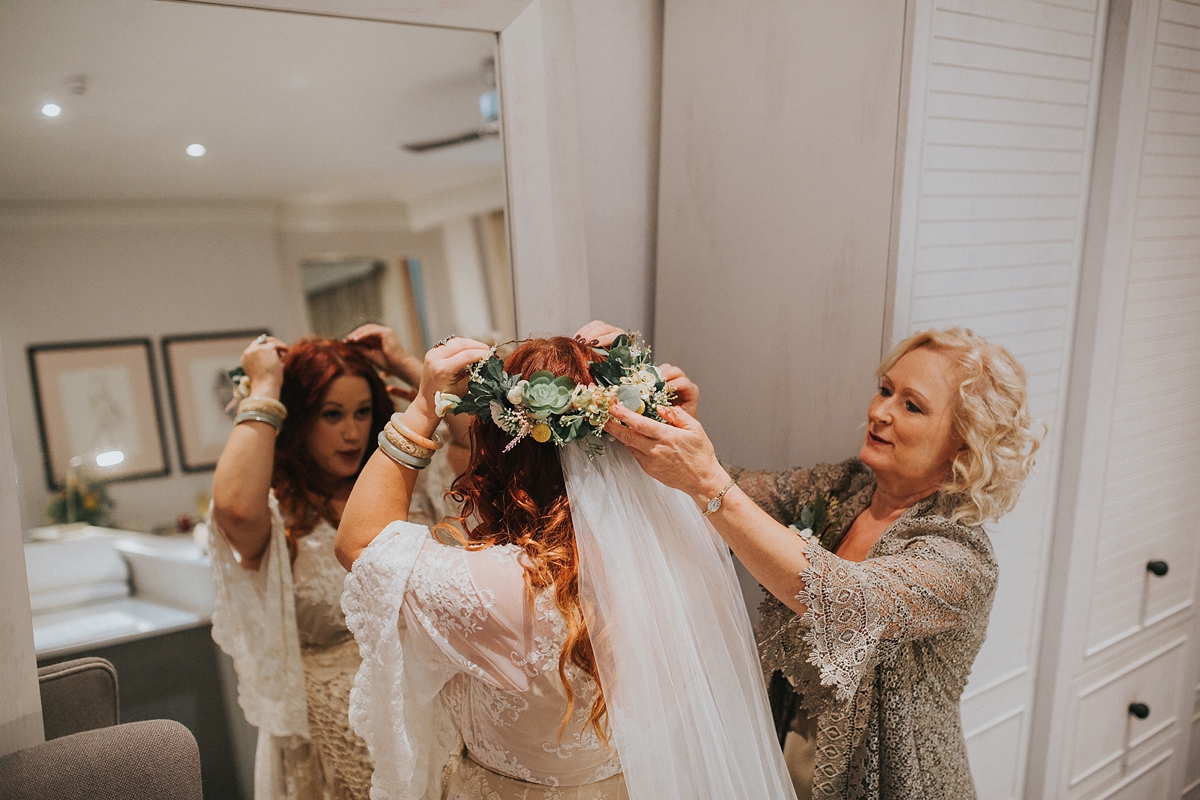 "From the moment I started looking (and dreaming) about wedding dresses, I was drawn to the Australian and New Zealand designers. To me they just 'got' the bohemian style I was looking for. I had two lovely wedding dress experiences; at the Grace Loves Lace Pop Up Trunk Show in London, and trying on Rue De Seine at Leonie Claire in Brighton. "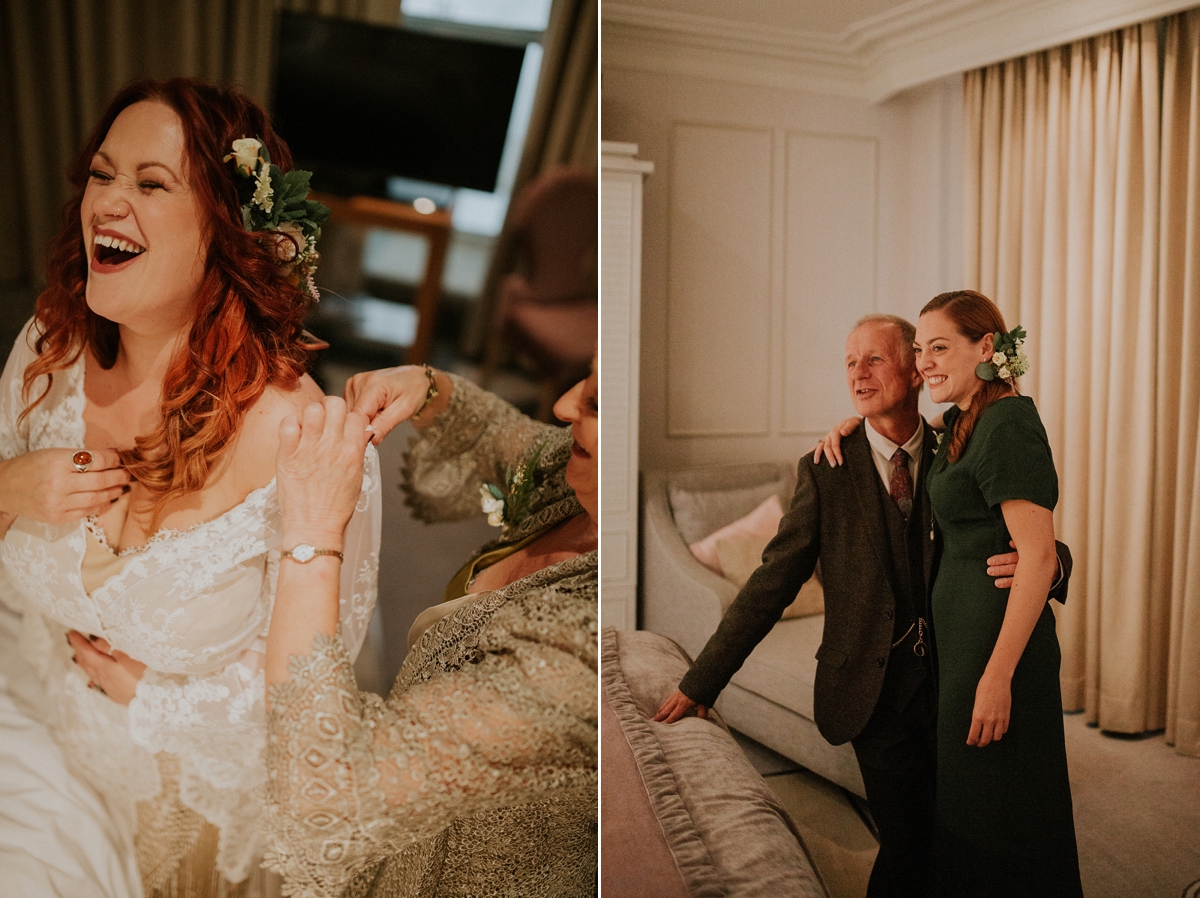 "Whilst the girls and the designs were amazing, the sample sizes just didn't fit me properly and, more often than not, the cost far exceeded my modest budget. So with this in mind, and trying not to get downhearted, we visited the London fabric shops and I started designing a dress that pulled together all of my favourite elements, but which would also suit my shape and curves."
"I always knew I wanted big bell sleeves and a floaty, boho lace gown. Mumma Lo was amazing and our time together became one of my most treasured times during our wedding planning experience. My dress is everything I hoped it would be, and the fact it was made to fit me meant it was so comfortable and I couldn't stop swishing my fringed trim all day!"
Ami's accessories perfectly accentuated the boho vibe to her bridal look and she looked to some of her closest friends to help find the perfect pieces.
"I borrowed my veil from my best friend Becca who married her wonderful husband Edward just one month before us. It was my 'something borrowed' and it was so special to have something so treasured from her day to ours. She got her stunning cathedral length veil from Browns Bride."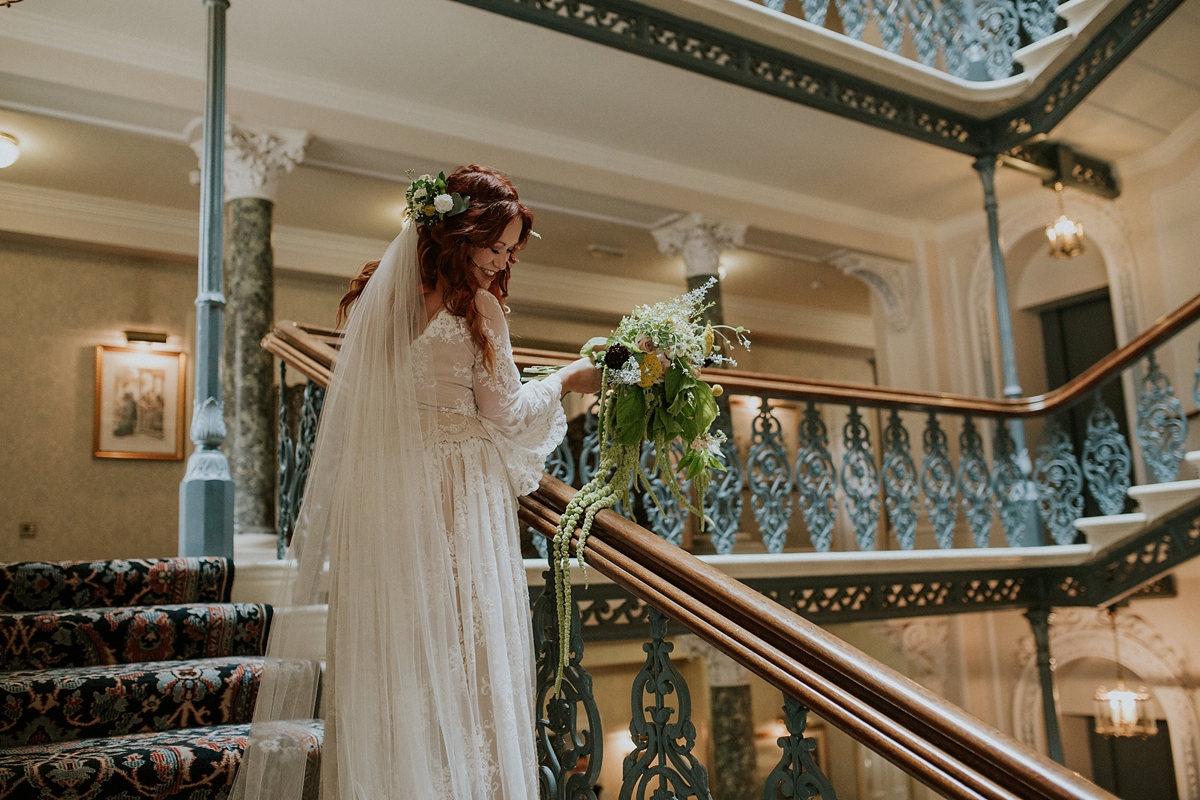 And it wouldn't be a wedding day without a huge celebration following the ceremony, and in Ami and Maxwell's case, a beautifully adorned scene with gorgeous wild blooms and personal touches.
"When we discovered The Secret Barn, it was advertised through the company Petal & Feast. From the name alone we were drawn in and after finding out more, we weren't disappointed. The lovely P&F girls were everything we wanted from a florist. They favour natural wild blooms filled with local flowers and we were so happy with their creations.""
'They made my stunning trailing bouquet, together with mini versions for my bridesmaids. They also provided us with DIY buckets so we could style our reception tables. My request was a colour palette of blush, mustard and cream, with lots of texture and foliage."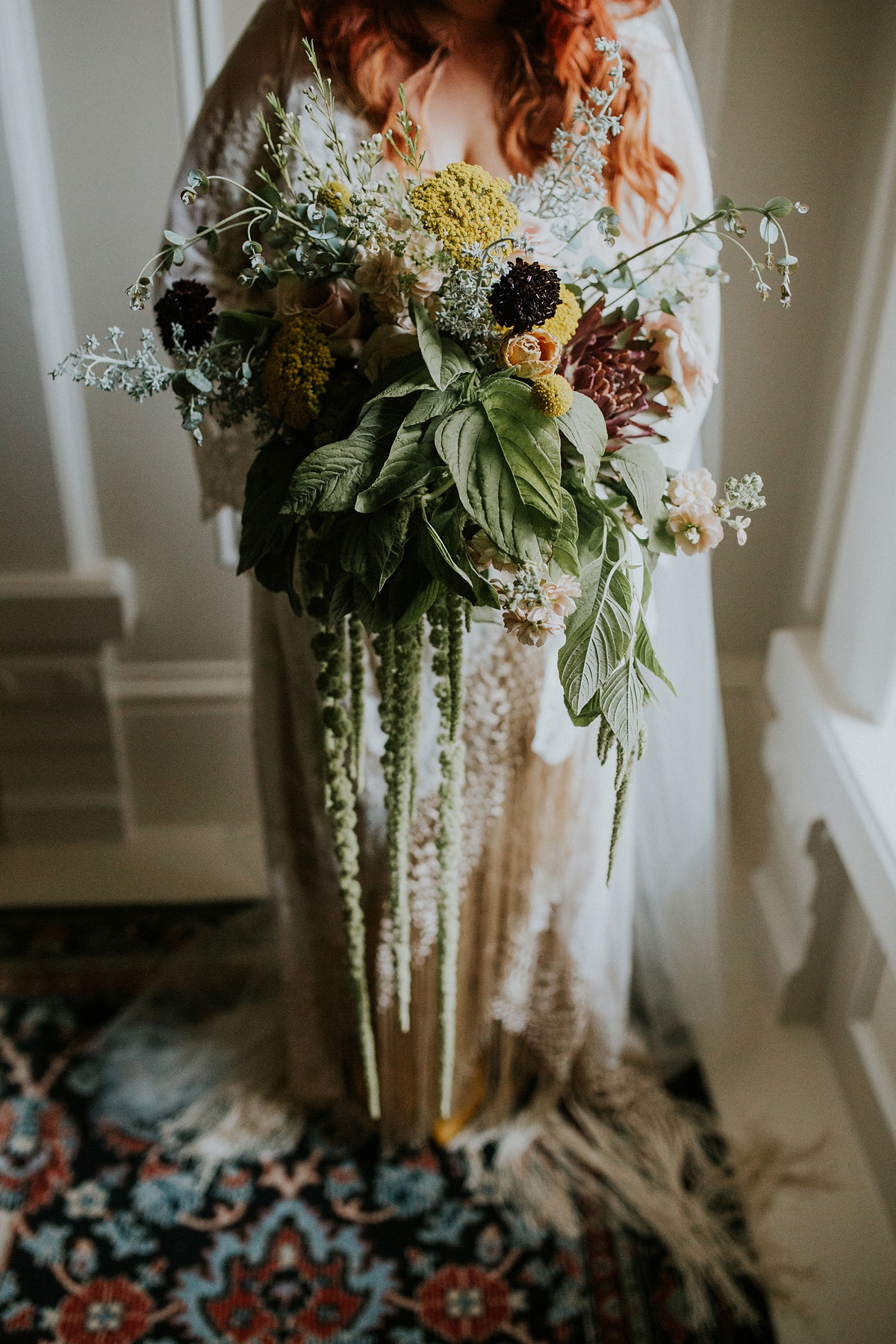 "I made myself a flower crown using faux flowers. On the morning of the wedding Mumma Lo also poked in some real blooms so it complimented my bouquet."
"Most of my jewellery were just my favourite pieces I wear every day. My vintage hamsa necklace and bangles. The dress was quite busy so it didn't need much. Mumma Lo had also gifted me my nan's engagement ring. A stunning vintage opal design, which I also wore. I had also bought a unique pair of 1940s vintage earrings to wear but they were misplaced along with my boots (I can laugh about it now!)."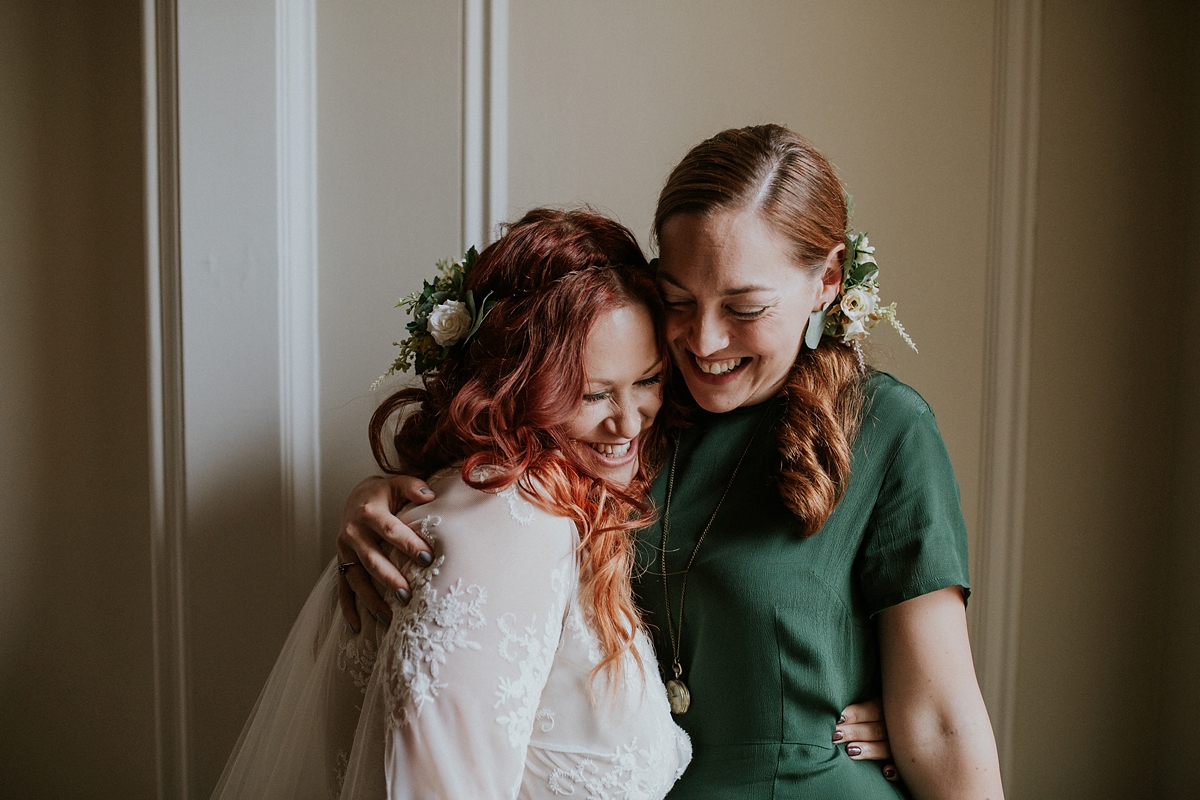 "Maxwell and I met back in May 2011. I was in my studio one weekend as part of an 'Open Studios Weekend' and in walked this intriguing man (you don't get many single handsome men on the Open Studios trail!). We chatted and then he said goodbye and went on his way."
"I remember thinking about him a few times after and obviously fate picked up on these thoughts as a few months later, whilst me and my single best friend and house mate were having a bit of fun with online dating, who should I receive a text from but Maxwell. I believe he started his message with 'I think our paths have crossed before…' From there we moved onto emails then a few non-dates, a real date, and I guess you could say the rest is history! Maxwell proposed on Christmas day 2015 whilst we were at Disneyland meeting Mickey Mouse. After an 18-month engagement, our wedding was exactly 5 years to the day Maxwell first asked me to be his girl."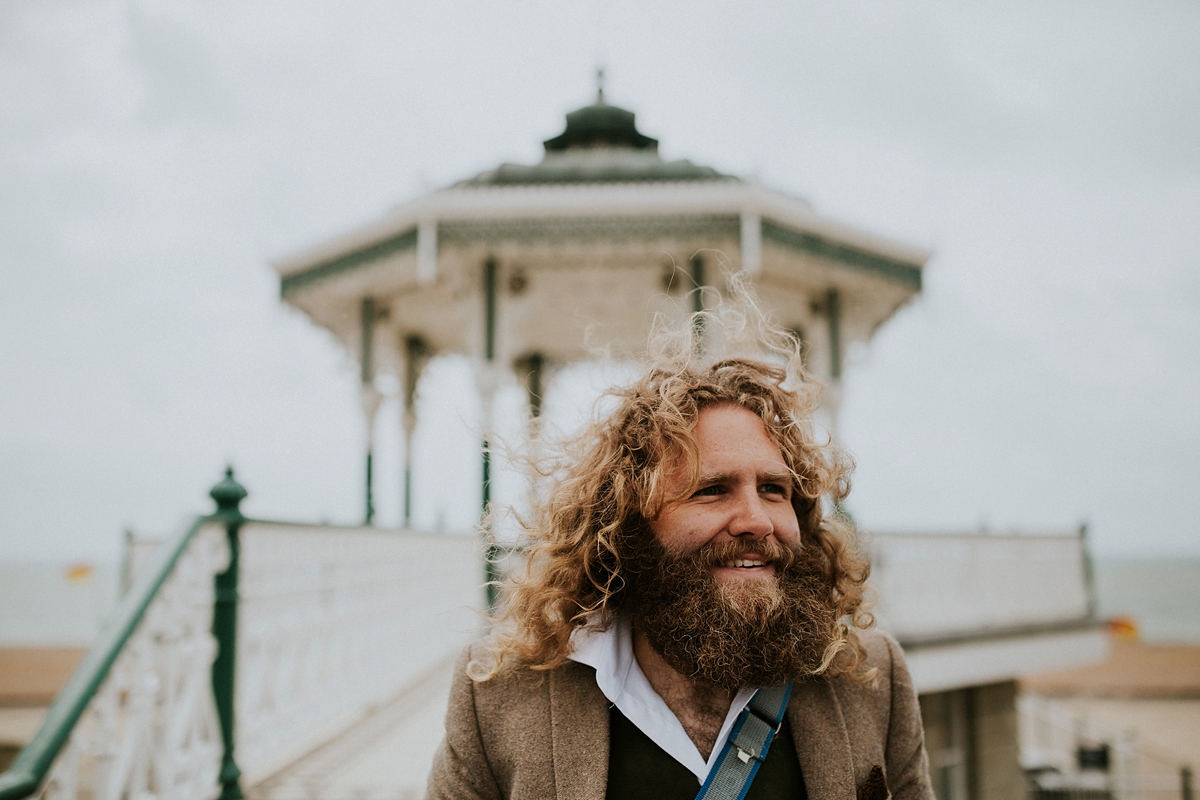 Maxwell's looks and dress sense was one of the first things that drew Ami to him upon their first meeting and, on their wedding day, he certainly lived up to expectations.
"Maxwell's ensemble was a mix of vintage, second-hand and high street. We found his Diesel trousers in TK Maxx, his shirt in Primark and his jacket in a charity shop. Since the day I met him he's been a lover of waistcoats so he needed something special…We found his vintage sage green moleskin waistcoat at a vintage market in Camden, though it was a little more shabby than chic!"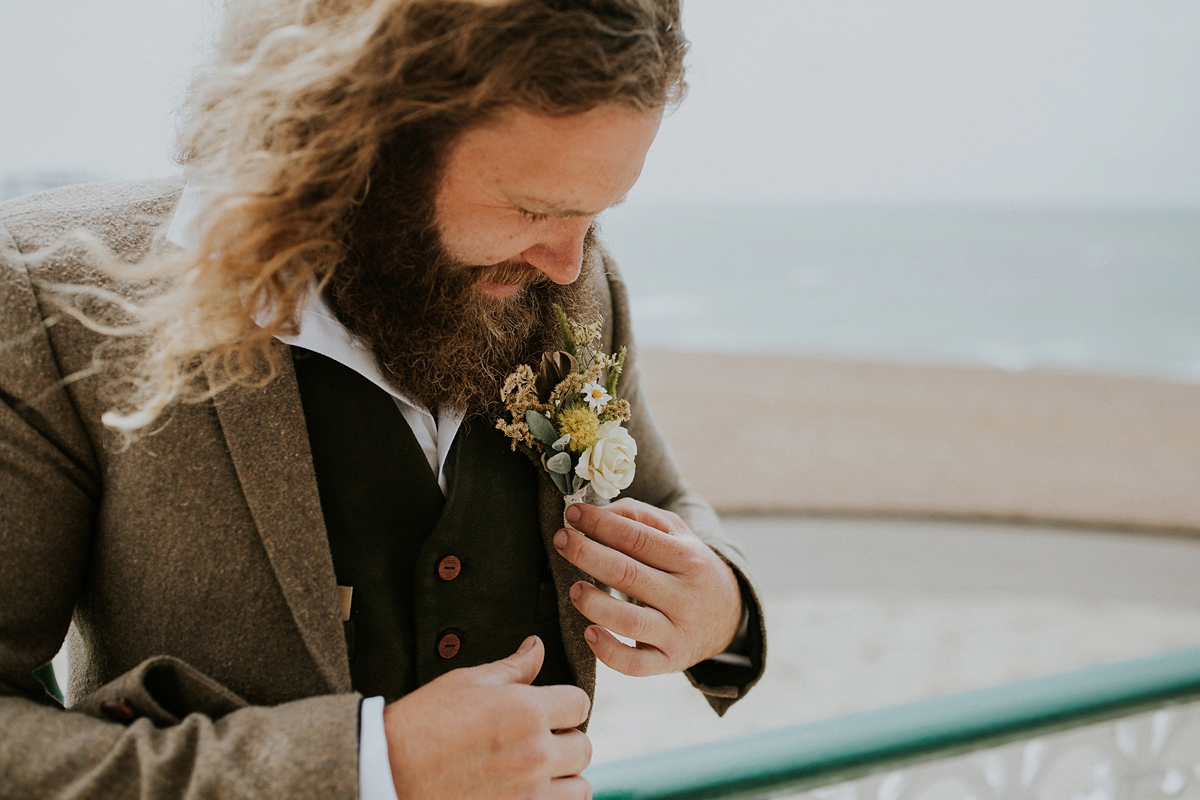 "Maxwell's mum replaced the back of the waistcoat with some gorgeous paisley fabric we bought from a local vintage shop, and finished it with a set of handmade wooden buttons."
"His boots were from Kurt Geiger. I made his pocket square to match all of the boys and, as a gift, I bought him a 1920s pocket watch, which I had engraved on the back with 'it's time for a new adventure', along with our wedding date."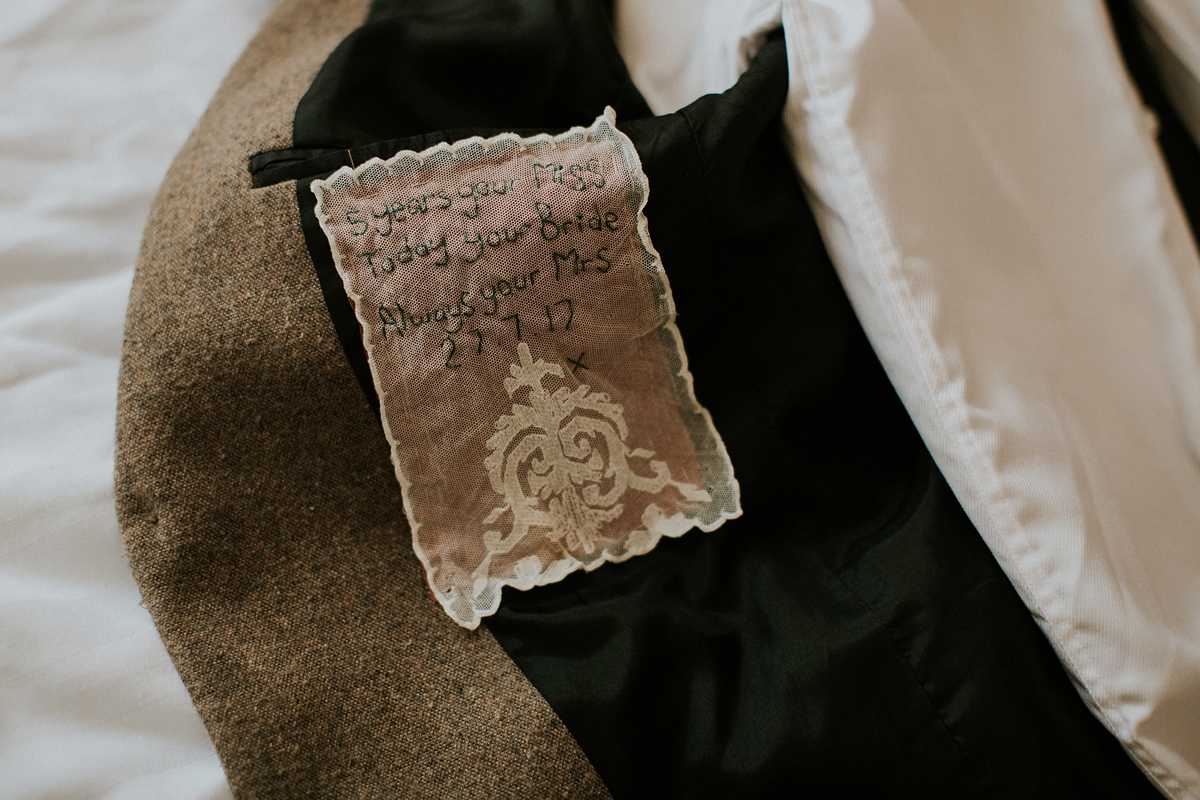 Supporting Maxwell on the day were his best man and nephew Jasper, and his two brothers Dan and Bobbie Joe.
"All their outfits were found on ASOS and had vintage touches such as bow ties and braces. They were totally happy with me styling them up and they all looked so handsome."
The ceremony took place at Brighton Bandstand with a reception held at The Secret Barn near Steyning, West Sussex.
"We live by the sea and had always adored the idea of getting married outside. When we stumbled across the Brighton Bandstand, it just seemed so perfect for us and the small intimate ceremony we wanted. We fell in love with its art deco design and the fact we would be overlooking the sea as we said our vows."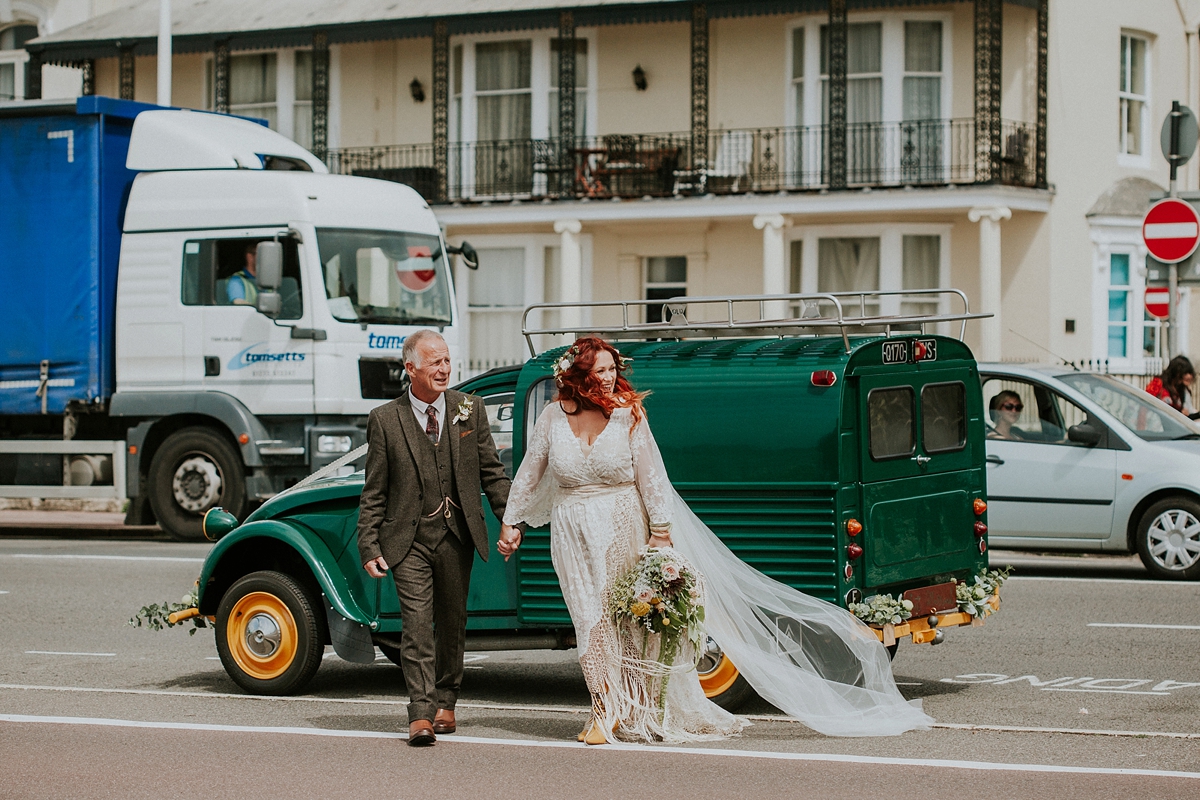 No detail was overlooked with Ami's best babes and mini maids following Ami's vintage inspired style.
"I found both the Maid of Honour's and my grown-up bridesmaid dresses on ASOS. My MOH Kate wore a floor-length bottled green 30s-esque gown that was just stunning on her! For Freya, Maxwell's niece, we found and altered a really pretty cream dress with a big crocheted floral trim. She looked beautiful and it had a floaty, hippy vibe which was perfect."
"Mumma Lo also made my 'mini maids' dresses. I had been collecting vintage fabric, trims and clothing for ages so we used these to ensure each dress was as unique as the mini wearing it. They were all ivory or cream and they all looked so beautiful."
"As a surprise for Mumma Lo I also reinvented her original 70s wedding dress into a dress for my 11 year-old god-daughter who looked gorgeous. I made them all little dream catchers to carry together and they looked like they had stepped straight out of a bohemian dream. All wild curls, pretty dresses and mischievous grins."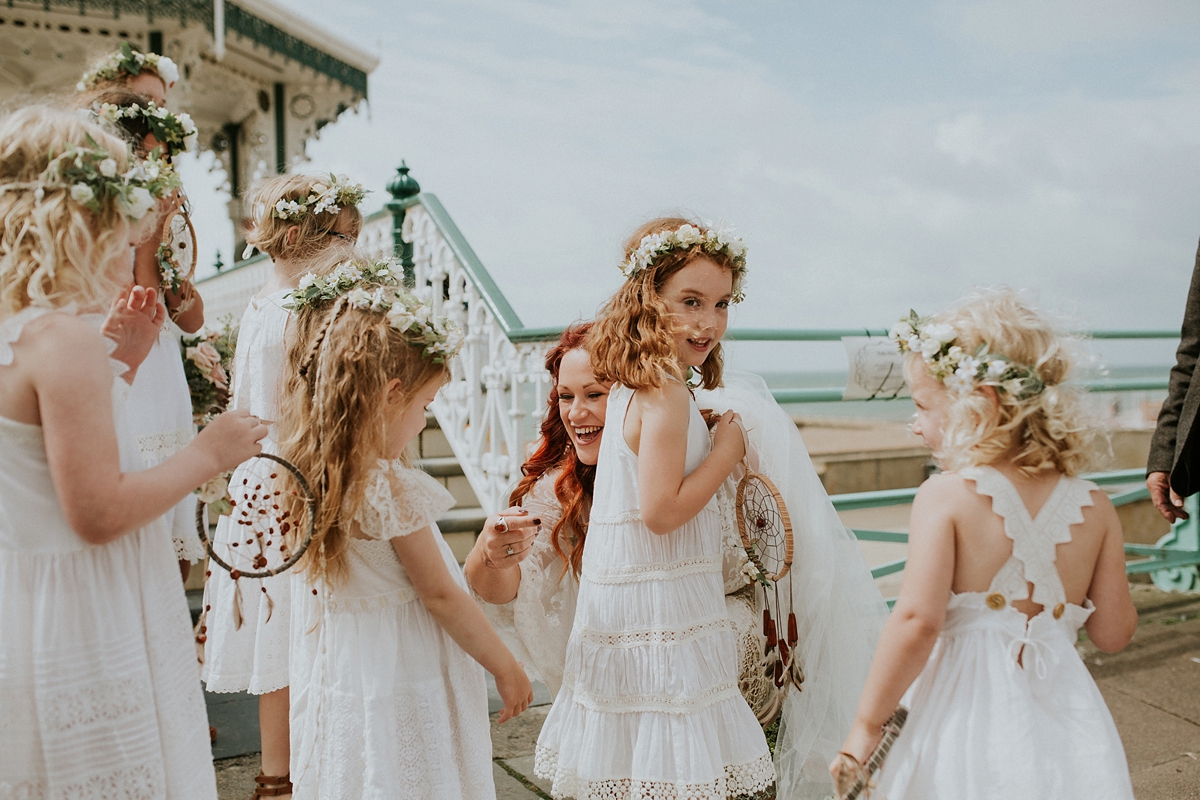 The bridesmaids and flower girls were also gifted their accessories for the day by our bride.
"I gifted my MOH with a vintage locket clock, which I thought would be a helpful gift for the day to stay on track. Freya was gifted a vintage art deco bracelet which we found at an antique shop the year before, and for my mini maids, I made them all beaded dream catcher necklaces which I gave to them on the day whilst we all sat under a giant flower adorned tipi that Maxwell had built."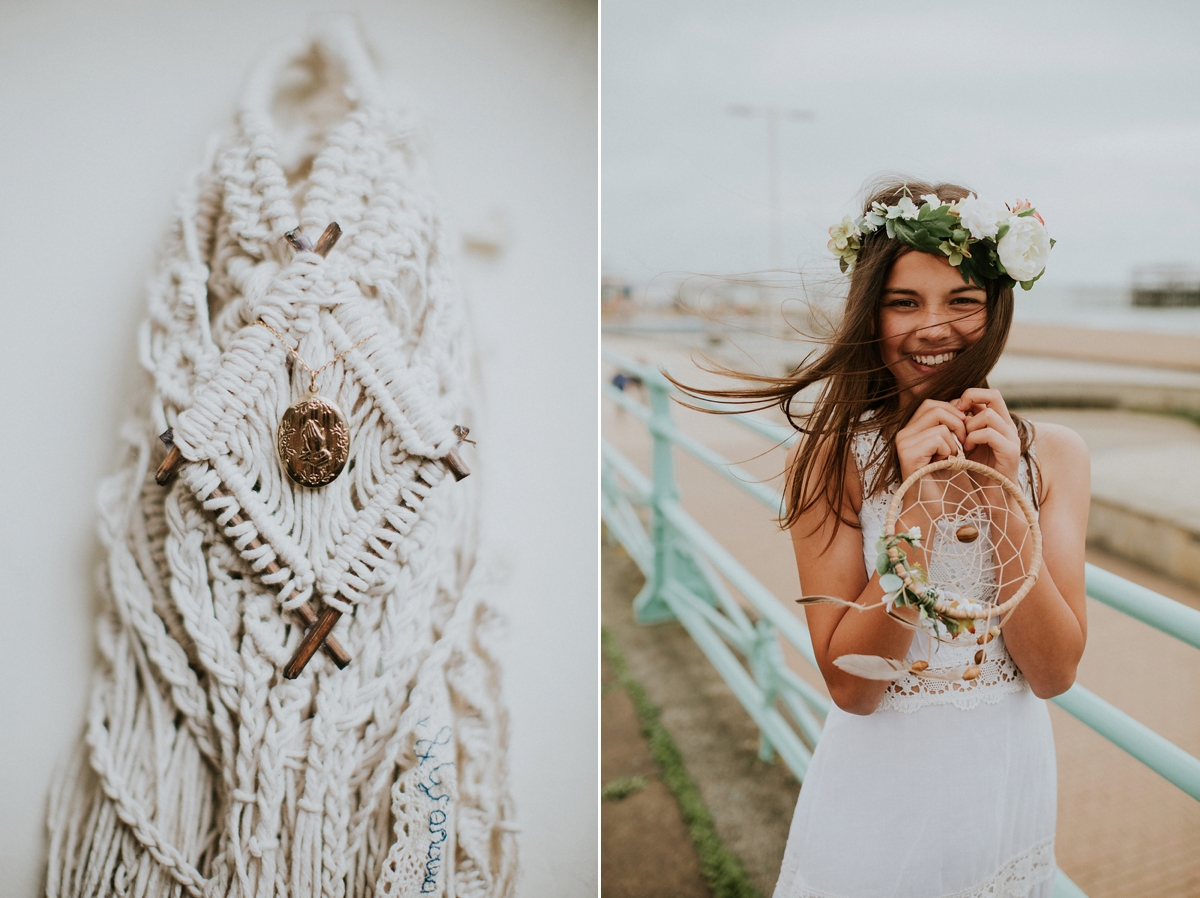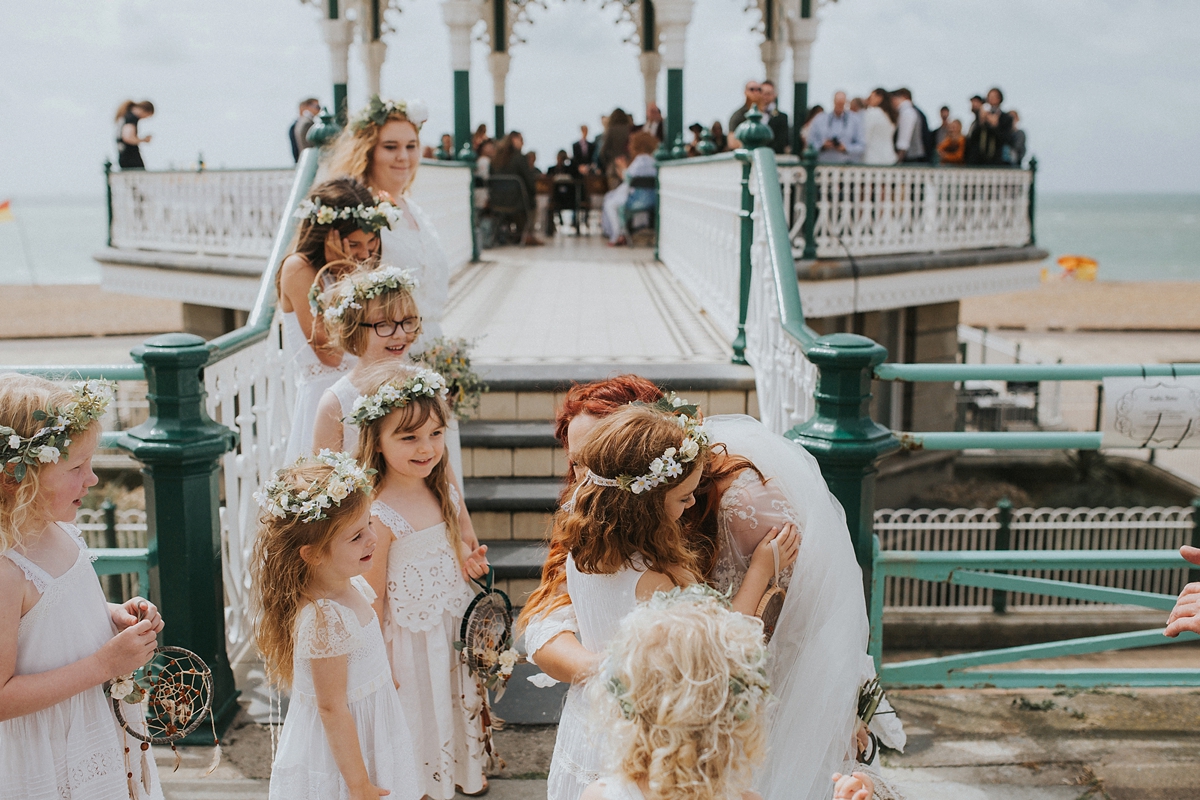 Following in the footsteps of her mini maids and Maid of Honour, Ami walked down the aisle with her dad to 'The Wedding Song' by Angus & Julia Stone. After reaching  Maxwell at the end of the aisle the couple read their own personalised vows to each other.
"We kept them secret from each other until the day. To this day I can't read them without crying. They were so perfectly 'us' and a mix of fun, heartfelt, love and friendship. If anyone is wondering about writing his or her own vows, do it. It will be such a special part of your day and ceremony!"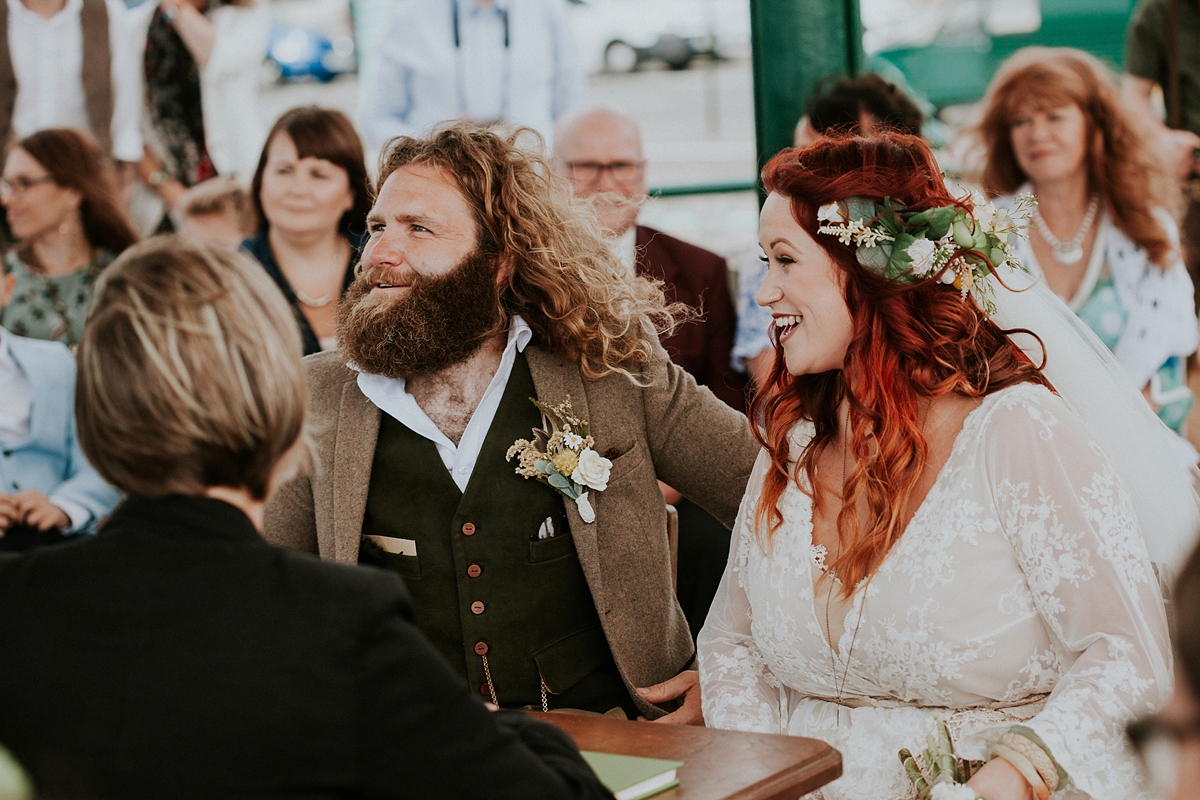 Two readings then followed the vows; 'Union' by Robert Fulghum and 'A Lovely Love Story' by Edward Monkton.
"Together we felt they told true stories of love and marriage, how a relationship grows and the importance of coming together in a ceremony of love, and also how love can change you for the better."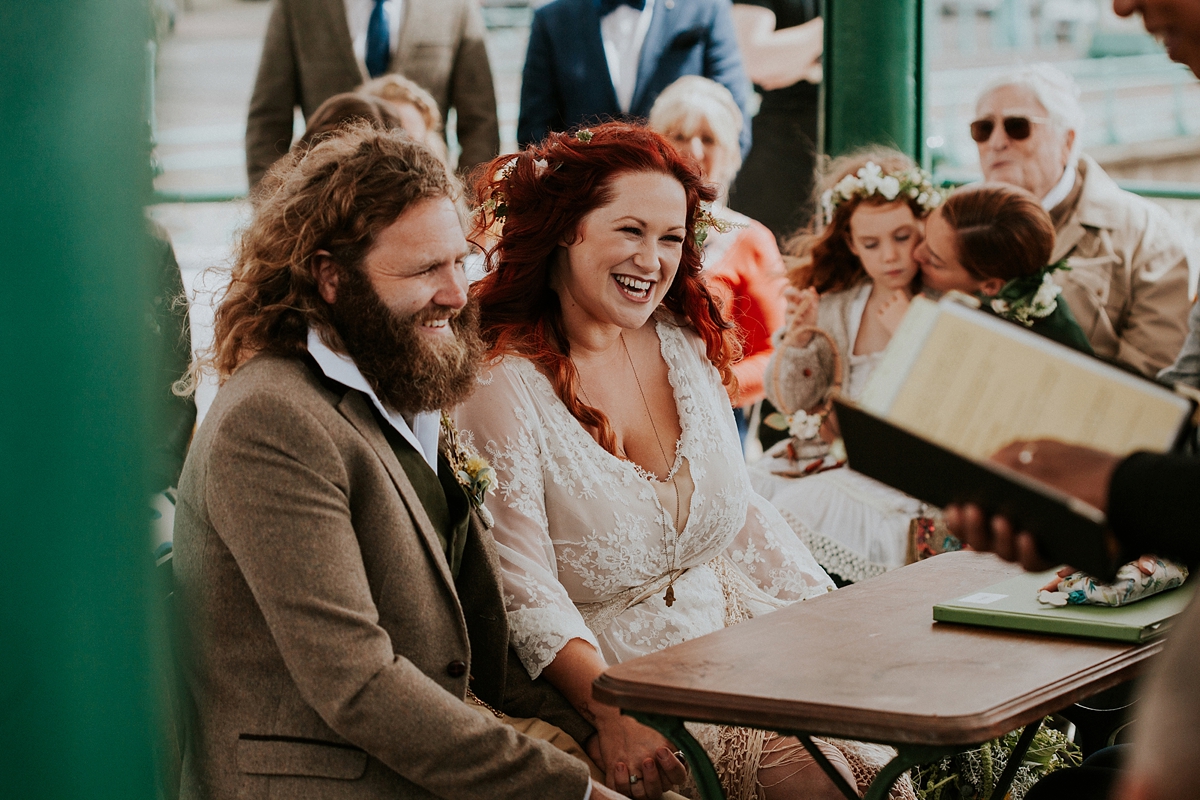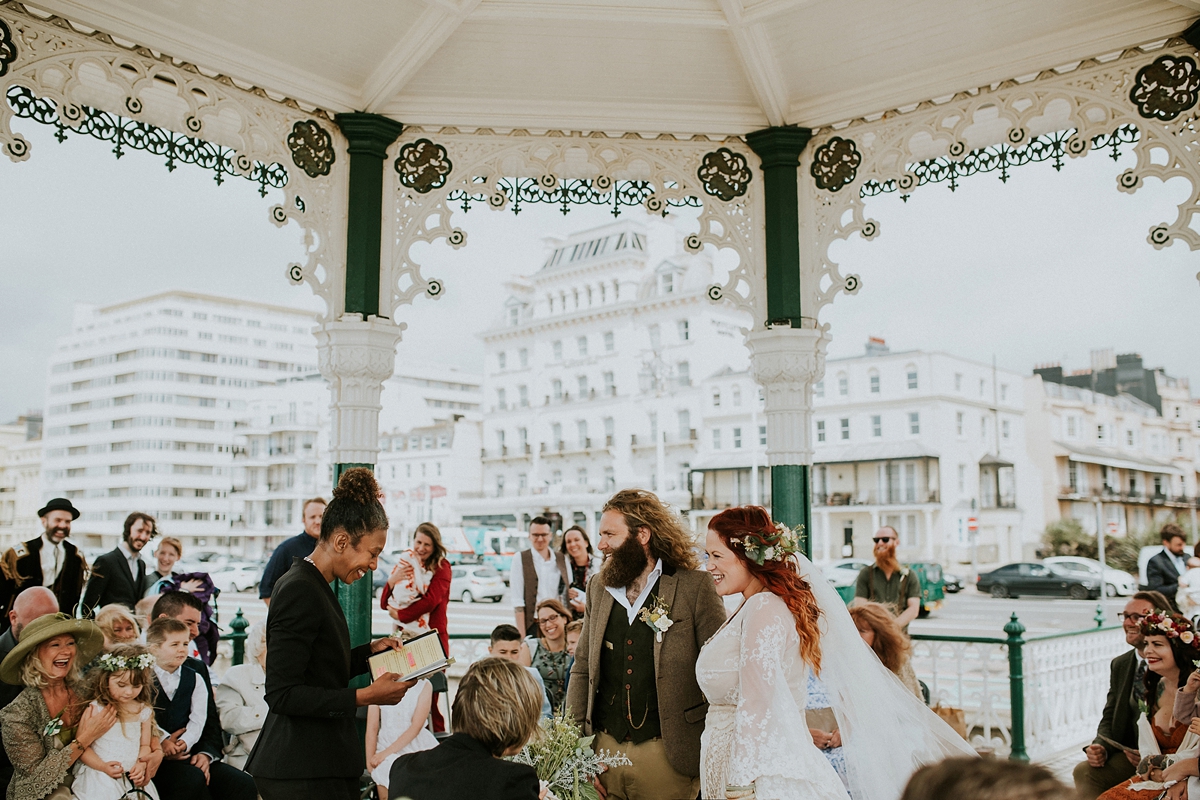 Handmade touches and personalised pieces were running themes of the day with Ami and Maxwell designing their own rings.
"Being creative people, we decided to make our own wedding rings. Luckily through work I am privileged to know some very talented jewellers. I have known Sarah MaCrae for 10 years now and, as a wedding gift, she offered us a day in her studio in Petersfield to oversee and guide us on our way."
"Starting with a few inches of rose gold wire and solder, we beat, bashed and annealed our wedding bands. Maxwell made mine and I made his. As my engagement ring is a large, art deco affair, I opted for a simple wedding band to wear on my middle finger, and so it would compliment my engagement ring, we also found a vintage marcasite eternity band to synchronise them together."
"Maxwell isn't one for jewellery so he chose rose gold. Now it's been bashed about a bit it's taken on a wonderful antique copper patina."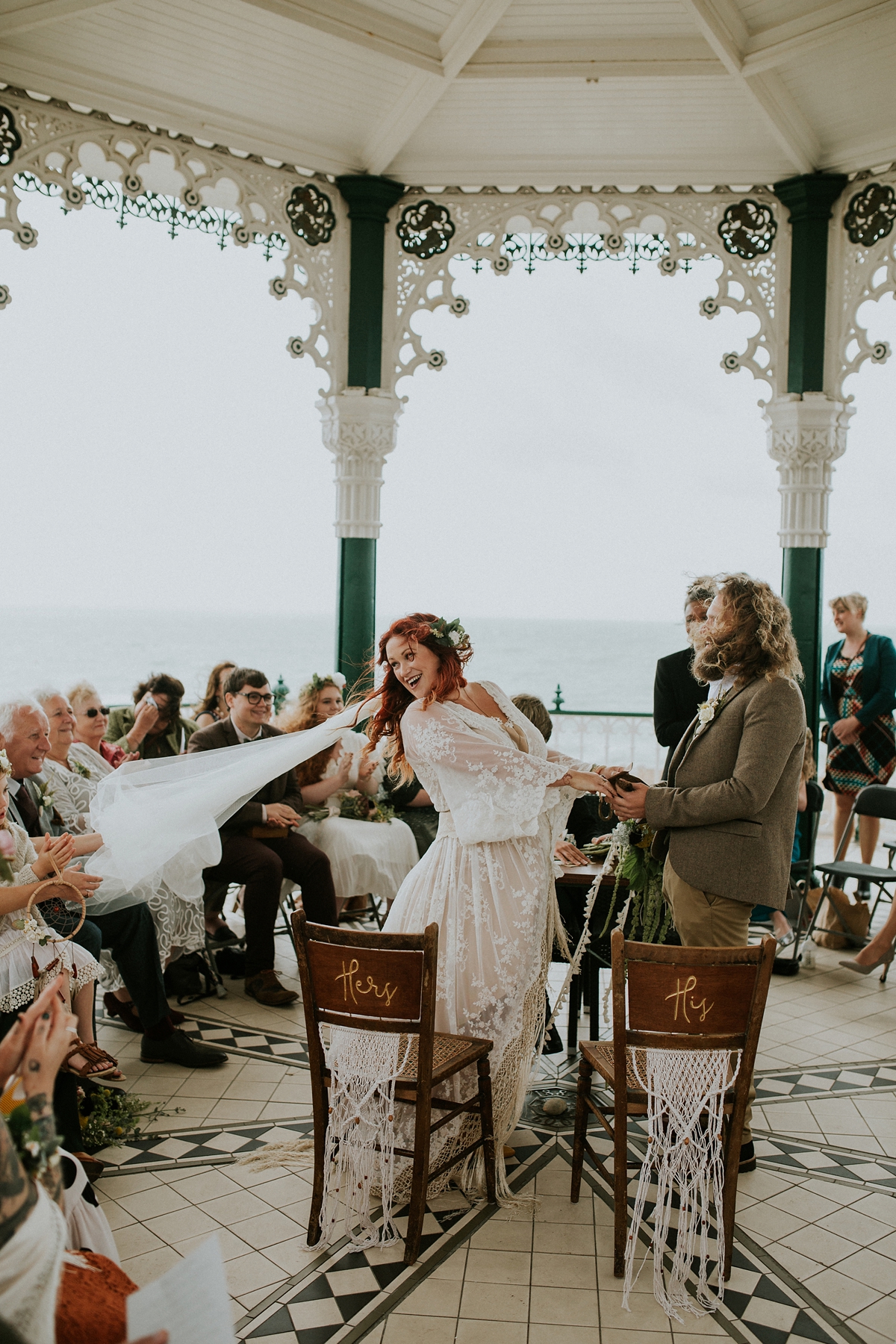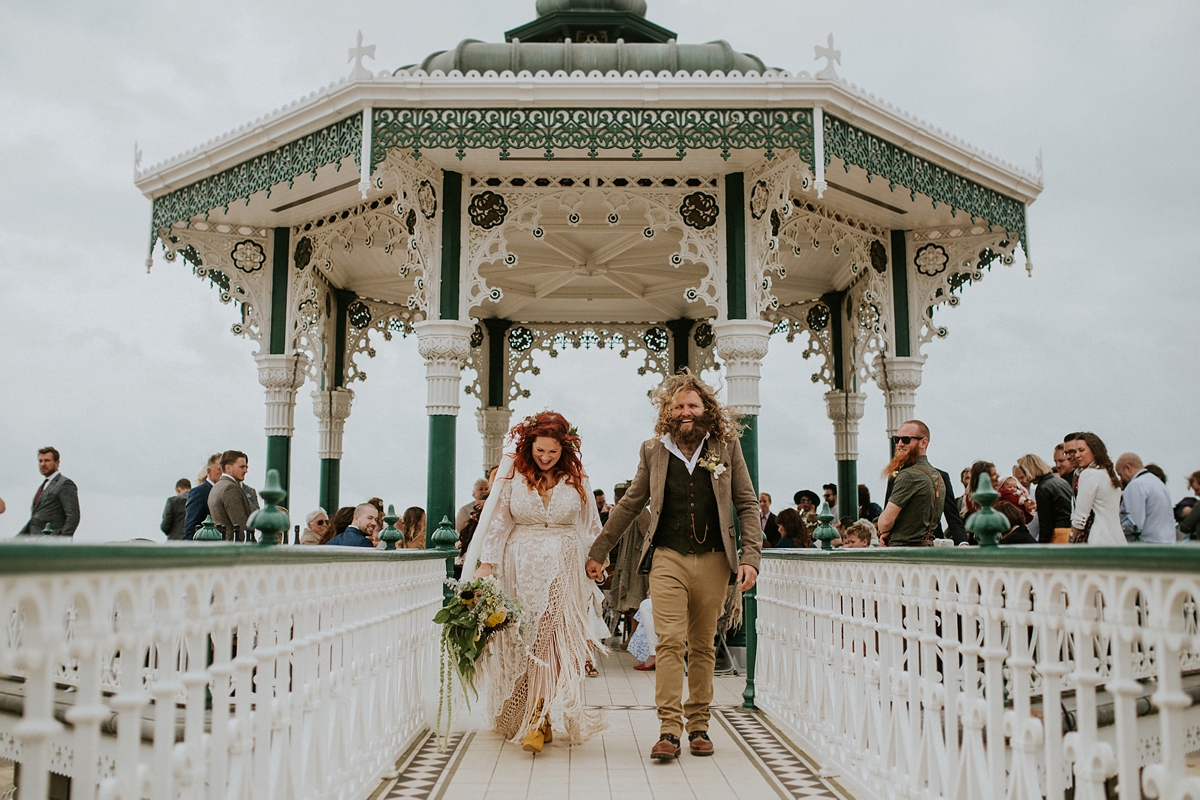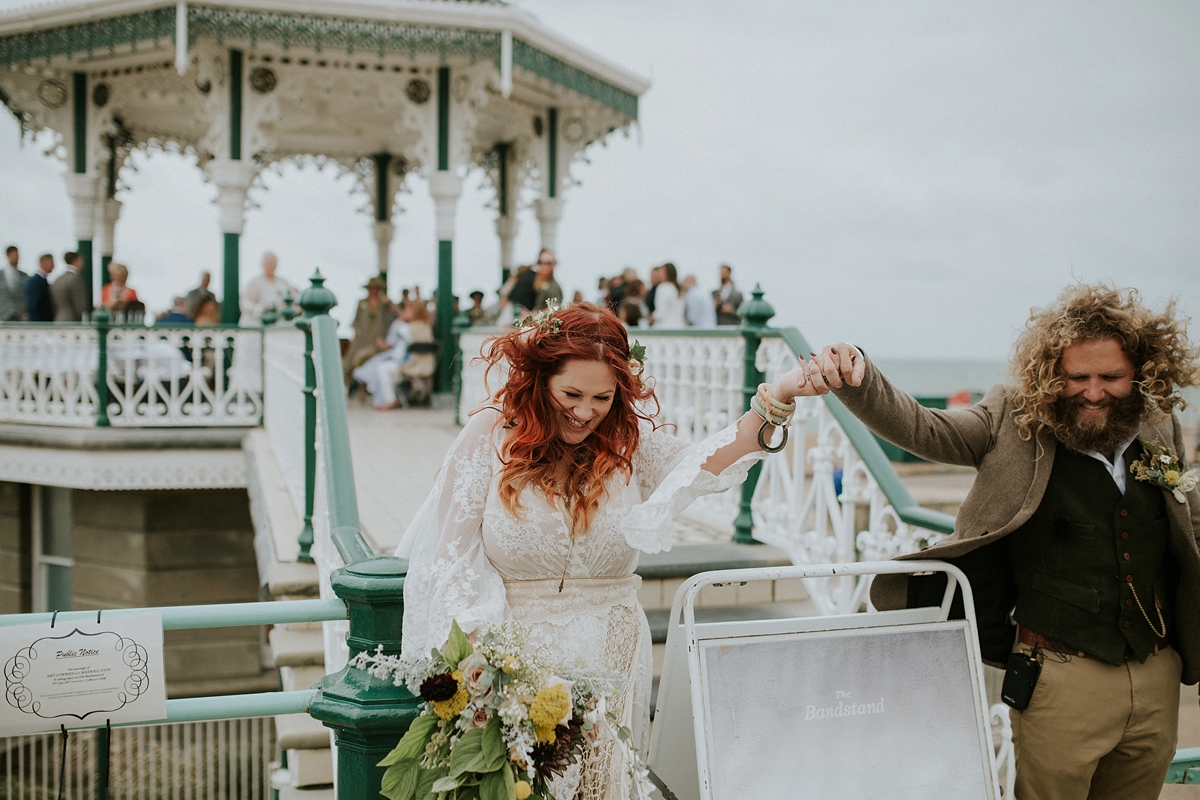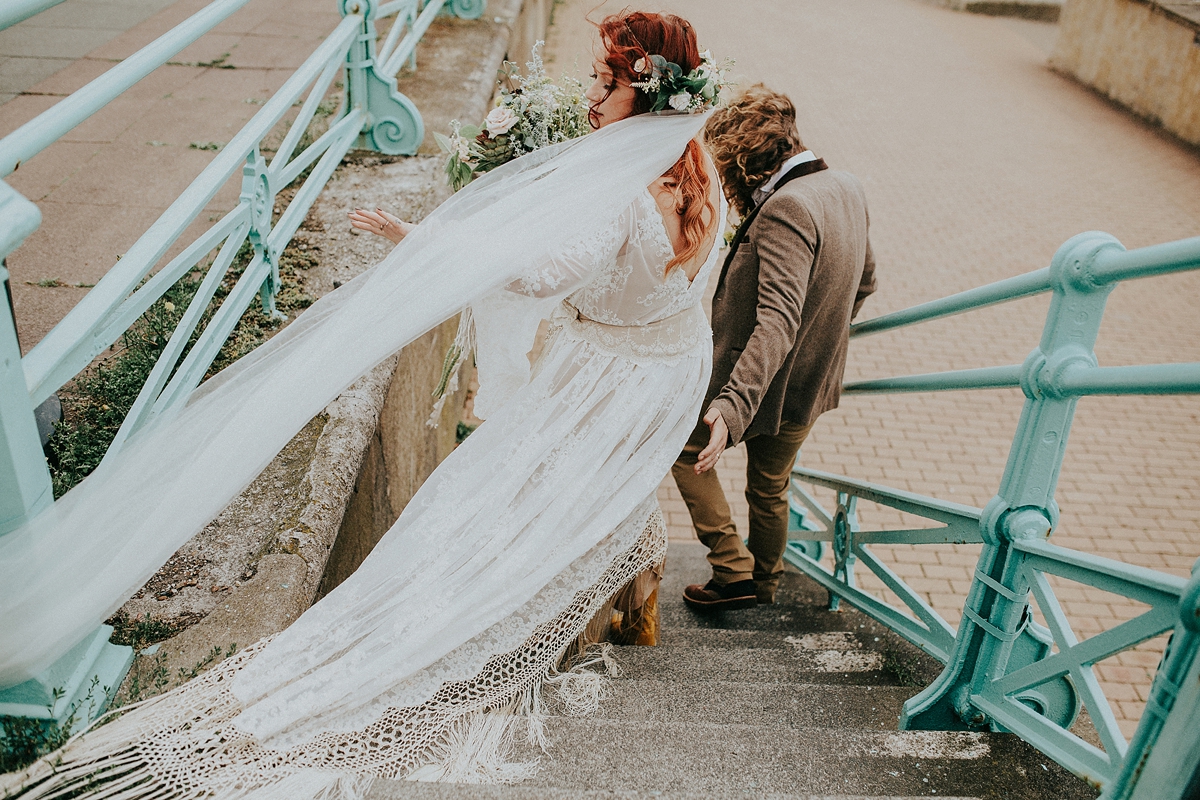 After convincing Maxwell that a videographer was an essential part of the day, the couple eventually settled on using Elliot Mariess.
"A videographer was something I was really keen on but had to convince Maxwell! He's quite the perfectionist, with a very critical eye and I probably showed him hundreds of videos, but to no avail. It was only when I discovered Elliot, a documentary filmmaker and photographer living in Guernsey, that I thought 'this is the one'. It was off the back of just one of his videos that convinced Maxwell and ensured us booking him. We even flew him over from Guernsey for the job."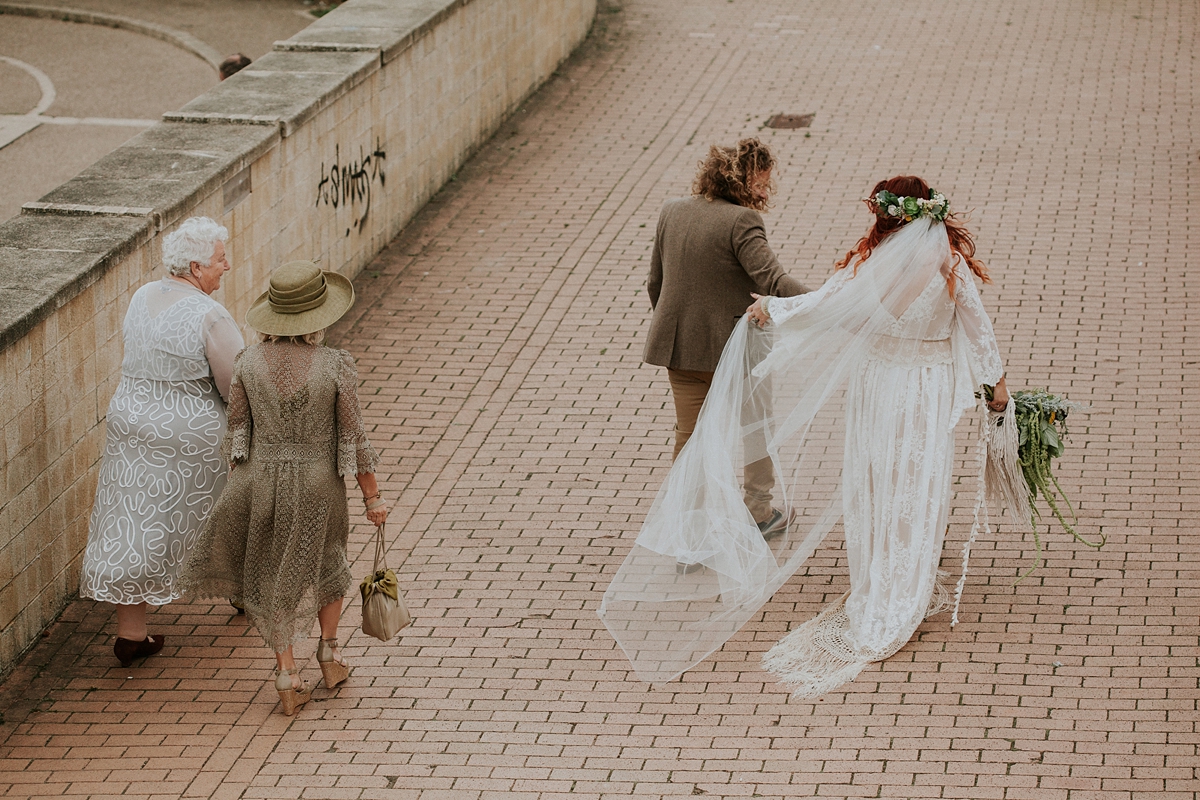 "I can't say exactly what it was that convinced us to book him on a whim but, like all our big wedding decisions, we just knew it was the right thing to do. I realise now that it was a bit of a gamble, taking on someone who had created one video we loved, but the gamble paid off. We both consider Elliot as one of the best investments we made alongside our photographer."
"Elliot didn't approach our wedding in a typical way. He hung back on the sidelines and captured everything as it happened. He never once directed us or asked us to do something. The result had us in tears!"
"I normally hate words in wedding videos and really don't like the sound of my own voice but what Elliot created for us is utterly perfect. He created something we will adore and cherish forever and I can't wait to share it with our children one day, to share with them our love story. It captures the whole day, the sheer joy, laughter and love that surrounded us on the best day of our lives."
No detail was left untouched and with Maxwell being such a big vintage car fan, the couple included his beloved and lovingly restored Citreon 2CV van as the newlyweds wedding transport.
"My dad chauffeured me from The Grand to the Bandstand, and after the ceremony, Maxwell and I headed off to our reception together. This 30-minute drive was such a special time together as the rest of the day whizzed by!"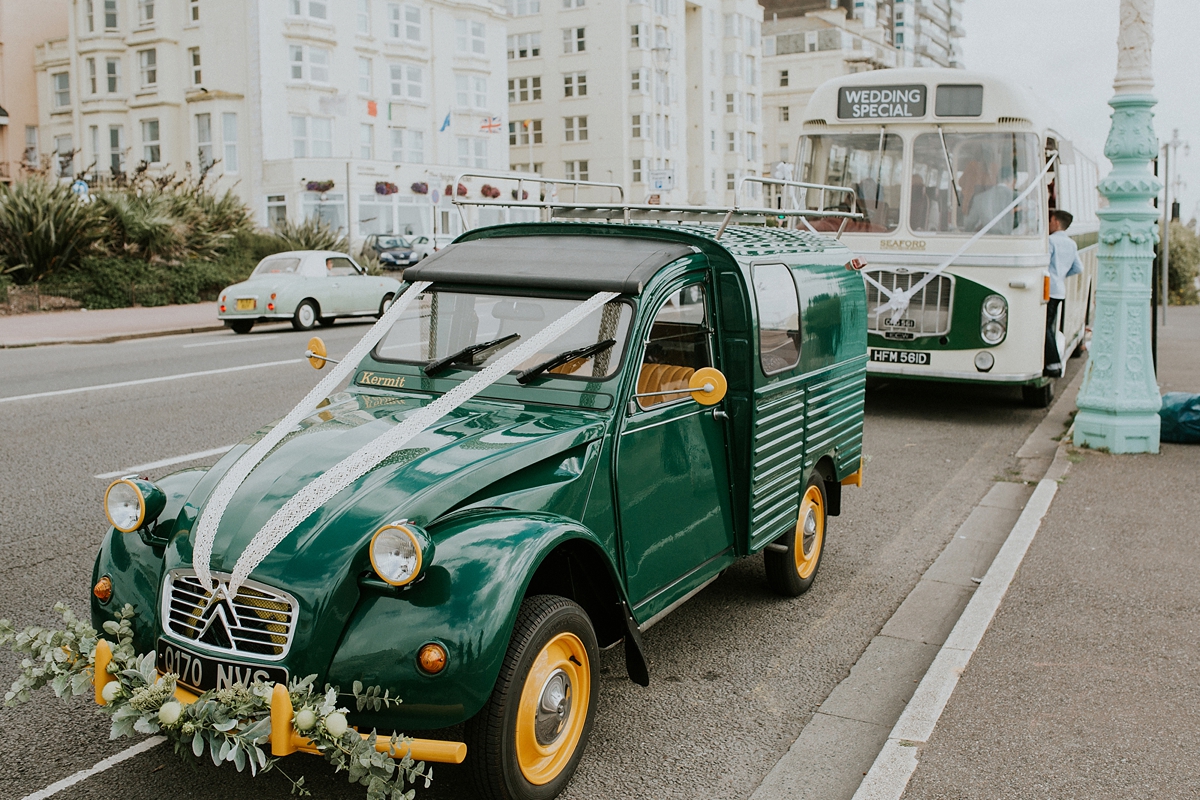 Guests also travelled from the ceremony to the reception venue in style in a vintage Bristol MV coach hired from Seaford & District."
"When guests arrived at The Secret Barn, they were met by two French Citreon H-Vans. One of them was Maxwell's Campervan that we transformed into our guest book area. The other was from The Gin Emporium who ran the bar for us, serving a marvellous selection of gin cocktails and hand-selected ales."
"Maxwell found The Secret Barn and it was everything we wanted in a reception venue. Rustic, authentic and beautiful! The fact it was a blank canvas with an open invitation to style it exactly as we wanted was the icing on the cake."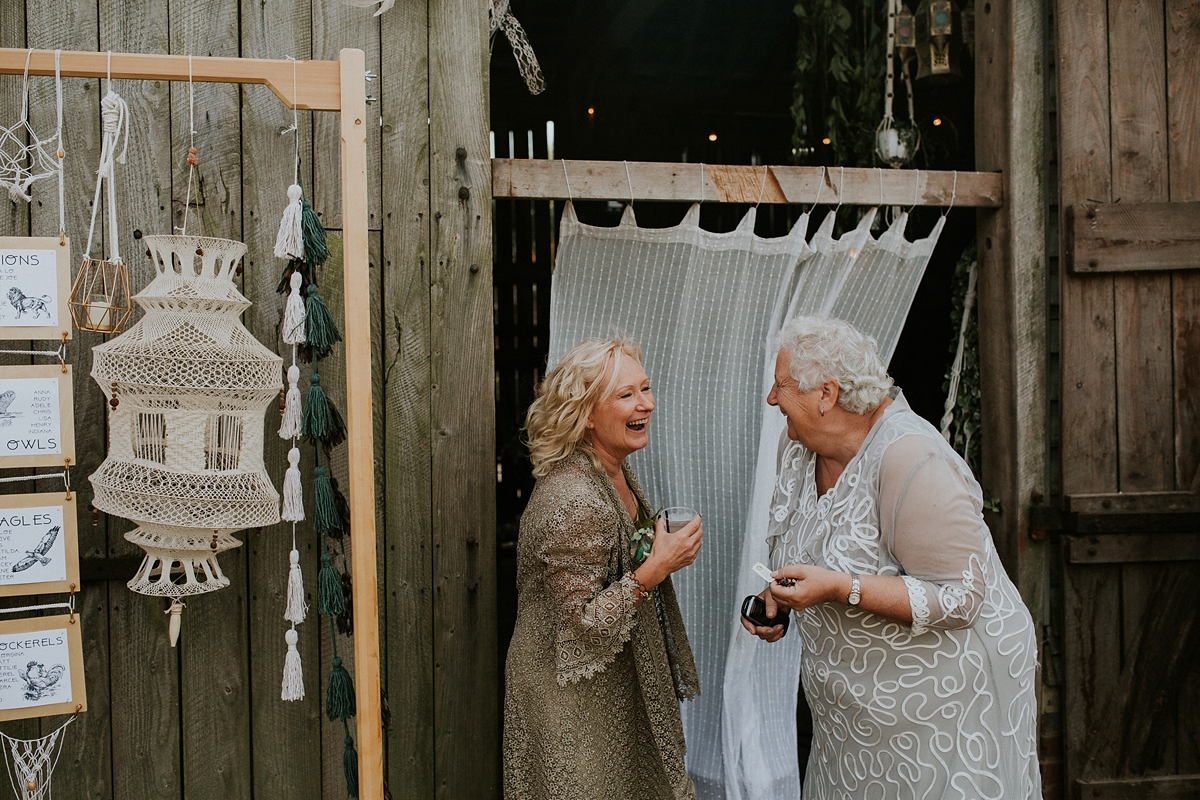 "Over our engagement we collected everything from mismatched vintage glassware, brass candlesticks and vessels, to cut glass decanters and a menagerie of brass animals. On the day, everything came together just as we imagined it would be, it was perfect!"
"Part of the reason we've launched our new business, Lo & Behold Bespoke, together is that we loved this stage of the wedding planning so much. The idea we could make a living from being this creative for such a happy occasion is inspiring."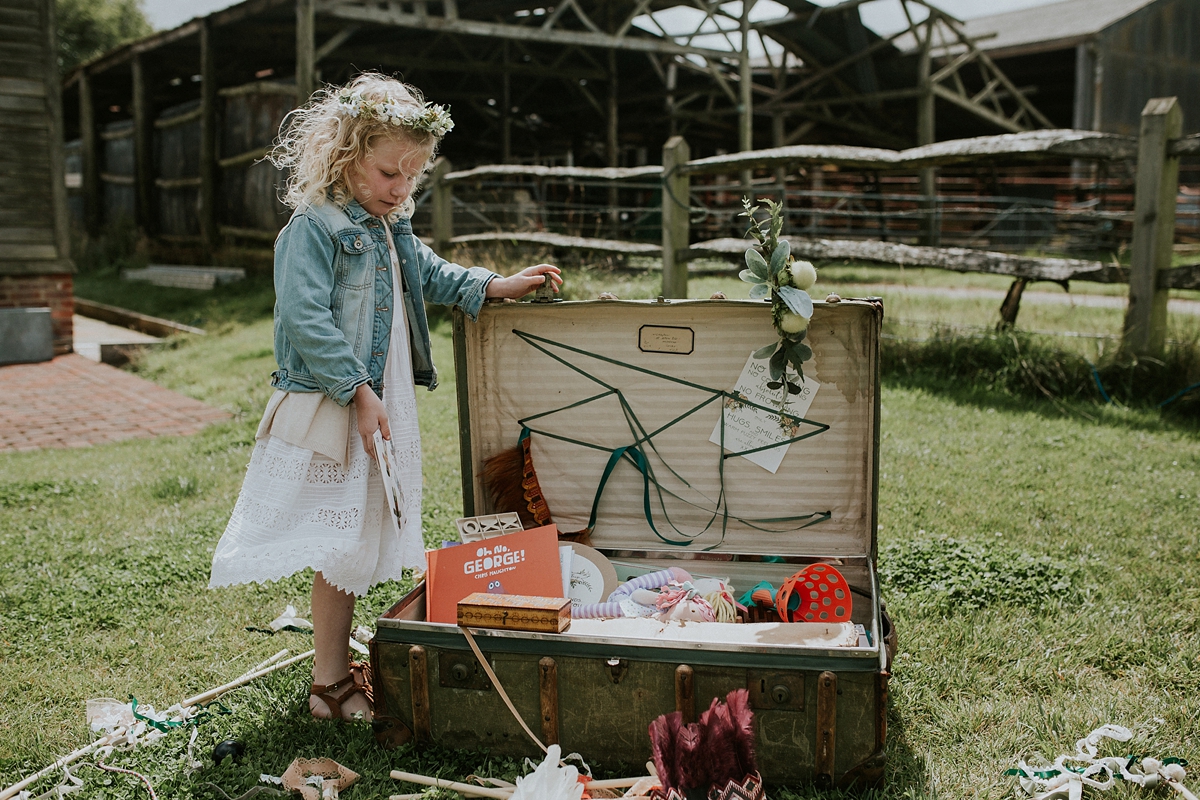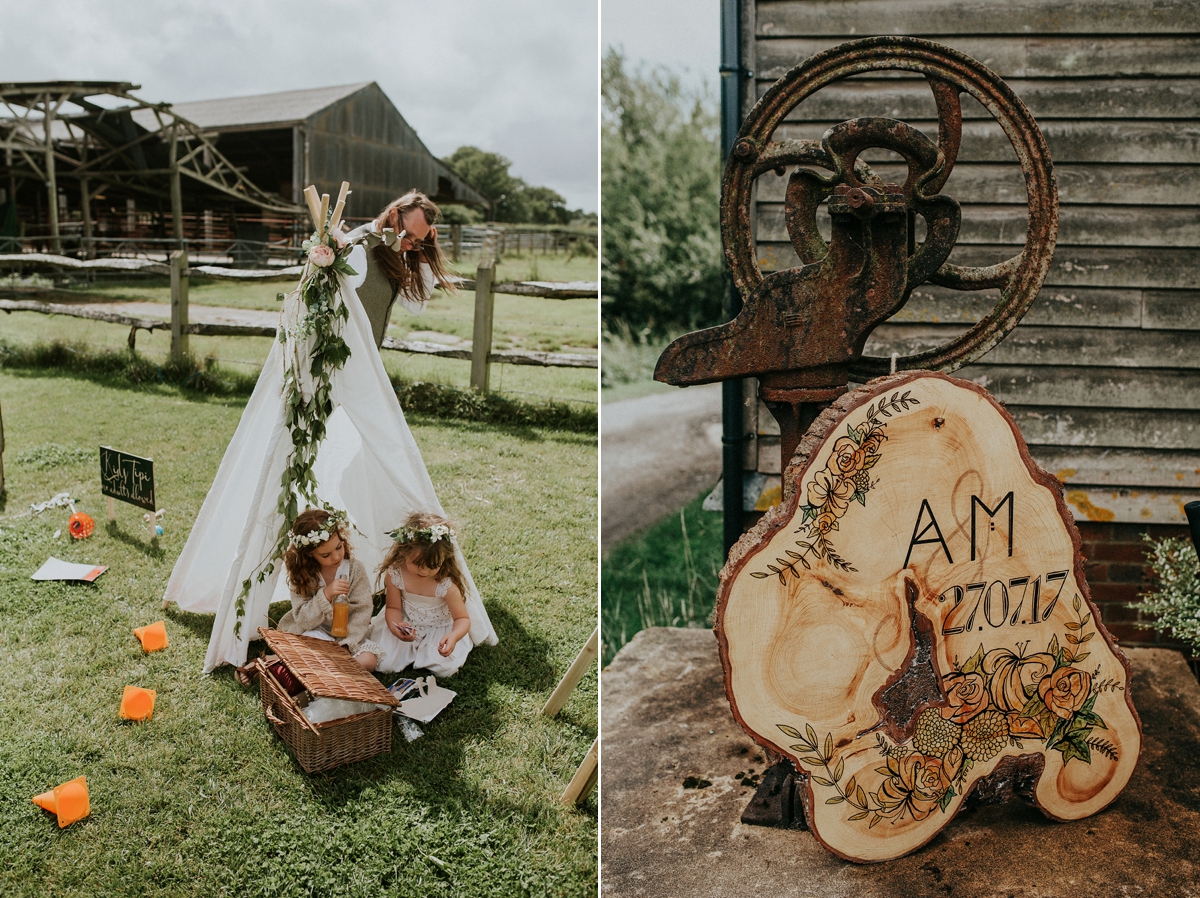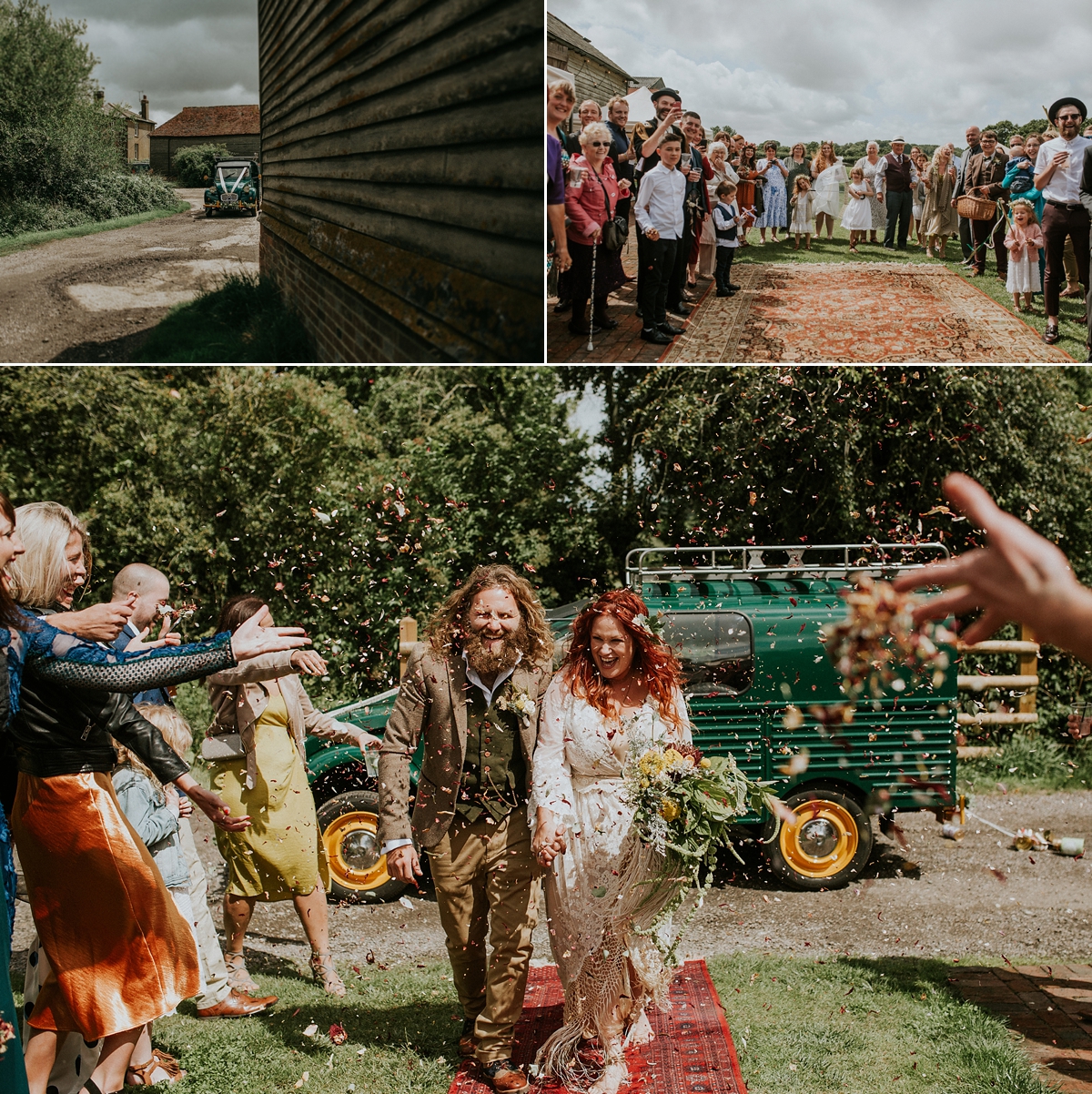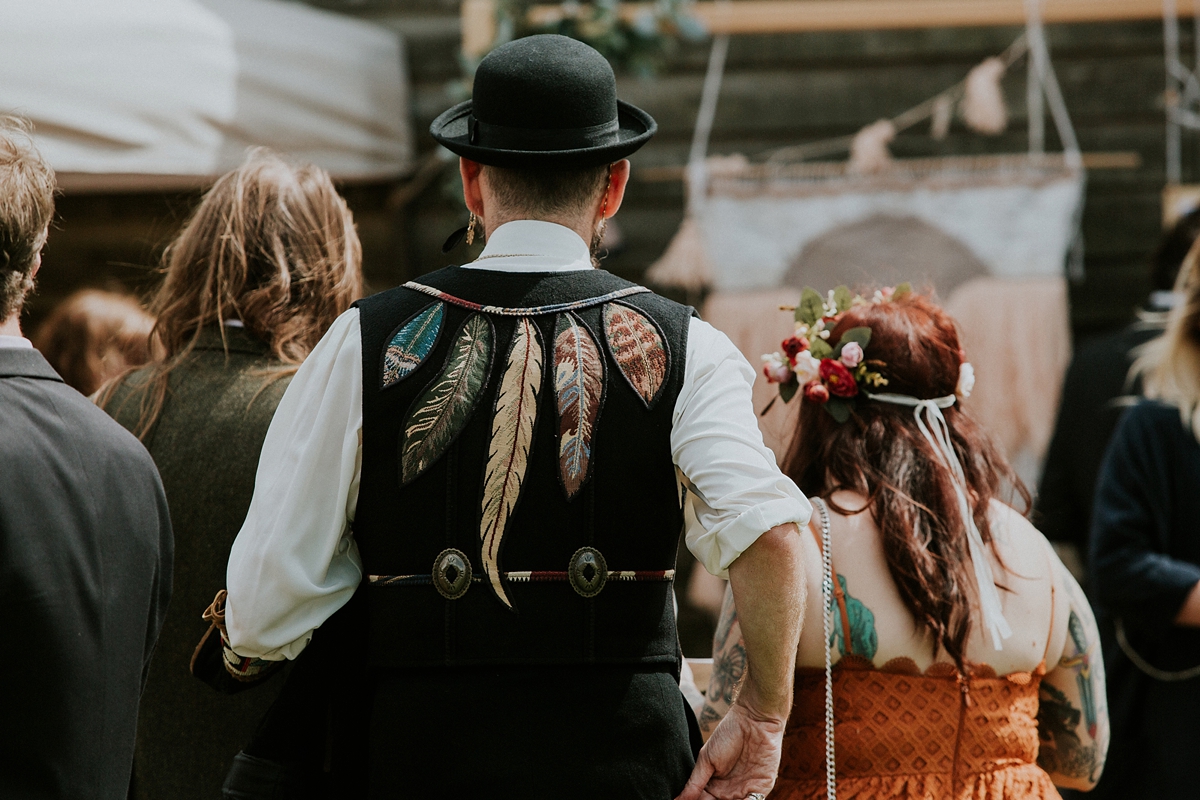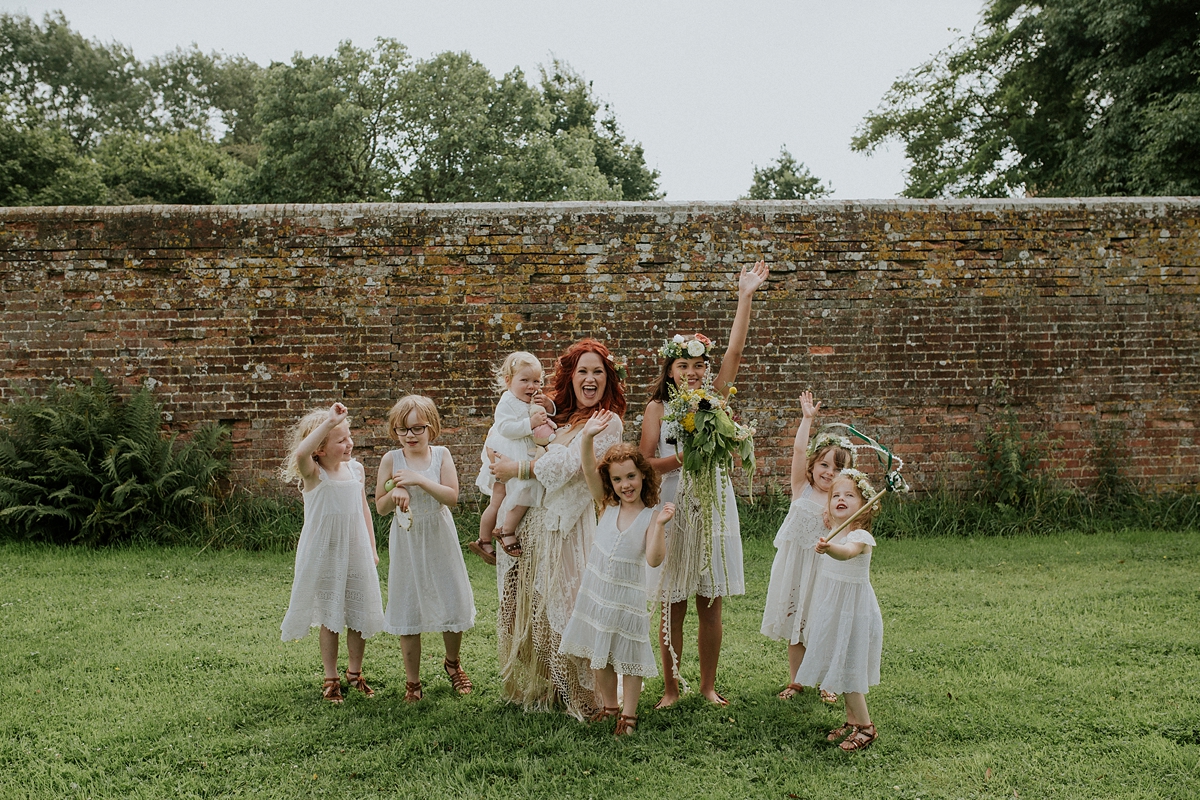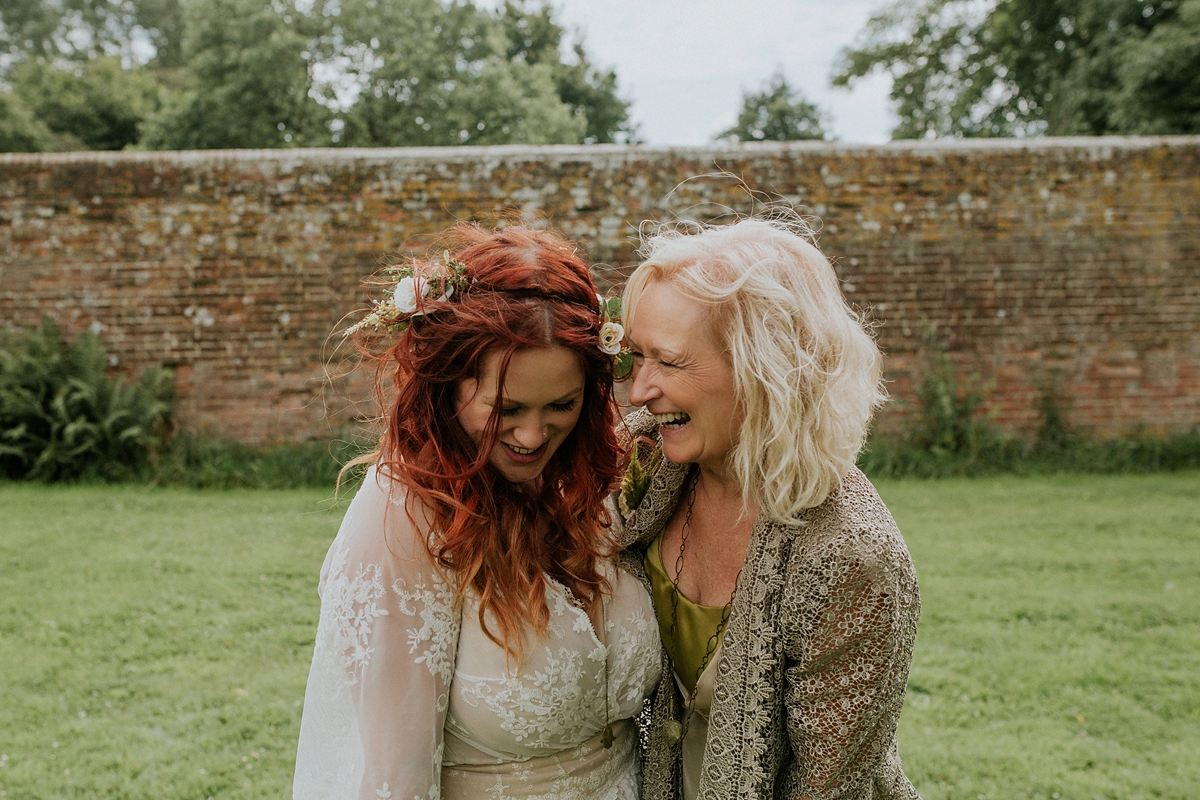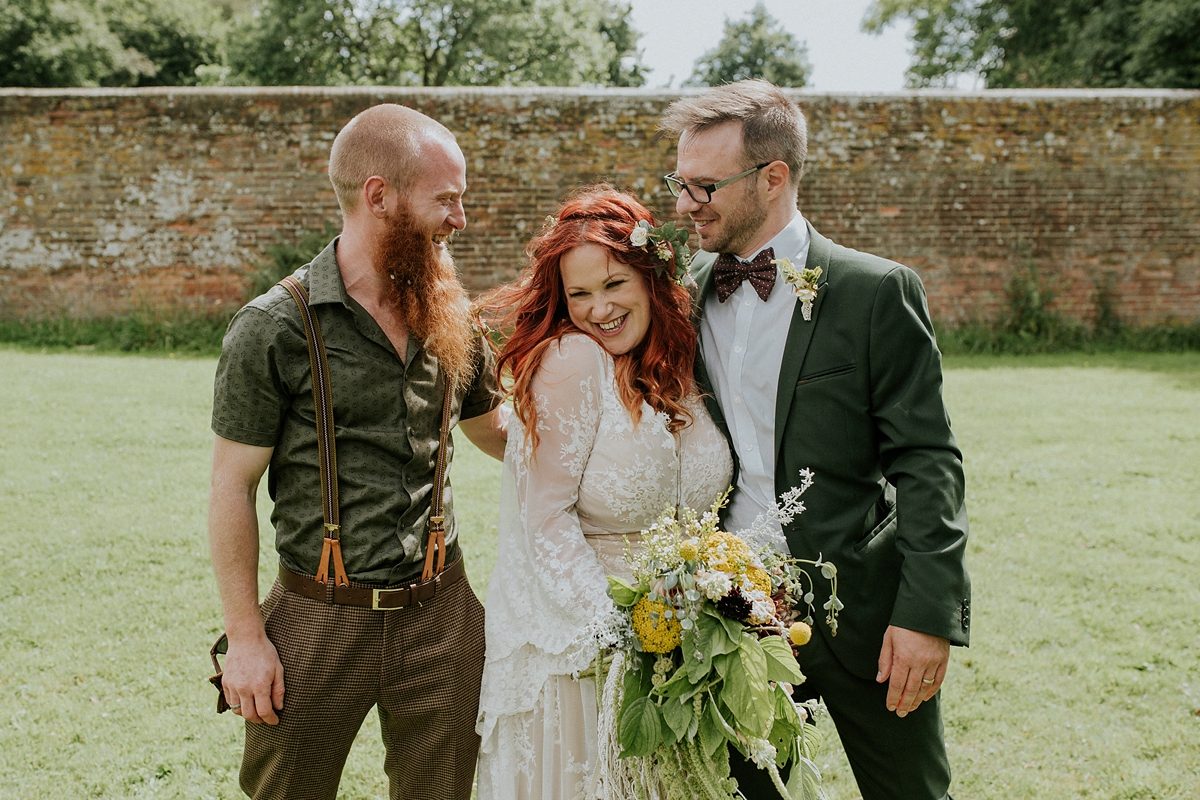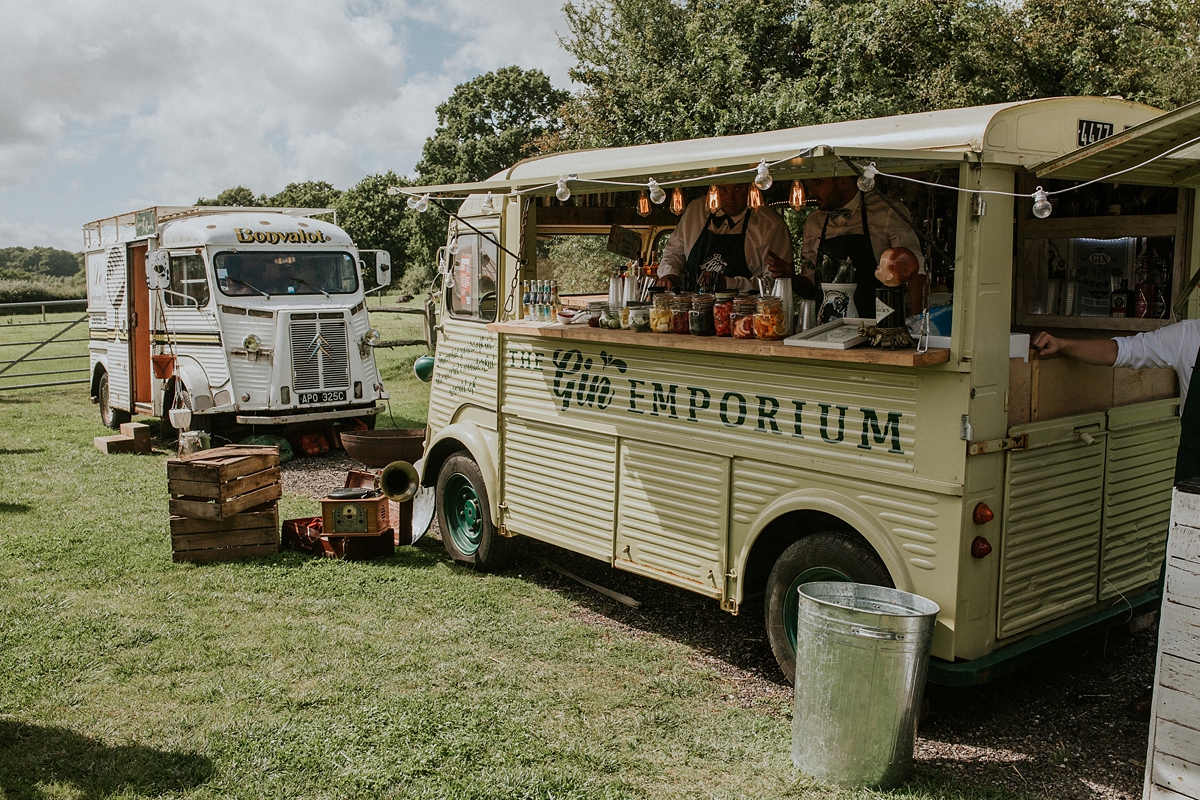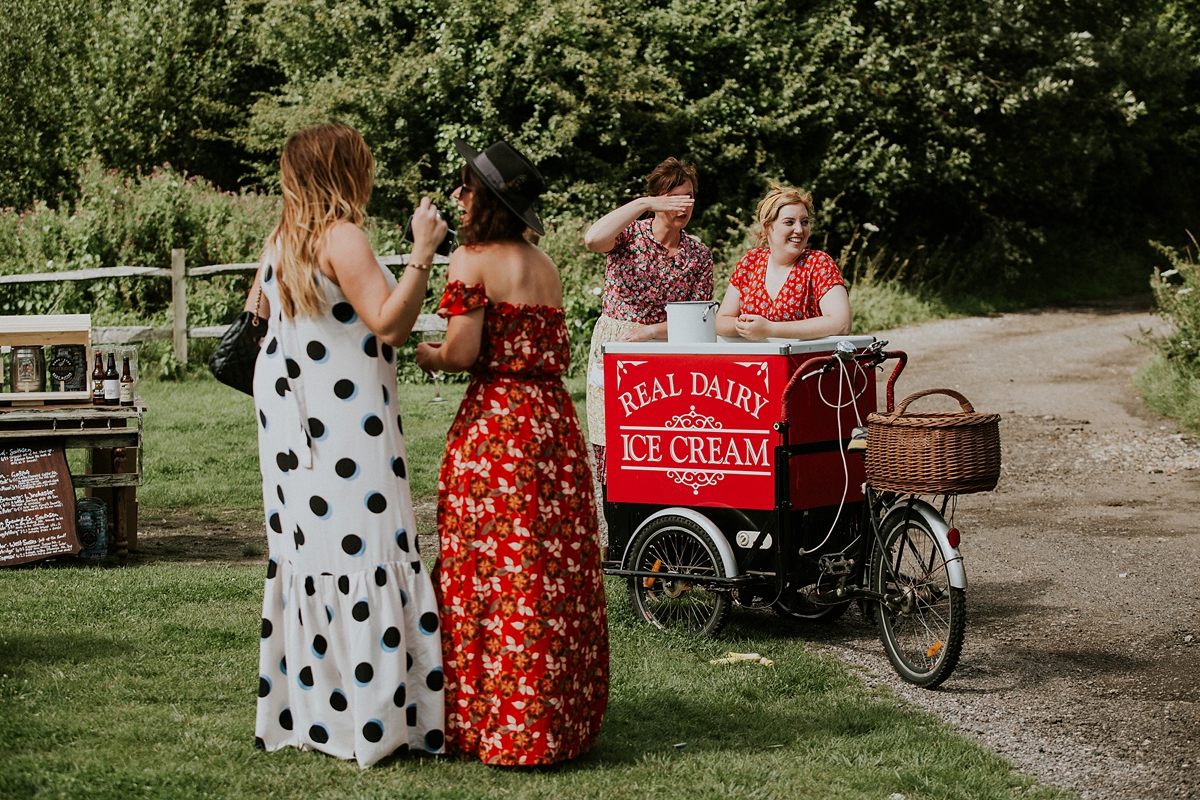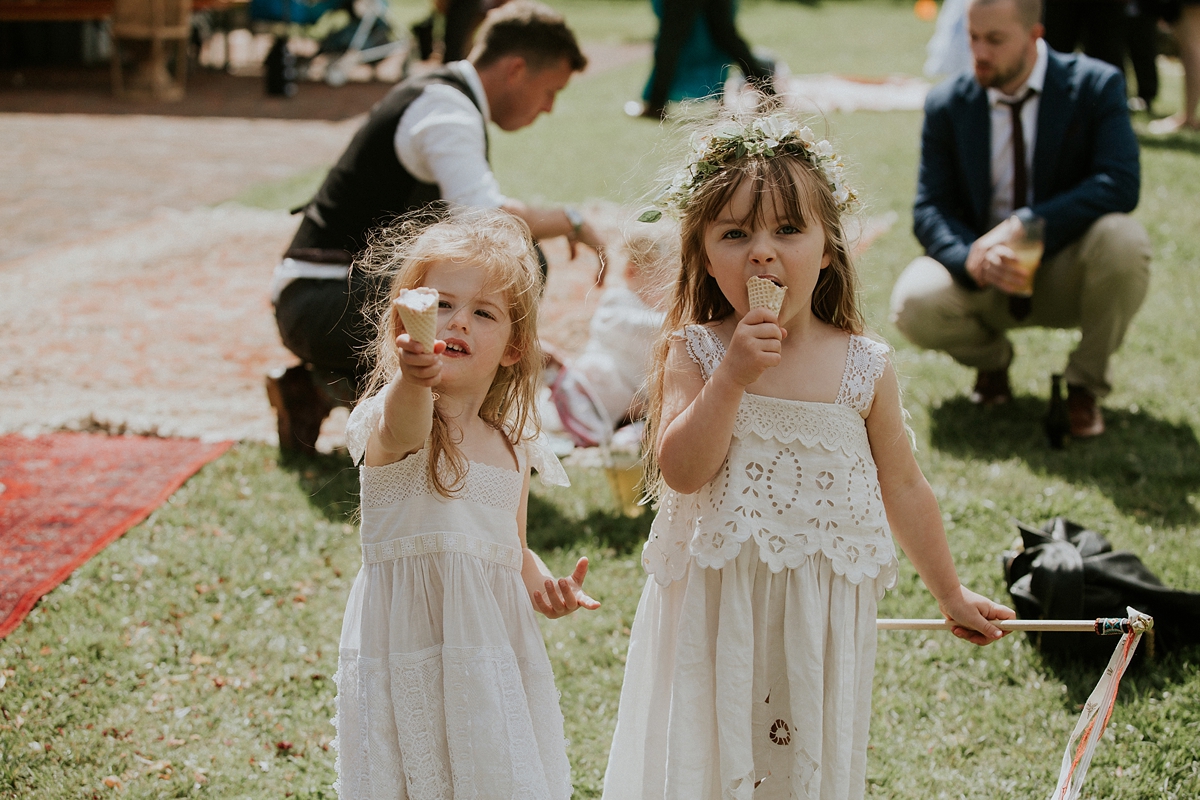 "Outside, Maxwell built a huge tipi frame adorned with flowers and ivy. It was a perfect photo back drop and gave us that 'festival' vibe. We also had a huge trunk of toys for the children and a selection of wicker peacock chairs and blankets."
"From the huge oak beams at The Secret Barn, we hung dozens of Moroccan lanterns with vast trailing plants in macrame pot hangers. We used battery operated candles in the lanterns and one end of the barn was covered with trailing fairy lights."
"We dressed the old beer festival tables with a mix of vintage glassware, candles and glass bottles and vases filled with wild flowers. Each table was also assigned a different brass animal."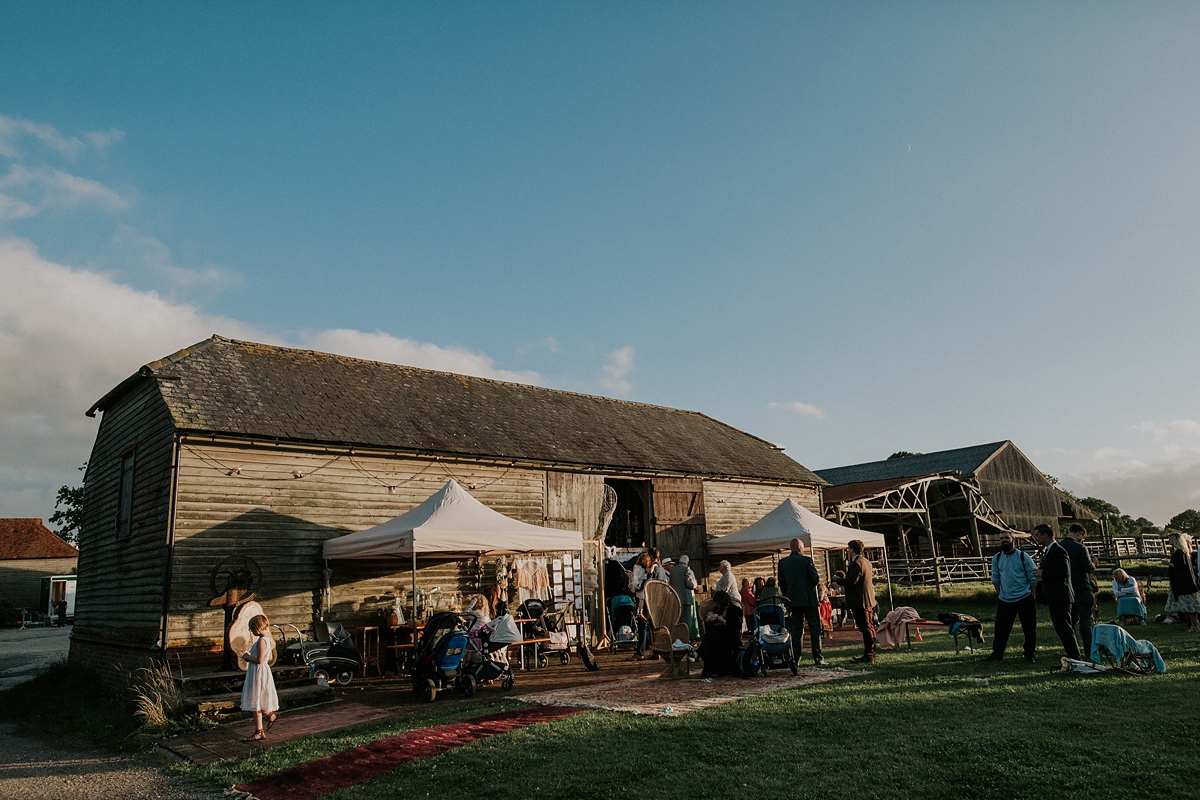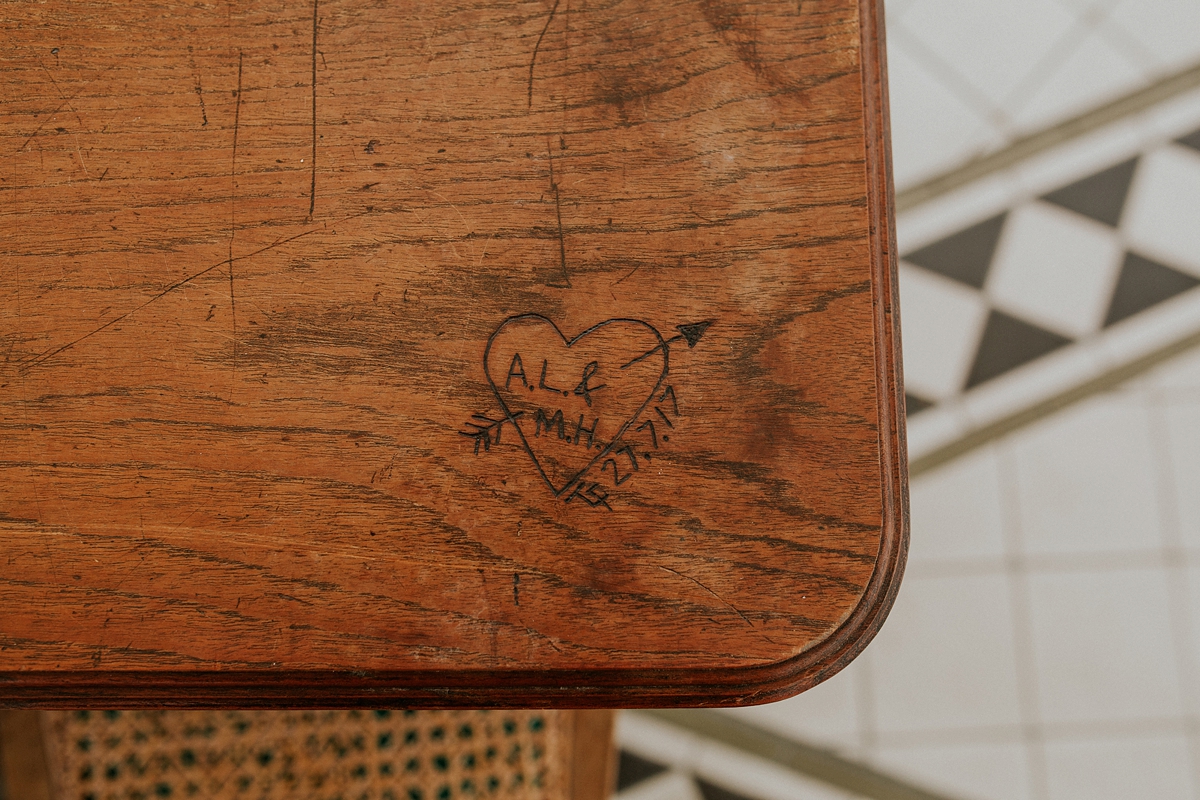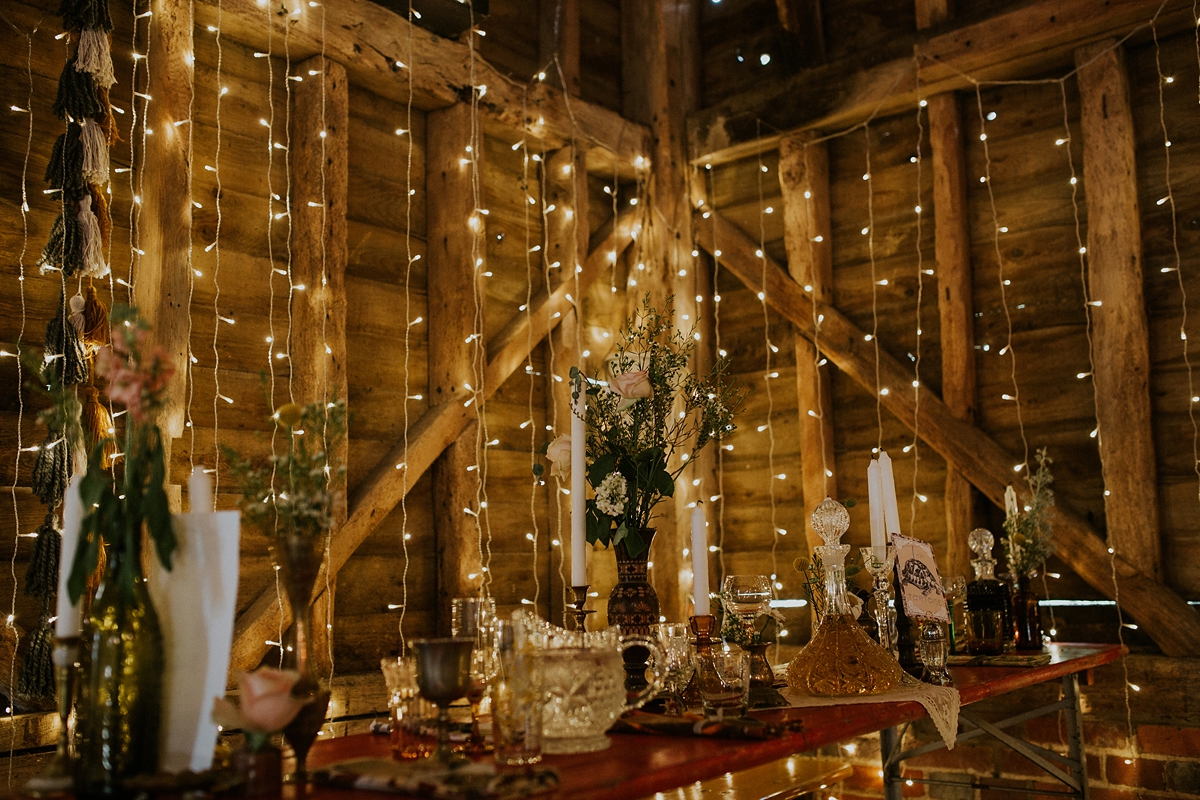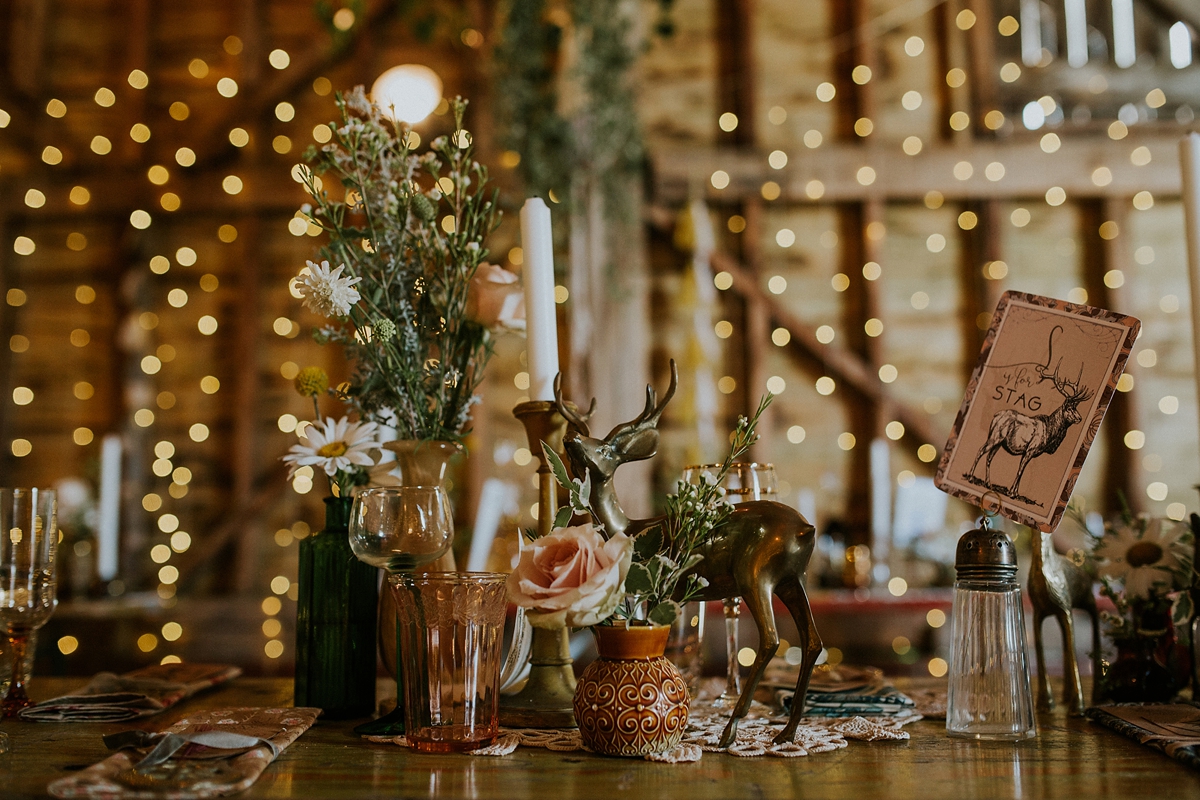 "For the evening we asked our baking friends and family to create delicious cakes to be a part of our evening buffet. We had a mix of traditional and more unusual cakes, including a sensational raw and vegan lemon tart, which was made for us by our friends at Ginger and Peach."
"Initially we wanted to make our own wedding cake but as the day drew closer, time was stretched. We opted instead to buy some Waitrose carrot cakes, which we stacked up and iced with a homemade orange cream cheese frosting. It was simple, delicious and went down a treat."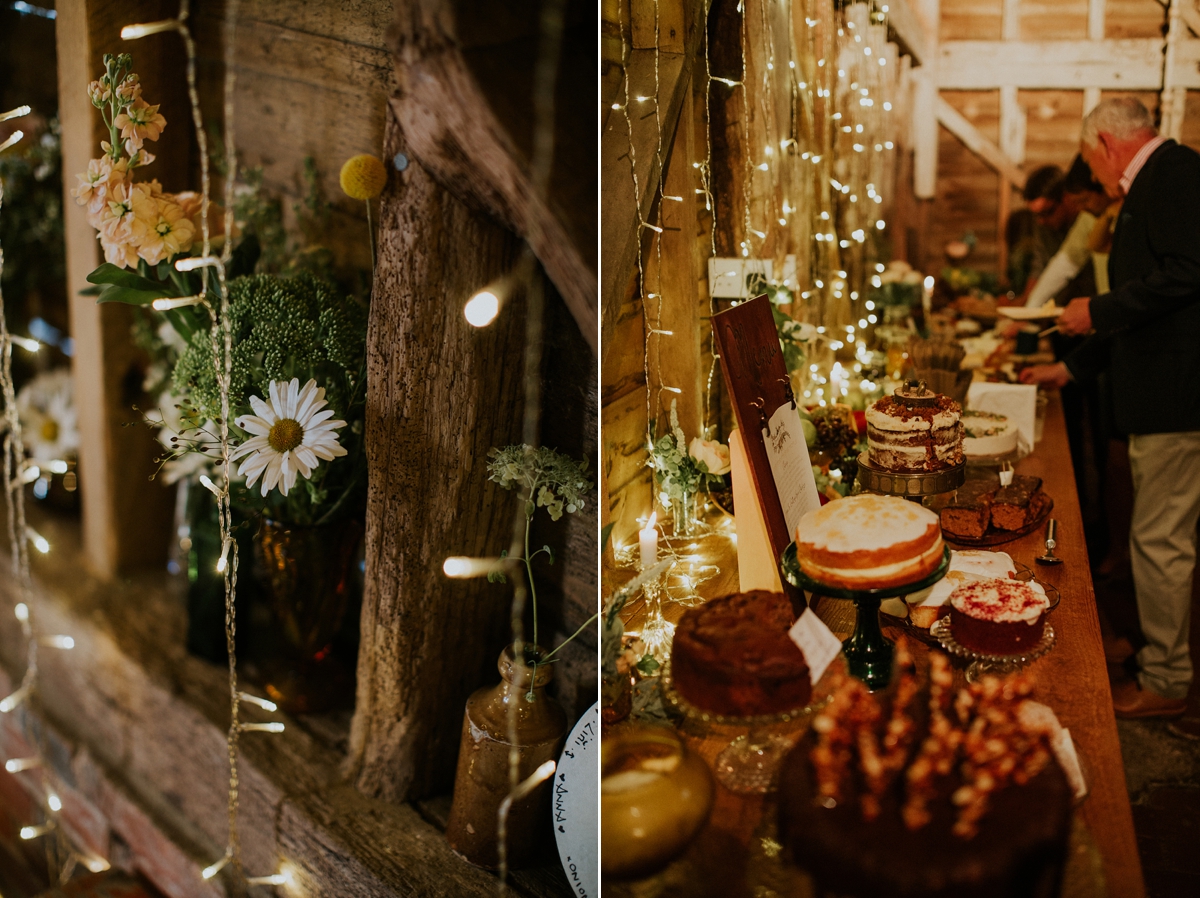 "Petal & Feast also did the majority of our wedding catering and their food was as good, if not better, than their flowers. We opted for a selection of crostini's for when our guests arrived and a bit later on in the afternoon we also had their ice-cream bike. We chose fresh raspberry, lemon meringue and salted caramel ice-creams."
"For our main meal we had a huge selection of savoury tarts, fresh breads and the most amazing salads we've ever eaten! Cous cous, cannellini bean and pesto, lentil, carrot and feta and potato salad to name a few. In the evening we put together a huge self-serve buffet of cakes, cheeses, crackers, fresh fruits and homemade chutney's and pickles."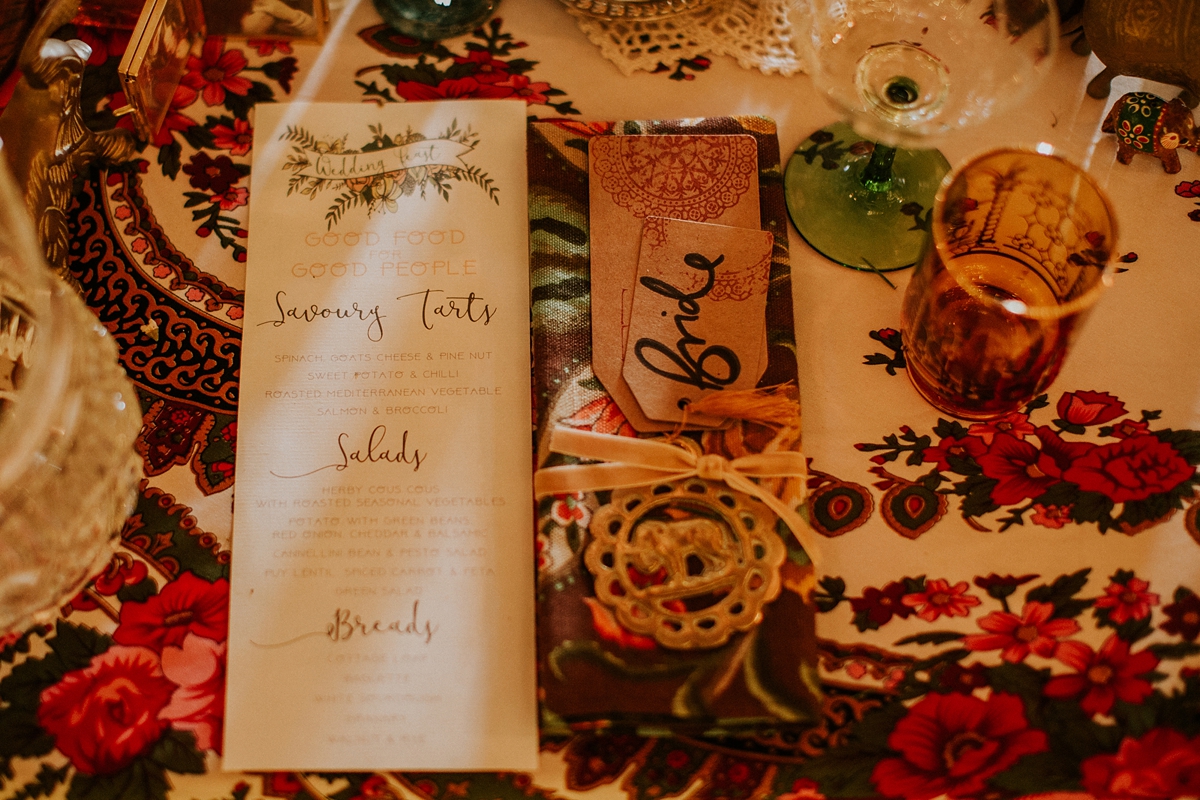 Ami and Maxwell spent time hunting out their favours for guests and personalised tags to present them with.
"We spend a lot of time trawling through charity shops so by the time our wedding came along, we had a vintage horse brass assigned to everyone. I tied these to handmade napkins I made from vintage fabric, along with two Kraft tags. On one tag I wrote their name, and on the second I wrote a personal message to each guest starting with 'The One…'. I think everyone was touched by the individuality and loved this little detail. Some were serious, some heartfelt and some were funny. I just wanted everyone to know how much they meant to us."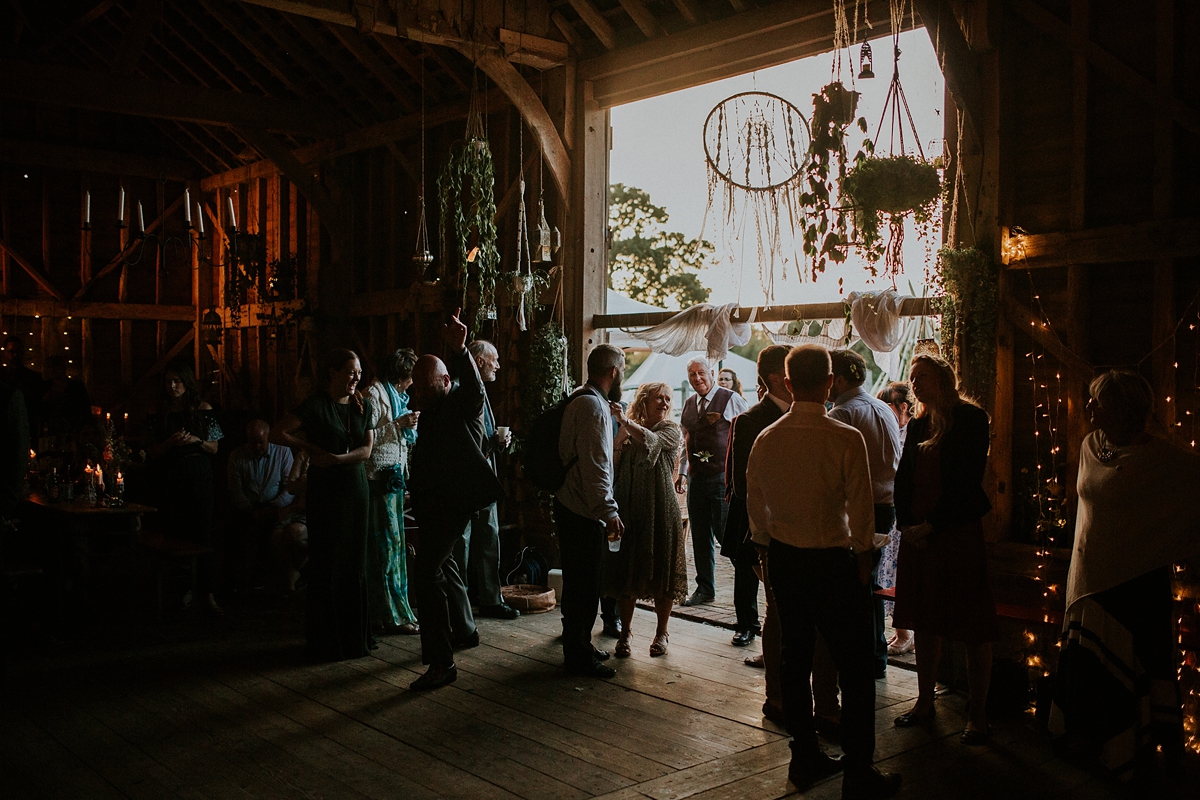 Following the wedding breakfast, came the dancing and a huge party with a full dance floor.
"We knew we wanted a live band and we discovered the Brighton based Good Company Band online. They played the most amazing mix of fun floor fillers and had everyone up dancing the night away. As a special request they also learnt our first dance song, 'All I Want Is You' by Barry Louis Polisar."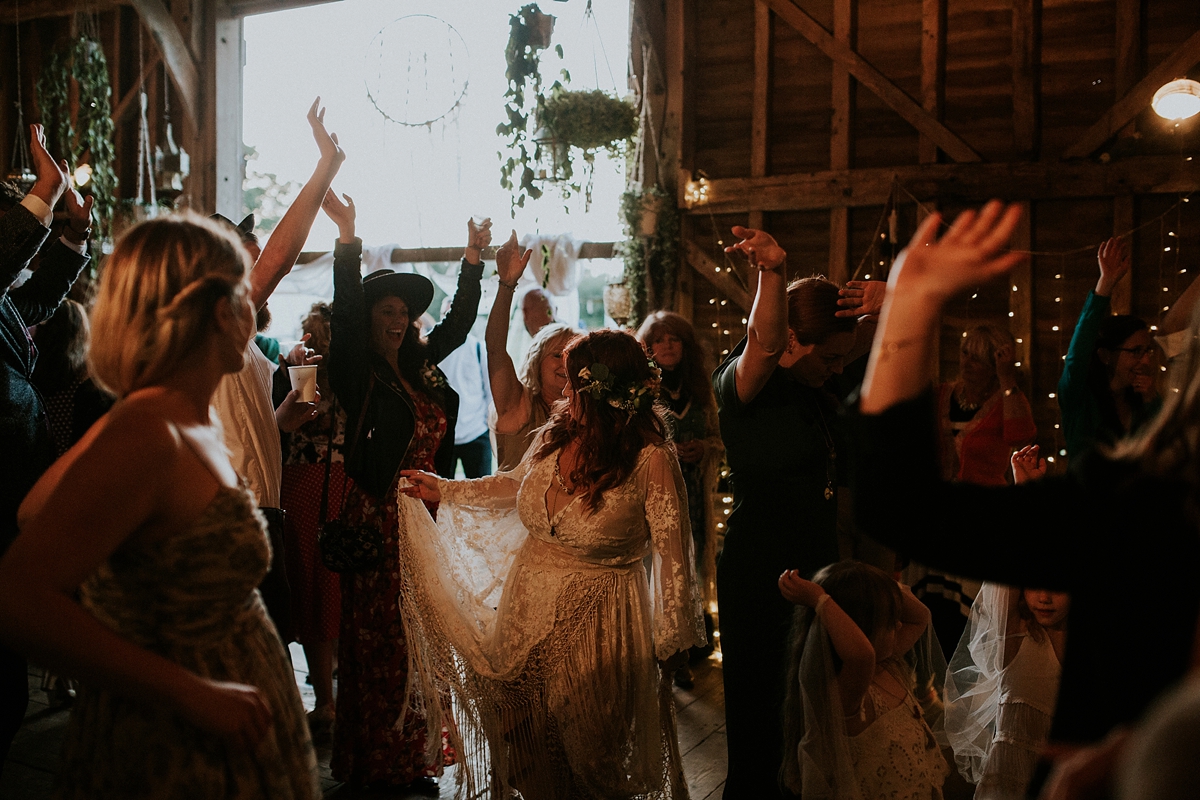 Words of Wedded Wisdom
"The moments that stand out as our favourite parts of our day are the ones that were really 'us'. I believe it's easy to get caught up in what you 'should' do but we were adamant that our day would be a true reflection of us and I think we achieved that. Stick to your guns and if you want to do something that breaks traditions, just do it. It's your day and as long as, at the end of the day you're both married, what does it matter if you change the order of the day, or don't do a tradition you're 'supposed' to do."
"Enjoy the planning and preparations and take a step back and remember why you're doing it and do it together. Things will go wrong but there's nothing you can do about it and I promise, looking back, it's not what you'll remember. Things will be OK!"
"Our amazing friends and family all chipped in but if we could have afforded it, it would have been nice if someone else could have just been on top of all the things that can get easily missed."
"Finally, stop and smell the roses, breathe deeply, and truly enjoy the experience. Make sure you take time to appreciate all your hard work! Step away and look at your day from the sidelines. Make sure you sit down and enjoy your meal and stop to smell the flowers around you. Steal away as many moments as you can with your new spouse because it's true what they say, time flies when you're having fun, and you will truly have the most fun day of your lives!"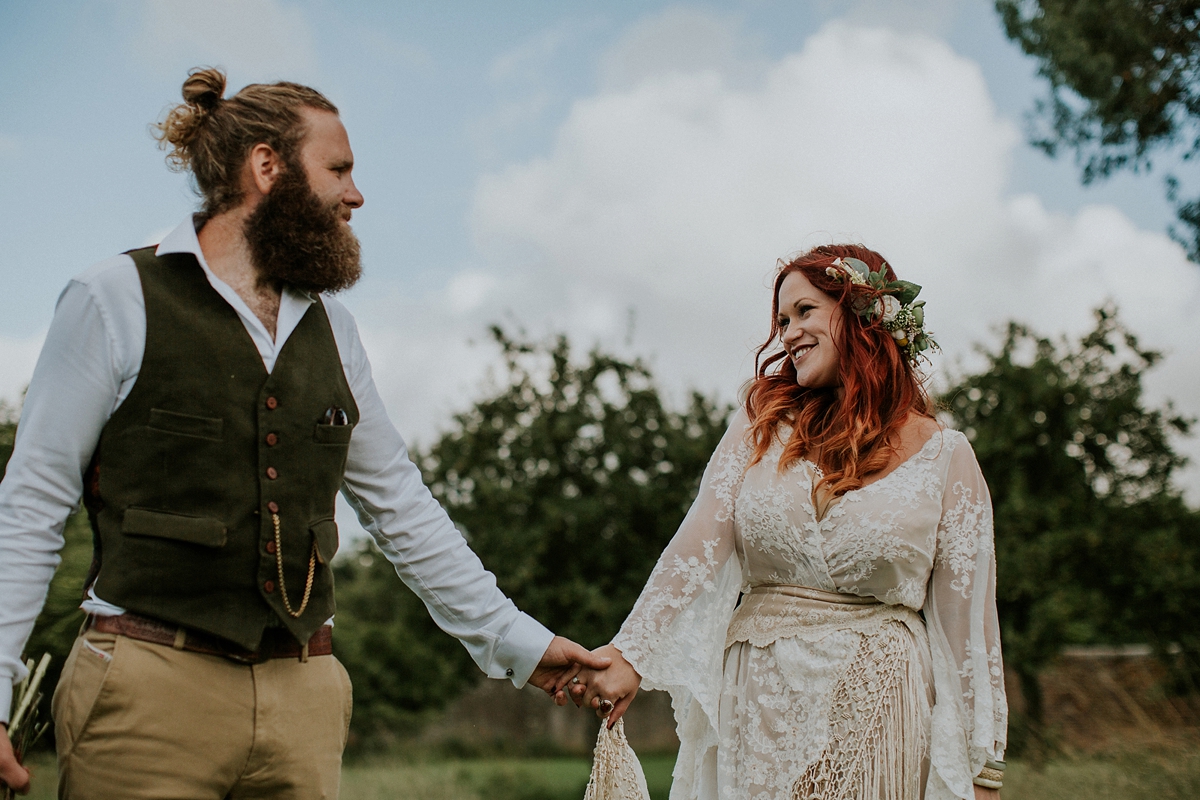 What an incredibly creative and gorgeous couple! This wedding was an absolute dream to look at and write-up and I wish all the love and happiness to our newlyweds for many years to come. A huge thank you to Hayley Savage for these amazing photographs, I think you'll agree that she captured everything just perfectly.
Until next time…
Much love,
Holly x