Lovely ones, how are you today? I'm writing this feature beside an open window today, enjoying a lovely cooler breeze after the scorching temperatures from a few days ago!
Today we're taking a trip to East London for a beautiful celebration centred around our couple's Christian faith; a church ceremony filled with meaning and significance, followed by a reception at one of the most architecturally beautiful town halls in the city.
Dress by Rita Colson

+ Follow
This is the wedding of NHS Project Officer Prisca, and her love Peter, who is an Architectural Assistant. They celebrated their marriage on the 6 October at St John's Church in Hoxton, before heading to the Art Deco splendour of Hackney Town Hall for their reception party.
"I met Peter through Anna, his sister. We met a few times at birthday parties and various family events, but he caught my eye at Anna's daughter's first birthday party. At the time he was completely oblivious, and took a while to catch on, but I told a friend who told another friend, and eventually Pete heard about it."
"Though it did take him a few more weeks to gather the courage to ask me out – after an amusing aborted attempt, he eventually asked me out, and we went to a cute little pizza place an hour later."
Nikola Auter Photography

+ Follow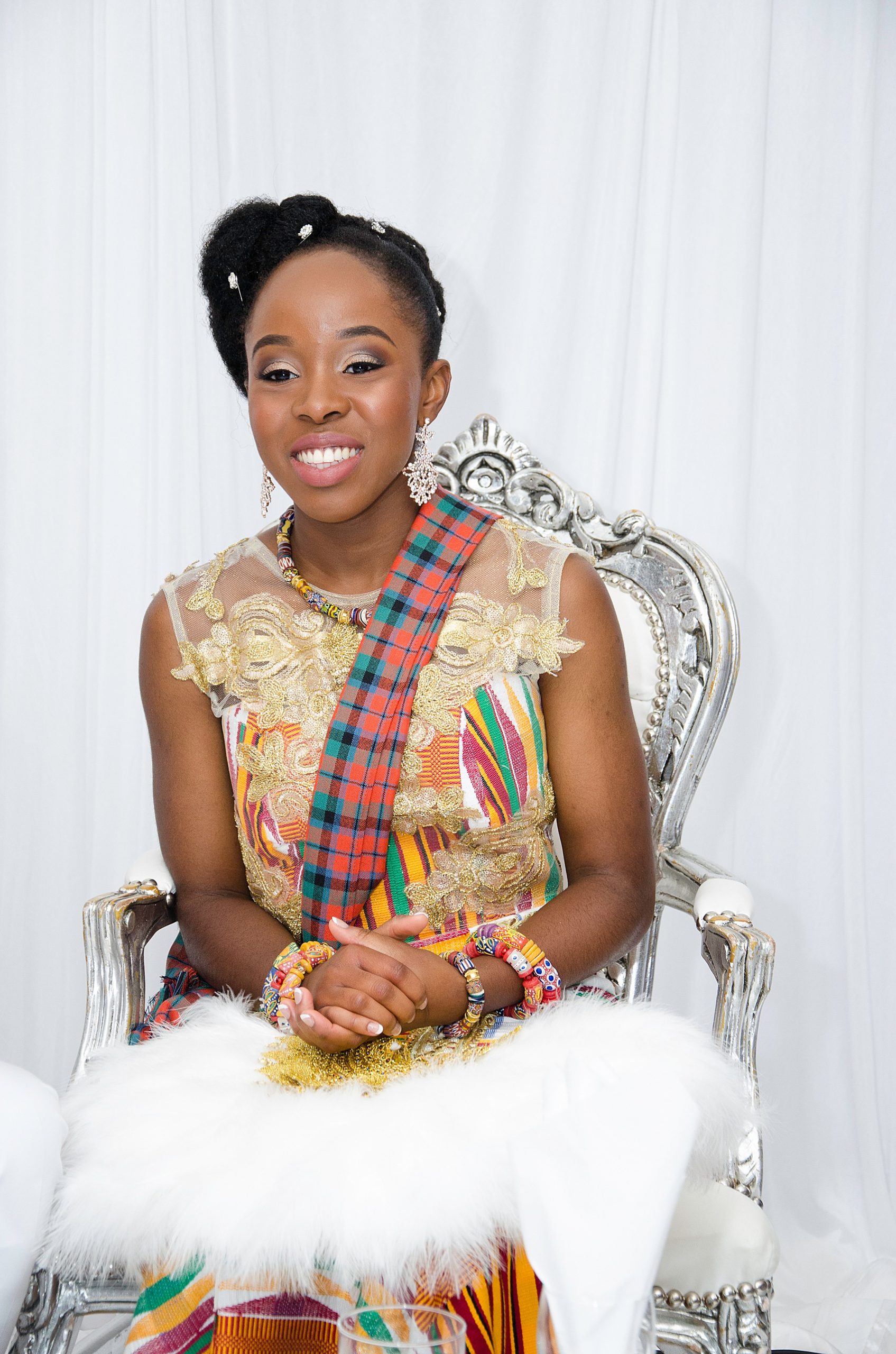 "We dated for a year and half mostly at a distance with him in Nottingham and me in London before he asked me to marry him."
"Because I don't normally like surprises (I always find a way to know what is happening!) to make sure I was completely surprised, Peter enlisted the help of my friends and work colleagues to throw me off and make me think he was planning the worst surprises, and had ordered the worst looking ring ever."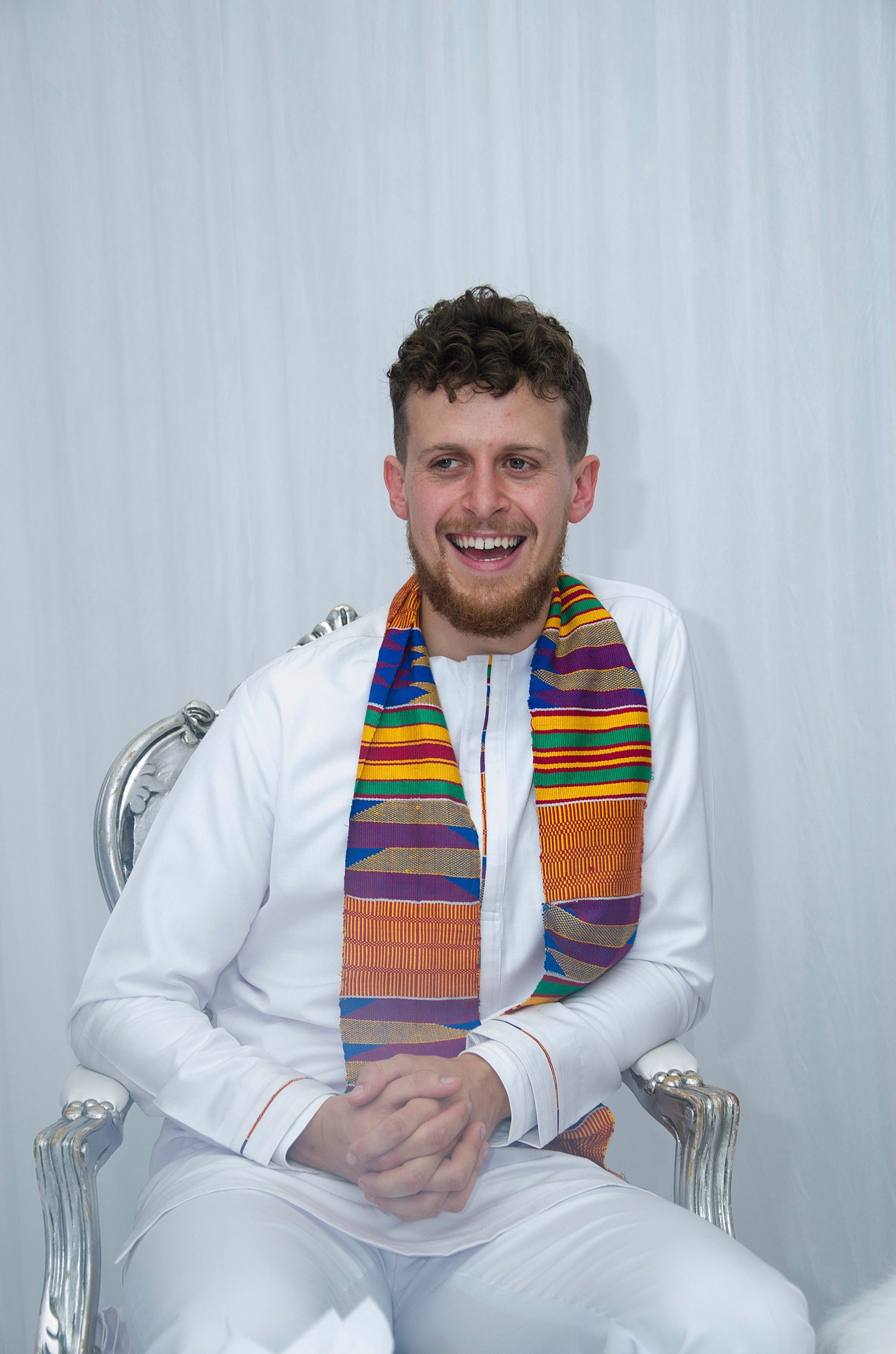 "He pranked me with some fake rings as well! So by the time he proposed I was definitely not expecting it."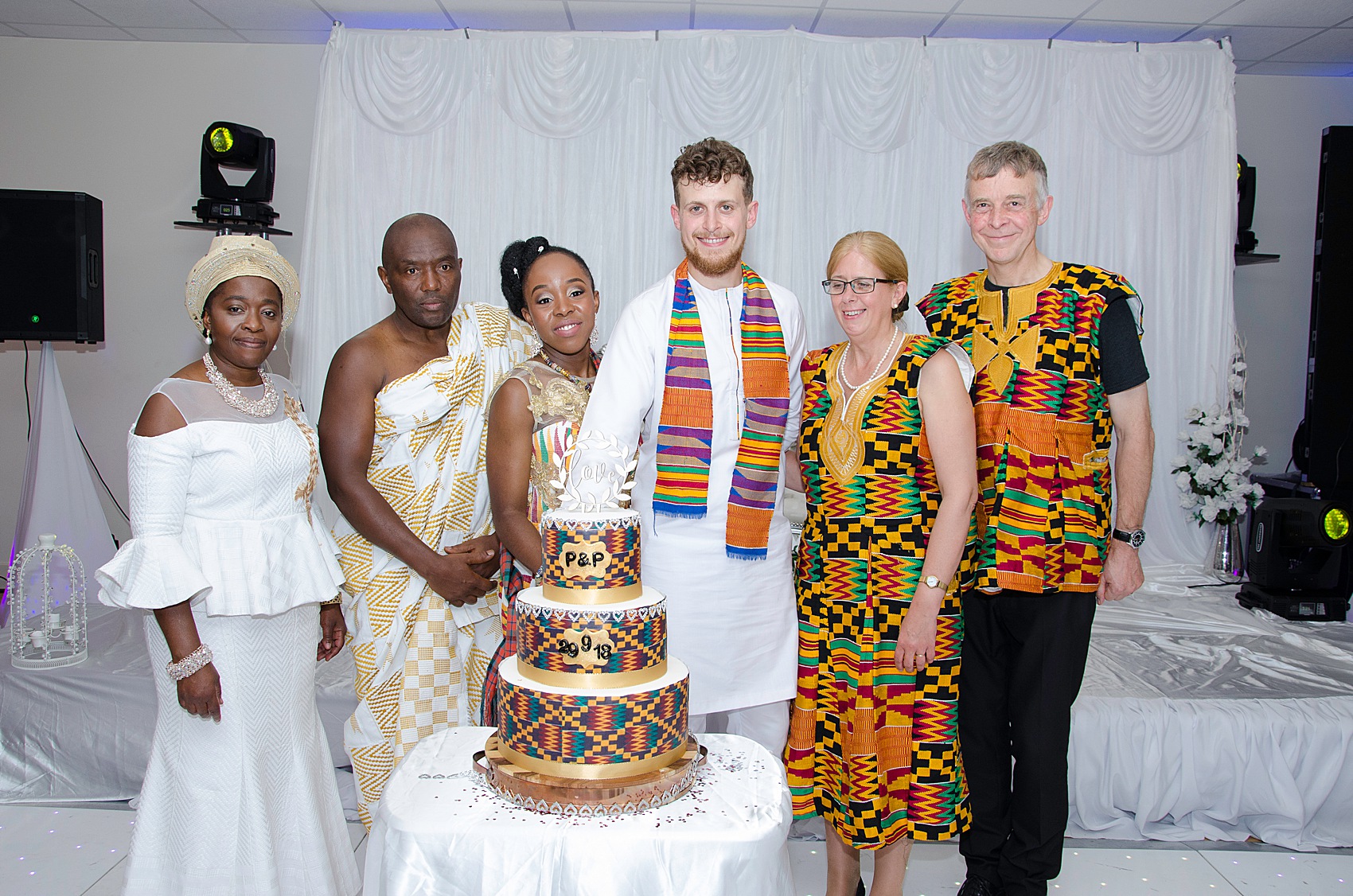 "He had my housemate let him into my flat, and cooked a wonderful breakfast before heading to Bristol, going to the zoo and eventually proposing in a beautiful cave under the Clifton Observatory, which has views out across the gorge and suspension bridge there."
"It was wonderfully romantic, and I was delighted with the ring. He proposed, I said yes, and then we set ourselves 9 months to plan our wedding. We thought why wait, when you know you love each other and want to make that commitment to each other?"
Prisca's gorgeous hair and make-up came courtesy of Belle Crown and Big Hair No Care, who specialise in ethical Afro hair extensions, clip-ins, and lace front wigs.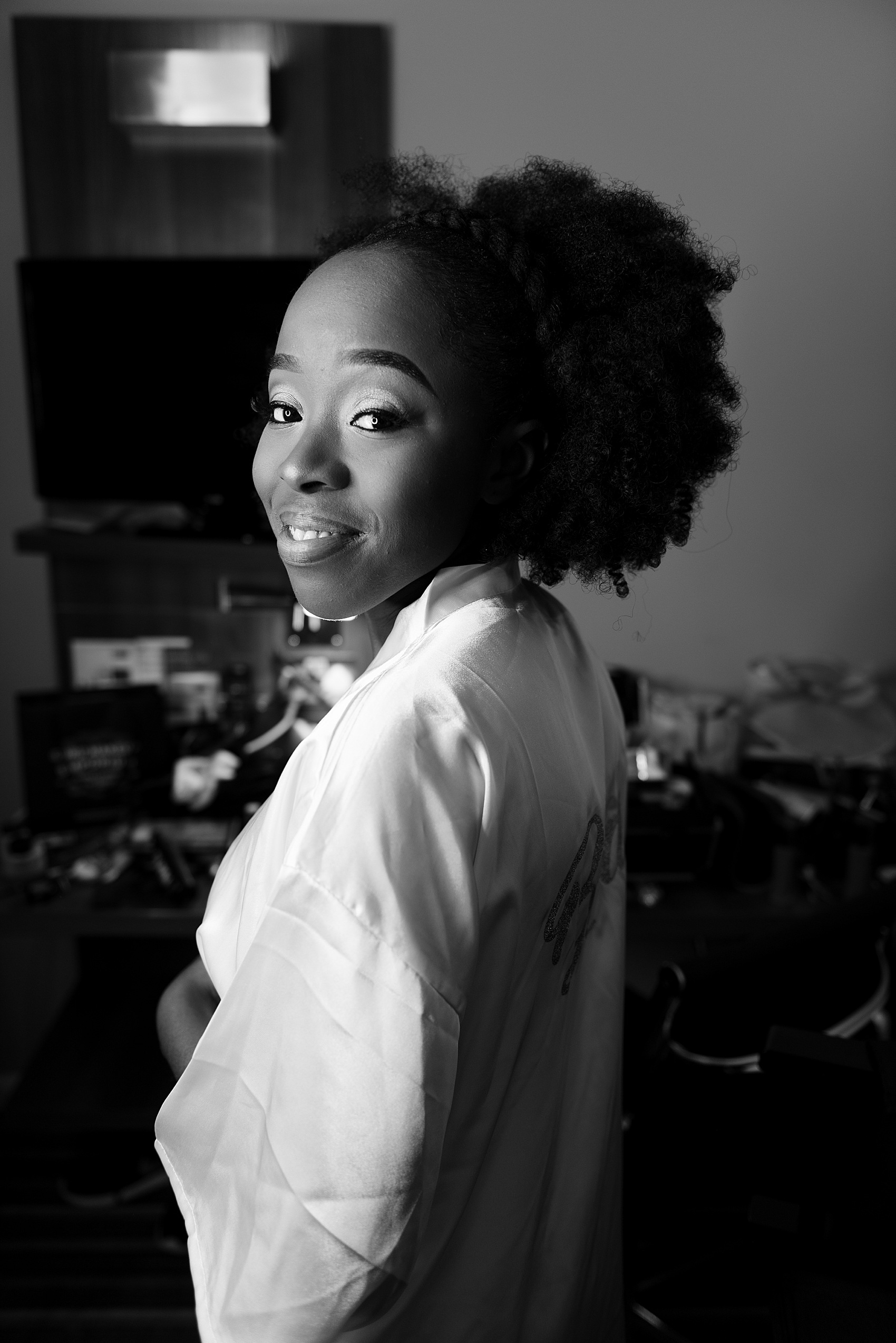 For her dress, Prisca originally thought she would go for something boho, but when she began to try these styles on, realised the look wasn't for her. Her eventual choice was a timelessly elegant dress by designer Rita Colson, who crafts exquisite pieces using ethically and sustainably sourced vintage silks and lace. I just love Prisca's dress, with the delicate tulle straps falling just off her shoulders, beautifully structured bodice, pretty lace and slinky mermaid silhouette.
"My Maid of Honour spotted a dress on the rack at Rita Colson, which I originally didn't like, but as soon as I tried it on I instantly loved it. It was classy and simple with subtle lace appliques to accentuate body parts. I did further alterations and added few additional parts to the dress, too."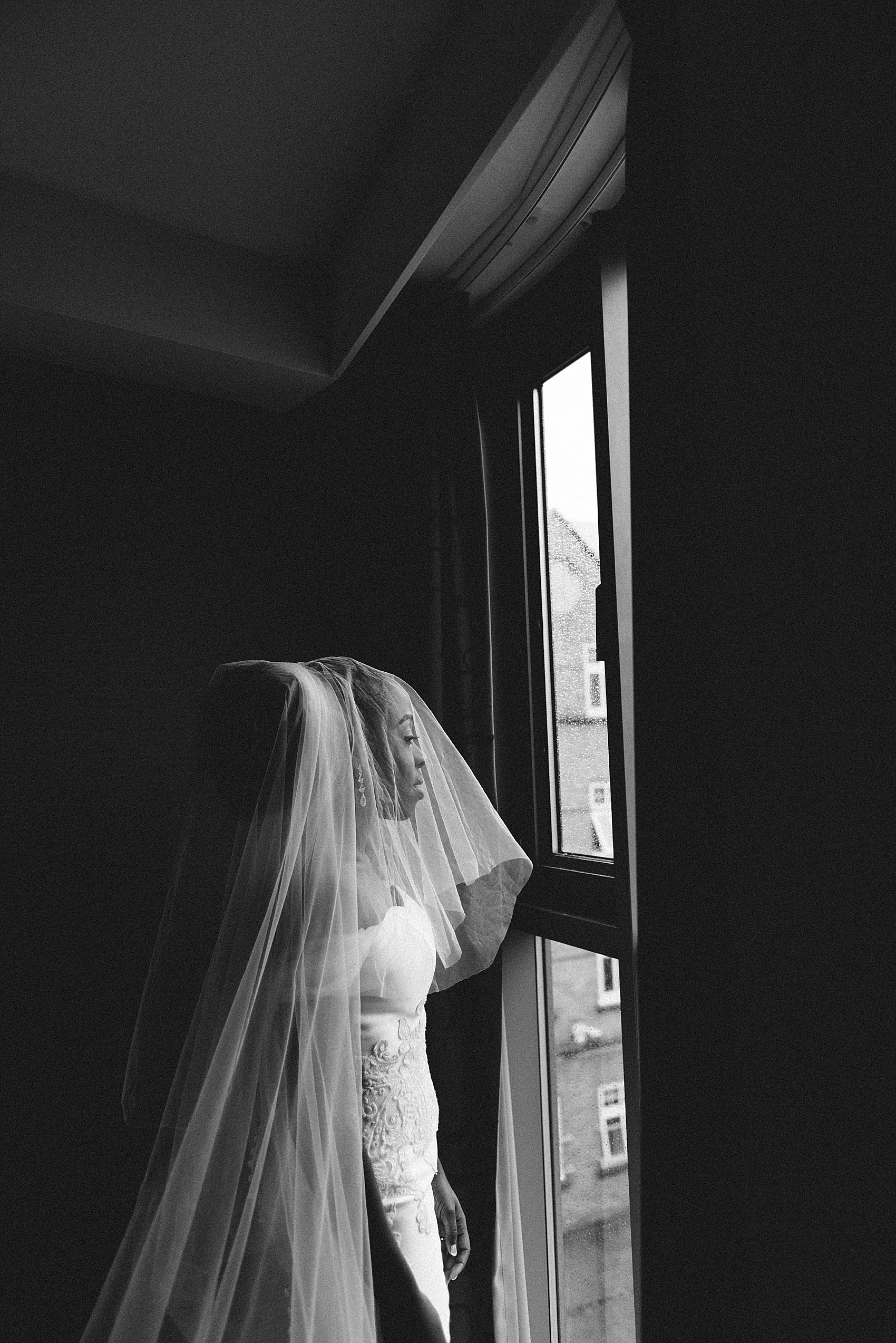 The bridesmaids looked lovely in their own choice of outfit, and together with Prisca, each carried a bouquet of beautiful white blooms, including hydrangeas and gypsophila, made for them by the couple's friend Tahima.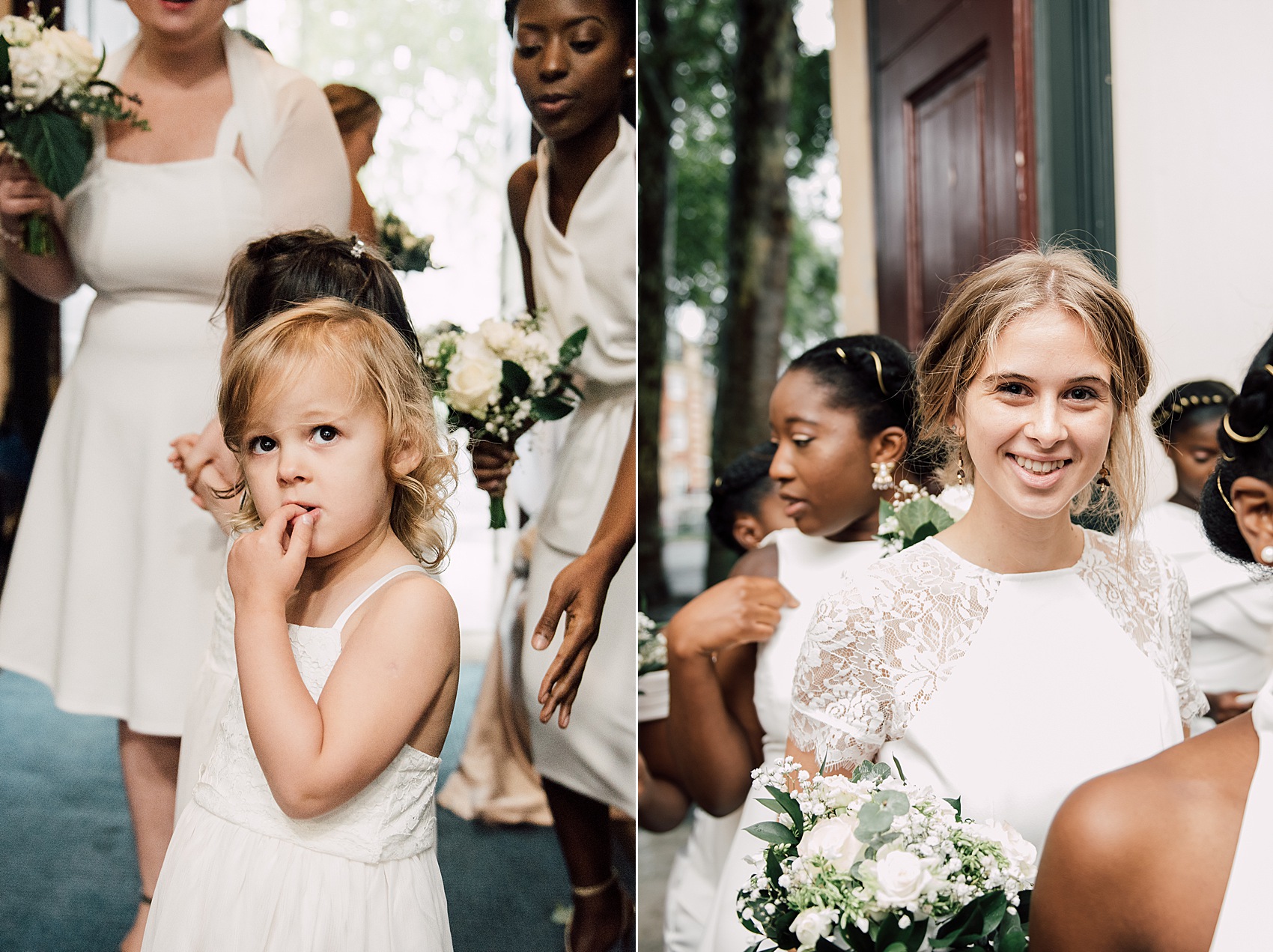 Prisca made her way to the church in a Hackney cab, which seemed fitting given the couple's London wedding, and the taxi was also owned by a family friend, too!
Prisca was accompanied down the aisle by her father, where groom Peter awaited her arrival, resplendent in full formal highland dress – the family tartan.
A lovely blusher veil with a pearl comb was also by Rita Colson, and Prisca wore shoes chosen at L.K Bennett.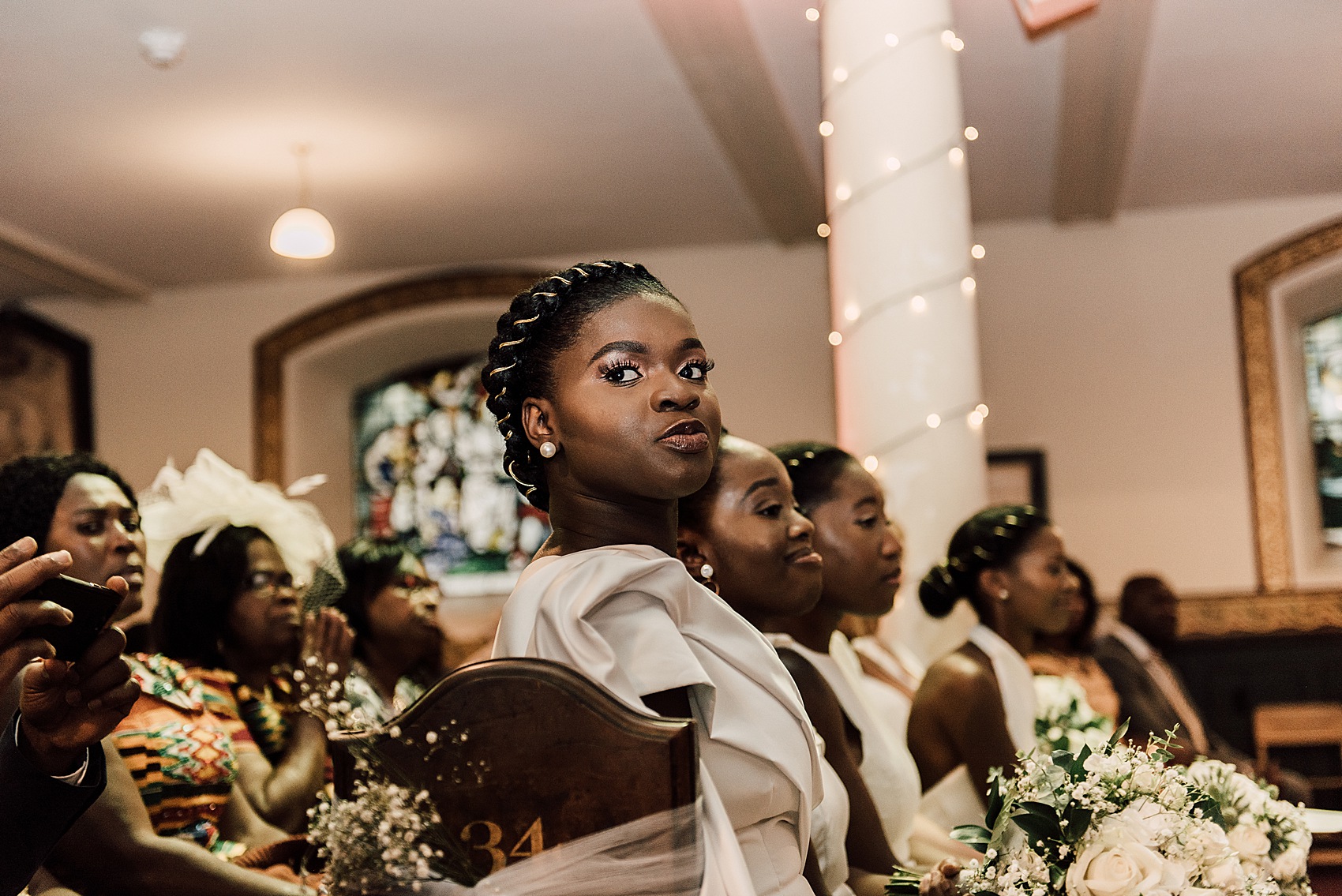 In a ceremony full of joy, Prisca and Peter made their vows to each other surrounded by the love of their family and friends, in a setting that meant a great deal to them.
"We chose St John's because we wanted a wedding that would represent our faith in Jesus. It is a foundation stone of our relationship, and we were thrilled that the vicar there did so well to bring together both our cultures and involving all kinds of people who are important to us in the ceremony."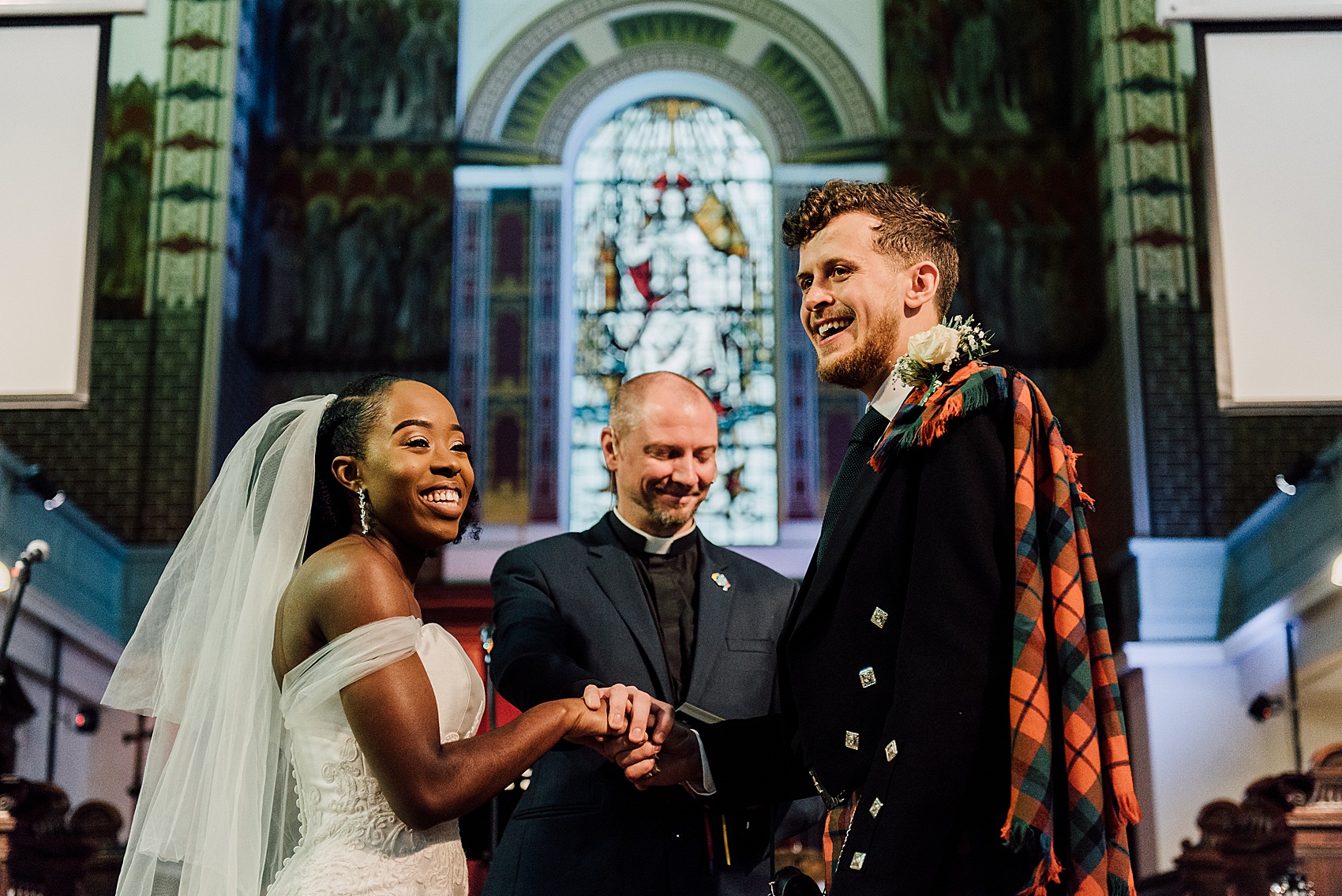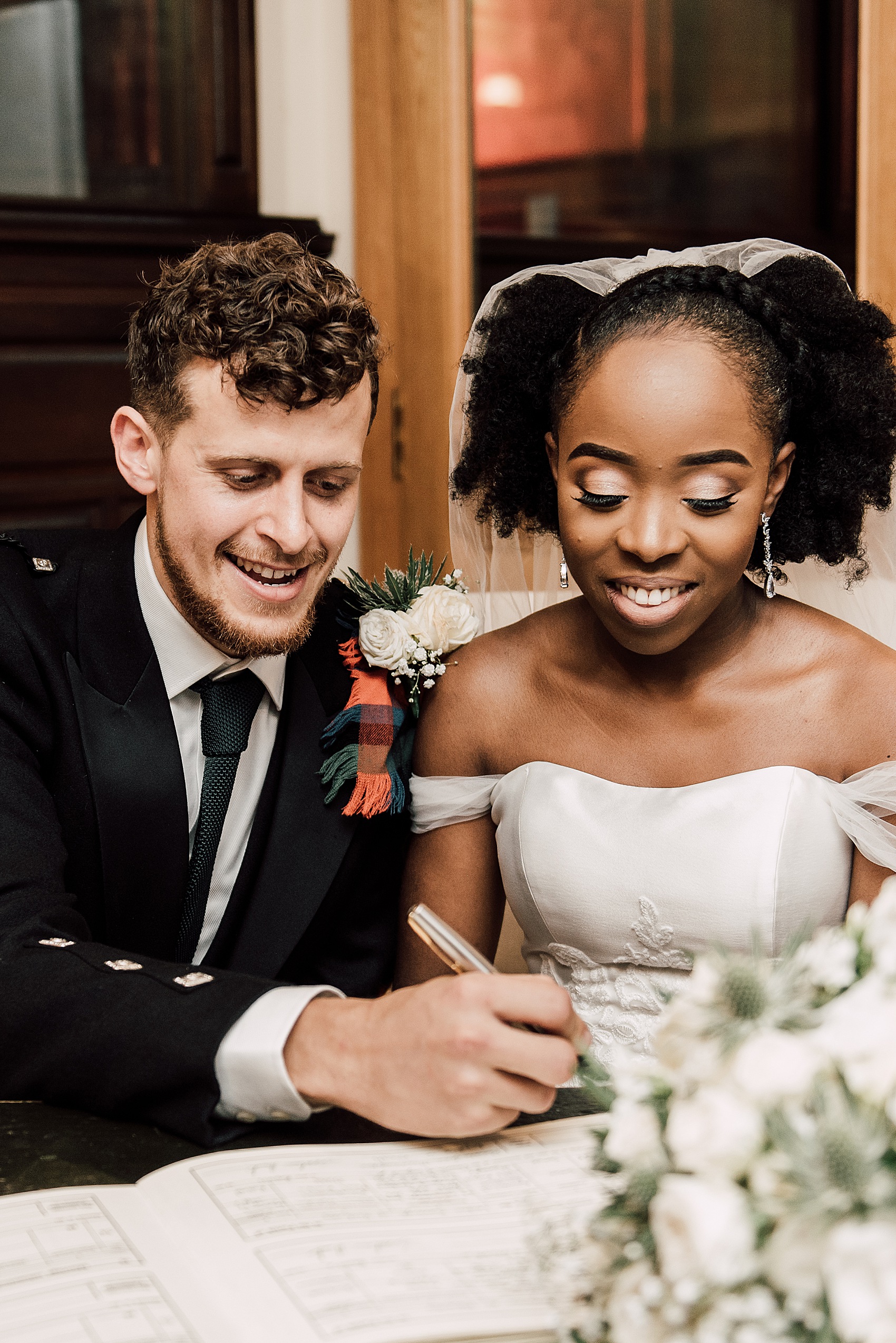 "We picked thistles to fit in with the Scottish tradition, and I wanted big white roses and lots of foliage to fit in with our colour scheme."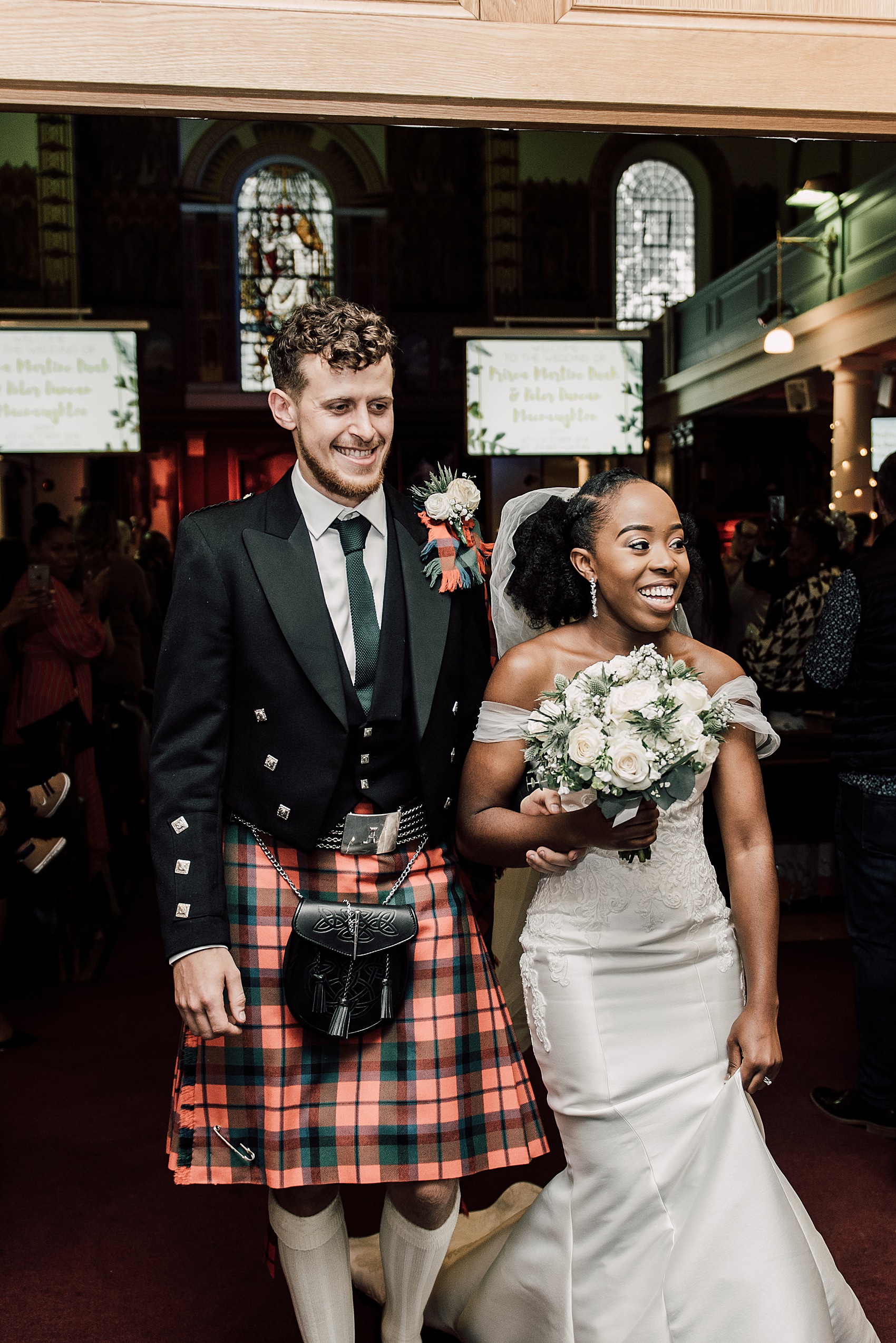 This collection of super-stylish, fine art images comes to us courtesy of photographer Nikola Auterska. I just love the way Nikola captured Prisca and Peter's day with these beautifully composed shots reflecting all the fun and the love.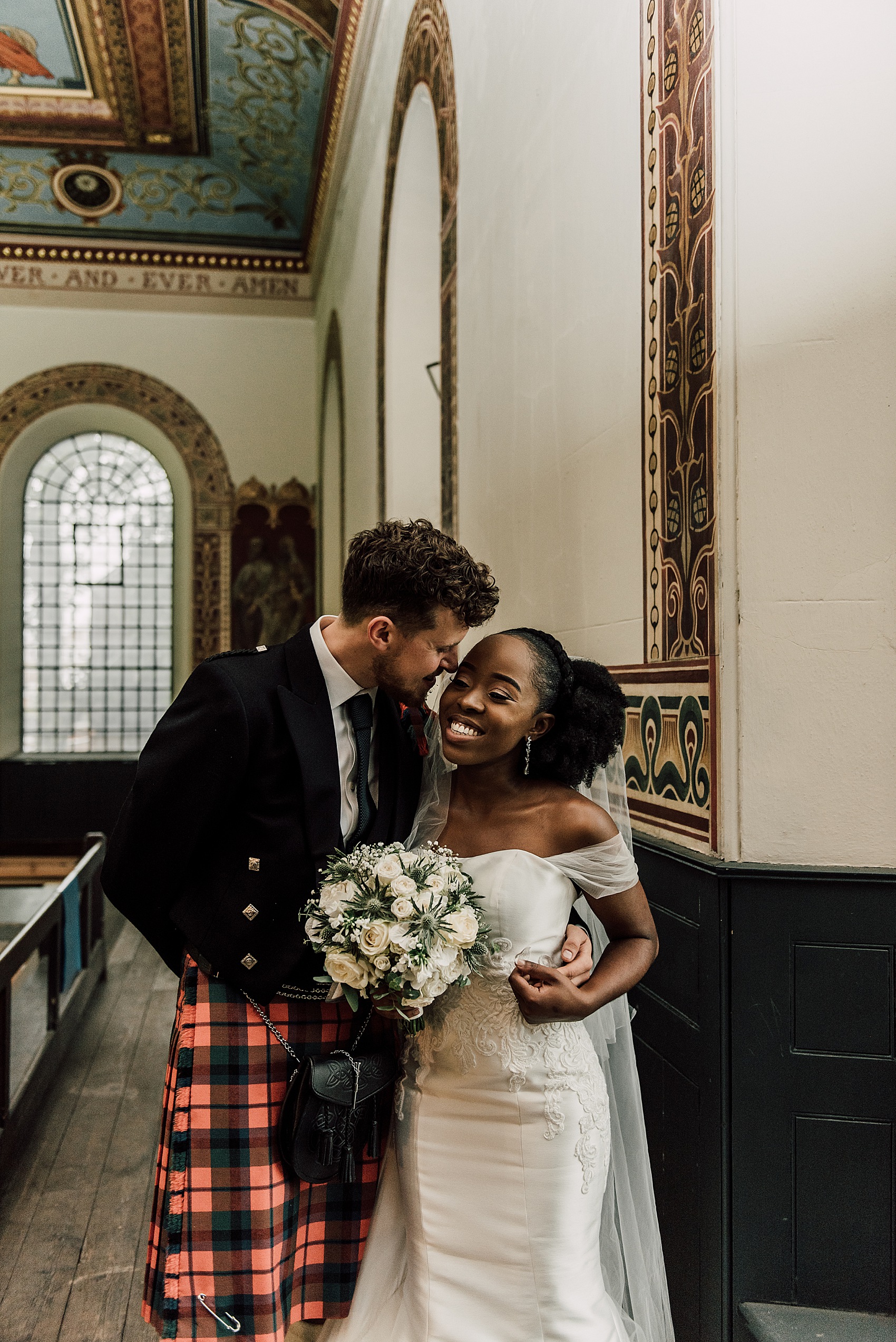 "Nikki is a great photographer. She blends into the event, and you don't even notice she is there, but she comes up with pictures even more beautiful than you can imagine. Because we had awful weather all pictures had to be done inside, but Nikki managed to edit them to make everyone look beautiful and natural."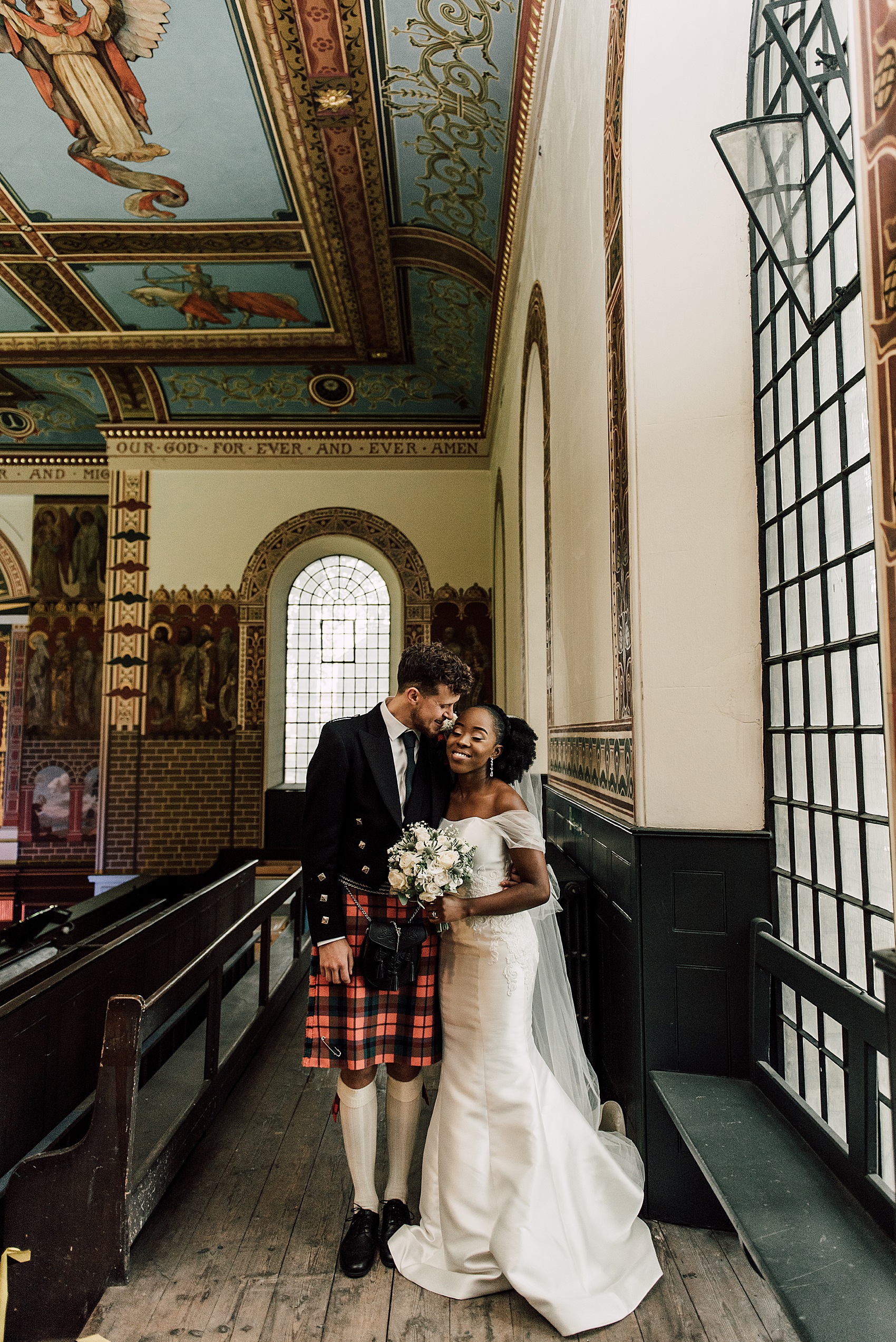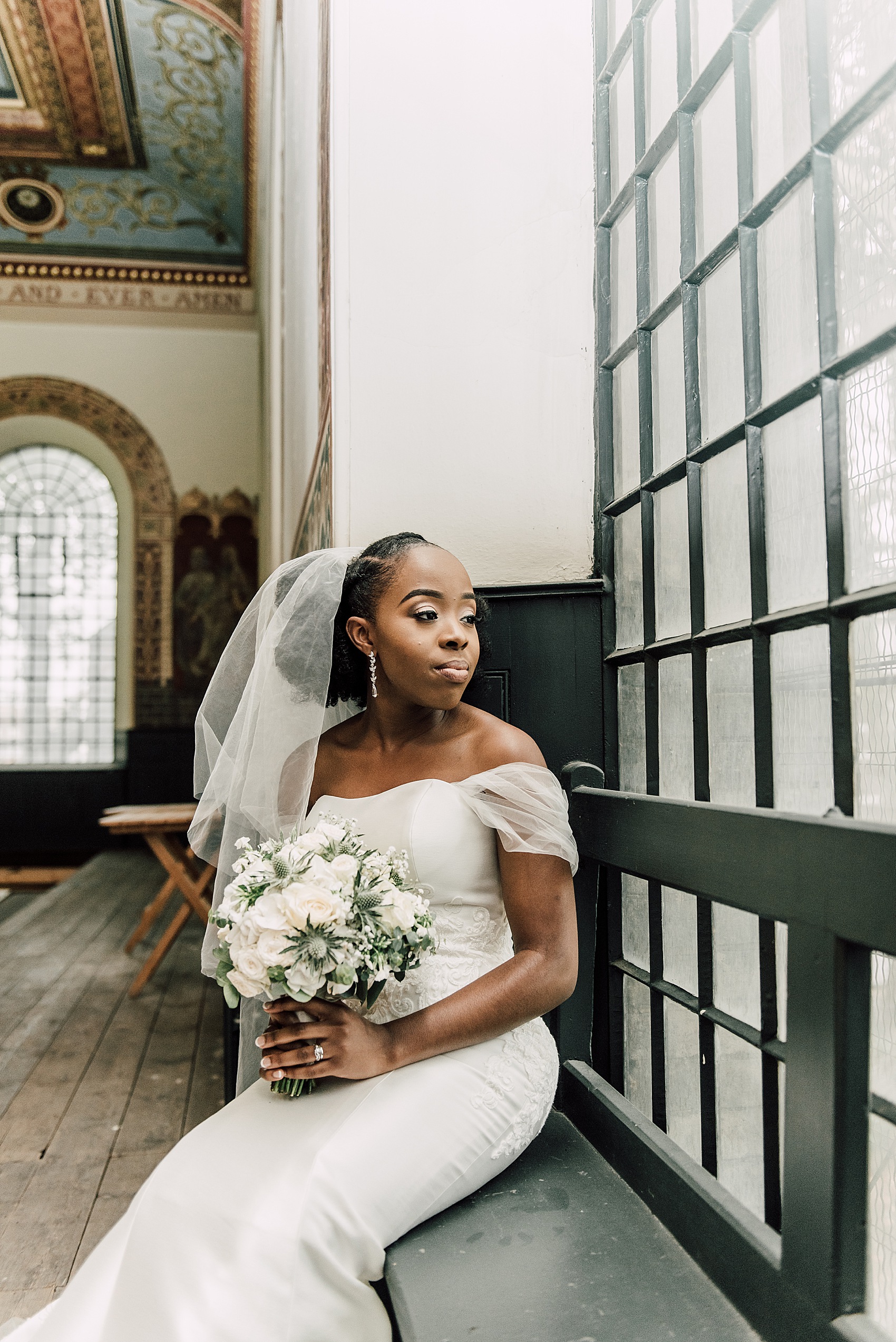 A favourite moment from the day for the couple was the time they spent alone together on the journey from the church to Hackney Town Hall.
"This was the first time we were alone since being married, and it gave us an opportunity to breathe and take it all in."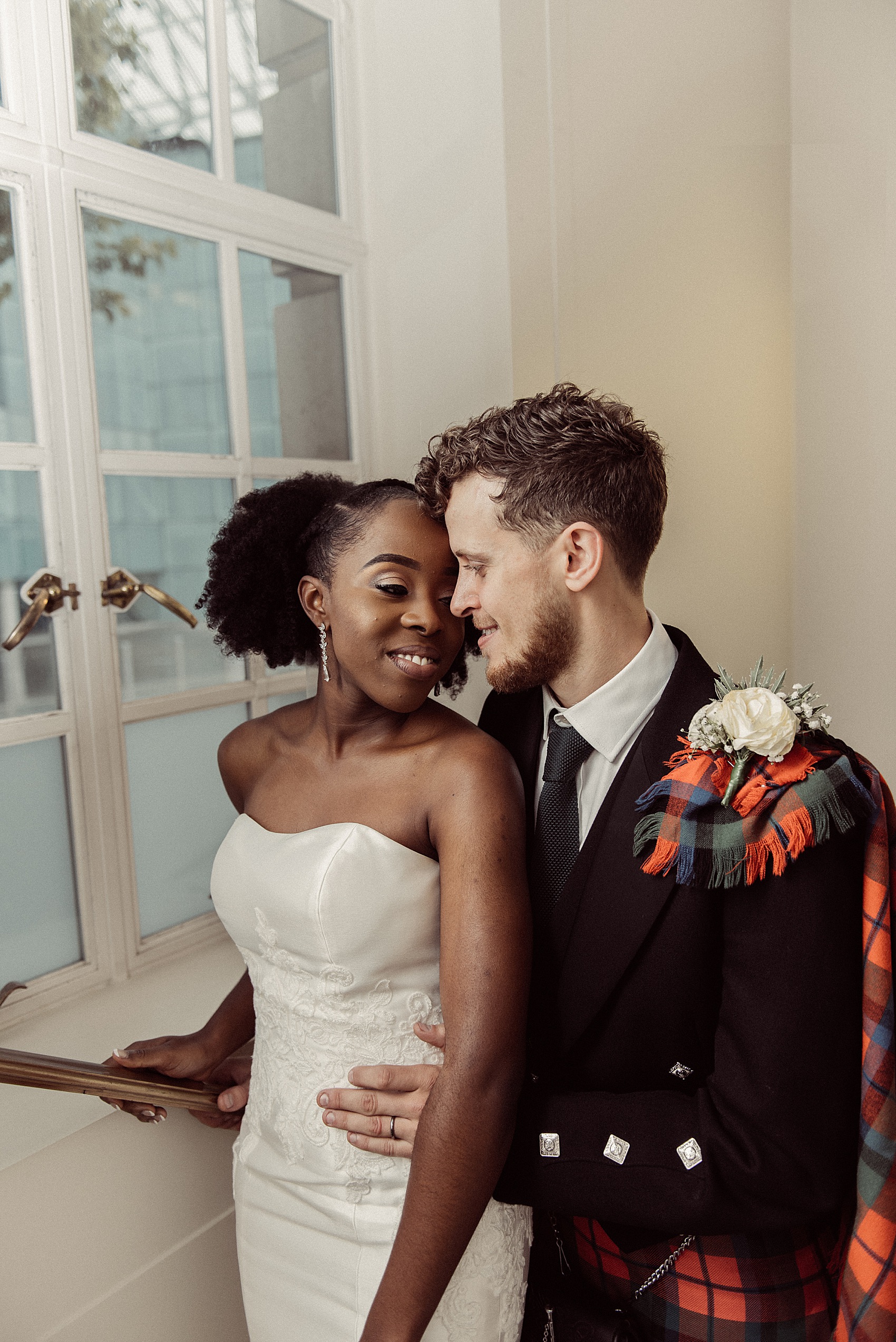 "Hackney Town Hall worked great for our reception, as it is an architecturally wonderful venue with a big enough capacity to leave plenty of room for dancing while comfortably hosting our 220+ guests."
Decor and styling focused on the idea of bringing the feel of a garden indoors, with floral wreaths, the bridesmaids' bouquets repurposed as table centrepieces, and a photobooth decorated with more flowers and foliage, as well as cardboard cut-outs of the happy couple! Palm Trees Catering & Events served a delicious wedding feast for everyone to enjoy.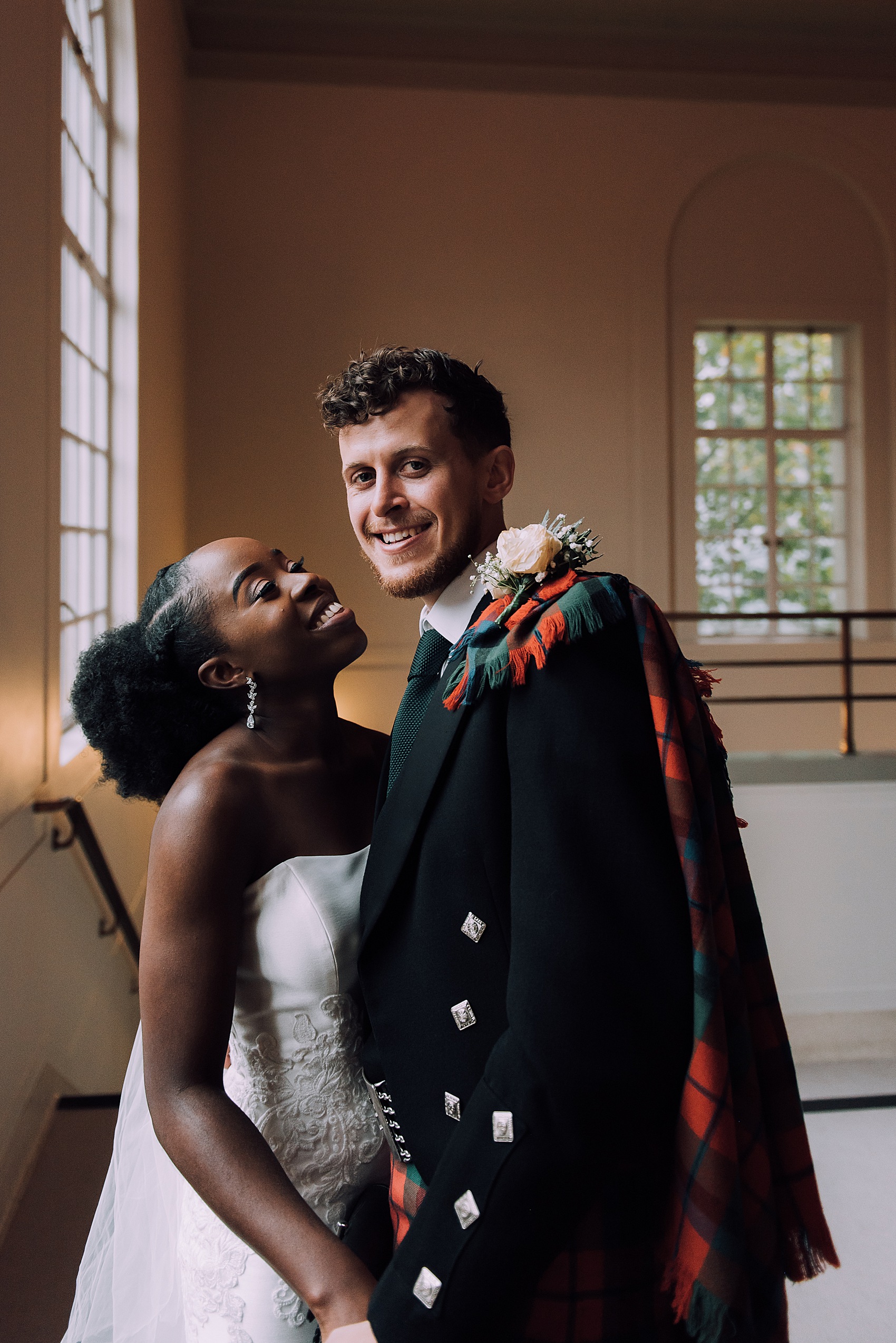 "Our sister made our cake. We both have a bit of a sweet tooth, so we asked for a four-layered cake made of fruit, chocolate, coffee and vanilla. We had so much made we had some leftover, which should keep until our one year anniversary."
After dinner came dancing, and there was live music from band The Simple Souls (sadly unable to find any further details about this band, apologies) and Prisca and Peter's first dance was to the song At Last by Etta James, which was performed by Prisca's aunt.
"At Last was performed by our jazz musician aunt Sue Richardson. We picked that song because it's one of our favourites."
"Another highlight was the end of the wedding; saying goodbye to my mother, and the look in her eyes when I realised that I was no longer her little girl."
Words of Wedded Wisdom
"The most important thing is the vows you make to each other. The real reason for a wedding is the commitment you make to each other, and that should be the most important thing above the decorations, dress and other plans."
"In the build up to the wedding it's also important to make time for each other and plan for date nights where you ban the word wedding and just enjoy being in each other's company."
"Lastly, enjoy every single moment. It all goes so quickly, and by the time you know it, it's all over. So take the time to take it all in and enjoy the day."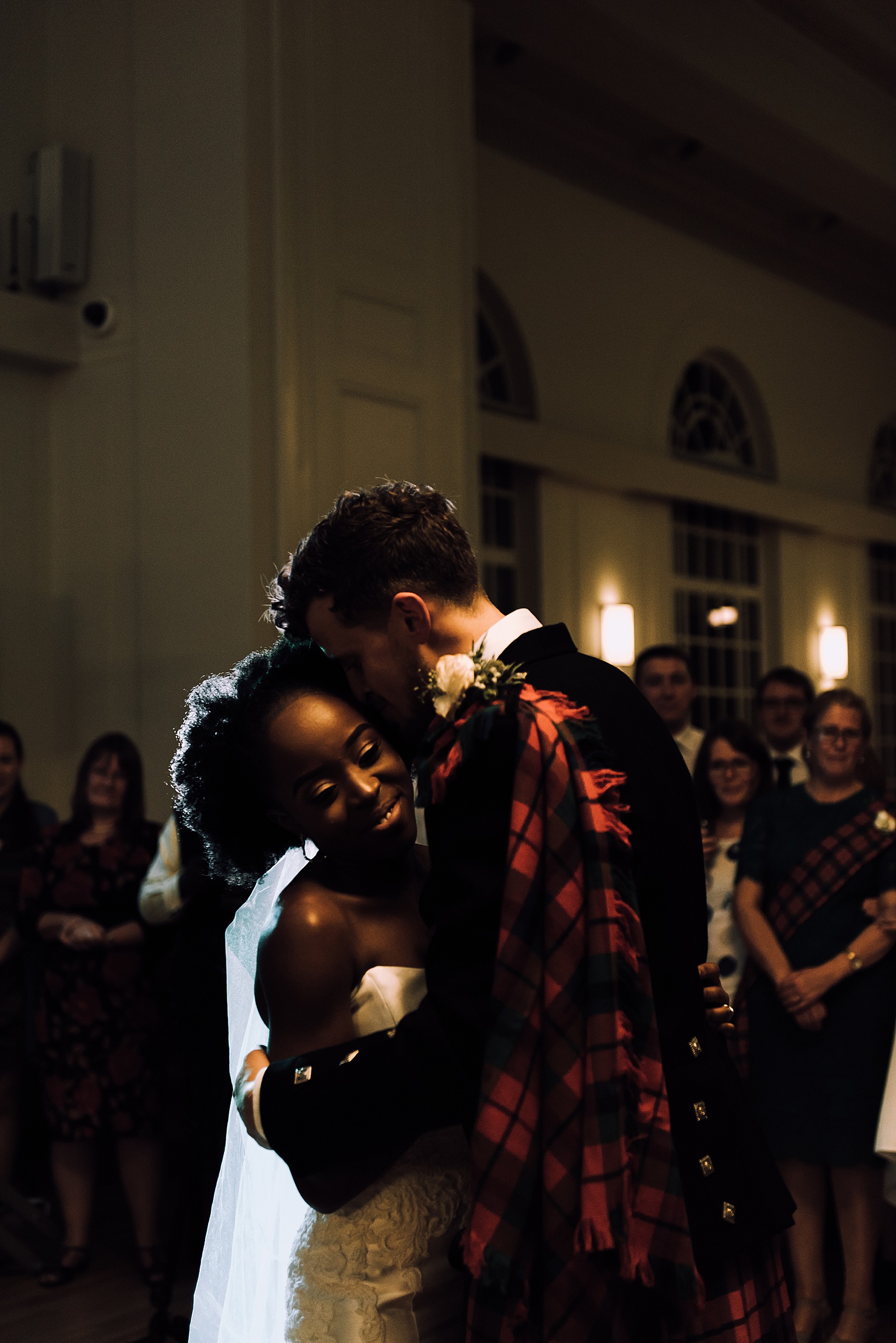 Well, wasn't that just all kinds of wonderful? From Prisca's gorgeous dress to Peter's fantastic highland attire. Just lovely. By the way, if you've been struck by the beauty of designer Rita Colson's work, then do take some time to read this interview with her on Love My Dress. Finally, thank you to photographer Nikola Auterska for these beautiful images.
With love,
Laura