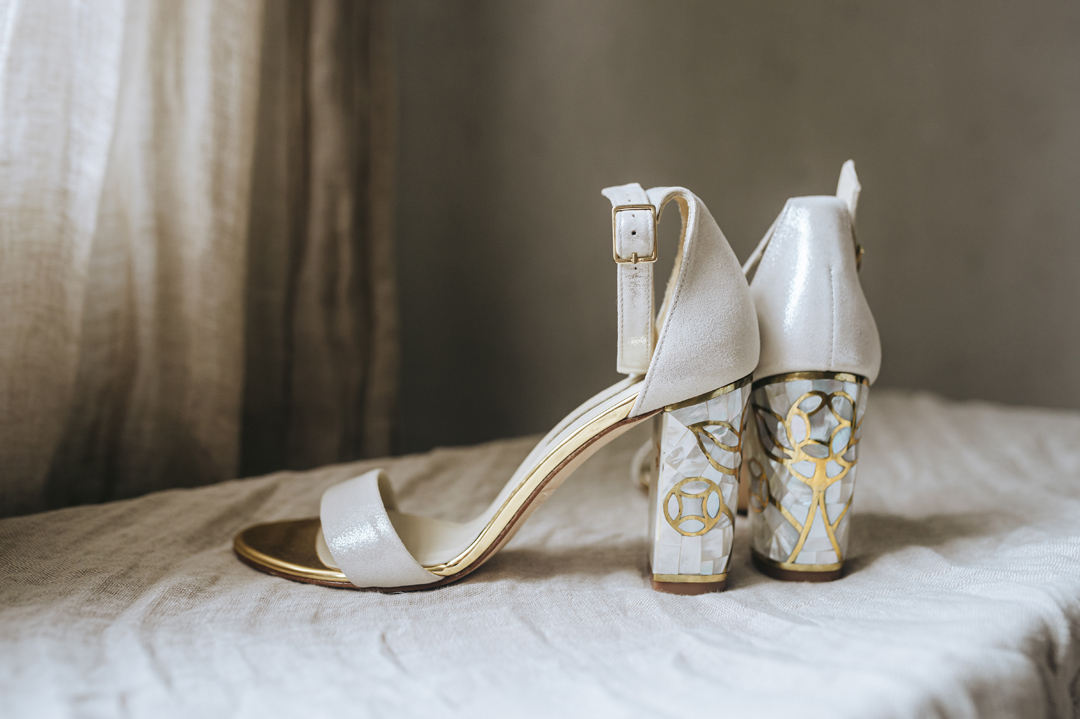 About Freya Rose London
Freya Rose London is a sustainable, luxury brand who create the most sublime, handcrafted, mother of pearl wedding shoes and boots, and affordable luxury jewellery.
Freya Rose creates luxurious shoes for every bride, with flat heels, stiletto heels, block heels, ankle boots, flat sandals and the most elegant shoe clips. Freya Rose is renowned internationally for her beautiful, intricate mother of pearl heels, which have been crafted by the same family of artisans in Bali for over a decade.
Sustainable Wedding Shoes & Jewellery
Freya Rose London is a sustainable brand. Freya Rose herself is an advocate of slow-fashion with minimal impact on the environment. Her designs provide eminently stylish women the perfect opportunity to invest in long-lasting, quality pieces.
Freya Rose's Story
Freya Rose's eponymous label redefines British modern luxury. Her unique collections incorporate her knowledge of fine jewellery to create luxurious, jewelled shoes, using precious materials such as mother of pearl, brass and sterling silver. Her collections have gained her international awards and she is fast becoming regarded as one of the UK's leading shoe couturiers.
Where to Buy Freya Rose London
As well as her Portsmouth boutique, Freya Rose London also shares a boutique space with Maids to Measure at 50 Fulham Roa in South Kensington, London, SW3 6HH – so you can enjoy trying on shoes and looking for bridesmaids dresses at the same time.
We adore the Freya Rose brand and all it stand for – explore the Freya Rose London online shop here and explore related content on Love My Dress here.
Boutique
12 Grove Rd S, Southsea, Portsmouth, Southsea PO5 3QT, UK
By appointment only, please contact us for details
Videos
Frequently Asked Questions
Where can I buy Freya Rose London shoes and jewellery?
You can buy the full collection online www.freyarose.com or visit one of our stores https://freyarose.com/pages/contact or view samples at some of our stockists https://freyarose.com/pages/stockists.
I'm a half size. Should I size up or down when ordering?
Our shoes fit true to size. If you are a half size, we generally would recommend sizing up one size for the best fit, rather than size down.
I have wider or narrower feet that average - could you advise me?
We don't offer different width fittings and this would require making a last (the mould for the shoe to be stretched over) for every customer, which isn't a service we are able to offer. We are always happy to recommend styles that are particularly suited for different foot shapes so do get in touch and we will do our very best to help.
How do I clean my Freya Rose shoes?
How you clean your shoes depends what they are made of...
Suede has a very fine nap so please take extra care when cleaning. Freya Rose recommends using a suede cleaning block called 'Wolly'. You can buy one of these in most shoe repair shops. You can protect your shoes with a suede spray but please read the instructions fully before using. Do not spray your shoes if you would like to dye them.
Satin can be cleaned using a soft, slightly damp cloth, leave to dry naturally. Spray protection can be used, again do not spray your shoes if you want to dye them.
Leather can be cleaned with a damp cloth, Freya recommends you use a neutral polish to avoid colour mismatches. Details on the shoes are handmade and very delicate, they are not designed to be worn daily. Beads and trims may be lost or damaged if caught or snagged. Replacement beads for trims can be requested from us.
Our heels using sterling silver, brass and Mother of Pearl can be easily be cleaned by gently wiping down with a damp cloth. We provide a small silver cloth with your purchase and can be used to polish the silver and brass if it gets tarnished. Although the heels are more hard wearing than a heel covered in material damage can occur – we do provide a repair service, for more details contact [email protected]
I'm getting married in 2 weeks! Can I still buy from you?
Yes we do, collections are held in stock and can be ordered online. Please note on your order the date so we ensure they are prioritised.
Articles featuring Freya Rose London