I'm a huge fan of the London based Milliner, Jane Taylor, and so was pretty excited when Jane emailed me last week to share some images from her latest collection of ready to wear bridal pieces, which included some headpieces that had been returned to Jane's studio that very afternoon, having been sent away for gold plating.
I love Jane's demure and totally chic designs, which would suit any vintage loving and/or glamorous Bride.  Her creations are embellished with vintage feathers, veiling, lace, gems and antique adornments and each hand-crafted piece is entirely unique…
"All pieces from my new 'Crystal' bridal ready to wear collection are made from either Swarovski crystals or pearls and set in silver or gold plated designs. This collection was incredibly popular at the London vintage wedding fair and a number of pieces have been consistently featured in leading bridal magazines…."
Love My Dress Wedding Blog – Imagery Copyright (c) 2010, Jane Taylor Millinery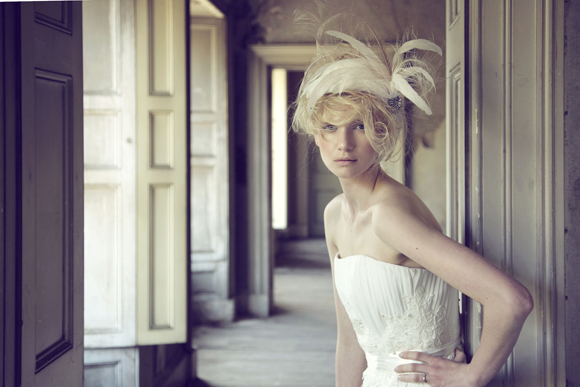 Such utterly beautiful styling in these photographs, I adore them.
Below, some images of the beautiful new gold plated designs, beginning with the 'Gold Crystal Shooting Star' – £100…
Below, the Daisy Crystal Band in silver, which can also be made in gold – £99…
Below, the delightful Art Deco crystal comb on black metal. This can be set in gold or silver plate – £89…
And a selection of beautiful designs from Jane's latest collection…
The new Jane Taylor Crystal Collection is available to purchase online now, and, Jane tells me, will be launched in one of the large London stores early next year.  For further information on any of the above designs, please visit the Jane Taylor Millinery website or email Jane directly.
You can view other Jane Taylor Millinery features on the Love My Dress Wedding Blog here.
Real Wedding gorgeousness coming up later today 🙂
Much love,
Annabel xXx
♥