Well today was going to be a one-post day, but I couldn't help myself, because this latest real wedding is too darn pretty – so huge thanks must go first to Newcastle Upon Tyne and North East Wedding Photographer, Katy Melling, for sharing these beautiful images.
This is the wedding of Frances and Tim, who tied the knot on 10 July 2010 with a ceremony at St Cuthbert's Church in the tiny village called Hebron in Northumberland, followed by a marquee reception in a field next to Fran's parents house.
This wedding really appealed to me for all the pretty detail and the beautiful Bride's long, lacy dress – an Anita Massarella Couture design…
"I took my mum to Anita's studio thinking that we would just search for a bit of design inspiration but never buy a dress there as we thought it would blow the budget slightly! There was a lovely vintage looking lace dress in the window of the shop.
We discussed a budget with Anita's assistant and she could see that my mother and I kept on eying the dress in the window. She advised me not to try it on, i think because she knew that i would fall in love with it and it was way beyond the price cap that we'd just agreed. My mum encouraged me to try it on anyway "just to see"…
Love My Dress Wedding Blog – Photography Copyright (c) 2010, Katy Melling

"That was it! It was only the third or fourth dress i'd tried on at the second wedding dress place and it was the first day of "dress shopping" but the process was over in an instant when I put the dress on.
I'm not particularly girly and don't feel comfortable in big dresses but it was perfect and i loved the vintage feel and look and thought it would be perfect for the English country wedding that I had in mind. The search was over before it had really begun."
Fran wore the 'Mimi' shoes – a vintage inspired design, by Rachel Simpson – who I'm delighteed to say, Fran discovered via Love My Dress…
"My necklace was from The Jeweller's Guild in Morpeth. My Auntie bought me a pre-wedding gift which was a pair of aqua marine earrings which matched my engagement ring. I also wore a silver bracelet from the The Jeweller's Guild..."
A beautiful shot of Fran's Art Deco style wedding ring – an EBay find – with aqua marine and diamonds that was later recast in platinum by the The Jeweller's Guild in Morpeth…
Fran's wedding veil was also by Anita Massarella…
"It was a long silk veil with some of the lace detail of the dress sewn in around the bottom. Anita asked me if I was planning to wear a veil on the wedding day and I said no, mostly because I didn't think I would feel comfortable or "myself" with a veil on.
She encouraged me to give it a go and the minute I put it on my head I felt like a proper "Bride" and there was no going back. When else in life can you get away with wearing a veil? I had to make the most of it!"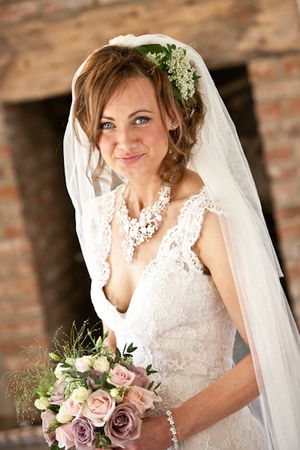 Fran's Bridesmaids wore dresses by 'twobirds Bridesmaids', who were featured on Love My Dress here…
Alexanders Flowers of Corbridge, Northumberland, provided all the florals on the day, including the folliage placed on a hair comb, that Fran wore in her hair…
"I wanted flowers with a vintage feel to go with the lace dress and to fit with the style of an English country wedding. I opted for faded roses and lots of fresh greens and creams…" 
Fran walked down the aisle to 'Water of Tyne' on the Northumbrian Smallpipes – as she used to play them when she was a child…
Those twobirds Bridesmaids dresses look fabulous don't they!
"We held the reception in a marquee in the front field next to parent's house which was the house where I grew up.  It suited our 'English Country Wedding' theme.  Tim also proposed to me, in a muddy field on Christmas day about 100 yards from the wedding reception venue was.
My family are farmers and so the fields provided plenty of space for the venue with the added bonus of the church being opposite my parent's house. It meant that the guests could just stroll over to the marquee for a drink when the ceremony was finished. And we didn't need a car to take me to the church!"
"My mum arranged an amazing surprise for our wedding night in the form of a tepee which she set up in the field, It was done out like The Ritz inside as it was carpeted and had lovely throws and a very comfortable futon bed. There were even moccasin slippers for us both, snacks and drinks and candles in the fire stove in the centre. We never wanted to leave it! It was truly novel and I am so grateful to my mum and in awe of how imaginative she can be…"
"Tim loves ale so we had some locally brewed ales at the reception and some cocktails served up with a bit of "flair" instead of a champagne reception after the church.
My favourite was the "F&T" martini named after Tim and I!"
"We used to live in Japan and had some Japanese guests attending and we had a small tree where guests could write a comment on a piece of paper and tie it to the branches as a nod to the practice in Japanese temples…"
"The cake was from The Cake Garden in Morpeth. I think that Sandy (the woman who made the cake) thought I was crazy as I told her that i wanted a cake that "looked like Kate Moss". I meant I didn't want it to be too perfect and symmetrical but a bit dishevelled but beautiful at the same time! She did an excellent job especially given the odd instructions.
My mum made the cake layers which consisted of fruit cake as it is the groom's favourite thing in life after football.
It was originally 6 layers of fruit cake but we had to substitute some for dummies as it was way too heavy…!" 
Words of Wedded Wisdom…
"Just try and enjoy the whole process as much as possible as it's over in a flash. It helps to have relaxed chilled out and helpful people around you too – i was very very lucky as my mum and bridesmaids helped in more ways than i could have hoped for.
Sink some champagne if the nerves get too much and take  deep breathes and keep pinching yourself on the day as it doesn't feel real. Don't stress about not getting to talk to all of the guests as much as you would as you can only physically do so much -   you might as well just go with the flow and have a good dance and enjoy yourself. Remember to eat and enjoy the wine…and your husband!
When it works well I think a wedding can be such a bonding experience for the whole family, groom's and bride's and that is the most joyful thing about the occasion and the best reason for having a big wedding as it get's everyone involved."
Fran and TIm, taking their first dance to Florence and the Machine's version of 'You've Got the Love'…
Such a beautiful, beautiful wedding – thank you so much Fran for sharing your wedding day story with us all 🙂 Huge congratulations to you and Tim 🙂
Thanks too to Katy Melling for allowing reproduction of these beautiful photographs. You can see more from Katy Melling on the Love My Dress Wedding Blog here.
Have a lovely afternoon all 🙂
Much love,
Annabel xXx
♥