I have such a delightful wedding to share this morning.  For a year now, I've been dipping in and out of a number of wedding related blogs to help satisfy my thirst for everything bridal, and one of the many I like to frequent is Vintage Magpie.  The Vintage Magpie Website is a place where Brides can buy the most beautiful alternative wedding bouquets – and designer Emma, recently got married amidst a day full of pretty DIY elements.  I've really enjoyed reading the build up to Emma's wedding on her blog and was so thrilled to see a little sneak peek photograph from the big day. I simply had to ask if I could share this charming wedding with my readers 🙂
Emma married her Husband Martin, a Dutchman and, like Emma, a trained Florist, on 17th September 2010 at Brighton Registry Office in the beautiful Regency Room, followed by a reception at Pangedean Farm.
I love that Emma's Mum made her beautiful Victorian style wedding dress…
"My dress was always going to be made by my Mum. My Mum's Mum made her dress and I really wanted to keep that family tradition. I searched hundreds of images and found one I loved on a wedding blog; we worked off that idea, and made it more me.
The dress made me feel beautiful – and I think that's so important! It had a hint of Vintage Victorian with a slight bustle at the back. I loved the colour too – it was different to the normal white/ivory choice of Brides, which I really couldn't imagine myself in…"
Love My Dress Wedding Blog – Photography Coypright (c) 2010, Rosie Parsons

"I made my own bouquet – its my job so I think it would have been wrong to have fresh flowers.
I make vintage bouquets, so I used all my favourite things in mine! All the items i loved – including some of my Grandmas pearls which my Aunt gave me. It also had a Dutch windmill, real freshwater pearls that my Mum gave me, Martins Mum's lace, and a Scottie dog brooch, as my Scottie Dog couldn't be at the wedding!! I re- made it 3 times until I was happy with it. It was so lovely to carry my history and sentimental pieces with me on my day…"
"The shoes!!!!! They were the first thing I bought, before I had an idea on my dress or colours. They were Vivenne Westwood Melissa shoes, and were my 'something blue'. They were a huge talking point, but for a girl who doesn't often where high heels they were slightly painful after a while. But they were worth it.
They are fast becoming a wedding favourite; I have seen them so much after O bought them, though I've yet to see anyone else in my colour way…"
"Mum and I found the beautiful silk and leaf georgette in London from The silk Society for my dress.   I then found a vintage dress pattern in my drawer at home and my mum adapted it into a skirt. The fine knit cardigan is from Kaliko and the nude top is from Marks and Spencer!! I simply added some of the leaves off the left over georgette to keep the theme.
I was going to have a birdcage veil – in fact, I was so set on it. But I couldn't find one I loved enough. I had some French mocha veiling that went so well with the fabric so I just made myself a comb with an old beaded flower in the perfect pink. It worked perfectly with my hair…"
"I wore a pearl necklace which I made myself. It is a wrap around and super easy to make. I also bought a 'LOVE' necklace from Piano Bench Designs on Etsy – it was so simple but said everything!"
"My Bridesmaids dresses where from Joules; I thought they summed up our relaxed day perfectly. The girls loved them and have worn them since which was the whole idea.  They matched them with a brown leather belt, wedges and a simple clutch. The pink cardie from Marks and Spencer, kept them warm.
All three of us had hair pieces from Ken Paves – they were so easy to use and they kept in place all day and as a present, I bought the girls rose quartz cocktail rings from Silverado in the Brighton Lanes.
I bought Martin a vintage Pocket watch to wear on the day. He also wore a Vintage Magpie Buttonhole which I made. It had a Dutch silver 10 cent coin in it from the 1940's along with buttons and crystal…"
"The best part of the day was the one I hadn't given a thought to; we chose the Registry office for its ease, as neither of us wanted to get married in church. We both didn't know what to expect and to be honest we didn't expect much. But when we walked in we were greeted with such joy it took my breath away.
The Registrar made what we thought would be quick in and out moment of our day, so wondrous – like she had known us all her life.   Everyone commented on it, on the love in the room, and how happy that moment was. When I look at the photos it makes my heart sing remembering the moment we were joined together – the unexpected moments are the best…"
"The Registry Ofice had a wonderful intimate feeling, and was in the heart of Brighton, and, opposite the restaurant we had our first date!! We then took our wonderful Green vintage Bus from Southcoast Motor Services to the glorious Pangdean farm in Pyecombe settled in the south downs where I grew up…white chalk hills and farm land.
Our Vintage Bus was one of my highlights of the day, it was so beautiful and made everyone smile!"
"Martin wore a light brown linen suit from Moss Bros, it was great for a warm September evening and was a perfect colour match for my dress and Martin Looked so handsome in it.
Martin's wonderful Paul Smith Shirt was bought in Amsterdam from the most fantastic shop…it matched the girls dresses and its slim cut suited him so well…"
"Our aim for our wedding was to make as much as possible to help cut down on the costs. I spent many evenings making bunting, save the date cards, order of services invitations, a faux wedding cake, table runners, napkins, name cards, seating plans etc.
As Martin and I as both trained florists we got up very early one morning – Mum joining us to get our flowers from Covent garden market. And it was country flowers all the way!  We filled old bottles with roses, chamomile, mimosa and set them on top of vintage books.
We also spent a lot of time at car boot sales this summer!! Vintage crockery added to the vintage country chic theme loaned to us by one of my Vintage Magpie Brides!…"
"We decided we didn't want a cake to cut so when I was having problems deciding on the wedding favours we thought cup cakes would be the perfect alternative. The super talented Fiona at Sugarsugar made them for us; they were lemon cupcakes with 3 different coloured tops – green, white and yellow to match our theme.
I stamped flags bought from the wonderful dutch store HEMA- with our initials and thank you stickers bought on Etsy from 'K is for Kalligraphy'. As a surprise on the night, my Mum had made us a gorgeous fruit cake to cut – it was covered in icing bunting, and was delicious.
We took the left over cupcakes on my Birthday picnic the next day – everyone was so happy to get another one!"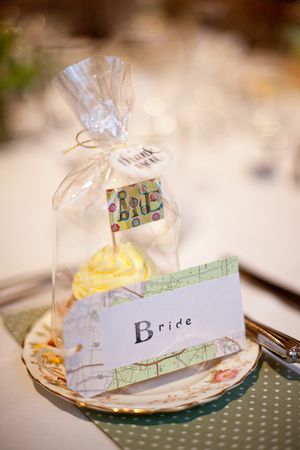 "I bought my ring at an antique fair, after hunting high and low for something slim enough to go with my engagement ring. It is a white gold & diamond eternity ring.
Martins ring was a bespoke ring made for him by Baroque Jewellers in the Brighton Lanes. It is beyond gorgeous and was made by the same person who made a silver ring I gave him for Christmas a few years ago; they look wonderful together.  It was so reasonably priced too – I would urge anyone who is having issues finding the perfect ring to get a quote from a small independent  jewellers – something unqiue for the same prices as on the high street."
"Martin made me a photo wall as we couldn't afford an old fashioned photo booth – I adored it and love our funny 'thank you' photos in it!!"
Words of Wedded Wisdom…
"Make your day all about you both. Try and reflect your personalities – share the love – and don't listen to other people ideas – its your day.
In our order of service we wrote 'Our wedding is a celebration, a public recognition of what already exists in the silent places of our hearts – our marriage is ours to define, to make real and to live. To live laughing, loving, hand in hand down the wide and beautiful road of life.'  That is what it is all about and it is so easy to forget in the stress and planning of a wedding…"
Thank you so much Emma for sharing your beautiful wedding day with us. I simply adore your dress and your bouquet, you are so clever! Your photographs and information tell a story of two people VERY much in love – huge congratulations to you both 🙂
Thanks also to Rosie Parsons for allowing reproduction of her beautiful imagery on Love My Dress.  And congratulations to Rosie to, for recently becoming the Cosmopolitan Bride Wedding Photographer of the Year – well done Rosie!! 🙂
You can view more from Rosie Parsons on the Love My Dress Wedding Blog here.  You can also view Bride Emma's 'Vintage Magpie' website here.
Much love,
Annabel
xXx
♥