https://www.lovemydress.net/directory/supplier/miss-bush-bridal-boutique-ripley-surrey/
Every now and then, a Love My Dress wedding feature comes along that leaves me truly speechless. And I really mean that, from the bottom of my wedding loving little heart.  This particular wedding had me at the very first photograph, and left me filled with a complete sense of magic and awe…
The photographs on this page were taken by the charming and very delightful London Wedding and Lifestyle Photographer, Dominique Bader, who I hope I have the pleasure of meeting with very soon.  From my exchanges with Dominique so far, I can tell you this talented Photographer's passion for her trade is complimented by a special kind sensitivity – a certain kindness and warmth in the way she talked about her clients, the pride I sensed as she told me about how she was asked to be witness at this particular wedding, where there were no guests at all. I felt I connected with Dominique in an instant and I could see exactly why this couple chose Dominique to photograph their intimate, sweet and city-chic affair…
Dominique told me more…
"This beautiful wedding has been one of the highlights of my photography journey so far. The wedding itself was a true 'elopement'; there were no guests just a beautiful, intimate ceremony and portrait session.
To be the only guests at such a private ceremony is a true honour and I am so grateful to have been a part of this amazing day. It was an even bigger honour to be asked to be the couple's witness, along with my wonderful Husband Samuel. 
The Bride wore a stunning Valentino dress and nude Christian Louboutin shoes. Her hair was pulled up into a very chic bun which looked incredibly classic and elegant. Her look was reminiscent of that of Audrey Hepburn and was wonderful to capture on camera. The Groom wore a navy Armani suit which complemented the Bride's white dress perfectly…"  
Love My Dress Wedding Blog – Photography Copyright (c) 2011, Dominique Bader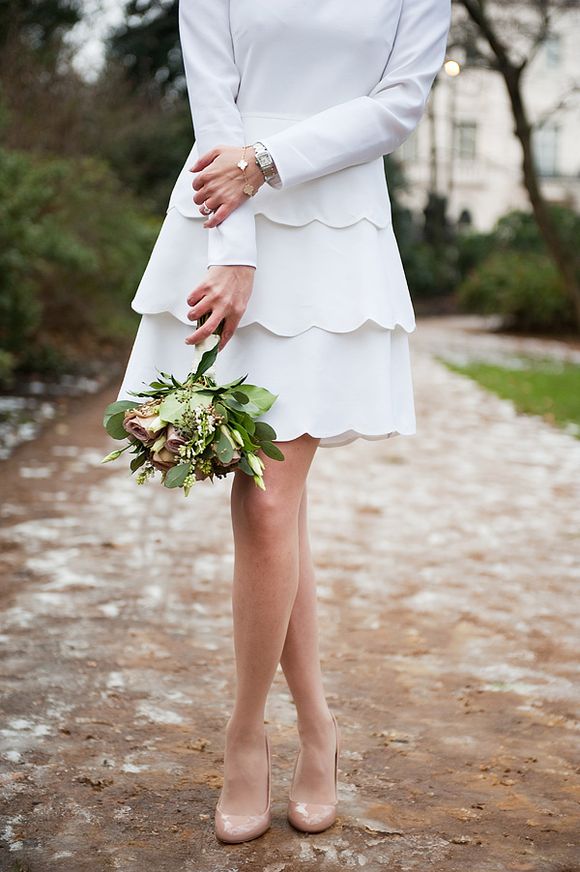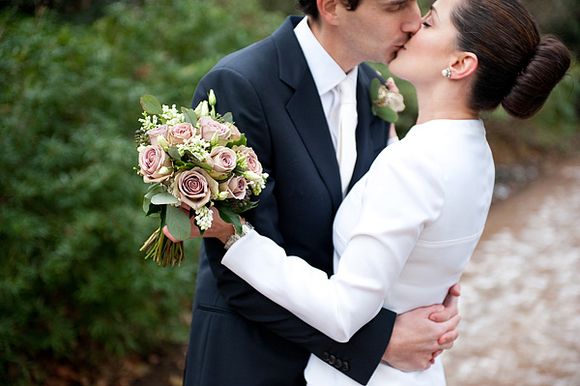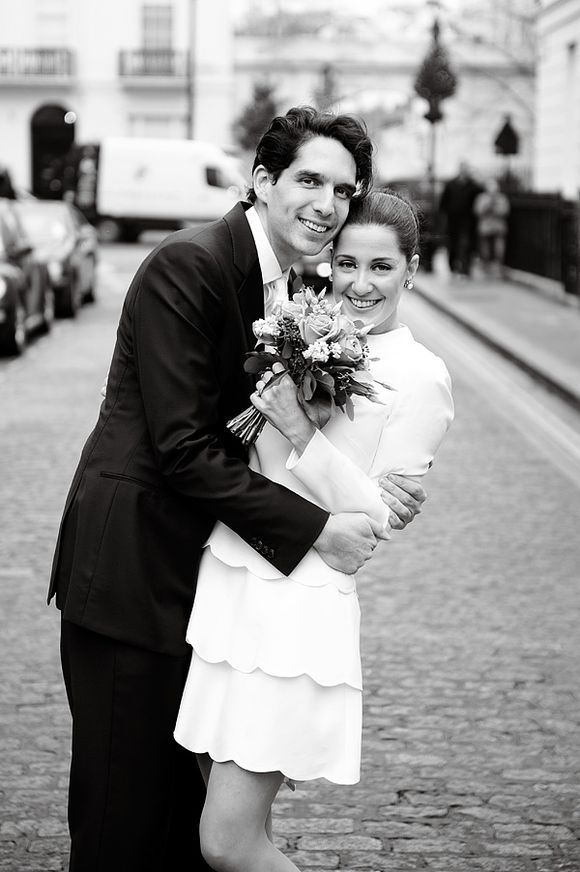 I can't help but get a sense of Carrie and Big when I look at these photographs. They are bursting with a very special kind of romance.  Photographer, Dominique goes on…
"I met my lovely couple before the ceremony for some relaxed and natural portraits on the streets of south west London. After which we headed over to Chelsea Town Hall for their lovely ceremony. The gorgeous Bride and Groom arrived in style in a chic Rolls Royce Phantom. The ceremony was simple and sweet and celebrated the love between the couple and the exciting journey ahead.
After the ceremony we took a few more relaxed portraits to make the most of the remaining light and to celebrate all the excitement. As there were no guests we showered them with confetti and it made for such a happy shot!"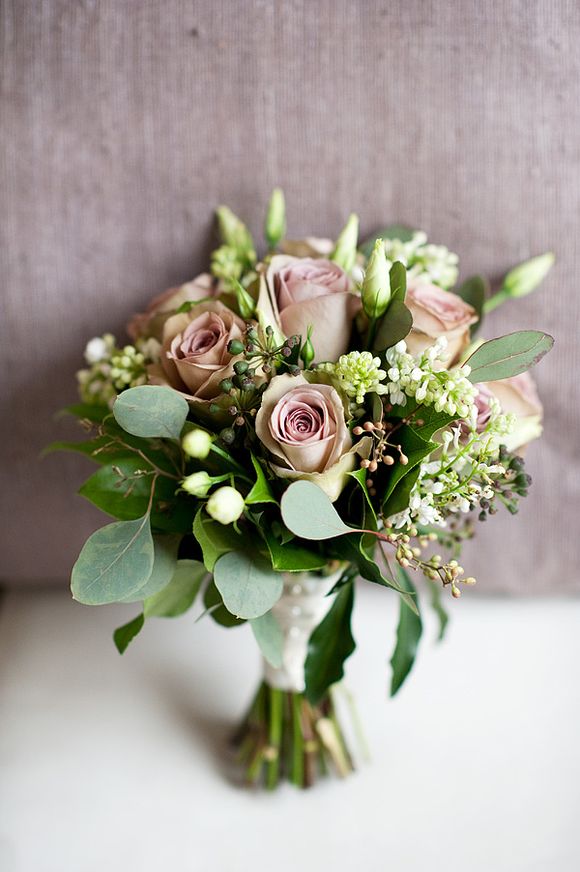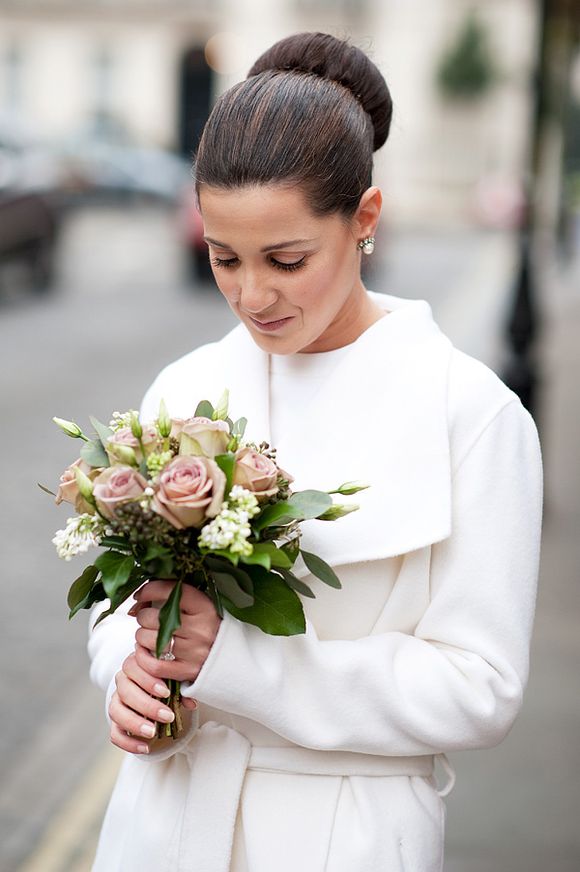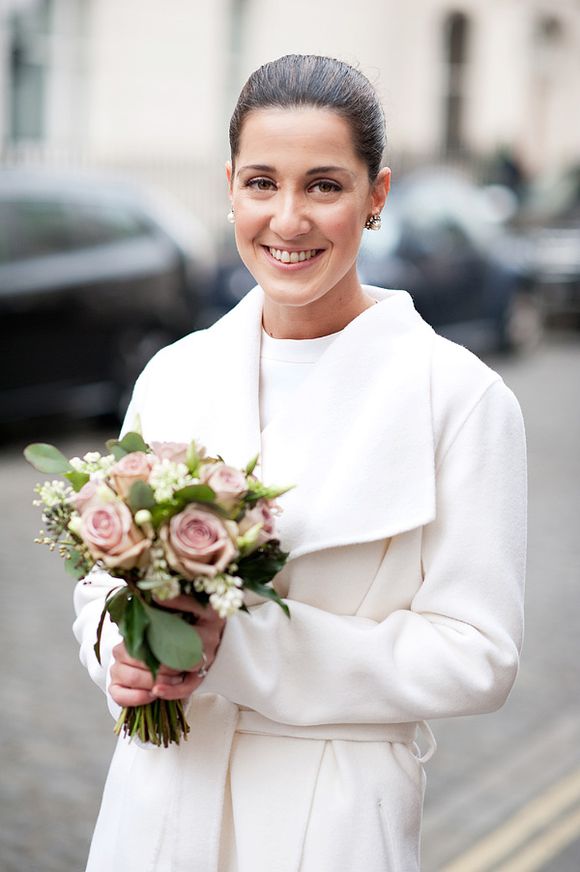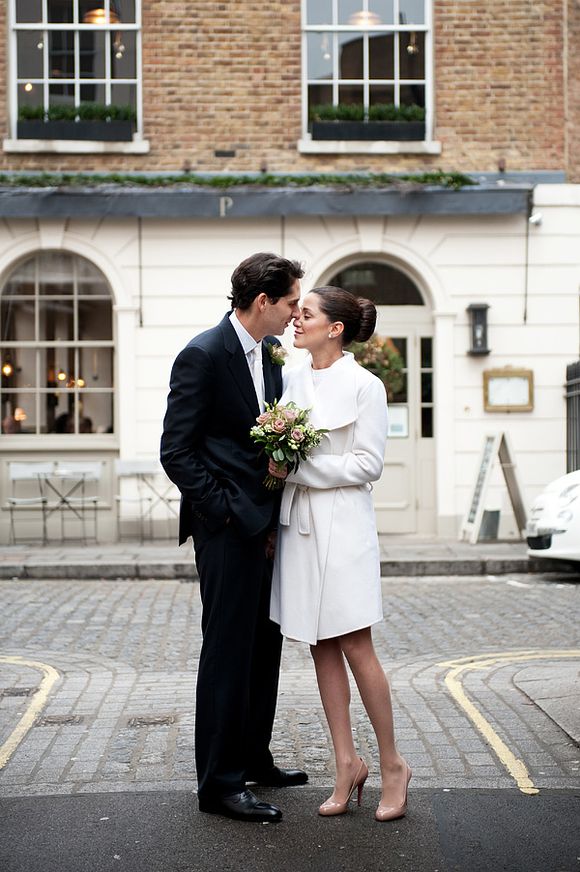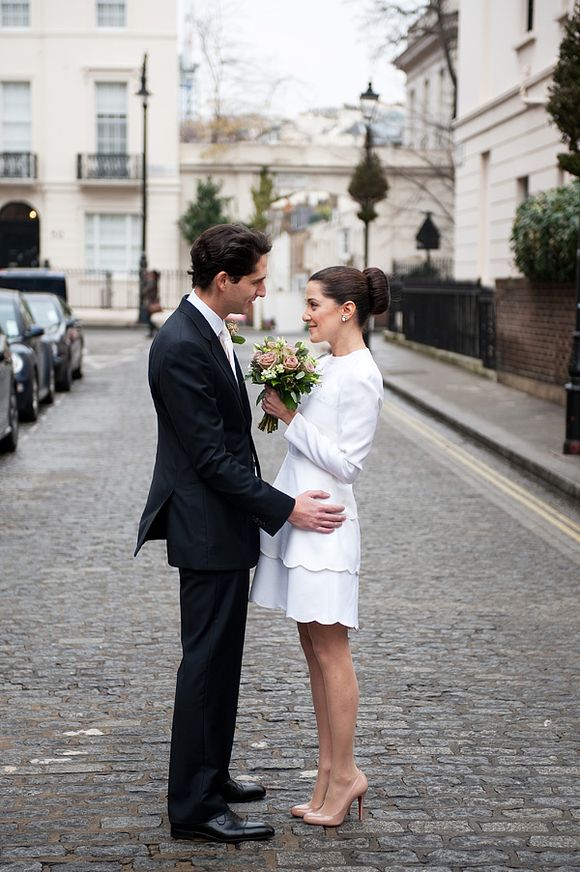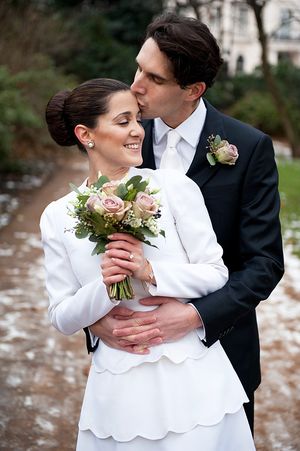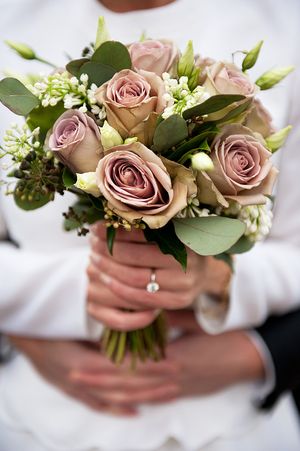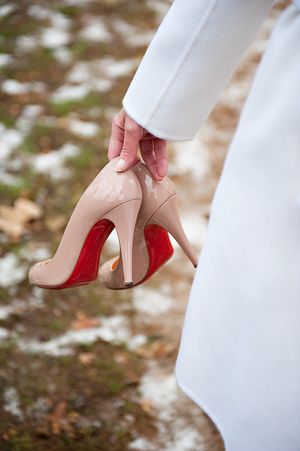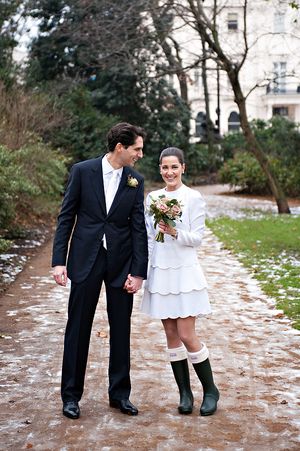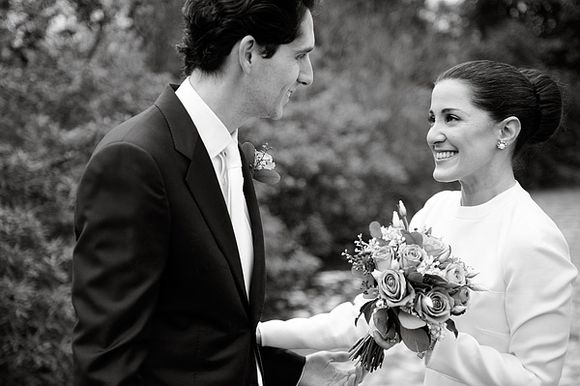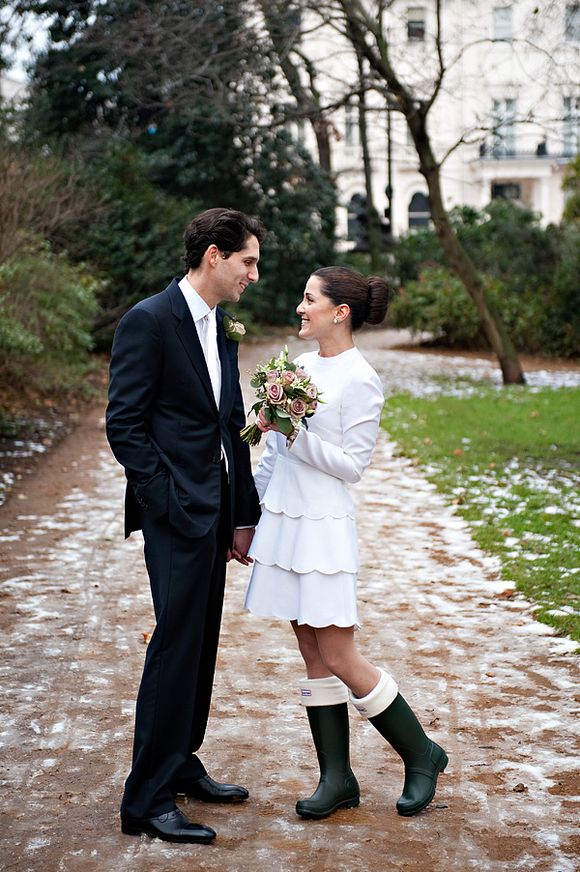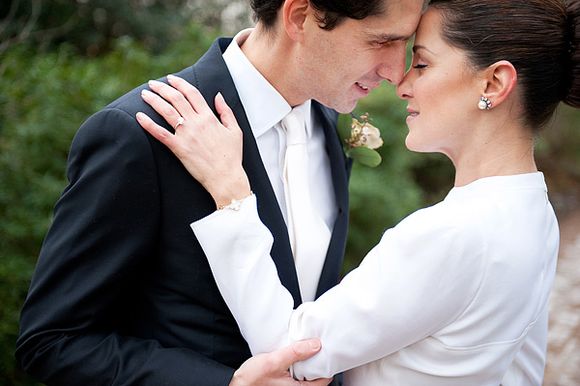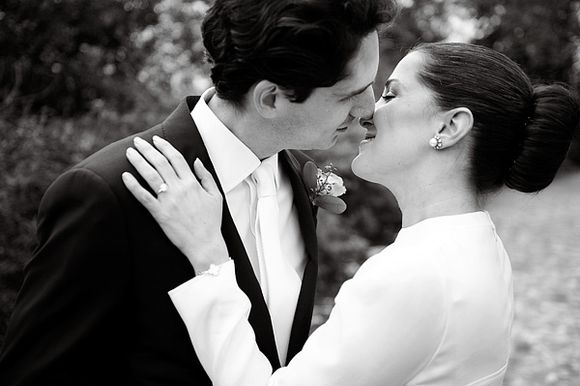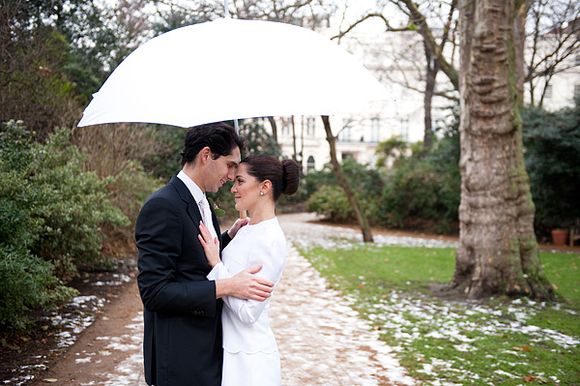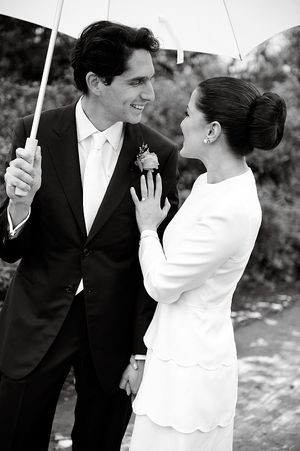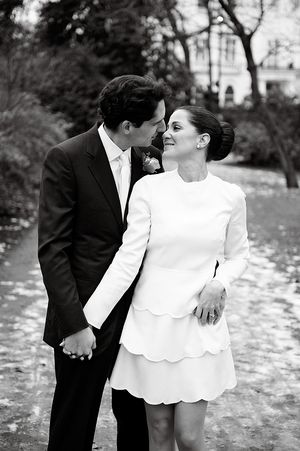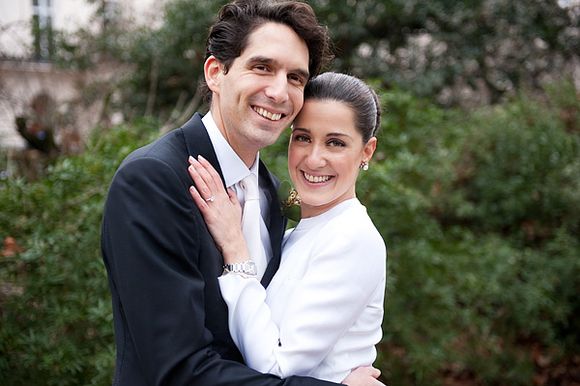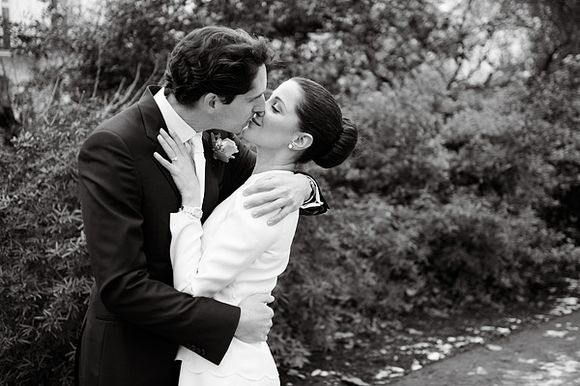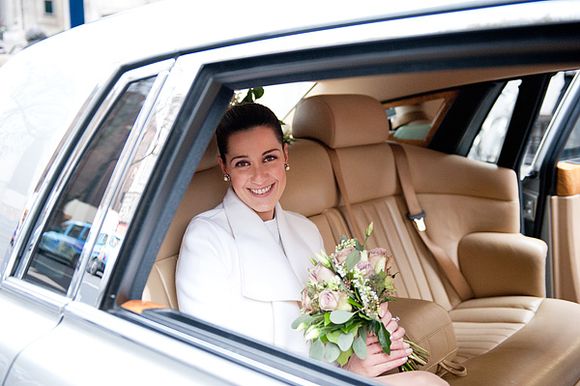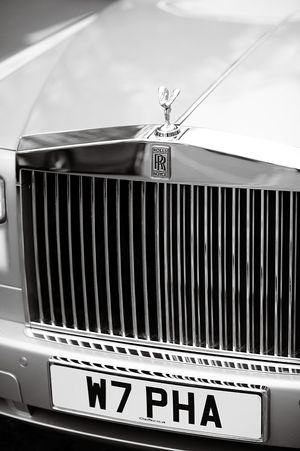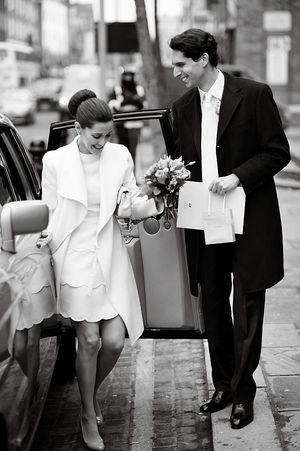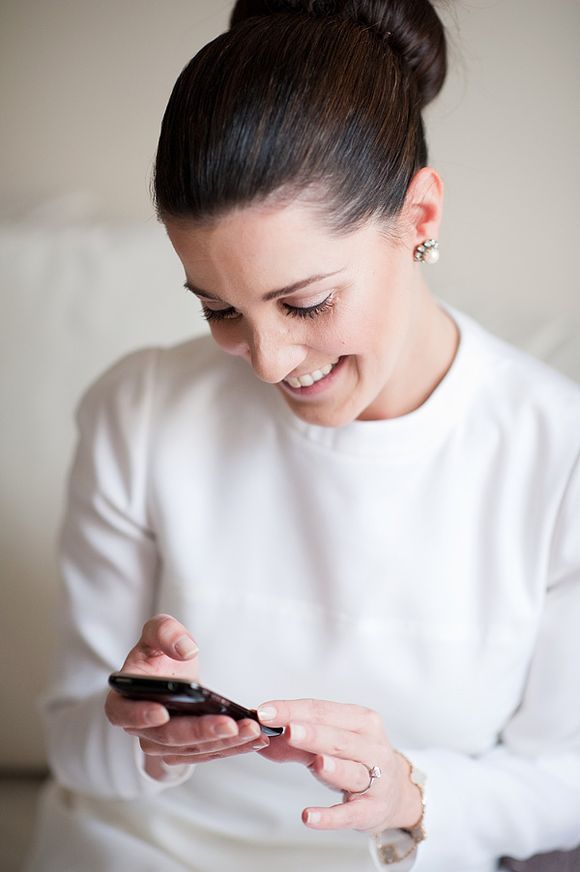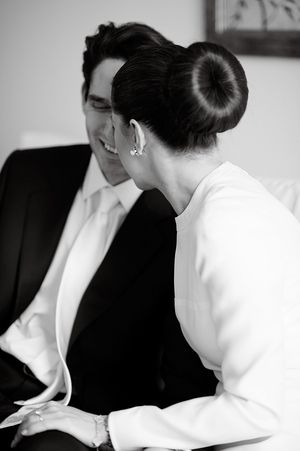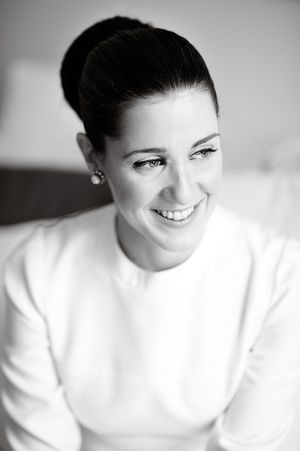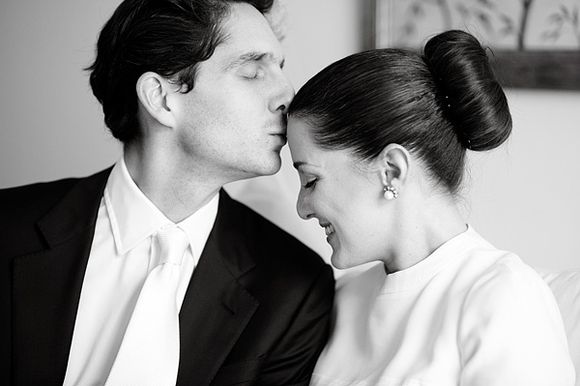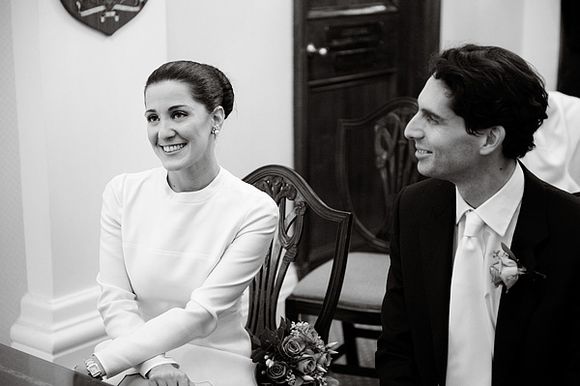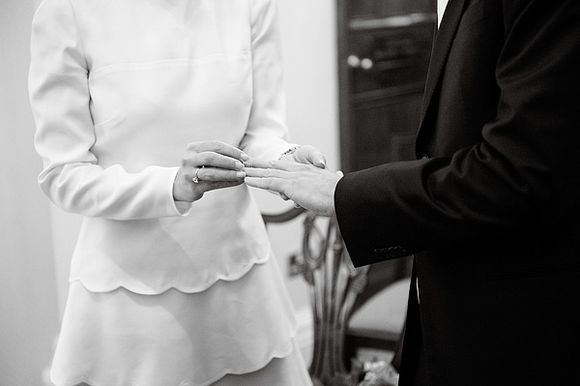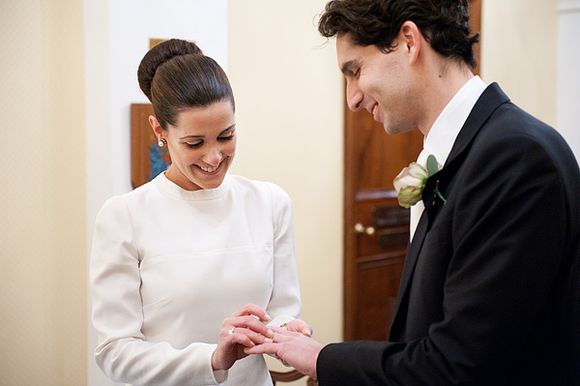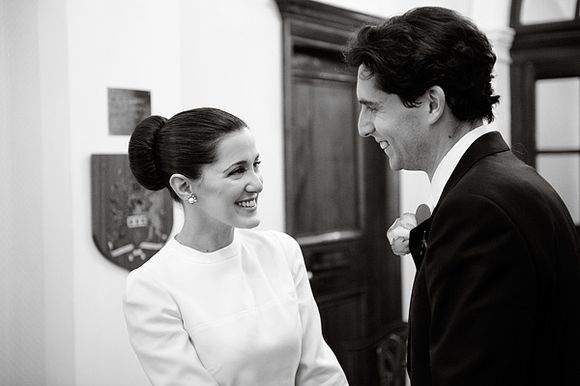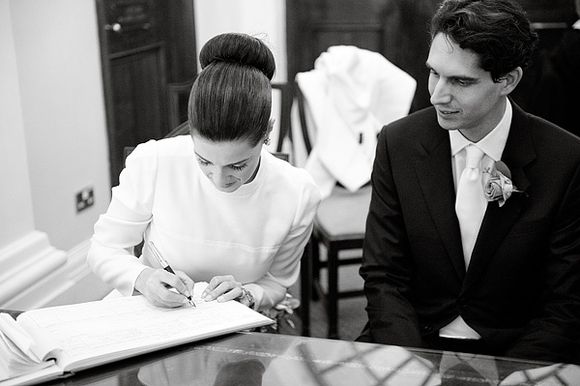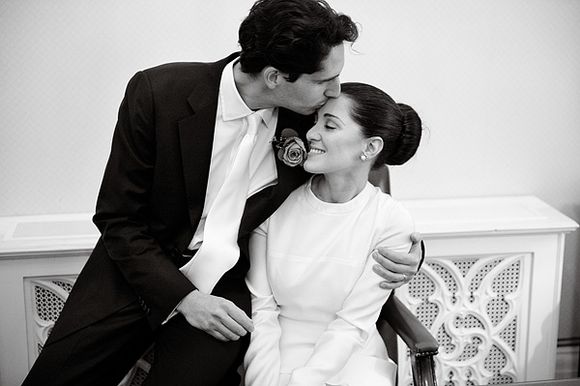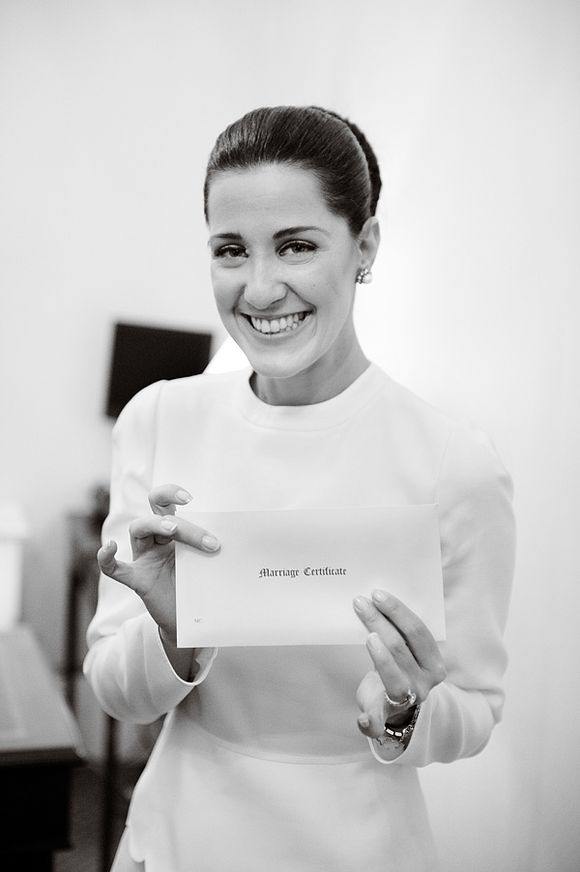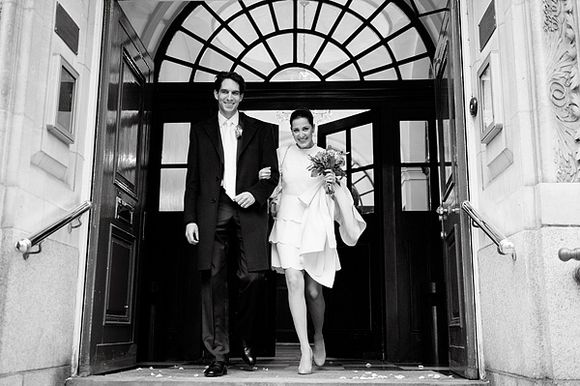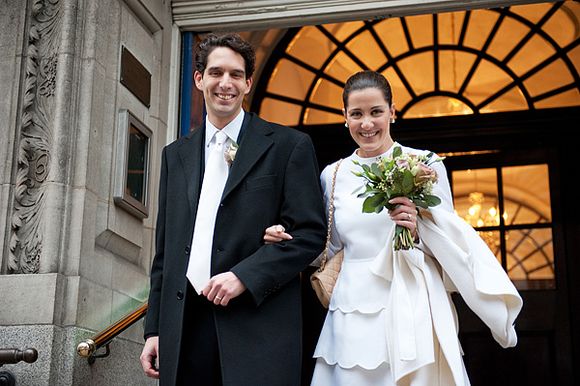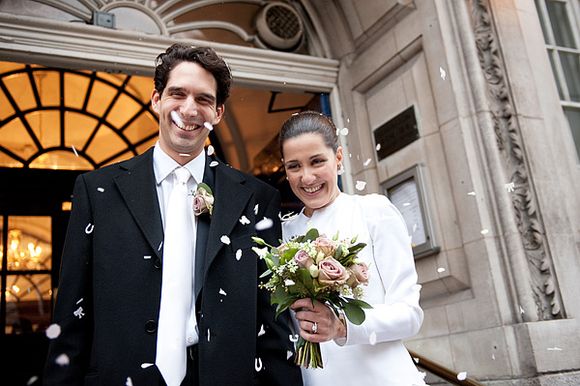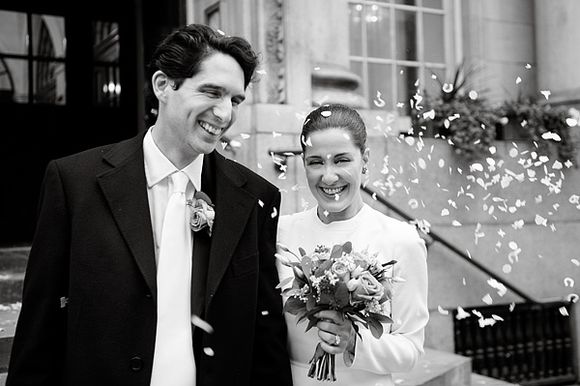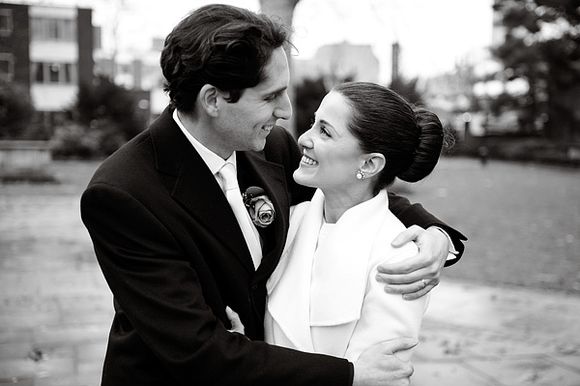 I'd usually end a real wedding feature with a 'Words of Wedded Wisdom' quote from the Bride.  Today, I'd like to quote from a letter the Bride sent on to Photographer, Dominique and that I have kind permission to share with you today.  I have to admit, it brought a tear to my eye reading it…
"When I first saw Dominique's blog there was something about her photographs that spoke to me; it was not so much the romantic scenery, the beautiful wedding details or the lovely colours, but the way she captured the emotion of the day and the love between the couples she had photographed.
The minute we met, I felt certain that she would be perfect to photograph our intimate wedding. I was impressed by her positive energy, her enthusiasm, her sensitivity, and her passion for wedding photography. She was also very considerate and very thorough, going through every little detail to make sure everything would be exactly as we wanted..."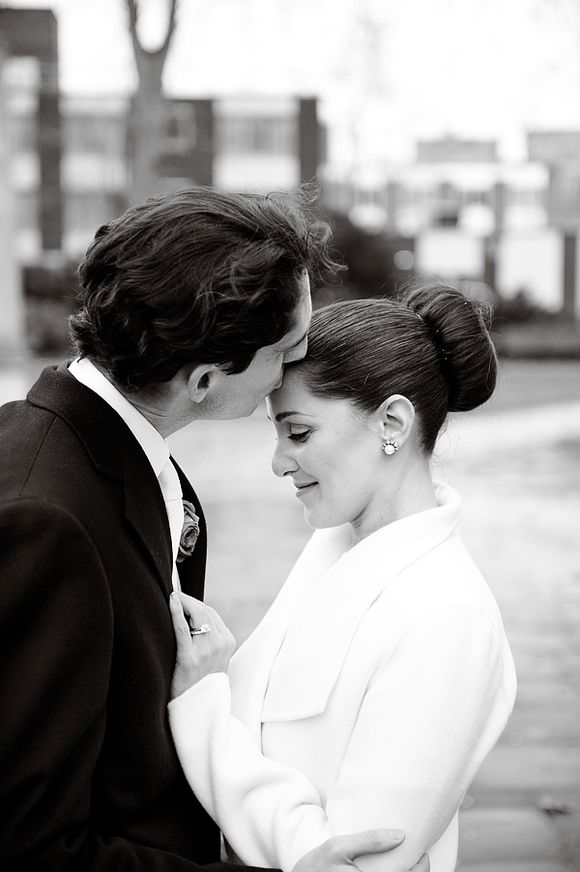 "On the day of our wedding, Dominique was extremely professional but also friendly and warm. She made us feel at ease with the camera and with her and allowed us to be ourselves and enjoy every minute of our special day! Her directions felt more like a friend's suggestions and she even managed to make us forget about the icy cold weather!
Dominique's wonderful husband Samuel was also there motivating us and helping us carry coats, bags, and umbrellas! Even though we didn't know each other it felt like we were in the presence of friends."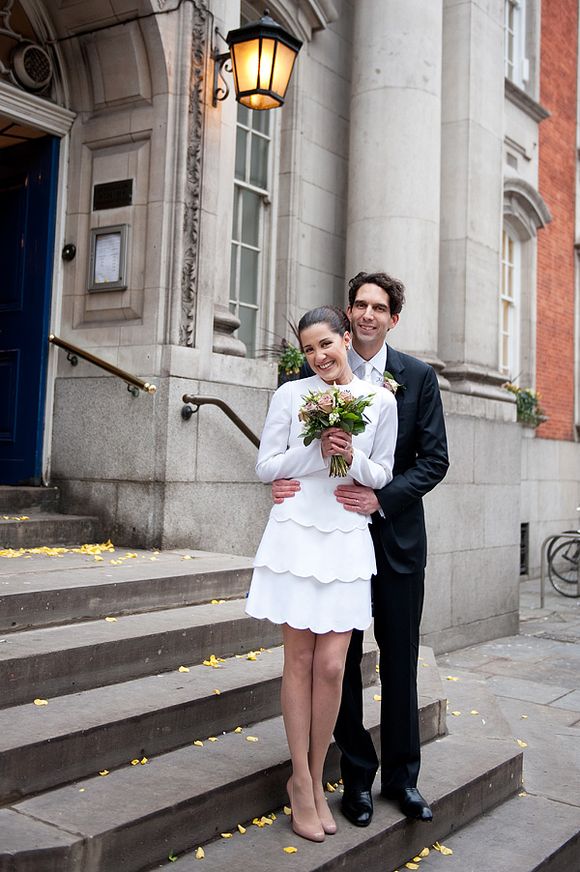 "We were delighted when we saw our pictures! We absolutely loved them! They were beautiful, timeless and elegant, but also very "us", capturing exactly how we felt on the day of our wedding and the way we feel about each other!  Even though I have looked at the pictures a hundred times I still have a hard time picking out favourites; but every time I look at them I can't help smiling because this is exactly how I remember our wedding day, everything we felt is right there.
I would recommend Dominique to anyone planning to get married. And it is not just about her talent and professionalism; her lovely personality and her love for what she does is reflected in her work and this is what makes it- and her- special.
Dominique, we are truly grateful for the wonderful pictures and we will treasure them forever! Thank you…"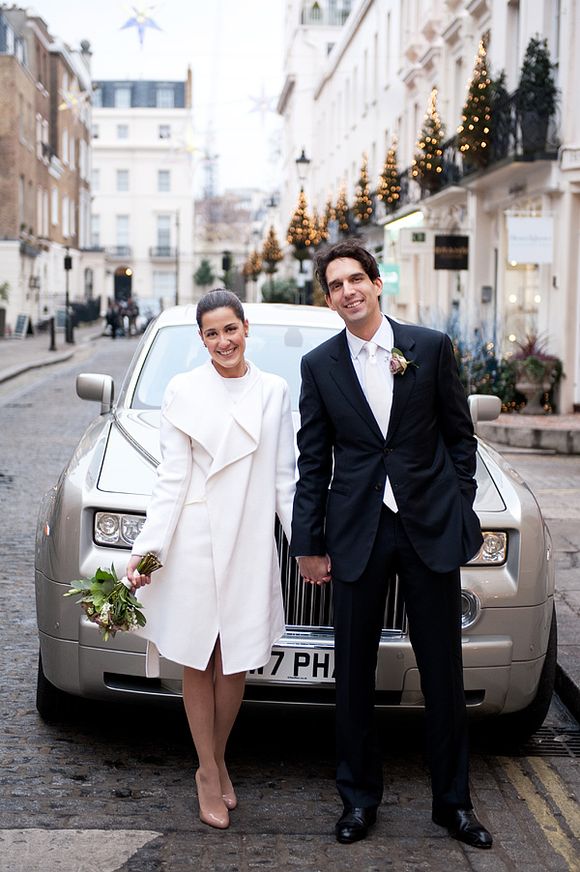 ♥    ♥    ♥
Brides Dress – Valentino
Brides Shoes – Christian Louboutin
Grooms Suit – Armani
Photographer – Dominique Bader
Venue – Chelsea Town Hall
♥    ♥    ♥
How wonderful 🙂
I would like to extend my personal thanks to the beautiful Bride and Groom, for allowing me the honour of having their wedding grace the pages of Love My Dress today – thank you SO very much – your wedding photographs make my heart sing, and I am thrilled for you, Dominique has done you exceptionally very proud.
For further information about Dominique Bader, visit the Dominique Bader Photography Website.
See more from Valentino on the Love My Dress Wedding Blog here.
Much beautiful love to you all 🙂
Annabel xXx
♥