Happy Saturday afternoon 🙂 Well, for anyone who finds themselves browsing this wedding blog right now, that is :)  It's a rather glamorous day on the blog today – Valentino took the lead thos morning, and Jenny Packham isready to shine this afternoon.
Alyson and Matthew tied the knot on 19 August 2010 at The Star Inn,  North Yorkshire, which the couple chose for it's beautiful and intimate setting.
I simply love Alyson's Jenny Packham 'Carmen' wedding dress, which Alyson opted for in the colour 'oyster'.  It has such beautiful impact with it's striking v-cut neckline and beautiful embellishment.  Alyson purchased her dress from the Andrea Bambridge Bridal Boutique on Goodramgate in York…
"I loved the vintage feel of the dress – I wanted a glamorous dress that wasn't your usual wedding attire.  I wanted something that was almost an evening dress but still looked like I was the Bride. 
I saw lots of dresses but I chose this with my mum when she came up from Cornwall to help me choose.  My mum picked it out and we both fell in love with it.  Sparkly, slinky and gorgeous, I love it and best of all I got to wear it twice, as we also had a second party on the Saturday where we took our close friends out to the PIpe and Glass in South Dalton for another fabulous Michelin starred meal…"
Love My Dress Wedding Blog – Photography Copyright (c) 2011, Rebecca Honeywell Photography


Alyson wore Karrie shoes by Dune, in ivory and the flowers on the day were provided by Busy Lizs in Kirkbymoorside…
"They were brilliant, I gave our arrangements out to friends and they held out for weeks before the flowers faded. I really wanted to have vibrant colour for my flowers, I adore pink and was desperate to get some into the day somewhere!! I was really keen to go with the purple too, I loved the colour against my oyster coloured dress…."
Alyson's Antique Extravagance Side Tiara was a purchase from Glitzy Secrets…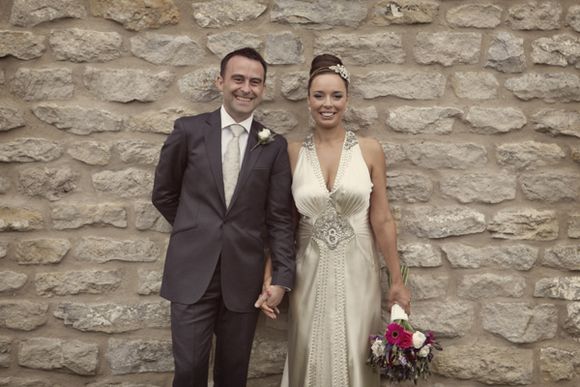 "This was truly the best day of my life – I know everyone says it but it really was.  Because of the intimate nature of the wedding myself and my husband managed to sit and spend quality time with our best friends and family and that for us was priceless.  I loved wearing my dress and loved being able to do it all again on the Saturday, Vikki did my makeup again and I had the same hair and accessories, it would have been such a shame to wear it all once.  When we got back to the party at our friends I had a second Temperley dress that I bought on my trip to London, a grecian style cream dress with jewels on the shoulders.  It was all brilliant, we want to do it all again!!"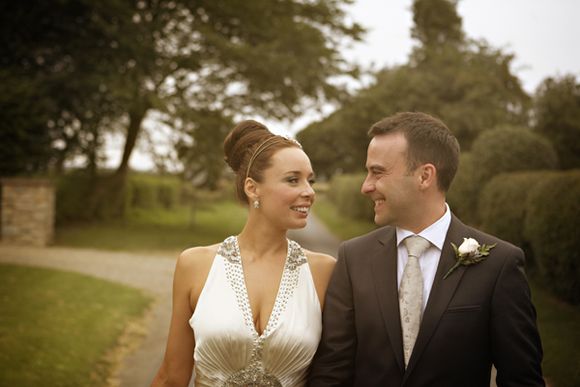 The couple chose The Star Inn in North Yorkshire as their wedding venue…
"We had a small wedding with just 21 people in all, many of whom stayed over the night before.  The staff at The Star Inn left us to it in the evening of the wedding after our fabulous Michelin starred food which made it more of a party for us as we were able to use the honesty bar and chill out.
Our wedding was all about the dress and the food!!  We really wanted the day to be about treating everyone to brilliant food, so the choice of venue really depended on the food that they could deliver.  We didnt have a theme but my vintage theme for my outfit developed when I saw that dress.  I loved accessorising it… I even managed to get a trip to london out of it and breakfast at the Wolseley in my hunt for shoes!!"
"I decorated a Marks & Spencers wedding cake with fresh flowers.  I'm a food technology teacher and have made other peoples wedding cakes but this time I wanted a stress free build up to the wedding so I opted for the easy option – with our own personal touches…"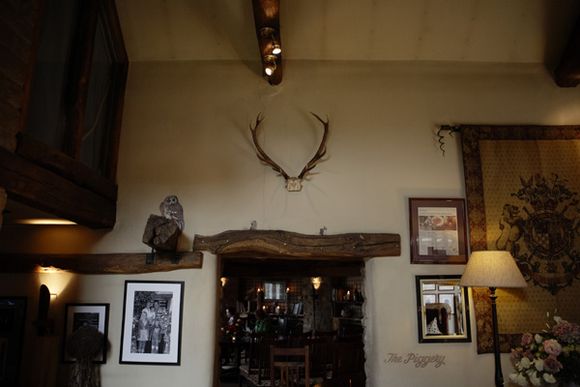 Words of Wedded Wisdom…
"Do it your own way.  We avoided doing anything that we didnt want to do, we didn't have speeches other than an impromptu one from myself.  Our whole focus was to treat our family and friends to a fabulous meal and gorgeous accommodation.  Our families travelled from all over the UK.  Matt's sister Rachel travelled from New Zealand and all of my family now live in Cornwall so our main aim was to bring everyone together in one place and share the day as a family.
We stayed the night before at the Star and went for a nice meal together and then Matt and I went for a walk in the morning before leisurely getting ready and drinking champagne, the service was at 5pm.   In the evening we relaxed after the meal and had drinks in the bar/lounge before tucking into cheese and wedding cake – my perfect day.  The next day we all had a fabulous breakfast and matt and I went to the Pipe and Glass, we spent the night there and had another lovely al fresco meal.  On the Saturday our friends came by coach and we treated them to another fab meal before going back to our friend Nigel's for a party.  Rather than having a traditional wedding ours stretched over 4 days, we managed to spend proper time with everyone.  
On the Monday we went to Las Vegas – the perfect  finish for us!"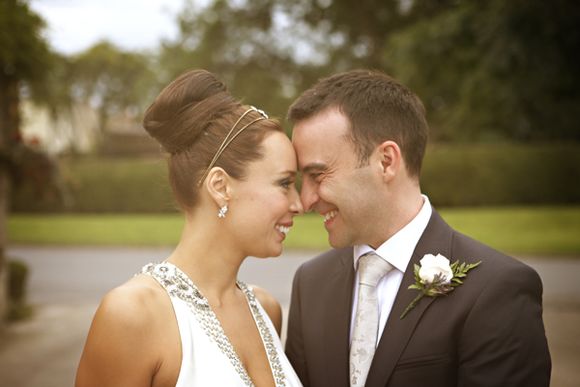 ♥    ♥    ♥
Brides Dress – Carmen, in oyster, by Jenny Packham
Brides Shoes – Karrie shoes by Dune
Grooms Suit – Ted Baker + Paul Smith Tie
Photographer – Rebecca Honeywell
Venue – The Star Inn in North Yorkshire
Hair Accessory – Antique Extravagance Side Tiara, Glitzy Secrets
Hair & Makeup Artist – Vikki Adams
Flowers – Busy Lizs
Cake – Marks & Spencers, decorated by the Bride herself
♥    ♥    ♥
Thank you so much Alyson for sharing your beautiful day with us, you looked absolutely knock-out! Huge thanks too to the very lovely Yorkshire Wedding Photographer, Rebecca Honeywell for so kindly allowing me to reproduce these images, and for having the patience of a Saint (she knows what I mean).
You can see more Jenny Packham wedding gowns on Love My Dress here.
Have a lovely afternoon everyone 🙂
Much love,
Annabel xXx
♥