Well after all the excitement and lovely emails following this morning's 'winner's feature, I thought I'd get right back to basics this Friday afternoon and feature a lovely real wedding.
Abi and Steve got married on 20 August 2010 with a wedding ceremony in a Bandstand!   And what is a Love My Dress wedding feature without a beautiful wedding dress? It's common knowledge I'm a HUGE Jenny Packham fan, and I just love the simple silhouette of this dress, coupled with the intricate beading detail. What an exceptionally lovely gown…
"My dress was 'Claire', by Jenny Packham, purchased from Avorio Wedding Boutique in Sheffield. It was exquisitely elegant, verging on ethereal and flounce-free! It leapt out and was the first dress I tried on (although I didn't deny myself the fun of trying more in spite of having mentally written the cheque already).
I've always loved the 1920's and 1930's and thought this dress captured their essence beautifully without looking the slightest bit themed. My Nan was a ballet dancer in those times and I felt that it would be a lovely tribute to wear something that wouldn't have gone amiss at a sophisticated post-performance soiree in a bygone age. I can't explain why but I always envisaged wearing capped sleeves on my wedding day too!"
Love My Dress Wedding Blog – Photography Copyright (c) 2010, S6 Photography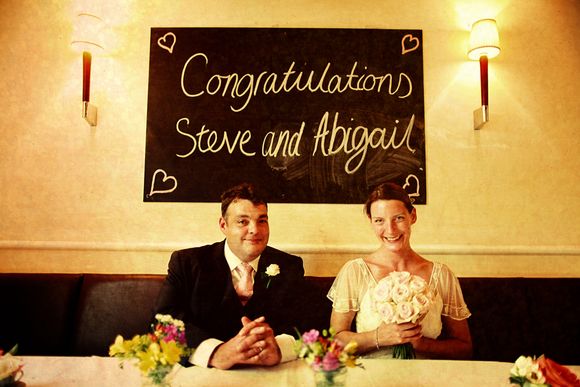 Abi's chosen Florist was Katie Peckett of Banner Cross, Sheffield.
"Big blown Sweet Avalanche roses made a very simple but striking bouquet to compliment the dress. I also wanted to avoid anything too structured as I didn't think it would be in keeping with the park setting. The flowers at the reception venue were inspired by our grandmothers… miniature Gladioli for Gladys, Freesia for Freda and Daisies for Daisy in jam jars and homegrown blooms filled teacups and milk jugs.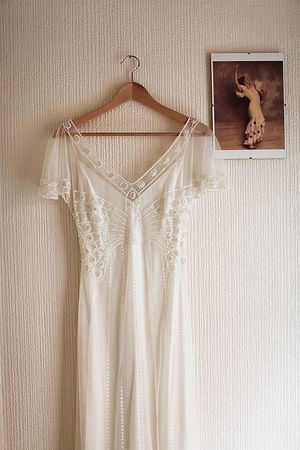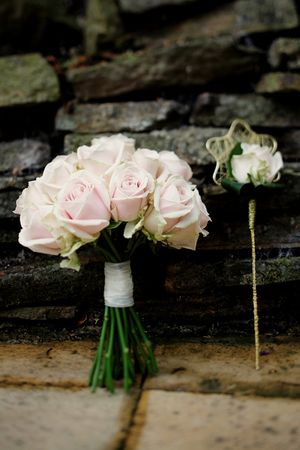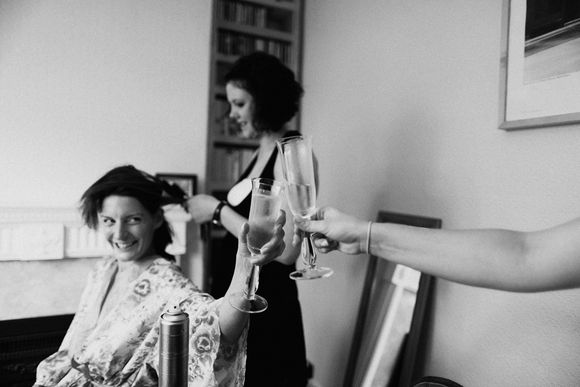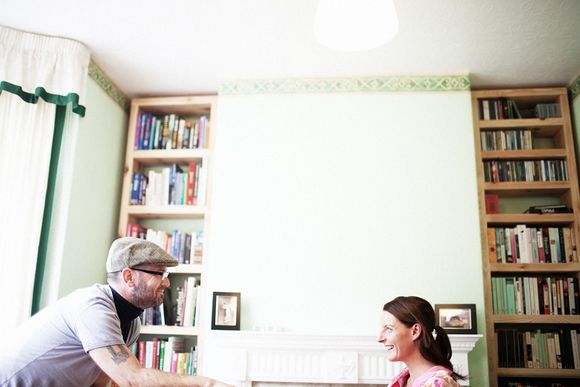 Abi wore a beautiful butterfly hair accessory by Bridal Gloves and Wedding Accessories Designer, Lucy Marshall.  You can see more from Lucy Marshall on the Love My Dress Wedding Blog here.
"I also wore a bracelet provided by my sister as the something borrowed. The only other accessory was my great grandmother's gorgeous vintage hat pin (silver and glass)  which was nestled in my bouquet as a lucky something old."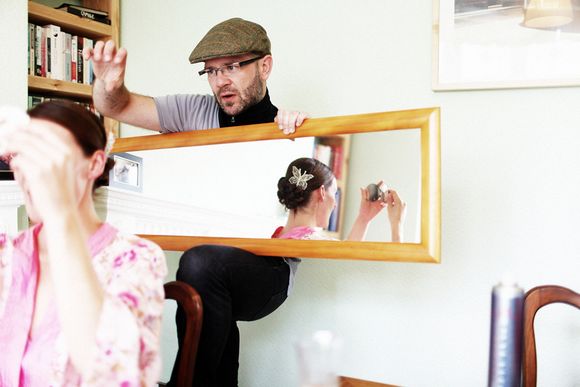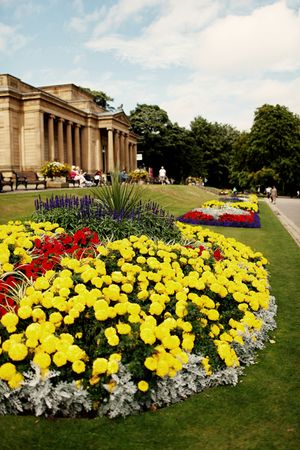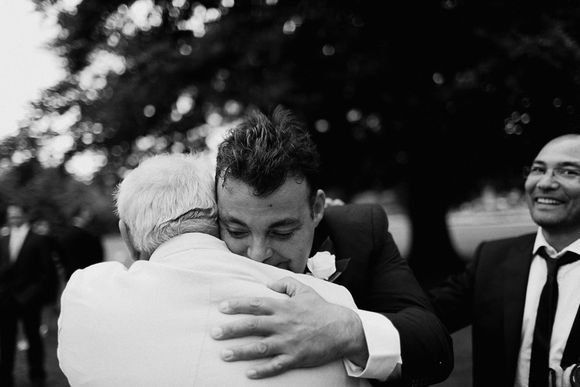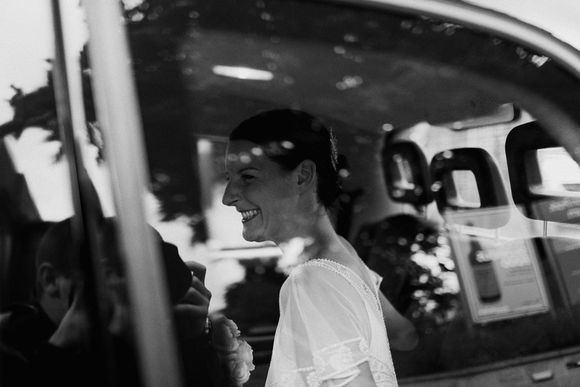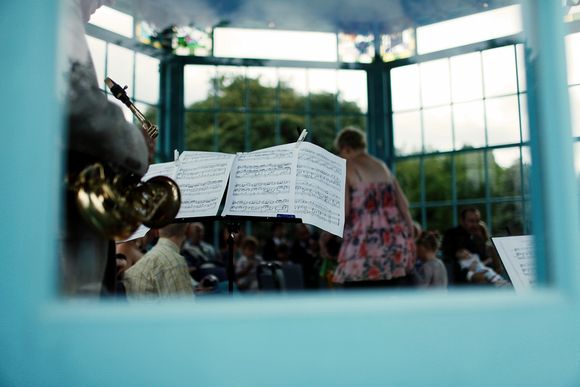 The Bandstand at Weston Park, Sheffield to be precise.  Abi explained the couple's fabulous choice of ceremony venue…"Within hours of our engagement my stupendously excited sister started scouring the internet for ideas and so arrived a link to the bandstand. We were smitten! A little bit quirky with a touch of the theatrical, the bandstand captured it all. After the ceremony we enjoyed a short promenade through the park to The Dam House with its lovely tiered terrace down to a lake. After a meal with close friends and family, the mob descended for a good old party with rockaoke and bacon butties…."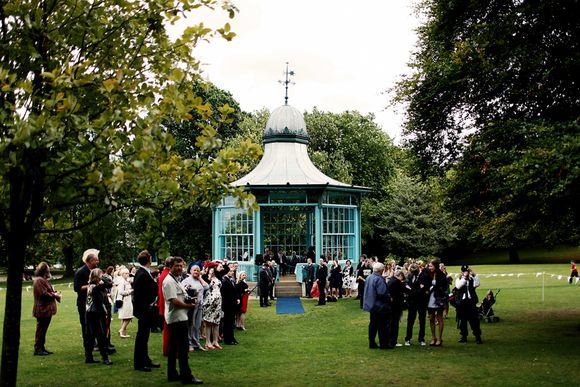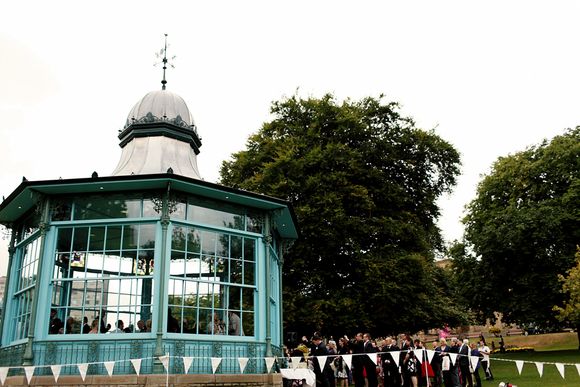 Abi walked 'down the aisle' to Pachelbel's Canon in D, rearranged for Sax and piano.
"We work in theatre and are incredibly lucky to know some brilliant musicians. Our friend Scott Povey wowed us with his arrangement of this classical piece. We wanted to give a nod to tradition whilst adding a twist at the same time. And how could we get married on a bandstand without having live music!"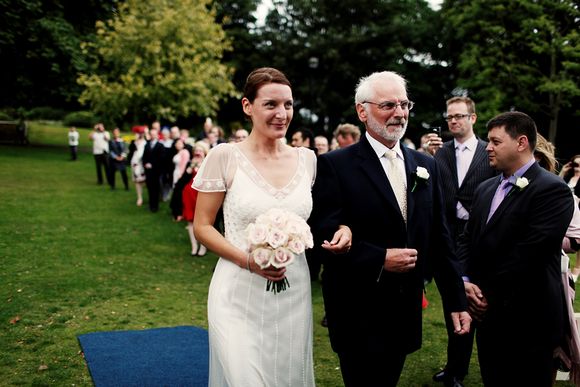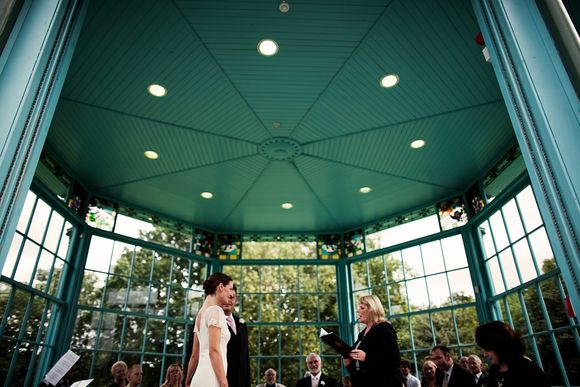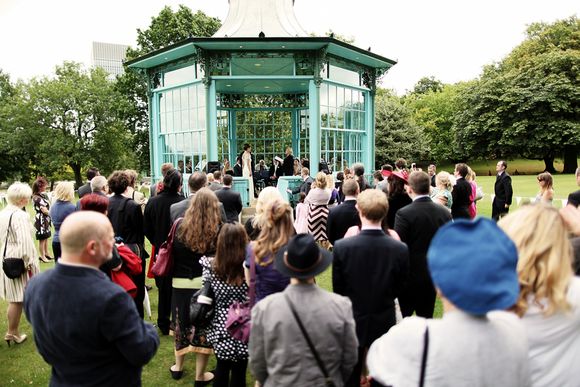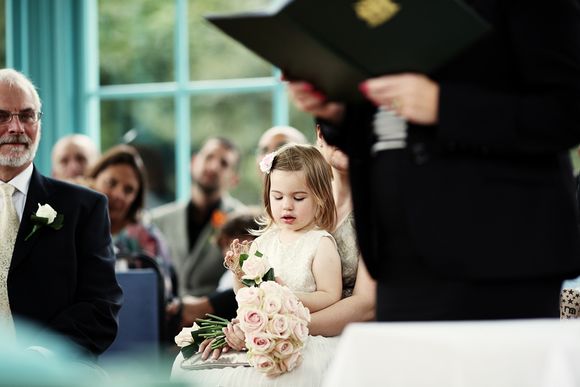 Abi's Bridesmaids dresses were from Watters and Watters, Style 3349 …
"….a lovely silk brocade in 'baguette' (apparently) which is, in reality, a gorgeous mix of antique golds and silvers.  They also wore grey silk flowers on a hairband from Accessorize and pearl earrings from Merola, London…"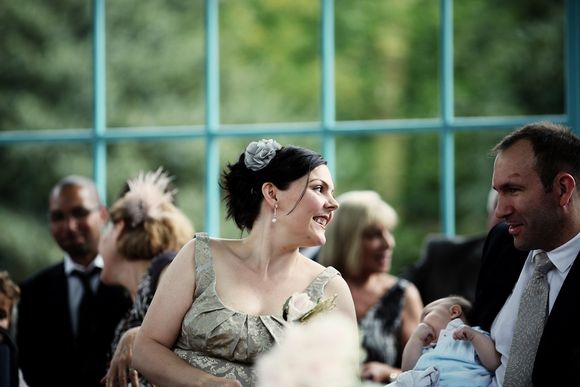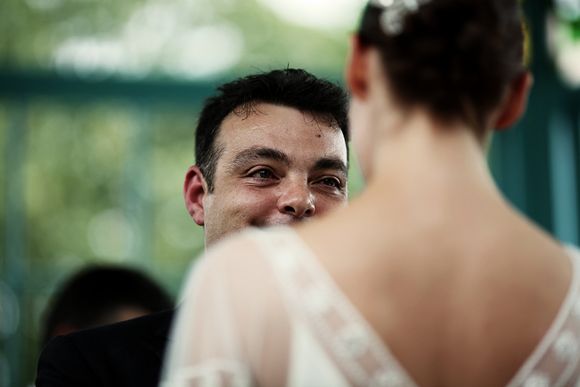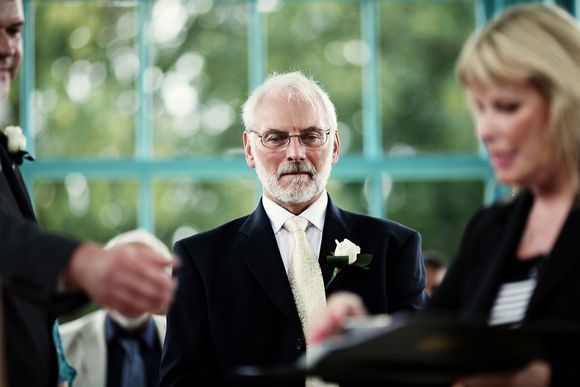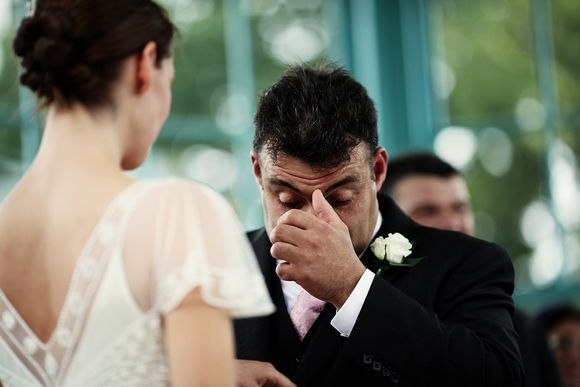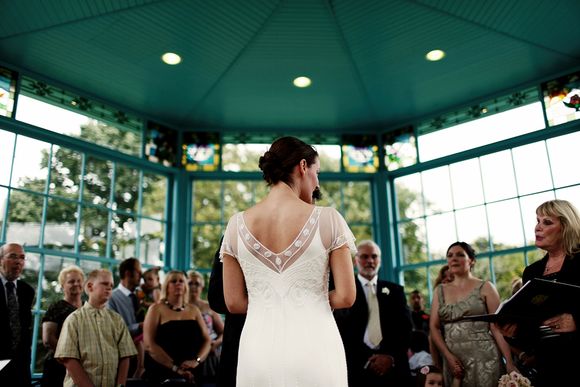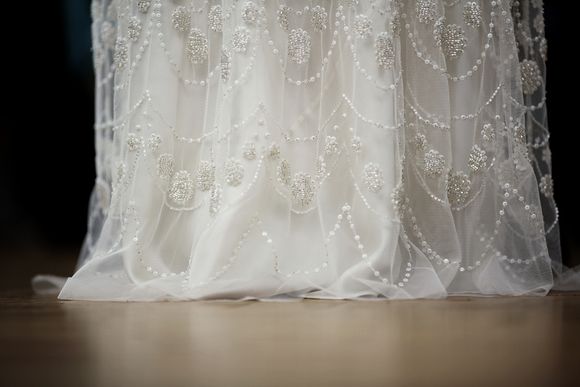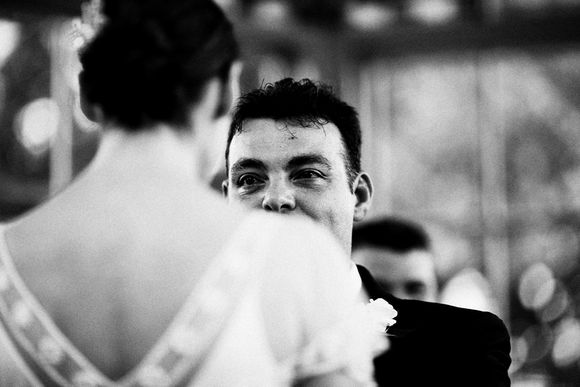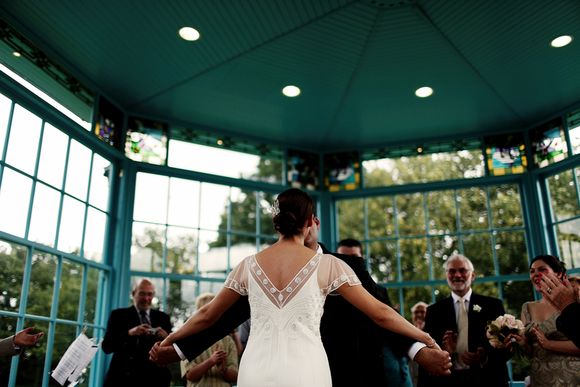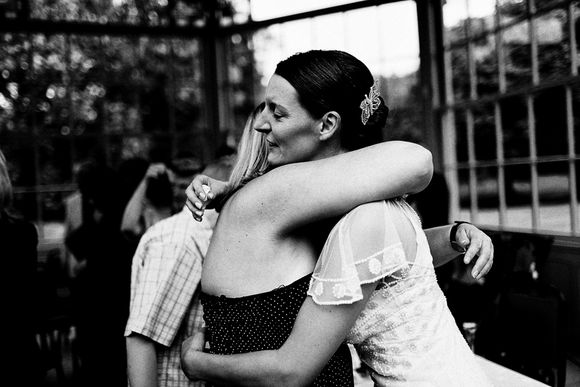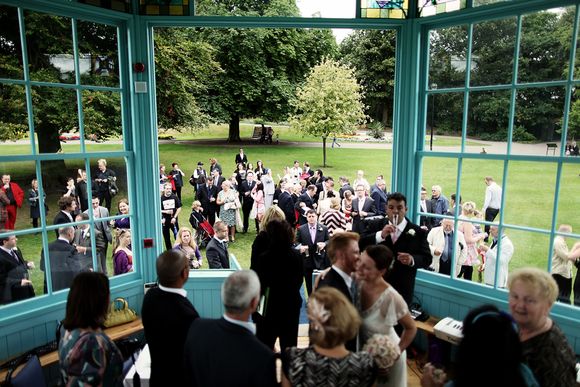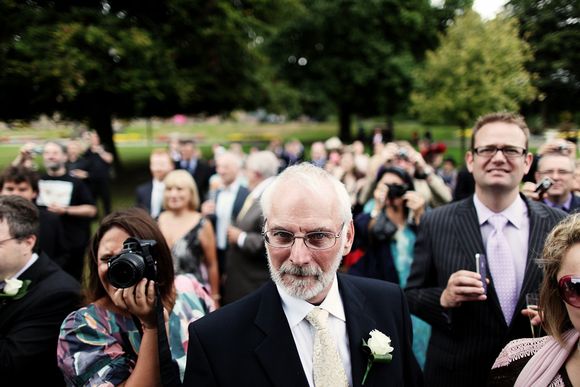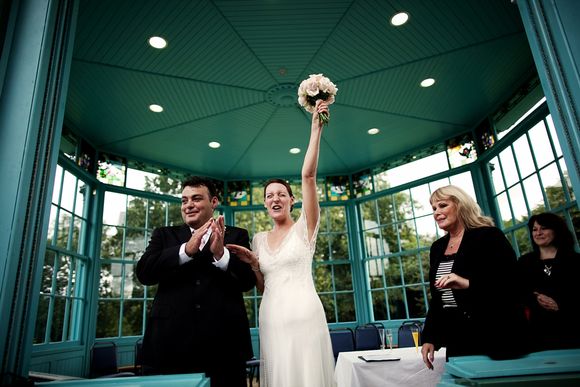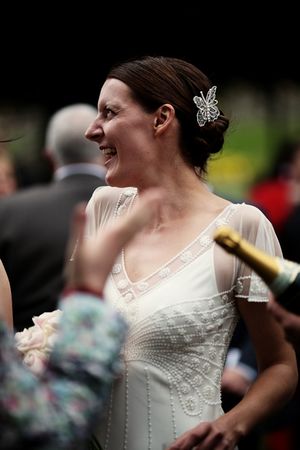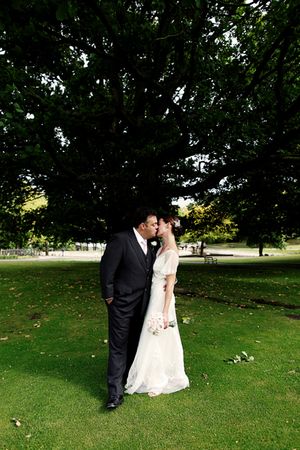 The pretty little Flowergirl wore a dress from Monsoon, in ivory silk and tulle…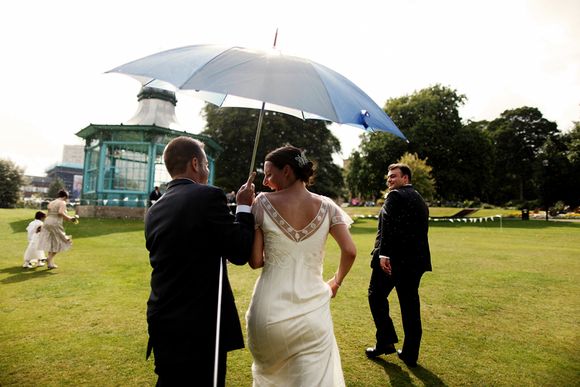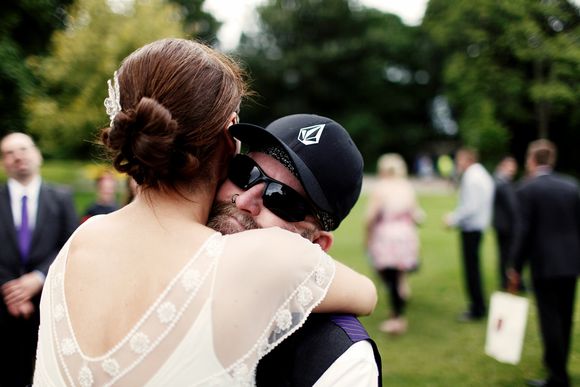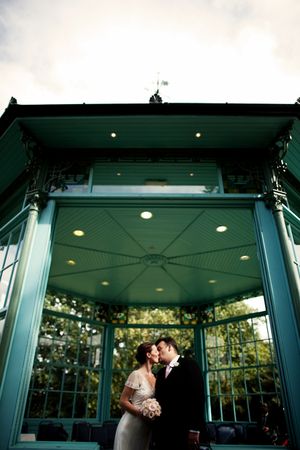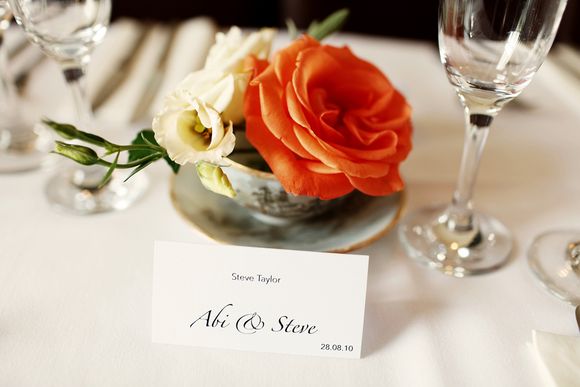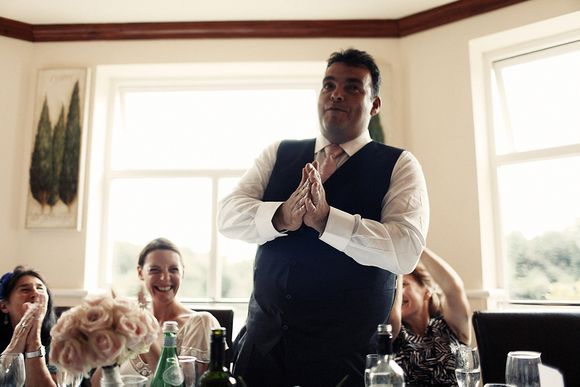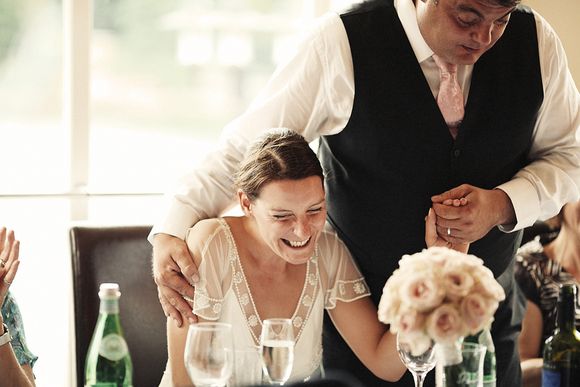 Words of Wedded Wisdom…
"For us the mantra was 'Registrar – check, rings – check, oh and fiance(e) – check… everything else is just trimmings'. I think it was because we were so giddy about the actual meaning of the day that everything else just fell into place. Stress free planning meant that we probably managed to imbue the event with more meaning and subtle touches than we'd ever have managed if we'd gone down the 'only this will do' route.
Don't be scared of outdoor weddings, there are some gorgeous bridal brollies out there!
The Groom maintains that you should plan the wedding you'd want to go to yourself… we're thrilled we were both at ours!!  Without having themed the day in anyway there was a 20s/30s vintage essence. My Nan definitely falls into the muse category. Ever the ballet dancer, she taught me to walk with my head up, shoulders back, back straight and bottom under.  I think it was this posture lesson that made me crave an elegant gown. Most of all we simply wanted everyone to have a lovely time. Some friends made our day when they said 'trust you two to do it in style, there was just enough formality to remind you that you're at a wedding but a great party too'."
What a lovely wedding to end Friday's posts on 🙂
Thanks so much to Jon Dennis of S6 Photography for his usual high quality, beautiful submission.  Abi told me
"We are soooo thrilled with the photos. His reportage style captured so many moments we were unaware of that everytime we look through them we learn something new about the day."
Super feedback for a super lovely Photographer 🙂
You can see more from S6 Photography on the Love My Dress Wedding Blog here.  And you can also see more Jenny Packham Brides here.
Have a lovely evening all 🙂
Much love,
Annabel xXx
♥