Morning! Hope this finds you bright and shiney 🙂
This morning's wedding is an all-round celebration of everything whimsical. Inspired by 'Alice in Wonderland', Belinda and Mark chose to fill their wedding day full references to this fabulous story, when they tied the knot on 26 August 2010 with a ceremony at Sheffield Botanical Gardens, followed by a reception at the Hall Gardens of Whirlow Hall Farm, Sheffield.
The couple were very ably assisted by the lovely Vincent and Emma of Bespoke Wedding, Event and Decor Planners, 'The Wedding Daze' in styling their reception.
Bride Belinda has always loved Lewis Carroll's 'Alice in Wonderland', inspired as a child by the fantastic beasts and sheer magic of escaping into another world.  In later years she particularly relished in the gothic darkness within the story and found 'American McGee's Alice', a macabre interpretation of the original tale, fascinating.   For her wedding day Belinda wanted to bring together the wonder and magic of the surreal and unexpected with beautiful, vintage aspects to create a marquee-garden reception which would transport guests into an enchanted realm.
Love My Dress Wedding Blog – Photography Copyright (c) 2010, PH Weddings

That lovely silver pocket watch above was a gift from Belinda to Mark, as a wedding gift, engraved with "Love is not consolation, it is light" (Friedrich Nietzsche)
I love the close up detail on Belinda's beautiful dress, those pearls are just delightful…
The dress was 'Sunset Boulevard' from Sharon Bowen's 2010 collection, purchased from Choola Wedding Boutique in Sheffield…
"I didn't even spot the dress; my Mum found it on the rail whilst I was trying to love the dress I thought I wanted!  'Sunset Boulevard' really came alive once on, the spring sunlight seeping through Choola's enormous windows highlighted the intricate jewellery detailing around the ribcage.  After trying on some more traditional dresses I loved how free I felt in 'Sunset Boulevard'; it was so light and when I moved the silk rippled as if I was walking through water.  I completely fell for the Victoriana meets Grecian glamour look!"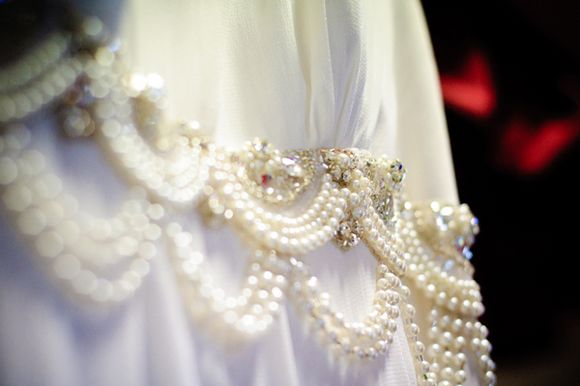 Belinda opted for the 'Courtesan' design in ivory, by Irregular Choice. 
"I really wanted a quirky and unique pair of shoes as I found most 'bridal' shoes to be very plain.  The gold detailing and flowers on the shoes looked fantastic peeking out from under the silk of my dress…"
Belinda wore a really beautiful, vintage inspired haircomb by Charlotte Balbier, as well as a pair of pearl drop earrings given as a gift from Belinda's Mum…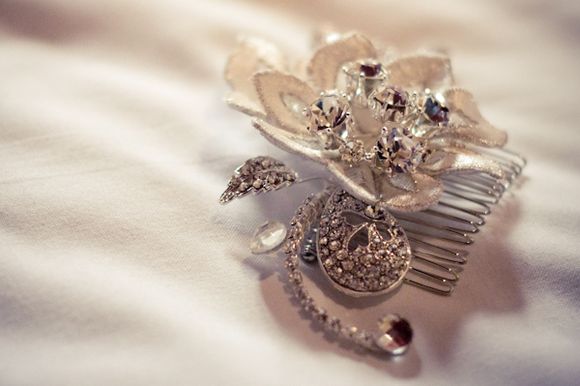 Belinda's bouquet was by Anna at Swallows & Damsons, Little Flower Shop, Sheffield.  Anna worked with Belinda to create a unique handtied bouquet incorporating grand prix roses in deep rich reds, peacock feathers and simulated, twisted ferns to give a real 'Mad Hatter' element.
The Bridesmaids wore peacock green satin dresses with black lace overlay, by Teatro.  A light, gothic twist on an Alice dress!  They also wore peacock feather hair combs and pretty black Mary Jane shoes from New Look.
The Bridesmaid's bouquets were made by Belinda herself – lush white roses with a single peacock feather, hand-tied with a black satin ribbon.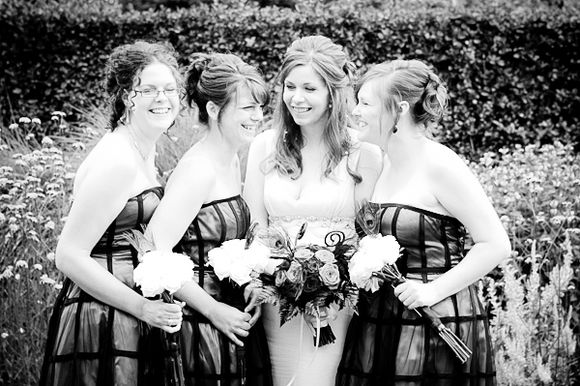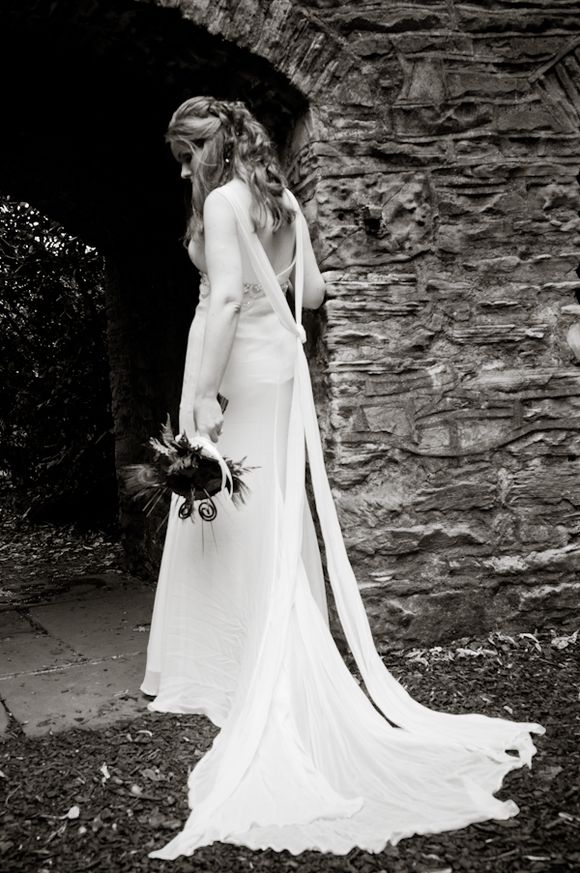 The couple chose Sheffield Botanical Gardens to marry because of the beautiful Victoriana styling of the pavilions and the grand nature of such imposing, landscaped gardens…
It was important for Belinda to be able to make her own creative mark on the reception and Whirlow Hall Farm provided the flexibility to do this.  The farm is also a charitable trust so the couple were keen to work with a local organisation for which they  have a lot of respect.
"We loved how different areas of the gardens provided such varying environments and gave inspiration for the beginnings of our vintage, 'Alice in Wonderland' inspired day."
"The décor was key and really brought our Alice inspired day to life.  This began with handmade wedding invitations made from oversized playing cards and Belinda's hand drawn map incorporating the Alice theme.
We spent months collecting vintage crockery to host the tea party.  We also sourced antique French Princess chairs, mini mirror balls, vintage alarm clocks, flamingos, paper lanterns and bunting to hang from trees.  Belinda created table centres consisting of a Mad Hatter's hat, complete with satin sash and sign reading 'In This Style, 10/6' and 'drink me' potion bottles.  In the wooded garden area, hundreds of fairy lights and lanterns lit by candles created a twinkling, romantic atmosphere.
All this was made possible on the day by the fantastic Emma and Vince of The Wedding Daze, who set up our reception before our arrival."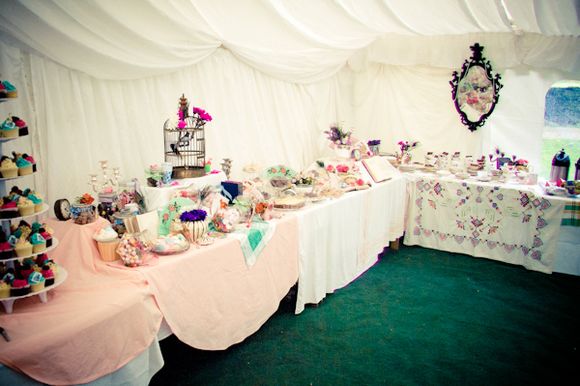 Guests dined at a 'Mad Hatter's Tea Party', enjoying cakes, sweets, biscuits and other nibbles inspired by Mark's Polish heritage.  Later, a BBQ was served, with many of the guests mucking in to make sure all were well fed!
Bespoke cupcakes were created by Andrea at Yummylicious Cupcakes in Sheffield.
Three different cupcakes were used to create a tower; a '99' ice cream style with flake, chocolate sponge with cherry icing and cherry garnish and vanilla sponge with blue icing and original ink sketches from 'Alice in Wonderland' printed onto edible icing…
Flowers at the reception were in a informal, vintage style with brightly coloured blooms and stems adorning the vintage crockery, tables and 'Mad Hatter's Tea Party' scene…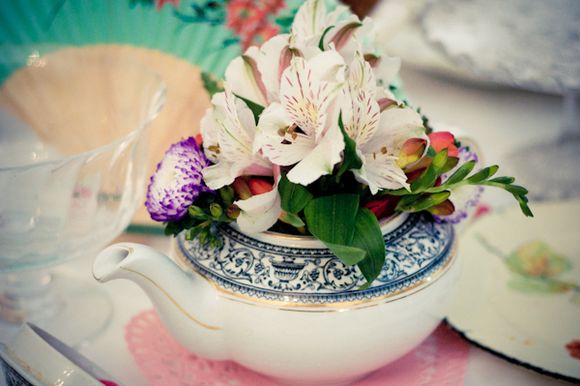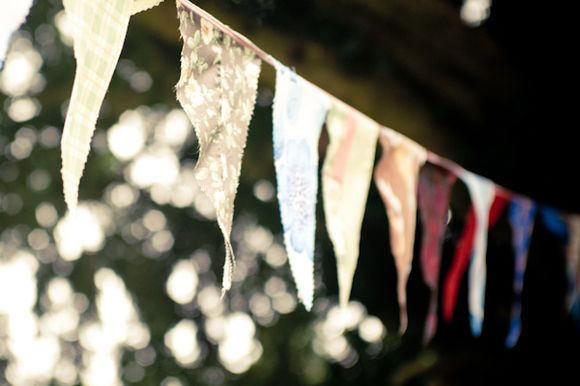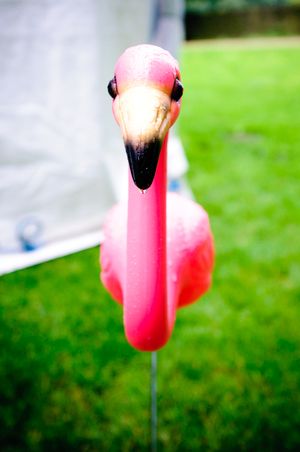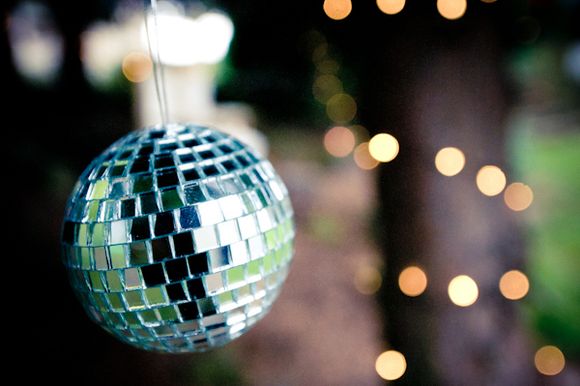 Words of Wedded Wisdom…
"Think about what inspires you and how you would like to remember the day. If you have a clear idea of what you want to achieve then make sure you do your research and always check prices!  Using local suppliers often means you can save money.
Try not to let disbelievers deter you too much; I lost count of how many times I was told "It'll never work!".  Do expect the odd confidence knock along the way, but keep your ideas in mind and you'll be amazed at what you can achieve.
So many people have told us that ours was the best wedding they'd ever been to, which was lovely.  However, it'll be our memories of the day and knowing how much of ourselves went into the planning that stay with us.  It's a great feeling so go for it"!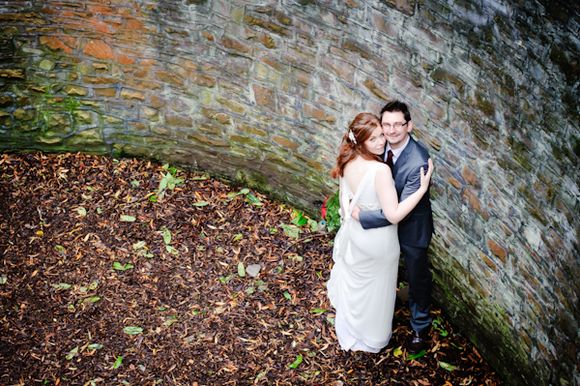 "We were both frazzled during the days before our wedding but as soon as we stood together, in front of family of friends, we were reminded of what the whole build up had been about.  Planning the day itself was a rehearsal for planning and building our life together
We had a great time planning our wedding.  This inspired us to continue our love for all things vintage by deciding to hire out items from our large collection of crockery and accessories to people wanting to create a uniquely vintage event of their own.
Wonderland Tea Parties is now open for business and would love to help brides (and grooms!)  to create something wonderful for their wedding."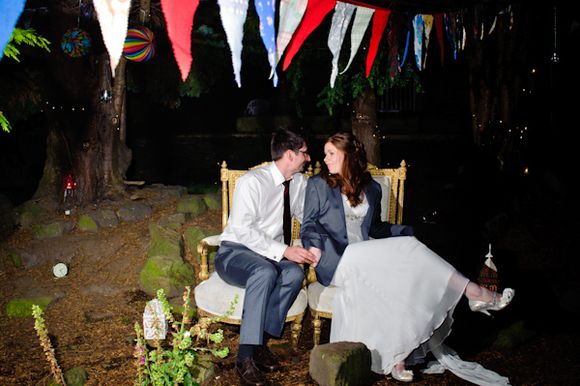 ♥    ♥    ♥
Dress – 'Sunset Boulevard' from Sharon Bowen's 2010 collection from Choola
Shoes – 'Courtesan' design in ivory, by Irregular Choice.
Accessories – Haircomb by Charlotte Balbier
Venue – Sheffield Botanical Gardens (ceremony) & Hall Gardens of Whirlow Hall Farm, Sheffield (reception)
Wedding & Event Planners – The Wedding Daze
Photography – PH Weddings
Flowers – Swallows & Damsons
Cake – Yummylicious Cupcakes
♥    ♥    ♥
Thank you to Belinda and Mark for sharing their wonderful whimsical wonderland wedding! Thanks also to Bespoke Wedding, Event and Decor Planners, 'The Wedding Daze' for their assistance in this real wedding feature, and of course thanks to PH Weddings for kindly allowing reproduction of these photographs.
Much love,
Annabel xXx
♥