I'm really excited this afternoon to be sharing part 1 of a photoshoot involving some of my favourite people. They include Photographer Alex Beadon, whose work I just simply adore and who I have been following for some time now, as well as Love My Dress Sponsor Madeline Isaac-James and Makeup Artist Extraordinaire, Kaz Fernando, who I'll be spending most of tomorrow with! 😉
I love to feature this type of photoshoot on Love My Dress, especially where a great deal of effort has gone into styling the shoot like it has here.  The imagery can offer so much to Brides in terms of inspiration; it might be the hair accessories, bridal wear or the fabulous decor and styling – talking of which, you have to see the photographs towards the ends of this shoot in particular because my word, I don't think I've ever seen such a fabulous looking spread! 🙂
I'm going to hand over to Photographer Alex Beadon to explain the story behind this Cinderalla inspired shoot…
"I started the New Year with a variety of goals in mind, one of them was to shoot a highly creative bridal fashion photo shoot a season. I really did not know how I was going to do this or if anyone would even be interested in joining me, but I thought I would go for it anyway.
The first thing I did was get in touch with Annabel because I thought that she would probably have the best idea of people to recommend for such a project. All it took was one tweet from Annabel and all of a sudden I was introduced to a variety of wedding dress designers, the first one being the amazingly talented Natalie Gladman of Madeline Isaac-James…"
We only had a few weeks to bring everything together, as we wanted to have the images ready for February. I wanted the shoot to be Cinderella-inspired and we agreed that Natalie's gorgeous dresses would fit perfectly…"
Love My Dress Wedding Blog – Photography Copyright (c) 2011, Alex Beadon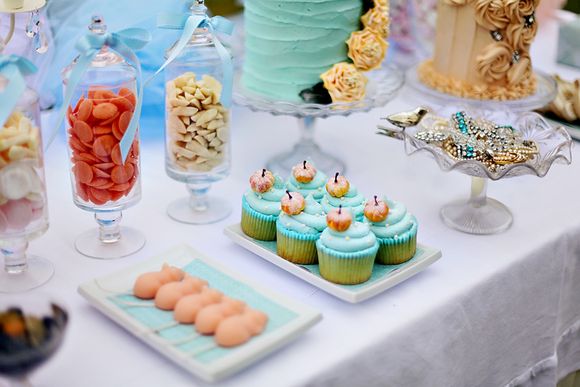 "After pulling together a variety of brilliant wedding suppliers to make up our oh-so-talented creative team, I knew that we were in the right hands and that the shoot would be a photographer's dream come true – and it was. I spent the entire day buzzing, so happy to be doing what I love and so happy to watch what I had envisioned in my mind become a reality. On the day we had a total of 17 people involved, and I could not have been more proud and honoured to work with each and every one of them…"
Here is part one of the fruits of our labour. We wanted it to be very whimsical and surreal, and I think we definitely achieved that…"
Is this not the most fabulous looking array of sweet and edible things you have ever seen – look at those CAKES!!!
Pumpkin carriage biscuits!!!!…….
♥    ♥    ♥
Photographer ~ Alex Beadon
Dress Designer~Natalie Gladman
Cakes & Styling ~ Vickie Pritchett of the Boutique Baking Company
Hats/Headpieces ~ Jane from HF Couture
Stationery/Invites – Lucy Ledger Design
Headwear ~ Natasha Jane
Make Up Artist ~ Natasha Buchanan
Make Up Artist and Hair ~ Kaz Fernando
Hair Stylist ~ Kerry Butler {no website}
Creative Team ~ Sara Beadon, Debbie Slater
Assistants ~ Hollie Fernando + Bonnie Jane Ridgely
Models ~ Natalie Deegan, Elisabeth Barker-Carley and Sarah Beasley
Location: Severn End, Hanley Castle, Worcestershire {no website as of yet, but email with enquiries
♥    ♥    ♥
Part 2 {you will LOVE!} is up on Wednesday afternoon – check back then for more beautiful wedding dress, decor and styling inspiration 😉
Much love,
Annabel xXx
♥