Happy Tuesday 🙂 How does this email find you?   I'm pleased as punch this morning to be sharing a photoshoot with you that happened because of this very wedding blog and that brings together the creative talents of two ladies whose work I admire muchly.
London and Kent wedding photographer Dasha Caffrey took these beautiful images.  I was thrilled to have played a part connecting Dasha with her fellow Russian and vintage headband and accessories designer, Yulia Kunze.  I adore how these images showcase Yulia's designs off so beautifully – all of Yulia's headpieces are created using original vintage elements from the 1920's and 30's.
Dasha Caffrey explains more about this shoot…
"This shoot happened because of Love My Dress, and is the result of pure networking!  I first read about Yulia Kunze and her wonderful vintage wedding hair jewellery on Love My Dress last year.   As it turns out, we are from the same country, so I got in touch with Yuli.  We spent time  chatting and came up with the idea of doing a shoot together. Personal projects are very important for me; shoots like this keep creative juices flowing and we get to work with some of the best professionals in the wedding industry. So, needless to say I was very excited.
The inspiration behind the styling did somewhat come from art deco era, however we wanted to keep it quite minimalistic, but very chic and elegant at the same time. The key to that was getting a fantastic team on board, which is also very important for a wedding. If you have the right professionals around you – they will make you look a million dollars!"
Love My Dress Wedding Blog – Photography Copyright (c) 2011, Dasha Caffrey

"First of all, we needed a venue that would comply with our brief. One Marylebone Wedding Venue London could not be more perfect for us; a hidden jewel in London city it was all we wanted – stunning original features, chic, elegant and with gorgeous light to show off beautiful dresses designed by Ugo Zaldi, Cymbeline, kindly provided by Adamo Bridal Boutique from Leigh-on-Sea. Beautiful flowers added that fresh touch and completed the image.  Impeccable make up was applied by London Wedding Airbrush Makeup Artist Mariam Jensen, and hair beautifully styled by Wedding Hair Designer Cassandra. Mariam and Cassandra are amazing at what they do, fabulous people to work with and paying attention to every single detail to achieve the perfect look.
I guess with this shoot I do want to inspire brides to be "less is more" when it comes to styling their weddings, by tastefully choosing their attire…"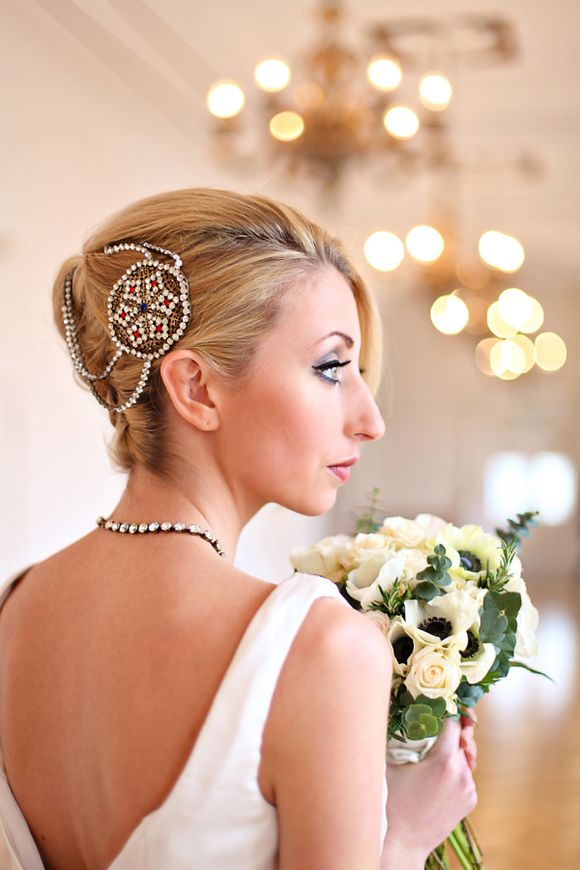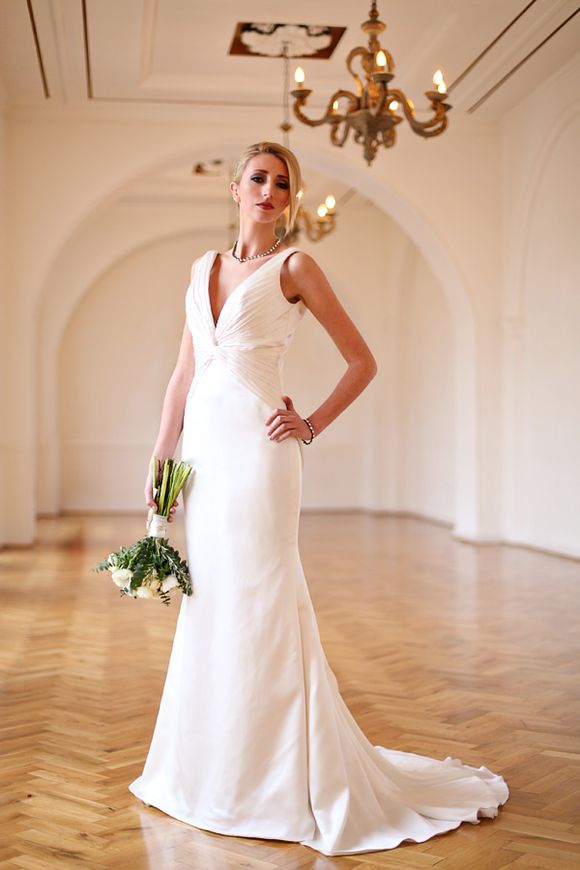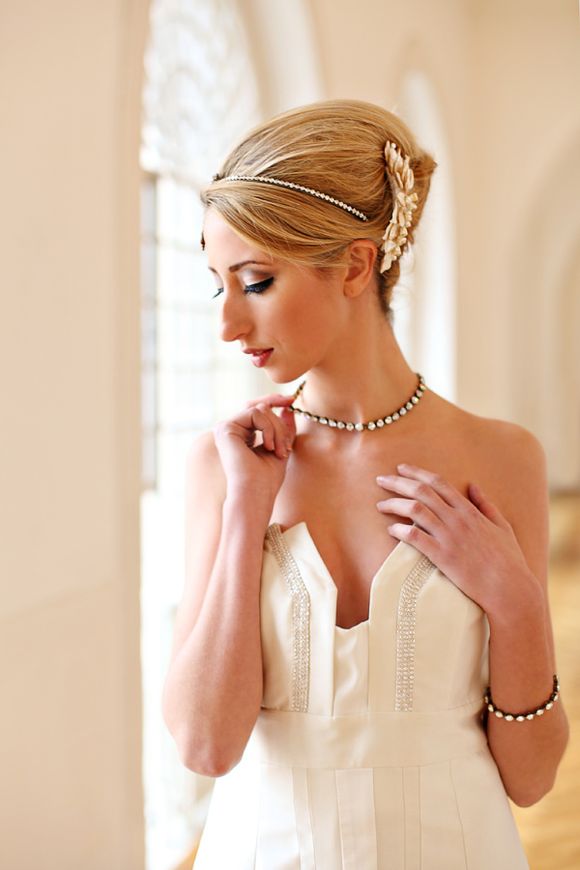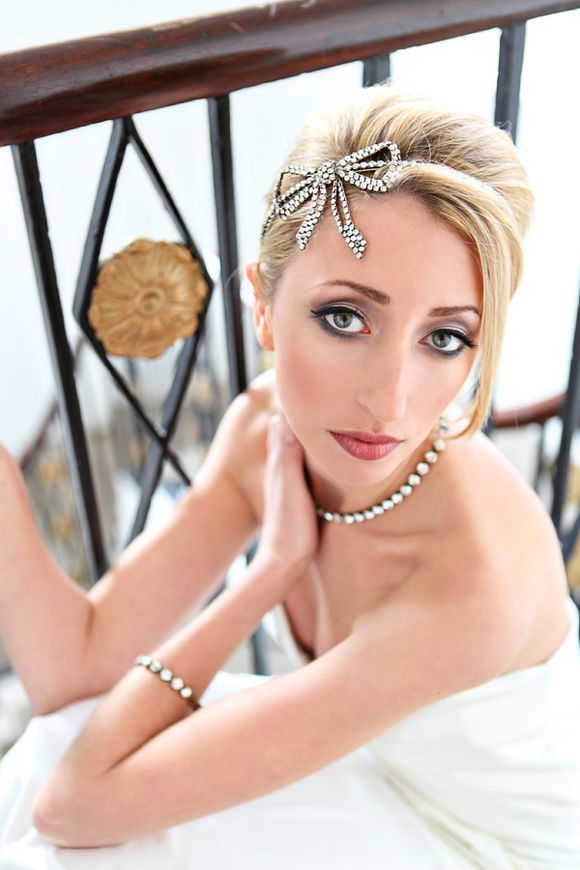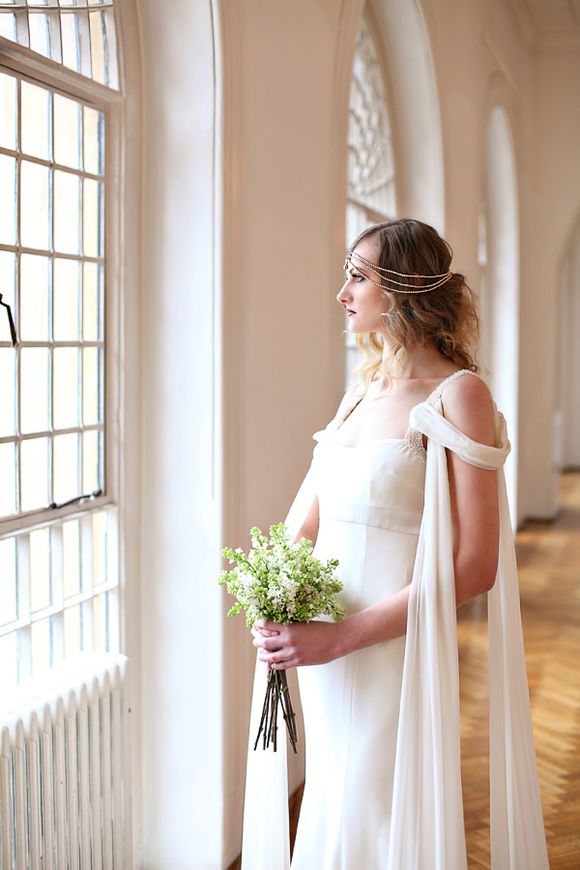 ♥   ♥   ♥
Photography  – Dasha Caffrey
Venue – One Marylebone Wedding Venue London
Hair Stylist – Cassandra, Wedding Hair Designer
Hair Accessories – Yulia Kunze
London Wedding Airbrush Makeup Artist – Mariam Jensen
Flowers – Fairy Nuff Flowers
Models: Kara Wenman + Ines (friend of Yulia Kunze)
Dresses kindly provided by Adamo Bridal Boutique
♥   ♥   ♥
How beautiful, chic and understated?
I'd love to hear your thoughts on this shoot.  The style of dresses, the accessories etc, what do you think?
You can see more beautiful art-deco bridal designs from Yulia Kunze on Love My Dress here.  Also be sure to visit Yulia's Facebook page for exclusive news and offers.
Have a lovely morning everyone 🙂
Much love,
Annabel xXx
♥