"A marriage is for life.  It's not about planning an event for your friends or wearing THAT dress for 12 hours.  This next chapter is so exciting…"
…words said by Bride Maxine below, as she talks about her wedding to Husband Joe, which took place on 27 August this year.  This lovely couple tied the knot with a with a sunny-day ceremony at St Peter & St Paul's Church in Eye, Luston, followed by a reception at Cawley Hall. 
Maxine's beautiful dress was an original 1940's vintage find from the fabulous Fur Coat No Knickers…
"My mum and sister came to London for one day.  As soon as I put the dress on they loved it, I loved it and that was that. 
Sadly, the whole way along I didn't believe the dress was right for me, Emma & Laura at Fur Coat No Knickers were amazing and kept trying to reassure me.  Thankfully on the day with the hair and make-up I felt amazing.  I loved that the dress was vintage, that it has a history and there was something really romantic about it, it's a cliché but I felt a million dollars…"

Love My Dress Wedding Blog – Photography Copyright (c) 2011, Jay Rowden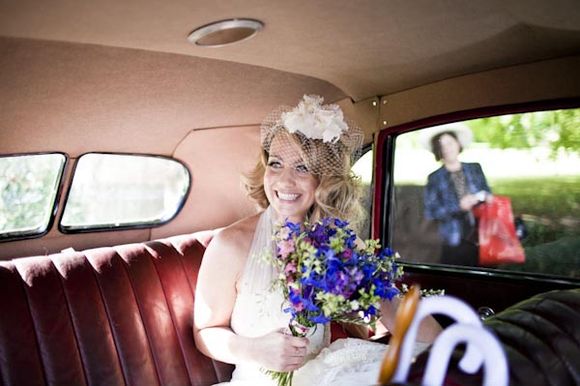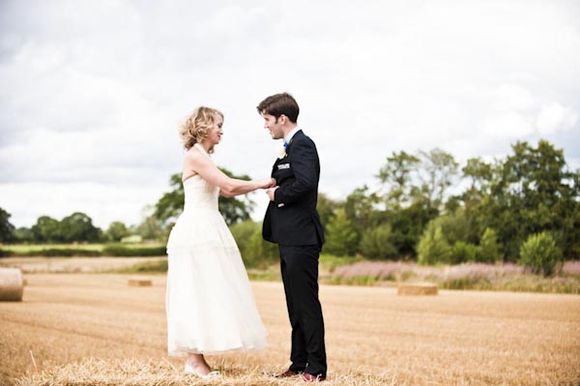 Pretty lace, layered lovliness…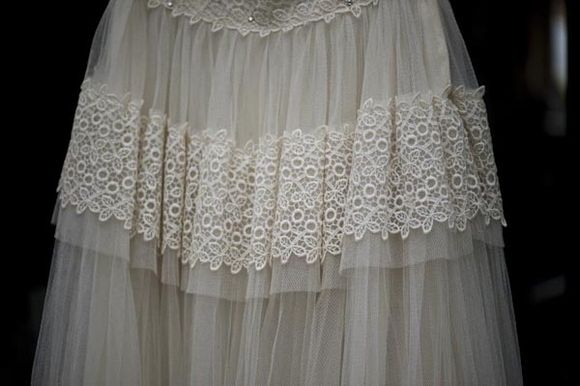 Maxine's wedding shoes were by Nine West. I love them and if you love them too, they are currently on sale from £95 down to £65. Go!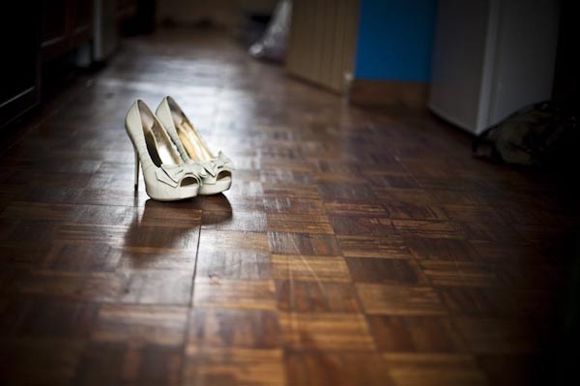 "My fascinator was also from Fur Coat No Knickers…"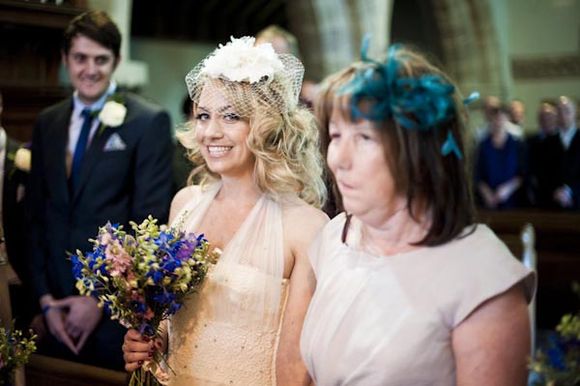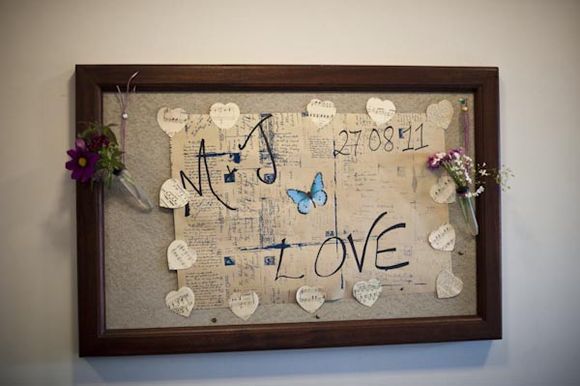 "We chose the venue as I used to stay at my nan's in Eye every weekend.  My nan, sister and me used to walk to the cemetery, opposite the church entrance, I always said that I would marry there one day.  I did. 
Cawley Hall was the obvious choice for the reception as it is so close to the church, we wanted our guests to leave the church ceremony on a high and wonder straight into a lovely environment for a drink!  No long bus journeys and no separating the group – everyone walked together from the service, along the country lane in the sunshine…"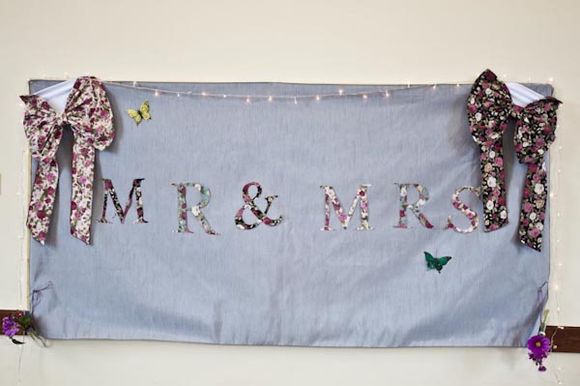 "I spotted some beautiful fabric in Rolls & Rems Fabrics, on the Seven Sisters Road, London.  My mum works at Forbes Group limited, she suggested they make chair covers for all the chairs – I bought the fabric in 4 different colours and they made a bespoke chair covers to fit.  They transformed the room, without them the hall just wouldn't of looked as good.  They formed the basis of the colour scheme and I made the place names etc with the same fabric so that it all fitted in…"
"My theme was love, pure and simple, hearts and old fashioned love letters.  I cut heart shaped confetti for the table out of old sheet music and an old book called The right to love…."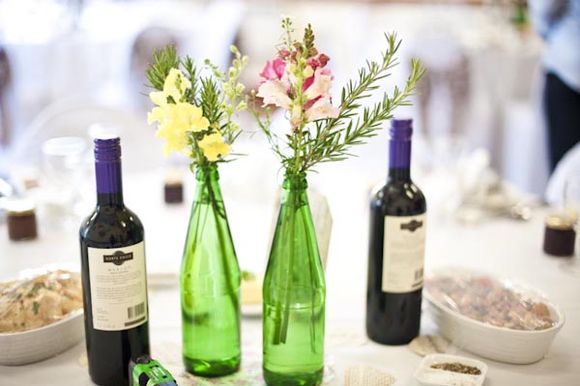 "During a drunken eve with my girlfriend, Alex, I mentioned that I would love to have homemade jam in vintage jars for the favours.  Lucky for us Alex listened and her and her husband, Sam, made the most delicious JAM (Joe & max) and chutney, they got the jars from jam jars uk and they also had cute labels printed.  What amazing friends!"
For more wedding favour ideas and suggestions from other readers, check out this post…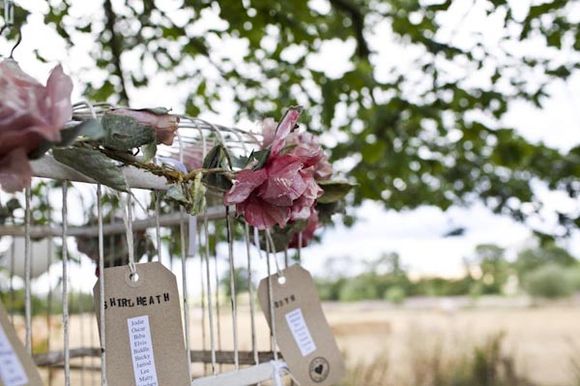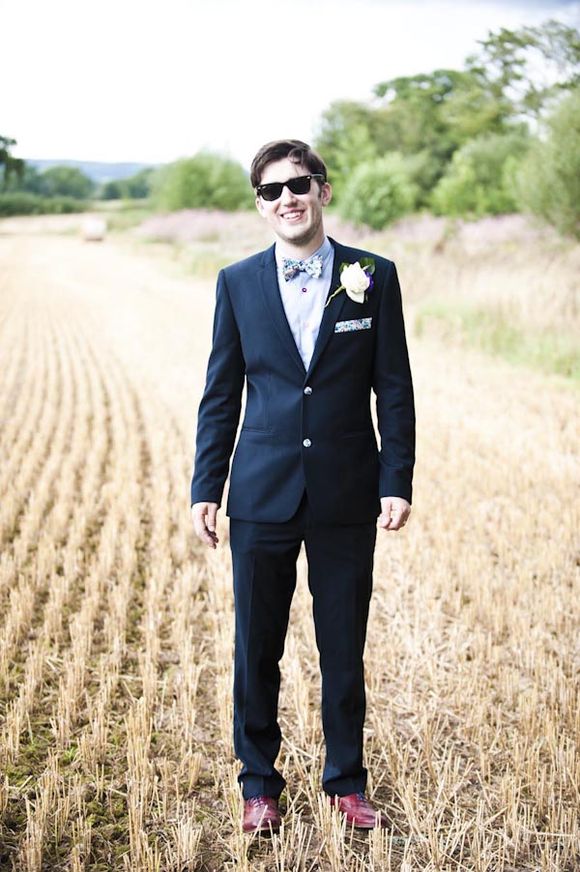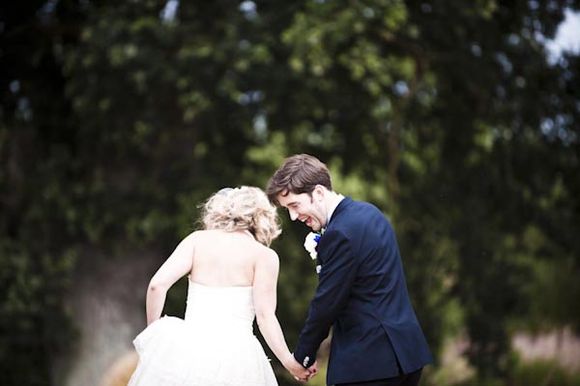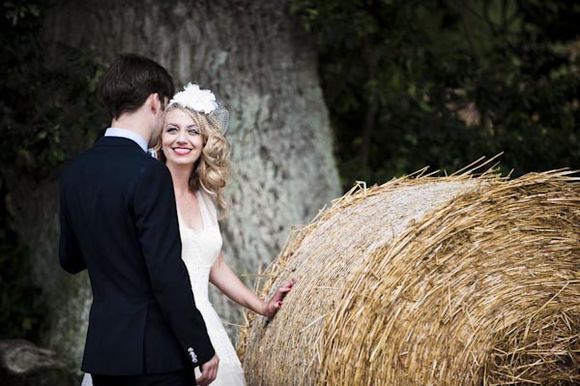 Words of Wedded Wisdom…
"Don't get caught up in family politics, it's your and your fiance's day, that means your guests and your ideas. 
Focus on the service as much as the celebration, after all it's this bit that the two of you can really plan little things that will mean the World to the two of you on the day. 
Stick to your budget and get creative, it's much better to have something hand made that means something to the bride & groom, as opposed to buying "wedding stationery" off the shelf that costs the earth. 
If you're friends want to help let them, so many of our lovely friends helped in so many ways.  Remember if the two of you love it then your guests will love it…"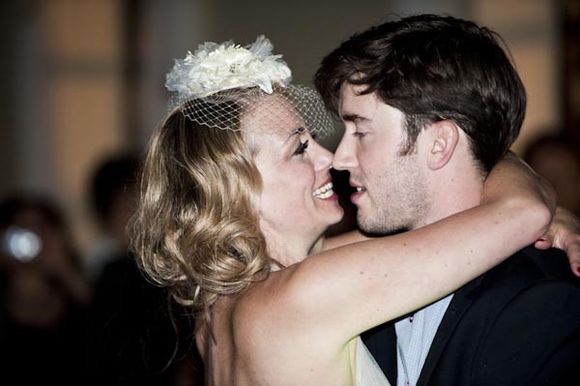 Congratulations Maxine and Joe! What a beautiful day you had 😉
Big thanks to London Wedding Photographer Jay Rowden for submitting these lovely photographs 🙂
"Jay Rowden is the best photographer EVER. Jay was amazing, in the lead up to the wedding, sending me a six pence for my shoe and on the day itself.  A great manner, personable and instantly made the guests feel at ease. 
You only have to look at Jay's photo's to see his ability to tell a story, beautifully shot and really innovative when it came to location shots – we all had a great laugh in the cornfield, my shoe only got stuck once!"
Just another lovely wedding to help inspire you, my lovely readers 🙂 Pop back at 10am for a brand new inspiration board.
Much love all,
Annabel xXx
♥
Style Guide
Photographer – Jay Rowden
Venue – Cawley Hall
Brides Dress + Fascinator – Fur Coat No Knickers
Brides shoes – Nine West
Bridesmaids – French Connection
Groom – Topman Suit {+ dickie bow ie + handkerchief} was customised by Panod
Cake – Friend