Good afternoon my lovelies! 🙂 How are you all?  I have had such a busy weekend meeting my readers and Brides to me, as well as lovely industry people, at The Designer Vintage Bridal Show.  I've come away from this wonderful event feeling so invigorated and excited about new projects ahead, it was just absolutely wonderful.  I was delighted to have met You & Your Wedding Editor Miranda Eason who popped in for a walk about the pretty exhibitor stands and to say hi, as well as Twitter friends Cloggins, Mrs Caudery, Tattybojangles, The Barbers, Lou from Whimsical Wonderland Weddings, Wedding TV's producer Kate, my Editor Hazel over at Vintage Life Magazine and the wonderful photographer Steve Gerrard, whose work is splashed all over this very page. 
Vicky and Stuart tied the knot on 6 May 2011 at Marylebone Town Hall, followed by a reception at the Britannia Pub in Victoria Park, London. 
Vicky's lovely halterneck, 1950's style wedding dress was by Jacqueline Bryne…
"I had the dress made especially for me, I knew I wanted something fresh and simple to go with the relaxed vibe of the day, and Jacqueline helped me bring my thoughts into a reality.  My birdcage veil was from a selection at Jacqueline's shop.
 I love vintage, I love the elegance and romance of the 1930s women were so elegant, I love cloche hats, the Marcel wave, dare I say it, fur stoles  and sultry makeup…"
A woman after my own heart. I think you should come round for tea and cake Vicky, what say you?

Love My Dress Wedding Blog – Photography Copyright (c) 2011, Steve Gerrard
Vicky and Stuart used Artcadia for our stationary needs …
"We used bunting and old-fashioned garden games like a coconut shy, skittles, egg and spoon to help style our reception…"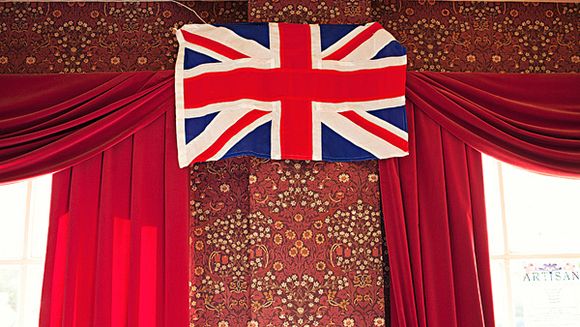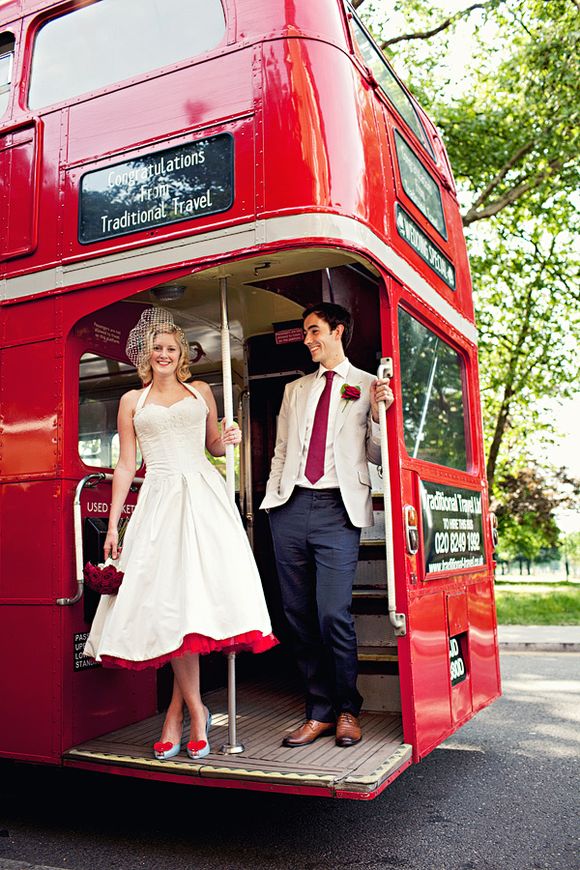 Pretty dress…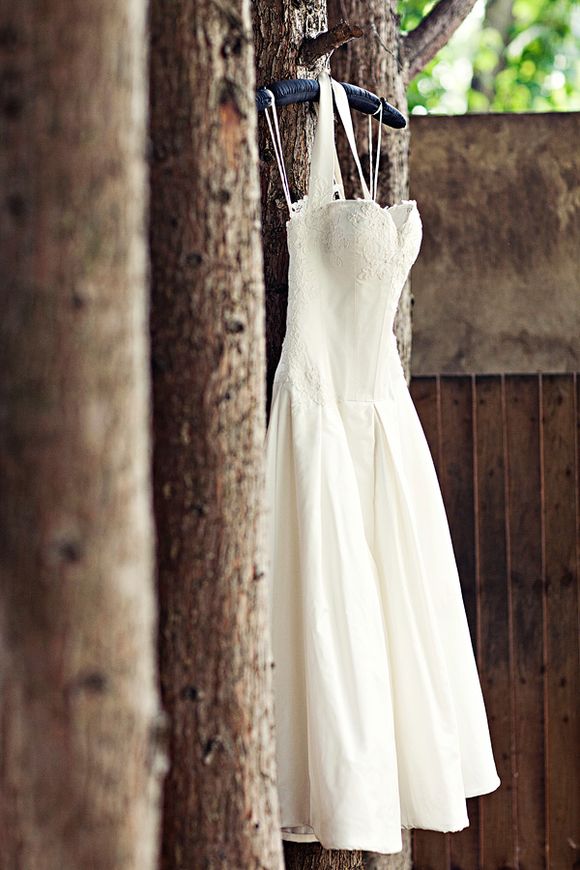 "I did my own make-up, but my hair dresser was Kontakt, who dyed, cut and dressed my hair. They were fab!"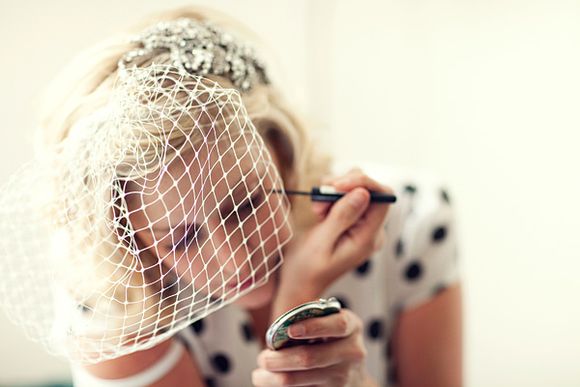 Vicky commissioned Flowers N16 to create her bouquet for the day…
"We talked to a couple of florists in the area and these guys just seemed to get us. No fuss, no talking at extreme length about all the difficulties and decisions involved which other florists we spoke to talked about first. The owner of this shop was more interested in talking to us about why we were getting married and who we were.
We went for simple dark red roses as the rest of the day was so un-fussy that the flowers had to fit with that. We didn't have floral table arrangements (we had our favourite books instead which we asked guests to take home and enjoy, and swap with each other afterwards, as well as homemade cake made by the groom's mother, and we encouraged table to sample different cakes from each to get the guests talking)…"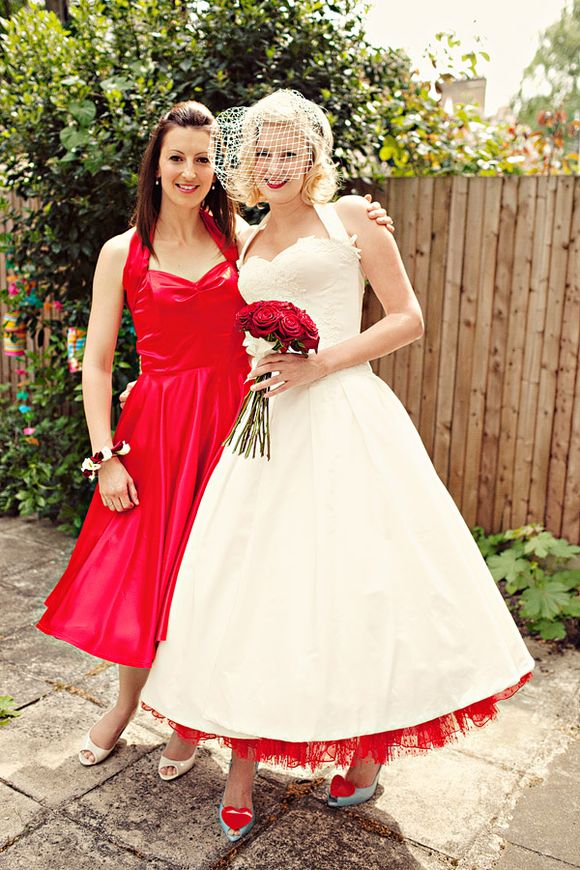 "We chose Marylebone Town Hall because of it's rich tradition of relaxed and informal weddings, and the Britannia Pub because we wanted to have good food and a great outdoorsy atmosphere that was easy to get to for the majority of guests, who all live in and around East London (where I grew up). The pub owner, Andrew, is really nice and very easy-going.
The pub is known locally for it's great food and atmosphere so it seemed like a perfect choice…"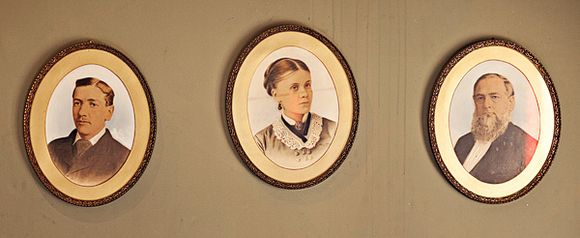 "We made our own wedding rings for each other, as we felt it was a lovely gesture for something we would each wear for the rest of our lives. We did it at The Artwork Gallery…"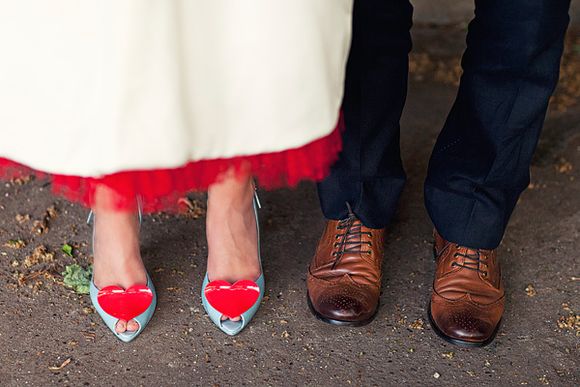 "We bought giant swirl lollipops which we wrote guest's names on, and which doubled as favours. We sourced them from Amazon…"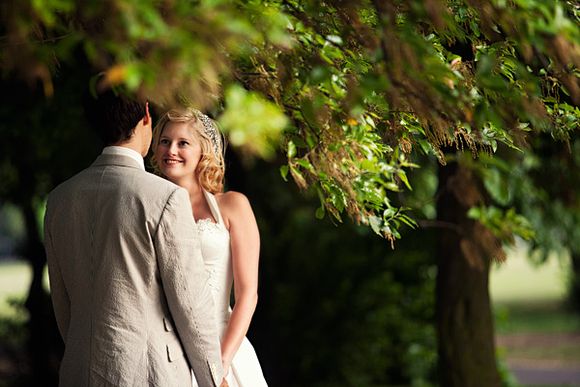 "We met 8 years ago in our last week at university. We got engaged in Fez in Morocco which was a complete surprise (we were supposed to be on a last-minute surfing trip and we arrived at a luxury restaurant, and then Riad which Stuart had planned months before)…"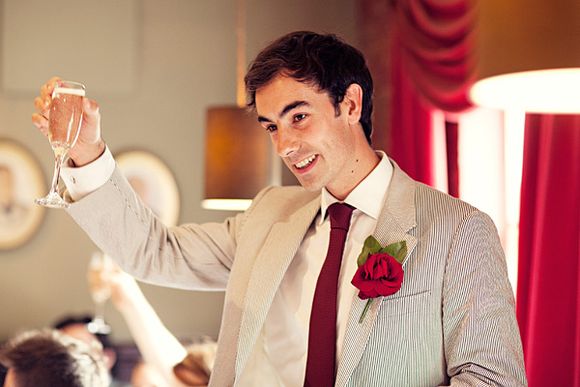 "We had a pork pie cake and a wedding cheese cake, both of which were arranged by the Britannia landlord and owner, Andrew…"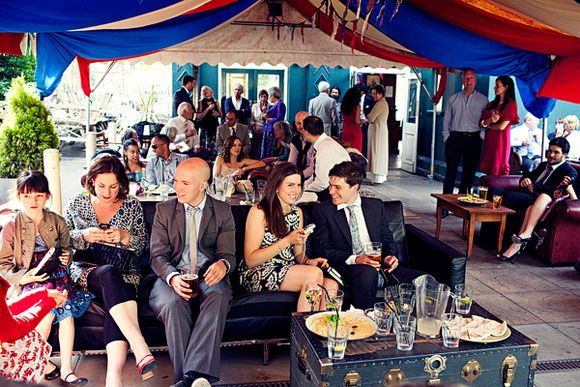 The couple danced to 'At Last' by Etta James for their firt dance…
"It's a song we both love and felt perfect for us…"
"It's a cliché but I would say that on the day you just have to let go and enjoy it. If things don't quite go the way they planned it just adds to the day.
We wanted a real London wedding, with Marylebone and the red bus. But we also wanted a relaxed informal day so we tried to stay away from traditions as much as we – we didn't have someone to give me away, we didn't have a top table. We just wanted to have a party with our loved ones, without any pressure, and I think we managed it!"
What a beautiful romantic shot – huge thanks to Steve Gerrard for sharing these photographs today…
"Steve was an excellent photographer, really captured the atmosphere of the day. No stuffy formal photographs in sight, and no telling the guests what to do, we really didn't know he was there. Couldn't recommend him enough!"
Are any of you Brides out there looking forward to rocking the birdcage veil look on your wedding day?
Much love,
Annabel xXx
♥
Photographer – Steve Gerrard
Venue – Marylebone Town Hall + Britannia Pub in Victoria Park, London.
Brides dress – Jacqueline Bryne
Brides shoes – Vivienne Westwood 
Groom – Paul Smith Suit at Harrods + Kurt Geiger at Harrods shoes
Bridesmaids – Vivien of Holloway
Cake – Pork Pie Cake + Cheesecake arranged by  Britannia Pub
Transport – Red London Bus
Flowers – Flowers N16  
Stationery – Artcadia