Good morning my lovely lovely friends 🙂 How are you? As I sit finalising this blog post, I am in a huge bed in the wonderful Brooklands hotel – accommodation partner for Fetcham Park, an incredibly fabulous new wedding venue in Surrey that I attended a launch event for yesterday – more on that later – all I'll say now is wow, absolutely wow!
This morning I'm sharing a completely beautiful affair with you, thanks to the mighty talented Photographer that is Anushe Low.  And this wedding was a particularly special one for Anushe to photograph, because the Bride happened to be her best friend Kumari.
Kumari and Matthew tied the knot on 11 June at Symondsbury Manor in Dorset with a glorious Bloomsbury garden party inspired day, surrounded by friends and family who enjoyed afternoon tea and Sri Lankan wedding cake.  They wanted their day to reflect their love of literature, music, flowers, vintage clothing and a dreamy aesthetic. And I think they did the most wonderful job.
"My beautiful vintage wedding dress was a steal!  I found my dress at a vintage wedding fair, which was held in Shepherd's Bush town hall at the end of last year.
I saw somebody else trying it on and was devastated because it was so beautiful.  Luckily she was just there to support her friend and was trying dresses on for fun. When I worked this out I asked if I could try on the dress and the moment I donned it I knew it was right…"
Love My Dress Wedding Blog – Photography Copyright (c) 2011, Anushe Low
"My beautiful vintage inspired feather headpiece was made by Karin Andreasson. I first bought a headpiece from  Karin a few years ago from her stall at Broadway market.
She incorporates vintage French lace and jewels into her pieces so she came straight to mind when I was considering what would go with my vintage wedding dress. I attached a birdcage veil from Lily Bella to Karin's the headpiece by Karin…"
"We dated for almost two years before he proposed on the 17th October 2010.  We had been to Tiffany's the week before for me to choose my ring so I knew a proposal was imminent. We went for a walk and had a picnic on the banks of the river Kennett in Berkshire. It was the one day of glorious sunshine that month. Whilst we were on our walk Matthew got down on bended knee under a tree that was bowed over the riverside path making a natural alcove just outside Kintbury.
It was magical. I obviously said yes and was so happy I could not contain myself from telling the next pair or walkers who happened to pass us who were an elderly couple who stopped to kiss and congratulate us!"
"I'm quite small, 5'3 and a size 8, so the length of the dress, just above the knee was perfect, as it didn't engulf me. I wanted a short, lace, vintage dress and the dress I found at the fair was actually the dress I had in my head – that never usually works out – but this time it did.
I went to the vintage wedding fair with my friends Anushe (who was also our wedding photographer extraordinaire) and Jess and they agreed that the dress was the one the moment I put it on.
Matthew wore a vintage military jacket from the 1920s which he wears when he is performing with his band Gilbert. It's from Portebello Road Market. Shirt and tweed trousers from Aubin and Wills (www.aubinandwills.com) and vintage braces, shoes and bow tie from Brick Lane…"
Kumari wore a beautiful pair of fuchsia strappy sandals from Kurt Geiger with pearl brooches from Accessorize…
"The dress was made of vintage lace with crystal beading on the bodice. I had the sleeves and hem length shortened at the alterations boutique in Marylebone…"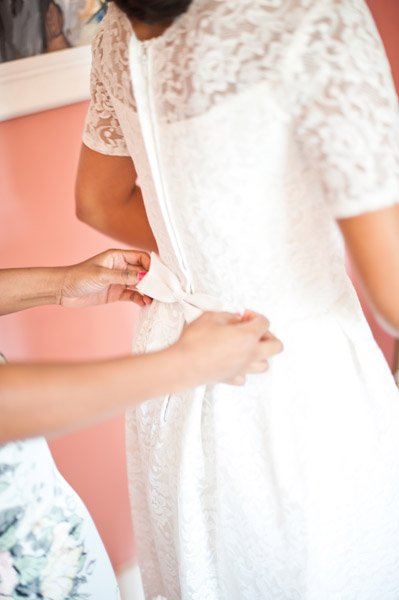 "My sister Samantha was my bridesmaid and her pale blue, floral cocktail dress was from Wheels & Doll Baby.
Maisie, Leonie, Darcy and Lucy were our little flower girls and their dresses and the page boy's Milen and Will's shirts were from Tulip & Nettle…"
"Matthew's Dad's partner Pat is a vicar, so we asked her to do our blessing ceremony. I walked down to a song called 'Sigh', written by Matthew, and played by his band Gilbert.  The blessing was under a floral arch in the gardens of Symondsbury Manor. We created vows by amalgamating poetry and lines from a traditional Bahai ceremony.
We lit a Sri Lankan Buddhist lamp. Matthew's friend Brian played an Irish folk song on his violin, our 8 year old niece Maisie composed and read a poem, our 17 year of niece Molly read a blessing from the Great Plains Indians and our sister in law Jacqui read an extract from Virginia Woolf's To the Lighthouse. The whole wedding had a vintage garden tea party theme…"
"We met through Guardian Soul Mates! Our first date was at the Old Shoreditch Station bar, which was just 5 minutes down the road from where I lived at the time, but I was still very late! Matthew was almost Victorian in his politeness at our first meeting and when I apologised for my lateness (for which I had no excuse other than taking my time to attach a fascinator to my head!) he pronounced that it was a "woman's prerogative to be late"!
We proceeded to get on famously and I was astounded at how similar we were….here was a boy who had read almost as much Virginia Woolf as I had! I was attracted by his Victorian quirkiness, his shimmering wit and intellect, his creativeness and his old fashioned manners…"  
" At the end of our date he shyly slipped me a copy of his latest album by his band 'Gilbert'. When I went home and listened to the sublime ethereal sounds I texted him to tell him that he had moved me, and he said he was glad as I had great hair!! Shortly after our first meeting I went to Australia to visit family over Christmas and we feverishly kept in contact throughout.
We pretty much became a couple when I got back. I lived in an apartment on the Kingsland Basin and we would spend hours on the wharf watching a little family of coots on the regents canal and drinking tea from china teacups. We often reminisce about falling in love on the wharf to an audience of coots…"
"We had part vintage garden tea party, part summer music festival in mind when we planned our wedding. 
We're both a little bit Victorian and our house is full of vintage clutter from teapots, to an antique taxidermied duck, to old books and mirrors. We wanted to bring our style to the wedding. We actually took the taxidermied duck and an antique writing table to Dorset with us as props for the wedding.
Also Matthew's band Gilbert's  music is really magical, pretty and ethereal and they all look really quirky and theatrical in their outfits, so this also inspired the mood of the wedding. And as they were playing a set on the lawn after the ceremony it gave the afternoon a laidback music festival feel…"
"Symondsbury Manor in Dorset reflected our style in being ramshackle and quirky. Thomas Hardy came to tea here in 1883! The current owner is an artist so there are some lovely creative touches. Because you hire the whole house for the weekend we and 23 of our closest family and friends (and our sproodle pup Teacake!) stayed at the manor from Fri to Sun which was very convenient as we all travelled down from London. Its set in the tiny village of Symondsbury amidst rolling fields and thatched cottages.
The village has a pub, a school and a potter! It's just outside Bridport which had lots of lovely accommodation for our other guests. We found Symondsbury Manor in the weeks following our engagement on the internet and visited in November last year….we knew it was right immediately!  We had afternoon tea in a marquee in the gardens of Symondsbury Manor followed by an evening BBQ. We were staying in the house so the reception was in the marquee, the grounds, and the panelled ballroom of the manor…"
The couple used ducks, flowers, bunting, vintage objects, music, hundreds of tea lights and theatrical Victoriana to style their venue…
"Each table was named after a duck….after all we fell in love to an audience of ducks on the Regents Canal!
We wanted a vintage garden tea party themed day – with a mix of vintage fashion and objects, a country fair, lots of flowers like Mrs Dalloway, low key, music festival vibe – all to reflect our personal style…"
"I hand wrote the seating plan in multi-coloured felt tips and stuck pictures of ducks on it from a ladybird book of ducks. It was framed in a gilded antique photo frame and placed on the antique writing table next to the antique taxidermied duck at the entrance to the marquee. There was a framed picture of a duck on each table accordingly.
We were at Wigeon table! The table centres were floral arrangements in vintage teapots by www.vintagedorset.co.uk and the name cards which doubled up as favours as they were packets of wildflower seeds as were the order of service booklets and the invitations. We also had white tealight holders with cut out heart shapes…"
"Denise at Visions Floral Design did our flowers – we chose peonies, roses, lavender and rosemary.  We wanted the flowers in keeping with the country fair / garden tea party mood. The flower arrangements were whimsical and informal in keeping with the entire vibe of music on the lawn, children dancing and playing with Teacake our puppy, girls in floral vintage dresses with vintage up dos, boys in straw hats and braces…"
"Denise at Visions Floral Design also made our cake. It was the most beautiful three tier cake, one layer was strapped, the other polka dotted and the other with tiny icing flowers.
The whole thing was in pastel pinks, blues, greens and white with fresh peonies atop it. It was a fruitcake and entirely delicious as well as gorgeous.
I've never seen such a beautiful cake!!!"
"'Gilbert', Matthew's band who are made up of Matthew, Maud, Jacqui, Brian and Roger, performed a magical set of their eclectic music…some of it quirky and poppy and great for dancing to, some of it sublimely beautiful and twinkly, perfect whilst guests were mingling and daydreaming in the sunshine, and much of it beautifully romantic without ever being cheesy, ideal for stolen moments to be treasured forever. And as they wear beautiful vintage costumes and have an array of instruments from violins to melodicas they were perfect for adding a touch of uber cool vintage theatricality to our wedding. Bookings…"
Words of Wedded Wisdom…
"I loved that our wedding really reflected our style….it said something about who we are…extracts from our favourite books as readings, Matthew's band playing, an afternoon tea which referenced all the tea and cake we had out of vintage crockery in our early days of courting – the whole thing being very laidback with children, our puppy, our friends and family all pottering around the lawns of a magical manor house in the fading sunlight one glorious June day!
As such my tip would be to avoid generic package weddings and build it yourself to allow it to be as personal and meaningful as possible…"
So relaxed and yet so stylishly beautiful… *Sigh*
I'd love your feedback on Kumari's style and would like to know if any other Groom's out there plan on wearing vintage?  I love that military jacket look, le swoooooooooooon!
You can see more from the amazing Photographer that is Anushe Low on Love My Dress here.
Have a good morning all, and check back soon for more.
With much love,
Annabel xXx
♥
Photographer – Anushe Low
Venue – Symondsbury Manor in Dorset
Brides dress – original vintage purchase via the vintage wedding fair
Birdcage veil – Lily Bella attached to a Karin Andreasson headpiece
Shoes – Kurt Geiger + accessory attached from Accessorize
Accessories – borrowed
Grooms suit – 1920's vintage military jacket from Portebello Road Market
Bridesmaids – Wheels & Doll Baby + Tulip & Nettle.
Flowers & Cake – Visions Floral Design
Caterers – Vintage Dorset
Entertainment – Gilbert
Marquee – Godney Marquees